BACK TO HOME PAGE BACK TO SITE MAP CONTACT DAVID
*PLEASE REFRESH YOUR BROWSER(press F5) WHEN RE-VISITING ANY WEBPAGE AS CONTENT IS OFTEN UPDATED*
COPYRIGHT
Please note that many images contained within this website may be subject to copyright, although many have been kindly sent to me and intended to be shared on this non commercial outlet. If anybody wishes to use any of the same, then please get in touch as well as possibly giving credit where due as well as setting up reciprocal links if relevant to the actual content on any webpage. Please note that I am able to monitor any image-copying and if published on other websites. I would appreciate any contact to report broken/outdated links and any corrections to the text that accompanies any images herein. Thank you and enjoy!
BACK TO THE SIXTIES/SEVENTIES!
Friday 8th November 2019- Doors open 7pm-limited seating (unless booking meals)
Proceeds direct to local childrens' charities via Concorde's established fund-raising section (Google it!)
Admission £10.00 (Concorde members/concessions £5.00) Limited seating
Tables can be reserved for 3 course meal- early booking is advised as there is limited availability on these annual shows.
Concorde Southampton : 023 80 613989
https://www.theconcordeclub.com/
Booking page:
https://www.theconcordeclub.com/events/back-to-the-sixties-november-2019/
Check out the previous annual shows:
2008
www.davidstjohn.co.uk/concordereunion.html
2009
http://www.davidstjohn.co.uk/concorde2009.html
2010
http://www.davidstjohn.co.uk/concorde2010.html
2011
http://www.davidstjohn.co.uk/concorde2011.html
2012
http://www.davidstjohn.co.uk/concorde2012.html
2013
http://www.davidstjohn.co.uk/concorde2013.html
2014
http://www.davidstjohn.co.uk/concorde2014.html
2015
http://www.davidstjohn.co.uk/concorde2015.html
2016
http://www.davidstjohn.co.uk/concorde2016.html
2017
www.davidstjohn.co.uk/concorde2017.html
2018
http://www.davidstjohn.co.uk/concorde2018.html
2014 & 2016 featured Mungo Jerry! Take a look.....
......................................................................................................................
The day before sees me giving a talk on my lifetime in show-business, focussing on the local Hampshire area. This is the poster in case any ladies fancy a great Concorde lunch plus hear more about the great days of the 50s/60s Southampton music scene, with songs and comedy! Call Vanessa Skeet on 023 80 61 3989 to book now - they arrange these lunches with a speaker or entertainment every two months.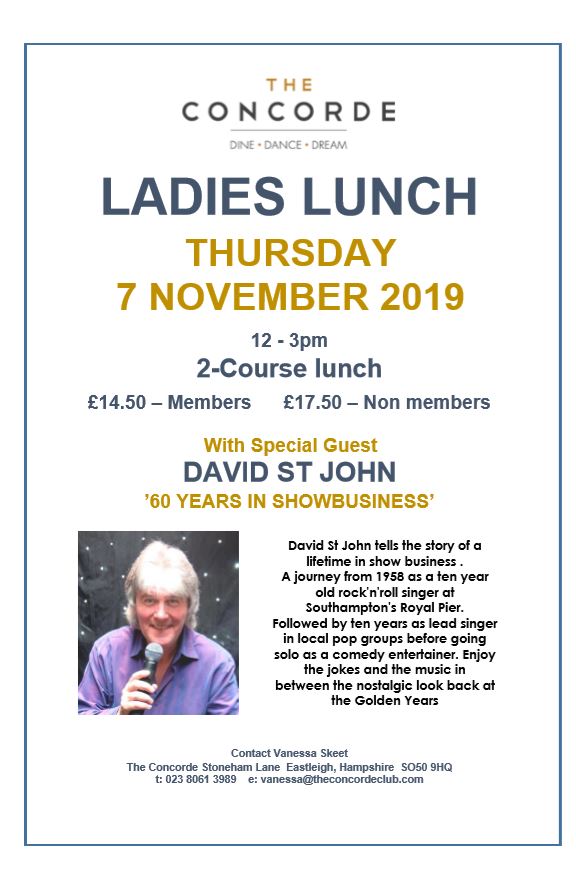 .............................................................................................................................................................................................................................
(I am repeating the basic overview below as before- it more or less sums up the idea of these very successful shows)
The well established 'Back To The Sixties' is back for another great night and features the cream of classic 60s bands, singers and DJs from the best ever decade. Original artistes who performed around the Southampton area and all over the country, provide some great sounds with over four hours of live music plus fills from the local 'vintage' DJs. Just take a look at the previous webpage reports for a feel of what it's all about. The new premises in Stoneham Lane were founded in the early Seventies and now transformed into one of the finest music venues in the UK featuring many top names- just take a look at their own website. I have a dedicated webpage on my own site as well, which tells more of the legends that trod the old boards:
www.davidstjohn.co.uk/concorde.html
...............................................................................................................
This 'mini festival' has become well established over the last few years and witnessed some amazing performances from local Southampton musicians, many of them performing from the late Fifties and early Sixties. Many of the guest artistes have flown in from all corners of the world and linked in with visiting family, friends and hooking up with old pals after several years away as well as making some great music. The Concorde audiences cover a wide age group but many of the 'Baby Boomers' hit the dance floor from the first note of the evening and keep it packed throughout the night- some 4/5 hours of classic 60s hits, laughs, surprises and much more. The door proceeds go to the official Concorde Charity 'Pantomime' Fund that helps local childrens' charities, so we are hoping for another high turnout for this November show. The money raised provides trips out for local youngsters from difficult backgrounds and well supported by the local Mayor of Eastleigh and linked organisations.
Every year has been so good and so different, thanks to the wide variety of singers, bands and the 'vintage' DJs who come along to play some terrific 60s music in the breaks- just like the old dance hall days with live bands plus the Jocks 'spinning the platters'. A really nostalgic night that brings back the memories of a carefree age and sees the older generation dancing to the same groups as the did back in the Swinging Sixties! Also, the younger generations soak up the atmosphere as it gives them a taste of what it was all about- many of them wishing they had been born earlier! It's also a great opportunity for musicians, friends, family and former fans to meet up and celebrate the best time to be young as well as enjoying a full evening of the best sounds ever from the bands, singers, DJs and others who were lucky enough to have been there in the early days! For a really top night out, you can book a table in the restaurant area and enjoy the usual high standard Concorde 3 course meal as well as guaranteeing seats for the evening with a good view of the stage area. Otherwise- just pay the basic door charge of £15.00 with limited seating, so best to be early when club doors open at 7pm. The Concorde Moldy Fig Bar can be used for pre-show drinks or snacks so please get in touch to check out the options. If you are travelling some distance, then you may wish to book an overnight room at the hotel part of the Concorde establishment. Tables and hotel rooms need to be booked early due to high demand on these annual Sixties Shows. See below for contact information. For 2015 / 2016, we broadened the theme to include the Seventies as this covers more groups that have a wide repertoire of music, so yet another different feel to this fantastic night of pure nostalgia. As in every year, we welcome our 'vintage' DJs who will be playing some more great 60s/70s mixes in between the fantastic live acts.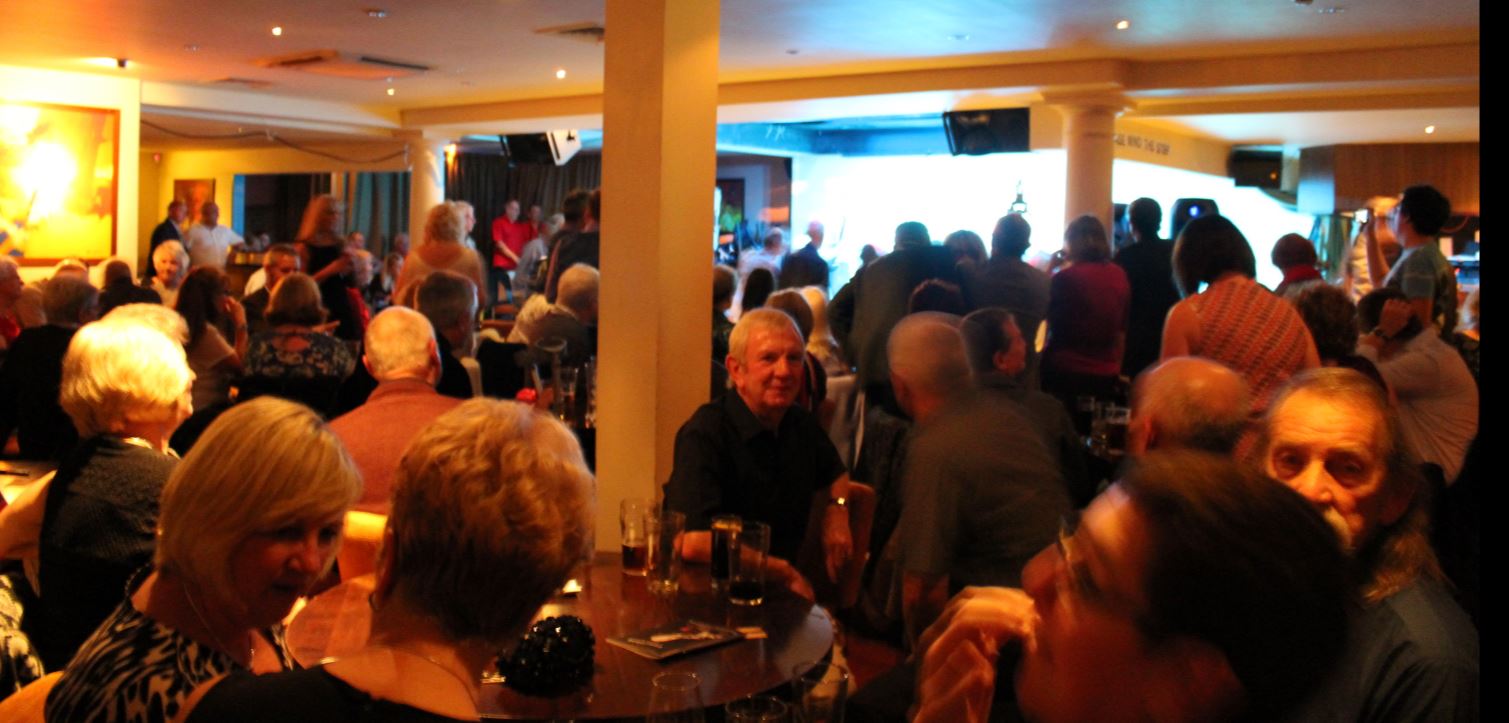 The Concorde- view from the restaurant/bar area. Why not book NOW for 2019!!!! Tables/meal bookings usually sell out......
..............................................................................................................................................................................................
Since these shows started back in 2008, we have seen them grow year by year into the well established annual successes that have witnessed full rooms of music fans. A fantastic variety of bands, singers and DJs have offered their services across the years as we celebrate the early years of the local Hampshire scene, providing a great evening of nostalgia. The audiences are from every age group, which see the 'mature' people enjoying the music that they grew up with, as well as them filling the dance floor for most of the night! The younger ones also get a taste of what it was like back in those golden years, so it all makes for a terrific atmosphere! 2019 sees the welcome return of some previous bands who kindly took part in previous shows, so another great night on the cards. Many local musicians often play with one or more groups, as well as jamming with each other on some gigs, which proves their versatility with different styles! One of my favourite line-ups are back again this year in the shape of:
POKY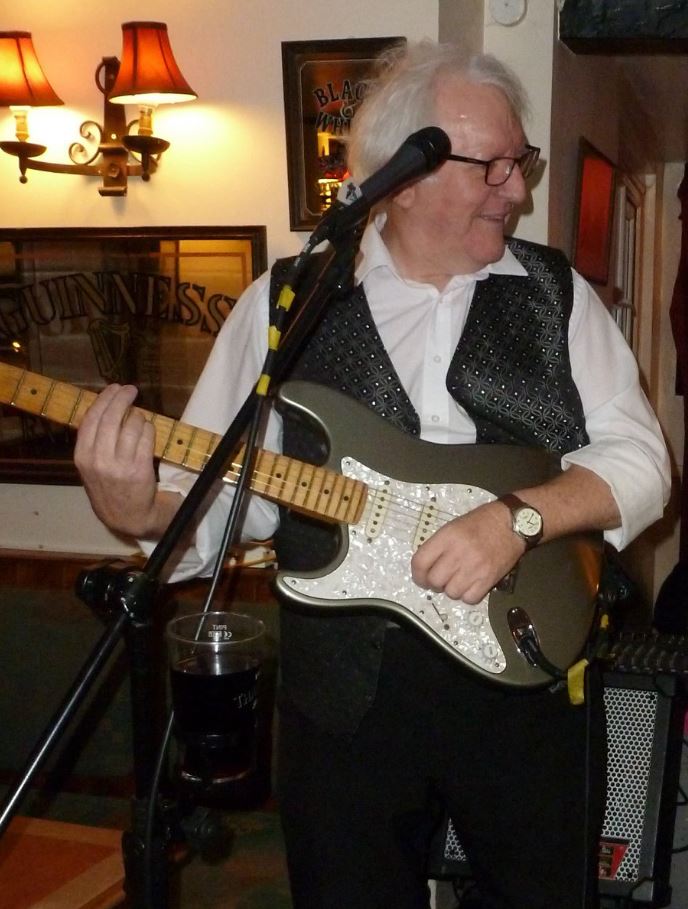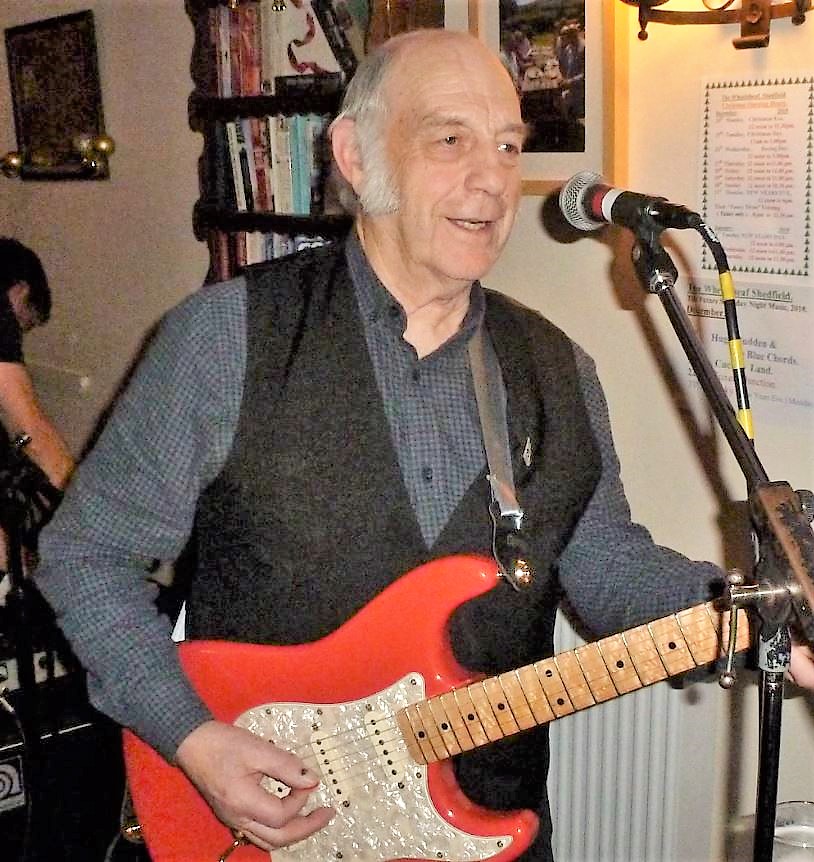 Mike Graham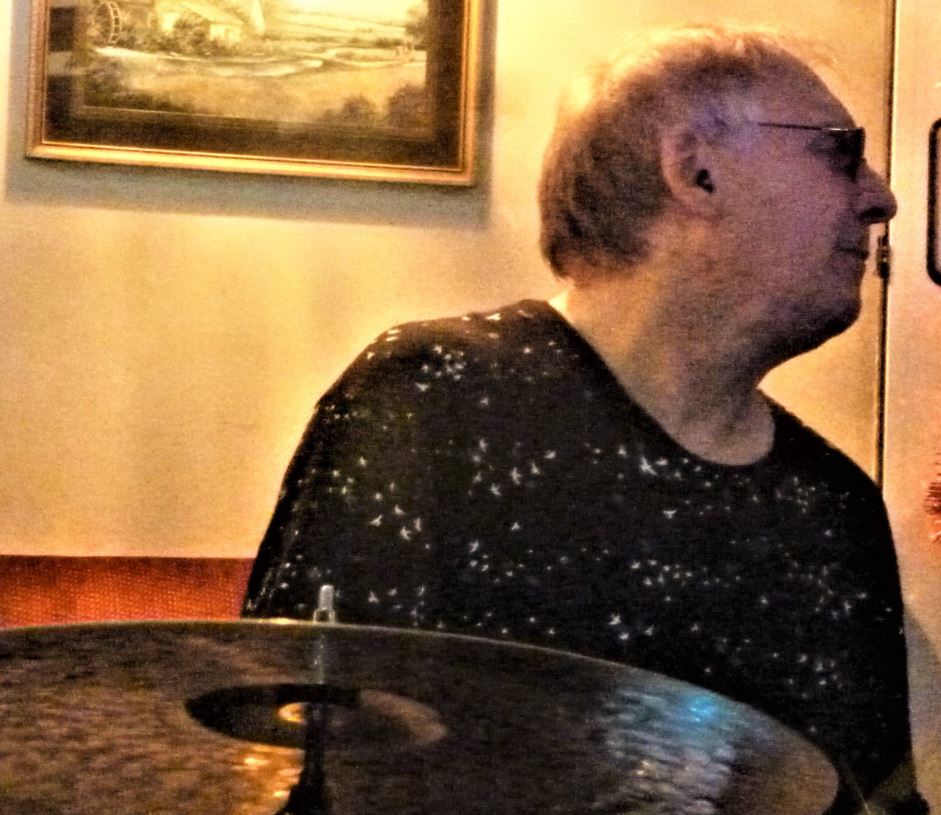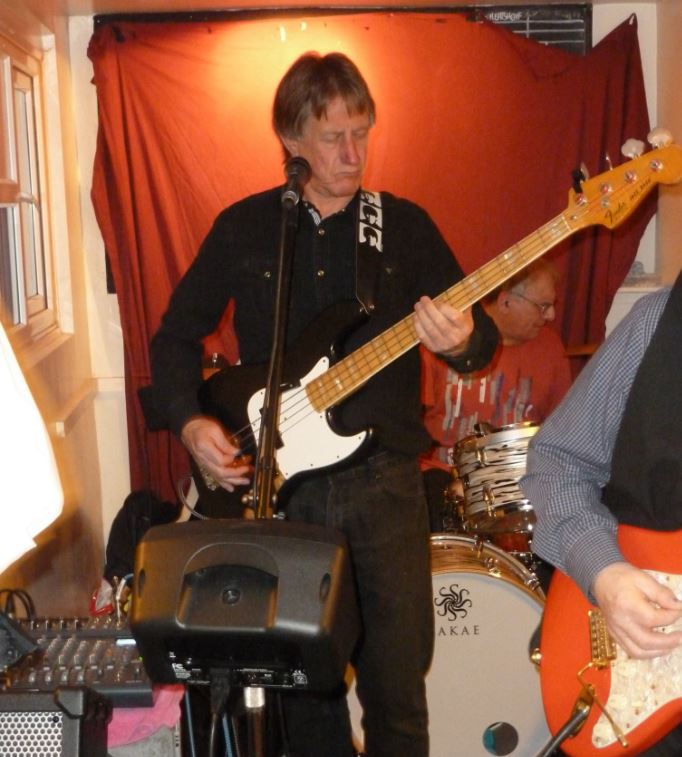 Brian Wally
https://www.facebook.com/Poky-145249455509156/
Using classic Fender guitars, Poky recreate a note for note Shadows sound for their instrumental section as well as their vocal talents. Their massive set-list covers the greatest hits of the late 50s Rock n Roll era plus the most popular 60s hits. Once again, I hope to join them to pay tribute to the Shadows old singer from the early days! This previous YouTube video-clip is a favourite of mine, as it takes me back to my own 60s/70s group days, before going solo. If you click on this link, then come back here......
https://www.youtube.com/watch?v=mXuNoAWaYBg
...............................................................................................................................................................................................................
PETER POD'S PEAS
"The South's Legendary Revival Band"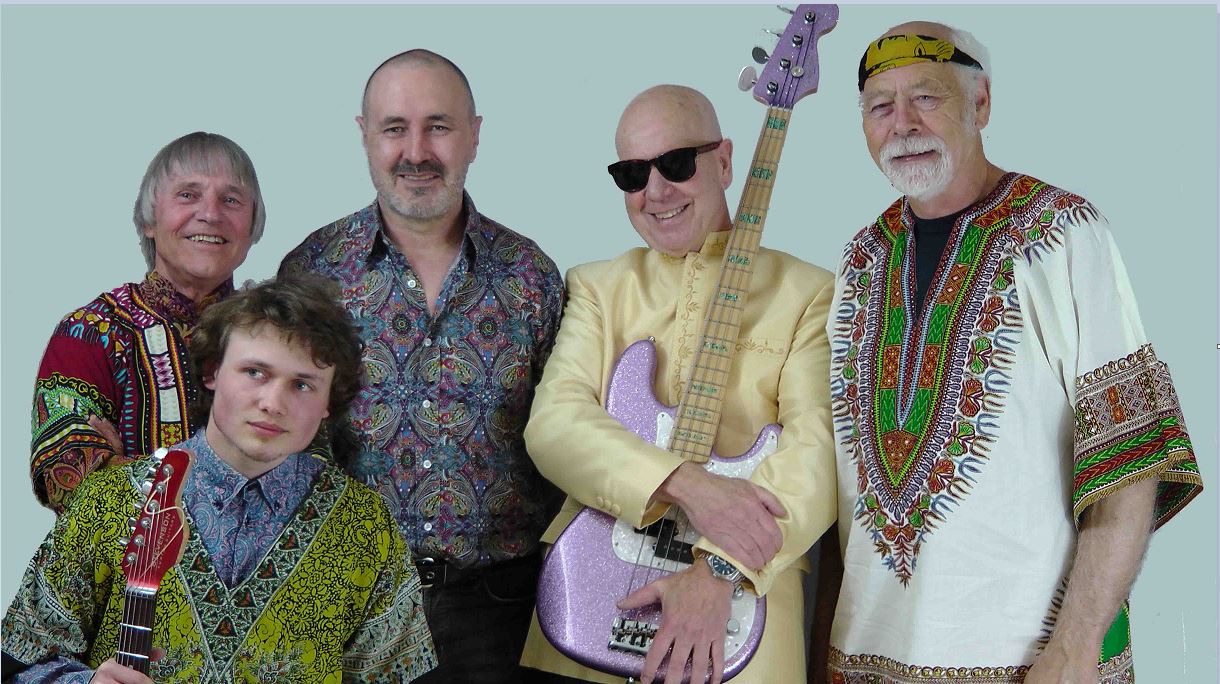 N.B. Health & Safety warning over the shirts- please ensure that sunglasses are worn if sitting close to stage!
Contact them via these links for booking enquiries or on the night.
Website: http://www.peterpodandthepeas.org.uk/
Facebook: https://www.facebook.com/Peter-Pods-Peas-Peter-Pod-and-The-Peas-203669179706545/
Late 2010 brought some very sad news of yet another local musician who passed away in the shape of Mick Haley from the Eastleigh area. Mick was best known as lead vocalist with the very successful Peter Pod & The Peas and other bands in the Southampton area. so leaves some great memories all over the South. I had spoken to him the year before, as he and the lads expressed a wish to take part in the 2011 Concorde 60s show, but Mick was not in the best of health at the time. He said "It depends how I am near the time.." but sadly this was not the case.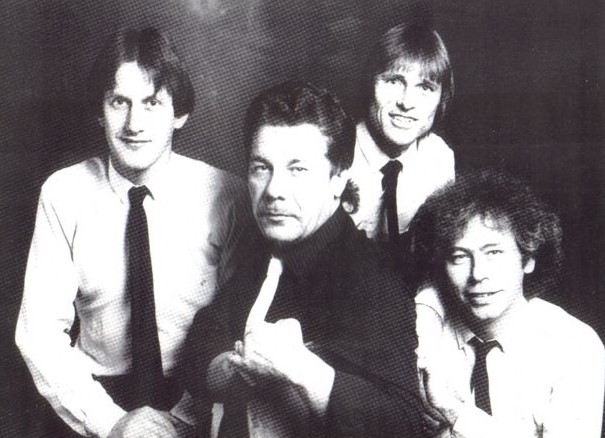 You can find some info on The Peas on my webpages via a Google search. This tribute below was printed by the Southampton Daily Echo on New Year's Day 2011
Courtesy Daily Echo:
THE Hampshire music community is in mourning after the death of one of its leading lights. Tributes have been pouring in for keyboarder player, singer, songwriter and former entertainment agent and nightclub boss Mick Haly.
The Eastleigh dad-of-two is most famous for his role as frontman for 60s revival band Peter Pod and the Peas which performed with such giants as Gerry and the Pacemakers, The Searchers and Marmalade. He died on Thursday night at Queen Alexandra Hospital in Cosham after a long illness.
The 59-year-old grandfather, of Lesley Loader Court, had been involved with a number of bands such as Infrareds, Mojos, Magic Roundabout, Merlin, Arcade and Jumbo until taking on the persona of Peter Pod for the past 26 years. The band made two albums and a single and Mick turned professional for a brief spell but stopped to concentrate on family life and became a British Rail clerk of the works. Peter Pod and the Peas also raised tens of thousands of pounds for more than a dozen Hampshire charities.
His eldest daughter Donna said she and her sister Carolyn have picked up his encyclopaedic knowledge of music. She said: "Family and music were his passions, he lived for music and spending time with his grandchildren. He was a joker who always wanted to make people laugh."
Long-time friend and band member Patrick Curran said: "Even when he was ill he wanted to come with us when we played, he was an inspiration. Music was his life, it meant everything to him and I think it was that which kept him going. We will keep going with the band, it's what he would have wanted."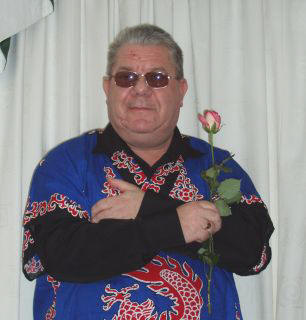 Reporter: Simon Carr
A fitting tribute to Mick came about on the actual 2011 Concorde 60s show, with the Peas rallying round to do a spot on that year's Reunion Night. You can read up on that brilliant show on the Concorde 11 webpage at the top, as their great humour and music carried on the tradition of this fun-based group. You can guarantee a party when this bunch hit the stage!
...............................................................................................................................................................................................................
The word 'legend' often crops up in the music business, albeit mainly on the more well known names of singers and groups who make it big. On a smaller scale, there have been thousands of groups across the UK who strutted their stuff across the decades, including many of them featured on my Southampton music-based webpages, with a few odd names that made the charts. The likes of the Brook Brothers had hits in the early 60s, plus Andover's Troggs having great successes in the mid 60s, Craig David putting the city back on the map in recent years. Coldplay's drummer Will Champion is also a Sotonian plus Mike Batt (Wombles, Bright Eyes etc) from Winchester. Mike Vickers of Manfred Mann is another local, not forgetting that the Manfreds were an early resident r&b band at the old Concorde Club at the formerBassett Hotel. Although from around the Salisbury area, Dave Dee, Dozy, Beaky, Mick and Titch were more or less based in the city so we include them in our Hall of Fame.
As the early 60s r&b scene kicked in, taking over from the earlier rock n roll days, it spawned a new wave of young groups (such as my own first line-up- see my Biography page) including an amazing drummer and organist, both of whom would go onto bigger things. 55 years down the line, we are pleased to announce the return of:
THE SOUL AGENTS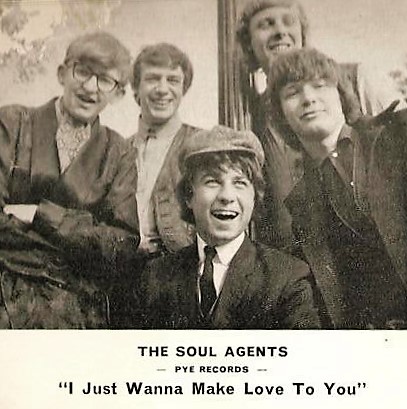 Soul Agents 1964 promo
L-R Don Shinn (org) John Keeping (voc) Jim Sachs (bass) (front) Tony Goode (gtr) Roger Pope (drums)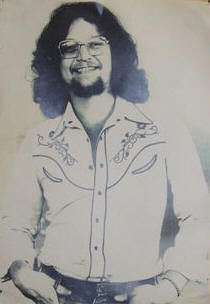 Roger Pope- Elton John Band
Two 'legends' in the Soul Agents being organist Don Shinn plus drummer Roger Pope, both of whom carved long careers in the fickle music business. Don's amazing talent on the Hammond Organ (plus obligatory Lesley speaker!) was a prominent sound of the era. His eccentric antics on the keyboards as well as taking the front panel off to twiddle with the inner (high voltage) workings inspired Keith Emerson - this can be noted as Keith paid tribute to Don's stage persona. Don's solo rendition of 'Gospel Train' still reverberates in the memories of those who saw him play back then and even now as he has returned to the area. Following the SA days, Don played with several top acts such as Dusty Springfield, Elkie Brookes, Kiki Dee, Engelbert Humperdinck on live shows as well as in the recording studio. He has some amazing memories as you can imagine from his long career, still playing and looking even younger these days! This is down to his new girlfriend Pat 'Yum ' Othen, a well known character within the Southampton music scene, often featured in the local press with fun media coverage. One of her amusing antics was when the Yardbirds were playing locally, with Yum 'borrowing' Keith Relf's bongoes for a while! They were returned within a short while so no harm done. Many former Soul Agents' fans comment on Don's rejuvenation as he is looking so good these days - I coined a new phrase as it is down to 'Yummification'!
Pat has attended most of our shows, helping out by recording bits of the show as well as kindly bringing food along for the hungry musos in the Green Room.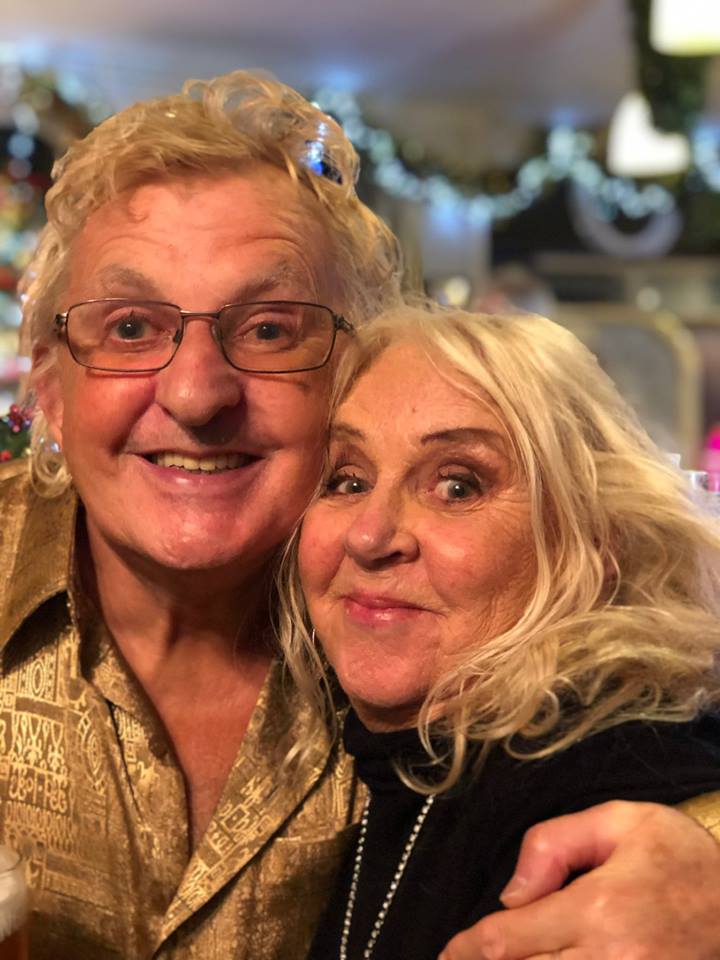 Don and Pat
He also laughs at the memory of being part of the Monkees concert at the Empire Pool Wembley (now Arena) in which his musicians were playing live behind a screen, whilst the stars were miming their instruments and prancing around on the main stage to thousands of screaming fans! This first manufactured 'Boy Band' were not that musically accomplished when first hitting the charts, being plucked from obscurity as the USA's answer to the Beatles, following adverts and auditions.
I was one of the first people to witness Roger Pope's early techniques as he practised drumming along to Sandy Nelson 45s in his bedroom around 1961, before he joined his early bands by 62. The family had moved from Whitstable Kent, settling in Southampton which had a heathy music scene going, with many new pop groups popping up. His first serious group were the Countdowns, who played the usual great set of covers before changing his style as the new wave of music rolled in, via the Rolling Stones, Yardbirds, Pretty Things and the like. The Soul Agents were signed to Pye Records, which led to a certain young r&b singer choosing them to be his first backing group as they toured the country in a beat up old van that could have certainly told a few stories! You might recognise this singer from the photo below - he hasn't done too bad for himself!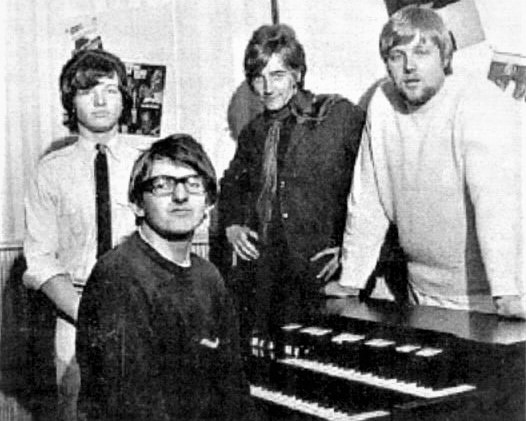 Roger - Don and their singer......think you know him.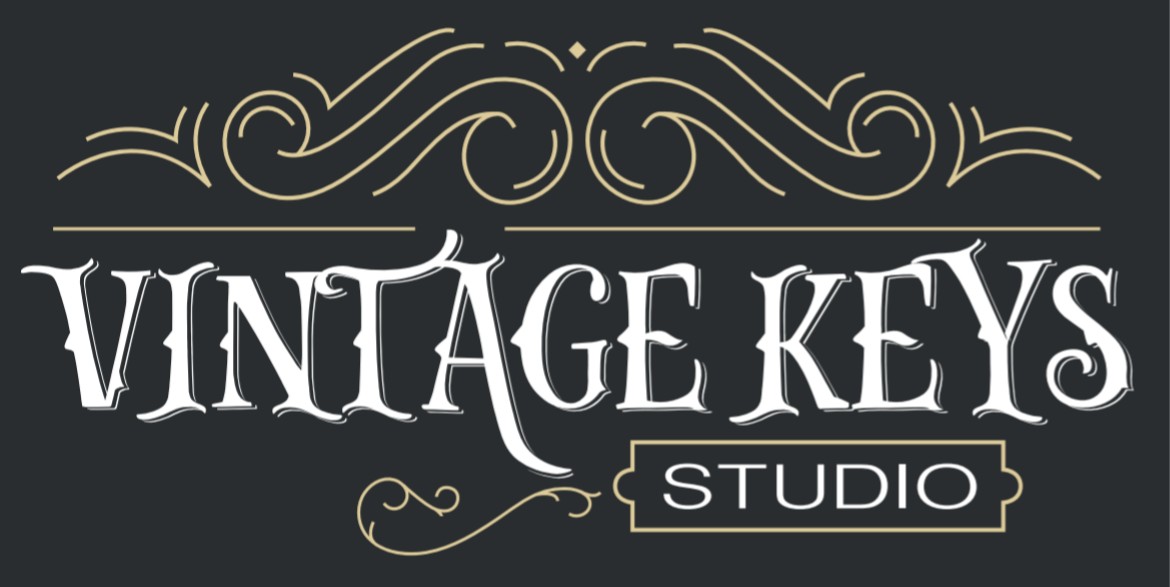 07530 532767
Fellow Soul Agent - Steve Christie (Tony Goode's son!) has recently moved his Vintage Keys Studio to new premises in Romsey, transforming the space into an Aladdins cave of creativity, with every keyboard or recording eventuality at your fingertips! The studio has been set out in style very similar to based Abbey Road Studio 2 and the original Trident Studio, and has a gorgeous acoustic, with moveable acoustic treatments. There are two Grand pianos, a harpsichord, and 20+ organs, including our newly donated Hammond C3, belonging to local Prog Rock legend Don Shinn. Many of these classic instruments have been lovingly restored, offering a glimpse into the legacy of popular music over the years- much of it now being revived.
Like Don Shinn, Roger ('Popeye') was also in demand for many recording sessions on classic 60s hit records, following his success with the Soul Agents and Rod Stewart. His good pal Keith Moon was Best Man for Roger's first wedding, so one can only imagine what they all got up to! When the Soul Agents folded, Roger moved onto another local Hampshire group called Loot, featuring bass player Dave Glover. They both joined Dick James Music, leading the versatile Roger playing drums on demos of songs that DJM was plugging to name singers. Around 1968 Loot then morphed into another classy outfit of Hookfoot, aided by guitarist Caleb Quaye plus harmonica player Ian Duck. The name was apparently based on Roger's ability to pull the hi-hat back into place by hooking his foot around the stand, without missing a beat during rehearsals! DJM was recruiting several new songwriters and musicians, churning out a number of forgettable records during the late Sixties including a young Reg Dwight whose piano playing was complemented by the lyrics of Bernie Taupin. The rest of this story is well known, especially with the recent release of the movie 'Rocket Man', as Reg changed his name to Elton (Hercules) John, releasing the brilliant 'Your Song' in 1971 (Roger on drums) followed by conquering the USA market and global success. Roger played with Elton John both on his early demo recordings, then as part of his backing group for two periods in the Seventies, plus five of Elton's classic hit albums, such as Empty Sky, Tumbleweed Connection and Madman Across The Water. 'Tiny Dancer' was another great song with Roger in the background yet again.
Hookfoot were also in Elton's backing band for live performances, but when Hookfoot were contracted for their own new recording contract plus live gigs, it resulted in Elton having to recruit drummer Nigel Olsen and other musicians. Roger also went back to session work as one of the most reliable respected percussionists in the business, including Kiki Dee's backing band as well as playing on her 1974 hit album and single 'I've Got The Music In Me'. Kiki was then booked as the support act for Elton John's 1974 world tour, leading to an invitation to join John's new backing band. Despite not having played on the intervening hits, Roger was soon note-perfect as he slotted straight back into his usual confident style. He also played on the one-off single Don't Go Breaking My Heart, a duet between John and Kiki Dee, which topped the charts in 1976. .
1978 saw Roger Pope working with American duo Daryl Hall and John Oates, plus many more respected acts such as Cliff Richard and the like, before ill health sadly took its toll. Cancer robbed the music world of one of its finest musicians in September 2013, aged 66. He married his long-time partner Sue Tressider as he lay in his hospital bed just before his passing. The Soul Agents set will be a fitting tribute as we remember onoe of our own
...................................................................................................................................................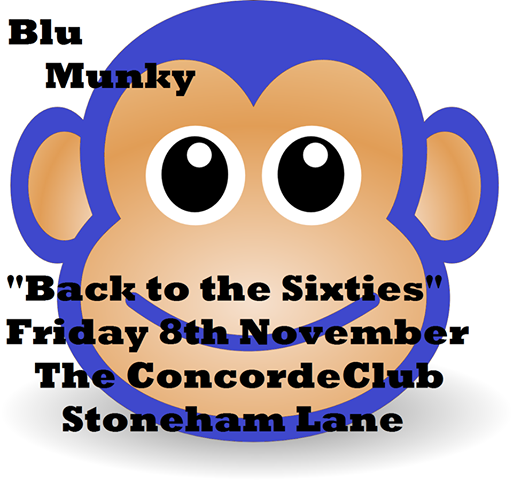 BLU-MUNKY
Blu-Munky led by one of the hardest-working frontmen in the business - Eddie Goodall! 'Up-tempo 60s Blues' is the name of the game as Ed and his fine bunch of musos deliver a hard-hitting fast-paced set of classic hits. Eddie is well known around the South as he switches his style when performing with his other main bands - Soulmunky and Firedogz. These terrific outfits have also kindly taken part in our annual shows, tearing the place apart. We all look forward to this great character whipping the crowd up to a frenzy yet again.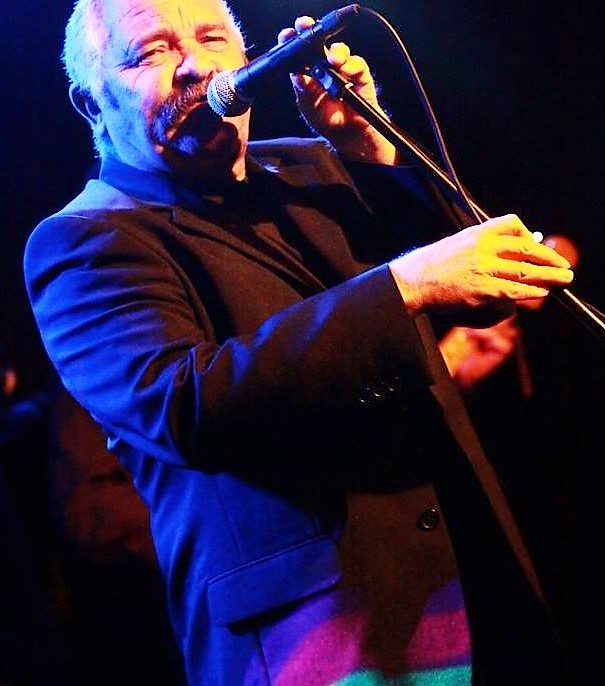 EDDIE GOODALL - HE IS GOOD!
The line-up comprises more of the finest local talent such as Stuart Marshall (Drums) previous bands include: Bob Pearce Blues Cruise, Pete Harris Blues Band, Harry Skinner Blues Band, Sunny Black Sunflower- also now a "Soulmunky "
Steve Roberts( Bass) previous bands include: Mickie's Rick and Soul Band, Bob Pearce Blues Band, Pete Harris Blues Band, Phat Funk, The Recliners -also another Soulmunky. Tony West (Guitar) A well respected Teacher. Previous Bands are: Big Red King Pieas well as many collaborations with manyprominent Musicians -plus- you guessed - also a Munky! Eddie Goodall (Vocal/Guitar) previous include: The Injectors, Raising Cain, Big Red King Pie and the lead Soulmunky.
............................................................................................................................................................................................
Once again - a massive thanks to everybody who has helped to make this one of the best nights out since 2008. On a few shows, some people have asked about my own background and links to the Southampton music scene. I just smile, then point them to my 'Biography' webpage that I set up many years ago. This is where it all started, leading to the wealth of web-pages within this very site. That page only gives a very basic overview, so here is a potted look back at my career on local, national and international stages. It all started back in late 1958, as I was singing rock'n'roll hits at the Royal Pier Pavilion Ballroom (later Mecca) at the tender age of ten, as well as appearing at other teen dances in the area.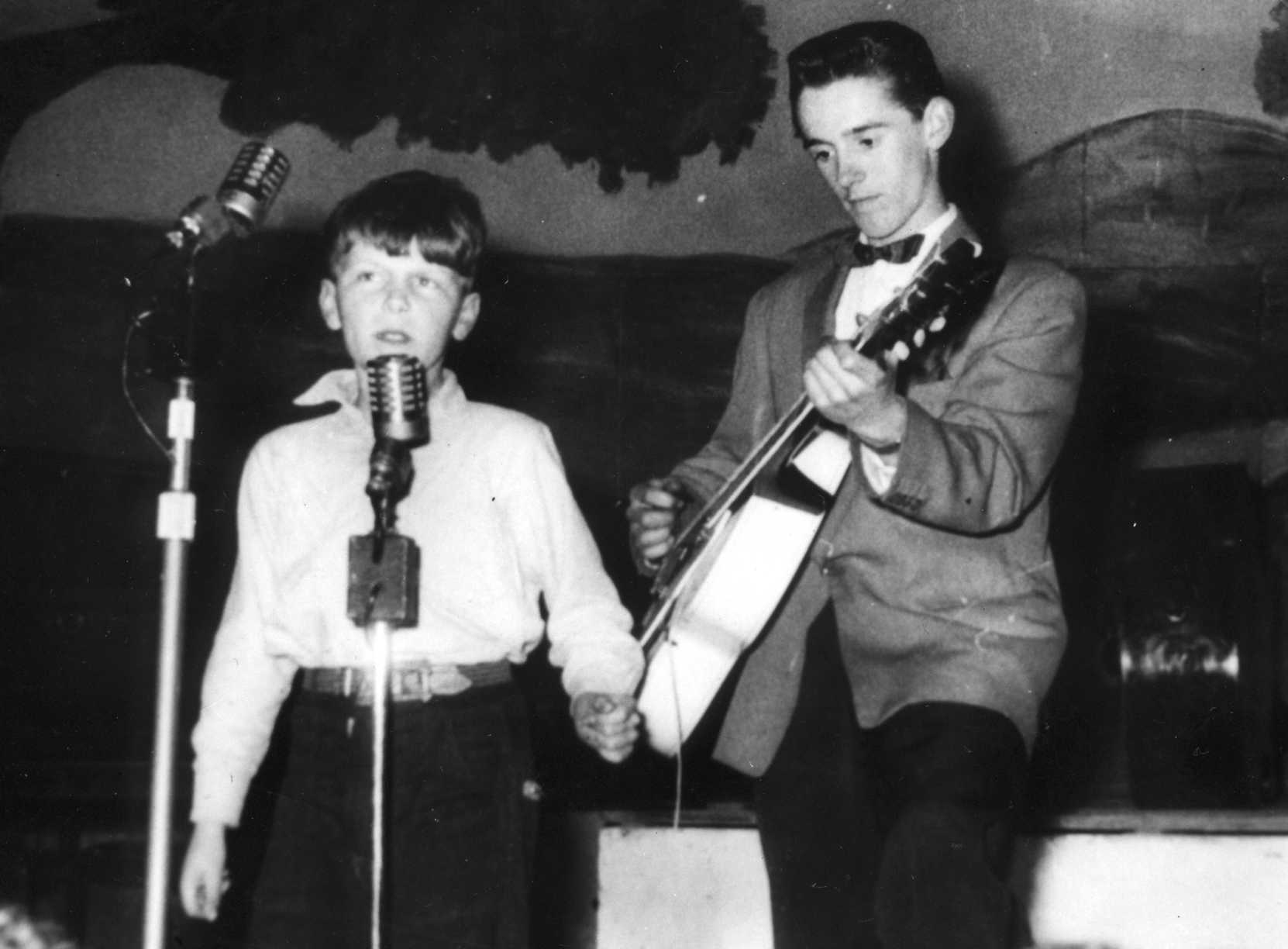 1958 Royal Pier Ballroom with Johnny Watson of the Big Three
Nobody under the age of twelve was allowed to perform in public at that time, so within a few weeks my parents had a visit from the school authorities, leading to my enforced 'early retirement'. I still kept singing at small local pubs and clubs until seeing two Beatles' shows in 1963. Like many a teenage lad, this kick started my next phase (64-72) as lead singer/funnyman with groups such as The Abdo-Men, Unforgiven, Earth Angels, Cellars of Sound, Script and The End (prophetic or what) Best years of my life, but it was time to move on, branching out into a solo comedy/vocal career in 1972 as I bought a 12 string Eko Ranger guitar as my early backing facility. Still at it some 61 years on.........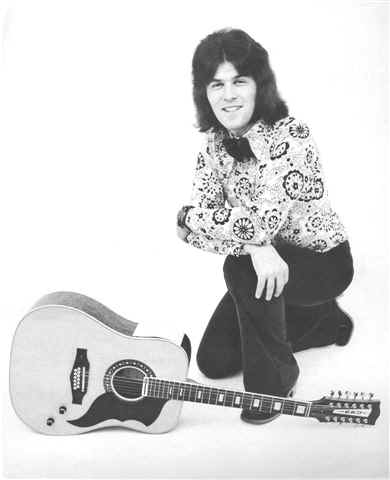 1972
2019
www.davidstjohn.co.uk/biography.html
Check out the Home Page-then Site Map for loads of webpages on the local music scene
Every annual Concorde show gives me the chance to organise the events, as well as hosting the night plus doing my own bits as well as jumping up to join fellow musos on vocals or harmonica plus loads of fun/gags and much more! We hope to see YOU there this year...........
BACK TO HOME PAGE BACK TO SITE MAP CONTACT DAVID
copyright©davidstjohn2019