Back to Sitemap Back to Home Page Contact David
*BIG WEBPAGE - LET IT LOAD!!*
THE CONCORDE RE-UNION NIGHT 8th February 2008
"I have a dream...." Martin Luther King 1963
"I have a dream........" David St John 2007
*This is the first draft and will be updated with more info+photos soon*
If you have just landed on this webpage, then may I suggest you backtrack and take a look at my other pages throughout the site to get a flavour of what this very special night was all about. Just click on the Sitemap and read all about the golden years of the pop music scene in and around the Southampton area. I was lucky enough to have been singing with several bands from 1964 to 1972 before leaving my hometown to pursue a solo career which is well documented in this same personal website. In fact, I had been performing a few years before as I started out as a ten year rock 'n' roll singer in 1958 so 2008 sees my 50th anniversary in showbusiness! Trivia time - I was born on the 12th October 1948 - the very same day as another musician who went onto much bigger things than me! He is still performing with his own very successful group all over the world and one of my favourite bands as well. Answer at the bottom of this page - don't look yet!
I started my website a few years ago to promote my main comedy act and then added a few bits and pieces along the way including a biography page which mentioned my early years and fond memories of the various groups that I had been with. Back in those Swinging Sixties, there were loads of wannabe pop stars who were influenced by the explosion in 'beat groups' which were kickstarted by the Shadows, then overshadowed by Beatlemania and many more amazing groups that set the templates for the next few decades. Although I left Southampton, I always kept in touch with many good mates who sang and played alongside me and some forty odd years later I was able to make more contact via the internet as my music-related webpages grew, thanks to people stumbling across the old memories and getting in touch. One of my oldest and best mates is a talented singer/guitarist by the name of Dave Dinnage but mainly known as 'Beau' who was part of my very first 'proper' outfits known as the 'Abdo-Men' in 1964 as he shared vocals and rhythm guitar before switching to bass a few years later. We played pop covers mixed with R&B and I was lead vocal/blues harmonica with Glenn Lee on drums, Mick Young (Beau replaced him) Geoff Baker on bass and Dave Sothcott on lead guitar.
A couple of years ago Beau dug out an old photo of our second band - The Unforgiven ( see other webpages ) along with an amazing piece of a 'Rock Family Tree' called 'Southern Roots' first compiled in 1980 by John Clare and Terry Hounsome who did a fantastic job of researching loads of musicians and singers around the Hampshire area. Again, my other pages do mention all this so worth taking a look. This inspired me to write and research more info then add it to my website which has grown into a decent size 'modern history' offering that has really taken off in recent years. It has put people in touch with each other, both family, friends and old musical colleagues that hadn't seen each other for many years, as well as serving as a memorial to many old mates that are no longer with us. Many a child or grandchild has typed in a search on older relatives and been moved to find that many of them are fondly remembered as well as getting a feel of what fun we all had back in those younger days!
Like many musicians, I always enjoyed the odd 'jam' night and meeting up with old group mates whenever I was passing through Southampton with a day or two to spare. I also nurtured an idea to try and get a reunion of my old groups but never managed it (apart from a 1990 gig of my last band - Script/The End who had a four year residency at the old Railway Hotel in Woolston) By 2007 my website boasted an impressive line-up of bands and singers, some of whom were still playing in various guises so this made me think about trying to organise a little get together- maybe meet up for a few beers, swap stories/gags and jump up onstage to knock out a few classic numbers. Next idea was a suitable venue and I was thinking about a communal club that would hold a decent crowd and maybe linked to the old days and then it all clicked. The Concorde Club which was celebrating its own 50th anniversary during 2007 and still owned by its founder Cole Mathieson, who had started out by promoting jazz music in a backroom bar at the old Bassett Hotel in Burgess Road Southampton on the north west corner of the Common. During the early Sixties, the club booked many blues and R&B bands many of which featured future 'superstars' in their line-ups such as Rod Stewart, Elton John and many more fledgling talents who were honing their skills. I had always enjoyed visiting the Concorde Club to watch some amazing groups, blues stars as well as playing there on a few occasions or sitting in on harmonica etc. The venue relocated to a converted school house in Stoneham Lane just off the (current) M27 motorway in 1970 and has developed into a superb complex of main club, bars, restaurant and hotel facilities, so I dropped by to see Cole and pitch my idea to him. He was quite amazed to learn of my website and the many old bands and musicians that were still around as well as being in touch with each other. I suggested that we might stage a reunion night, in which the old line-ups could scrape up a short set each along with a few solo acts and DJs from across the decades - many of them had worked alongside the groups on dance nights as well as playing the Concorde at some time.
Cole agreed to this all and was quite excited at the concept of bringing a touch of the Sixties era back to the club as well as having his own chance to meet up with many an 'old face' so we set about the organisation. I spent some considerable time in contacting my musical pals and colleagues by e-mail, phone calls etc and we finally pinned it all down to an amazing line-up for this show named "Back to the Sixties" We decided to make it a charity based night with all door proceeds, raffle and auction going towards a local charity - 'Liberty Child' which is one of the two main designated organisations under the Mayor of Eastleigh for the current year. They arrange outings for deprived children, mentally and physically handicapped kids with great holiday breaks, activity days and much more, so we were all keen to help this fund apart from enjoying ourselves on the night. If you were lucky enough to have been there on this exciting night, either in the audience or actually taking part in the evening performance then please read below for my basic report on the proceedings. If you could not attend or were not lucky enough to have grabbed a ticket (the show sold out very quickly) then I hope I can bring a you a flavour of the whole gig although it's hard to put it into words and convey the feelings all around the packed room.
THE SHOW
Friday 8th February 2008
12-00pm The Concorde Club
I met up with Wally Phillips of the J.A.B. rock trio who were playing on the show as he was kindly supplying the sound system and four backline amps via his own company- The The Music Shop in Bitterne. The p.a. was set up along with a shared drum kit brought in by Eddie of Fret Music Shop Shirley so we were helped by the east and west side of the city!
6-00 pm
I arrived back at the club and ready to meet and greet the featured artistes who had all been looking forward to seeing old pals and reforming their old bands after many years. Most of the groups only had prior time for a quick chat on the phone or a very quick runthrough to decide what songs could be recalled plus keys, arrangements etc plus the fact that were all using the same gear without being too familiar with settings and much more. The club reception soon filled and it was so good to welcome the bands, families, friends along with the Concorde Club members who were really keen to relive the memories of the club in past years.
7-00pm
The main club doors opened and people swarmed in to grab a good seat/table and were pleasantly surprised to be welcomed by legendary DJ in the shape of Johnny Dymond - one of the best known 'jocks' on the Southampton scene from the early days of the Sixties at the Royal Pier and Top Rank Ballrooms. Johnny is well featured across my webpages so take a look. He provided a nice touch by playing several hits by local recording stars such as the Brook Brothers, Heinz, Manfred Mann and many more as well as his own well known chat! This was a perfect warm-up session as JD worked the crowd and played more 'Sounds of the Sixties' in keeping with what was to follow.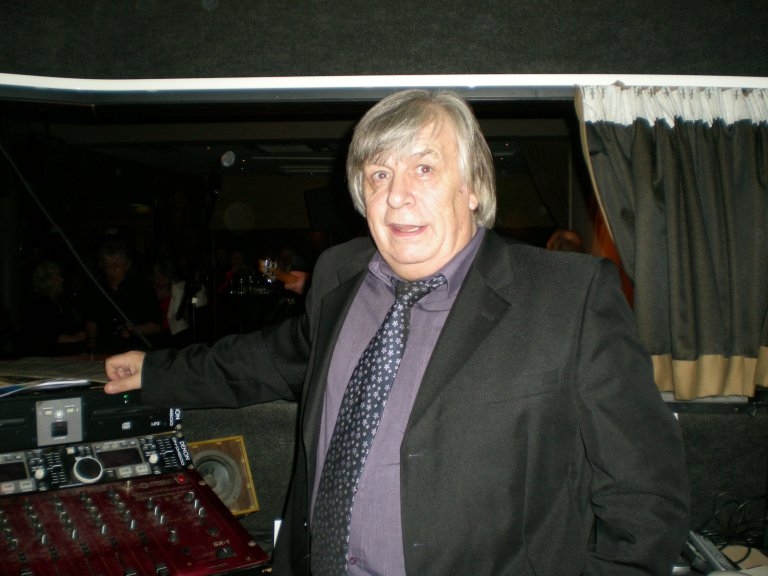 Johnny Dymond- 'spinning the platters' at Concorde flightdeck!
7-40pm
The club was packed out and I was introduced by Johnny Dymond with a specialised intro (!) and jumped up onstage to welcome everybody to one of the most unusual nights ever staged in the city! A few gags and a brief explanation of how it all came about before introducing the Mayor of Eastleigh Roger Smith to say a few words and thank us all for providing much needed funds for his chosen charity of the year. We had six bands on the bill and (reluctantly) had to limit each group to a 25 minute set in order to fit as much talent in as possible along with a few solo acts, so quite a challenge.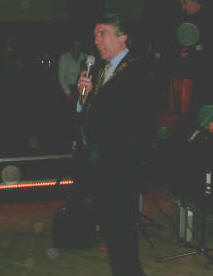 Mayor of Eastleigh Roger Smith
Mentions of 'zimmer frames' in the carpark, plus 'Sanatogen on draught' got a laugh plus announcing that we had a Viagra stand in the reception area went down well, although we had some very active pensioners waiting in the wings!
I then had the great pleasure of introducing the first group led by one of my old pals who I have known from 1964 when we both started out in the serious music business! Three guys with guitars, dressed in smart suits and just sat on three chairs with no drums who performed a terrific opening set of classic blues numbers, including a couple of self-penned songs in the same tradition.
This B&W photo dates from 1964 with Bob shaking his maraccas (!) and Colin Herriot in the background
Note the old business card and old Reslo ribbon mike!
THE BOB PEARCE BLUES BAND
Bob Pearce Vocals/guitar
Chris Collins Vocals/guitar
Steve Stares Bass guitar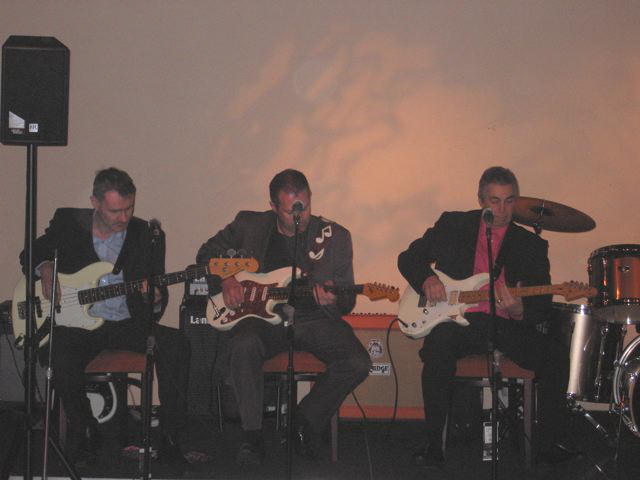 Steve Chris Bob
It was in the style of an 'unplugged' set and it was so good to see Bob Pearce at his best, despite 'retiring' a couple of years ago! When I first mentioned my idea back in the summer of 2007, he immediately jumped at the chance of joining in on such a memorable night and this line-up set the scene perfectly. Bob and the lads played a great fast-moving set that grabbed the audience's attention straight away and showed that blues musicians never 'retire' ! He has appeared at the old and new Concorde clubs over many years so he felt quite 'at home' and it was a pleasure to enjoy a dedicated blues man yet again.
The next act was a solo singer, who had originally appeared at the old Royal Pier during the early Sixties with bands such as the Blackjacks as well as being managed by legendary promoter Len Canham who is well documented elsewhere. He had not sung since the mid Sixties until a couple of years ago, when he came along to one of my solo shows and was dragged up onstage to knock out a couple of good old Rock n Roll hits, helped by a few drinks! It had intended to be a surprise for his table of relatives and friends sat in the restaurant section who had no idea about his guest appearance until they spied a programme for the whole show!
We had to quickly scrape up a makeshift backing group for Pete and we managed to rope in a few musicians to sort out a basic idea of the two numbers "Rip It Up + Blue Suede Shoes". I introduced him and he knocked out the two great songs to a very appreciative audience who were astounded that some of us 'never lose it'! Pete closed to a great applause and clearly enjoyed being back in the spotlight after some forty odd years!
PETE BROYD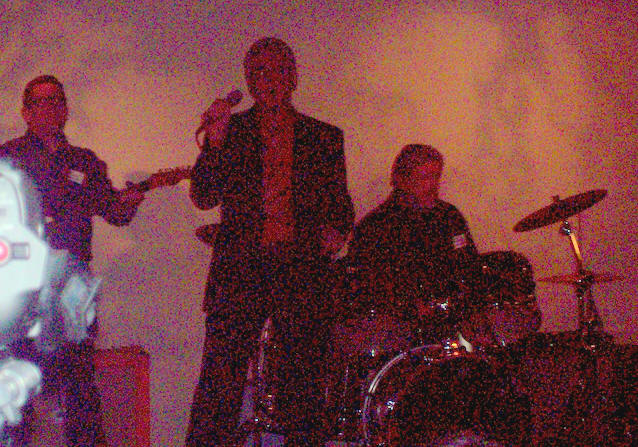 Backed by:
John Walker Drums
Andy Brown Bass
Dell Gibbs Rhythm
Dave Mitchell lead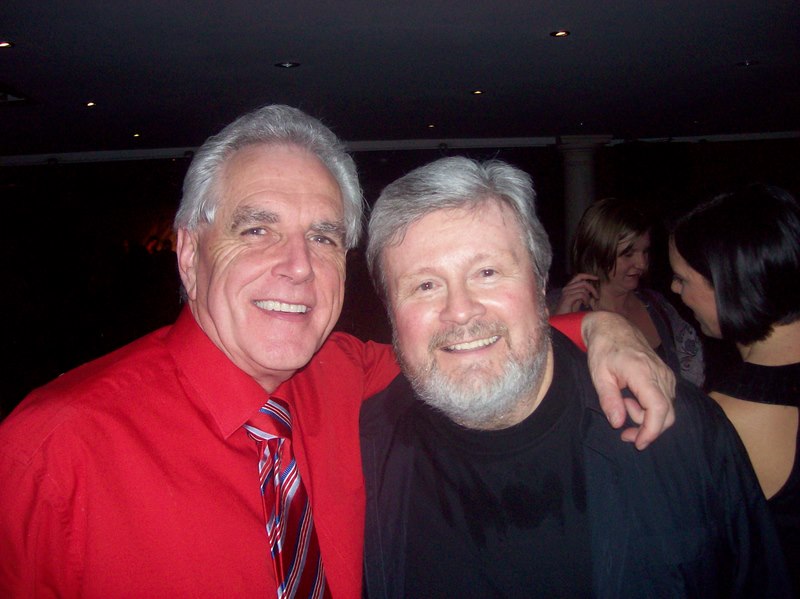 Pete Broyd with his 'new drummer' John Walker!
The next band contained just two original members of one of the finest Southampton groups ever - Roy Roberts on lead guitar/vocals alongside former lead vocalist (and guitar) Tony Hole who had not even seen Roy for some forty years, let alone play together! The original line-up of this much respected group were known as Tony Benson and the Skylanes before changing names and becoming the amazing:
MEDDY EVILS
Tony travelled down from Yorkshire along with his son Mike who is lead vocals with indie band "Silver Factory" but played bass on this show and both were very proud to be playing alongside each other on this special occasion. The original bass player was Roy's brother John who was in the audience for this show, but let the youngster join the reformed Meddies for this one-off.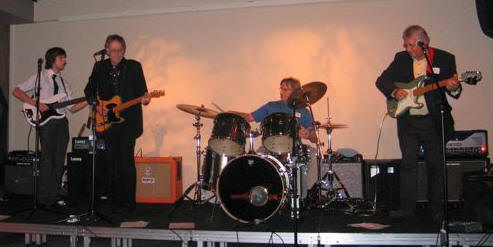 Mike Tony Ronnie Roy
The Meddies needed a drummer and were lucky enough to have the very talented Ronnie Allen join the band - one of the most experienced musicians in the area and played with many groups for the past 45 years and still drumming up a storm! Ronnie also played with a couple of my old bands - The Unforgiven and odd gigs with later groups in the Sixties and has hardly aged at all! The Meddies played an amazing set of classic numbers plus one of their old self-penned recordings called 'Ma's Place' and the music was really tight and blew the crowd away as if they had never been away!
Tony also paid a tribute in memory of 'Cuddles' the original drummer and was one of the best known musicians on the Southampton scene for many years as well as being a great pal to so many.
SET LIST
PLEASE DON'T TOUCH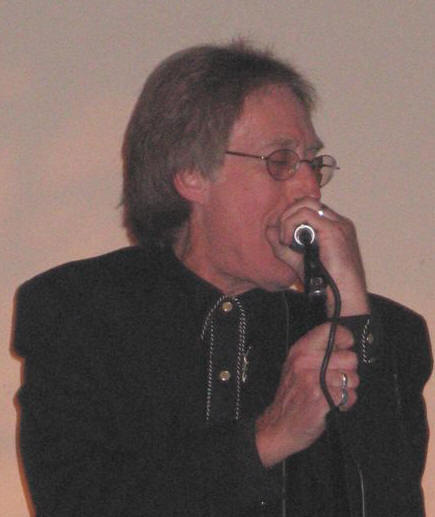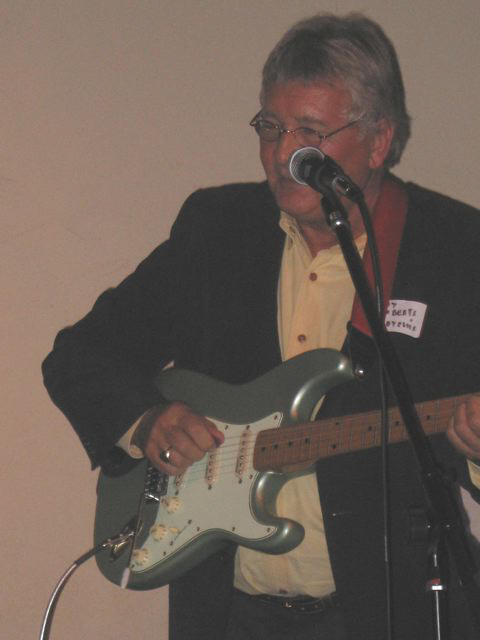 Tony Roy
Father and son act! Mike Tony
They closed to a fantastic applause from the whole room, many of whom were fans of the original band all those years ago so quite a moment. Some even brought their old vinyl records to be autographed by the band!
JD'S ROUND TABLE!
I then handed over to Johnny Dymond who provided everybody with even more memories as he introduced a few of the 'vintage' DJs who had come along to join in the celebrations. The farthest travelled was well known DJ Chris Golden who had made the journey all the way from Winnipeg Canada! He is operations manager for the city's transport system and took a few days out to fly across to join us all - I guess that Winnipeg was gridlocked for most of this week? Johnny also introduced Geoff Knight, Joe Craen, Chris Golden along with a couple of others (names needed) and had an interesting chat with them all plus photos before leading everybody with a toast to dear old Len Canham who was probably beaming down at us all from above.
Johnny Dymond with ex Concorde DJs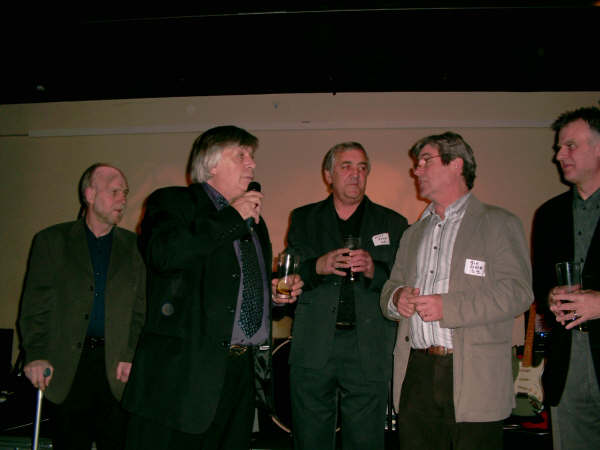 ? Johnny Geoff Knight Joe Craen Chris Golden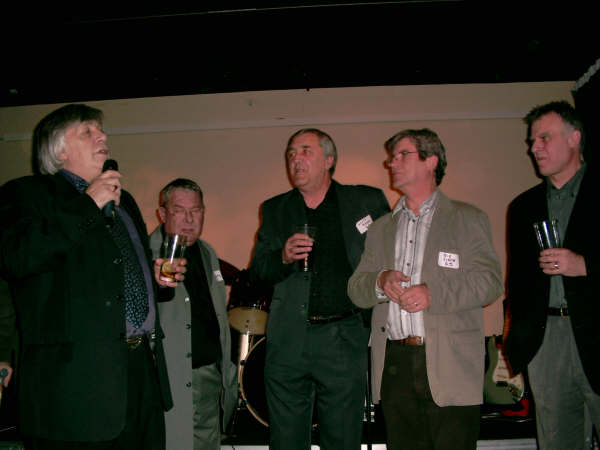 Same line-up with Mick Haley - ex Peter Pod and the Peas
Next up - another good pal of mine who I hadn't seen for some thirty years- Bob Gorman, a very talented vocal/guitarist who made a good name for himself when playing with Brother Bung and Fresh during the late Sixties before leaving the group scene and carving out a solo career in between the odd jam nights etc. Bob was the first of our very special 'international' guests as he had just flown back from his home in Gran Canaria the very same day and straight to the Concorde! He only had a few minutes to meet up with a busking band comprising Wally Phillips (JAB) on bass and Bob's former drummer in Bung and Fresh- Roger Chantler so quite a nice reunion as well as having Bob Pearce in the room who also played alongside him in various bands. Bob G needed a guitar and there was a spare Fender Stratocaster lying on stage so I had to quickly ask whose it was - and could we borrow it! It transpired that the guitar belonged to Roy Roberts and just one of his amazing collection of instruments (see Meddy Evil's own website) so he kindly agreed.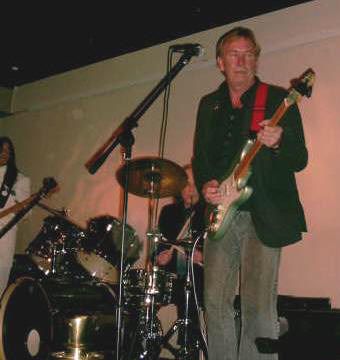 Bob Gorman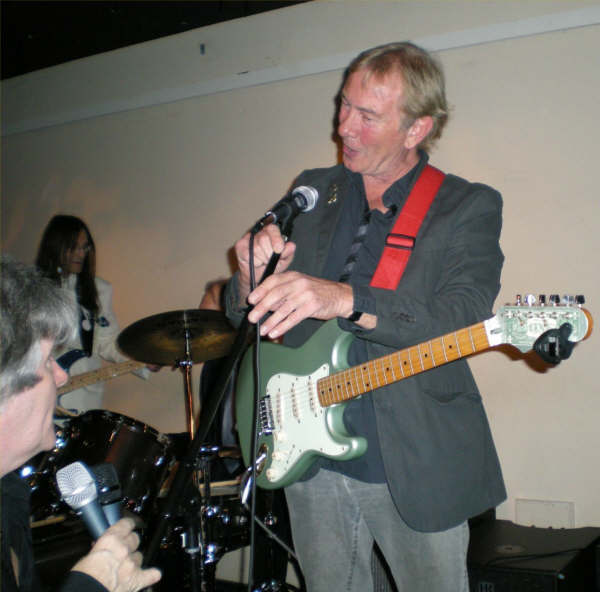 "Hey Bob - can you play some Hendrix for me!"
Most guitarists are pretty fussy about only playing guitars of their own, but Bob Gorman is a special breed and he just picked it up, twiddled a couple of knobs on the borrowed amplifier and tore into three amazing numbers which lifted the roof off the club, opening with a superb 'Foxy Lady' in the Jimi Hendrix style that Bob is well known for and raised a few eyebrows in the room. What a perfect choice of classic Sixties that nobody else on the show chose to play and it certainly blew the crowd away as he paid homage to the great man himself. Bob later mentioned that he had gone to see Hendrix play at the Southampton Guildhall back around 1968 and I wrote a piece on my other webpages as I was lucky enough to have been there too. I hadn't known that Bob and pals had been able to meet Jimi early on (no security in those days!) and took him to the Windsor Fish Bar for some traditional English fish and chips! Bob was given one of Jimi's plectrums but I'm not sure if he still has it, but the memories will live forever.
Next couple of numbers were a brilliant blues number 'Before you accuse me' finished of with the Cream classic- 'Crossroads' and echoing the style of Eric Clapton who had played at the old Concorde club before conquering the music world. The whole trio played a superb tight set, which was amazing for a last minute scramble but it just shows the type of experience musicians who can just jump up and do the business!
When I asked whose Strat this was, I was half expecting a worried looking musician rushing up to quickly grab a classic early 60s Fender and probably worth a few grand. As mentioned, it was one of Roy 'Meddy' Roberts massive collection and he has just mailed me the following story which will greatly amuse all guitar players everywhere as it is a fascinating glimpse into what makes us guys tick. This is the mail in Roy's own words:
The 'one Dollar Strat' story in full.
I kept a few guitars on my boat including a nice red Strat (and two Steinbergers, as you do) that I bought in Ft Lauderdale (USA) ages ago. One evening some 15 years ago I got back on board my last boat at Port Solent to find the boat full of smoke and a 'glowing' Strat that I had abandoned still plugged in to an amp and had left it leaning against the metal steering wheel. Some sort of ground short had occurred and set the strings, neck and body paint on fire!!...it was black and dead but I fixed it up and it continued to be a less attractive 'boat guitar'…but still sounded great….the nut was carbonised and it always smelt of melting plastic!. Then, some years on, another (current) boat had a problem where the auto bilge pump stopped working while I was away and the boat took on serious water and floating around in the lower cabin was a even more semi-knackered Strat…with a 'banana' shaped neck, peeling paint and lots rusty fittings. A piece of paper from my local music shop 'Nevada' pronounced it a write off…and I got a reasonable insurance amount. I took it apart and some time later I put all the bits in the oven and cooked it dry and straightened the neck!. Only recently I decided to put it back together as my 'one Dollar Strat' (50p is what I reckon it cost me with new bits)…the cost of a can of car paint was more than sticking real Dollar bills on it which I tried!…this was a failure, so I sprayed it in 'Greenback' silver and laminated a Dollar bill on the headstock. It is one of my favorite guitars now, even though I've got 'better' old Strats and some 30 others to choose from!!.
Bob left the stage to a fantastic applause, with Wally and Roger staying onstage then joined by their own very talented lead guitarist Jinx and I then announced:
J.A.B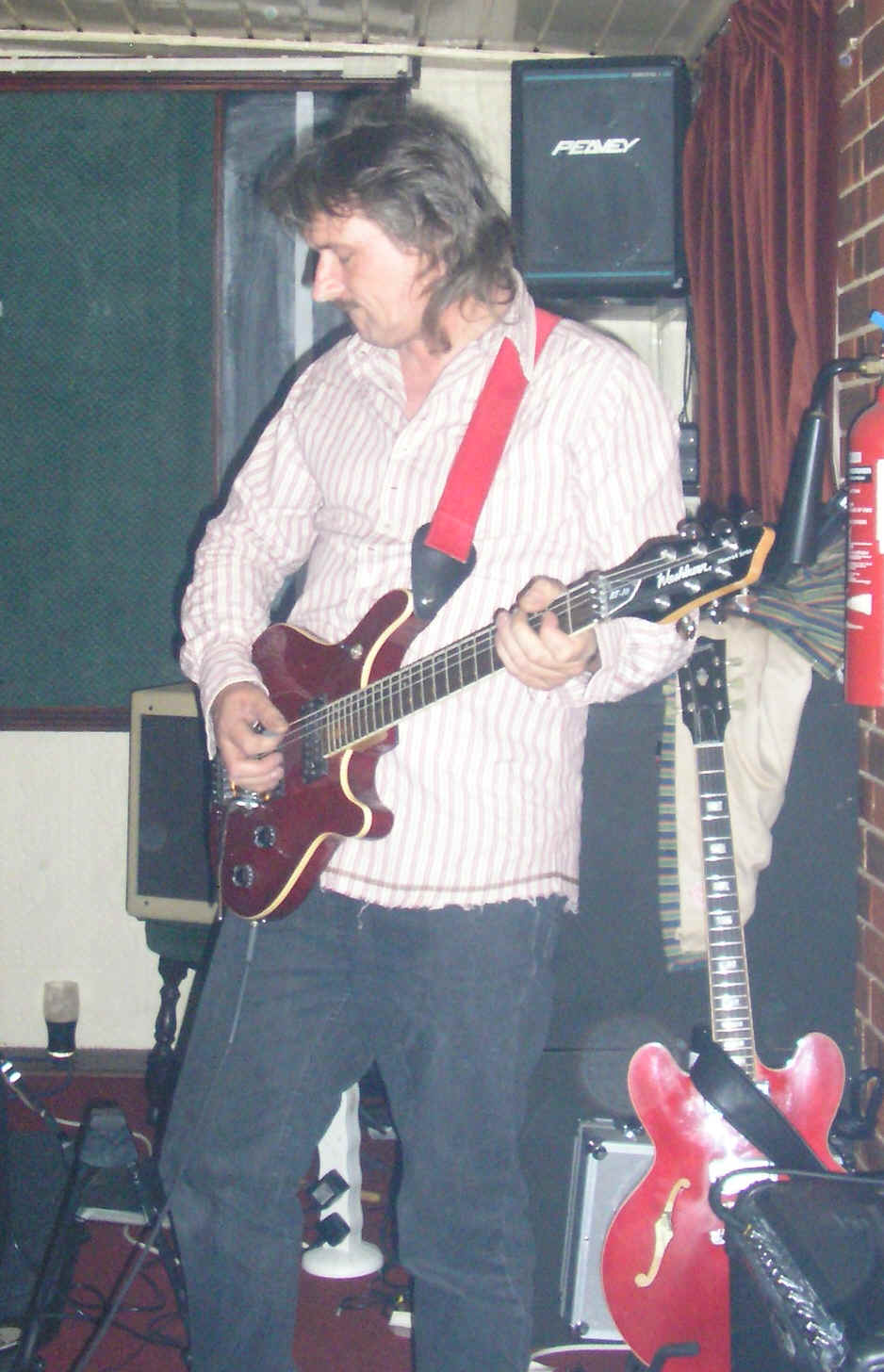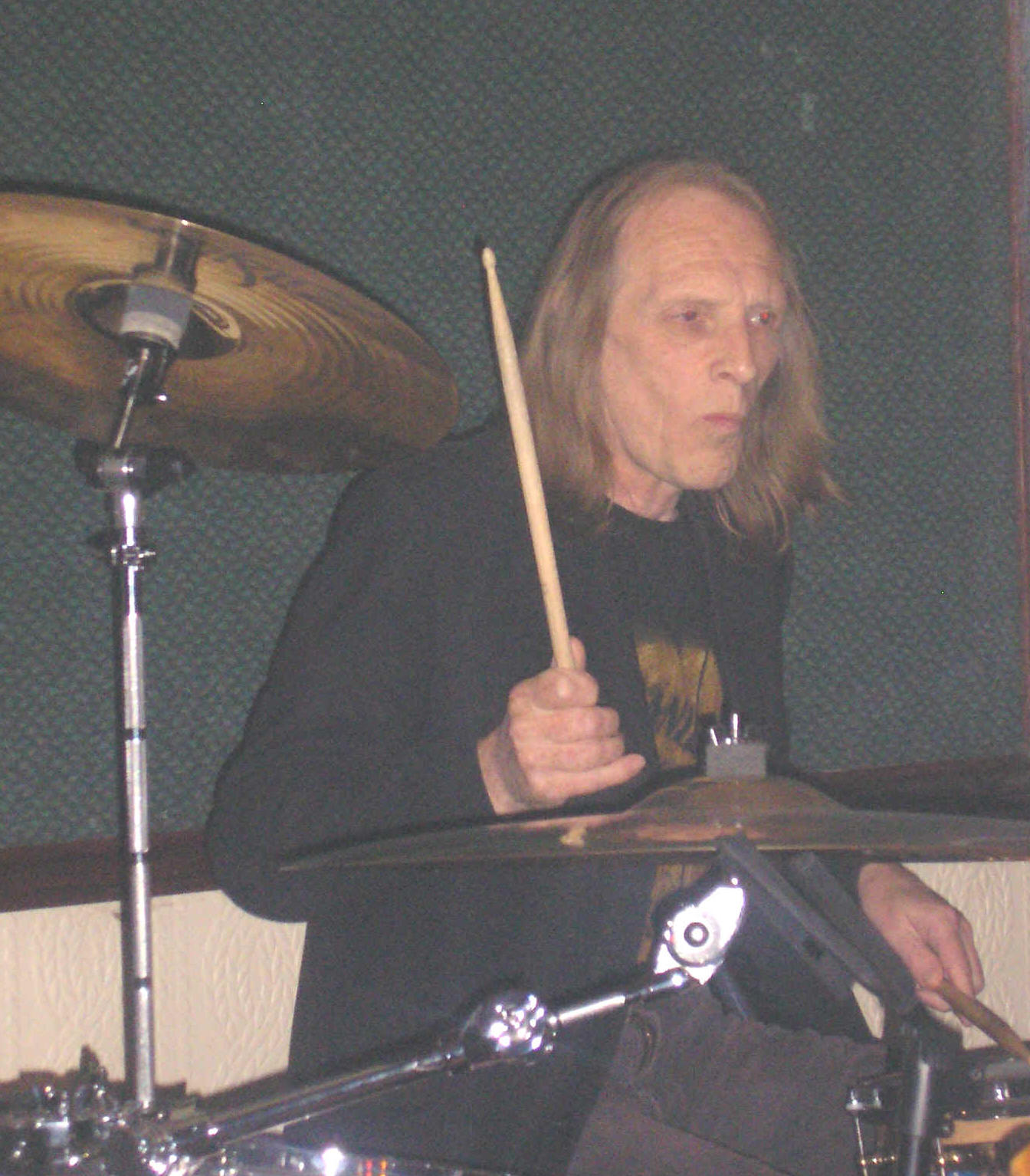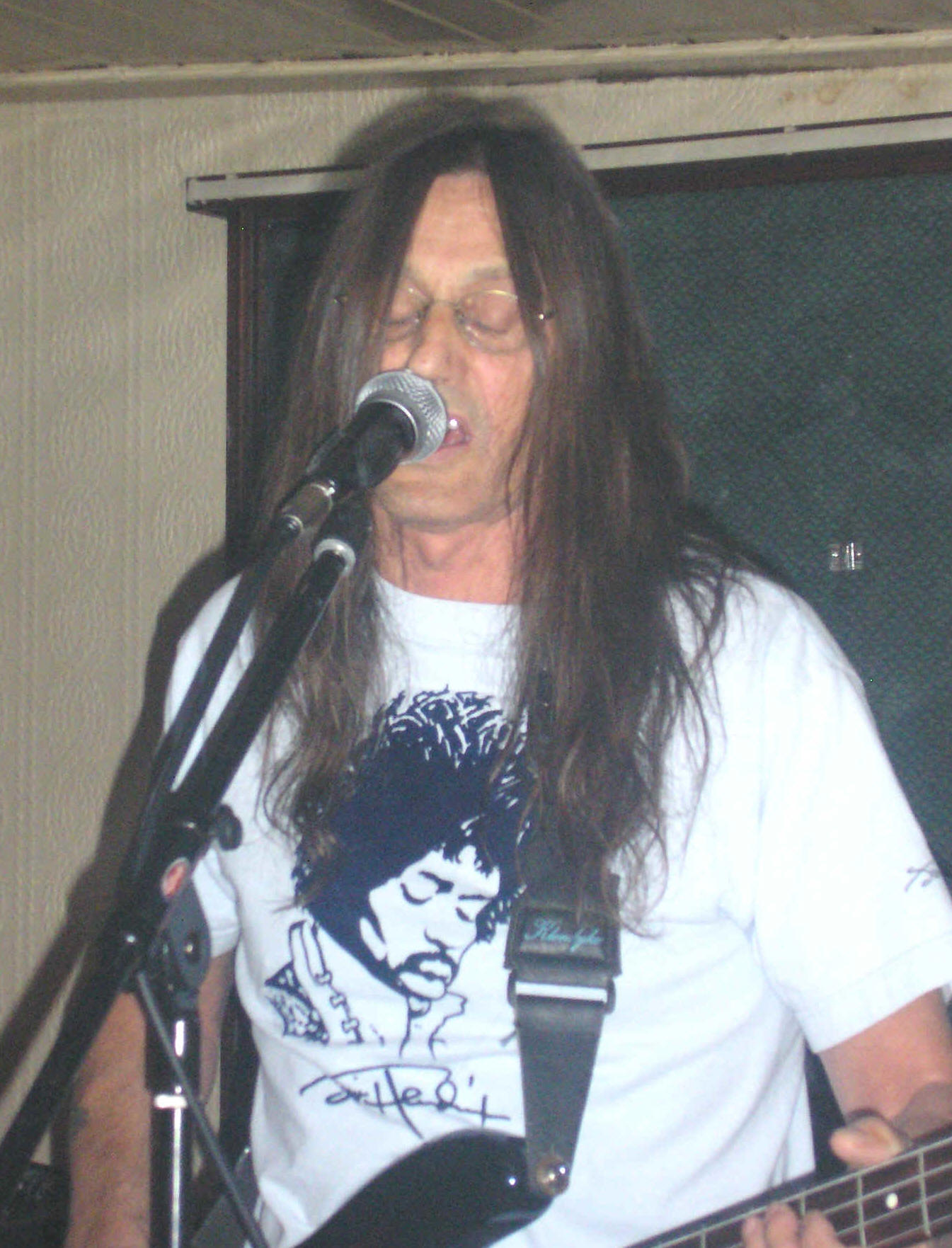 Jinx Wally Roger
These are old photos from another gig - hope to have Concorde pics soon
Great name for a group - it stands for 'Just Another Band' ! Quite an understatement as this classic rock trio tore the audience apart with a fast moving set of classic numbers that got the audience dancing for the first time of the night! They are normally VERY loud and best appreciated at a high volume but they kept it fairly steady on this outing, thus providing another varied set with the following numbers:
When they closed this fantastic set, I kept the lads on for an impromptu 12 bar number as they backed me for a quick one of my old early R&B numbers - Jimmy Reed's "Baby what you want me to do/You got me running' and my only chance to blow some blues harmonica on the night, being far too busy to sit in with anybody else. I kicked off this short set with the theme from "The Old Grey Whistle Test" - just harp and drums before belting in with the main number, with JAB playing superbly.
I then stayed on for a short comedy set and chose to switch to plenty of audience participation which suited the night, as opposed to my usual style. Even special guest 'Michael Jackson' made a quick guest appearance! Quite a few local Southampton based gags as well, so keeping it all within the style of the evening's entertainment and it was fun.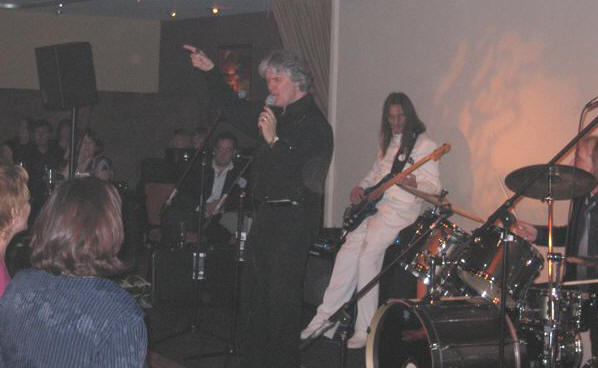 DSJ + JAB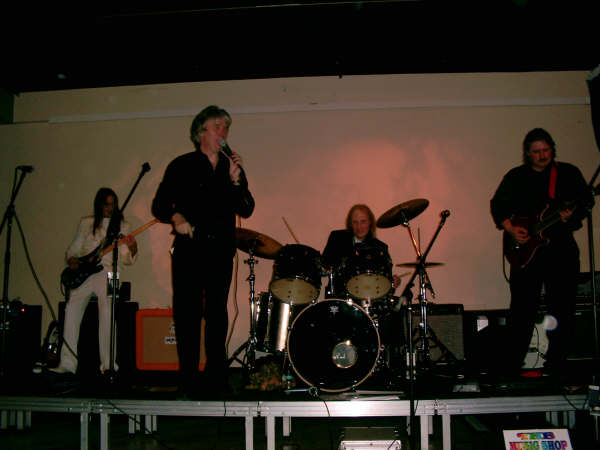 Next band on offer was an amazing reunion of a very well known Andover group in the shape of:
TEN FEET FIVE
I already have a dedicated webpage to this superb line-up and you may have already checked on Ten Feet Five ? If not, take a look and come straight back! This band had been formed during the early Sixties and named after the number of feet in the group (!) as well as having a well known foot logo on drums and group van. In 1963, the TF5 had Dave Smith on lead vocals, Pete Staples on bass, Chris Penfound on rhythm guitar, Chris Britton on lead guitar, plus John Walker on the drums. Pop enthusiasts will have already noticed two names on this line-up that later morphed into a new band that mad a massive impact on the UK charts and still tour to this very day. None other than the Troggs as lead singer/songwriter Reg Presley took over along with drummer Ronnie Bond joining Pete and Chris so the rest is history.
Chris Britton was due to join us as a VIP guest and playing with the reformed TF5 but I understand that Troggs' commitments prevented this much anticipated appearance. The original band stopped playing in 1965, but reformed for a few special shows in 1994 and carried on for another very successful ten years, appearing alongside many top Sixties groups as well as helping to raise some £100k + for several charities. Sadly, in 2005 their great front man lead singer Dave Smith died very suddenly which affected many people who knew him over all the great years and is much missed. Tonight's appearance was a personal tribute and a dedication in the memory of Dave Smith and was a great comfort to many of his family and friends who had come along to enjoy an amazing reunion of TF5.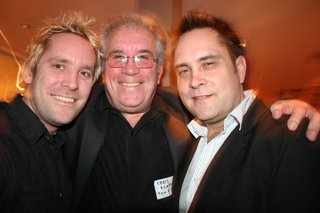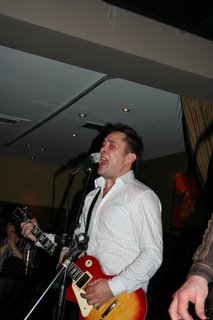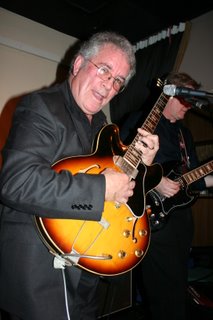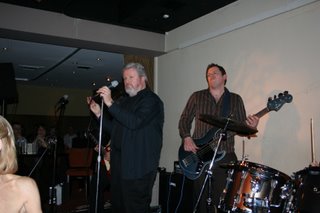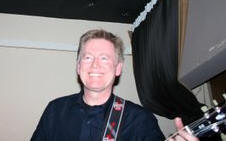 The line-up featured:
Original TF5 members Chris Penfound and John Walker (normally drums/vocal) who stepped into lead vocals for this performance. John sat in to back Pete Broyd's solo set early on and showed what a superb drummer he is so it gave him a chance to bash a kit on the show before settling down for this memorable set with his old pals. They were joined by Chris Penfound's sons - John and David (guitar and drums respectively) along with bass player Simon Pay and Charlie Porter on lead guitar. I have had the pleasure of knowing John Walker through my website and it was a great pleasure to have finally met up after a couple of years of e-mails and phone calls. The audience gave a massive cheer when I 'casually' mentioned that he had travelled over 3,000 miles from his new home in the USA! Joined by his American wife Mary who had a very enjoyable evening, meeting up with family, friends and quite a few old Andover fans of the early TF5!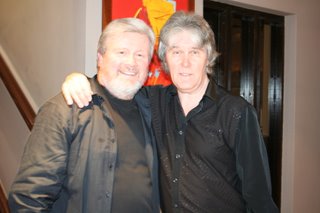 John Walker + DSJ
Most drummers are comfortable when sitting behind everybody else and keeping it all going, but on this special night we saw John Walker take the lead vocals and the band brought a very unique personal bit of equipment with them in the shape of a battered old mikestand with a very old car steering wheel as its circular base! This was the very same stand as used by former lead singer Dave Smith and served as a poignant reminder of a much missed band member, lending a beautiful personal touch in his memory. John led TF5 through another great set of classic numbers that many of us played back in the early days and, once again allowed proud fathers and sons to play together on the same stage which certainly bridged any generation gap on this night! I understand that Reg Presley was hoping to make it but he couldn't get permission to land his flying saucer in the car park! T5 picked a perfect set of classic numbers for this fantastic performance that just summed up what this night was all about and mirrored many of the very same numbers that featured in many of our repertoires back in those early exciting days
We then had a short break to draw the raffle, which had raised a substantial sum as well as an auction for £1,000 worth of holiday vouchers which were brought over from Gran Canaria by Bob Gorman who has dealings with a local villa company.
Next act was one of Southampton's 'founding fathers' of rock n roll in the welcome shape of:
TEX ROBERG
Tex was one of Len Canhams' first managed acts way back in the early Sixties and you can read about him on my other pages based on the local music scene. He was billed as 'South Africa's Elvis' before coming to England and quickly establishing himself as a very popular entertainer in the UK and was also very successful on the German circuit where he worked alongside many top visiting US rock stars. Tex also knocked around with the Beatles in Hamburg and was good mates with John Lennon, so must have some amazing memories of his own. Now at the age of 71, Tex still gets up on the odd occasion and delivers many rock n roll classics plus C&W amongst many other styles, so I was very pleased when he agreed to come along for a short set.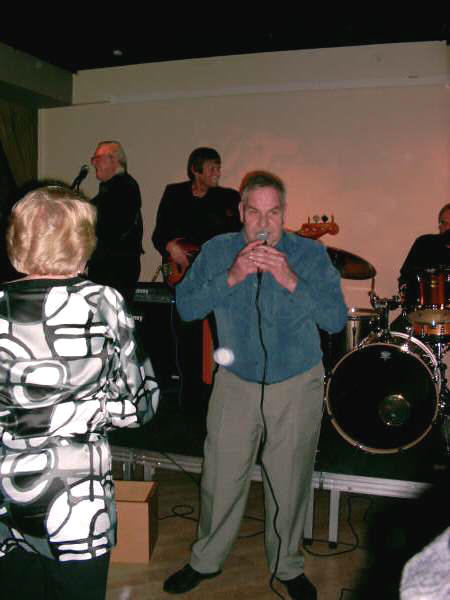 Tex and an adoring fan!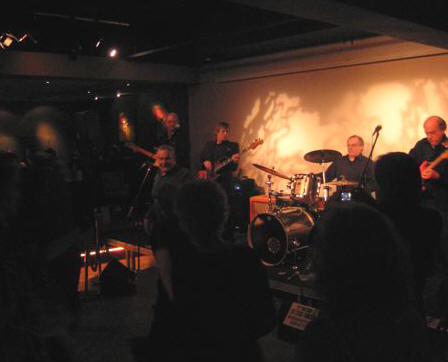 Atmospheric photo!
He was backed by a superb bunch of musicians called 'Pokey' (great name!) and received a great reception when I announced him and let him take to the floor with some hard rocking songs that got everybody dancing away. It was a pleasure and a privilege to watch him in action after so many years in the business and I know that he loved every second of his set which went down so well.
Around this time, I was informed of the money raised by the door admission charges plus raffle and auction so was able to announce a rough figure that was going straight to the Liberty Child charity. I was chatting to Pete Byrne, the main trustee for this organisation and he told me that they usually get around £20,000 p.a from various fundraising activities. He nearly fell through the floor as I announced that we had raised over £4,000 for the one night! The audience went wild at hearing this news and it really topped off the whole atmosphere of the evening and gave us all a great feeling at being able to bring in so much money, just for having a great night anyway!
RICK BROWN BAND
What a perfect way to follow Tex Roberg - another legendary figure on the Southampton music scene who also started out his career about the same time and is still in fine voice to this day! I have written a couple of pages on Ricky and the HiLites and the later Brownhills Stamp Duty (BSD) on this website and well worth reading all about this very respected talent plus the cream of local musicians who played in several line-ups across the years.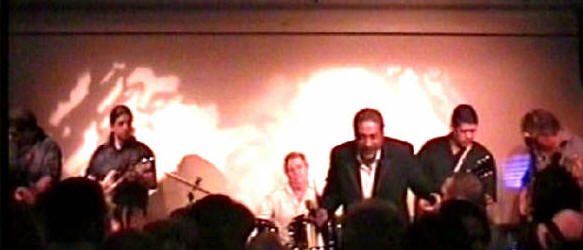 Beau Andy Mick Rick Steve Dell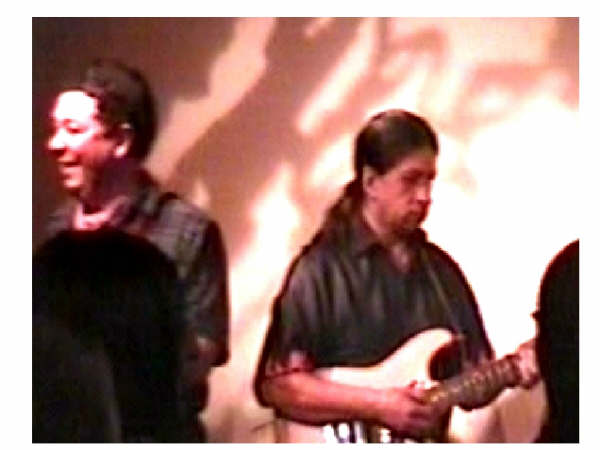 Beau Andy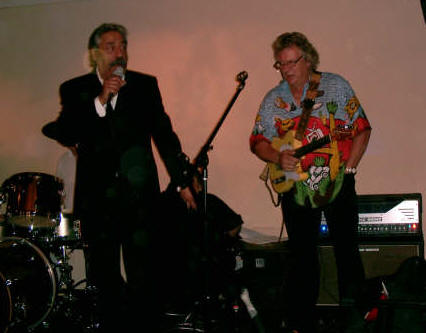 Rick and Dell - cool Australian surfer shirt!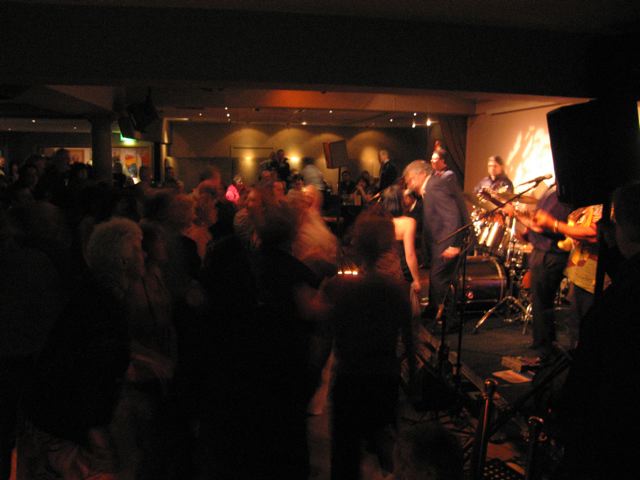 Rick and a packed dancefloor!
For this special set, Rick had managed to combine both top rated bands with drummer Graham 'Spike' Waters who was an original HiLite followed by Mick Hall and then linked to the BSD with other members of this very successful recording band who had cut some records in the Abbey Road Studios, soaking up the atmosphere of the Beatles of course!
The Rick Brown Band was a very special group for this night as it also featured Rick's nephews Andy (lead guitar) and Steve (rhythm guitar) along with Beau (bass) Another amazing musician was Dell Gibbs one of the Brown in-laws on rhythm guitar who had travelled all the way from Australia just for a few days and specifically to take part in this reformed group! I watched the audience reaction when announcing this and a few jaws dropped at hearing about this 'pilgrimage', thus setting the scene for some fantastic music to follow. I was gobsmacked when first hearing of Dell's intended visit back to his roots and he loved the whole evening as he met up with so many people who rarely see him these days. He joked "Fancy doing a 24,000 mile round trip for a one night 25 minute set!" Andy and Steve were only toddlers back in the early HiLites days but must have absorbed the musical influences as their uncles practised in the front room so were weaned on Sixties music from that time!
On a poignant note, once again there was an empty space on the stage next to Rick Brown as many of us remembered his twin brother Chris - 'Burnsy' who sadly passed away in 1995 after a short illness in his new home in Florida. Burnsy was an amazing guitar player and was responsible for the hard driving sound that personified the original HiLites from the early days when this band was one of the top groups around. They also played the German circuit and had quite a few recording successes out there with a massive following, as well as getting really tight musically due to playing long hours in some tough venues! Burnsy would have been proud to see his brother, nephews plus Dell and old mates playing together on this night although many of us felt that he was with us anyway. Maybe even playing onstage in another dimension- who knows? Earlier in the show, I had mentioned other great musicians who were still missed and remembered, including Martin 'Cuddles' Smith, Roy Perry, John Hatch, Ray Graves and others to whom we raised our glasses in memory of some fun times.
I introduced this historic band to a very expectant audience and Rick worked his usual magic as usual! Voice is as good and soulful as ever and he worked the crowd really well, getting everybody singing and dancing away - you'd think you were back at a packed Royal Pier dance night. This is the set list below and you couldn't wish for a better group of classic hits that still work after all these years:
First 3 songs (with Spike Waters) BSD
Stand By Me
My Girl
Dock Of the Bay

Second 3 songs (with Mick Hall) Hi-Lites
New Orleans
Bony Moronie
Long Tall Sally
The last three numbers set the room alight and it was a shame that Rick and the lads could not have played on, but time was pressing and we were starting to creep up to midnight with one last band to go. I was loving every minute of the band's set and these final numbers made me think of Burnsy as the guitars were really motoring and it brought back a flavour of the old group, so I'm sure his influence lives on. I later found out that this February 8th was the actual date of Burnsy's passing, which was an amazing coincidence and so must have had many of the Brown family thinking of this as the lads got together and paid tribute to him. Nephew Andy was also using one of his uncle's old guitar strap, which was another nice personal touch on a night to remember.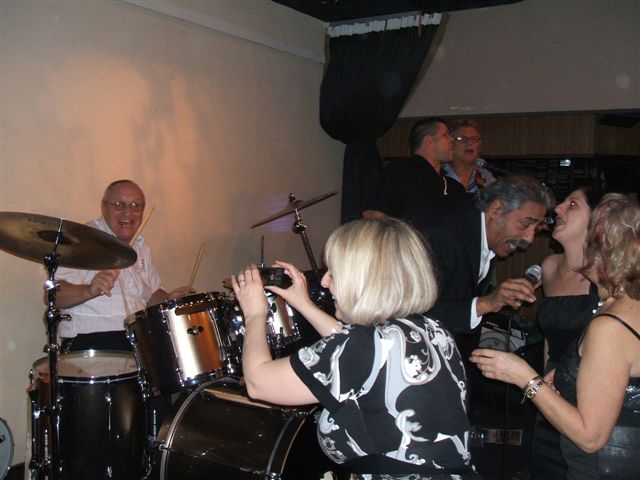 Screaming fans and groupies invading the stage!
They received a fantastic ovation and we quickly got the final band ready to go, and I introduced:
TRAMP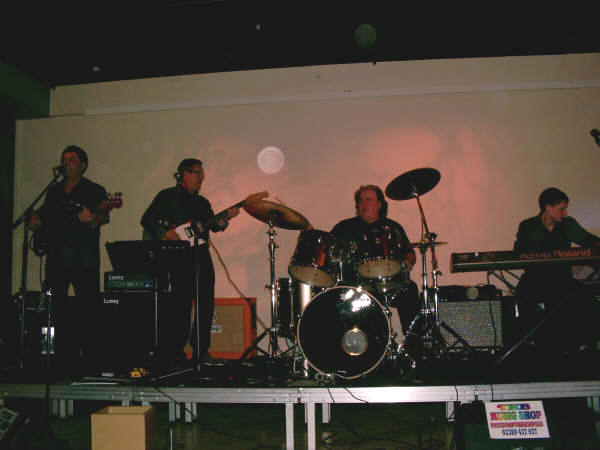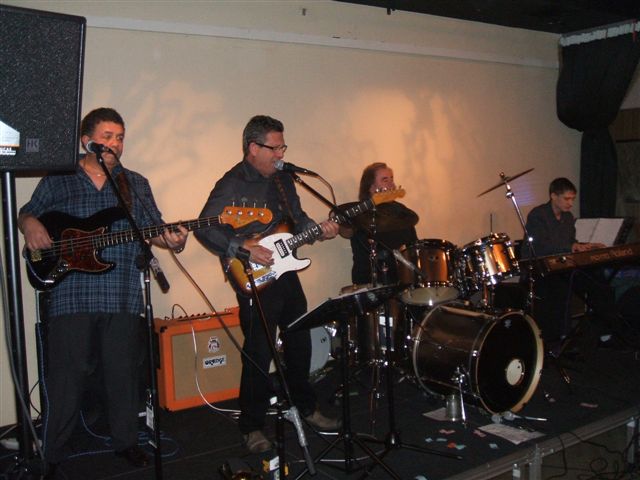 Terrific line-up of musicians, including Beau who had also played with Rick & co in the Brownhills Stamp Duty, and one of my oldest pals from our very own two early groups from 1964. Dave and Ollie Mitchell plus Bob White provided the perfect finale with a brilliant set of numbers that kept everybody singing and dancing away and this is the list:
"Take Good Care Of My Baby"
"You've Got Your Troubles"
"Sherry"
The last number showcased Beau's incredible falsetto that he is well known for and has boosted every single band that he has played with over the last 44 years or so! The Four Seasons' 'Sherry' brought the whole show to a close, as time prevented us with a chance for a finale jam as we had intended to get everybody back onstage and dancefloor. I then got up to thank everybody for being there on one of the most exciting nights ever staged at the Concorde, then handing over to the resident club DJ who kept the party going till 2am. A few more beers and quick chats with the remaining musicians and others before heading out into cold night air and crashing into bed after a nonstop 7 hours from start to finish.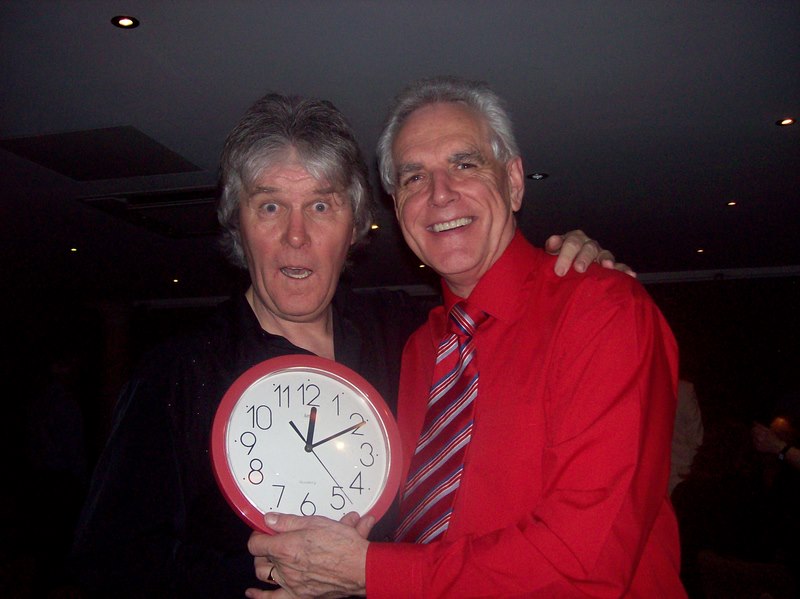 DSJ and Pete Broyd (who provided the stage clock that all bands used!)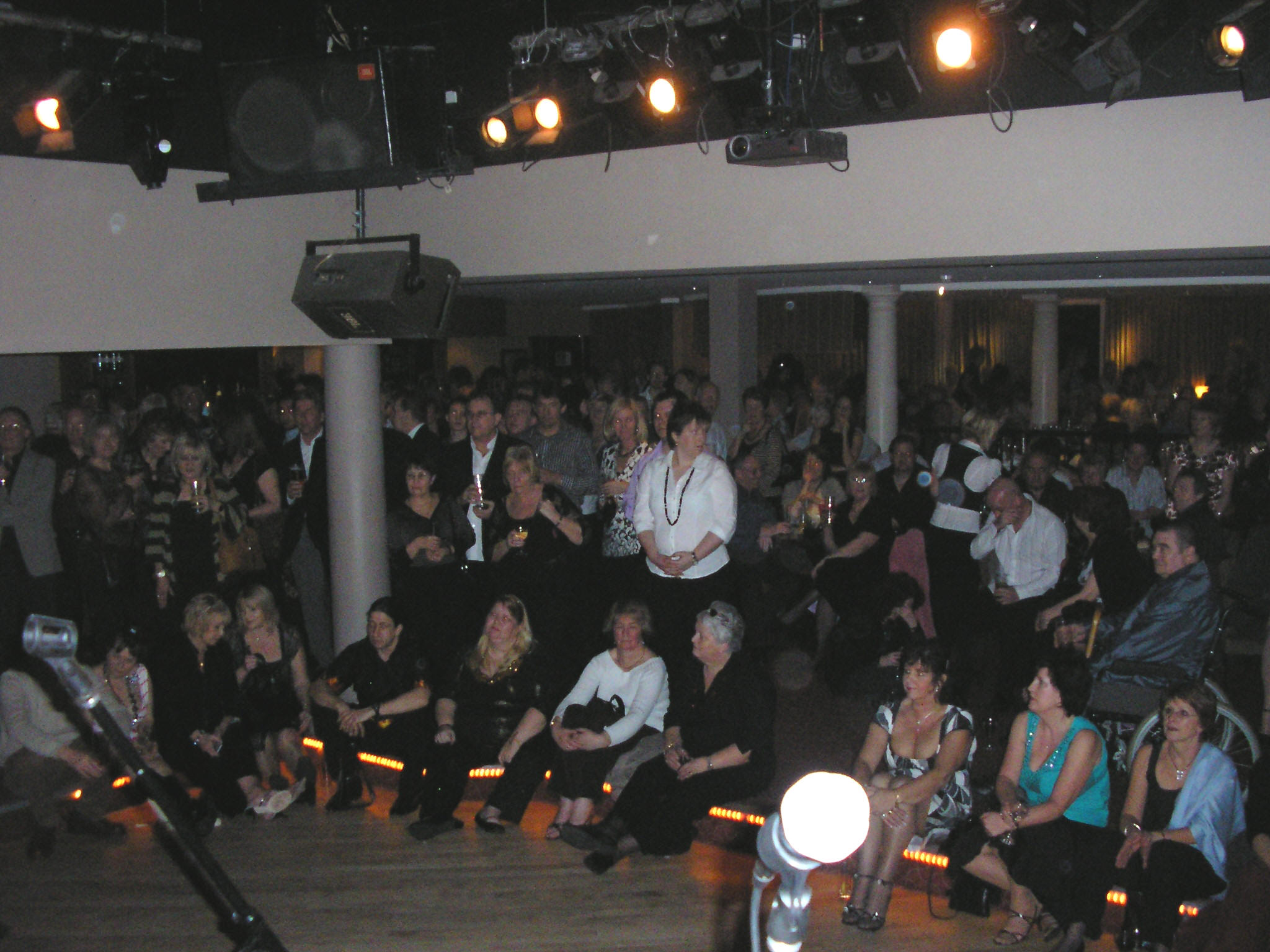 I managed to grab a couple of photos from our stage view - a packed room!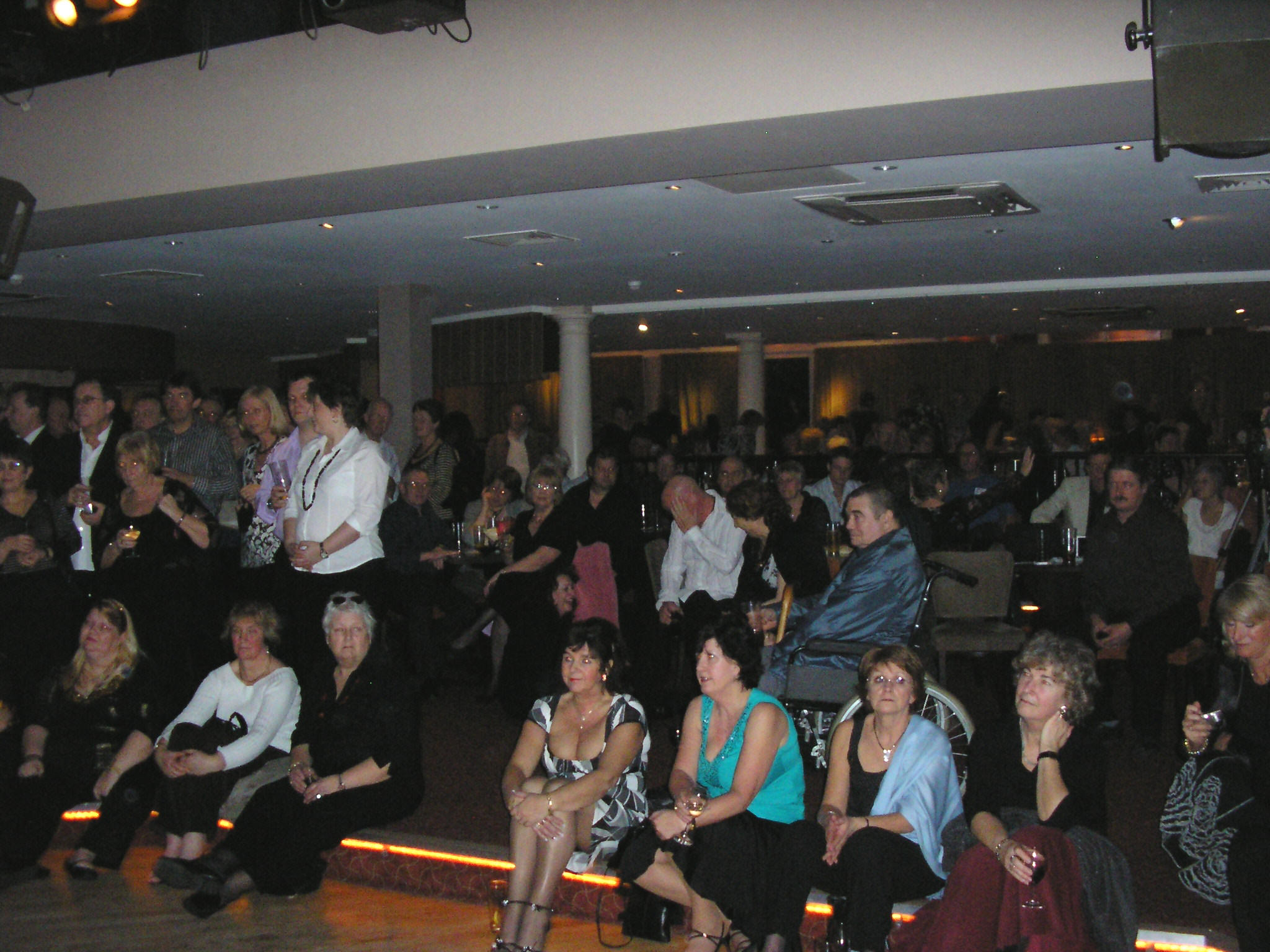 It was one of the best nights I have ever had and I know that so many featured bands, singers and DJs loved being part of this reunion night as well as a very appreciative audience who had enjoyed a nonstop show of amazing talent, mixed with so many memories. Since this show, I have been asked if it is possible to stage another night on the same lines, so I'm now working on this idea - watch this space!
This page is the first draft and I'm hoping to tidy it up over the next few weeks, so please e-mail me if you have any input, photos or any of your own stories and memories of this get together. I can then add these onto a new linked page as this one is fairly long, so please check my site from time to time. My apologies for any mistakes or omissions but will amend this page as anyone pitches in.
I'd like to thank everybody concerned - the artistes, the audience, along with Cole Mathieson and his hard working staff at the Concorde - they were certainly busy that night. I also appreciate the many kind words and feedback from many sources but it was a fantastic experience for me - only problem was that I had so little time to spend with my old mates as I had to keep this show running as smoothly as possible. There were no problems on the night and it was very rewarding to see everybody muck in and just get on with it - this is what you call sheer professionalism - a rare commodity within the entertainment scene of today. This was a real variety show - no 'tribute' acts or backing tracks were needed as we showcased a wide range of real talent and maybe inspired a few youngsters to pick up a guitar and find a new path in life as many of us old farts have done!
I'd like to thank Pete Broyd for his suggested name for this special night, with regard to the combined ages shuffling onto the stage - clue: Great 1971 one hit wonder by Ashton Gardener and Dyke - do a net search and it will give you a laugh!
Pete B was sat in the restaurant section and was a bit upset on the night because he overheard one of the women in the audience saying 'I don't remember him' and 'I don't remember them' and I don't remember him either '...... which was very surprising because we ALL remembered her!
I'll have to write a new webpage on Groupies sometime?
David St John
February 2008
Back to Sitemap Back to Home Page Contact David
©David St John 2008
Trivia answer: Rick Parfitt- Status Quo!