BACK TO HOME PAGE BACK TO SITE MAP CONTACT DAVID
*PLEASE REFRESH YOUR BROWSER(press F5) WHEN RE-VISITING ANY WEBPAGE AS CONTENT IS OFTEN UPDATED*
COPYRIGHT
Please note that many images contained within this website may be subject to copyright, although many have been kindly sent to me and intended to be shared on this non commercial outlet. If anybody wishes to use any of the same, then please get in touch as well as possibly giving credit where due as well as setting up reciprocal links if relevant to the actual content on any webpage. Please note that I am able to monitor any image-copying and if published on other websites. I would appreciate any contact to report broken/outdated links and any corrections to the text that accompanies any images herein. Thank you and enjoy!
BACK TO THE SIXTIES V!
Friday 14th September 2012
Door proceeds direct to local childrens charities via Concorde's established fund-raising section.
Check out the previous annual shows:
2008
www.davidstjohn.co.uk/concordereunion.html
2009
http://www.davidstjohn.co.uk/concorde2009.html
2010
http://www.davidstjohn.co.uk/concorde2010.html
2011
http://www.davidstjohn.co.uk/concorde2011.html
15th September 2012:
The well established 'Back To The Sixties' was back for another great night and featured the cream of classic 60s bands, singers and DJs from the best ever decade. Original artistes who performed around the Southampton area and all over the country, provided some great sounds with over four hours of live music plus fills from the local 'vintage' DJs. Just take a look at the previous webpage reports for a feel of what it's all about. The Concorde Club is celebrating its 55th anniversary in 2012, looking back to its early days a jazz club based in the old Bassett Hotel pub in Burgess Road at the top of Southampton Common in 1957. The new premises in Stoneham Lane were founded in the early Seventies and now transformed into one of the finest music venues in the UK featuring many top names- just take a look at their own website. I have a dedicated webpage on my own site as well, which tells more of the legends that trod the old boards:
www.davidstjohn.co.uk/concorde.html
...............................................................................................................
THE SHOW!
The main doors opened at 7pm as the audience settled down to dine, drink and chat whilst the great combination of Southampton's finest 'vintage' DJs played some superb warm-up music of 60s classics. Geoff Knight, Gary James, Nicky Horne and Chris Golden who (yet again) came over from Winnipeg Canada to help out! I was then introduced for the opening spot with a few gags and knocking out a song- 'My Generation' by the Who- they often played the local Southampton clubs before hitting the charts. I also mentioned one my early bands who followed them at the Waterfront Club (Cliff Hotel) by the old Floating Bridges in Woolston. The low ceiling tiles above the small stage had been bashed in by the antics of a certain Pete Townsend of the High Numbers (previous name) the night before- the club owner was moaning about these London mods and threatened "They'll never play here again...." Yeah-right. I then announced the first band on in the shape of one of our finest local groups:
P.D.S. BAND (Paul Da Souza Band)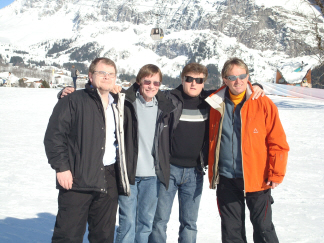 Recent tour of Switzerland!!!
Paul Da Souza (voc/gtr)
Neil Hibberd (bass/voc)
Paul Barry (gtr)
Steve Faithfull (drms)
Terrific 'pro' band and we had several requests to have them back onboard again for this year. Paul and Steve were not available and we were privileged to have guitarist Dave Mitchell and son Jack on drums (brilliant) - the family has a wealth of musical talent! Along with Paul and Neil, they chose to change their set from the previous year and opted for a much appreciated set of Beatles and Rolling Stones classics plus a few lesser known tracks. The PDS band went down a storm- not always easy for an early spot and go the dancers up right away plus the whole room singing along with the memorable hits of the two best groups ever.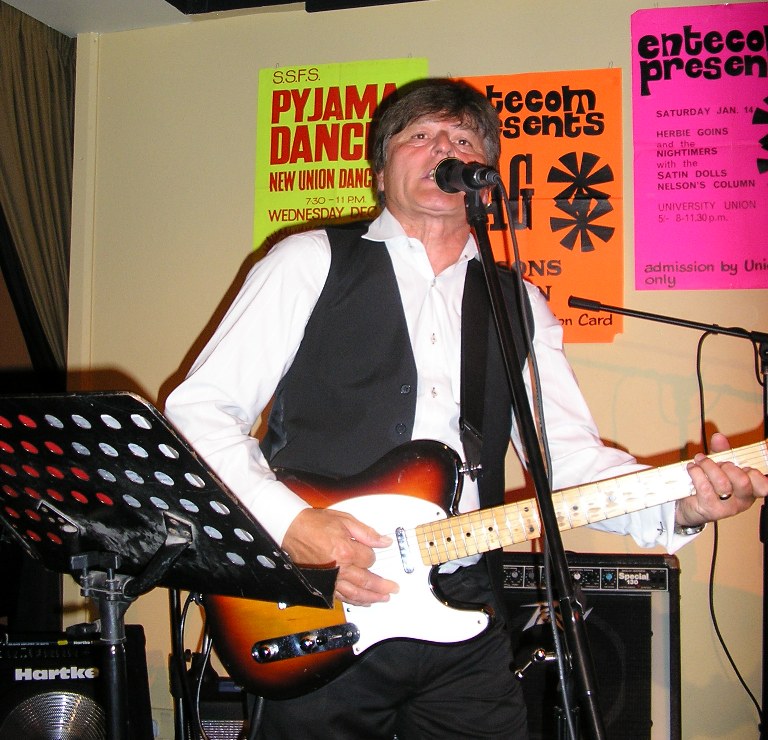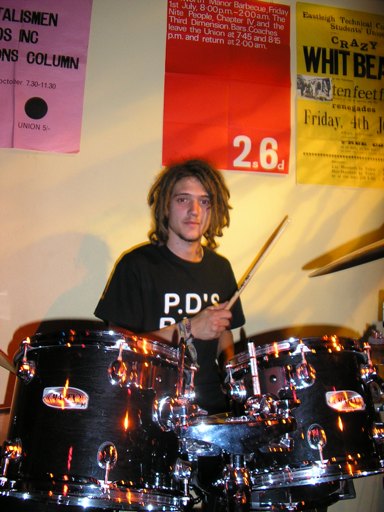 Paul DaSouza Jack Mitchell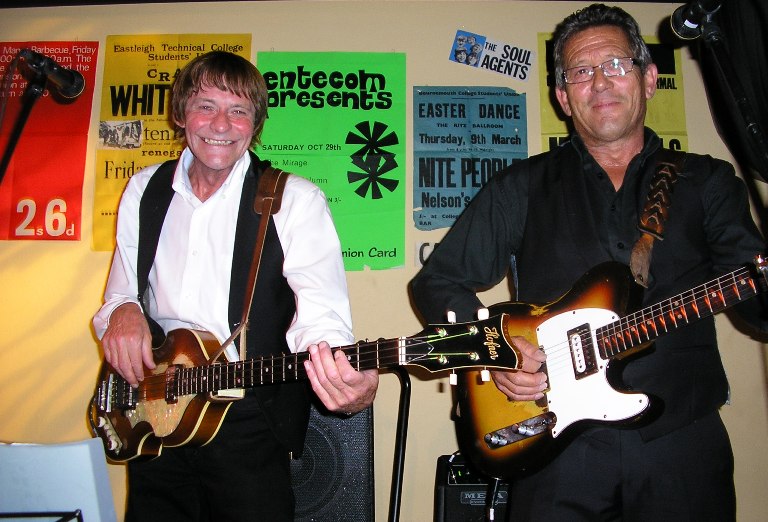 Neil (Beatle bass) Hibberd Dave Mitchell
...............................................................................................................
After the PDS Band, I took a few minutes to pay tribute to the many local musicians, singers, DJs and other people who were an important part of the Hampshire scene from the late 50s on but who were no longer around. The list of names read out were treated with applause as many musicians and fans were in the club so reviving fond memories of old mates etc. This is the obituary list which I thought would be nice to be shared on this page - some of these great musicians and singers played with several groups over the years so I have only filled in a few details. I'll also add some more images of each of these names who will always be remembered as great musicians and old pals
IN MEMORIAM- R.I.P.
KEITH GOULDING (NELSONS COLUMN Companions and Hobsons Choice)
DAVE SMITH (LEAD VOCALIST-TEN FEET FIVE)
DAVE WRIGHT (FOUNDER MEMBER TROGGS)
RONNIE BOND( TROGGS DRUMMER)
DAVE DEE
MARTIN SMITH 'CUDDLES'
JOHN HATCH
ROY PERRY
ROY PAYNE (WHIRLWINDS) SEE BELOW - EARLY 60S PHOTOS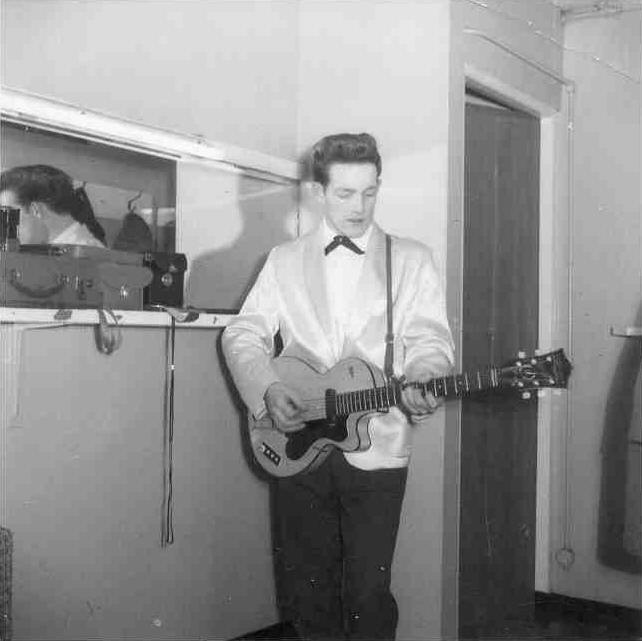 Whirlwinds- Mike Humphrey Roy Payne Roy Perry Roy Payne
These great photos sent from Roy's brother in law Mike Humphrey (Texas) via Kevin Scott/KevinFinn/Danny Finn
Many will recall 'little' Roy Perry who was in my last group 68-72 at the old Railway/Woolston pub
TONY HART
BRIAN MACEY (ROCKERFELLAS)
.........................................................
BLACKJACKS X 2:
BRIAN COE
Howard (Bugsy) Richardson
......................................................
FIVE RAYS X 3
RAY WORLEY
ROY WORLEY
BILL STEADMAN
..............................................
TONY KERLEY
ALAN BENCE
NICK ANTHONY DJ (BOB GORMANS BROTHER)
'RAY VON' DJ
DAVE CARSON DJ
MELVYN McCREA
RAY GRAVES
HENRY SANSOM (HENRYS RECORD SHOP)
LEN CANHAM
REG CALVERT
HEINZ
MICK HALEY
EDDIE HARNETT
CHRIS 'BURNSY' BROWN
RICK BROWN
We played Rick Brown's recording of 'Stand By Me' following these names as his theme tune and other people's favourite
For the first show in 2008, we featured one of Andover's finest 60s bands in the shape of a reformed Ten Feet Five-later Troggs (see above link) and in 2010, John Walker came back over from his home in Virginia yet again. This time, along with his own US based group- Johnny and The Rebels and they tore the place apart with a classic mix of rock, pop, country and loads more. As I was organising this latest 2012 show, I had a message from John to say that they were hoping to come back over for another short break plus a few gigs. It was confirmed and we proudly announced these international visitors as the headlining act for "Back To The Sixties! They have two new members that have added a new dimension and extra (high) harmony to the setlist. Take a look at the Rebels own website below and please check back on this new webpage for any updates etc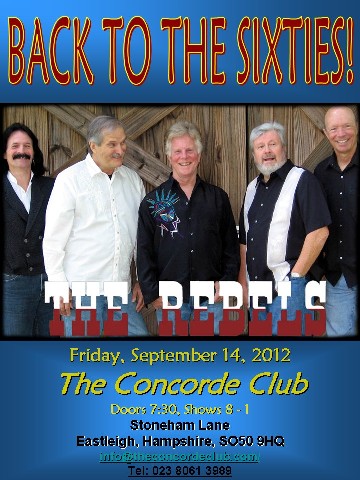 http://www.johnnyandtherebels.com/
The 'new' Rebels flew into the UK on Wednesday and we all met up at the Concorde Club at 5pm on the Friday as we started to set up the equipment in readiness for the show.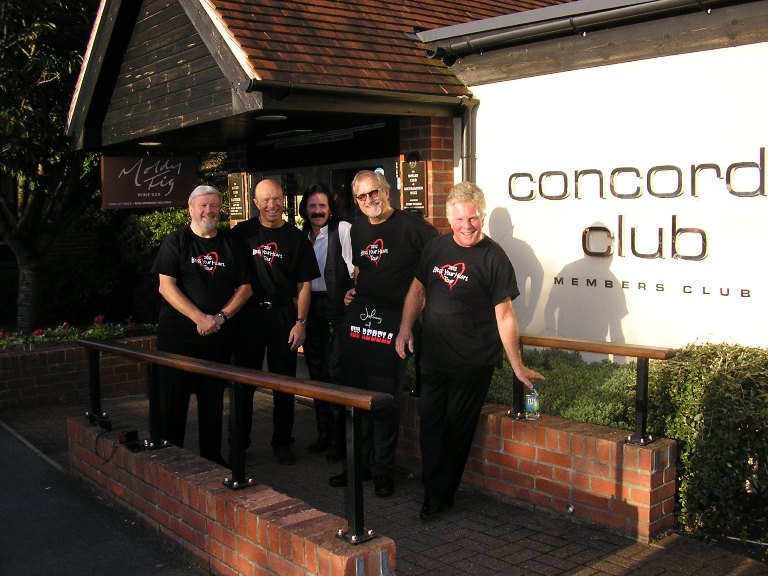 THE REBELS
John Walker-Dan Chute-Gene Beavers-Zane Gill- Tim Smyser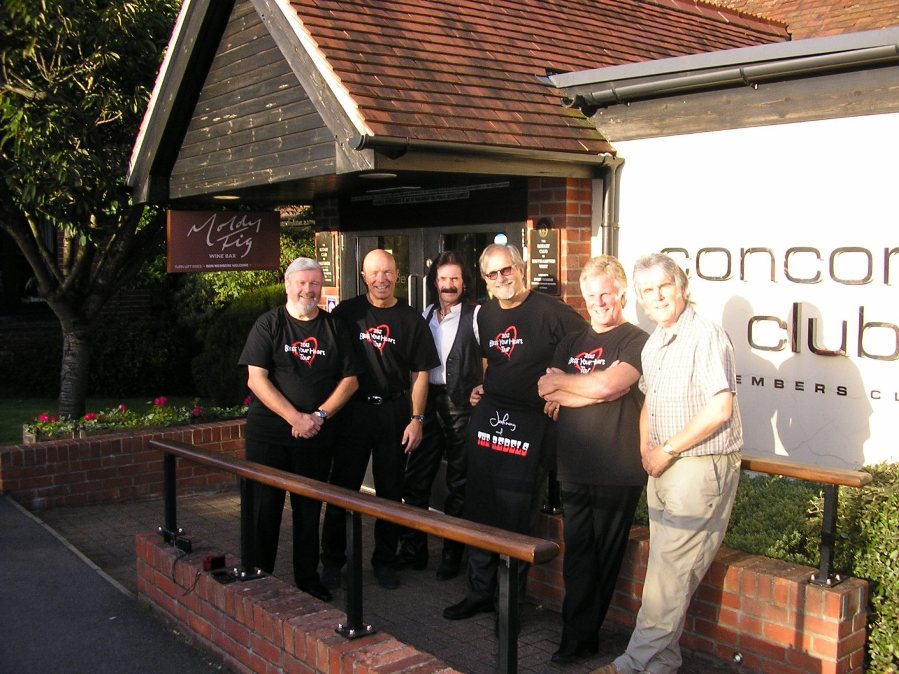 6 REBELS!
I then introduced the much anticipated Rebels who played a great set of 60s classics mixed with a few lesser known American hits- terrific sound, vocals and kept the dancers on the floor throughout their 60 minute slot. Followed by a few photos with the Crystals 'He's A Rebel' playing in the background before we surprised them with 'The Star Spangled Banner' as everybody stood up with hand on heart as a fitting welcome tribute to our US buddies!

.................................................................................................................
NELSONS COLUMN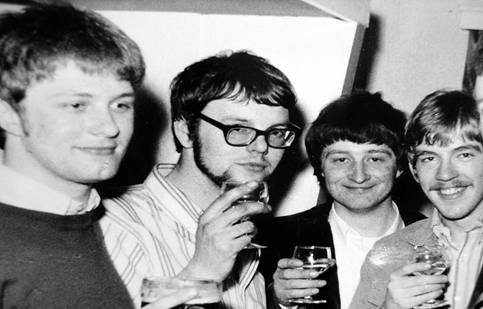 Then and now!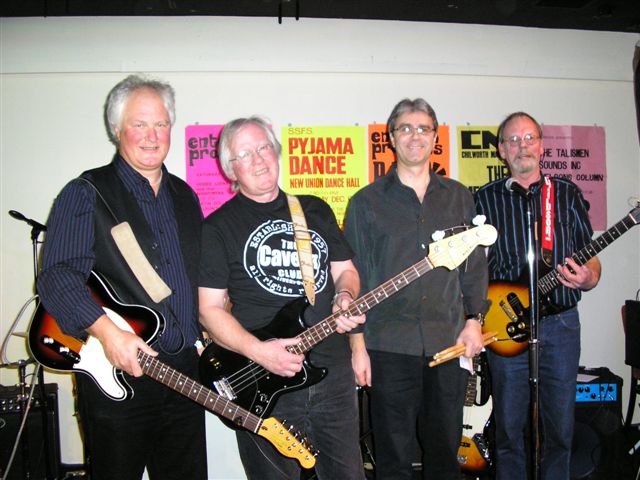 2010 line-up:Chris Goulding George Benn Ken Chandler Nick 'Spiggy' Goddard
Nelsons Column kindly took part in the 2010 show and paid a tribute to Keith Goulding who sadly passed in 2009 but was himself hoping to appear on that very same show- you can read about this on that page. Another great set of classic hits and geared towards the late night dancers!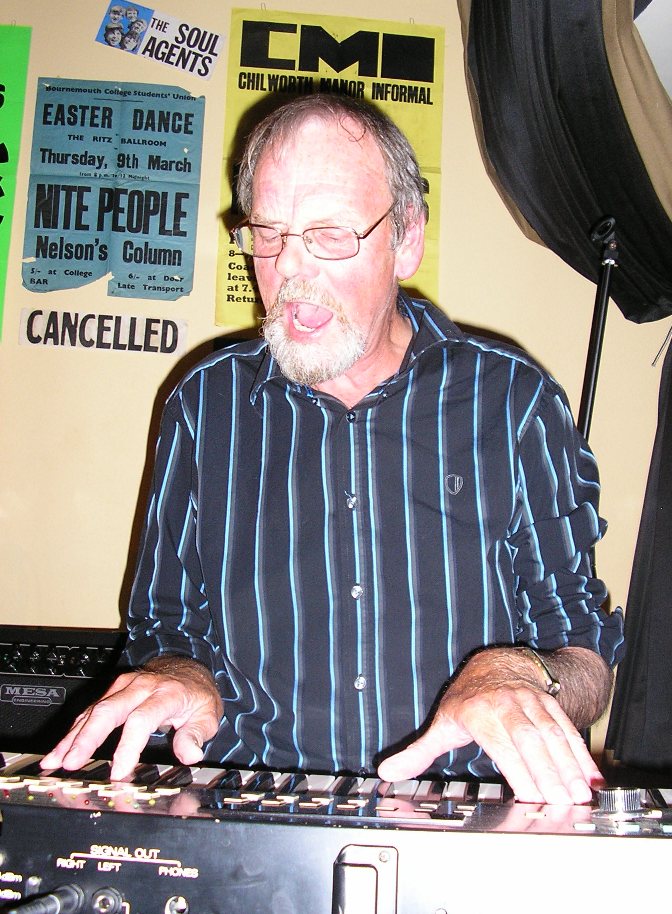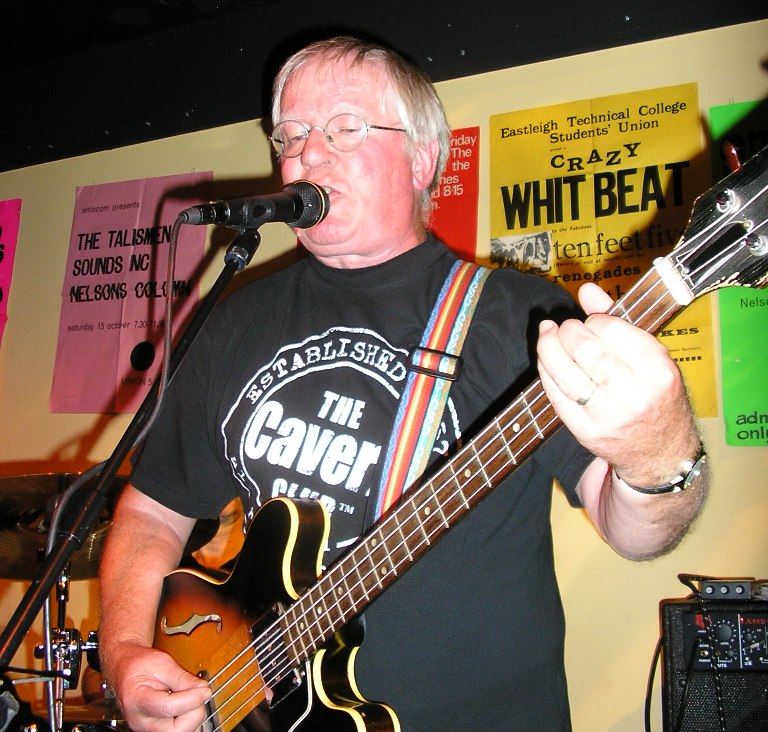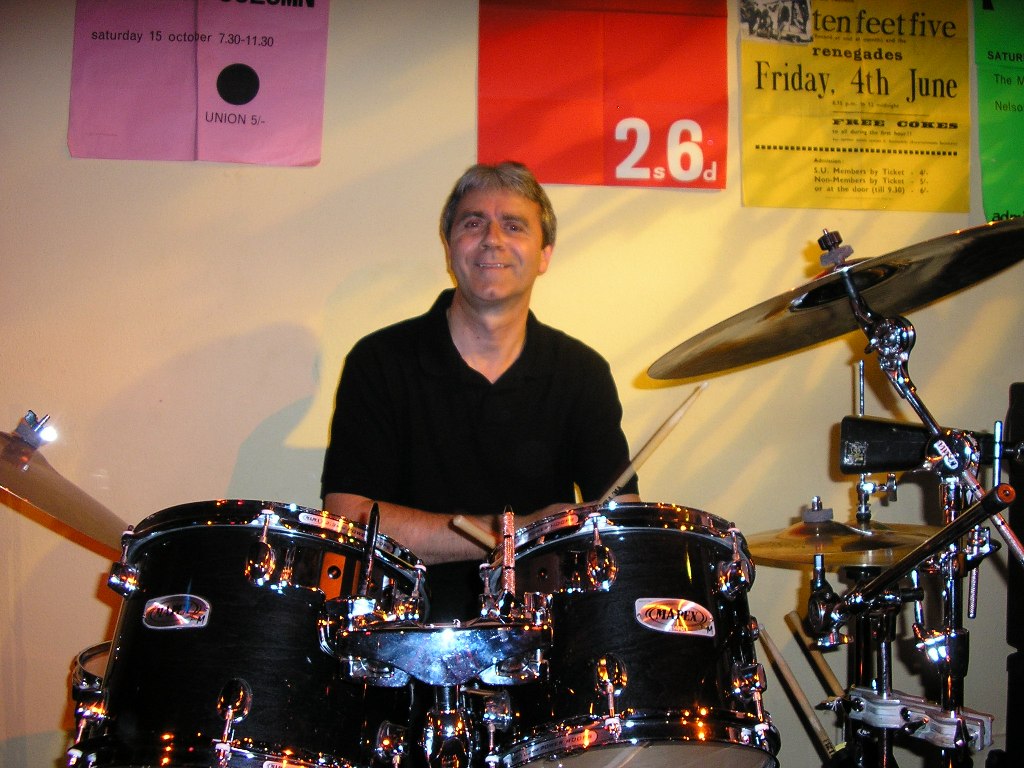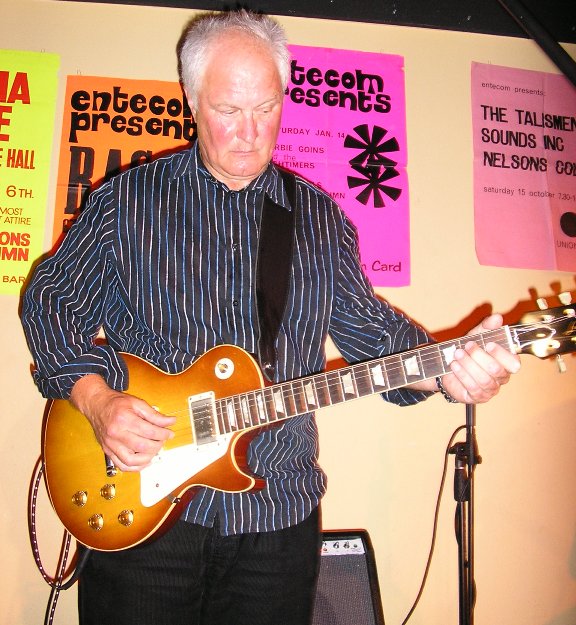 .................................................................................................................
Many thanks to Eddie Hailwood of Fret Music Shop Shirley Southampton for kindly supplying and mixing sound (plus Mike) for the shared p.a. for this show as well as helping the Rebels for their 15th September show at Churchills Club Eastleigh. Check their website if you are serious about music!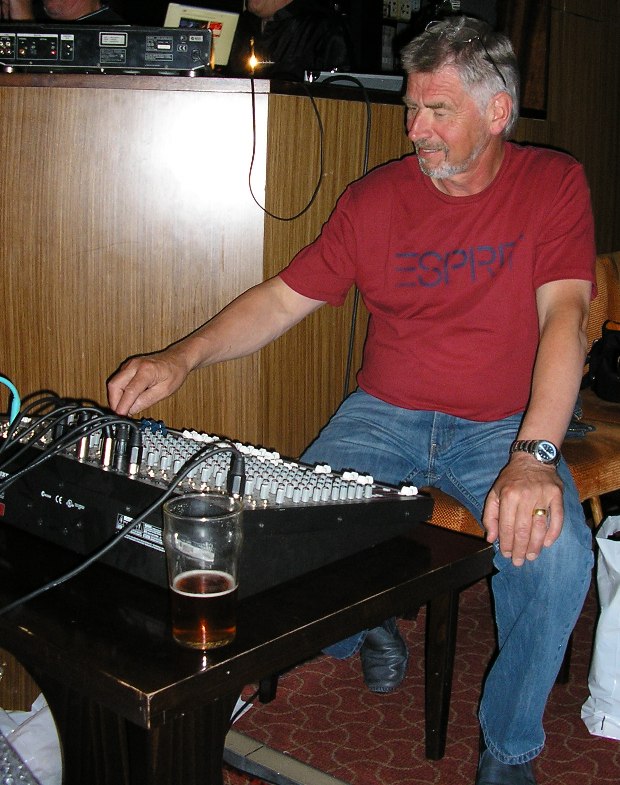 Eddie 'Fret' Hailwood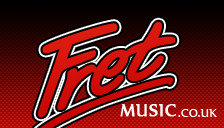 http://www.fretmusic.co.uk/home.php
I will have some more photographs of this great show as the trickle in- so please check back soon with updates.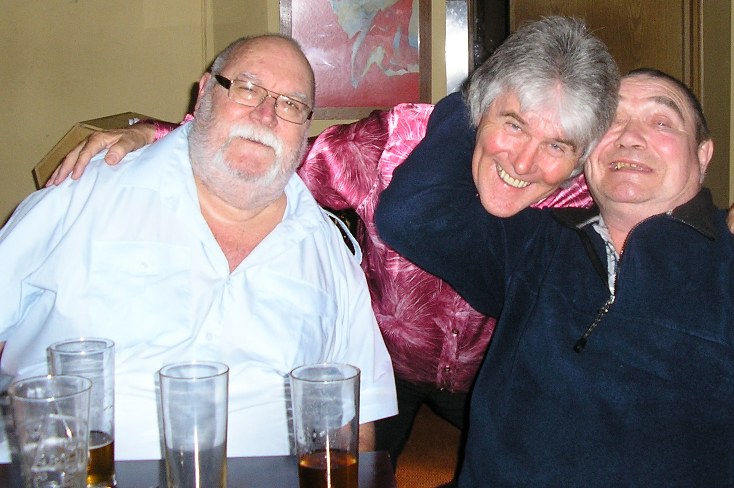 Jim Bourne-DSJ-Tommy Bannister
A couple of Southampton 60s musician pals
BACK TO HOME PAGE BACK TO SITE MAP CONTACT DAVID
copyright©davidstjohn2012