BACK TO HOME PAGE BACK TO SITE MAP CONTACT DAVID
BACK TO THE SIXTIES 2009!
Friday 30th January 2009
*LOADS OF PHOTOS-LET IT LOAD!*
The repeat of an amazing evening of top original 60s bands and singers that was first staged back in February 2008 at one of the South's finest music venues - the Concorde Club. It originally started life as a small jazz club in the back room of an old Southampton pub back in 1957 by Cole Mathieson, who later went with the flow of early 60s R&B bands (original rhythm and blues!) and featured many fledgling musicians who went onto global fame. The likes of Rod Stewart, Elton John, Eric Clapton, Free, Robert Plant and many many more 'names' that made it really big in the world music scene. If you have just arrived at this page then you might wish to get the flavour of this first ever mini-festival featuring many original Sixties musicians, singers and DJs that was intended as a one-off Re-Union show:
www.davidstjohn.co.uk/concordereunion.html
This popular venue moved to its present location near Eastleigh Airport just off the M27 motorway in the early Seventies and has now been transformed beyond all recognition. It comprises the main Concorde Club which features a varied programme of live entertainment and this is the club's own website -so take a look, then come straight back here!
I have a dedicated webpage on my own site as well, which tells more of the legends that trod the old boards:
www.davidstjohn.co.uk/concorde.html
The Concorde Club celebrated its 50th anniversary in 2007 and is still run by the original owner and founder Cole Mathieson whose passion for jazz saw many great names appear at both venues over half a century. The family run venue has a superb club room plus corporate facilities as well as having a separate bar and small restaurant that stages regular jazz outfits. Also within the grounds there is an adjoining hotel which links in with the club's business facility and also handy for the nearby airport.
I called in to see Cole during 2007 and suggested an idea that was running through my head, following on from the success of my many webpages telling the story of the local music scene that exploded during the Fifties and Sixties around the Hampshire area. Having made contact with many old musical pals from my own early days plus many new ones who came onboard when discovering my website I had an idea of arranging a 'reunion night'. This would feature some of the original musicians, singers and DJs who were at the forefront of the Golden Days of the 'Beat Scene' as it was known. Many of us had appeared at the new and old club so it was a great way of linking to the club's 50th celebration albeit a few weeks into 2008 and stirred memories amongst the fans who had enjoyed the bands all those years ago.
Cole was overwhelmed with this concept so I went to work on the first show that took place on Friday February 8th 2008 and it turned out to be a fantastic night of nostalgia. It featured six 'vintage' bands from the 60s with most of them not having played together for decades plus a few guest singers and DJs who all provided over four hours of the greatest music heard for ages. The show sold out shortly after being advertised within the Concorde's own members and my own grapevine of musicians featured across my website - no outside publicity was needed!
It was intended as a 'one-off' as we felt it could not be repeated but the feedback from so many people suggested that perhaps a similar show could be organised for the following year so I started the ball rolling during the late part of 2008 and worked on trying to stage a follow on event but not aiming to be the same as before. Last year saw just over £3,500 raised and I was optimistic that we might be able to get near to this first overwhelming success despite the increasing financial problems that have been affecting the entertainment business. If you were there, then please enjoy this webpage and know that many an old tune is played on an old fiddle as the saying goes! I managed to grab some photos in between running the show and look forward to adding more as and when people send them on.
January 31st 2009
This is the line-up of some of Southampton's finest talent that jumped at the chance of making their way to the Concorde, including some musicians who had been in the audience for the first show in 2008 plus other that missed out or had only just discovered my website on the grapevine that has been growing over the last few years.
BACK TO THE SIXTIES 2009!
Featuring:
The Abdo-Men/The Unforgiven
The Strollers
Tex Roberg
Rick Champion
J.A.B.
Sunflower
Chris Shakespeare
MeddyEvils
Havant Jammers
Guest DJ Johnny Dymond
The doors opened at 7pm and quickly filled up with the audience and also provided another chance for musicians to meet up with old pals plus many fans that danced to them all those years before. The atmosphere was buzzing again and I was relieved to have reached this night with no major problems as all the invited bands organised themselves in readiness for the big night. Some were local so easy to meet up for a quick rehearsal or just a talk through - even on the phone. There were also a few cases of last minute chats on the same night to quickly cobble together a few numbers so really flying by the seats of our collective pants! Once again, I was delighted to have my old mate back on the show - the most well known Sixties DJ in the shape of Johnny Dymond, who had flown over especially from his new home in Sunny Spain to brave a cold January night in England! We were also joined in the audience by one of the finest steel guitar players Tommy Bannister who had loved the 2008 show but sadly still not well enough to play at the moment but his fingers are slowly getting some feeling back so who knows.......We had a reserved space by the side for Tom's wheelchair and he never stopped smiling all night long, aided by quite a few beers! Other guests were Chris Golden the DJ over again from Canada and Joe Craen, another 'vintage' DJ plus many more that I didn't really have time to talk to.
Chris Golden and Joe Craen (standing) Jamie Mathieson keeping an eye on Wally Phillips at the bar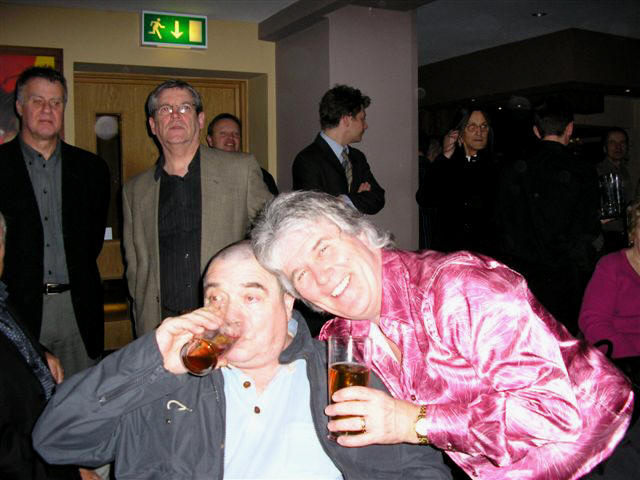 Tommy and David sinking more beer!
Johnny played many classic 60s records with amusing and nostalgic chat that took everybody back to the golden decade that was the theme of our show. At 8-00, John played some great classics in a specially recorded megamix before introducing me so I had a ready made warmed up audience and launched into a very quick welcome chat before having the fantastic chance of opening this show alongside a couple of very special musicians who had been fellow bandmates in my first ever groups back in 64/65. Our first group was called the Abdo-Men (yeah- bad pun) and featured myself on lead vocals and harmonica with Dave 'Beau' Dinnage on rhythm guitar at that time. He later moved onto bass guitar and has been playing with many bands ever since and one of my best pals from all those years ago, as well as being partly responsible for my kickstarting the music based webpages that eventually resulted in these two ReUnion shows. I had originally set up my basic one page website to promote my main comedy work, since leaving the music scene back in 1972 and then started up a small Biography page (just check on the Site Map page to find out more) Beau then sent me a rare couple of photos from our second group-The Unforgiven and this superb band featured one of the best drummers in the business - Ronnie Allen, other members being Graham Medley (bass/vocals) Dave Bunney (first drummer) and Eddie Harnett (vocals/gtr)
We decided to resurrect both bands with me, Beau and Ronnie so then roped in a couple of top Southampton guitarists Dave Mitchell and Eddy Hailwood who owns Fret Music Shop in Shirley as well as kindly supplying a shared Premier drumkit for the whole night as he did in 2008. As I do not live in the city, it was not possible to rehearse so we had a rough idea of a setlist and needed to be kept basic. Our only chance was a five minute talkthrough in the bandroom a short while before taking the stage but I had every confidence with these guys whose experience shone through as we all knew the numbers that we picked to offer a close idea of what we were playing some 45 year before!
THE ABDO-MEN/UNFORGIVEN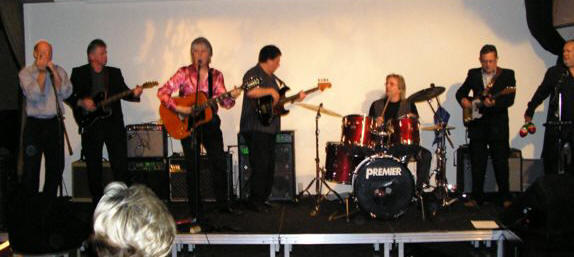 Mick Eddy David Beau Ronnie Dave Brian
I only started playing guitar back in 1972 when deciding to go solo and back myself plus mixing the music with the ever increasing comedy side of the new act. I bought myself an Eko Ranger 12 acoustic/electric guitar and not that expensive at the time but has been recognised as a superb instrument across the music scene with great full sound and good action. I had always loved guitars and one of my regrets is that I never knuckled down to play lead breaks and choosing to be the front man, adding laughs to the whole show. I wanted to start with a bang and decided on a mix of two classic numbers that we used to play in the Abdo-Men having a mix of musical influences such as the Beatles, Stones, R&B, rock n roll, pop and much more. These were Not Fade Away into Bo Diddley so I was also lucky to have some other harmonica players on the show and invited a couple of musicians from the Havant Jammers who were to close the show - Brian Arstall on maraccas with Mike 'Rocket Man' Drube on guest harp for this opener. The years just dropped away as we launched into our first reunion after some 44 years and we knocked a pretty tight set despite no rehearsal! This was our selist:
NOT FADE AWAY/BO DIDDLEY
ROUTE 66
SORROW
A LITTLE PIECE OF LEATHER
MOVE IT
IT'S ALL OVER NOW
DIMPLES
Everybody played superbly and we featured Beau on lead vocals on 'Leather' with his amazing falsetto that has been going strong for decades and the set ran smoothly through before thanking them all and getting ready to introduce the next band in the shape of:
THE STROLLERS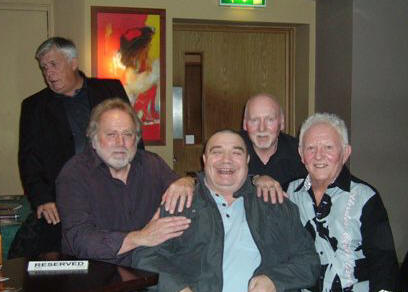 The Strollers pictured with Tommy (Steel Guitar) Bannister with Johnny Dymond looking for his pint!
One of Southampton's well known bands from the very early days of the Sixties when they played on the Pier and many venues all over the place. The band did go through several changes but we had the core players with Colin 'Angel' Willsher on lead gtr/vocals, Geoff Chalke (later Brook Brothers backing) on bass/vocals and my good pal Tony Burnette on the drums. Tony had been in my last group 68-72 so really good to meet up with him after all these years. They knocked out a great set and here are the songs that got everybody going and joining in: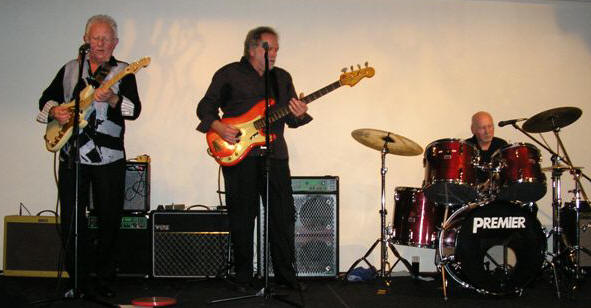 Colin Geoff Tony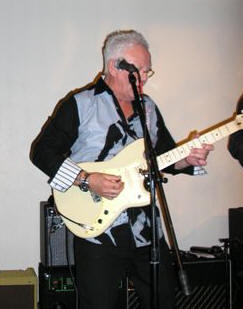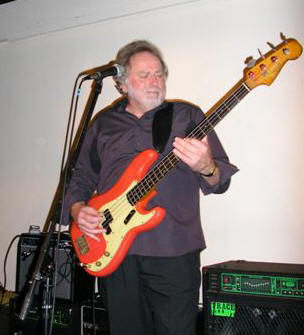 The Strollers stayed onstage as it was time to introduce another 'legend' of the Southampton music scene who had been backed by this and many other line-ups back in those rock n roll days. This great singer had spent a few years in Germany at the Star Club Hamburg with the likes of Little Richard, Gene Vincent, Jerry Lee Lewis and then the early Beatles who launched their career by playing all night. He used to be good mates with John and Paul with many memories of those wild times. He appeared on the 2008 Concorde show so a great honour to welcome back:
TEX ROBERG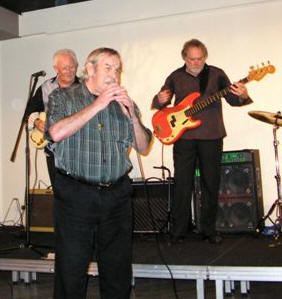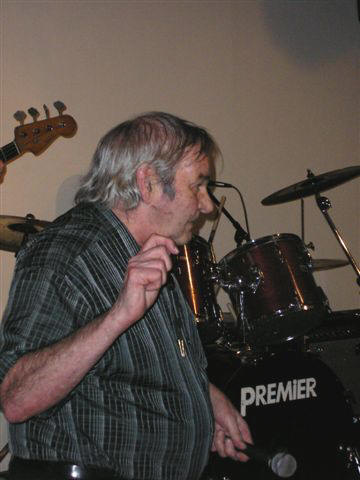 Tex is not in the best of health these days but he knocked out a couple of classic rock n roll songs with his customary showmanship, great moves, twinkling eyes and delighted the audience as he took us all back to the glory days with these memorable hits:
ONE NIGHT
CHANTILLY LACE
The next act up was a solo guest appearance by a new mate of mine through my website although we both know many of the former musicians and this very talented performer had made the long journey over from his home in Las Vegas for a combined holiday plus the chance to meet up with his old mates as well as get up and play. In fact, we had met up the night before at the Dolphin Pub in St Denys Southampton - a well known music venue plus a few other musicians. We had some good chat and we both got up and played an impromptu set made up as we went - him on bass/vocals and me on guitar/harp. He has been featured on other pages and it was terrific to introduce:
RICK CHAMPION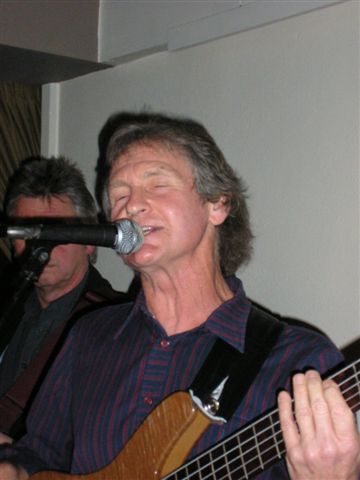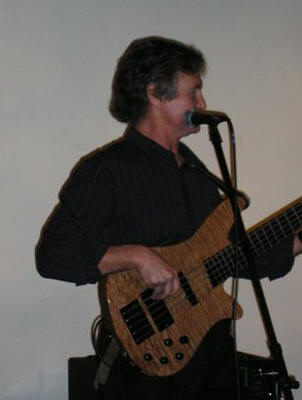 Rick only had a few minutes to scrape up a band and once again, Dave Mitchell (gtr) and Ronnie Allen (drms) were recruited then had a quick chat in the band room about an hour beforehand. I introduced Rick but he was talking music with another guy and had not heard me! I therefore shouted 'Drum solo' to Ron and off he went! We laughed as I mentioned the previous years in which our band would stop playing and leave Ronnie to it as we popped off to the bar or chatting up the girls for some 10 minutes. He always got through these extended solos and was dripping with sweat as we sauntered back to the stage as he swore his head off at us all for leaving him 'stranded' again. I cannot possibly repeat this language on this public website of course but you can imagine what he called us all - great days.
Rick came on and bashed out some more great Sixties classics as well as messing about - he is part of a resident house band in a Las Vegas Hotel Casino and backing one of the USAs well known C&W artistes - just look at my other 'Group' pages to read all about him and maybe you can drop by if in the area! The Americans love him with his accent and comedy bits and pieces and he has been in the States for many years and still in touch with Eddie Harnett - another great vocal/guitarist that never quite made the big time despite his obvious talent
Rick's set:
WHAT'D I SAY
I FEEL FINE
I SAW HER STANDING THERE
STOP PRESS: Check out Rick's new U.S.A. project at:
http://profile.myspace.com/index.cfm?fuseaction=user.viewprofile&friendid=437653114
Following on from their previous appearance in 2008, we had a last minute set from a brilliant rock trio:
J.A.B.
(Just Another Band)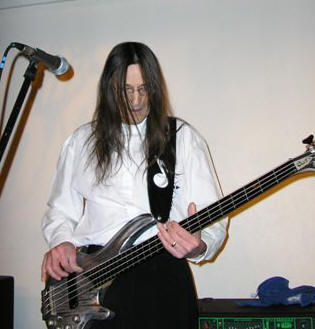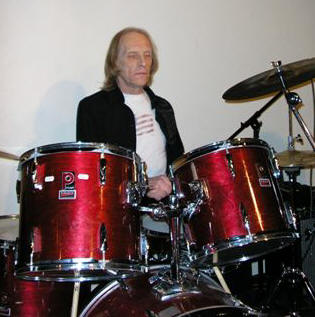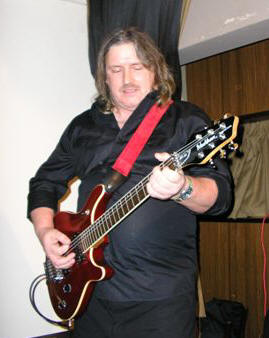 Wally Phillips (bass/vocals) Roger Chantler (drms) and 'Jinx' (gtr) had just turned up and had their gear in the car so asked if they could do a short set so we dragged them on and they played three classic songs in their well known loud style but complementing the show with a contrasting input. These are their numbers:
The next lineup of musicians featured another great contrast in musicals styles but still 60s linked:
SUNFLOWER
Nice to have some brass onboard and this superb band played some really good music and quite involved as opposed to some of the basic Sixties stuff that was being featured. The featured musicians were Sid Carter (sax/vocals)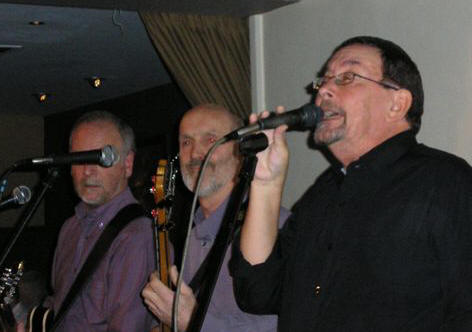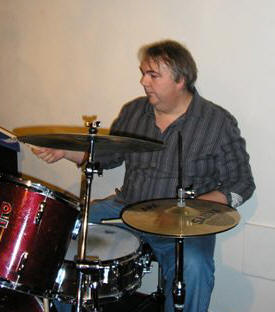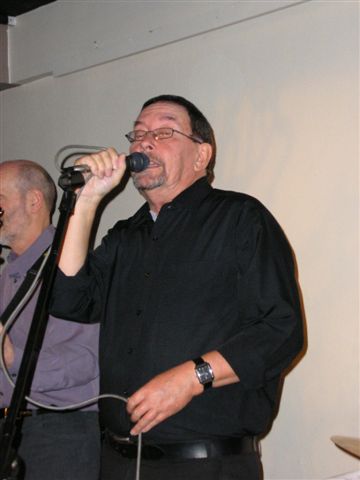 These are their unusual mix of numbers:
Oh what a beautiful morning (Ray Charles)
Proud Mary (Creedence Clearwater Revival)
Unchain my heart (Joe Cocker)
Nadine (featuring Pete Smith) (Chuck Berry)
Teach me tonight (Doris Day!)
Little Wing (featuring Bob Phillips on vocals and Pete Smith on guitar) (Jimi Hendrix)
Drive my car (Beatles)
Take off that dress (featuring Stewart Marshall on drums) (Ray Charles)
After this superb set, Sunflower stayed onstage as we had a late surprise guest singer who was (and still is) one of Southampton finest soul singers who fronted many top rated bands such as the Big T and the Globe Show
CHRIS SHAKESPEARE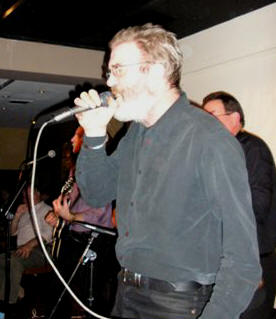 Once again - no rehearsal and just a quick chat to sort out a couple of songs and keys before receiving a great cheer from the assembled group of fellow musicians and fans of the old bands that Chris appeared with some 40 years before! Nobody recognised him as he mingled around the room thanks to a magnificent beard! As soon as he hit the stage, the dancers hit the floor as Chris belted out a couple of his favourite songs plus an encore as the crowd could have listened to him all night! This is the perfect setlist and he is singing as good as ever - if not better..........
DOCK OF THE BAY
STAND BY ME
MY GIRL
MUSTANG SALLY
We now came to one of the most expected returned from the 2008 bash in the shape of one of Southampton's best bands
THE MEDDY EVILS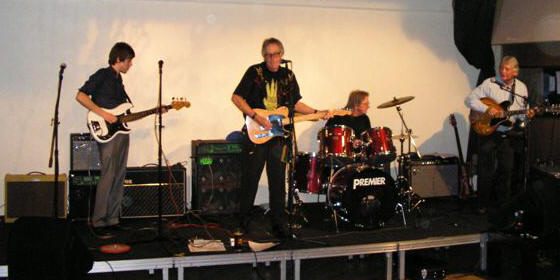 We had intended not to repeat any of the first show but general feedback pushed us in favour of inviting the Meddies back and what a great honour to see them back in action. Please look at my other pages as they are well featured and they have their own website along with a demand for their early mid Sixties records which are becoming collectors' items!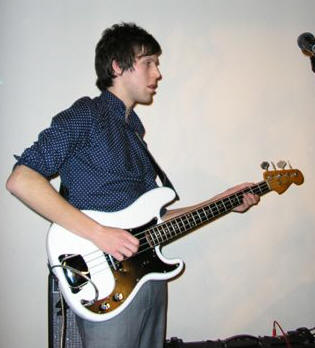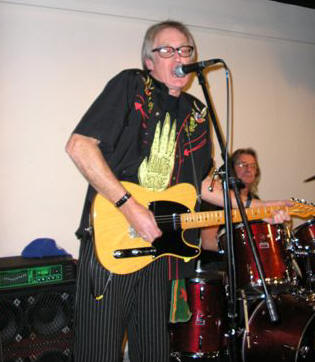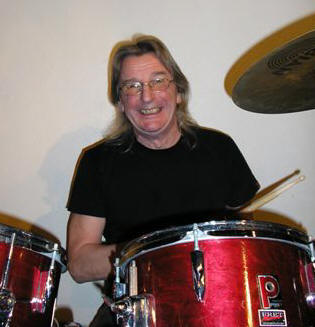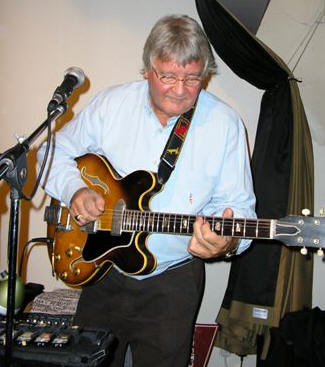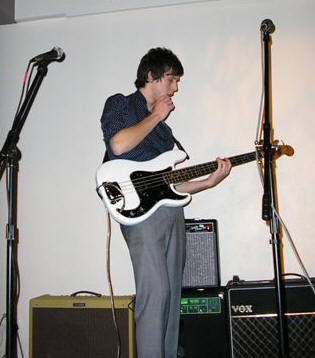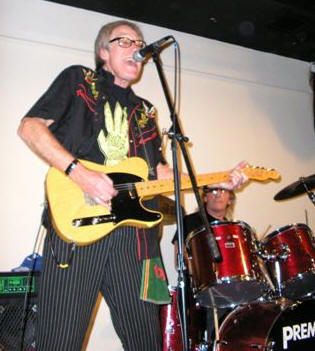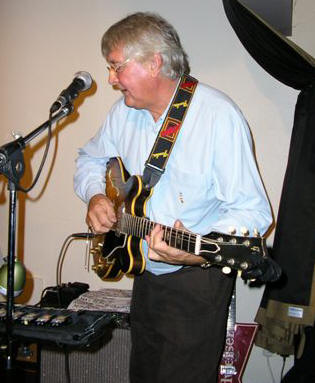 Original members of Roy Roberts (gtr/vocals) and Tony (Benson) Hole on gtr/vocals aided by Tony's son Mike who plays in a Yorkshire Indie band. Once again featuring Ronnie Allen on drums, they performed a really tight set of well known numbers and brought back so many memories of the old Mod Ball days at the Guildhall and other venues where they always packed the place out. This is the old Meddy Magic:
Our final band was a collection of really superb musicians from the outskirts of Southampton and all of them having played with so many bands to the East of the area and meet up regularly at various pubs for jam sessions and so naturally call themselves:
THE HAVANT JAMMERS
Line up

Mick aka 'Rocket Man' (harmonica)
Clive (guitar)
Ian (bass and sound engineer)
Colin (drums)
Malcolm (vocal/guitar)
Brian (vocals/harmonica)
Roy (guitar/slide guitar)
Jane M. (sound)


Note; Ian, Clive and Jane (backing vocals) were part of the Rhino Men with Ian Duck for over 15 years
Mick's nickname? He is one of the country's top rocket scientists!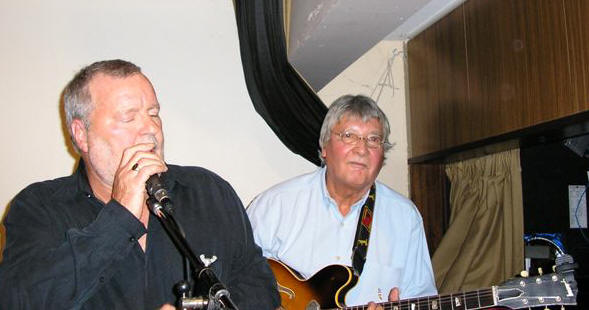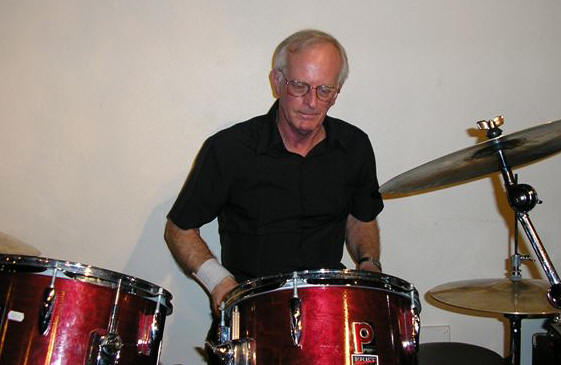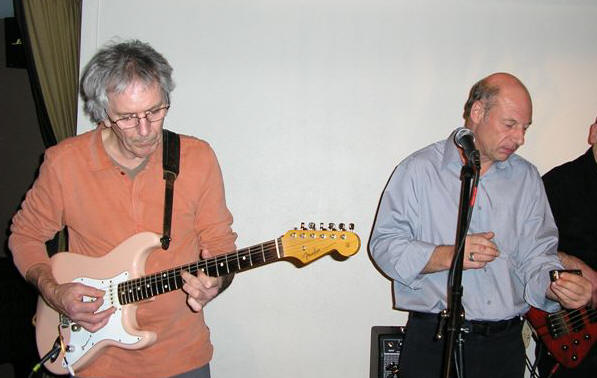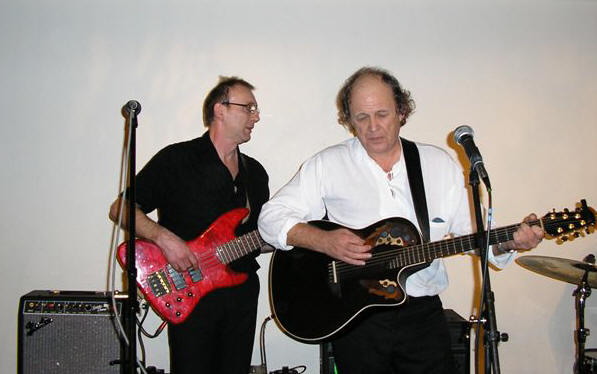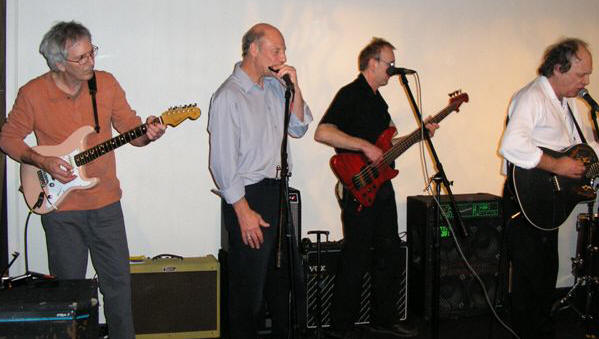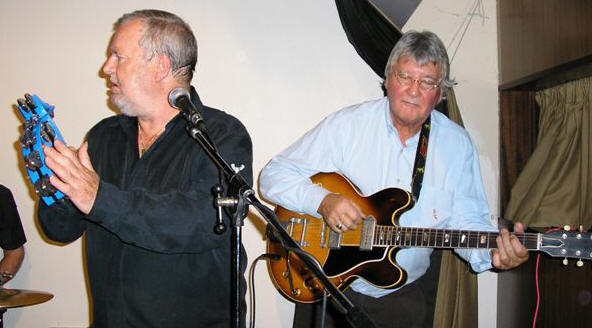 Another experienced group of guys who also kindly supplied an excellent p.a. system plus backline amps that were shared throughout the night plus sound engineer Ian McLaughlin who managed to keep an eye on levels and varying degrees of voices and mike use! They kept the crowd dancing away and topped off a brilliant night with these songs:
Woodstock
Mojo working
Little red rooster
Make it rain
Hoochie coochie man
Spirit of Sat night (original no. by Malcolm)
12-00 midnight.
Time to thank everybody and announce that we had raised some £3,000 towards local kids charities in addition to everybody having enjoyed the night either by playing or just soaking up some four hours of LIVE music with no backing tracks or vocal enhancements that seem to be favoured by many top stars in recent years. Great to see a load of 'Sixty Somethings' proving that they can still get up and knock out the fabulous Sounds of the Sixties after all these years. I'm sure it also inspired a younger generation of would be musicians and singers who experienced a taste of the golden years of Southampton's finest bands. If Grandad can do it, then why can't they??
A few people have already hinted at a 20010 re-run but who knows. I'm still knackered from organising and running this one but it was great fun and provided a perfect opportunity to meet up, play some music as well as helping out the local kids charity so I'll have a think later in the year. We are grateful to the Concorde for allowing this show over the last two years and they also had a very successful evening by having such a busy club so everything has turned out so well.
Photos now being added so please go to this new page (15 Feb)
http://www.davidstjohn.co.uk/concordepics2009.html
More pics on their way so keep on checking
BACK TO HOME PAGE BACK TO SITE MAP CONTACT DAVID
copyright©davidstjohn2009