Back to Sitemap Back to Home Page Contact David
THE CONCORDE CLUB - SOUTHAMPTON
2007 was a milestone in the history of the most respected music venues along the South Coast as the Concorde Club as it celebrated its 50th anniversary. The current premises in North Stoneham Lane, just off the M27 motorway near Eastleigh airport bears little resemblance to its former premises at the old Bassett pub in Burgess Road at the north west corner of the Common. The old club relocated to a former school in 1970 which was quickly repainted before more refurbishment over the next three decades that has turned the Concorde into a magnificent entertainment complex, without losing its roots and legendary atmosphere. The current stage area is located where then old schoolroom was situated whilst the adjacent Moldy Fig winebar was originally a separate building which housed the Head Master! I am currently waiting from some old photos to be sent and will upload them onto this page.

Founded by the legendary Cole Mathieson back in 1957 as a jazz club, the Concorde witnessed the changes in music and within a few years became host to many of the new R&B groups that sprung up in the early Sixties. Cole was also involved with other popular music venues such as the 'Yellow Dog Club' at the Portswood Hotel as well as the Red Lion in Totton, but the Concorde was, and still is the flagship that he runs to this day. Many think that the club was named after the famous aeroplane but this did not take to the skies until the late Sixties and the actual name was taken from a piece of music written by John Lewis of the MJQ (Modern Jazz Quartet) well known to jazz aficionados from that time onwards. It was released on an LP around 1955 and inspired by the La Place de la Concorde in Paris in line with the 'hip' culture of modern jazz throughout the Fifties which had a rather Bohemian feel and much loved by the new breed of 'Beatniks' who often wore black polo neck sweaters, small beards, horn -rimmed glasses etc - just look at old pictures of Manfred Mann!! The early club had this quotation from the quill of William Shakespeare hanging above the door and quite neatly puts it all into perspective:
'The man that hath no music in himself, nor is not moved with concord of sweet sounds, is fit for treasons, stratagems, and spoils
The Concorde also has a super restaurant that opens out to a balcony with a little stream bubbling past and is a great place to relax. Across the way lies a 35 room 'themed' hotel named Ellington Lodge for obvious reasons and all rooms are named after jazz greats who actually appeared at the club over many years such as Adelaide Hall, Slam Stewart, Big Joe Turner, Wild Bill Davison, Billy Butterfield, Clark Terry, Benny Carter, Buddy Tate, Gene Harris, Kenny Baker, Maxine Sullivan, Buck Clayton, Ralph Sutton, Jay Mc Shann, Henry 'Red' Allen, Bob Haggart, Hank Jones, Gus Johnson, Charlie Byrd, Benny Waters, Sacha Distel(as a jazz guitarist) Nat Gonella, Ben Webster, Coleman Hawkins, Stephane Grappelli, Ronnie Scott, Maynard Ferguson, Bud Freeman, Barney Kessel, Teddy Wilson, Al Cohn, Herb Ellis, Nat Adderley, Frank Wess. Unfortunately, Duke Ellington did not play the Concorde due to his massive status over the decades and I doubt if the club could have afforded him! At least the club has paid tribute to the amazing talent and massive influence on jazz musicians all over the world.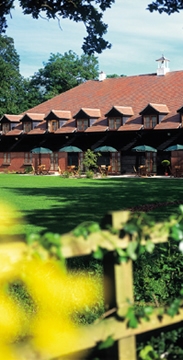 Ellington Lodge
The old main room at the Bassett was very basic but had a great atmosphere and I played there on a few occasions or sat in with odd bands. Audiences were very friendly and the early Concorde fans were lucky to have seen many embryonic performers playing at this venue as their early line-ups soon gave way to much bigger things. Here is a short list of some of the more recognisable names that paid their dues around the mid Sixties, often appearing with different bands along the way:
Alexis Korner's Blues Incorporated - the Godfather of British R&B linked with the Rolling Stones and many more names such as Dick Heckstall-Smith and Zoot Money whose band was resident for some while at the Club. Other names include early Cream (!) Ambrose Slade (later Slade) plus the likes of Bluesology featuring Long John Baldry and a chubby bespectacled piano player by the name of Reg Dwight - yes Elton John. So many legends played the Concorde such as John Mayall's Bluesbreakers, Graham Bond Organisation, Manfred Mann as well as Steampacket and our local Soul Agents featuring a singer by the name of Rod Stewart! Known as 'Rod the Mod' in his early days, he was very well known for his excesses whenever he travelled down from London and tore the audiences apart with his amazing voice, attitude and stage presence. I seem to recall Rod playing at the Bay Tree Inn near to the Southampton city parks and getting drunk before trying to run some guy over as he commandeered a car - the chap had apparently heckled him onstage!
Other Concorde featured bands were Mott the Hoople, Atomic Rooster, Taste and one of my favourite bands that I saw there were originally called the Black Cat Bones who appeared there through 68/69. Lineup featured vocalist Paul Rodgers, lead guitar Paul Kossoff (son of TV religious presenter David), Andy Fraser on bass with Simon Kirke on drums. If you know your music then you will have recognised Free, whose hit single of 1970 'Alright Now' is still played by most bands to this day - a classic that still sounds great. Most of the early R&B bands will have played the old Concorde club as part of the London/Home Counties circuit and I'm sure that if you get a chance to speak to anyone of them they will remember the great times in this small venue. Rod and Elton currently appearing in front of stadium audiences but you cant beat a hot sweaty club with the audience's eyeballs just a few feet away! Other lesser known names were the likes of Amboy Dukes, Wild Angels, the Mooch as well as many of our own local Southampton based outfits such as the Mojos, Ricky & The Hi-Lites etc. One of my favourite nights was when legendary blues man John Lee Hooker came to play around the late Sixties and was a magical moment to see the man boogie away! I think he was supported by Tony McPhee's Groundhogs if 'my memory serves me well' (cue Dylan song - Wheel's On Fire) and sung by Julie Driscoll of Brian Auger Trinity fame - other Concorde visitors of course.
Cole has just sent me another list which includes many of rock's superstars that squeezed onto the small stage at the much loved Concorde room, giving Southampton music fans a taste of things to come. I don't think that any of us could imagine what the future held for some of these amazing talents which we enjoyed as they learnt their craft and paid their dues before conquering the world! Take a look at this line-up which only highlights a few more of the many top artistes that have trod those old beer-stained boards a few decades ago:
Eric Clapton Noddy Holder Joe Cocker Cream Duster Bennett Jimmy Powell & the Five Dimensions
Mick Fleetwood The Nice Geno Washington Jimmy James & Vagabonds Doris Troy Jimmy Witherspoon
T Bone Walker Sonny Terry & Brownie McGee Jesse Fuller Sonny Boy Williamson Jimmy Cliff Family
Georgie Fame - who still visits annually and is booked in for 31 October 2007
Plus thousands of other jazz artistes representing early forms through to modern day as well as dozens of American and British stars. If only they had been recorded or filmed back then!
....................................................................................................................
Another interesting tangent is the story of the Focsle Folk Club which started up at the old Bassett back in 1963, as a folk revival was under way thanks to Bob Dylan & co. It was originally called the Balladeer Club and run by two enthusiasts John Edgar Mann and John 'Paddy' Browne - the latter being well known for politely turning down a young American singer/songwriter for a £5 booking. The diminutive wandering minstrel was busking his way around the UK and appearing at any folk club in whichever town he was passing through but John was not willing to risk paying out for an 'unknown' artiste. The guy was Paul Simon.......... Click on this image below for the current club website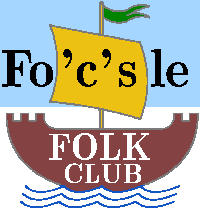 ..................................................................................................
I am indebted to keen Concorde club-goer Maureen Chapman-Mc Grath who is currently in the process of archiving the massive files that go back its early days. She has provided me with some information and I hope to be able to reproduce some more interesting background as and when available but quite a daunting task on her side!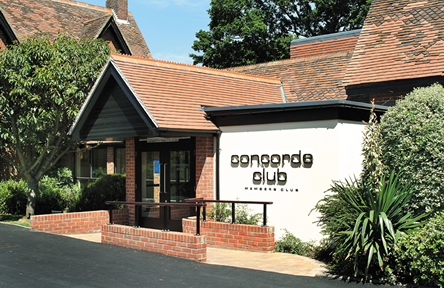 photo©gordonsapsed.com
The New Concorde Club - click on this image above for its own website
See: www.gordon sapsed.com Terrific images from the jazz world
.....................................................................................................................
August 2007
I called in to meet up with owner Cole Mathieson and we had an interesting chat about the last fifty years of this amazing venue which has now been transformed into a very smart complex of the main club along with the Moldy Fig winebar that hosts smaller intimate jazz nights etc - a real cosy atmosphere that lingers on from the old times. A fine restaurant looks out onto a bubbling stream and across the bridge lies a superb hotel building and is the perfect place to relax after an evening's music and drink with no worries about being pulled over by the local constabulary (especially visiting musicians whose alcohol intake forms an integral part of the whole scene!) Take a look at the Concorde website and I thoroughly recommend you pay a visit sometime - the venue hosts a wide variety of live entertainment, corporate events and much more.
Whilst talking with Cole, I suggested a 'Re-Union' night which I could host and would involve my own comedy/vocal input as well as featuring a few local bands and 'mature' singers/musicians who have been entertaining local audiences for many years, as well as dragging a few out of retirement! It would serve as a great chance for old pals to meet up as well as providing a great night of nostalgic entertainment harking back to the early days of the much loved Concorde Club. Please see other webpages for reports of the 2008/2009 shows.
Within a few hours of this new page launch, I have just received a couple of memories from those that were there! So, I'm just copying them and posting for all to share in more personal flashbacks:
Roy Roberts- MeddyEvils:
My first 'job' when I turned 18 was as a barman at the Basset Hotel (1960)…the landlord 'tiny' still had the original stuffed bear (in a glass case) in the backyard…which still had a circular 'bear pit'!!....I suppose that's what happens to bears when they retire…get stuffed!. I remember a very young Cole taking over the back room and seeing the Concorde club start at the very beginning…and watching the many key bands and future stars play there over the years as my own involvement in bands developed. The meddyEVILS played there several times…I remember having to go to Cole's council flat the next day to pick up the money!! . Lots of luck with the Concorde bash.......
Gerry Hayne:
Hi
Great news re reunion; my favourite old Concorde memory was watching the Graham Bond Organisation perform with, of course, one Ginger Baker on drums. Asked why he always wore a duffel coat even in summer he naturally replied "cos I'm ****ing cold R Soul!
See you all there.
Gerry H
2008: A New Year in which a brand new book has been released and is the amazing story of the Concorde as top writer Norman Giller has collaborated with Cole Mathieson to produce a fascinating glimpse behind the scenes. Just click on the book cover below and this will take you to the Concorde link webpages plus more memories in the words of members old and new! If you live near the Concorde club, then you may even be lucky to get Cole to sign the book for you, which will enhance its value and even end up on E-Bay in a few years - selling for thousands!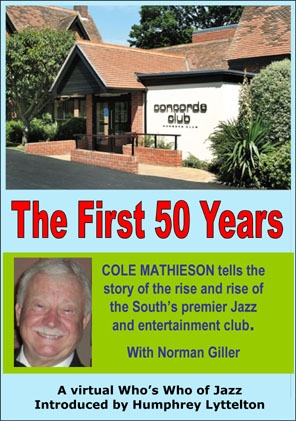 Click on this image for book info etc
Summer 2009:
BLUE PLAQUE AWARD FOR BEST JAZZ CLUB IN THE U.K. !
Read about this prestigious award, as the Concorde has been rated no.1 with Ronnie Scott's Club way down the list....
click on: kindofblue.html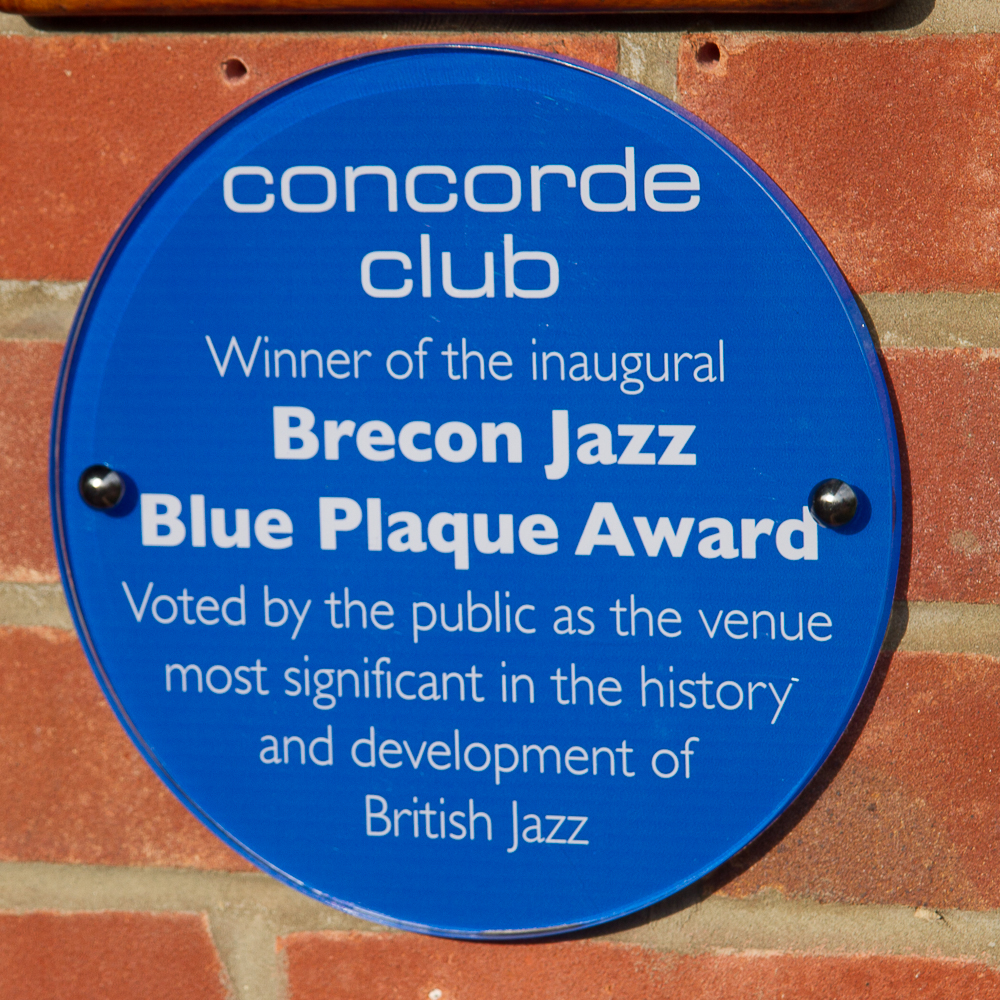 photo ©gordonsapsed.com
October 2010
Just received these old copies of a Concorde programme from John Clare in Australia. His 'Southern Roots' information has been shared all over these webpages based on Southampton groups etc. I had to reduce the file size so not that clear- you may have to zoom in for any small print and I can help with any queries or send originals on request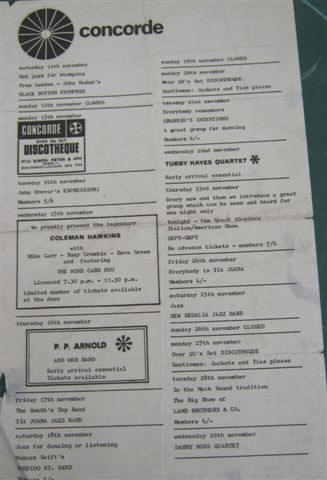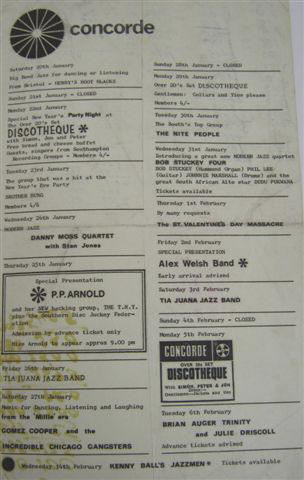 Back to Sitemap Back to Home Page Contact David
©David St John 2007