BACK TO HOME PAGE BACK TO SITE MAP CONTACT DAVID
*PLEASE REFRESH YOUR BROWSER(press F5) WHEN RE-VISITING ANY WEBPAGE AS CONTENT IS OFTEN UPDATED*
COPYRIGHT
Please note that many images contained within this website may be subject to copyright, although many have been kindly sent to me and intended to be shared on this non commercial outlet. If anybody wishes to use any of the same, then please get in touch as well as possibly giving credit where due as well as setting up reciprocal links if relevant to the actual content on any webpage. Please note that I am able to monitor any image-copying and if published on other websites. I would appreciate any contact to report broken/outdated links and any corrections to the text that accompanies any images herein. Thank you and enjoy!
THIS PAGE UPDATED 26 September 2011 *MORE PHOTOS TO LOAD WHEN RECEIVED*
BACK TO THE SIXTIES 1V!
Friday 9th September 2011
Check out the previous annual shows:
2008
www.davidstjohn.co.uk/concordereunion.html
2009
http://www.davidstjohn.co.uk/concorde2009.html
2010
http://www.davidstjohn.co.uk/concorde2010.html
I have a dedicated webpage on my own site as well, which tells more of the legends that trod the old boards:
www.davidstjohn.co.uk/concorde.html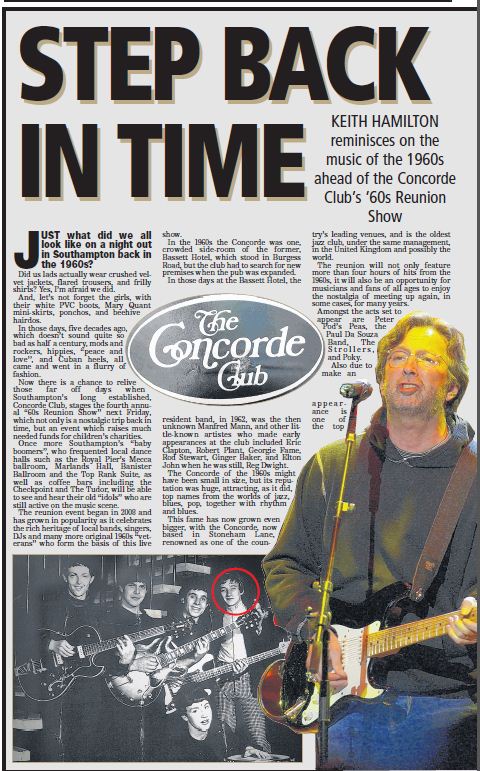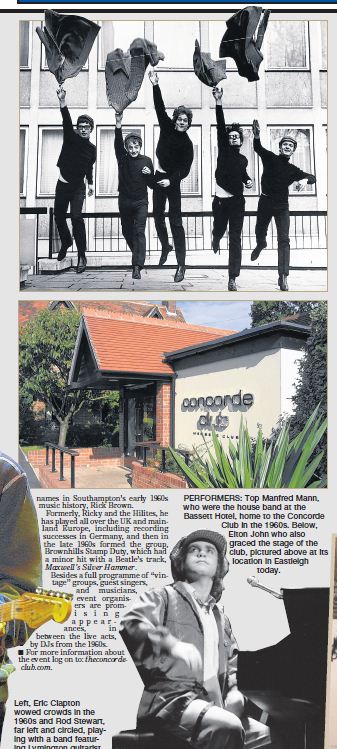 Daily Echo article printed 3rd September (Keith Hamilton- Hampshire Heritage)
................................................................................................................
Following on from the great success of the first three 60s Reunion Shows at Southampton's prestigious Concorde Club (2008/2009/2010) this was the fourth annual reunion show featuring classic bands, singers and DJs from across the decades of Southampton's music scene. This year featured Poky, Paul Da Souza Band and Peter Pod's Peas plus solo singers Barrie James, Pete Broyd, Mike Nevitt and me as host, producer and own vocal contributions.
Take a look at my Site Map to get an idea of these first shows and you will find that they are now well established in the Southampton area as we celebrate the rich heritage of local bands, singers, DJs and many more original 60s 'veterans' who form the basis of these live shows. Apart from some 4 hours + of brilliant 60s hits, it also provides a chance for musicians and fans of all ages to enjoy the nostalgia of meeting up again after many years in some cases. In the past, we have had musicians from all over the world come back to the UK and combine family visits with this special 'hook up' night.


Once again- a full evening of 'vintage' groups and guest singers, musicians plus original era DJs in between the live sets - all playing classic hits of the Sixties. Many of the audience comprising of 'baby boomers' who came along to the local dance halls during that great decade so once again enjoying seeing their old 'idols' who are still very active on the music scene! The club doors opened at 7-00 with a continuous live show from 8 till 12-15, followed by a final 60s dance session by guest DJ Nick Horne - one of our 'vintage' Jocks with Chris Golden (over from Canada again!) and Geoff Knight - these DJs provided a couple of great 60s dance sets in between the live acts plus some superb 'warm-up' music before the performance kicked off and here is a basic report on the whole night. Following my opening song (Beatles 'Help) we featured a stunning first group in the shape of:
................................................................................................................
POKY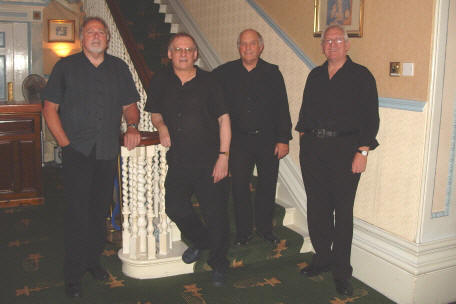 POKY made a welcome return, having appeared on the first 'Back To The Sixties' 2008 where they backed another 'legend' Tex Roberg. Great musicians with varied long careers over the decades having played alongside Heinz, Marty Wilde, The Dakotas, Fourmost and many more top names in the business.
Mike Cole (lead voc/gtr)
Graham Sherrin (lead gtr)
Geoff Chalke (bass)
Brian Wright (drms)
Their brilliant note-perfect segment of Shadows hits really set the night off plus a few classic songs-I also joined them for the evergreen 'Move It' from 1958 - you may recall that the Shadows did have a lead singer back then- I wonder what happened to him .......... Now uploaded on You Tube at: http://youtu.be/mXuNoAWaYBg
................................................................................................................
'Christyne Remnant- Mrs Southampton Galaxy'
One of the regular 'baby boomer' dance fans from the local 60s music venues was in the audience and recently making headlines in the local press (Daily Echo etc) due to her successes in entering pageants etc- just for fun and being 'nudged' by her pals to go in for these contests. I invited her onstage for a quick chat and to let everybody know that she had reached the UK finals of 'Mrs Galaxy' and the only criteria being aged 'over 21 and married' Christyne had recently won the local heats and having a lot of fun with local charity based set-ups etc plus looking forward to future events. We all wish her the very best and living proof that many of the original 60s people are still enjoying life to the full, as well as dancing the night away some 40 odd years on!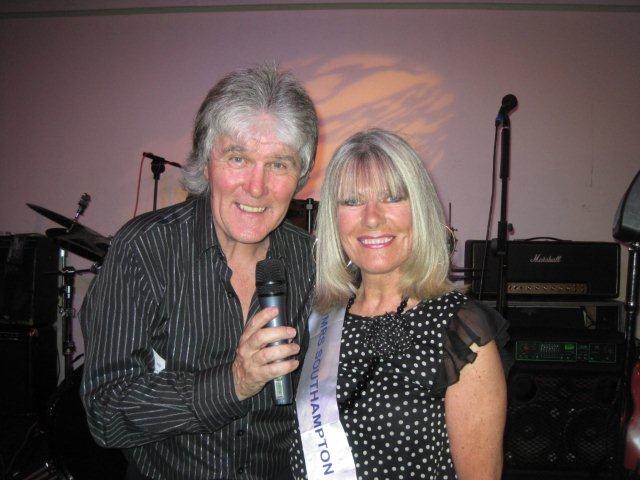 ................................................................................................................
Next up were one of the top local working groups, featuring some of the best musicians around - these were:
P.D.S. BAND (Paul Da Souza Band)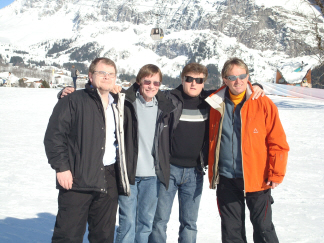 Recent tour of Switzerland!!!
Paul Da Souza (voc/gtr)
Neil Hibberd (bass/voc)
Paul Barry (gtr)
Steve Faithfull (drms)
Another great set of classic hits from the PDS Band went down a storm as always. Their set list included many big 60s hits plus a couple of unusual numbers so even more variety. We then featured the first 'Vintage DJs' dance session that got even more dancers on the floor and provided a nice glimpse back to the old days when the 'jocks' filled the breaks as well as some fun chat to keep the party going. Chris Golden, Geoff Knight and Nick Horne 'spun the platters' with some popular hits that kept everybody singing and dancing away until the next segment of live music was ready.
................................................................................................................
THE END OF THE PIER SHOW!!
When I was arranging this 4th show, it soon became apparent that I had the basis of a 'tribute' to one of Southampton's favourite 60s dance hall- the Royal Pier Pavilion Ballroom (later Mecca) that was THE place to go back in the glory days. I had started my own showbusiness career at the Pier back in 1958 aged 10 years and singing rock n roll classics (see Biography and Royal Pier webpages via the Site Map) Five of us Southampton artistes appeared at the old Pier around the late Fifties/early Sixties so this sat nicely with the middle segment of this 'Back To The Sixties' show. Many of the audience recalled their own memories of dancing the night away at the best 'hop' in town during those early days, as well as as possibly meeting their future wives and husbands! Unfortunately, the 'legendary' 60s Pier DJ Johnny Dymond was not able to get over from his home in Spain for this particular night and was much missed- he made the first three shows and enjoyed meeting up with many old fans as well as fellow musicians who shared many a night in the local venues.

RICK BROWN

Making a welcome visit- we had one of the top names in Southampton's early 60s music history in the shape of the 'legendary' Rick Brown- formerly Ricky & The Hilites who played all over the UK and Europe plus big recording successes in Germany and elsewhere. Late Sixties forming Brownhills Stamp Duty and recorded a minor hit of the Beatles track 'Maxwell's Silver Hammer' in the very same Abbey Road studio used by the Fab Four! You can read all about this great talent across several webpages via the Site Map. Rick delivered his usual slick professional act as part of a special themed 'Back To The Pier' segment in between the bands. Thanks to one of our pals Pat Othen who had her camcorder running, you can grab a glimpse of the recording on Facebook at: http://www.facebook.com/video/video.php?v=10150290460031561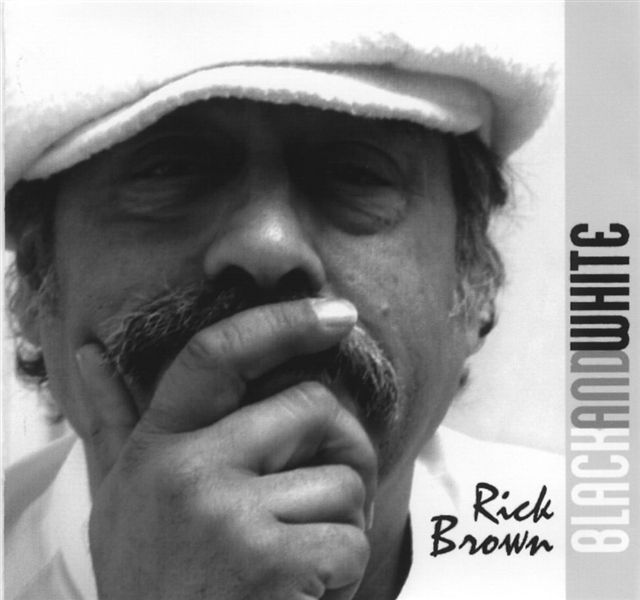 Rick Brown 'Black & White' CD

.................................................................................................................
BARRIE JAMES
Next 'Pier' act- making his first appearance at the Concorde 60s Show was the amazing Barrie James, now in his mid Seventies but looking 20+ years younger! As we were all using my own library of backing tracks, and no rehearsal, Barrie just picked one of his old Bobby Darin favourites from 1959- 'Dream Lover' which sounded great. He had started off with the early Strangers band, then later sang at the Top Rank Suite with the resident band- Alan Ross & co, followed by many years with the Southampton All Stars Big Band so quite a pedigree.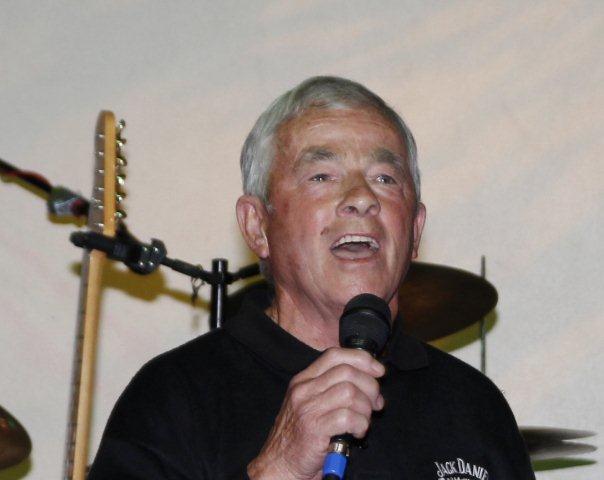 .................................................................................................................
PETE BROYD
A welcome return by Pete Broyd, who also started off at the Royal Pier around the turn of the new 60s decade and lead singer with the Blackjacks-you can read more of this on other webpages. Although Pete 'retired' from the music game a few years later, we became pals when he found this website in the early set-up days as it was starting to build nicely as more surfers discovered it and then sent even more great photos, info and personal memories. Thanks to Pete and many more people, this website has developed into an online 'community' that can be shared with anyone who enjoys slices of 60s nostalgia as well as providing contacts between those who have lost touch with old pals. This is also why these annual 'Back To The Sixties' reunion shows came into being as I approached the Concorde Club with my idea of a simple 'get together' - the rest is history as they say!
Pete, looking as dapper as ever, knocked out a couple of his own favourite songs- 'Living Doll' and 'Summertime Blues' using my own backing tracks without any rehearsal but sounded great. Pete also recounted the lovely story of how many of us obtained new songs to cover back in the early days when young groups emulated the latest pop stars and groups. We usually bought the '45' disc then played it over and over again to work out the chords and scribble the lyrics down (unless the sheet music was available) Also, there were many TV and radio 'pop music' shows from the late Fifties- the likes of '6-5 Special, Oh Boy' etc and if anyone was lucky enough to own a tape recorder (old reel to reel) then this was a bonus.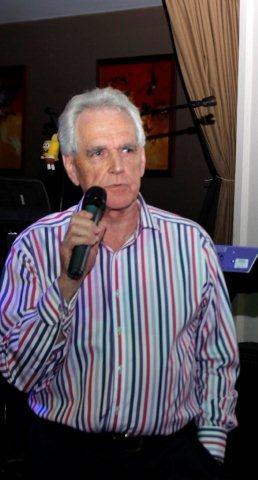 Pete recalled taping a current BBC show 'Saturday Club' hosted by Brian Matthew back in July 1959 with star guest Cliff Richard who had just surfaced a year before with his first great single 'Move It' that reached no. 2 in the charts followed by a couple of lesser hits. Whilst being interviewed on the show, Cliff mentioned that the next song was 'the latest release and had not yet been performed in any live show' as yet. This was to be Cliff's first ever no. 1 smash hit in the shape of 'Living Doll' a brilliant country style song that still sounds as good as ever some 50 odd years on.
Pete quickly summoned the Blackjacks together for a last minute afternoon practice session, played the tape back and had 'Living Doll' all tied up then performed at the Royal Pier the same night. This was most likely the first time ever in the UK that anyone had heard a 'live' cover version of an unreleased record and nice to hear the story followed by a great rendition some 53 years down the line........

.................................................................................................................
MIKE NEVITT
The Nevitt Brothers- Mike and Tony were another very successful early 60s duo who performed at the Pier and all over the UK with many top acts, including local lad Heinz (Tornados etc) and many more. Whilst another local duo - the Brooks Brothers had made the big time, the Nevitts never quite cracked the charts but had great times in trying. Very much in the same Everly Brothers style, they were backed by the Strangers and you will also note this on other webpages within this site. Like many other artistes, they were eclipsed by the new wave of 'beat groups' that sprung up and eventually left the scene and settled into 'proper jobs' to the relief of many a worried parent at that time.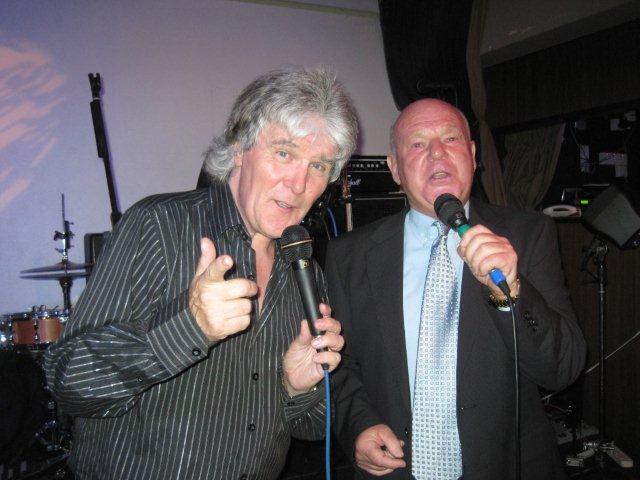 Mike came along to one of my recent shows at Kutis Thai Pier Restaurant as a diner, so I 'coerced' him into getting up for a couple of impromptu Everly numbers and he sounded as good ever- even taking the high harmonies as per Phil Everly- taking a chance on the backing track key/arrangement! This, after many years of 'retirement' so it was nice to invite Mike for another slot on this Concorde show- we just plucked 'All I Have To Do Is Dream' and 'Walk Right Back' from my backing discs. Once again, showing that an 'old pro' never loses the talent, even after a few decades - it was great fun for both of us as I rarely have the chance to hook up with other singers on these classic Everly Brothers songs that still work.

.................................................................................................................
I closed this middle 'End Of The Pier' segment with a special dancing 60s megamix, featuring bits of classic hits from each of the ten years that changed the world forever - nice to see a packed dancefloor and people singing along to the timeless lyrics etc! Our DJs then took over with more nonstop dance classics as we prepared the stage for the final group: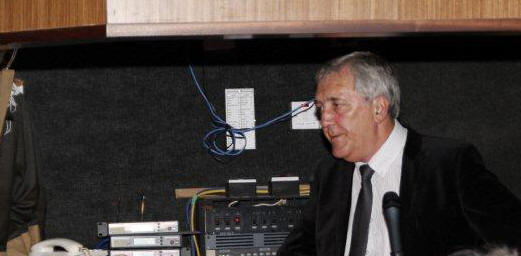 'JOCK IN THE BOX' Geoff Knight DJ

.................................................................................................................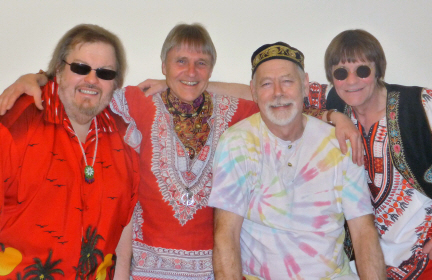 PETER POD'S PEAS
N.B. Health & Safety warning over the shirts- please ensure that sunglasses are worn if sitting close to stage!
Contact them via their own website above for booking enquiries or on the night.
'Funtastic' 60s show group - paying tribute to former lead singer Mick Haly (Peter Pod)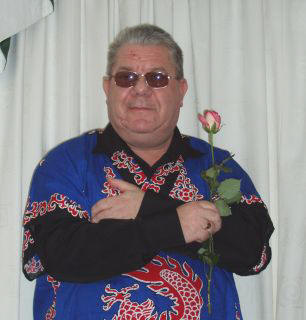 Mick Haly 1951-2011
The Peas tore the place apart with more great hits to finish off yet another successful 'Back To The Sixties' and played an extended set as The (planned) Strollers felt that the night was running late. Leader Colin 'Angel' Willsher was quite happy with his decision and bassman Geoff Knight had also opened alongside drummer Brian Wright of Poky.

.................................................................................................................
We also paid tribute to 'absent friends' and raised a glass in memory of those who have passed over but always fondly remembered. Maybe some were looking down on us or maybe sitting close by in the audience- even with us onstage as we belted out the numbers we all grew up with- who knows......... This is the list as read out and each name greeted with applause around the room. Each one of these artistes' names will live on as their individual talents have left an indelible footprint and formed part of the local area music scene wherever they played. Bless them all.
KEITH GOULDING (NELSONS COLUMN)
CHRIS 'BURNSY' BROWN
DAVE SMITH (TEN FEET FIVE)
DAVE WRIGHT (2008) FOUNDER MEMBER TROGGS WITH REG PRESLEY + LOOT
DAVE DEE
DAVE CARSON DJ (RADIO VICTORY)
MARTIN SMITH 'CUDDLES'
JOHN HATCH
ROY PERRY
TONY HART (DRUMS) PASSED ON THIS SAME DATE OF 9 SEPT 2009!
BRIAN MACEY (ROCKERFELLAS)
BRIAN COE (BLACKJACKS)
MICK ANTHONY DJ MOJOS ROADIE AVENUE ARTISTES (BOB GORMANS BROTHER)
'RAY VON' DJ 'TURPINS' CLUB ETC
MELVYN McCREA (EARTH ANGELS/EXPRESSION/INFLATABLE TOYS Yellow and Refugee)
RAY GRAVES
HEINZ
LEN CANHAM
REG CALVERT
MICK HALEY
EDDIE HARNETT
The evening raised just over £1,000 on the door proceeds and part of this went to 'Multi-Sport' a section of a local children's charity fund that helps disabled kids take part in sporting activities etc. The Concorde Pantomime Fund is a well established fund-raising part of the club profile and has helped to raise a lot of money over many years - please feel free to get in touch with any of your own local ideas that might be linked to the venue?

http://www.theconcordeclub.com
BACK TO HOME PAGE BACK TO SITE MAP CONTACT DAVID
copyright©davidstjohn2011