BACK TO HOME PAGE BACK TO SITE MAP CONTACT DAVID
*PLEASE REFRESH YOUR BROWSER(press F5) WHEN RE-VISITING ANY WEBPAGE AS CONTENT IS OFTEN UPDATED*
COPYRIGHT
Please note that many images contained within this website may be subject to copyright, although many have been kindly sent to me and intended to be shared on this non commercial outlet. If anybody wishes to use any of the same, then please get in touch as well as possibly giving credit where due as well as setting up reciprocal links if relevant to the actual content on any webpage. Please note that I am able to monitor any image-copying and if published on other websites. I would appreciate any contact to report broken/outdated links and any corrections to the text that accompanies any images herein. Thank you and enjoy!
BACK TO THE SIXTIES 2010!
Friday 29th January 2010
If you were lucky enough to have grown up through the Sixties then you may have well enjoyed watching the local bands and singers playing all over the area – including the old Concorde at the Bassett Hotel which saw many future musical legends pass through its doors. Maybe you enjoyed dance nights at the Royal Pier, Banister Ballroom, Guildhall, Top Rank and Park Ballrooms or the Marlands Hall and many more. Once again this very special night featured many musicians from the early days, and some of them are still playing with regular bands whilst others have not played together for some forty years or more! This was a great reunion night and brought back a taste of what it was like back in the early days of pop groups.
The evening consisted of featured bands playing short sets as well as guest singers on the odd song or two plus 'jamming' musicians etc. It provided a great chance for so many people to meet up again as we celebrated the 'Golden Years' of local music and 'mature' fans shared their memories as they met up with the musicians from way back then. Following a chance to mix and mingle from 7-00 the live show started at 8pm and ran through till around 1 am - see below for a report on this special night
This was a repeat of an amazing evening of top original 60s bands and singers that was first staged back in February 2008, then 2009 at the Concorde Club Eastleigh Southampton. Take a look at these other webpages (as listed) for more information on the first two shows, as well as checking out other pages on the local music scene back in the Sixties. These nostalgic evenings feature many original bands and singers from that era live onstage as well as a great chance for meeting old pals plus fans who used to dance the night away to the same entertainers way back then! The door profits went directly to local childrens' charities via the Concorde' own set-up with no administration costs or overheads - great value for over four hours of the best sounds around plus a great fun-filled atmosphere.
RECAPS:
2008
www.davidstjohn.co.uk/concordereunion.html
2009
http://www.davidstjohn.co.uk/concorde2009.html
I have a dedicated webpage on my own site as well, which tells more of the legends that trod the old boards:
www.davidstjohn.co.uk/concorde.html
BLUE PLAQUE AWARD FOR BEST JAZZ CLUB IN THE U.K. !
Read about this prestigious award, as the Concorde has been rated no.1 with Ronnie Scott's Club way down the list....
click on: kindofblue.html
...............................................................................................................................................
CONCORDE-BACK TO THE SIXTIES 2010!
Legendary DJ Johnny Dymond -semi-retired and now living in sunny Spain, travelled back to Blighty for the third 'Back To The Sixties'. Spinning the platters and smooth-talking his way round the girls as usual - joined by other local 'jocks' who also hosted many top dance hall nights during the Swinging Sixties.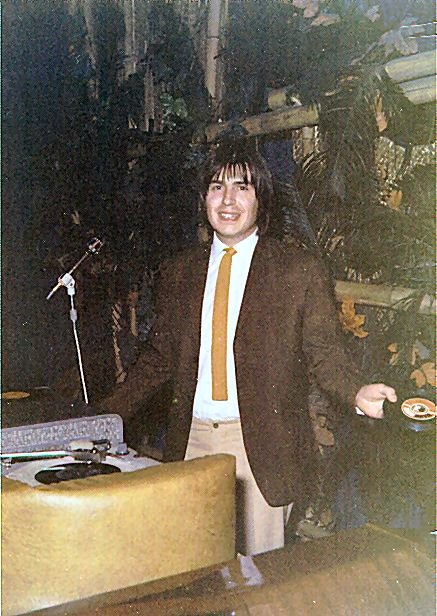 Johnny Dymond -Royal Pier 1965 vintage!
The Concorde Club opened its doors at 7pm and people took their places around the room as we played some classic 60s songs over the house system as well as introducing Johnny Dymond with his great warm-up chat. He soon got everybody in the mood for the live show which then kicked off at 8pm as JD introduced me to welcome everybody to the third reunion night. The p.a. had been set up along with the shared amplifiers, drums, keyboards as everybody mucked in and just went with the flow as in previous years. After this quick chat I had the pleasure of introducing the first featured band but tinged with sadness due to a personal loss in the line-up. Back in the summer of 2009, I had an e-mail from Keith Goulding, who like so many local Hampshire musicians, had discovered my website and sadly missed out on the previous shows. We then arranged for his former band-Nelsons Column- to appear on this 2010 show and he and pals were really excited about the prospect of reforming plus mixing with many other musicians from that era. They were formed late 60s and you can read about them on other webpage www.davidstjohn.groups9.html
I received a message from brother Chris and was shocked to hear that Keith had passed away on the 1st October after a short illness but that the group felt it was best to carry on with the performance - it was what Keith would have wanted. They took to the stage and played a terrific opening set with a tribute to Keith who we are sure was there with everybody and a perfect start to the night ahead.
...............................................................................................................................................
NELSON'S COLUMN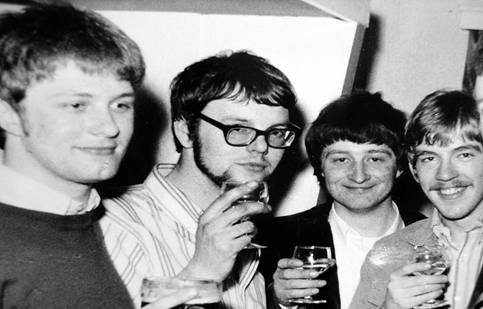 (original 60s photo!)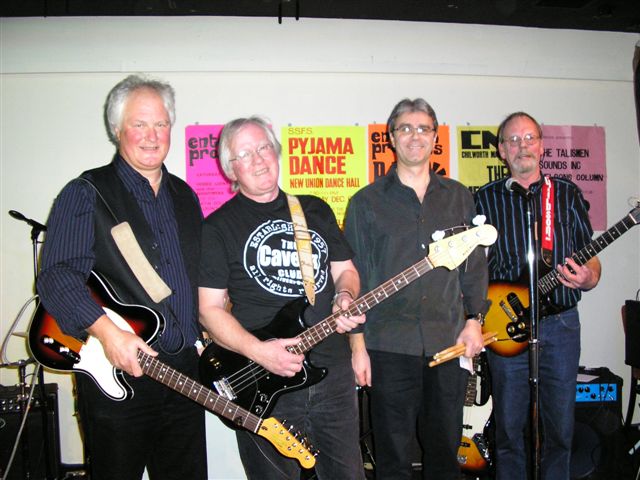 Chris Goulding George Benn Ken Chandler Nick 'Spiggy' Goddard
SETLIST
Drive my car
Oh pretty woman
Walk away Renee
I'll never get over you
Little girl
The wind cries Mary
You don't love me
Going back
Six days on the road
...............................................................................................................................................
Next up was a solo guest in the shape of Ivor Tomlin who played with several 60s bands such as Kevin (Scott) and the Kinsmen plus the much respected Big T Show (see Groups 8) and at the very last minute Nelsons Column kindly agreed to back Ivor. Just a quick talkthrough in the band room before the show was all they had but you would never have known it! Ivor knocked out a great set of Buddy Holly songs plus a couple of Everly Brothers numbers with me on the high harmony and NC played everything note perfect without a proper rehearsal!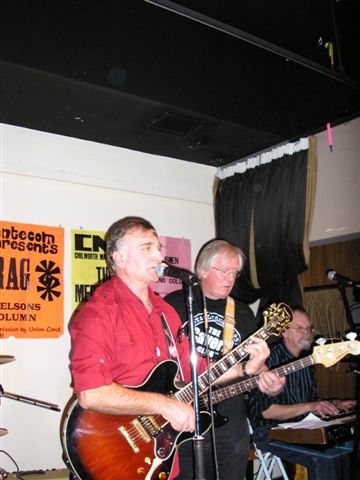 IVOR TOMLIN
...............................................................................................................................................
Following Ivor's superb spot, we had a very quick changeover for the next act up and what a treat was in store for everybody! Formerly known as Nick Troy & The Trojans featuring Esme Duval- see this page:
THE TROJANS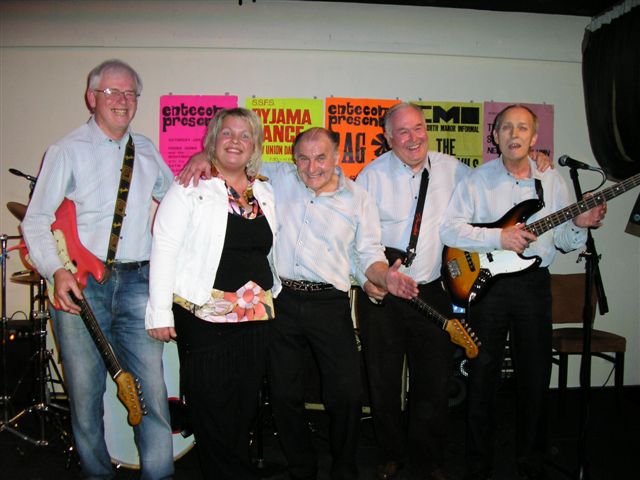 They opened with a blistering collection of classic Shadows tracks featuring Ken Scadden (L) on his 1961 Fender Stratocaster that had every guitarist in the room dribbling at the mouth at this iconic instrument. Note perfect and bringing the original sounds back to get the room going! Then followed by the introduction of one of the band's daughters Mandy who delivered even more 60s hits from the likes of Connie Francis, Brenda Lee and others! Our first girl singer on these 'Back to the Sixties' shows which was a great boost and she then surprised everybody by taking to the drums as dad Alan came bounding to the front and singing a classic 'Jezebel' with an energetic performance that would put many a youngster to shame!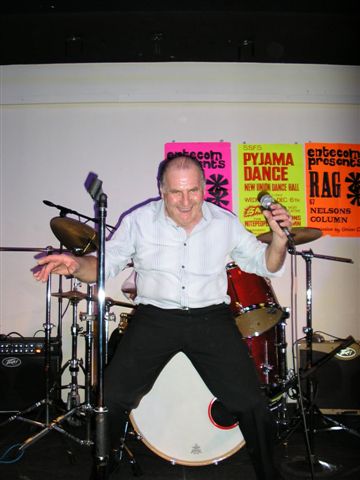 Pure showmanship and the crowd went wild as he sang and gyrated his way through this song before letting Mandy back up front as well as having her run through the dancers and standing on a chair as she serenaded the back of the room. They were always an entertaining showband way back in the Sixties and this performance proved that none of the magic has been lost over the decades and they tore the club apart. They can be booked in the area so please get in touch if you want the best in live entertainment for YOUR function.
...............................................................................................................................................
On the very first 2008 Concorde 'Back to the Sixties' show it was great to have an old pal with us in the shape of Bob Gorman who has lived in Gran Canaria for several years but pops back to the UK whenever possible. Just recap on looking at www.davidstjohn.co.uk/concordereunion.html to read about his first appearance. Bob e-mailed me from across the sea just a few days before the actual 2010 show with this message:
25-01-210
Hi David,

How strange things turn in life. I had my mother over here in G.C. since early November. She sadly passed away on Sunday morning. I will be returning to Southampton on 27th Jan, and staying for some days as I will bring home her ashes to be interned in my fathers grave. She was always a big supporter of her rock n roll son, and I kept her up to date with your web page. She was almost 90 years old, and had just recently been deteriorating with her health. She just became so tired. It may be possible for now to attend at the Bash, which incidentally means 'Shit' in Norwegian, and if there's a little space for me, I may chomp out a song or two. Cant confirm it just yet, but I will do my best to get there. Bob Gorman
BOB GORMAN BAND
Bob rolled up to the Concorde along with his bass -playing son Robert and teamed up with his former drummer pal Roger Chantler as they were in a couple of top rated bands Brother Bung and Fresh. It was so good to see him again and we all knew that his dear mom would have wanted nothing less than seeing him back onstage with Roger and his own son - another tribute on the same night was being paid. The very nature of these shows encapsulates what is so good about experienced musicians who just come together and go with whatever flow is happening. Roger took to the drums as I introduced Bob and Robert but then it sunk in that no guitars were available! I put out a quick call over the microphone and within seconds a bass guitar appeared (thanks to whoever) and then Ken Scadden brought out his beloved 61 Strat which left Bob gobsmacked for a moment. It couldn't get better than that so within a short time of plugging in and scraping up some amp settings, the Bob Gorman and ripped into some tasty numbers. I also jumped up for an impromptu harmonica fill on one of the classic blues numbers which was fun and brought back memories of our early r&b roots in the mid Sixties.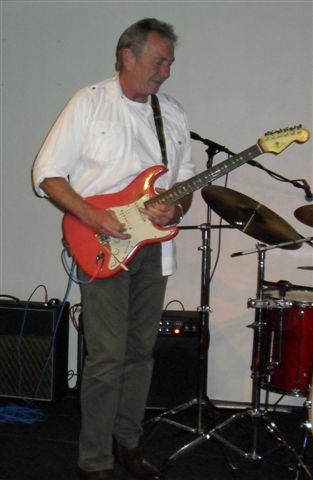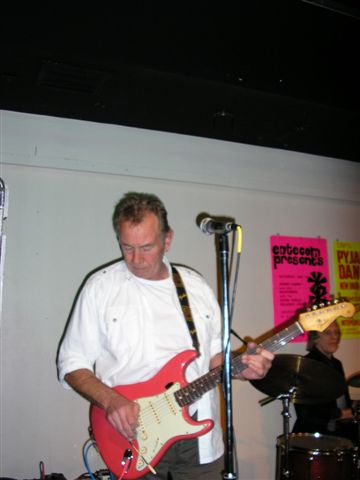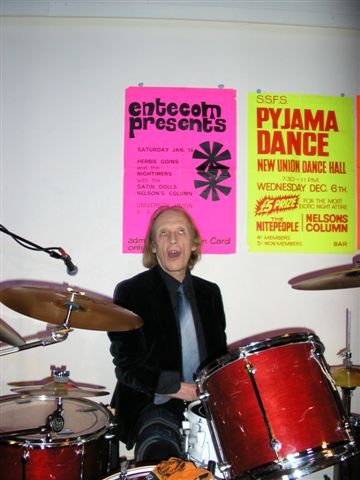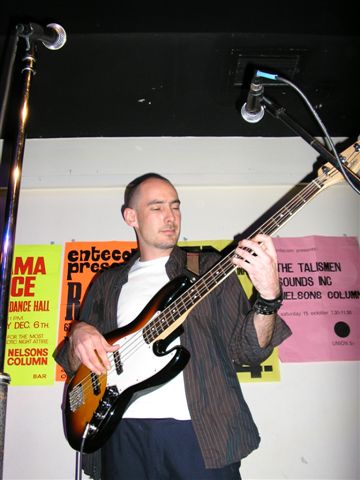 Bob G Roger (ecstatic!) Robert G
...............................................................................................................................................
THE DSJ BAND
It was then time for our own set and a recall from the 2009 show where we opened up the proceedings - more or less based on a couple of groups- The Abdo-Men and The Unforgiven (64-66) with original members Dave 'Beau' Dinnage on bass/vocals plus drummer Ronnie Allen. Again - look at the 2009 report for the basic info and we were once again joined by Eddy 'Fret' Hailwood and Dave Mitchell on guitars. This time round, we knocked out some dance numbers for this mid-evening slot with featured solos from all vocalists - unfortunately I was not able to take photos as well as being onstage so someone grabbed my camera and took these quick shots for me after frantic signalling! My shirt was not 'sponsored by Bacofoil' as some wag mentioned but I got a laugh from the older people in the room as I said I had just "bought it from the Shirt King clothes shop at the top of St Marys St!" This was THE shop for flashy clothes in the 60s for all of us Southampton based 'dedicated followers of fashion' !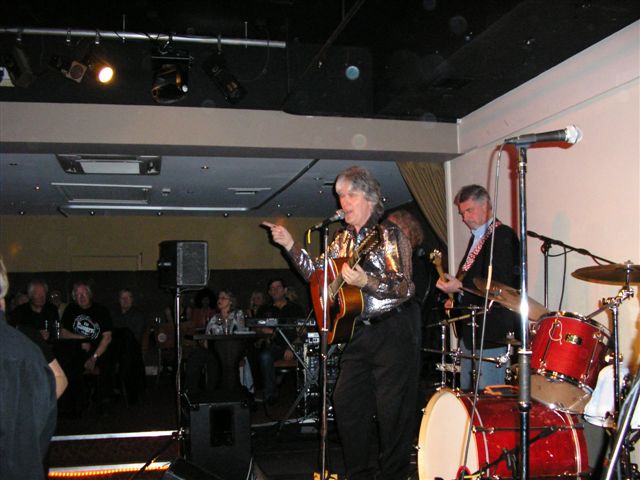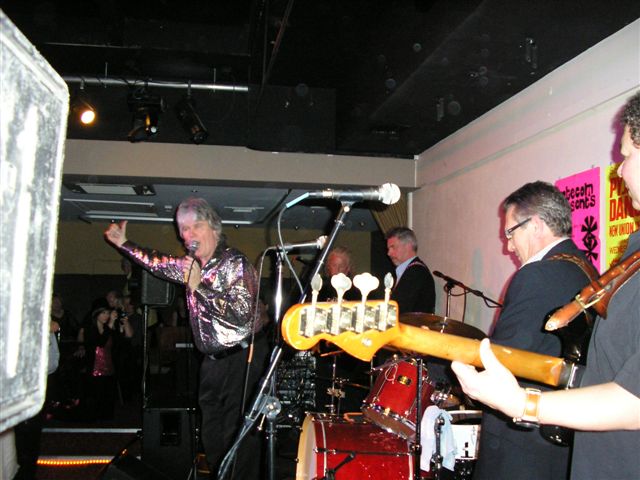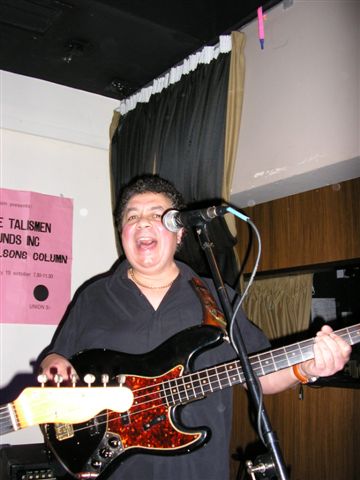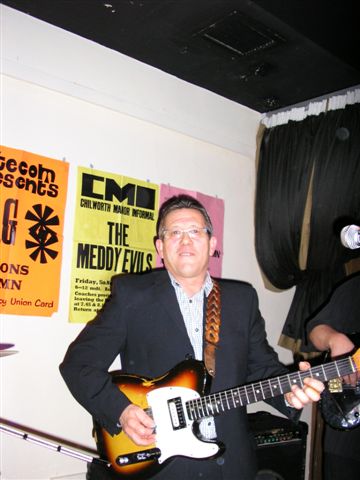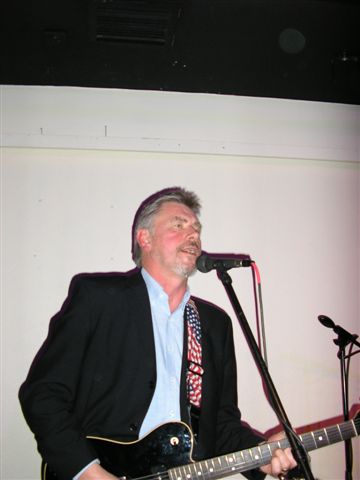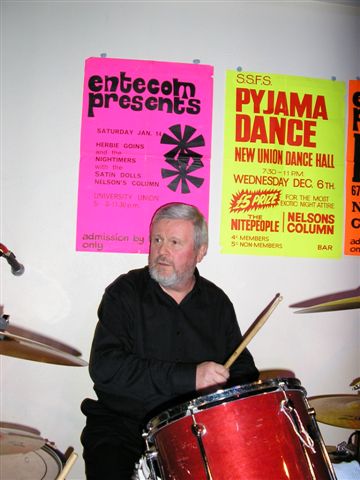 Beau Dave M Eddy F John Walker(guest)
Another surprise guest was former musician Alan Grindley whose own story goes way back to the very early days of the Andover's Troggs. Only his long hair can be seen in the top left photo as he was standing in between me and Eddy with his beautiful blue Strat for a couple of numbers that were not planned! As expected - we just had to do 'Wild Thing' and 'Love Is All Around' as paying homage to one of our local hero bands who are still playing these days - currently on a 2010 Sixties Tour with Dave Berry and others so check it out. John Walker - from Andover's Ten Feet Five (later Troggs) had to take the drumstool as he and Alan had not met for some forty years so quite a lot to chat about in between the music.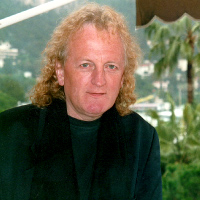 Alan Grindley
Alan is now a very successful TV producer and has recently been involved in launching a new TV station based in Birmingham http://www.citytvbirmingham.co.uk/ so worth a look! Another quirky twist of fate unfolded later on as I was packing up my gear as everybody had left around 2am so I'll leave that until the end of this report..........see end of the page
...............................................................................................................................................
On the first 2008 show, we had the privilege of seeing Andover's Ten Feet Five reform after some 40 odd years! This early 60s band then became the legendary Troggs and they played a superb set on the very first 'Back to the Sixties' Original drummer John Walker flew all the way over from the U.S.A. to join his old pals as well as taking the lead vocal spot as a tribute to their former singer Dave Smith who sadly passed away a few years ago. When I started to look at arranging this 2010 show back in the summer, John mentioned an ambitious idea and this resulted in an amazing scoop for the third Concorde which saw him and three of his American buddies flying across the Atlantic to spend a few days in England as well as headlining our 'Back to the Sixties' To add to this incredible visit, John Walker casually informed me that another of their musician pals would be joining the Rebels and travelling all the way from Melbourne Australia! See bottom panels for backgrounds of all of these fine players
The audience were buzzing as they took the stage- I had arranged for the Crystals' 'He's A Rebel' playing in the background as the guys got up onstage and then followed by asking everybody to stand as we welcomed our visitors with the Star Spangled Banner with hands of hearts all over the club! Then introduced them for a fantastic setlist, taken from their CD which was also on sale by the stage
JOHNNY AND THE REBELS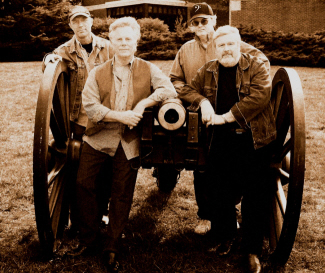 Dan Tim Roy John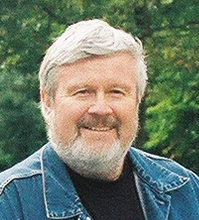 British born, drummer John Walker is relatively new to the Northern Virginia music scene, having arrived in the U.S.A. from England in September 2003. He has played with a number of bands in the area over the past 6 years, as a session drummer on several recordings by local singer/songwriters and in house bands for 'Open Mike' nights. Played with Ten Feet Five in Andover, England during the 1960's and when the band reformed in 1994. When Ten Feet Five split in 1965, two ex-band members teamed up with two other local Andover guys to form The Troggs of 'Wild Thing' fame.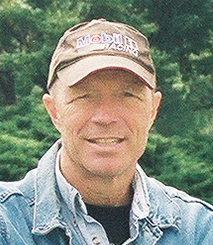 Dan Chute (guitar and vocals) Dan has been travelling and performing in American country, rockabilly, bluegrass and rock and roll acts for some 35 years. He routinely plays electric guitar, bass, mandolin and acoustic guitar at regular performances in Virginia and surrounding states, primarily with his bands The DC3 and The Twangmasters. Dan has performed and recorded with many notable professional musicians including Randy Waller of The Country Gentlemen, Bill Kirchen, James Intveld, Will Ray, Van Howard of Ray Price's Original Cherokee Cowboys and Chris Hillman (Byrds)
Tim Smyser is an actor, dancer, model, vocalist, guitarist, and bassist. He was a member of JAMME produced by John Phillips of the Mamas & Papas and signed to ABC Dunhill Records, and a member of The Standells 'Love That Dirty Water' hit song and signed to Capitol Records then Universal Pictures Corporation.
He had the top-rated TV show in New Zealand for three years, and did a Royal Command Performance for Queen Elizabeth and Prince Phillip. Tim also did a 24-hour telethon and raised 5 million dollars for handicapped children, and was one of the lead principal dancers in Evita.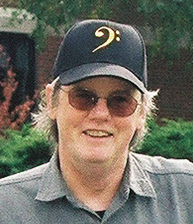 Roy Richardson has been thumping the thud ever since Paul McCartney shook his hair and made girls scream on Ed Sullivan. His first bass was a broom handle but he quickly procured something with real strings and never put it down. With a long background covering Blues, Rock, R&B, Country, Americana Roots, Psychedelia and improvisational jams, Roy covers the beat like an intrepid reporter covers a hot story, from all angles. Influences are Sir Paul, John Entwistle, Jack Bruce, James Jamerson, Berry Oakley and Chris Squire.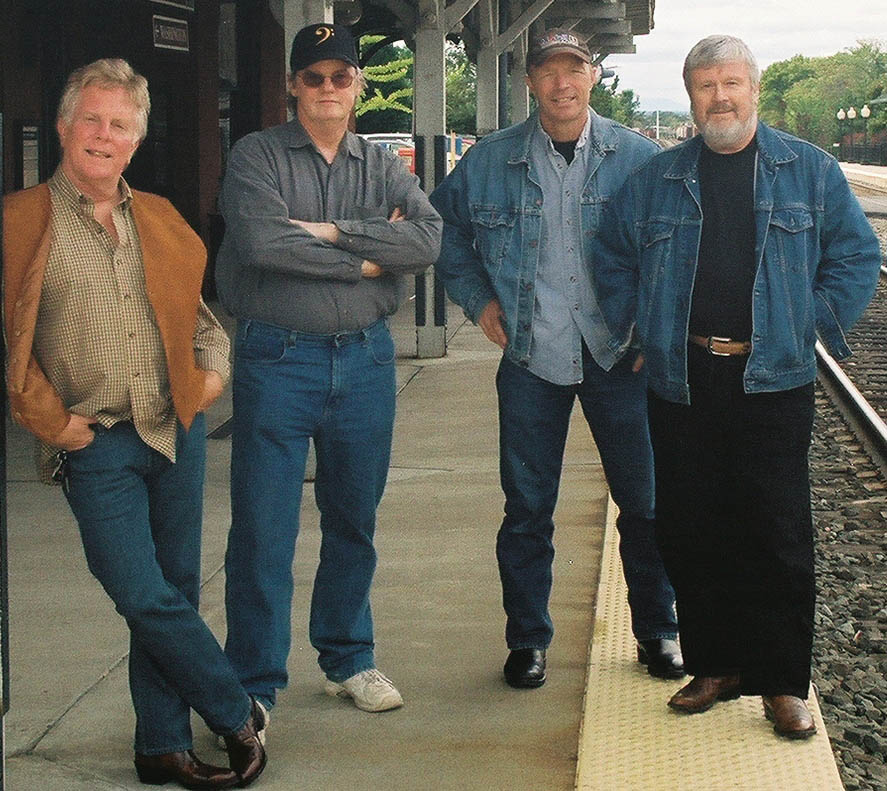 At Manassas Railway Station- yep as in Stephen Stills!
Here are the sleeve images and their superb setlist (see below) for their Concorde slot!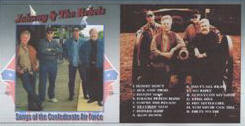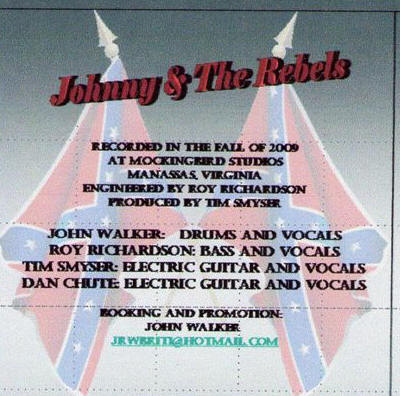 SETLIST AS PER CD
Honey Don't
Sick & Tired
Handy Man
Folsom Prison Blues
You're The Reason
Travelin' Man
Endless Sleep
Slow Down
That's Alright Mama
No Reply
Always On My Mind
I Feel Fine
Hey Little Girl
You Never Can Tell
Dirty Water

+ Whole Nutha Thang + DSJ harmonica
They also played these other venues on their short UK visit - The Anton Arms Andover and the The Robin Hood Guildford so had a great time before heading back to the States and Down Under
The other highly respected musician joined Johnny and the Rebels in the form of Noel Tresider who travelled all the way from Australia! He is a well established name 'Down Under' and started his long career back in the late 50s, appearing with many top groups as well as supporting the Beatles on their 1964 tour of Australia! Check him out at:
KEYBOARDS/VOCALS – NOEL TRESIDER
Noel is part of Australian rock 'n' roll history. He began playing piano in the late 50's with "The Premiers" and then moved to a variety of keyboards with leading Melbourne bands such as "Paul MacKay Sound", "Fendermen" and "Tru-Tones".
He toured with some of the greats in the entertainment industry, names such as "The Beatles" (1964), Cilla Black (1965), Roy Orbison (1978), Bobby Rydell (2007), and as an accompanist worked in TV on the "Go Show", "Magic Circle Club", "Adventure Island", on radio as the resident pianist with 3DB's Country & Western Show for 10 years, and countless recording sessions with artists such as Bobby & Laurie, Ray Brown, Colin Cook, Johnny Chester, Betty McQuade.
He has worked with just about every great in Australian Rock & Roll, Johnny O'Keefe, Johnny Devlin, Lucky Starr, Normie Rowe, Dinah Lee, Olivia Newton-John, Bee Gees, John Farnham, Judy Stone, Barry Stanton, The Deltones, Merv Benton, Lonnie Lee, and other international stars such as Tommy Sands, Chan Romero, Johnny Preston, Johnny Tillotson, and the list goes on.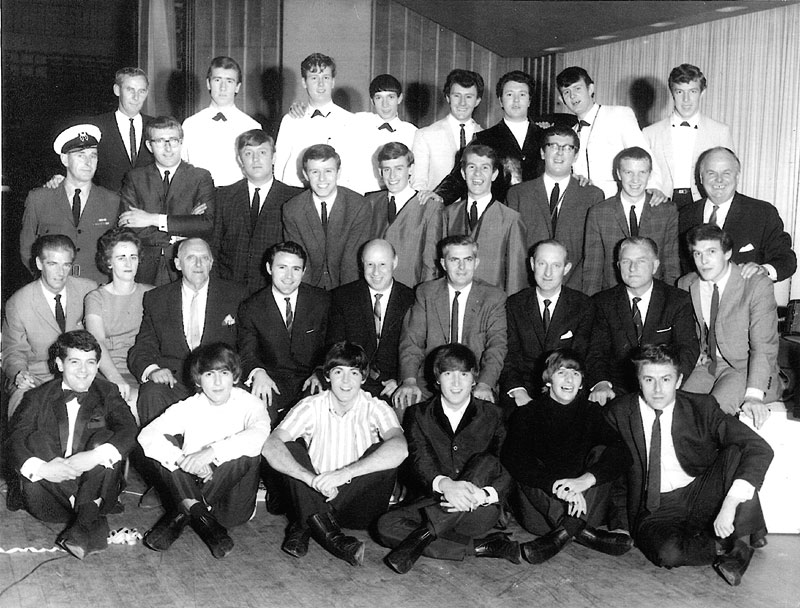 Beatles 1964 Australian Tour- Noel Tresider of the The Phantoms-back row on right-I now have the full list of names so please come back soon for recap!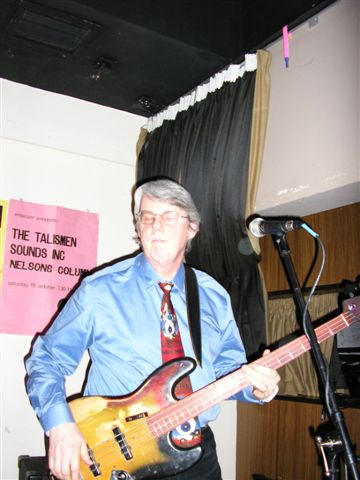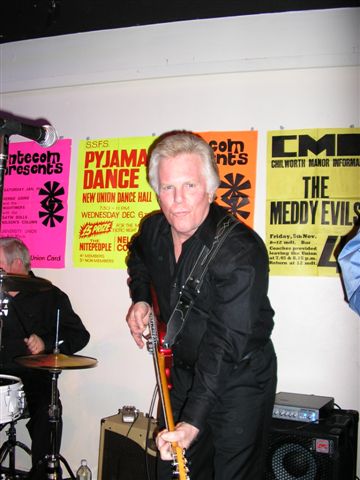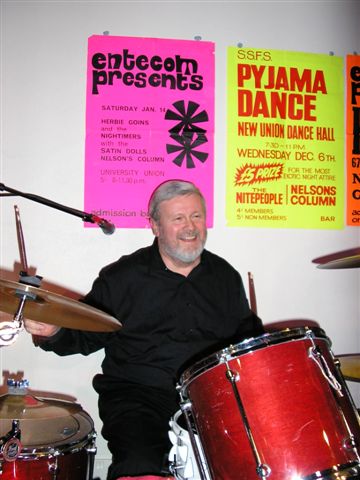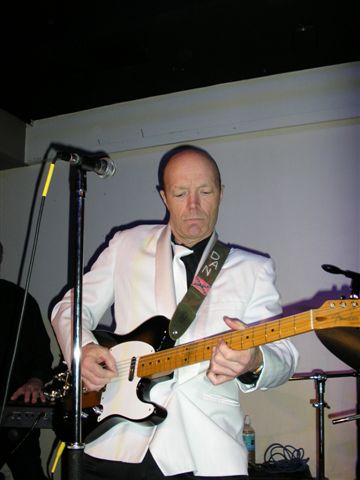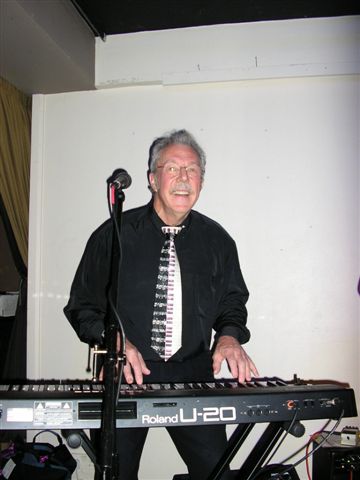 Roy Tim John Dan Noel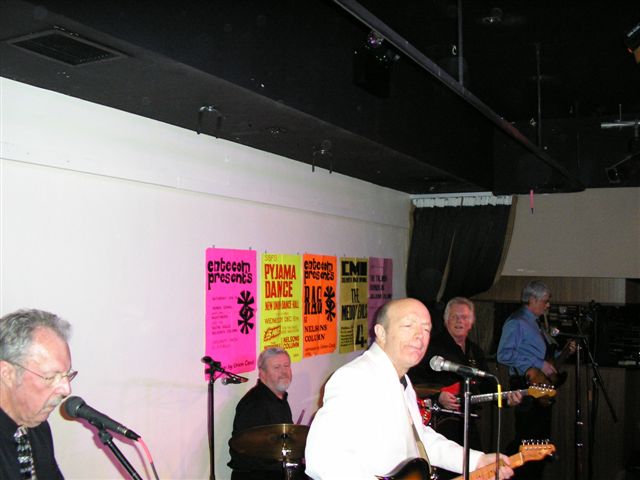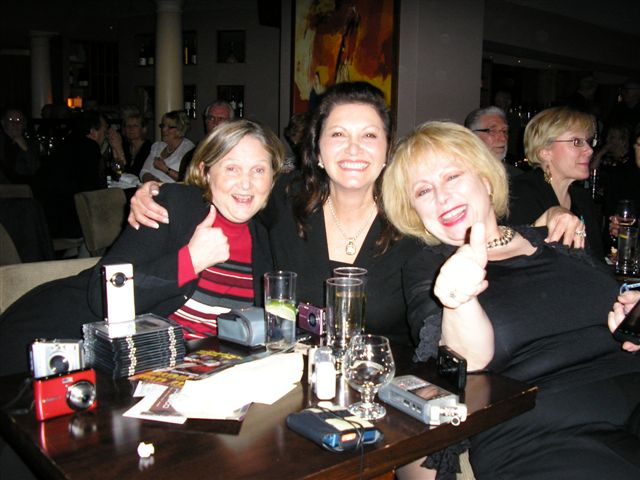 THE REBELS + Rhoda Anne Mary (2 wives + a pal)
Johnny and the Rebels wish to thank Eddy Hailwood of Fret Music Shirley for his great help on some equipment needs for this tour- click on the icon below for their website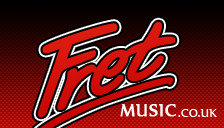 They are also grateful to Rabbits Vehicle Hire of Reading, Basingstoke, Didcot and Bracknell
STOP PRESS June 2010 Check out the Rebels new website at: http://www.johnnyandtherebels.com plus Tim at:
"The music business is a cruel and shallow money trench, a long plastic hallway where thieves and pimps run free, and good men die like dogs.
There's also a negative side."
- Hunter S. Thompson
...............................................................................................................................................
We had somehow managed to over-run with such a packed programme and The Rebels finished their amazing performance to be followed by our final group of the night - a great collection of local musicians who have played across the years with many bands and fronted by another 'legend'
THE EDDIE SMITH BAND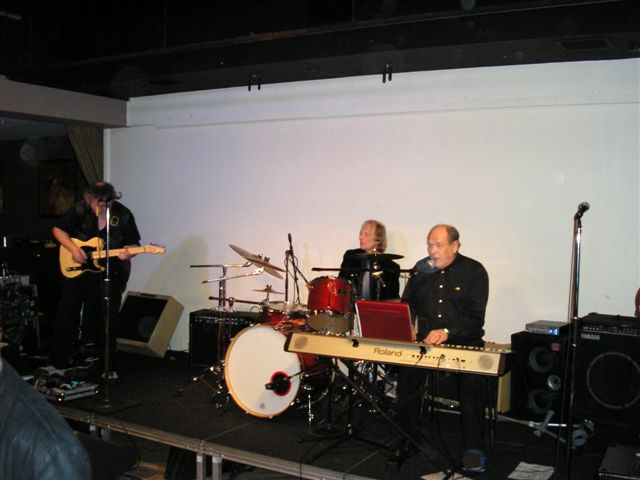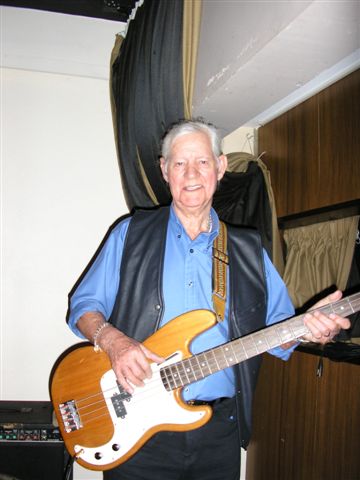 John Lawrence Roger Chantler Eddie Smith Clary Moore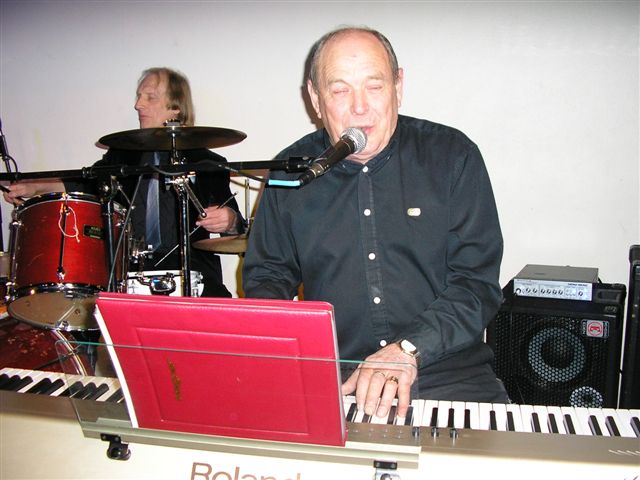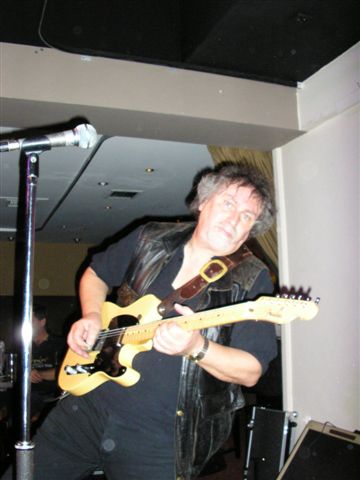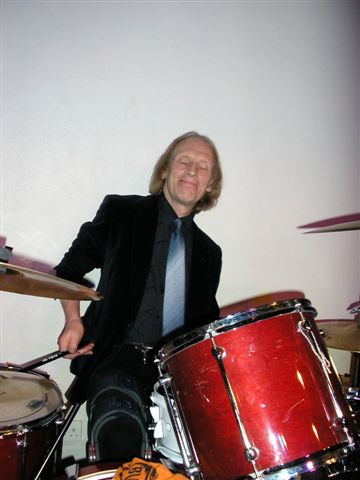 The Eddie Smith Band kept everybody dancing away and finished off this great night - most of us feeling that it was the best so far! Once again - a massive thanks to everybody who either performed, helped out or just turned up to enjoy another amazing night of good music, meet-ups as well as raising a tidy sum via the Concorde Charity Organisation - I am just waiting for final figures from Jamie Mathieson who was also celebrating the birth of their first daughter Molly just a couple of days before this very show! This is also owner Cole Mathieson's first grandchild and he was beaming all night long so we all send congratulations to the family.
Also good to have another 'legendary' guitarist in the audience for this third bash- Tommy Bannister and here we are: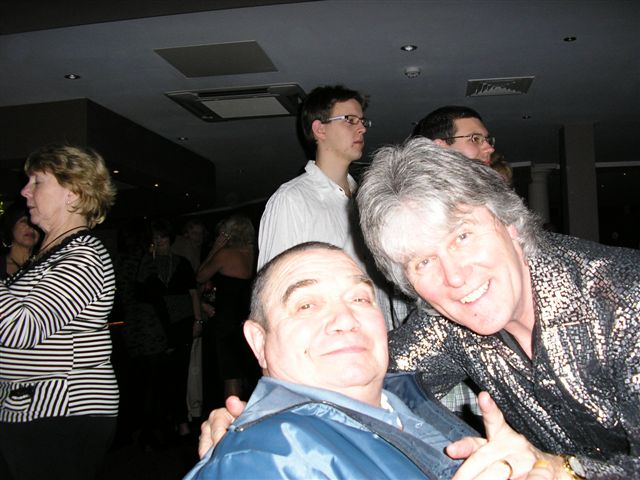 ...............................................................................................................................................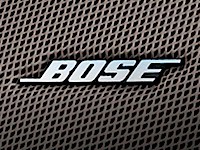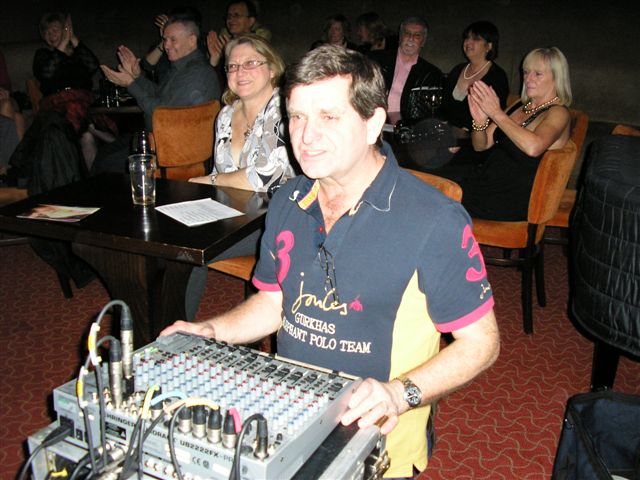 The superb Bose p.a. sound system was provided by Steve Roberts(above) - himself an accomplished musician (bass) and who provides professional hire to many local venues including the Concorde on special events. He also provides the sound for one of the U.K.s top rated tribute bands- The Silver Beatles and well worth checking out across the net. They feature authentic costumes and cover various periods throughout the Fab Four's years plus Vox amps and much more to bring a real taste of what it was like back then.
Steve can be contacted on the following numbers for any serious enquiries for p.a. hire or for more information on the Silver Beatles: 01794 367 587 or 0785 0199 572 (please mention this sourced webpage)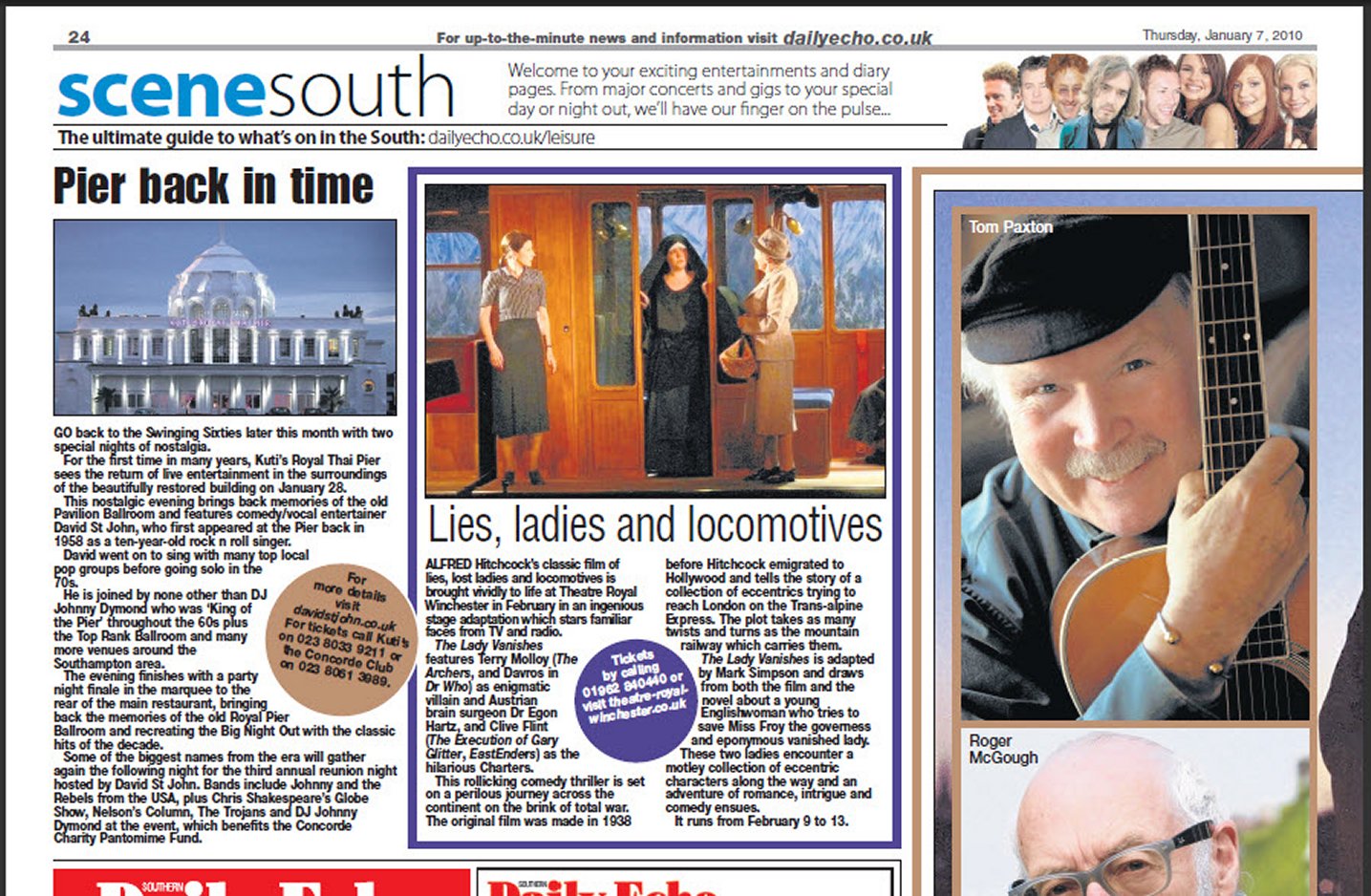 'WHAT'S ON' courtesy Southern Evening Echo
After everybody had packed up, said goodbye and made their way home I was getting ready to leave at 2am when noticing a minidisc sitting on top of my folder of notes for the show. I had only used a couple of discs for playbacks in the DJ console and they are marked with my name in case ever being mislaid. This disc was not one my usual brands and had the name 'Dave Wright' which didn't immediately register at such a late hour plus a few lagers..... I thought that maybe someone had picked it up and left it on my gear, presuming it was mine or maybe there was a singer called Dave Wright who might have left one of their backing track discs at the Concorde on another night. Having sent an e-mail out to many people who were there, nobody replied to say that they had either noticed it or put it with my stuff in the bandroom so it was still somewhat of a mystery.
I returned home and popped it into my deck and immediately recognised the voice of Alan Grindley who had recorded Dave Wright some while ago and it was all about the very early days of the Troggs being formed. He mentions Reg and Chris - i.e. Presley and Britton the remaining original Troggs who are still touring these days.
Naturally I mailed Alan who was more than pleased to discover that it had been lost and found. His (edited) reply says it all:
David,
Thanks for this. I am so grateful you have the Dave Wright MD. I was taking it for his partner to hear in Andover on the way back. She still hasn't got over his death and I was going to play it for her as she hasn't got a recording of his voice. It is the only one in existence ! It must have dropped out my bag ! Thank goodness you found it..I owe you one mate.
Really enjoyed the gig and everyone was great and it was amazing to meet up with John Walker after 40 years !! As I said the Dave Wright "birth of the Troggs" tape is very rare....even Reg and Chris haven't heard it. I own the copyright and am going to add some songs to it including "She's a Winner" which I wrote with Dave. If you would like to add it to your web site for free when I have finished re-mixing it you are very welcome ! Alan
Followed by:
It gets even spookier( when I look back) , as I lost the Dave Wright MD before I moved to B'ham over three years ago. I became friendly with a guy called Gary James who is a local radio DJ here. He needed an MD player so I lent him mine which was almost brand new.( A pro one in a silver carry case with all the connexions and a really good Sennhieser mike). He let me have it back two weeks ago,after about a year, saying "thanks for the spare MD in the case compartment , I was going to record on it but I found you had recorded something on it so I didn't use it !"
I hadn't labelled the MD so when I played it I couldn't believe my ears as I thought Dave had vanished forever ! I labelled it last week...and now you find it ! I got a feeling Dave Wright somehow has something to do with this ! A good story for your site and a bit of rock history !
Cheers,
AL
Mmmmm - strange or what? Anyway - that's it for now so please return to this page from time to time as new info/photos can be added and people are already asking me if there will be a fourth show in 2011. Who knows? It all depends on the next few months as new/old faces discover my webpages and maybe offer to reform their old bands as we try and make it different each time as well as giving others a chance to take part. It takes up an extraordinary amount of my time in planning, organising plus PR but so worth while when it all clicks in so well, thanks to the talent on offer and everybody just getting on with it all. Once again, there were no trivial problems and nobody disputed the running order, schedule or anything else connected with what has become an institution! We thank the Concorde management and staff as well as recommending their other great shows throughout the year with the Manfreds, Animals and many great 60s bands in amongst their jazz based programme etc. Just check out their website for all information
Page updated 7 February 2010
BACK TO HOME PAGE BACK TO SITE MAP CONTACT DAVID
copyright©davidstjohn2010