BACK TO HOME PAGE BACK TO SITE MAP CONTACT DAVID
David St John presents:
CALL UP THE GROUPS 8
*Loads of pics - let it load*
COPYRIGHT
Please note that many images contained within this website may be subject to copyright, although many have been kindly sent to me and intended to be shared on this non commercial outlet. If anybody wishes to use any of the same, then please get in touch as well as possibly giving credit where due as well as setting up reciprocal links if relevant to the actual content on any webpage. Please note that I am able to monitor any image-copying and if published on other websites. I would appreciate any contact to report broken/outdated links and any corrections to the text that accompanies any images herein. Thank you and enjoy!
August 2009
Here we go yet again on a never ending succession of memories, photos and personal reminisces of days gone by, when many a young lad or a girl started out in the pop music scene during the boom of the mid Fifties and beyond. We were influenced by an ever changing world and new exciting music coming over from the USA plus the movies that gave a tired grey post-war Britain a taste of a new beginning. It was all about fledgling talent as we copied the big stars and made some great music played on ancient equipment - often shared as guitars and mikes were often plugged into low power amps and speakers! No such thing as backing tracks, karaoke and everything that has made it too easy for the 'stars' of today who crave overnight success via 'reality' TV shows with all the hype that goes with it.
Their grandfathers were true pioneers who learnt their trade and practised for hours to get the songs right as well as piling into old cars, vans and even the bus to go and play for a few shillings at some dance hall, youth club or locals schools etc. No alcohol allowed and drugs were not around but the floors were filled with happy dancers all enjoying hearing and watching the bands do their thing on a rickety stage. The occasional punchup occurred, often when jealous lads saw their girls being chatted up by a singer or musician as the gear was being packed up but a million miles away from the binge-drinking idiots that plague a night out these days. I'm sure you will relish this and future pages as I'm getting many hits and subsequent e-mails from so many people as well as building up a Southampton based community of music makers and fans alike but from across the globe! It really was a 'Golden Age' and some of us are still chasing the same dreams we had all those years ago. A few of us 'made it' and many more just dropped out for many reasons but there is still a hard core group of these people, now in their Sixties and beyond who can still get up on a stage and deliver the goods as if the decades had never gone by! The Concorde shows of 2008/2009 certainly proved this and please take a look at the pages on the Site Map for a flavour of what it's all about.
I had this great message from Hythe based John Langford. In his teens and early Twenties he was with a band called The Falcons and later adding a female vocalist to become the very popular:
4 HITS AND A MISS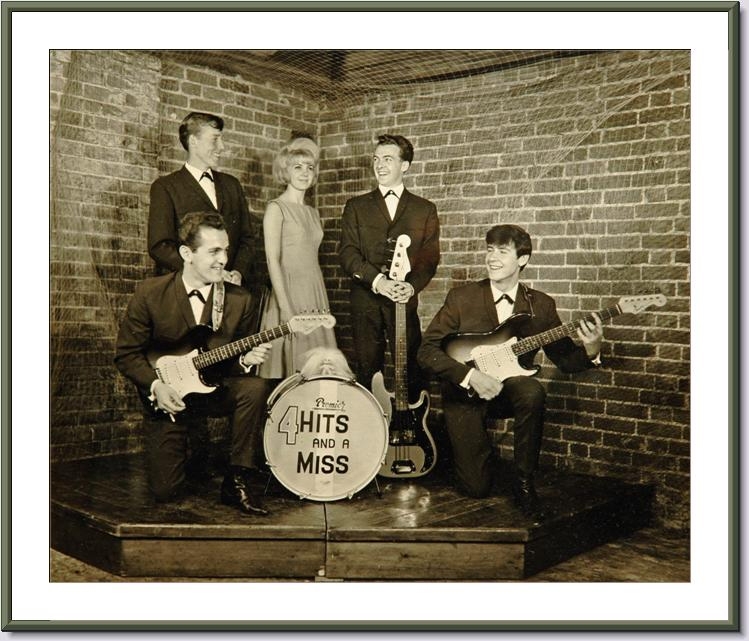 Back row: Malcolm Collier Diane Maynard Rod Chainey
Kneeling: John Langford Terry Collier
Four Hits and a Miss were also represented by Len Canham's Avenue Artistes and dealing with Bob James and Phil Blake who played keyboards with the group. They worked all over the South Coast and further afield reaching the Midlands areas as well - no motorways then! The group's main years were from 1962-1969 and guitarist John Langford emigrated to Ontario Canada in 1970 followed by bass player Terry Collier (not to be confused with Tony Collier) who settled in Toronto so still in touch with his old buddy. John has mentioned that he has loads of old photos etc so looking forward to adding even more nostalgic stuff to the webpages and this is a great image above, showing the the classic Strats and Precision bass plus a Premier drumkit!
I have just checked with Southern Roots and the following information lists the following line-ups:
Nicky James (voc)
John Langford (gtr)
Danny Churchill (bass)
replaced by
Terry Collier (bass)
Malcolm Collier (drums)
Then various 'Misses' !!!
Quote: 'Four Hits and a Miss - Hythe band, lasted quite a while and there were several 'Misses' as the girls all became a 'Mrs' or pregnant! Collier and Langford formed the change after the final 'Miss' (became Mrs James) left with the horn section from the Anthony James set'
John Langford writes: " I was the original guitarist for "Four Hits and a Miss" with Nicky James along with Terry Collier (rhythm), Danny Churchill (Bass) and Keith Guster on drums. I have attached a few old photos of us back in the 60's. These here are courtesy of Terry Collier. In the picture titled 'The Change 1968', Graham Mintram is playing Sax along with Tony Lowe on trumpet."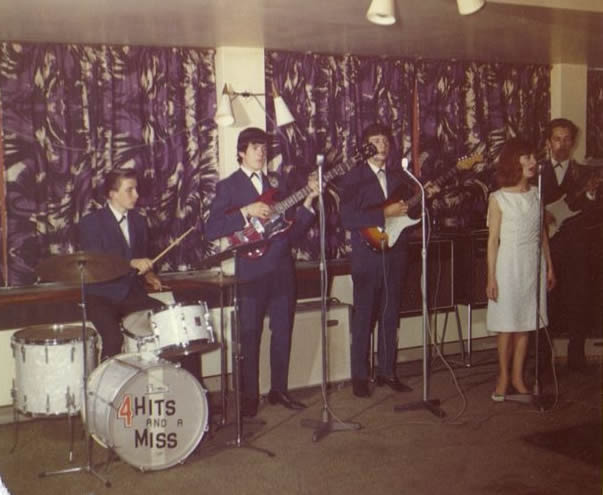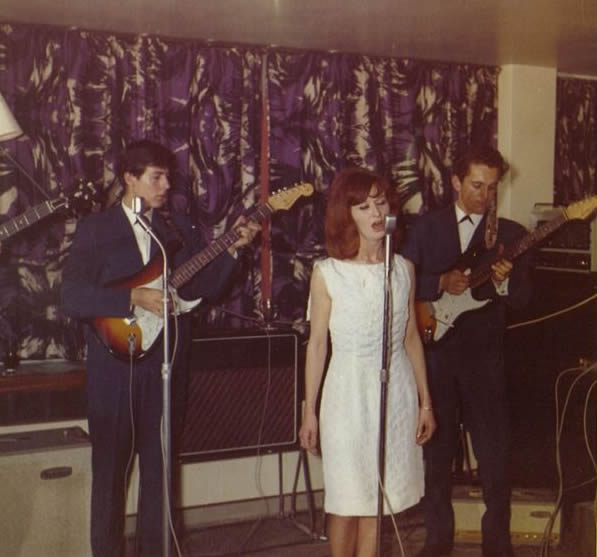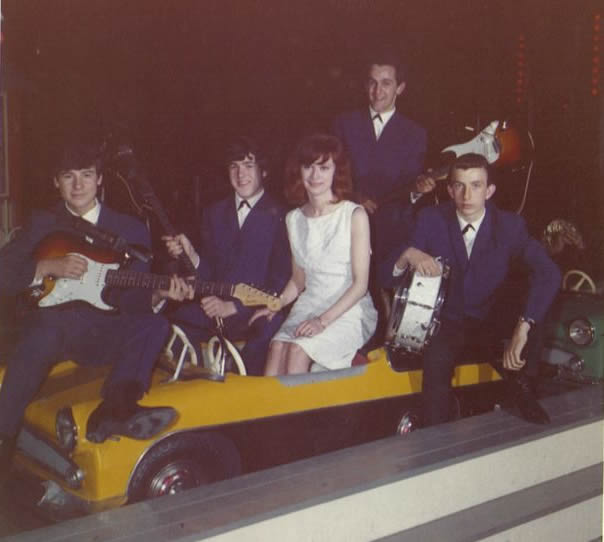 Billy Mannings Funfair- Clarence Pier Southsea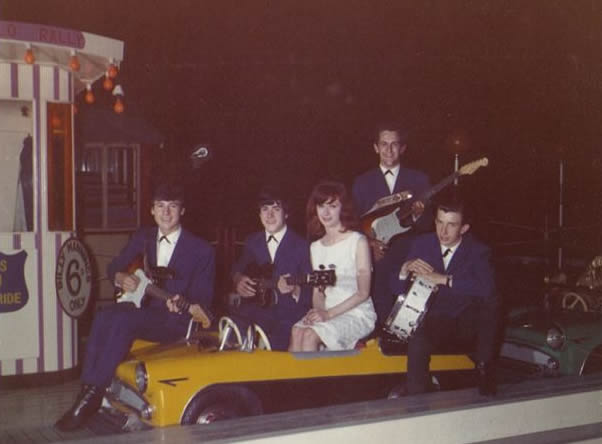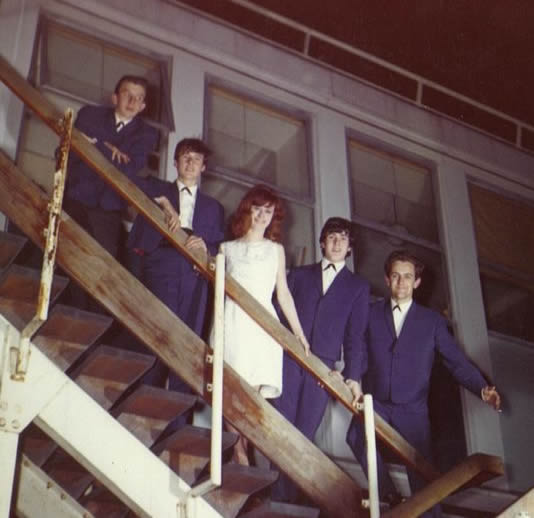 Four Hits and a Miss may have folded but out of the ashes came one of Southampton's finest 'Mod' bands in the shape of the Fleur De Lys. Their story has finally been told in a superb book 'Circles The Fleur De Lys' written by Paul 'Smiler' Anderson and Damian Jones who got in touch with me, having enjoyed my webpages on the Southampton music scene. You can read about this on my 'Movie' webpage and I have a copy of this very informative book with rare photos plus interviews with the main musicians and other locals such as Ronnie Allen, Graham Medley, Colin Wilsher, Bob James and many more. It stands out as a great story with nostalgic images of that exciting time and the layout with graphics makes for a really good read.
Some of the photos of Four Hits and a Miss (as above) have been used in this book, and I have promised Damian a copy of MY book when ready! Many writers tend to help each other when researching and it also gives me a chance to reproduce any information and old photos that have been kindly sent from a wide variety of sources. It is often difficult to establish copyright after so many years but I and others make every effort to check this out and give credit where due.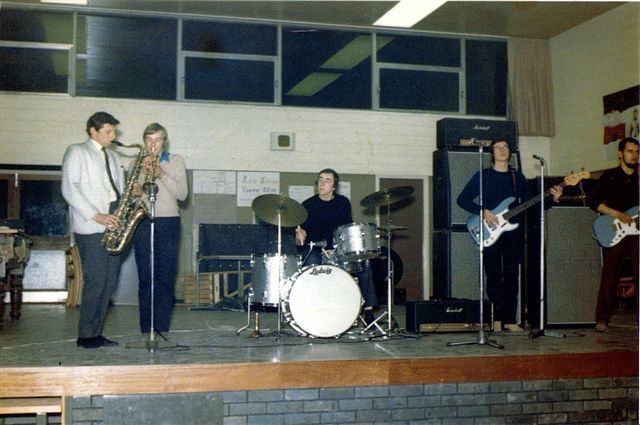 THE CHANGE 1968
Terry Collier emigrated to Canada and his amazing talents can be seen at:
Have your speakers on and be very impressed - he has made quite a name for himself!
....................................................................................
FEBRUARY 2010.
Once again, another 'blast from the past' has dropped into my inbox in the shape of an email from Australia. You will have seen the first photograph of the very early 'Four Hits and a Miss' above and now that very same 'Miss' has found this website thanks to family back in Southampton- the Osbornes (No- not Ozzy and Sharon! ) Here is the mail:
Well Dave,
Don't you know how to get an "old bird's" heart pumping.....The name is Diane Andrews nee Maynard, I emigrated to Australia in 1971 with my husband Ron and 2 sons. Today, my cousin and his wife rang, Jean & Mick Osborne, She was so excited, telling me about your site, and that I had my photo on it !( Groan) I was the "Miss" in the " 4 Hits and a Miss" during the years 1963 thro to 1966, I was the one to leave because I was pregnant !!! What great memories you have brought up, but I groan when I remember how young, stupid, and pig headed I was - but I loved playing with the band.
I had been working in Manchester as a singer and dancer, when I became quite ill, and returned to my parents, for some recuperation, they had moved from London to Blackfield . My parents wanted me to do a trade "hairdressing" which I apprenticed at, to my sister in law Pat, but I hated it, and joined the group, and gave hairdressing the flick. It was memorable.....The rehearsing in Malcolm & Terry Colliers garden shed, Their dad was our manager, and drove us everywhere in the "bus" We had great vibes on stage, and went through a few band members. John was a great guy, I remember his pride and joy the MINI car which we all thought was the best thing since sliced bread, especially me who had to use public transport.
We went on TV on a talent show, unfortunately I was early into my pregnancy, and suffering miserably, That performance was the worst I had ever given, and I always felt that I'd let the guys down. The name of the group, came from a TV show 'Juke Box Jury' where a panel of 4 were played some of the latest hits and their "buttons" were illuminated HIT or MISS reflecting their views, so we thought that was just right
Onto ANOTHER group, and "The Royal Pier"
After my son was born, I went for an audition at the Pier, Phil Blake was on piano, but I cannot remember the name of this first group. I got the gig, and thoroughly enjoyed my time with them. When they moved on, I joined the next band "The Tony Ravell Sound " WOW, the pace really picked up. Tony was a fantastic guy, with a great voice, but a hard master......thank goodness. He truly got the best out of all of us The line up was Tony on bass,- Derek ? Lead guitar,- Roger Pierrot? On piano,- plus Shirley Bradshaw, other female singer and my partner in crime. Having 2 girl vocalists, made for a different line up to all the rest, and we were on the road......
We had gigs in Tottenham London, and made a recording of one of Derek's own original songs, ( don't ask, I cannot remember)
My future husband came on a "Dockers night" and 6 months later we became engaged. The manager of the Royal Pier at that time was a Mr Cox and he kindly allowed us the use of one of the rooms for the party. Later, in 1968 when we were married, again Mr Cox, let us use the room, all the staff, acted as waitresses for us, I had put my 'going away' case in the dressing room at the side of stage, for security, forgetting, that when I needed it,Johnny Dymond would be DJ ing for a teenage evening. Seeing me fly thro the ballroom in full wedding attire, John, introduced me to everyone, before I was able to escape! Highly embarrased....
Keep up the good work on the site, my cousins reckon it's the best..... Enjoy some photos (how embarrassing)
Best wishes,
Diane Andrews nee Maynard
THE PIER GIRLS Sixties fashion at its best! The original 'Legs & Co'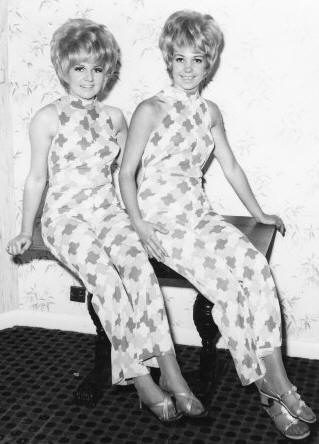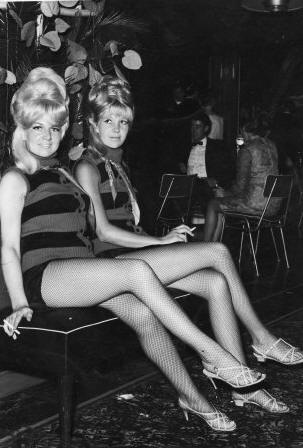 Shirley Diane Shirley Diane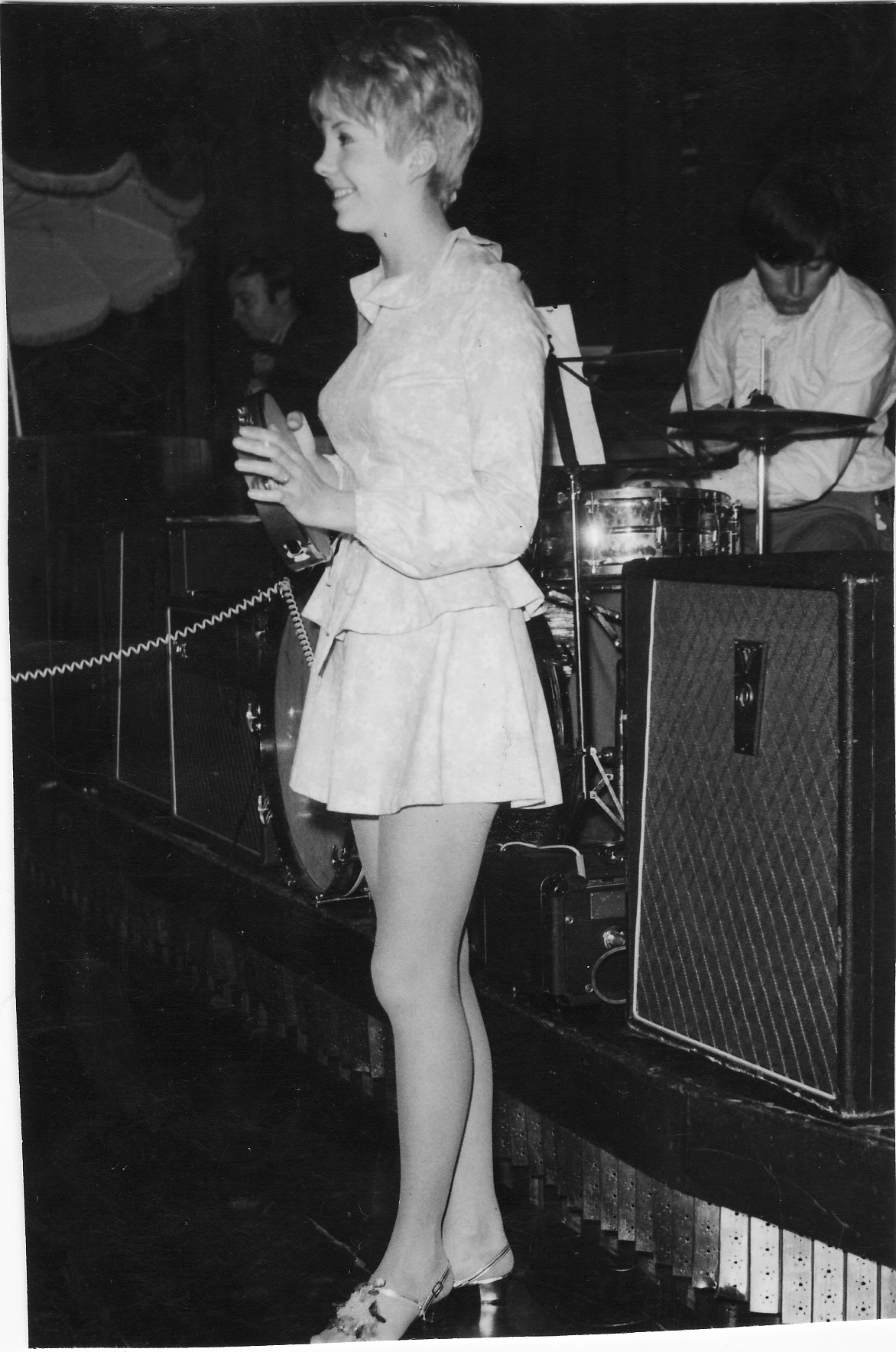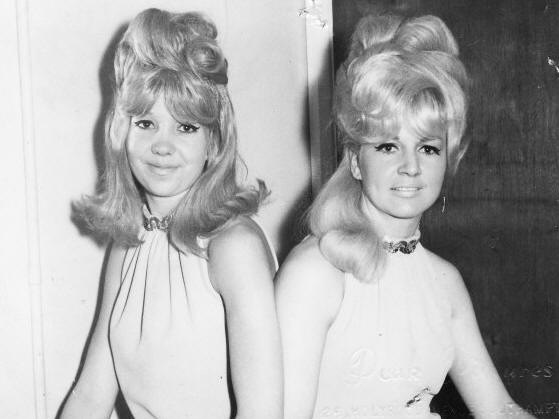 Diane Diane Shirley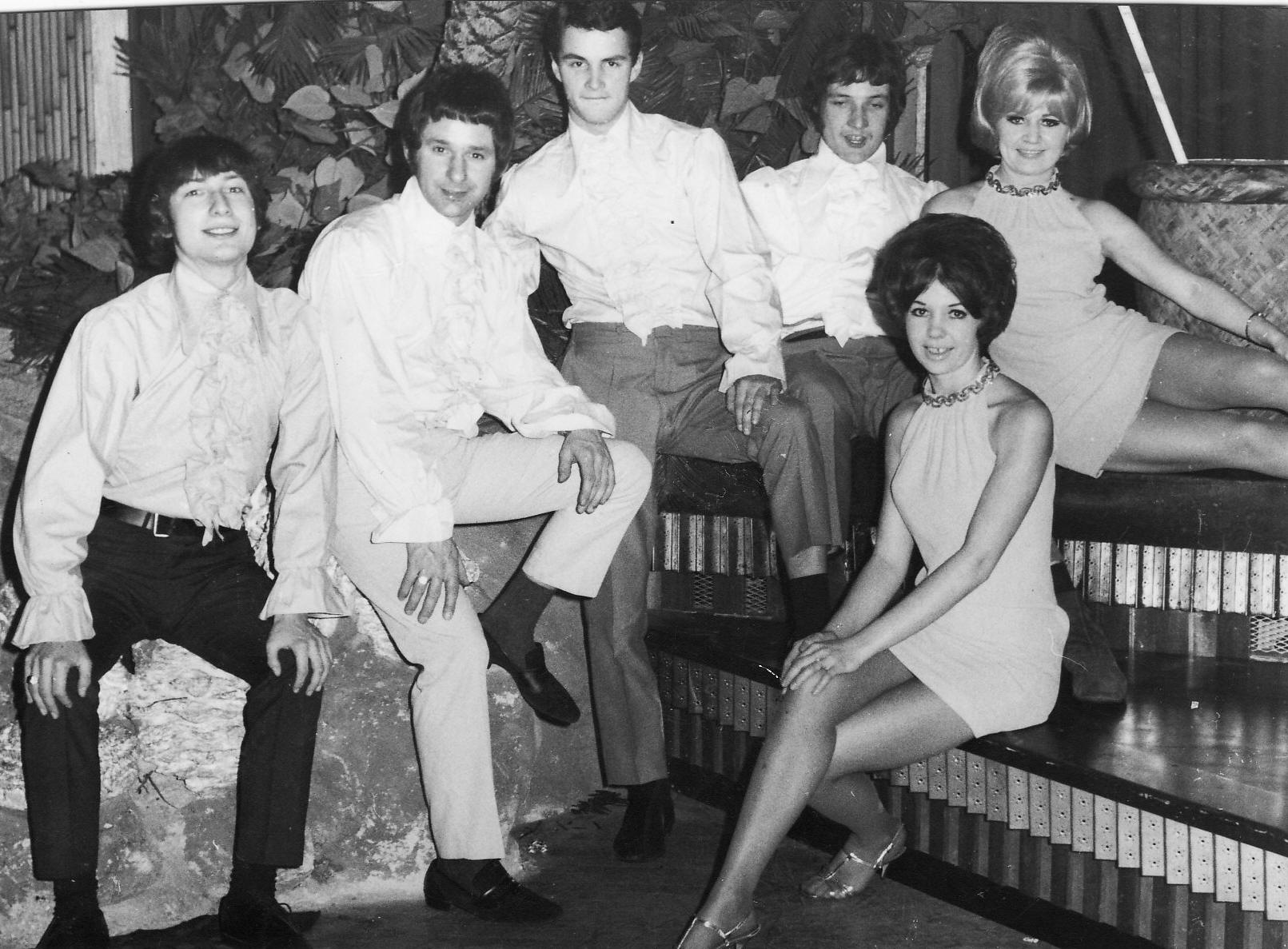 The Tony Ravell Sound at the Pier
I called Diane at her Australian home and we had a great chat about those days as well as being blown away by seeing her name 'up in lights' after so many years! She is into ancestry and family history but never imagined finding herself on a website such as this. Shirley Bradshaw - where are you? Di lost touch many years ago but who knows if she will surface in the near future. Tony Ravell later went onto great things in the music business and was the M.D. on the Parkinson Show amongst other positions. Di loved the story of how the Fleurs De Lys sprang out of 'Four Hits' and has ordered the 'Circles' book over the internet so cant wait to read all about this part of Southampton's musicmakers
E-mail from Stuart Hillier:
"Hi David

Looking through your Site Maps I came across an email you printed from John Bickell (Call up the Groups 6) He mentions the early days of the Countdowns and a free gig they did at St Marks Institute in Woolston. It was a variety show put on by the youth club and was recorded on tape. I still have the tape and thought that John might be interested to hear what they sounded like all those years ago. If you have his phone number or email address I would like to contact him. I attach a photo of the Phil Eden Skiffle Group - THEN AND NOW! "

The black and white foreground picture was taken in 1959.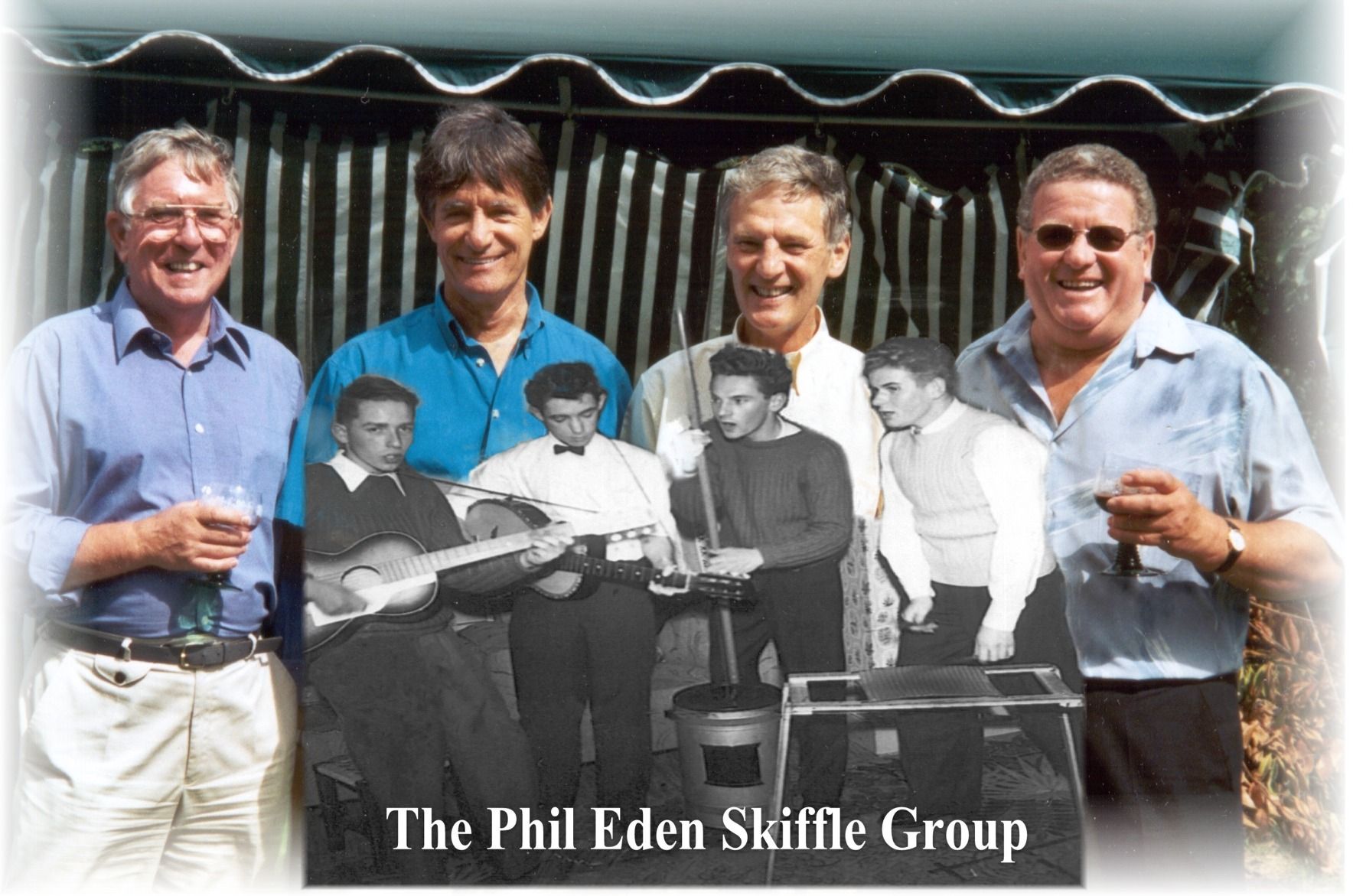 L-R : Roger Eden Stuart Hillier Peter Philip and Derek Hartnell.

Like many skiffle groups of the day it was very short lived but we did perform on stage at the Grand Theatre (a talent competition that Tex Roberg won
-I wonder if he remembers that!) and at the Royal Pier after which we were offered a contract by Len Canham but never took up because our parents
insisted that we get a proper job instead! I am the only member of the group that stayed on the music scene until recent years as a drummer in dance bands, country groups and pop bands in and around the Southampton area.
Kind regards

Stuart Hillier "

John Bendall has also sent me this 1969 publicity handout for 'Dream' who were managed by local manager Les Osman - I appeared on several of his travelling variety shows during the 80s/90s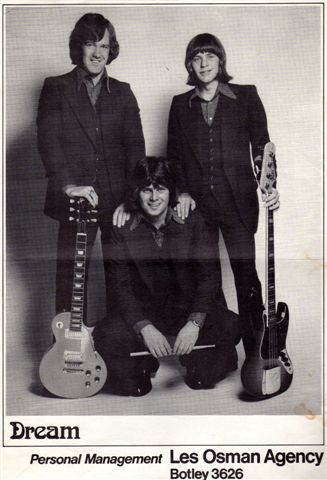 L-R Gerry Gurr John Bendall Neil Hibberd
Gerry = ex Saints FC goalkeeper, Neil currently with Peter Pod and the Peas - John now sings all over the NW and Majorca!
IVOR TOMLIN
I had mentioned Ivor Ameer-Beg on my early group webpages and have finally made contact with him in recent months. Known as Ivor Tomlin, he has had a great career in the business and has sent me loads of info plus more old photos which I have copied here - excuse the quality as some are copies of copies plus newspaper clippings etc. He still lives in Southampton and as keen as ever on the music business that has been part of most of his life, like so many of us 'survivors' I guess. One of his good pals by the name of Howard Kirby had written an interesting biography of Ivor and called 'A True Story- Just a Whisper From Stardom' from which I have condensed much of what is written below and it really tells a good story so I'm sure you will enjoy yet another insight to what it was all about.
Ivor was born in Winchester in 1945 - and thus labelled a 'War Baby' i.e. when he popped out, his parents took one look and started fighting with each other! (Kidding mate!) He then moved to Eastleigh Southampton and his parents actively encouraged his blossoming musical talents from an early age, starting with a drumkit followed by a cheap plastic guitar on his eight birthday plus lessons from his Uncle Ted. Ivor recalls watching the TV series of 'Robin Hood' and particularly liking the character of 'Alan A Dale' the wandering minstrel playing lute and singing songs - this turned out to be an inspiration for the years to follow, as this is what he wanted to do. At the age of 9, Ivor joined the local choir at Eastleigh Parish Church and here is an old 1954 photo of his first 'singing group' middle row on the left (ringed) Bless....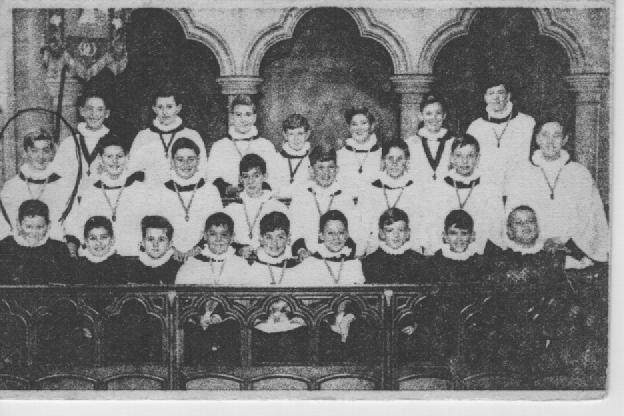 The family home was in Market Street (made famous by local lad Benny Hill with his 'Ernie' hit record!) and Ivor had a couple of pals - brothers Brian and Derek Gosling. Brian made and played guitar so let Ivor have a go which hooked him straight away so shortly had his first 'real' instrument - a solid deep red Colorado. He later met up with Mick Dubiel who shared the same interests and within a short time were singing and playing guitars with harmonies such as Everly Brothers around 1960 at the age of 14.
Ivor gradually improved his style from just playing chords (rhythm guitar) to lead work, whilst Mick kept to rhythm but later progressed to being a superb bass player and singer. They started to appear at local church fetes and improved with each appearance and upon leaving school at 15 he found his first job at Prices Bakery as a van boy then later a salesman plus making music at night. The family moved a few miles away but Ivor still recalls popping over to Mick's house on his moped with guitar slung over his shoulder and shortly they teamed up with another keen young musician who played drums and sang- another well known name on the local scene in years to come- Pete Hunt. One of their early shows was on the bandstand at Eastleigh Recreational Park and this is a photograph of that venue- several bands have played there over the years.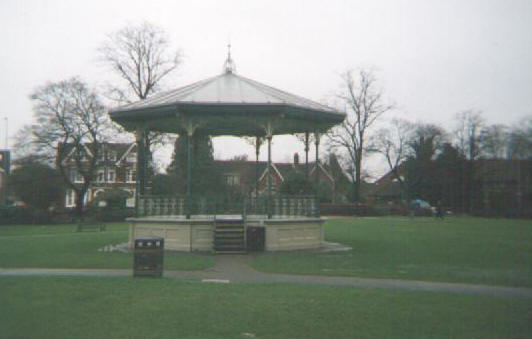 They decided to make their first recording and so piled into a small studio in Market Street which resulted in an acetate copy which was then played on an old 'Fidelity' record player - sounded scratchy but it was a start! The group then expanded with new members of Maurice 'Mogey' on organ then Dave Enstone who became lead vocalist so everything was sounding much better with a full line-up. Ivor's family had decided to emigrate to Australia but he felt that his new life in the music game so he thought it best to stay in the UK for the moment although facing a difficult time without his parents around. He moved in with Dave Enstone's family and the bookings were coming in as well as hanging out with other local singers and bands in the area and a common meeting place was the Chamberlayne Arms pub which had an upstairs function room for playing and rehearsing numbers.
Ivor met up with Graham Medley a talented bass player and singer who is one of the most respected names in the Southampton music game and played over the next four decades with many different bands. Graham's band had another bass player, a great looking lad by the name of Heinz Burt who later joined the Tornados ('Telstar') and then finding solo success - I have a whole page on him so take a look on the Site Map page. Ivor's group soon attracted the interest of a young manager called Jon Ferris who later ran the very successful Imperial Ballroom over Burtons Tailors in Market Street and became one of the top venues for many local and national 'name' bands. The only trouble being those damn stairs that we dragged our heavy gear up from the street below and Ivor has sent these great images:
Mid 1960s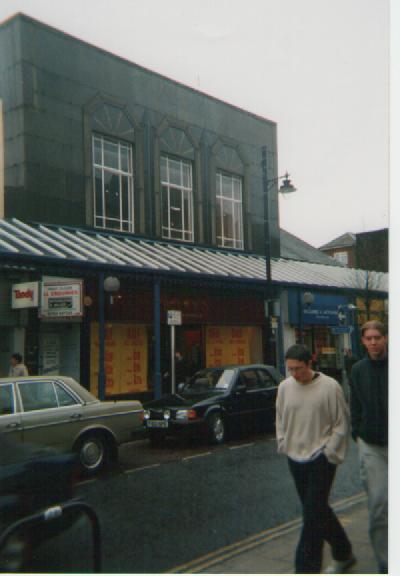 The old facade still in place
Jon Ferris felt that they needed a new lead singer and Dave Enstone had to make way for Kevin Finn and before long they had a new name that would be known as on of the best outfits around - Kevin Scott and the Kinsmen. You will find references to them on my other Group pages and they used the Imperial Ballroom as their home base - later known as 'Room At The Top' I seem to recall? Jon pushed them into smartening them up with tartan suits amongst other 'fab gear' as it called at that time and his good business skills got them into a higher bracket of work. They played the larger dance halls, Navy bases alongside the likes of Johnny Kidd and the Pirates and many a wag mentioned that Jon Ferris should have been one of the band with that name! KS & Kinsmen then went on tour with Billy J Kramer, Gerry and the Pacemakers and many more top names in the Merseybeat boom. A memorable occasion was appearing at the luxurious Savoy Hotel in London and before the Queen Mother who was sitting just a few feet away from the small stage- this was deemed to be a Royal Command Performance for the lads and one of their great nights.
They also headlined a local dance hall night at the Romsey Town Hall and supported by another up and coming group from Andover by the name of the Troggs! Ivor also recalls meeting the Beatles at a Southsea hotel just before they hit the big time and were playing a local dance gig. John Lennon offered Ivor a ciggie but being a non-smoker just refused- he wished he had taken it now as a souvenir! Their really big night came when they were booked at the NME Poll Winners show at the massive Empire Pool Wembley alongside the likes of the Rolling Stones, Freddie and the Dreamers, Gerry and the Pacemakers, Swinging Blue Jeans, Billy J Kramer, the Hollies and many more big names that caused nonstop screaming from the fans throughout the night! This backstage photo shows them with Tony Hicks (Hollies) and a couple of the Swinging Blue Jeans - I hope to clarify the names soon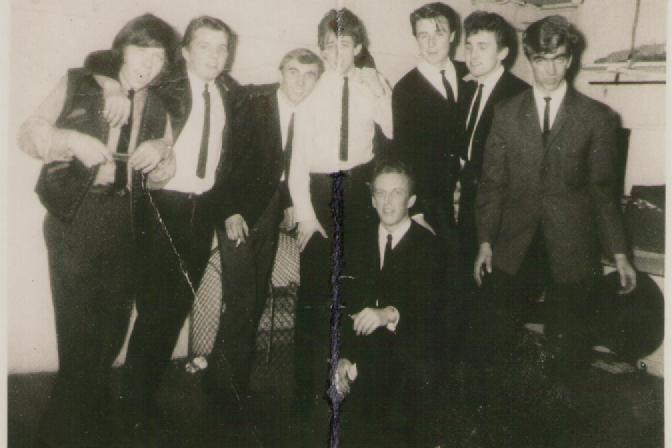 2 x Swinging Bluejeans Pete Hunt Tony Hicks Maurice Skipp Kevin Scott Mick Dubiel Ivor Tomlin
The Kinsmen had a massive fanbase of their own and a certain young girl by the name of Doreen Tyler who also worked in Price's Bakery was taking a keen interest in Ivor! More of that later........ For a variety of reasons, the band eventually broke up with some musicians joining other groups and this was a very sad time for Ivor who had formed this terrific bunch of lads as they were possibly on the edge of bigger things- who knows? Pete and Ivor then formed the Bumblies with 'Mogey' the organist later replaced by Geoff Vaughan(Hammond) plus the bass player Warren Geer ex Square Pegs band.
Kevin Scott became Kevin Finn and then Danny Finn, with great success as part of the New Seekers during their second phase in the Seventies and during the mid Sixties led the amazing 'Wishful Thinking' and all documented on my other pages.
The Bumblies soon 'buzzed off' but were then transformed into a 9 piece line-up- six guys and three girls - Penny Phoenix, Jenny Brent and Frances Peck or just 'Penny Jenny and Fran' aka The Q.T.s (say it.........) and wearing shiny silver dresses. The band were now led by drummer/vocalist Pete Hunt whose kit was set up in the front and his powerhouse playing and great vocals mixed with the big sound evolved into another well remembered name that also boasted sax players Keith and Dave
THE BIG T SHOW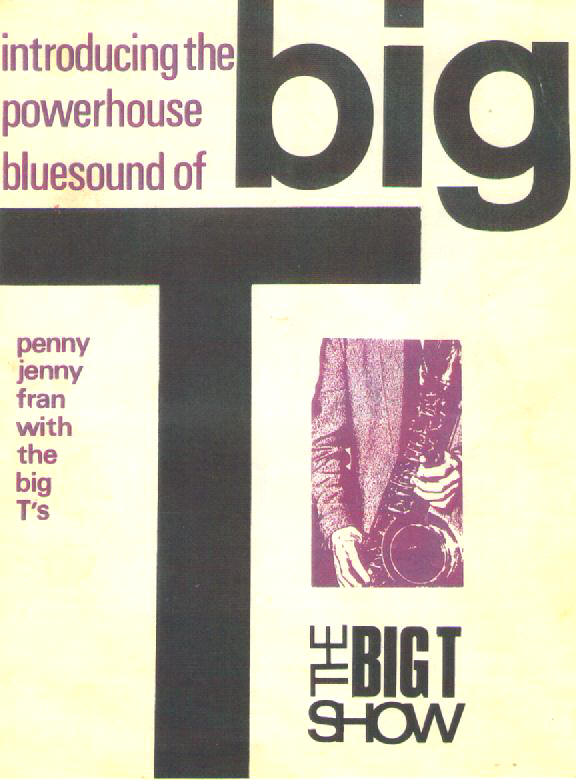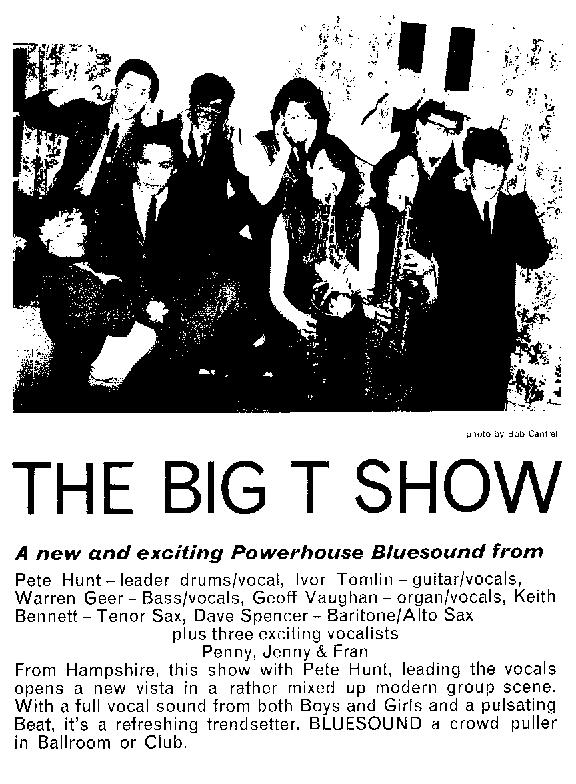 The Big T Show were now managed by Ted Reed and then Tony Marlowe (ex van driver) and they were still based at the Imperial as well as playing gigs all over the South after dashing home from dayjobs then getting back home in the early hours or at dawn before dashing off to work again! Their new style was Tamla Motown/Soul (one of the first UK bands to cover this new style) and one of the biggest sounds around as well as supporting many 'name' bands including Cliff Bennett and the Rebel Rousers who became fans of the Big T Show themselves! Here are a few odd bits of posters, tickets etc: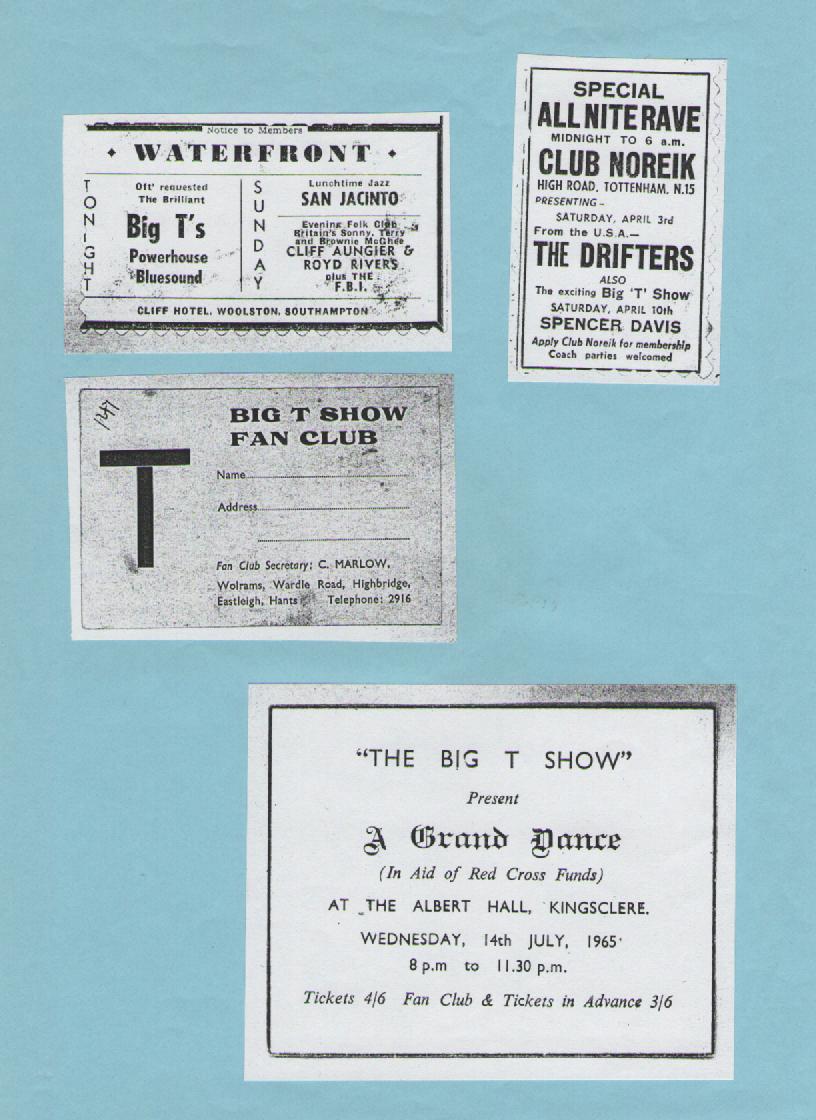 They also appeared alongside Screaming Lord Sutch and spent some crazy nights with this great showman as well as taking part in the prestigious Melody Maker National Beat Contest at the Wimbledon Palais London and reaching the Grand Finals- here is their certificate/press cutting and proud memory of another Big T success: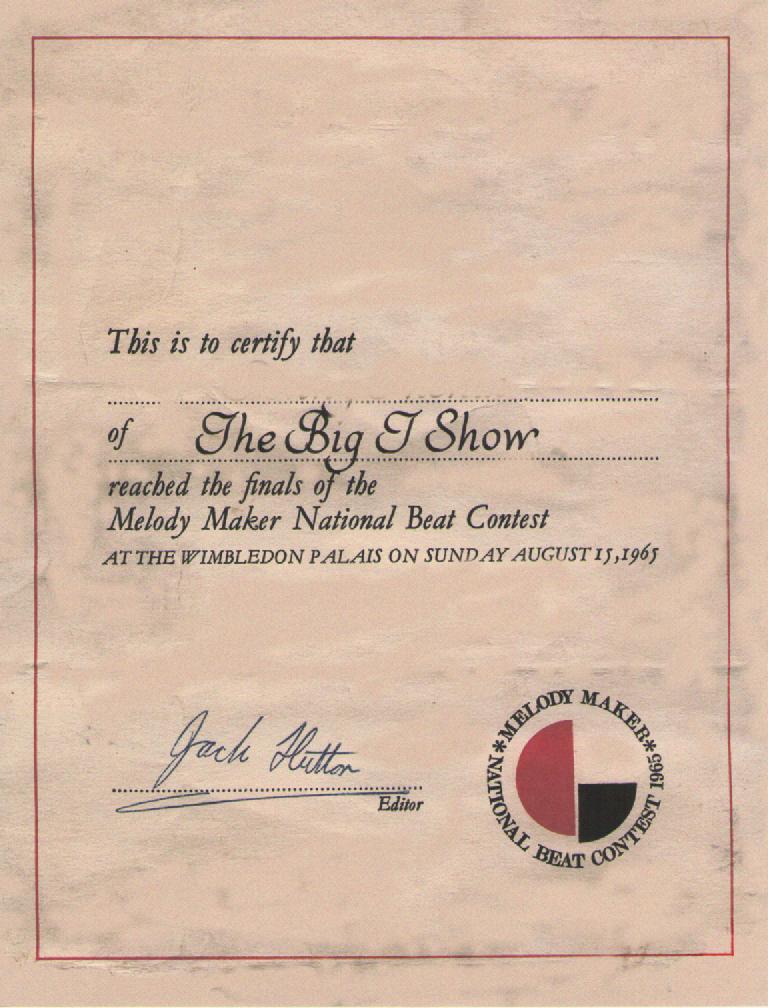 St Louis Union came 1st, and The Big T Show were 2nd place at this final of the Melody Maker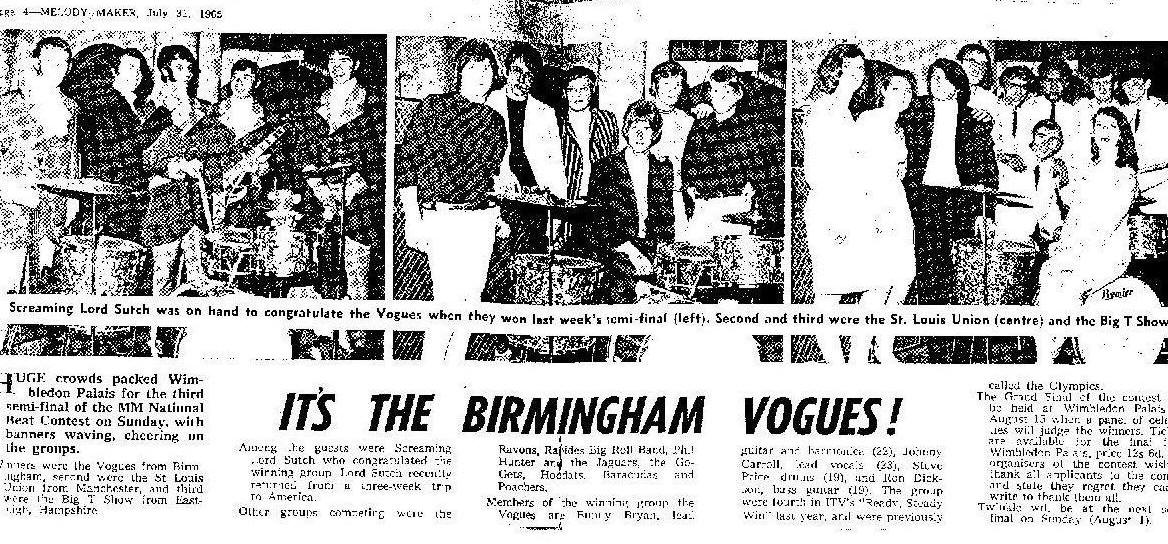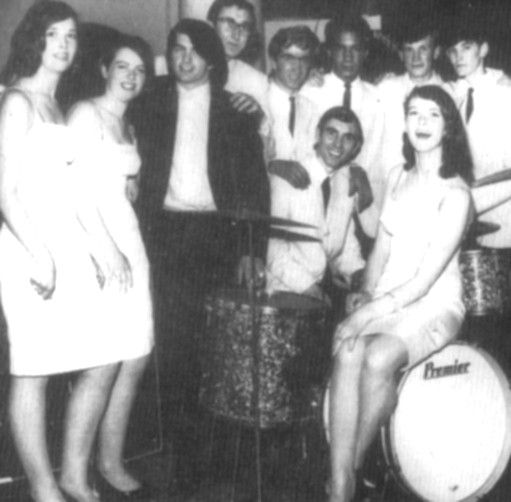 Original photo as per top right of press cutting- thanks to French 60s music fan Patrick Vinet.
He informs me that Sutch was at Berlin Walkbühne Club, in Germany alongside Johnny Kidd & The Pirates and The Kinks, the previous day?
They also came second in a competition at the Hammersmith Palais and their prize was a p.a. system but it never materialised for some dodgy reason! Appearing on the same show were an all girl group of sisters called 'The Carols' and the Big T managers felt that they were more commercial than the current Q.T.s so the bad news had to be broken to them. The Big T Show went on to play all over the country and once supported the original Drifters back at the Hammersmith Palais and also made some records in a London studio.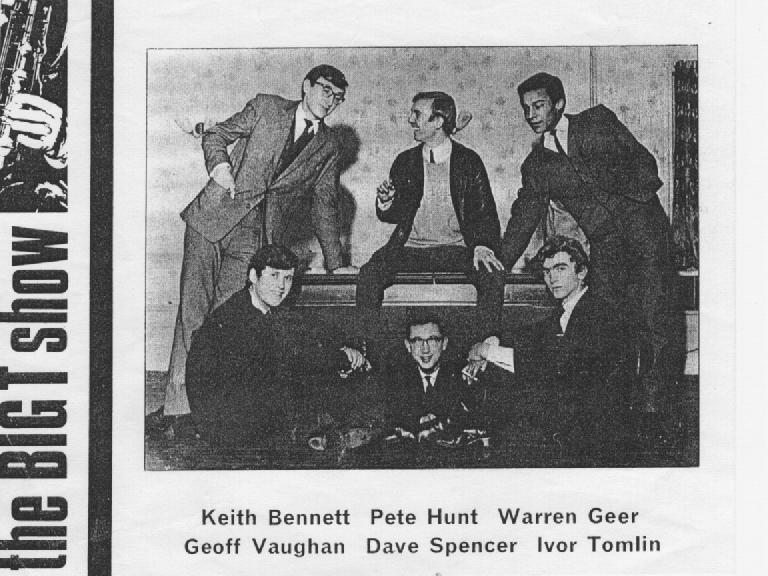 For a variety of reasons, the band finally called it a day in 1965 due to mix-ups in bookings and the pressure of day jobs for some of the musicians so Ivor stayed in London for some while to pursue a solo career and new found songwriting skills which led to him making a a record for the massive C.B.S. label (often used as a mickey take for any singer- means 'Cant Bloody Sing' !!
The A side was 'Sweet Sweet Loving' with 'Save Me' on the B side and here is the self-penned single: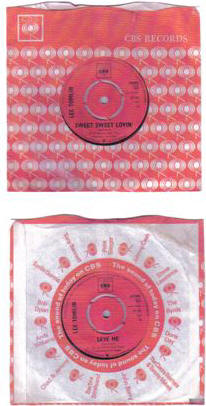 February 2012- update- just had an e-mail from Ivor (Lee Tomlin) as he discovered that this very single is now on You Tube! Check out these 2 links for the both sides of his 1966 attempt on the charts! Ivor mentioned that he wrote both songs, helped with the backing arrangement and that it was recorded at the old CBS studios in Oxford Street London- now E.M.I. ? Just click on any of these for an authentic sound of the Sixties!
http://youtu.be/-W3EUyf5TtY http://youtu.be/BBxCRTD-Nrk
Although the disc had some good airplay on Radio Caroline and many 'pirate radio' stations it didn't exactly set the charts alight but Ivor battled on for a couple of years with 'day jobs' to keep him going but it was tough going as the groups were still dominating the charts. He left the big city lights and returned to Eastleigh with a temporary stint as a milkman before getting his old job back at the bakery but was happy to be back amongst 'real' people and friends after a taste of London and all that goes with it. He had also been with his no 1 fan Doreen and in 1969 they finally tied the knot as well as being joined by Ivor's family who had returned to live in the UK.
Ivor never 'retired' from the scene and during the 70s he teamed up with Mick Dubiel again for an audition for 'Opportunity Knocks' at the old Southern Television studios in Northam Southampton but their 'Everlies' style act didn't make it onto the programme. He also remembers chatting with Heinz in the 90s back at the bakery canteen, who had himself tasted fame with the Tornados and his hit of 'Just Like Eddie' before the Beatles and other fresh groups hit the scene. Heinz had enjoyed the fame but missed out on the expected fortune that never materialised due to the usual rip-off merchants including Joe Meek whose story is well documented on my pages as well as being portrayed in the 2009 'Telstar' movie as well as shady managers and all other leeches. Heinz was bitter about this and his health was slowly fading by this time and he only lived a few short years after this time before a final concert a few weeks before passing away.
Mick Dubiel and his then girlfriend Cathy were performing a double act called 'Crystal' so asked Ivor to join in where he played the red Strat plus Buddy Holly impressions etc to make for an entertaining show. Ivor later teamed up with Mike Stemp who did an 'Elvis' act so they combined forces for a double tribute act night before Mike left for Devon in the holiday centre game. Ivor then joined a band called Atlantis but soon tired of getting nowhere and has spent the last few years still playing the odd gig as well as songwriting and other projects. In 1999, Ivor had a surprise knock at the door in the shape of his former bandmate Geoff Vaughan the organist from the Big T Show - they hadnt seen each for some 30 years so lots to catch up on. They managed to contact most of the old group and had a great reunion night at the Vine Hotel in Ower and still keep in touch with each other - here are the 'old boys' at it again: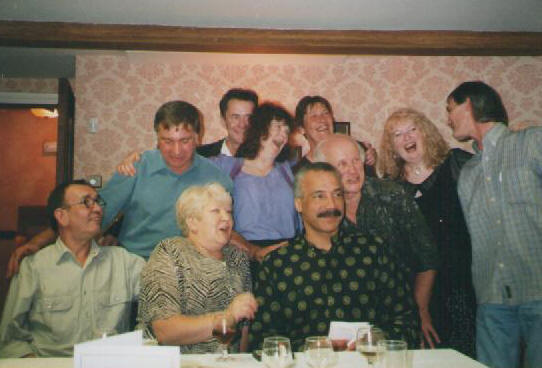 Back couple- a pal plus Jenny of the Q.T.s
Middle Row- Ivor-Fran (Q.T.s) Geoff Vaughan Penny (Q.T.s) John Rennie (sax)
Front row - Pete Hunt-Doreen Tomlin-Warren Gear
Dave Spencer and Keith Bennett( sax players couldnt make it)
Going back to the days when Ivor came back to his roots after the London days, he sold off most of his gear but naturally missed not having a guitar, so Doreen bought him an acoustic model soon after they got married back in 1969. He still dabbles to this day and is enjoying my website and network of old muso pals so perhaps we may see him back on a stage somewhere? He enjoyed his early days mixing with the rich and famous - no doubt would do it all over again and is very happy that he has so many memories as well as being able to share a few on this very page!
In 2005, Ivor and Doreen celebrated his 60th birthday with a dream holiday to the USA and visiting the Deep South to soak up the music that had inspired him way back in the Fifties. Atlanta Georgia then to Memphis where they made a pilgrimage to Graceland in the steps of millions of Elvis fans of course. They also visited the legendary Sun Studios where Sam Phillips had recorded many of the biggest rock n roll stars of all time and Ivor naturally cut his own disc - here are the photos of that memorable session where he covered 'The Wonder of You'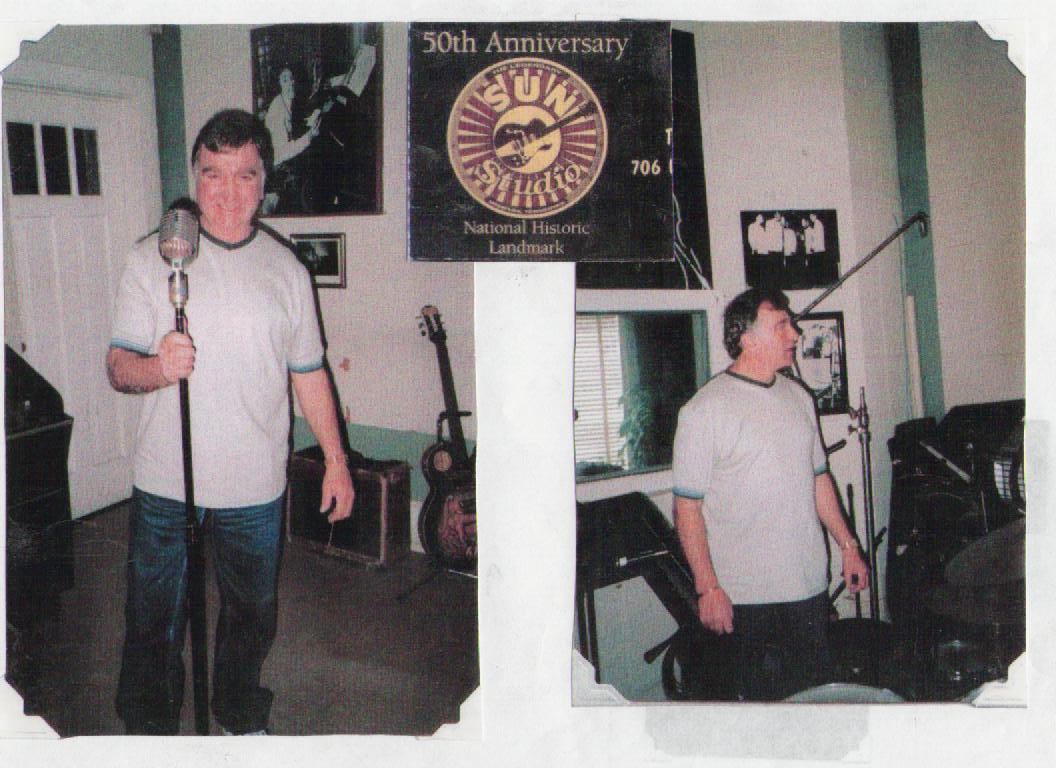 He also ended up in another musician's 'heaven' whilst soaking up the Nashville scene with a visit to the Grand Ole Oprey and the famous Gibson shop and here he is strumming away in D major!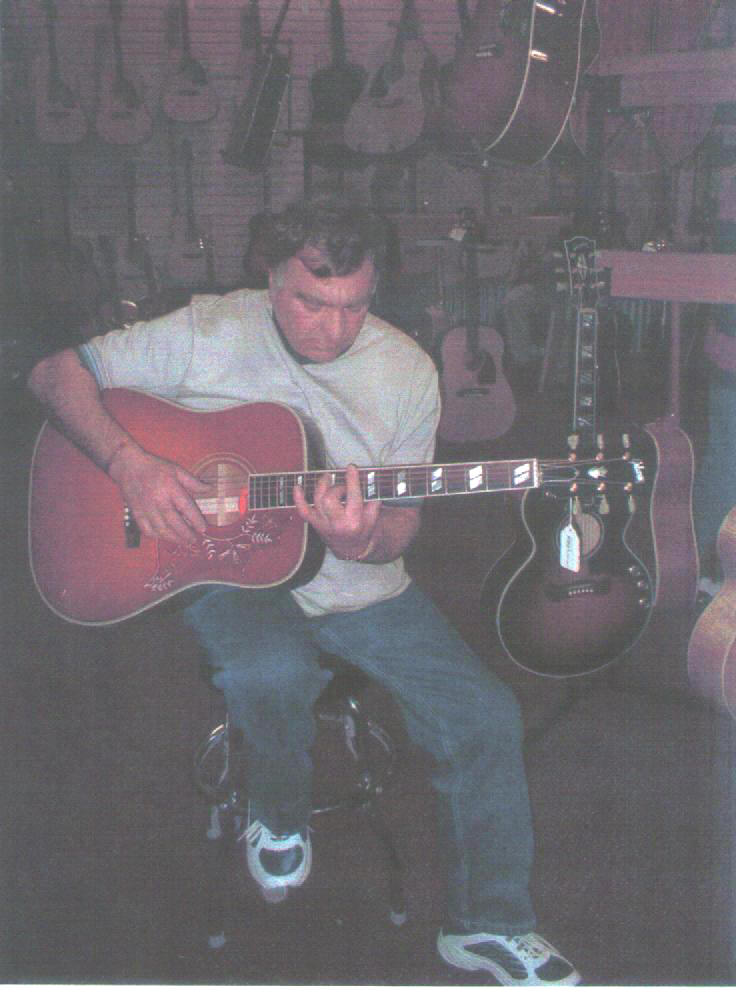 December 2012
Had an e-mail from Ivor- his daughter found this old Rolling Stones Tour poster at a car boot sale- from 1964 and features supporting acts including Kevin Scott & The Kinsmen. Brighton Hippodrome- 2 shows as normal for those great days! Prices from 7/6 to 12/6 - todays prices of around 37 to 62 pence..........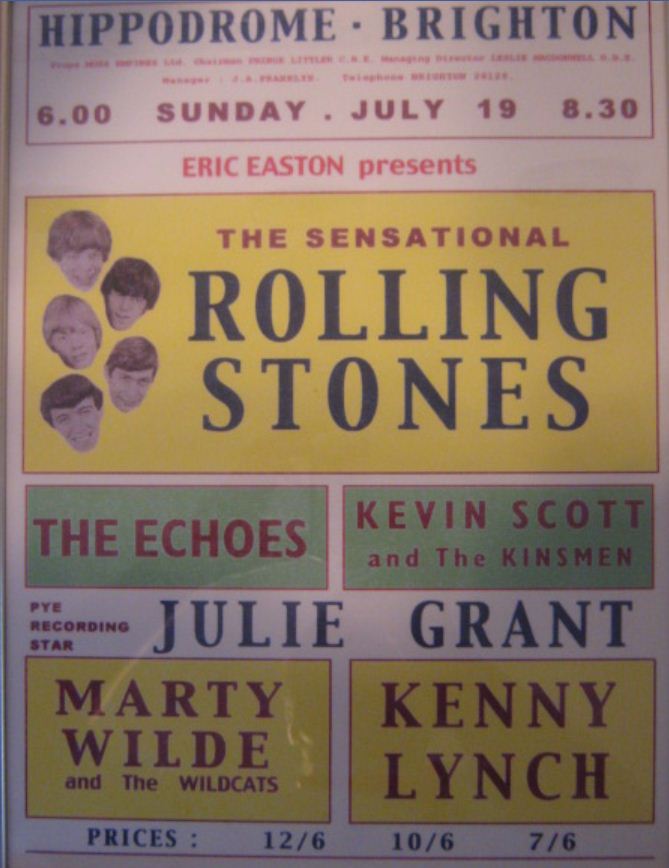 ..........................................................................................................................................................................
Yet another link pops up! John Walker of the 60s Andover group 'Ten Feet Five' (later Troggs) has now informed of his own connection with Ivor's recollections and here is his latest mail sent over from his home in Virginia USA
Hi DSJ

Small World. A friend of mine sent me these pics. only this morning. It is the last gig I played in the U.K. before I left for the U.S.A. in 2003. The band is the reformed Bumblies!! (by now renamed Replay). Terry Ward is the singer and the guy hiding behind the tent pole is Charlie Porter - also with me in Ten Feet Five. You met Charlie at the Concorde in 2008. They were taken at a charity show in Cranleigh, Surrey, in July 2003. Pete, the bass player and Goff, the organist (hidden in these pics.) are both original Bumblies.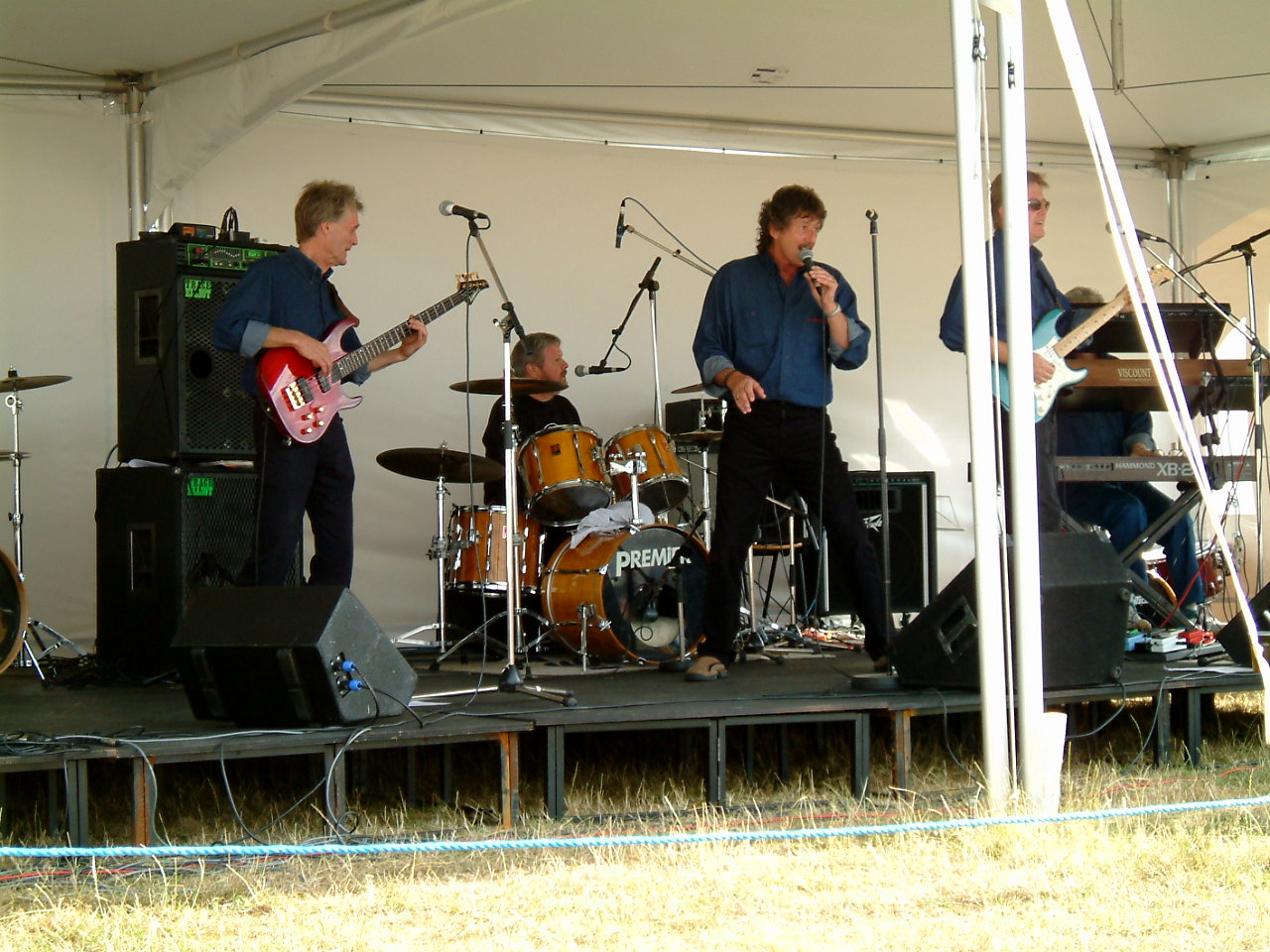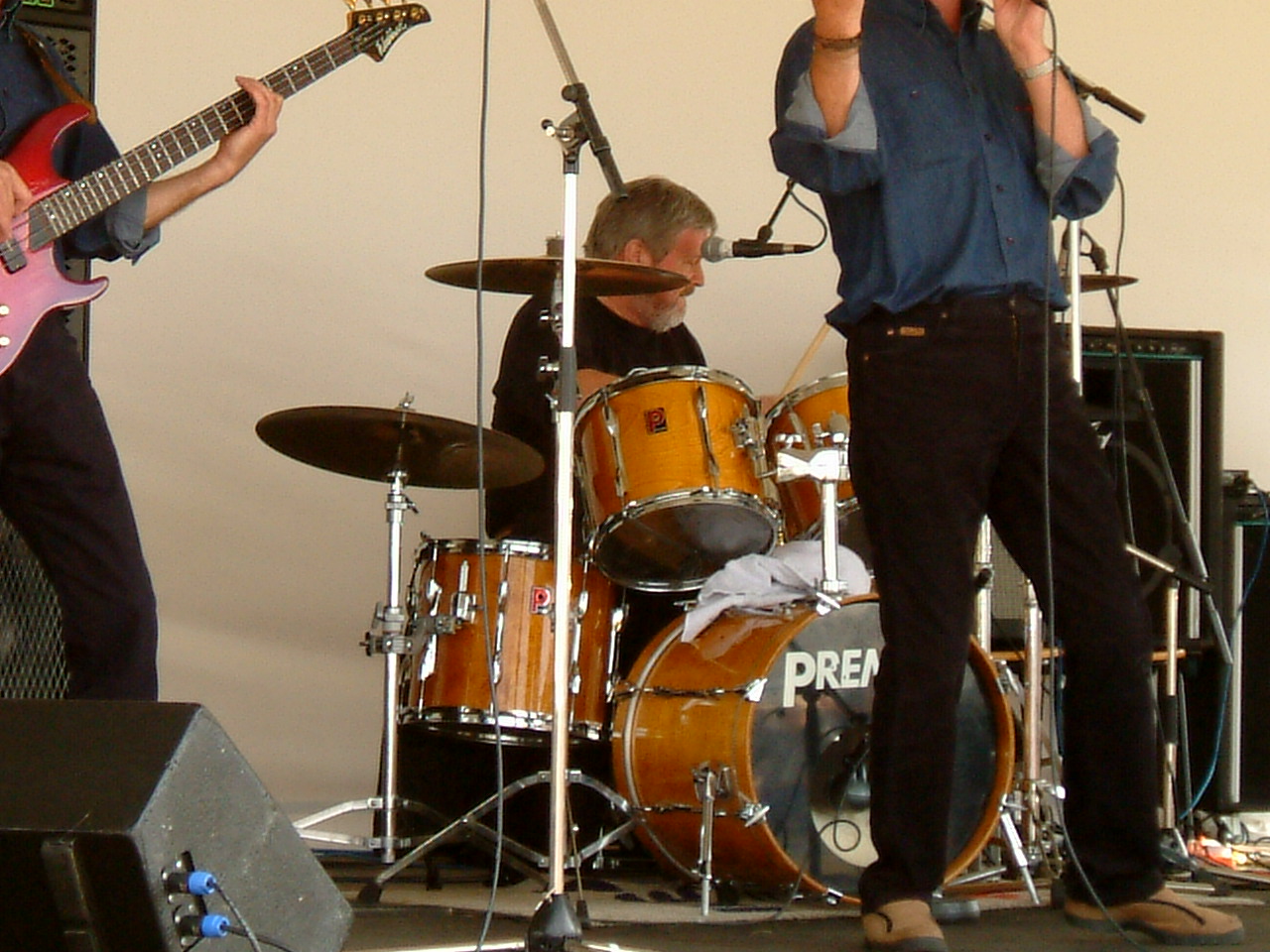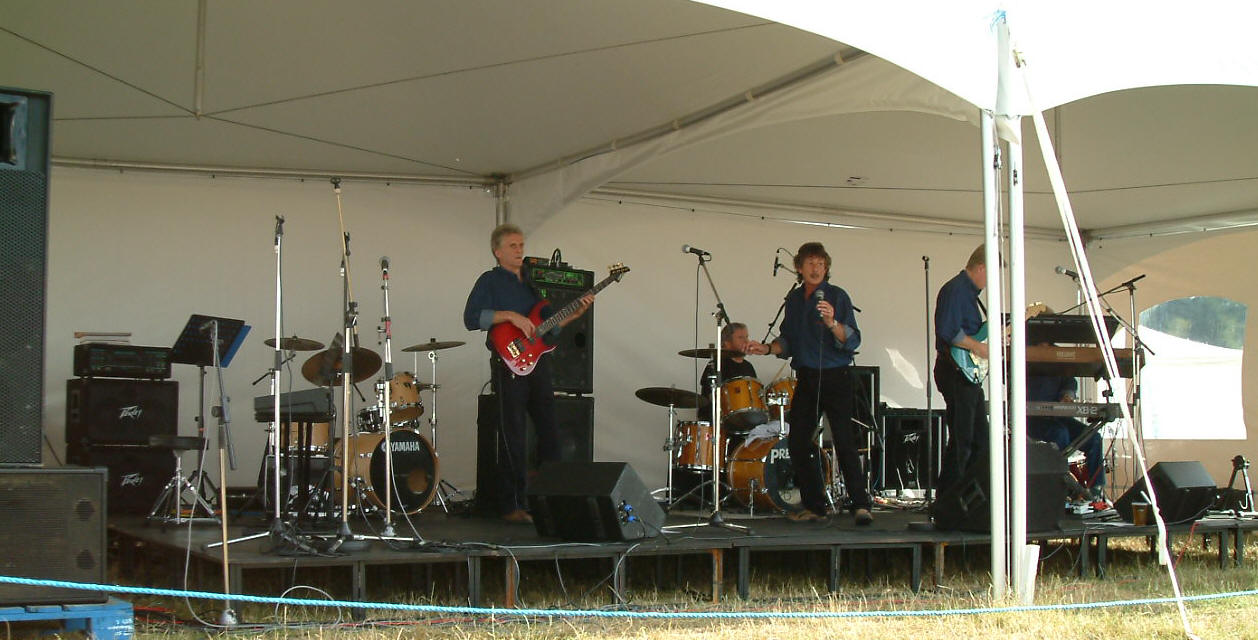 BACK TO HOME PAGE BACK TO SITE MAP CONTACT DAVID
© copyright David St John 2009