BACK TO HOME PAGE BACK TO SITE MAP CONTACT DAVID
*PLEASE REFRESH YOUR BROWSER(press F5) WHEN RE-VISITING ANY WEBPAGE AS CONTENT IS OFTEN UPDATED*
COPYRIGHT
Please note that many images contained within this website may be subject to copyright, although many have been kindly sent to me and intended to be shared on this non commercial outlet. If anybody wishes to use any of the same, then please get in touch as well as possibly giving credit where due as well as setting up reciprocal links if relevant to the actual content on any webpage. Please note that I am able to monitor any image-copying and if published on other websites. I would appreciate any contact to report broken/outdated links and any corrections to the text that accompanies any images herein. Thank you and enjoy!
This page created July 2018
*Please check back on this webpage as we add the supporting acts*
BACK TO THE SIXTIES/SEVENTIES!
Friday 9th November 2018- Doors open 7pm
Proceeds direct to local childrens' charities via Concorde's established fund-raising section (Google it!)
Admission £10.00 (Concorde members £5.00) Limited seating
Tables can be reserved for 3 course meal- early booking is advised as there is limited availability on these annual shows.
Concorde Southampton : 023 80 613989
https://www.theconcordeclub.com/
Check out the previous annual shows:
2008
www.davidstjohn.co.uk/concordereunion.html
2009
http://www.davidstjohn.co.uk/concorde2009.html
2010
http://www.davidstjohn.co.uk/concorde2010.html
2011
http://www.davidstjohn.co.uk/concorde2011.html
2012
http://www.davidstjohn.co.uk/concorde2012.html
2013
http://www.davidstjohn.co.uk/concorde2013.html
2014
http://www.davidstjohn.co.uk/concorde2014.html
2015
http://www.davidstjohn.co.uk/concorde2015.html
2016
http://www.davidstjohn.co.uk/concorde2016.html
2017
http://www.davidstjohn.co.uk/concorde2017.html
..
2014 & 2016 featured Mungo Jerry! Take a look.....
......................................................................................................................
(I am repeating the basic overview below as before- it more or less sums up the idea of these very successful shows)
The well established 'Back To The Sixties' is back for another great night and features the cream of classic 60s bands, singers and DJs from the best ever decade. Original artistes who performed around the Southampton area and all over the country, provide some great sounds with over four hours of live music plus fills from the local 'vintage' DJs. Just take a look at the previous webpage reports for a feel of what it's all about. The new premises in Stoneham Lane were founded in the early Seventies and now transformed into one of the finest music venues in the UK featuring many top names- just take a look at their own website. I have a dedicated webpage on my own site as well, which tells more of the legends that trod the old boards:
www.davidstjohn.co.uk/concorde.html
...............................................................................................................
This 'mini festival' has become well established over the last few years and witnessed some amazing performances from local Southampton musicians, many of them performing from the late Fifties and early Sixties. Many of the guest artistes have flown in from all corners of the world and linked in with visiting family, friends and hooking up with old pals after several years away as well as making some great music. The Concorde audiences cover a wide age group but many of the 'Baby Boomers' hit the dance floor from the first note of the evening and keep it packed throughout the night- some 4/5 hours of classic 60s hits, laughs, surprises and much more. The door proceeds go to the official Concorde Charity 'Pantomime' Fund that helps local childrens' charities, so we are hoping for another high turnout for this November show. The money raised provides trips out for local youngsters from difficult backgrounds and well supported by the local Mayor of Eastleigh and linked organisations.
Every year has been so good and so different, thanks to the wide variety of singers, bands and the 'vintage' DJs who come along to play some terrific 60s music in the breaks- just like the old dance hall days with live bands plus the Jocks 'spinning the platters'. A really nostalgic night that brings back the memories of a carefree age and sees the older generation dancing to the same groups as the did back in the Swinging Sixties! Also, the younger generations soak up the atmosphere as it gives them a taste of what it was all about- many of them wishing they had been born earlier! It's also a great opportunity for musicians, friends, family and former fans to meet up and celebrate the best time to be young as well as enjoying a full evening of the best sounds ever from the bands, singers, DJs and others who were lucky enough to have been there in the early days! For a really top night out, you can book a table in the restaurant area and enjoy the usual high standard Concorde 3 course meal as well as guaranteeing seats for the evening with a good view of the stage area. Otherwise- just pay the basic door charge of £15.00 with limited seating, so best to be early when club doors open at 7pm. The Concorde Moldy Fig Bar can be used for pre-show drinks or snacks so please get in touch to check out the options. If you are travelling some distance, then you may wish to book an overnight room at the hotel part of the Concorde establishment. Tables and hotel rooms need to be booked early due to high demand on these annual Sixties Shows. See below for contact information. For 2015 / 2016, we broadened the theme to include the Seventies as this covers more groups that have a wide repertoire of music, so yet another different feel to this fantastic night of pure nostalgia. As in every year, we welcome our 'vintage' DJs who will be playing some more great 60s/70s mixes in between the fantastic live acts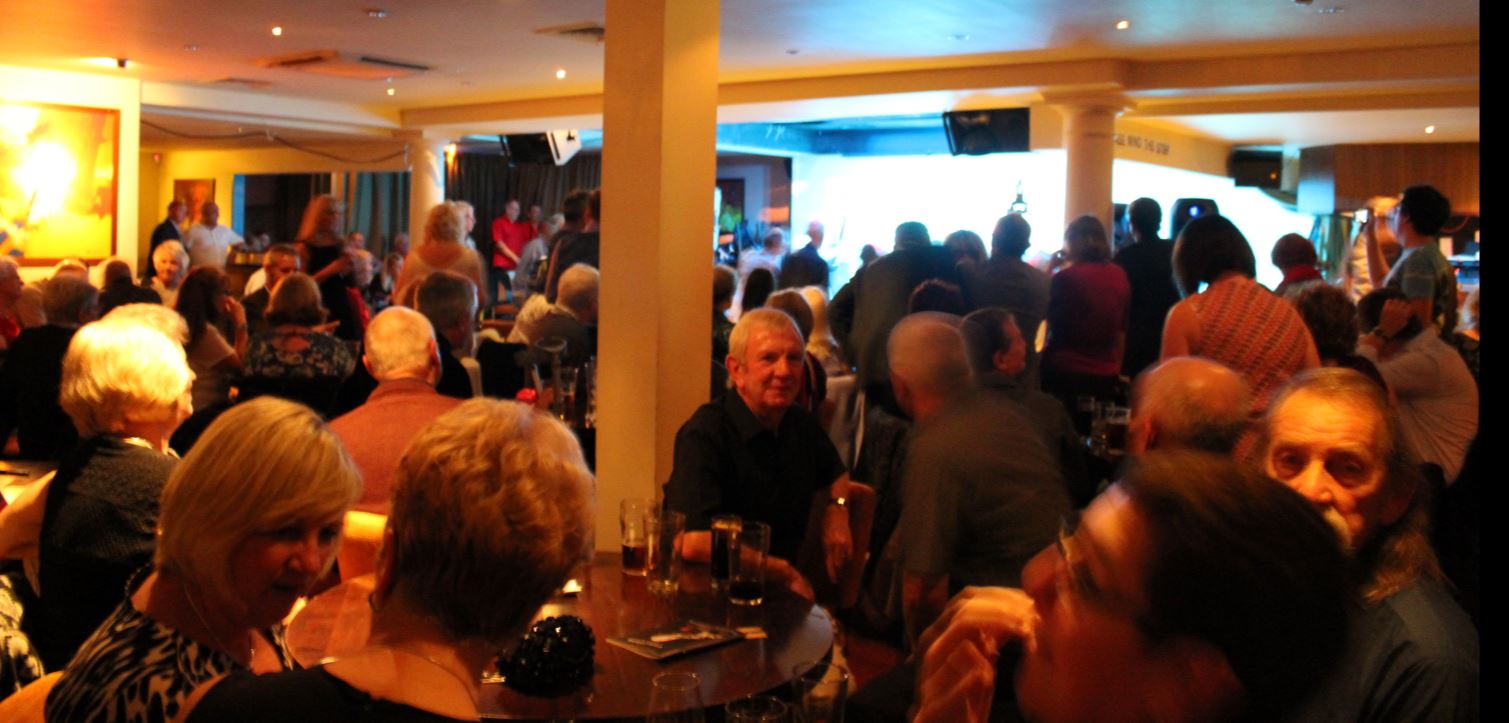 The Concorde- view from the restaurant/bar area. Why not book NOW for 2018!!!! Tables/meal bookings usually sell out......
..............................................................................................................................................................................................
Since these shows started back in 2008, we have seen them grow year by year into the well established annual successes that have witnessed full rooms of music fans. A fantastic variety of bands, singers and DJs have offered their services across the years as we celebrate the early years of the local Hampshire scene, providing a great evening of nostalgia. The audiences are from every age group, which see the 'mature' people enjoying the music that they grew up with, as well as them filling the dance floor for most of the night! The younger ones also get a taste of what it was like back in those golden years, so it all makes for a terrific atmosphere! I normally arrange the line-up during the early part of each year and I can now announce yet another scoop for 2018 in the shape of one of our finest local bands that fill venues across the South.
TOAST
Toast are one of the most successful local Hampshire groups that feature the amazing talents of 'Beau' Dinnage, whose track record goes way back to 1964 as one of my own first fellow band members in 'The Abdo-Men'. His terrific high end vocals were perfect for any hits of the Beach Boys, Four Seasons plus any harmony stuff and he still sounds as good - if not better than ever! Beau started out on rhythm guitar but switched to bass guitar after a couple of years, as he later joined several new line-ups including Brownhills Stamp Duty. This top recording band featured Rick Brown on lead vocals and you can read all about him on my other webpages, starting out with Ricky and the Hi-Lites from the early Sixties. In 1965. Beau and I went onto Eastleigh's The Unforgiven with Eddie Harnett who also has his own dedicated page on my website - the Site Map page can lead you there as well as this link:
www.davidstjohn.co.uk/biography.html
Beau has played with many line-ups over the decades, including being part of Ray Dorset's Mungo Jerry who also took part in two previous Concorde shows in 2014 and 2016. See the links above, that can take you back to those great shows. He has also stood in with many top name groups across the years with his own great memories as you can imagine. When I first wrote up my first one page website that you are now on, it was firstly intended as a basic advertising outlet for my main professional comedy profile. Within a short time, I started to add more webpages as the internet took off, with more and more people using PCs. I then decided to add some of my own personal memories from 1958 when I first appeared onstage at Southampton's Royal Pier Ballroom, as a ten year old rock'n'roll singer - see my Biography link above. Beau then sent me a photocopied brochure of 'Southern Roots' which was taken from a massive set of files that formed a 'Rock Family Tree', written by John Clare and Terry Hounsome. John kindly posted this large file over from Australia a few years back, which has helped me to copy info plus rare photos of many local groups, singers, DJs and much more. This input has resulted in the 'Groups' webpages that you will see on this website, and you will also note a dedicated 'Southern Roots' webpage as well. I'm hoping to get it all copied across at some stage but its a daunting task. Beau also sent me this photo of The Unforgiven taken at the Carousel Club on New Years Eve 1965, and this was the first group photo that kicked the whole set of webpages off, so I thank him so much for this little gesture that resulted in the rest of my webpage history. Better still, we remain god pals for some 54 years and have great laughs whenever we meet up or get onstage together on odd Concorde shows. Beau really describes him as a beautiful person...
They can be booked direct, so take a look at their own website that has info, photos and video-clips that give a rough idea of how good they are. Live shows are the bets way to enjoy them and you will be amazed by how good they all are, so don't miss this chance!
........................................................................
We also welcome back two great talents from the 2017 show, who opened the show with some classy harmony numbers. Eddie 'Fret' Hailwood has been a major help over the Concorde 60s shows across the years, as he played alongside many local musicians in different line-ups or on his own solo slots. He ran Fret Music Shop for many years, and kindly supplied several back-up items of musical equipment in line with our shared gear policy. On every show, we see bands sharing amps, drums, keyboards and p.a. systems so it really is a co-operative set-up one every occasion, as we need to keep changeover time to a minimum, although our DJs play some great fill music to keep the dancers busy! Eddie only lives a few miles away from the Concorde, but our good pal Rick Champion is flying some 6,000 miles over from his Las Vegas home to join Eddie for another great set. Rick plays a mean 5 string bass, appearing with many top US acts and groups on the Strip, but loves to come back 'home' to visit family, friends as well as doing a few shows with old bandmates in the area
I shall no doubt join them for a song or two, as well as roping in a few other pals for my own set.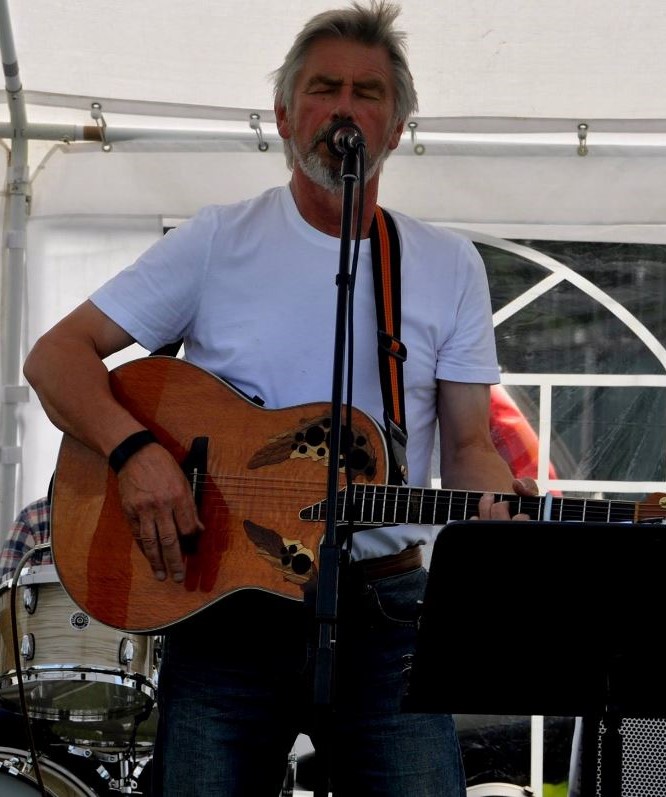 Eddie Rick
I will announce another band over the next few weeks, as I have to juggle various offers to take part in these annual shows, so please return to this page for updates. We suggest early reservations direct with the Concorde Club, so best to contact them now to avoid disappointment.
We also thank manager Jamie Mathieson (plus Cole!) and all the hard working Concorde staff on these busy nights as well as thanking all audiences who enjoy these great nostalgic shows, listening to the best music from the best years of our lives!
......................................................................................................
BACK TO HOME PAGE BACK TO SITE MAP CONTACT DAVID
copyright©davidstjohn2018