Paul writes
Dave
I played with the Graduates and Tex Roberg and Johnny Watson was our drummer. He left to join Tony Sheridan and the Star band in The Star Club where we were the first band to play on that stage with The Beatles. Johnny Watson did play with Vince Taylor and Joe Brown at Butlins.Had the Beatles not chosen Ringo to replace Pete Best just prior to our second season at the Star club with the Beatles they would have taken Johnny Watson as their drummer. This is something Johnny is always reminding me of.
The Graduates line up was Paul Roux, David Roux, John Roux and Peter Brien later replaced by Johnny Watson. I Have many stories of those early days at The Star Club. I will send a picture of us with Tex and Johnny with Roy Young playing piano for us on the stage in The Star Club.
Paul Roux
Paul Roux has also dug up these rare 1961 posters showing the Graduates and many more well known names from that era - hoping to get more photos in time but these really bring it all back to so many who were there!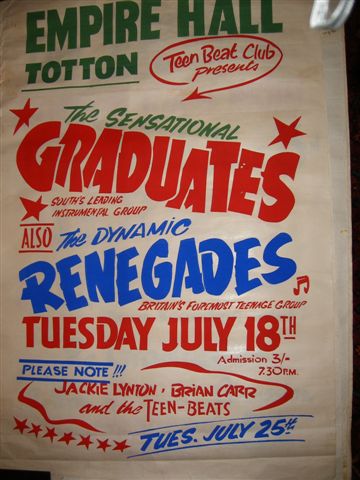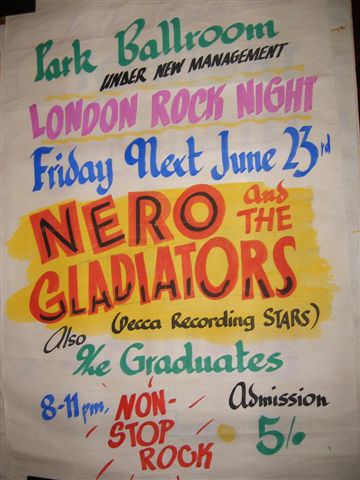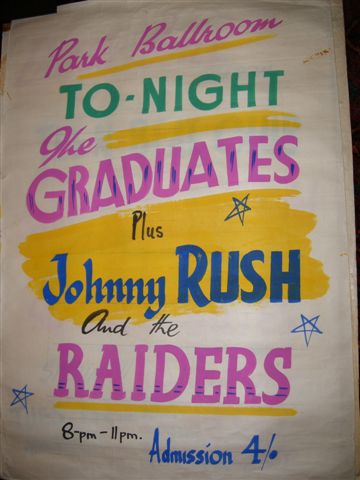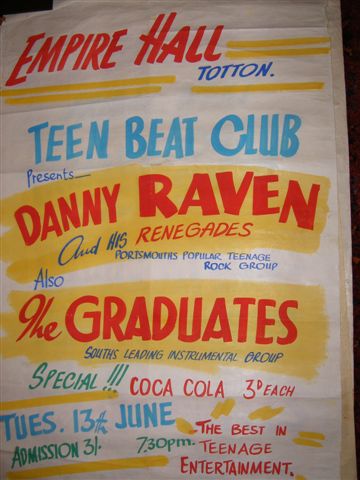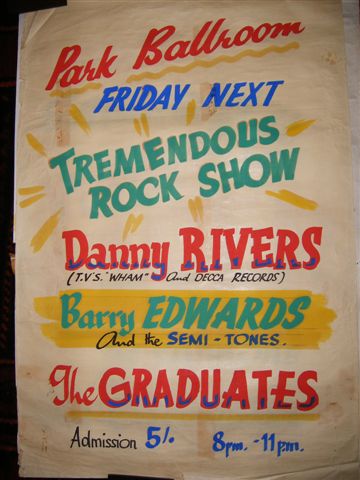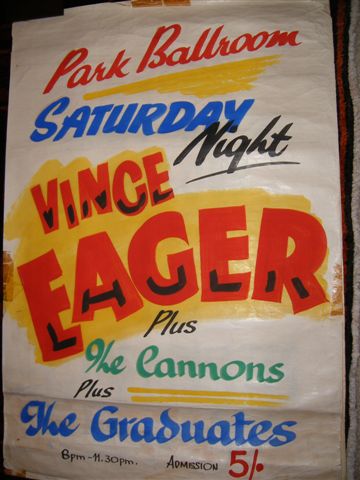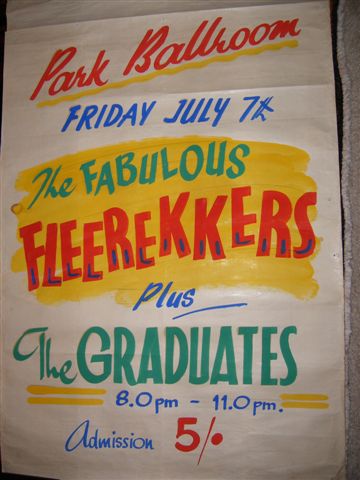 February 2009
Once again - another old pal has found this site and I haven't been in touch with him for nearly 44 years! If you have already read through my Biography page then you will have learnt about some of my bands from 64-72 although I was singing well before then as well as trying to get a band together. Around 64/65 I left my first band in The Abdo-Men with Beau to join one of the best groups in the area and formerly known as the Planets before a name change to The Unforgiven (old John Wayne movie). This Eastleigh based outfit consisted of Eddie Harnett (voc/gtr) Steve Newman (bass) later replaced by Graham Medley and the first drummer- Dave Bunney, who is now back amongst this fold of 60s musicians spread across my website! I received this e-mail:
Hi I have just spoken to Roy Roberts (Meddy Evils) re your web site. My name is Dave Bunney and I played drums in the Planets, Unforgiven and Meddy Evils. I now live in Honiton Devon and would loved to have gone to the Concorde for the Reunions I have old photos, paper cuttings and posters of the groups I played in if you would like copies?
When the Meddy Evils broke up, I joined a band called Snapshot with Graham Sherin (gtr) Roger Lewis (bass) and myself on drums and vocals. I recall you with the Unforgiven.and also remember Tom Frosbury who left to join the police force! Graham medley then joined the band and not forgetting Tony Cook who was the manager.We won the Eastleigh Carnival 'Battle of the Bands' competition and the Sleepwalkers came second. I had started my drumming career with the Sleepwalkers in 1962 with Ray Smith (gtr) Mick Fern (bass) myself on drums, I also have photos of this band if you want to get in touch as I would love to have a chat.
Regards Dave Bunney
I had a good chat with Dave who still plays drums, as well as singing with guitar etc-he loves this website and looking forward to hooking up with old pals as well as sending me some more great images and here they are: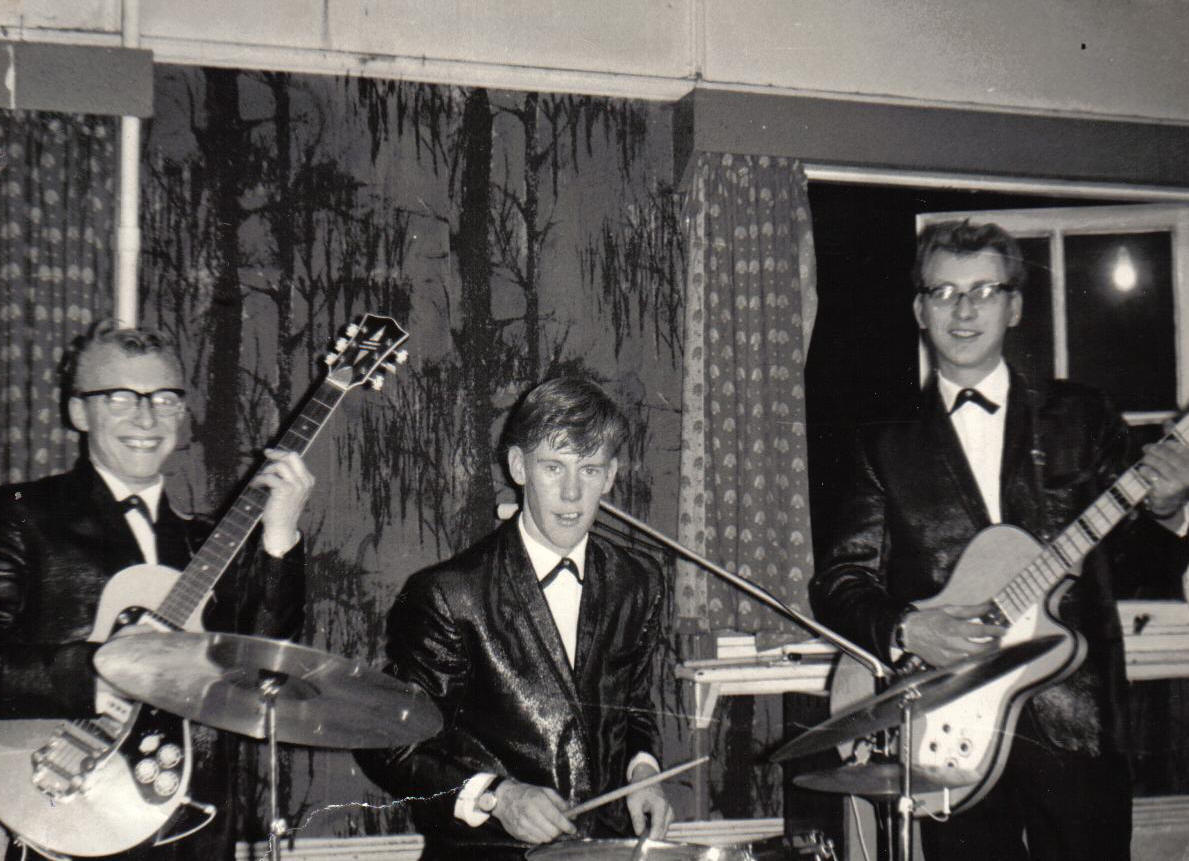 SLEEPWALKERS
Ray Smith Dave B Mick fern
Danny Churchill Dave B Ray Smith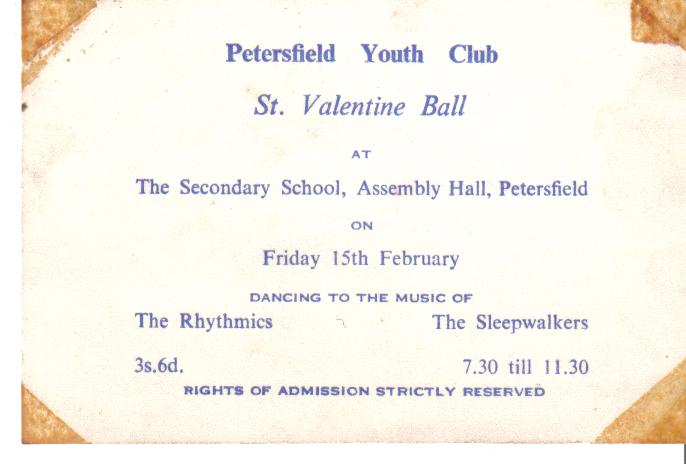 3s.6d eh? Just over 17 new pence!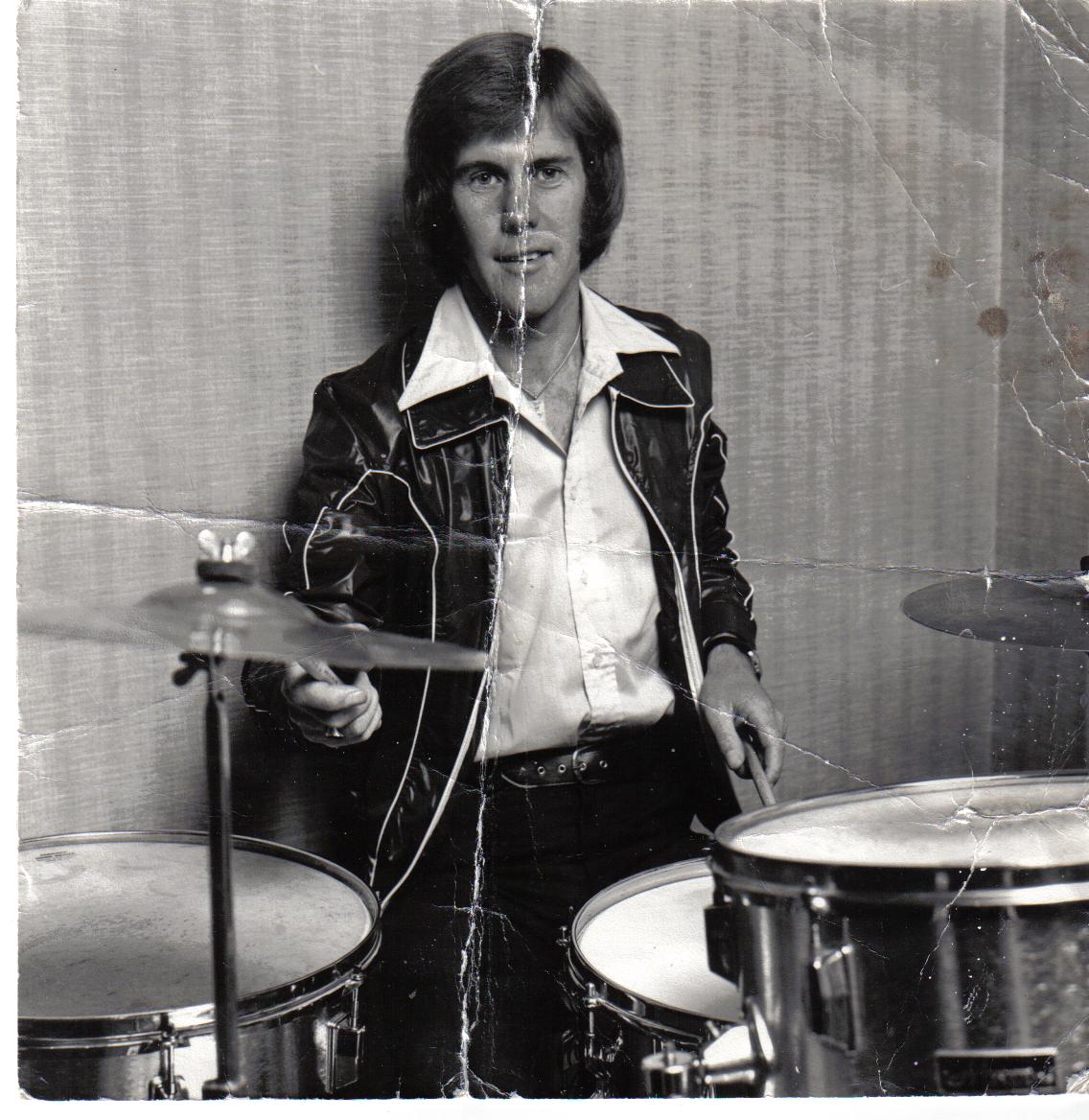 Dave Bunney - the girls loved him!!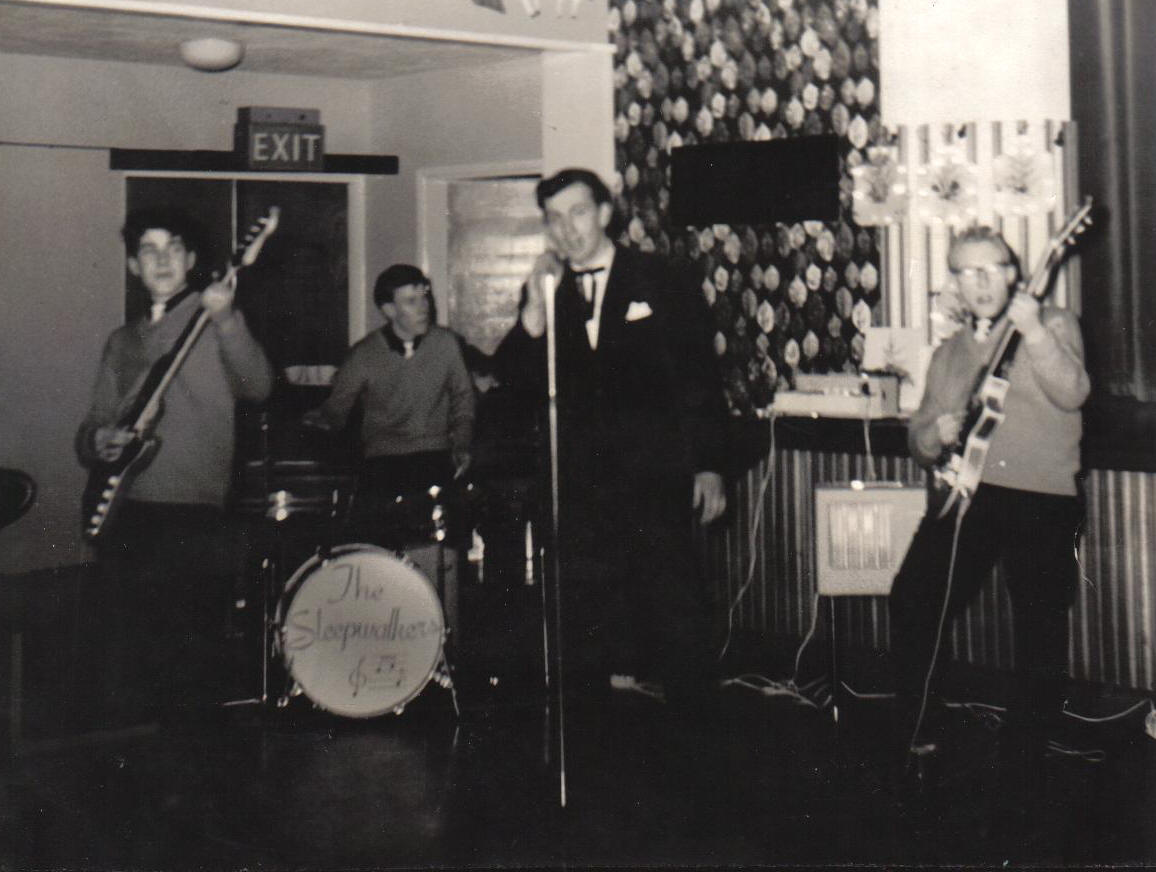 Danny Dave Rick Ray
Bishopstoke Memorial Hall Eastleigh alongside Jimmy Mack and the Beatfinders
Unfortunately, this was the last night for Rick the new lead singer as he had only been with the group for two weeks but he wasn't really as good as everybody wanted so he was politely asked to leave!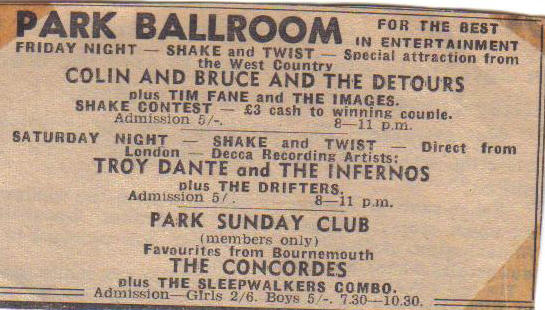 The Park Ballroom Southampton 'Shake & Twist' night! Note half-price for girls..........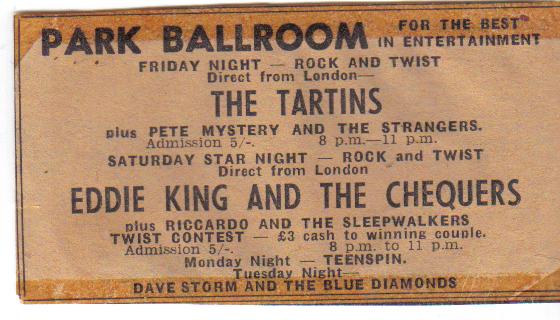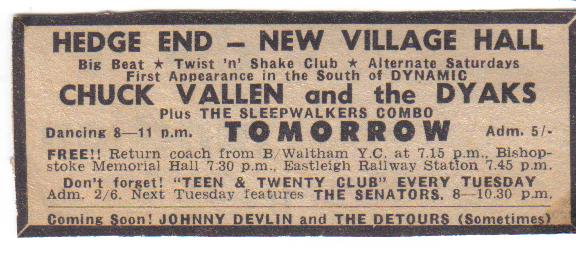 Later Sleepwalkers were Ray Smith (gtr) Danny Churchill (bass) and was replaced by Mick Fern.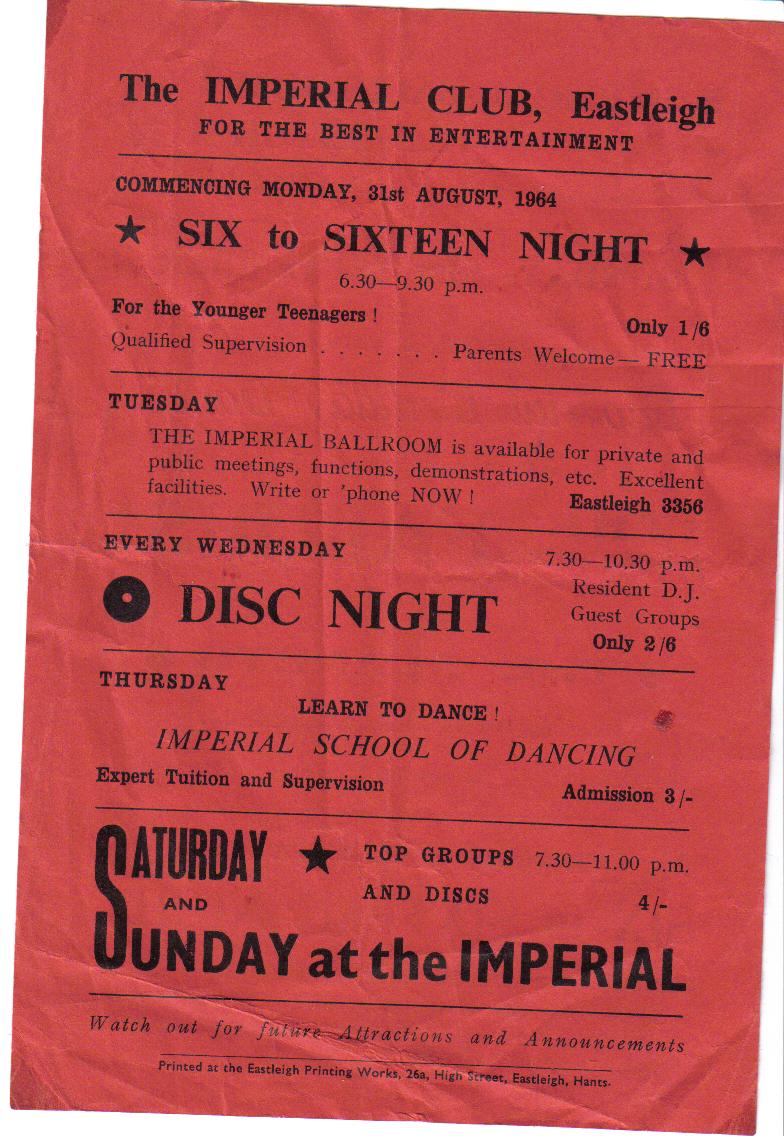 The Imperial Ballroom above Burtons Tailors Eastleigh - run by John Ferris
One of our favourite venues (apart from lugging gear up the stairs)
Dave Bunney/Unforgiven
We had a residency at the Junction Hotel next to Eastleigh Railway Station (now a car park!)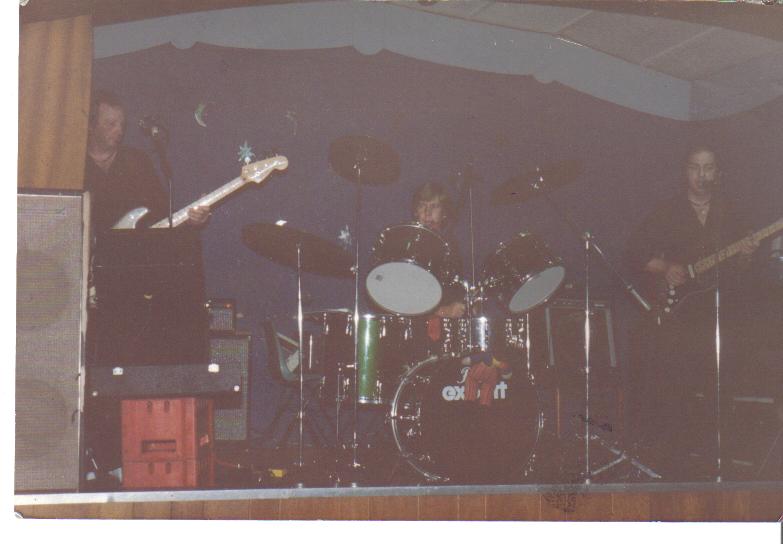 The Forbidden Fruit
Hedge End WMC 1979
L-R Roger Lewis Dave Bunney Graham Sherrin
(probably named after some of the young girls that hung around the bands back then...........)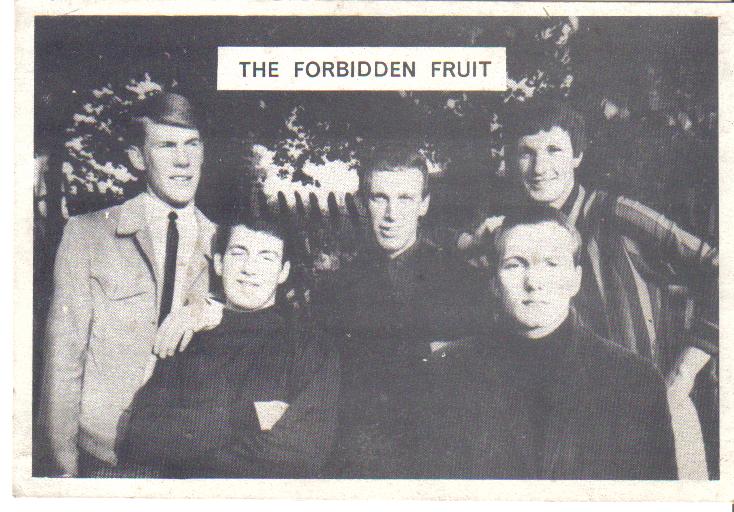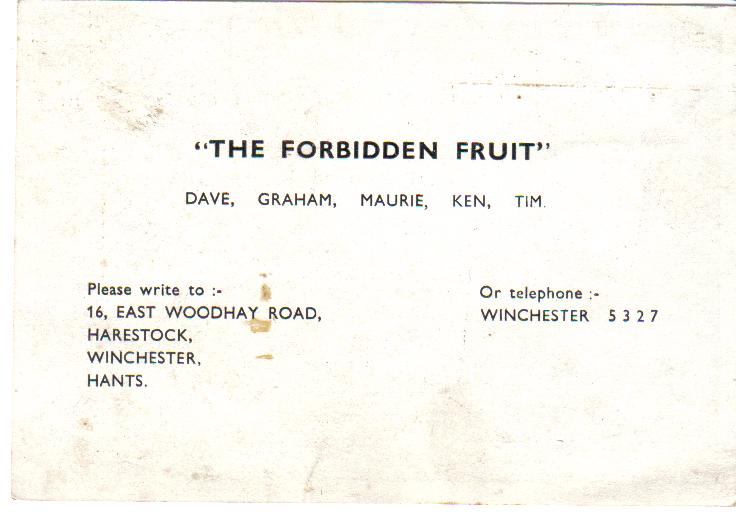 Business card - go on- ring the number!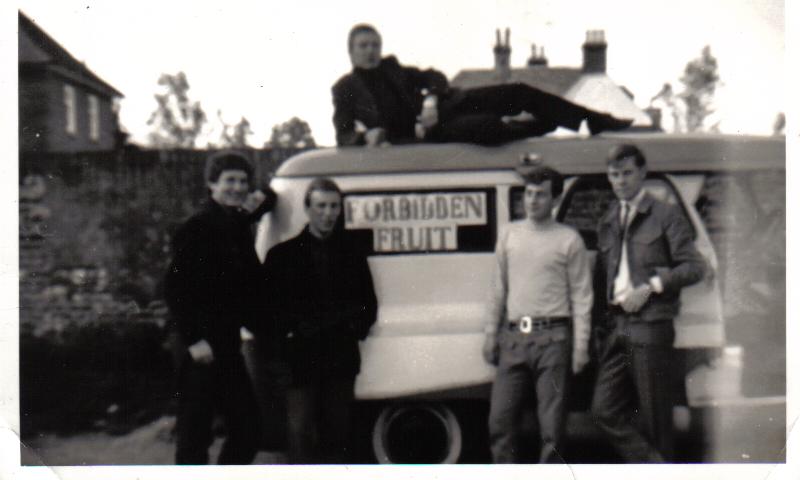 Trusty old Bedford Dormobile as used by many of us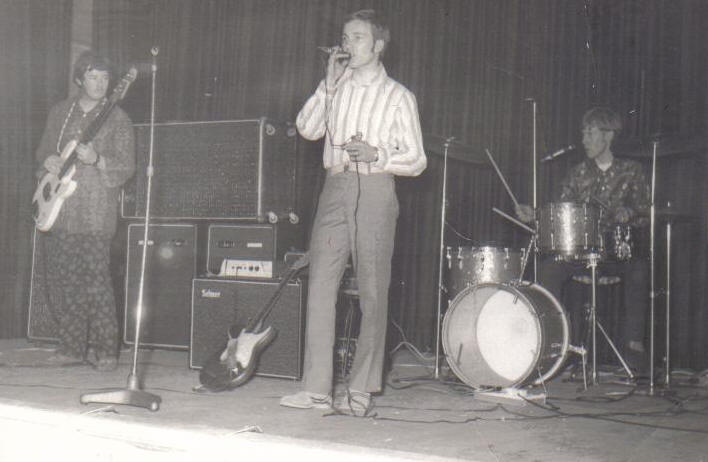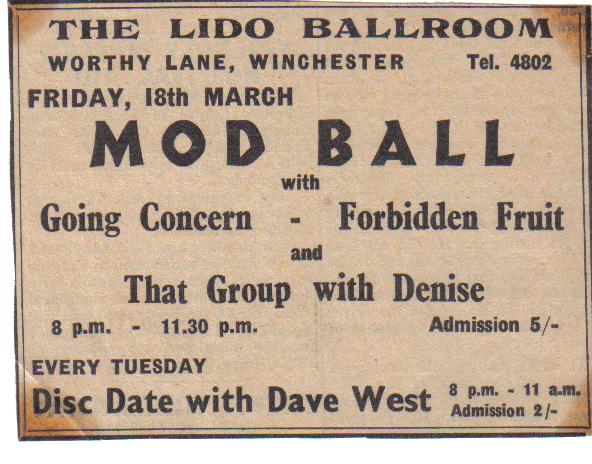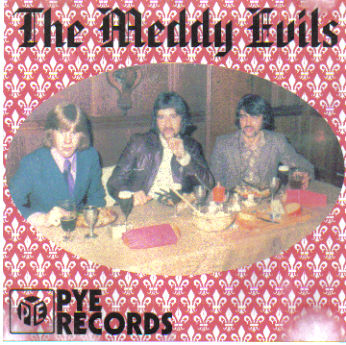 Dave with Roy and John Roberts - late 60s Meddy Evils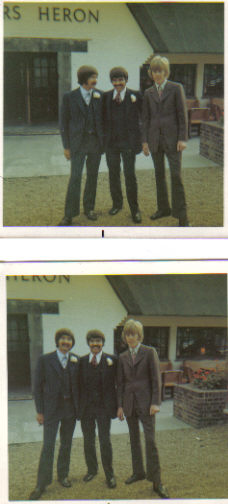 John Roberts (Meddy) wedding day 1972 with brother Roy and Dave at the Potters Heron restaurant (popular band venue)
More old photos from Dave B: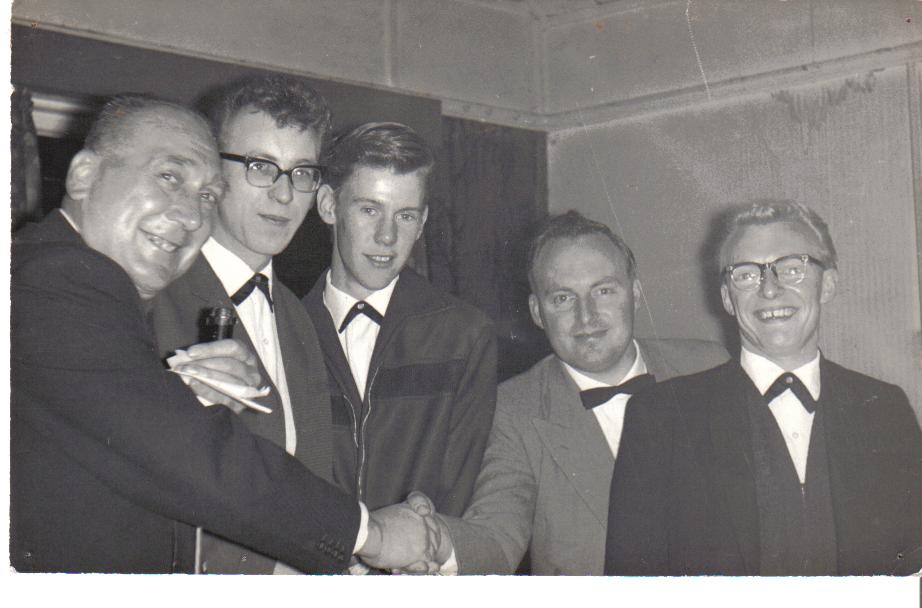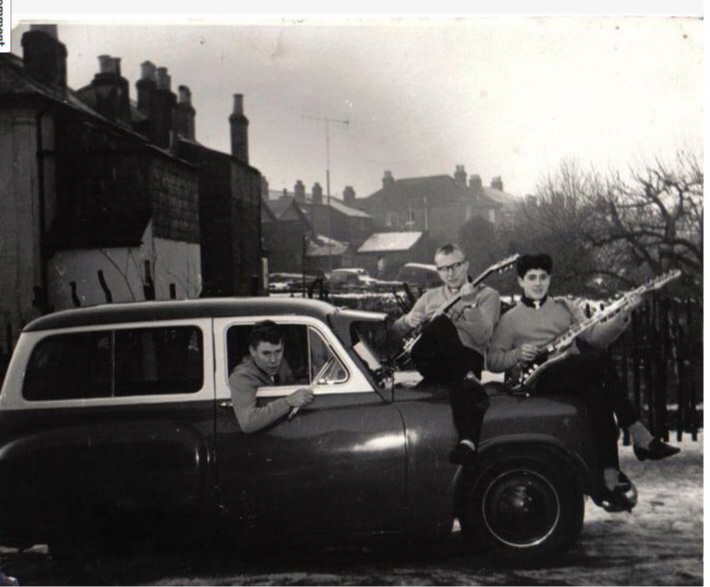 Sleepwalkers- winners of East Winchester Talent Contest 1961! Dave Ray Danny
One of the judges was Saints& England footballer Terry Paine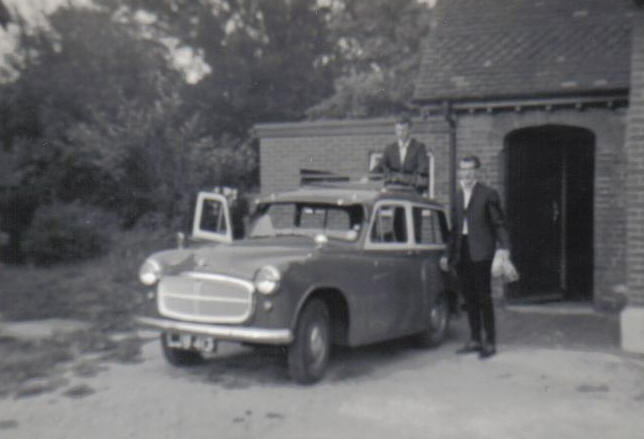 Outside former Prices (Bakery) Social Club This was previously an old school but then developed as the new Concorde Club in the early Seventies.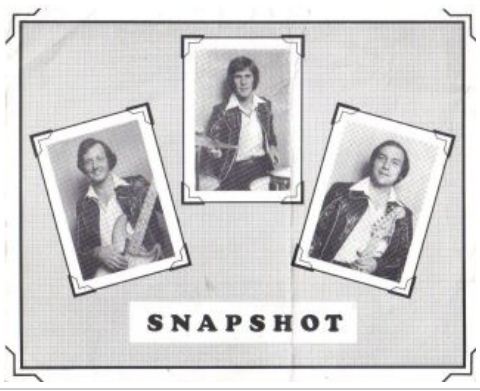 SNAPSHOT 1980
I finally hooked up with Dave B again in March 2011, when he came along to our special Eddie Harnett tribute day (see blog 20102011 pages) at the Irish Club in Eastleigh- just a few yards across the main road from where the old Junction Hotel once stood. This is where the Unforgiven were the resident band but now its the main station carpark, so finally met up with Dave again along with many other local musicians- here is photo of the original 1965 line-up as we remembered Eddie in music and chat. You can read more on my Biography page- see Site Map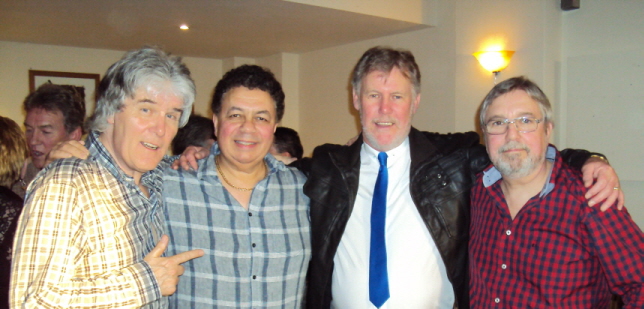 Unforgiven 2011
Dave SJ- Beau-Dave B- Steve Newman
Great stuff from Dave Bunney and here he is pictured playing guitar and still singing!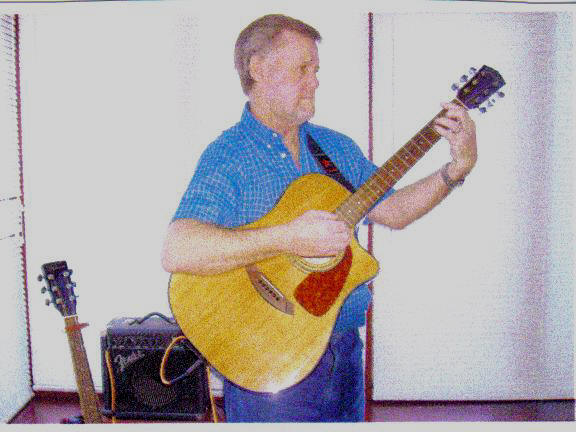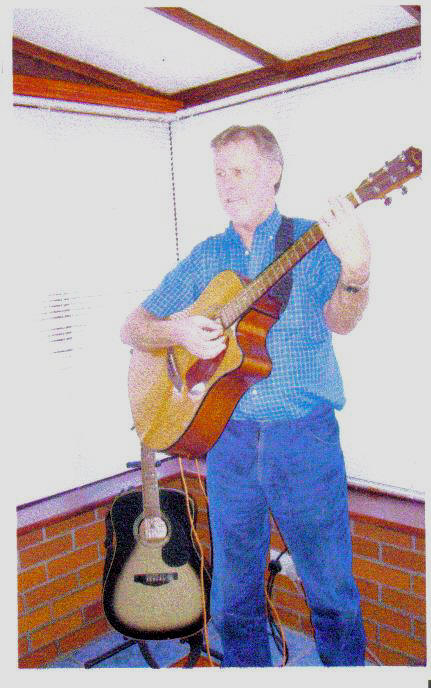 Throgmorton Hall Dunkeswell. Nr. Honiton Devon