BACK TO HOME PAGE BACK TO SITE MAP CONTACT DAVID
*PLEASE REFRESH YOUR BROWSER(press F5) WHEN RE-VISITING ANY WEBPAGE AS CONTENT IS OFTEN UPDATED*
COPYRIGHT
Please note that many images contained within this website may be subject to copyright, although many have been kindly sent to me and intended to be shared on this non commercial outlet. If anybody wishes to use any of the same, then please get in touch as well as possibly giving credit where due as well as setting up reciprocal links if relevant to the actual content on any webpage. Please note that I am able to monitor any image-copying and if published on other websites. I would appreciate any contact to report broken/outdated links and any corrections to the text that accompanies any images herein. Thank you and enjoy!
Page updated 25 November 2014
BACK TO THE SIXTIES V11!
Friday 7th November 2014
Door proceeds direct to local childrens charities via Concorde's established fund-raising section.
Check out the previous annual shows:
2008
www.davidstjohn.co.uk/concordereunion.html
2009
http://www.davidstjohn.co.uk/concorde2009.html
2010
http://www.davidstjohn.co.uk/concorde2010.html
2011
http://www.davidstjohn.co.uk/concorde2011.html
2012
http://www.davidstjohn.co.uk/concorde2012.html
2013
http://www.davidstjohn.co.uk/concorde2013.html
(I am repeating the basic overview below as before- it more or less sums up the idea of these very successful shows)
The well established 'Back To The Sixties' is back for another great night and features the cream of classic 60s bands, singers and DJs from the best ever decade. Original artistes who performed around the Southampton area and all over the country, provide some great sounds with over four hours of live music plus fills from the local 'vintage' DJs. Just take a look at the previous webpage reports for a feel of what it's all about. The Concorde Club celebrates its 57th anniversary in 2014, looking back to its early days from a jazz club based in the old Bassett Hotel pub in Burgess Road at the top of Southampton Common in 1957. The new premises in Stoneham Lane were founded in the early Seventies and now transformed into one of the finest music venues in the UK featuring many top names- just take a look at their own website. I have a dedicated webpage on my own site as well, which tells more of the legends that trod the old boards:
www.davidstjohn.co.uk/concorde.html
...............................................................................................................
This 'mini festival' has become well established over the last few years and witnessed some amazing performances from local Southampton musicians, many of them performing from the late Fifties and early Sixties. Many of the guest artistes have flown in from all corners of the world and linked in with visiting family, friends and hooking up with old pals after several years away as well as making some great music. The Concorde audiences cover a wide age group but many of the 'Baby Boomers' hit the dance floor from the first note of the evening and keep it packed throughout the night- some 4/5 hours of classic 60s hits, laughs, surprises and much more. The door proceeds go to the official Concorde Charity 'Pantomime' Fund that helps local childrens' charities, so we are hoping for another high turnout for this November show. The money raised provides trips out for local youngsters from difficult backgrounds and well supported by the local Mayor Of Eastleigh and linked organisations.
Every year has been so good and so different, thanks to the wide variety of singers, bands and the 'vintage' DJs who come along to play some terrific 60s music in the breaks- just like the old dance hall days with live bands plus the Jocks 'spinning the platters'. A really nostalgic night that brings back the memories of a carefree age and sees the older generation dancing to the same groups as the did back in the Swinging Sixties! Also, the younger generations soak up the atmosphere as it gives them a taste of what it was all about- many of them wishing they had been born earlier! It's also a great opportunity for musicians, friends, family and former fans to meet up and celebrate the best time to be young as well as enjoying a full evening of the best sounds ever from the bands, singers, DJs and others who were lucky enough to have been there in the early days! For a really top night out, you can book a table in the restaurant area and enjoy the usual high standard Concorde 3 course meal as well as guaranteeing seats for the evening with a good view of the stage area. Otherwise- just pay the basic door charge of £10.00 with limited seating, so best to be early when club doors open at 7pm. The Concorde Moldy Fig Bar can be used for pre-show drinks or snacks so please get in touch to check out the options. If you are travelling some distance, then you may wish to book an overnight room at the hotel part of the Concorde establishment. Tables and hotel rooms need to be booked early due to high demand on these annual Sixties Shows. See below for contact information.
I have kept this original information on this new webpage, uploaded over the summer of 2014 and have now added a post-show report at the bottom of the page. I also add a few photos that I quickly grabbed in between running the show, and I'm sure that more photos will be sent from other people at this event. Best come back now and then, to see any extra shots.
...............................................................................................................
MUNGO JERRY!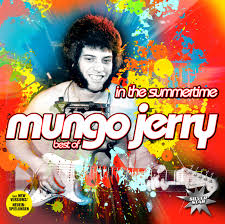 "In the Summertime-Baby Jump-Alright Alright Alright-Lady Rose-Long Legged Woman in Black etc"
The song most associated with MUNGO JERRY is the global hit IN THE SUMMERTIME. It sold over six million copies worldwide in the first six months of release, with all their total hits now estimated to be over a staggering thirty million units! It is now officially recognised as the most played 'summer' song of all time, winning for itself, and its writer RAY DORSET, prestigious Sony / ATV and Ivor Novello awards. Check the weblinks below for more information. Ray also wrote another smash no. 1 for Kelly Marie- "It feels like I'm in Love" in 1980, as well as recording with many top names over many years. His official billing is 'Mungo Jerry' - artiste/performer and Ray Dorset - songwriter, which covers both profiles.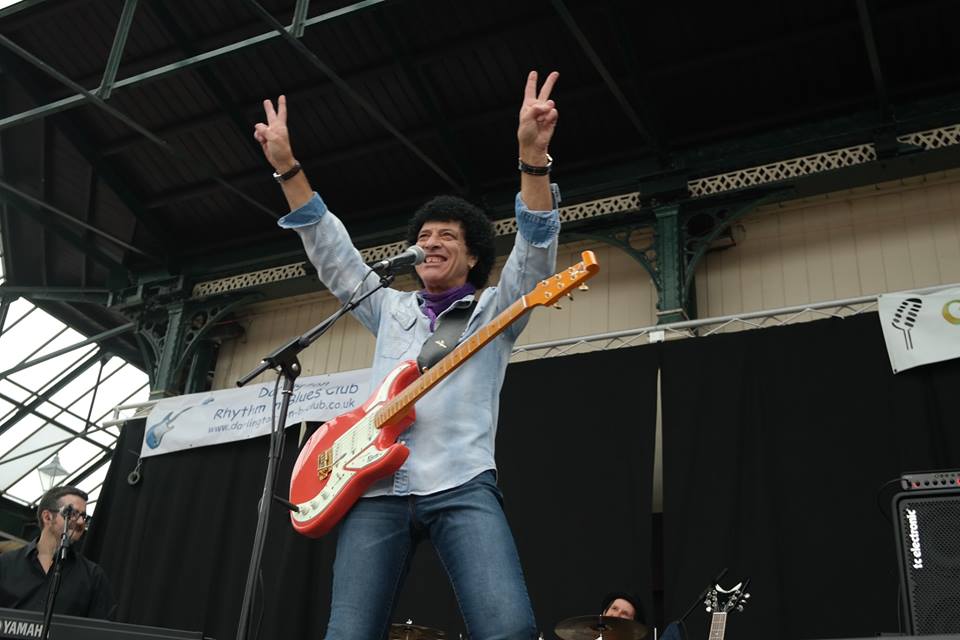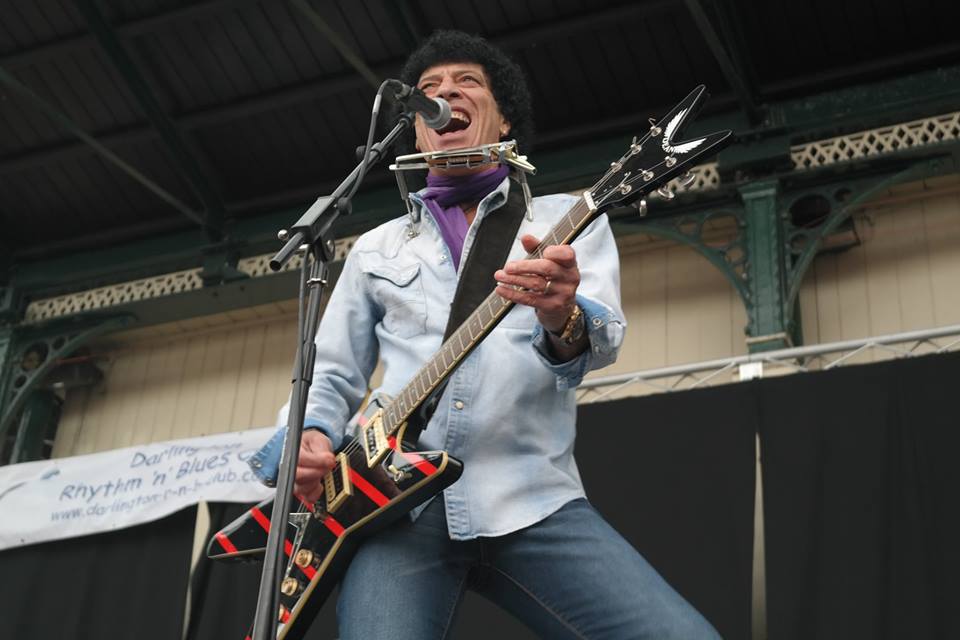 Ray Dorset- Mungo Jerry at the Darlington R&B Festival September 2014
Ray Dorset has kindly offered to appear on this show, and his band features a number of local Southampton musicians, who have been part of the various line-ups in recent years. I have known Ray Davies (no-not the Kinky one) for some 50 years, as we both started out with pop groups during the early Sixties. His bass/vocal skills are part of the Mungo Jerry story, and he is flying back to the UK, from his Tenerife home to join Ray Dorset and pals for an amazing slot on this annual show. This is another 'reunion' as Ray teams up with some old Southampton pals, who last played some twenty odd years ago.
Ray and his wife, Christine, are a very successful duo and working all over Europe as 'Obsession'. Christine doubles on alto sax, and we look forward to seeing them on the night, along with guitarist Dave Mitchell as part of Mungo Jerry. Ray Dorset also informs me that he has the top-rated recording artiste-Toby 'Boogie Man' Hounsham on keyboards, so quite an outfit!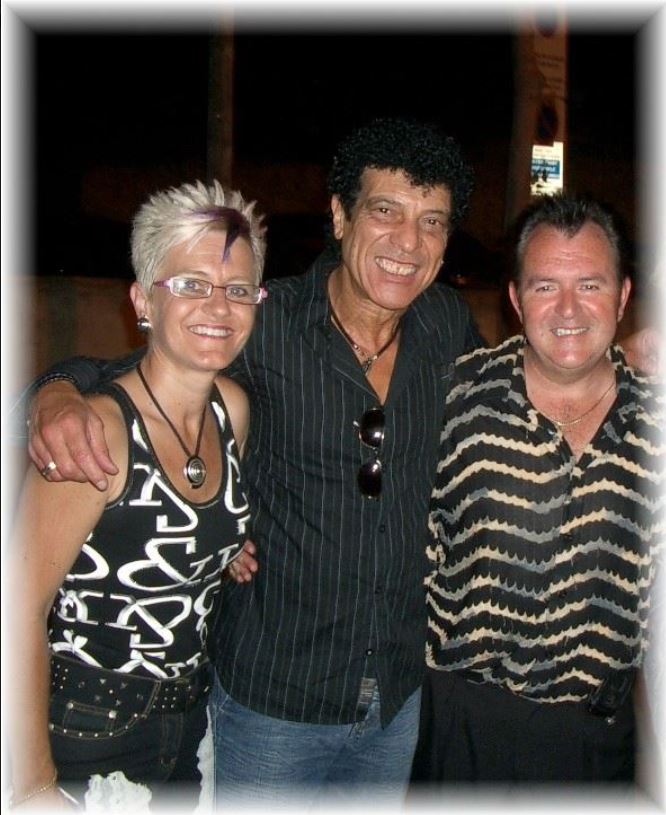 Christine and the two Rays!
http://en.wikipedia.org/wiki/Mungo_Jerry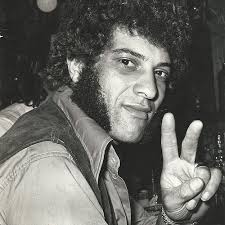 ...............................................................................................................
Our 'vintage' DJs include Geoff Knight, Nicky Horne,Joe Craen in the 'Jock Box' as well as the amazing Chris Golden who has flown over from Winnipeg Canada for every show since 2008! Between them, they play some fantastic discs in between the live bands that keep the dance floor busy, and it all adds up to recreating the atmosphere of the Southampton 60s scene- memories of the Royal Pier, Banister Ballroom, Top Rank Suite and many more. Pure unadulterated nostalgia at its best and we hope that none of our DJs or musicians have any problems with former 'groupies' coming forward to 'complain' of 'inappropriate behaviour' around the back of some youth club or dance hall some 50 years ago!
...............................................................................................................
Following on from their very successful 2013 appearance, we had many requests to invite 'Zac and the Zeros' back for 2014. This great New Forest group specialises in classic 50s/60s hits. They span a wide age range but their set-list is firmly based on the kind of music that fits the annual Concorde 60s night. In addition, they feature a new girl singer- Rachel Rafter, who replaced the former front lady - Nell who has left the group to concentrate on her successful recording career. The Zeros add a great dimension with the vocal hits of the 60s girl groups and solo female artistes, so really good to have them on this show yet again. Take a look at the Concorde 2013 webpage (links above) for more information on the Zeros.
ZAC AND THE ZEROS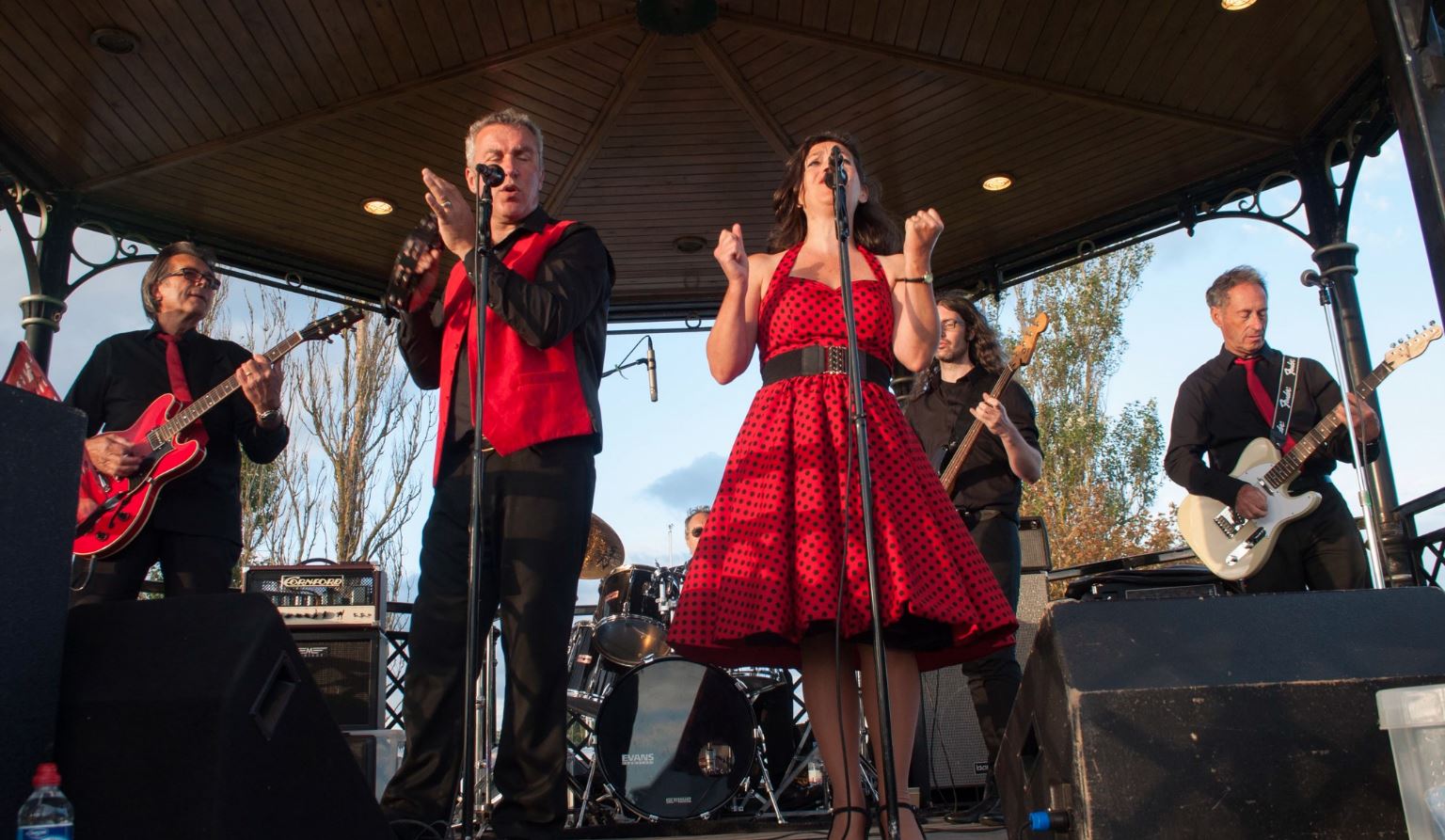 "Zac And The Zeros are based in the Lymington area of the New Forest and have been gigging together for 4 years. They play at private parties, weddings and corporate functions as well as pubs and clubs. Their vocal arrangements are first class, and lead vocalists Simon and Nell share the honours of singing classic hits of the 50s/60s etc.
Nell's parents are international opera stars -David Montague-Rendell and Diana Montague, so Nell has inherited their pitch perfect voices.! Nell is the youngest at just 25 but loves the music from the 50's and 60's. Before joining the Zeros- Simon (50ish) sang with a few groups performing at parties and clubs. Dave on bass is 30 and plays both electric bass guitar and upright bass. Greg teaches drums by day and gigs with the Zeros in the evenings. Martin joined about 9 months ago when our second guitarist went to live in New Zealand. Martin is a young 59 and has played in many bands over the years. He also took a year out and studded at a well known music academy. John Goodwin is the oldest at 65, and formed a band called the Dakotas back in 1961 but forced to change the name to The Tempests when Billy J Kramer hit the charts with his own Dakotas! John later left and joined a band called The Blues Syndicate. In recent years John formed a band called Below The Belt back in 1996 but left after 5 years when he lived abroad for a while. Then a few years later after seeing a band of expats playing 60's music on a Greek island he got the bug to start playing again and put together Zac And The Zeros. The name? John was watching 'Heartbeat' on TV and in a village hall they had a band playing called Zac and the Zeros. A close friend of John's directed many episodes of Heartbeat so after a telephone conversation he was told that they could use the name as the TV band where just session musicians put together for the show! Lately the band has been recording some tracks and we are building a new website. We are also on Facebook, if you become a Facebook friend you will get regular updates on gigs and band news."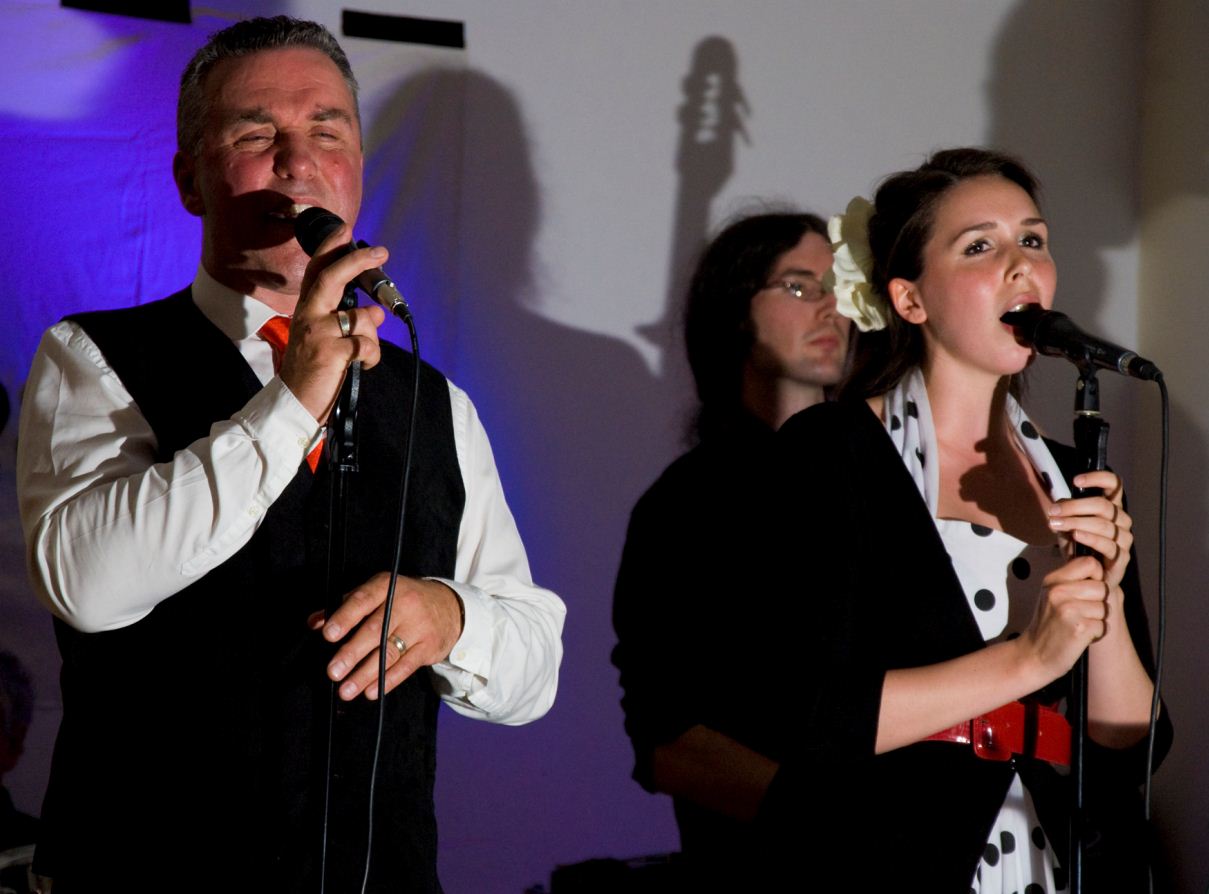 Simon and Nell (Bassman Dave on upright bass)
New website (September 2013) Take a look at:
http://www.hampshireweddingpartyband.co.uk/
http://www.facebook.com/groups/114890171874052/
Zac and the Zeros also work alongside top DJ John Towers who also mailed me:
I run a DJ business and am great friends with John Goodwin and his band Zac & The Zeros and also Marc White and Madison Heights etc
I have been a working DJ since I was 12 years old with nearly 40 years experience. As well as working in pubs and clubs I also do a lot of mobile work in the Hampshire and New Forest area.
As well as the usual Weddings, Birthday Parties etc, I specialise in music theme nights. I have an exceptional knowledge of music (I have been running a weekly music quiz for the past 14 years) and I use this knowledge to good effect when asked to put together a theme night such as a 80s, soul and motown or any other genre you care to suggest.
But one of my speciality themes would be 70s and 60s / Rock 'n' Roll nights. When I DJ at these events I always use as much original vinyl as I can so as to get that authentic sound everyone loves. I have also worked with Zac & The Zeros and Madison Heights on many occasions supporting the band and complimenting their music with some choice 50s/60s/70s selections of my own.
I have some links which will explain a little more of what I am about.
http://www.youtube.com/user/humanjukebox45s
https://www.facebook.com/groups/vinylrevival/
http://www.thehumanjukebox.co.uk/Home.html
John Towers
...............................................................................................................
NELSONS COLUMN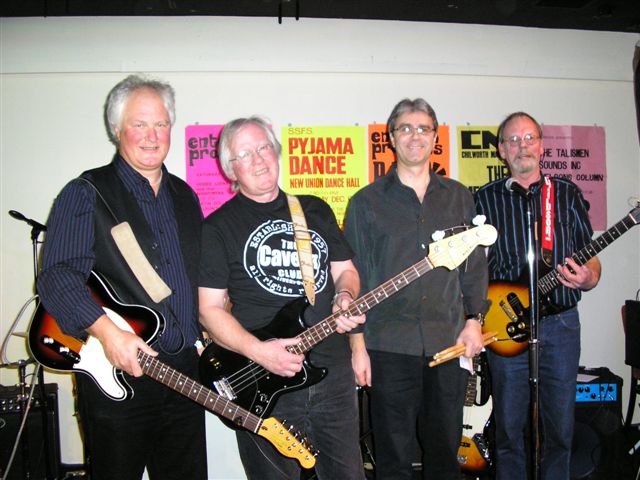 We also welcome back another great original 60s groups in the shape of Nelsons Column, who kindly appeared on the 2010 and 2012 'Back To The Sixties' shows- see the previous links to read all about them. Terrific mixed set of 50s/60s classics that underline the whole theme of these annual Reunion nights so be prepared for another superb repeat performance

...............................................................................................................
THE NEWBEATS
More classic Sounds Of The Sixties with Dorset based Newbeats- again featuring great musicians who started out in the early days and still working all over the South. I am currently waiting for some more information and photos of these 'lads' and you can read about them on their own website:
Plus Facebook page:
https://www.facebook.com/thenewbeatsgb?ref=stream
They also have links to You Tube clips so why not take a look and enjoy a basic idea of what they are all about and we appreciate their kind offer to travel some distance to join in the fun of our Sixties Show
...............................................................................................................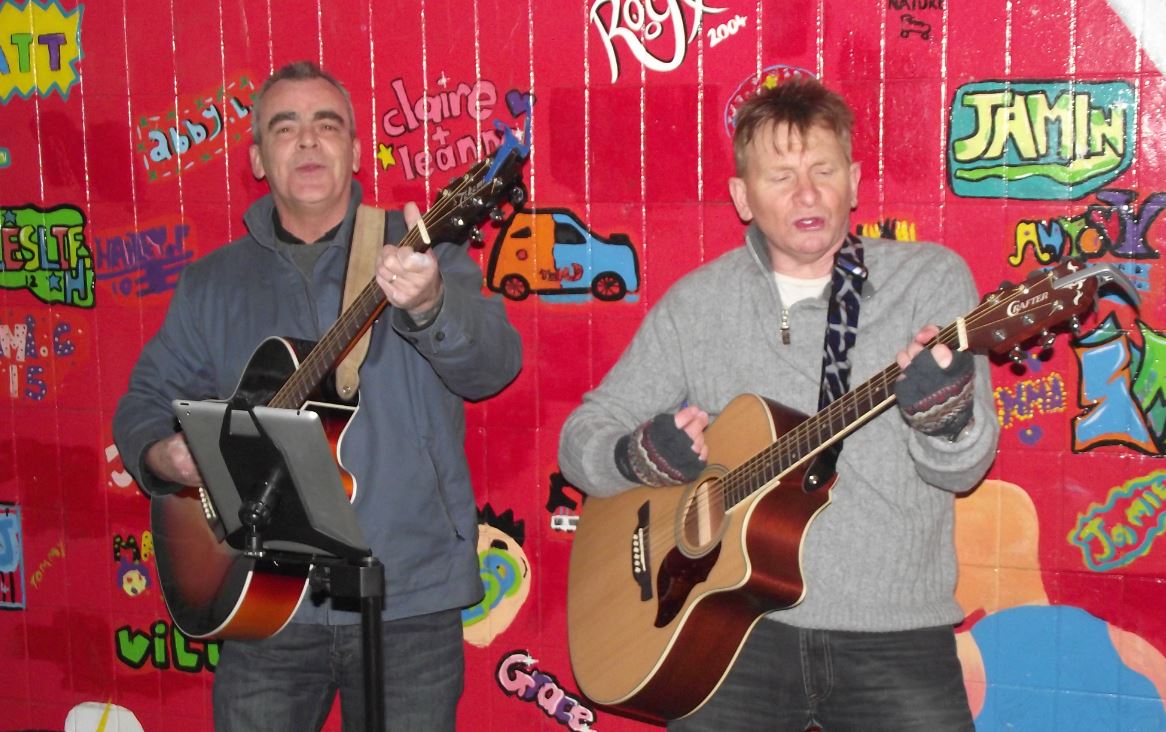 ONE 4 THE ROAD- Acoustic duo
Cameron and Steve have both played in several bands over many years but have now formed a new act and have kindly offered to open the show. They specialise in Sixties music with the emphasis on harmony so expect classic Everly Brothers, Simon and Garfunkel songs plus other memorable hits. Their normal repertoire covers music across the decades but they are gearing this Concorde set to fit with the theme. One 4 The Road are appearing in clubs, pubs and have performed at many outdoor festivals during the summer of 2014, so perfect for a hot day with laid back music as well as getting the audience to sing along to the well known hits.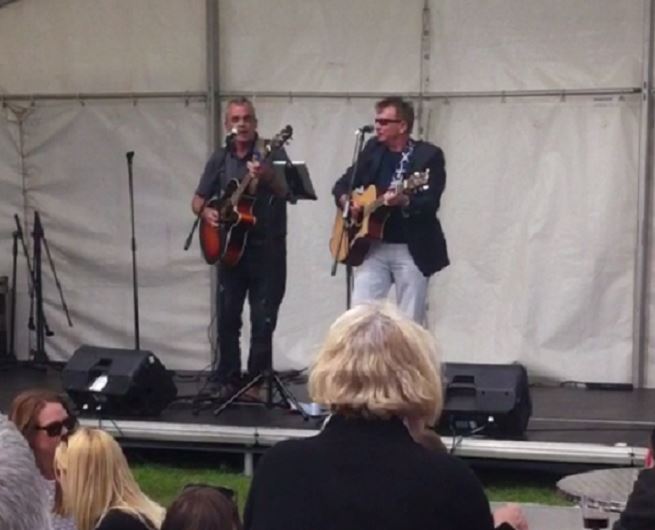 Click on this link for their website- hear some great tracks plus video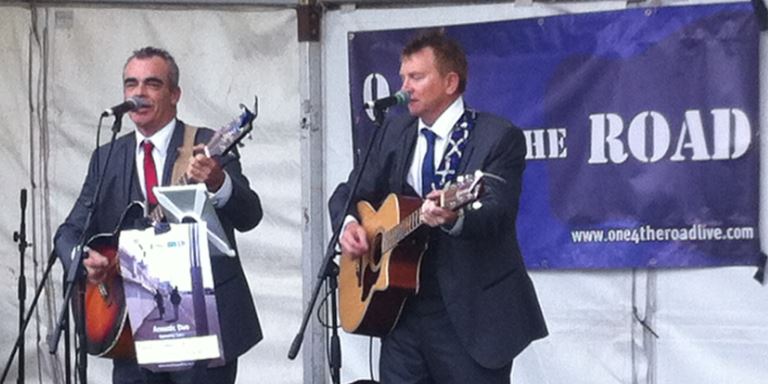 ...............................................................................................................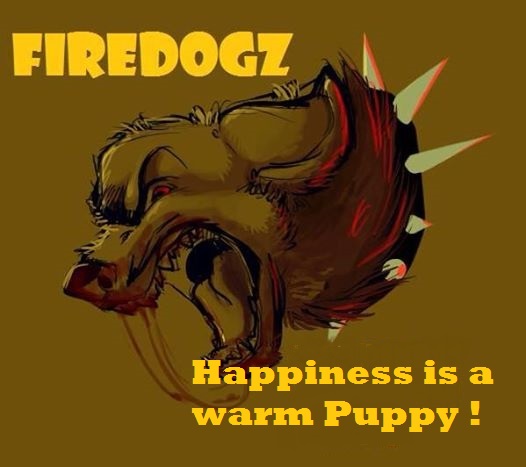 FIREDOGZ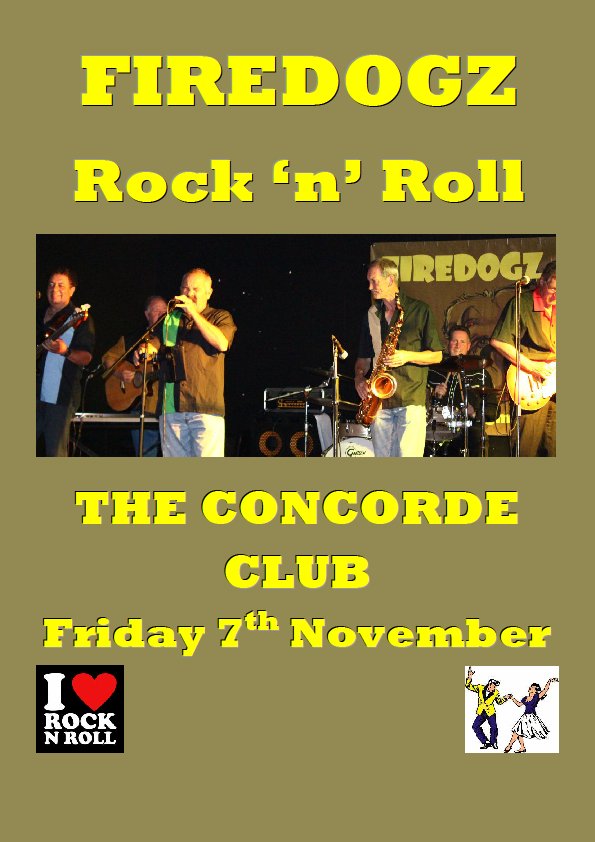 Eddie Goodall - Vocals/Guitar
Richie Hayes - Keyboard/Guitar/Backing vocals
Beau Dinnage - Bass/Backing vocals
Danny Kelly - Drums
Denny Jacobs - Guitar/Backing vocals
John Rennie - Tenor Sax
.............................................................................................................
We also thank Jay Gibbs of ' Lights&Beats ' who is providing a prestige p.a. sound system for this show. If you need a quality soundman for any function, then he can be contacted on the following links:
www.facebook.com /LightsandBeats
Telephone number is 07738555293.
Email: lightsandbeats@gmail.com
.............................................................................................................
Over the last succession of 'Back To The Sixties' we have featured many local Southampton musicians, singers, groups augmented by our DJs who help recreate the sounds and feeling of that amazing decade. Many of the 2014 line-up play with a variety of different line-ups and varying styles so we look forward to seeing them back for this year's Reunion Show.
http://www.theconcordeclub.com/ Tel: 023 80 613989
...............................................................................................................
REVIEW: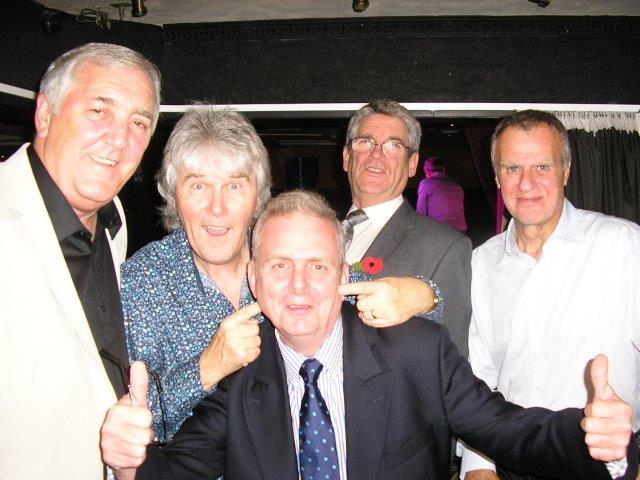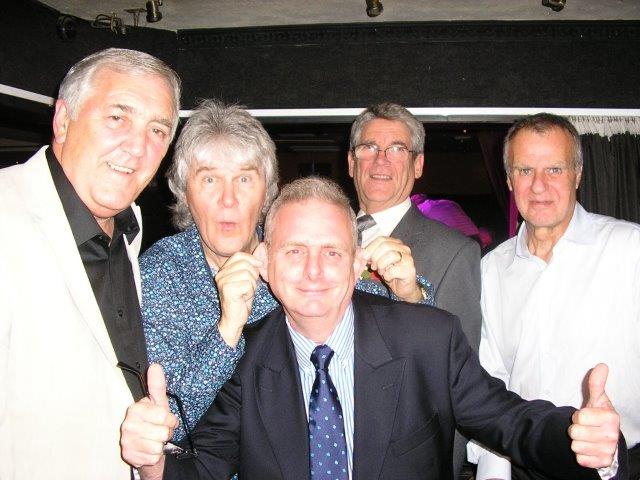 L-R: Geoff Knight-DSJ-Nicky Horne-Joe Craen-Chris Golden. 'Vintage' DJs!
...........................................................
The doors opened at 7pm as our 'Jocks in da Box' kicked off with some terrific warm-up 60s hits, and the room soon filled as everybody was in place for yet another great night. We had to bring the show forward to a 7-30 start, due to a late offer to play by the Firedogz - followed by the amazing offer of Ray Dorset with his Mungo Jerry re-union, featuring Southampton musicians from the Eighties line-up. I was introduced - knocked out a song and then introduced the super acoustic duo of One4TheRoad - the first time we have had an 'unplugged' act to open the show. Steve and Cam performed a sweet-sounding set of 60s hits, with great harmonies - Simon & Garfunkel, Everlies, Beatles etc. The perfect opening and people watched and listened during this first section of the night. I noticed one of their family, who seemed to be recording their act on a phone, but then discovered that Steve was connected to his daughter Charlotte via Skype, and beamed across to Turkey! She and her family/friends watched One4TheRoad 'live' in concert - what about that for technology! When I took the lads off - I got them and the whole room to say goodbye to her through the phone.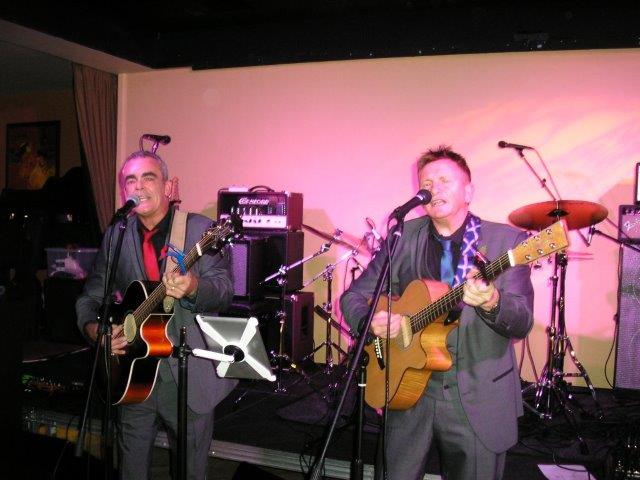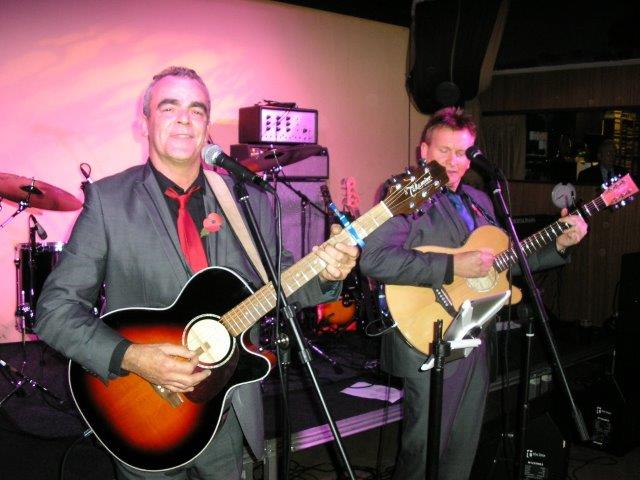 ONE4THEROAD
..................................
Next up - a welcome return to Nelsons Column, with a great mix, featuring some superb R&B/Dylan/Hendrix and I joined them for their final number on harmonica - all unrehearsed but good fun! Again - people watched and listened to this excellent group, so very much appreciated. It was also a nice tribute and memory of Keith Goulding, who sadly passed away a few years ago and had hoped to have played with NC on their first appearance in 2010. His brother Chris Goulding still forms part of this current line-up, so it was nice to pay a tribute to his brother. The dancers started to kick in and the dance floor was busy right through the night, as is always the case on these shows.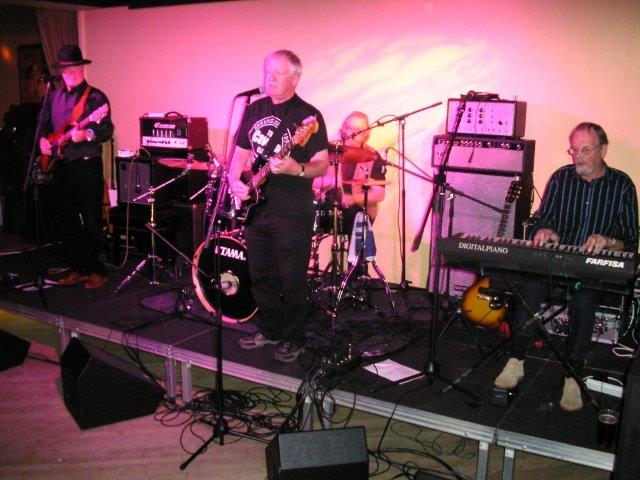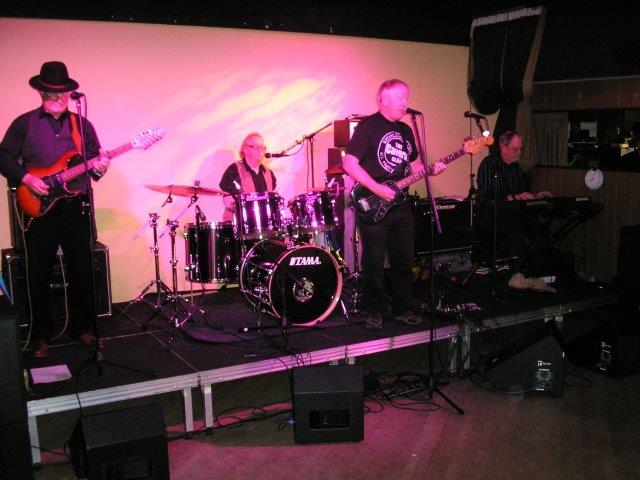 NELSONS COLUMN
....................................
After a very quick smooth change-over, we then had the pleasure of another great band from the Bournemouth area- The Newbeats. Their brilliant 60s set really got the crowd going, and another varied set of classic hits that everybody singing and dancing away.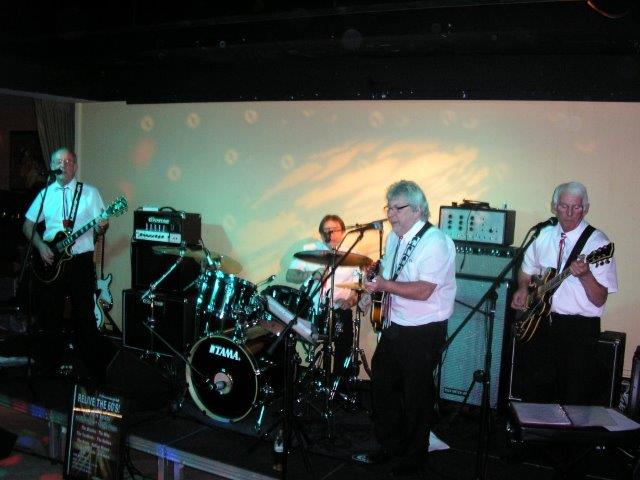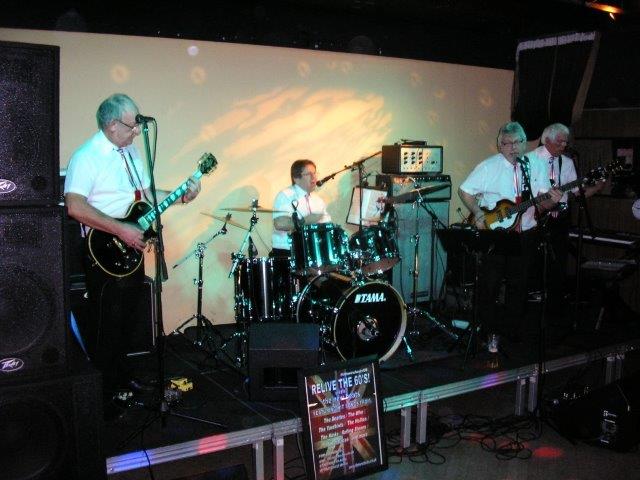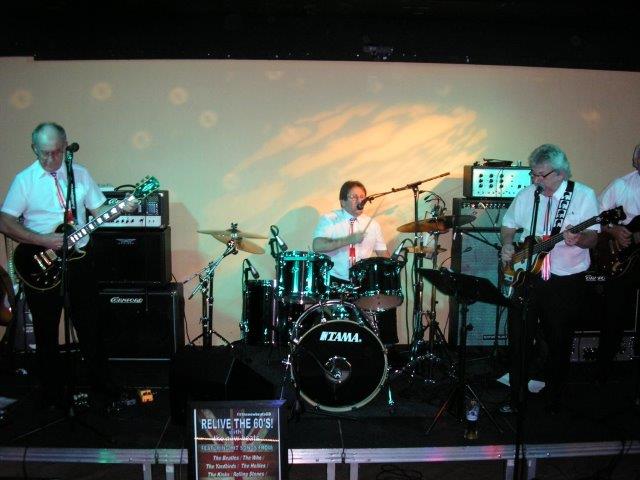 THE NEWBEATS
....................................
Following the superb Newbeats, I read out a list of names that was in keeping with Remembrance Weekend, as the nation commemorates our brave troops who paid the ultimate sacrifice.It is also poignant to pay homage, and remember old pals that no longer make some great music, as they did in years gone by. Sadly, this list grows year by year as we lose more singers, musicians, DJs and other associated names in the local music scene. It makes us very lucky and grateful that we can still get up on stages, and do -more or less- what we were doing some 50 odd years ago! I copy this list below and, once again, the great voice of Rick Brown was heard around the room, as our DJs played his classic recording of 'Stand by Me' after the names were remembered - many were singing along and recalling a great Southampton talent - along with memories of Ricky & The Hi-Lites and Brownhills Stamp Duty.
.......................................................
After these two brilliant opening groups, our DJs kept the dance floor packed as Jay and pals from Lights & Beats helped the next band to set up, which saw the return of the very talented Eddie Goodall and his Firedogz. Eddie is a great frontman, with a brilliant voice and showmanship to match - he fronted his other band Soulmunky, who tore the place apart on the previous year, but with a completely different profile of Soul & Motown! Firedogz were an out and out 60s band for this evening so proving Eddie's versatility - he worked the crowd really well and another tight sound from everybody.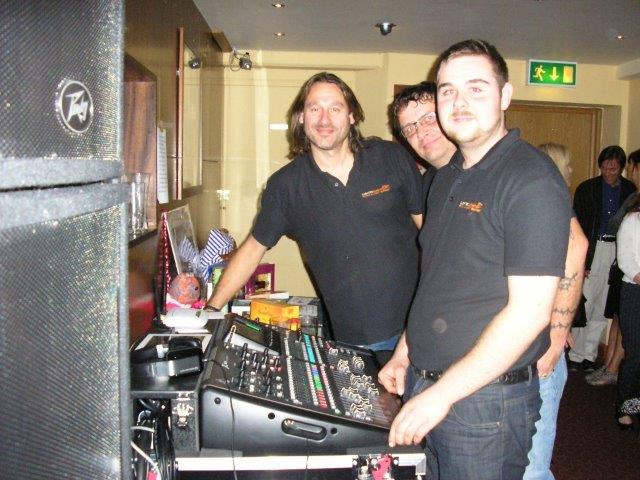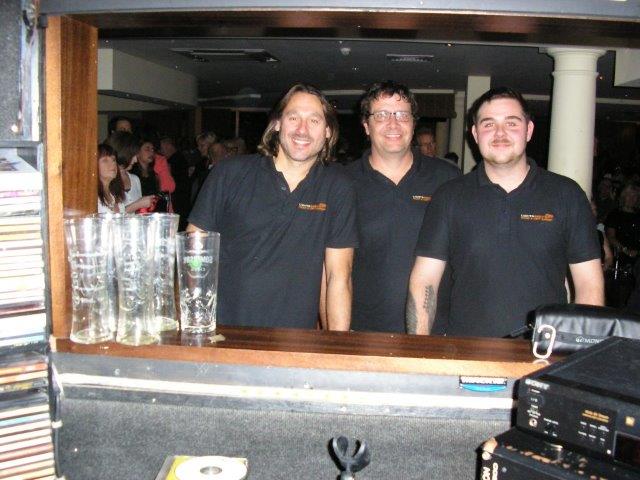 Lights and Beats crew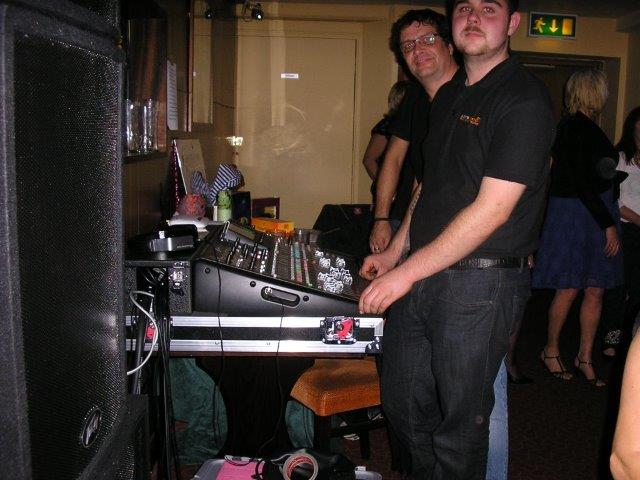 .........................................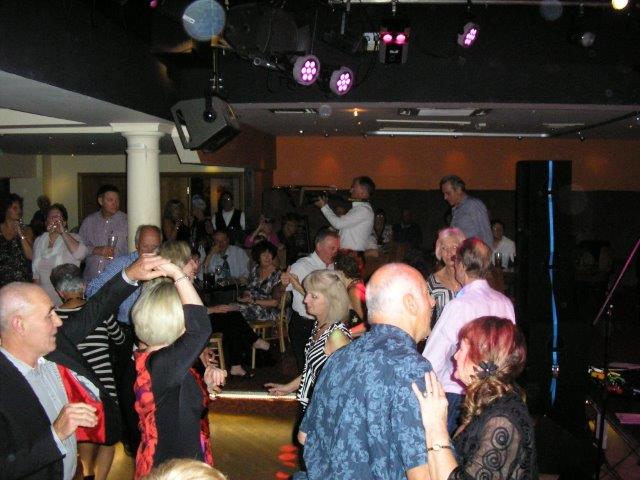 The Concorde dance floor
........................................................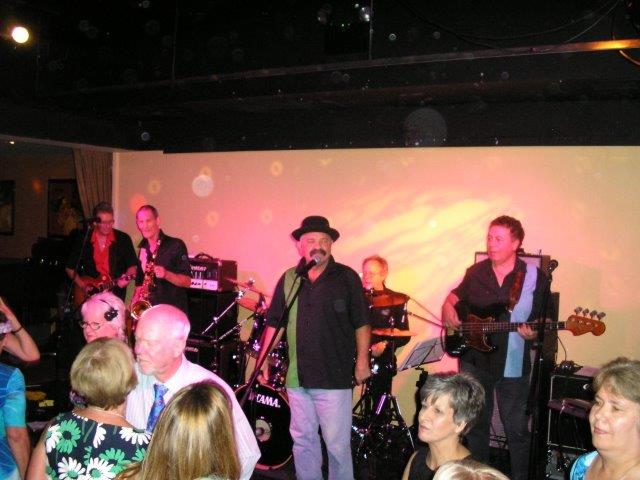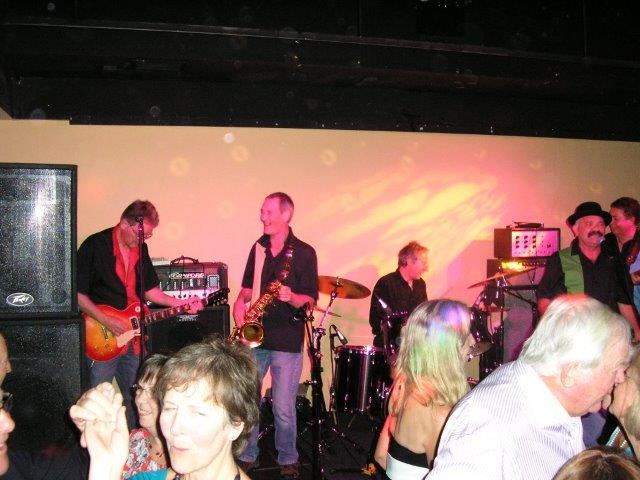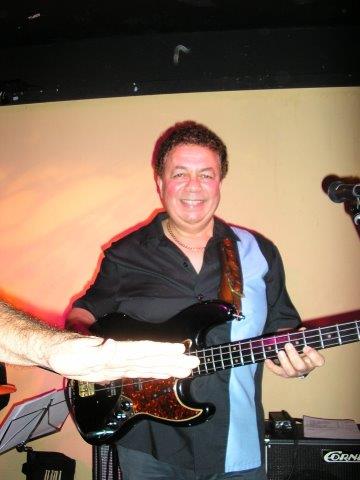 FIREDOGZ
Sorry Beau- didn't notice the dancer's hand!
................................................................
Time for a lady! Back by public demand from the 2013 show, and great to see Zac & The Zeros back again, with a new girl - Rachel, who has replaced Nell (now busy with recording etc) Another brilliant performance with the added attraction of Rachel with the 'girly' classic hits that everybody loves. A very polished performance and the dancers never stopped, as we were now leading up to the big finale and our very special guests!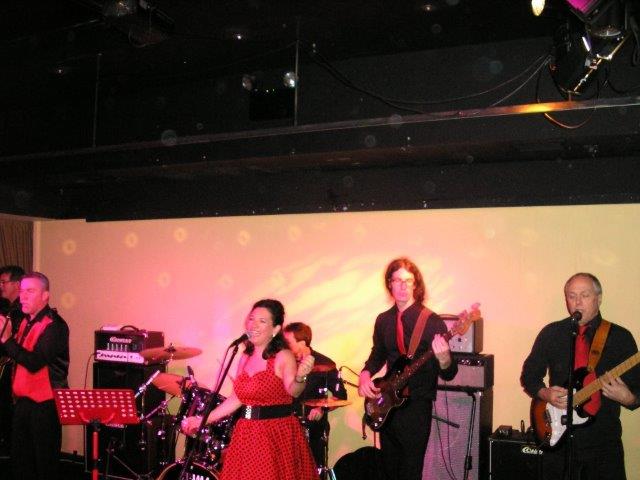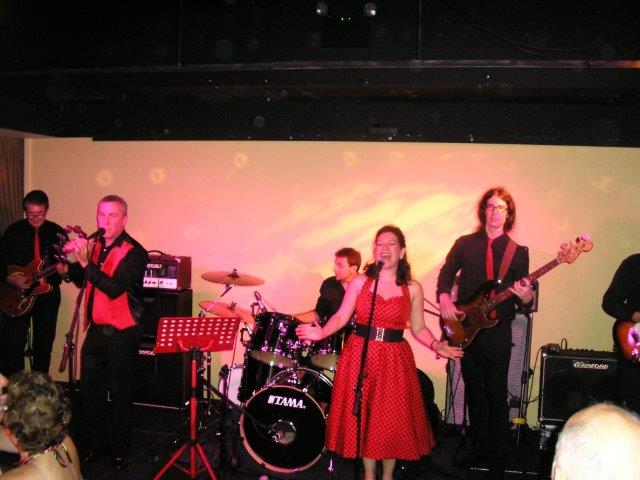 Zac and the Zeros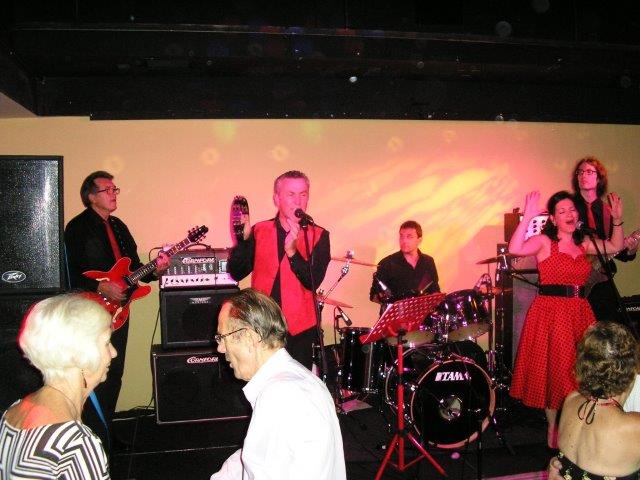 .........................................
After a short break for the raffle and DJ fills, the floor was cleared in readiness for our headlining act, as Ray Dorset hit the stage, alongside his old pals who were part of the Mungo Jerry line-up some twenty years ago. This was all thanks to Ray Davies, who lives in Tenerife but mentioned our annual show to Ray Dorset, who kindly offered to help out! He had only just returned from Egypt and I gather there was no real time to rehearse, so the musos were ready wing it! With Ray Davies on bass - Dave Mitchell on lead gtr-Toby on keyboards and Bob White on drums - the band was ready to kick ass. I announced "Mungo Jerry!" and the crowd went wild as the first of many hits were knocked out, and Ray suggested I could sit in on the first 2 numbers with blues harp. This was a case of checking the right key and busking away, not being sure of other numbers! Christine (Ray Davies' wife) was due to play alto sax, but there were no spare mikes, as much of the other shared equipment had been taken off. We thank Dan Redhead of Becketts Music Shop, who kindly loaned the sax, but sadly not used on this occasion. Christine kindly donated some of her music-jewellery collection for the raffle/auction - I will add a link to her business soon. Very unusual artistic pieces, with guitars, plectrums, mikes and much more!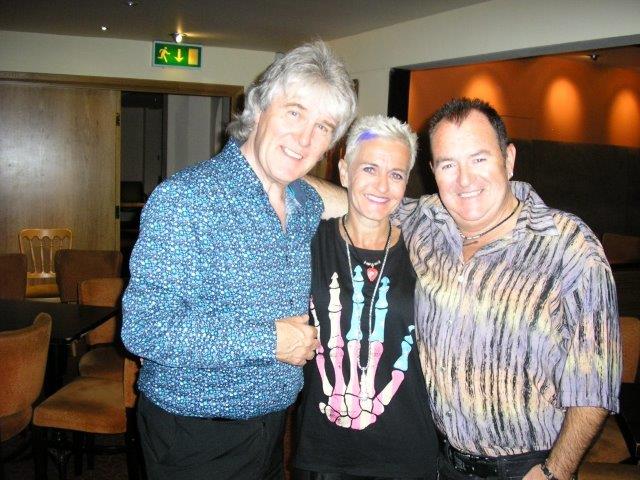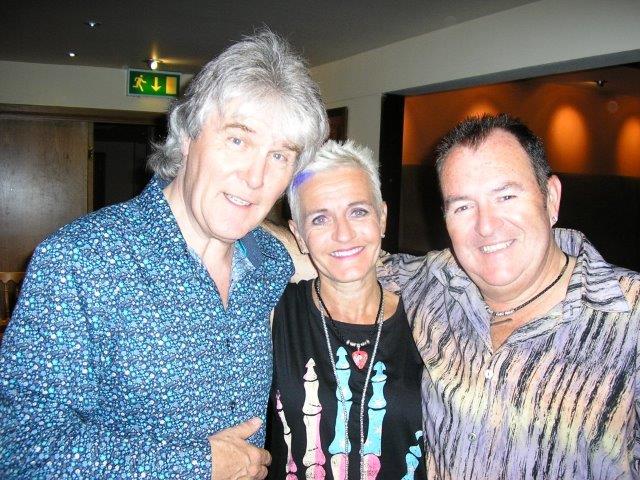 DSJ + Christine+ Ray Davies
Ray sang great - played great guitar plus bashing his 'stomp box' with his left foot and really worked the crowd throughout a blistering set. 'In the Summertime' hit the Concorde and got the whole room singing along to one of the biggest hits ever. Fantastic stage presence and Ray was clearly loving the feedback as well as the band who played perfectly plus the harmonies and back-up vocals. This took us round to midnight, and bang on schedule for the live show, as our DJs took over to play more classic 60s hits until 1am.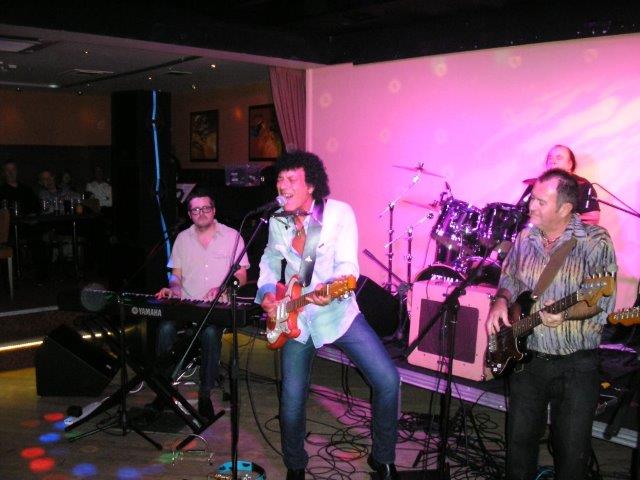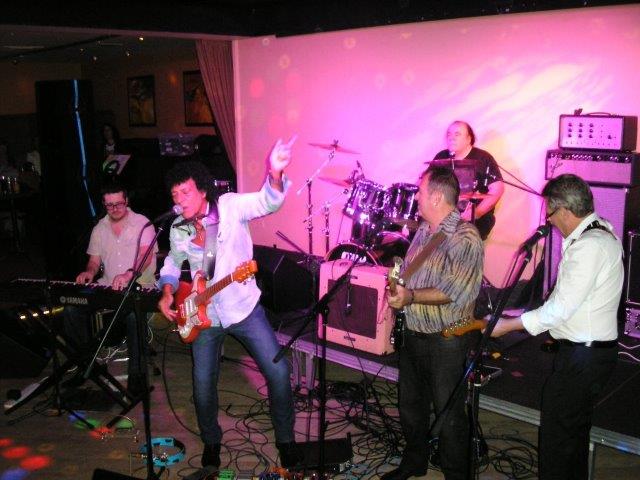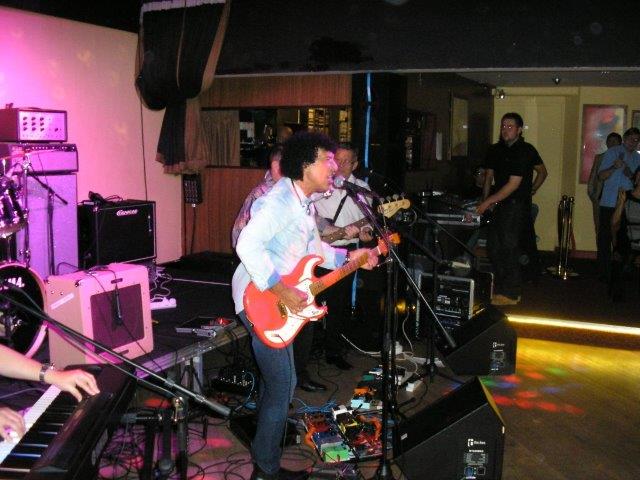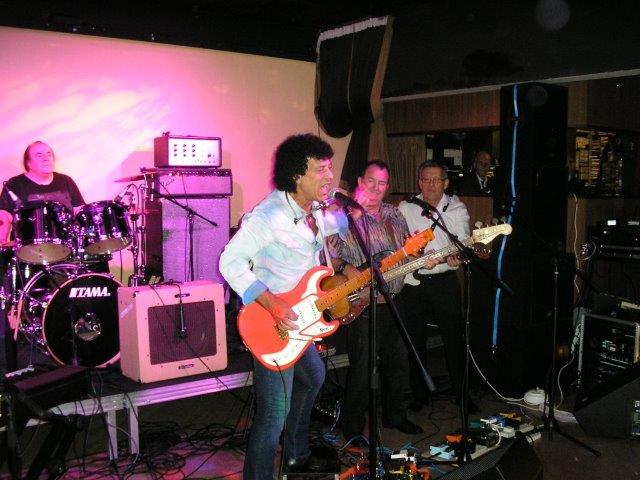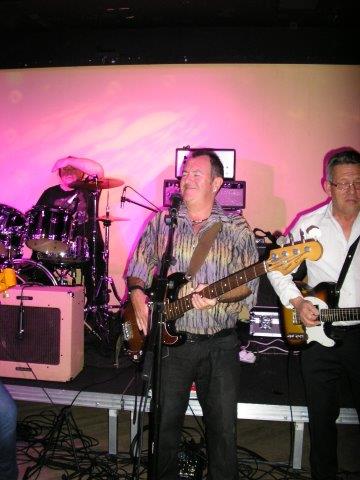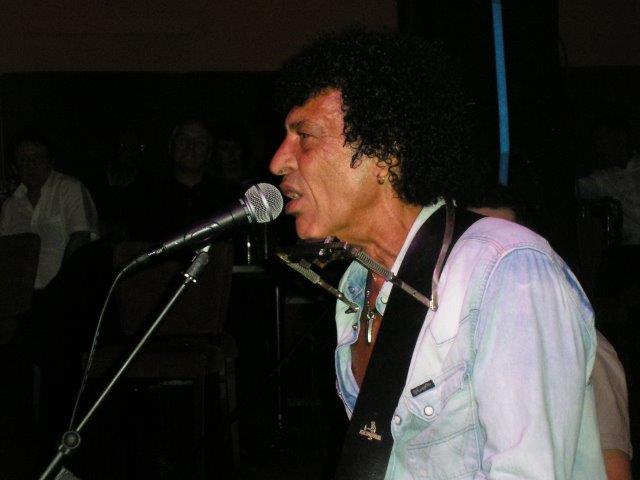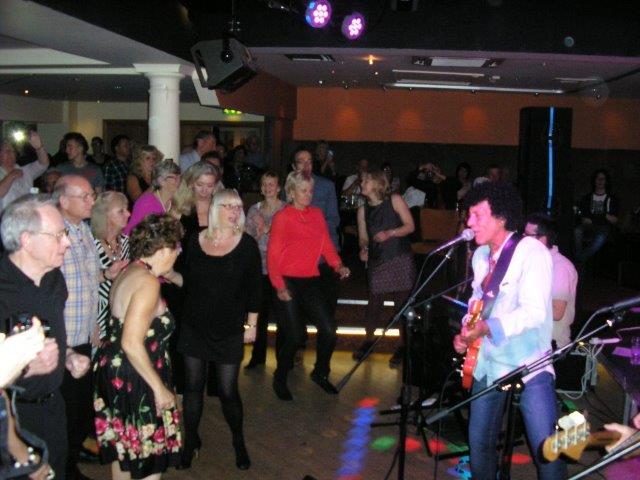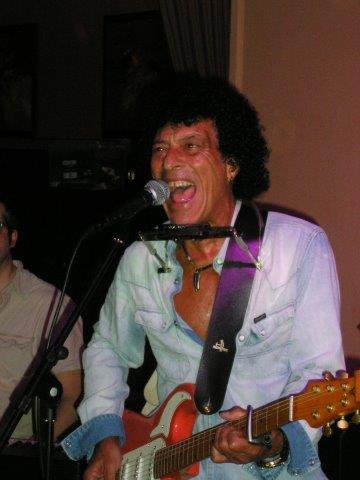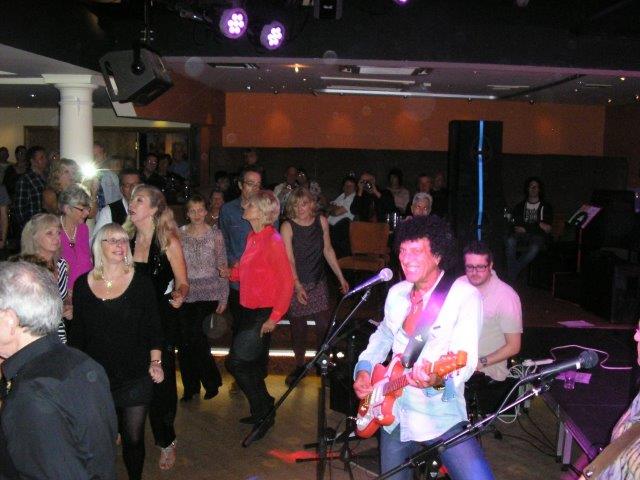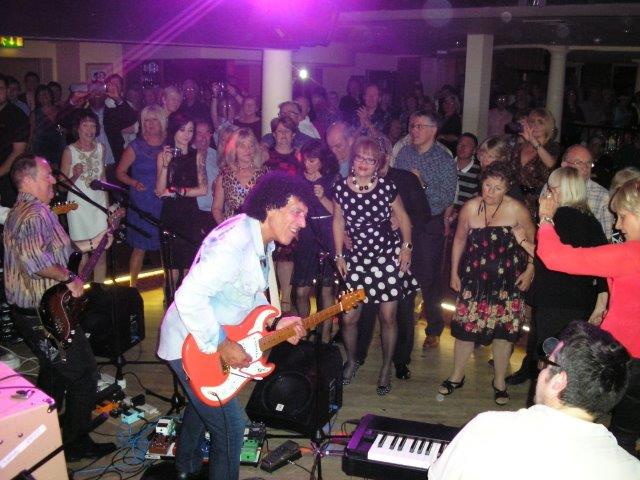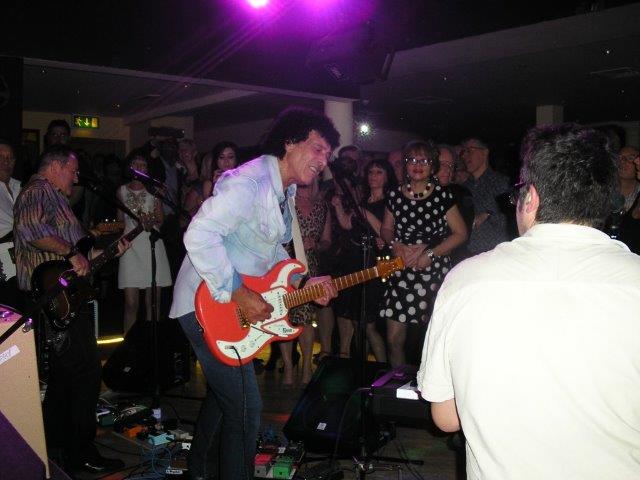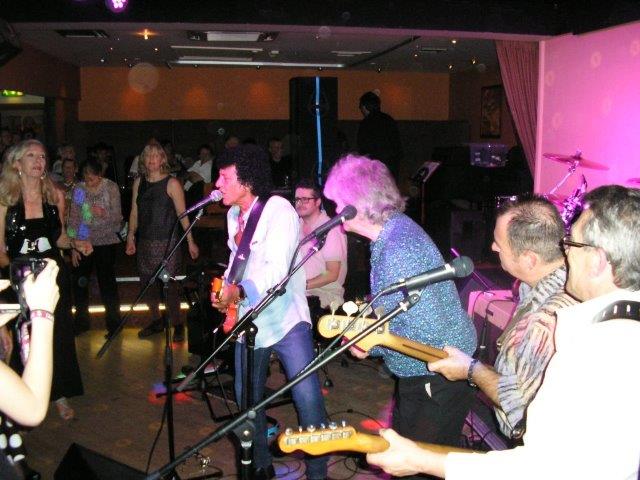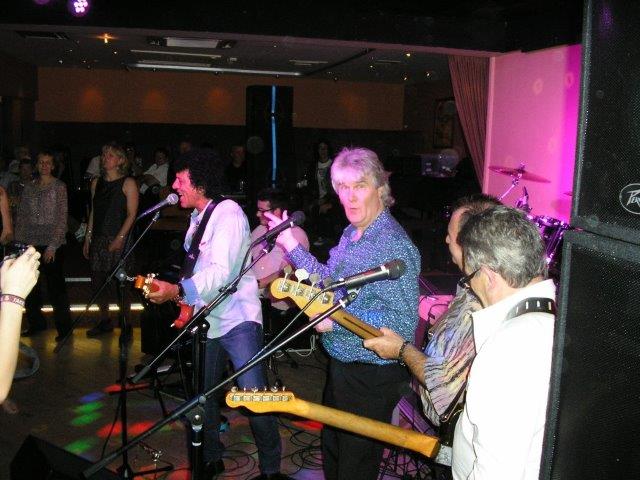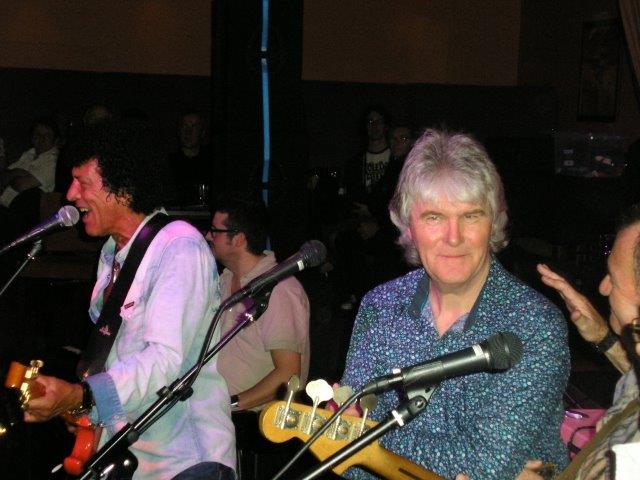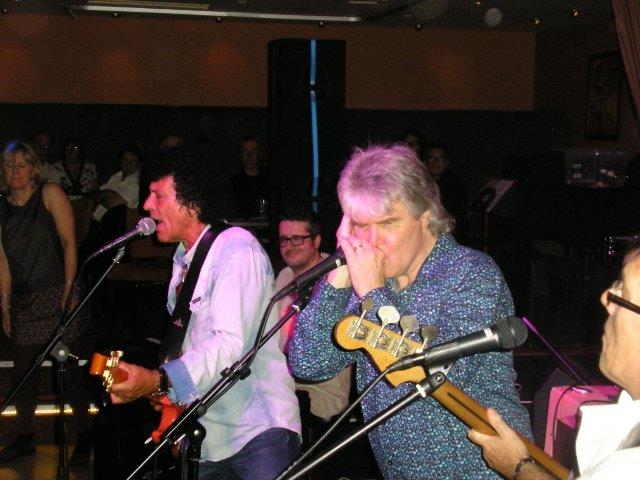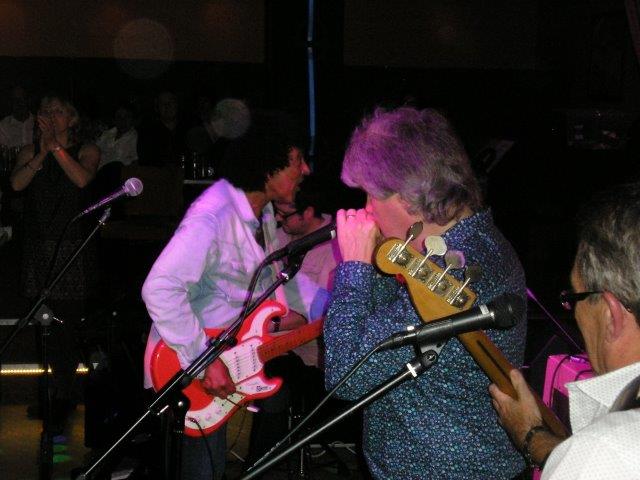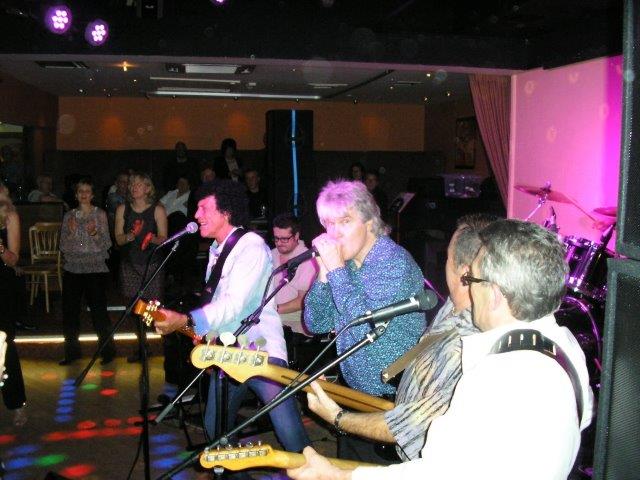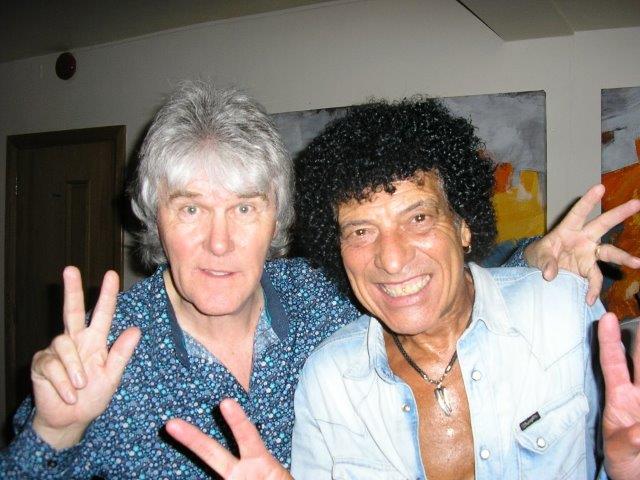 Ray Dorset said how much he had enjoyed the whole night - the atmosphere- the audience and the smooth way it all clicked in, plus a superb p.a. supplied by Lights & Beats, so another successful night. Once again, apart from us having a brilliant night - making music- meeting old pals, we also raised money for the usual local kids's charities, administered by the official Concorde 'Pantomime' Fund. The club has raised some £100,000 over the years, with our annual 'Back to the Sixties' shows adding more each year- this is the e-mail from Jamie Mathieson:
Hi DSJ
Thanks for a great night! Thought it was superb and if not the best one you have done! Next year more than happy to do the same Friday so lets put it in for the 6th November.
Raffle made £348 for Cystic Fibrosis which is great as this is going straight to the ward. I have someone close to me that suffers from this terrible disease.
Tickets made £1050 after expenses/ drinks etc for Childrens Charities. Half the money will go toward the Childrens Cancer Wards Christmas Party on 14th December and the other half will go towards a local disabled charity in Hampshire called Rose Road.
Many thanks again
Jamie
Another big surprise came along, in the last-minute appearance of another much-respected Southampton musician- Bob Gorman and his gorgeous German wife Manu. They live in Gran Canaria, but decided on a mad dash, with another couple, in order to catch the show! Bob took part in the 2008 and 2010 shows, but sadly we were not able to squeeze him in for this year, due to a tight schedule plus two extra acts that were slotted in. His party flew into Gatwick around 5-30 pm, then drove straight down to Southampton to enjoy the show and meet up with old pals etc. They stopped over at the Ellington Lodge Hotel next door, and then flew back home in readiness for his Saturday night gig! 2015 appearance? Let's see......
My sincere thanks to everybody who helped to make this a truly memorable night, and especially to Ray Dorset/Mungo Jerry - how can we top that! As you will note from Jamie's message - we can confirm the 2015 show on Friday 6th November, and I'll be looking at the line-up in the New Year, so check my website now and then. The 2015 show will have its own dedicated webpage and I hope to add a few more photos taken on this year's show, so come on back.
OBITUARIES 2014
Keith Goulding, Ronnie Bond, Reg Presley, Dave Wright, Dave Smith, Dave Dee, Martin 'Cuddles' Smith, John Hatch, Roy Perry, Tony Hart, Brian Fisher, Brian Macey, Brian Coe, Howard 'Bugsy' Richardson, Ray Worley, Roy Worley, Bill Steadman, Alan Bence, Nick Anthony ,'Ray Von', Dave Carson, Melvyn McCrae, Ray Graves, Henry Sansom, Len Canham, Reg Calvert, Heinz Burt, Mick Haley, Eddie Harnett, Gerry Sansome, Mick Hall, Cliff Harper, Roger Pope, Chris 'Burnsy' Brown, Rick Brown.
R.I.P.
BACK TO HOME PAGE BACK TO SITE MAP CONTACT DAVID
copyright©davidstjohn2014