HOME PAGE SITE MAP CONTACT DAVID ST JOHN
Page updated 19 September 2013
David St John BLOG 2013
*If returning to this page- please 'refresh' or press F5 for latest browsing session*
COPYRIGHT
Please note that many images contained within this website may be subject to copyright, although many have been kindly sent to me and intended to be shared on this non commercial outlet. If anybody wishes to use any of the same, then please get in touch as well as possibly giving credit where due as well as setting up reciprocal links if relevant to the actual content on any webpage. Please note that I am able to monitor any image-copying and if published on other websites. I would appreciate any contact to report broken/outdated links and any corrections to the text that accompanies any images herein. Thank you and enjoy!
Welcome to this latest webpage following on from previous years and featuring miscellaneous news of my comedy shows plus related updates on my Southampton based Sixties Music side and you can read all about this via the Site Map page. Latest news first and then descending order. Please come back soon as this new blogpage is updated with new input throughout the year. As usual, many thanks to those who have been in touch with more info and those all important rare old photos that help bring the memories alive. I have a backlog of these so please let me know if I have left anything out over this early 2013 webpage that will be updated from time to time.
.............................................................................................................................................................................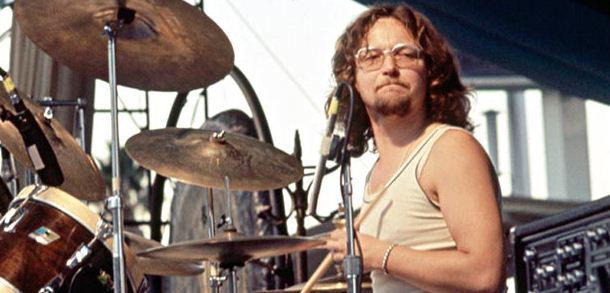 ROGER POPE
1947-2013
19th September 2013
More sad news of the loss of Southampton's Roger Pope- regarded as one of the finest drummers in the business and I have featured him with some of his local groups on this website- see:
http://www.davidstjohn.co.uk/groups1.html
http://www.davidstjohn.co.uk/groups2.html
Plus:
http://www.eltonjohn.com/music/band/people/RogerPope.aspx
I was one of the lucky ones who first saw him practising away on his basic drumkit in his bedroom back around 1961- the neighbours certainly heard him too! Playing away to Sandy Nelson 45s on the trusty Dansette and in perfect time. Within a couple of years, he had teamed up with one of the new local 'beat groups' called the Countdowns who played at my own Itchen Grammar School as bass player Duncan Campbell was a fellow pupil but a couple of years above me. The 63/64 British R&B scene saw the advent of hair growing longer and Roger then joined the brilliant Soul Agents who released a few records as well as being the backing group for a young 'beatnik' type guy with an unusual voice plus great character - Rod Stewart (I wonder what became of him?) You can read more about Roger on my webpages and all over the internet as he is well documented and his later bands (Hookfoot/Loot combinations) ended up as the backing band for another 'new' talent who had himself played keyboards with Rod Stewart, Long John Baldry and others on the London R&B scene of the early 60s. This piano player found a voice- teamed up with a lyricist called Bernie Taupin- changed his name from Reg Dwight and you know the rest of the story.....
Roger later played with Hall & Oates (1980s) and many more top names as a respected session drummer but ill health caused him to retire, spending his final years back 'home' in Southampton with long time partner Sue who looked after him like no other could. He was rushed into hospital a few days ago and in a critical condition when I heard the news through my contacts- I understand that a marriage ceremony was held at his bedside at 6pm on Tuesday 17th September and he passed away a few hours later around midnight. We will always remember 'Popeye' as an early nickname and he joins that sad list of 'absent friends' that will be read out at the forthcoming 'Back To The Sixties' show at Southampton's Concorde Club. This annual show features another amazing lineup of original 60s musicians- great bands, singers and DJS who recreate the best decade ever with hours of live music plus the chance for local 'baby boomers' to dance to the old hits as well as raising funds for local kids' charity. Its also a great hook-up for musicians and old fans plus a segment in which we pay a tribute to those we have lost, but have certainly left their mark in the world as well as showcasing more talent from Southampton.
http://www.davidstjohn.co.uk/concorde2013.html
ROGER POPE'S FUNERAL WILL TAKE PLACE AT WESSEX VALE CREMATORIUM BUBB LANE WEST END SOUTHAMPTON MONDAY SEPTEMBER 30th 2013 AT 1 PM.
http://www.wessexvalecrematorium.co.uk/
FOLLOWED BY A WAKE AT THE BROOK PORTSWOOD SOUTHAMPTON
466 Portswood Rd Southampton SO17 3SD
023 8055 5366
THEN- THE FOLLOWING MONDAY- WHAT A BLAST!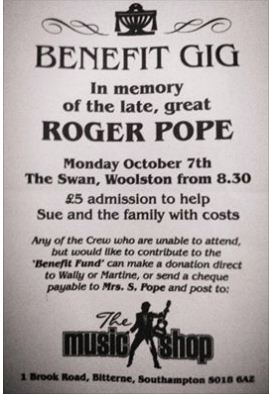 219 Portsmouth Road, Woolston, Southampton, SO19 9BG

Telephone: 02380 447747
http://www.swan-woolston.co.uk/
Limited carparking in this area so best to grab taxis or a lift- then have a good p***-up! Great bands, musos, guests, jams etc.
Thanks to Wally Phillips of The Music Shop Bitterne Southampton for his help (with others) in organising the follow-ups-please contact him if required and we all hope for a good turn-out as we give Roger Pope a traditional musical send-off. If you are not able to attend any of the above, it would be very much appreciated if a donation could be sent to help Sue Pope and family. Thank you.
http://www.southamptonmusicshop.co.uk/home
.............................................................................................................................................................................
If you recall Carole Hamilton-popular female DJ from the Adam & Eve Club Spa Road Southampton (back of the old Echo offices in Above Bar) late 60s or Fridays Club on the London Road (70s on) then why not relive these great days? If you are younger but love the classic Soul, Motown and Stax days- this is the place to be!
Hi there everyone
Summer may be over, but we are heating things back up...
with an Adam & Eve Get Together at Seymour's Wine Bar, Southampton!

DJs Carole and Graham playing classic 60s and 70s Soul & Motown
Great music, great friends - so let's make it a great night!
Doors open at 8:00pm and close at 12:30am. Entry is £5 on the door.
SUNDAY 13TH OCTOBER
Seymour's Wine Bar
1 Carlton Place
Southampton
Hampshire
SO15 2DZ

Hope you can make it, we really look forward to seeing you all there!

Best wishes
Carole & Candice Hamilton
July 2013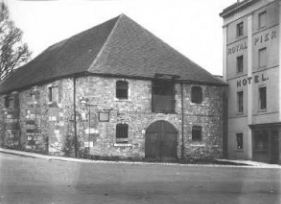 THE WOOL HOUSE SOUTHAMPTON
This historic landmark dating from the 14th C faces the Southampton Waterfront across the road from the Royal Pier, I.O.W. Ferry Terminal adjacent to the Town Quay. It housed the Maritime Museum until 2011 when the exhibits were moved to the new Civic Centre buildings, but the building now faces an uncertain future. This great image dates from the early 20th C with the Royal Pier Hotel on the right but long gone. Take a walk up Bugle Street on the left and it takes you to more great historical places such as Tudor House and St Michaels Church in the Square. Many are praying that the Royal Pier jetty be renovated and developed back to its former glory with leisure facilities such as a dance venue? See my many webpages dedicated to the most popular venue in the South where 50s and 60s pop groups, singers and DJs provided fantastic nights out for everybody. The old entrance hall has been beautifully restored by Kutis Thai Restaurant- see their website too by searching the net. Sadly, the twisted broken ruins of the old Victorian jetty give visiting passengers on cruise ships a rather poor view of Southampton Waterfront and a bad first impression.
The Wool House has been taken over by a non-profit group of talented people within the arts movements for the summer of 2013 and well worth a visit. You can read all about this on their new website and I have just had this e-mail from Steph May plus a link. If you are local then please call by and see what is going on or read about on their website as well as contacting them with any ideas of your own.
Hello David,
Saw your very interesting site about the Pier via Facebook. I am one of the team who have a temporary lease on the Wool House. We have it for 3 months to open it up again as a not for profit arts venue. You can see what we are up to on Facebook on the Wool House Project, or the website... www.elementarts.co.uk
All of us at element arts are very keen to try to keep the building as a publicly accessible space. It is already getting busy in there with a lot of people coming to the exhibition, dance classes, school workshop etc. The exhibition upstairs will change every month, but the one downstairs will continue for as long as we are there. The downstairs part is an art exhibition, but the work in it reflects the building's recent history as a museum. Also, two of us are running a re-creation of a Victorian photographer's studio every Sunday. We opened it for the first time last Sunday and some of the photos we took went on the Facebook page and website this morning. We have painted 2 x 3m square Victorian back drops! We have many events lined up, including Philip Hoare giving a talk on his new book.
Steph May
.............................................................................................................................................................................
26 June 2013
A sad e-mail from Australia:
Dear David,

My name's Tony - I live In Perth, Western Australia. Great website - love the photos. Just to let you know the sad news that Johnny Watson passed away today after suffering a massive heart attack and a stroke last week.
I was privileged to play music with Johnny on a number of occasions. He was a great musician and a true gentleman. I will miss him. Just thought I'd let you know. Please pass the news on to any other UK based folk you know of. Thanks again for the great website.
Tony Bennett
Johnny Watson was an amazing talent and an important of my early start in showbusiness back in 1958 at the Royal Pier Pavilion Ballroom near Southampton Docks. This popular dance hall was THE place to go - especially during the exciting late 1950s as rock n roll hit our shores. The enterprising manager- Len Canham- immediately installed a house band at the Pier in the shape of the Three Stars - a rock n roll trio who covered the latest hits as well as backing many local singers around the area. As a young 'nipper' I loved going to any dance hall during the Fifties with my family/friends etc. I watched the musicians play as well as enjoying themselves in the process plus soaking up the atmosphere as the dancers jived around the floor, and the seeds were sown for the rest of my life. The Pier had the prestigious Gil Hulme Dance band and other visiting musicians who played the ballroom type repertoire but these were being phased out by the new breed of young musicians- often self taught and not reading music sheets as such, much to the disdain of their elders who had studied for years! The regular Teen Dances at the Royal Pier soon took off and packed the place out night after night, much to the delight of Len Canham who later formed the much acclaimed Avenue Artistes agency. Another perceptive booker and manager was Reg Calvert so he and Len worked together on many rock n roll nights although mixed with some rivalry! Reg later moved to Rugby and concentrated on developing his 'School Of Rock N Roll' and you can read more about these two incredible managers on these pages below:
www.davidstjohn.co.uk/regcalvert.html
www.davidstjohn.co.uk/royalpiermemories.html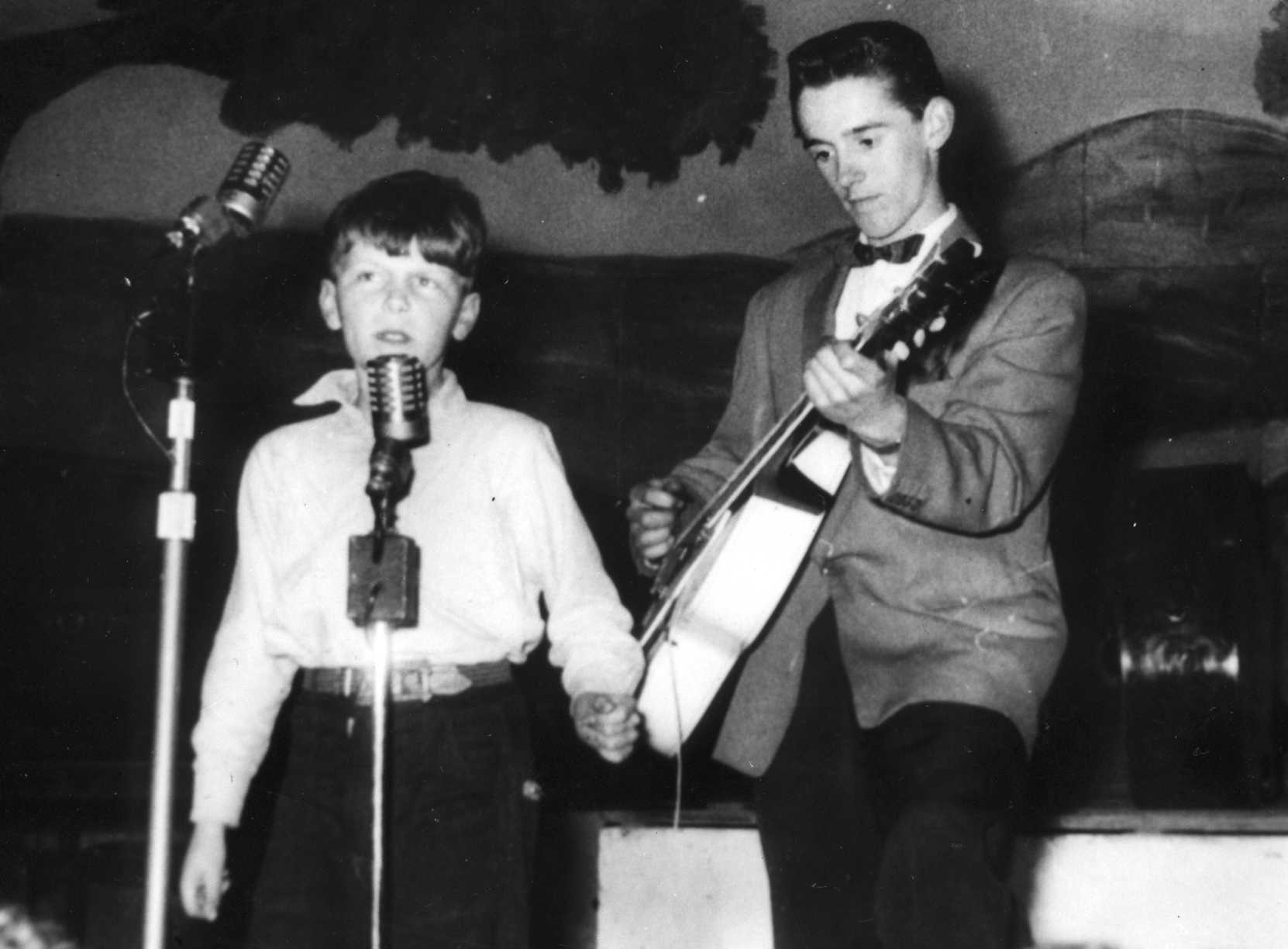 1958 David St John (age 10) + Johnny Watson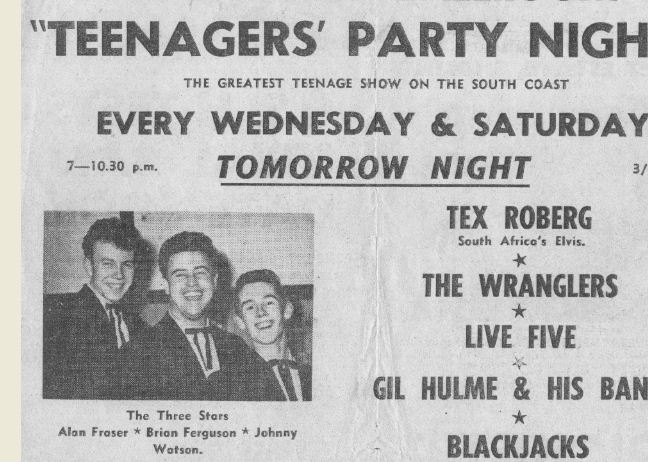 Like many people, I can recall certain moments in my life in between forgetting large chunks of it! However, this special night has remained crystal clear ever since I made my first real public performance although I had 'entertained' my family, friends and anyone else if out on a day trip- just singing or even cracking gags. Weaned on Bill Haley, Elvis Presley, Everly Brothers, Gene Vincent, Jerry Lee Lewis, Little Richard and many more I could often be found sitting next to a jukebox in Southampton coffee bars which were springing up. The teenagers often asked what I would like to hear and gave me the chance to listen, sing along and absorb the lyrics as well as having some idea of the music arrangements, keys etc due to playing basic piano. My mother worked at the Pier and mentioned this to Len Canham who was intrigued by having a ten year guest singer as an unusual attraction- never one to miss an opportunity! I went backstage and had a quick runthrough with the Three Stars- Johnny Watson on guitar, Alan Fraser on Double Bass and Brian 'Fergy' Ferguson on drums. They picked up my keys and my songs were 'Rock Around The Clock-Tutti Frutti-Jailhouse Rock-I Traced Her Little Footprints In The Snow-Last Train To San Fernando' I was then introduced as as 'special surprise guest singer' and ran out to the mike with the spotlights blocking everything out for the first few seconds plus a few girls screaming for me! No nerves and just got stuck straight in for my first ever rock n roll set-loved it and was hooked. You can read more on the page below- one of my first webpages on this site so needs checking over and tweaking at some stage
http://www.davidstjohn.co.uk/biography.html
I forwarded the e-mail onto my many Southampton music pals and have received a few tributes which I share for now, and I'm sure that a few more will surface in the near future
David, I was never a close personal friend of Johnny, we were just casual acquaintances in the band scene, however he was definitely a major player in my musical up bring and his name was always on the tip of my tongue re the most important players in the Pier era that influenced my life. So sorry to hear of his passing, especially since we were in Perth 3 years ago, if only we had known he was there, we maybe could have spent some quality time together talking about the "Old Days"
Best Regards
Mike Humphrey
Blackjacks/Whirlwinds
Hi Dave, as you may know, John and I have been great friends from the earliest rock days. He usually stayed with my family when he came over and we will miss him greatly.
Geoff Chalke
Hi David.
Whenever I get an email from you with a familiar name as the subject I always open it with trepidation - and today it was sadly appropriate. Johnny was a central player in the early Southampton music scene right from the start. The Three Stars featuring Johny, Brian Fergusson and Alan Fraser were the resident band at the Royal Pier alongside the Gil Hume orchestra, playing the 'new' music for the rapidly changing audiences.
They were on the bill the first time we ever played the Pier and their photographs were included in most of the early adverts. It looks as though they also backed your debut as Johnny appears playing the guitar in your early photo. I am so pleased that I phoned Johnny in Australia a couple of years ago, exchanging stories and verifying the famous Beatles story.
RIP mate.
Pete Broyd (Blackjacks)
Hi Dave
Thanks so much for sending on the news from Tony. I can tell you that I was at the same school with Johnny where he drummed in the school band (Royal Merchant Navy School...check it out on internet ! ) A few years later around 1961 I went down the 2-Is coffee bar in Soho and Vince Taylor was singing Brand New Cadillac with...Johnny 'Titch' Watson on drums.....!!! Small world . Johnny lived at the time in Southampton and sold me his multi (anyway three) track tape recorder before he sailed off to Oz !!! (used it for all the world famous numbers I wrote !!! How bout dat ? True story.....Danny Barbour-Netherlands
Dear David
Just to be absolutely sure that this is the right Johnny W I take it, sadly, that you mean my mate with whom I played in the Star Combo post Hamburg and in the days of the Blue Indigo Club at "Six Dials" pub in good old Southampton?? That is the former drummer with the rather well known folk at the Star Club and known to so many folk – a legend.
Any further info that you may glean would be gratefully received as some of us will wish to mark this very sad event in some way....
best wishes
Gerry (Hayne)
FOLLOWED BY:
Hi Dave
I am so very sorry to learn of the passing away of Johnny (TiTch) Watson, drummer ( & guitarist) formerly of Southampton and eventually from far away! He kept the Star Combo going after Hamburg and when I joined the band (being "poached" from the Comancheros!) we played at the old Blue Indigo Club, Six Dials (thank you Terry Rolph) for what seemed like ages; it was great to work with such a professional musician who nevertheless didn't take life too seriously. He had so many big-name friends many of whom came to the Blue Indigo or else the Gaumont Theatre (that was). Together with myself, Mike Lewis, Colin, Rick Murfitt & Brian Carr he was the epitome of a great muso; we used to "rehearse" (sometimes) on Thursday evenings so he could watch The Man From Uncle on TV; he drove and sometimes sold some amazing vehicles, one being a Brooklands Racing Rolls Royce; he could write songs and music; he lived an enviable social life from his house behind then behind the Gaumont; he could charm certain local folk into giving us gigs a plenty; he was such a decent bloke in a life where such were hard to find both then and indeed now . We who play and are still crazy salute you John – go safely into muso-heaven....
Gerry Hayne
27.6.13
Hi David,
I've known John since 1957/8. We both started working at the Royal Pier at the same time. John was with ''The 3 Stars'' and I was with ''The Strangers''. Both bands were with the 'Len Canham ' clan. Somewhere around 61/62 he went to Germany, and I went to Norway. We met up again in 1963 and he joined 'The Strangers' along with Barrie James, Gary & Lee and Patti Knight, and we toured the UK for quite some time. Around about 64, we went our different ways although we often made contact.
Then John went to Australia. We phoned each other a few times and John came over a few times. I last saw him about 2 or 3 years ago when he was staying with Geoff Chalke. He hadn't changed one little bit. He was still wearing the same sort of coat that he always wore, a fawn short overcoat. Still the fantastic John. Always smiling. Never Flash. Just one real nice guy. Without doubt, one of the great drummers of our time and a lovely bloke. I will really miss him. RIP John.x
...................................................................................................................................................
1 June 2013. Just had an amazing e-mail from 'Tommy D' - a USA based musician who has been on tour with Paul Revere and the Raiders- top 60s bands but never cracked the UK charts. He was with our very own Eddie Harnett for many years when in Hawaii and Tommy has sent loads of rare photos so I will be adding these to the Eddie Harnett webpage on this website (see Site Map) In the meantime, Tommy sent these great You Tube links and you can now enjoy a glimpse of Ed's talent and it will bring a tear to the eye of those of lucky enough to have known him from the 60s until early 70s when he left the UK to cross the Big Pond. He was then known as 'Eddy Zany' in line with his fun stuff on top of fantastic musicianship.
I need some time to update Eddie's info as I will be checking out Tommy D's own memories and you can read more about Paul Revere on their own official website at: http://www.paulrevereandtheraiders.com/ Great stage act full of crazy antics- take a look and you will see that they are always touring the USA after so many years.
YOUTUBE CLIPS:
http://www.youtube.com/watch?v=E64tKSXWVdE
http://www.youtube.com/watch?v=2jufvzE5_QE
http://www.youtube.com/watch?v=InCSNUTm8aY
.............................................................................................................................................................................
You will have read about Eddie's final 'difficult' years and I have had several messages with regard to his involvement with his last group- 'Heet' featuring a 'Tiffiny Bond' -female vocalist. I refrained from adding any links to their website as there were many personal problems on the 'management' side but I have just checked and rather concerned that they are still advertising Eddie as part of the existing line-up, despite passing away over two years ago! They even advertise music downloads, but Eddie's own copyrights were 'signed' away in rather mysterious circumstances and he certainly had no money in his last years. This website is obviously out of date as it contains much of the same content from when Eddie was alive and well, but I find it distasteful to see that they indicate that he is very much a part of the whole set-up. As far as I know- Heet does not exist and much of the 'Tiffiny Bond' website is phoney- I have e-mailed the 'manager' a Mr Joe (Moxley) More -King Music etc and presumably back in Hawaii now? The message was bounced back as expected and I'm hoping that someone will know of these people involved and (hopefully) edit the pages accordingly. I did try a couple of cellphone numbers from before but another dead end
This is the weblink and you may wish to follow it up yourself or please contact me with any information? http://www.tiffinybond.com/index.html
.............................................................................................................................................................................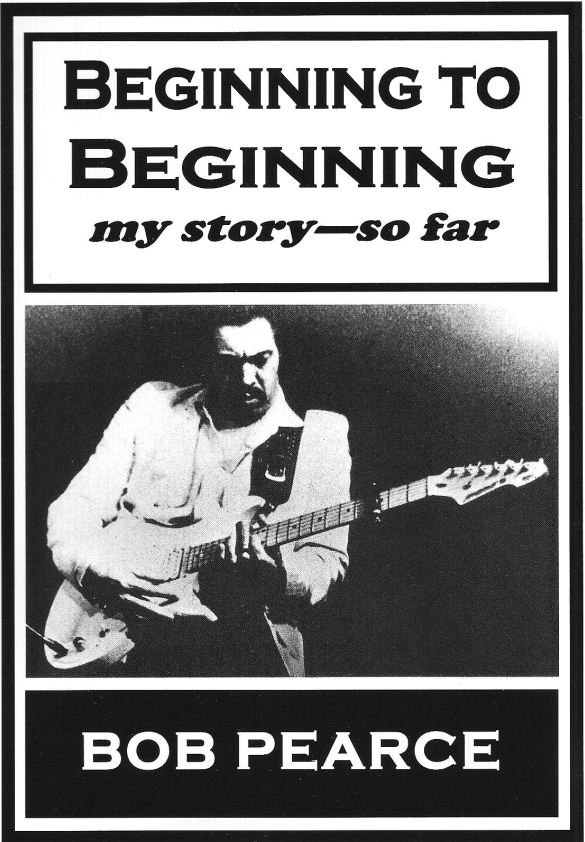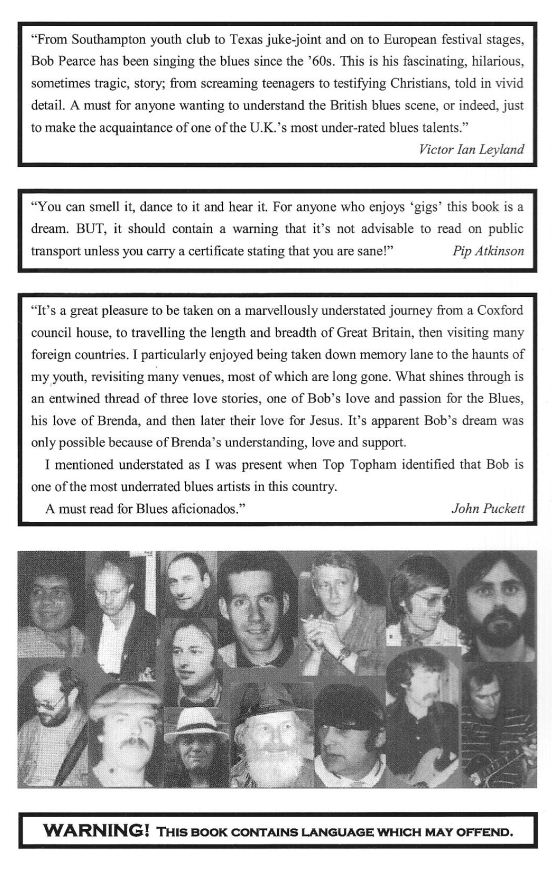 'Beginning To Beginning'? An unusual title for an autobiography, unless you know Bob Pearce and will be aware of his amazing story that covers half a century in the music business as a much respected Blues man. I have known Bob from the times when we were both starting out as long-haired lead singers with Southampton 'r&b' bands as we were labelled in the Beat Boom of 1964. On both sides of town - we 'covered the covers' of classic blues numbers, inspired by the Rolling Stones, Yardbirds, Pretty Things, Alexis Korner and many more. We sang the blues, played our harmonicas and shook our maraccas in the style of those exciting times, although I then went with the flow of the ever changing commercial pop music scene for the next few years. Bob Pearce was -and is - firmly rooted in the original blues scene and has become well known throughout the UK and overseas with live shows, recordings alongside many star names of the genre.
Bob's book was actually started back in 1982 when a pal suggested he should 'write his story' but it got shelved for another 30 years until finally hitting the bookstores. In that time, Bob was able to make the effort and I enjoyed reading it from cover to cover as it struck many a chord with its early Hampshire content but then progressed through the following years. Incredible details of his family background, performing and managing local 60s groups are mixed with hilarious stories that offer a personal insight into life 'on the road' as many bands criss-crossed the country in beat up old vans, cars or even buses to nearby dance halls! The story then moves onto his varied career as a leading bluesman over the next 30 years as well as his new 'beginning' which changed his life yet again.
The comprehensive back pages contain a nostalgic list of Southern venues, discography plus names of many top rated musicians who have formed the nucleus of an ever changing line-up headed by Bob Pearce. Although it has a 'local appeal' in some ways, it also makes a great read for anyone who enjoys the stories behind the spotlights and especially written by the first person narrative! This book has been professionally published with some great photos throughout and I thoroughly recommend it, especially purchased direct from the author as it would be priced much higher in retail outlets!
Available direct from Bob Pearce- only £7 + £3 p&p- contact him on: bookings@bobpearce.co.uk
Official website:
If you live in Southampton you can collect in person or at any gig
See my webpage on The Bobster- www.davidstjohn.co.uk/bobpearce.html
.............................................................................................................................................................................
Announcing the ever popular Shadows Celebration - a full day/evening of amazing sounds at the prestigious Lakeside Club in Frimley Green Surrey. Contact venue for tickets!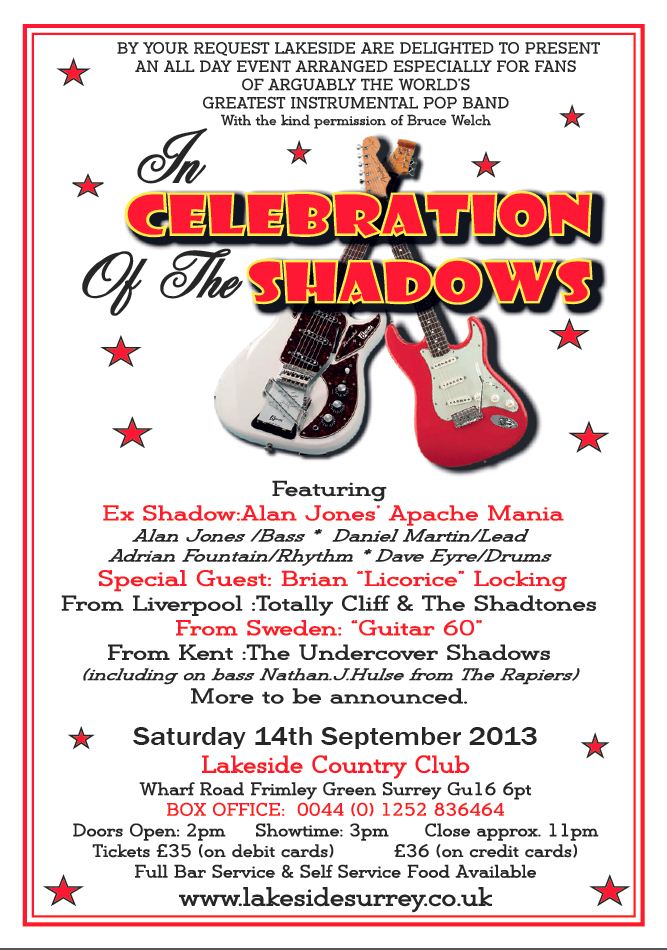 ...............................................................................
If you are familiar with many of my webpages that celebrate the 60s music scene around my hometown of Southampton, you will note many links to the big names that either passed through on concert tours or ballroom dates etc. Rod Stewart's early backing group being our very own Soul Agents and there is more information on this website plus links to Rod's fansite (Smiler)
Many of us young musicians were inspired by many of the stars that made their mark on the pop charts and much more as part of those two amazing decades of the Fifties and Sixties. The UK experienced the 1950s American invasion that saw rock n roll imported into our culture thanks to Bill Haley, Elvis Presley and other great artistes and within a few years we saw our own wave of new artistes led by Tommy Steele then Cliff Richard and co. The name of top manager Larry Parnes is well remembered as he produced a stable of British rock n rollers and groomed them into major recording stars as well as giving them more 'interesting' names! The solo artistes were eclipsed by the next wave of 'beat groups' from 1962/63 and due to the Beatles, Stones and other big names that made the former stars look rather 'old fashioned' despite the talent that has left its legacy across the next few decades.
Larry Parnes acts:
Marty Wilde (Reg Smith) Vince Eager (Roy Taylor) Dickie Pride (Richard Knellar),Lance Fortune (Chris Morris),Duffy Power (Ray Howard)Johnny Gentle (John Askew) Terry Dene (Terence Williams)Nelson Keene (Malcolm Holland) Georgie Fame (Clive Powell). He also managed Tommy Bruce, and Joe Brown, but failed to persuade Joe to change his name to Elmer Twitch! The most successful of these stars was in the shape of young singer/songwriter from Liverpool- Billy Fury (originally Ron Wycherley) and evolved into one of the UKs most successful recording artistes from 1959 but sadly passed away in 1983 at the age of only 42 (as did Elvis...) Just search the net and you will discover more about this great talent as well as being able to hear his classic hits plus rare footage of Billy in action on stage or film etc. There are also many tribute acts who pay homage to Billy Fury and I have just seen one of the best in action- Michael King who is currently on tour as we commemorate 30 years since losing Billy Fury and you can find out more by visiting his own website (see below)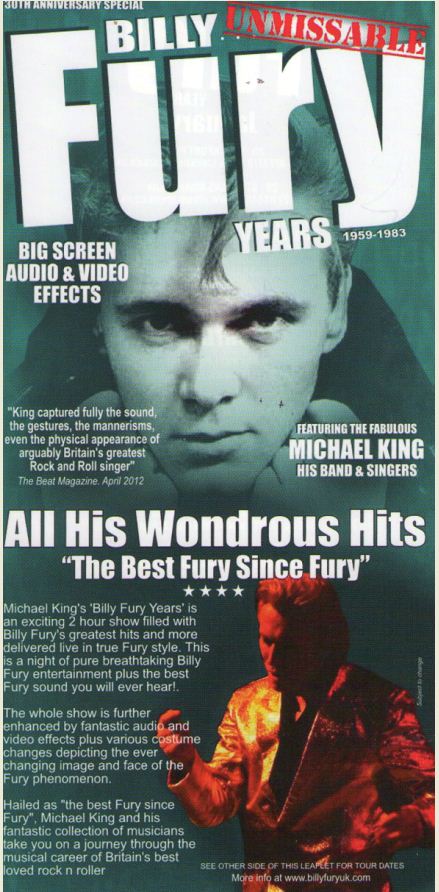 Mike's great show played at the Prince Of Wales Theatre in Cannock Staffs and split into two halves in which he portrays the young and older Billy Fury with uncanny accuracy. Backed by a brilliant set of musicians, including a real showman on double bass who plays it- spins it-jumps on it in the style of Bill Haley's Comet bassman! Mike King looks the part with a great voice, movements and wearing same style of flashy stage clothes as worn by Billy Fury. The first half of the show in a real rock n style with swept back hair and performing many rare singles and album tracks in between the major hits that everybody knows. He nips offstage for costume changes whilst the band play some great fills and the show is enhanced by a back projection screen with stills and movie clips from Billy's years that help convey the great years. The second half sees the long haired phase of Billy's later years through the Sixties and Seventies with hits to match, keeping the audience (all ages) singing along with the classic numbers. I can thoroughly recommend this superb show that is playing at major venues all over the UK, so take a look at the website above and try and catch it!
...............................................................................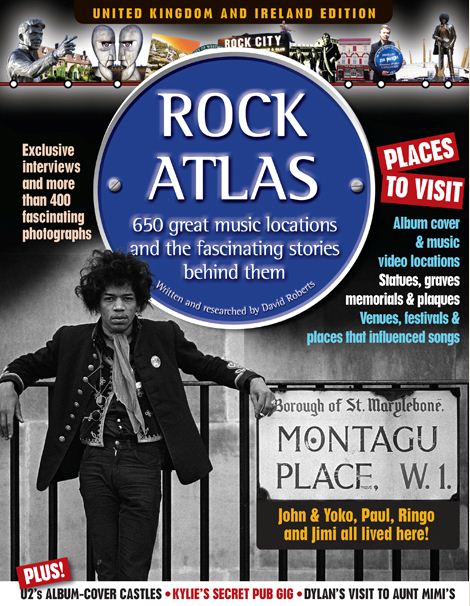 ROCK ATLAS- David Roberts
http://www.amazon.co.uk/Rock-Atlas-locations-fascinating-stories/dp/1905959249
I am often contacted by various writers, researchers, movie makers and much more, thanks to the way in which my 60s music webpages have become well established over the last few years. The very successful Rock Atlas has become a much desired read on the very locations that hosted many stories of famous (and infamous!) names over the rock n roll years and the latest edition can be purchased via Amazon and other outlets. London figures prominently as the centre of the 60s pop universe and you can use it as a travellers' guide that leads you to the site of many a great venue or where the stars lived, loved and died.
I have been asked to review this latest edition and this is a copy of the Amazon submission dated 3rd April 2013:
How many times have we walked across that Abbey Road crossing to have our photo taken as we recreate the iconic Beatles album cover, much to the annoyance of drivers on that busy London street? How many albums have we bought and wondered where the cover images were taken or interested in the background to the actual shoot? Have we strolled down a street, or ever stayed in a pub or hotel and not realised that the surroundings have a place in the 'modern history' of the music industry? Do we know where our icons were born, met up, died or made their first recordings along the way to the top?
If, like me, you are fascinated by the stories behind certain locations and landmarks in 'pop' history, then Rock Atlas is the book for you as it contains a massive amount of photographs, interviews and much more trivia that will certainly inspire any music fan to 'take a trip' as we said back in the Swinging Sixties! The latest edition covers the whole of Great Britain, starting another 'Magical Mystery Tour' from the West Country, in the tyre marks of the Beatles coach that wound its surreal way across the South back in 1968. Rock Atlas is crammed full of fascinating photos with accompanying information mixed with personal reminisces of 'ordinary' people who happened to bump into many an idol at the most ordinary location. 700 locations and more than 450 rare photographs with assorted trivia have been captured in this beautifully produced book that can be enjoyed on more than a preliminary read through.
Spanning the decades from the late Fifties to the present day, this virtual encyclopaedia of pop trivia has been produced with great detail and one of the most entertaining reads I have had for years. From the legends of names such as The Beatles, Stones, Hendrix through to Kylie and Lady Gaga, there are entries that will surprise even the most ardent fan as they learn more about the links to certain places all over the country. Many landmarks have disappeared but it's still easy to just stand there and let the mind wander back a few years, with this book in the hand. More than a boring 'tourist guide' - the Rock Atlas is the perfect guide that uncovers long forgotten stories and background to recognisable images that pinpoint certain times.
I am a massive Beatles fan and have read several accounts of their story ever since I saw them 'live' back in 1963 but discovered even more delights as I turned the pages. From their early Liverpool roots down to the London based years and beyond, the Rock Atlas contains even more insights. I never knew that Bob Dylan quietly joined a small tourist group who were visiting John Lennon's former home to soak up the atmosphere and ponder on how it all started. You can discover statues to much revered stars or pay a visit to a graveyard in quiet contemplation of someone you may have admired. Perhaps, like me, you will have a yearning to take some time out and follow this same path, driving from place to place, taking your own photos and maybe even bump into a local who may have been there at the relevant time of that entry. Many people are fascinated by traditional history over the last few centuries and enjoy visiting the actual sites that are well established with a massive amount of literature that tells more of the story. However, the Rock Atlas is an innovative insight into our modern history of 'pop'culture and the perfect travel companion that can be used to allow many a diversion to explore even more. Who knows – you might even bump into me at one of these sites in the near future!
David St John 'Pop Historian- Southampton 60s music scene
..........................................................................................................................................................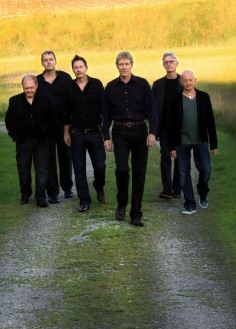 THE MANFREDS 2013 TOUR
Concorde Club Southampton Thursday 14th March!
Fans will recall that the original group appeared at the old Concorde Club at the Bassett Hotel near the Common (back room jazz/blues club) before the hits.
Or elsewhere via their own webpage: http://www.themanfreds.com/tourdates.php
...............................................................................
5th February 2013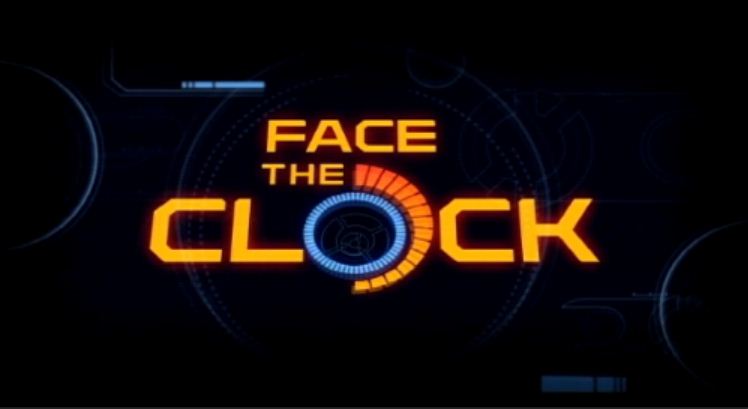 My 28th TV quiz show aired on Channel 4 at 3-30 pm. 'Face The Clock' a fast moving race against an unseen clock and 5 rival contestants, hosted by impressionist Rory Bremner.
Tuesday 12th February2013
A local Midlands newspaper ran a story on my TV quiz show appearances and this got picked up by the national press with features in the Daily Mail, The Sun, Daily Express, Telegraph and websites across the world! Followed by radio interviews and possible TV follow-ups sp come on back soon. Just Google 'david st john tv quiz' and you'll find many links.
There was some confusion over the actual number of shows which I had numbered as 27 so far, but I had overlooked a 2001 show called 'Defectors' which was recorded at Maidstone Studios in Kent and hosted by Richard Ord. It only aired on the early Challenge TV channel and I had no recordings of it, simply not having Sky channels at that time. I also thought that it been dropped for some reason but I have just discovered a letter from the producer and thanking me for my participation! So - it is 28 TV quiz shows but if one takes into consideration of my coming back for a 'returning' champion then the appearances go up to the early 30s. My apologies to the press outlets as the printed list of shows indicated 27. However, I also seem to have overlooked another show and a recorded audition for 'The Peoples Quiz-National Lottery' in late 2007! This was at the NEC in Birmingham and I had been shortlisted to have a ten question challenge in front of the judges- William G. Stewart (15-1) Myleene Klass and Kate Garraway, but failed on the final question (James Dean movies) and I rolled out his only films but went for the wrong choice- but, again I realised a few seconds too late that I had known the correct answer- Grrrrrrrrrrrrr. When entering the makeshift studio, I whipped out my harmonica ('good luck charm') and played a little blues for them, so rather taken aback! Sadly, it didnt bring me luck on this occasion and the contestants who passed the 10 question hurdle went onto a 'boot camp' style show to find the UKs best players- show linked to the National Lottery draw etc. My numbers didn't come up on this outing.....however it appears that my tally of TV quiz shows is actually and if one stretches this to actual appearances (i.e. returning champion for subsequent shows) then we are really looking into the mid 30s! I intend to look back on my files and double check as the press interest has triggered an avalanche of enquiries etc.
I also laughed at the derogatory 'comments' on the odd online feedback forums etc (semi-trolls) as many criticised my long grey hair - how dare a 64 year old grandfather have such a mop! They overlooked the actual story as well as trying to 'belittle' me on only raking up around £5k in prize money over the last 30 years. However, these deluded (probably jealous) detractors failed to realise that many early shows had small budgets and main prizes, unlike recent years where the potential winnings have shot up due to lowering of restrictions and higher advertising revenue plus many premium line 'phone-ins'. Let THEM have a go and try to emulate my successes, instead of spouting their relatively anonymous verbal diarrhoea! I have also had spin-offs, including a fantastic all expenses paid fortnight when flown out to Melbourne for the international 'Sale Of The Century - Ashes' as part of the G.B. team of champions (my first every show!) and you can read all about it above. Cathay Pacific 747- business class plus half a day sightseeing around Hong Kong plus VIP treatment on arrival at the airport with Rolls Royce and limos taking us to the hotel then studio for the recording. Got to be worth a few grand on top of the 1982 mopeds then valued at £850- how much in today's prices? Or, in 1998, when Thomson Cruises were looking for an unusual twist and booked me for a short Caribbean cruise as comedian/quizmaster- comedy cabaret spots plus hosting a fun quiz and talking about my experiences in this kind of TV show.
Following the national press interest, I have had several radio phone-ins and future slots as well as follow up articles now pending publication. It seems that people are hooked on TV quiz shows. More news to follow soon, I'm sure............. See: www.davidstjohn.co.uk/tvquizshows.html
18th February
What a week! These are the current press article links (below) and possibly more on the way. I was also interviewed on the following radio stations- iTalkFM Marbella Spain, Talk Europe FM Malaga Spain, BBC Wales, BBC WM (Midlands) and Radio 4 'Saturday Live' as well as noting several TV quiz related press articles and radio coverage, linked to the whole subject of quizzing, pub quizzes and much more!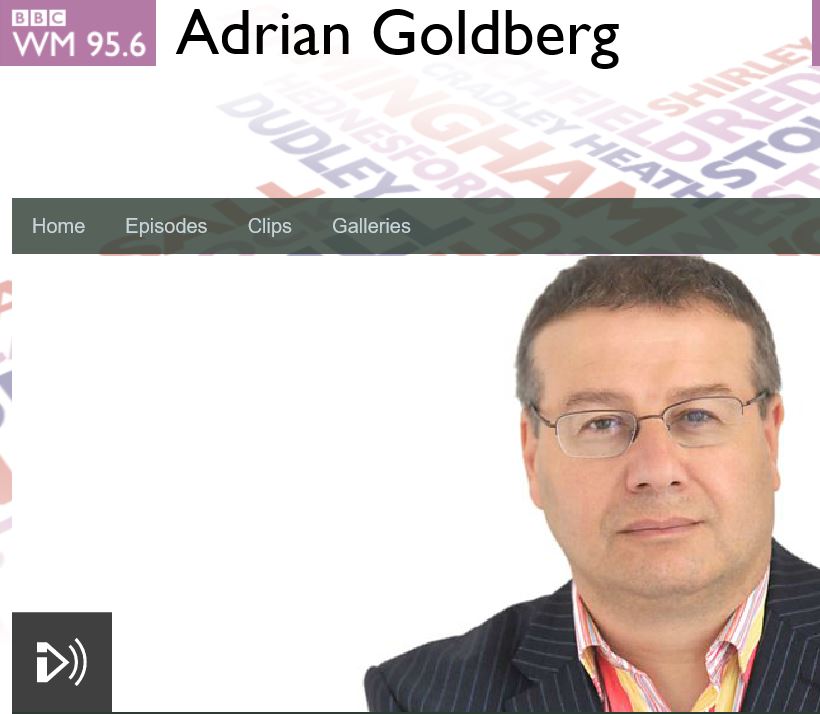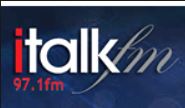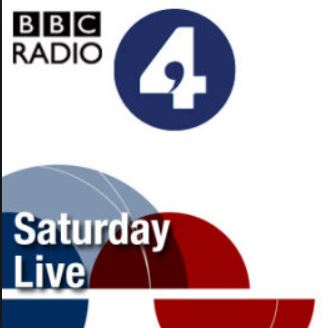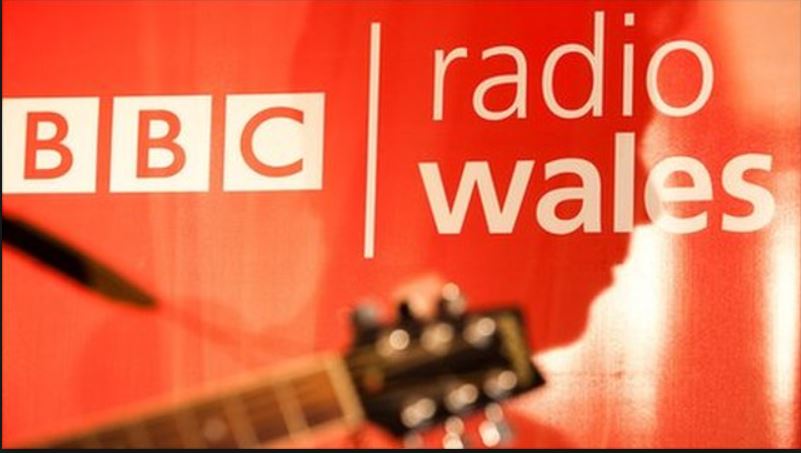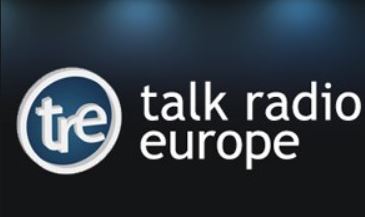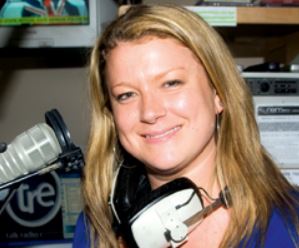 TalkRadioEurope(Spain) Hannah Murray
...............................................................................
I have known Susan Calvert for a while, thanks to links to my 60s music webpages and she is one of the daughters of Reg Calvert who was an early promoter/manager of several pop singers, bands from the late Fifties through the Sixties. Reg and Dorothy moved down to my hometown of Southampton before relocating to the Rugby area in 1961, looking after the likes of Screaming Lord Sutch, Pinkertons Assorted Colours and the early Fortunes. Reg's 'School Of Rock N Roll' was way ahead of its time as he encouraged new talent as well as grooming young artistes in his 'university of pop music'. His flair for publicity and marketing saw great advances, followed by his involvement in the new wave of 'pirate radio' that opened up a whole new way of letting teenagers listen to the new exciting sounds of the Swinging Sixties. This shook up the whole record buying business as well as cocking a snook at the tired BBC output which was the only way in most kids could hear the chart music, not forgetting Radio Luxembourg etc.
Sadly, this new 'pirate radio' move led to the usual competitive and often underhand business dealings as there was a lot of money being made when commercial interest soon realised how lucrative this new wave could be. Most 'pirate stations' were operated on converted ships- often rust buckets moored offshore in international waters so not 'regulated' by the UK broadcasting authorities and especially rocking the establishment led BBC of the time. Reg, along with other people, set up Radio Sutch-later Radio City on a disused WW2 fort in the Thames Estuary and transmitting to the London and South East area as did most of the other 'pirate radio' stations such as Radio Caroline, Radio London and many more. In 1966, the public were shocked to hear of how Reg Calvert had gone to the Essex home of a retired major- former business colleague Oliver Smedley, in order to try and resolve a bitter dispute on the Radio City set-up. Smedley had arranged for a bunch of thugs to board the radio station, sailing out from Kent in the middle of the night and recover a crystal component from the main transmitter. Reg had gone to Essex, with a few hundred pounds in his pocket, to settle their differences. However, this resulted in a cowardly attack by Smedley who had grabbed a shotgun and blasted Reg on the doorstop, allegedly in 'self defence' and this led to a 'trial' for murder but the charges were dropped to manslaughter then a full acquittal. This was one of the worst miscarriages of so-called 'justice' not helped by biased press coverage which had portrayed Reg as a 'violent' individual plus the usual hysterical attack on pirate radio stations and the shadowy figures behind them- suggestions that the criminal underworld were all linked to many of them. Vital witnesses were not called, and there was talk of pressure against certain people to remain quiet and the court notes were then subject to private archives and not allowing the public to read the whole story or make up their own minds. These documents have only recently been released under government jurisdiction and freedom of information acts. You can read some of Reg Calvert's story on my dedicated webpage:
www.davidstjohn.co.uk/regcalvert.html
You can also search the net and read much more on the story which soon led to a massive clampdown on the 'illegal' radio stations and saw the BBC get its act together with the advent of Radio One in 1967. Reg's wife Dorothy carried on as best as she could in the aftermath of this terrible tragedy that befell the family, and an amazing woman whose tough stances against the
NEW FOR 2013- BOOK EARLY!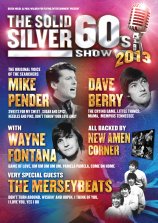 Celebrating 28 years of the UK's original and premier 60s show. They say that if you remember the 60s you weren't there! Fill that gap in your memory with The Solid Silver 60s Show and relive the 60s with original artists singing their greatest hits! Now in its 28th year the show features the unforgettable talents of Mike Pender the original voice of The Searchers, Dave Berry and Wayne Fontana, all backed by New Amen Corner, and with special guests The Merseybeats.

HEAR THE CLASSIC HITS PERFORMED BY THE ORIGINAL HITMAKERS! CHECK TOUR DATES AT:
PLUS- THE AMAZING JOE BROWN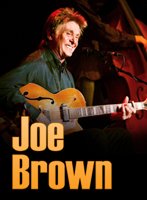 Premier rock 'n' roll legend Joe Brown goes from strength to strength as his contemporary achievements continue to gather momentum.His 'Very Best Of' album achieved a Gold Record for a massive 120,000 sales and was on the UK charts for eight weeks staying four weeks in the Top 20. In September the same year his 50th anniversary was celebrated with a wonderful sell-out show at the Royal Albert Hall.

He has continued to break box office records and recently received MOJO magazine's coveted Outstanding Contribution To Music Award as well as a much deserved MBE. You may have seen Joe performing on Later With Jools Holland or at the cinema playing his part closing the show at the Concert For George Harrison. You may have witnessed his critically acclaimed set at Glastonbury Festival or caught him on tour. If you have you'll already know just what a terrific live talent he is. Joe, with his five piece band including his son and record producer Pete Brown, will be on stage all evening and the musical styles incorporated into his new show break more boundaries and are as unique as the man himself.

His new CD The Ukulele Album has been riotously well received and several of the tunes from it appear on this tour which is also packed with timeless classics, rockabilly, gospel, country, folk, and rock 'n' roll, all interwoven with Joe's effervescent delivery and humorous reminiscences this sensational show is a musical journey not to be missed.
...............................................................................
6th Annual 'Back To The Sixties' reunion night at Southampton's Concorde Club- Friday 1st November 2013 Check this and previous years:
www.davidstjohn.co.uk/concorde2012.html
There will be a new dedicated webpage for this great show soon-please check back
...............................................................................
I received this sad e-mail from Jacqueline (Jackie) Ryan who has run the Troggs fanclub for many years and a good pal of Reg Presley:
REG PRESLEY
This is the hardest statement I have ever written. I am heartbroken to announce that Reg Presley passed away this morning 4th February 2013.
He died peacefully at his Andover home and was surrounded by all of his family. They are all absolutely devastated and there will be a huge gap in their family life.
My husband Liam and myself would like to offer our sincere and deepest condolences to Brenda, Karen and Jason and their families.
Reg will never be forgotten and we are proud to have known him.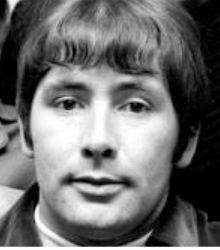 REG PRESLEY 1941-2013
I was aware that Reg had been in hospital over the last few weeks but his family did not want to let anybody know. His passing means another great 'pop' character has left this world a little greyer as Reg was a great character, talented performer and songwriter who put Andover on the Swinging Sixties map. There is a wealth of information on Reg and the Troggs all over the net so I don't really need to say much more- you can read some of my earlier writings on the Ten Feet Five page via Site Map. I sang with an Amesbury based pop group- The Cellars Of Sound (get the pun?) back in 1966/67 and our drummer Dave Maggs has been with the Troggs for some 25 years and it was good to have hooked up with him and the band on a recent Birmingham 60s pop tour. The Troggs blew everybody else off the stage and you can read about it here: http://www.davidstjohn.co.uk/blog2010.html
Had a nice chat with Reg in the pub across the road after the show and usual stuff about the business plus the inevitable flying saucers, crop circles etc! Very down to earth guy and he will be remembered for many years as will the great Troggs hits plus that hilarious 'bootleg' recording as they argued and swore at each other during a session! Seek and ye Shall Find.........
I reproduce this message from Reg just over a year ago and quite poignant, although I guess he knew that his health was not to good over recent years
25 January 2012
As you all know I was taken ill whilst doing a gig in Germany in December. During my stay in hospital tests showed that in fact I have lung cancer. I am receiving chemotherapy treatment and at the moment not feeling too bad.
However I've had to call time on The Troggs and retire. I would like to take this opportunity to thank you all for the cards and calls and for your love, loyalty and support over the years. A big thank you to Jackie for running the fan club and keeping you all up to speed, and a huge and special thank you to Chris, Pete and Dave.
I shall miss you all. Lots of Love
Reg.
I'm sure that many Hampshire musicians and fans alike will remember Reg as we have enjoyed their amazing successes ever since 'Wild Thing' hit the charts back in 1966, followed by many more great follow-ups. Reg was a 'one-off' and we will all miss him very much, although the current Troggs continue to perform by huge public demand so try and catch them sometime! Otherwise, enjoy the many great clips on YouTube and elsewhere - they were a 'fun' band with the perfect front man whose 'suggestive' lyrics caused some hits to be 'banned' which was great publicity in itself! We will always remember Reg's cheeky grin and 'innocent' looks as he sang many a 'naughty' line or two - teasing the girls who would be screaming throughout many a 60s show and all part of the fun.
...............................................................................
Mike Joyce- DJ has just informed me of this great reunion show at the Bridge Inn Woolston Southampton and this great venue has staged live music for many decades. Formerly the old Railway pub- it changed to the Woolston followed by New Bridge Inn and finally the Bridge Inn- just by the new Itchen Bridge that was opened in 1977, replacing the much loved Floating Bridges that ferried locals across to Southampton centre. Read about it on my Biography Page as my last group had a residency from 1968-1972 plus the Venues Page with more information. This looks to be a great night so spread the news!
A Top Rank Dance & Ice Skating Reunion night will be held on Saturday 23rd February 2013 at the Bridge Pub Woolston from 7.30pm. This is the third Top Rank Reunion hosted by former Ice Rink DJ Mike Joyce which for the first time combines both popular venues 'The Top Rank Suite and The Top Rank Ice Rink' in its celebrations. This year will feature the first live appearance in almost ten years of one of the Ice Rinks legends 'DJ Bob Deene' who retired in February 2003 and is coming up from the West Country especially for the event.
Bob was one of the first mobile DJs in the city starting out at Peartree Youth Club back in 1966. His first Top Rank involvement was as the stand in DJ for the late Tommy Kaye at both the Top Rank Bowl and The Top Rank Ice Rink and he took over full time from Tommy on the prestigious Monday night Discoskate show in November of 1969. These shows were so popular attracting an average of 800 skaters per session that the management sought his services in 1973 for the then very quiet Sunday afternoon session.
Bob decided to incorporate the Southampton Top Ten into these Sunday sessions using the chart compiled by 'Henry's Records' which were also published by the Southern Evening Echo. These shows really took off attracting over a thousand skaters every Sunday. In late 1973 Bob was the first DJ in the UK to incorporate the video format in to his shows playing videos rather than just records that could be seen on TV monitors. In truth this was to lead to his moving on from the Ice Rink in November 1974 to pursue the more lucrative money offered by his mobile road show operation. His place was taken over by Tony Francis who we hope will again make an appearance on the 23rd
In 1979 DJ Mike Joyce took over from Tony for a few years and sadly in 1988 the Southampton Ice Rink closed its doors for the final time. We are expecting a good turn out for this event so if you were there in the 60's, 70's and 80's join me Mike Joyce and my special guests Bob Deene and Tony Francis as we take a trip down memory lane.
All monies raised through a raffle on the night will go to the Countess Mountbatten Hospital.
For all enquiries please e-mail me at joystick042002@yahoo.co.uk
..................................................................
HOME PAGE SITE MAP CONTACT DAVID ST JOHN
copyright ©davidstjohn2013