Home page Contact David Click on SITE MAP to navigate rest of website
David St. John
Call up the groups!
*PLEASE REFRESH YOUR BROWSER(press F5) WHEN RE-VISITING ANY WEBPAGE AS CONTENT IS OFTEN UPDATED*
COPYRIGHT
Please note that many images contained within this website may be subject to copyright, although many have been kindly sent to me and intended to be shared on this non commercial outlet. If anybody wishes to use any of the same, then please get in touch as well as possibly giving credit where due as well as setting up reciprocal links if relevant to the actual content on any webpage. Please note that I am able to monitor any image-copying and if published on other websites. I would appreciate any contact to report broken/outdated links and any corrections to the text that accompanies any images herein. Thank you and enjoy!
September 2007
Welcome to my memories of the early days of the music scene in my hometown of Southampton, which I left in 1972 but spend as much time as I can there whenever my comedy gigs take me South. This page was started a couple of years ago (2005) with a few basic pieces on some of own bands - see BIOGRAPHY section and others via the site map page and it has grown so quickly as more surfers stumble on this website. I've renewed old pals as well as being able to put others in touch with fellow musicians after many years - I guess it's a kind of Muso Friends reunited! This has resulted in much more information and rare photos being sent to me and these can now be shared with the world.
I have had several e-mails from people who share special memories of the Southampton group scene, including Pete Broyd of the Blackjacks group and he has provided me with some rare photos of those great times (see below) As well as Pete's Pics you will find more images kindly sent by Johnny Dymond - one of the best DJs around and he kicked off his long varied career at the Pier back in '63 ("Oh what a night....") I will add text to each image in due course but the pictures will certainly be interesting.
I have now added more pages plus a dedicated webpage on the Royal Pier Pavilion (Mecca) Ballroom whose golden days were under the capable hands of Len Canham - one of the top Southampton promoters and managers back in the late Fifties onward. The Pier was lifted to a higher degree with the arrival of top DJ Johnny Dymond whose terrific stage presence made every night special and he has been an amazing source of information with his own amazing memories of that time.
Just go to: ROYAL PIER MEMORIES for some nostalgic background on this favourite venue
Much of the information has been taken from a publication known as 'Southern Roots' a family Rock Tree compiled by John Clare and Terry Hounsome back in 1980. John worked at the well known Henrys Record Shop in St Marys Street opposite the old Kingsland Market (see below) He later managed the shop as well as DJ work/presenting on Radio Solent and at the Concorde Club - another rock landmark which featured many up and coming bands including Free and many more. John now lives in Australia and I am in touch with him as we exchange these golden images and memories from way back then.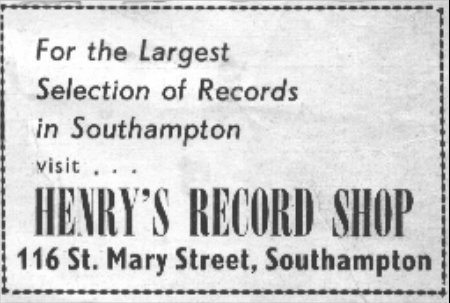 The best record shop in town!
Terry played guitar with the Senators during the early Sixties. Southern Roots contains much information on various groups - mostly Southampton Portsmouth and Bournemouth areas and I aim to build this site up as and when more information can be obtained. If YOU have any memories then please e-mail me by clicking on my name at the top and bottom of this page. Terry Hounsome has dedicated most of his life to compiling music lists and rock family trees and you may wish to visit his own website to be amazed at what is on offer - he is one of the most respected record researchers in the UK. Go to:
If you have already looked at my biography page you will know that the old Royal Pier ballroom was one of my favourite Southampton landmarks and played an important part in my early years.
Please find below some rare photos and press clippings, some kindly sent by Pete Broyd of the Blackjacks - one of Len Canham's managed groups during late 50s and early 60s. I am indebted to him, and hope to add more images as they (hopefully) trickle in, when other surfers stumble across my website.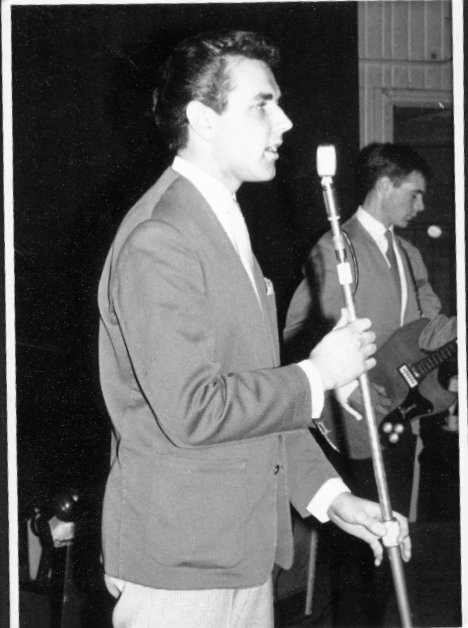 Pete Broyd (Blackjacks)

Blackjacks
July 2006
I was appearing at a Summer Ball show in Eastleigh and finally met up with none other than Pete Broyd! He now runs a wedding hire shop called Grooms in the main Portswood Road Southampton and he came along with some friends to see my show. Although he hadn't sung in public for many years, I managed to 'persuade' him to join me onstage as I finished off the night with some classic Rock and Roll. I guessed that a few drinks had done the trick and he jumped up to sing a couple of great songs (Blue Suede Shoes and Be Bop A Lula) and he was superb! The years just rolled back and it just proves that you never lose the gift. Here are the photos that I quickly took when jumping down into the crowd that were dancing away to him - You could have closed your eyes and imagined that we were all back at the old Royal Pier ballroom! His table of friends were gobsmacked as the years just rolled off Pete - they had never seen him in action and it made for a very special night as he came 'out of retirement' The audience gave him a terrific applause as I explained that it had been so many years since Pete had got up on a stage and it was one of those magic moments that make it all worthwhile. I have asked Pete to join me onstage, whenever my travels take me down to Southampton as he loved every moment of his return to the spotlight!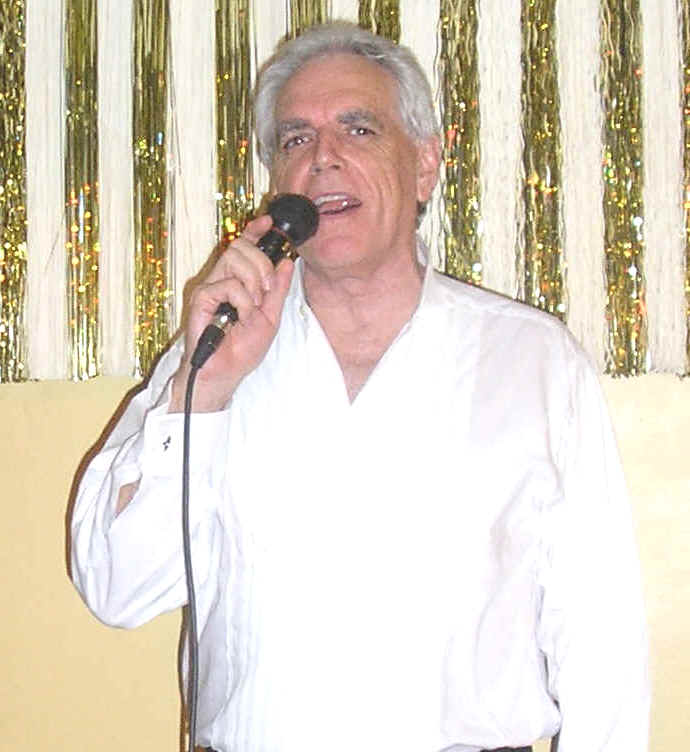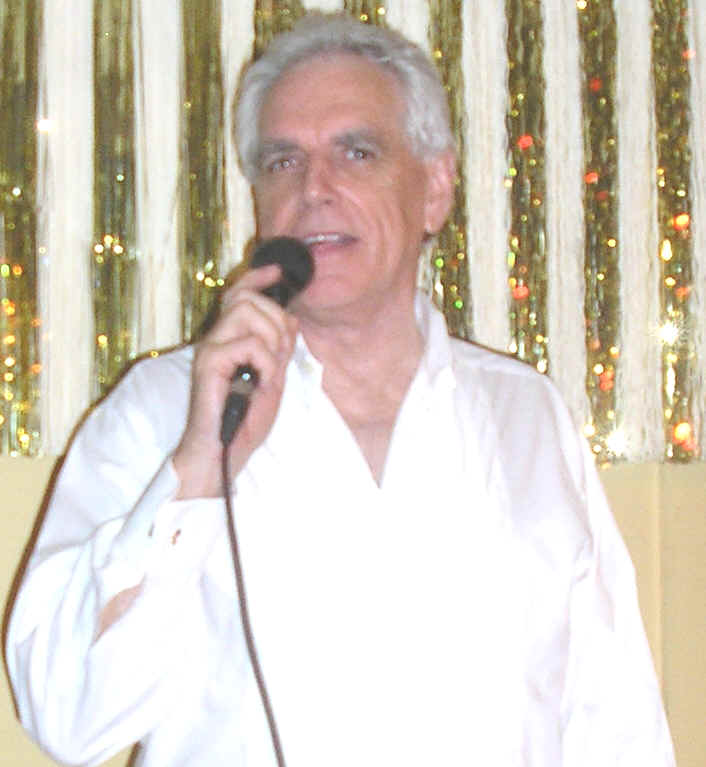 Pete Broyd - The Comeback Kid!
OK - let's go back in time again..............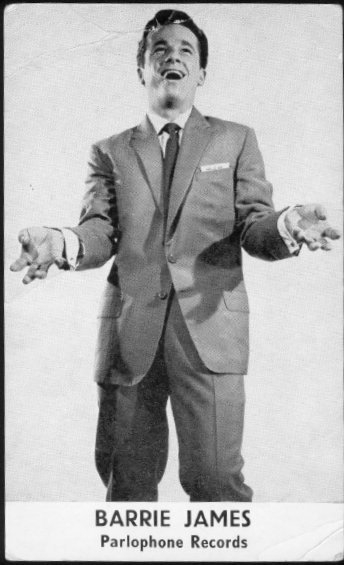 Barrie James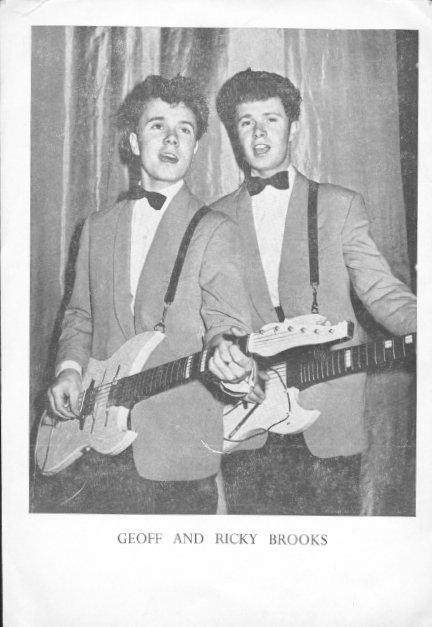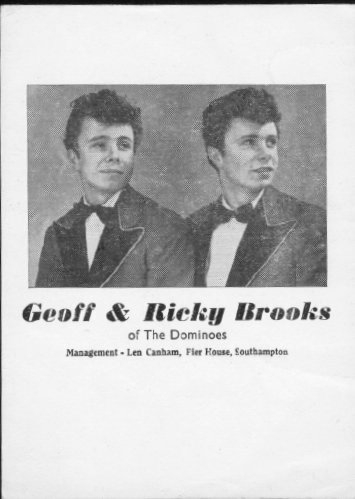 The Brooks Brothers
Born in Southampton, and later living in Winchester they started out with a skiffle group around 1956 before styling themselves on the Everly Brothers a year or two later. Very popular around the South and eventually won a local TV talent show 'Home Grown' (often known as 'Home Groan' when watching some acts!) I was due to appear on the very same show, until the school authorities found out I was under age!
The Brooks Brothers recorded on the Top Rank label but with little success, but were then produced by Tony Hatch on the Pye label and had some 1961 chart hits including 'Warpaint' (no 5) and 'Aint Gonna Wash For a Week' before fading into obscurity as the new group scene opened up in England. Great sound and these hits still sound fresh. I finally tracked Geoff down in December 2010 and he is still singing around his new home in Canada having moved there many years ago.
I have recently been in touch with Dave Edney who hosts an amazing blog on the Top Twenty Club in Bridgewater Somerset which opened back in 1960 and featured many of the acts from the Southampton area - quite a few of those on my pages. He also has a rare clip of the Brooks singing in a pop movie and well worth taking a look at: http://toptwentyclub.blogspot.com/ Dave gives some really interesting facts, plus posters, photos and much more.
Aug 2008: E-mail sent by Eastleigh based Geoff Chalke who was part of the Brook's backing group
Hi David. I bumped into Geoff Brooks many years ago in Timothy Whites chemists of all places, that's the only time I saw either of them after the band split. I heard sometime or other that Ricky had emigrated to Canada but it was just one of those rumours that I'm sure you're familiar with. The guitarist with the band ( Don Kerr ) lives in Coventry, we exchange Christmas cards and he's been down to visit on occasion together with a singer ( Johnny Martin ) We were all in a band together previous to the Brooks, but that was with the other main promoter in the area, Reg Calvert, a Yorkshireman and character if there ever was one! But I digress, the drummer with the Brooks ( Terry Wiseman ) was from Portsmouth and still lives there. We stayed in touch for some time after the split but eventually lost contact. Another old muso from those times and before- Brian Marshall aka 'The Sheriff' ' told me that after playing with a Pompey band, Terry became well known in the area with the amateur dramatics scene. Sorry I can't help with the Brook's whereabouts but if I can help in any other way please contact me. Regards Geoff Chalke.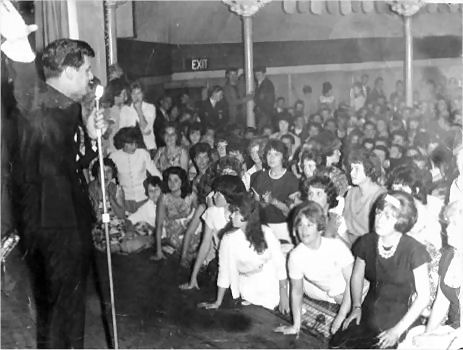 Eden Kane (maybe 63/64?)
My first band - The Abdo-Men were lucky enough to have supported Eden Kane and the Downbeats in 1964 at the Bure Country Club in Mudeford deep in the New Forest. Terrific singer and his band line-up included his brothers Peter and Robin - the first becoming Peter Sarstedt ("Where do you go to my lovely"1969) and Robin kept his surname with a cover version of "My resistance is low" in 1976. Their combined good looks came from an Anglo-Indian background and they were a very slick outfit and another inspiration to us new guys in town! Beau even remembers that we wore white shirts and green cords, bought from a shop called Smart & Weston for this special gig!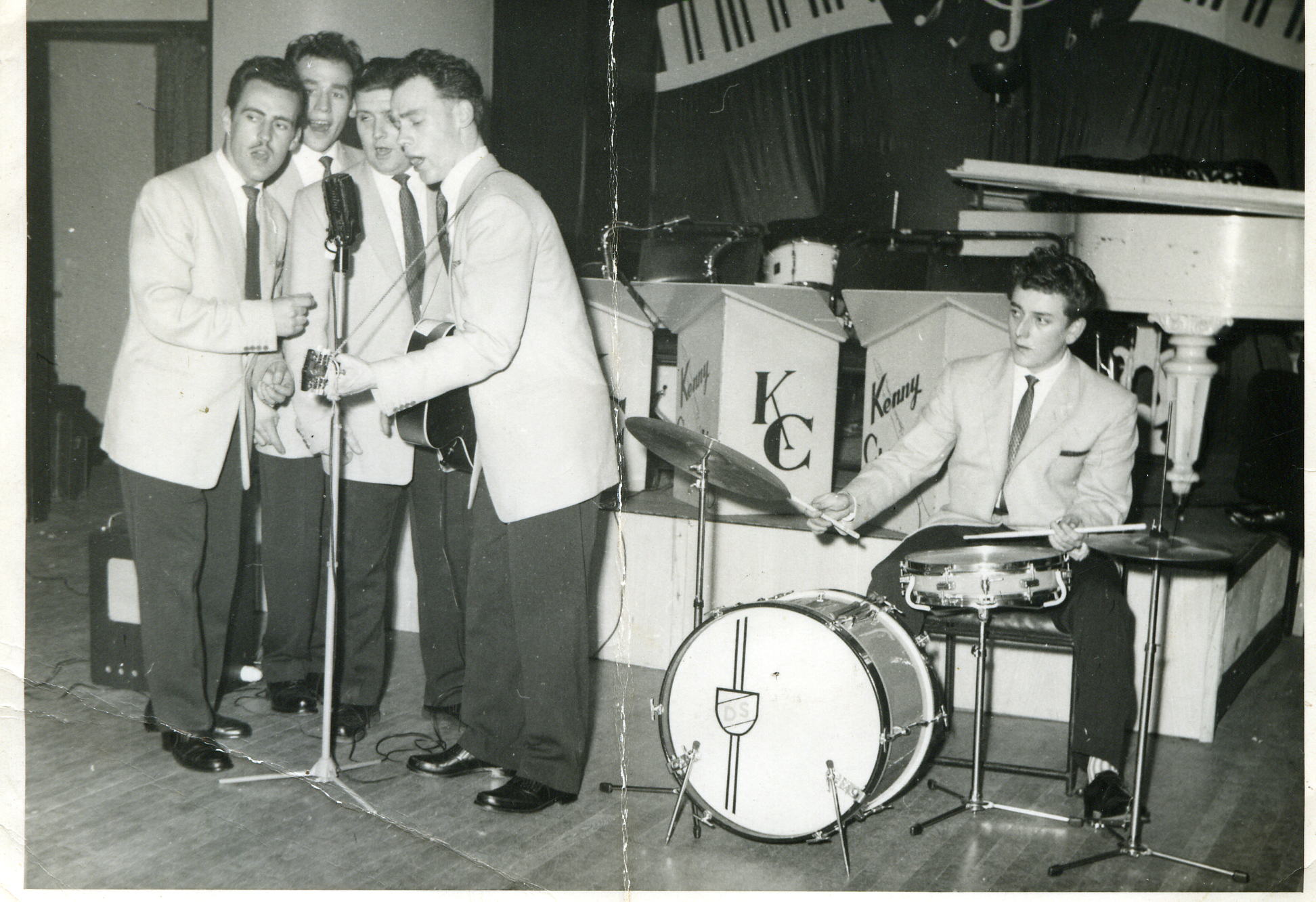 The Five Rays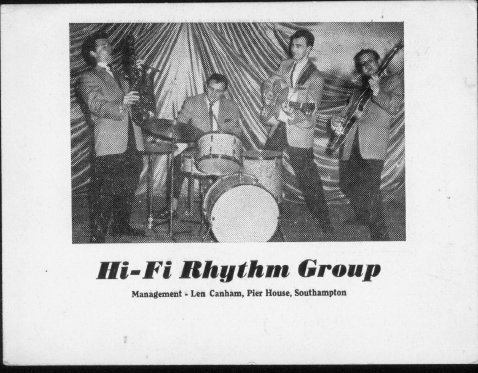 The Hi Fi Rhythm Group
Early Avenue Artistes band who used to back many of the local and visiting artistes such as Danny Davis, Tex Roberg, Shirley Gaye and Roy Vance amongst others. Included:
Tony Bailey (Guitar)
Brian Hodges (Bass)
Tony Hart (Drums)
STOP PRESS! July 2008 I have just been contacted by Tony Hart above! He has mailed me this rare photograph of the HiFis playing at Butlins Bognor Regis.
Tony also sent me these other lovely photographs of a young fresh-faced kid who wanted to be in showbusiness!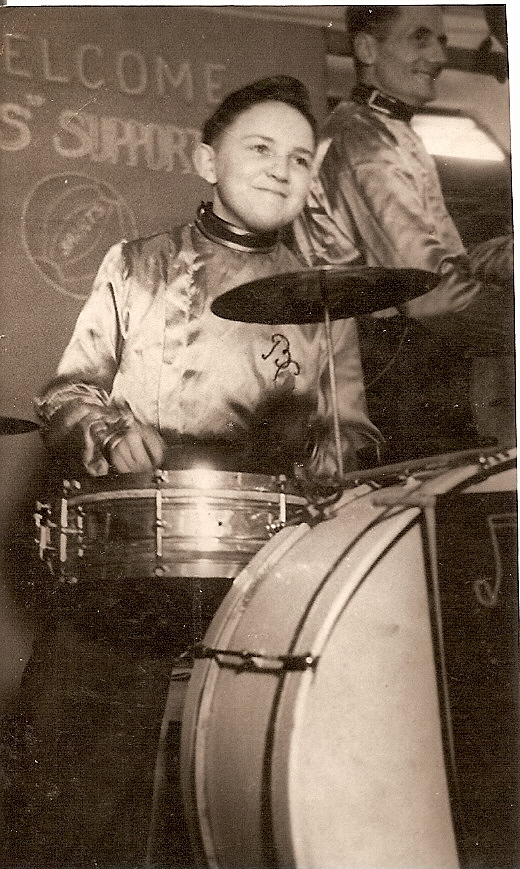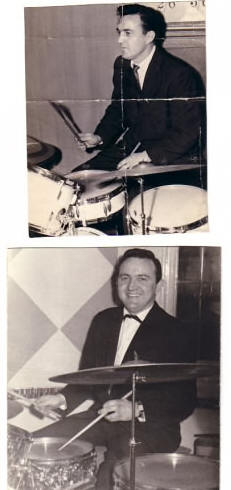 Tony Hart age 11! Post Hi-Fis - playing the Modern Jazz Club
When you have finished reading this page, then go to my newest webpage at Call Up The Groups 3 to read more about Tony Hart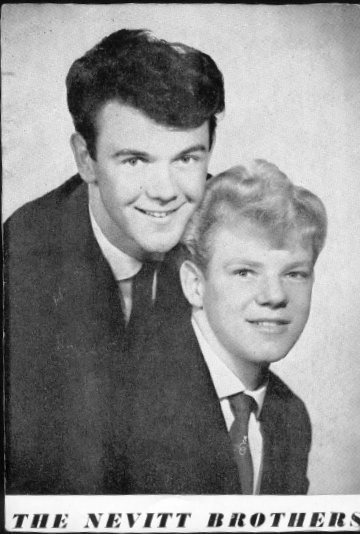 The Nevitt Brothers
Mike and Tony Nevitt and the Jaguars
including:
Graham Medley, Martin 'Cuddles' Smith, John Hatch, Roy Perry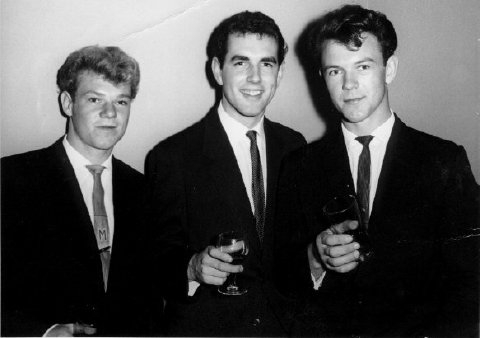 The Nevitt Brothers with Pete Broyd
Fast forward some 47 years to to October 2008-Mike Nevitt and Pete Broyd meet up at the Concorde Club!
Photographs- Jackie Hargreaves-Spratt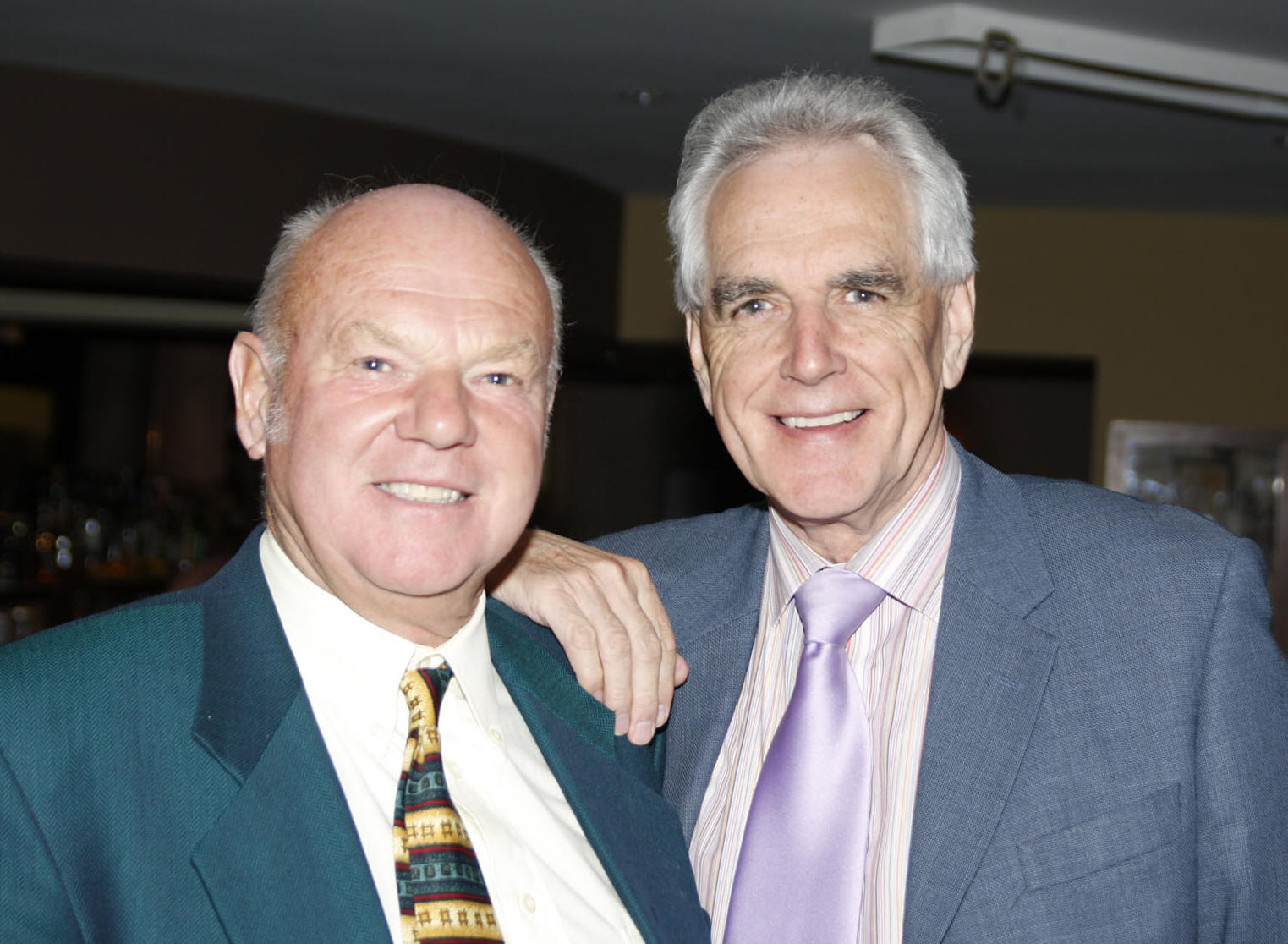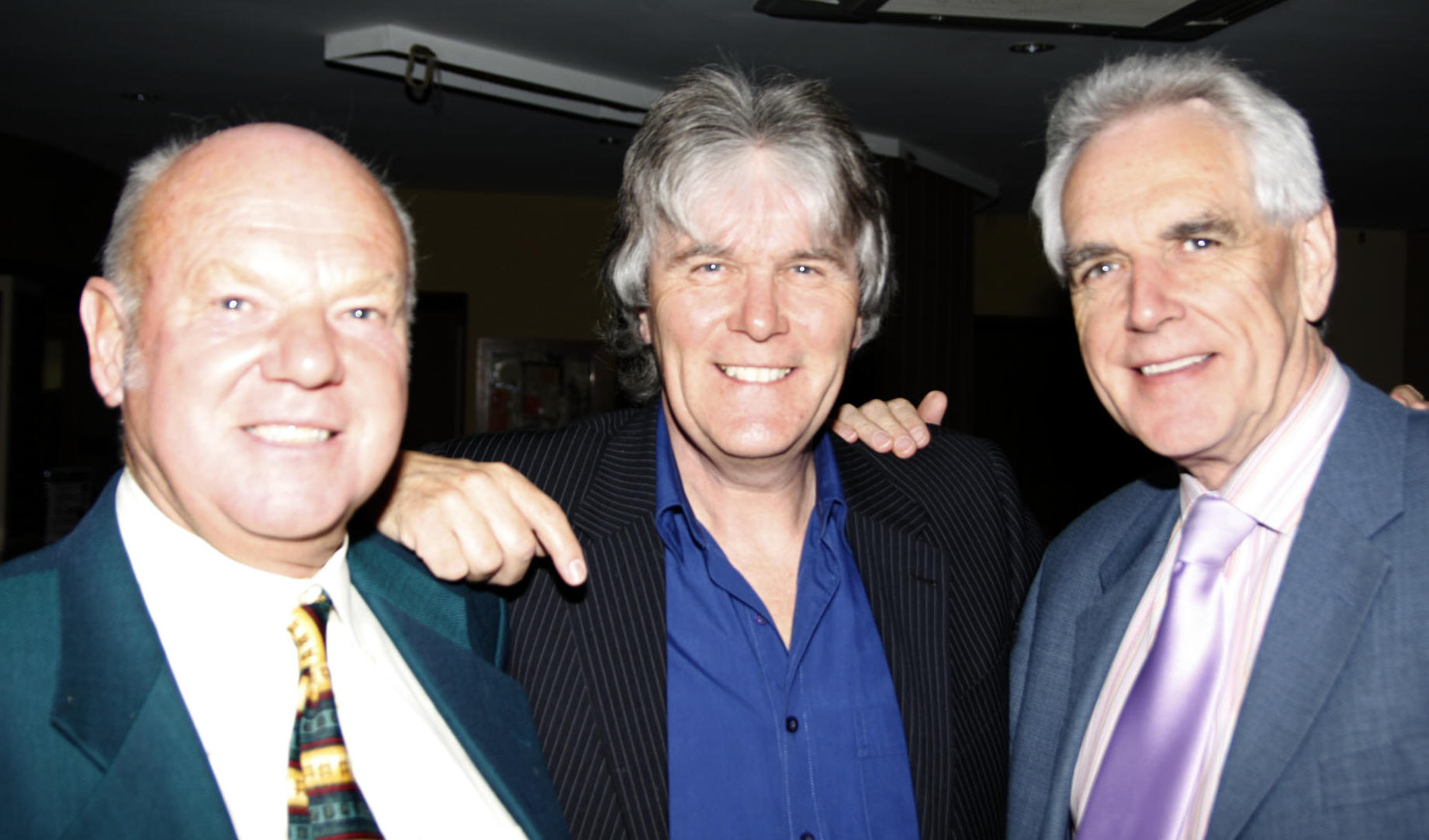 Mike Pete DSJ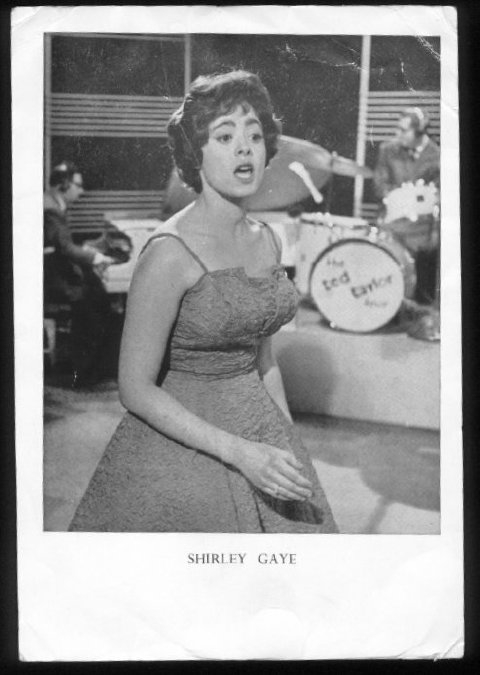 Shirley Gaye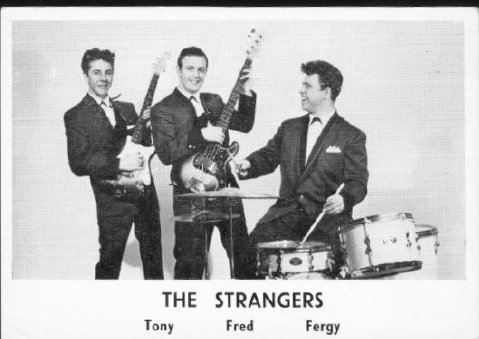 The Strangers
Tony Collier Fred Brian Ferguson
Used to back Barrie James as well and lineup also included:
Tony Collier (Bass) Brian Oram (Drums) Johnny Baker (Drums)
Read Tony Collier's own words at the bottom of this page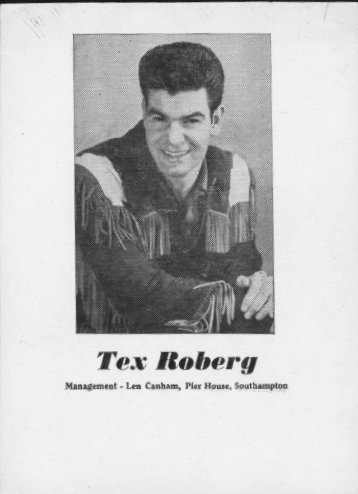 Tex Roberg
One of the most popular acts from the 50s and still going strong in 2009! Tex Roberg billed as 'South Africa's Elvis" was one of Len Canhams first managed acts and appeared at the Pier and Saturday morning shows at the Gaumont Theatre (now Mayflower) Whilst appearing at a Butlins Camp, he was discovered by an agent who was looking for new acts to work on the new Germany circuit. The agent didn't want Tex's current band so he then teamed up with the Graduates - a Shadows type band. Tex spent the next few years at such legendary clubs including the Star Club Hamburg alongside Jerry Lee Lewis, Eddie Cochran, Gene Vincent, Fats Domino and many more big names.
Another amazing story is when Tex and his band went out to Germany in 1962 and was one of the acts booked for the grand opening night of the legendary Star Club in Hamburg along with another visiting British pop group who were trying to make it big. To decide who went on first - a coin was tossed in the dressing room and Tex was the lucky one who had the privilege of opening the show and then followed by................The Beatles! Tex also knocked around with John Lennon in those crazy days amongst many other stars and must have a treasure chest of memories.
Tex recalls his first show in Southampton when booked to appear at the Peartree Hall in Woolston, Southampton- the same road as our house and the posters billed him as 'Elvis' for some reason and he came onstage wearing a white string vest and shorts to show off his amazing tanned body from his years in South Africa! The kids didnt know what to make of this strange figure but soon got carried away as Tex belted out some classic Elvis rock n roll numbers and much more!
He was one of the most popular performers around the South for many years and still gets up to sing at various bashes -even in his early Seventies and I was glad that he was able to appear at the Concorde ReUnion Shows in 2008/2009 - take a look at the Site Map for info.
Amongst early line-ups of Tex's bands
Bruce Roberts (Gtr/Vocal)
Pete Hunt (Drums)
Chris Brown (Gtr)
Bob Williams (Bass)
Later musicians included:
Mick Williams (Gtr)
John Picken (Drums)
Tex later moved into C&W style and I took over from him at the old Railway Hotel Woolston back in '68 (see the Script/The End groups on my biography page)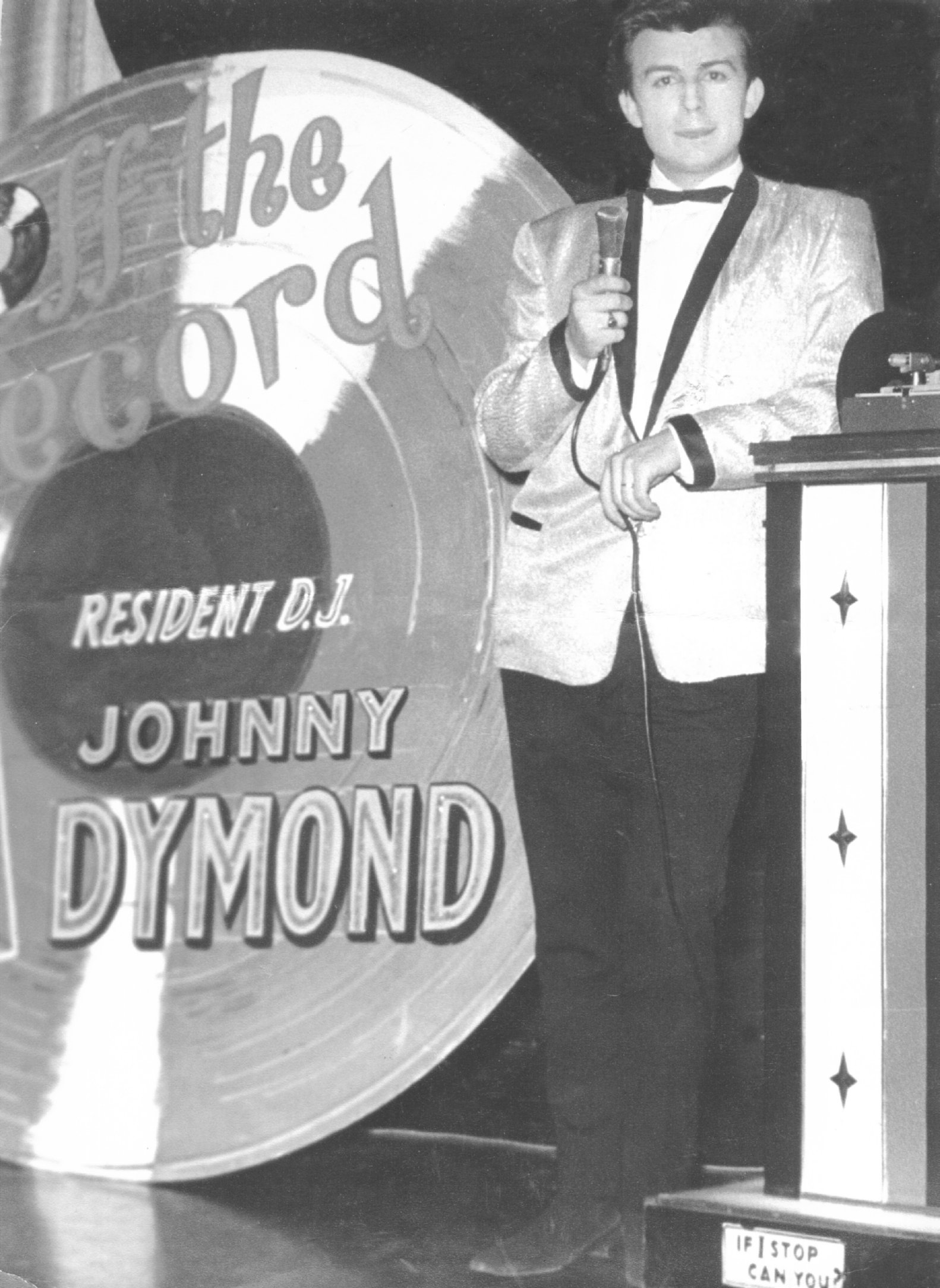 Click on this image above for Royal Pier Memories
Johnny Dymond
One of the most popular DJs and a real entertainer! Johnny was resident Disc Jockey at the Royal Pier from 1963 and later at the new Top Rank Ballroom at Banister Road. This venue was built on the site of the old Southampton Speedway and Stock Car Racing Stadium opposite the old Top Rank Ice Rink and Bowling alley - all now long gone. Johnny was well known for his flashy stagewear and fast-talking stage act with crazy competitions and much more. He has worked alongside many of the greatest pop singers and bands throughout the 60s and 70s, as well as stints with Radio One amongst others. By a strange quirk of fate, Johnny took a different direction a few years ago and is now an accomplished spiritual healer- his website can be found by clicking on the picture below: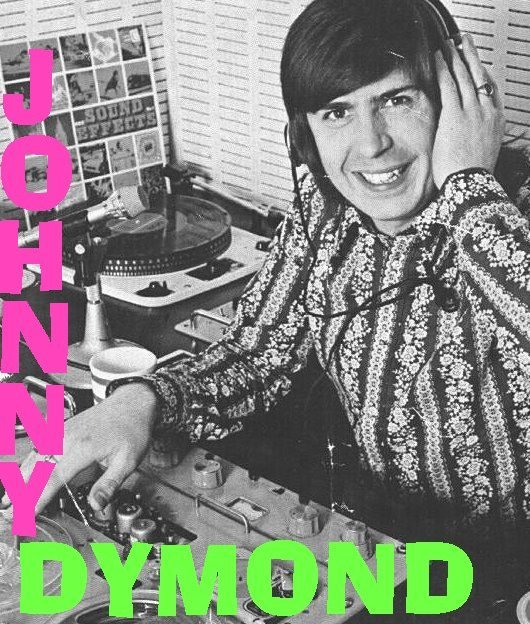 Johnny Dymond at Radio One 1970
June 2007: I have just received an e-mail from yet another well known name on the Southampton music name who now lives in Canada. Chris Golden who is forever indebted to Johnny Dymond who inspired him to join the local DJ scene!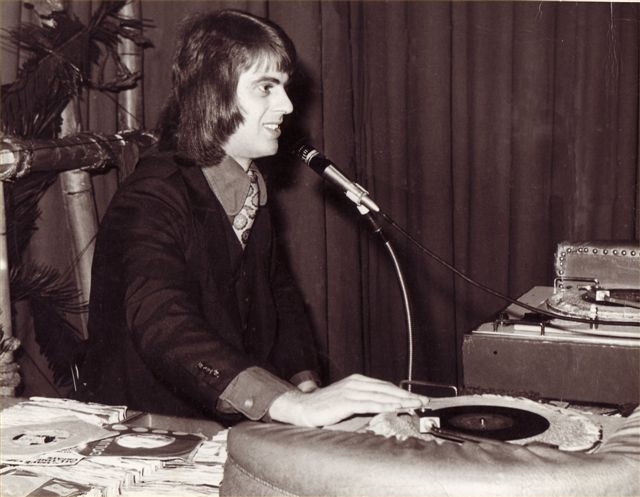 Here is Chris's mail and he kindly attached a rare 70s photo from the Royal Pier (thanks to JD who tidied it up with his computer wizardry skills) and it offers more interesting insights into those days of vinyl 45s.........remember those?
1971 was the time when I walked into Avenue Artistes and told Len Canham I was a dj......talk about timing. I had never done a professional gig, but Len took a shine to me and told me to go to the Pier to watch Johnny Dymond.
The following Saturday I was on the stage working with the John Peters Progression......that expanded to Thursdays and Saturdays and before long I was the resident dj as John moved on to other things.
Several groups were booked for the Pier in the seventies...I remember working with the Pioneers, and the Foundations as well as several lesser known bands. We also had the Radio One Road Show come for an evening and individual visits from a couple of other Radio One djs.
In 1976 the Saints Football Team brought the FA Cup to the Pier after their wonderful victory over Man Utd.....I remember introducing them to the crowd and having my photo taken (sadly lost) with the cup.
In 1978 I moved to Mecca Tiffanys at Boscombe and then on to the Locarno in Portsmouth before returning to the Pier in 1980. That was followed by two years at The Concorde Club before emigrating to Canada in 1982.
It seemed to me that there were not many djs around in the 70s. We looked after residencies, gigs at the local pubs, the Navy bases in Portsmouth and all sorts of private parties. I can remember the following on Avenue Artistes books:
but I'm sure John can remember a few more.
We all shopped at Henry's Records and every week John Clare would have a stack of new releases for us to listen to at the back of the shop.
It seemed we were always busy...in fact I recall a night spent working at the Pier and Fridays night club.........I was doing holiday relief at Fridays and drove from the Pier to Fridays while the band was on stage at the Pier....played half hour of discs at Fridays to give the resident dj a break and drove like crazy back to the Pier to jump right back on stage.
Kevin Scott and the Kinsmen were another top local band containing the following line-up:
Kevin Scott /Kevin Finn lead vocals
Ivor Amiabeg/Tomlin gtr
Rod Hamon keys
Mick Dubiel bass
Pete Hunt drums
Later became 'Time' and also linked to the Big T Sound (via Pete and Ivor). KK & the K were managed by John Ferris another well known local promoter who also ran the very popular venue in Eastliegh - the Imperial Ballroom/Room at the Top. This great club was above Burtons tailor ship I seem to recall and was always good to play there. I recall an Unforgiven gig at this venue when we supported a great Southend based r&b group known as the Paramounts (hit with 'Poison Ivy 1964) They included legendary guitarist Robin Trower and organist Gary Brooker - this group later evolved into Procol Harum of 'Whiter Shade of Pale' fame and it was terrific to work with them on that night.
September 2007 - I have just been contacted by Kevin (Danny) Finn of Kevin Scott & Kinsmen etc as he has joined a long list of Southampton based artistes who are now enjoying renewed world wide fame on the web! He reminds that he started out with a group called the Whirlwinds who then became the Kinsmen, followed by Time as mentioned. He then joined the much respected WISHFUL THINKING (click for one fan website) and then joined the multi-million selling New Seekers during the Seventies and travelled the world as well as stints with Prima Donna (Eurovision entry) plus many more in between. Kevin will shortly send some more info/photos and I look forward to adding them onto these pages. His cousin Tommy Kaye was a well known DJ around Southampton, and a pal of our very own Johnny Dymond - in fact, the Saw Doctors even wrote a song about him!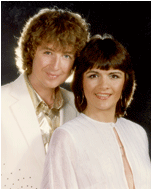 Danny Finn & Eve
Kevin now lives near Perth Scotland and is married to none other than the gorgeous Eve Graham of the original New Seekers and you will find loads of web information on this popular group whose biggest hit (7m+ sales) was 'I'd Like To Teach The World To Sing' used as the Coca Cola advert song ("It's the real thing etc..") For more info - click on EVE GRAHAM and any number of fansites dedicated to one of the UKs most well known groups who are still going strong.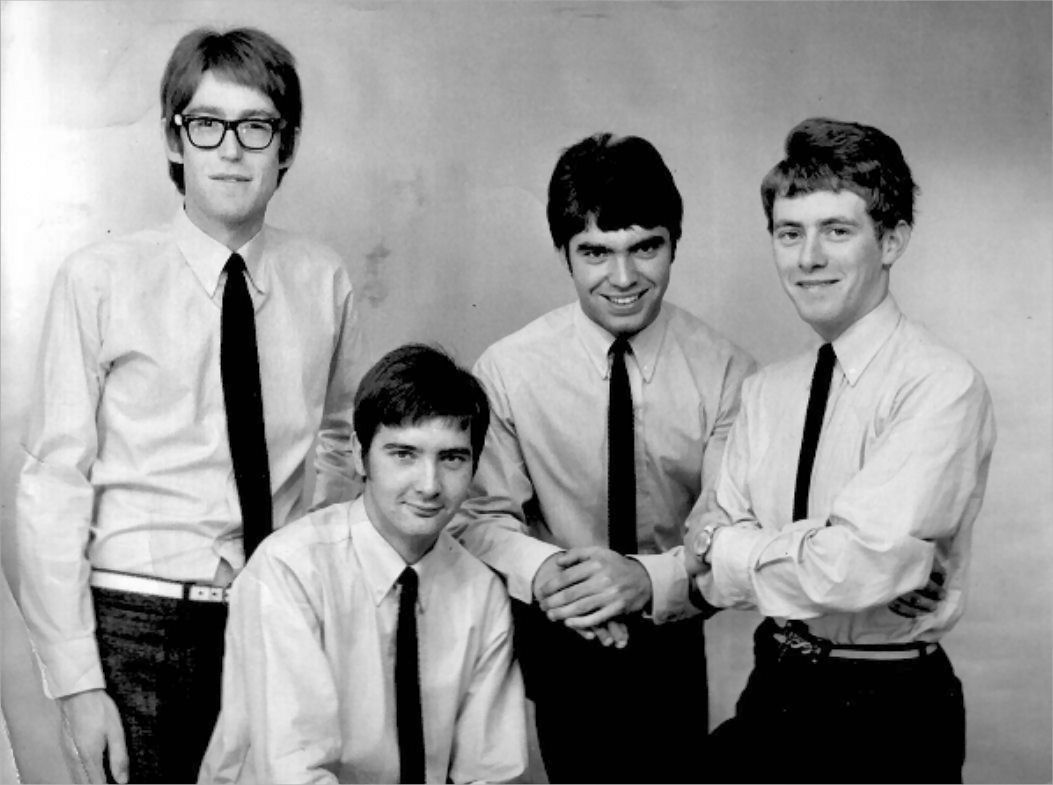 Tony Roy John Martin (Cuddles)
The Meddyevils
Click on the photo above -this will take you to their website!
I have also added more on this great band- check Site Map
Formerly known as Tony Benson & the Skylanes - they used to drive up and down Shirley High Street in a battered old handpainted Commer van christened 'Bloodnok' (Goons influence) with 'Meddyevils' plastered down the sides! John & Roy- were brothers from Gosport as was Roger who maybe left before they recorded their first 2 singles but the band folded soon after. This group also featured the very popular talented Martin 'Cuddles' Smith - great character and musician on the 60s group scene but sadly passed away a few years ago.
March 2006 - There was a great article printed in the Southern Daily Echo and this led to Tony getting in touch with his old pals after some 38 years! Tony also joins a long line of surfing musicians who have enjoyed my memories within these pages and it has managed to put people in touch again.
One line-up lists them as:
Tony Benson Vocal/Harmonica
John Roberts Bass
Roy Roberts Guitar
Martin 'Cuddles' Smith Drums
Roger Salmon/Soloman ? Organ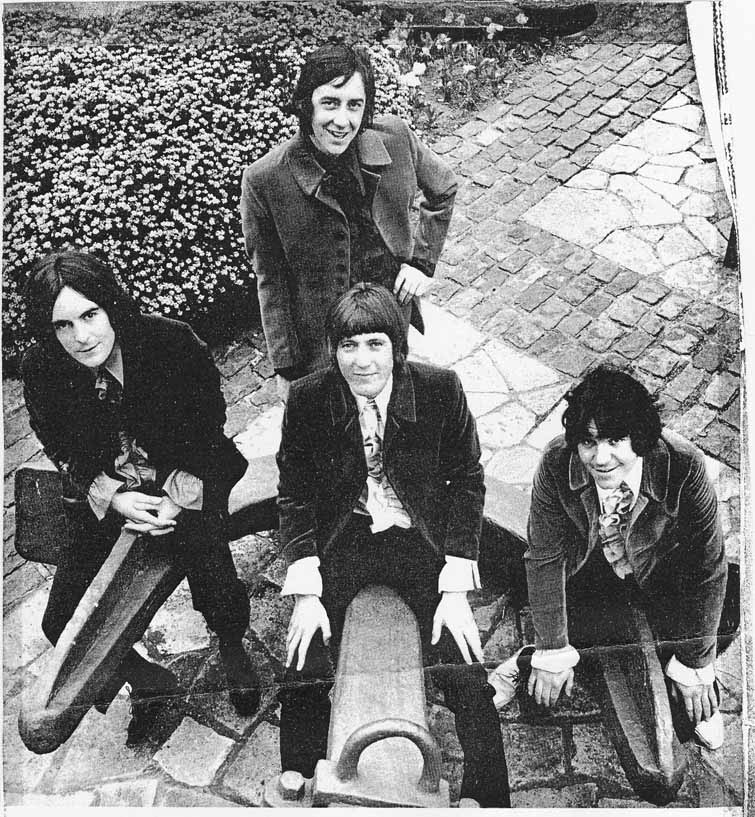 The Mojos
L-R Front Duncan, Stu, Eddie with Tony House (?) behind
Stu James was the lead singer of the highly acclaimed Liverpool band that had a no. 9 hit with 'Everything's Alright' back in 1964 plus two minor top 30 hits. Stu ended up in Southampton by marrying a local girl before reforming the Mojos with the line-up as above, although Martin 'Cuddles' Smith took over the drum stool. Bass player Duncan Cambell attended the same school as me (Itchen Grammar) and went down the same path of music as opposed to studying, so dropped out as well! He later composed a novelty song for the Saints FC amongst other involvements with different bands and session work. Duncan also recorded under the name of the Wallabies with a 1972 single called 'Do the Kangaroo'! (You can make up your own jokes)
Lead guitar Eddie Harnett was also in the Unforgiven band as listed on my biography page, and another very talented singer, guitarist and songwriter as well as a good pal over the last 40 years. He later joined Heaven - a highly respected progressive rock band featuring brass (see below) before emigrating to the USA where he sadly passed away in 2011. I have just dug out an old photo showing Eddie when playing football and posing by the old Mojos' van! See a new dedicated webpage on Eddie at: www.davidstjohn.co.uk/eddieharnett.html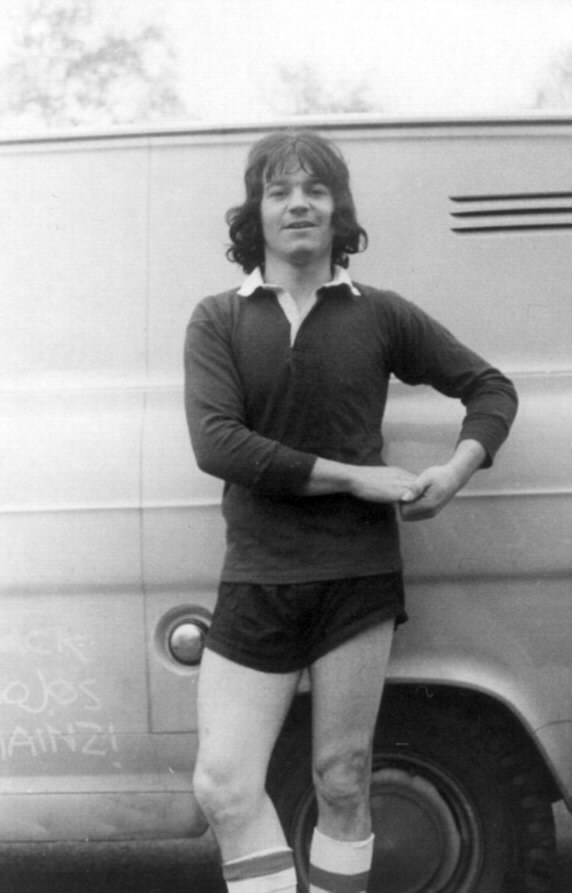 Who nicked the ball?
Stu James retired from the group scene but went onto a very successful solo career as well as promotion work for CBS and A&R work for Chrysalis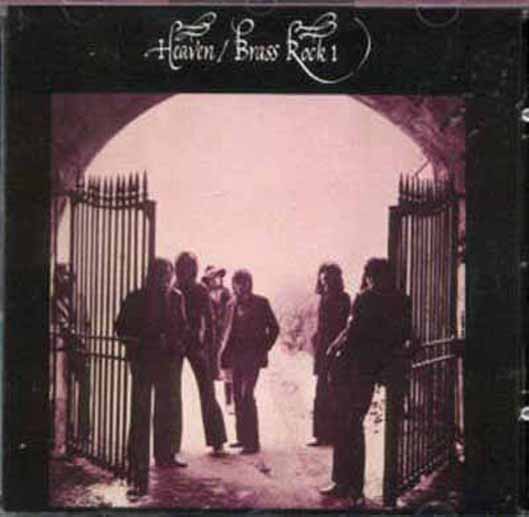 Heaven/Brass Rock 1 LP cover
Click on the picture to see a review of this collectable album
This band were involved with local promoter Gary Farr and played the Isle of Wight Festival in 1970. Influenced by Blood Sweat and Tears/Chicago style and were a very respected group that should have gone onto bigger things. Eddie Harnett also co-wrote many of the tracks.
On a recent visit to Southampton, I popped in to see Wally Phillips at his Bitterne Music Shop and noticed a picture of Roger Pope, one of the finest drummers in the business who started out with a few early 60s R&B bands before moving on to much bigger things. Some of his early lineups included the Soul Agents with John Keeping (Voc) Jim Sachs (Bass) Tony Good (Gtr) and the amazing Don Shinn on organ. Roger later played with Andover based Hookfoot alongside guitarist Caleb Quaye in the late 60s/early 70s and they both went onto be part of Elton John's backing musicians. Roger drummed for many other major talents such as Daryl Hall, Kiki Dee, Cliff Richard and many more.
On a personal note, I used to go out with his sister Diane as one of my early school romances when we both attended Itchen Grammar School around 1961 and I recall watching Roger as he practised the drums at home in Julian Road Sholing. Even then he was a terrific musician in the making as he played along with his Sandy Nelson instrumental records in his bedroom much to the neighbour's displeasure! I understand that he has returned to his Southampton roots and I am looking forward to hearing of his whereabouts sometime and to meeting up again. He has had an amazing time over the years and I bet he could tell a few tales of his life at the top of the rock business travelling all over the world and mixing with the top stars. Just think - I was one of the first people to hear him play! Roger started playing along with his record collection, then knocking out some solos - very loud but good. I guess this picture is from around the early 70s and shows a very contented guy as he must have been enjoying his growing stature in the rock business.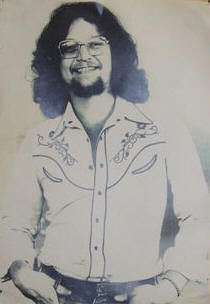 Roger Pope
Just click on Roger's photo above to read an interesting press article from the Andover Advertiser from 2000, which tells of a moving reunion with his old boss Elton John! Then get your ass back here!
Ricky and the Hi-Lites
Ricky and the Hi-Lites are one of the best known Southampton groups that spanned many years, going back to the early Sixties when they also joined the exodus to Germany which really honed many top bands of that era. They were big stars in that country with TV appearances, several no. 1 singles and a top selling LP also featured on another compilation album 'The Liverpool Beat' on CBS German label. The lads also shared stages with many top stars including Fats Domino and the early Yardbirds (support band to Ricky & Co!)
The mainstay of this ever changing lineup featured Rick Brown on lead vocals and one of the best singers in the business! His brother Chris, known as 'Burnsy' and one of the most accomplished guitarists ever heard and these two siblings fronted several combinations of well known musicians such as drummers Johnny Baker, John Picken, Tony Burnette and Danny Barbour. Also listed are Del Gibbs (gtr) and 'Buff' Woodason (bass)
Ricky and the Hi-Lites had a massive following and could be described as a groups' group - we all looked up to them as they were a very professional slick outfit, thanks to the apprenticeship of those tough Hamburg days. Those bands really had to entertain the hard drinking German audiences, playing for hour after hour - this experience honed the Beatles into what hit the music scene in late '62. It could have been Ricky and co........... I have only recently got in touch with Rick and he has kindly sent me loads of info on one of the Souths' finest bands!
Just click on this link below and there are other pages about one of Southampton's greatest line-ups
Here's a picture of Johnny Dymond and Danny Barbour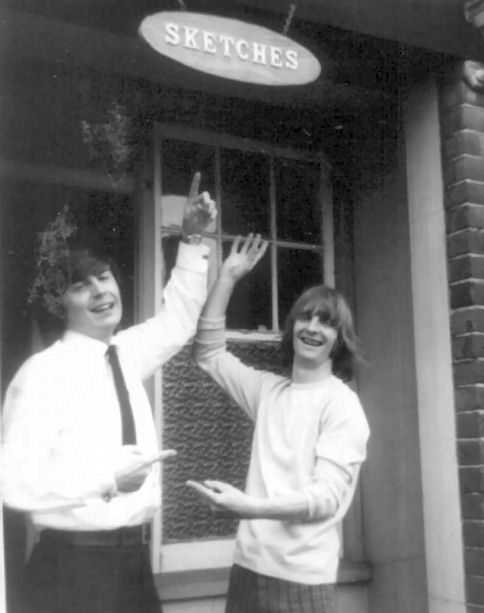 At the end of an amazing decade, Ricky and the Hi-lites changed to: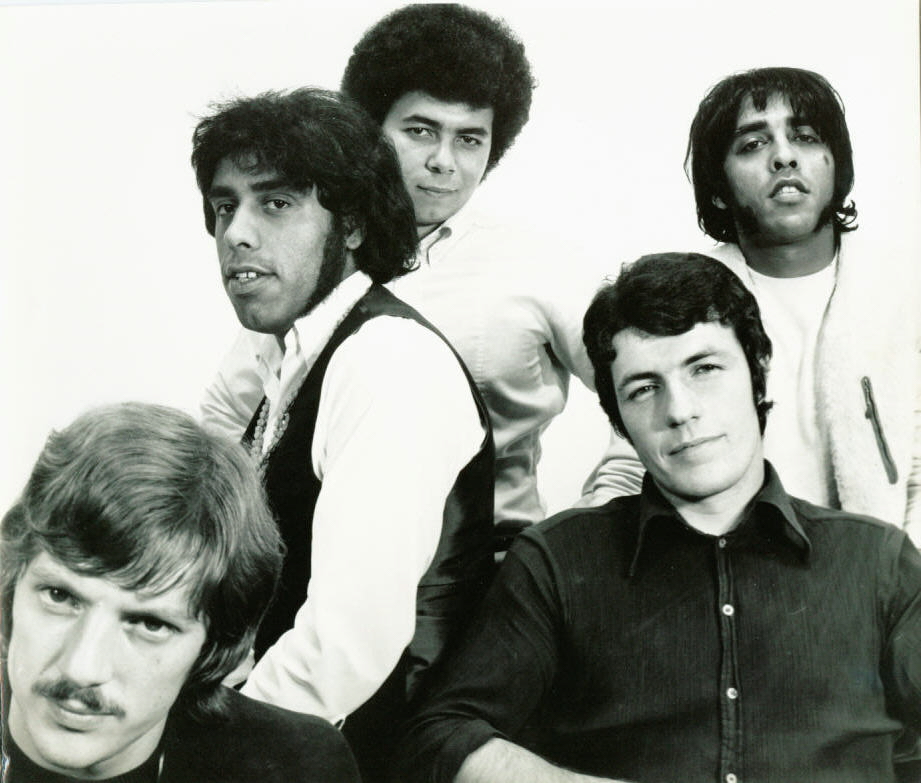 Brownhills Stamp Duty
L-R Dell Ricky Beau Pete Chris (Burnsy)
Southampton ambassadors who tasted success with a minor chart cover version of the Beatles track 'Maxwell's Silver Hammer' (from Abbey Road LP) back in 1969. This was on the Columbia label and recorded in no. 2 studio Abbey Road - the very same one that was in constant use for the classic Beatles recordings. The 'Stamps' spent some eighteen months in these hallowed surroundings and were produced by Norman 'Hurricane' Smith who later went onto his own solo recording career and self-penned smash hits 'Don't let it die' & 'Babe what would you say'
I keep in regular contact with Beau ever since our first group days back in 1963 (the Abdo-Men) and this was one of his proudest moments - he started off as rhythm guitar and vocals before switching to bass as well as developing a terrific falsetto voice! Beau is still playing to this day and is one of the longest active musicians in the area. Listed line-up included Dell Gibbs (gtr/voc) and Pete Ridley (drums) later replaced by Graham 'Spike' Waters (drums) who has just contacted me with more information. This will be added on with more stuff as it trickles through.
Here is another rare Echo advert page that features many bands available through Avenue Artistes in January 1964 as well as John Beirne Music Shop plus a New Forest venue show- again, thanks to Johnny Dymond who has raked up so many great images to add to this ever growing webpage.

On a sad note- Chris 'Burnsy' Brown passed away in 1995 and joins a list of much missed personalities from the Southampton group scene such as Roy Perry, Cuddles, Fergy and many more. There must be some great jam sessions up in Rock and Roll Heaven!
Various local press clippings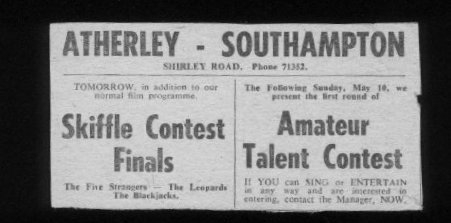 The Atherley Cinema in Shirley also featured live music, although could not compete with the massive Gaumont (now Mayflower)
The Saturday morning shows were great showcases for the bands, in between the picture shows - see below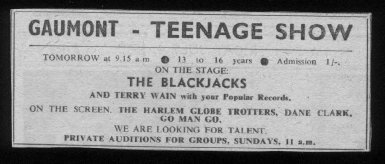 More Royal Pier adverts below: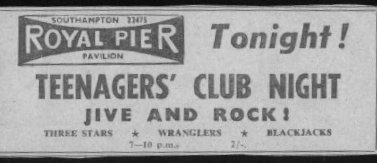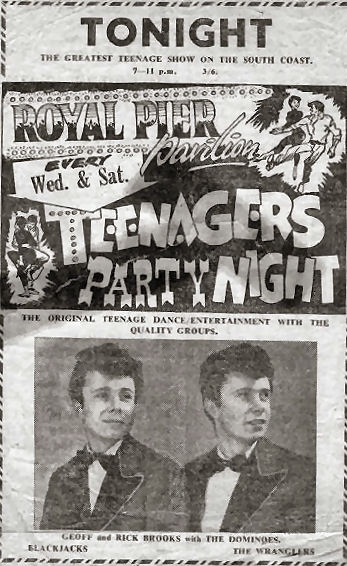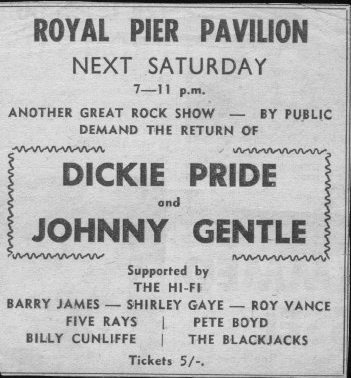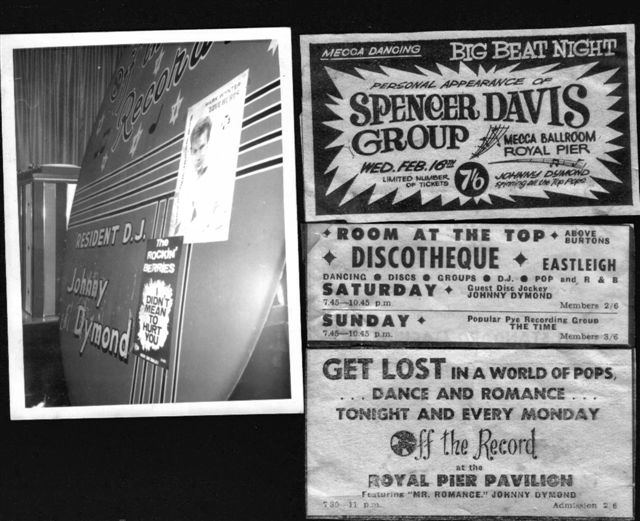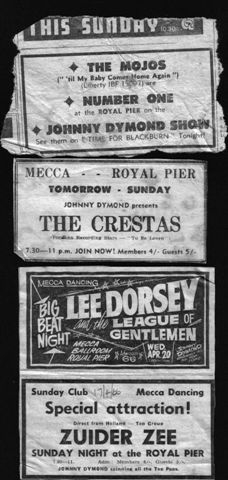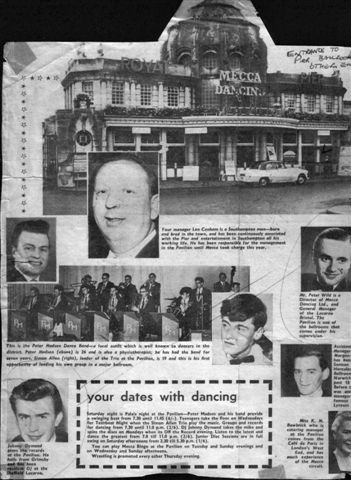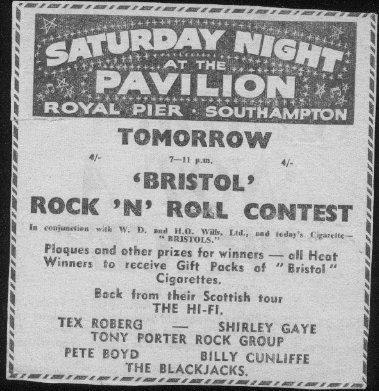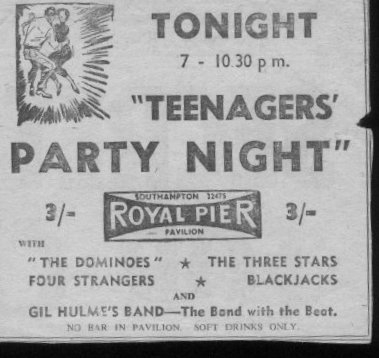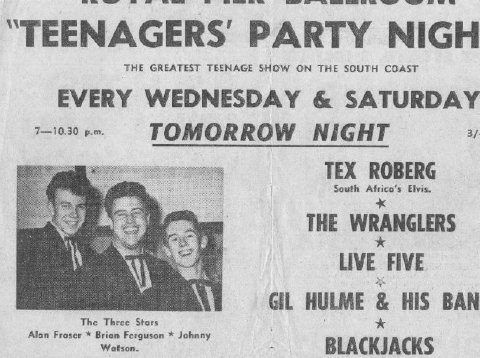 A rare clipping showing the old Railway pub in Portsmouth Road Woolston -early 60s.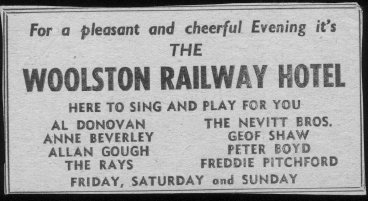 The Lido at Winchester - another popular venue and booked by Len Canham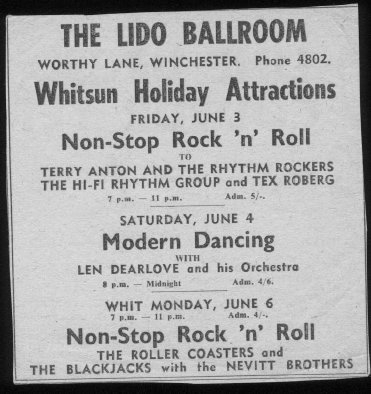 Can you help with more info or pictures?
Please mail me by clicking on this link below
ADD-ON: I found this account posted on another website by Tony Collier - This will also fill in some gaps:
TONY COLLIER. 1943---STILL ALIVE. (JUST)
My first recollections of starting to play in a group were when I was about 15 years old. It was at school, and 4 or 5 of us decided to form a skiffle group because the Lonnie Donegan group were becoming popular. We came up with an original name, "The Bronnie Onegan group". Honest, it's true. I played washboard, which eventually became drums. Actually, that should read drum, because I only had a snare, one brush and one stick. Our first gig was the school concert. I particularly remember that because we painted moustaches and sideburns on our faces to make us look older. What prats !! It must have been really crap.

This was about the time that we formed the "Five Strangers". I think that was when the band comprised of Myself, 'Fred Funnel', Brian Fisher, Roy Bridle and Bill Yaldren. We did some great gigs at that time. One of the best was the Saturday morning "Gaumont Show", but I have to say that all of the gigs were good. Our good friend Len Canham was managing us throughout the early years. I also recall working for the great rival of Len. His name was Reg Calvert. I think deep down that it was friendly rivalry. Some of Reg's acts were good. Remember Danny Storm, Buddy Britain?

We used to travel some ridiculous distances for really crap money. Camberley for œ7.00 between 5 of us? Trowbridge for a "tenner"? We must have been stupid but it was fantastic fun.

In early 1961, "Fergie" left the "3 Stars" and joined myself and Funnel and we became just the "Strangers". Later, that great drummer Johnny Watson joined us. He moved to Australia in the late 60s'. I spoke to John just the other day, and he tells me that he is still playing all of the old rock stuff. It was at this time that we toured Norway with Danny Hunter. Later that year, we returned to Norway with Paul Raven who later decided to change his name to Gary Glitter. That was a great tour. Whilst we were in Norway, we made a couple of records which were big hits at the time.

I still have copies and they are really embarrassing to listen to.

One of the funniest thing that happened to us over there was when we had to get into Oslo for a management meeting at 1.30 p.m. Fergie woke us up shouting that it was already 12.30. We hurriedly got dressed and were running for the train when we realised that there wasn't any other traffic around. Guess what? Yup, Fergie had his watch on upside down. It was 6 o clock in the morning. What a t--t. Lovely guy really.

As far as I can remember, it was around this time that we formed "The Barrie James Show". There was Barrie, The Strangers, Patti Knight, and "Gary and Lee". We toured the north on a regular basis doing all of the big gigs with lots of the big names at the time. People such as Billy Fury, Shane Fenton, Billy J. Kramer and too many others to name in this piece. After this particular period, Larry Parnes asked us if we would become Dickie Prides band. We jumped at the chance and had quite a long time with him. Sadly, he died in the late 60s', but I will always think of this as one of the best touring times that we had.

We continued touring, and Pete Jackson joined when Funnel decided that he'd had enough of being on the road. Soon after this time, John Picken joined this line-up and we started playing at the "Railway" at Woolston. I think that this lasted about 2 or 3 years.

I played with Dennis Jay and John Baker over at The Manor House in Bursledon. That was a good gig run by John and Vera Hollowbread. Just Sunday lunchtimes I think!

After that, I went to sea with John Baker. We had a fantastic time. Can you imagine? Traveling the world, cheap booze and fags, passenger accommodation and being paid for it.

I seem to recall coming back after about three years at sea and joining the Pete James band at the Top Rank. I think it was an 18 piece band. Big Tony Averne and myself fronted the band with Janice Ross being the female vocalist.

In 69', I joined "Wishful Thinking". Now that was a great vocal band. We had loads of singles and a couple of albums, but no hits in England. We did have a monster hit with a song called "Hiroshima" in Germany. At the time, it was the second biggest seller ever over there. We did a short tour to promote the single which was terrific.... The tour, not the record!... In hindsight, we should have stayed over there for a long time, because the band were really popular, but because of bad management, we came back and didn't push the band. Wishful comprised of myself, John Franklin, Kevin Finn ( remember Kevin Scott and the Kinsmen?) and Brian Allender. Brian left after a while and a great drummer called Pete Ridley joined. I think that Pete is working in America now. I haven't had any contact since we split from Wishful, so if anyone knows where he is, let me have his address please. Apart from touring Britain extensively, we were always touring Norway, Sweden And Denmark, where the band were a huge success.

I think that after Wishful, I worked down at the Roundabout Hotel in Fareham with John Baker and Simon the keyboard player from the Top Rank band. Now that was a residency! We played there 7 nights a week. It got a bit boring after a year.

This is when we formed "Crystal" with Mick and Lynn and Brian Wright. They were a really popular band. We had loads of work all the time.

Going back now to around 1977 I linked up with Bob Phillips to form the original "Billy Whizz" duo. I remember that Bob and I used a Bang and Olufson reel to reel tape deck to record our back tracks. I am pretty sure that at the time, we were one of the first duos around. Bob and I then formed a great local band called "Guvnor" We teamed up with 'Spike' Waters and Bernsie Brown.

A tight band with loads of good harmonies !!! For some reason, we split, as all good groups seem to do. Both Bob and I think that it was one of the best local bands at the time. I was offered the job to take over from Ray Graves in Goldrush around that time and stayed with them for about 11 years. Roy Perry, Mick Hall and Gerry Sansome made up the rest of the band. Again Bob Phillips joined us for a few years and then when Mick left the band, Ian Parker joined. I really enjoyed my time with them.

This just about brings us up to the present duo, Billy Whizz. Yes again !... Bob and I got back together again about 9 years ago and it's still going strong. We still make our own midi-tracks and have a great time.

One great thing about being a 'muso', is that it is a business that is pretty much ageless. Most of the guys that started in the 'early days' are still playing today. It really would be great if we could all get together one day.....

I often think of the friends that are no longer with us:

Roy Perry....Martin 'Cuddles' Smith....Chris 'Bernsy' Brown.... Brian 'Fergie' Fergusson....and several others that I knew, but didn't work with.....
This another e-mail sent to me in July 2006 from Mike Lamb and offers more interesting memories:
Hi David
I have been Surfing your very interesting Web pages, on Southampton Groups of the late 50s, and 6os, and upon reading this decided to contact you.. My name is Mike Lamb, I have been a Drummer for about 40 odd years, and first played at the Pier around 1959 in a five piece called "Johnny and the Panthers" We came under the wings of Len Canham, and had memorable times indeed doing support for Star Acts on some Saturday nights as I seem to remember.. We also did the Circuits of other venues, for example Winchester Lido, with Screaming Lord Sutch and the Savages, also Basingstoke Shrubbery High School, appearing on quite a few gigs there, at one time with Tony Hart and the Hi Fi... I also remember, doing gigs around the Crawley areas, but unfortunately cannot remember where these were now.. Our lineup consisted of Johnny Houghton on Vocals, John Newman on lead guitar, Laurie McGowen on guitar, Paul Donaghoe on bass, and myself on Drums.. This Group, stayed intact for about 18months to 2years as Is eem to remember..] "Moving On,"...
After leaving the Panthers, I took up with playing a residency, at the Holbury Mill Country club for a while, about two night a week, playing Modern Jazz with a band
called the Eric Reece Trio.. [ And a good time was had by all..] Ha..Ha.. Anyway, one Saturday night while taking a break, a Guy by the name of John Keeping
came up to me, and asked me if i was interested in taking over the Drum Slot, with a group he was a member of. I said I would have a listen to them at a gig they were playing in Southampton area, and then decide what to do.. I liked what i heard, and was invited to go for a rehearsal, the next week..
The Group was Johnny Keeping, Gene Anthony, and the Lonely Ones.. I think David, this was the period about mid to late 1962 and I think I was with them, till about early 1963.. Yet again, we had some fantastic times, playing again at the good old Pier, and also by now, covering Gigs, much
further afield... Our lineup then, consisted of Johnny Keeping, and Gene Anthony on Vocals, Tony Goode on lead guitar, Jimmy Sach on guitar, Gerry Bromley, on Bass and myself on Drums... Following my leaving in 63, i believe the group went to Germany, and did the Tours, and later on the
"Soul Agents" evolved.... I do hope all of this may be of interest to you David, Best Regards to You....
Mike Lamb....
Click on SITE MAP to navigate the pages Back to Home Page Contact David
© David St John 2009