Back to homepage Click on SITE MAP to navigate the pages Contact David
This is an old webpage (needs updating) but you can read much more by checking out some of my published books on Amazon - see www.davidstjohn.co.uk/author.html These titles based on Southampton music memories: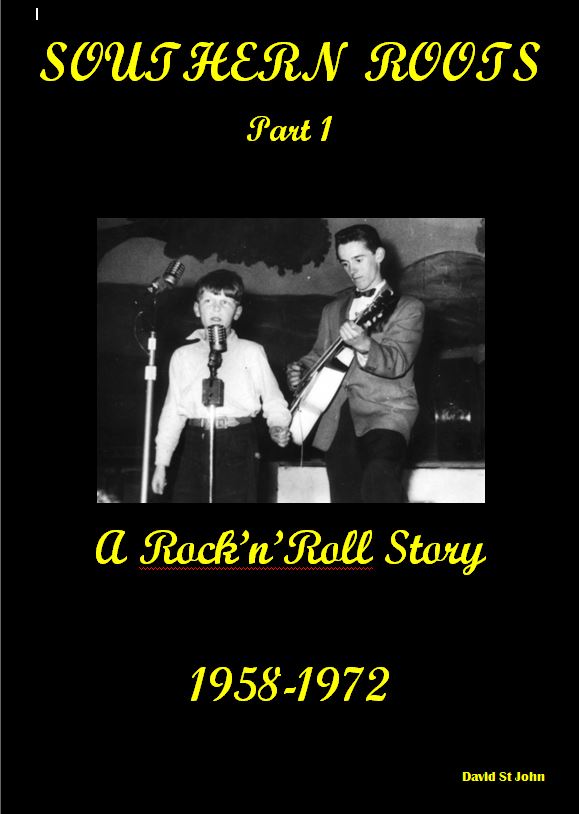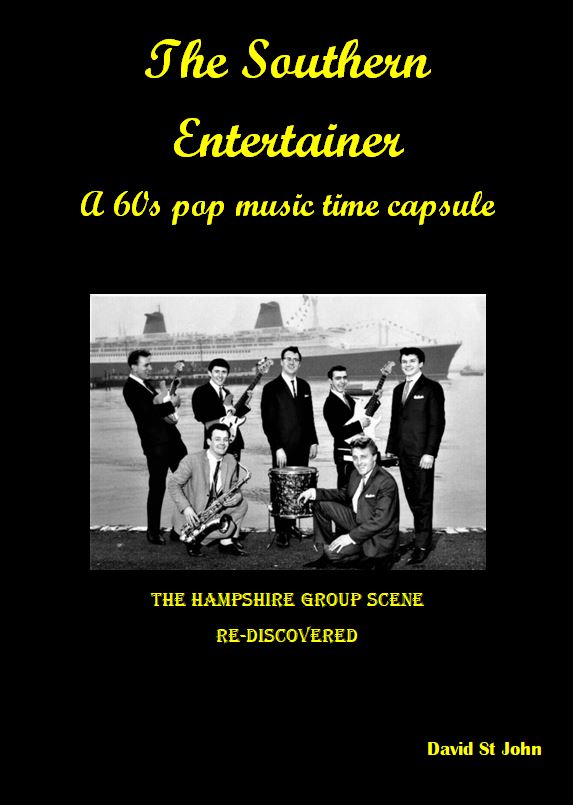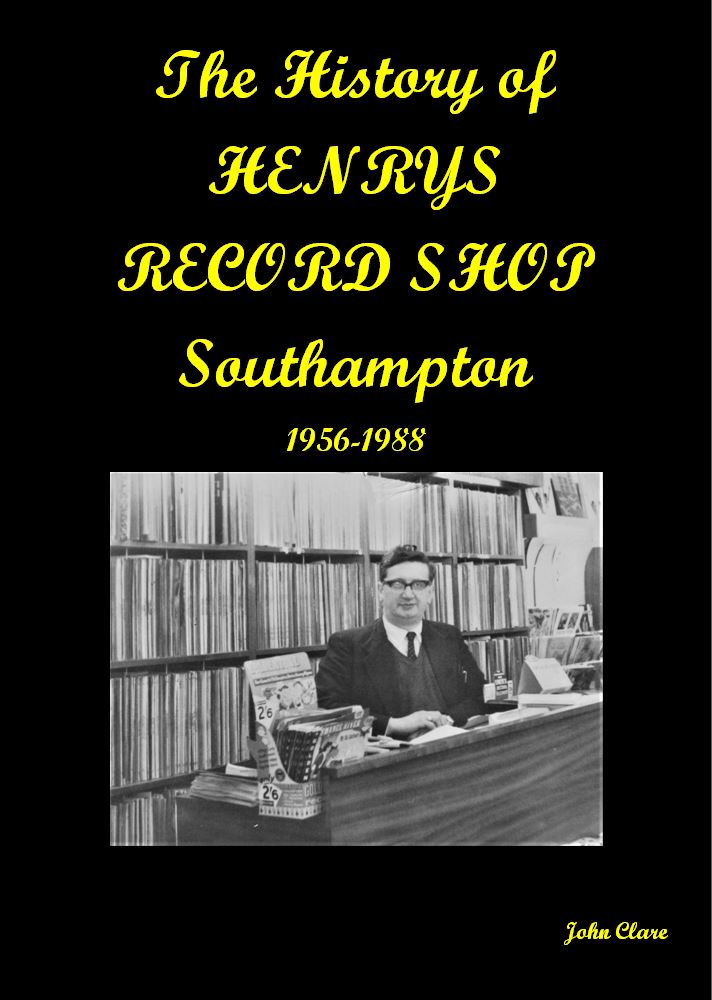 THE ROYAL PIER SOUTHAMPTON ENGLAND
This is one of my favourite buildings in Southampton , forming an important part of my early life in showbusiness and must also hold memories for so many people that enjoyed its many attractions over the Golden Years of the Fifties and Sixties. If you would like to read a brief history of this important part of Southampton's heritage then click on this link and learn more about: THE ROYAL PIER
You may have just arrived here from that link - if so - welcome! This page is mainly aimed at local people who enjoyed the Pier attractions throughout the boom years or visitors who passed through this busy port, when the docks were crammed with ships. Passengers and crews often took full advantage of the lively scene that Southampton offered and I was lucky enough to remember much of this. I intend to add new pages soon with more of my memories of the local nightlife and maybe more people can send me any of their own nostalgic info and photos which I can possibly include?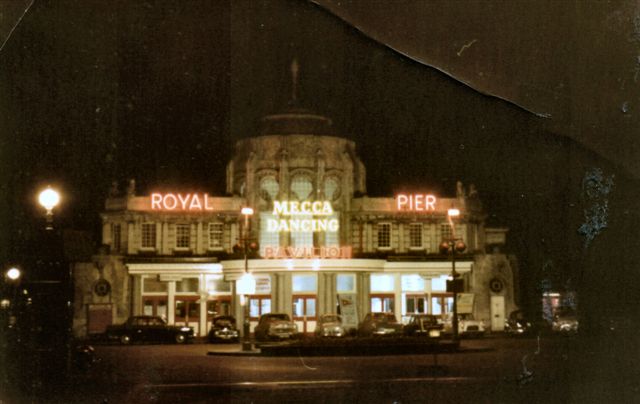 The Royal Pier entrance hall - a nostalgic night time view
I have already featured many of the pop singers and bands that appeared at the Royal Pier on other pages within this website - just go to Call Up the Groups and you might recall some of the names there! There were other popular dance halls around town but the Pier led the way for many years before being rivalled by the new Top Rank Suite up in Banister Road a few miles away.
I suppose that my first real performance was that of an 'end of pier' act - a phrase that is used to mock certain entertainers in recent years but I am proud of that title as it fitted me back in 1958! The Royal Pier near Southampton docks is one of the most well loved buildings in the area and holds many memories of dance fans who flocked to the old Pavilion to dance away the hours to some of the best bands around. Many a romance was ignited as couples took to the floor which was lit by the light of a thousand mirrors from the revolving ball in the ceiling. Only the front entrance hall (above) now remains after years of general neglect and fires put an end to the golden days of the Royal Pier which has left a deteriorated jetty leading out to the waters of the busy shipping lanes of the dock area. 2008 saw an exciting new project that has seen the old front entrance hall transformed into Southampton's newest eating out venue with unparalleled views across the water. Kuti's Royal Pier Thai Restaurant is a stunning place to visit and at time of writing, I am involved with a new project that might witness live 50s and 60s music back at the Pier - see the new Movie page via the Site Map for more information.
The old Royal Pier Pavilion hosted some great entertainment throughout the post war years and its best times were during the late Fifties of the new Rock n Roll era, followed by the Sixties beat boom that produced some terrific bands that played the pier. The Seventies saw a decline in its fortunes and by the Eighties its fate was sealed as its fire ravaged skeleton cast a gloom over this once bustling area that was a major destination for miles around.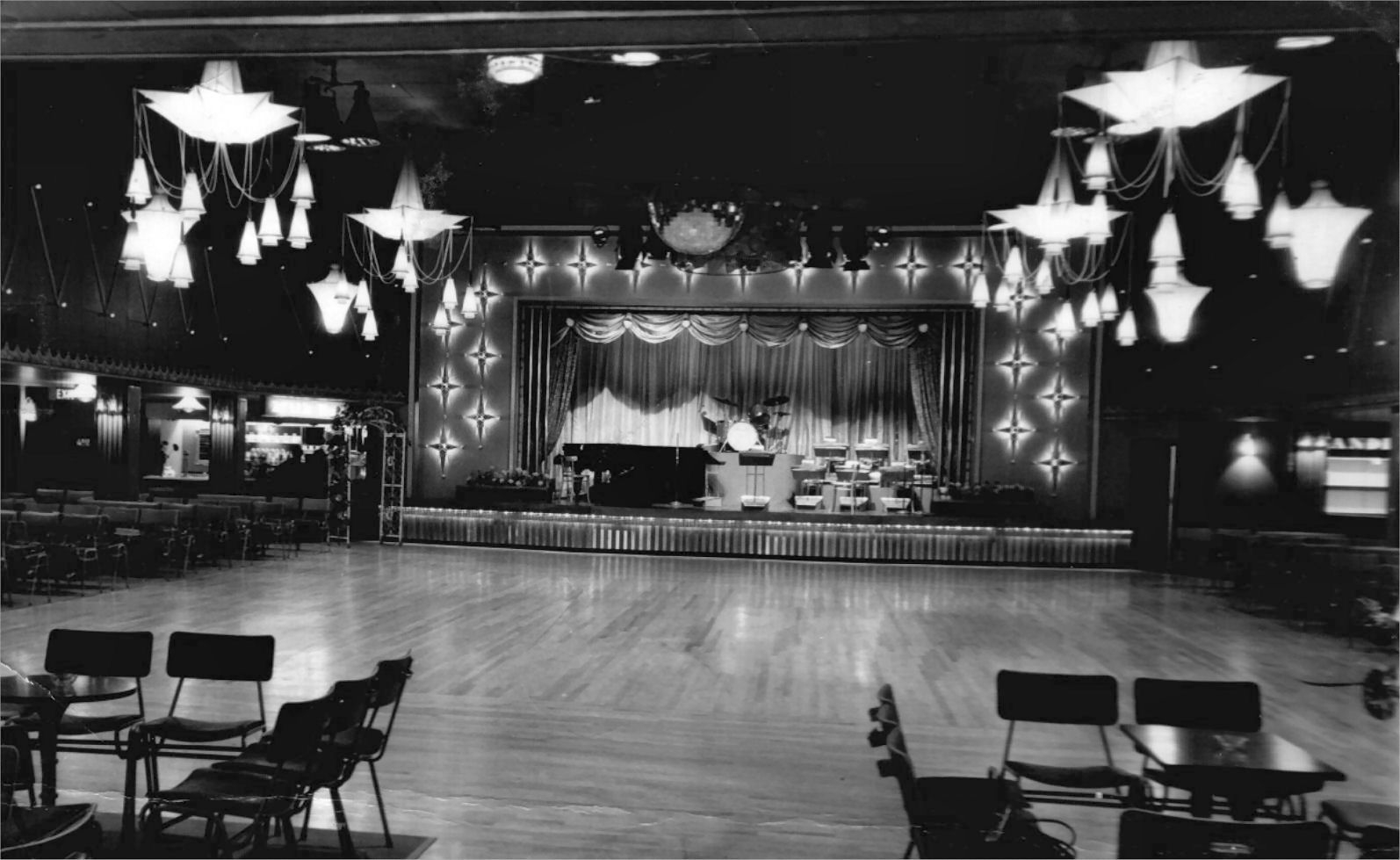 Royal Pier Pavilion - the Ballroom (pre-Mecca days)
See bottom of this page for an unusual twist of fate!
There are two names that are synonymous and forever linked with the Royal Pier - promoter Len Canham and DJ Johnny Dymond, so this page is also dedicated to these two great characters who worked as a team and were both responsible for some great publicity stunts that ensured a steady flow of audiences along the length of the pier to enjoy the delights of the ballroom through its Mecca days etc.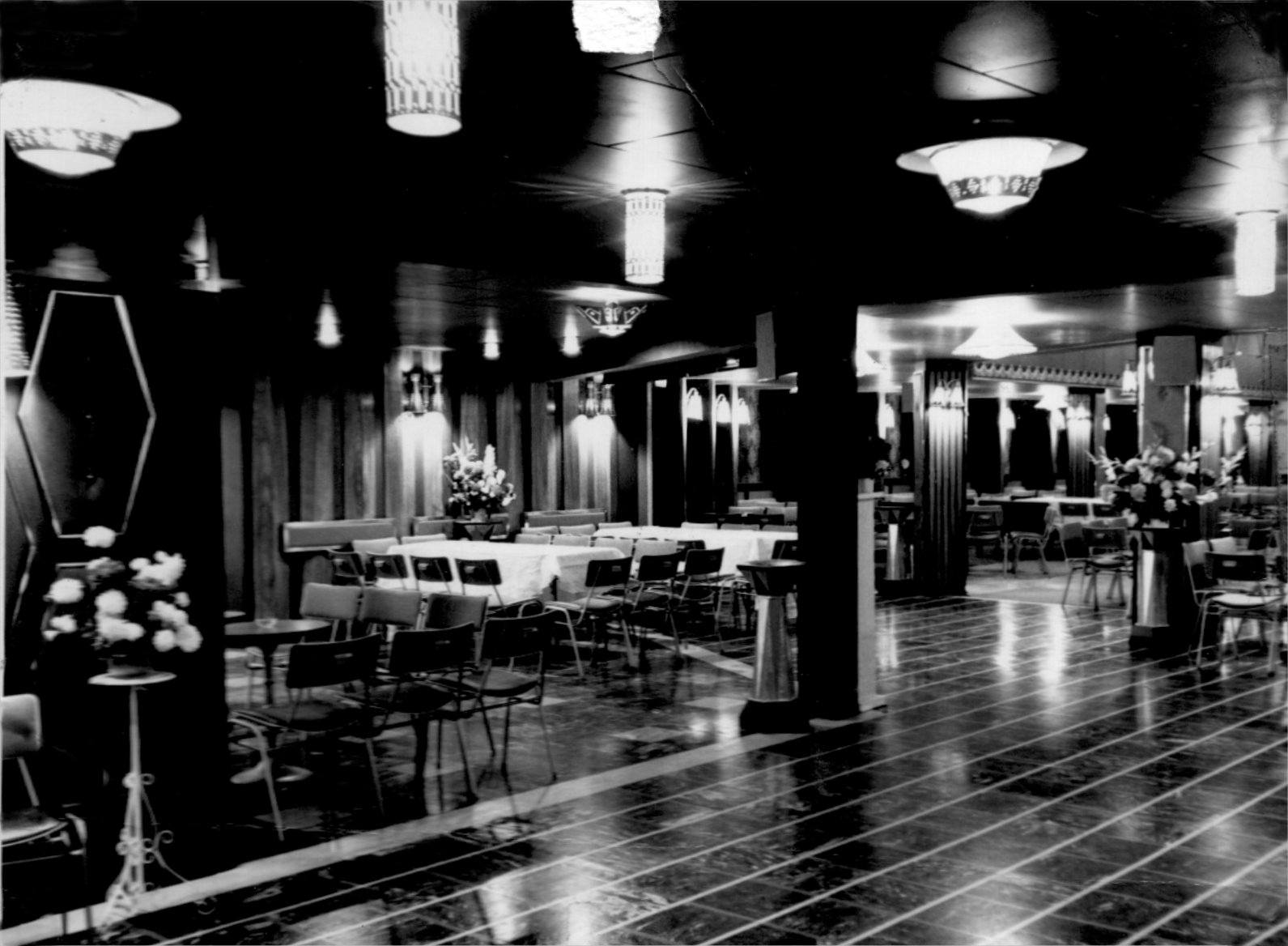 The Buffet area
LEN CANHAM
Len Canham was born and raised in Southampton and worked on the Red Funnel Steamers which links Southampton with the Isle of Wight. These ferryboats sailed from near the Royal Pier and Len soon took up residence as manager of the Pier Pavilion ballroom which had always hosted live entertainment since being built. He managed many top singers and bands and many of them featured covers of early rock and roll records brought over from America by the visiting ships and their crews who filled the lively streets of Southampton during the peak years of the Fifties and Sixties before the inevitable decline as fast cheap air travel sounded the death knell of Trans Atlantic crossings. The first 'Teenage Nights' kicked off in early 1958 and the ballroom was constantly packed week after week and later on that year saw me get the chance to sing onstage, backed by the Three Stars (see my biography page).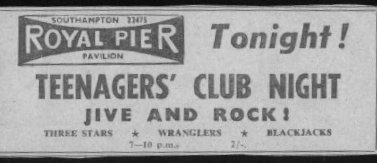 I am (once again) grateful to Pete Broyd who found this rare letter from Len to his 'Boys' as he fondly called his various bands and singers. It brings back fond memories of his very organised, polite manner and my mum used to love hearing him speak - "Ooh - he sounds so posh!" It was addressed to Tex Roberg (still going strong!) plus the Brook Brothers and other managed acts although I don't think that any written contracts existed as Len was respected on the basis of a gentleman's handshake and everybody was happy with his businesslike manner as well as his outgoing character. 'Pier House' was just his office backstage but it sounded quite prestigious at the time!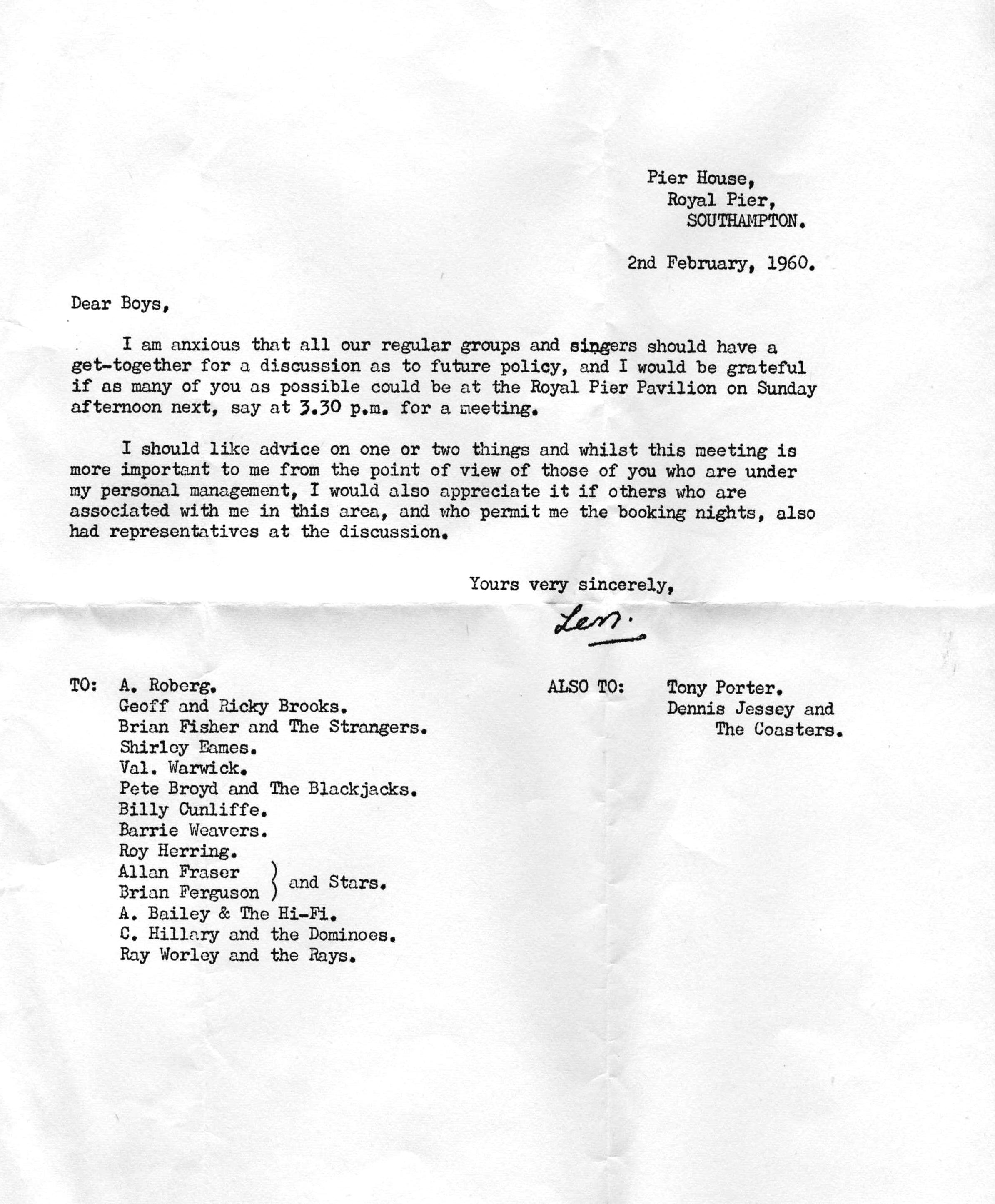 Len went on to manage, and launch the careers of such acts as the Brooks Brothers, Dave Dee & Co, the Mojos (Stu James) Barron Knights and many more. He was one of the most charismatic people in the business and very under-rated in those early days, whilst many of his colleagues went onto more successful careers - maybe Len was too nice and too honest to compete with some of the more 'determined' people that he dealt with such as Larry Parnes, Reg Calvert and the like. Reg Calvert also started up in the local dance promotion business in Southampton before locating to a Rugby mansion from where he started to edge his way into handling chart bands and then into the offshore 'pirate radio' stations that had sprung up all over the South East. His life tragically ended when confronting a business associate- - a Major Oliver Smedley and arguing over a transmitter - this ended with Reg being blasted to death with a shotgun, and the subsequent acrimonious court case ending in no convictions as 'self defence' was claimed.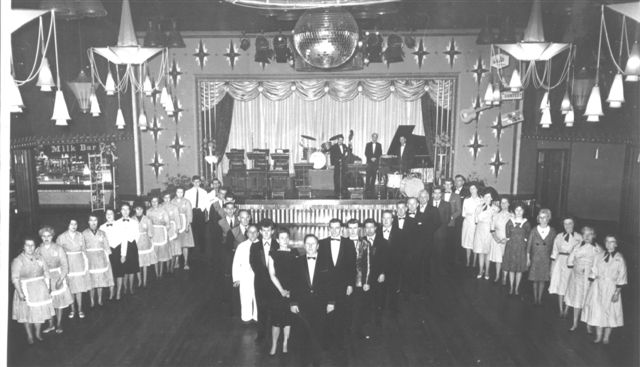 Mecca Ballroom Royal Pier staff lineup 1963
Len Canham at front (DJ Johnny Dymond - in flashy jacket!)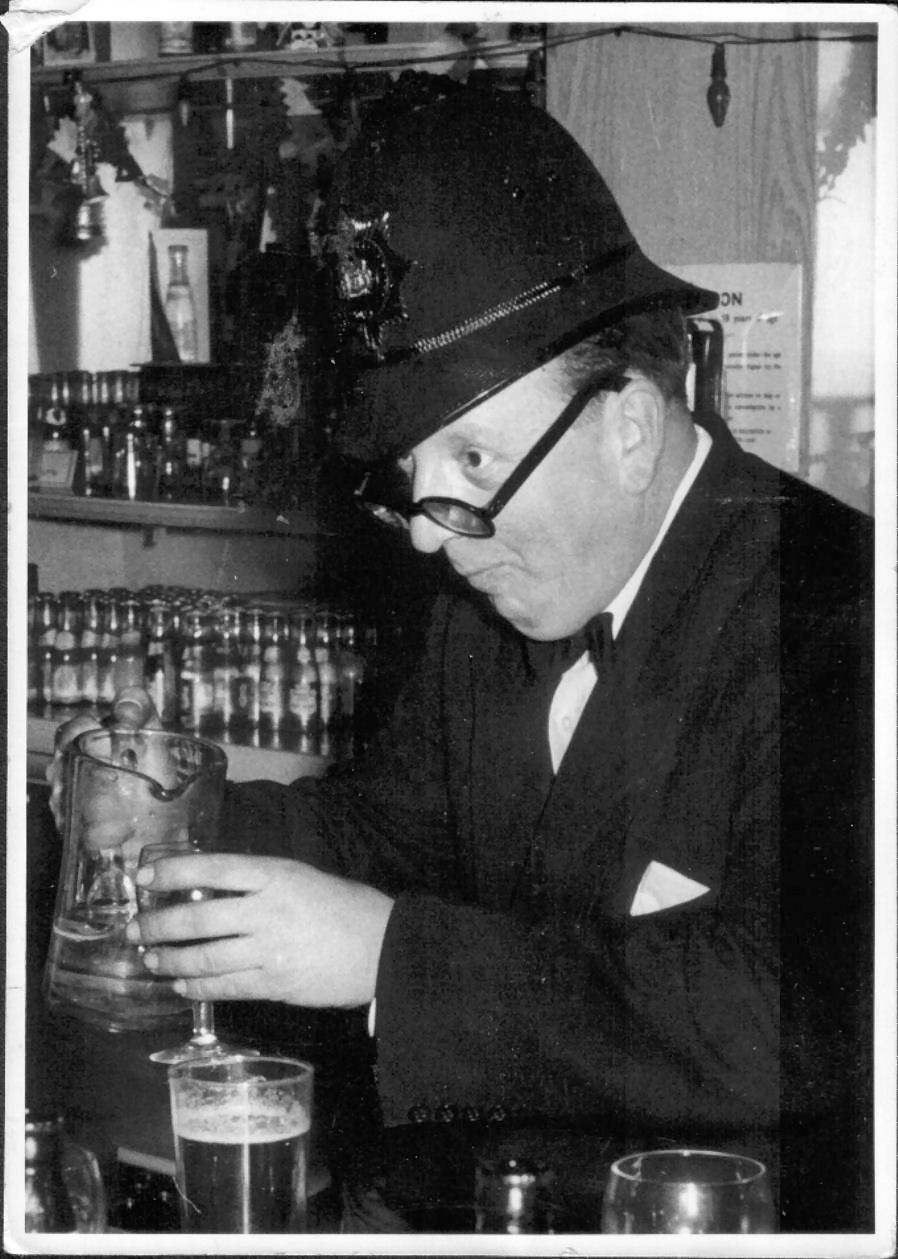 P.C. Canham checking the booze!!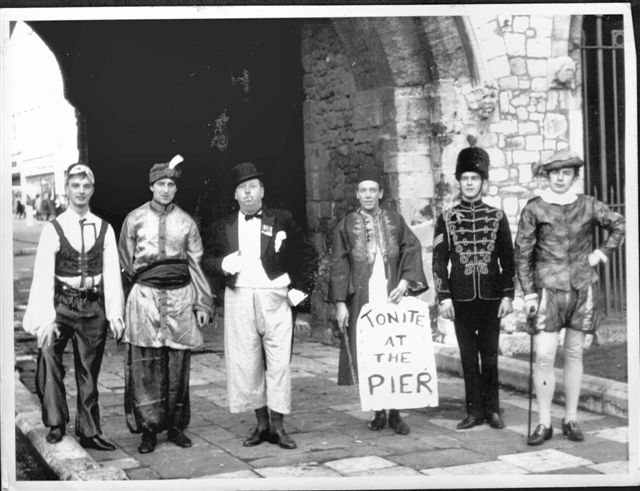 One of the famous Pier publicity stunts! Len, Johnny & co pictured at the Bargate.
They used to wander round town plugging the New Year's Eve Ball- Fancy dress optional!
New Year Eve celebrations! Len Canham (bowler hat) and Johnny Dymond on the mike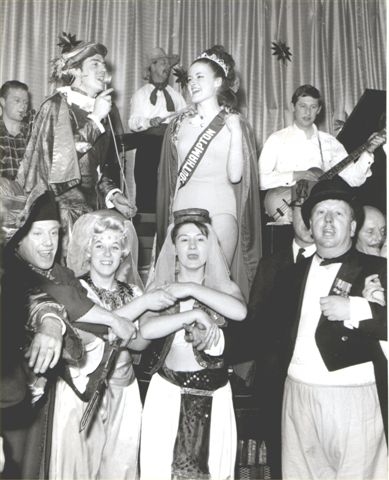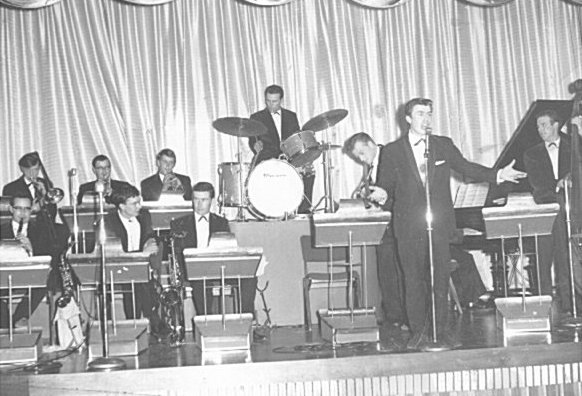 Royal Pier Saturday Night Out - Pete Madsen Band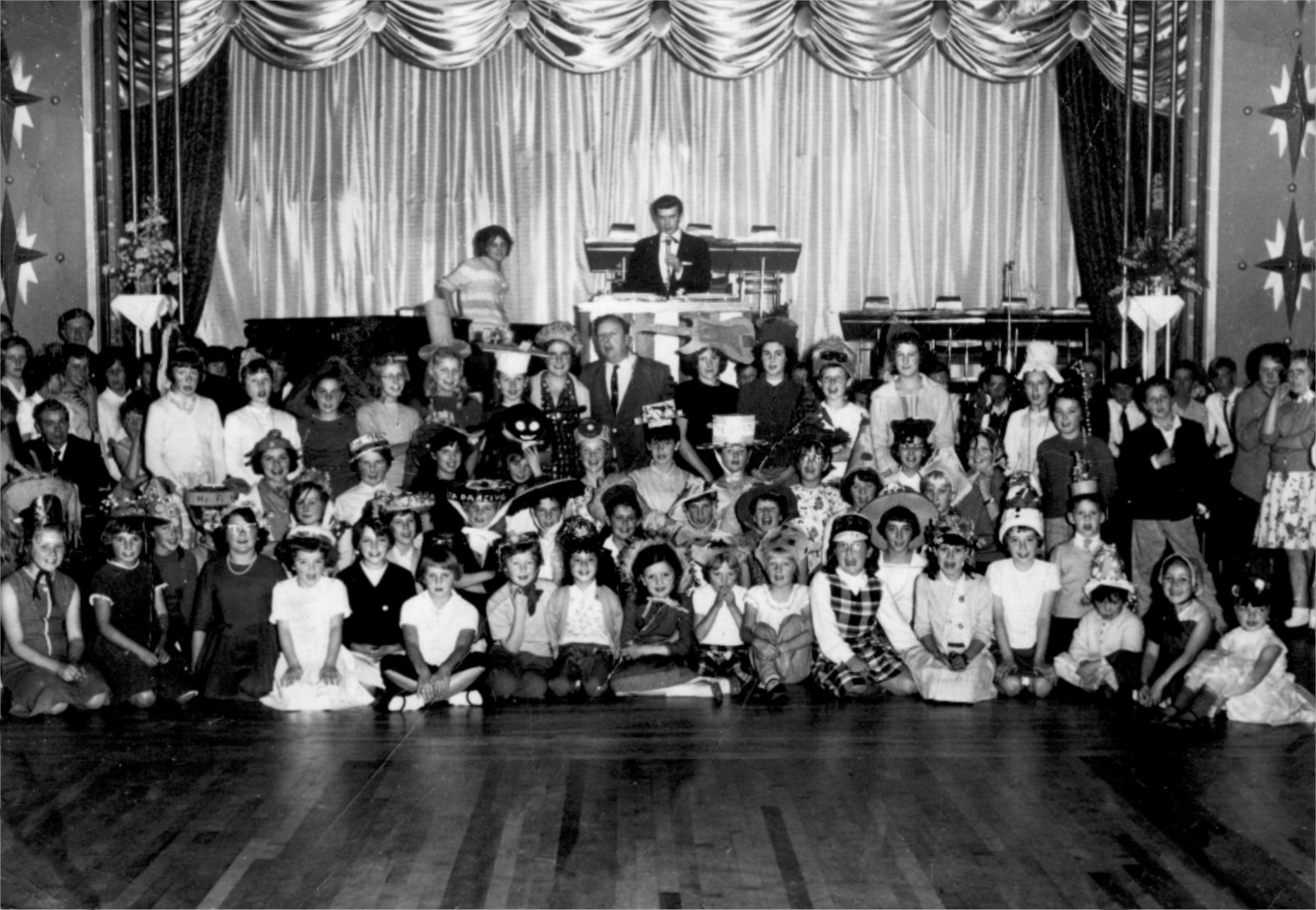 The Junior Discos were very popular on Saturday afternoons and also featured live bands
One of these was a young group known as The Infereds(Infra-Reds)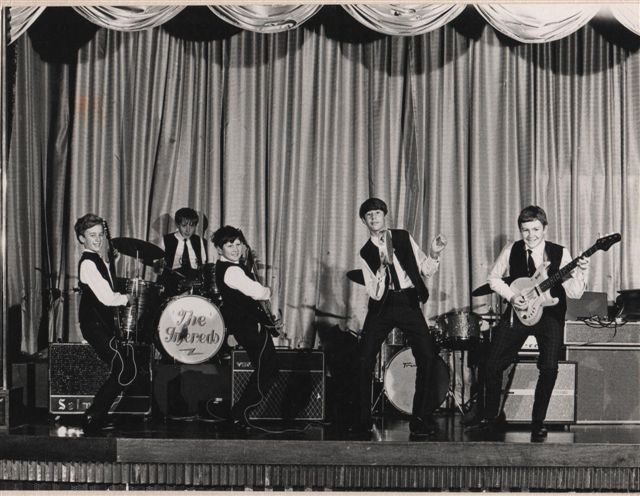 Later to become: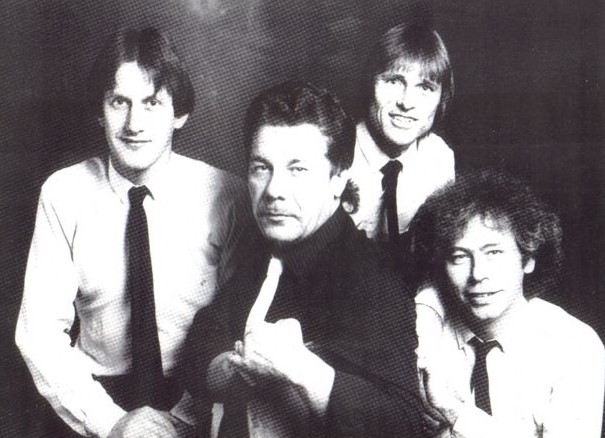 Peter Pod and the Peas!
Fronted by lead vocalist Peter Pod aka Mick Hayley, and the band is still around in recent years!
A recent photo of the 'lads' very much a fun outfit as this picture shows: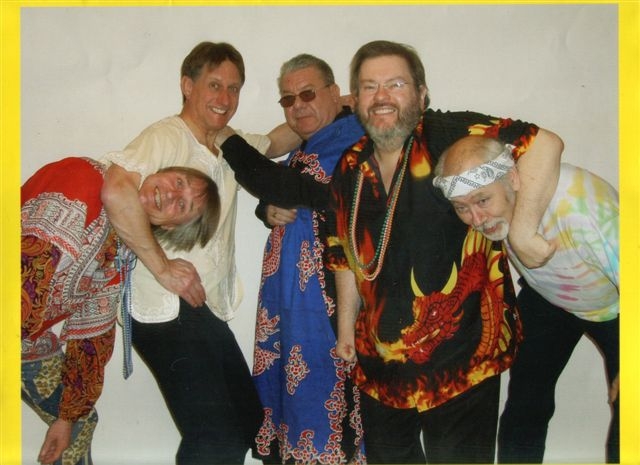 Sadly- Peter Pod aka Mick Haley passed away December 2011
Still very active group as Peter Pod's Peas- fantastic entertainment
Len Canham will always be remembered with fondness by many musicians who were lucky enough to have enjoyed a taste of the spotlight, thanks to Southamptons' very own Mr Showbiz! He later formed Avenue Artistes - a very successful agency which promoted most of the top bands and later joined by booker Bob James who later moved to London and became one of the top names in agency/management, representing some of the biggest names in showbusiness. Bob James left Avenue Artistes in 1969 moving up to top showbusiness bookers such as Arthur Howes, Slim Millar, Marshall Arts and London Management dealing with many top stars from all over the world. He then set up his own conference booking company as well as being kept busy as President of the Agents Association (largest of its kind in the world) as well as being on the board of the European Live Music Forum plus sitting on the Government's Task Force on Ticket Touting! Bob also co-chairs the Variety and Light Entertainment Council so still very much involved with his love of the business after so many years.
The agency also had close links with the legendary Bob Potter whose early fortunes were made in running dance halls around the Hampshire/Surrey borders and I recall the Woking Atlanta Ballroom as one of of Bob's top venues. Bob later developed the Lakeside Country Club at Frimley Green which has featured many of the world's top artistes and he hasn't changed over the years with his gruff no nonsense approach to business - he was and is one of the true 'characters' in the game. Here are a couple of photos of Len's proudest moments at Lakeside and I am grateful to Bob James who has kindly put names to the faces: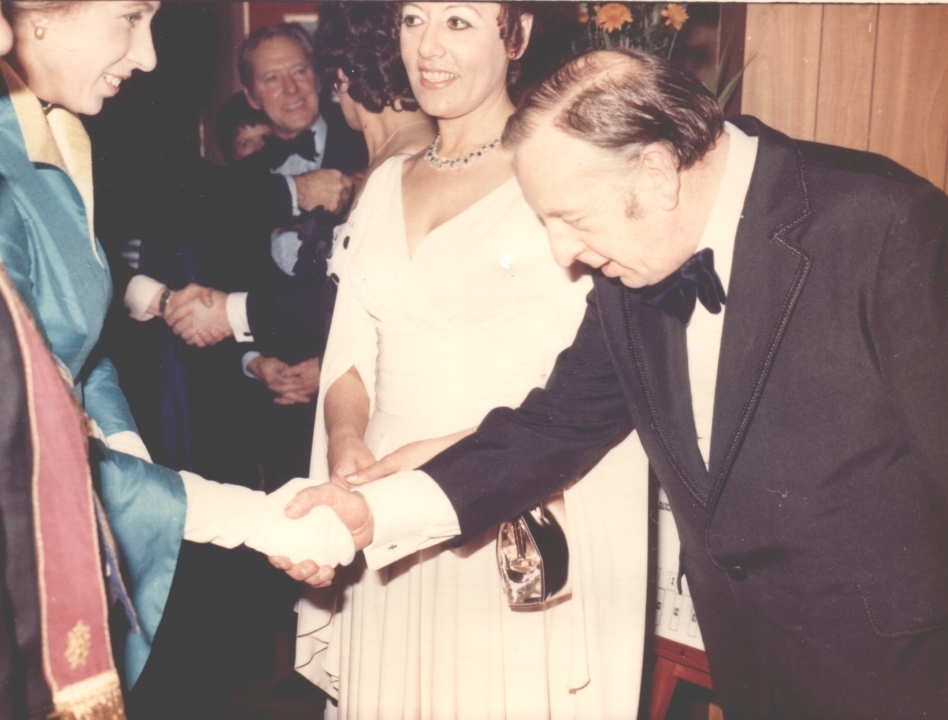 L-R Princess Anne Shirley Sharman Len - bowing and scraping!
I believe that some nearby wag said "Eh - who's that shaking hands with Len Canham??"
Usually - us bands were always bowing and scraping for more gigs from Avenue Artistes! Shirley was Bob Potter's terrific P.A. and driving force at the Lakeside Club. She sadly died a short while ago and is fondly remembered by all artistes and audiences over many years.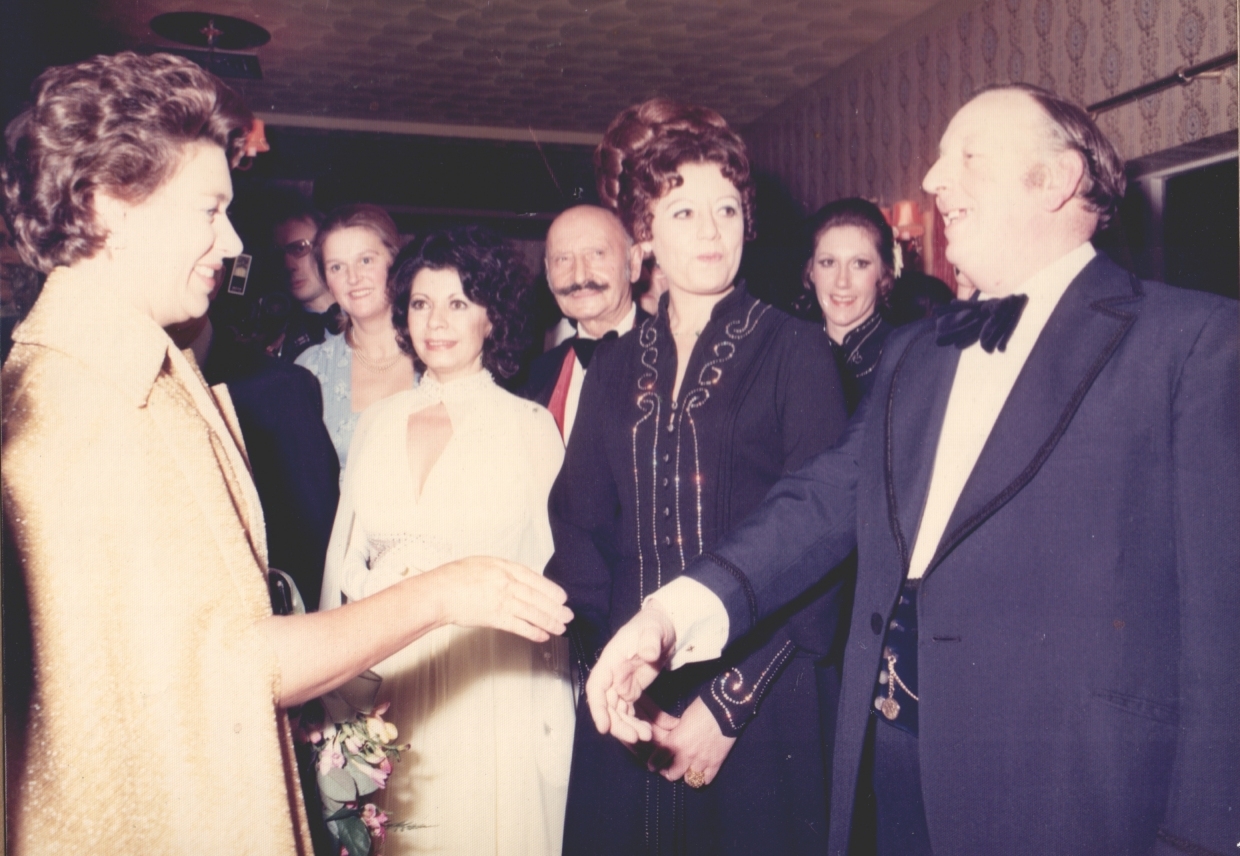 L-R Princess Margaret, May (London Management), Mary Marsh (wife of top impresario Billy),Sidney Vauncez (The Stage), Julia Foster, Len
I can only guess that Len was trying to book some acts at the palace????
Avenue Artistes is still going strong run by Terry Rolph - still in charge after many years and involved in many aspects of the business. Here is a rare picture of them both celebrating 40 years of Len's achievements and by clicking on this image it will take you to Avenue Artistes' own website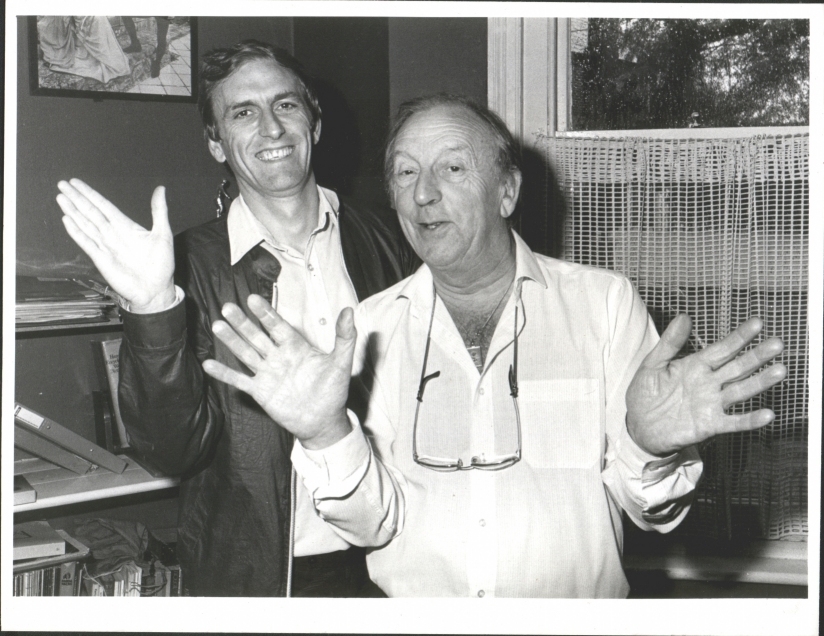 Len was very likeable and a real showman, who loved the business all of his life. During his later years, he should have slowed down but chose to be kept busy up and down the roads to Bob Potter's Lakeside Club near Camberley and this must have contributed to his health problems. He died of heart failure back in 1987 and his funeral attracted a massive turnout of musicians and colleagues from over the many years - they were even out in the street. You can just imagine dear old Len looking down and thinking "What a good door take I've missed out on!" As I've mentioned elsewhere - there should be a blue plaque on the wall at the Royal Pier! See my dedicated webpage on Len via the Site Map
Many of us have also suggested that a statue to 'Canny' Canham should also be considered and I am grateful to Johnny Dymond who has sent me a photo of what it might look like in the park. Let's hope that somebody can finance this 'erection' as Len would have loved it!!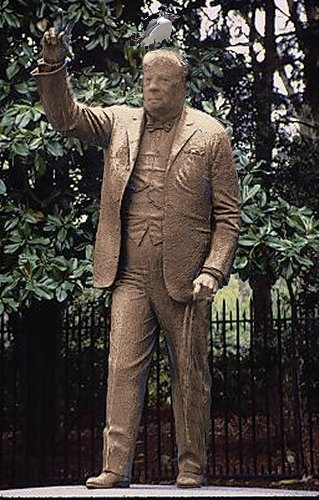 You will notice the bird on Len's head - so many less scrupulous people crapped on him...........
August 2008: Just received this lovely e-mail from Len's sister-in-law!
To David,
I have just received from a niece, by email, the article on Southampton Pier and a lot of memories regarding my brother in law Len Canham. I agree he was a fantastic chap. When I arrived from Belgium to marry Jack, the middle brother, he straight away became and remained a great friend. He was godfather to my daughter and until his death we were in contact although we had moved to Yorkshire and visits were rarer.
When in living in Southampton I have a few times visited my mother- in-law in the morning , the weekends she spent with Len at the Pier and I remember opening the door of the lounge and seeing bodies in sleeping bags, and was told they were young artists having performed the night before. Those boys as she said could not afford hotels!
I certainly would love to hear about the follow up to the article......and should you have a statue erected in spite of my age I certainly would cross the Channel as I now live in Normandy.
Many thanks for the homage to Len.
Kindest regard,
Andrée Owen -Canham
JOHNNY DYMOND
Along with Len - one of Southampton's finest DJs ruled the roost at the Mecca Pavilion - Johnny Dymond who kicked off his long varied career at the Pier back in '63 ("Oh what a night....") I am glad to say that we still keep in touch after all these years! Johnny rummaged through his old scrapbooks and came up with some amazing old photographs of some of the singers and groups featured on this and other pages as mentioned above. In addition, he also provided me with these memory-stirring images of the ballroom - before the Mecca makeover featuring palm trees and more lighting effects although one always remembers the thousand flickering lights from the spinning mirrorball adding to the magic of a night out at the Pier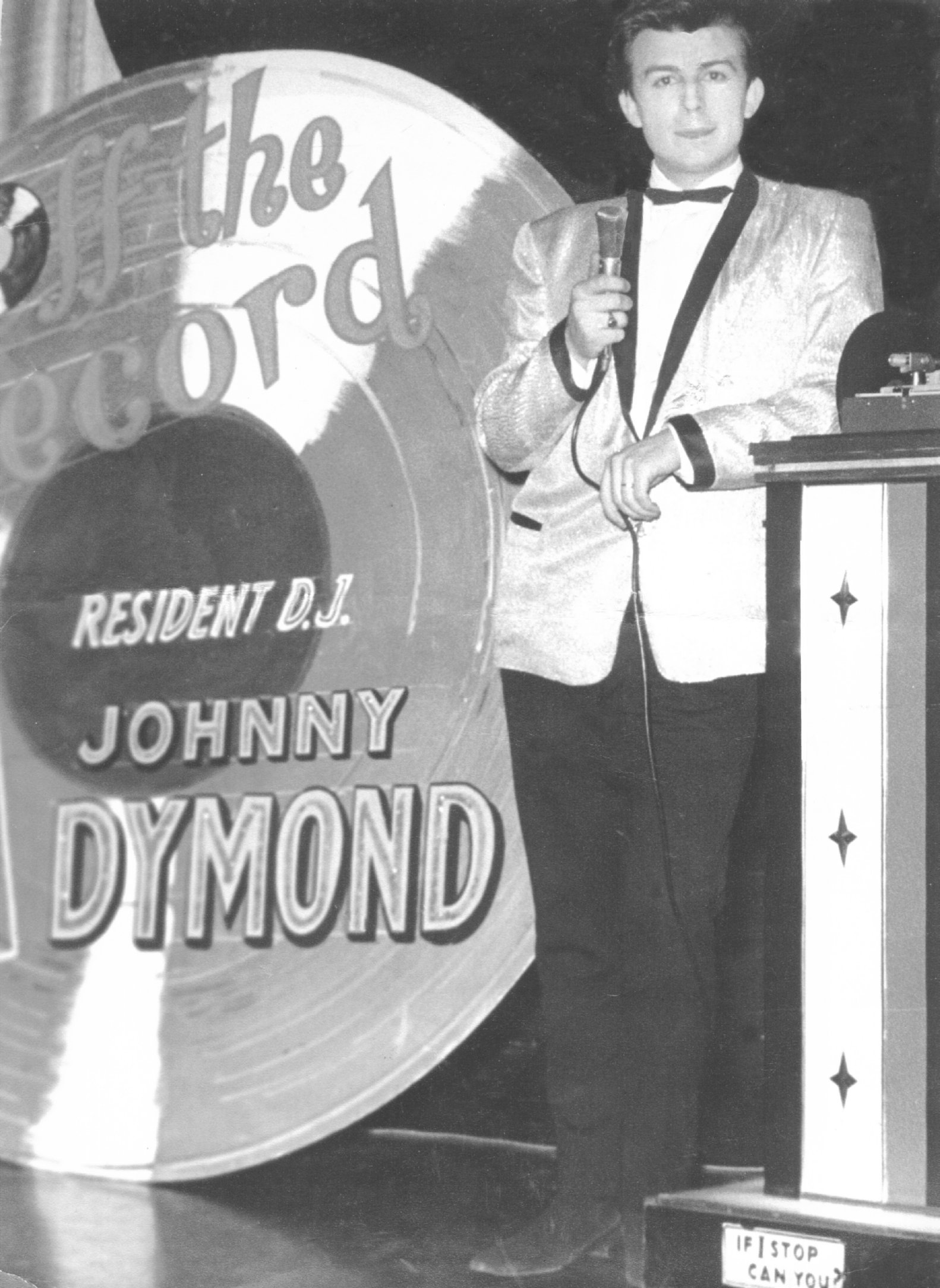 JOHNNY DYMOND
One of the most popular DJs and a real entertainer! Johnny was resident Disc Jockey at the Royal Pier from 1963 and later at the new Top Rank Ballroom at Banister Road. This venue was built on the site of the old Southampton Speedway and Stock Car Racing Stadium opposite the old Top Rank Ice Rink and Bowling alley - all now long gone. Johnny was well known for his flashy stagewear and fast-talking stage act with crazy competitions and much more. He has worked alongside many of the greatest pop singers and bands throughout the 60s and 70s, as well as stints with Radio One amongst others. He is still involved in the music scene and by a strange quirk of fate, Johnny's life took a different direction a few years ago and he is now an accomplished spiritual healer- his website can be found by clicking on the picture below: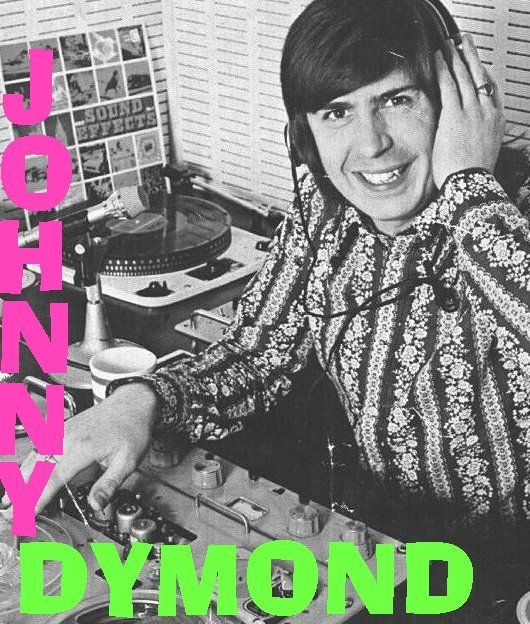 Johnny Dymond at Radio One 1970
Another picture of Len and John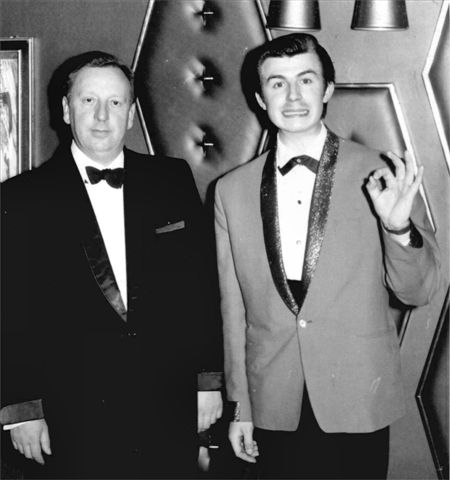 Hey Johnny - that's a rude sign in some countries!!!
Never mind - just grin and bear it!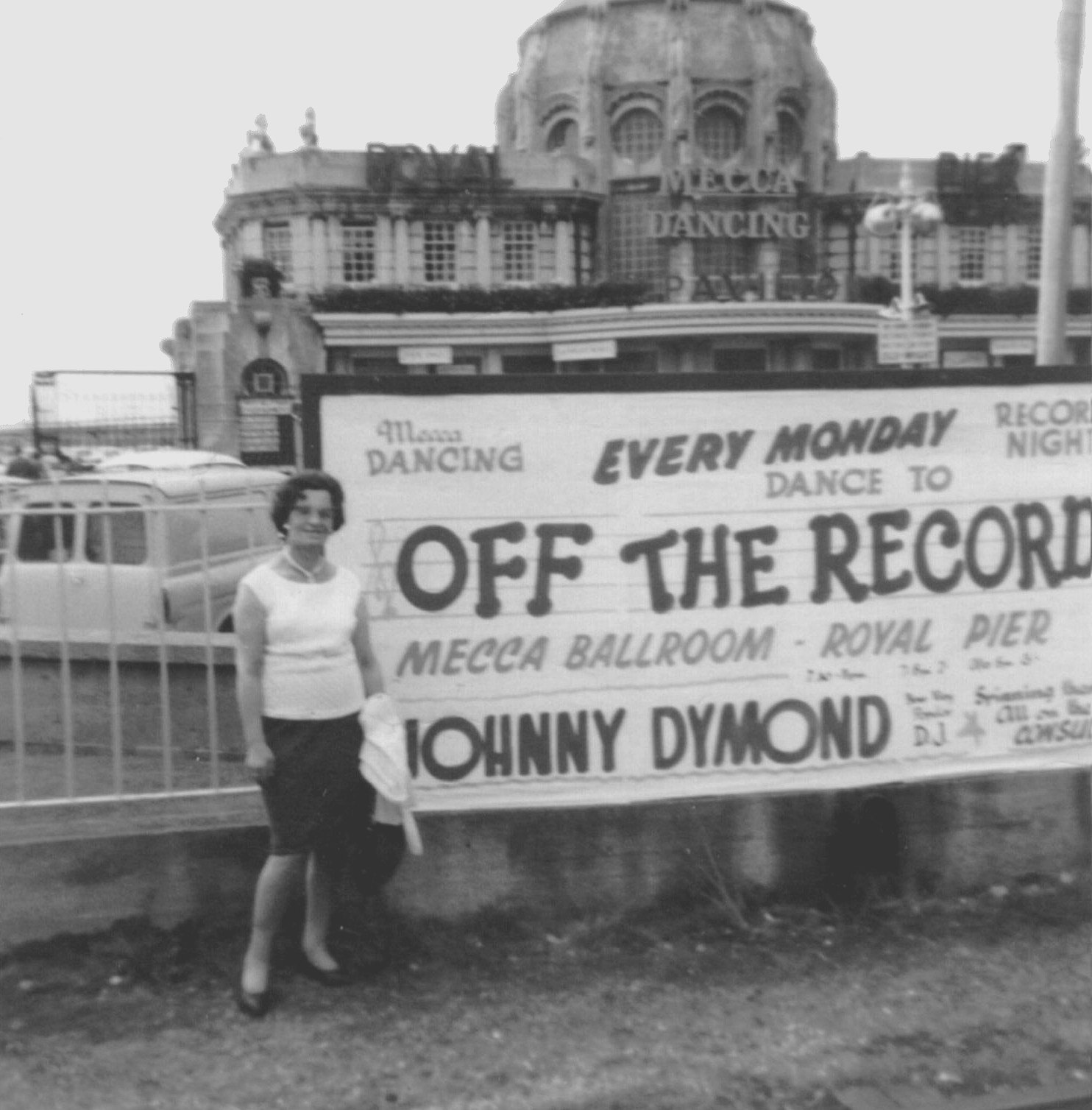 Johnny Dymond's proud Mum!
Weren't all our Mums proud of us?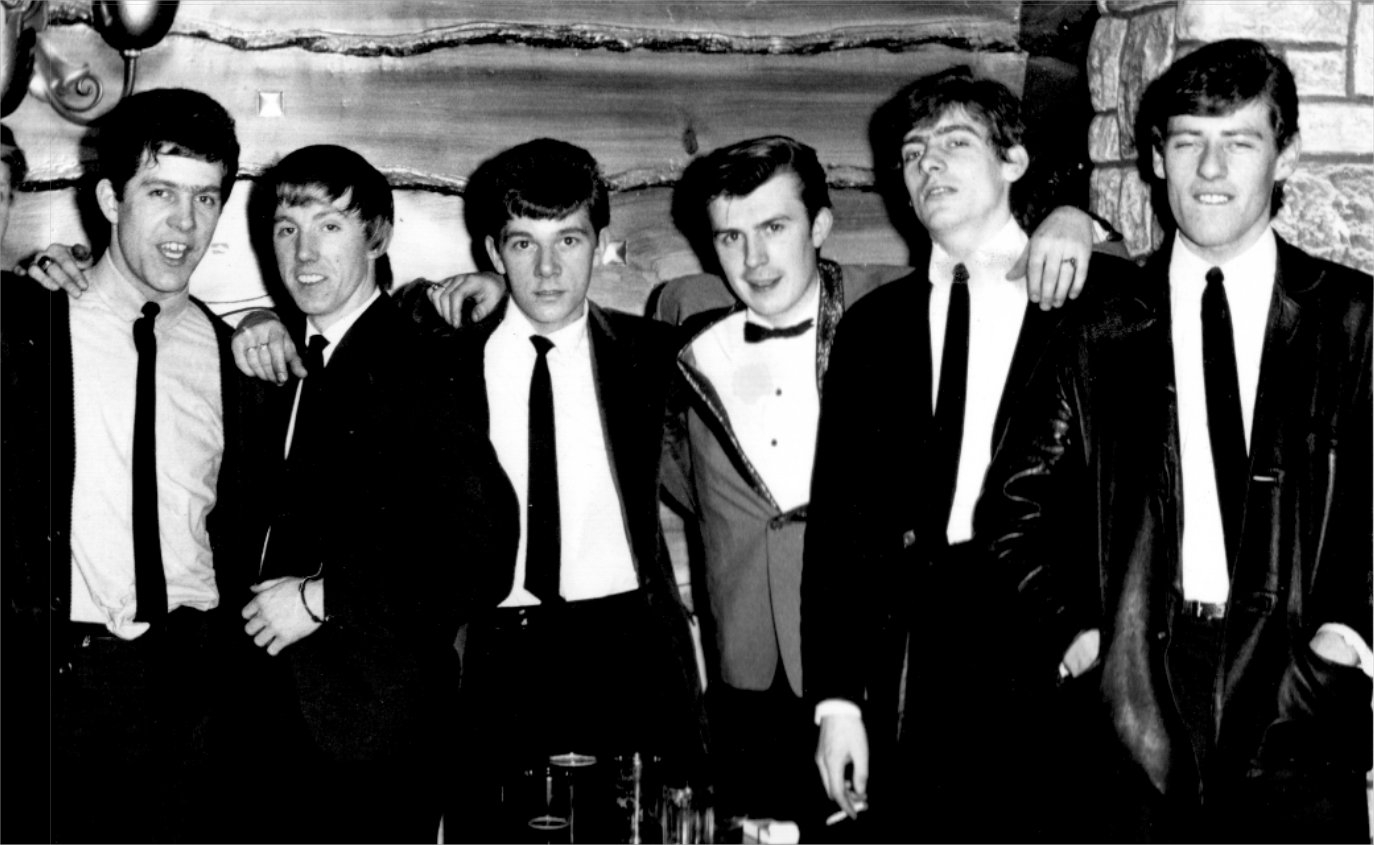 One of the finest bands around pictured with Johnny Dymond at the Royal Pier. We all knew they were going to make it big, although a name change was necessary. Do you recognise them? Their real names and clues from L-R were as follows:
David Harman Lead vocals (and whip!)
Ian Amey Lead Guitar (couldn't reach microphone)
Trevor Davies Bass guitar (not the brightest)
John Dymond Rhythm guitar - no relation to Johnny
(now working as Barry Manilow tribute act?)
Mick Davies Drums (kept his name as was)
Based around the Salisbury area - and went onto massive chart success as:
Dave Dee, Dozy, Beaky, Mick and Tich!
Formerly known as Dave Dee & the Bostons as above
Recent picture of 'Dozy' with Johnny Dymond
(No - don't ask which one's which!!)
2008:
Sadly, Dave Dee passed away after a short illness and will be missed by many fans/ fellow musicians who played alongside this fantastic band in the early years. We all knew that they would 'make it' and the remaining members of the group are still playing on Sixties Nostalgia Shows.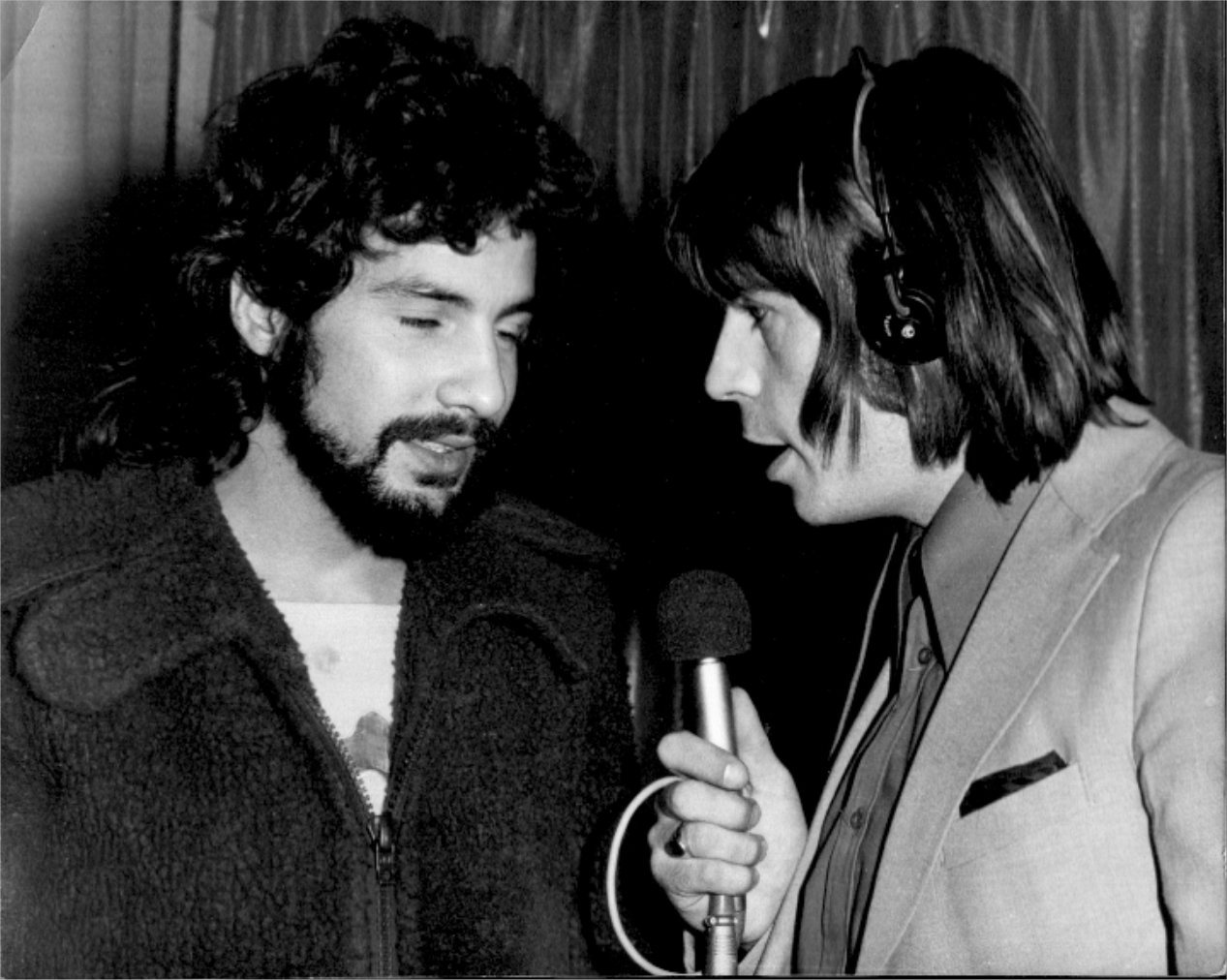 Johnny Dymond interviewing Cat Stevens at the Top Rank Ballroom
Radio One broadcast
Autographed publicity card to his good pal Johnny Dymond
Kevin Scott (of Kinsmen fame) plus Johnny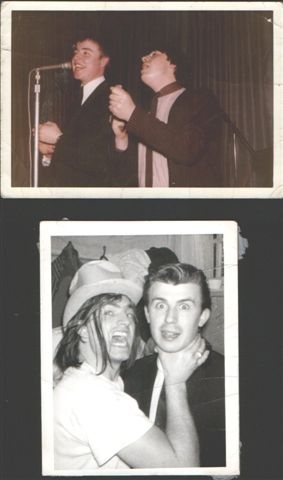 Sutch and Johnny - fellow madmen!
Some rare adverts/publicity etc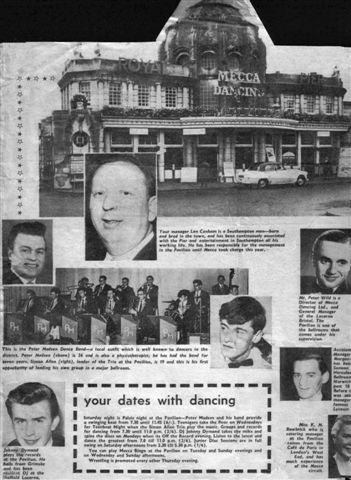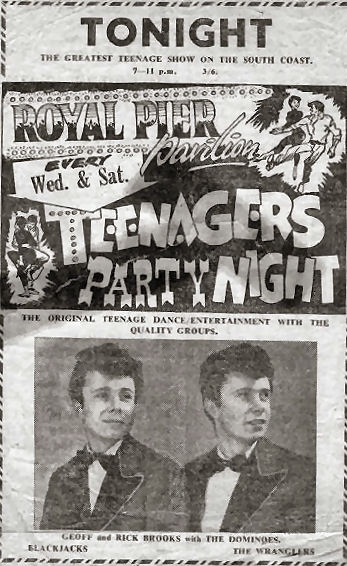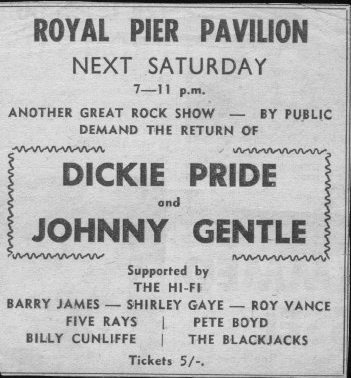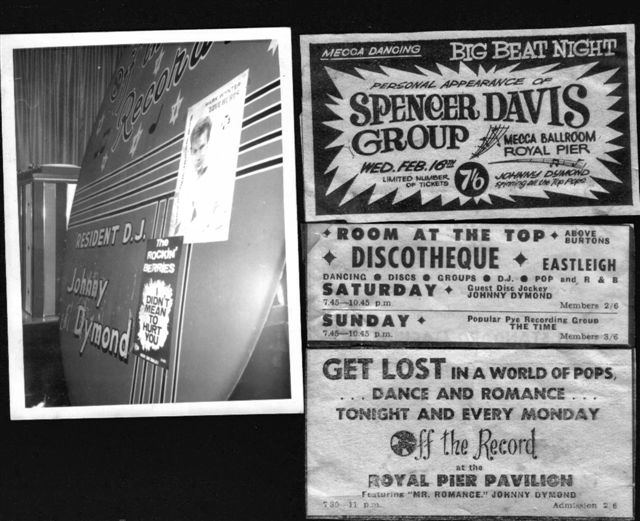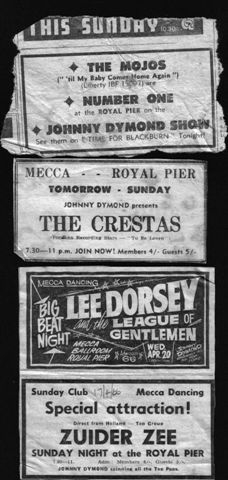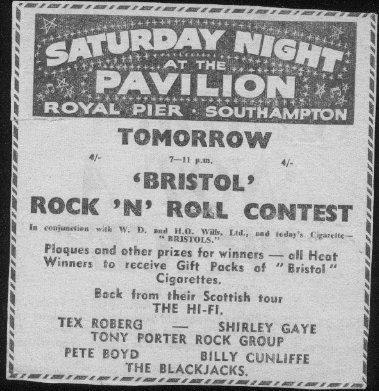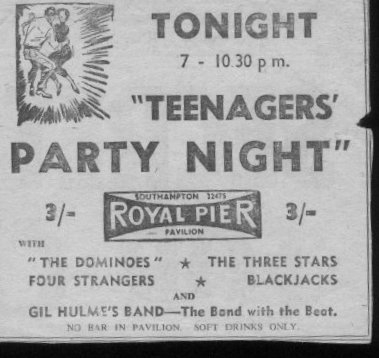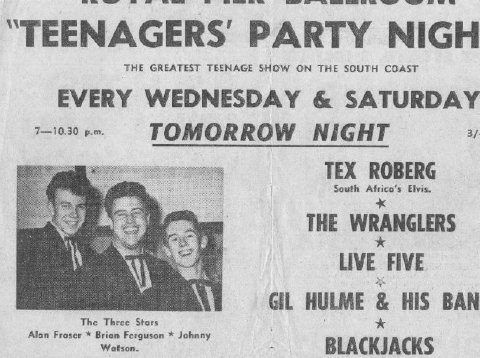 Sadly, the Royal Pier fell into disrepair and suffered a major fire in 1987 which damaged the main Pavilion Ballroom and this is a photograph taken shortly afterwards. The sight surely brought a tear to those of us lucky enough to have trodden the boards there as well as thousands of local dance fans who flocked to the best ballroom in town. Another fire damaged much more of the whole Pier structure in 1992 and you may wish to take a look at my other webpage (click below) that offers more insight into this much loved and much missed venue.
See: THE ROYAL PIER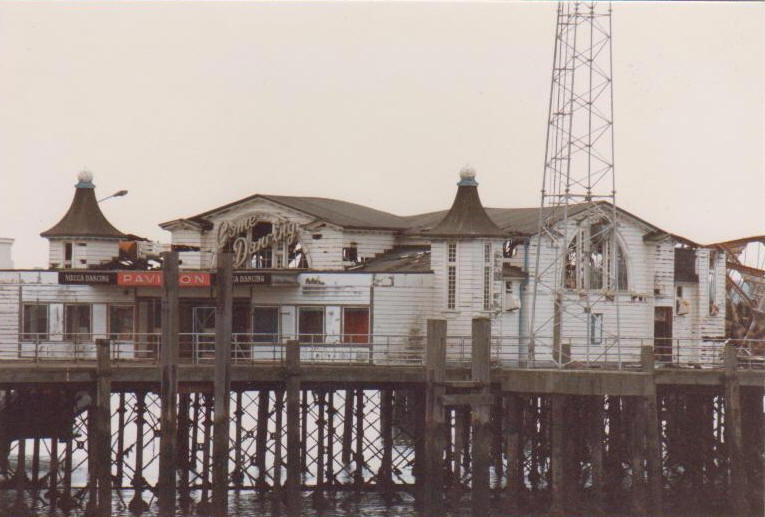 The Royal Pier fire damage 1987
January 2010- Some thirty odd years after the Royal Pier Pavilion was destroyed by two fires, I am proud to announce the return of live entertainment at the restored gatehouse. See the Kuti page!
June 2009:
I was surfing the net and came across this rare photograph of a beautiful Rolls Royce Silver Cloud taken on the Royal Pier carpark in June 1966. The photo is one of many interesting amateur photographs taken by a guy from Finland who was in Southampton at that time. I mailed him to ask if I could use this lovely image and he agreed so here it is. You can see the cars parked along the side of the covered walkway that led down to the Pavilion Ballroom which stood to the left of the car. The old entrance hall can be seen and now restored to its former glory as Kuti's Royal Pier Thai Restaurant (opened 2008) with the white Customs House on the corner of Bugle Street - the Maritime Museum is on the other corner but not showing. To the left of the entrance hall, you can see the top of the Pilgrim Fathers Memorial that commemorates their passing through in 1620 on the way to the New World via Plymouth.
I wonder if anyone might help to identify this gorgeous Rolls Royce Silver Cloud? You never know - I have tried a search but no luck as yet but I guess the number plate might still be in use some 43 years on as well as the actual car? They were built to last so I hope that someone somewhere might pop up! The Finnish guy runs a website on rare stamp collecting and you can see this link on the photo - he has a page of photographs including a few more taken around Southampton during his 1966 visit. I have also included some of these linked photos which will evoke more memories for those who remember these great carefree days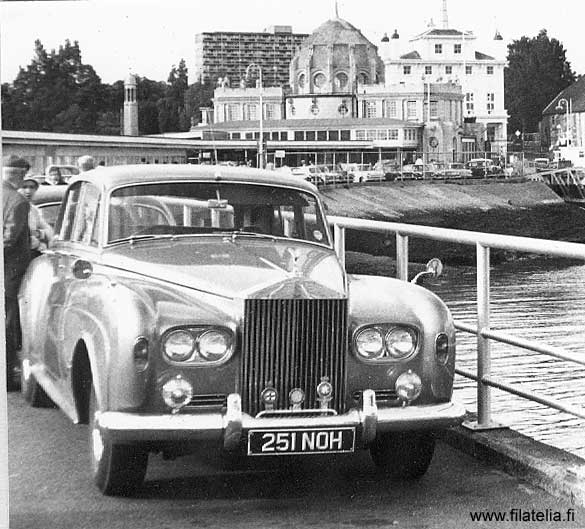 Royal Pier June 1966
I can imagine the resident pier DJ Johnny Dymond chatting the girls up inside the ballroom and mentioning his 'Roller' parked outside - many will have fallen for this bluff!
2012
I have recently been in touch with 'Dozy' of DDDBM&T and he mentions that this Roller might actually be the one that Dave Dee owned at that time- or possibly by their managers- Howard & Blakeley who also wrote many of their hits. Watch this space as I'm hoping that one of my many contacts will know.
.......................................................................................................................
January 2010
I get so many e-mails from all over the world and this unusual request came through from Florence - no not the groupie- the Italian city! This is the mail:
Dear Mr. St. John
I've found a very beautiful picture of the Royal Pier Pavilion in Southampton on your web site. I'm a graphic designer, I mainly make artwork for musical CDs. I would like to use that picture for a very nice Italian Orchestra, which plays a kind of swing-manouche-jazzy-traditional Italian original songs,
I don't know who's the owner of the rights of that picture, can you help me to find the right contact? Thank you very much and best wishes for the new year I've been very 'bewitched' by the story and the images of the Royal Pier.I discovered the building still exists even though not in use.
Alessandro Querci
Phew! These rare photographs of the beautiful ballroom were kindly sent to me by Johnny Dymond and shared with the world but there is no way of knowing the actual source from over forty years ago. Alessandro sent a couple of the CDs for me and John - they contain superb traditional ballroom music but with the original style of Italian composer/musician Alessandro di Puccio. Isn't it amazing to see these images after so many years and a nice way of remembering Len Canham and his loyal staff pictured at the Royal Pier in that formal photograph. The music is really good with Italian and French tunes - if you use your imagination, then picture a floor full of 1960s dancers in step with music played from some 45 years in the future. Like a 'Time Machine' Well worth clicking on these links below and get an idea of what these talented Italians are like - a refreshing alternative to many of their contemporary musicians.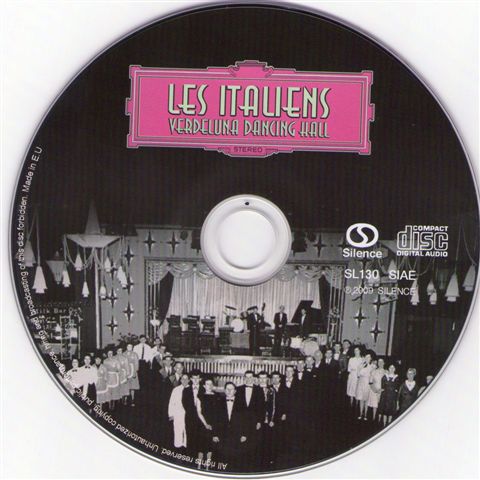 2010 A CD of great dance music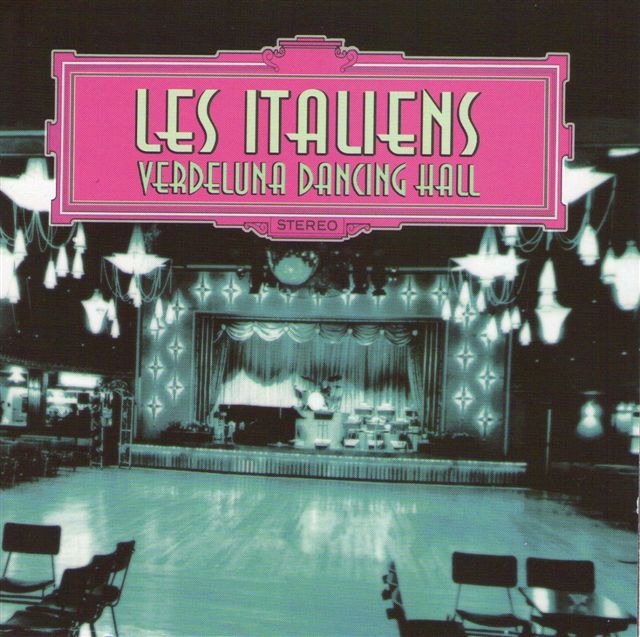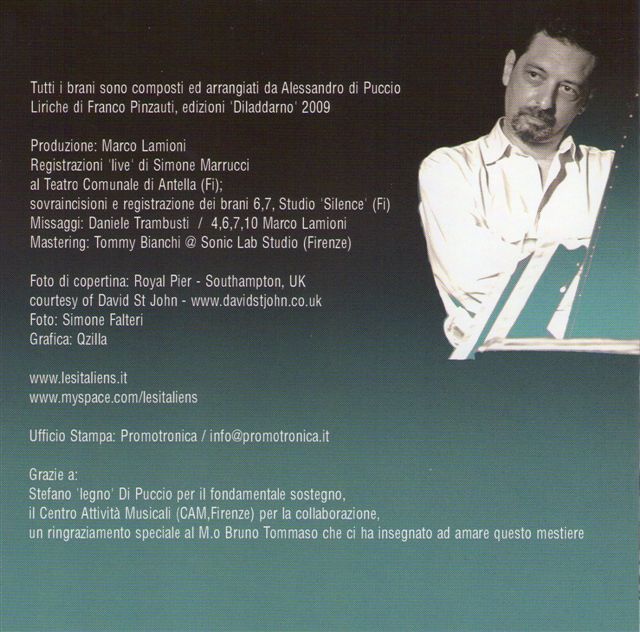 Les Italiens - Verdeluna Dancing Hall CD
Check out: www.lesitaliens.it and www.myspace.com/lesitaliens
Plus www.mondocandido.it + mondocandido
E-mail January 2013:
Hi David
As I remember I was in the night club on its last night. I think that was New Year's Eve 79/80. We were trying to steal all the palm trees because we new it was closing but the police outside stopped us. I was only 17 at the time but would love to see pictures of the inside.I remember being able to drive on to the wooden structure, and it being very slippy when frosty.
Thanks
Ian Gunn
Back to homepage Click on SITE MAP to navigate the pages Contact David
©David St John 2009