BACK TO HOME PAGE BACK TO SITE MAP CONTACT DAVID
*PLEASE REFRESH YOUR BROWSER(press F5) WHEN RE-VISITING ANY WEBPAGE AS CONTENT IS OFTEN UPDATED*
Page updated March 2017
March COPYRIGHT
Please note that many images contained within this website may be subject to copyright, although many have been kindly sent to me and intended to be shared on this non commercial outlet. If anybody wishes to use any of the same, then please get in touch as well as possibly giving credit where due as well as setting up reciprocal links if relevant to the actual content on any webpage. Please note that I am able to monitor any image-copying and if published on other websites. I would appreciate any contact to report broken/outdated links and any corrections to the text that accompanies any images herein. Thank you and enjoy!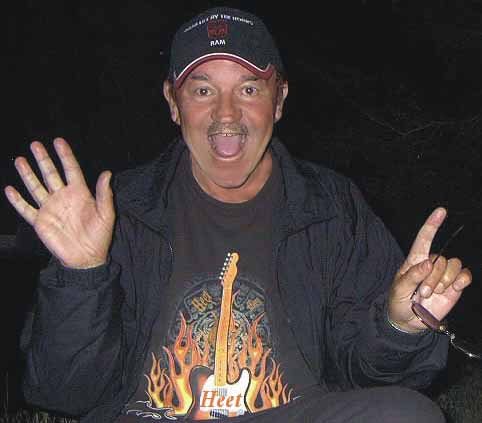 EDDIE HARNETT 1947-2011
This is a special dedicated webpage and a personal tribute to a very good friend who sadly passed away in January 2011-You may have been one of the lucky ones who actually knew him or even played alongside him from the early Sixties onward. Just go to the Site Map and check out my 'Biography' page and 'Group' pages which will give you a rough idea of the impact that Eddie had throughout the great days of the Sixties and much more.
I started this whole website up a few years ago with a one page basic outline to promote my professional status as a comedy entertainer. Within a short period of time, I expanded this and added on new webpages with the basic story of my background in showbusiness, as well as being sent many photographs and shared personal memories of fellow musicians from my hometown of Southampton. In recent years, we have inevitably lost many of our old mates with the passage of time, and others are not in the best of health or lucky enough to still be making music. You will also note the annual 'Back To The Sixties' Reunion shows staged at the prestigious Concorde Club in Eastleigh near Southampton Airport. These started out in 2008 and have brought together many reformed groups- some of them after 40 odd years or more as well as current established line-ups who appear around the local venues. These great nights feature some four hours of classic 60s music from original bands, singers and DJs who performed at many dance halls all over the South back in the early days. Many of the audience being 'baby boomers' who used to attend these very same teen dances the first time round so able to relive the atmosphere all over again, as well as providing a chance to meet up with old pals, swap stories and much more. We also pay a tribute to 'absent friends' who have passed away and read out the names of so many talented artistes who made a mark on other peoples' lives. This page is dedicated to one of my best pals who I first met back in 1965 when joining one of the finest groups in the area- The Unforgiven and will hopefully give you a good idea of the man himself. His final years out in the USA were a great time of his eventful life, although tinged with sadness as his health and personal circumstances caused many problems and resulted in his untimely passing in January 2011. Just Google 'eddie harnett guitar southampton' etc and this should find my entries on him as well as other sources which mention his name
If you are a regular visitor to my website, then you will most likely know about one of my best pals from the 60s music scene in the shape of Eddie Harnett who first started singing and playing guitar in an Eastleigh pop group- The Planets who later became The Unforgiven, who I joined in 1965. You may wish to read some of the story on www.davidstjohn.co.uk/biography.html and other pages that feature Eddie's later groups including the New Mojos etc.
Also take a look at http://www.davidstjohn.co.uk/blog2010.html which tells of Eddie's passing in January 2011.
..........................................................................................................................
1964 A local drummer Tony Cook and his wife Jean were having a drink in the local Cricketers Arms pub and heard a great cover version of the Searchers 'Needles and Pins' from the next bar- it sounded as if the original group had somehow sneaked in for a 'mystery' gig. Eddie's lead vocals and superb guitar talents were augmented by another great vocalist John Drevar, Roger Carr on drums and Steve Newman on bass, later replaced by Tom Fosberry.
Tony approached the teenage group (The Planets) as he was looking to manage a local band and very impressed by this outfit. Eddie stood back as a feisty John Drevar spoke up for everybody and agreed to try this out but quoting firmly "Nothing under a fiver!" The Planets shuffled the line-up with Dave Bunney taking over the drumstool followed by Ronnie Allen with Graham Medley slotting in with the bass duties, replacing Tom. My own first band The Abdo-Men were breaking up in 1965 and Tony Cook had his eye on my good mate Dave 'Beau' Dinnage on rhythm guitar and amazing falsetto vocals so asked him to join the new Unforgiven. The band name taken from a movie showing at the Regal Cinema Eastleigh and I believe that Tony Cook ('Cookie') brought in a keyboard player for a short while (?)
Beau accepted this offer to join one of the best groups in the area but only if I could join as well! There was no real need for another vocalist in the band as everybody sang their own lead or harmony vocals but my blues harmonica playing helped to swing it so we both got busy with learning more new numbers to produce a top line outfit. I am reproducing a few odd photos from other pages as well as few old pics that have surfaced in recent months.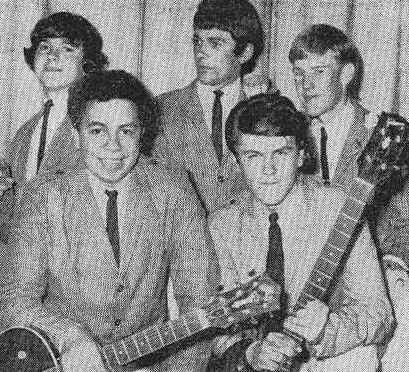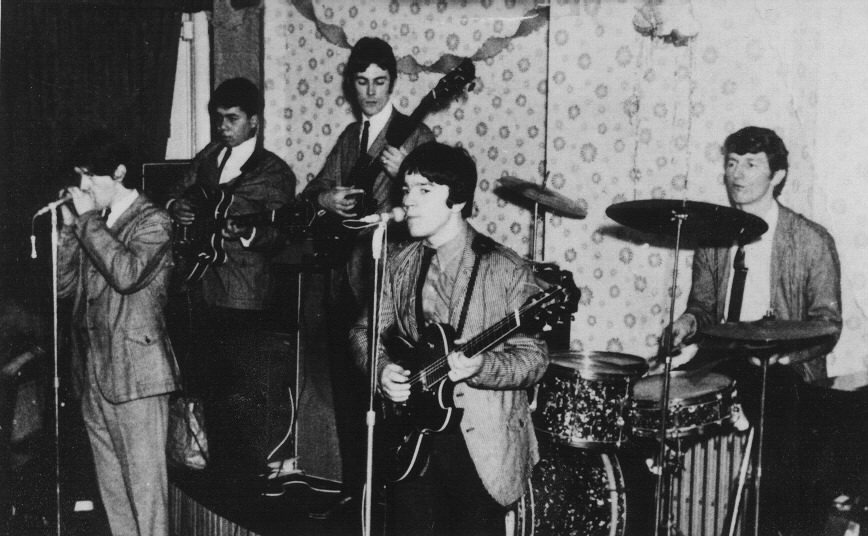 THE UNFORGIVEN 1 UNFORGIVEN 2
Eddie Beau Graham David Dave B David Beau Graham Eddie Ronnie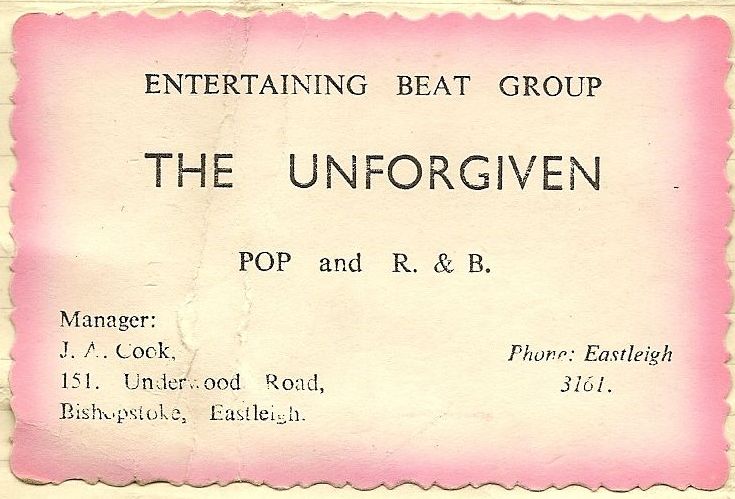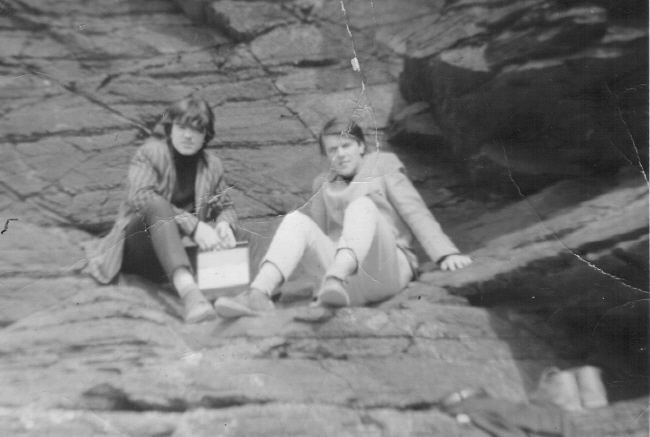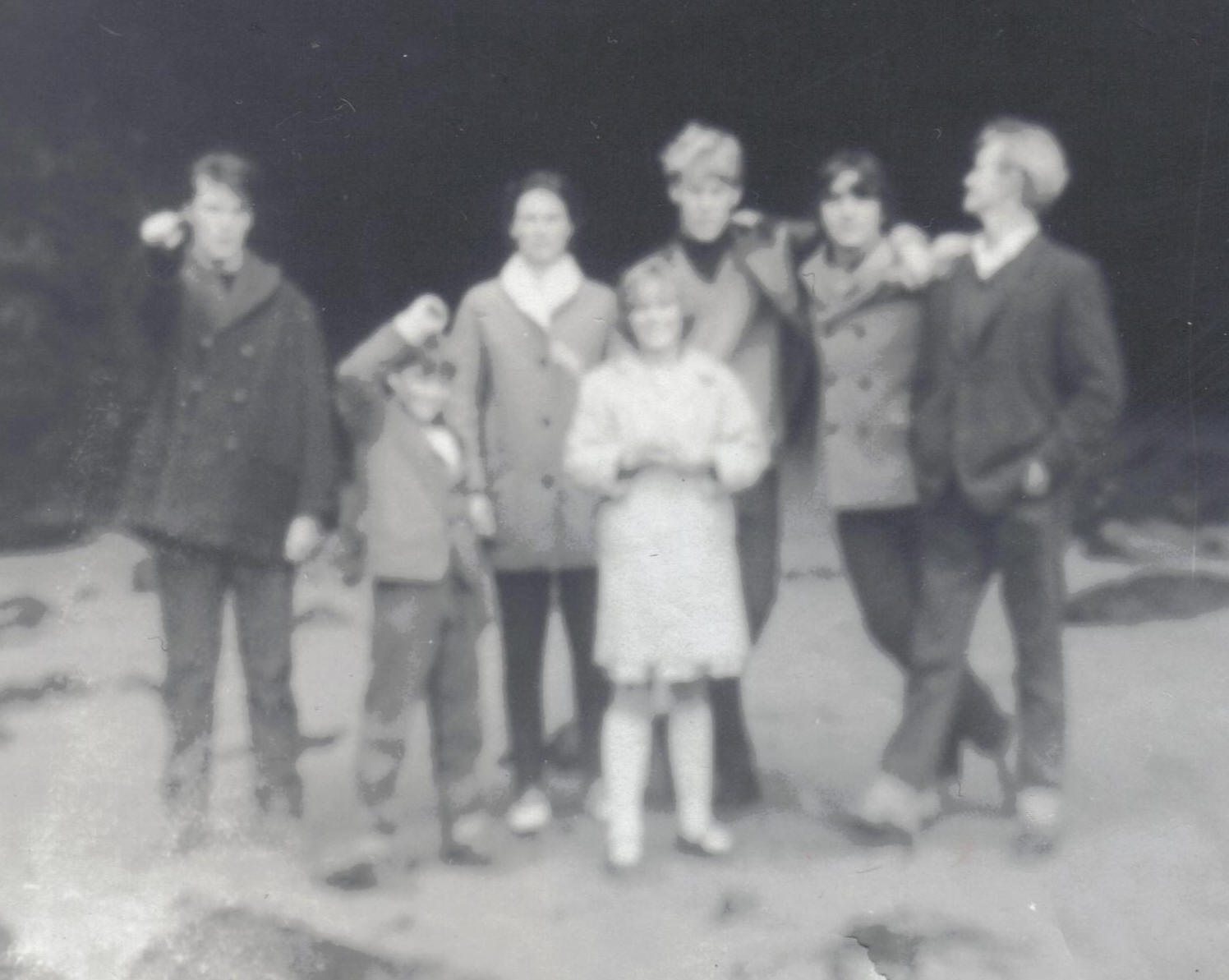 Polzeath Cornwall 1965 Eddie and me 'on the rocks' - great holiday in a caravan and tent (which blew away as we slept!)
The picture on the right shows me, Clive, Jean and Lesley Cook, Dave Bunney, Eddie, Tony Cook
We were walking across the beach and Eddie was spotted by a group of girls who thought that David Crosby of the Byrds was actually passing by - Ed teased them and ran off with the fans screaming for him to stop as they chased him along the sand!
We played at many dance halls, army/navy bases, pubs and clubs with a wide range of classic chart covers- usual Beatles, Stones, Kinks, Searchers and r&b of that era. Some of my best times and we had so many laughs on and offstage as well as on long journeys all over the place - a great time for teenage lads! The Unforgiven then changed their style- with John Drevar back in and I moved onto other groups for a few years whilst Eddie joined local recording stars The Fleur De Lys for a short while and then played with the Courtelles (Tony Courtin Voc/harm- Peter Flight drums-Ivor Elliot Bass-Bob Wright gtr Tom O'Sullivan gtr) Stu James- lead vocalist with the Liverpool chart group The Mojos moved down to Southampton and reformed the group with more success but not chart-wise. Other New Mojos were Duncan Campbell bass-Martin 'Cuddles' Smith drms succeeded by Danny Barbour then Tony House - all well known local musicians around the area.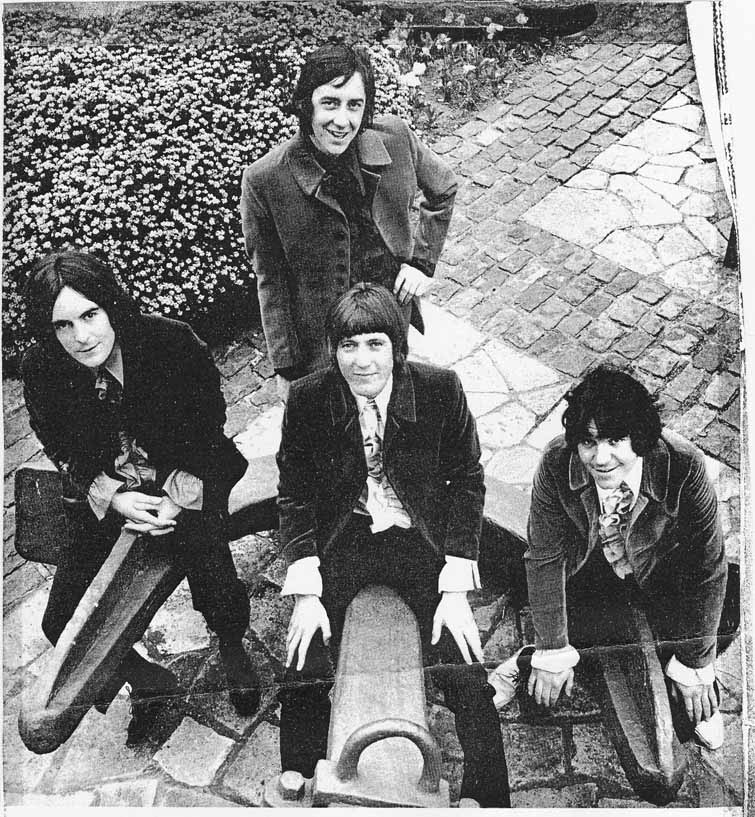 THE NEW MOJOS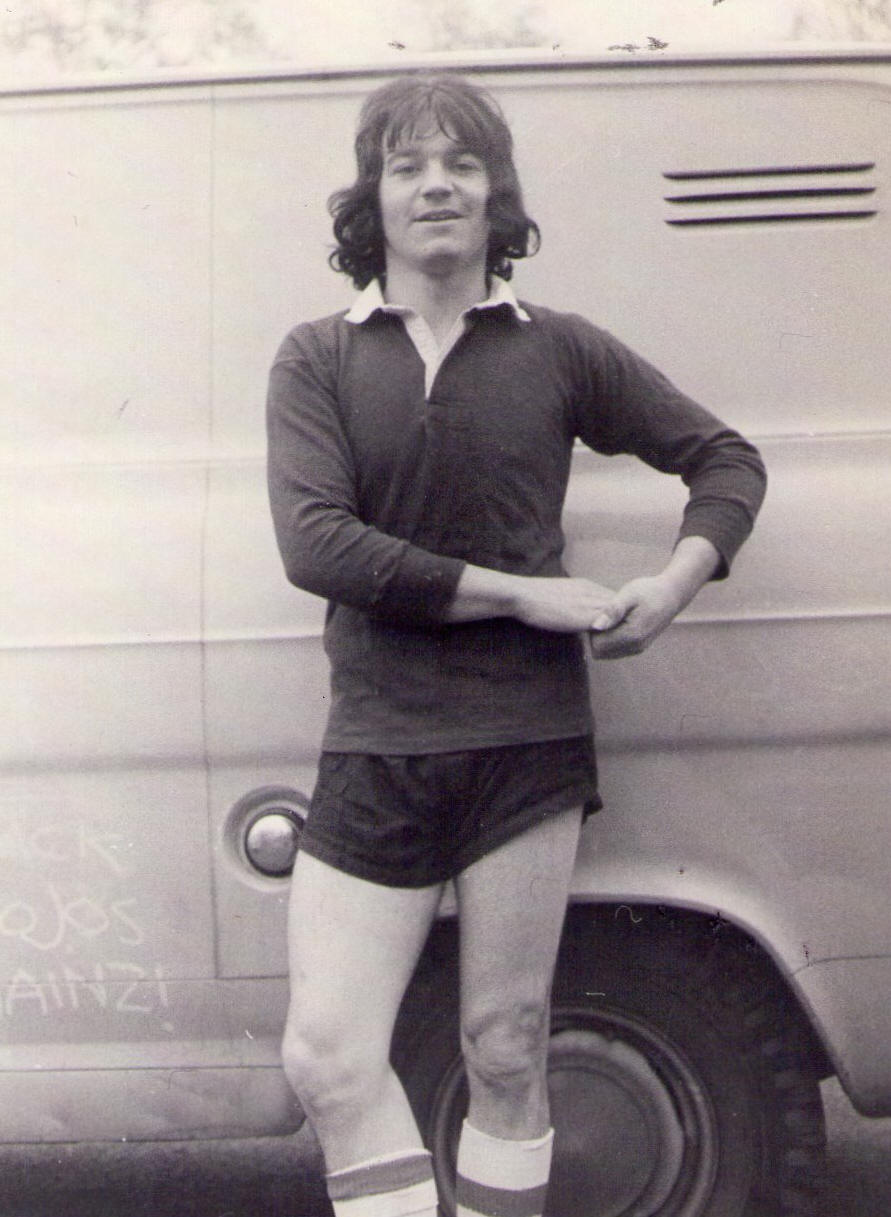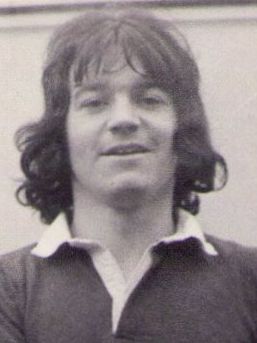 Keen footballer! Cropped from the left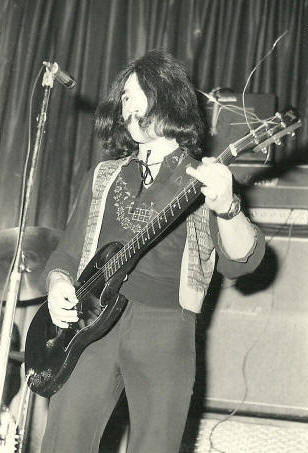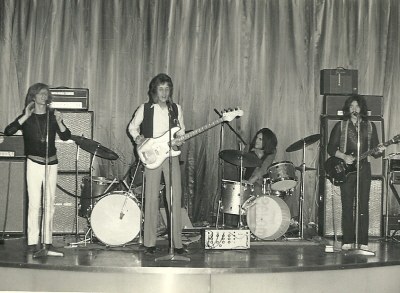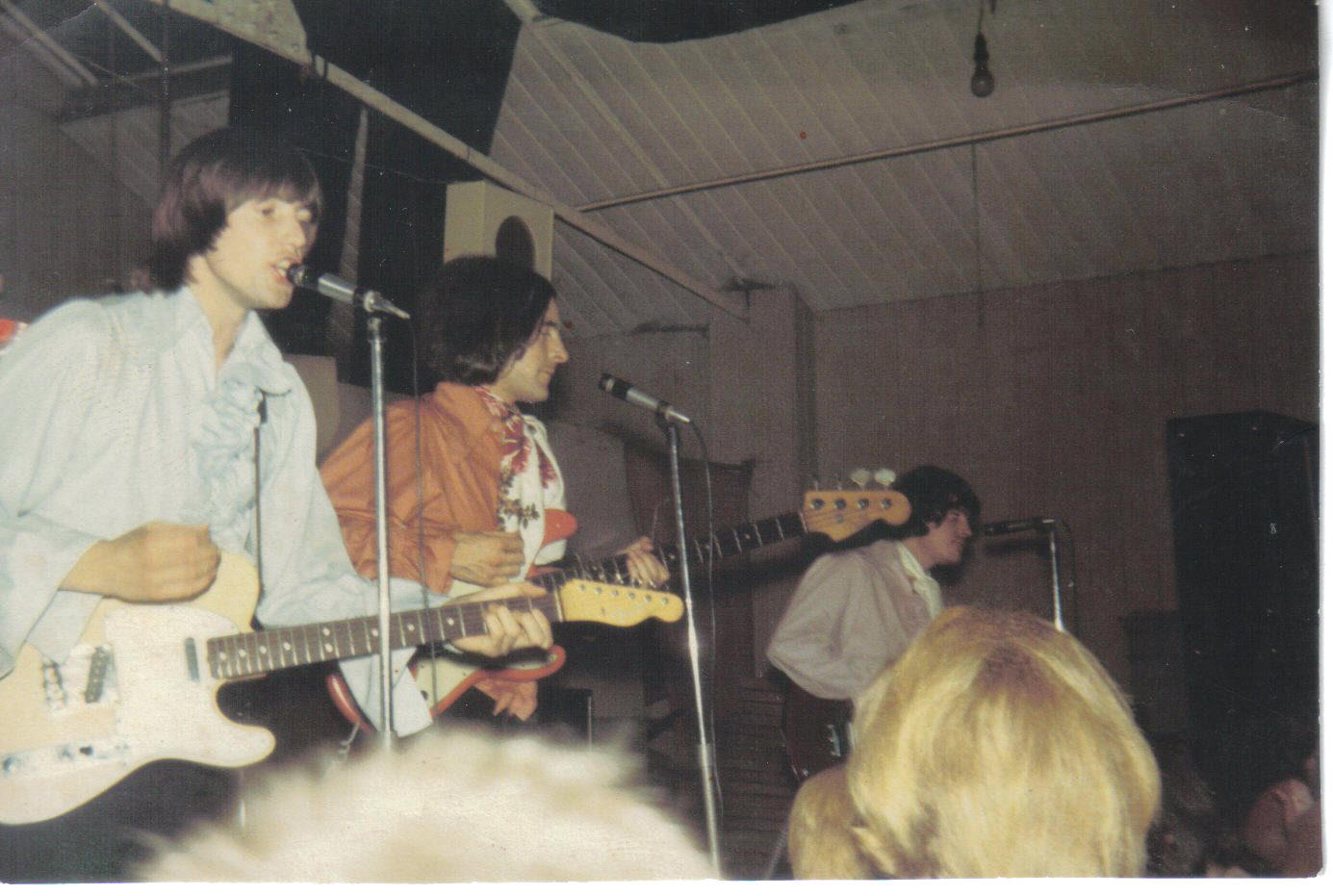 New Mojos- Stu James Duncan Campbell Eddie Harnett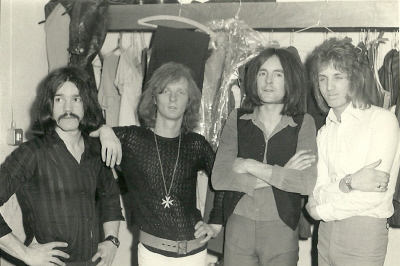 New Mojos- Eddie Danny Barbour Duncan Campbell Cliff Barks ( Replaced Stu James )
After the Mojos split, Eddie then went onto be part of a highly acclaimed 'progressive' late Sixties group -Heaven, based in Portsmouth and managed by Rikki Farr who masterminded the first major Isle Of Wight Festivals from 1969 (Bob Dylan) and 1970 featuring Jimi Hendrix (I was there!) Eddie became the main songwriter with Heaven whose big line-up included a brass section - heavily influenced by the early Chicago and Blood Sweat and Tears. This superb group (parts 1 + 2) played both IOW Festivals and issued the ground breaking album "Heaven- Brass Rock 1" but folded not long after over management issues etc.
Eddie played with Heaven 1 at the 1969 Festival - Heaven Brass Rock with J J Gordon (bass) Nobby (drums) with Ray King, Dave Gautrey , Derek Somerville (brass)
The Heaven lineup included Terry Scott on vocals/gtr (still making music over in Normandy) plus Malc 'Nobby' Glover on drums-Ray King, Dave Gautrey, Mick Cooper, Brian Kemp and Andy Scarsbrick. More info can be found on the excellent Portsmouth website of PompeyPop- check: http://pompeypop.wordpress.com/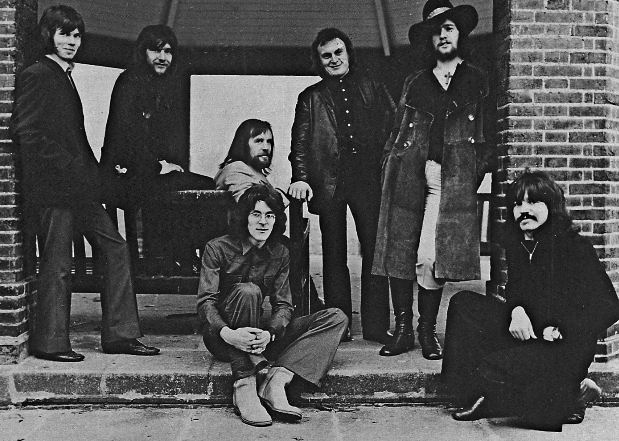 HEAVEN 1970
Eddie then formed Charleys World Premiere in the early Seventies along with drummer Ronnie Allen and Rick Champion on bass/vocals, followed by a spell with Parrot with Jimmy Hewson on keyboards/vocals (later solo Jimmy Keys see : http://www.jimmykeys.com/) In between these latest ever changing names, Eddie spent a year as part of the 'hippy' musical Hair in London's West End during 1975 before forming Creation with same band members as well as later drummers of Steve Faithful and Danny Barbour. Eddie's later band was Lazy Face and joined by Ray Davies on bass/vocals plus 'Kuulei' aka 'Ash' an Hawaiian dancer who Eddie married after meeting on European tours. Lazy Face were resident at the Aquarius Club Chesterfield 1977-79 with German tours in between, then onto a summer season at the Beachcomber Bar at Butlins Filey 1979. Eddie and Ash (Ashleigh) were married on 3rd March 1979
They were represented by JME (John Mills Entertaiments) of Portishead Bristol and this is one of their publicity flyers:
Lazy Face featuring ' Kuulei' The Band of 1979
A four handed Vocal/Comedy showgroup with the additional bonus of Kuulei, a delectable Hawaiian lady.
The current line up was formed in the Autumn of 1977 and comprises 4 very experienced musicians who all have had vast experience with name groups in the past.
Jim Hewson (Keyboards/Lead Vocals) Ex 'Sundance' and has been MD to many leading American artistes such as Ben E King, jimmy Helms, Percy Sledge and Eddie Floyd.
Danny Barbour (Drums/'Lead Vocals)
Ex 'Mojos' and Rock and Roll recording days with the
legendary joey Dee (Peppermint Twist Man).
Roy Davies (Bass Guitar/Lead Vocal)
Ex 'Magic', 'Design'/'Wishful Thinking', also appeared in the
movie 'That'll be the Day' with David Essex and Ringo Starr.
Eddie Harnett (Lead Guitar/Hawaiian Guitar/Lead Vocals). Ex 'Mojos' and 'Heaven'. Appeared at Isle of Wight pop festival. Eddie also played a leading part in the musical 'Hair'.
Finally but definitely not least:
Kuulei
Born in Honolulu, Kuulei has been a professional singer/ dancer since the age of 14. She has made many TV appearances in USAI,Far East/Canada Australia and Europe, where she met the rest of the band.
World Wide Representation/Management: JME Ents. Ltd
These are a few photos of Ed's global journeys and I will edit/amend any information in the near future as this page was due to be uploaded a long time ago, so enjoy a few glimpses of his life. Rick and Eddie had some great talks in his final days and Ed was happy about his whole life, with so many memories, laughs and much more. It's as if he knew the end was near so at rest with himself- he wouldn't have changed a thing
FROM EDDIE'S ALBUM- CAPTIONS TO FOLLOW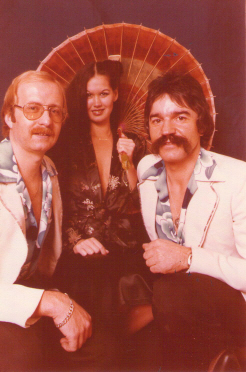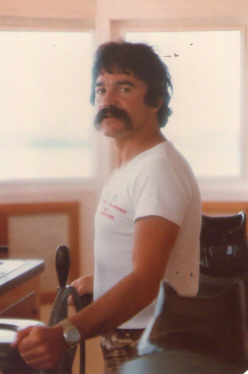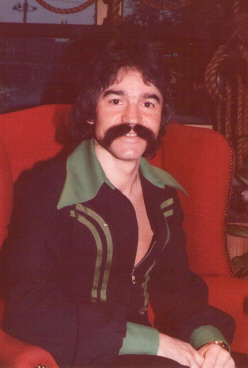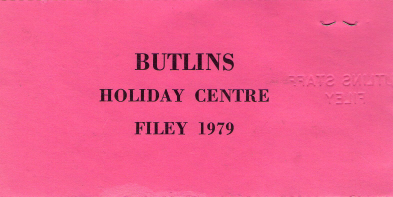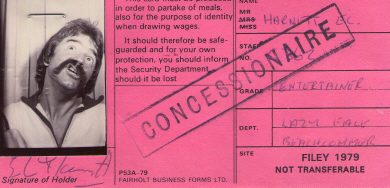 Entertainers' passes for Butlins - usual pose!!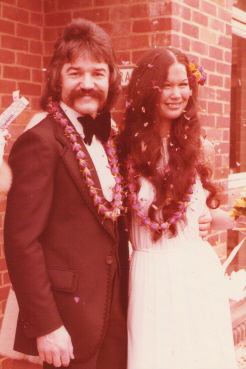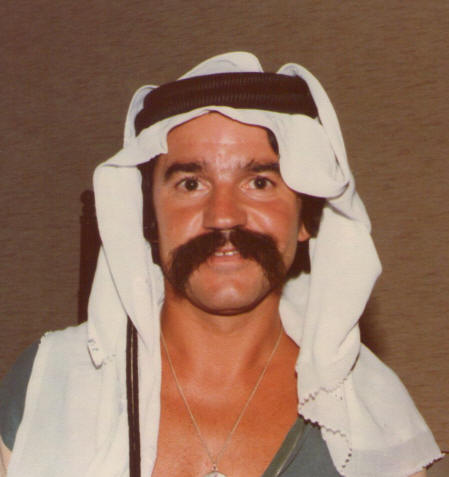 Wedding day 3rd March 1979
Ray Davies-Jimmy (Keys) Hewson-Ash-Ed-Danny Barbour-? Ed and Ash U.A.E. Ed The Arab!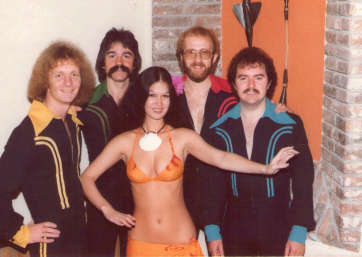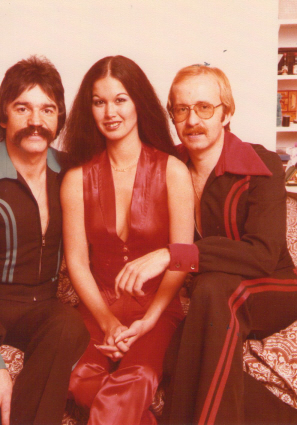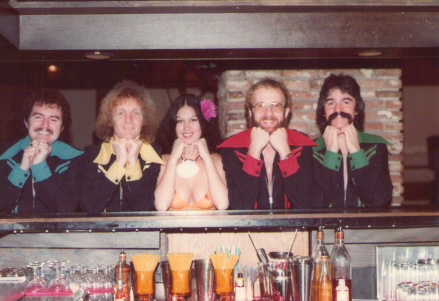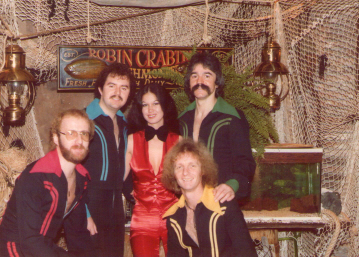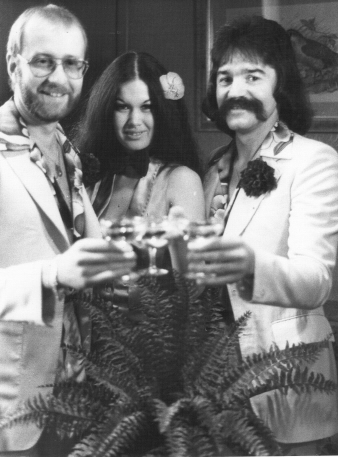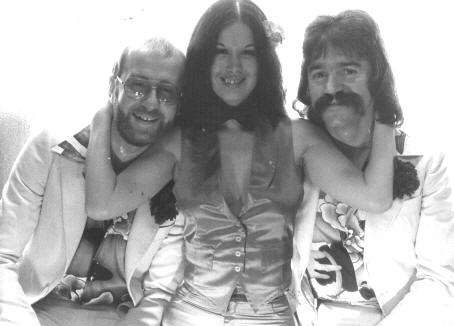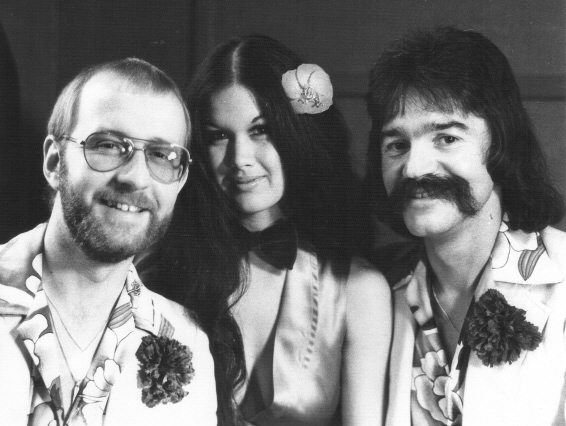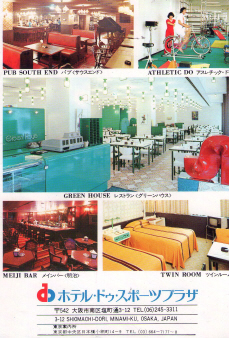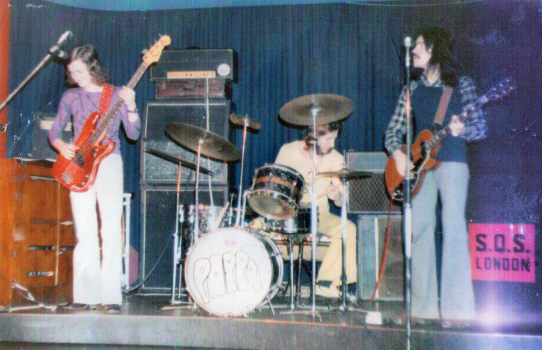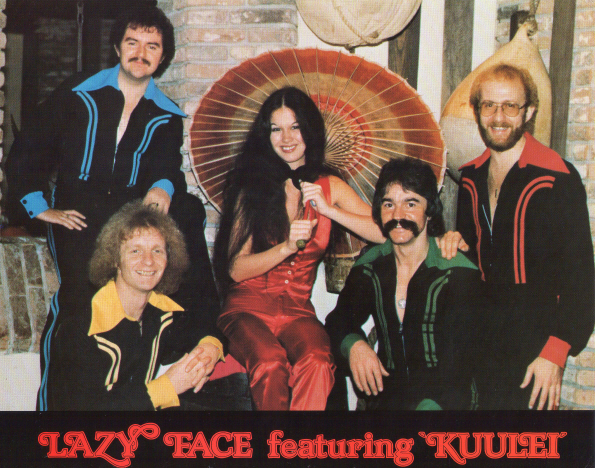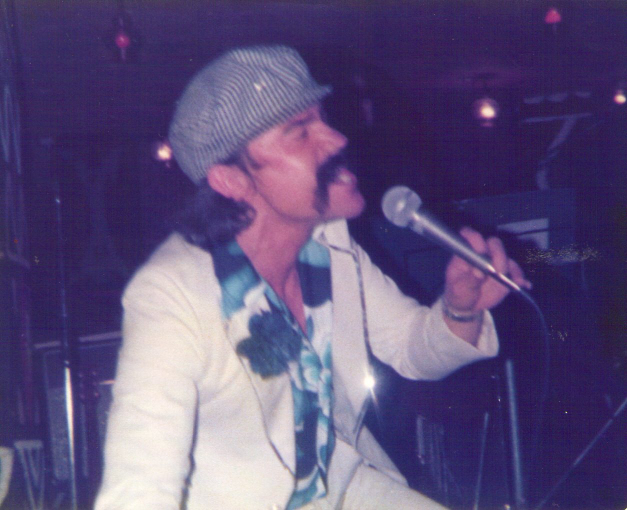 JME publicity card 'Norman Wisdom' Ed loved him!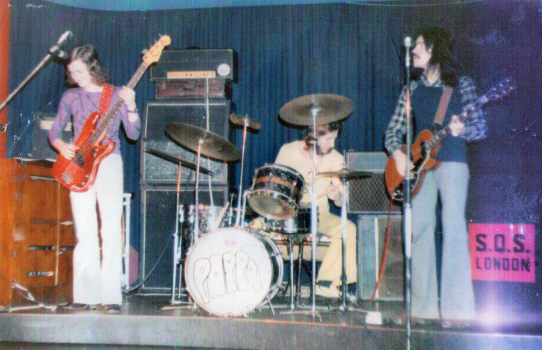 PARROT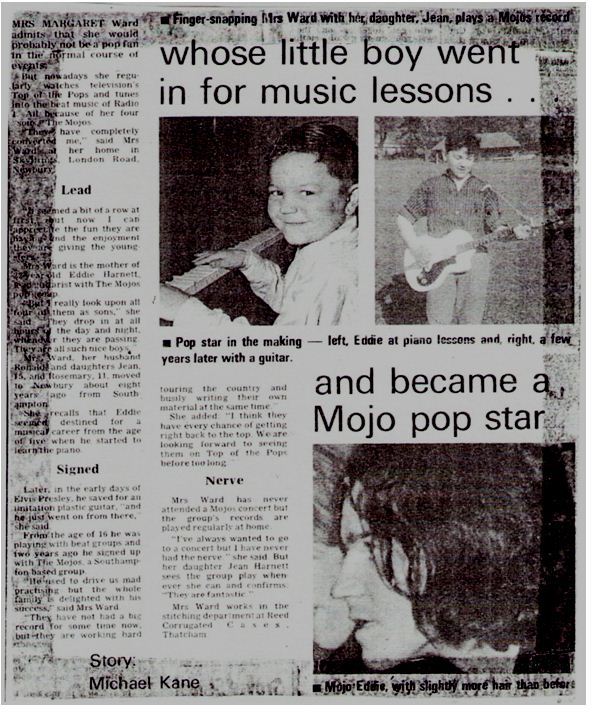 Newbury press 1969 -interview with Ed's mom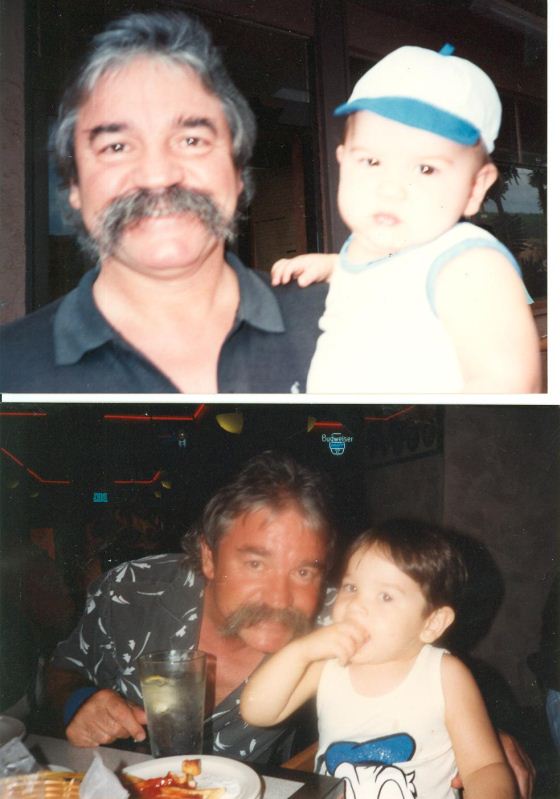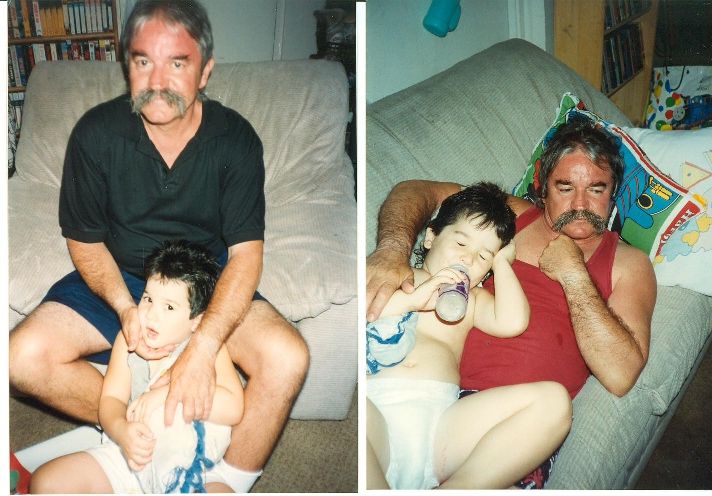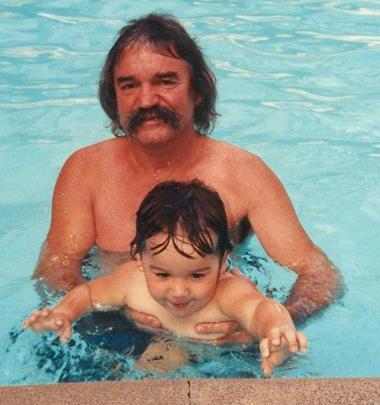 Hawaii with Anthony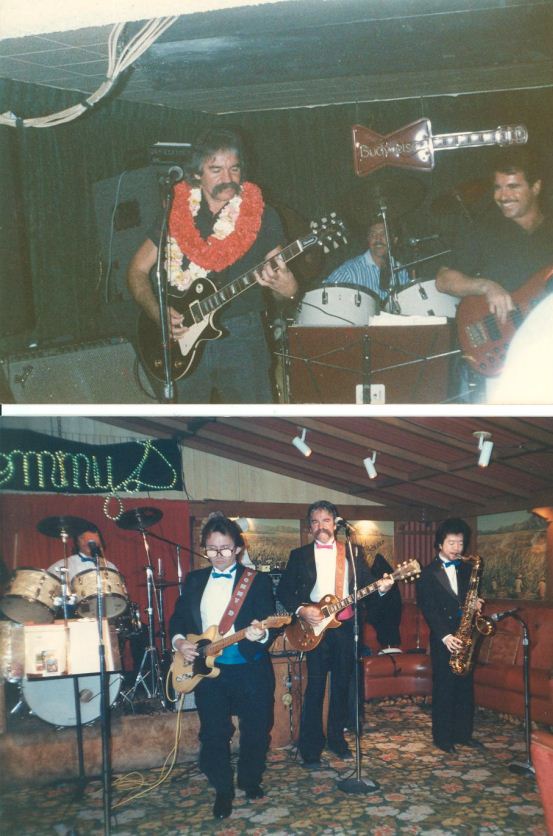 ..........................................................................................
In the early Eighties, Eddie decided to settle in Hawaii with Ash and soon became well established in playing local hotels, clubs, festivals on this beautiful island. Sadly, the marriage broke down and some time later Eddie formed a new relationship with another Hawaiian girl Kathy, producing a son Anthony who inherited his father's talent as a musician (named in honour of Tony Cook)
In the last few years, Eddie became involved with a new band and left Hawaii for the mainland, settling in Washington State then moving down to Las Vegas but his final years were hindered by a combination of ill health and difficult living conditions caused by those who were supposed to be looking after him. I often phoned him and we had some great chats, loads of laughs and he was so pleased when learning about my website plus memories of our great Southampton days. His old pal Rick Champion has also lived in Las Vegas for many years and playing bass/vocals with several top rated bands in the hotels, casinos and other amazing venues in the showbusiness capital of America. Eddie really missed England and mentioned how he would love to come back but there were 'problems' with his situation that me or Rick could not really work out and we tried to help him get out of the city, but Eddie seemed 'tied' in some way. When Eddie became seriously ill in late 2010 with colon cancer- he ended up in hospital and Rick was a great support to him as he visited him often as well as taking a laptop into the ward to cheer him up as read more of my webpages and e-mails sent from other musicians-I also called him a couple of times and he sounded fine. I had an awful phone call from Rick on the 9th December to inform me that Eddie had suddenly passed away but within a few days it transpired that the hospital had made a mistake by telling Rick as he came to visit his mate! The Southampton Daily Echo printed this story as we renamed him 'Lazarus' as he was back from the dead- Eddie thought it was hilarious, as did many of us relieved pals. However, he was kept in hospital for the Xmas and New Year but suffered a heart attack on the 8th January and passed away. We knew that he had two sisters- Jean and Rosemary but despite trying to trace them down, I could not find any clues to their whereabouts until a few weeks later. It transpired that Rose was still living in Newbury where the family had lived for a while in the Sixties whilst Jean had settled in Florida many yeas ago but had lost contact with Eddie, although it later transpired that her messages had been 'blocked' and Eddie didn't know anything about Jean's concerns. I finally found them both and they were naturally devastated to learn of what had happened, especially as Jean would have been on the first plane out to Las Vegas to have helped in any way possible.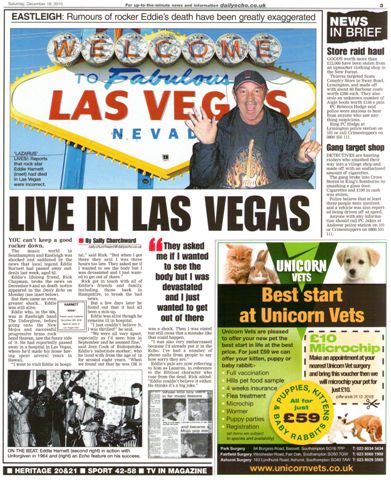 I arranged a special tribute Memorial Day for Eddie at the Irish Club Eastleigh- just across the road from where the old Junction Hotel stood, with so many memories of our Unforgiven days- this was on Sunday 20th March 2011 and it tied in with Rick Champion's visit back to the UK but he was not able to bring Eddie's ashes back to rest, due to some red tape at the Las Vegas Hospital etc. It was a great day and saw the original Unforgiven line-up from 1965 plus many pals, musicians, family and fans throughout the years. We played some tracks from 'Heaven Brass Rock' album as well as some great live music with many of the old 60s songs that we all played in those early days. A few 'absent' friends sent these following messages and were read out on the day- fitting tributes to a much missed pal.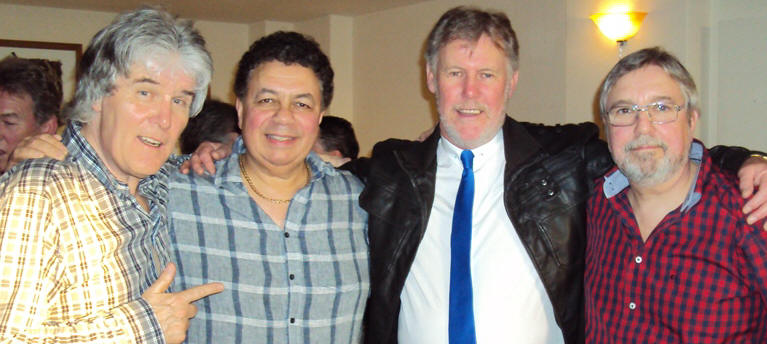 2011-The Unforgiven Reunited- original 1965 line-up
David Beau Dave Bunney Steve Newman
You can see a few clips of Ed with the Eddy Zany Band on You Tube- just search and see how good he was
..........................................................................................................................
Stu James /Mojos
"My memories of the year or two Eddie and I were on the road together are happy ones. Eddie was a very relaxed kind of guy and always saw the positive side of things. He was a great harmony singer and an imaginative and talented guitarist. A group on the road is a volatile being : Eddie always had a smile on his face and a joke ready to tell. He made it easy for any of us to introduce new songs we had written to the band andwas always happy to give a new idea his best shot. I remember him fondly and as he was then. I am so glad to read that he had a lifetime career playing guitar which was clearly his ambition."
Terry Scott/Heaven (now in France)
"Eddie - you were one of the nicest persons a guy could ever meet. A great songwriter,singer/guitarist, A good mate, a wicked sense of humour,, but most of all - a good honest man, I salute you Eddie , I will never forget you, Your friend, Terry Scott"
Duncan Campbell-/Mojos (now in Tenerife)
"About Ed- we used to call him 'Ernie' -this came about about as we dealt with a music publisher (April Music) who always got words and names mixed up. We joked that we might get a letter addressed to a "Mr Ernie Hornet" and this stuck.
I just want to say that there are good guys in this world and there are bad guys. Eddie was one of the best of the good guys."
Andre Audin (formerly Hawaii- now Florida)
"Hey guys!
I first met Eddie in the early 80's when a bunch of friends heard some really cool sounding guitar solos coming from a club called the Irish Rose in Honolulu. Eddie had commanding stage presence and the club was always full (over flowing at times)
I introduced myself and during breaks would talk to him - he always called me 'mate'. He was the most talented musician that I have ever met. When his band broke up I asked him if he would like to join my group and even though he was a superior musician to the rest of us (he actually carried the band) he never made us feel as if we weren't worthy to play on stage with him! We played gigs at Pearl Harbour, Gussie Lamours, Pink Cadillac and private parties as well. Eddie would rip incredible solos on his Les Paul while I would act like the sound was coming from my Rickenbacker - he would look over and wink at me as the crowd thought that I was the one ripping on the guitar!
I later moved into Eddies building directly above his apartment and we would jam Beatle songs, just the two of us from our balconies to the traffic below. Sometimes I would go wireless and walk along the sidewalk playing and singing while Eddie played on his balcony. The people loved it and would sing along with us from their cars while they were stuck in traffic giving us the thumbs up sign.
I last saw Eddie in Las Vegas this past September (2010) when a buddy and I went there to see him. Eddie and I started singing in the Casino bar and people started joining in with us . Next thing we knew people at the slot machines and even the card tables were mouthing the words, when this musician from the casino started playing, some lady told him to 'shut up' and let Eddie and I do the singing! I felt sorry for the guy as Eddie and I got the crowd going using no instruments or p.a. system - the other guy eventually asked Eddie and I to join him on stage.
Eddie - we miss you more than you'll ever know, thanks for being a part of our lives your memory lives on God bless you! This pint's for you mate!"
N.B. Andre Audin is a semi-professional comedian- New York etc plus still singing/guitar etc. Stage name of Dre Dre Bronx!
TINIE (CHRISTINA) AND DANNY BARBOUR (NETHERLANDS
"Eddie,
I saw him for the first time in 1977 in the Marriott hotel in the centre of Amsterdam. It was my first time in the Windjammer club, the nightclub in the cellar underneath the hotel. I can tell you all now how the whole Band was calling out to us when we, as the only girls, walked down the stairs into the club. But I won't! I can tell everybody how I still remember Eddie's expression on his face in 1979 when I came over to England for his wedding for a week and one night the band had to play in a mental institute, and Jessy was doing one of his crazy dances with one of the staff and the guy took Jess over his shoulder and threw him on the floor. Flat on his back!!! But I won't.
Cause Eddie, I want to talk to you about something very special that I never had a chance to! I want to thank you, thank you from the bottom of my heart that you got rid of Danny's trunk that he had stored at your house. I never blamed you for that cause he just left it there for years and years and never took the trouble to pick it up in Southampton when he moved to Holland, and we heard it was full of mildew. Thanks to you and thanks to Danny, the trunk was lost, and because of that I never saw a picture of Danny's mum and Dad, my in-laws, cause that's where he kept their photos.
Because I was determined to find at least a photo of his dear Mum, I started an amazing search, being helped by the spirits and found out that Danny, who thought he was alone on this world since he was 15 years old and had lost both his parents and had NO other family.... I found out that he had a huge family, found his only living uncle John 83 years old, whom he was named after and discovered 24 first cousins....Danny was 63 years old and no longer alone... I could not have done that without you Eddie, cause if you had kept the trunk I would have had a picture of his Mum and never had to start a search for a photo and never discovered his family!!! Danny would have died without knowing. I never had the chance to tell you this and thank you for it. And I know Eddie, when you left us down here, that Danny's whole family embraced you and will take care of you up there and that makes me very happy my dear friend cause I know that with all these good spirits you are in good hands. I only wish that your eternal life had started much later then it did.
I love you Eddie, and will never forget.
Tinie (Christina)
The one with the funny accent from Amsterdam xx
Danny Barbour writes:
'Sembencarnatious Ed...Sembencarnatious !!! Eddie used to make words up and this was one of them. I can still hear him saying it on the way up the Avenue past the Top Rank on the way to a gig. So my memory for Ed is one of his own words so that everyone who reads it is 'hearing'him. 'Loved you like a brother Ed. - played together with you in Creation/Lazy Face (thanks to you and Rick)...and thanks to you alone in the Mojos and Hair in Spain.
Great singer, Great guitarist, but specially a Great guy..... You for sure were 'Sembencarnatious' Ed.....whatever it means....let's keep it alive'!!!
..........................................................................................................................
I was in regular contact with Eddie's sisters and when the ashes were released, Jean flew over from Florida then travelled with Rosemary and family to Southampton where we scattered Eddie's ashes at South Stoneham Garden of Rest on Tuesday 31st May at mid-day. This tranquil spot is just a few yards from the nearby Ford factory where our group had played several times in the Social Club and the rain stopped at the same time with some sunshine creeping through as if on cue. This was on the same ground where Eddie's father's ashes were scattered back in the Sixties and with a mixture of prayer, personal memories of a great guy we said goodbye to Eddie and glad that he had finally 'come home' to where he wanted to be. It was what Eddie would have wished for and I was able to say a few words and share some memories of our great times all those years ago. I'm sure he was around us that day and still is......
I brought a guitar to sing the Beatles song 'In My Life' which fitted the occasion as well as us both loving the music- our Unforgiven repertoire containing many of their hits. Jean had arranged the service of committal with short prayers and a reading of Ecclesiastes 3:1-8 was perfect as well as being the basis of the old Pete Seeger song of 'Turn Turn Turn' that was revived by the Byrds in 1965- the very same year that I had first met Ed when joining the Unforgiven so quite poignant. I sang a short burst of 'Just Like Eddie' (by another local Eastleigh lad Heinz) whose lyrics fitted just right so a nice musical farewell that Eddie would have wished for. Just search for these words and you will see why I chose it. This notice was arranged by sisters Jean and Rosemary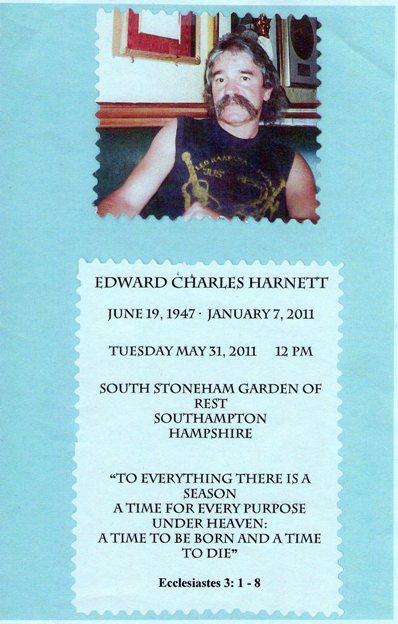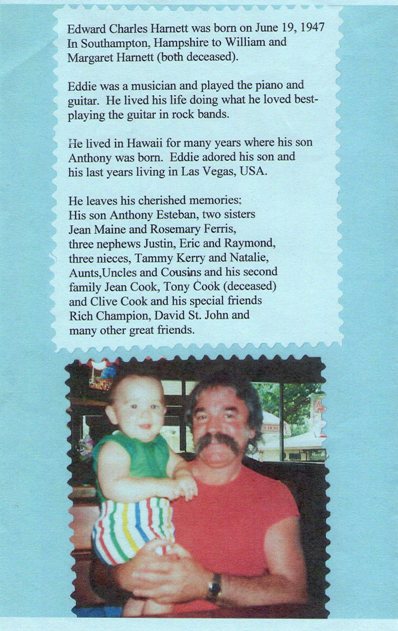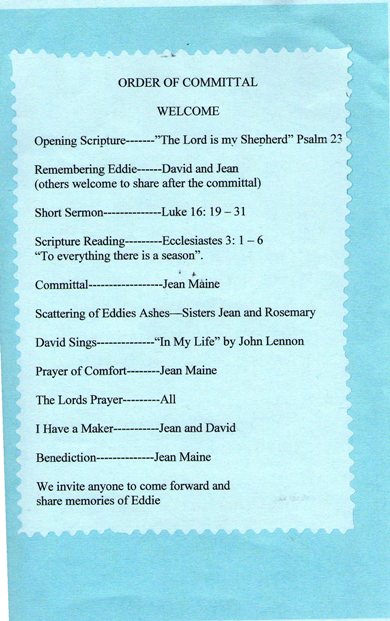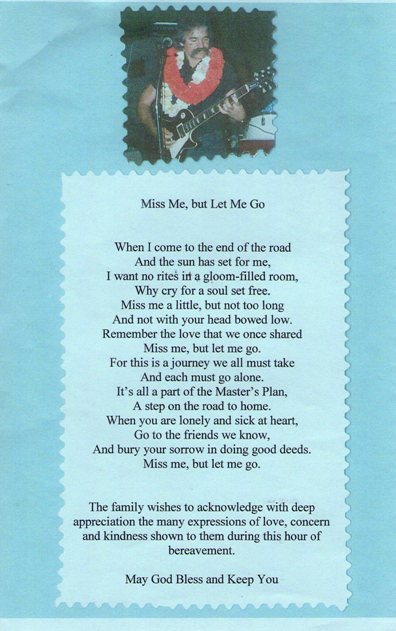 IN MY LIFE- Lennon/McCartney
There are places I remember
All my life, though some have changed
Some forever not for better
Some have gone and some remain

All these places had their moments
With lovers and friends
I still can recall
Some are dead and some are living
In my life I've loved them all

But of all these friends and lovers
There is no one compares with you
And these memories lose their meaning
When I think of love as something new

Though I know I'll never lose affection
For people and things that went before
I know I'll often stop and think about them
In my life I love you more

Though I know I'll never lose affection
For people and things that went before
I know I'll often stop and think about them
In my life I love you more
In my life I love you more
................................................................................................................
R.I.P. old pal - you made a mark on the world.
26 August Jimmy Keys (Florida) by e-mail:
In around 1977 myself, Eddie, Rick Champion & Danny Barbour were performing at The Marriott Hotel Amsterdam in Holland (we did at least four 3 month contracts at this amazing venue) One evening a guy approached us and asked us to come down to Utrecht in S Holland to perform at his night club which we eventually did. It was a real old fashioned night club and we played from like 10pm until 5am, emerging in the cold light of day!! The very first night us Brit boys were in the bar we suddenly see about 6 attractive strippers (of course we found out after arriving, this was a strip club!!) over the other side of the bar. We are all straight over there chatting to them, and the Dutch manager called us boys over, "I need to tell you something, most of these "girls" are men"!!!! Wooahh......you can imagine it was an interesting month with SO many laughs, because of course we knew this big secret, but none of the punters coming in the club had any idea!! We all of us, had rooms upstairs above the club with the transvestites!
I remember, the last time I performed with Eddie was in around 1979-80 when we had gone from a 5 piece to a 4 piece and then the 3 of us, myself, Eddie and his wife Ash. We got a 3 month contract in a large beach front hotel in Sharjah near Dubai in the Middle East. It was so bizarre, we were part of a cabaret type show featuring 3 acts:
* Our trio, (the 2 Brit maniacs + Ash the Hawaiian dancer/singer)
*A husband & wife duo singing show tunes + British pub sing alongs. Imagine this show & how the evening went You've got:
*Two pop/rock musician maniacs fooling around the whole time (doing a Norman Wisdom routine etc) with a beautiful girl from Hawaii featuring a fire dance!
* A very funny singer/impressionist from the UK David Andre, who used to at one point become Demis Roussos by wearing a large kaftan with a gas bottle underneath that blew foam as he 'rose into the air' using a stepladder
All this in front of mostly very serious (& very confused looking!) wealthy Arabs in a Chinese restaurant, in the Middle East!!
You can imagine the laughs me & Eddie had in this show, absolutely hilarious!!
After this Ash & Eddie left the UK and moved to Hawaii, I actually could have gone with them but at the time declined, I preferred the palm trees and beachs of Eastleigh......LIAR!!
OK David, by the way, not sure if you know, I am originally from Gravesend Kent and that is where I first met Rick Champion and of course how I ended up in wonderful Southampton for many years in different bands!!
OK David, feel free to use whatever you want from the above memory banks!
Cheers my friend.
Very best wishes,
Jimmy http://www.jimmykeys.com

JUNE 2013
You will have read about Eddie's final 'difficult' years and I have had several messages with regard to his involvement with his last group- 'Heet' featuring a 'Tiffiny Bond' -female vocalist. I refrained from adding any links to their website as there were many personal problems on the 'management' side but I have just checked and rather concerned that they are still advertising Eddie as part of the existing line-up, despite passing away over two years ago! They even advertise music downloads, but Eddie's own copyrights were 'signed' away in rather mysterious circumstances and he certainly had no money in his last years. This website is obviously out of date as it contains much of the same content from when Eddie was alive and well, but I find it distasteful to see that they indicate that he is very much a part of the whole set-up. As far as I know- Heet does not exist and much of the 'Tiffiny Bond' website is phoney- I have e-mailed the 'manager' a Mr Joe (Moxley) More -King Music etc and presumably back in Hawaii now? The message was bounced back as expected and I'm hoping that someone will know of these people involved and (hopefully) edit the pages accordingly. I did try a couple of cellphone numbers from before but another dead end. Their website search shows a Washington based address and contact so if anyone anywhere knows anything then please contact me
This is the weblink and you may wish to follow it up yourself or please contact me with any information? http://www.tiffinybond.com/index.html
BACK TO HOME PAGE BACK TO SITE MAP CONTACT DAVID
copyright©davidstjohn2017