HOME PAGE SITE MAP CONTACT DAVID ST JOHN
Page updated 31 December 2010
David St John BLOG 2010
*If returning to this page- please 'refresh' or press F5 for latest browsing session*
COPYRIGHT
Please note that many images contained within this website may be subject to copyright, although many have been kindly sent to me and intended to be shared on this non commercial outlet. If anybody wishes to use any of the same, then please get in touch as well as possibly giving credit where due as well as setting up reciprocal links if relevant to the actual content on any webpage. Please note that I am able to monitor any image-copying and if published on other websites. I would appreciate any contact to report broken/outdated links and any corrections to the text that accompanies any images herein. Thank you and enjoy!
This webpage follows on from Blog 2009 and features news of my comedy shows plus related updates on my Southampton based Sixties Music side and you can read all about this via the Site Map page. Latest news first and then descending order:
Thursday 30th December
As the last few hours of 2010 ticked away, it also brought some very sad news of yet another musician who passed away in the shape of Mick Haley from the Eastleigh area. Mick was best known as lead vocalist with the very successful Peter Pod & The Peas and other bands in the Southampton area, so leaves some great memories all over the South.
You can read some of Mick's story on my webpages and this tribute was printed by the Southampton Daily Echo on New Year's Day
Courtesy Daily Echo:
THE Hampshire music community is in mourning after the death of one of its leading lights. Tributes have been pouring in for keyboarder player, singer, songwriter and former entertainment agent and nightclub boss Mick Haly.
The Eastleigh dad-of-two is most famous for his role as frontman for 60s revival band Peter Pod and the Peas which performed with such giants as Gerry and the Pacemakers, The Searchers and Marmalade. He died on Thursday night at Queen Alexandra Hospital in Cosham after a long illness.
The 59-year-old grandfather, of Lesley Loader Court, had been involved with a number of bands such as Infrareds, Mojos, Magic Roundabout, Merlin, Arcade and Jumbo until taking on the persona of Peter Pod for the past 26 years. The band made two albums and a single and Mick turned professional for a brief spell but stopped to concentrate on family life and became a British Rail clerk of the works. Peter Pod and the Peas also raised tens of thousands of pounds for more than a dozen Hampshire charities.
His eldest daughter Donna said she and her sister Carolyn have picked up his encyclopaedic knowledge of music. She said: "Family and music were his passions, he lived for music and spending time with his grandchildren. He was a joker who always wanted to make people laugh."
Long-time friend and band member Patrick Curran said: "Even when he was ill he wanted to come with us when we played, he was an inspiration. Music was his life, it meant everything to him and I think it was that which kept him going. We will keep going with the band, it's what he would have wanted."
Reporter: Simon Carr
I will add some more information on Mick in the near future- I had spoken to him last year as I was looking to organise a fourth Concorde 'Back To The Sixties' Reunion show (see Site Map/Royal Pier Memories) Despite his ongoing problems in recent years, Mick still turned out for several shows with PP & The Peas and expressed a wish to (hopefully) appear on the 2011 show, which is still being looked at. He naturally said 'It depends how I am' near the time but sadly this is not the case and so we say farewell to another pal, but he wont be forgotten by the many pals and fans of 'Pea' music over the years. R.I.P. Mick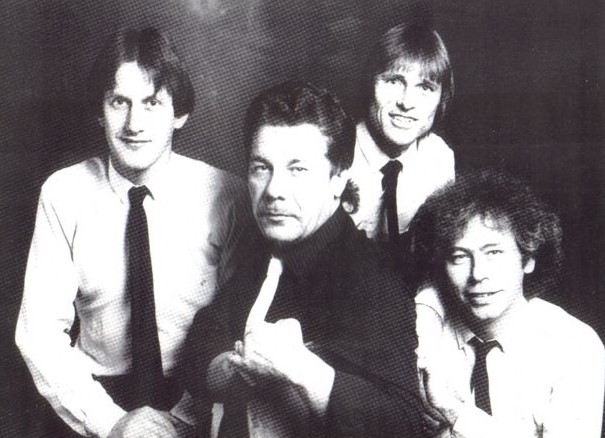 Peter Pod & The Peas
............................................................
Wednesday 8th December was, yet again a poignant date for anybody connected to the music scene as it was the 30th anniversary of losing John Lennon in a moment of sheer madness. The next day, I had a shock when receiving an e-mail from a good pal Rick Champion who has been living and working in Las Vegas for many years, after many years of singing and playing bass with several top line-ups around the South. Fellow musician Eddie Harnett has also been in the USA for many years and had also been based in LV but suffered from ill health for a while.
Early December, Ed went for a routine medical check up at his doctor's office and was informed that he had colon cancer so needed immediate surgery. He was admitted a week later and underwent an operation, followed by a few days in Intensive Care - I called the hospital and all was going OK.
Rick then e-mailed me and I called him straight back as he was devastated by calling in to see Eddie but then told that he 'had passed away' a few hours earlier. They asked if Rick wanted to say goodbye to Ed but he was too overcome and just wanted to remember his pal as he was. I passed the news onto my many musician friends and a death notice was printed in the local Daily Echo.
The next day at midnight, I had a call from Eddie's wife in Hawaii to inform me that Ed was very much alive! There had been a terrible mistake made by the nursing staff and it appeared that another patient had died but identified as Eddie Harnett when Rick made his visit! The Echo was informed and they printed a whole page story on Eddie- now known as 'Lazarus' to us all and we are all relieved to hear that 'reports of my death are greatly exaggerated' to quote Mark Twain! Eddie laughed so much when learning about this whole story and he is still in hospital but undergoing several tests etc and many of us are in constant touch with him. This is the copy article which includes a 1964 photo of our 'Unforgiven' group (see my Biography Page) plus an old Echo article from Ed's early days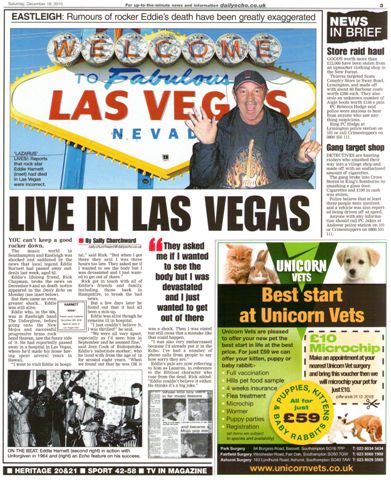 Southampton DailyEcho 18th December. Page 3
YOU can't keep a good rocker down. The music world in Southampton and Eastleigh was shocked and saddened by the news that local legend Eddie Harnett had passed away suddenly last week, aged 63. Eddie's lifelong friend, Rick Chapman, broke the news on December 9 and an death notice appeared in the Daily Echo on Monday.
But then came an even greater shock... Eddie was still alive.
Eddie who, in the 60s, was in Eastleigh band The Unforgiven, before going onto the New Mojos and successful progressive brass rock band Heaven, saw the funny side of it. He had reportedly passed away in a hospital in Las Vegas, where he'd made his home having spent several years in Hawaii. "I went to visit Eddie in hospital," said Rick. "But when I got there they said I was three hours too late. They asked me if I wanted to see the body but I was devastated and I just wanted to get out of there."
Rick got in touch with all of Eddie's friends and family, including those back in Hampshire, to break the bad news. But a few days later he found out that it had all been a mix-up. Eddie was alive though he remains ill in hospital. "I just couldn't believe it, I was thrilled!" he said.
"We were all very upset, especially as I'd seen him in September and he seemed fine," said Jean Cook of Bishopstoke, Eddie's 'substitute mother', who he lived with from the age of 16 for around eight years. "When we found out that he was OK it was a shock. Then I was elated but still cross that a mistake like that could happen.
"I was also very embarrassed because I'd already put it in the Echo. I've had a number of phone calls from people to say how sorry they are." Eddie's pals are now referring to him as Lazarus, in reference to the Biblical character who rose from the dead. Rick added: "Eddie couldn't believe it either. He thinks it's a big joke."
© Daily Echo- Sally Churchward- Senior Feature Writer
Two images copied from my Biography Page of the Unforgiven- formerly The Planets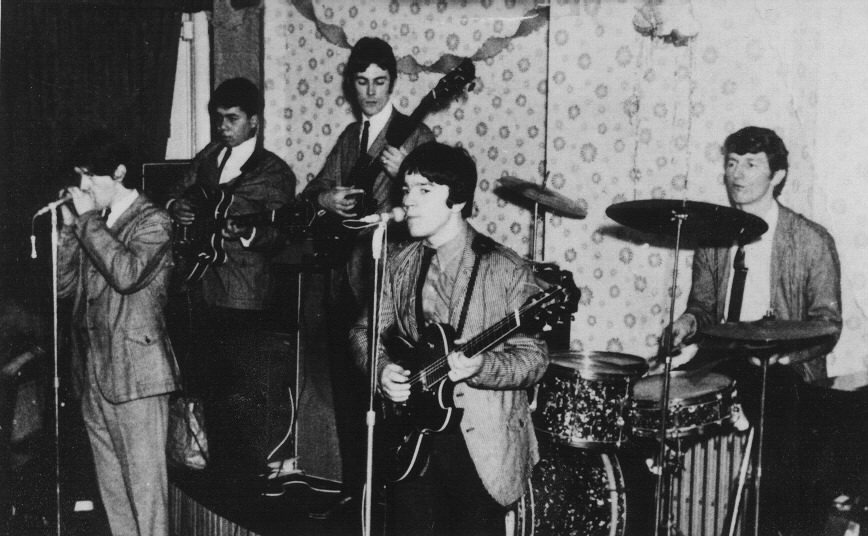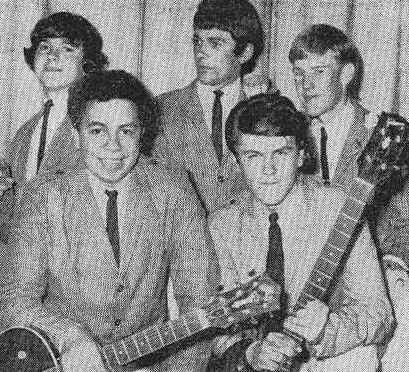 David Beau Graham Eddie Ronnie Eddie Beau Graham David Dave B
This photo was used in the Echo article above- maybe the Carousel Club '65? Echo photo- winners of the Eastleigh 'Beat Group' contest
.........................................................................................................................................
*STOP PRESS*
Saturday 8th January 2011. 10-15am I had a sad phone call from Rick Champion who had just finished a show in Las Vegas (2-15am local time) and it was that Eddie passed away around 8-30pm (12-30pm Friday UK) Although we have all been rooting for him, he had been in hospital for several weeks with many complications so it has not come as a complete surprise.
Once again- many thanks to the Southampton musicians and old pals who sent e-mails via Rick, who spent as much time visiting Ed in between his casino shows- the best buddy one could wish for as Ed was very much on his own over there. Rick mentioned that the nurses went on my website and printed off some photos for his room that cheered him up. I only wrote the above piece a few hours ago then uploaded it, little knowing that he only had a few hours left. Ed loved the whole story and gave him a good laugh so I feel that it's best to leave it as is. Sad loss of a couple of Eastleigh lads (Mick Haley above) within a few days of each other and another poignant note regarding losing Eddie on the 7th January. Just a day before the 8th, when a certain boy was born in Tupelo Mississippi back in 1935 who certainly influenced Ed, me and many more youngsters back in the 1950s when he broke through as the real King of Rock n Roll.
I have written about the Unforgiven group over on my Biography page so please take a look. They were a terrific Eastleigh based group and managed by Tony Cook- an accomplished drummer and great character too.
Eddie Harnett 1947-2011 R.I.P. We'll miss you...................
...............................................................
Marty Wilde- Autumn 2010 Tour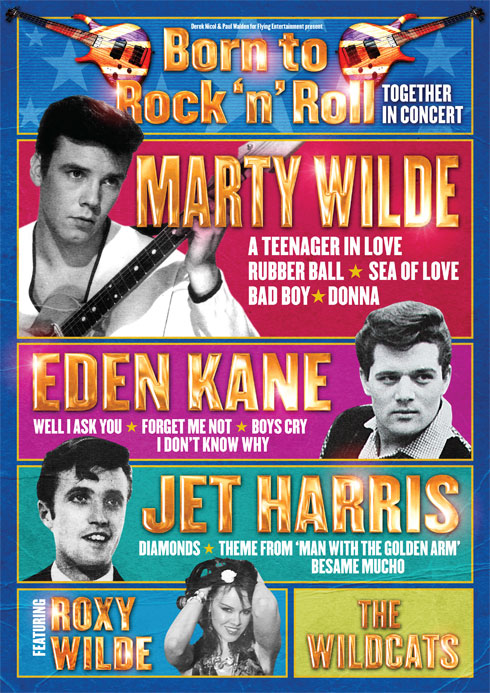 You may have read my dedicated 'Marty Wilde' page- see Site Map
This terrific show toured the UK from 7 October to 20 November 2010
Wednesday 10th November 2010
I enjoyed seeing this great show at the Birmingham Alexandra Theatre and the place was packed! Marty & the Wildcats opened the show as well as finishing off the second half with loads of rock n roll classics mixed with his many hit records. He introduced guest Eden Kane who is in great shape as a distinguished silver haired rocker - looks really good and singing better than ever! Jet Harris delivered some nostalgic Shadows hits mixed with deadpan gags, plus his massive 'Diamonds' which stands as one of the best instrumental hits of the early 60s as well as flashing his M.B.E. so naturally very proud of this award.
The other guest spot was Marty's youngest daughter Roxanne/Roxy and looking gorgeous plus singing many classic female hits of that early period so a real treat and contrast. Once again - another family member following in the footsteps of Kim and Ricky Wilde- she recently toured with Kylie Minogue and has some forthcoming high profile shows so watch out for her!
...............................................................
My 'Venues' webpage has a wealth of information which recalls the great decade that formed many of our lives- The Sixties! One of these being the Silhouette Club/Casino in St Michaels Square and run by the legendary Brian 'Kiwi' Adamson whose own amazing life story could be told in a book - this is currently being discussed. Brian got in touch with me via this website and he loves to read the stories and enjoy the many rare photos from the musicians who played all over the area as well as the Silhouette.
A very successful businessman who sailed over from New Zealand as a young lad washing the dishes in the galley of the first Queen Mary that docked in her home port of Southampton. Within a very few years, 'Kiwi' had established himself as a much respected club owner and his well known Silhouette Club hosted many passing movie stars, celebrities and pop singers etc. Brian now lives between his villa in Spain and a glorious penthouse suite in Thailand but retains fond memories of old Southampton.
One of his lasting memories was as a first class passenger on the final voyage of the Queen Mary as she left Southampton in 1967 on her way to her new home in Long Beach California as a permanent hotel/conference centre. It was a fitting end to his connection with this much loved liner, as he now sat down to eat caviar in the first class section with memories of sweating away in the hot busy galley a few decks down and just a few short years before! This is part of a press report published in the Sunday People:
ARTHUR HELLIWELL ON THE LAST VOYAGE OF THE QUEEN MARY CABLES
Part of his report September 24th 1967
"The most colourful character among 1,270 passengers was Brian Adamson a dapper young man who worked as dishwasher on the ship 10 years ago
Mr Adamson who now owns the Silhouette Casino in Southampton was making the round trip wearing ruby and diamond studded domino cufflinks and a £ 1000 solitaire on each hand
Mr Adamson was of course , exactly the sort of passenger you expected to meet on the Mary in the good old days....."
Take a look at this You Tube clip of that very voyage that brought many a tear to the onlookers who waved the Queen Mary goodbye as she sailed away for the very last time.
http://www.youtube.com/watch?v=oqPiFASaCto
I am currently finding out some more info on Brian's incredible journey and the working title of a book is 'Rags To Riches' as per the headline article published in the Southampton Echo as well. He has mentioned that I might be involved in helping to write this book, although I am currently busy with tidying up my own story and hoping to publish it soon. Watch this space!
......................................................................
SOUTHAMPTON 'OVER FIFTIES' FESTIVAL 2010-Southampton Guildhall

I had been looking forward to being part of this prestigious festival and to appearing at Southampton Guildhall on Monday 9th August. The event was officially opened by the Mayor and ran from 10 -4 with nonstop entertainment through the day with dance troupes, a singer plus fashion shows and audio-visual presentations
I was originally approached by the Council, in line with the growing interest in my website pages that focus on the early days of the local pop music scene as well as the success of my Concorde 'Back To The Sixties' shows - take a look at the Site Map to read about this and many more pages featuring the musicmakers of yesteryear. Many of the original Sixties groups, singers and DJs are still performing some 45-50 years later and we had been able to arrange an exciting addition to this year's event. We took many older people back a few decades with a taste of the 'Mod Ball' staged at the Guildhall for some years. After discussions with the organisers, we managed to stage a 'first' at this years' event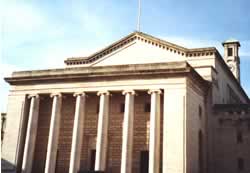 Southampton Guildhall
I reformed a mix of my very first bands in the shape of the 'Abdo-Men' and the 'Unforgiven' covering 1963-1966 with Dave 'Beau'Dinnage and Ronnie Allen.and we organised a setlist of great set pop classics, rock'n'roll, r&b etc with mickey-takes of a few stars in between hits of the Beatles, Stones, Elvis, Everly Brothers, Buddy Holly and many more top names. This reformed 'boy band' or more of an 'old boy band' was augmented by the great talents of Roy Roberts (MeddyEvils) and Ivor Tomlin (Kevin Scott & The Kinsmen, The Big T Show etc) all of these well known groups appeared at the old 'Mod Ball' so we were proud to pay homage to those great nights at the Guildhall.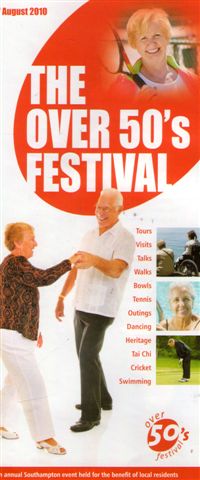 David St John- Vocals, 12 string guitar, harmonica
Dave 'Beau' Dinnage- Bass/vocals
Colin 'Angel' Willsher- Guest vocals and bandaged finger!
Ronnie Allen- Drums and general mayhem! Also guest drumspot with Curtess Allen (Ron jr)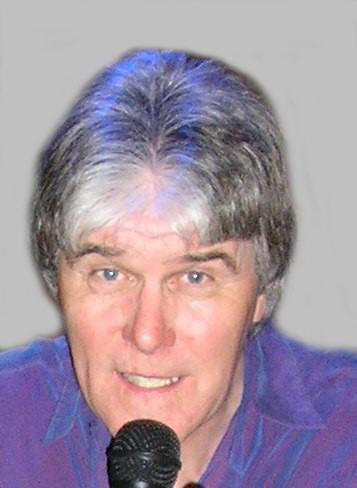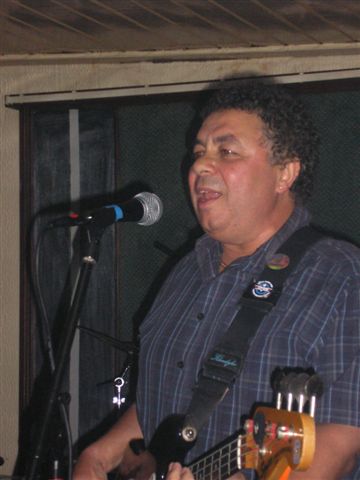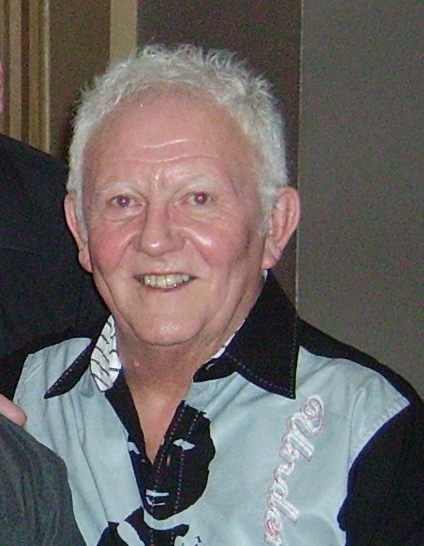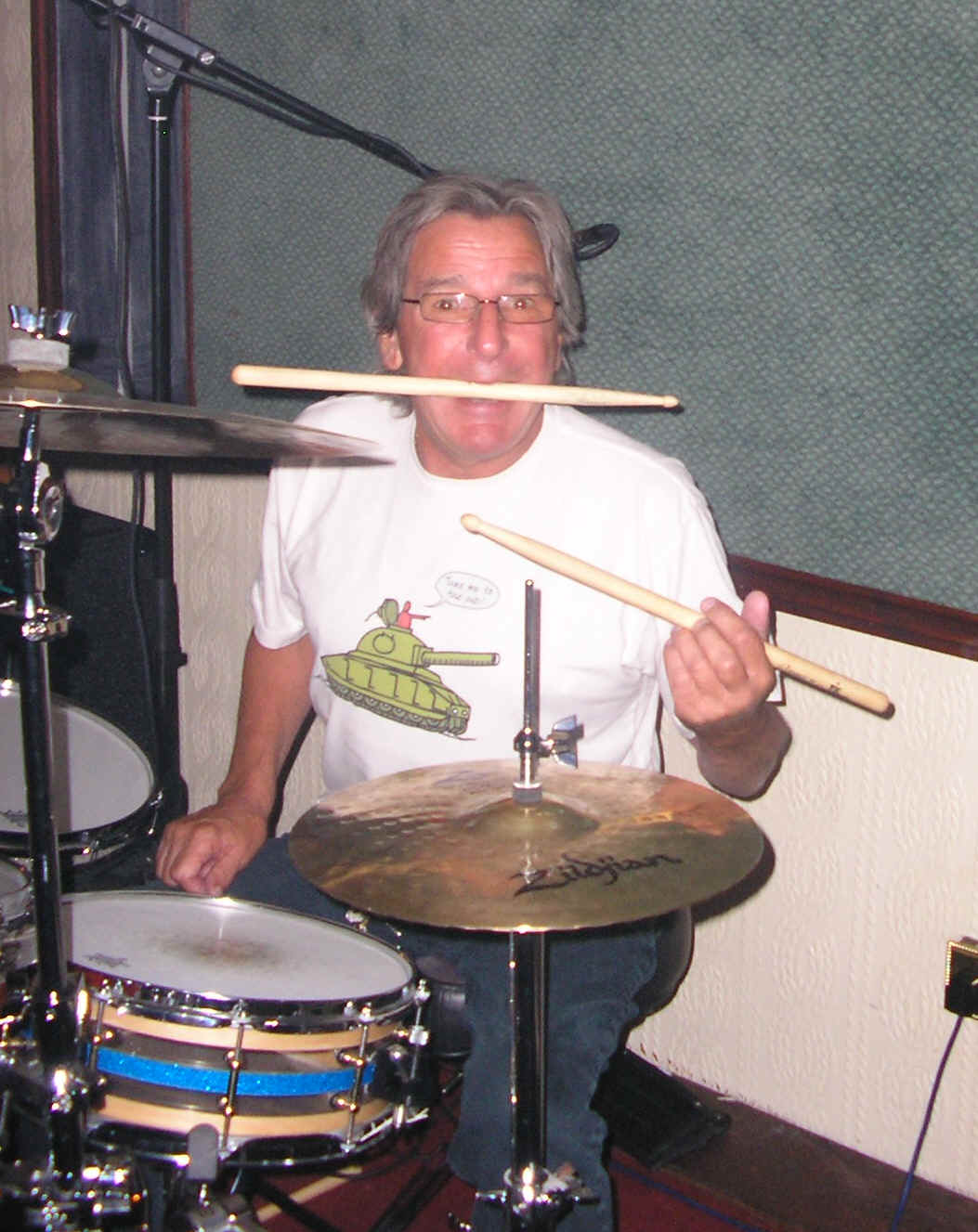 David 'Beau' Colin Ronnie
Stop press 21 July- Colin suffered a hand injury which affects his (superb) guitar playing!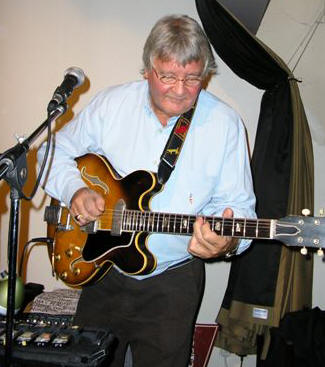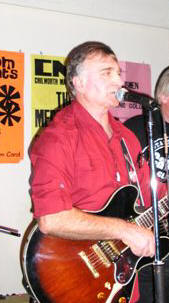 Roy Roberts -Meddy Evils Ivor Tomlin
Big thanks to Eddie 'Fret' Hailwood of Fret Music Shirley who kindly loaned some amps/mikes etc. Click on the link!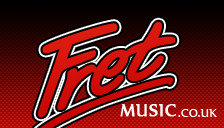 FRET MUSIC
REPORT:
We all arrived at the Guildhall for 9am to load the gear in and set up but then had a major upset when Roy 'Meddy'Roberts received an urgent family problem call which resulted in him having to dash off. This put pressure on Ivor as the main guitarist so the band quickly ran through the basic set backstage and thankfully it all went well! We had picked a basic set of Beatles, Stones, Buddy Holly, Everlies, Manfred Mann, Heinz etc and the crowd joined in with the familiar songs that many remembered from the old Guildhall days. Colin joined us for a few numbers as well as Ronnie's 16 year old son Curtess. An amazing drummer for his age and we talked him into a quick solo which blew everybody away and I can see a long career in music plus having his proud dad beaming in the wings! Here are a few pics taken on the day: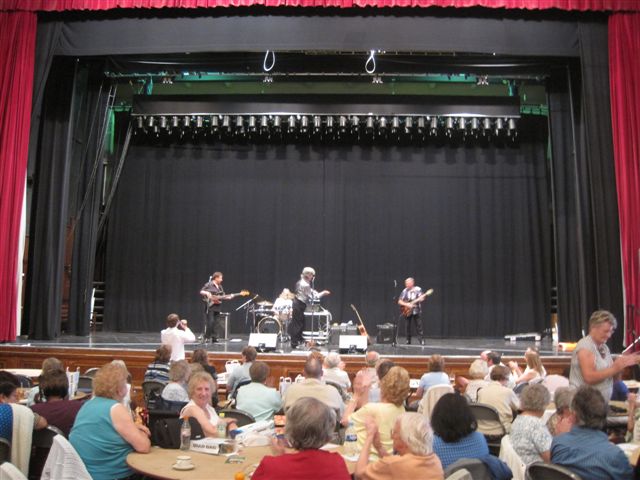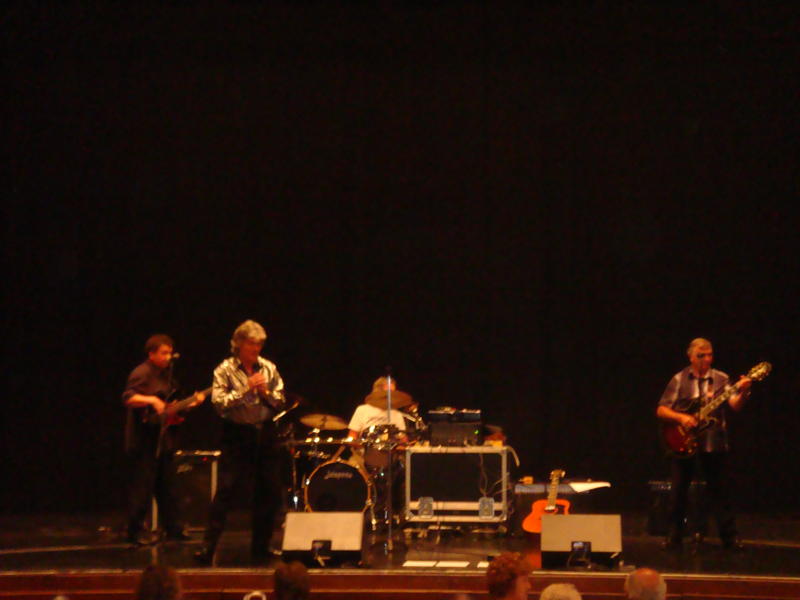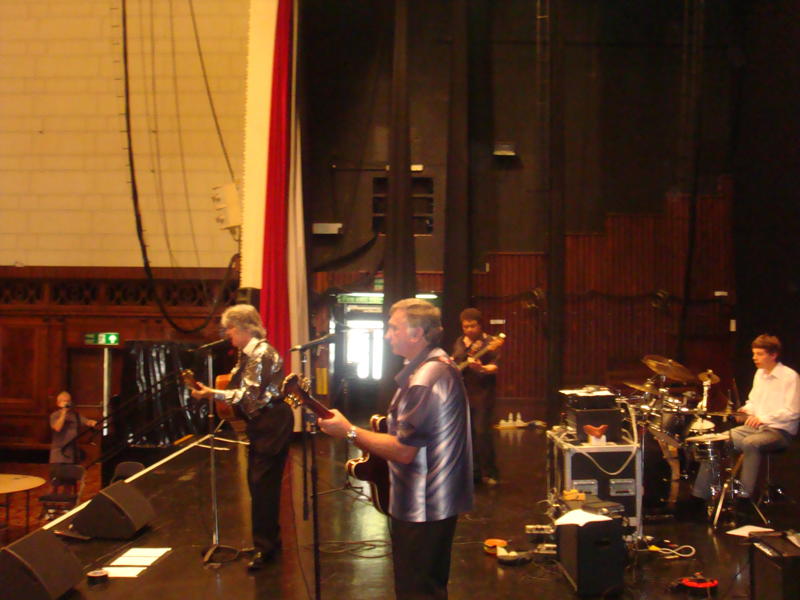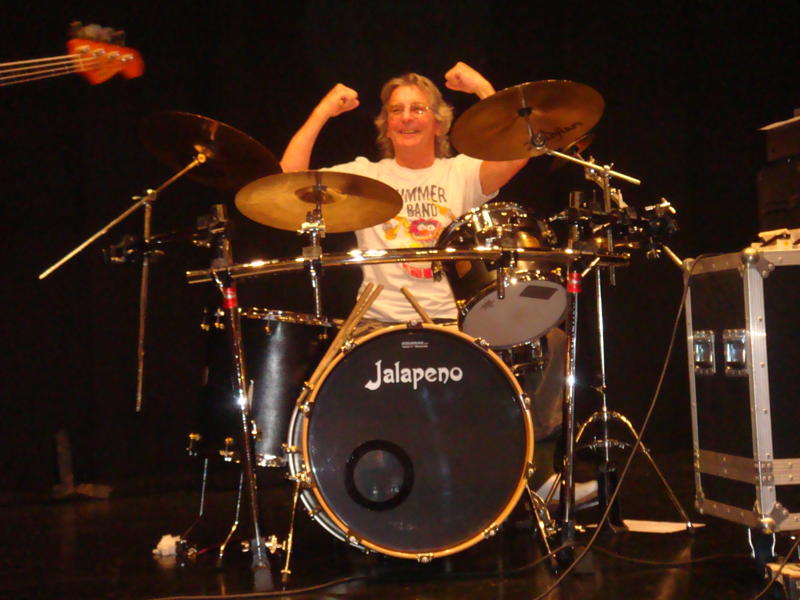 With Curtess on drums Dad's back!!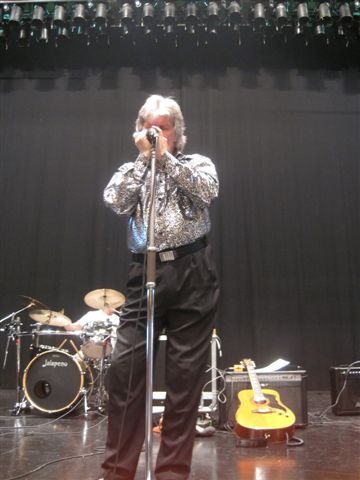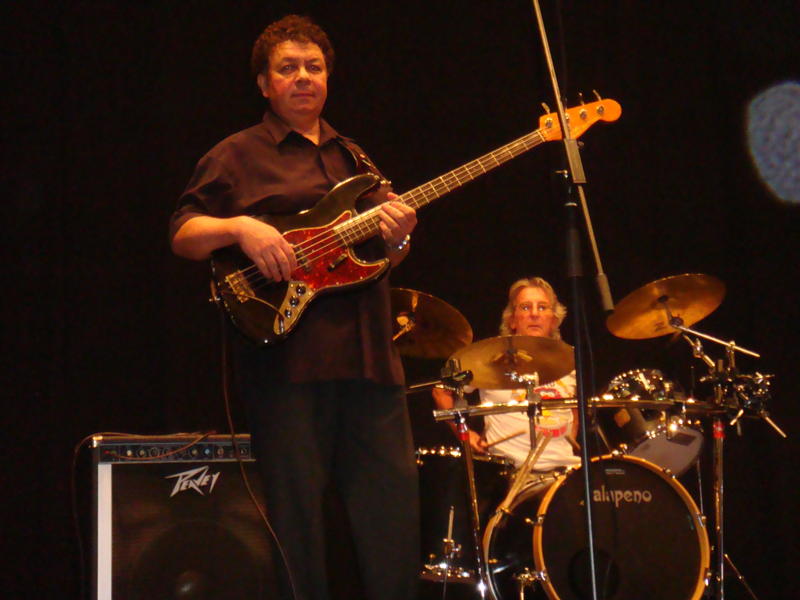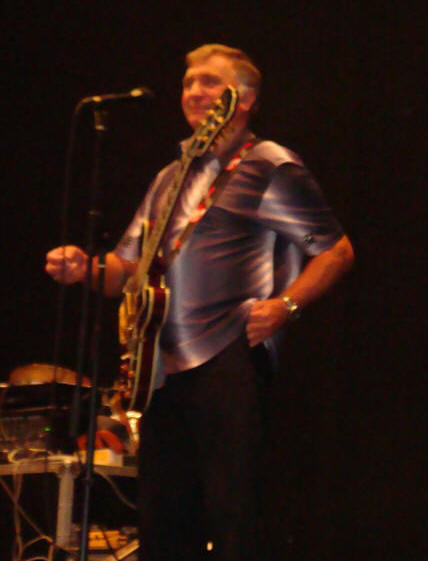 DSJ/harp Beau Ron Ivor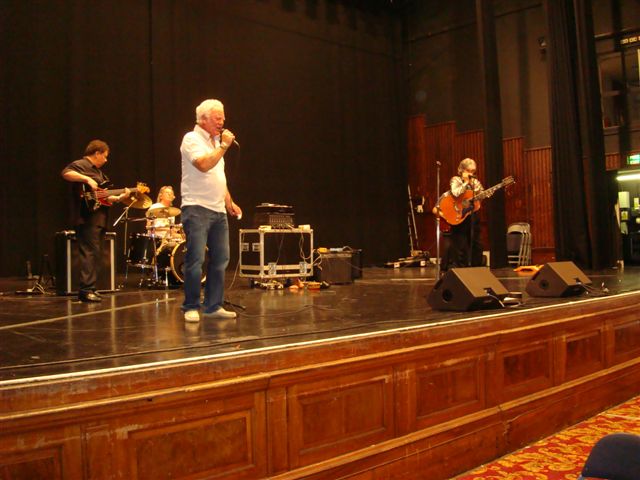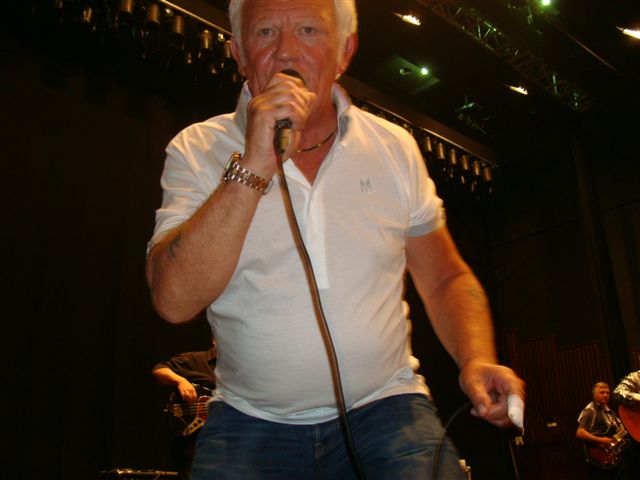 Colin 'Angel' Willsher That finger!!!!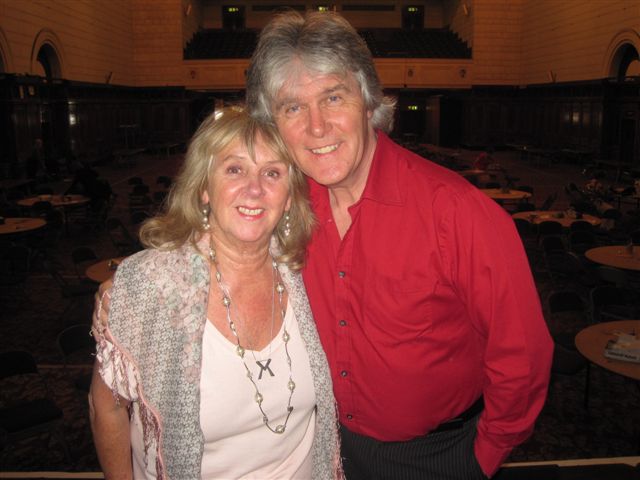 Good pal Pat 'Yum' Othen who sent some pics above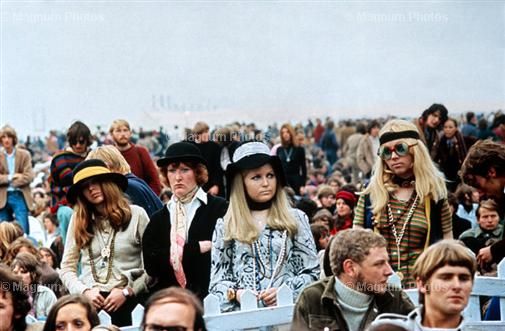 'Yum' the blonde hippy chick (far right) at the IOW Festival 1969 (Bob Dylan)
100,000 people!
I went to the 1970 IOW Festival with Jimi Hendrix, Doors, Who, Jefferson Airplane.....phew!
Oct 20th
As you see- Ivor Tomlin did a great job at the Guildhall and he has just sent me some info on his very own first book that has just been self published! This is the book cover and details of where to get a copy, so if you're into sci-fi then why not grab one- if you live in or near Southampton then Ivor can autograph it for you. If you have any difficulty then e-mail me via this website and I can put you in touch with him.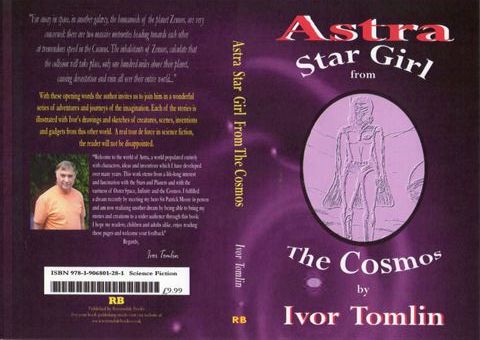 Astra Star Girl from The Cosmos- Ivor Tomlin
Cover text reads:
"Far away in space, in another galaxy, the humanoids of the planet Zenous, are very concerned: there are two massive meteorites heading towards each other at tremendous speed in the Cosmos. The inhabitants of Zenous calculate that the collision will take place, only one hundred miles above their planet, causing devastation and ruin all over their entire world.."
With these opening words the author invites us to join him in a wonderful series of adventures and journeys of the imagination. Each of the stories is illustrated with Ivor's drawings and sketches of creatures, scenes, inventions and gadgets from this other world. A real tour de force in science fiction, the reader will not be disappointed.
"Welcome to the world of Astra, a world populated entirely with characters, ideas and inventions which I have developed over many years. This work stems from a life- long interest and fascination with the stars and planets and with the vastness of Outer Space, infinity and the Cosmos, I fulfilled a dream recently by meeting my hero Sir Patrick Moore in person, and am now realizing another dream by being able to bring my stories and creations to a wider audience through this Book: I hope my readers, children and adults alike, enjoy reading these pages and welcome your feedback"
Regards Ivor Tomlin.
Available via Lulu Stores and Amazon
Click on this link to Lulu!
http://stores.lulu.com/ivortomlin
......................................................................
Following our set, Rick Brown followed us with a classic set of soul classics which really went well and he was quite nostalgic at being back on the massive Guildhall stage where he and his various bands had played all those years ago well as well chatting to many former fans who danced the night away at the Guildhall, Royal Pier and many other venues in the area back in the Sixties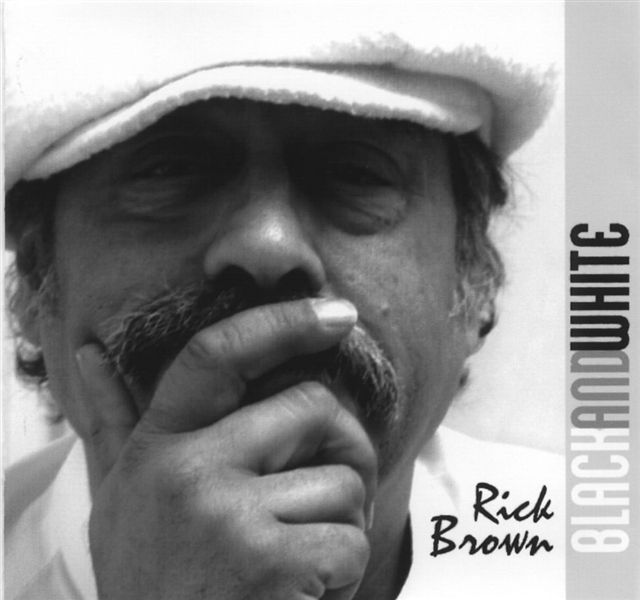 RICK BROWN
Rick Brown – formerly Ricky and the HiLites and Brownhills Stamp Duty. One of the greatest soul singers in the business who formed the Hilites with his twin brother Chris 'Burnsy' Brown back in 1960 and had great success all over the UK and Germany including TV appearances/hit records on the continent. The late Sixties saw the group change their name to Brownhills Stamp Duty with a new recording contract and sessions at Abbey Road which produced a minor hit of the Beatles' 'Maxwell's Silver Hammer' This later band also included 'Beau' as above and adding another nostalgic dimension to the atmosphere of the Guildhall as these two great talents met up again backstage. See my Site Map pages for much more info on one of Southampton's greatest talents who is singing as good as ever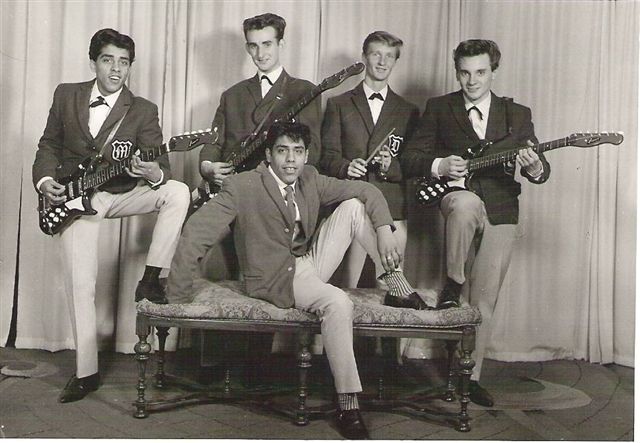 Ricky and the Hi-Lites 1960
Friday 16 July
Article published and part of the 'Hampshire Heritage' profile by reporter Keith Hamilton. Reproduced by kind permission of the Daily Echo (Southampton area) and their online website is well worth a visit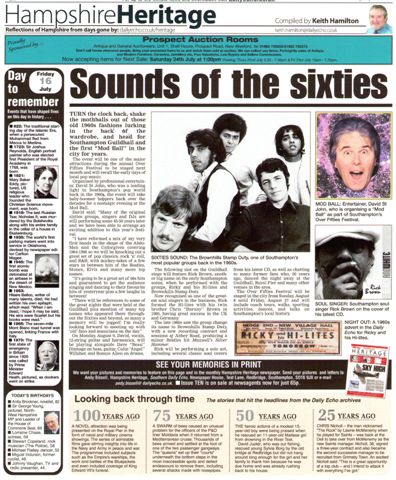 ©dailyecho2010
Part of the text reads:
TURN the clock back, shake the mothballs out of those old 1960s fashions lurking in the back of the wardrobe, and head for Southampton Guildhall and the first "Mod Ball'' in the city for years. The event will be one of the major attractions during the annual Over Fifties Festival to be staged next month and will recall the early days of local pop music. Organised by professional entertainer, David St John, who was a leading light in Southampton's pop world back in the 1960s, the event will take baby-boomer boppers back over the decades for a nostalgic evening at the Mod Ball.
The Over Fifties Festival will be staged in the city from Sunday, August 8 until Friday, August 27 and will include coach tours, walks, sporting activities, dances, and talks on Southampton's local history.
......................................................................
10th August- Stop Press: Please come back to this page as I write up a report on the Guildhall Show which was a great success and we had a nostalgic day but tinged with sadness due to a close family bereavement on the very morning as we were setting up the gear. Currently waiting for some photos to trickle in so will get these uploaded asap.......................................................................
Following on from the 'Over Fifties' festival - Southampton celebrated its rich heritage of local singers, bands, musicians and performers of all types across the area during the 1-10 October 2010.

MUSIC IN THE CITY
For information on this exciting festival- go to: http://www.musicinthecitysouthampton.org/
and Facebook:
http://www.facebook.com/pages/Music-in-The-City/123783161553
Hosted by Southampton City Council, this year was even bigger than 2009 and saw a wide variety of live music all over the city so a good chance to support local talent or even take part yourself!
I organised two shows which link in with M.I.T.C. and, once again we everybody back to the early days of the late Fifties/early Sixties when many a young lad or girl appeared at local dancehalls, singing the classic hits of those pioneering days. Now many of our grandchildren are following in our footsteps!
BACK TO THE SIXTIES!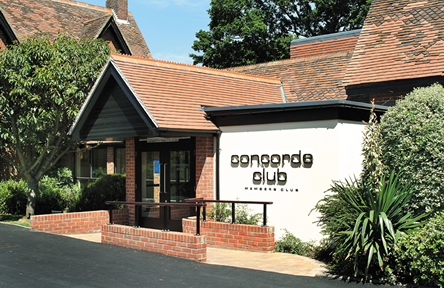 Friday 8th October at the Concorde Club Stoneham Lane Eastleigh with 'The Trojans' - formerly 'Nick Troy and the Trojans' plus David St John. Following on from their massive success at the January show 2010 (see other webpages) this brilliant line-up of top musicians paid homage to the sounds of the Shadows plus many 60s hits as well as featuring Mandy on vocals and drums!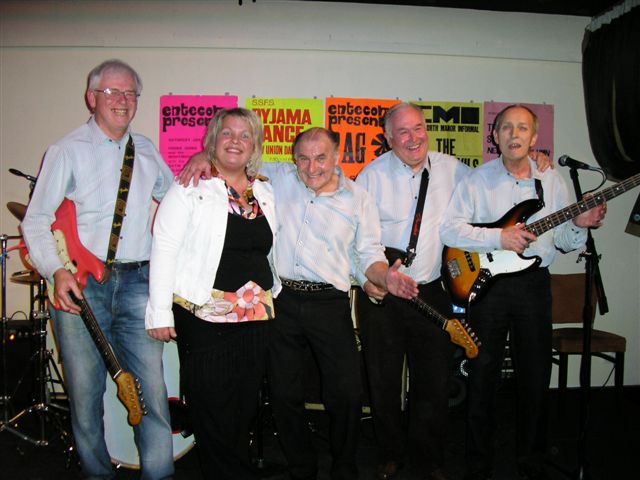 THE TROJANS
......................................................................
Sunday October 10th
"BACK TO THE PIER!"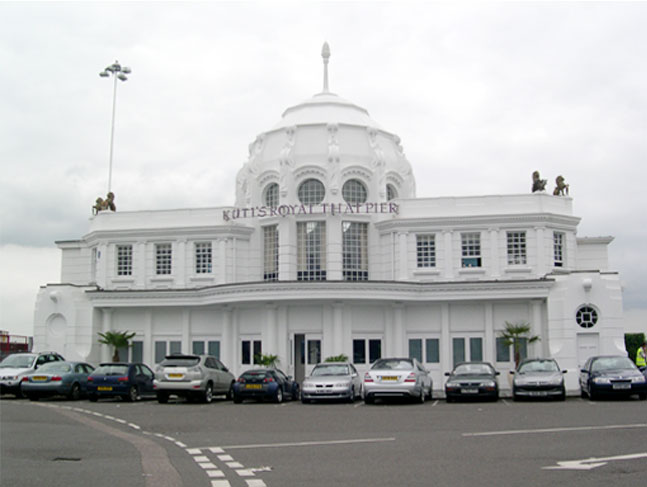 Do you remember dancing the night away at the old Royal Pier Pavilion Ballroom? Following on from the success of the January show (see Site Map for info) we featured yet another great but different night at Kutis Thai Pier Restaurant situated in the beautifully restore entrance hall. This special evening featured Rick Brown (see above Guildhall section) and David St John with another helping of 'Back To The Sixties' following a super Thai meal. Ricky and the Hi-Lites played the old Pier Ballroom on many occasions as Southampton's finest group and Rick met up with old fans from those great days. He also signed copies of his CD 'Black & White' featuring many classic soul hits from his live act.
In addition- everybody enjoyed the magnificent sight of the new 'Queen Elizabeth' liner which was moored just a few hundred yards away from the Pier at the Cruise Terminal, as she sailed off on her maiden voyage on Tuesday 12th October- what a backdrop!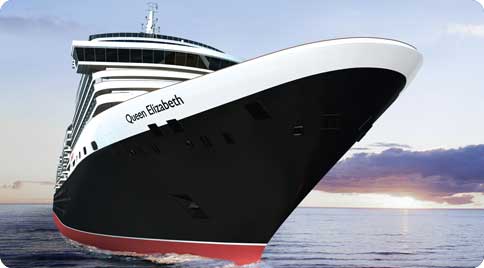 This visit also provided a link back to the 1950s when Bill Haley and the Comets travelled over from New York on the old Queen Elizabeth, passing through Southampton onto the London bound train from the Terminus station-causing riots along the way!
......................................................................
Check out this superb website full of Portsmouth bands and much more: http://www.flickr.com/photos/pompeypoppix/
Set up by Dave Allen- musician and University Lecturer
......................................................................
July 20
If you have read through this website, you will have found loads of info/pics of 'Johnny & The Rebels' an American based band with a Brit expat drummer/vocalist John Walker. JW, as we call him, started out with an early Sixties Andover group called Ten Feet Five who then morphed into the incredibly successful Troggs. He left these shores many years ago and settled in Virginia where he has been playing drums with several outfits but now is part of a terrific bunch of class musos named 'Johnny & The Rebels' JW came over from the USA back in 2008 to appear at the Concorde Club on 'Back To The Sixties' a 'reunion' show featuring original bands/singers/DJs from some 40-50 years ago. John drummed and sang with his former pals of Ten Feet Five, who had reformed for this special gig as well as remembering their former lead vocalist Dave Smith who sadly passed a few years ago- a fitting tribute in memory of a much missed colleague.
Fast forward to 2010 and JW brought the Rebels over to the UK for a short tour, stopping along at the Concorde yet again, where they headlined 'Back To The Sixties 2010' so best to go to the Site Map page and read up on these pages (Concorde 2008+2010) as well as the dedicated Ten Feet Five page. You can then learn about the pedigrees of the other Rebels or just take a look at their own new website below - they all have fascinating backgrounds and worked with many top US stars over many years plus a link to Noel Tresider-Australian keyboards virtuoso whose won early Sixties band were the support on the Beatles 1964 tour Down Under! Noel made the long trip early this year to join his buddies for the January UK tour and you can read all about him on the webpages as mentioned above.
One of the Rebels is Tim Smyser (gtr/vocals) and he has mailed me with some great news of the re-release of one of his early albums as part of the West Coast 'hippy' movement when he was bass player with 'Jamme' whose recordings were produced by the legendary John Phillips of the 'Mamas and Papas' This is his recent mail which tells part of the story and I am sure that rare record collectors or just fans of the late 60s music scene will enjoy hearing this slice of history.
"As many of you know, I was a member of a group in 1969 called JAMMË . We were produced by John Phillips of the Mamas & Papas for the ABC Dunhill label. Due to many distractions that occurred at the time (such as the break up of the Mamas & Papas and the murder of Sharon Tate), the album was never promoted. But the album garnered interest in the collectors community and became somewhat of a cult item.
At the beginning of this year, we were contacted by Emmy Award winning producer Jeffrey Greenberg on behalf of John's estate and the Phillips family. After months of negotiations, countless interviews, and digging up all the old photos we could find, the reissue album was finally released on July 13, 2010. It includes extra bonus tracks and long forgotten out-takes off some of the tunes. Also included is an insert booklet describing in graphic detail the events surrounding the recording of the album. Of interest are the visits to the studio to hear the tapes by such music legends as the Beatles, Keith Richards, and the Beach Boys."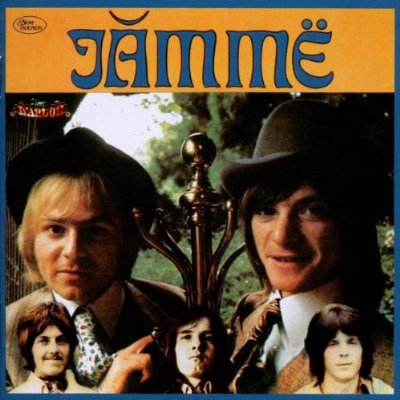 "A rare psychedelic era pop gem from Jamme – produced by John Phillips of the Mamas & Papas and the first release on his Warlok label – with harmonies and hooks that cut quite deeply, and ultimately a record that really should have gotten a better shot at mainstream exposure! The instrumentations are generally pared down to standard rock instrumentation, but it's really all about the soaring vocals and songs so catchy it's a wonder we're only now hearing it! 10 original album tracks and 8 bonus numbers! Includes 'Poor Widow', 'She Sits There', 'Strawberry Jam Man', 'Matthew O'Grady', 'Changes', 'Empty Feelings', 'My Old Lady', 'Jan', 'Scarborough Rose', and much more". © 1996-2010, Dusty Groove America, Inc.
"What would a Badfinger album produced in 1968 by Papa John Phillips sound like? LOOK NO FURTHER!! A criminally-lost band and an untold chapter of The Mamas and The Papas saga awaits the listener on this debut release from John Phillips' short-lived Warlok Records. With a distinctly British flavour, JAMMË possessed remarkable melodic sensibilities, brilliant harmonies, and hooks galore. The recording sessions, many of which commenced at John Phillips' home studio, were witnessed by George Harrison, Sharon Tate, and Keith Richards. Sourced from the ORIGINAL MASTER TAPES, this release features six previously unreleased tracks, including 'Thanks To The Man In The Rabbit Hat', a tribute to the band's producer, JOHN PHILLIPS. The reissue will appeal to fans of EMITT RHODES, early BEE GEES, THE MOVE, BUFFALO SPRINGFIELD, and BIG STAR. This flat-out masterpiece makes its WORLDWIDE DEBUT on CD. The deluxe full-colour booklet includes previously unpublished photos and exclusive, in-depth liner notes featuring the participation of original band members by noted Mamas & Papas/John Phillips historians Jeffrey A. Greenberg and Chris Campion.
©2010 HeyDay
Jamme have also been invited to play at the Cavern Club Liverpool so please come back and check on any news as I update it or just keep checking on their own website
.......................................................................
July 19 : As an out and 60s music fan, I also like to mention the likes of an amazing Midlands 'Mod' influenced group called DC Fontana who I have had the pleasure of watching on a few occasions. The line-up features a terrific set of first class musicians fronted by Karla Milton - lead vocalist surrounded by a big driving sound of guitars, drums plus a real Hammond Organ/Lesley speaker and a brass section to die for! They also feature a sitar player (!) which adds a new dimension to their overall sound which draws on the original 'Mod' era, mixed with Northern Soul/Psychedelia but brought right up to date with the self-penned setlist on top of brilliant covers. They are due to release a new album (Six Against Eight) and have a short film release promo DVD on the way, but you can have a sneak preview via this You Tube offering
http://www.youtube.com/watch?v=J-YBEkLRz-g

Filmed on location in the Midlands as well as at the beautiful North Wales 'village' of Portmeirion, the very same location used for the much loved 'Prisoner' series starring Patrick McGoohan as 'No 6' This cult series has recently been aired on ITV4 and enjoyed by those who loved it first time round but probably on old b&w TV sets! The vivid colours and surreal surroundings of the 'village' have now been utilised by DC Fontana for this excellent promo and you might wish to check out their website for news plus tour dates. They have a massive 'Mod' following and you can guarantee to see loads of glorious original Lambrettas and Vespa scooters at any show plus some great colourful fashions worn by all ages. A recent show saw them at Carnaby Street and they appear at many festivals in the UK and Europe. Check:
plus MySpace:
http://www.myspace.com/dcfontanaband
Enjoy some great sounds and more info on this great line-up
.......................................................................
May 18th 2010
My life has changed so much over recent years thanks to this website that has grown into an online 'community' of musicans, entertainers plus other offshoots. Quite a thrill when an e-mail pops up from people who I have not seen for many years and a few days ago I received yet another. If you have read some of my pages, you will note that I left my hometown of Southampton back in 1972 after the great days of the Sixties and Seventies group scene, but felt that a solo career was what I really wanted. Another pal of mine- singer Tony Ravel was also frustrated with the stagnant feel of provincial life so we decided to try our luck in London and he had a good mate living in the West End. You can read all about this on my 'Early Years' page and it was one of my favourite times, despite being broke and with very few prospects. Thanks to the kind generosity of Bobby Hanna- a classy Canadian vocalist, we were given the privilege of crashing at his flat near Marble Arch for a few weeks until fate took its varying paths and we all went our different ways.
Bobby got in touch, from his new home in Perth Australia in 2006 and in constant touch thanks to e-mails and my 'free' international phone package so we still have some great laughs as we all did back in '72. We have also wondered what happened to Tony who stayed in London for some while and I left for my first summer season in North Wales, followed by a couple of years overseas.
Tony finally got in touch, thanks to Scott Fitzgerald- one of the UK.s finest vocalists who had a no.3 hit in 1978 "If I Had Words" but whose terrific voice can be heard on many other lesser known recordings. Scott found my website and called Tony who was taken aback to read about the early days, followed by his first e-mail. Now based in Essex and we are in constant touch as we catch up on the news of a few decades between us- his own life has been quite varied and successful so I think we made the right decision all those years ago! Tony has also just made this amazing video and this is the accompanying message
"Hi
YouTube Video
Myself and a friend, Nick Skeens who is a writer, felt it was time to voice our dissatisfaction on the BP Oil Spill and so we have Written and Recorded a Song with a Video, using the Cole Porter melody "Anything Goes" hope you enjoy it its on:
http://www.youtube.com/watch?v=t1sIE1yb5Lc
I would ask that you send the above Link to as many of your contacts as possible.
Thank you
Tony Pancaldi
If you are into the Sixties Music Scene then you would have hopefully caught this nationwide Spring 2010 tour that took you all back to the Pop Package tours way back in those times! Another great show promoted by Flying Music - Click on the link for more info plus other shows across the year at a venue near you.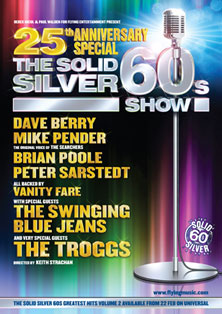 http://www.flyingmusic.com/The-Solid-Silver-60s-Spring-2010/
Press release
The UK's original and premier 60s show is back celebrating 25 sensational years! Bringing together the unforgettable talents of Dave Berry, Mike Pender, Brian Poole, Peter Sarstedt all backed by Vanity Fare with Swinging Blue Jeans and The Troggs.
Expect all your favourite 60s hits including The Crying Game, Little Things, Sweets for My Sweet, Needles & Pins, Twist and Shout, Do You Love Me, Where Do You Go To My Lovely, Frozen Orange Juice Wild Thing, Love is All Around, Hippy Hippy Shake , Good Golly Miss Molly and many more.
31 March 2010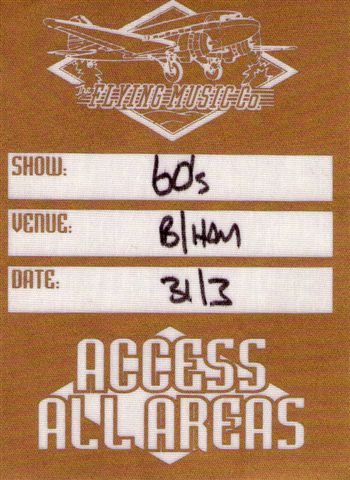 I was fortunate enough to have been invited to this show (see above!) at Birmingham Symphony Hall - one of the finest venues in the UK and well liked for its atmosphere and great acoustics. Makes a nice change from the bigger 'arena' type concerts for which you can be seated miles away from the stage and have to rely on giant screens to see what's going on!
Flying Music have been promoting this and other Sixties shows for many years and this particular line-up of names was overwhelming so not surprised to see a full house and all ages! It was a terrific night and the artistes as featured in the promo above just speak for themselves and the audience lapped it all up with dancing in the aisles as well! My main reason was to catch up with my old pal Dave Maggs who has been drumming for the Troggs for many years and we go back to 1967 when I was lead vocalist with an Amesbury based band- The Cellars of Sound (nice pun eh?) He was a great musician back then so it was no surprise when he was later to be invited to fill the drum seat vacated by the Troggs' original Ronnie Bond who sadly died at a young age. I took along this old photo of our old group that was taken on the beach at Weymouth with the battered J4 van parked behind us as we sat on the beach playing guitars and singing for fun on a hot sunny day. We had all slept in the old banger overnight after playing the nearby Weymouth Pavilion- one of the biggest gigs around and the van had to have its doors open for ages to clear the air after a night of smoking, smelly socks and farting contests etc! We couldn't afford to have it fumigated let alone fork out for B&B out of the measly few quid that us bands got paid back then. All part of the fun and many a musician will say the same and have fond memories of those days on the road as we had so many laughs in between making music - many a journey would entail cracking the filthiest jokes imaginable so guess this is where my future comedy career was nourished.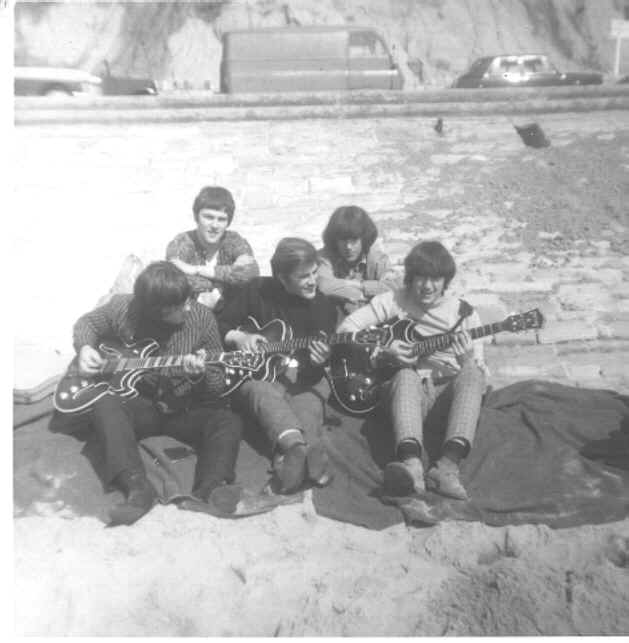 Me and 'Maggsy' at the back
We met up backstage and the bar as well as hooking up again after the show for a few more beers which are apparent in this late night photo taken in a Broad Street pub across the road- we both look quite 'merry' hic......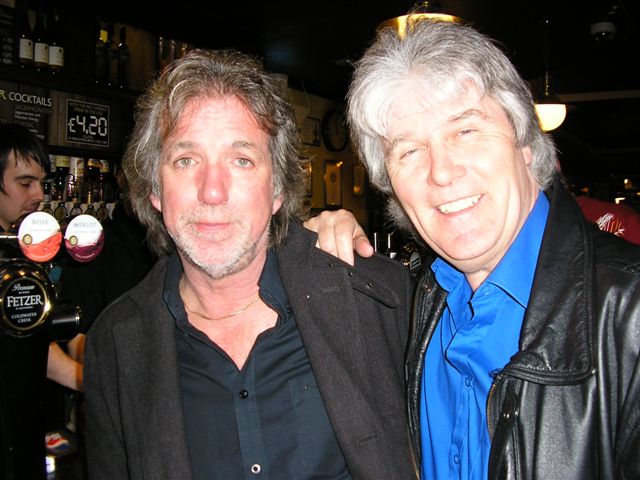 D+D
Also had a quick chat with Reg Presley about his love of crop circles and UFO spotting that take up much of his time around the Hampshire/Wiltshire border areas. Great character and the Troggs blew the Symphony Hall apart with the classic hits and his own self-penned songs that still bring the old royalty cheques rolling in after some 45 years- not forgetting the classic 'Love Is All Around' that stormed the 1990s charts thanks to Wet Wet Wet. Reg called them 'Damp Damp Damp' when introducing this song that stayed at number One in the UK charts when featured in the box office smash 'Four Weddings and a Funeral' - it has made Reg a very happy cavedweller! Nice to meet up with original guitarist Chris Britton plus bassman Pete Lucas so we had more interesting chats about the whole scene now and then, along with Alan Grindley who knew the lads from the early days when the Troggs were formed out of other Andover bands such as Ten Feet Five (see my webpage on this very band)

TROGGS 2010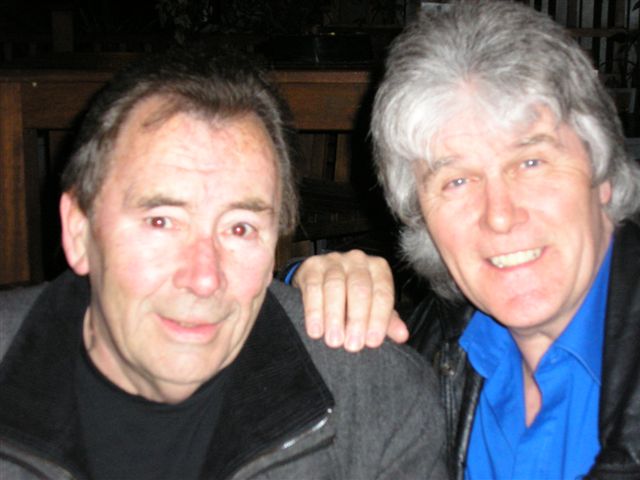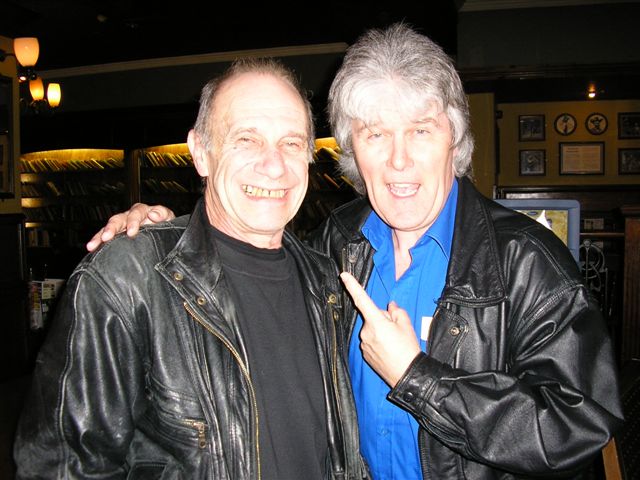 Reg Presley Chris Britton
When we went backstage, there were a few VIPs milling around including Nick Owen and Bob Warman of Birmingham based BBC and ITV local news shows respectively. They may be on 'rival' networks but good pals from way back and we also had a quick natter. Like many musicians - these guys have hardly aged at all over many years in the business!


Nick Owen Bob Warman
I wouldn't normally bother anybody for a picture but I was then gobsmacked to see none other than one of the greatest guitarists in the rock business and a personal favourite walk through the door. None other than Tony Iommi of Birmingham's own Black Sabbath and he's hardly changed over the years - I bet Ozzie's ****** jealous!
We had a quick talk and he kindly agreed for a photo so here it is- this made my night and I played my Sabbath CD on the way back home of course!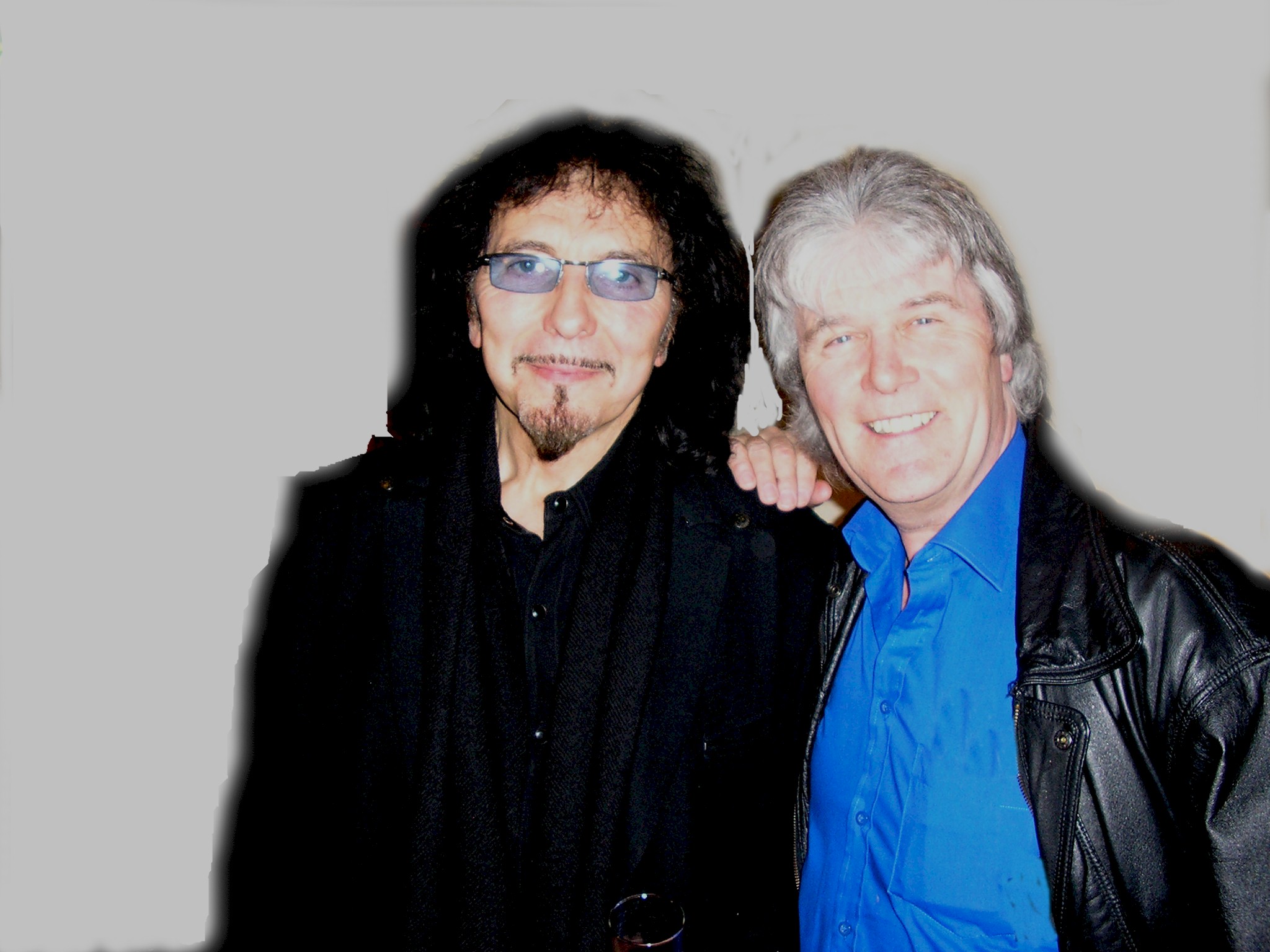 Only one 'legend'.............
.................................................................................
March 2010 E-mail
Hi David,


I dont know how I stumbled on your great homepage but it certainly took me back a few years. Here's a short story .
I was a 20 at the time i started and a chance meeting on a Sunday night out led to me ringing Bob Gorman (Blue Honey) who was looking for a bass player for a gig on the Isle of Wight. So the next day I boarded the ferry and spent all day rehearsing and played the same night. (bluffed more likely).


Anyway that gig fell apart mid season so we returned to the mainland playing around Southampton and the area but this time with drummer Steve Faithfull. The drummer before had buttons and was called Beatbox or something ). We
then did a six month tour of Denmark and Norway came back and I was replaced by Ray Carlton (at the time I wasn't singing and the bands lineup changed). A few weeks later I had a call from Gerry Gurr from Misty Blue who said can
you travel to Dubai in 10 days ?? So that was it and we went, Dubai was then a village with 3 Hotels ,can you imagine that now? We returned and then I think went to Germany for a Month in Fasching (Mardi Gras)...With Paul Sheath on keys, will never forget the night we played "Hotel California " for 40 minutes for one guest who incidentally bought us all a beer afterwardsand the owner who said "Don't ever do that again" (laffs....)



Anyway after that Gerry secured a Mecca gig in the Midlands Shrewsbury.This time with Dennis Smith on keys .That lasted about a year and I stayed on and played with another Mecca band in Derby for another year. Anyway to cut it all short after 5 years in the Black Country I made contact with Steve Faithfull in Switzerland and moved out to Europe where I've been living and working ever since. I started working in sound studios playing and recording as it was always a passion of mine...ask Steve..... at the moment I am living and working in Austria doing theatre production, and have my own (very small) record label and consider myself fortunate to still be able to earn a living from the music business and keep my health.... The fire is still burning.


Sid ,Gerry, Bob, Dennis, Steve, John (Bendall) ,Paul....Pete Hunt (best drummer in the world and a lovely guy too). nor forgetting Brian Wright also drums.. and anyone I have forgotten ,the list is so long take care out there and
thank you all for making me become the person I am today

Grahame Rogers God did we have some uncool haircuts back then.................
......................................................................
January 2010
After talks with Kuti's Royal Thai Pier Restaurant, I was thrilled to have organised a show in the main restaurant along with the legendary Pier DJ Johnny Dymond! We staged a 'Back to the Sixties' Night and recreated the Golden Days of the old Royal Pier with live 50s/60s songs (+comedy) and finishing off with a party dance session in the large marquee to the rear of the building. Take a look at the other pages (Pier/Kuti) for basic report
HOME PAGE SITE MAP CONTACT DAVID ST JOHN
Page updated 31 December 2010 SEE YOU ON BLOG 2011!!!!!
copyright ©davidstjohn2010