Home page Contact David Click on SITE MAP to navigate rest of website
David St. John
Call up the Groups 3
BIG PAGE - LET IT LOAD!
*PLEASE REFRESH YOUR BROWSER(press F5) WHEN RE-VISITING ANY WEBPAGE AS CONTENT IS OFTEN UPDATED*
COPYRIGHT
Please note that many images contained within this website may be subject to copyright, although many have been kindly sent to me and intended to be shared on this non commercial outlet. If anybody wishes to use any of the same, then please get in touch as well as possibly giving credit where due as well as setting up reciprocal links if relevant to the actual content on any webpage. Please note that I am able to monitor any image-copying and if published on other websites. I would appreciate any contact to report broken/outdated links and any corrections to the text that accompanies any images herein. Thank you and enjoy!
July 2008
This is now page 3 following from my previous two webpages dedicated to 'Mushbeat' - the sounds of Southampton going back to the late Fifties through the Swinging Sixties for the moment. Many of these early line-ups carried on playing right through the Seventies and beyond with many still at to this day! I am constantly receiving e-mails from all over the world as news of my website gets around as well as people just surfing and searching. They often just drop in a few keywords of people or places and are often gobsmacked to see themselves mentioned or old family and friends that were part of that exciting time. It has often resulted in old mates being reunited as well as some very personal and touching stories where family members have been able to find out more about those that are no longer with us and much more.
Please come back from time to time as I am constantly adding more info and terrific photos that get sent to me from all over the globe! I get a kick out of seeing them as well as sharing them with so many people who are linked in some way or for music lovers of all ages who just simply enjoy getting the feel of what it must have been like in the early days of pop music. Once again - please enjoy this and other webpages which can be found by clicking the Site Map links and I look forward to hearing from YOU if you have any input or queries etc. I cannot promise anything but there may well be a chance that I can put you in touch with someone by sending messages out to my many contacts although discretion and confidence will naturally be considered.
I uploaded a photo plus very basic info on one of the earliest bands that played at the Pier as well as backing many of the local and visiting singers. This is my first entry from a few years back and can be found on Call Up The Groups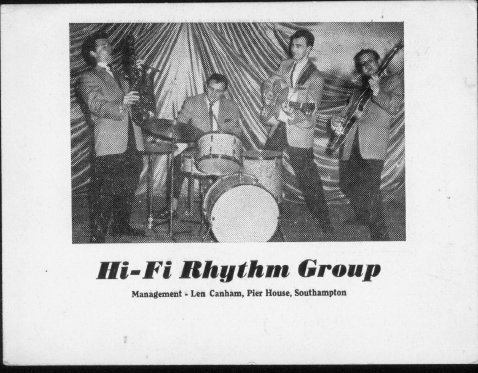 The Hi Fi Rhythm Group
Early Avenue Artistes band who used to back many of the local and visiting artistes such as Danny Davis, Tex Roberg, Shirley Gaye and Roy Vance amongst others. Included:
Tony Bailey (Guitar)
Brian Hodges (Bass)
Tony Hart (Drums)
The original drummer Tony Hart has just discovered my website and was knocked out to see his old band 'immortalised' in my Hall of Fame! He sent these e-mails plus more rare vintage photos that give great glimpses into what it was like all those years ago. July 2008 and here is the mail
Hello David
I would like to say a big thank you and congratulate you on your web site, given to me by an old friend of mine Mike Nevitt of the 'Nevitt Brothers'. It sure brought back some memories.
My name is Tony Hart and I was the drummer with "The Hi Fi". Our times at Royal Pier started in 1958 under the watchful eye of dear old Len Canham ... in fact we were the first group that Len made 'Pros' by giving us a weekly wage and not paid by the gig. You can imagine how many times we played, Fridays, Winchester Lido, Saturday mornings, The Gaumont, Saturday evenings The Pier and Sunday evenings Shirley Working Mans Club, to name but a few. As we came from Portsmouth, we'd stay at Lens flat overnight at the Pier, with the armchairs for beds. His mother was a lovely person who would make wonderful apple dumplings .. can still taste em!. and always remember their lovely Golden Retriever.
We did shows with most .. if not all of the guys mentioned on your site possibly more with Tex Roberg and Barrie James and remember all of them, including those from the Larry Parnes 'Stable'.
In 1962, 'The Hi Fi' were booked to go on tour in Australia with the well known pianist Winifred Atwell, they went, but had to find another drummer due to my family commitments, so I went back to Jazz clubs and house bands and also did a stint with Emile Ford and the Checkmates.
Since then I continued playing and up until a few years ago. I was part of a Cockney Comedy double act, unfortunately my stage partner passed away suddenly, so I decided to call it a day. I wouldn't mind starting again .. but I think at 74 humping drums around would be a bit much.
Here's a photo I've attached of 'HI FI' Butlins 1961 Season .. L- R: Brian Odgers, Bass .. Pat Marshall, Sax ... Tony Hart, Drums ... Tony Bailey, Guitar, Tex Roberg was not on stage at the time of Photo.
Thanks again for the site ....... Happy Days. If you can put me in contact with any of the "Lads" I'd be grateful.
Sincerely
Tony Hart
Follow up
G
lad you enjoyed Pic of HI Fi's at Butlins.
I guess Hi Fi really said goodbye to the Pier and Len in 1961, when the Winnie Atwell thing happened in Australia - I didn't go cos of Family Commitments. I went with Emile Ford instead. We never got back together afterwards.
Tony Bailey, Guitar, went to Preston with a Mecca Band and eventually worked for himself in Carpentry, the last I heard of him many years ago, he was living in the Cosham area of Portsmouth.
Brian Odgers, Bass Guitar, worked in London in Jazz Clubs etc. and worked with some big names including Johnny Dankworth etc. Brian was a great Musician. He married a Welsh girl and had 3 daughters, but everything fell apart, marriage wise. He then finished with music, and got involved with photography .. all this news I got from his mother donkeys years ago.
Pat Marshall, Tenor Sax and Flute player, who nobody knew much about was a brilliant Musician who disappeared from the Hi Fi scene, I heard nothing from him till 1966 when he got me a job with a Mecca Band in Sheffield. When this finished, I ended up with a near fatal accident on the M1, haven't heard of Pat since.
Me, Drums, I carried on with the music, and ended up a 'Bum'! but after a divorce, have been happily married with present wife for the last 25 years.
My god!! it's never ending!! With lots more in between!.
Tony
Two more photographs of a fresh-faced young drummer!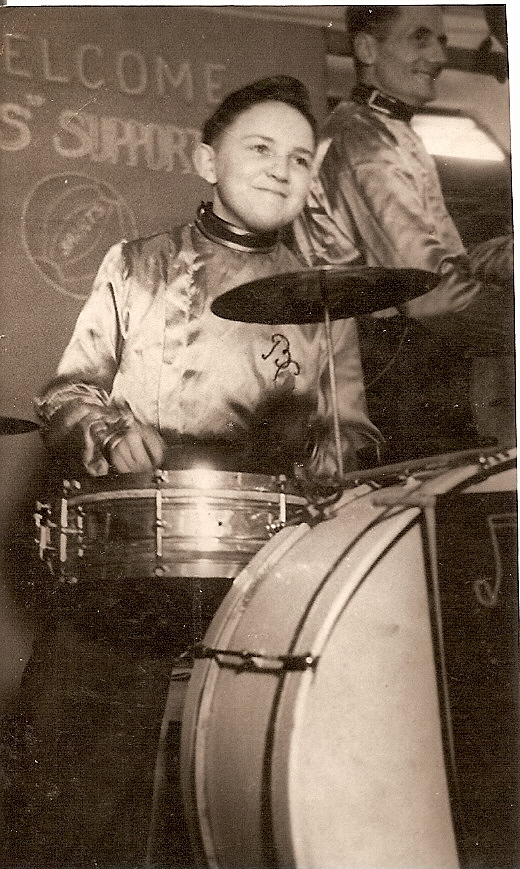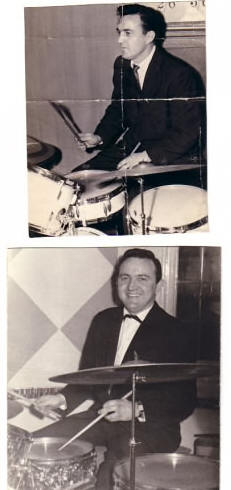 Tony Hart age 11! All grown up
The cheeky faced Tony (aw..... bless) seen playing at the N.A.A.F.I. social club in Portsmouth and the poster suggests that a party from the Saints FC (Southampton) were visiting the club on that night. Not a good idea these days! Tony was the resident drummer of the club band so gave him a great grounding for the years ahead.
The second photograph above was taken after the Hi-Fi days and playing at the prestigious Modern Jazz Club alongside many top names in the field.
This photograph below is a copy of the other image now uploaded on the first Groups page and shows Hi-Fi in action at Butlins Holiday Camp in Bognor Regis. Tex Roberg was the lead singer on this gig but the lads were either playing an instrumental or perhaps Tex was just having a beer and chatting up the birds?
L- R: Brian Odgers (Bass) Pat Marshall (Sax) Tony Hart (Drums) Tony Bailey (Guitar)
Some years later, Tony went in a completely different direction when he teamed up with a great character Roy Denny and formed a very successful 'Cockney' style comedy duo called The Barrow Boys. This is one of their very early publicity handouts and tells the story perfectly:

"COCKNEY ENTERTAINMENT AT IT'S VERY BEST …" so says The Stage newspaper. A self-contained act, (that doesn't mean backing tapes). With its cheeky ditties, a 'Cor Blimey,' humorous repartee with the audience, and all the 'sing-a-long' favourites. This is an hour's Cabaret that's different — a must for your 'Cockney Nights' and variety bill.
Roy Denny and Tony Hart formed The Barrow Boys act in 1986. Friends for many years, and frequently working together in various shows they decided that the present computerised, electronic world of pop music was not for them—hence the creation of this fine act with its wealth of entertainment, experience, personality and musical ability.
Recent notable successes include live broadcasts from the BBC Radio Kent, regular Summer Cabaret at Ladbrookes Family Holiday sites, Butlins Hotels and Leisure Centres, seasons at Chessington World of Adventure, featured at Gravesend Edwardian Fair and numerous appearances in Cabaret with Mike Reid of Eastenders.
ROY DENNY -A Londoner, who started his musical career as a schoolboy 'Boogie Woogie' pianist, and after a musical education in the RAF, worked the jazz club scene with great success. He formed his own Big Band and performed along side the big names of that era. The late Eric Winstone was so impressed he featured the band on Southern Television. Inevitably, followed tours of top venues, accompanying many star names of the day. Several LP recordings featured the band. Following the decline of the 'Big Band Days' Roy has made a name for himself as an MD for variety and summer shows, and has nine successful pantomimes with top artistes to his brand of 'Cockney Humour' and love of the 'variety scene', for which he has had notable successes, led to this new venture in his career—the highly successful "Barrow Boys".
TONY HART– Tony had his first drum kit at 9 years of age and his first stage appearance at the age of 13. He was soon recognised, not only as one of the top drummers, but also for his considerable vocal talents as well.. Quickly he was being sought after by many Agencies as support and backing to well-known stars of the day, one of these being the late and great Winifred Attwell. Tony toured major Theatres of Great Britain, including Shows at the Albert Hall alongside: Cliff Richard, The Shadows and Joe Brown. Later he joined Emile Ford and the Checkmates, which included an appearance on TV's Sunday Night at the London Palladium. He then formed his own vocal harmony trio and cruised with major shipping lines. After numerous Summer Seasons, he went into musical comedy with his friend Roy Denny. Tony's sense of humour and vast experience of Theatre adds to the success of ..…. "The Barrow Boys".
Tony's stage partner and good pal Roy passed away a few years ago, so I'm glad that he can be remembered in these pages and here is a picture of the two lads!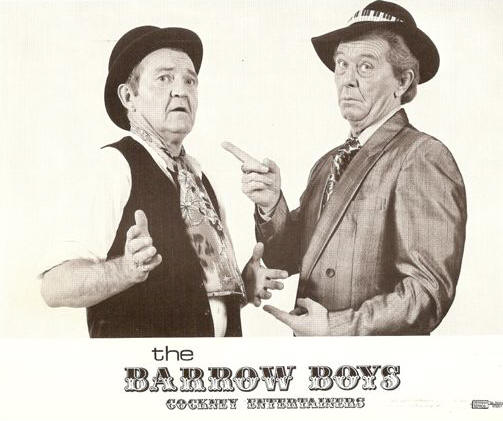 Tony Hart
1934-2009
.............................................................
September 10th 2009
Received sad news from Mike Nevitt. Tony Hart suddenly passed away on the 9th September, aged 75 of a heart attack and will be missed by so many old pals from across his musical years. I have been in touch with his wife Jacquie and she takes comfort from knowing that some of his memories have been included on these webpages, as he got in touch with me just over a year ago. It's quite poignant to read through his mini story above again, as I was hoping to have met up with Tony at some stage and maybe have him dig up some more old photos and memories of his musical days. Like so many musicians we have lost over the years, at least their memories can live on and be shared on this and other pages. He was another great character and his funeral will be on those lines with music/laughs - it would have been Tony and Jacquie's 26th wedding anniversary. The Humanist service, opens with a Barrow Boys piece plus one of Tony's favourite songs that he often sang 'Autumn Leaves' and containing beautiful lyrics that say it all. Maybe a CD of one of Tony's own self-penned songs will be included and I will add more information in the near future.
I also discovered that Tony was very much in demand as a session drummer on many hit records and his distinctive style can be heard on a 1959 number one record of 'What do you want to make those eyes at me for' by Emile Ford. The mid-verse snare shot always kicks in and is often recalled from that superb hit that still sounds good some 50 years later. He was a modest man and accomplished quite a lot in his musical life, so I'm sure that much more information will trickle through and keep another talented musician's memory alive on my website.
Jacquie also mentions that it was no surprise that Tony passed away on 09-09-09. Like a true musician with perfect timing!
R.I.P
His wife Jacquie thanks those who got in touch and these memories were read at the service at Chichester Crematorium on the 16th September 2009 so sum up another great musician and a family man who is much missed
Tribute to Tony Hart
Tony Hart was born in Portsmouth on the 21st of May 1934. His dad was a hairdresser by trade but served as a fireman during the blitz in WW2. His mum brought up two children: Tony being the eldest, his sister Una being the youngest.
Tony's dad was a practical man: when Tony's mum required extra work top space in the kitchen, his dad cut out a piece of hardboard and placed it on top of an iron bath. To use this she would bend down on her knees. This was the Hart sarcasm; this was the Hart sense of humour that Tony inherited.
His cheeky grin and chubby cheeks evident from childhood photos, personified the person we would come to know and love. A "cheeky chappy" was an apt description of him. His mischievous antics inevitably landed him in trouble with his dad. Caught with fags, he was told to smoke in front of them. He then cried saying, " Here you are mum, you have them", and then went to bed.
Tony remembered his school days with hilarity, the tale of the teacher with glasses like the bottom of lemonade bottles and a bent finger who would point to a boy to stand up but, as the class never knew which boy he was pointing at the whole class would stand. Only Tony could describe this with such wonderful humour and wit.
This sense of humour served him well in his choice of career. He received his first drum kit at the age of 9, playing his first professional gig at 13. Abandoning his apprenticeship as a painter in the dockyard, he pursued a career in the music business, touring major halls and theatres throughout Britain, including concerts at the Albert hall with Cliff Richard, Joe Brown and the Beatles to name but a few. He toured with the major shipping lines, and played at top cabaret and variety venues. His stories of these times were hilarious and unfortunately, too crude to mention here. Quite simply, he made the drum chair his own.
National service interrupted his musical ambitions and whilst with the RAF he met his first wife Jean, with whom he had 3 children, Carol, Gary and Ian. His children inherited his sense of humour, when on a fishing trip Carol, then only 3 put maggots in his friends sandwiches. Another time she fell into a river and when Ian did the same thing a few years later, he must have thought he had only brought children into this world to save them from drowning; the irony being he couldn't swim. He was a loving and devoted Dad, and this was never more exemplified when Gary had no boots to play a football match one afternoon so they went off searching high and low for a pair at 8.30 in the morning.
In 1983 he married his second wife Jacqui. Tony found in her his soul partner. Similar natures and interests, they became devoted to each other and were inseparable. As a couple they were well liked and well loved. Tony and Jacqui were happily married and today would have been their 26th wedding anniversary.
Tony was a country lover at heart. His knowledge from time spent with his maternal grandfather telling him about different birds and the fishing trips with the family lodger led him to pursue the activities of shooting and fishing later into his life; the latter of these now inherent in his son.
His love and warmth extended to other members of the family, particularly to his sister Una's children, Trudie and Dean. Tony became an inspiration and a guiding light to them after their mum died.
The birth of grandchildren gave him great enjoyment; he doted on Christina with the same love and affection he had always shown throughout his life.
Tony was quintessentially a family man. His warmth, compassion, love and devotion knew no bounds. His humour, sarcasm and antics brought laughter and tears of joy. Today our tears should be tears of joy in celebration of his life. As I know this is what he would have wanted.
Jacquie Hart 16-09-09
This moving song, written by Tony Hart way back in 1961 was played at the funeral and Grandson Jamie (14) uploaded this memorial onto YouTube. It features Tony and Jacquie's nephew Dean Summers who is singing 'End Of Time' and it stands up well in the style of that era so have a listen. I have also reprinted the lyrics below and it tells its own story
..............................................................
February 2010
From Jacquie Hart:
Hi David
Since we last spoke, a couple of photos have come to light of Tony which I am sending on to you. The first one we think was about 1960ish (he still has his hair!! lol), the second one is on a show doing a Flanagan & Allen routine, I don't know who the other person is unfortunately, but perhaps someone will recognise him .. we think it was taken about 1972, probably at a holiday Camp. Tony always wondered where this photo was as it just seemed strange that he ended up doing the old sing-a-long songs including theirs. I am also sending you a photo of our grandson Jamie, who did the memorial site for Tony on YouTube ... he also took a leaf out of his granddads book by following in his footsteps, and is learning to make the 'drum seat' his own, he will be 15 at the end of July and has been playing for about 2 and a half years, and along with his Band, are appearing in a show in a few weeks time in the 'Battle of the Bands'.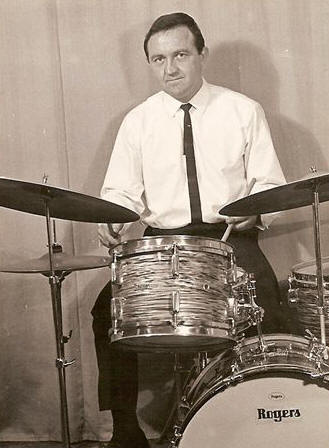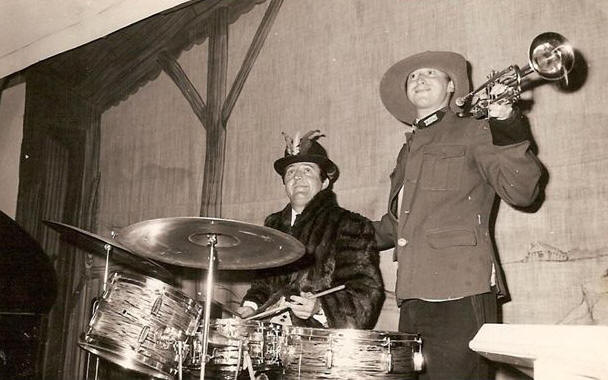 Tony Hart circa 1960 Around 1972 at some holiday camp! Looks like a Flanagan & Allen routine with ?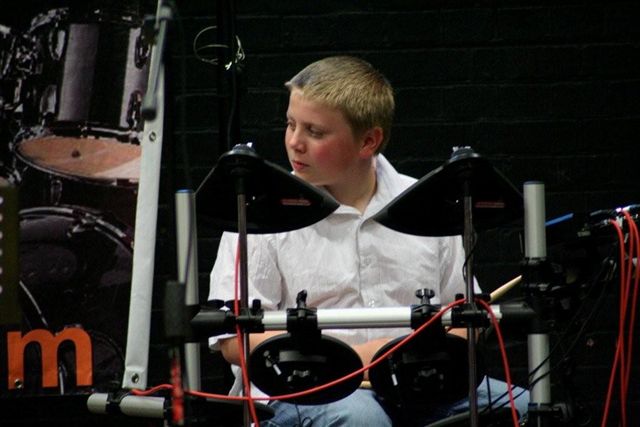 Tony's grandson Jamie White - musical genes still in the family!
Jacquie has now found even more great photos and these were taken around 1954 as the new sounds of rock n roll were gradually taking hold of the UK thanks to Bill Haley and those who followed over the next few years.

TONY HART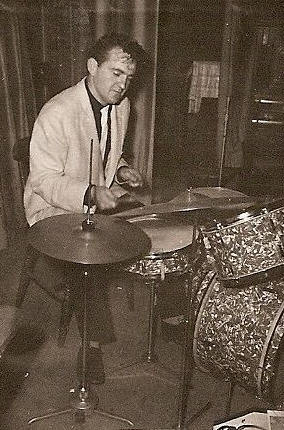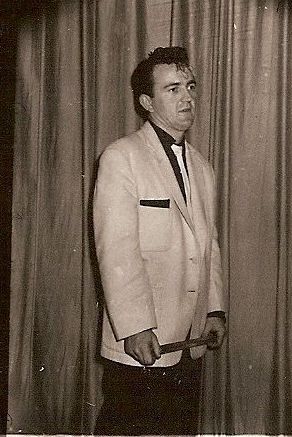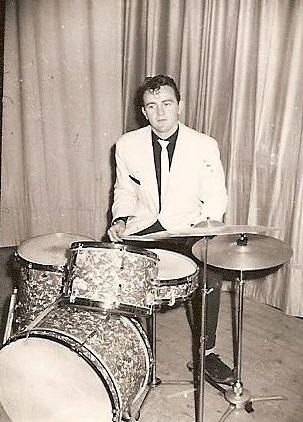 A pub jazz night- with Ray Lott on double bass- note the 'Brickwoods' darts score board!
..............................................................
Within days of hearing from Tony Hart (July 2008) I received another amazing e-mail from Rick Champion - a musician I knew of from way back in the early Sixties and another young group that started out at the legendary Royal Pier Ballroom. These great youngsters called the Infereds (not quite the proper spelling!) were managed by the same guy who later took the Eastleigh based 'Planets' and turned them into the 'Unforgiven' Tony Cook. Tony was the second very influential person after Len Canham had 'discovered' me as a ten year old rock n roll singer at the Pier just a few years before I joined the ranks of pop groups from around '63/64. I joined the Unforgiven in 1965 and this story can be seen on my other page named Biography and teamed up with the very talented Eddie Harnett who later joined forces with Rick Champion.
Both Rick and Eddie moved to the USA in the Seventies and are still in touch with each other. Eddie is mentioned on my Groups 1 page and Rick has been living in Las Vegas, still playing bass and singing with a resident house band till 2am!
THE INFEREDS AT THE ROYAL PIER around 64/65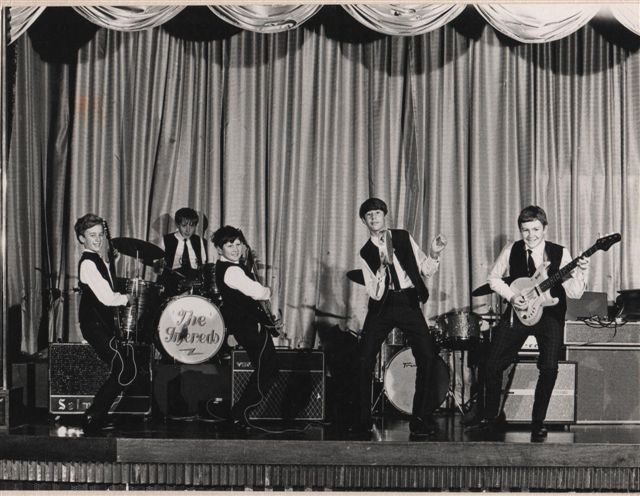 Gary Rowe - rhythm
Dave Mitchell - lead
Steve Faithful - drums
Ian Rogers - lead vocals
Rick champion - Bass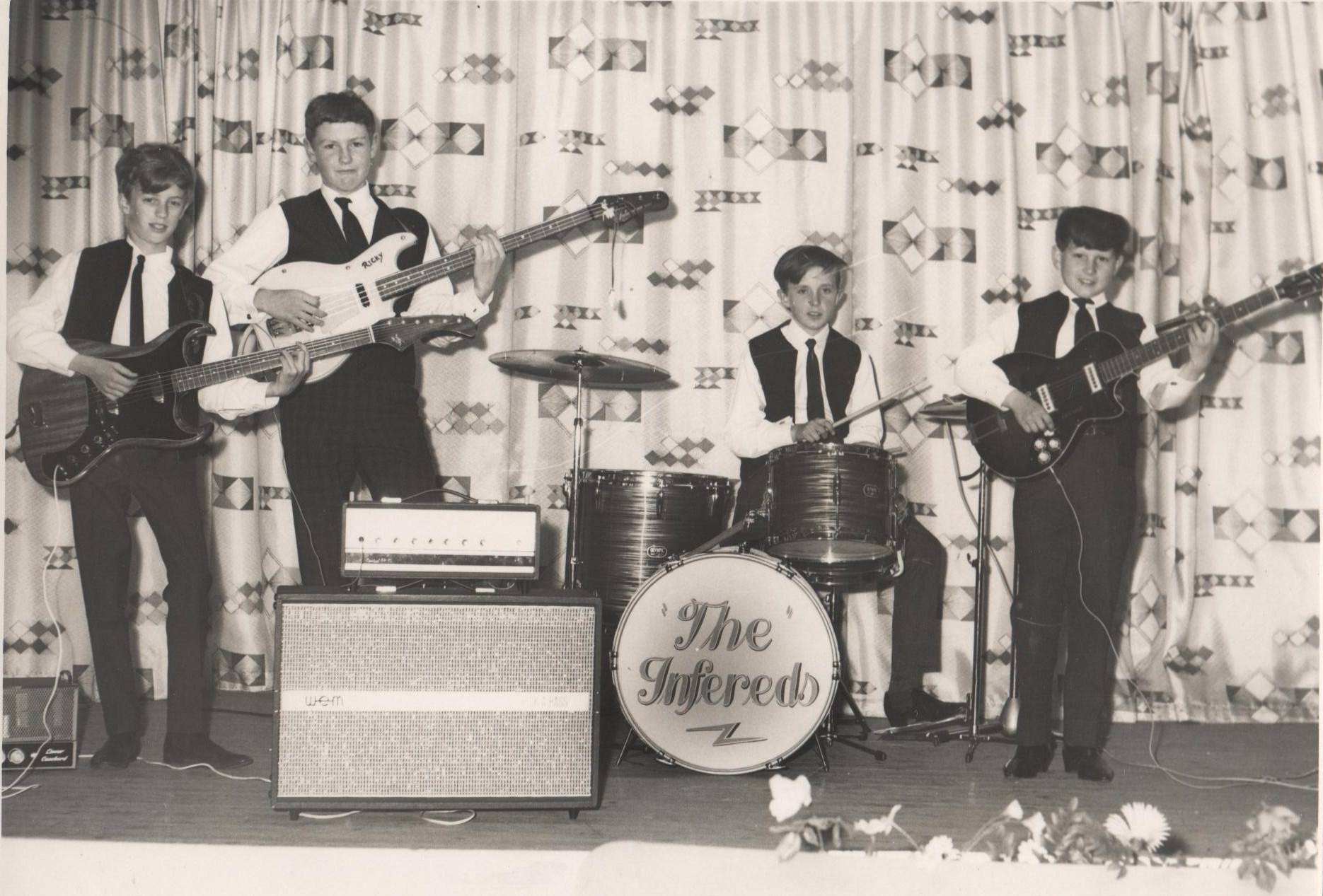 Ford social club Eastleigh Southampton
Note the old favourite Linear Concord amp on the bottom left! We all remember those glowing valves through the mesh grille and only some 30-50 watts to use as a p.a. amp! Many a careless musician placed a jacket or something else on top which soon started to burn as well as blowing the valves up as they overheated - great days.
WE THREE
'Cabaret' style band featuring L-R:
Steve Faithful, Rick Champion, Jimmy Keys
We Three also worked on a cruise ship - The Monte Toledo out of Bilbao Spain and when later joined by Eddie Harnett and Danny Barbour they became a heavier land based band called Parrot. This photo sums up one of Rick's stunts when riding a motorbike in drag! (No - he's not.......)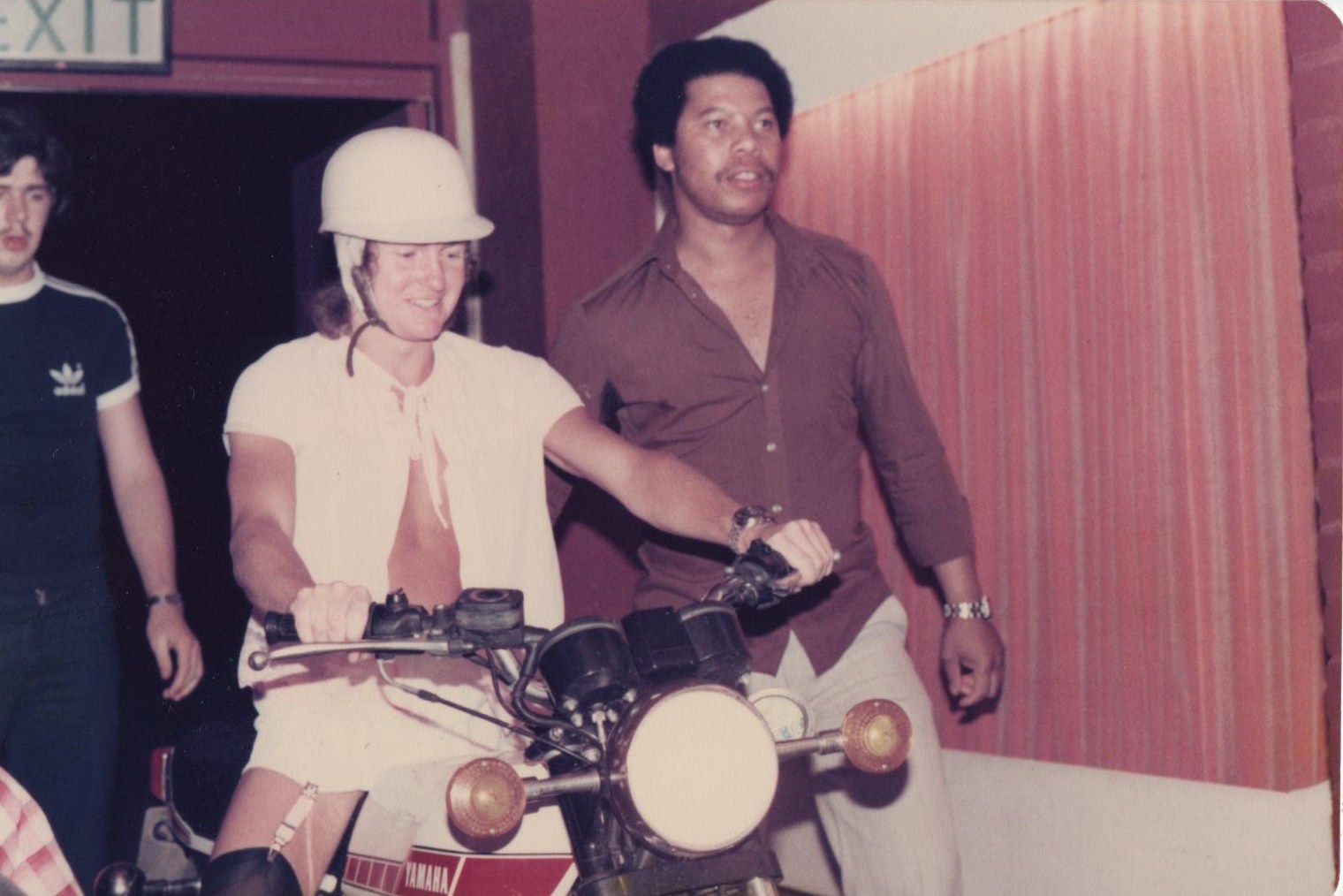 Rick Champion Ronnie Allen Eddie Harnett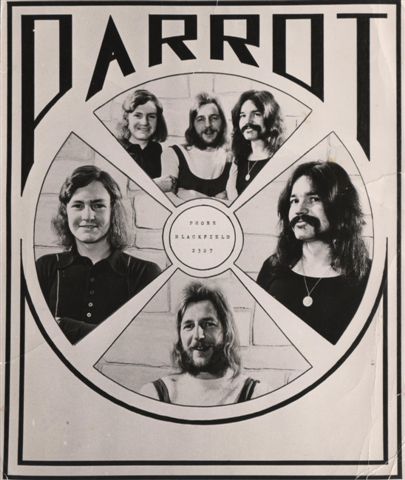 PARROT
Danny Barbour (drums) featured below and replacing Ronnie Allen
Rick Danny Jimmy Eddie
How about this rare photo of Danny Barbour when out in Holland with the band! They set him up for this picture and his expression really sums up the daft things we all did - and still do! Danny stayed in Holland and has little contact with the UK and I am told that he no longer plays drums, but is remembered with much fondness by so many Southampton musicians who knew and/or played with him. Many drummers are slightly 'mad' and Danny certainly had some crazy moments in between being a superb musician, playing with loads of different groups over the years.

Parrot is also listed in Southern Roots with Jim Hewson (keys) and being formed out of Charleys World Premiere. Eddie later went into 'Hair' the West End musical for a year as an acting/singing role for a year. He then teamed up with Rick and Jim Hewson with new bands of Creation and Lazy Face before moving to the USA in the late Seventies as did Rick who is currently playing with a house band in central Las Vegas. If you ever pass by then check out Harrah's Casino which features top rated entertainers with the very popular Toby Keith Showbar and featuring a very talented C&W singer Tony Marques. Rick plays bass and vocals with loads of crazy stage antics that the Americans and foreign tourists love to pieces - here is a recent photo in which a scary 'lounge lizard' gets in amongst the girls as he belts out 'Sweet Caroline' Lucky sod..........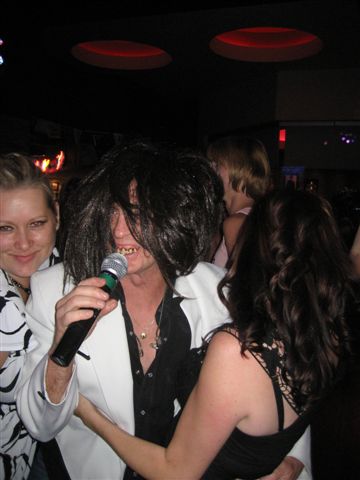 STOP PRESS: August 2008
Just had a mail from John Walker - he drums and sings on alternate Wednesdays at J.V.s Restaurant at Falls Church Virginia - not far from Washington D.C. on the East Coast. Great houseband called the Martha Capone Band who kick off the open mike/jam sessions. Not sure if Martha is related to Al so be careful how you speak to her if passing!
Go to this YouTube link to see them in action!

http://www.youtube.com/watch?v=g-MilLU2Juw

Or go to J.V.S own website: http://www.jvsrestaurant.com/index.php
MISTY BLUE
August 2008 Mail from John Bendall plus more photos of linked bands
Hi Dave still keeping up to date with your fantastic website. Have been in contact with two ex band members Ricky Champion in Las Vegas and Steve Faithful back home in Southampton thanks to your site. Just finished a 10 week gig in Majorca and managed to find the 3 photos that I have attached. Hope you will have room to add them the first Misty Blue were Gerry Gurr - John Bendall, - Leanne, Dennis on keyboards, Graham on bass cant remember the tenor sax players name. Silhouette picture taken on the stairs of the club must have been 1970/1971 Gerry Gurr, John bendall, Neil Hibberd on bass, George on keyboards, Tina . Pluto picture taken in Kuala Lumpur 1972 Gerry Gurr,John Bendall, Ricky Champion on bass and Steve Faithful on drums. I first started playing drums in 1966 with Mike Nevitt Mike Gaston and Steve Wholegate.Many thanks Dave please keep up the good work. John Bendall
SEPTEMBER 08 Yet a new e-mail from Misty Blue's sax player!
I scrolled down the page and found Mail from John Bendall (as above)
The sax player was me! How I came to be in the band is as follows . . .
I had received a phone-call from Gerry Gurr when I was working full-time at Lonsdake Technical in Shirley. The conversation went something like "You don't know me, my name is Gerry Gurr and I run a band called Misty Blue. We've got an audition for Warners Holiday Camp in Hayling Island and the booker has asked for a sax player. I usually use Ronnie Taylor (!) but he's not available". He paid me a days money and gave me that amazing blue shirt to wear at the audition. It went well and Misty Blue got the job. Gerry said "we wouldn't have got it without you". And offered me the gig. So, for 14 weeks I became a member of the band. I remember Leanne and the guys were great to work with. I heard from Gerry many years later that Dennis Smith (Smev) had gone on to work as a producer at the Police's studio in Montserrat. I think Graham moved to Germany where he pursued a career in music. I haven't seen or heard from John Bendall so here's your chance John . . . drop me an e-mail!
My history, in brief:
1957 The Bert Turner Quintet Cliff Turner Drums
Pete Dawkins Guitar
John Betts Trumpet
Paul Baker Piano (later of the Playboys)
Sid Carter Clarinet + vocals
1960 The Malcolm John Five Alan Grandy Guitar
Harry Kenny Piano
Alan Tizzard String Bass
Brian Rickard Drums
Sid Carter Clarinet + vocals
George Powell Vocals
The MJ5 played at the Sir Walter Tyrell and was very successful there. Alan Grandy was a strong minded leader and the band played material that was a million miles away from any of the other local bands. The only concession to popular music was me playing the Monty Sunshine instrumental Petite Fleur and Acker Bilk's Stranger on the Shore. George Powell was a powerful vocalist and a great hit with the ladies. I recently met up with Alan Tizzard and Brian Rickard. It was our first meeting for well over 40 years! If anyone has any Sir Walter Tyrell reminiscences I'd love to hear them.
I have continued to play. In the 70's I took a band (Hallmark) to Germany. The drummer was Larry Tolfree (who went on to play with Joe Jackson) and the Bass player was the sadly missed Pat Bond. I still have my own band, Sunflower, which has been going for over 30 years. I'm fortunate to be working with Pete Smith guitar, Bob Phillips Bass, Rich Daniels Keyboard and Stewart Marshall on drums.
I hope you find something of interest in this mail!
Cheers! Sid Carter
Sid Carter 2008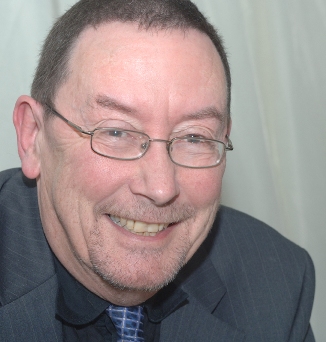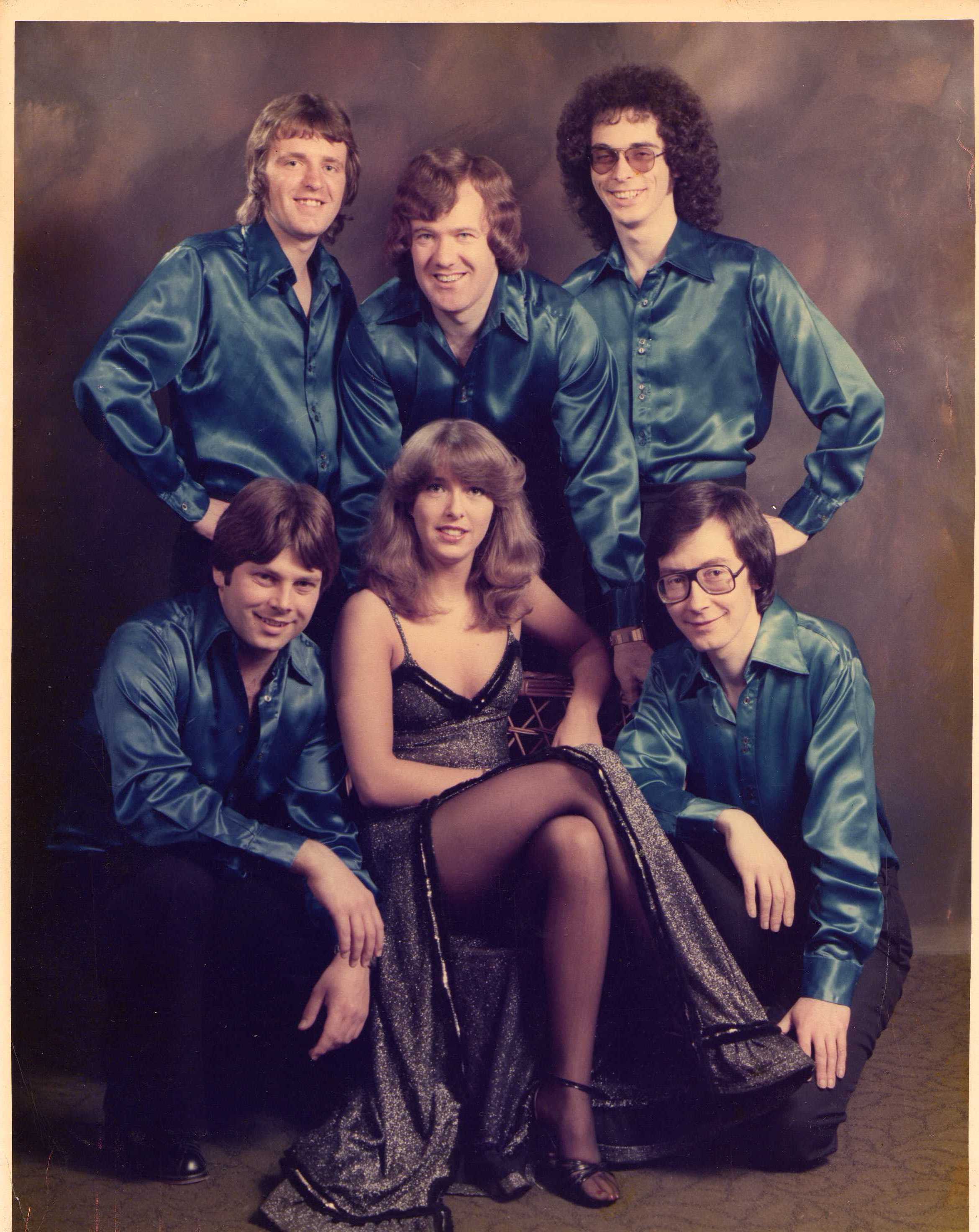 MISTY BLUE
(see above mail for line-up) Will put correct names to faces soon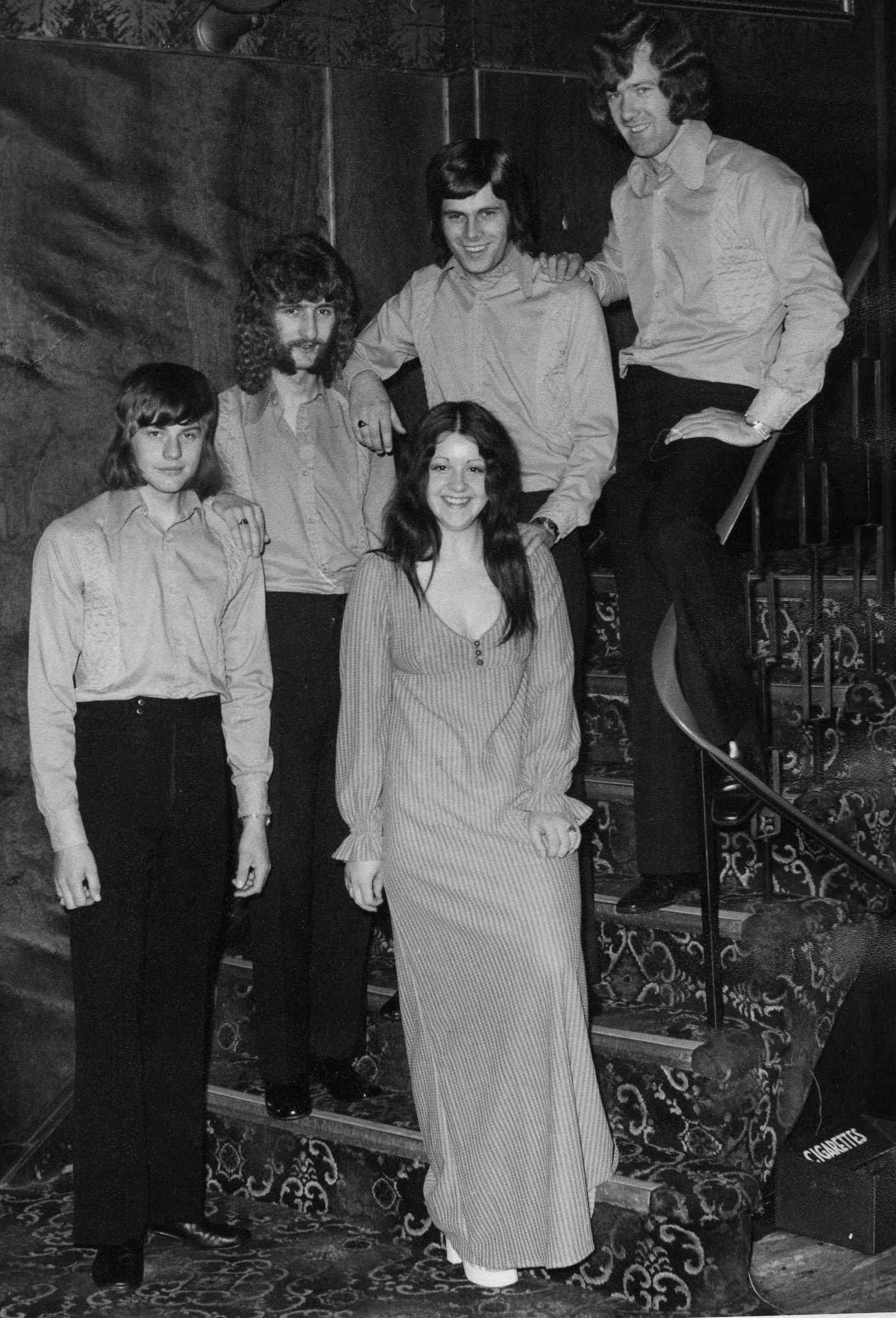 MISTY BLUE
On the entrance steps to the Silhouette Club Southampton 1970/71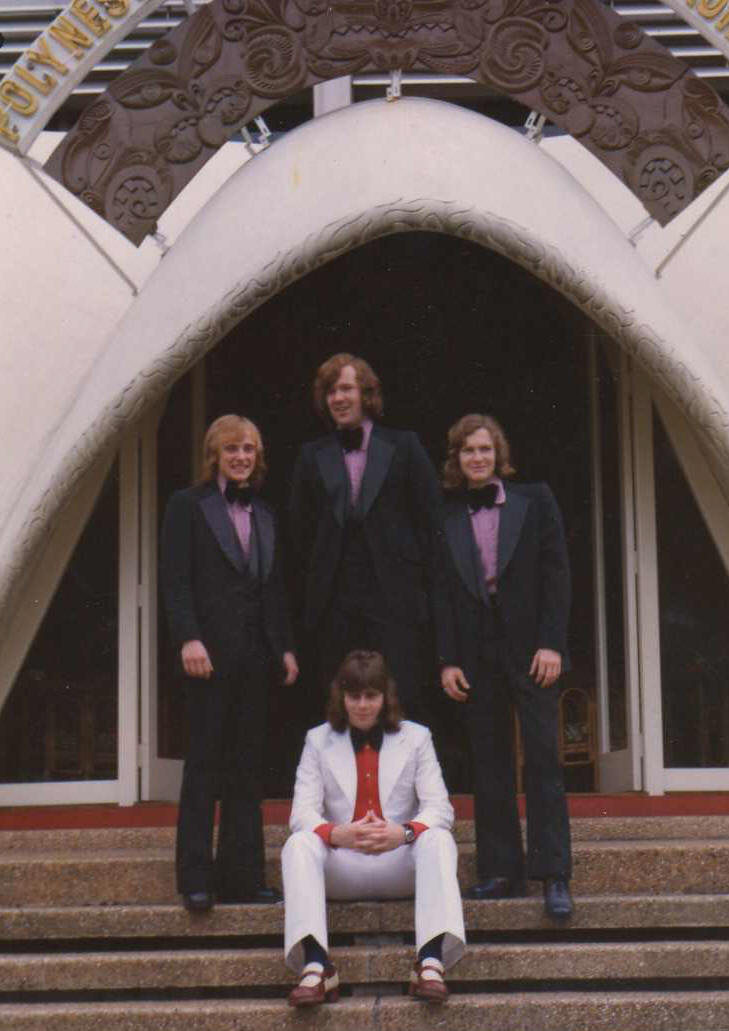 PLUTO
Kuala Lumpur 1972
I am in regular contact with Rick Champion and he will be sending me some more photos and info on his very long career in the business and he is still one of us lucky ones who are still making a living out of it after all these years. Likewise - check out Jimmy Keys who also emigrated to the USA and developed a very successful comedy musical act and is working nonstop all over the world! His own website has some great video-clips of Jimmy in action and he has established himself as one of the top Brit acts across America and beyond. He would also love to hear from any old pals who worked with him during his own years on the group scene. This is a recent e-mail that Jimmy sent:
Hi David,
WOW I have just been browsing your web site plus all the amazing history of the Southampton bands and musicians. I take my hat off to you, what a superb job you have done pulling all this information and photos together, it is mind blowing!
I was born Jim Hewson & originally from Gravesend Kent (which along with the Dartford area, also produced many great musicians and famous bands) but moved down to Southampton in the 70's.
I was originally in a band with Southampton guys Rick Champion (great bass player/vocalist who has lived and still plays in bands in Las Vegas) Eddie Harnett (guitar) & Ronnie Allan (drums). I am still in touch a lot with Rick Champion, I will tell him to get in touch with you as many musos in Soton will know him. I know he drops back there from time to time to see family and friends. Also later with Steve Faithful whom I am certain you know. We played around town quite a bit through the 70's under various band names including: We Three/Parrot/Lazy Face we also worked a lot in Holland, Germany & Scandinavia as well as on a cruise ship out of Southampton called "The Monte Toledo"..Aznar Line. We also were the backing band for the great female singer/comedienne Marti Caine & played many of the top northern clubs.
In 1981 I went solo and had a stage name of Jimmy Keys, which I later legally changed my name to and after many years of living and performing in Bermuda I moved to the States where I still live, now in Naples SW Florida. I perform about 120-130 shows a year all over the States, Canada, Bermuda & other countries.
I would love to be in touch with any musicians from Southampton that remember me!! I also used to jam a lot with various guys around the pubs in the area, and recognise quite a lot of the names from your great website.
My website is:
www.jimmykeys.com (made that up all by myself!) plus see video clips on you tube at:
www.youtube.com/jimmykeysLIAR
Please come back soon as this new page will be loaded with so many more memories
Click on SITE MAP to navigate the pages Back to Home Page Contact David
Copyright © David St John 2008