Click on SITE MAP to navigate the pages Back to Home Page Contact David
DAVID ST JOHN proudly presents........
RICK BROWN
ONE OF SOUTHAMPTON'S FINEST!
February 2006
I traced Rick down, as he still lives in Southampton and was quite chuffed to hear about my new pages on this website and that there is now an opportunity to share many memories of the Southampton group scene from the 1950s. Over the last few weeks I have been lucky enough to have been in touch with a few old colleagues from those heady days as well as others who have been surfing the web and alighted on my website. I am now building up a small library of notes and pictures that have been sent to me and am very grateful to all contributors - I'm sure there is much more to follow.
It is time consuming but very enjoyable to offer this personal tribute to some of the Hampshire based musicians who were lucky to have enjoyed being part of an amazing period in the British music scene. Some have retired, whilst others are still involved in the entertainment scene from anywhere in the world. Sadly, some of these great people are no longer with us but their memories live on by word of mouth and on pages like this.
When I first got started on the group scene (see Biography page) back in 1963/4, with the Abdo-Men, we all took inspiration from the top groups of the day - mainly Beatles and Rolling Stones plus all types of chart bands that were opening the Sixties up. On the local scene, they didn't come much better than Ricky and the Hi-Lites - a hard working band that made the journey across to the new Germany scene which sorted the men from the boys! Their return to Southampton must have echoed the same feelings in Liverpool as the Beatles came back to the UK, having had to survive the hard drinking clubs of Hamburg etc.
Rick and the lads were very slick and polished, but not losing sight of their musical roots which was a mixture of driving soul and R&B (the first rhythm and blues - not to be confused with the recent tag!) They had an amazing frontman in the shape of Ricky Brown who could sing just about anything with great feeling, as well as covers of pop hits that were expected by the audiences that followed them all over the area. Most lead vocalists normally get the attention, but standing alongside Rick was twin brother Chris, always known as 'Burnsy' playing the meanest lead guitar you could wish for. These two were more like a double act and it was sheer magic to watch them in action with Rick pumping out those great songs whilst Burnsy provided a hard edged driving sound that really spurred the whole band on. They could well be described as a Showband, as opposed to a straightforward pop group, with smart stage wear and slick movements which were influenced by the great American stars who gave the audience something to watch, not to mention the amazing music!
Ricky kindly sent me a rare copy of a programme from 1988, when the brothers staged a 'Farewell' concert at the Mayflower theatre in Southampton - formerly known as the Gaumont cinema one of the finest venues in the country whose boards have been trod by some of the greatest stars in showbusiness. I have also scanned some images but are not that clear due to slight software problems - I will hopefully be able to obtain original photos/copies in the near future.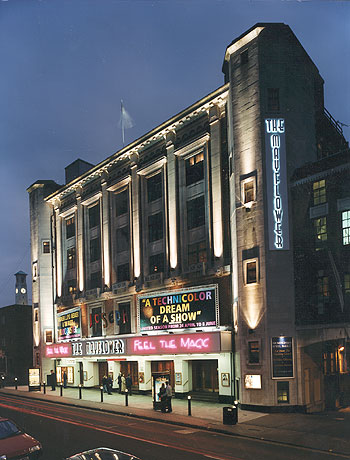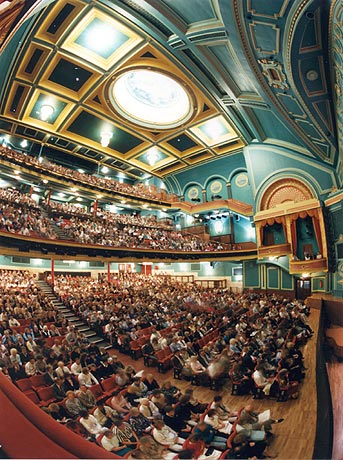 The programme front cover: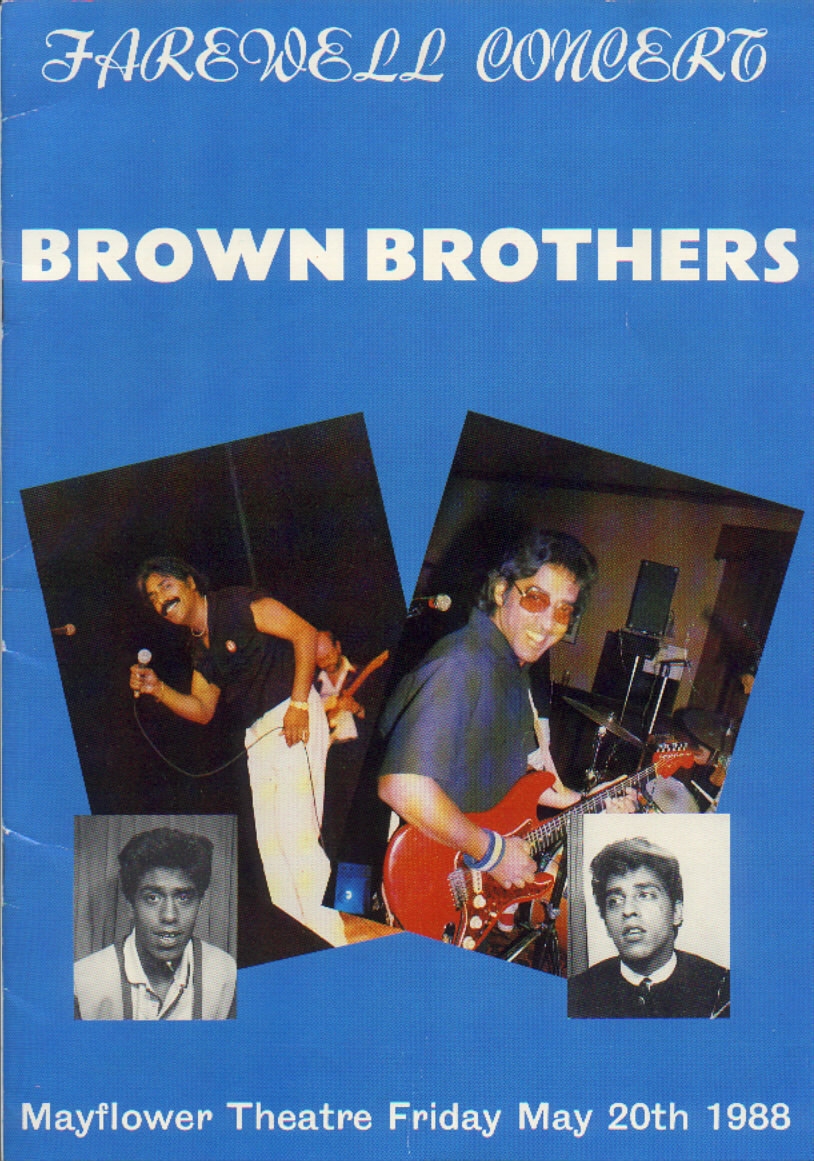 Inner sleeve note: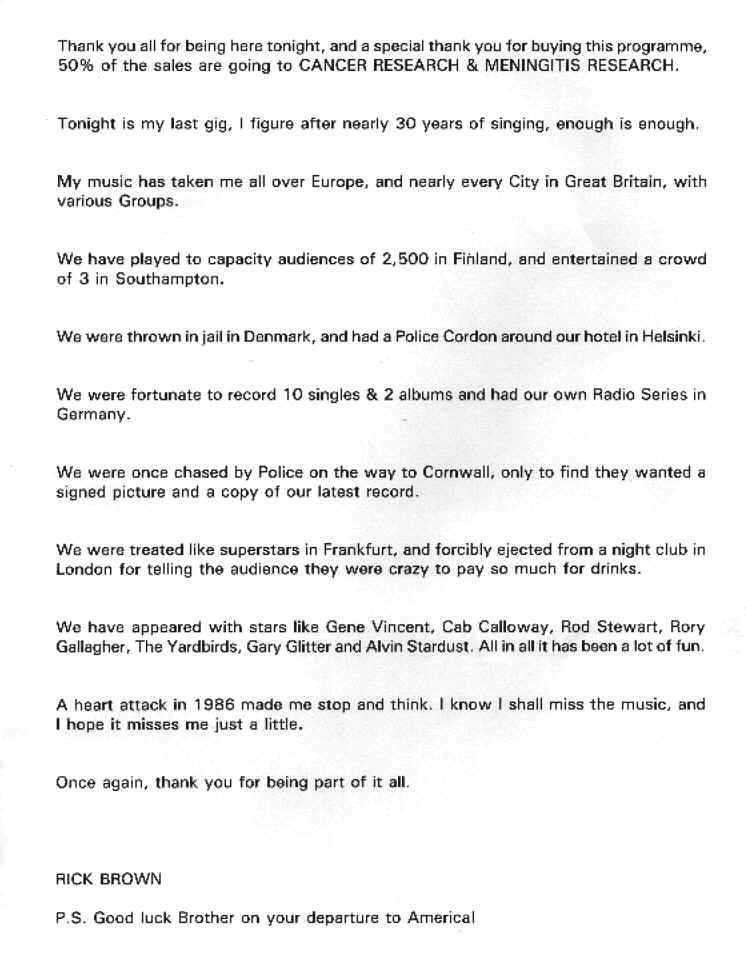 This poignant show featured three groups in the first half, opening with:
CHINA HEAT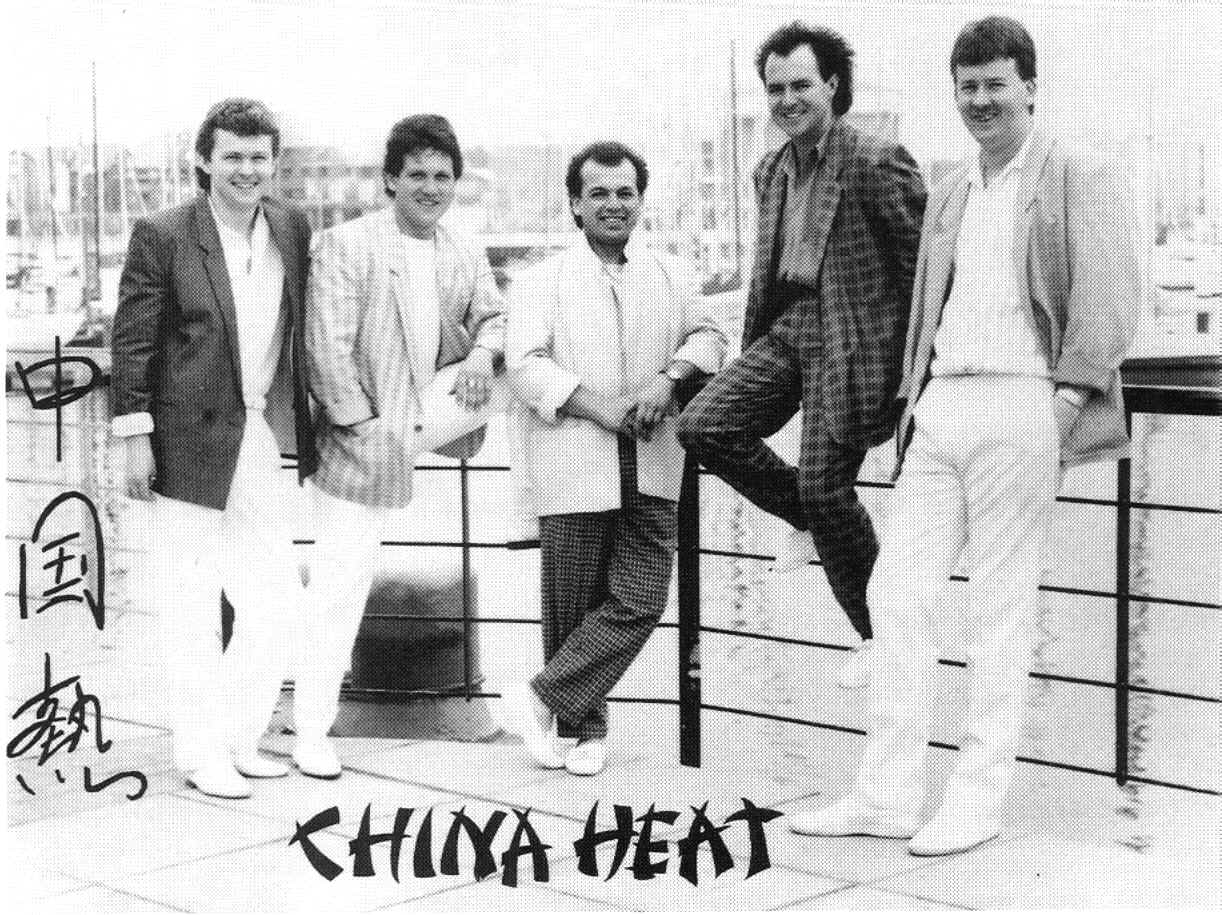 L-R: Denny Roberts (vocals)
Dave Mitchell (lead gtr)
Glen Lee (drums)
Ray Davis (bass gtr)
Jim Wicks (keyboards)
These were a very talented professional band that included my old pal Glenn Lee, who played with the Abdo-Men. This was their first public appearance and must have been a daunting experience as the curtains opened up to face the massive auditorium! Ray Davis, a very well known musician, had only just left this fledgling group and was replaced by Andy Ayling for this special night. China Heat were also in demand in the recording studios and provided session backing for many artistes.
The show was hosted by M.C. Richard Bennett who then introduced: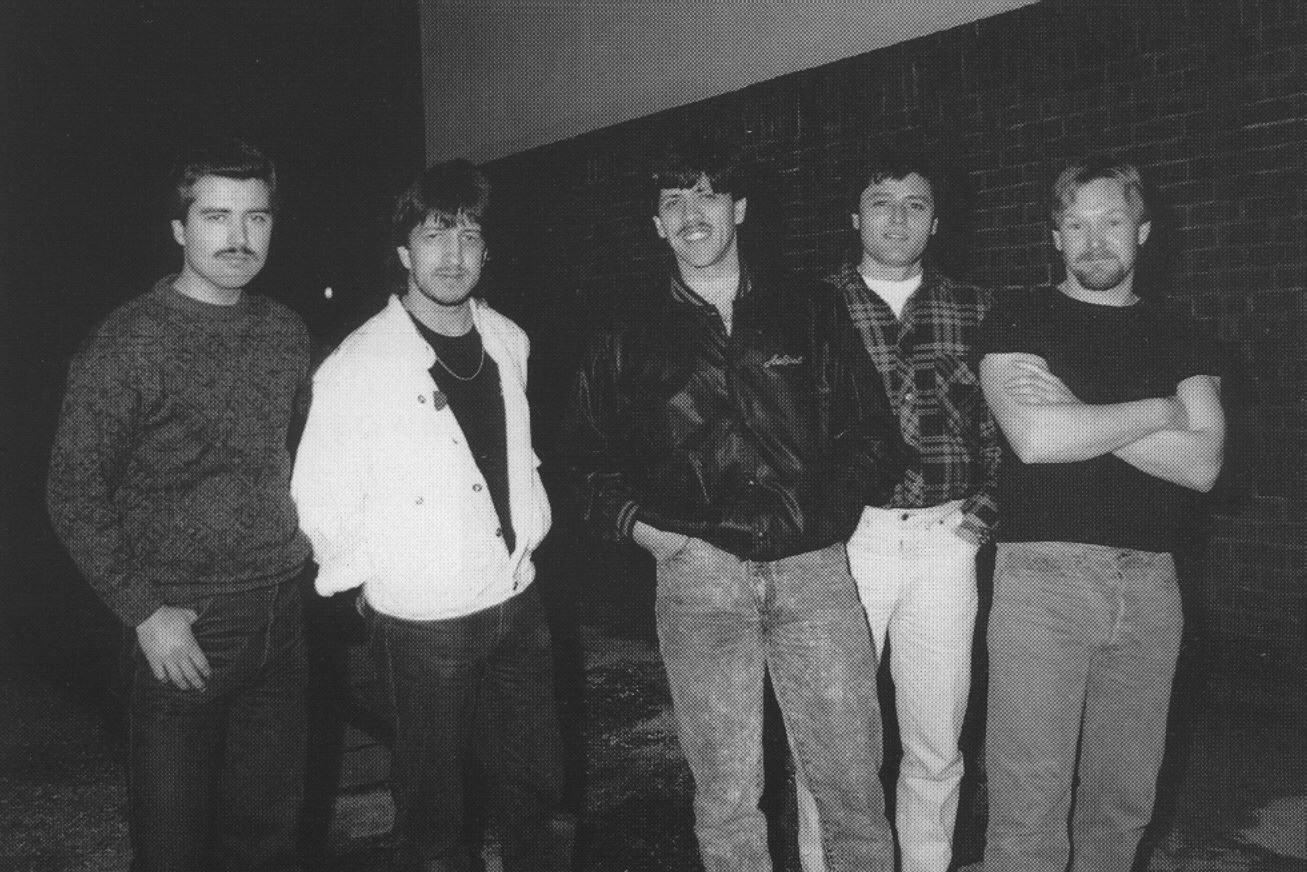 PRIME SUSPECT
L-R:
Mark Kendle (lead gtr)
Andy Brown (bass gtr)
Steve Brown ( vocals/gtr)
Paul D'Souza (vocals)
Ado Comer (drums)
Prime Suspect were an excellent blues/rock outfit, and the mainstays of this lineup were Steve and Andy Brown - who had been making music since the late 70s. Andy was also writing songs and one of these was recorded by Labi Siffre. In case you are wondering about the shared surnames - yep - more talent from the Brown pool of talent as they are nephews of the great pair! Seems to run in this family..........
Ado the drummer was replaced by the well known Ronnie Allen - one of the real characters on the scene in a wide variety of bands (including a couple of mine in the 60s)
Closing the first half were: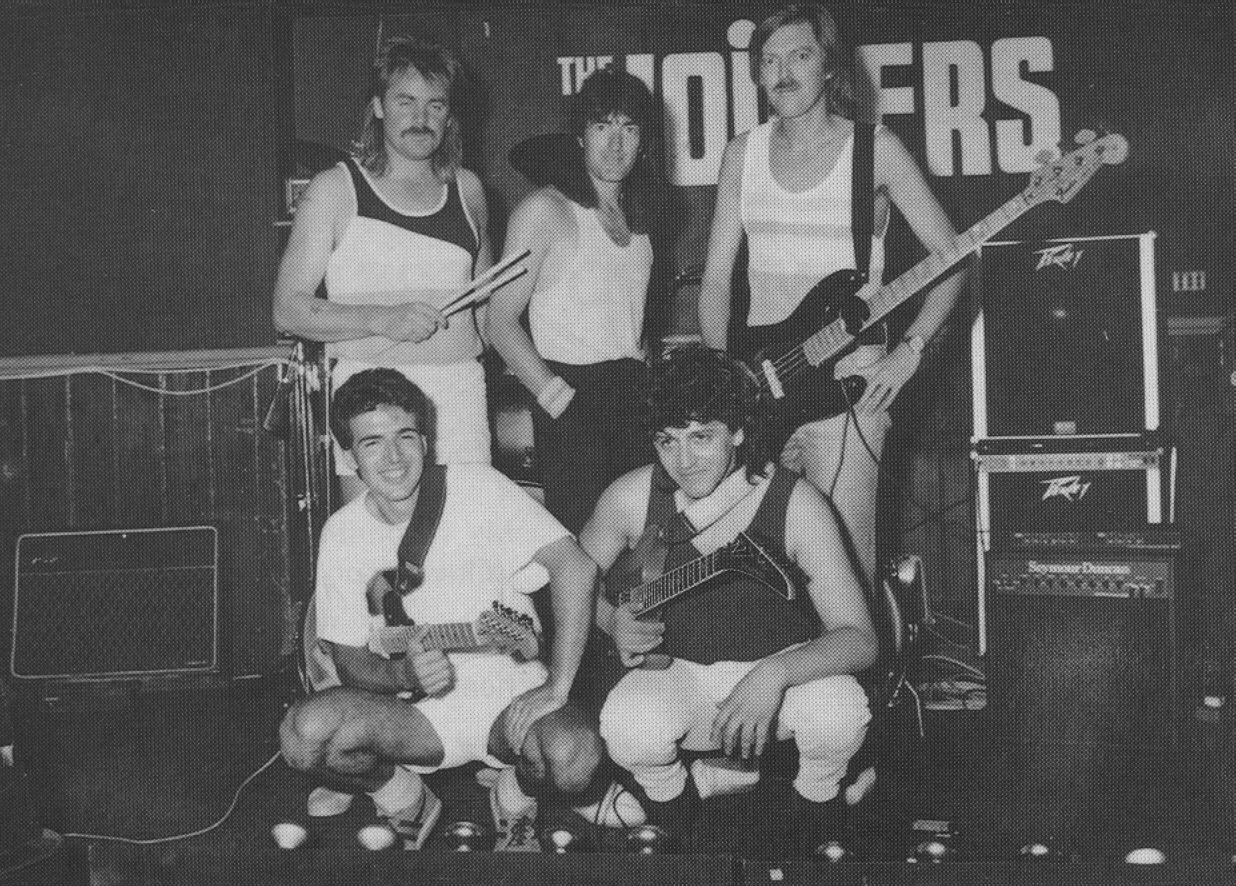 WHITE LIES
Photographed at the Joiners Arms - top music venue in Southampton
Back Row
Bill Alex Colin
Front
Ben Tim
(I wonder why Bill and Ben never stood next to each other?)
They had been together from the mid Eighties
THE BROWN BROTHERS BAND
The programme lists the second half of the show in Rick's own words:
RICK BROWN (VOCALS)
Shows promise but must try harder!
BURNSY BROWN (LEAD GTR)
My favourite guitarist and a great influence on all musicians near and far
MICK WILLIAMS (LEAD GTR)
One of the best guitarists you will hear in your life
BOB WILLIAMS (BASS GTR)
The guy who invented the bass guitar
GRAHAM 'SPIKE' WATERS (DRUMS)
A natural and the best drummer I have ever worked with. This is Spike's farewell gig as well.
BOB PETTET (SAX)
Brilliant sax player and nice guy. It's taken me years to get him in my band
Backing vocals:
PETTET SISTERS
Close your eyes and you'll think you're in Harlem
STEVE WING
A good friend and great musician - he sings a bit as well
RAY DAVIS
Mr. Showbiz! He's been everywhere and done everything but tonight he's with me
Road crew and technical advisers - Mick Foster & Chris Rumble
This programme also contains photos of the old Hi-Lites and I reproduce them here (again - apologies for temporary quality)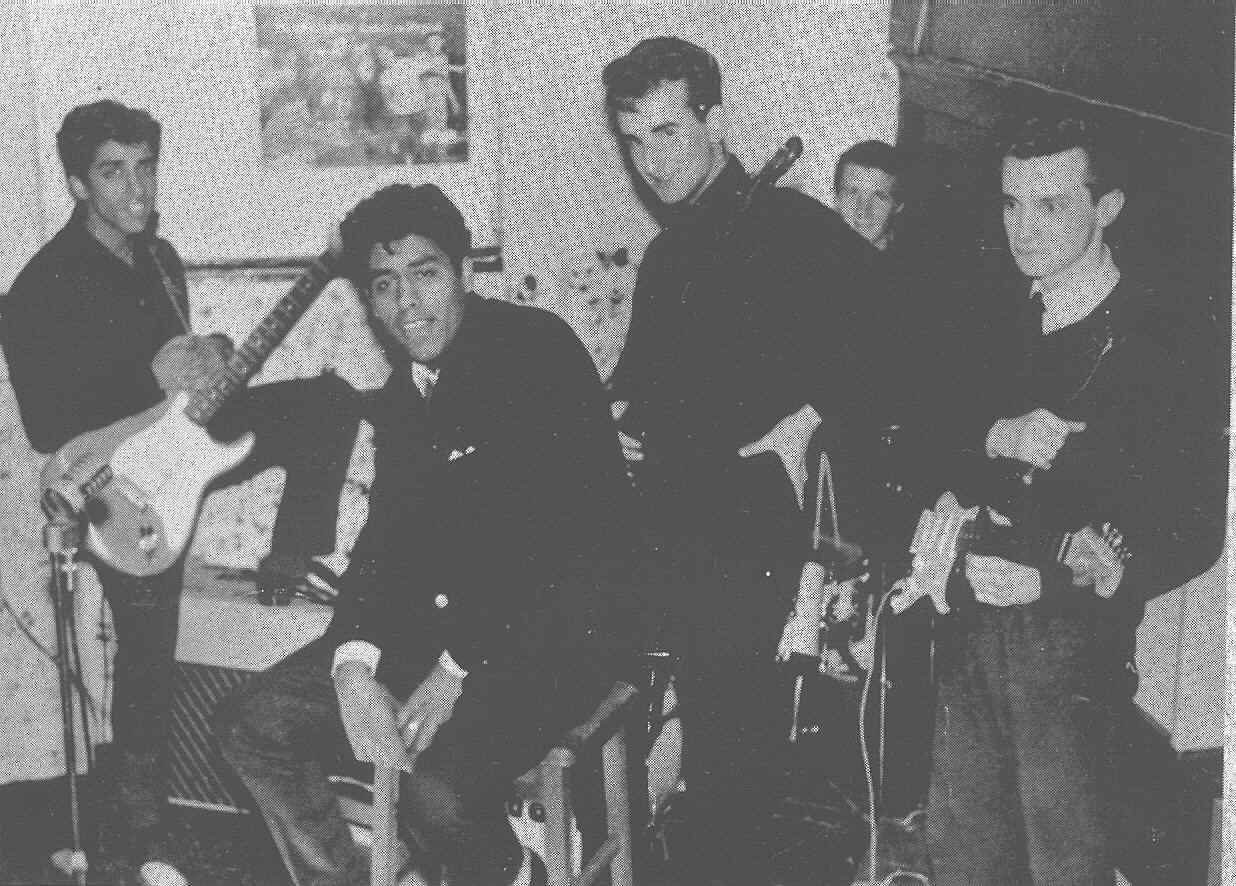 The first line-up taken at the Arcade Shirley in 1962
Rick played bass for short while before Ray 'Buff' Woodason joined. They also featured the superb drumming of Mick Hall throughout the early years including Hamburg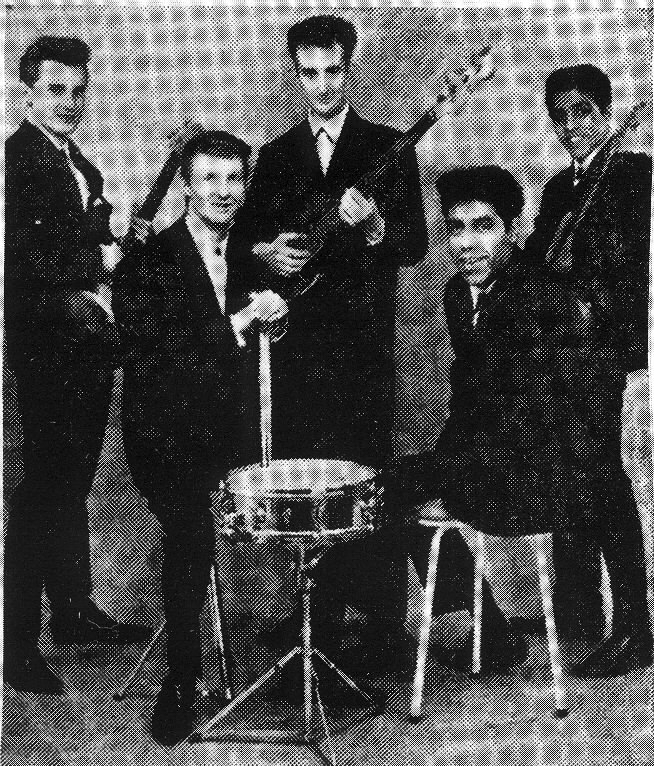 Ricky and the Hi-Lites 1963 (just turned professional)
L-R Steve Dimmer (gtr) Danny Barbour (drums) Buff (bass) Ricky, Burnsy
1963 lineup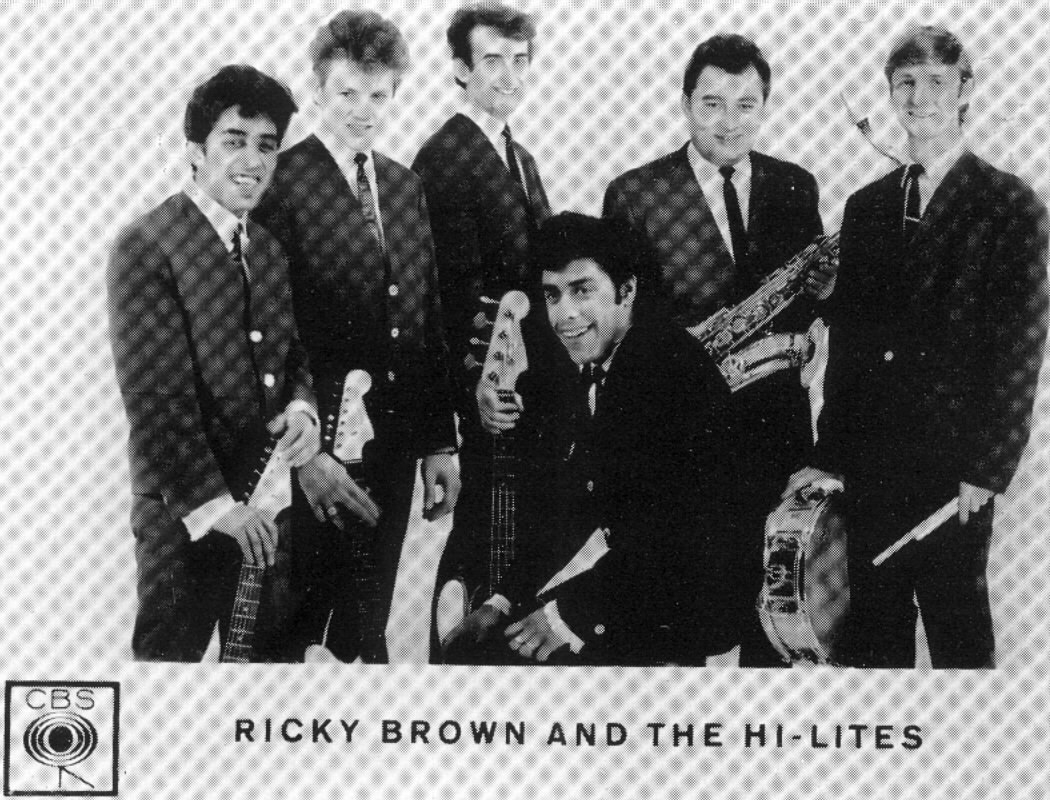 CBS recording artistes!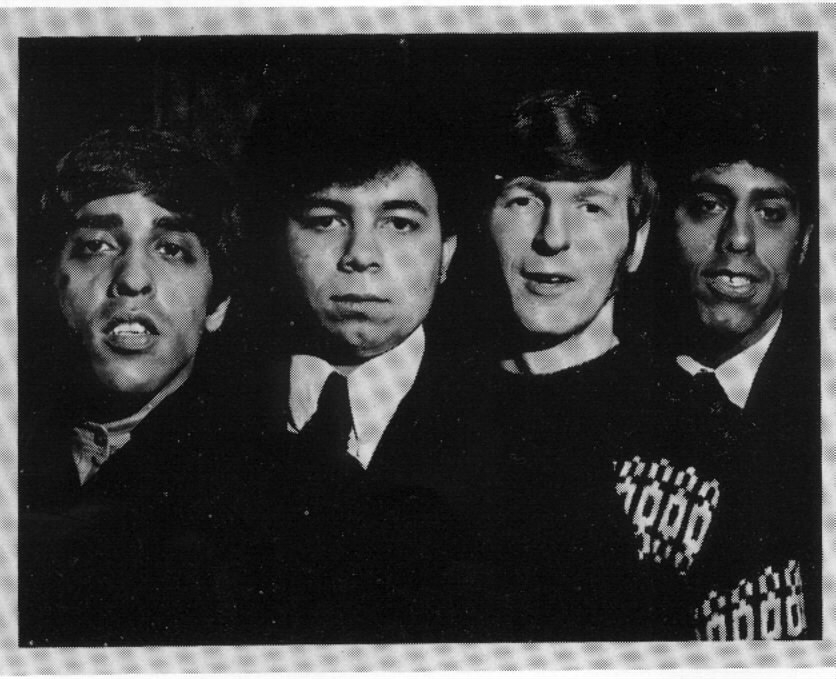 1968 lineup Mk 1V
L-R Burnsy Beau Dinnage Ronnie Allen Rick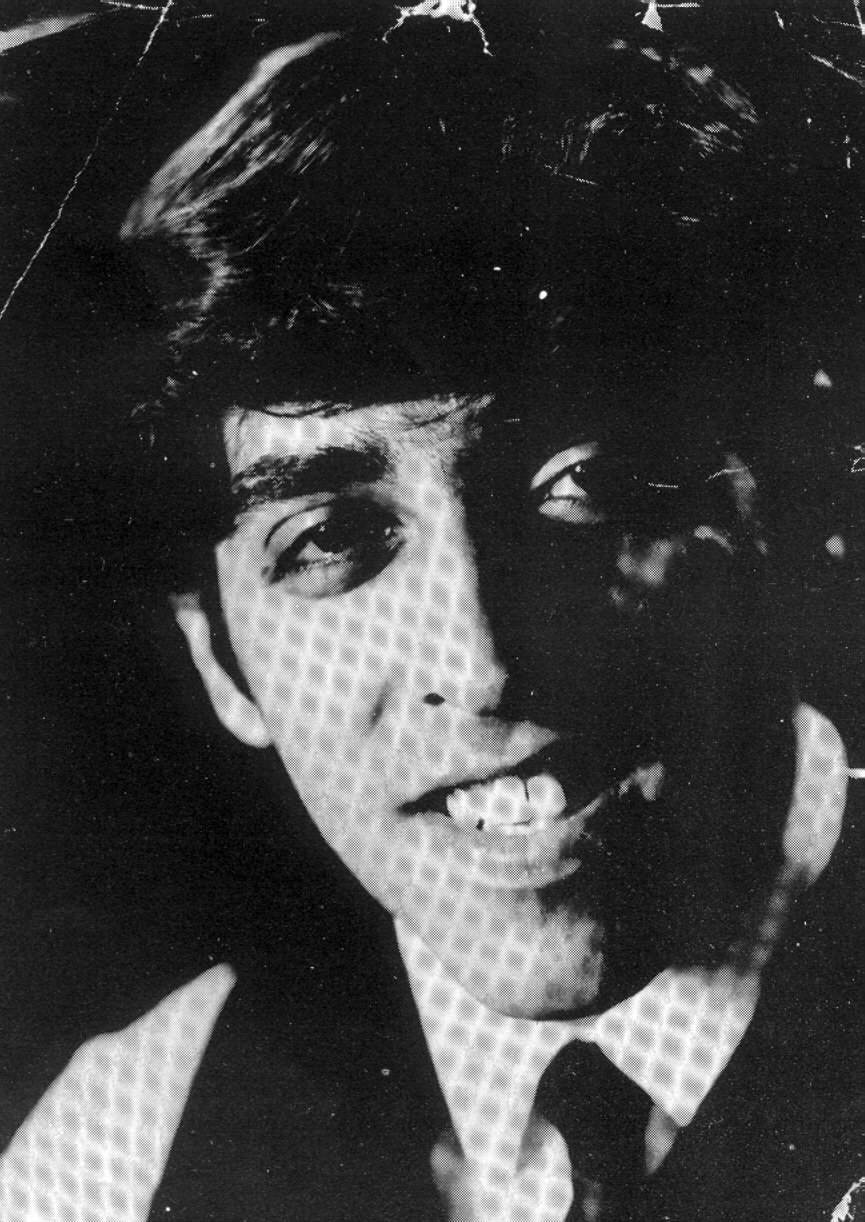 Burnsy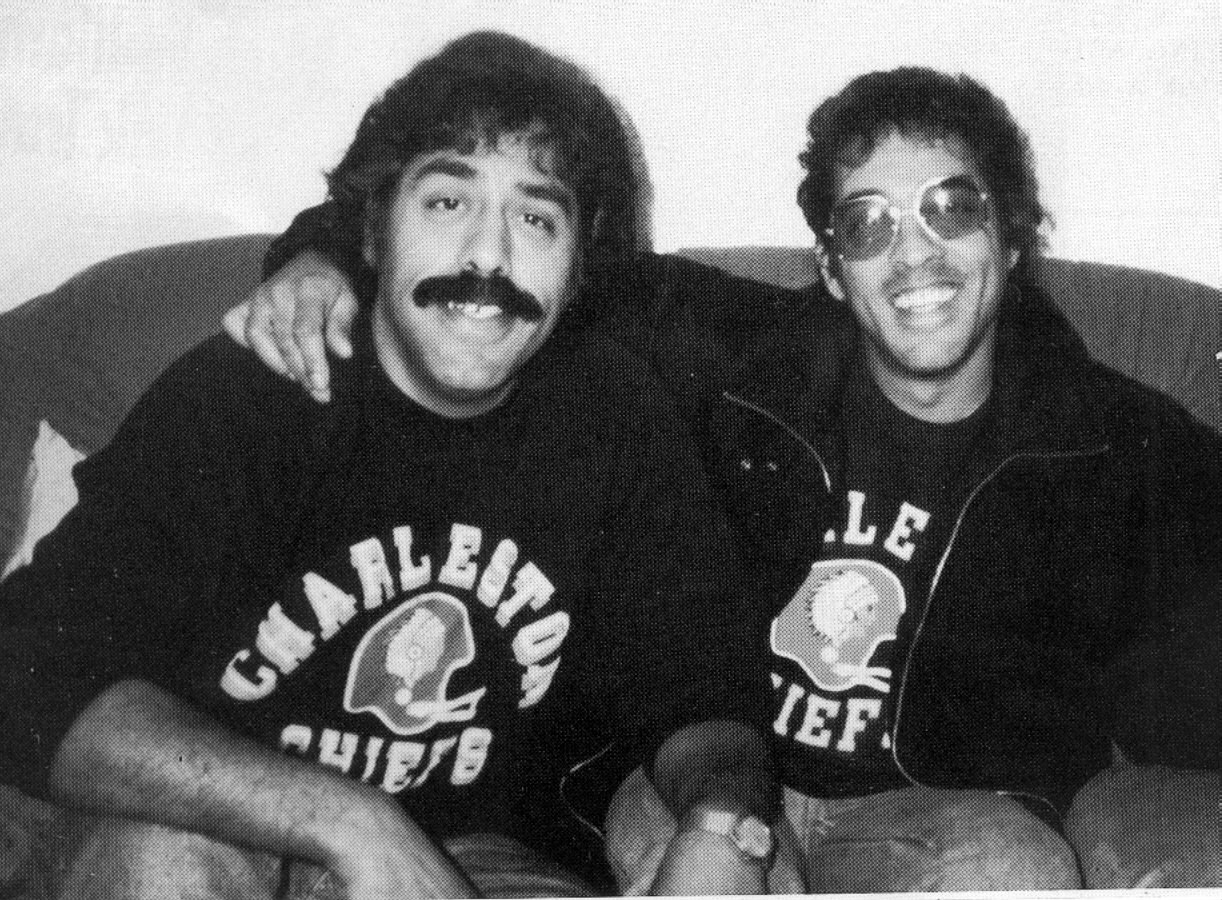 RICK AND BURNSY - FAMILY TALENT!
Sometime after this farewell concert, Chris left for the USA and sadly passed away in 1995 which came as a great shock to all that knew him over the years. He may be gone but his memory lives on in many ways, in the hearts of his family and close friends as well as being shared by many fans and fellow musicians, many of whom were inspired by his pure talent. Burnsy and others have left us with a legacy that can still be enjoyed as we listen to the old recordings or look at photos/video recordings plus chatting amongst ourselves.
His memory also lives on within this very page and I am deeply indebted to Rick who kindly sent this memorabilia to me and can now be shared over the internet. I will endeavour to replace the dodgy images above when possible and I would love to hear from anyone who reads these pages - please e-mail me with any of your own memories.
We have lost many good friends and colleagues over recent years but at least they gave us all something that will never die, thanks to their talents that helped cheer people up, such is the power of music which touches all our lives in different ways. If you were lucky enough to have seen Burnsy in full flight, then you will have your own special memories of a very special person - he was the driving engine in all of the Hi-Lites through the 60s and 70s. I had the privilege of jamming with Burnsy and others at the old Spring pub in Itchen, Southampton back in the 80s as we swapped licks on his blistering lead riffs and my trusty blues harp!
December 2010
Just discovered this great clip on You Tube- taken from the concert above. A glimpse of a much - missed musician.
http://www.youtube.com/watch?v=ywR7RQEmuYg&feature=player_embedded
2008
Talented people can rarely 'retire' and Ricky is still involved in the music scene in between a 'normal' job. Along with the Mayflower programme he included a recent CD which shows that he certainly hasn't lost his voice, despite the advancing years! In fact, he's singing better than ever like a good vintage wine that improves with age. These are the CD sleeve notes and just take a look at the great song list that Ricky has been singing over the decades and still does on the odd live show. This CD is now available on i tunes so just click on any of these images to purchase or if you still live in Southampton I'm sure that you can get in touch with Rick for an autographed copy!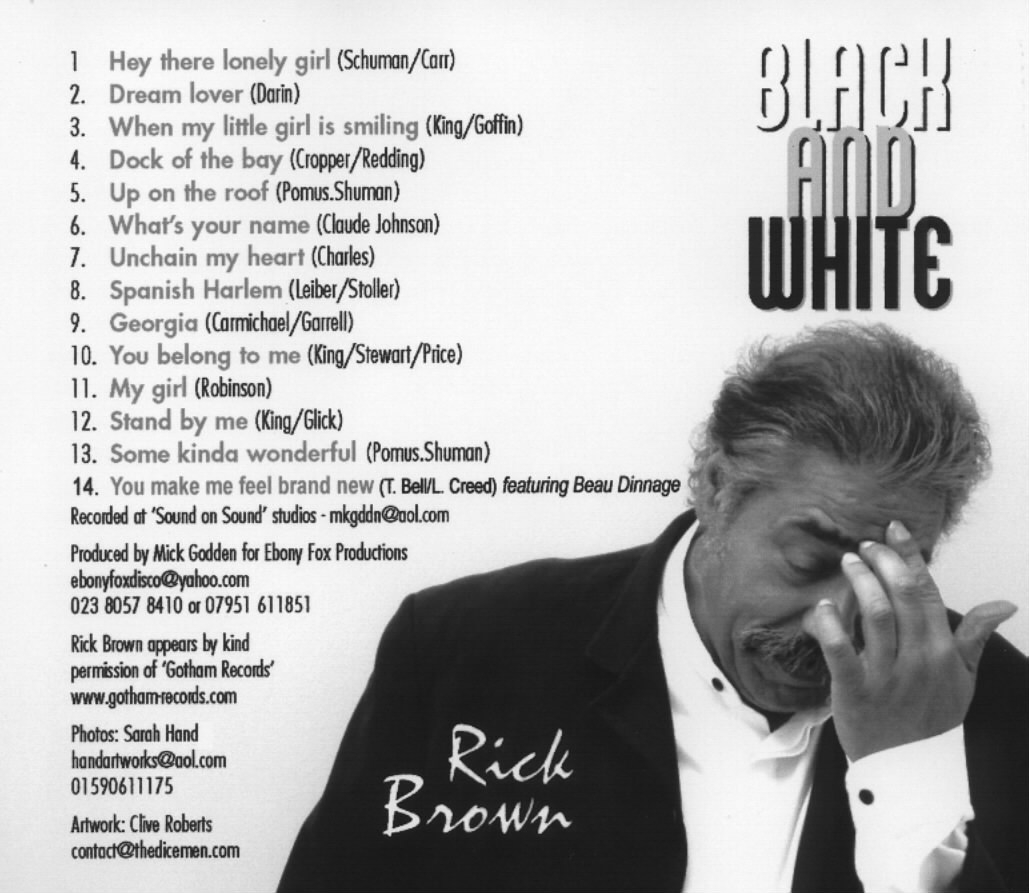 May 2010
Since I started to write up this page back in 2006, Rick is constantly amazed by the great interest in his long career and somewhat bemused when I have a chat with him and mention how many old fans still recall his glory days. This CD is a superb example of how sheer talent can still hack it after so many years and it has just been released by another company in the shape of Finbarr International of Folkestone Kent. Their CD department stocks a great range of rare recordings (incl 50s/60s/Doo-Wop/R&R etc)and this review is taken from their recent brochure- it speaks for itself and sums up the talent of Rick Brown, who is still performing the odd gig around the Southampton area with some of the finest local professional musicians. If you see him advertised, then make sure you don't miss out!
I am hoping to arrange a show with Rick later in the year (2010) so watch these webpages!
Rick Brown

Black & White
James F. Cullinan writes:
2008 album by front man of Ricky & The Hi-Lites (I960), a group which would eventually find more favour via singles & albums on the continent than here. For those, like me, unfamiliar with Brown this CD is a revelation.
A superlative, outstanding singer. It is hard to imagine how he could ever have sounded better than here. The choice of songs tells the story: 'When My Little Girl is Smiling - What's Your Name?'- Stand By Me' etc. One might ask why do we need new versions of records that are timeless and incomparable; we don't - until you hear Rick Brown!
This man is one of nature's stars. Some become stars through luck, whilst others never make it no matter how hard they try. It seems stardom and talent are not always synonymous. Rick Brown may be the greatest star that Britain never had - which is this country's loss. I am not keen on contemporary recordings or re-workings of material from the Fifties & Sixties: they always disappoint. Neither have I ever been comfortable with UK trying to sound American or black: it's hard to get it right. But Brown defies expectations, for he takes the song and makes them completely his own, sounding as if they were especially written for him and him alone!
How can one improve 'Unchain My Heart' - you can't, but Brown's charged delivery, the fruity sax and funky arrangement makes me hit the repeat button again and again. Ray Charles would have loved it!
No-one could better Eddie Holman's 'Hey, There, Lonely Girl' - but if I was marooned on that mythical desert island and had to make a choice, it be Brown's version I would take! It takes a brave soul to approach 'Georgia On My Mind' and my advice to the general mortal is….. 'don't', but Brown bags it effortlessly - his way.
Fate dealt him a bad hand. He shouldn't have been forsaken in Southampton but should have been a fixture at New York's 1650 with the cream of its songwriting and production talent.
A word about the production and arrangements on this CD; the balance is perfect and everything serves the singer and the song, rather than the other way round. There's a definite respect for the originals and no attempt to improve what cannot be improved. But in someone else's hands this project
would have almost certainly failed: it is so successful because of Rick Brown's prodigious talent and imagination.
14 songs. Unreservedly recommended. Only £3.99 ($8)
James F. Cullinan
Finbarr International CD dept Folkestone Kent CT20 2QQ
Tel: 01303 274666
Click on SITE MAP to navigate the pages Back to Home Page Contact David
©David St John 2010