Home page Contact David Click on SITE MAP to navigate rest of website
Page updated 30 April 2013
THE REG CALVERT STORY
The early Southampton years
*Loads of pics - let it load*
If you are returning to this or any other webpage - you might need to Refresh it (Press F5) in case your browser keeps original viewing
COPYRIGHT
Please note that many images contained within this website may be subject to copyright, although many have been kindly sent to me and intended to be shared on this non commercial outlet. If anybody wishes to use any of the same, then please get in touch as well as possibly giving credit where due as well as setting up reciprocal links if relevant to the actual content on any webpage. Please note that I am able to monitor any image-copying and if published on other websites. I would appreciate any contact to report broken/outdated links and any corrections to the text that accompanies any images herein. Thank you and enjoy!
OCTOBER 2011 -STOP PRESS!
Please note the exciting news of a brand new musical play on the life and times of Reg Calvert at the end of this page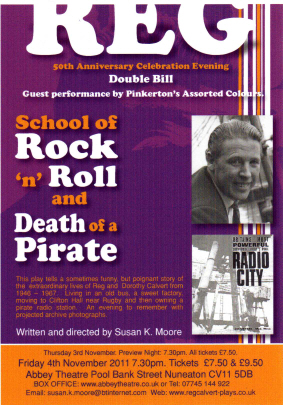 .....................................................................................................................................
The first information on this new page was kindly supplied by Mike Nevitt of the Nevitt Brothers featured on the Group pages. He was one of the early artistes who knew and worked with Reg Calvert whose early foresight was way ahead of the time as you will soon find out. Many pop aficionados know the names of such impresarios as Larry Parnes, Brian Epstein, Joe Meek, Robert Stigwood, Don Arden and others. However, all over the country during the Fifties, there were street-wise people like Reg Calvert who could see how big this new imported music was going to be and used their early business skills to make inroads. After a few successful years of promoting bands, Reg literally moved into deeper waters and swam with the big fish as he joined in with the new wave of pirate radio stations that were springing up all over the Thames estuary. This was to be his undoing as he unwittingly dealt with less than savoury types, whose business methods were far removed from his own legitimate background and resulted in a tragic shooting incident that robbed British pop music of one of its most colourful showmen, not forgetting the loss of a good family man and friend to many a young aspiring pop star. There is a wealth of coverage across the net so try searching but not forgetting that the court hearing was a travesty of so-called British justice in the summer of 1966. Reg Calvert was shot point blank by a retired army major whose upper class profile hid the fact that he was involved in underhand methods - Reg had no idea of the criminal activity going on all around him. The story tells of rivalry on the high seas with Radio Caroline and Reg's own Radio City station, transmitting from a WW2 fort in the Thames Estuary. The press and general media coverage painted lurid stories with 'sensationalist' headlines in order to sell more papers, but failed to highlight the travesty of the court hearing.
Vital evidence was mysteriously ignored and valid witness statements were overlooked- the whole case was a farce and resulted in a murder charge being dropped and diluted to 'manslaughter on the grounds of self-defence' thus allowing Oliver Smedley to walk free. These case notes are now available to be seen at the National Archives in Kew, after being hidden for some 40 odd years and perhaps the truth might emerge, despite many of the involved people having passed away.
........................................................................
I am indebted to the late Dorothy Calvert and daughter Susan who kindly responded to my request to include some photos of Reg, family and associates from various personal collections. Susan is an accomplished writer and is currently working on a couple of musical plays based on the life and times of her father (see below) She is naturally keen to dispel many of the urban myths and disinformation that surrounded Reg from the mid Sixties and has sent me a synopsis of the story which I have reprinted below. Susan has read this opening account and notes a few small discrepancies but these can be amended in the near future and I was naturally keen to make sure that the Calvert family were agreeable to my new webpage, so have been fortunate to make personal contact with her and her mother Dorothy.
........................................................................
21st February 2010- received this sad e-mail from Susan:
I am sorry to write to let you know that my mother died today, about 3.30pm Sunday 21st February. She was nearly 82 years old and had been suffering with her health for sometime. She had a heart bypass operation some 30 years ago - and decided to have another operation last Wednesday - on the slim hope of a few more years - but sadly, did not manage to pull through this time. Candy is arranging the funeral and hoping to have her buried next to my father, Reg Calvert, at Dunchurch.
Over the years she has done many things, organising dances, managing pop groups, running a pirate radio station, having a music publishing company etc etc. She got very frustrated with being old and frail as she always thought she was still 21 and going to live forever.
I like to remember her as she was and I have attached a few pictures.
With - William her pet monkey, when we lived at Clifton Hall - The School of Rock & Roll. 1961 -65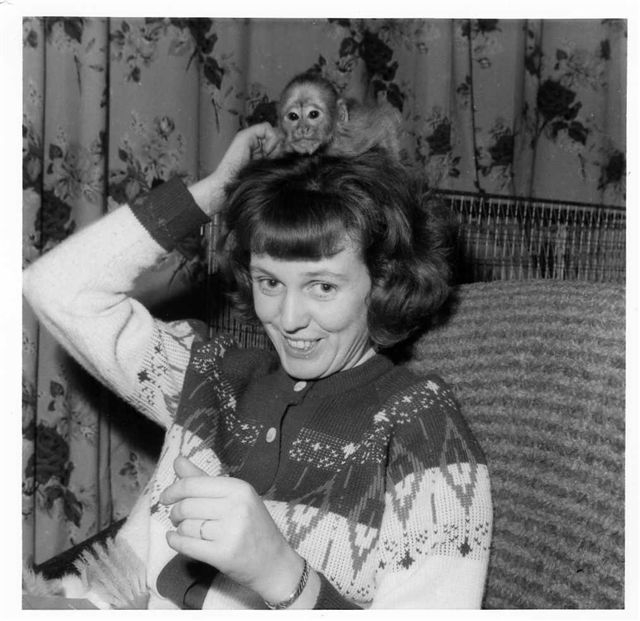 Reg and Dorothy Calvert - 1961. Very happy together after they had bought Clifton Hall.
(DSJ- see below)
1958. Lowering a Crystal Ball that was made for the Civic Hall in Southampton. It was too heavy for the ceiling - so was hung in the Royal Pier.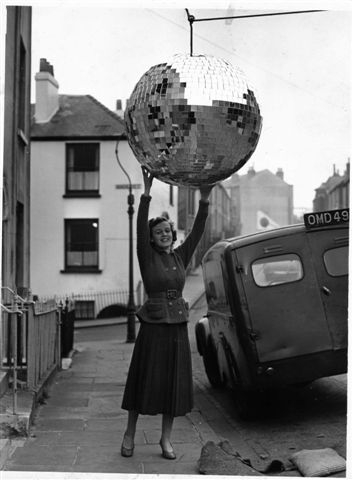 1966 (Pirate) Radio City Poster. After the death of my father, my mother decided to continue to run the pirate radio station on disused forts in the Thames Estuary. She was the only woman to own and run a pirate station.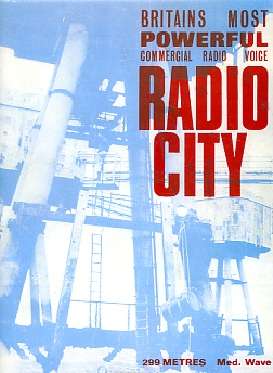 Kind Regards
Susan
I have informed several of my Southampton based friends who knew and worked through Reg Calvert's office in those early days during the late Fifties and early Sixties. We all extend our sympathy to the Calvert family and mourn the loss of a very special woman who is now reunited with her husband after nearly forty four years. My webpage was mostly written some while ago and I'm sure that Reg and Dorothy Calvert will never be forgotten as they made quite a contribution to the pop business and perhaps their story will be told in the very near future. Dorothy was an amazing woman and part of the whole Pirate Radio scene that changed the face of UK broadcasting forever thanks to the foresight and business skills of Reg. He was a great showman, entrepreneur and ahead of his time in many ways- Dorothy carried on fighting for justice as well as trying to keep Radio City going in the face of government opposition as well as trying to come to terms with the grave miscarriage of justice that saw (retired ex Major) Oliver Smedley - her husband's killer get off with the murder charge.
This fitting tribute page can be found at: http://www.bobleroi.co.uk/ScrapBook/DorothyCalvert/DorothyCalvert.html
...............................................................................
From The Times
March 8, 2010
Dorothy Calvert: rock'n'roll entrepreneur and pirate radio pioneer

Dorothy Calvert played a small but fascinating role in the history of British pop music, helping to run dance halls, managing groups and running the pirate station Radio City, after her husband Reg Calvert, who owned the offshore broadcaster, had been shot dead by a rival "pirate".

Her husband's death provoked Harold Wilson's Labour Government to move to outlaw offshore broadcasting. Although Dorothy played a significant role in the campaign to save the pirates, the battle was lost in 1967 with the introduction of the Marine Broadcasting Offences Act, which effectively silenced the pirate stations for good.

Dorothy Rowe was born in Huddersfield, West Yorkshire, in 1928 and was married to Reg Calvert in 1946. He was a former hairdresser who had also worked the fairgrounds, played the piano in pubs and clubs and compered big bands before he became one of Britain's first rock'n'roll entrepreneurs in the 1950s. Working closely with his wife, he persuaded dancehall owners to switch from putting on big bands to rock'n'roll shows. By the early 1960s the Calverts were so successful that from their West Midlands base they were running 28 dancehalls across the country. Among the acts they put on were most of the big names of the first flush of the British beat boom, including the Beatles, the Rolling Stones, the Kinks and the Hollies.

They also went into management, initially handling lookalike tribute acts who copied the big names of the day. By 1962, however, Reg Calvert had discovered David "Screaming" Lord Sutch, and further original acts followed, including the Fortunes and the Rockin' Berries. Many of their acts stayed — indeed, virtually lived — in the Calverts' home, Clifton Hall, near Rugby, Warwickshire, which became known as the "School of Rock & Roll".

Dorothy played a particularly close role in the career of Sutch. She later recalled: "He was playing in Nuneaton when the news about the Profumo scandal broke and Reg suggested that he stood for Parliament as a publicity stunt. That was a lot of work for Reg and me as David didn't have a clue."

When Sutch did stand at the ensuing Stratford-on-Avon by-election in 1963 — the first of his record-breaking number of candidacies — Dorothy wrote his "manifesto". Although his candidature was a blatant stunt, Dorothy incorporated some serious politics into the campaign: having married at 18, she regarded it as ludicrous that she had then been made to wait three more years before she was eligible to vote and she made "votes for 18-year-olds" Sutch's campaign slogan. Sutch contested more than 40 elections, mostly under the banner of the Official Monster Raving Loony Party.

In 1964 Reg Calvert joined the pirate radio boom and launched Radio City, broadcasting from Shivering Sands, a Second World War marine fort in the Thames estuary, seven miles from Margate. Two years later he went into a fateful partnership with Oliver Smedley, a director of the rival Radio Caroline. Smedley installed a more powerful radio transmitter at Shivering Sands but then declared he was pulling out of the deal. When Calvert refused his demands for payment for the transmitter, he sent a crew of thugs to seize and occupy Shivering Sands. Calvert visited his home the following day to remonstrate with him and was shot dead in the quarrel that ensued. Smedley was charged with murder, but subsequently acquitted on grounds of self-defence.

Dorothy took over the running of Radio City and was herself soon in court. As the government moved to ban pirate radio, she was charged with offences under broadcasting law. Although she fought the case vigorously, she lost and in 1967, just eight months after the death of her husband, Radio City was forced off the air.

A change of career followed and she ran a jewellery business for several years, but she retained an interest in the music business via ownership of a publishing company.

Calvert is survived by two daughters.

Dorothy Calvert, rock'n'roll entrepreneur and pirate radio pioneer, was born on March 31, 1928. She died on February 21, 2010, aged 81
Back in the Swinging Sixties, a new phenomenon appeared on the pop music scene in the shape of 'Pirate Radio' which saw flotillas of rust bucket ships moored just outside of the UK territorial waters and beaming hit records across the South East. This was a direct challenge to the Establishment and the old fashioned BBC who monopolised the main radio output at the time, although Radio Luxembourg had been very successful a few years before. As well as the likes of Radio Caroline and many more high profile outfits, there stood Radio City housed in an old WW2 fort in the Thames Estuary ('Shivering Sands') and having the eccentric Screaming Lord (David) Sutch as one of the presenters on his own Radio Sutch. He was also causing much concern with his newly formed Raving Monster Loony Party and daring to field a variety of nutcases up against the traditional politicians in local and national General Elections!
Radio City had been set up by various people including one of the most colourful characters in the pop music field – Reg Calvert who was now based in Rugby and promoting several top bands and singers. He had previously been located in Southampton where he quickly saw how much of a moneyspinner was tied up in the new dance crazes that were being imported during the mid Fifties.
During these early years, Reg Calvert owned two old Southampton town houses in Portland Terrace, one of them housing a small printing firm in the basement by the name of 'Hartex'and producing advertising leaflets, flyers and posters. Before this, Reg had ran a sweet stall on local fairgrounds and he approached the well known Billy Cole (Funfair) owner with a novel idea of staging Afternoon Tea Dances or even the new fangled Rock n Roll that was sweeping the country. He could see that there was money to be made and started to look at the new groups and singers that were packing the dance halls all over the country.
Reg's idea was to use the fairground's Dodgem Bumper Car track as it was a good solid flat surface and had loud pop music pumping out anyway whilst the riders had fun on the popular rides! They sprinkled French Chalk (talcum powder) all over the floor area to help the jivers slide around the dancefloor but didn't clean it all off when the bumper cars were put back into service which caused havoc as the out of control vehicles slid all over the place as it was not supposed to be that slippery!
Around this time, Reg approached a local duo - the Nevitt Brothers featuring Mike and Tony who were slowly getting established along with a guitarist pal Davey who used to back them along with other musicians. He went to the lads' house to meet the parents and sign their first contract, and insisting that he could not advertise the duo in the local paper for a show at Eastleigh Town Hall around 58/59 but intended to use his own printing press to knock out flyers etc. Reg then decided to push them properly and so relented by getting their photo printed in the Daily Echo to advertise the regular Rock n Roll dance night on Thursdays at this venue. He also toured the area in his massive Sheerline car (known as the 'Tank') with a microphone and speaker setup which blared out music and his fairground style 'barking' as it was known as he announced the dance night on a par with travelling politicians trying to drum up votes!
Reg was a real hustler and showman, which resulted in the Nevitt Brothers working all over the place and Mike recalls busy weeks in which they would perform at the Fareham Drill Hall or Christchurch (Bournemouth) British Legion Club on the alternating Mondays. Tuesdays saw them at the Parkstone and Branksome Conservative Club back in Bournemouth but hating to lug all the gear up those damn stairs! Other Tuesdays were at the old Empire Hall in Totton near Southampton followed by the fantastic Royal Pier Pavilion Ballroom for Len Canham on the Wednesday nights. Reg was now working with this other well known music entrepreneur as the Rock n Roll boom provided a great cash flow for these two great showmen.
Thursdays were either at the Eastleigh Town Hall or at the Drill Hall just across the road and then they made the trip up to the prestigious Winchester Lido Ballroom which was run by Reg Pragnell – another very shrewd businessman. Back to the Royal Pier on the Saturdays and often working alongside Len's acts such as Tex Roberg, Shirley Gaye and other singers as a 'package' show with musical backing of the HiFi-s or the Semitones, and Mike can recall the drummer – Terry Wiseman. Other great venues were the likes of Staines Town Hall or Slough, Aldershot and Andover Drill Hall plus so many more. Reg usually 'did the rounds' and picking up the cash from all of his venues as well as making sure that the bouncers were keeping an eye on any possible aggro from the rival Teddy Boy gangs who came from other areas, as well as dishing out a few complimentary tickets to ensure capacity crowds. The word soon got round so the youngsters made every effort to get there early in case the 'House Full' notices went up!
Mike remembers staying at Reg's other house after many a late night as loads of musicians and singers crashed out on camp beds, sofas or in sleeping bags – similar to Len's backstage area down at the Pier! Few of them could afford digs or B&B on the low fees paid back in the early days and split between the musicians as well as motor expenses, publicity and other expenses.
The groups and singers were too young and too busy just enjoying themselves as they made music, picked up the girls and being paid a few bob for it as well! Mike still has fond memories of old pals such as the Bournemouth based 'Mad' Dave Da Costa plus Danny Storm and Roy Phillips who played with the Royal Blue Rockers backing the Dowland Brothers. Roy later formed the very successful recording trio of the Peddlers and his jazz influenced Hammond Organ playing still sounds great to this day. Many a late night and early morning saw the 'nocturnal' musicians strolling around Southampton City Centre after their various shows and a well known haunt was the old Checkpoint Café down the stairs into a cellar near the Bargate. 'Mad' Dave nearly got arrested when walking into the Police Station at the Civic Centre and claiming to have 'lost a pink spotted cat' as the cops were not too pleased with timewasters! He was just one of those loveable crazy characters and I have also been sent these publicity shots that will bring back many memories of a funny guy and great musician!
Mike Nevitt also has more memories such as visiting 'stars' crashing on a sofa such as Lloyd Price( 'Stagger Lee/Personality' etc) Roy Phillips (Peddlers) Ian
('Move It' writer) Samwell, Chris Andrews and others . Mike also recalls travelling up to Staines in old station wagon (?) with the carburettor being fed from a huge petrol can and hose from inside the car! There was a problem with the old banger's fuel tank and no ciggies were lit up on that perilous journey. Another great time with a camping trip in tents plus a barbecue in the New Forest- Reg bringing a generator to power an amp and speaker so that guitars could be plugged in for making music and more laughs. All part of the new 'School Of Rock n Roll' that Reg was formulating and shows how forward thinking he was back in the early days of this exciting time - it must have been great to have been part of it all.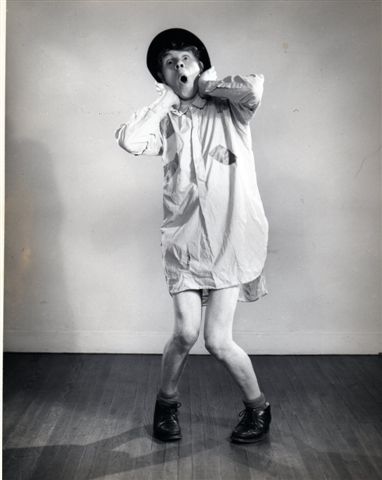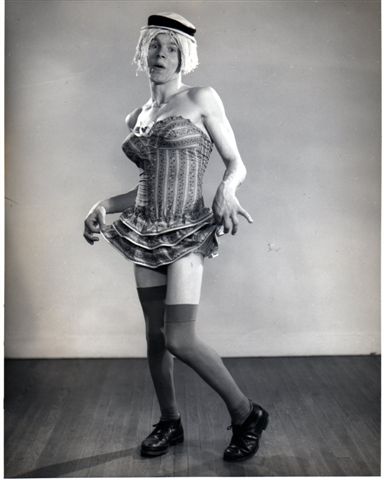 DAVE DA COSTA!
This 1958 photo below , supplied by Susan Calvert shows Reg, Dorothy and helpers outside 44 Portland Terrace as they overloaded the car with massive speakers and guitar cases tied to the roofrack - ready for another gig! Note the old windscreen that opened out plus the side indicators that flipped up in those days. You can just imagine the fully laden car plus passengers scraping its way along many long roads and before motorways were even thought of. This was near the city centre with no yellow lines, traffic wardens, parking meters and all manner of restrictions that face us all in modern times. You can just make out a small sign on the wall that identifies the premises as the 'Gallery of Modern Art' and I can guess that this appealed to the jazz-loving 'beatniks' of that time who were being swamped by the new fangled rock n roll craze that was sweeping the UK. Dorothy Calvert mentions that this was a Sheerline - not an Austin Princess as described by Mike Nevitt and that the once grand Portland Terrace houses made way for the multi-storey carpark that drops down to the lower level roads. Older Sotonians will recall that the houses were near the old Hants & Dorset bus station opposite the Civic Centre - known as the 'Pants & Corset' to the locals! You will have also noted the other Portland Terrace photos above which pinpoint this area which is now unrecognisable from the late Fifties.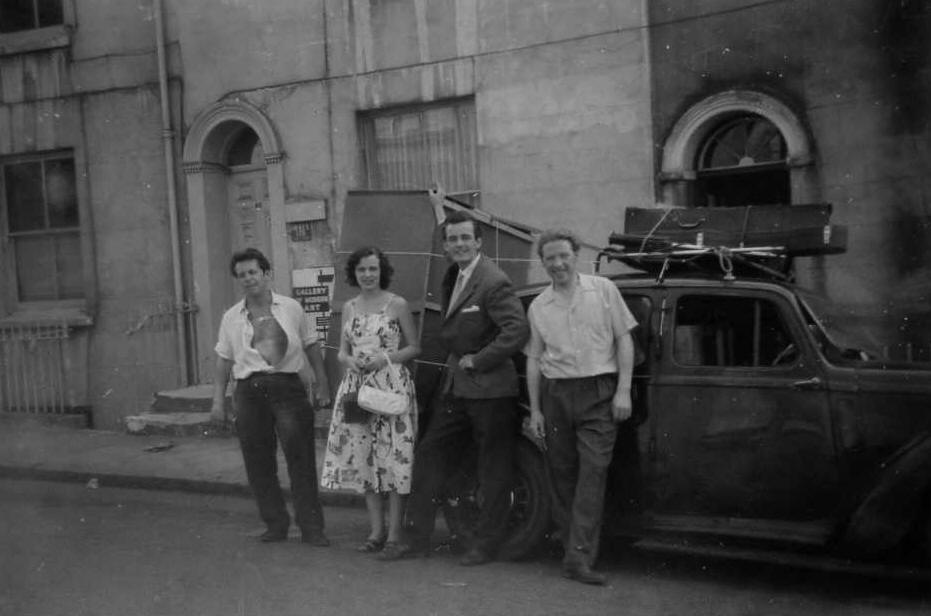 Portland Terrace-setting off for a gig
Note guitar cases strapped to roof and massive home made speaker resting on tailgate!
Much of this info was kindly sent by Mike Nevitt but followed by some interesting e-mails from Dorothy and Susan Calvert who appreciate my building this page and showing that Reg's memory has been tarnished over the years so I am very grateful to have the Calvert family blessing and input with personal glimpses back to the happy days in Southampton. As you can imagine, some memories are blurred when coming from various sources but I am lucky to be able to write and share this fascinating story with those that were there or just anybody who is keen on that era.
1st October 2011
Mike Nevitt (Nevitt Brothers) also sends me odd clippings from the (Southampton) Daily Echo as they often publish archived photos from many years ago. This latest piece shows the view looking up Portland Terrace- then and now with the iconic Civic Centre clock in the background. Take a look at the 'mirror ball' photo above and you will note the exact location of the Calvert home on the left side of the terraces with railings and lampost on the corner. I understand that Reg's Austin Sheerline car can be seen parked by the wall and you will find more of this lower down the page.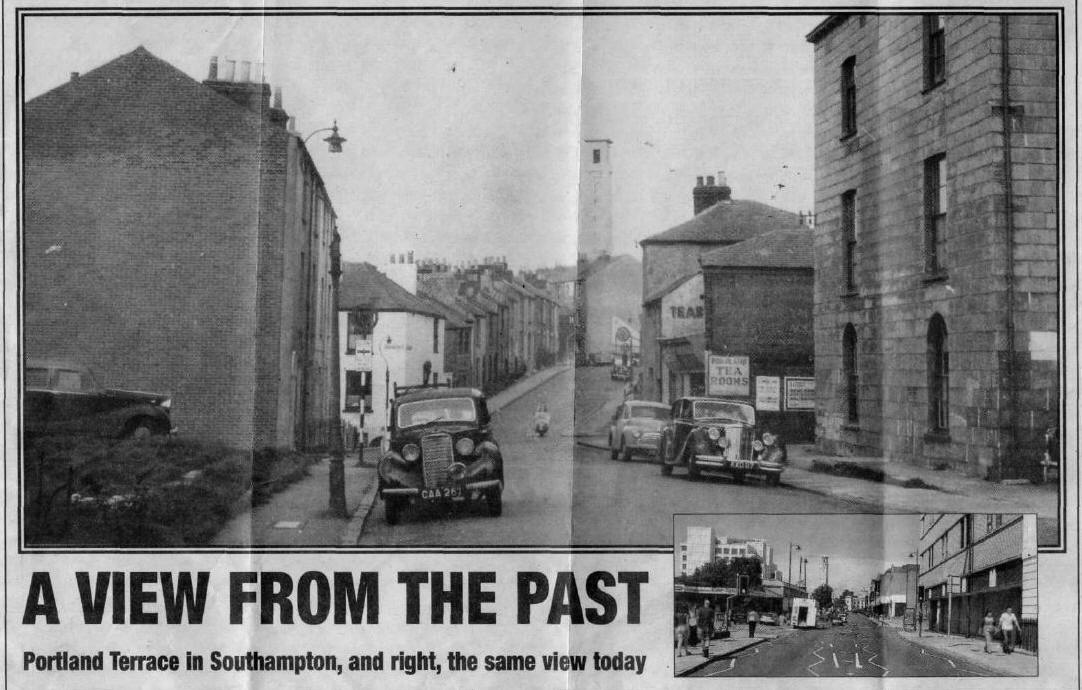 Portland Terrace- late 1950s (courtesy Daily Echo archives)
A few of these grand terrace houses can still be seen to this day but this block was demolished back in the 1960s and the site now houses a multi-storey carpark- recently noted as one of the most expensive in the UK! Note the old Portland Tea Rooms on the right side and the crossroads indicate the Ogle Road junction. Very little traffic in those days as most people could not afford a car but at least you didn't endure parking meters, wardens and other banes of modern life!
These are more memories from Dorothy Calvert - read Susan's account further down the page
I remember the Nevitt Brothers and kept in touch with the Dowlands for a long time after. Reg did a lot for the kids who were trying to get on stage but contracts were very rarely used, especially in the early days. He believed in a handshake, I think the boys were thinking of Larry Parnes!
The two houses we had at the time were rented. The first was mine, it was my Printing business, Hartex Agency and I also did shop fittings. Yes I would print tickets if I had time but Reg wasn`t allowed to do it. Union rules only let me use union members! The second house was used for storing the PA gear etc. There was an office with Mr. Coles (Coles Funfair) secretary and above accommodation for some of the boys. Others stayed in lodgings. At that time it was like having an extended family - there was no big cash hoarded somewhere, it was all put back into trying to get better. In fact if I hadn`t had the printing business I don`t know how we`d have managed. But in the end we took a gamble and it paid off until Radio City came along.
The remarks that Reg took up with some shady people were pure fiction to make him look bad and Smedley to appear respectable. In truth there was enough evidence to convict Smedley of murder and prove that Reg was owed quite a lot of money. That money nearly bankrupted me and I had a terrible struggle to keep things going and the people who worked for us, in employment. Mr. Cole, who owned the fair, we knew quite well but the Dodgems were never used for dancing but I expect they thought about it.
The car, one of the better bangers that Reg had, was a Sheerline, though he always wanted a Princess but I hated those big cars so the Sheerline went and he never got the Princess.
One thing that came up in your webpages was the Station Hotel in Woolston. (Old Railway?) When we moved from Darlington to Southampton, Reg had a job as hairdresser in Woolston, for £4 a week.Then he got the job of playing piano at the Station Hotel for 50p a night, Fri. Sat. Sun. Here he built up a very good following, full every night and ended up compering a show with live artistes. After that we had a sweet shop, 7 days a week so that phase ended. When the shop was sold he went as TV engineer to Romsey and we lived over the shop and I started Hartex Agency.
N.B. (Retired) Major Oliver Smedley was tried for murder in this 1966 case, but managed to get off with a charge of manslaughter but dropped due being in 'self defence' Many considered this a travesty of justice at the time as Reg was well liked and respected but whose name was besmirched by the whole Pirate Radio scenario in which he became involved. It also shocked many of the young artistes who had been looked after by the Calverts in the late Fifties and early Sixties before leaving Southampton - these are the very people who could testify as to Reg's integrity and promoting skills which were on the verge of breaking big time as he was handling the Fortunes and Pinkertons' Assorted Colours from the new Rugby base.
The Nevitts often rehearsed at the Pier over the weekend in between the dances before wandering up to the Wimpy Burger Bar in the High Street for some food or pop into Len's flat and watch classic TV shows such as '6-5 Special' or 'Oh Boy' which inspired them even more! Then it was a short walk back to the Pier for the evening show from around 8pm so it was all just great to have these carefree days but all hoping for bigger and better things. Some of the older generation were not fans of the new music that was pushing the old fashioned dance bands out of the way and everybody laughed at a letter that was published in the Echo that complained about the loud 'Jungle Music'pumping out of the Ballroom windows. It spoilt the enjoyment of sun-worshippers lounging in the deck chairs along the Pier promenade who were hoping to have a nice quiet snooze in the sea air!
Reg and Len Canham made small fortunes by packing many a dance hall with over two hundred kids and Mike remembers Reg shouting at his wife Dorothy on one occasion with the phrase "I am a man of means" and waving a wad of notes like a Fifties type 'Loadsamoney' from any one of his cash-filled pockets! Mike and Tony were only paid about £1 per night (!) in those days and they were advised to join the Musicians Union by the local secretary and much respected band leader Gil Hulme who was was resident at the Pier. This then pushed their money up to an astronomical 36 shillings (about £1.30 in today's money) although they were all mostly three chord merchants. Johnny Watson's Expression (ex Three Stars) used to back the Nevitts as well as Tony Collier on bass/vocals etc with Johnny later taking over the drumstool and one of the finest percussionists around before moving to Australia.
This rare photograph show Reg with his 'stable'of singers and bands - the calendar (Southampton Waste Paper Company!) shows October 1960 so perfectly captures this moment in time. Thanks to my musical colleagues, I am hoping to put those all important names to faces so am looking forward to hearing from anybody who can help fill the gaps. Pete Broyd recalls that he and other artistes had moved over to Len Canham Management but they all worked at the shared venues anyway. Pete also is the first one to shed some light on the line-up.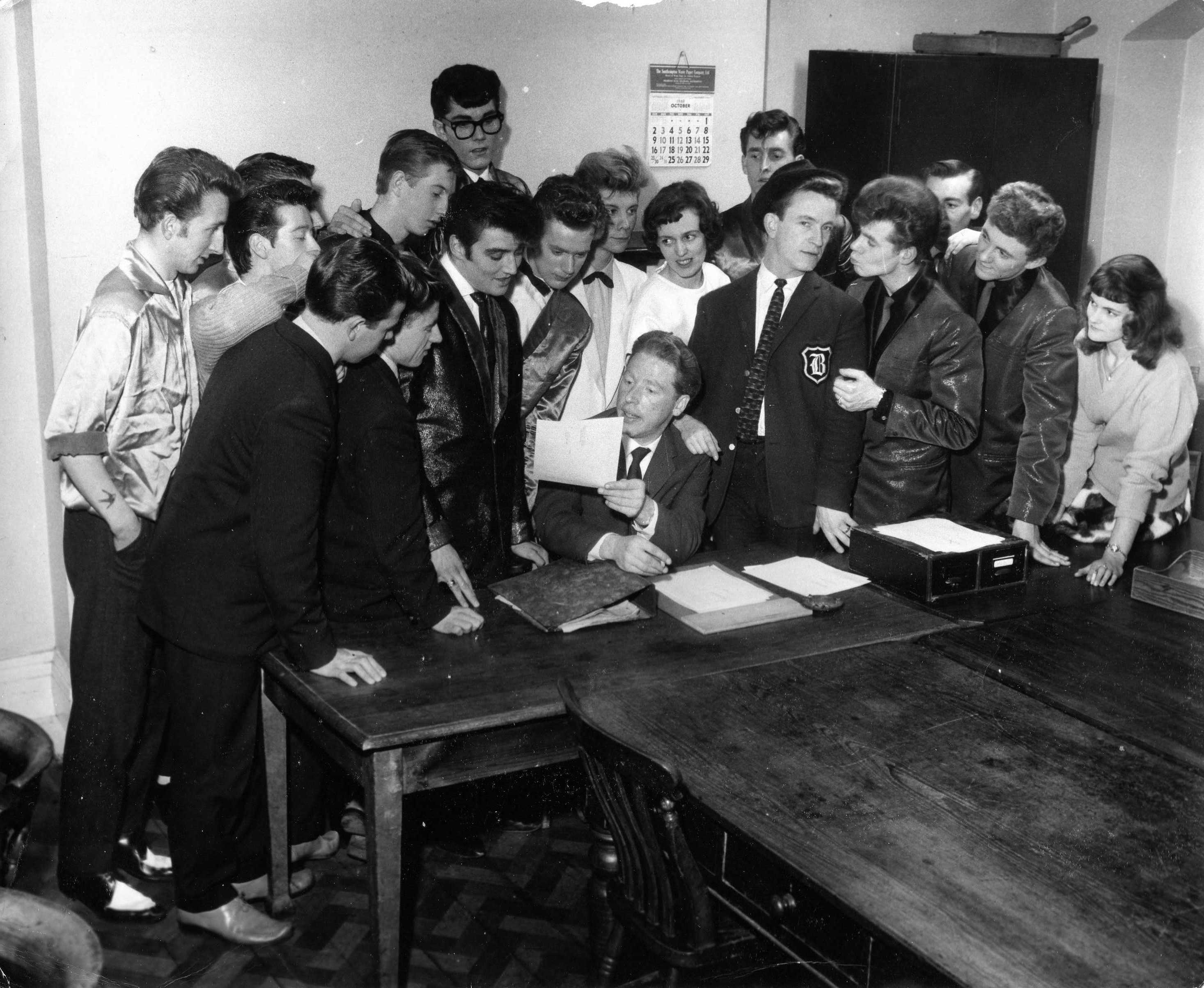 'Uncle' Reg is
pictured 'holding a contract' with star drummer Rory Blackwell in the monogrammed blazer on his left.
In fact - Reg never used contracts- every deal was on a 'gentleman's handshake'
Mrs Dorothy Calvert behind Reg and Rory.
Danny Storm in white jacket is standing behind Reg with Buddy 'Holly' Britten in the obvious glasses at the back!
Buddy's hand is resting on the shoulder of Pete Mist who now lives in Benidorm.
In front of Pete stands the newly named Eddie Sex (!) another of Reg's ideas.
Geoff Chalke (Brook Brothers Band) is next to Mr Sex close to Reg -Geoff has supplied many of these names.
The Dowlands from Bournemouth in dark suits on the front left looking down at Reg.
They were a superb harmony duo- Everly Bros style and backed by the Soundtracks?
The girl on the far right is (Winchester?) singer- Carol Laine
Colin Wilsher is next to her and then it's 'Mad' Dave Da Costa puckering up to Rory for a laugh!
The Brylcreemed chap (by wardrobe) behind these two is none other than drummer Tony Burnett!
E-mail from Pete Broyd:
Hi David. All this talk about Reg Calvert reminded me that I found an old letter from the Hartex Agency when looking through my old box of souvenirs. These were typed in brown print on cream envelopes (Reg never conformed with anything) and were eagerly awaited each week. This was a quiet week for us, just the one booking at the Empire Hall.(It looks as though Reg had a problem with my name as well as Len) I'm sure that other groups on his payroll will remember those cream envelopes from Hartex.
Pete Broyd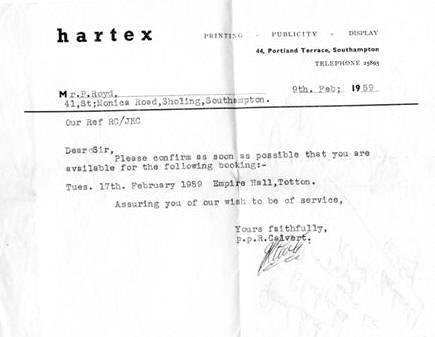 Al Kirtley (ex Bournemouth musician) has now e-mailed the following: Check his own website out at: http://www.alkirtley.co.uk/
Hi David,
Thanks for contacting my (badly out of date!) site. What a great collection of memorabilia! It all brings back so many memories. I remember well playing piano at Southampton pier in 1961 with the first version of Zoot Money's Big Roll Band. (I've told Zoot about your site.)
The guys on the left of the group photo are definitely Dave and Gordon Dowland. Behind them is Johnny Hammond, the drummer of their backing group (I'm not sure if it was called The Soundtracks then or whether the name was adopted later when Pete and Mike Giles - later of King Crimson fame - took over. So next to JH would be Roy Phillips and the bass player, whose name I've forgotten.
I met up again in the 1990s with Hammond (he was always called by his surname since his days in the first Big Roll Band) at the funeral of the BRB bass-player, Mike Montgomery. As a result of that meeting, Hammond became the drummer on a very drunken mini-tour of France by a rock'n'roll band I was with.
Backing musician Roy Phillips went onto form the world class Peddlers!
Take a look at his New Zealand based website- it is another slice of pop history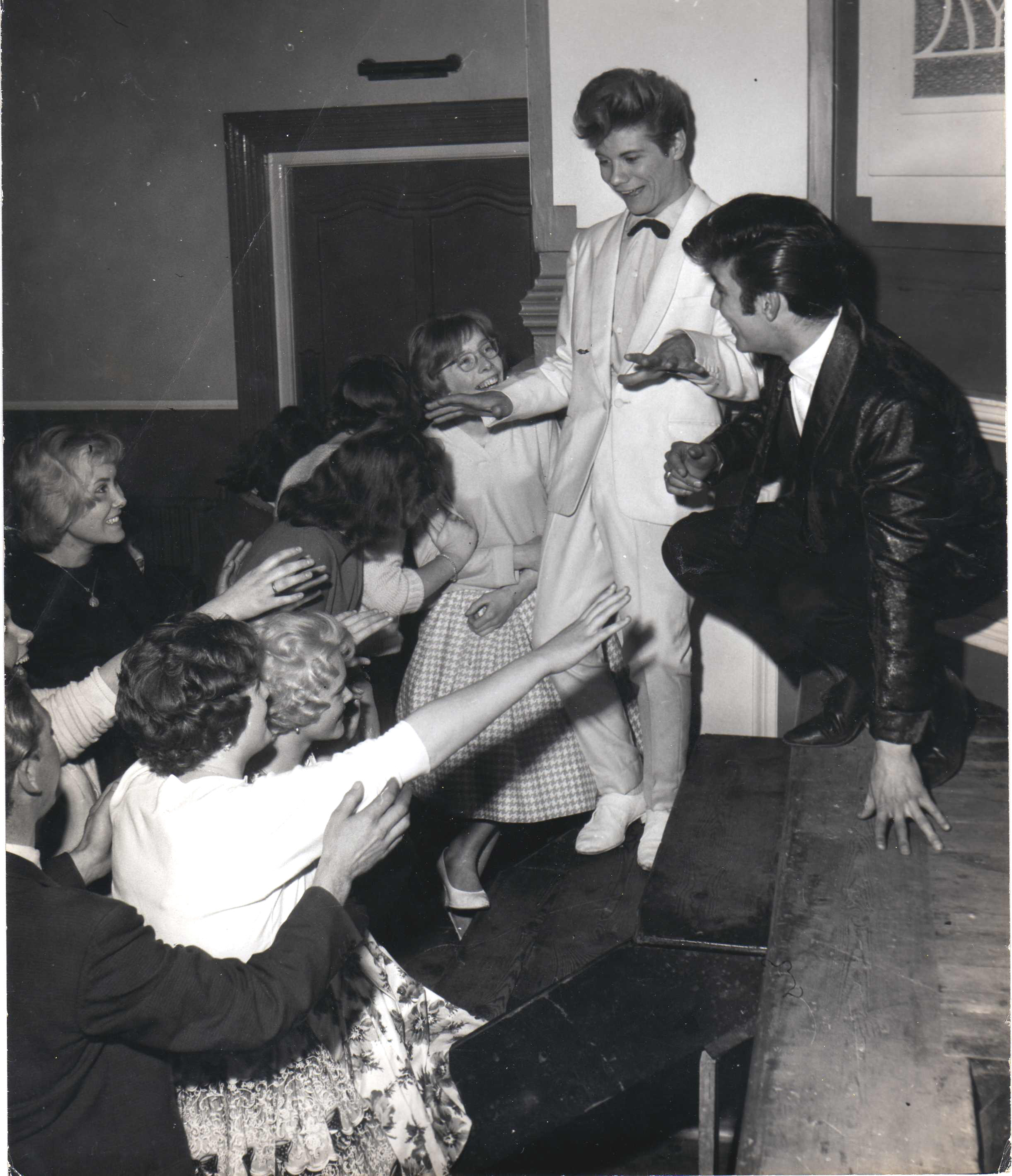 White-suited Danny (Dave Hurran) Storm and Eddie Sex being mobbed by teenage fans in 1960
Reg acquired a shop in St Marys Street Southampton called the Bandbox and this was the setting for Rory 'Shakes' Blackwell on his well-publicised attempt at the World Drumming record in 1960. He was hoping to reach an incredible 100 hours of nonstop playing (allowing for natural breaks!) but managed an amazing 84 hours which stood for many years to come. This very same shop was later taken over by Henrys Record Shop and you can read all about this great music outlet on the dedicated webpage via the Site Map.
March 2010
E-mail from Dave Jay- one of Southampton's finest pop group promoter/managers:

I found this particularly interesting as apart from a personal private secretary I was the first full-time employee, that worked for Reg Calvert back in the late 50s. In fact, I had already been putting on shows at the Crosfield Hall in Romsey and calling them Teenagers Party Nights when he was only running Ballroom dancing that just featured rock groups in the intervals of his ballroom dances. One day I called on him, just as he was driving off in his Sheerline car ostensibly to talk to him about using his groups on my shows in Romsey, when he drove from Portland Terrace to St Mary Street (in his slippers!) to look at the old record shop, which had been called Henry's and told me he was going to buy it and put a club upstairs and would I like to run the downstairs music shop, later called Bandbox for him. I started to work for him the following week. However, it took several months before Bandbox opened and in the meantime, I worked with him as a compere and Road manager for almost all the venues that the Nevitt Brothers, referred to on his page. I would say that I've knew virtually all the musicians and artists mentioned as well.

I actually found, Clifton Hall in Rugby for him to buy at the ridiculous sum of only £5,000, because as Susie says large mansion houses were not selling for very much money in those days. This came about because of Reg's idea to expand 'up north' and it was proving very costly for accommodation of the band's as well as being difficult to find hotels that would take pop groups. We eventually made a pub in Rugby, called The Seven Stars as our permanent weekday base. Even this proved too costly for Reg, and he got me to go househunting, nearby and after a long search I found Clifton Hall, which he got very excited about, and we moved in shortly after.

I was really very sorry to hear about the passing of 'Dot' Calvert, and I fondly remember the two girls Susie and Candy when they were very young, although I would doubt that they remember me.

The account of Mike Nevitt's remembrances of that time certainly brought back many memories, although I found a few discrepancies, but these seem to have been rectified by Dorothy Calvert herself later
Another incredible memory in 1960 was when Len took a load of 'his boys' to see the Eddie Cochran and Gene Vincent Tour at the Guildhall which was a fantastic experience to have both of these rock n roll giants appearing together. The young musicians were also lucky enough to go backstage and meet their heroes who were near the end of a long gruelling tour and looking forward to returning home to America. Just a few days later on Easter Sunday, Eddie was tragically killed in the car that was taking him and Gene back to Heathrow Airport as it passed through Chippenham on the way back from his last show at Bristol and this shocked those who were lucky enough to have met this great talent. Before Geoff and his brother Ricky formed the hit recording Brook Brothers, Geoff fronted a band called the Dominoes and played at several venues plus shows with an Eastleigh skiffle band known as the 'Stoke River Boys' named after the small river that runs through the area.
The Nevitt Brothers later worked a summer season at Butlins Ocean Hotel in Brighton with a cheeky chirpy Redcoat by the name of Jimmy Tarbuck and they also hooked up with the Brook Brothers who were in summer season with Russ Conway the well known piano playing star of that time. Other Butlins shows included the Springfields (before Dusty went solo) plus Bill Maynard, Billy Dainty, Eddie Calvert, Arthur English and so many more on the Sunday night concerts at Brighton and Bognor
Another character was Lloyd Price (?) who had been banned from driving and for some mad reason along with Reg and others, captured a roaming New Forest pony which was somehow transported up to London and used for a publicity stunt with Lloyd riding the poor creature for the photographs!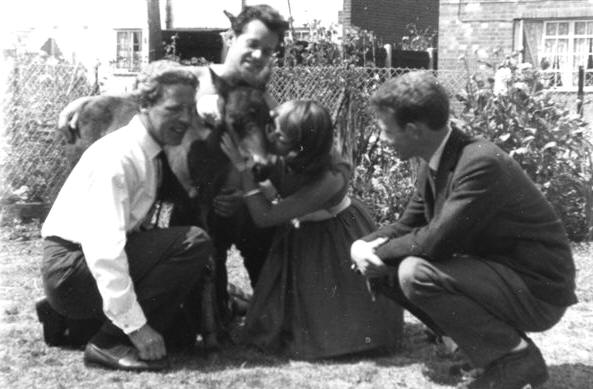 New Forest Pony rustlers!
Reg also booked big names act to top the bill at various dance halls including Eden Kane,Vince Eager,Chris ('Yesterday Man") Andrews, Wee Willie Harris and the crazy Screaming Lord Sutch amongst others. Reg was also well ahead of his time as far as 'tribute acts' are concerned and most people think that this is a fairly modern idea but he was promoting these copycat acts way back in the early Sixties so quite a pioneer of his day. He had photos of a Cliff Richard look-alike plastered all over the dance halls but no name so this caused quite a stir amongst the fans who thought that their idol was actually appearing. He was quite convincing for a short while as he came onstage to a screaming audience of girls before the lads sussed it all out and started some trouble! This Calvert Copycat later became Danny (Davis?) Storm and had a very good career with his own talent around the area instead of risking being attacked by disgruntled Cliff fans. I believe he later moved up to Reg's new place near Rugby and later joined the Foremost latter line-up. Buddy Britten was a very good Buddy Holly tribute acts and was backed by a band called the Regents. This blog has some excellent information on Buddy, Dave Sutch and others so well worth a look at: http://www.forgottenbands.blogspot.com/
'Merci beaucoup' to Patrick Vinet in France who is very involved with the UK 50s/60s music scene and passed these on.
Vince Taylor was another leather clad rock n roller who nearly made it big time and this link with Reg in Southampton is taken from a very interesting blog at: http://www.vincetaylortheplayboys.blogspot.com/
"In 1959 Vince Taylor had travelled to Southampton and contacted local promoter Reg Calvert who'd booked for the next season. Calvert then recruited a new set of Playboys: guitarist Brian Marshall and bass player John Cobb aka "Johnny Vance", both from the Portsmouth-based Strollers, teaming up with lead guitarist Geoffrey Gloverwright aka "Buddy Britten" and drummer Johnny Watson, who had just finished a Summer season at Butlin's holiday camp in Filey, with Clay Nicholls & The Blue Flames alongside Tony Harvey. The quartet backed Vince Taylor but also Buddy Britten, Britain's answer to Buddy Holly, for about 5 months. They were The New Playboys as well as The first incarnation of The Buddy Britten Trio.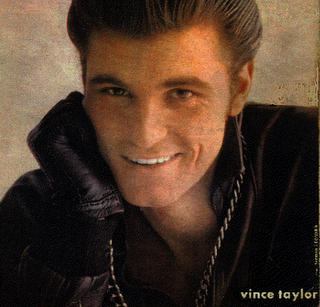 Reg Calvert put them out on the road as a package show: they opened the show with Buddy Britten singing lead as The Buddy Britton Trio, Brian Marshall came on as "Tony Trent", and then Vince Taylor would close the show with them, Buddy playing lead. In January 1960, Brian Marshall, Johnny Vance and Johnny Watson moved to London with Vince Taylor, leaving Buddy Britten to carry on working for Reg Calvert. They took a residency at The 2i's Coffee Bar for 3 months until mid March 1960, backing Vince but also Tony Sheridan, Keith Kelly, Lance Fortune among others. Weekends, they played other venues: mostly Rock'n'Roll Jamboree Dances organised by Rory "Shakes" Blackwell. After having supported Gene Vincent and Eddie Cochran during their tour of Britain for 4 months,Tony Sheridan would eventually come back to the fold, replacing Brian Marshall, who returned to Portsmouth. Shortly thereafter, Bobby Woodman took over Johnny Watson on drums and then rolled his mates but also original Playboys' bass player Tex Makins who was just returned from a Scotland Tour with Vince Eager & His Quiet Three and finally filled in Johnny Vance's shoes for a short while prior to going on the road once again with Eager"
Reproduced courtesy http://www.vincetaylortheplayboys.blogspot.com/
The talented Phil Fernando was the only black vocal/guitarist on the scene at that time and was on the receiving end of the inevitable ignorance when playing in the rival areas such as Portsmouth in venues such as the Kingston Drill Hall etc. He also appeared on TV shows (6-5 Special or Oh Boy) with a record called 'Come on- do the high life' (?)
The Nevitts later had a good-looking young budding musician travel down from Eastleigh along with his pal Graham Medley who had been teaching him to play from scratch as he was hoping to join their backing group. Things didn't quite work out and he had his hair dyed blonde and joined a world conquering group who had the first no. 1 in the US charts with 'Telstar' – none other than Heinz Burt of the Tornados! There is also a movie out now (Telstar The Movie) which is based on the legendary record producer Joe Meek and is a must for all fans of that era. In fact, I have just been informed by Susan Calvert that Reg himself was responsible for Heinz's blonde bleach, as he was a trained hairdresser plus the fact that Heinz asked Reg if it was OK to record with Joe Meek which was no problem.
When Heinz left for a solo career, Mike and Tony went up to see Larry Parnes along with Graham who was hoping to fill the bass player's shoes but it sadly didn't work out. The Nevitts cut a disc with Tony Sheridan (of Hamburg and early Beatles fame) at the recording studio basement of Hamilton TV/Radio and Electronics in London Road Southampton but cannot remember the songs. They also knew a Portsmouth group called Barry Barron and the Live Five who were booked via Reg as the band playing in the Cliff Richard film of 'Expresso Bongo' Their fleeting background scene was a coffee bar and along the lines of the legendary 2 'I's in Old Compton Street Soho where many stars were discovered and the Nevitts accompanied the lads up to Shepperton Film Studios. On the way, Mike and Tony called into Tito Burn's office for a quick audition by singing a couple of songs in his office and a later one at Abbey Road studios.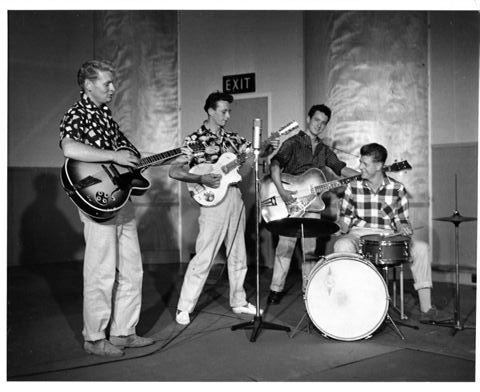 Expresso Bongo still
Other memories were of Dave Dee and the Bostons before their name change and chart successes plus working with the Coasters from Andover at the Winchester Lido and other venues. The brothers also recall enjoying working alongside Barrie James and the Schmoes at an Andover cinema plus a few gigs at the massive Gaumont Cinema Theatre (now the Mayflower) in Southampton at the popular Saturday morning kids shows before the cartoons and films were screened. Tex Roberg and others joined in for 'Hula Hoop' contests as they dragged the youngsters onstage for more laughs.
Amongst a constantly changing line-up of Nevitts backing musicians, there were some great characters who later helped form the classic band of the Meddy Evils. The Jaguars backed the lads for a while with Roy Perry on lead guitar and he worked at Sydney Mans shop on the busy Saturdays as well as playing at his father's venue (Bill Perry) called the Key Club. Roy played with many top bands for many years until sadly contracting a rare blood disease, which ended his life back in the 1990s. Another Jaguar was rhythm guitarist John Hatch who worked at John Beirne's Music Shop in Shirley who passed away after contracting MRSA following an operation and not forgetting the much loved Martin 'Cuddles' Smith on drums – he also died far too young. Cuddles later joined the new Meddy Evils plus several bands until his untimely passing.
Other names? Mike Gaston was a mainstay guitarist and Clary Moore who is still playing bass well into his Eighties with the Eddie Smith Band! Drummers such as Ricky Murfitt, a 'Graham' plus Tony Burnette, John Picken, Tony Hart and John Bendall all have good memories for the Nevitts.
The Reg Calvert story moved on as his family left the Southampton area in 1961 for his Rugby base, new bands and he then moved in on yet another new enterprise where the new 'pirate' radio stations were starting to broadcast from just outside the UK territorial waters and allowing kids to hear so much great music instead of the usual stuffy BBC rubbish that was forced upon the young generation. Once again, Reg Calvert was in fine pioneering form but unfortunately met up with Oliver Smedley whose upper class 'Establishment' profile hid a criminal undercurrent. Smedley used 'strong arm tactics' and organised an illegal 'raiding party' that sailed out to Radio City, stealing the main crystal from the transmitter. This old equipment was supplied by Smedley and never worked properly, but Reg simply travelled from London to Smedley's country cottage in order to sort things out, and had a considerable amount of cash with him as he hoped to smooth things over. The money was intended to pay off the 'boarding party'. Sadly, he was shot by Smedley and the circumstantial 'evidence' pointed to a cover up from that very second.
There is quite a lot of information about this amazing man and you may find some interesting websites by simple searches. Take a look at these very interesting websites that elaborate on the amazing revolution of Pirate Radio which changed the face of broadcasting forever
http://www.offshoreradio.co.uk
http://www.sixtiescity.com/Radio/PirateRadio4.shtm
These are from Rugby based Pinkertons Assorted Colours ('Mirror Mirror' 1966)
http://www.bobleroi.co.uk/ScrapBook/SutchCityPics2/SutchCityPics2.html
http://www.bobleroi.co.uk/ScrapBook/SutchCityPics1/SutchCityPics1.html
http://www.bobleroi.co.uk/ScrapBook/CallUpPinks/CallUpTheGroups_Pinks.html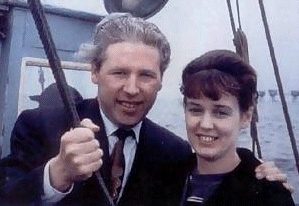 Reg and Dorothy Calvert- Radio City in background
December 2009- a great new page on Reg * co:
http://www.bobleroi.co.uk/ScrapBook/SutchCityPics14/SutchCityPics14.html
This rare photograph, kindly sent by Dorothy Calvert (Reg's wife) shows Clifton Hall Rugby where he based his new business ventures and must bring back so many memories of the bands and singers who passed through the doors. You will then be able to read a moving account of the basic story as recounted by daughter Susan.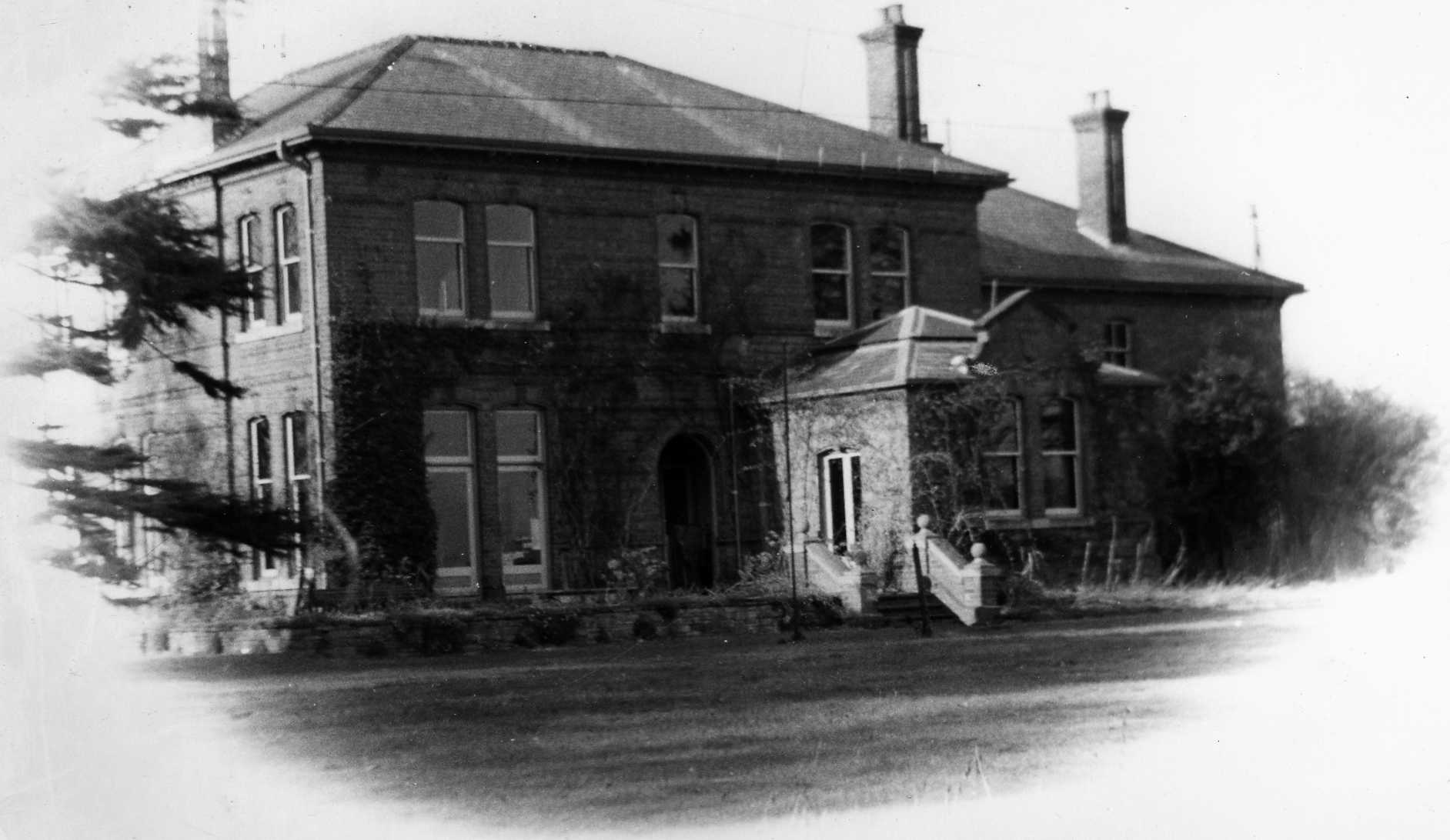 CLIFTON HALL RUGBY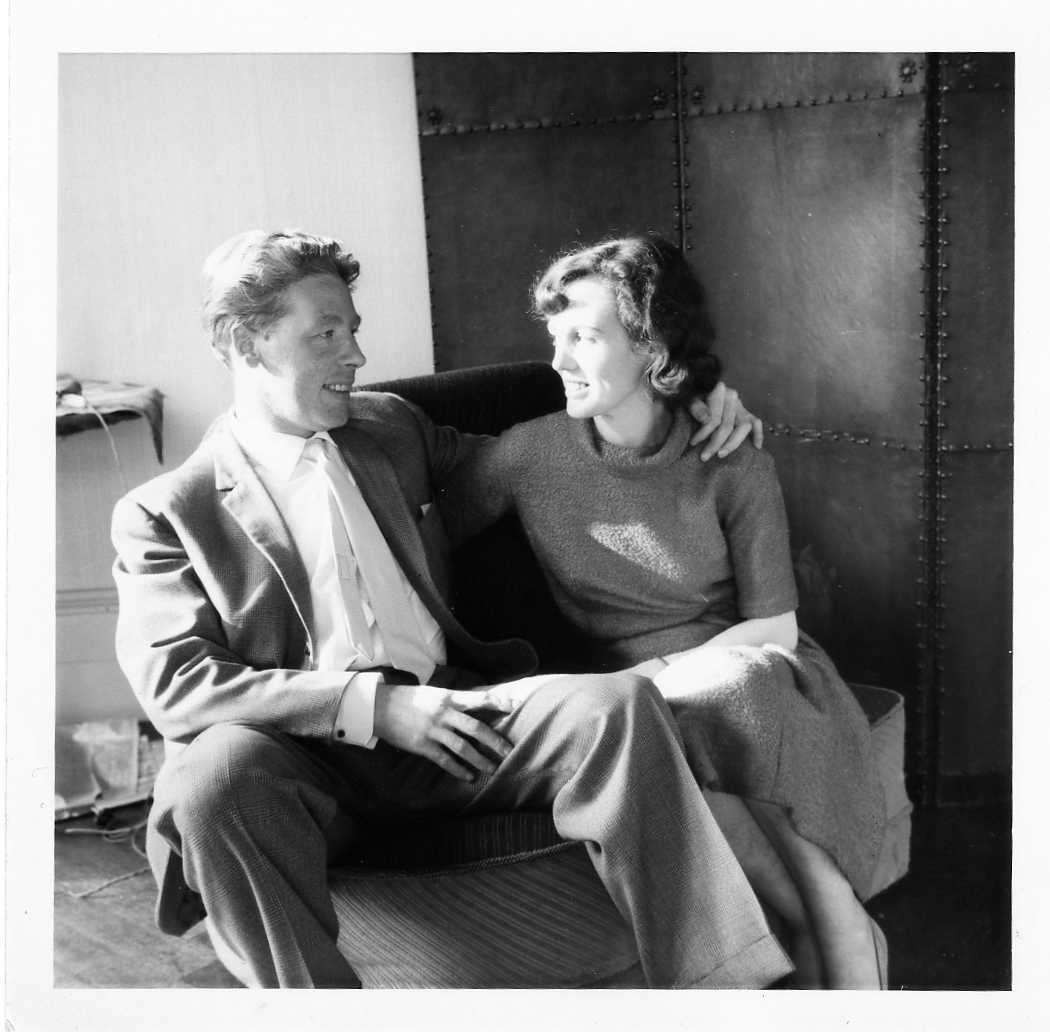 Reg and Dorothy Calvert- Clifton Hall 1962
From private family collection
Another rare photo of the early Fortunes and known as:
ROBBIE HOOD AND THE MERRY MEN
Fans will note the young fresh-faced Rod Allen on the left- sadly passed away in 2007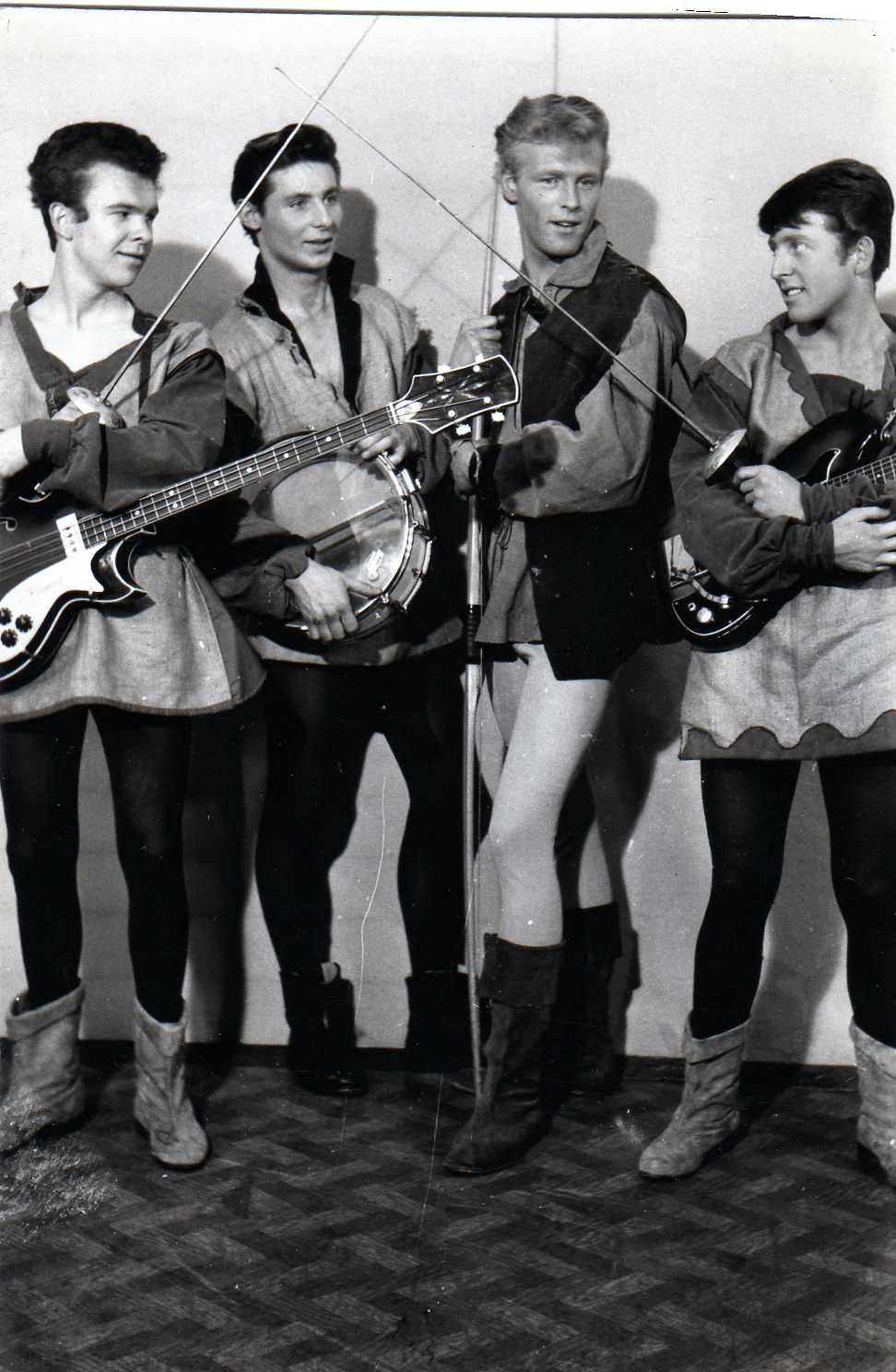 Rod Gary Robbie Hood (Mike West) Barry
Rod Allen/Gary Fletcher/Robbie/Barry
*8 November 2012*
E-mail from Susan Calvert
MIKE WEST - ROBBIE HOOD.
I heard today from Mike's son, Marty, that his Dad has died - about 4 weeks ago. He had been ill for some time. Most of us will remember his as 'Robbie Hood' forever young in our memories. I spoke to Mike a little while ago about his memories of working for my father and he said:
"I met Reg Calvert in the Two I's coffee bar, and Reg asked me if I'd like to be noticed? I said I would, so Reg bought me the original (film) Robin Hood outfit. When we reached Watford Gap service station, Reg suggested I put it on and go into the services dressed as Robbie Hood. Everyone stopped what they were doing and everyone noticed me."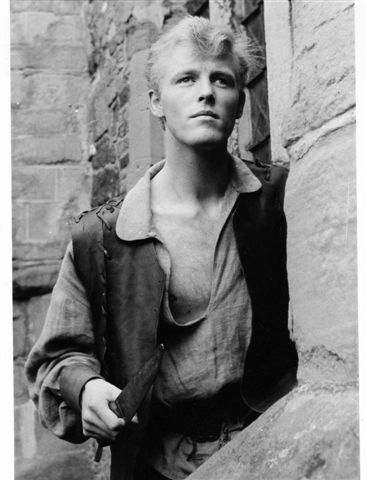 I also know Shel McCrae who joined the Fortunes and then pursued a very successful solo career as Vocals/Guitars and featuring the old hits - terrific singer and still on the circuit.
Below - more rare photos from the Calvert family albums- can YOU help identify any missing names or info? I have had an e-mail from film-maker Ken Clark:
Hi there
I've been working on a documentary about Roy Phillips and I think the picture labelled Dowlands and Eddie Sex! is the Dowlands with Joe Meek. Roy was a member of The Soundtracks and backed The Dowlands on several of the songs recorded at Joe Meek's studio. regards Ken Clark
I am giving them temporary filenames and will edit as and when.
Some taken at Joe Meek's studio in Holloway Road North London- thanks to Ken Clark (above) who has clarified these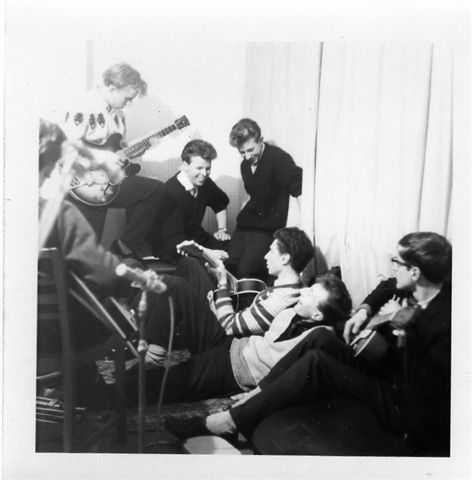 EARLY 1 Dowlands + ?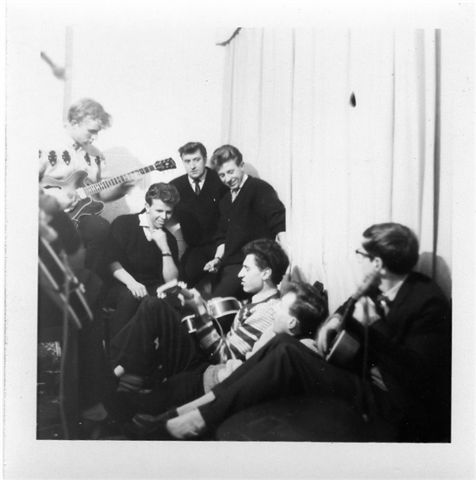 Joe Meek at the back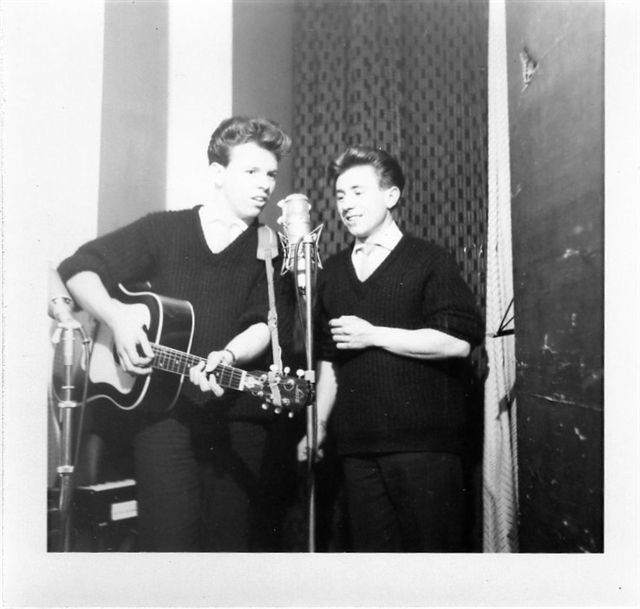 The Dowlands
Dowlands and Joe Meek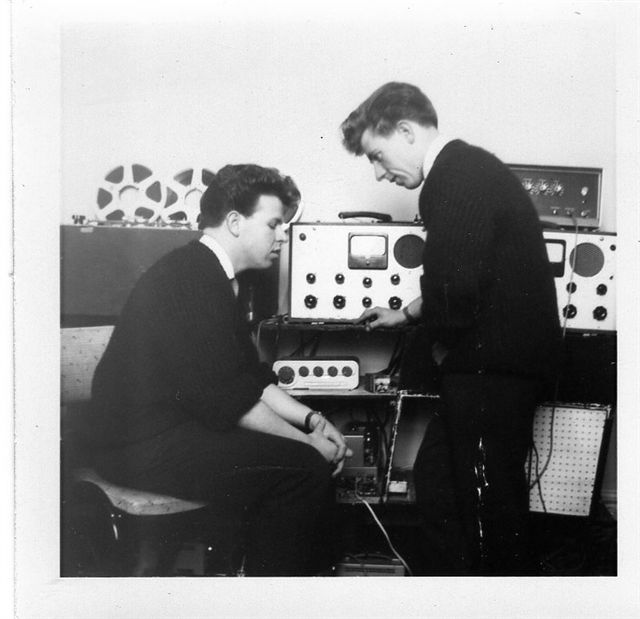 Dowlands and vintage recording gear- Joe Meek studio?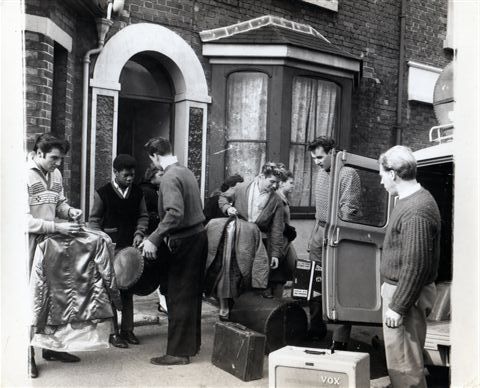 Derby Road St Marys- loading the van. Quite a few 'pros' lived in the area.........
including: Eddie Sex 'Baby Bubbles' Danny Storm Reg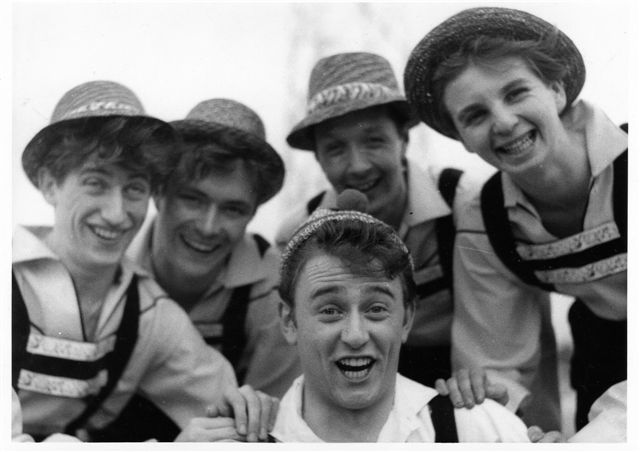 Mike Everest and The Alpines - suitably dressed!
The costumes were Reg's idea as a 'comedy' band got more money!
L-R: Back row: Bob Bishop (lead gtr) Tony Tipper (drums) Ken Radcliff (bass) Doug Perry (gtr)
Mike Everest- lead vocals
March 2010- E-mail
Hi David,
My name was Mike Everest and I was the singer for the Alpines whose picture you have on your site! I worked for Reg for a while in the 60s with the band .We played all the gigs he had in the Midlands and beyond as well as touring with Dave Sutch for a bit. Played with names like The Beatles Billy Kramer Joe Brown Gene Vincent the list goes on . I have so many clear
memories and quite a lot of memorabilia - contracts pics etc.Do you think Susan (Calvert) or yourself would
want me to put pen to paper to record these? By the way I am still in touch with the Alpines
I was so sorry to hear about "Mrs C " I remember her so well. Regards Mike.
I had a great chat with Mike Everest who told me some great stories of the crazy days when managed by Reg Calvert whose flair for showmanship saw him dress his bands up in wild costumes to add a few pounds to the fees! They travelled all over the country and worked with so many big names eg Gene Vincent, Lord Sutch and so many big stars of the time. Mike retired from the business and went into furniture wholesaling and sold his business some twenty years ago so now enjoying the fruits of his labours over many years! Now based near Blackburn and enjoying his new found computer skills so I'm looking forward to receiving some of his own photos, stories and much more. Like so many musicians, he was shocked when opening the newspaper back on that terrible day in 1966 when Reg Calvert's life was cut short in a moment of madness- he would have probably gone onto greater things with his business flair, visions and great showmanship.
April 2010
As promised- Mike 'Everest' kindly sent some great copies of various correspondence and I am waiting for some scanned photos to add to his memories as below, including rare shots with Screaming Lord Sutch and Reg.
This faded photocopy is taken from one of the Birmingham newspapers and advertising a 'Teen Beat' show at the B.R.S. Ballroom on Bromford Lane with two of Reg Calvert's managed acts. Headliners on this 2nd October 1962 were Buddy Holly lookalike 'Buddy Britten and the Regents' supported by some 'great new recording group making their first appearance in Birmingham' They had just made their first record and was being released at this same time- you might be able to make out the name of this group- who knows what happened to them..........
Mike Everest and the Alpines must have provoked some comments from the Brummies as they rolled onstage with their lederhosen, braces and weird hats! Show ran 7-30 to 10-30 and admission was 4/- (20p)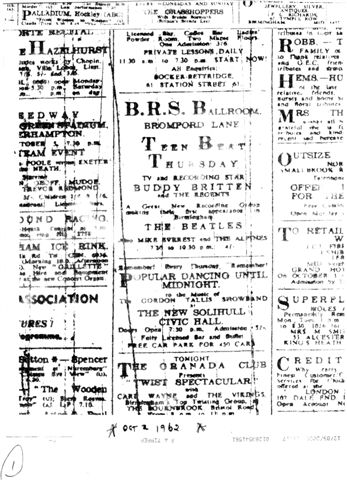 Apart from running the agency from Clifton Hall, Reg also had a West End London office at no. 7 Denmark Street WC2 just off the Charing Cross Road and its best known name being 'Tin Pan Alley' - a long established thoroughfare thronged with music shops, recording studios, publishers, management and much more. It was known as the Kings Agency with the old phone number of 'Temple Bar 6303/4 and its three directors listed as Reg Calvert, Terry King, Kenny Bell. Here is a confirmation for Mike who was living in Burton On Trent at that time.
Plus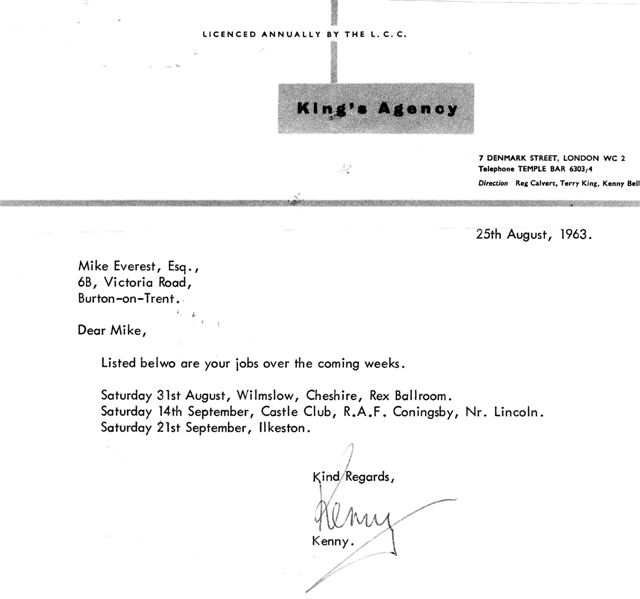 Below- a rare 1963 contract, signed by Dorothy Calvert and a booking for the Fortunes and Cliftones (a house band) at the Jubilee Hall Burton On Trent. The fee was £25.00 although one can see that a figure of £30 was scrubbed out so maybe a fiver went in someone's pocket on that gig?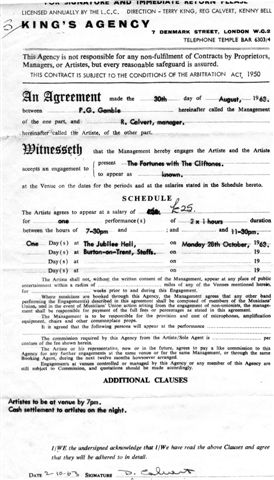 This letter from director Terry King and it appears that the agency deducted their full commission on an Aylesbury show on which the Alpines arrived late and had a few quid taken off as a 'punishment' The P.S. also mentions a long weekend in Scotland for the princely sum of £70 less usual 10% agency commission and Mike is asked to phone the office to confirm but NOT 'reverse the charges'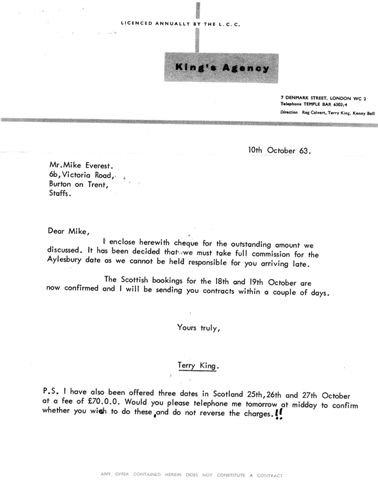 The Scottish Tour 25-27 October 1963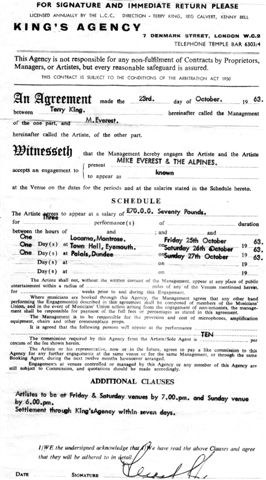 Friday The Locarno Montrose- Saturday Eyemouth Town Hall- Sunday Palais Dundee. The £70 fee less £7 commission was paid around 7 days later but one can be sure that the actual fees paid by the venues to a local Scottish promoter/agency and then sent onto Kings Agemcy would be much higher. This 'arrangement' still survives to this very day and known by acts as the dreaded N.P.U. - the 'No Pickup' in which they might work a string of dates but only get paid on the odd night, so never really knowing what was on the original table! The Alpines were slogging all up to Scotland on old A roads for the princely sum of £21 per night nett less petrol, food, overnight stop etc. I'm sure that many a 60s musician will smile at these very same thoughts as their eyes mist over with their own memories!
Another confirmation for the California Ballroom at Dunstable Luton, one of the top venues at that time. An amusing query is Kenny Bell enquiring if any 'cash was collected' on their Scotland jobs! I wonder why? LOL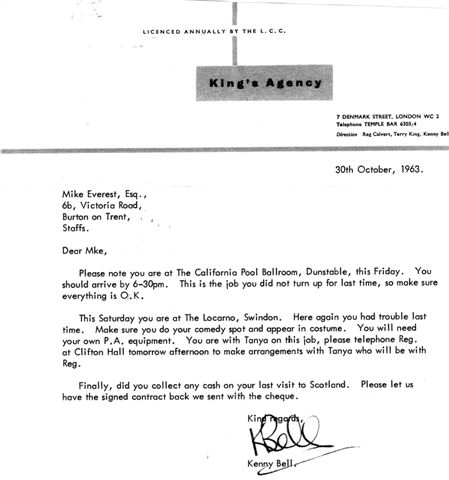 This letter shows the account with a Wolverhampton based agency known as Astra and concerns a couple of shows - the Majestic Wellington Telford and the Rink Swadlincote. Astra also deducted £10 to compensate Wednesbury Town Hall for a 'damaged panel' This was due to Alpine's Tony Tipper swinging on a rope and putting his foot through a side wall on a previous visit and gather they were banned from this venue! Mike also sent me another Astra letter which apologised for another late payment with the excuse of an 'oversight'- nothing changes in showbusiness! Astra Agency was based at Wolverhampton's LaFayette ballroom and later run by ex musician Jake Elcock and I still have gigs through his office to this day!
A slice of Southampton 'pop' history below!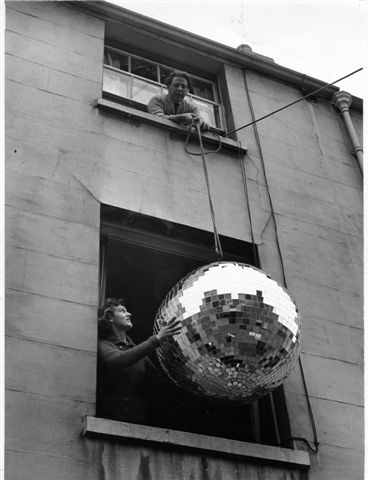 The Royal Pier Mirror Ball

This great photo, sent by Susan Calvert, shows Reg and Dorothy lowering the giant mirror ball down to street level at Portland Place! This was one of many such ornaments made by Dorothy in her spare time, and ending up suspended on many a dance hall in the area! It was originally intended for the large Guildhall nearby but there were concerns that it was too heavy so it ended up on the ceiling at Len Canham's Royal Pier Ballroom where its thousands of 'starlights' shimmered around the darkened dancefloor. Thousands of couples must have been lit up by this beautiful mirrorball and probably fell in love as it spread its magic through the night along with the music plus a few drinks as well......

I trust you have enjoyed another slice of Sixties nostalgia and I am indebted to Mike Nevitt who painstakingly wrote out a few pages of the above information as he 'doesn't do computers' in his own words! If you have any more to add or to amend then please get in touch as so many people have been doing over the last few years of my website which is growing all the time.

Susan - Reg's daughter has mentioned how she recalls the happy days at the Royal Pier Southampton and Len Canham's mother who was a superb cook! Also she remembers Lens' Golden Labrador, being very fond of dogs and has mentioned that she has many unpublished photos of these early days so I am hoping that these can be shared with everybody through my webpages. Susan is also an accomplished writer and currently working on two musical plays which are based on the Reg Calvert story and I will pass this on when nearing completion. Her mother Dorothy had a remarkable memory of those early days and perhaps I might be privileged to write about some of these in the near future.

This personal article has just been sent to me by Susan Calvert and I reprint it in its entirety as it offers an amazing insight into her father's story. As mentioned, she is currently writing a musical play and a possible book on the story so would welcome any personal reminisces of anybody who knew or worked with Reg Calvert but would not appreciate any time-wasters etc so I ask anyone to respect the family wishes.

My parents moved from Huddersfield to Southampton. My mother wanted to get away from the grime of Huddersfield - and she longed to live in the South. They were only 18 when they married just after the war, and like most other people at that time, had to struggle to survive. My father's family was very musical and his mother played clarinet in bands and orchestra's and travelled the world. His grandparents brought him up and he learnt to play clarinet, sax and piano. He had a brilliant 'ear' and could play almost any tune once he had heard it.

My father was a qualified hairdresser but soon got fed up with that and when the sugar rationing was lifted, started to make sweets and sell them on market stalls and at fairgrounds. He then bought an old sweet factory and my parents opened a sweet shop in Northam, Southampton. My mother did most of the running of the shop while my father pursued his new 'hobby' repairing old radios and radiograms.

In the evenings, to earn extra money, he compered for the big bands and also played the piano in clubs. In the mid 1950's he started to import Rock & Roll music from the U.S.A. Bill Haley, Rock around the Clock etc. This was before anyone had heard about Rock and Roll in the U.K. He tried to persuade the managers of the dancehalls to play rock and roll music instead of Big Bands, but they wouldn't. Not only that - there were no rock bands. Only skiffle - No one had heard the expression 'teenager' until he started to use it to promote his dances.

He searched all over the south and London for good musicians and singers to form into bands and found dancehalls to put the shows on. They were proper 'shows' - with variety, comedy and competitions. Within a year or two - rock and roll caught on and stars such as Cliff Richard who copied Elvis, Marty Wilde etc came onto the scene.

The groups my father managed were paid a proper wage, higher than the average working wage, and it was regular. They were guaranteed work and he paid the rent on a house in Portland Terrace so that they could live rent free if they chose to. Danny Storm looked like Cliff Richard. Buddy Britten like Buddy Holly. Eddie Sex like Elvis. Other performers included Baby Bubbles - a coloured boy who died young from a brain tumour. Robbie Hood, Dave Da Costa, etc. They rented a shop in St Mary's with a night club above, called the Bandbox.

My mother started a print works on the ground floor of the house we lived in. She printed the posters and tickets for the dancehalls and also did print orders for other companies. The money she earnt kept us going while my father was trying to establish the dancehalls and pay the wages of the bands. Both my parents worked extremely hard to try and make a go of things and there was never much money in the early days and the constant struggle to succeed. My father was always one step ahead, planning his next scheme rather than sticking to the one he had made successful. My mother had to pick up the pieces and carry on managing whatever he had started. She helped to manage the groups, pay the wages, organise the dances and keep my father in check!

They bought Clifton Hall Rugby in 1961. It was a beautiful house, with eight bedrooms and two and a half acres. Being in the centre of England meant that it was easier to travel out to run the dancehalls. At that time, large houses were unwanted and the price was not much more than an ordinary four bedroom house. They provided free board and accommodation for the groups and singers and carried on their policy of providing regular work and guaranteed wages. This was unheard of in the entertainment business and many of the parents really appreciated the fact that the boys were looked after.

Clifton Hall was a sanctuary for the boys, 'girl' free, alcohol and drug free. (No one we knew took drugs in the early 1960's.) My mother was quite firm about home life and the boys respected her. The boys slept most of the morning, rehearsed in the afternoon and then went out and did a show in the evening. When they came back late at night, they would often start rehearsing again. The house was full of music. The drummers were sent to the 'barns' to practice as my mother couldn't stand the noise!

Some of the singers such as Danny Storm and Buddy Britain had their own following by then so my parents arranged recording contracts for them. Other groups followed including The Fortunes. More and more bands wanted my father to manage them including Screaming Lord Sutch, Rocking Berries etc, so he started an agency in London with Terry King and called it Kings Agency. When we moved to Clifton Hall, I remember my father saying to me, that Clifton Hall would be the perfect place to have a local radio station and he applied for a licence. He wanted to see free radio in the UK and it was his ambition to have a radio station. Several years later when Radio Caroline started to broadcast (using the Fortunes song 'Caroline' as their theme tune) he tried to think of a way that he could have a station. My mother pointed out, more than once, that they could not afford it - there was no money to buy a ship!

With Screaming Lord Sutch, they decided to do a gimmick to promote Sutch by hiring a boat on the Thames and sailing through London playing rock and roll and saying that this was Radio Sutch. What started as a rock and roll party - ended with my father's death. Being unable to afford a ship - he searched the admiralty charts and spotted the old war time forts. To start with it was a bit of fun and an adventure, a way to promote the groups. He soon became more determined to make it successful - and the station gradually made a name for itself.

Radio Atlanta was a station that ran out of money - but one of the brains behind it was Major Oliver Smedley, a chartered accountant. He persuaded my father that he would provide a much more powerful transmitter and they could go into partnership together. The transmitter arrived - fell in the sea! It was very large and very old, and it did not work. Months later, Radio London the most successful radio station wanted to go into partnership. It was obviously much better to run a radio station from a fort than off a ship. Everything was agreed and the documents were about to be signed. Major Smedley arranged a boarding party in the middle of the night and took over Radio City. My father was frantic with worry for the disc jockeys and engineers on the fort. Smedley had a meeting with Radio London and said that the station was now his and he wanted 50% of the deal. The police told my father that they could not intervene and he should go and discuss the problem with Smedley himself and gave him the contact details.

Reluctantly, after trying to arrange a meeting and speak to Smedley, he went to see him in the evening with Arnold, whom he rented the aerial from. Both my parents had had vaccinations and my mother was quite ill and my father's arm was so stiff he could not drive. My father took with him money to pay off the boarders if he couldn't get Smedley to come to an agreement. As my father arrived, Smedley left his house with his shotgun, went to a neighbour and told the neighbour to phone for the police as there was "going to be trouble". He then went in and shot him. A wonderful story was hatched by Smedley and his mistress about my father being a violent man etc. The trial was a farce and Smedley walked away a free man.

Much to the surprise of everyone, my mother insisted in taking over the station and carrying on. She had been totally against my father running the station and they had separated for quite a time because of it. She received death threats and was in constant fear for her life but she ran it to the end, when the government brought in new legislation.

Pirate Radio was so popular in the 1960's. Everyone loved it and the government were powerless to close them down. Because of my father's death, we now have local radio, pop radio, commercial radio etc. It was his dream, but he had to die for it.

Susan (Moore) Calvert 2008 susan.k.moore@btinternet.com

Reg Calvert has often been misjudged by certain people over the years but his legacy was an important part of Sixties Pop Music with his entrepreneurial skills, foresight and great business ideas. I look forward to seeing him recognised and portrayed in a positive light whenever any perceptive TV or film company takes a good look at the life and times of a great showman.

Please come back to this page as I am sure that more information and photos will emerge as well as any of YOUR memories if lucky enough to have known or dealt with Reg Calvert. November 2011 saw the first staged musical play written by Susan Calvert and she has recently launched her own dedicated website. A fascinating glimpse into the legacy of her late father and will certainly remind the public who were hoodwinked over the farce of a 'trial' at that time. A 'D' notice was applied to the actual case notes and the press were not allowed to reveal the many travesties of justice that took place in the court. These notes are now available for inspection at the National Archives in Kew after being 'closed' for some 40 odd years and it is hoped that the truth will soon be told in many ways. The government and 'establishment' of the mid Sixties were determined to close down the 'pirate' station and the Reg Calvert murder was a perfect scapegoat as it painted a story of intrigue, corruption and the links to criminal activity. Even the Kray twins had some connections in this story but many were too 'frightened' to talk about it for many years. Much of the 'evidence' surrounding the shooting was full of holes and important witnesses were not allowed to testify. This led to Oliver Smedley's acquittal as the murder charge was dropped to 'manslaughter' on the grounds of self-defence, despite it being a cold blooded shooting in the doorway of that remote Essex cottage on June 21st 1966. Take a look at Susan's new website and this will be updated over the coming months- if YOU have any recollections of this story then please get in touch, especially if having any personal involvement.


http://www.regcalvert-plays.co.uk/


August 2009:

I have been in touch with Colin Dale- one of the original DJs on Radio Sutch- read all about his own amazing memories of Pirate Radio and Screaming Lord Sutch on his new website:

January 2010:

After a gap of some 45 years you can now listen to Colin Dale broadcasting on the internet with his great memories plus the most fantastic playlist imaginable so why not tune in right now! Just click on this link below:

http://www.live365.com/stations/colinradiosutch

Colin Dale writes:

HI THERE GUYS AND DOLLS, RADIO SUTCH IS BACK ON AIR AFTER 45 YEARS. PLAYING 50s and 60s ROCK and ROLL, PLUS LOTS OF YOUR FAVOURIT MUSIC FROM THE PAST. COLIN DALE THE FIRST DISC JOCKEY ON RADIO SUTCH WILL BE TALKING ABOUT HIS TIME WITH DAVID SCREAMING LORD SUTCH, HIS WORK WITH THE POP GROUP, THE SAVAGES, HIS TIME ON THE GUN TOWERS ON RADIO SUTCH. HE WILL BE TALKING ABOUT OLD FRIENDS, BRIAN PAULL, GEOFF MEW, TONY DANGERFIELD, CARLO LITTLE, PAUL NICHOLAS, REG CALVERT, RON HARWOOD, LONG JOHN BALDRY, JOE MEEK, HEINZ, CHUCK BERRY, JERRY LEE, I WILL TELL YOU THE TRUE STORIES ABOUT THE POP BUSINESS.. TUNE IN FOR FUN... TUNE IN FOR A LARF.. TUNE IN TO SEE IF I DISH THE TRUTH ABOUT SOME OF THE BIG NAMES IN THE POP WORLD... LET ME TELL YOU ABOUT MY TIME RUNNING MY DISCO CHAIN.. HOW THE LONDON GANGS TRIED TO FORCE US OUT. I WILL TELL YOU ABOUT MY TIME AS A DISTRICT COUNCILLOR IN BUCKINGHAMSHIRE.. HOW THE OFFICERS BEHAVED AT THE XMAS PARTIES?. THERE WILL BE LOTS OF INSIDE INFORMATION COMING TO YOU ON RADIO SUTCH, YOU WILL HAVE A LARF. SO TUNE INTO COLIN DALE ON RADIO SUTCH. GO TO www.colindaleradiosutch.com

SEE YOU LATERS... C.D.

October 2010

Reg Calvert's daughter Susan Moore has obviously inherited some of her late father's talents as she is an established artist, whose work was displayed at an exhibition called 'People and Places' at Nuneaton Museum and Art Gallery.

In addition, she has been working hard on a musical double bill play and based on the life and times of her parents from the early days of the pop music industry and leading to the drama that unfolded on the high seas when Pirate Radio reared up and changed the record business forever. It had its first showing (world premiere!) in Windsor and she has just informed that preview copies are available by contacting the publishers below

£7.50 each book+ £1.50 p&p

Fillongley Publications

The Old Granary,

Fillongley

Nr. Coventry

CV7 8PB.

----------------------

School of Rock & Roll.

1st edition £7.50.

A4 spiral bound.

"Drab, post war Britain. Young, in love and penniless, Reg and Dorothy marry at the age of 18. Life was never going to be easy living with Reg! A young man with dreams and ambition. They move from Huddersfield to Southampton in an old bus that Reg converts into a caravan, and camp in an apple orchard. Reg soon tires of normal routine and flits from one occupation to another while Dorothy tries to keep him steady and pick up the pieces. When Reg first hears 'Rock Around the Clock' by Bill Hayley, he has a new dream. To bring Rock & Roll to England."

The inside story of what really happened.

Exciting, fast moving love story with humour and tragic events.

Many photographs from the period that have not been published before.

It can be performed as a 'musical' or as a play with recorded music. For young performers.

No royalties charged to amateur theatre groups up to 2012 subject to conditions.

---------------------------------------------

Death of a Pirate

1st edition £7.50

A4 spiral bound.

"Reg and Dorothy Calvert live at Clifton Hall near Rugby, known in the press as the 'School of Rock & Roll.' They run dances for teenagers and manage well known pop groups. Everything is going right until 1963, when Radio Caroline, a new pirate radio station starts broadcasts from a boat in the Thames estuary.

For the first time in England, teenagers can hear pop music broadcast, all day, every day. The whole country is excited by it while the BBC and the government mount a campaign to try and stop the illegal broadcasts.

Reg is besotted with the idea of having his own pirate radio station but does not have the money to buy a boat. With Screaming Lord Sutch, they take over disused war time forts in the Thames Estuary that are outside the 3 mile limit. Sutch soon tires of the idea, but Reg continues, spending more and more money and getting into debt. Dorothy is out of her mind with worry and decides to leave him and sell Clifton Hall.

After six months of separation, Reg courts Dorothy again and persuades her to come back and start a new life. Radio City is earning money, the pop groups he manages are in the top twenty and the biggest, most powerful pirate radio station want to go into partnership with him. The deal is almost signed when tragedy strikes as a desperate Major Smedley decides to take over Radio City in the middle of the night so he can blackmail Radio London into going into partnership with him........"

The inside story of what really happened.

A play that can be read as a book.

Love, fun, drama and tragedy.

No royalties charged to amateur groups up to 2012 subject to conditions.

Susan Moore:

"The play is the story - beginning to end of Reg and Dorothy Calvert. From the early days of Big Band through to Clifton Hall, the School of Rock and Roll and then finally, the dream of owning a pirate radio station. It combines a powerful love story, with colourful characters, music, intrigue and murder. It runs a little bit like Blood Brothers."

..........................................................................................

Friday4th November 2011

(3rd November- Preview show @ £7.50)

ABBEY THEATRE

(off Queens Road) NUNEATON Warks

Tickets £7.50 + £9.50 contact susan.k.moore@btinternet.com

or tel 07745 144 922

50th Anniversary Celebration

Combining two exciting new plays into one reading with music and rare photographs.

Celebrating the 50th anniversary of the move to Clifton Hall in 1961 - what became known as the School of Rock & Roll 50th anniversary of the start of pirate Radio Sutch / Radio City in 1963.

THE SCHOOL OF ROCK N ROLL

(PLAY ONE)

Life with Reg Calvert was never going to be easy. Falling in love with an entrepreneur and a man of dreams was like living on a roller coaster. This is a funny and poignant story about the extraordinary and zany lives of Reg and Dorothy Calvert, from living in an old bus and selling sweets to managing pop groups and owning the first School of Rock & Roll. From 1946 to 1965.

DEATH OF A PIRATE

(PLAY TWO)

To 1967. Life becomes turbulent between Reg and Dorothy as Reg pursues what seems an impossible dream. To own his own pirate radio station. This play follows the rise and fall of pirate radio in the 1960's and is a heartbreaking story of love, anguish, murder and conspiracy.

..........................................................................................

I will shortly be adding more info and rare photos to this dedicated webpage on Reg Calvert whose memory lives on as part of the legacy of British Pop Music. There has been much speculation and press coverage over the tragic shooting of Reg Calvert, which was a clear case of murder but downgraded to a charge of 'manslaughter' on the grounds of 'self defence' by Major Oliver Smedley who was acquitted. Photographs of Smedley smirking as he left the court left a bitter taste in many peoples' mouths as the actual events on that tragic night of June 21st 1966 were full of inconsistencies. The case notes can be viewed via the National Archives and reading through them will certainly raise a few eyebrows and most likely lead one to supporting the theory that this was a grave miscarriage of justice. Reg Calvert underwent a 'character assassination' by Smedley's defence team during the court proceedings and so-called eye witness statements throw up many unanswered questions.

Susan Calvert's own personal account can now be shared as her new plays are performed around the country and I can certainly recommend an entertaining but intriguing night staged at the Abbey Theatre as above. Early booking is recommended and there is the possibility of this show being extended so worth checking this page or by contacting Susan herself.

.....................................................................................................................

August 2011

A new book has been published, written by Adrian Johns, a much respected author and professor of history at the University of Chicago.

Titled 'Death Of A Pirate' and well worth reading as it covers the amazing story of the anarchic illegal broadcasting that sprang up in the Sixties as a refreshing antidote to the staid BBC output at that time or great 'pop' stations such as Radio Luxembourg with its transmission problems on 208 medium wave.

The book opens with a dramatic chapter on that tragic midsummers night of the 21st June 1966, loosely based on the actual case notes held at the National Archives (Public Record Office) in Kew Surrey. They were not released until 2001 being 'under wraps' for some years as in the case of many major criminal proceedings. If many people feel somewhat cynical about the whole case, then maybe some of the facts that surrounded it should be considered and possibly point to a good reason for the Establishment to cover up the whole matter? Whilst Adrian Johns paints a vivid description of the actual shooting of Reg Calvert, it is all based on 'evidence' from shotgun-wielding Oliver Smedley (mid Fifties) and his 23 year old 'housekeeper /assistant' Pamela Thorburn (described as his 'occasional mistress' in this book)

Susan Calvert was disappointed in not seeing Adrian Johns highlighting many of the discrepancies in the court proceedings and also refused to allow any personal family photographs to be included in the book. The trial and surrounding 'sensationalist' media hype painted a picture of Reg Calvert as a 'violent' man and prone to angry outbursts but this in complete contrast to what I have found over the last few years when talking to many people who knew him from his early Southampton days. I am touch with his daughter Susan (Moore) and she has kindly given me many insights into the whole story, part of which I reproduce below, with her permission.

Reg Calvert was simply a great showman with many OTT ideas and gimmicks that certainly grabbed headlines and made the public aware of his stable of pop groups and solo artistes. He had the gift of the gab and certainly exaggerated many a story to publicise his acts or dance nights, but this was used by the defence team who painted a picture of Reg 'storming into Smedley's Essex cottage. Reg was certainly angry over his dealings with Smedley and other dodgy people involved in pirate radio so felt aggrieved at being conned. He normally talked his way out of trouble but this terrible night ended in his tragic death at the hands of Smedley who was charged with murder, then dropped to 'manslaughter' on the grounds of self defence and acquitted.

Reg was feeling unwell on the 21st June, having had a smallpox injection and not able to drive from London to Smedley's cottage near Chelmsford so recruited an acquaintance Alan Arnold and using Reg's Ford Zodiac- Reg's eyesight was not too good with cataracts so another reason to take the passenger's seat for the two hour journey. When they reached the house around 11pm, Reg got out and knocked the door which was opened by Pamela Thorburn, with Alan Arnold stood behind Reg- she recognised him and immediately tried to slam the door shut but Reg pushed his way in and shouting 'Where's Smedley? I'm going to take him to the police" Arnold went looking around the house to find this man who was nowhere to be seen, having sneaked out of the cottage, loading a shotgun and telling his neighbours to call the police as 'there was going to be trouble" The word 'pre-meditated' springs to mind..........

The rest of the 'evidence' came from the only witnesses to the subsequent shooting tragedy- Smedley and Thorburn -they claimed that Reg was 'hysterical' and allegedly struggled with her at the door, knocking over furniture and finally grabbing a small statuette/table lamp and raising it over his head as if to strike at her! At this point, Smedley appeared with his shotgun and shot Reg in the chest who fell to the floor by the front door. The police arrived some time later, by which time Smedley and Thorburn had time to concoct a story of 'self defence' and rearranged the crime scene. Police photographs show Reg lying on the floor, face up and the statuette close by with his left hand glove missing - just read through Susan's points that were ignored at the time of the hearing.

From Susan (Moore) Calvert

Part 1

Adrian John's book. I thought was very good - except for the first chapter which is why I refused permission to publish family photographs in his book. He made a 'sensational' account of the night's event - to sell his book and it perpetuates the lie that my father was a violent man - which as you know from the many people you have spoken to - was not the case. I don't think you will find anyone who will tell you he was in any way violent. He always talked his way out of problems and trouble - which is what he intended to do with Major Smedley.

I had many disagreements with Adrian about the first chapter. I felt he should have made it clear that this was the story that they gave in the trial - with all the witnesses cancelled and no one there to dispute the evidence. The reason that Major Smedley said that he shot my father was because he was terrified of him - and he knew he had gone to kill him. After the trial - when he sells his story to the News of the World, he says that he was never frightened of my father !!!

As all the witnesses on my father's side were cancelled - no one could give a true account of what really happened. Only my mother was called at the last minute. It was obvious at the time that the trial was 'corrupt' from beginning to end but because of subjudice - the press were not allowed to print the truth or real evidence. I think I said before - that a good 'detective' story on the TV - they would have spotted Smedley's guilt

In the photograph of the shooting, my father is laid on the floor - his left hand glove has been removed and the statuette he is supposed to have been holding above Miss Thorburns head - is laid next to him. My father had recently had a Small Pox vaccination - and he couldn't pick up any heavy object - not even a statute with his left hand. In any case - he was right handed - and he was still wearing a thick glove on this hand.

Part 2

Hi David,

I think you think that things were 'heated' on that night - because of all the sensational publicity. According to the person who was with my father on the night (Alan Arnold who owned the aerial) and according to everyone that day, including myself and my mother. My father was not angry or heated. He was quiet and thoughtful. He was also worried about his staff on the station in case someone got hurt as some of the boarders were believed to have guns.

There were so many lies and half truths at the trial - and many witnesses from Major Smedley's side. All the witnesses were cancelled on my father's side - except for my mother - who had complained so much. She was called at the last minute All the press at the time said that the trial was all wrong - that they had never been to a trial like it - but they couldn't print the truth because of subjudice. At the trial, Miss Thorburn (Smedley's young mistress) said my father was red in the face, swearing, shouting and throwing things about. When my father was angry - he went grey in the face and talked very quietly. He didn't shout - ever. He never swore - to my knowledge, and he certainly didn't go picking up objects and throwing them about.

My father went to see Major Smedley to talk and reason with him. If that didn't work, he was going to go to Radio City with £400 (a lot of money then) to pay off the boarders. They had saved the money for their 20th wedding anniversary holiday - to Portugal and Spain which is why he had a Small Pox vaccination. Some men may have gone about shouting and losing their temper - but that wasn't my father's way of doing things.

Major Smedley had heard that my father was going into partnership with Radio London, June 1966,and I think he wanted to find a quick way to earn a lot of money. He arranged a 'boarding party' and took over the station. Next morning, he was on the doorstep of Radio London waiting for Phillip Birch to arrive, and he told Phillip Birch what he had done, and that the partnership deal should now be with him, not Reg Calvert. Phillip Birch refused - saying that it would only be with Reg Calvert.

My father had a meeting with Major Smedley who was cock a hoop at what he had done. After this there was a 'stale mate' as Major Smedley's plan had failed. Radio London wouldn't go into partnership with him. The police told my father to go and see Major Smedley and sort it out as they couldn't help - and gave him Smedley's home address. Alan Arnold was worried about his aerial so he kept 'phoning my father about it, and offered to go with my father and have a meeting with Smedley.

-----------

FACT: We know from Alan Arnold, that when they arrived my father was cool, calm and collective.

-----------

FACT: Major Smedley heard them arrive, went to the bedroom, picked up his gun off the wardrobe, went to a neighbours house and told them to call the police as there was 'going to be trouble'. Came back in and immediately shot my father.

------------

He said it was because my father was holding up a statue above Miss Thornburns head.

FACT: As my father couldn't move his left arm as he had a small pox vaccination - and he was right handed anyway - it was obvious from the photograph of my father after the shooting - that his left hand glove had been removed and the statuette placed near his left hand to make out to the police that there had been a struggle.

My mother tried to speak to Alan Arnold at the hearing. She said he looked terrified and just walked away. (He had a weak heart, and after the shooting I believe he had a heart attack or fainted.)

Major Smedley had two attempts at running a pirate radio station and they had both failed. He was Chairman of Radio Atlanta and this failed and then he went in with Radio Caroline south and this failed. He owed people money and had a 100 or so shareholders who had lost money. He was into very right wing politics and money dealing - and tried to get people to invest in an Isle of Man company etc.

In 1965, Major Smedley after failing with Radio Atlanta and Radio Caroline, offered my father a partnership - by providing him with a new transmitter. When it arrived in the December of 1965 - it was about 30 years old from Texas, and they could not get it to work. Both Radio City Engineers and his engineers tried, and failed. Major Smedley could have collected his 'transmitter' at any time. As it happened - he left my father with a very expensive bill for the transportation costs from Texas.

Major Smedley discussed with Alan Crawford (from Radio Atlanta) about taking over Radio City, and Alan Crawford said that he shouldn't do it. It wasn't right and it would give pirate radio a bad name. Major Smedley said he wouldn't do it - but a couple of days later - he did.

At the trial, Major Smedley gave evidence saying that my father owed him £10,000 for the new transmitter. This was an obvious lie - and could so easily have been disproved if all the witnesses hadn't been cancelled on my father's side.

You are welcome to print / publish this information and other information I have given you. I've tried to keep it brief or it would end up being another book (or a play).

Kind Regards

Susan

As always, I am indebted to Susan and thank her for her moving testimony as well as being able to offer an insight from within the Calvert family who suffered terribly by this tragedy followed by many years of trying to clear their father's name. I never knew Reg personally but remain convinced that the real story never came out at the trial, which showed British 'justice' at its worst. The defence team and a baying press at that time were also guilty of character assassination, following a clear case of murder of Reg Calvert. His name certainly lives on, and is remembered with much affection by those who knew and worked alongside him, unlike the ex Army coward who 'played soldiers' on that fateful night using a firearm to get rid of his 'rival' If you are able to attend the November show (as above) then perhaps you will find out much more about this intriguing case and its fallout that witnessed the birth of Radio One and much more.

Check out this rare Pathe News clip:

http://www.britishpathe.com/video/stately-strollers-aka-stately-singers-danny-storm

Home page Contact David Click on SITE MAP to navigate rest of website

©copyrightDavidStJohn2011