Home page Site Map Contact David
SOUTHAMPTON SIXTIES MUSIC SCENE - VENUES
Page updated February 2019
*Loads of pics - let it load*
If you are returning to this or any other webpage - you might need to Refresh it (Press F5) in case your browser keeps original viewing
COPYRIGHT
Please note that many images contained within this website may be subject to copyright, although many have been kindly sent to me and intended to be shared on this non commercial outlet. If anybody wishes to use any of the same, then please get in touch as well as possibly giving credit where due as well as setting up reciprocal links if relevant to the actual content on any webpage. Please note that I am able to monitor any image-copying and if published on other websites. I would appreciate any contact to report broken/outdated links and any corrections to the text that accompanies any images herein. If the genuine source of any of these photographs can be validated, then I will naturally add the credit. Thank you and enjoy!
Welcome to my ongoing memories of the great pop group boom of the early Sixties in my home town of Southampton England. If you have already read through my other webpages, then you will have learnt about many of the top bands and venues that we often appeared at. Since I set up my original website, which is mainly centred on my professional comedy career, I have enjoyed writing up a few other pages which give an insight into a different era that was so exciting as music, fashion and lifestyle brought the UK out of the austere post war Fifties. The Sixties really did swing and those of us lucky enough to have made music enjoyed it even more as we learnt our craft, made a few quid, enjoyed the ladies' attention (!) and travelled far and wide but with loads of laughs in between the downsides!
There was a camaraderie amongst the local bands as new ones were formed or reformed from the remnants of other groups and the changing tastes in music throughout this time inspired and influenced us all. After so many years, it is great for me to have set up these pages and made contact with several old pals from that time as the internet provides a great chance to check out the most obscure people and places. It has also helped others get in touch with their old bandmates after many years as well as providing me with more information plus terrific photographs that have been gathering dust in the loft etc! This latest page offers a glimpse into that decade and I am also including some input from various musicians and singers that helped provide great entertainment for local people at the dancehalls around the area. I am also including a few more photos and links to relevant websites that might be of interest to you, and I welcome any info or more photos if you were around way back then. Just click on the obvious links, that will take you to other websites and I will add more to this page from time to time as well as looking forward to hearing from anyone who was lucky enough to share a few of my memories as well as receiving any more info/pictures etc.
I thought it a good idea to mention a few people that are in touch with each other and to update this page now and then - a kind of 'blog' so to speak. Also, I thought it good to take a nostalgic trip down Memory Lane and recall some of the main music venues that sprung up during the mid Fifties, before the Sixties explosion opened up a whole new world for us all. I'm also including a few popular old pubs along the way and many featured live music from a basic old piano free 'n easy (pre-Karaoke) singalong up to live bands etc.
Southampton's legendary nightlife through the Fifties and Sixties boasted many popular pubs, nightclubs and dance halls and this is a glimpse of what I recall when growing up throughout this exciting time. Off duty crews from the ships filled the lively venues that were only a short distance from the city centre, mixing with friendly locals and visitors alike. One of the best known pubs all over the world was the Juniper Berry in Castle Square (renamed Bosun's Locker but back to original) Take a look at my memories of this terrific pub on my other pages and it is well remembered as a bawdy night out and often packed to the rafters throughout the week with an 'open mike' stage show that saw all kinds of interesting singers get up and entertain the noisy drunken but usually good natured well behaved audience that crossed the social spectrum! The pub was busy with merchant seamen, lorry drivers and many hilarious drag queens off the ships often dressed in outrageous frocks and wigs, despite the illegality of that 'kind of behaviour' at that time! Many an unsuspecting drunken sailor had a 'surprise' when walking a young 'lady' down the alleyways..... Nobody really bothered about it in this or any other busy port around the country - quite tolerant and ahead of its time.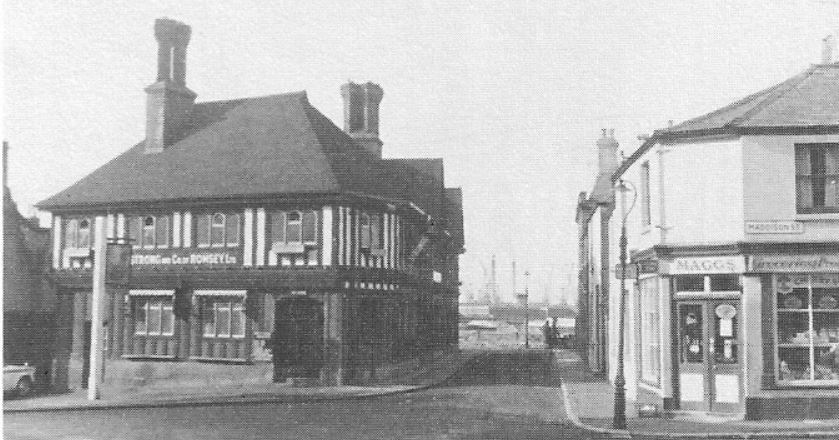 Juniper Berry- old images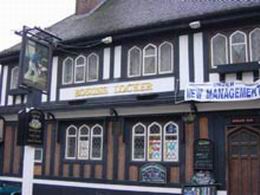 Juniper Berry - (ex Bosuns Locker)
A few hundred yards from the notorious J.B. stood another 'racy' pub that is remembered with affection. The Horse & Groom on East Street,which was always busy with 'professional' ladies, merchant seamen and all manner of Southampton's 'Twilight People'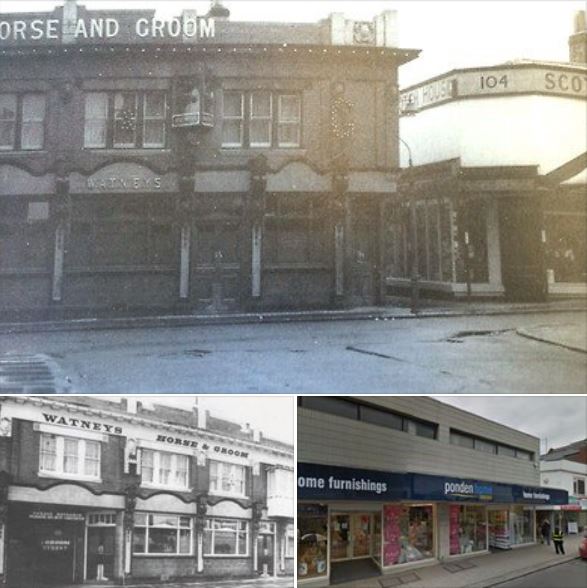 Horse & Groom- then and now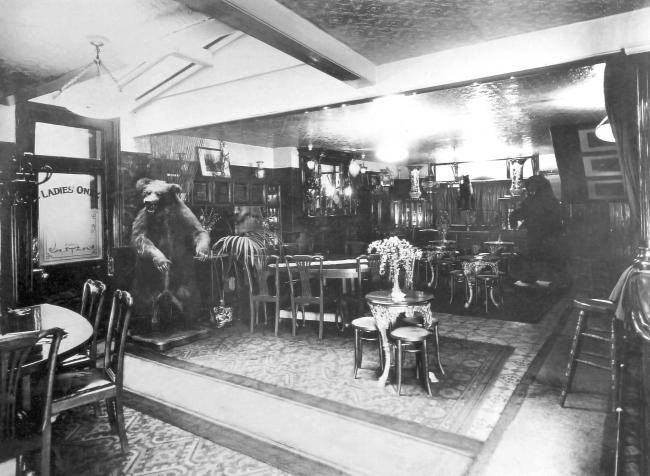 The old bear wasn't the only one that got stuffed at the H&G!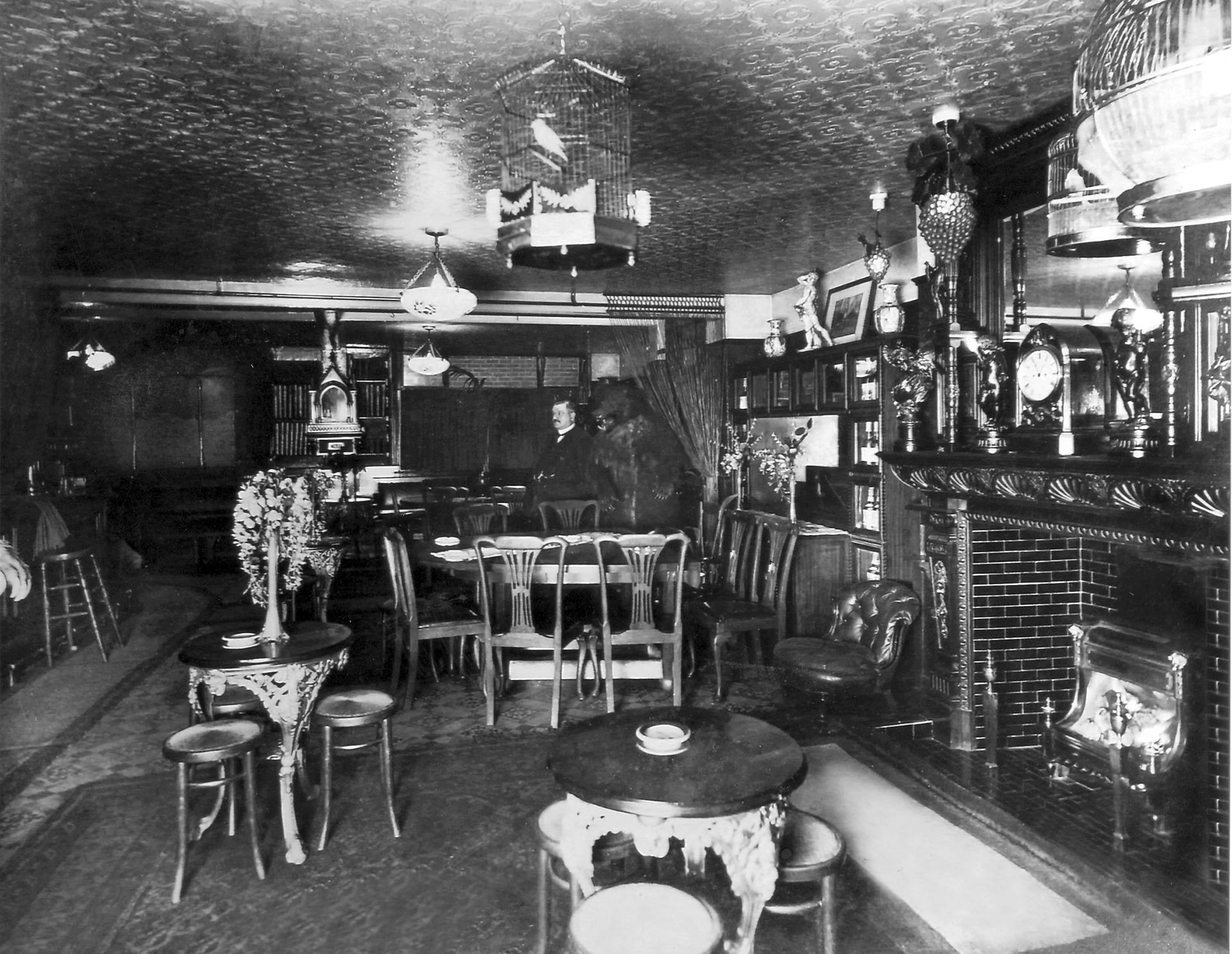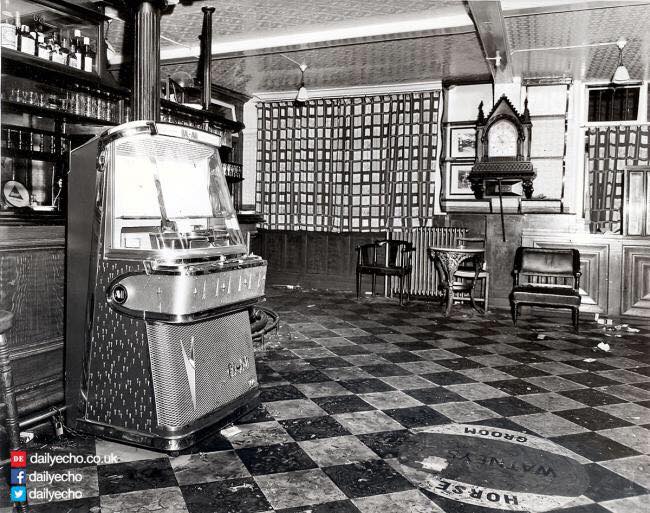 Courtesy Daily Echo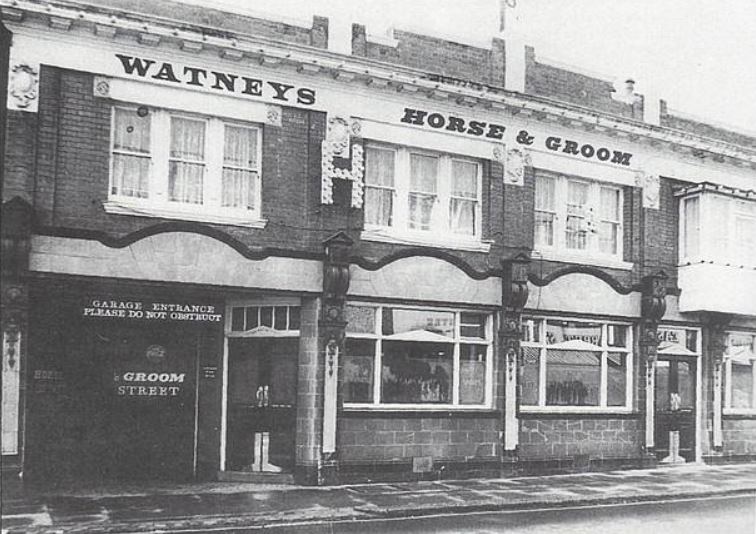 Whenever I visit my hometown I often take a stroll along familiar roads and take a few photos on the way so I will now take you on a little trip that I must have walked so many times over the years, starting in the suburb of Woolston, where I grew up. My nearest pub was the old Railway Hotel in Portsmouth Road, which became the Woolston pub followed by the Bridge Inn, as it lies near the new Itchen Bridge that was finished in 1977. This superb river crossing replaced the old Floating Bridges that had been ferrying people and cars across the river for nearly hundred years or so. Well worth searching the net on this piece of modern history as the ferries hold many more memories for the Itchen 'tourists'
The Bridge Inn - click on any image above which will link to my Biography page and my final group days 68-72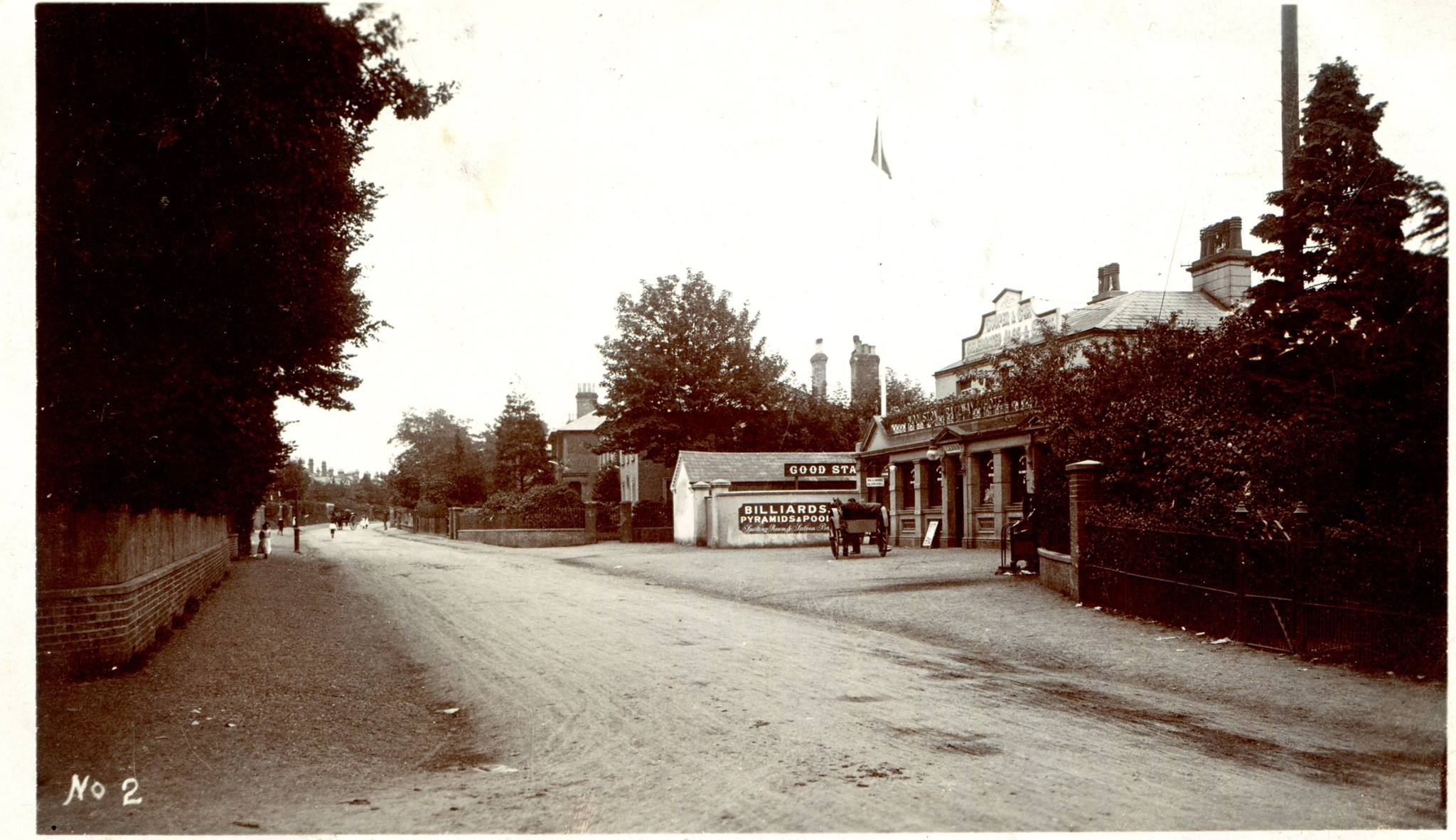 The old Railway Hotel 1907
When my final band played a residency here, this front area was often filled with motorbikes as we attracted a good local biker following - on one occasion we had a motorbike driven through the front door at the left, through one bar and into our big room at the back! Up a ramp onto the stage for a special rock night - read all about it on the linked Biography page! There were other small venues that hosted live music on this east side of the town (Southampton only achieved city status in 1964) but mostly alcohol-free youth clubs and the odd school hall etc. Down the bottom of my road across from the local railway station stood the Peartree Hall with a proper stage and a very popular venue until being demolished along with a few houses for the new Itchen Bridge toll booth area. Apart from the Royal Pier, I also sang at the Peartree Hall at the tender age of ten before being forced into 'early retirement' when the school authorities found out! This is documented elsewhere on my website and I enjoyed playing there with a few of my bands during the Sixties so more fond memories.
.....................................................................................................
Close to the water's edge stood the old Cliff Hotel which is now turned into flats but back in the Sixties hosted one of Southampton's finest music outlets- The Waterfront Club. This was a narrow outbuilding that adjoined the main pub building on the right of these recent photographs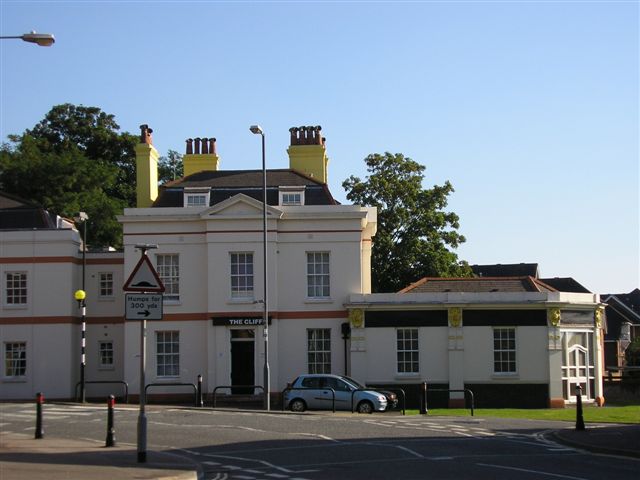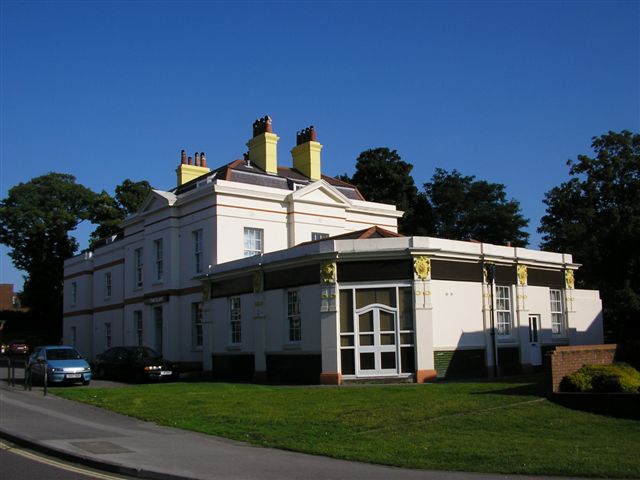 The Cliff Hotel Woolston - former Waterfront Club
This venue was always good to play although a rather small stage just by the entrance and a long room but always had a good 'buzz.' I recall my first band the Abdo-Men playing there in 1964 and we noticed that the flimsy ceiling tiles above the stage had been bashed through by the previous London group that had appeared there the night before- by the name of the 'High Numbers' The manager (drummer Roger Pope's father) was really angry and swearing his head off at these stupid antics in which the lead guitarist had jabbed his instrument up through the ceiling area and said that they would never play there again! A few months later, this very same band released their first single called 'I Can't Explain' and I guess that the newly named 'Who' weren't too sad about being banned anyway! Pete Townsend must have bashed ceilings all over the UK as well as his guitars and amps along with drummer Keith Moon demolishing his kit and anything close to hand. No wonder they were always broke in the early days. Recently discovered the very advert!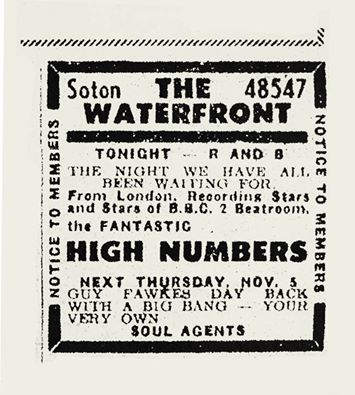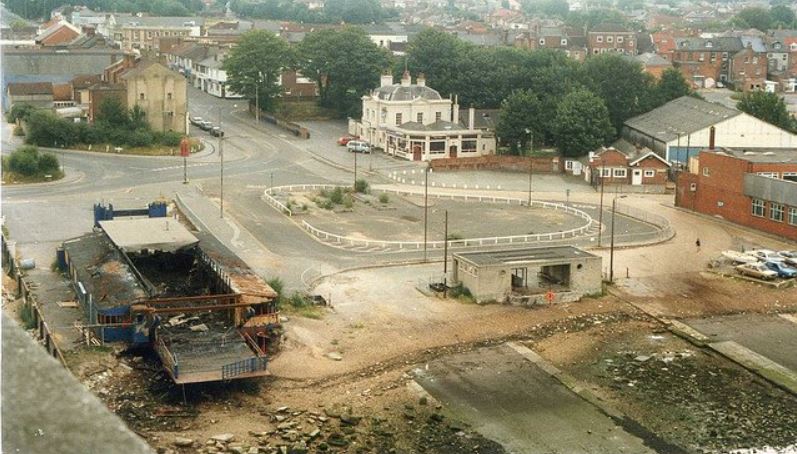 'Floaters' nightclub burnt out- the old Itchen Ferry boat with Cliff Hotel opposite. ©rolandrichards
This fascinating photo courtesy of Roland Richards (thanks!) taken from the new Itchen Bridge, which shows the old slipways plus the derelict toilet block. The local buses previously stopped in the area as shown by the temporary railings, and there used to be a newsagent/general shop just behind where the burnt out ferry was situated. The Waterfront Club was annexed to this side of the Cliff Hotel, with the main Portsmouth Road leading up the hill, with Hazel Road sharp left that leads to the site of the former Supermarine factory. and Oakbank Road leading up left towards Woolston station area.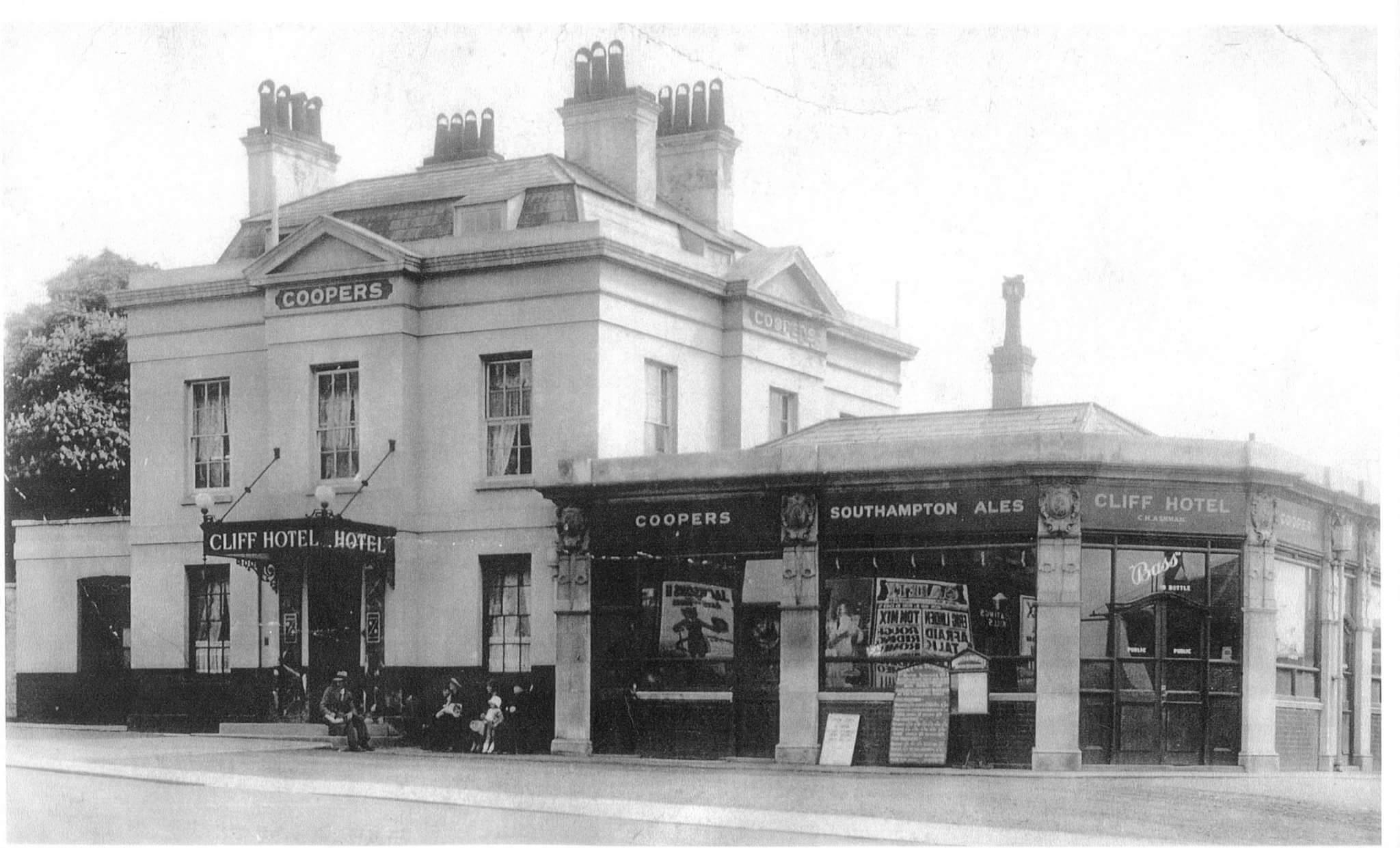 This old photo probably dates from 1919-I zoomed in on the reflection that showed a billboard across the road and mirrored the image
Shows the Gaiety Cinema and a Tom Mix movie "Rough Riding"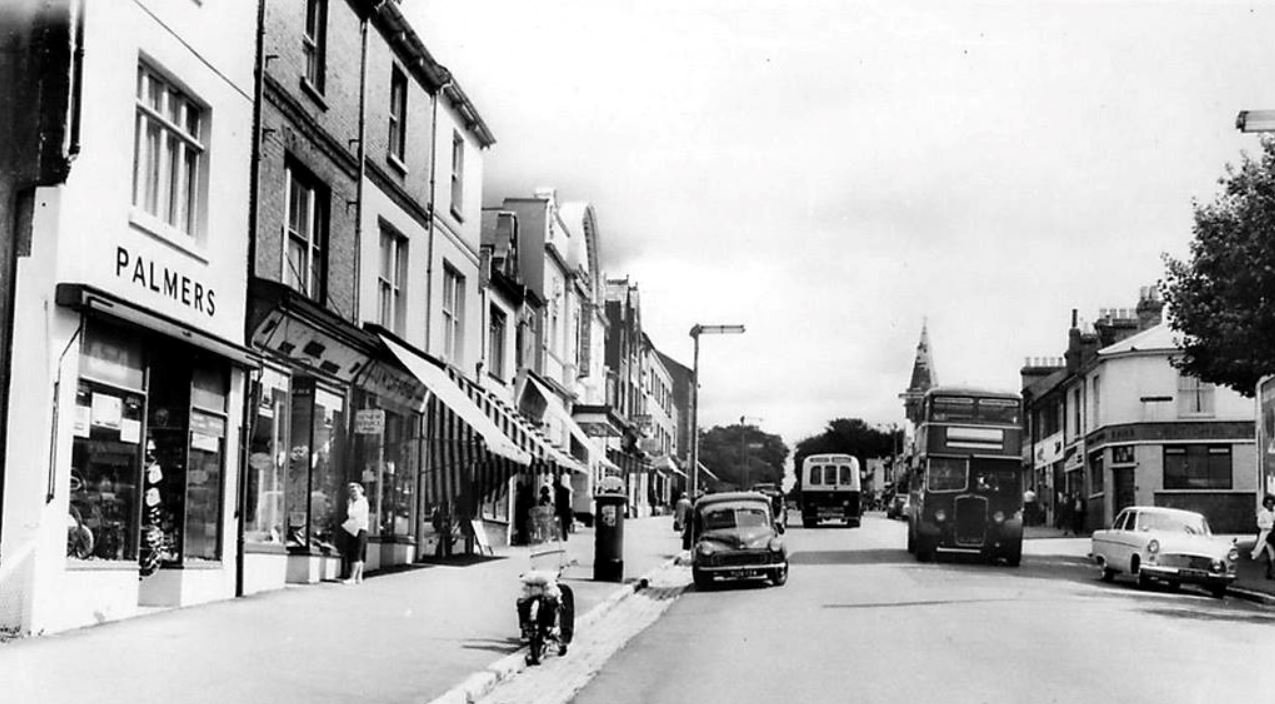 Across the road from the old Cliff Hotel 1960s- looking up Portsmouth Road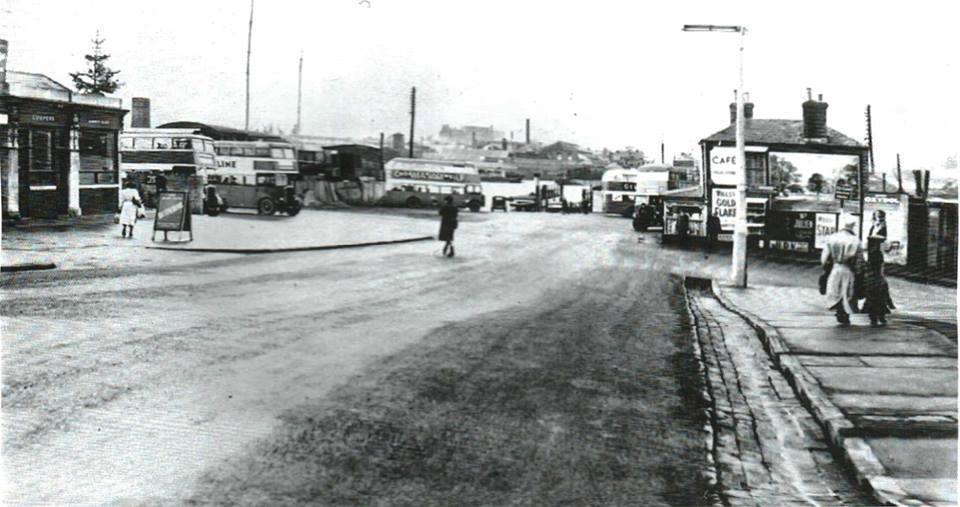 From same area - looking down towards Floating Bridge etc 1950s?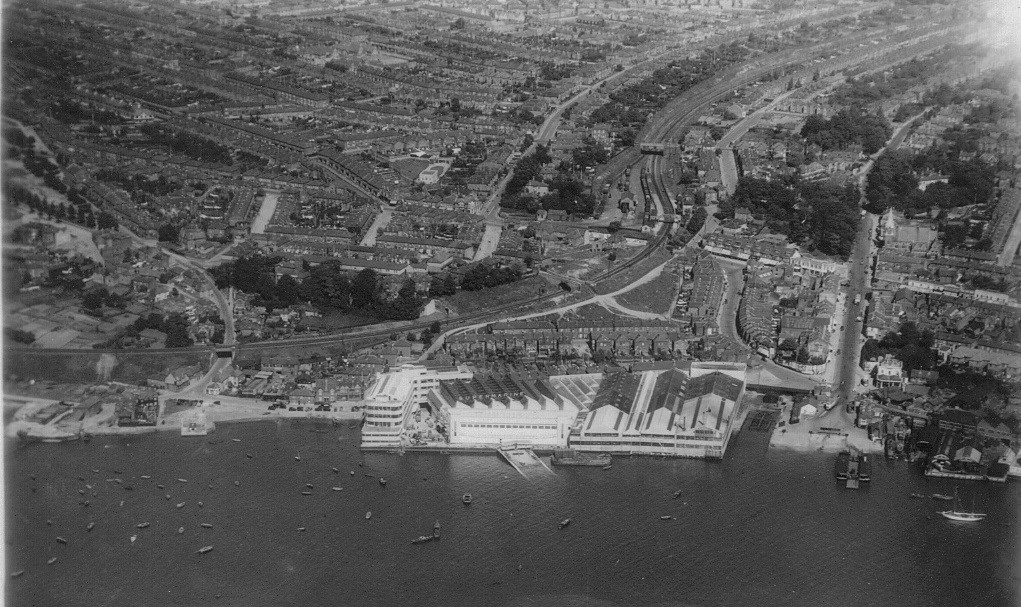 Pre-WW2 photograph of Woolston with Supermarine (Spitfire) Factory that was bombed during the Southampton Blitz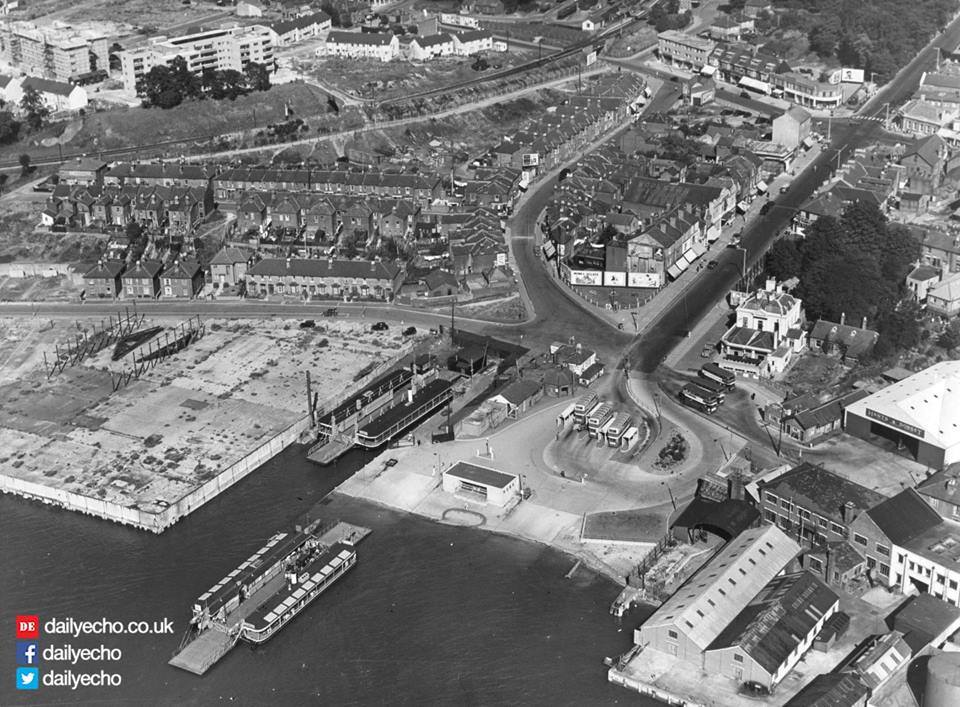 Post-war image courtesy Daily Echo
.....................................................................................................
Across the road from the old Cliff Hotel (now luxury flats) stood one of my other favourite buildings that had a profound effect on my early days in the shape of the Woolston Cinema, especially when sneaking in as a young kid to soak up the new exciting American movies such as 'Blackboard Jungle' This groundbreaking 1955 film featured a great soundtrack including the record that ignited the flames of a 'teenage revolution' in the shape of Bill Haley and the Comets with 'Rock Around The Clock' The movie was also very controversial at that time as it dealt with the new juvenile delinquency that was rising out of the ashes of youngsters rebelling against their elders and following on from another classic 1953 movie The Wild One based on motorbike gangs and catapulting Marlon Brando into Hollywood stardom. A great quote comes from the scene that gives a real inkling of what was going on within this new generation of youngsters who were standing up for themselves after years of subservience to their elders who 'knew best'.
Johnny (Marlon Brando) is standing by the jukebox and one of his gang members is dancing with a girl and she asks, `B.R.M.C., what does that stand for?' Johnny's gang member replies `The Black Rebels Motorcycle Club' and she shouts across `Hey Johnny, what are you rebelling against?' He replies, in what could very possibly be the most career defining sentence that has ever been uttered on-screen: `Whaddya got? Priceless.
James Dean also personified this new movement that was gathering force with only three great movies before his untimely death at the wheel of his Porsche. 'Rebel Without A Cause' also had parents worrying that their kids were not going to go along with the same kind of life that they had carved out but my biggest kick was discovering the new music that would change my life forever. I was too young to be involved in the antics of my elders but precocious enough to be aware of what was going on around me so consider it all to be an early 'baptism of fire' to coin another cliche.
'Blackboard Jungle' starring Glenn Ford as a besieged teacher in an American High School was responsible for provoking mini riots in some cinemas as the kids couldn't help but to get up and jive in the aisles plus singing along with the songs. This caused the bewildered cinema staff to try and quell these outburst in otherwise staid quiet picture houses that had never seen the likes of this behaviour in the past. The national press and media reported several cases of Teddy Boys and Girls fighting with the staff and each other in between slashing the seats with flick-knives that were often carried, but rarely used in those days as opposed to recent crimes involving weapons.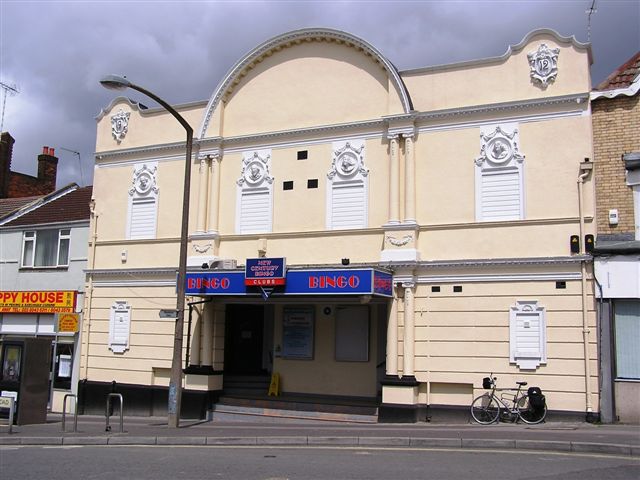 The Woolston Cinema 2006 (Bingo Hall use)
This photograph courtesy of Harry Rigby (CTA- Cinema Theatre Association)
Later music-based films such as 'Rock Around The Clock' and 'The Girl Can't Help It' featured amazing performances by the new wave of US rock n roll stars and inspired me to start singing in public at the tender age of ten - just go to my Biography page to read more.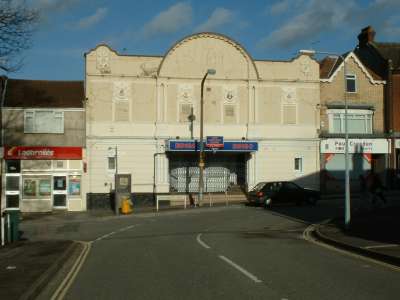 My photo of the Woolston Cinema taken around the time of closure
At time of writing (March 2009) the old fleapit has been closed for some while but remains intact apart from some damage to the front area due to pigeons and general running down and I hope that the building will be preserved as a slice of local history. It was built back in 1912 and I have recently made contact with members of the Cinema and Theatres Association (CTA) whose members run a great website and organise trips for cinema enthusiasts , travelling all over the UK and overseas. They publish books and brochures featuring amazing photos of the great cinemas over the last century and I can well recommend you take a look at their site via this link:
I have also just managed to get hold of a great book called 'Dream Palaces' which features many local Southern cinemas and was lucky enough to make contact with one of the writers Bill White. I had a very interesting chat with him about these historic buildings and many of them have preservation orders on them, especially the Art Deco styles championed by the Odeon chain back in the 1920s and 30s. My interest has been linked due to many of these venues staging live shows as a crossover from the old days of Variety Theatres and many were dual purpose cinemas as well. Sadly many died out as television changed peoples' habits from the mid Fifties and either became bowling alleys or bingo halls through the Sixties. My local record shop was Spikins on the Colonnade and here is a rare image of the days of the '78! Note the hit of 'Unchained Melody' another version.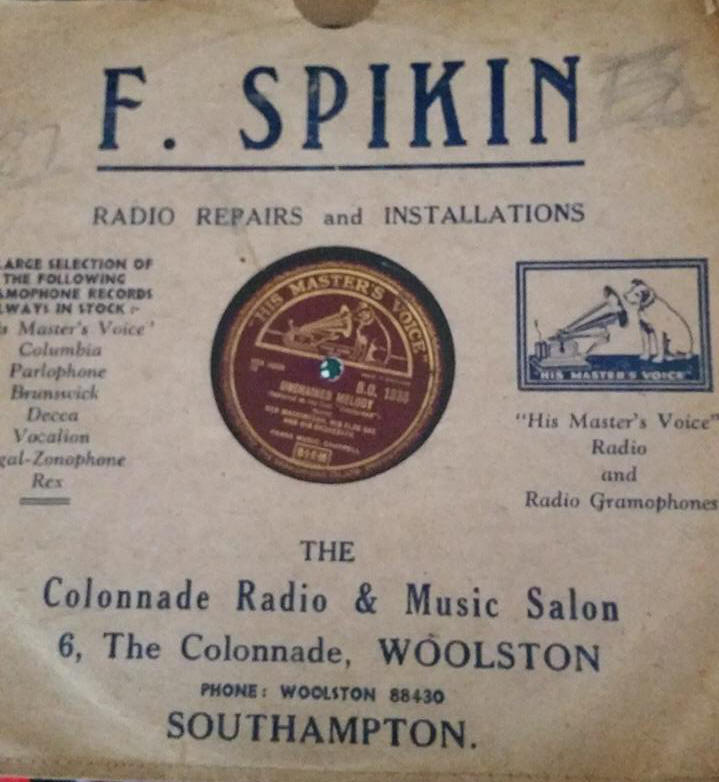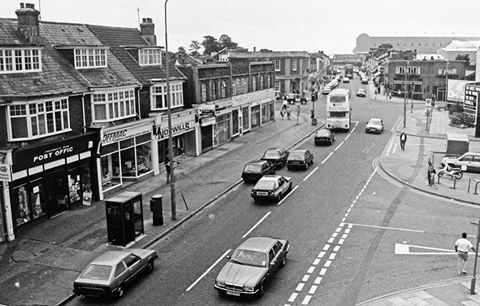 Spikin was a few doors down from the old Gas Showroom- near the two parked cars
.....................................................................................................
The first cinema to be built in Southampton was the Atherley on Shirley Road and this beautiful building is still in use, albeit as a bingo hall. During the late Fifties, many cinemas started to present live entertainment alongside their traditional film shows and naturally honed on the new sensation of skiffle bands who sprung up all over the country, inspired by Lonnie Donegan who brought this great mix of C&W, folk and Rockabilly to the fore. It was 'home grown' music and kickstarted many a future rock or pop star who found that a few guitar chords aided by a washboard and a 'tea chest' bass actually made a reasonable sound! They then were influenced by Cliff Richard and the Shadows so progressing to better instruments as well as dressing up in whichever style they followed.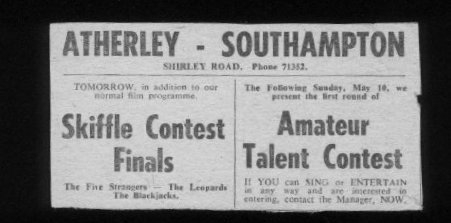 Rare advert showing the Blackjacks (Pete Broyd and co)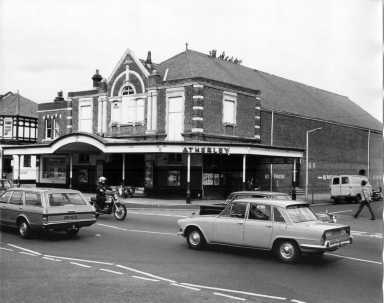 Atherley Cinema- 1970s?
Through my many contacts, I have just got in touch with Arthur Hawkins who actually managed the Atherley Cinema from 1958 to 1974 as well as other venues including Ryde on the Isle of Wight and others. I had a great chat about those early years and I was amused to find out that cinemas could benefit from a tax deduction if they staged live shows so this probably explained why many new venues sprung up as a direct result! In the near future, I will add some more information on the cinemas and here is another recent photograph supplied by Harry Rigby who has a massive collection of photographs taken in the course of his many travels with the CTA.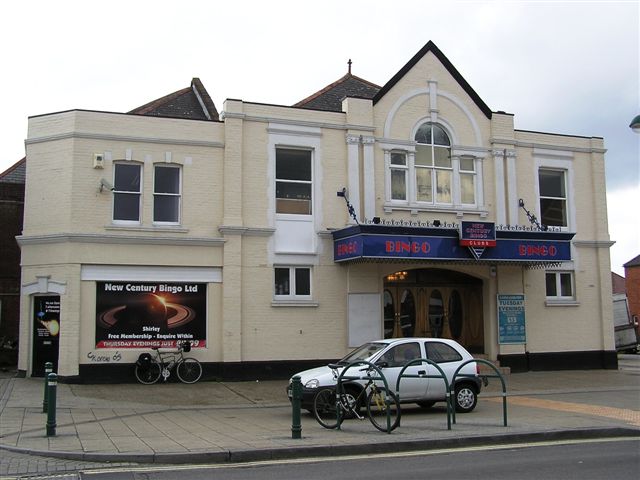 The Atherley Cinema 2006
The same bingo company used to run the Woolston Cinema
Following on from these Atherley memories, I was contacted by Adrian- the young lad who worked in the projection room at the cinema during the final years before being converted into the bingo hall in the early Seventies. He has sent me some rare old photos of the projection room and these provide a glimpse into the pre-digital age that we now take for granted. No high tech Dolby Surround systems back then but the projectionists had good equipment as well as feeding 35mm film reels into the massive projectors. Often having to repair broken film on the spot- cutting, splicing and reloading the reels whilst an unruly audience whistled, slow hand-clapped and stamped their impatient feet when faced with a blank screen! This was often the cue for a (usually attractive) young lady with the ice cream tray to hurry out to the front, thus ensuring extra sales and a pleasant diversion for the lads! Adrian worked around the clock- mostly on his own and duties included other maintenance, repairs around the auditorium. He often had to jump on a bus in between reel changeovers and dash off to other cinemas to borrow equipment, odd tools, film adhesive and all manner of items needed to keep the projectors whirring away. All part of the fun and you can tell that he loved this job with a passion, so has many great memories of his own, so nice to share them with other cinema buffs.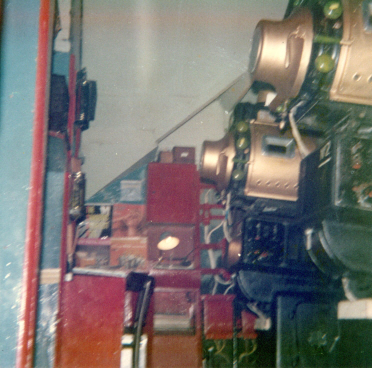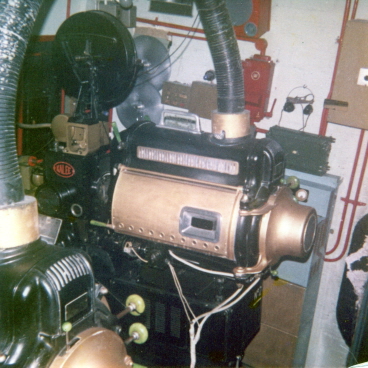 Taken from entrance to projection room Two main projectors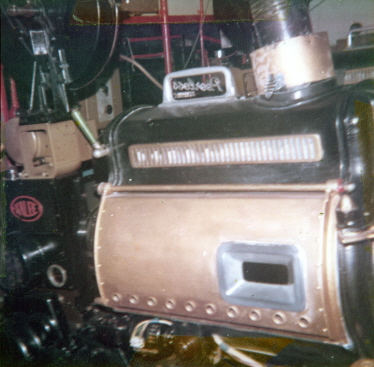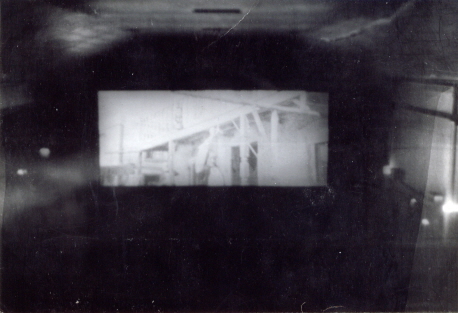 Projector Taken from projection room via porthole
Movie? Maybe 'A Few Dollars More'
Adrian tells me that these were Kalee Projectors (Kalee 12- 60 amp?) with Peerless arc lamps which produced the beams by burning carbons- positive and negative. As you can imagine-these projection rooms were very hot places to work in, plus he recalls having to clean the rear reflecting mirrors by scraping a penny over the blackened surface!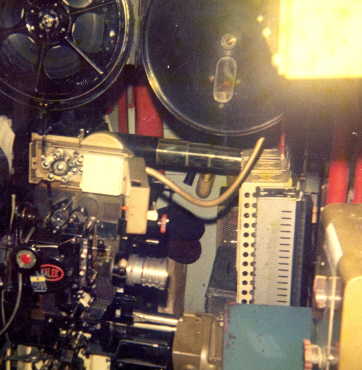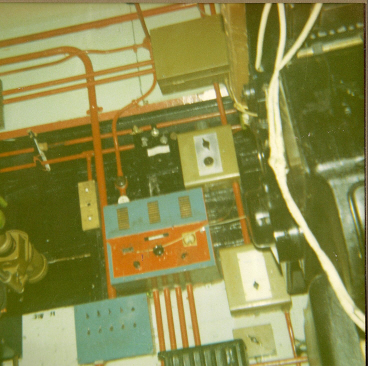 The Atherley Cinema was the first Southampton theatre to have the new 'Cinemascope' wide-screen format as well as stereo sound-the above image shows the pre-amp, which then fed the main amp. A large central speaker was behind the cinema screen with smaller speakers on the sides so that the audience could get the feeling that they were right inside the onscreen action! They used anamorphic lenses and split soundtracks on the actual 35mm film to convey this new experience to the movie audiences and it was very successful for many years.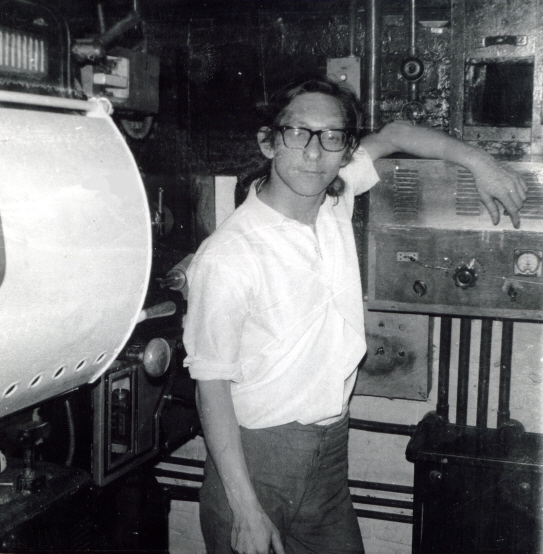 Adrian- trainee projectionist-early days!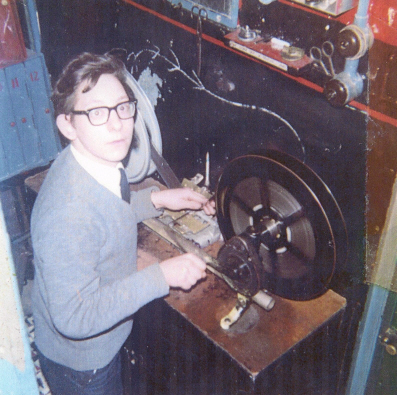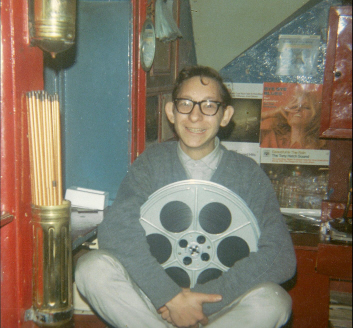 The reel-winding room-each one being 20 minutes of film so needing 5 changes per feature length movie. The two projectors having to be in perfect synch on each transfer so that the public would not (hopefully) notice the split second move! Note a very proud young projectionist plus LPs on the wall (background music for breaks etc) Usually of the 'easy listening' variety and I can just make out the 'girly' LP of 'Bye Bye Blues' with the 'Tony Hatch' album underneath.
You can see the carbon rods on the left, in the brass holder that would be at the core of the high energy beam of an arc lamp.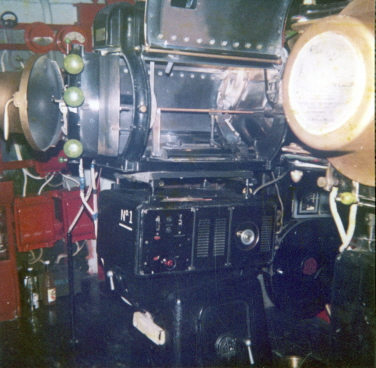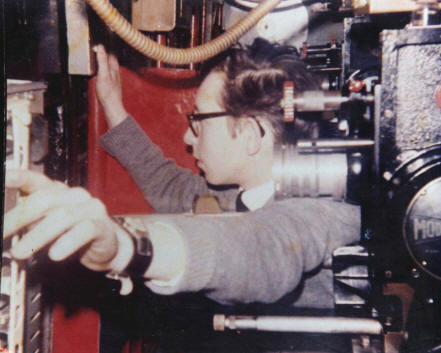 Open projector- shows arc lamp, mirror and carbon rod 1974 -The final screening at the Atherley Cinema- a tear in the eye....
"Cue title....."
THE LAST PICTURE SHOW
The final nostalgic photo shows Adrian closing the curtains, switching the coloured red footlights on as well as slowly bringing up the main house lights for the very last time. A record was playing in the background and the last cinema goers slowly filed out, probably feeling very sad as another piece of history ebbed away. Likewise, a very poignant moment for Adrian who loved his job, as you can tell by the images above- he has great memories of those cinema days that were eventually overshadowed by television and the dreaded bingo invasion. Adrian also recalled how he signalled the fish and chip opposite the Atherley Cinema when finishing the night. He opened the projector and used a small mirror to bounce the strong light from the arc lamp through the open window across the main road- this then ensured a piping hot supper as Adrian left the cinema each time! These types of lamps were also used in WW2 searchlights as the German bombers made regular attacks on the Southampton Docks and city due to its strategic importance as a main port.
My thanks to Adrian, who happens to be a cousin of Graham Sherrin of 'Poky'- the terrific group who appeared at the Concorde 'Back To The Sixties' show in September 2011. See the Site Map for a report on this great night.
.....................................................................................................
Portsmouth Road Woolston brings you to another long established music pub The Swan and they have been featuring bands for many years and well worth a visit. Another biker-friendly pub but everybody is made welcome as they cram in to hear some great rock bands in the main bar which does have a good atmosphere.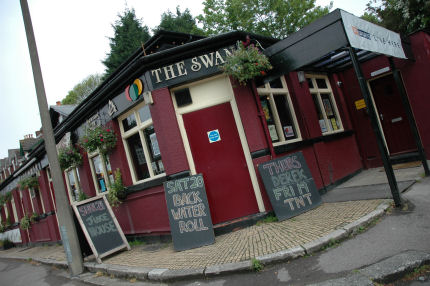 Photograph courtesy The Swan - it looks like this when you've had a few!!
The Swan - click on the image for pub's website
.....................................................................................................
All those years ago, as a young lad in the Fifties it seemed quite a long journey 'across town' and we often walked a few miles to visit various dance halls with my elders starting out with crossing the river on the much missed Floating Bridges which only took a few minutes with bracing sea air plus views of the old Docks with ships moored to capacity. We then walked along the dock walls in Canute Road, named after the king who tried to control the incoming tide according to legend. Just by the old main gate stands Canute Chambers which back in Edwardian times contained the offices of the White Star Shipping Company, the scene of much sadness a few years before. On a dreadful day in April 1912 the streets were crowded with anxious relatives of Titanic crew and passengers as news of the terrible loss at sea came filtering through on the wires. This poignant memorial can be seen on the wall outside and many local homes were left with the loss of family and neighbours alike as many crew members sailed on the the ill fated ship just a few days before. In fact, one of the poor souls lost at sea lived at a house opposite my own in Woolston and many areas of the old town suffered a loss and especially in the poorer parts such as Chapel close to the dock area.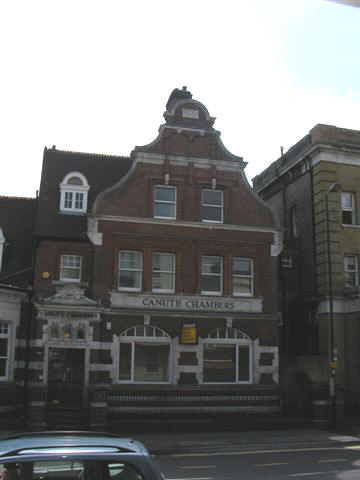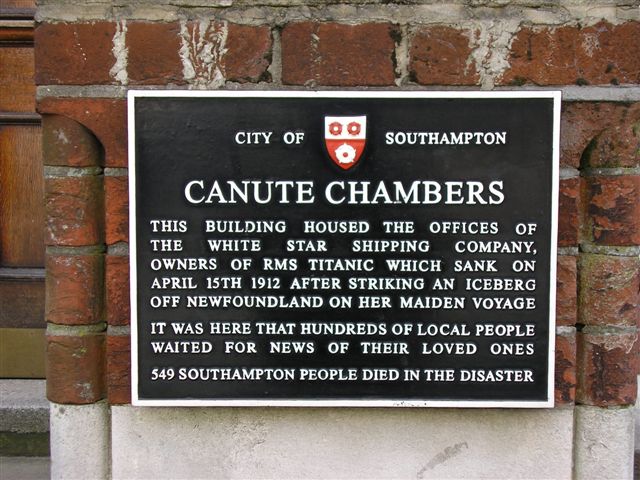 Canute Chambers Canute Road The wall plaque
Just a few yards along the way you can still see the majestic old building that once housed the luxurious South Western Hotel adjacent to the old Southampton Terminus railway station that transported passengers to other parts of the country but mostly to London some eighty miles to the north east of the old town. This building can be seen in the background of the opening scenes of the Titanic movie of 1997 where 'Rose' (Kate Winslett) alights from her motor car and views the massive ship for the first time - she compares it to the old Mauretania and older Southampton people will have fond memories of the later ship with the same name. This building now houses luxury flats, offices, restaurant and a casino nearby in the old railway station buildings all of which still retain a dignified air of luxury that whisks the imagination back to Edwardian times.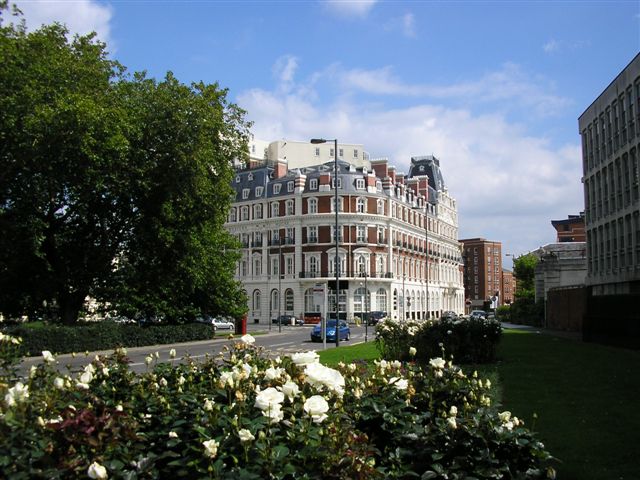 The old South Western Hotel building viewed from Dock Gate 4
Still linked to the Titanic story- in nearby Oxford Street stands one of Southampton's oldest pubs- The Grapes and this watering hole has been used for many years as the last chance of a good drink for thousands of crew members before rushing and dashing to catch whichever ship they were signed up for. There were probably quite a few excited merchant seamen downing a few beers on that fateful day of April 10th 1912 and there are stories of six of them missing the noon sailing just across the way. Many websites can be found on this tragic story and far too many for me to suggest so I recommend you do some searching to find the most popular ones. If you call in for a drink at the Grapes - don't ask for 'more ice'.......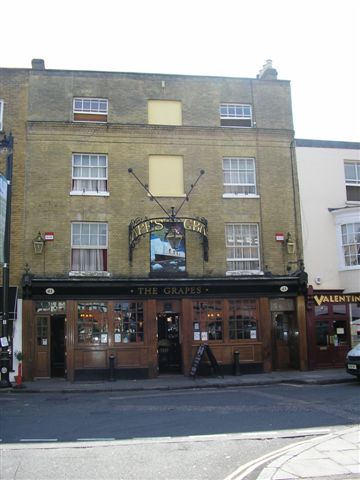 The Grapes Oxford Street
The docks are still a working area and quite restricted although visitors can walk through dock gate 4 (see above picture) and read the memorial plate that stands just inside by the security gate and here it is: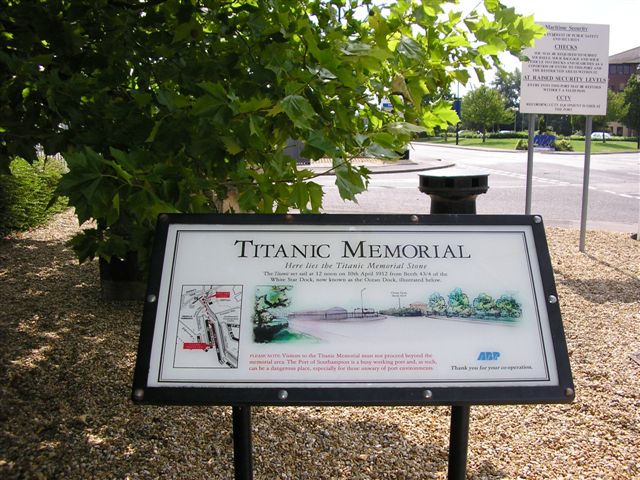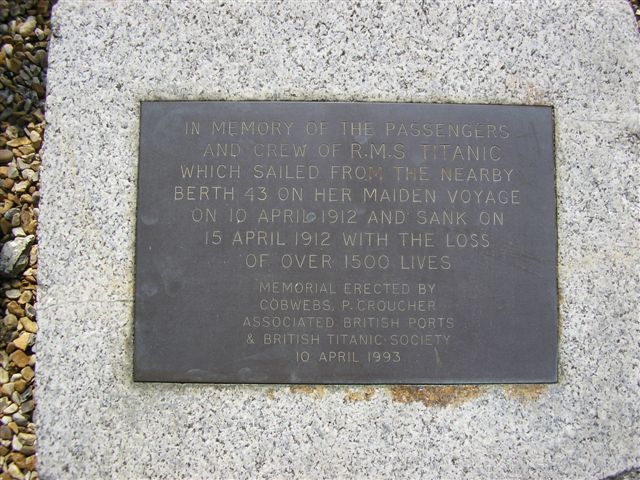 Titanic Memorial close to the actual berths (43/44) from which she sailed
.....................................................................................................
My favourite venue was the old Royal Pier Pavilion, where I first got a taste of the spotlight as a ten year rock n roll singer and you can read all about this on my other pages. Just go to my sitemap and follow the links for a couple of pages about the Pier as well as my Biography and Call Up The Groups pages. Only the Victorian entry hall to the Royal Pier stands as a memory to its golden years although there is always talk of seeing it reopen as a restaurant, bar or even a casino. The Royal Pier's golden years bring back memories of fake palm trees around the sides of the ballroom with spotlit mirrored ceiling balls throwing thousands of glittering stars around the dance floor. The girls often got their stiletto heels stuck in the wooden decking that ran the length of the pier walkway and another hazard was missing the last bus, followed by a long walk home! In the mid Sixties the pier disco would cost you one shilling and sixpence (7p) and the The Mecca was also the setting for glittering events, like the local area heats of the Miss England competition or the Lovely Legs contest and much more. If you walk out of the Pier entrance, you can look left to see the New Docks which is now a very busy cruise terminal as this form of leisure grows in popularity. It takes me back to the same hectic times when the docks were always full of ships, which meant a very busy time for local pubs and clubs and it has created a new boom for Southampton. January 2010 saw me back at the Royal Pier for the first live show back at the venue for some thirty years along with Johnny Dymond and you can read all about this on other webpages via Site Map (see Kuti etc)
Royal Pier entrance hall
.....................................................................................................
Opposite the Town Quay lies the Platform Tavern which has featured live music for many years and mostly blues/jazz style - just click on this image below for the pub's own website: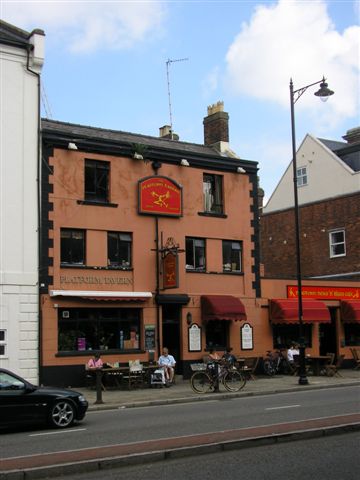 The Platform Tavern
Across from the Pier you can walk a few hundred yards up Bugle Street towards St Michael's Square you come across Southampton's oldest old church that stands opposite the fantastic Tudor House Museum. Tucked in an alleyway was the well known Silhouette Nightclub run by Brian 'Kiwi' Adamson and featured live entertainment featuring many Sixties stars plus a casino and much more after hours! Other prominent pubs were the infamous Horse and Groom in East Street with the narrow Canal Walk running alongside to the Lord Roberts (gay) pub - one passed a convenient shop known as Stanleys Surgical Supplies which also sold much needed 'items' for a night out in this racy part of town! The Horse and Groom was a traditional 'red light' pub and featured a massive moth-eaten stuffed bear in one of the bars - not the only thing that was regularly 'stuffed' in that vicinity! Just a few hundred yards up East Street took you to the Bargate pub which stood next to the old town gateway that personifies Southampton - now a fast food outlet, with the Gattis bar a few doors down. Across the road and down some steps took you to the very popular Checkpoint Cafe, always full of people enjoying this traditional coffee bar and great jukebox.
St Michaels' Church lies across the square from Tudor House- a magnificent museum dating back to the Middle Ages and on one side of it is a narrow alleyway leading to Castle Way- the inner Ring Road that leads up to the Civic Centre. Back in the Sixties, you could have paid a visit to the well known Silhouette Club which was run by one of Southampton's best known characters- Brian 'Kiwi' Adamson. His amazing story can be found on my new webpage at:
www.davidstjohn.co.uk/kiwi.html
Plus book published 2019- see www.davidstjohhn.co.uk/author.html
Literally a 'rags to riches' story of how Brian left his native home of New Zealand and worked his way up from menial jobs, including washing dishes on various ships, before scraping up a few hundred pounds to launch his casino and nightclub. Within a few years, Brian was sailing on many a great liner as a first class passenger, eating caviare and drinking champagne off similar dishes that he would have been washing in the early days.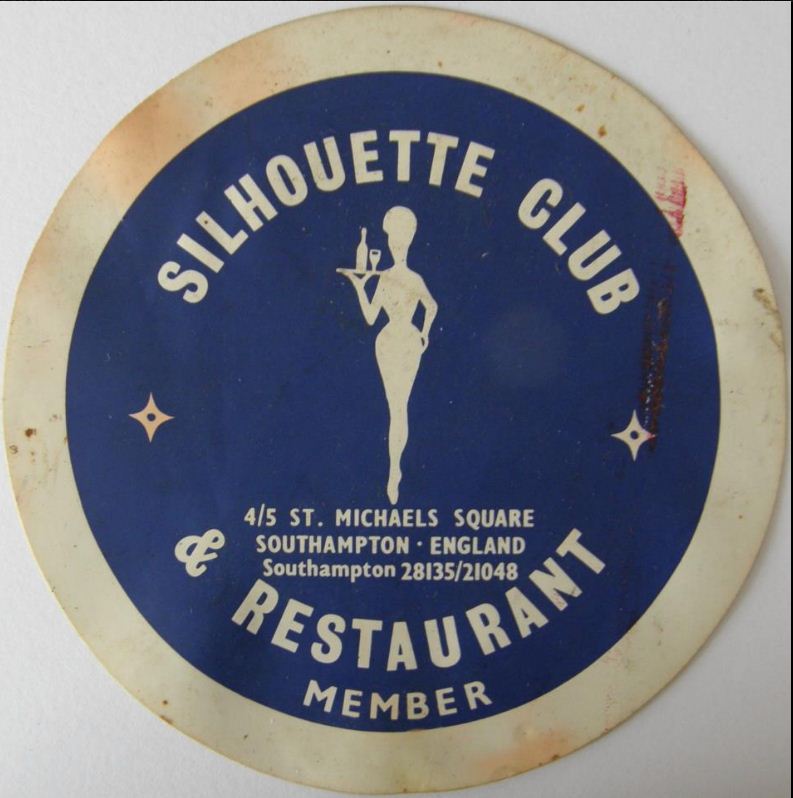 Silhouette beermat!
Also, not far from this area stood a well known restaurant and run by another great character 'German Edie'. Once again, I am indebted to Johnny Dymond- Southampton's top DJ during the Sixties and later years, who has reminded me about this long gone diner where many a local band or DJ would pop in for food and drink plus loads of laughs. This is John's e-mail that tells some of the tale:
Another well-known character was the fabulous 'German Edie' and her restaurant run by herself and her partner Jules. As you know we all used to take 'first-timers' there for either 'homosexual chicken or steak' (her words), not telling them of course that she would promptly snip their ties off and pin them to the wall with hundreds of others.
She would then get them to include her when they bought a round of drinks, and drink hers from either a bedpan or a urinal bottle. Also she would 'do a full medical' on them with her stethoscope or pretend to threaten them with a cleaver and cut their bits off!!
There will never be another Edie! We remained friends for the rest of her life, but unfortunately she was taken by Cancer
R.I.P Edie
Johnny Dymond

In fact, the Checkpoint was owned by a Mrs Leigh Bicknell - the wife of local businessman Reg Bicknell and I worked for him around 1965/66 as a service engineer at Revis Automatics (amusement machines) on the corner of Hill Lane and Commercial Road not far from the main railway station. I used to fix jukeboxes, one armed bandits, pintables etc and would often accompany Reg in his Ferrari to go and fix some machine! He had gained some fame in motor racing during the Fifties and co-designed the Revis racing car which he drove round Brands Hatch and many more legendary courses. Great character and bit of a playboy back then, living in a beautiful house in Chilworth - he also owned Revis Autos just up the road in Hill lane and one of the first Skoda franchises in the UK. Although I only worked from 1964 to 1972 before entering full time showbusiness - Reg Bicknell (the 'Silver Fox')was my favourite boss and was a very funny guy but with a sharp business brain plus an eye for the ladies too! The Bicknells also ran the Adam and Eve club in Spa Road at the back of the old Echo office that stood in Above Bar. This featured many top bands and a few of my old groups used to play there too. Some will recall Leigh driving around in a classic Facel Vega- one of Reg's special cars! She stood no nonsense at the Checkpoint or Adam & Eve but well respected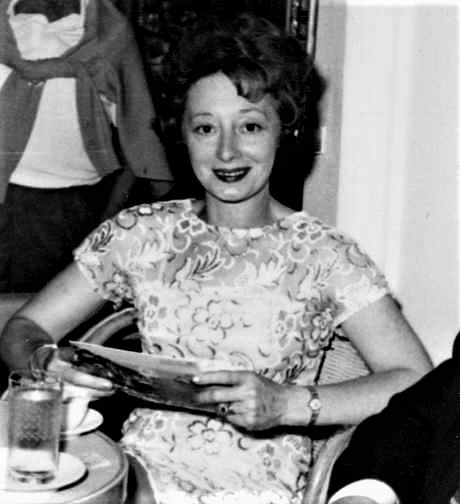 Leigh Bicknell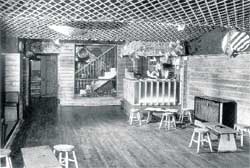 Adam & Eve Club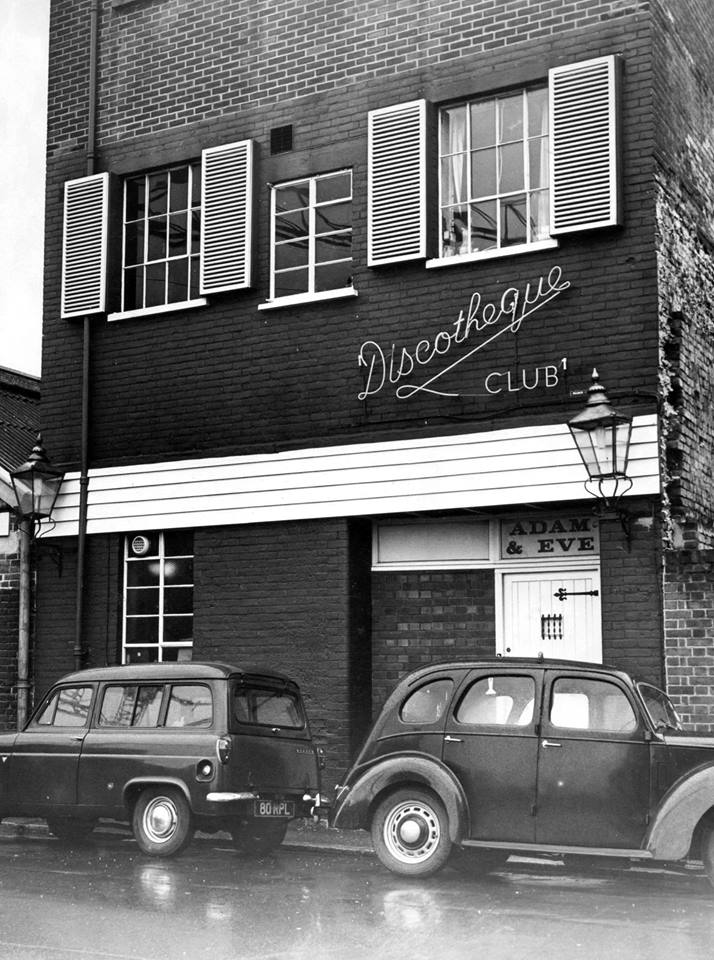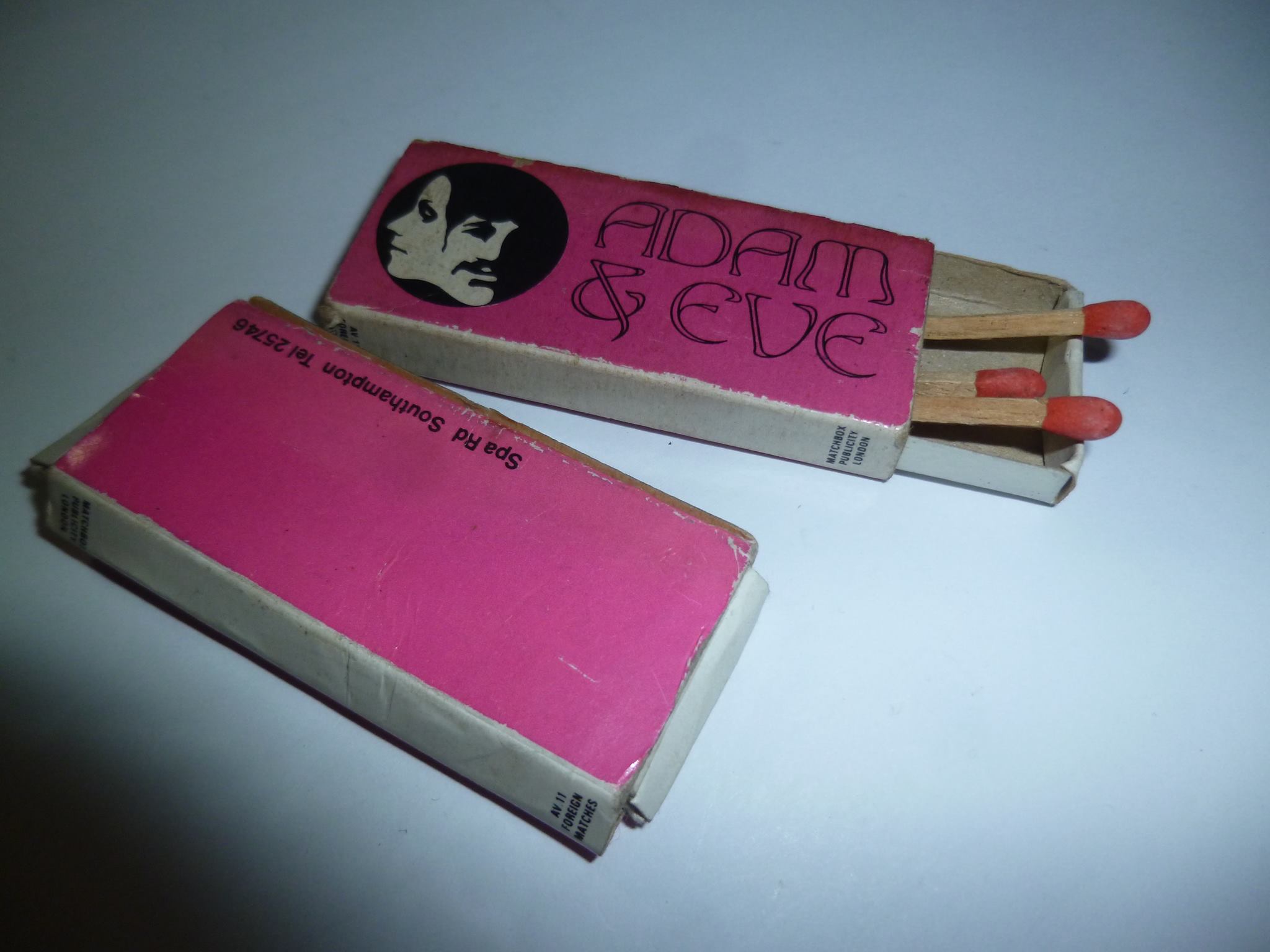 The Adam & Eve Club also featured a great lady DJ in the (gorgeous) shape of Carole Hamilton-linked to the Hamilton Electronics Shop in London Road which also had a recording studio. Carole later 'spun the platters' at Fridays Club and other local venues, playing great soul, Tamla Motown and other great music. She has recently come out of 'retirement' and staged A&E Reunion Shows at the Concorde Club and elsewhere so best look out for any of these if you still live in the area. A couple of her 60s publicity shots: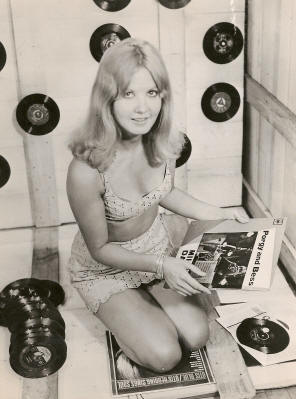 Carole Hamilton Cole Mathieson (Concorde) 'Roman Night'
March 2010 E-mail from Paul Brixey:
Hi David,

Just come across your website and it brought back some very happy memories, especially regarding the Adam & Eve nightclub and Henry's Records. I was actually the DJ on the very last night at the Adam and Eve and it came as quite a shock when the woman who owned it called us all together at the end of the night to say it was closing. We had a wonderful Sunday afternoon at her house finishing off the booze a week or so later but I've always wondered what happened to all the records! All I can remember about her house was the parquet floor which I had never seen before and probably bored my parents senseless talking about it.

My memories of Henry's Records are also quite vivid as they tried to prise me away from HMV where I worked in the store in the Bargate at that time. I used to get on very well with John Clare, both as a customer and friend and every so often I would buy the records for the Adam and Eve from there as well.

I went on to work for HMV in various positions for 30 years and travelled the world with them but it all started in Southampton in the heady days of 1972 so I've got many memories of vinyl, 8 tracks, open reel tape, cassettes, CD's etc.........

Thanks for bringing it all back.

Regards,

Paul
P.S. Never saw a mention of the Birds and Bees night club opposite the Bargate. I worked there as well and got reprimanded for using the strobe light too much and almost blinding the girl on the bar downstairs.

October 2008:
I was contacted by Brian Trew one of Reg Bicknell's early pals from his racing days back in the Fifties who has sent me this rare photograph below. Brian worked for Reg from 1950-52 when he joined the Fleet Air Arm and mostly worked nights on keeping the chassis bright and rust free! The fledgling Revis workshop was by the side of an old transport cafe on the Bursledon Road and Brian seems to recall a Ted Headland helping Reg at that time
Brian was the first person to sit in the car with the engine running for the first time as the vehicle was jacked up then started by spinning the wheels in gear- Brian then had to declutch it when the engine roared into life! I was also contacted by a Geoff Kimber who recalls helping out in cleaning the garage plus naturally sitting in the classic Revis.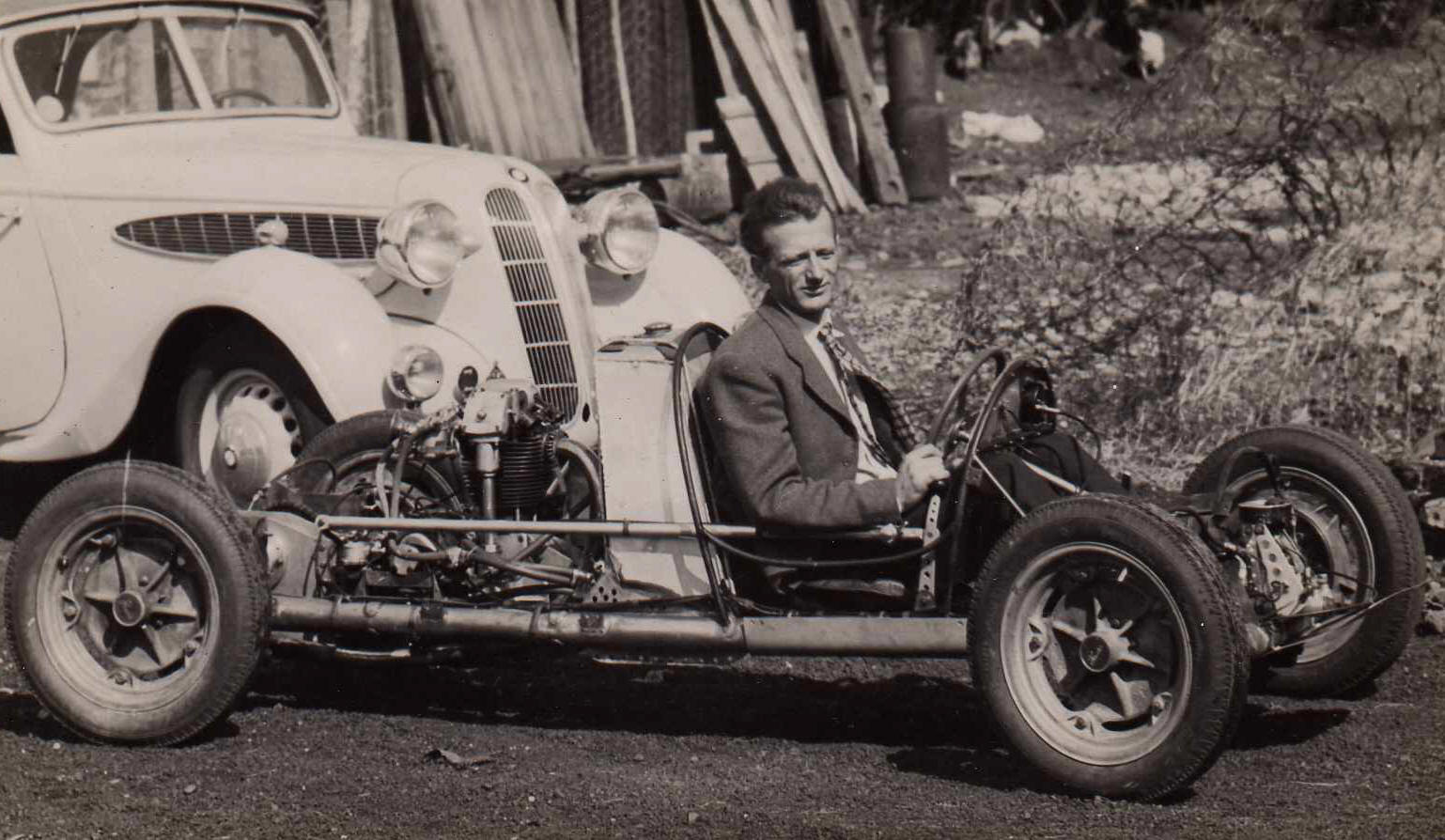 A young Reg Bicknell at the wheel of his first Revis racing car prototype 1951
The beautiful car behind is a 1939 Fraser Nash BMW which Reg had bought, repainted cream and the soft top was renewed in dark red. Brian recalls that it had a separate foot pedal which lubricated the engine - can you imagine what it would fetch these days? Reg developed the Revis racing car with John Habin who also built a 500cc car called the Star Ride in between running a taxi firm and you can read about his successes at: www.500race.org/Marques/revis.htm
Also - click on 'Men' then 'Reg Bicknell' to read more about this great character.
Brian now lives in New Zealand and has fond memories of Reg, especially when hearing how he built up his business empire with a beautiful house in one of of Southampton's most sought after areas. He recalls the early days when the Bicknells lived in a grotty little caravan on the car yard and the toilet facilities were in the blackberry bushes out the back!
2010
I received an e-mail from another enthusiast Richard Bishop-Miller who has miraculously traced an old Revis Aero 1954 model over in the USA. This rare vehicle has been shipped across and undergoing a massive renovation to restore her to former glory. I have just received this photo (November 2010) and you can read more on the 500 Race Org website as above. I have no more info on Reg Bicknell but I know that he must be beaming with pride if catching sight of this beautiful machine. Please check back for updates here or on the 500 site. http://www.500race.org/Men/Bicknell.htm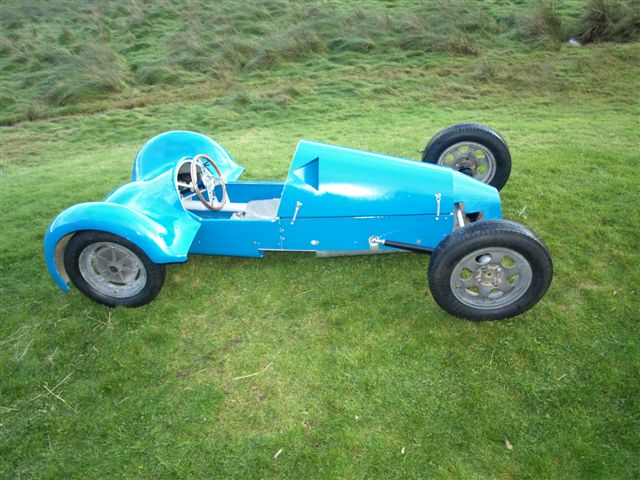 REVIS AERO 1954 RACING CAR
see: http://www.bishopmiller.co.uk/10702.html
August 2011
Yet another e-mail popped up plus a rare photo of Reg Bicknell in his glory racing days at Silverstone
Hi David
I have been looking to identify a photograph which has come into my hands and have now been able to put names to the faces. The photograph shows Don Parker and Reg Bicknell, 8th May 1953 Silverstone International Trophy – 500cc race.
This is a original print and has been interesting to read on 500cc racing which is where your name popped up. I am a enthusiast and sell photographs on Ebay but I like to find out as much information as possible before advertising Kind regards
John Spratt Alicante Spain Check out my E Bay listings at user name: 'spratt64'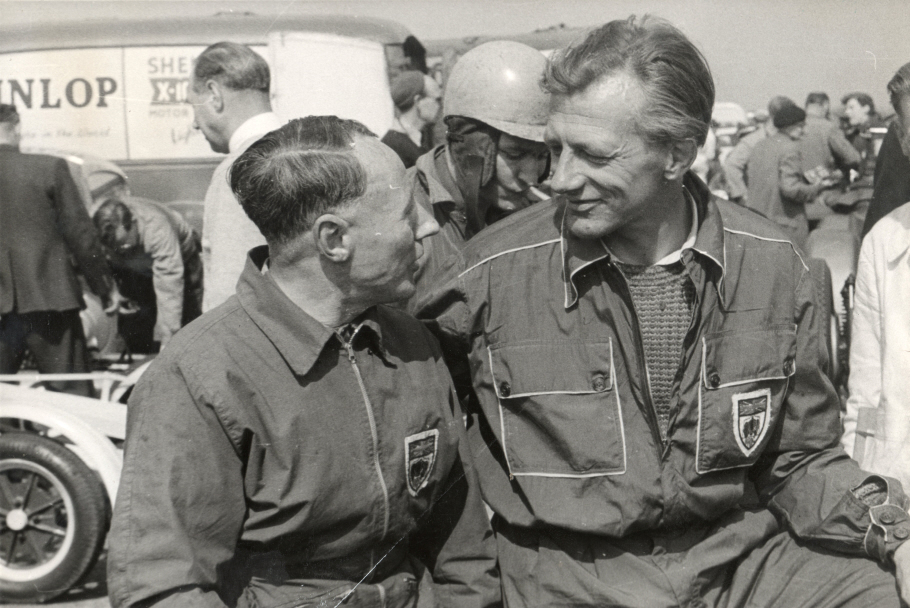 Don Parker Reg Bicknell
February 2019 More memories popped up as a result of an old friend who I worked with at Revis Automatics- part of Revis Car sales. Marion Feltham was the main secretary and p.a. to Reg Bicknell for many years and she has only learnt to use a PC. A search on Revis brought to this very page, then followed up with an email to say hi after some 40 odd years! We have had some great message and phone chats plus receiving some more old photos. Around 1970, she managed to put me in touch with a pal who bought/sold cars and Marion knew that the guy had the perfect car for me. A classic white 1963 Ford Zephyr 6, popularised by the great BBC series of Z Cars which saw the cops chasing villains all over the place. Red seats and a perfect front bench seat with column gears so plenty of room to snuggle up to my (then) current girlfriends!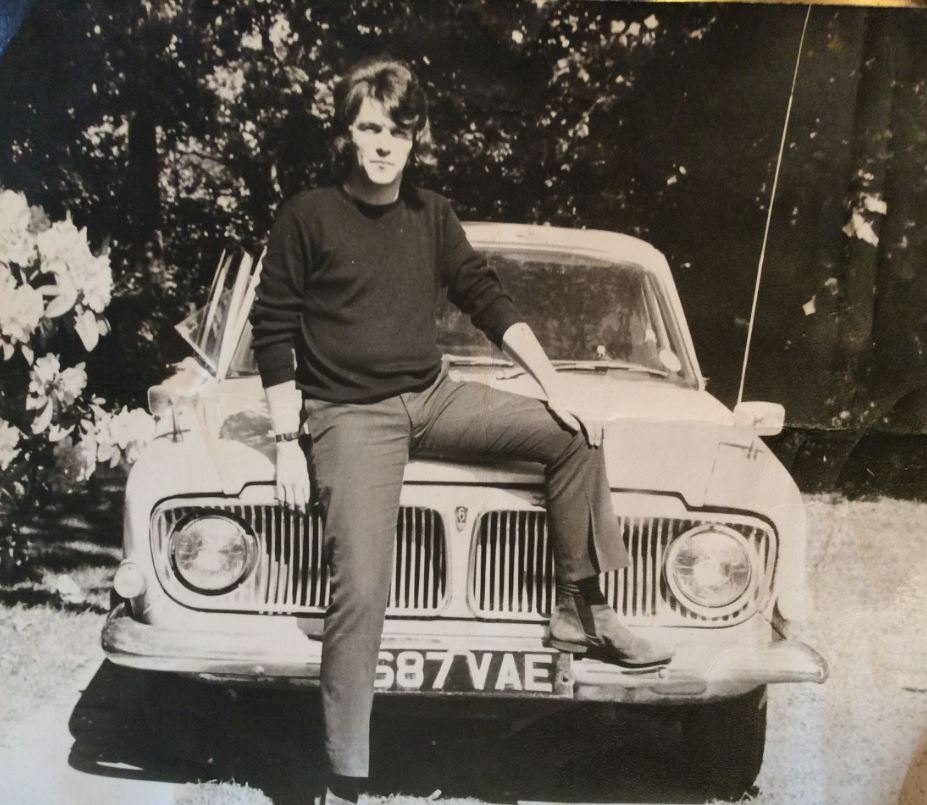 Marion also mailed a couple more rare photos of Reg in what looks like a Ferrari? I'm sure that motor racing fans will soon let me know!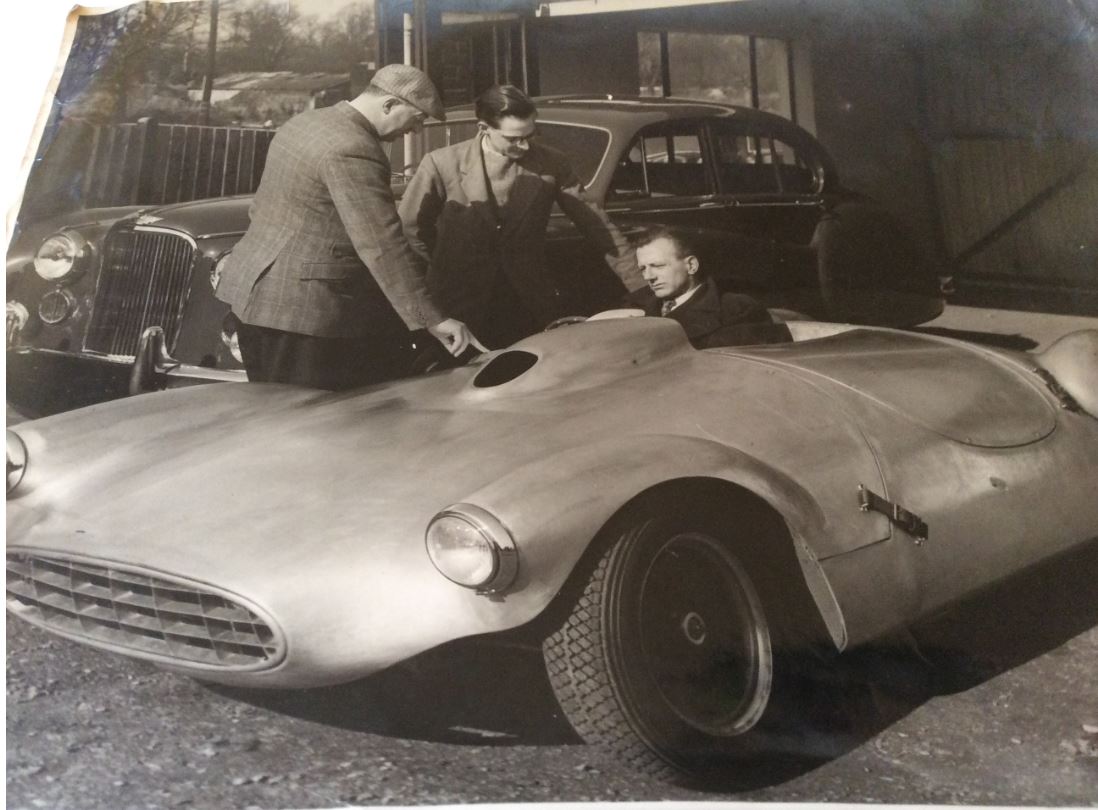 Can only imagine what this would be worth these days!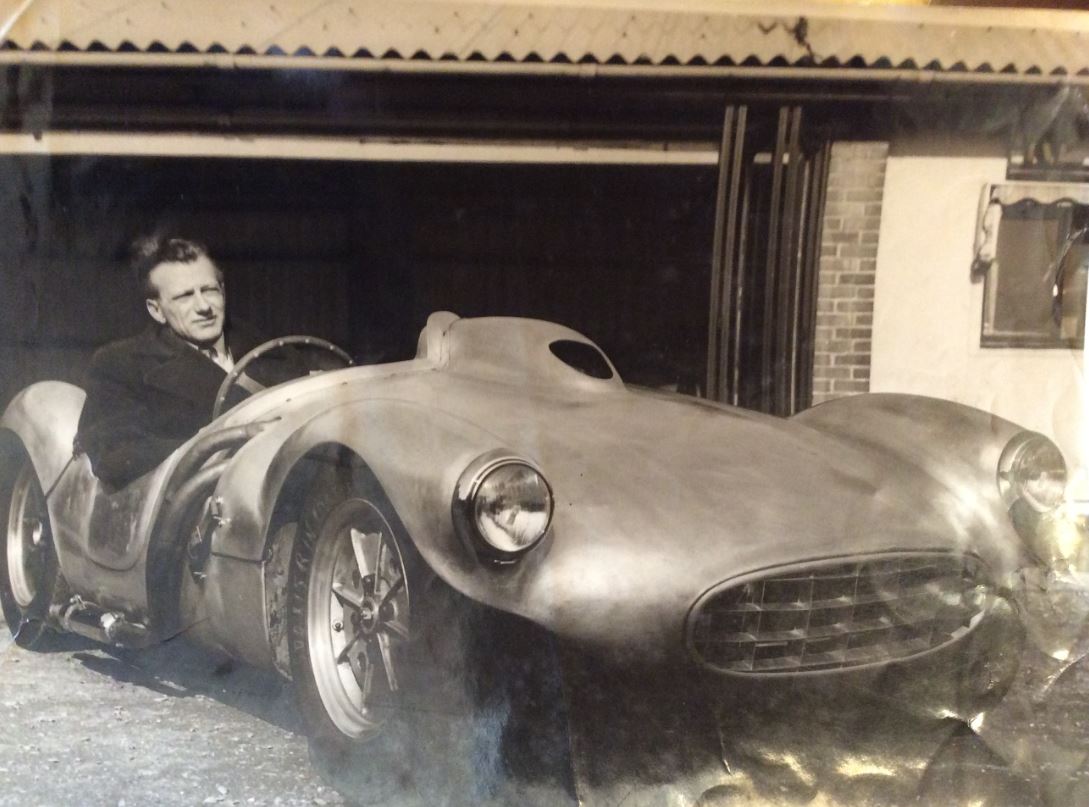 ...................................................................................................
One of the finest venues was the old Concorde Club at the old Basset Hotel in Burgess Road not far from the top of Hill Lane and facing the northwest side of the Common. Run by Cole Mathieson and featured many top bands and names in their early years and I recall watching Free in action as well as a visit by John Lee Hooker during the R&B boom of the Sixties. The early days saw such future names as Rod Stewart, Elton John, Eric Clapton, Georgie Fame, Alan Price, Acker Bilk, Long John Baldrey, Joe Cocker and many more. The club relocated to Stoneham Lane a few miles away and still is regarded as one of the UKs most respected venues - take a look at my dedicated webpage on the Concorde Club with reports of a February 2008 show which I organised! This has now been an annual event ever since, so take a look at the shows year by year.
Bassett Hotel- former Concorde Club
Just a short distance lies the Brook in Portswood Road and currently in financial difficulties with local music fans battling to keep it afloat (late 2007) There are a number of pubs that have featured live music over the years , including another top boozer - The Joiners Arms in St Mary Street which has featured many class bands since 1968 , many of which later went onto greater things including Oasis, Radiohead, Manics and many more of the later 'Indie' bands
Click on this photo below which links to their own website: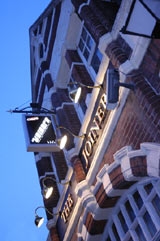 Photo courtesy Joiners
The Joiners
Just up the road from the Joiners stood Henry's Record Shop which I have written a dedicated page, so please take a look at the story of Southampton's favourite record stores to give another slant on the Sixties music scene in Southampton. Across the road at the top of St Marys Street by the railway bridge you could have gone shopping for some 'fab gear' at the Shirt King on Six Dials which stocked all the current trendy clothes throughout the Sixties. Frilly shirts, Beatle jackets and suits, Chelsea boots, then later hipsters, flares, hippy gear and much more. Many of us 60s bands used to get their stageclothes from this amazing shop as well as finding weird stuff along the antique shops in nearby Northam Road and other outlets.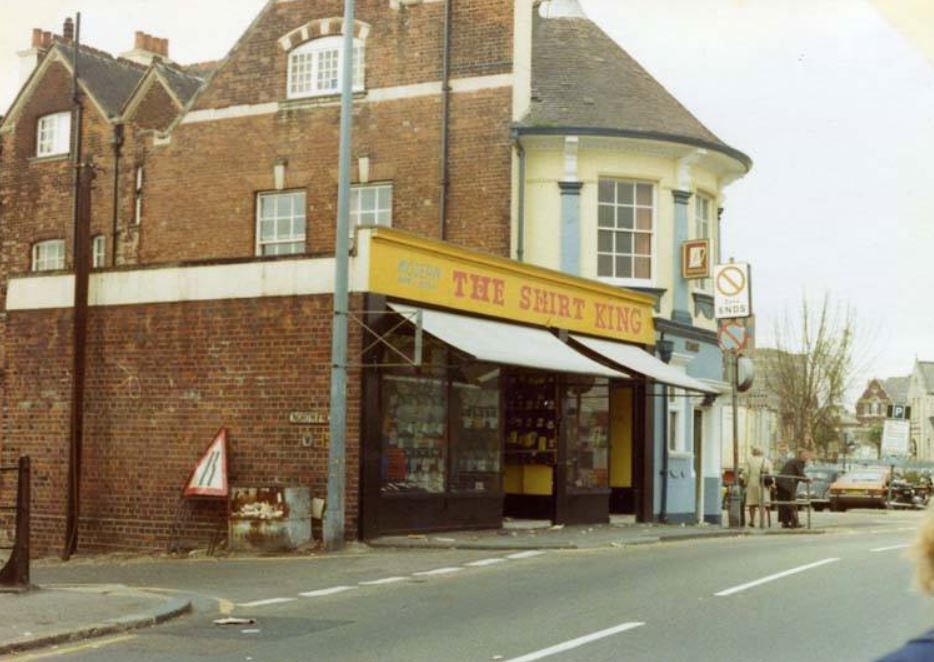 Pete Broyd reminds me of Sydney Tendler of Sydney Mans Shop which was close to Henrys Record Shop and another great place to buy trendy gear throughout the Fifties and Sixties. Sydney was a very enterprising businessman and was one of the first clothes shopkeepers who ran a lucrative line in denim jeans which were 'imported' from the USA via the local merchant seamen who worked the TransAtlantic shipping routes! Movies such as 'The Wild One' starring Marlon Brando and Lee Marvin as rival bikers influenced the new generation of teenage boys along with Westerns and cowboy films so Sydney saw the new trend and got in quick. James Dean also boosted sales as his 'Rebel Without a Cause' persona struck a chord with the youth of the time who were 'rebelling' against the old fashioned ways and not forgetting the Rock n Roll invasion that really exploded through the decade.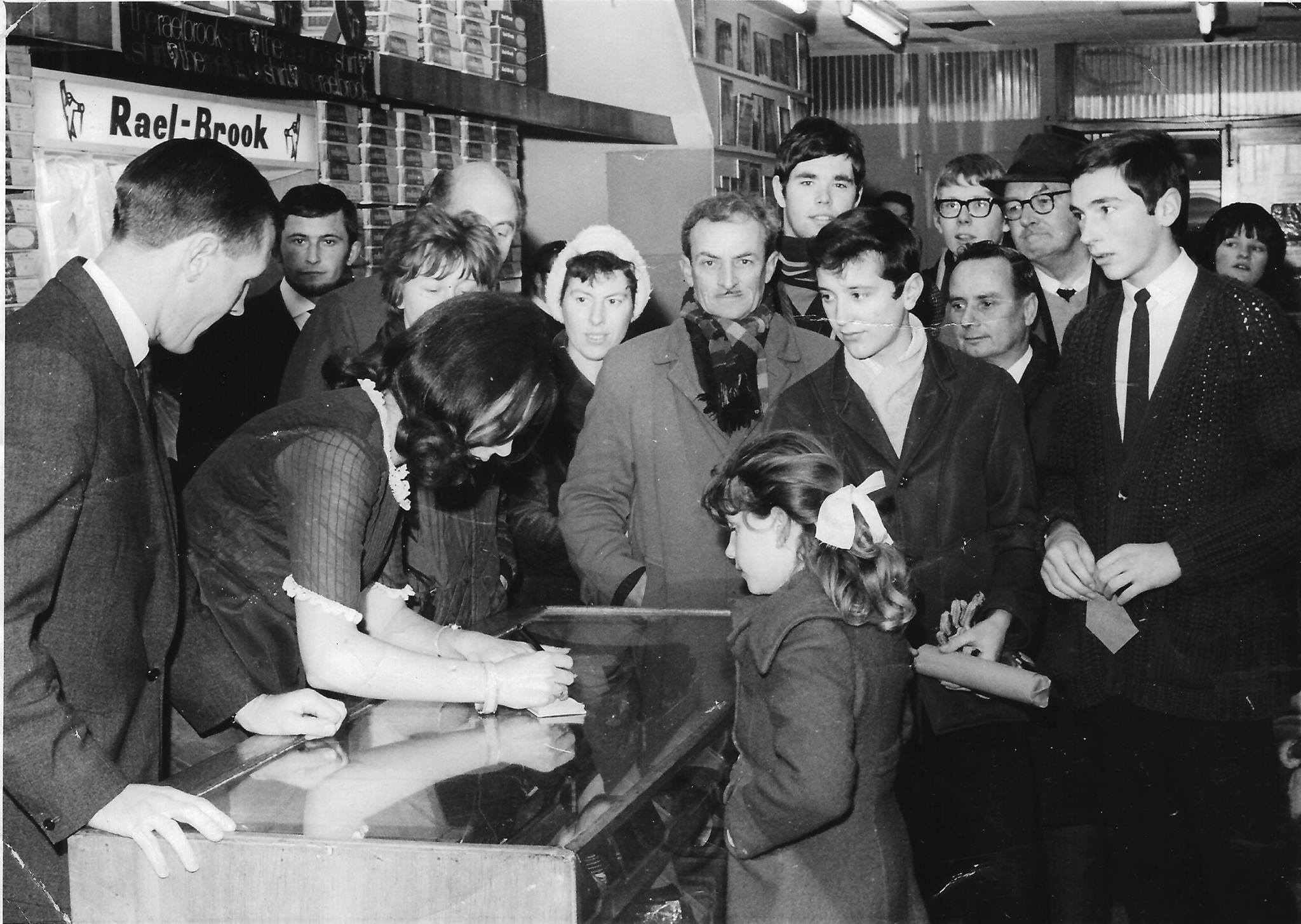 Hampshire's own Anne Sidney- Miss World 1964 promotional visit
Sydney (allegedly) sold loads of blue jeans and jackets at secret Hotel Sales and was the first person to sell these much sought after clothes. He almost clinched a deal to handle ALL denim imports into the UK but backed out as the Customs and Excise were taking a keen interest in his early merchandising methods! Sydney would have made a fortune out of this burgeoning market which is still very much in fashion to this day and I understand he died back in the Eighties but the memories of his shop lingers on amongst the many former musicians who beat a path to his shop plus the rival Shirt King up the road. See this response below:
Gerry Hayne e-mail: 13 June 08
Sydney Mans Shop - whooo! A memory all right. The manager there (who at one stage ran a branch of this amazing establishment in Winchester) was an old mate Bob Storey. He kitted out the likes of Dave Chalk, Dave Donnelly, Terry Fielder, myself and Den otherwise known as the 007's with grey jackets, black & white polka dot shirts and black strides etc. We thought we were the aces of cool - we probably looked total pillocks but it felt good and featured in the Sunday Telegraph no less after an (engineered) story was published saying that we had no-where to practise after being chucked out (well asked to leave) of some pub premises which were on the Cadnam road outside Totton where the 007's were based.
Keep up the most excellent good work David - if only I could find my old photos when in the Commancheros with Mick Bright etc, the Trogladytes with u-know-who, and of course the Star Combo at the Blue Indigo (thank you Terry) with Johnny (Tich) Watson, Colin, Mike Lewis, the late John Murfitt (formerly at the Star Club, Hamburg). Surely these really were the good old days when we old bar-stewards set going trends and music that still reverberate today?!
Turning left you would have found another much remembered music venue of the Blue Indigo Club at the Bay Tree Inn just by the city centre parks and they had some terrific local and well known national bands appearing there, which packed the place out. On a warm summer evening they had to open the large windows at the front so you'd always get a few free shows from time to time. A young Terry Rolph of Avenue Artistes used to live at this family pub and this influenced his future years as a booker/agent along with Len Canham and Bob James (see other pages) Take a diagonal walk across the park and up Pound Tree Road towards Above Bar which is the main shopping area and just above the corner shops on your right you could have enjoyed another popular dance hall of the Park Ballroom. The only downfall for any bands was the long flight of steps that had to be navigated with all the heavy gear although no comparison to modern group's set-ups! The language was appalling as we struggled up and down these stairs - especially any line-ups that featured a large cumbersome heavy Hammond organ and Lesley speaker! Soon forgotten as the Park had a great atmosphere with a proper wooden dancefloor that bounced all through the night. A few doors along the road stood the old Classic Cinema that showed rather saucy 'Continental' films and served as an 'educational' night out for many a youngster and 'dirty mac' brigade! Just across from the Park Ballroom stood the long gone Odeon Cinema and next door used to be one of the smallest pubs in town on the corner of Regent Street - the Northumberland Arms.
Walking up Above Bar you would have found the old ABC Cinema which also featured many top pop music shows and you could have enjoyed a few big names doing short sets of around 20-30 minutes and all for a few bob (say 50p in today's money) Just along the side of the ABC you found Gibbs Road, a tiny alleyway that leads to the splendid architecture of Southampton Civic Centre but housing the legendary Jim Beckett Music Shop which supplied most of the local musicians with their instruments often bought on H.P. (Hire Purchase) the old credit system! Like many young wannabe pop stars, I often gazed into the window and drooling over the latest guitars on view - I can still recall seeing classic Fenders and Gretsches that would now be worth thousands but bought for a few quid back then. I also know so many guitarists who sold off these instruments when strapped for cash (a regular occurrence) all those years ago and still shed a tear over the loss of a dear friend. Jim Beckett Music Shop dates back to 1936 and moved to its current premises in Commercial Road near the Mayflower (ex Gaumont) Theatre with a Jim Beckett descendant of the same family still keeping shop after some eighty years.
Part of the Civic Centre incorporates its classical fronted building of the Guildhall which has featured a massive variety of shows over the years and was a prestige venue for us local bands. Its Greek columns of the front entrance leads into a massive theatre style hall and was the scene of the much loved Mod Balls of the mid Sixties, promoted by Bob James and Len Canham of Avenue Artistes. They made a small fortune out of these popular shows, as the bands were not paid that much but were just grateful to play on the large stage with massive dressing rooms to the rear - it was a taste of the 'big time' for us all. I also loved going to concerts at the Guildhall and recall an amazing Rolling Stones show around 1965 as well as seeing the legendary Jimi Hendrix around 1968. In fact, as security was fairly lax back then, I managed to sneak along the corridors and ended up pressing my face against a locked glass door as Jimi strolled out from backstage with Mitch Mitchell and Noel Redding - I waved to the Rock God and he shyly smiled and waved back before climbing the stairs and onto the stage where he belted out the most amazing sounds with his gimmicks and showmanship. I was also lucky to have seen him at the 1970 Isle of Wight Festival just a few short weeks before his untimely death as well as an early pop package show in 1967 when 'Hey Joe' was released although it was strange to see him billed alongside the Walker Brothers and Cat Stevens! If you take a look at my page on The Move you can read about the time I took some Guildhall backstage photographs of this amazing group as well as scraping up a quick support band as one of the groups didn't turn up.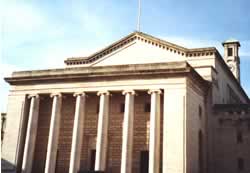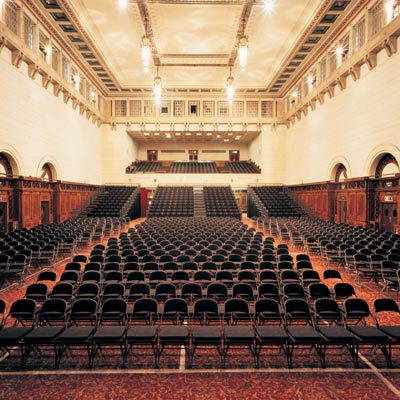 The Guildhall entrance Interior (seating style)
On the other side of the Civic Centre, across from the clock tower stood the old Marlands Hall - a rather old fashioned ballroom but another firm favourite for teen dances with the main Southampton Railway station just a few yards away so that fans could come from all over the place to jive away to their favourites. This area was also well known for the late night burger vans that fed many a hungry band on their way home from any show or just passing through - we often met up with old mates to swap stories about the night's show and have a few more laughs into the early hours. The old Gaumont Theatre (now Mayflower) stands in Commercial Road and I saw so many big stars there, including two early visits by the Beatles in 1963 and I still have a programme from one show (will find it in loft soon and upload) I had to queue overnight to grab the precious tickets which were 10/6d (about 52p) and my dear mum even took my place for a few hours, bless her! The show was electrifying and you could hardly hear the Beatles playing above the nonstop screaming throughout their set - maybe 30 minutes in those package show days. I was only a few rows from the stage and noticed he very basic set-up being the usual Vox AC30 watt amplifiers with a T60 bass for Paul - the vocals just going through the inadequate house system unlike the massive rigs and mixing desks of today's musical shows! Like so many youngsters, it gave me a boost of inspiration as well wanting to copy them as they inspired a new generation of musicians that ushered in the Sixties Beat Boom. Here is a photo of the band relaxing in the auditorium well before thousands of screaming fans were let through the doors - I think John was in my seat!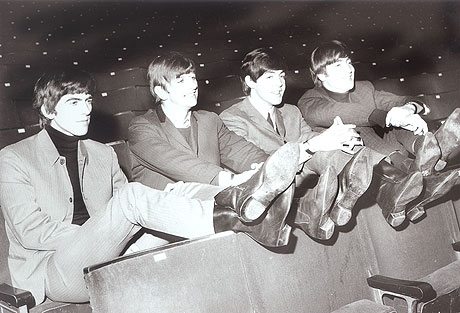 Pre show photograph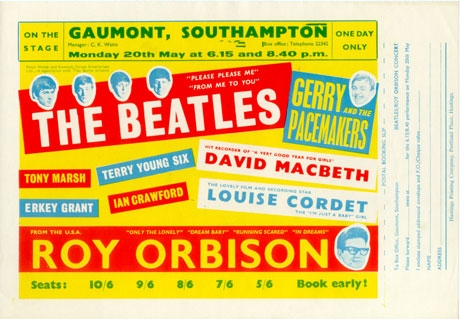 The Beatles Show 1963 - seats from 27p to 57p in today's money - plus Roy Orbison!!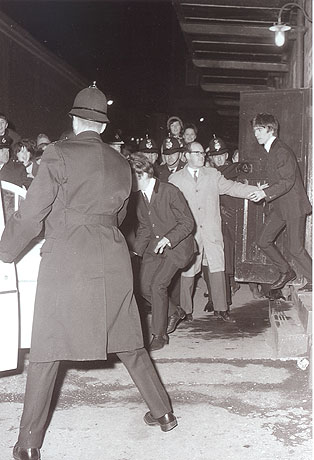 The getaway!
They were a good old rock cover band who had paid their dues in Hamburg and all over the UK plus finding their way in legendary songwriting that hardly needs any explanation. One of the quaint ceremonies was playing the National Anthem at the end of every show, in which people were expected to stand up and endure for a short display of allegiance to the crown - this was also used as a brief chance to bundle the Beatles offstage into waiting cars, vans or whatever disguised transport was used to provide a getaway before the screaming fans climbed all over the vehicles and even lay down in front! This heralded in a new word of Beatlemania and it's hard to describe these exciting times as fans just wanted to catch a glimpse or even touch their idols, let alone rip clothes or strands of hair from them! The Gaumont also featured the much loved Saturday morning kids' matinee shows featuring old movies, serials and cartoons that had us shouting at the screen as well as local bands playing on the massive stage. Similar live shows were staged at the Atherley Cinema in Lower Shirley but these were not as successful as the massive Gaumont about a mile away.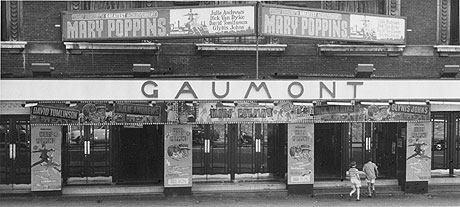 The Gaumont - early Sixties
I also have family in Liverpool and this photo was taken outside the ORIGINAL Cavern Club!
It was under Kelly's warehouse at 8-10 Matthew Street and I popped down to the empty club to soak up the atmosphere- phew.....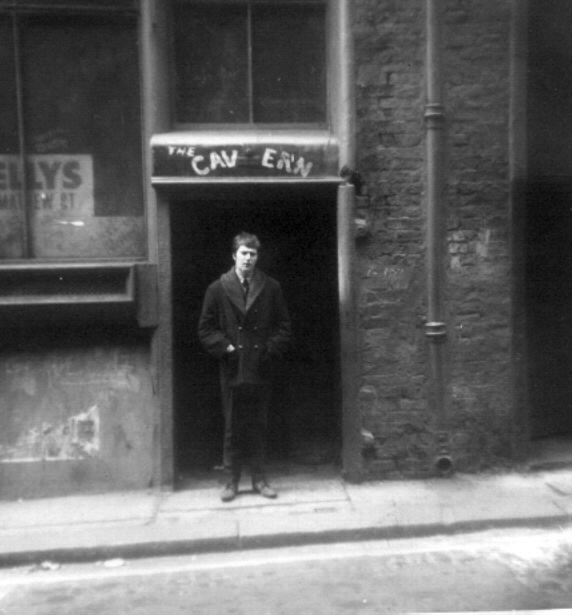 The shrine - Maybe 1965 - there was a sign above saying
"The Beatles played here 292 times" The old club was demolished to make way for a carpark but was rebuilt a few doors away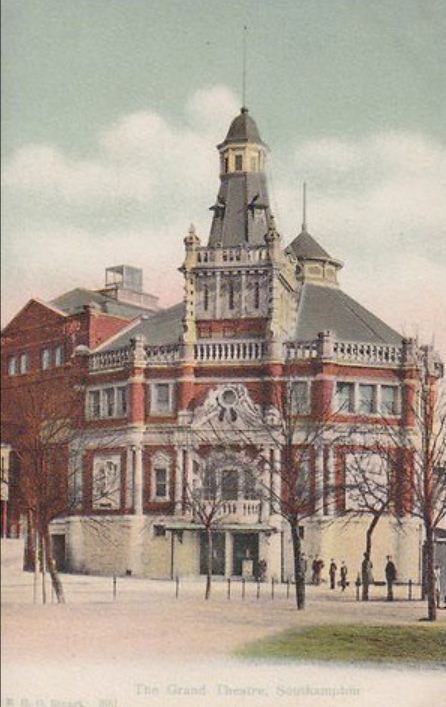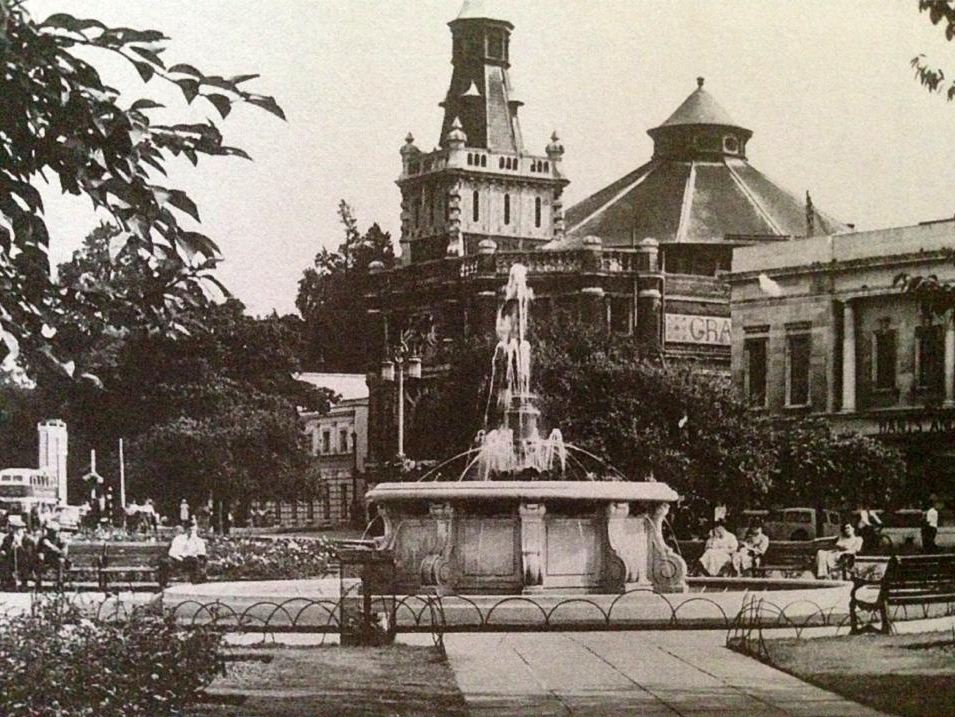 The Grand Theatre and old Rose Garden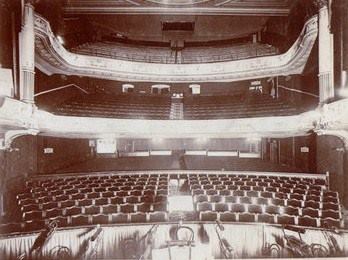 The Grand Theatre was a major variety venue and sadly demolished in the late Fifties, which stood next to the old bus station with the famous 'Plested Pie Shop' which catered for locals. My first taste of live shows were at the Grand and I recall getting up onstage for a birthday shout-out, so guess this gave me some inspiration to 'tread the boards'.
Taking a walk up from the Civic Centre along Above Bar you can see a magnificent memorial to the engineers of the ill-fated Titanic on the edge of the park. It reminds people of the brave sacrifices made by the boiler room crew who stayedd at their posts feeding the massive boilers in order to keep the electricity burning to help evacuate the stricken ship although they knew that she was doomed to a watery grave. It is very moving to read the inscription and shows the good side of human nature and unselfish bravery of the highest magnitude and I recommend you stop by if passing.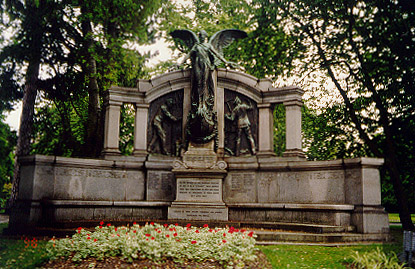 Titanic Engineers Memorial
Just across from this memorial, if you look on the wall of an office building in Cumberland Place near the traffic lights you will find a small plaque that remembers another brave act of the Titanic's orchestra that kept playing on decks to calm people down as they were fleeing for their lives. This remarkable story is well documented as it tells an amazing tale of courage as the soft gentle music must have soothed many a poor soul who perished on that cold moonless night in the middle of the ocean. It originally stood on the wall of the old Central Library that was hit by a Luftwaffe bombing raid and this new plaque was erected by the local Musicians Union in memory of their former colleagues in 1996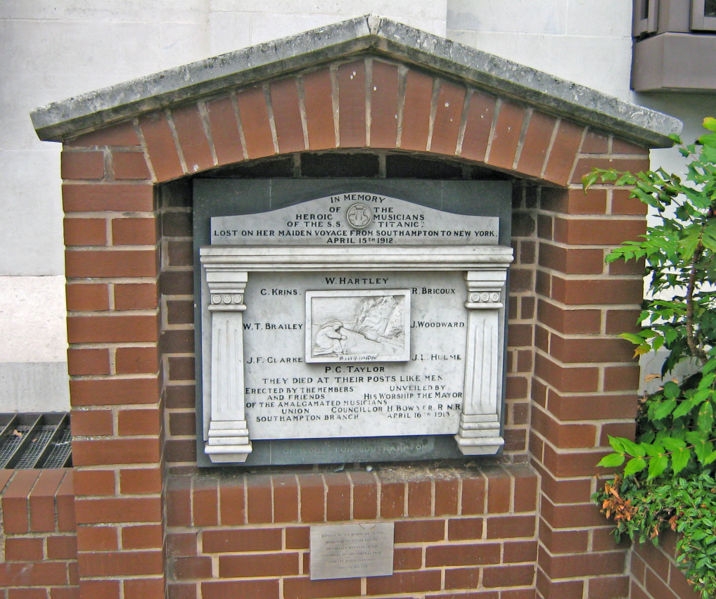 Titanic Musicians Memorial
Walking up London Road, you come across another great little venue that my first band (the Abdo-Men) used to play at, and situated on the corner of Ordnance Road (opposite the old Ordnance Survey buildings). The Kasbah coffee bar was another popular meeting place as you went down the stairs into a packed room with a nonstop jukebox playing the hits of the day. Just through a low arch was a converted cellar which we felt was a miniature version of the much revered Cavern Club but really cramped and difficult to set up the gear as well as performing to the crammed in crowds. I recall the Kasbah being run by a grey haired chap called 'Snowy' White and his teenage sons, one of whom was tragically killed in a scooter crash being on of the well known 'Mods' that sprung up at the time. Above the coffee bar stood a small car sales business run by a couple of local businessmen Pete Bailey and Pat Buckle who heard our new band playing and then took us on as a managed act. Their well heeled contacts found us some great bookings and quite a few around the New Forest area where they lived - we even played at their large homes for private parties plus Hunt Balls and other classy gigs.
Carrying on up London Road, you then turned right into Banister Road and came across the Hulse Road Social Club which housed the magnificent Banister Ballroom which saw many local bands and visiting groups playing there with great success. Further down the road is the site of the old Top Rank Bowling Alley, where I loved to bowl for the Saints Junior Bowling team and ended up working as a lane engineer when dropping out of Grammar school! They had an upstairs bar and our band also played there a few times as well as appearing at the large Top Rank Ice Rink to the rear of the alley. This was another great place for bands to appear as the skaters circled the rink to our music as well as having DJs playing in the breaks and other nights - often in darkness with a few spotlights moving around as well as a mirrored ball throwing shards of lights all over the place like shimmering stars. We froze to death when playing the Ice Rink although it was easier for those of who moved and jumped all over the stage! Top Rank also built a superb new Suite opposite the Bowling Alley and Ice Rink which provided a new purpose built entertainment centre which rivalled the old downtown venues. Beautiful white building which housed a superb dance hall with balcony plus a revolving stage which meant that one band could be setting up behind whilst another group or disc jockey performed at the front. Johnny Dymond and many of the bands appeared at the Top Rank Suite so take a look at my other pages to read about this venue.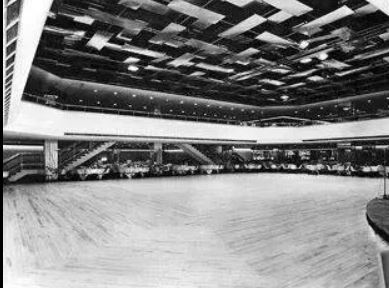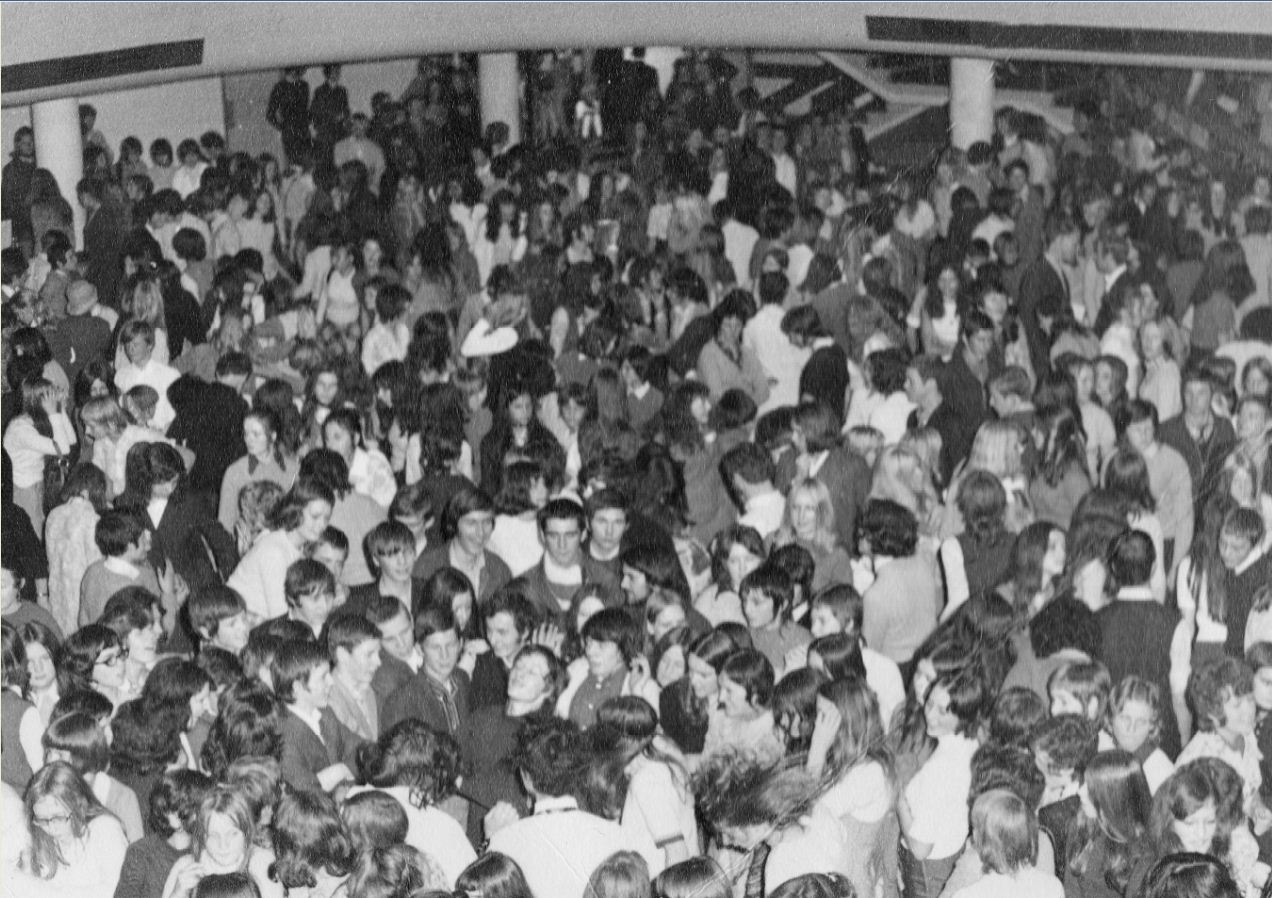 Top Rank Suite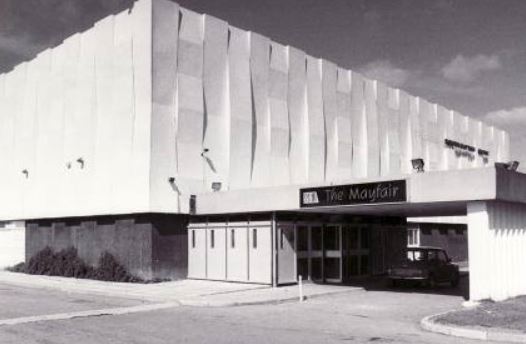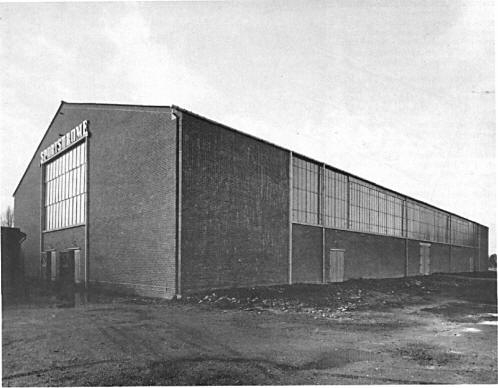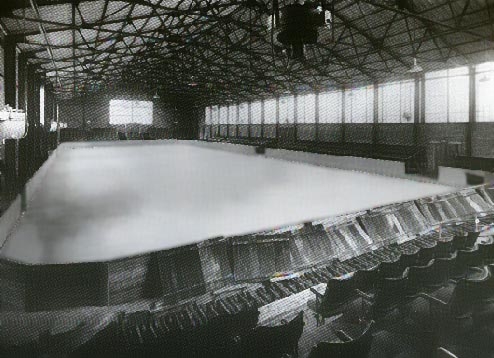 Ice Rink (later Top Rank)
I used to wangle my way in for free, with my connections with the bowling alley and groups etc so saw many top acts there including the Who. Sneaked in backstage and mingled with them as they were getting ready to play but didn't get much response when trying to talk to them as they appeared off their heads on whatever they were indulging in! Made my way close to the stage just in front of the amazing Pete Townsend who ripped through the Who catalogue of hits and much more - great showman and kept replacing guitars between songs by chucking them on the floor which made many of us musicians wince. A lad next to me was heard to moan about this wanton neglect on expensive guitars which was overheard by Pete who snapped "Well - it's my f*****g money you **** !!" If you read up on the Who, you will soon learn why they never made much money in the early days of smashing all the gear up on a nightly basis apart from being ripped off by the usual managers etc. Another show featured the amazing Graham Bond Organisation a top R&B band fronted by the large moustachioed eccentric figure who bashed out some great Hammond Organ with his right hand, bass pedals with his feet as well as playing the sax held in other hand!! This was just after drummer Ginger Baker had left the band to form Cream alongside Eric Clapton and Jack Bruce - the first 'Supergroup' and many fans were jeering the revolving stage as it slid round to introduce the new drummer - many were shouting "We want Ginger etc" They were soon silenced as this new percussionist commenced to piledrive his drums (with two bass drums) like no other and soon shut up the detractors - this being the relatively unknown Jon Hiseman who later formed Colosseum before fading into obscurity. One of the best I have ever seen and he is much respected amongst drummers from that era.
There were loads more venues that Southampton groups played at, and I recall the Walter Tyrell pub in the middle of the New Forest as well as the White Buck at Burley, plus the Bure Club at Mudeford where the Abdo-men supported Eden Kane (see other pages on this). Many bands travelled further afield to such venues as the Steering Wheel at Dorchester plus a ballroom in Boscombe Bournemouth and often played the army camps all over Salisbury Plain as well as up in Aldershot and many more. We played at Navy bases all over Portsmouth and I recall the Tower Balloom at Lee on Solent with its landmark tower rising above the complex of shops, restaurants and a small 12 lane bowling alley (former cinema) which I worked at during 1966.
During the late Sixties/early Seventies, my last group (Script/End) also played at the Bishops Waltham Country Club which was a mixed gay/straight club run by a couple of great characters Norman and Eddie. We often piled out after many a Woolston pub gig and enjoyed the atmosphere, late drinking sessions with loads of laugh. The resident band was led by Cliff Harper who played double bass plus quite a funny guy with gags and announcements between the music which featured guest singers including his wife Jane, a superb jazz singer. This club also featured one of the finest drag acts in the UK by the name of Lee Sutton who was also very well known on the London scene (Vauxhall Tavern, Black Cap Camden etc) along with the likes of Marc Fleming, Mrs Shufflewick (Rex Jamieson) and many more hilarious acts that could more than handle any rowdy pub full of noisy but happy people! Lee played the piano and directly facing the audience with a mix of self-written parodies, gags and put-downs whenever anybody dared to move! He also included many songs sung in 'Polari' which was originally used as a coded 'language' between gay people in the dark days of illegality pre mid 60s and is worth a page on its own! Do a web search to learn more about this very funny aspect in which foreign words were mixed up to form a gay 'Esperanto' that is sadly not used much these days apart from some of the older guys. I'm keen on languages and often have some laughs when 'polari-ing' with certain entertainers on some shows - they cannot comprehend how a 'straight' guy would know these words!
Moore Hall in Andover was another good venue although just a very basic long wooden shed that was packed on teen dance nights - the Troggs were formed out of the local band of Ten Feet Five who have their own page so take a look. Other venues spring to mind such as the Empire Hall Totton, Room at The Top in Eastleigh (mentioned elsewhere) Fords Social Club nearby plus so many more - I will add more of these when I rack my brains as well as expected input from this and other webpages as more and more surfers come across my site! Once again- if YOU have any memories to share then please get in touch and I will be happy to sprinkle them on the relevant page. I trust that you have enjoyed these flashbacks in time - especially if you were lucky enough to have been around then and please come by from time to time as I am always adding new stuff as it trickles in from all over the place!
I recently got a mail from Ernie Fagg, who played bass with several Southampton bands and I joined his Earth Angels group in 1966 - you can read about this on the Biography and Group pages. They were a 'mod' type band and played a good mix of obscure R&B imports, many of the discs being brought in by merchant seamen on the USA run - a similar influence on the Liverpool bands of course! We were influenced by the Who and featured many of their hits as well, so quite good for that time. My 'day' job at that time was working as a service engineer at the small tenpin bowling alley within the Lee On Solent Tower complex on the seashore along the coast from Southampton and close to Gosport. Like many of these bowling centres, it was converted from the old 'fleapit' cinema and within the same building they had a ballroom, small shop, ice-cream parlour and a restaurant/bar which staged many groups and singers. It was built back in 1935 adjoining the old pier and railway station which was demolished in 1958. It was in the Art Deco style and boasted a 120 foot tower offering great views across the Solent to the Isle of Wight plus the surrounding mainland from the platform at the top.
Thanks to the stupid Gosport Council, the Lee Tower complex was demolished in 1971 despite its history and heritage. These days it would have been preserved as a Grade 1 listed building so another example of how local bureaucracy lets its own people down as they go ahead with hare brained schemes against the wishes of the public.
I recall some good gigs with the Earth Angels at the old Tower and it still holds fond memories of anyone who played there or just had a nice day out at the seaside. Here is a rare old photograph from the mid Fifties and shows the cinema on the left with some vintage cars that were safe from traffic wardens, parking meters, speed cameras, clampers etc in those halcyon days of carefree motoring! Petrol wasn't £5 a gallon either.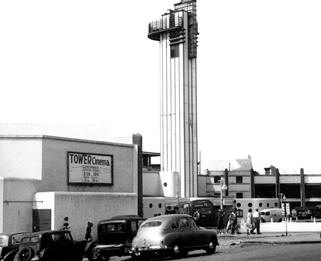 Lee On Solent Tower
Although this page has evocative memories for me and for those who share them, there were other aspects of life 'on the road' back in the Sixties as bands all over the UK made their long way home in old banger vans or convoys of old cars that would be crushed on sight these days! There were few motorways and many long journeys were a nightmare but many of us Southampton groups had one thing on our mind as we eventually rolled into the city centre at all hours of the night. Yes - the all night burger vans! The main 'crossroads' for us all was parked by the old Police Station at the Civic Centre on the opposite side of the road and close to the main railway tunnel for the main station. Sheer bliss as we stuffed our hungry mouths with all kinds of food plus loads of teas/coffees that took ages to eat and drink due to meeting up with fellow 'wandering minstrels' falling out of another rusty van plastered with lipstick messages, stickers etc. Great fun as we 'talked shop' swapped stories and filthy gags before setting off home and then a couple of hours sleep before dragging ourselves for the dreaded 'day job' or even school!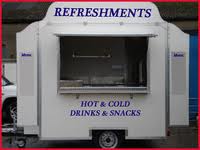 Mike's Burger Van
August 2010- what a great e-mail pops up:
Hi David,
Well the good old days will never return but thankfully we survived and enjoyed them to the full! As one of the burger van owners briefly mentioned, (Mike's Burgers, Civic Centre, Ring Road, Edwin Jones, Echo Office and many other locations from time to time) it was a privilege to be part of the 'scene'.
I think one important club that I didn't see mentioned was the Yellow Dog Jazz Club in Bevois Valley, not my regular haunt but I think quite important in the history of the times. My haunt was the Baytree Inn with the resident band the Star Combo from about 1961 onwards.
Best wishes, keep up the good work! Cheers, Michael (Germany
Plus:
I started in 1963 and I remember by established competition telling me that I would never succeed because I was using a griddle, the first in town. He even put a van next to mine, those were the days of the Mini-vans but his presence was short lived as I had some success and he ended up in jail.
Johnny Watson was the drummer for the Star Combo at the Bay Tree Inn and as you say, emigrated to Oz to become a car dealer I believe. I don't think I can you much more info. via a phone call. I recall in particular the Chances R and the MeddyEvils, they were regular customers and Long John Baldry popped in probably after a Concorde gig. As you say the mobile D.J's were the death knell for the groups. One of the better ones was Dave Carson from Avenue Artistes who unfortunately had a short life due to a heart attack. I think the Yellow Dog was basically R & B, but I think I was working too much at that time to take much notice.
One niche you haven't covered is the 'bouncers'! The number one was of course Derek Doyle who I believe returned to Ireland and has passed on. Very useful to have him around some times. Mike
I forwarded Mike's mail onto the Southampton musos and have had some great replies trickling through:
Hi Dave
My god I remember borrowing a green van regularly from Mike, It was the van Mike used to transport his burgers and rolls. We travelled with the infamous Mr Graham Medley, Mr Vern Chuter, Mr Dave Mitchell and of Course Kevin Callaghan. We would take it on a Friday and return it to Mikes digs in Archers Rd on Monday mornings. We travelled with all the gear, Girlfriends and the smell of old burgers in that van for hundreds of miles.
Eddie Bance
Hi Dave,
Same thing in the 70's, all the DJ's used to finish up around 2 am onwards after Fridays closed or end of gigs at Larrys (I believe he came from Bournemouth). His van was back of the old Echo Offices near the Centre Inn, and we used to 'CB' our order in to let him know we were on the way!. Also Mikes of course near civic centre. Egg, cheese pineapple burger...yummm!! Johnny Dymond
Speaking of the Baytree (Blue Indigo) and my old band the Star Combo, did you know that we always took a break on a Saturday night there and went downstairs to watch Morecambe & Wise! Thanks for having us Terry Rolph!
Gerry Hayne,( Johnny Watson, Mike Lewis, John Murphit, Colin etc etc)
Ah - Mike's cheese and mushroom burgers took some beating! Is it because they were the first of their kind in the area or because of the drinks beforehand, or were they really that good? They definitely weren't the greasy mess you get these days in most places. I remember falling out of the Concorde, especially on a Monday evening, and calling in at Mikes around 2am before going home. Luckily my friend was driving, but I dread to think what sort of state she was in, thinking back - definitely shouldn't have been behind the wheel.

Glad to hear Mike's enjoying life in Germany.

Best wishes
Mandy K
German Edie's comes to mind!
John Bickell
Great to hear from Mike for getting in touch and stirring more great memories- the food was actually very tasty and nice to see that we can now give out 5 star food reviews after a few decades! I have managed to track down a photo of a very special Mike's Burger order from September 1966 but am not allowed to divulge the name of the musician who ate it himself- the rest of the band had expected to share it.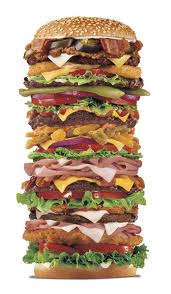 Guess who???????
............................................................................................................................................
Whilst Len Canham was the main promoter and later forming Avenue Artistes Management, the name of Reg Calvert should also be remembered from the mid Fifties when he and his family moved to Southampton. You can read some of this story on the dedicated Reg Calvert webpage via the Site Map. Reg was a great showman and PR merchant as he drummed up some hilarious stunts to promote his new artistes- including the first 'tribute' artistes masquerading as Cliff Richard, Buddy Holly and many more. This was years before the current rash of 'lookalikes' rose to promimence thanks to TV shows such as 'Stars In Your Eyes' and all that followed so Reg Calvert should be remembered as true visionary.
Many of us local Southampton groups played all over the South and I have received these two great newspaper clippings that feature the Holdenhurst Drill Hall in nearby Bournemouth some 20 miles along the coast. Reg moved up to Rugby in 1961 and managed Screaming Lord Sutch who regularly played the South including the Royal Pier and Bournemouth as below. His wild stage act caused many a riot and resulted in many dance hall punch-ups or many fainting girls who could not stomach the gruesome blood and gore as 'Jack The Ripper' went to work! You will note the 'Band Box Productions' at the bottom- this was Reg's office in St Marys Street that later became Henrys Records (see webpage via Site Map) Also featuring Buddy Britten aka 'Buddy Holly' tribute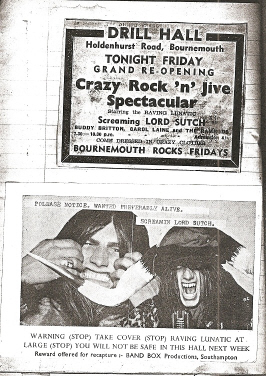 Billy Fury causes more riots in Bournemouth!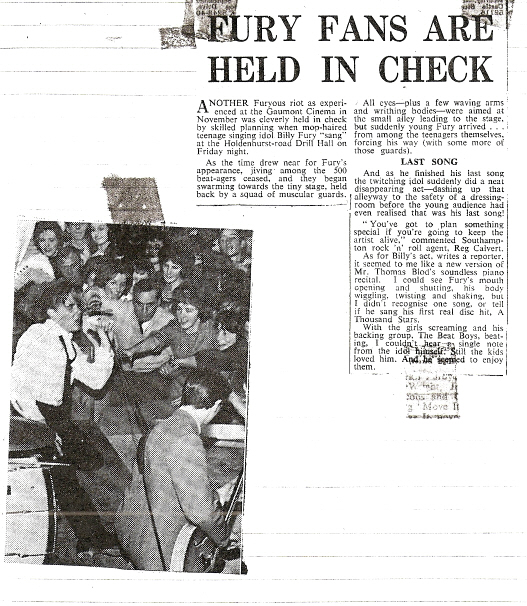 Note that Reg Calvert was Billy's 'agent' at that time and DJ Johnny Dymond recalls Billy Fury being 'trapped' at the Royal Pier Southampton after another crazy night at the Pavilion. Billy had to lay low in Len Canham's front office at the main entrance hall (now Kutis Thai Restaurant) as police tried to disperse the fans away from the area. John mentions that Billy had to climb out of a window and down a drainpipe before being smuggled away in some nondescript car. Great days eh?
This section of the page is now being used for add-ons, as I am now getting memory-jerking messages of venues that I have not yet mentioned and thanks to all concerned. I'll credit the contributors as they roll in:
(From Graham Medley)
AGINCOURT HALL (later SAMANTHA'S) Camberley - Run by Bob Potter/Len Canham

Newbury CORN EXCHANGE
Andover DRILL HALL
Ludgershall VILLAGE HALL
Southampton HAMBLE JIVE
Eastleigh TOWN HALL All these run by Reg Calvert (?)
Eastleigh IMPERIAL BALLROOM Room at the Top) Run by John Ferris and Tony Marlow. Later by Mick Haley (Peter Pod & Peas etc)
Southampton KEY CLUB & HAMBLE CELEBRITY CLUB Both of these owned and run by Bill Perry, father of Roy who is featured on my pages
Botley DOLPHIN HOTEL
(From Tommy Bannister June 2008)
Hi David - Tommy Bannister here. Well mate what a good page! I could not stop reading about these venues, being a 65 year old wrinkly muso and over the years I had forgotten most of the venues I had played in. This page just about says to me that lots of years have gone by now as I have played at all of the venues mentioned on this web page but had forgotten over the years. Boy it's made me feel even older than I really am!
The old SWAN AT WOOLSTON YOU MENTIONED WAS A REAL GOOD PUB Ed Nix & Busted PLAYED THERE EVERY SUNDAY LUNCH TIME THEN PLAYED THE EVENING SESSION BEFORE GOING TO OXFORD STREET AND PLAYING AGAIN THROUGH THE NIGHT! CRUMBS YOU BROUGHT BACK SOME OLD MEMORIES GOOD ONES ALSO TIRING NIGHTS OF PLAYING.
THE WHITE BUCK AT BURLEY WAS ONE OF THE CHANCES Rs REGULAR GIGS. WHAT WITH THAT GREAT OLD OPEN LOG FIRE THEY KEPT BURNING ADDED TO THE OLD SMOKY ATMOSPHERE THERE.. WE ALSO HAD A REGULAR SUNDAY EVENING AT THE SIR WALTER TYRELL AFTER TAKING OVER FROM THE MALCOLM JOHN FIVE WHO PLAYED THERE - A HARD ACT TO FOLLOW. I WAS LUCKY TO PLAY WITH THEM A FEW TIMES. DRIVING HOME WITH A BELLY FULL OF BEER IN THOSE DAYS WAS VERY COMMON AS THERE WERE NO DRINK DRIVING LAWS ABOUT THEN! GREAT NIGHTS WERE HAD THEN AS PEOPLE USED TO GET UP AND HAVE A GO AT SINGING. GREAT LANDLORDS THEN BUT MOVED ON TO A PUB ON THE CORNER OF ROMSEY ROAD AND WINCHESTER RD . THEY BOOKED BANDS TO PLAY UPSTAIRS IN THEIR NEW PUB - THE BLACKSMITH ARMS. IT WAS VERY CRAMPED AND A PAIN TO GET YOUR GEAR UP INTO IT. IT REALLY NEVER TOOK OFF. OF COURSE UP ROMSEY RD WE HAD THE HORNS INN AND NURSLING CLUB PLUS A LOT OF PUBS IN ROMSEY. THE RED LION BEING RUN BY CHARLIE COWHERD. THE ROOM WAS ALWAYS FULL AND STAYED OPEN WELL INTO THE EARLY HOURS.. OF COURSE WE HAD PUBS LIKE THE RISING SUN IN SHIRLEY PLUS LOADS OF OTHER PUBS IN SHIRLEY THAT HAD BANDS. ONE BEING THE WINDSOR THAT STILL HAS THE ODD BAND NIGHTS
I THINK PLAYING DRINKING LOTS AT THESE VENUES CAUSED MY STROKE! WAS IT WORTH IT? ALL YEA I'D DO IT ALL AGAIN IF I BECOME FIT AGAIN BUT WITH A LITTLE MORE CARE!!! WELL DAVID ANOTHER GOOD PAGE. ONLY TROUBLE IS I TEND TO STAY UP A TILL LATE READING IT ALL JUST TO GET MY MEMORIES STRAIGHT. THANKS A LOT FOR KICKING IN MY OLD BRAINBOX FOR MEMORIES. A SMASHING PAGE WE USED TO PLAY AT ALEX'S PUB - THE SHIP INN AT WOOLSTON AS WELL AS THE REST YOU MENTIONED. NETLEY PUB, THE VICTORIA PLUS NETLEY SOCIAL CLUB AND HAMBLE AIR TRAINING CLUB. WHAT MEMORIES ALL THESE PLACES WERE. THE ROBIN HOOD .CRUMBS GOING BACK IN TIME IS GOOD INNIT?

I REMEMBER GOING TO BUY SINGLE STRINGS AT JIM BECKETTS SHOP BEFORE HE MOVED TO GIBBS ROAD - CATHEDRAL ONES FOR MY DADS GUITAR HE HAD A VERY SMALL SHOP JUST BEFORE YOU GO OVER THE BRIDGE BY THE GASWORKS - ALL GONE NOW. THAT WAS SIXTY YEARS AGO! SINGLE STRINGS THEN WERE ONE AND ELEVEN .MY DAD GAVE ME TWO SHILLINGS AND SIXPENCE - HALF A CROWN TO GO AND BUY THEM, AND I HAD THE CHANGE FOR MY BUS FARE THERE AND BACK FROM ALDERMOOR ROAD COXFORD (MAYBUSH) PENNY EACH WAY!

THOSE WERE THE DAYS MATE. MENTIONING THE MAYBUSH AND THE SAINTS IN MILLBROOK WERE OTHER VENUES THE BANDS PLAYED AT WHAT A SHAME THEY STOPPED HAVING BANDS AND OF COURSE THE SHIRLEY WARREN CLUB ALSO THE SHIRLEY CLUB AT THE TOP OF SHIRLEY ROAD.THE PARK INN SHIRLEY ROAD.

MOST OF THESE VENUES DIED OFF FOR BANDS AS DJ's TOOK OVER AS THEY WENT OUT CHEAPER THAN THE BANDS., I THINK THAT WAS AN END TO BANDS OF FOUR AND FIVE PIECE AS BANDS BROKE UP AND SOME FORMED DUO's , TRIO's JUST TO GET THE VENUES BACK. A LOT OF THE MAIN SINGERS WENT SOLO EVEN WHAT A DISASTER!!!!.we even travelled to basingstoke and guildford just to get a gig to keep the family food coming in. late nights ! never had one. just early mornings then straight on to work after being dropped off at the dairy to start my milk round!!!!!
Home page Site Map Contact David
©DavidStJohn2019