Page updated 21 April 2021 Needs more updates soon
STOP PRESS! April 2021 via Amazon Books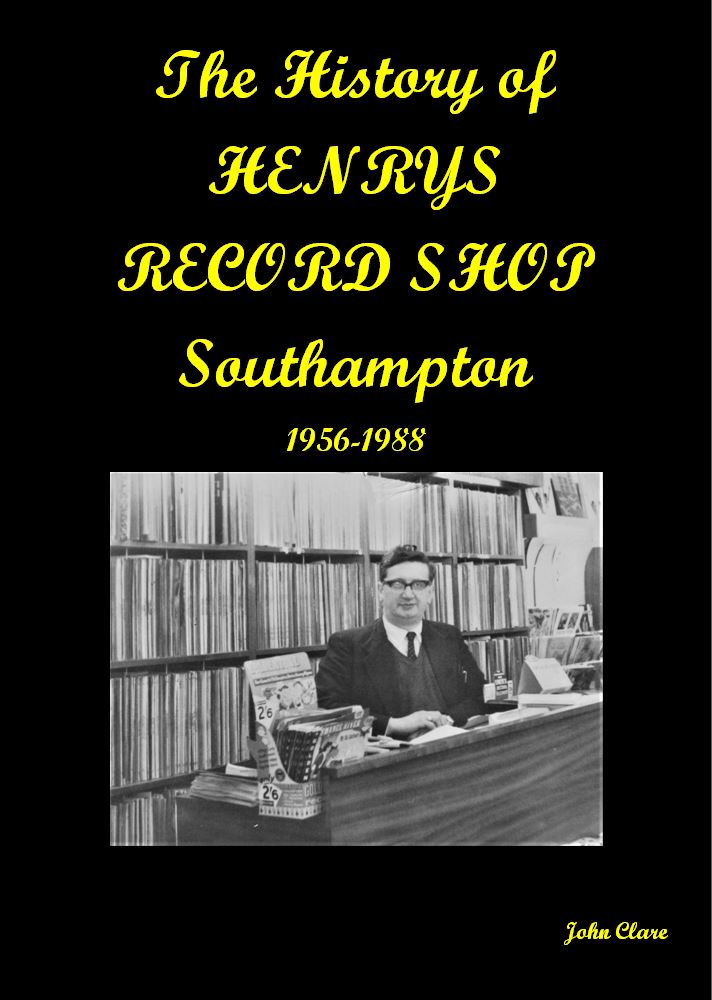 https://www.amazon.co.uk/dp/B091WJ6TFH
Click on SITE MAP to navigate the pages Back to Home Page Contact David
HENRY'S RECORD SHOP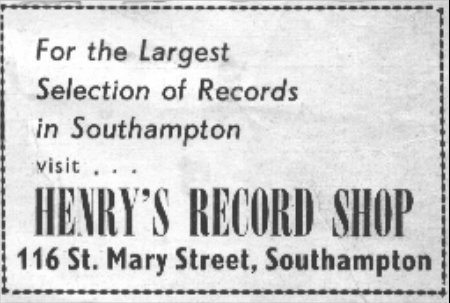 Henry's Record Shop was Southampton's finest outlet for records over many years and always the place for music lovers to have a good browse through the many boxes containing thousands of discs. Henry was a great character who, despite his more conservative tastes in music, was a shrewd businessman and offered a great service in the true mould of small shopowners. Sadly, many of these specialist shops fell by the wayside as the bigger chain stores grew and killed most of them off, like so many other High Street shops. Their massive buying power, and lure of (slightly) lower prices caused the fickle public to drift away over the years as they started to buy records in these boring lookalike stores and served by 'assistants' who had no knowledge of the music industry.
I spent many a time in Henry's shop in St Marys Street - not the most salubrious areas of Southampton but quite a lively bustling collection of small shops and near to the old Kingsland Market. Just down the road lies the Joiners Arms - one of the city's most respected music venues that has featured many top bands before they reached national and international acclaim. Take a look at the various references on the internet and you will be quite surprised by the amazing groups who dazzled local audiences at this boozer! Just up the road from Henrys was a great clothes shop called the Shirt King on the corner of an area called Six Dials and close to the railway bridge. They stocked loads of fashionable Sixties clothes throughout that decade and beyond, so it was a magnet for us local bands who bought our flashy stagewear there.
One could buy Beatles' type jackets and (Chelsea) boots , frilly shirts, hipsters, plus later 'hippy' gear at this popular outlet, and there were also Army/Navy surplus stores in the area where one could find military style clothes that were also in fashion. I also enjoyed strolling along the nearby Northam Road that had many fascinating antique and junk shops, and odd outlets for all kinds of way out stock such as rare magazines, maritime memorabilia etc.
During the late Sixties, one of my 'day jobs' was as a service mechanic for amusement machines such as pintables, fruit machines and jukeboxes. The company - Revis Automatics was owned by a great character and local businessman Reg Bicknell who had some success as a racing driver and car designer back in the Forties and Fifties. He helped to develop a racing car named Revis and later opened up a car dealership and garage on Hill Lane in Southampton - the funny thing that he ran a Skoda outlet! Revis Automatics stood on the corner of Hill Lane and Commercial road close to the main railway station and the company bought all of their new jukebox records from Henrys Record Shop to restock each machine as the pop charts changed. The old ones were either sold off or just stuck on the shelves and so you can imagine how many of these ended up in my loft!
This is a recent clipping (below) from the Southern Daily Echo that was sent to me and I have reproduced it as well as writing out the content due to not being the greatest of copies. You will note that it features John Clare, who along with Terry Hounsome, was responsible for producing the first copies of 'Southern Roots' back in the early Eighties. This labour of love has provided some great information on the local music scene around the South coast, and is a form of a Rock Family Tree which shows various musicians and their travels through different line-ups on the local band scene. I am indebted to John and Terry, as well as thanking Beau Dinnage who sent me a photocopy of this fascinating booklet which I have used to source much of the information on my own website pages that are now being shared with the world!
In fact, thanks to my own memories of the Sixties music scene, I was able to get in touch with both John Clare and Terry Hounsome by e-mail as they live in Australia and Wales respectively. Furthermore, this led to them making contact again after many years and they are both very chuffed at seeing some of their efforts being used on my own website. I have only used a fraction of the information in this publication, as I have primarily written about my own bands plus other local groups that I knew or just watched over the years.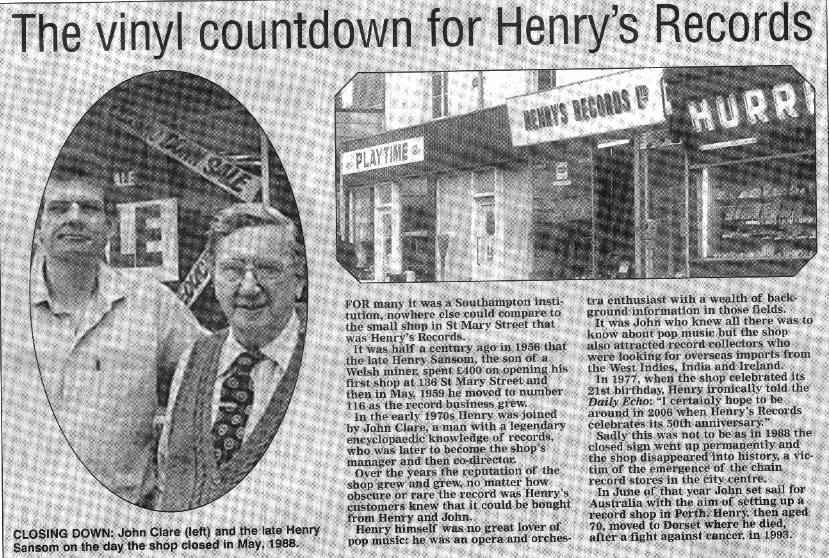 courtesy: Southern Evening Echo
This is the content of the article published in 2006 above:
For many, it was a Southampton institution, nowhere else could compare to the small shop in St Marys Street that was Henrys Records. It was half a century ago in 1956 that the late Henry Sansom, the son of a Welsh miner, spent £400 on opening his first shop at 136 St Mary Street and then in May 1959 he moved to number 116 as the record business grew.
In the early 1970s Henry was joined by John Clare, a man with a legendary encyclopaedic knowledge of records, who was later to become the shop's manager and then co-director. Over the years the reputation of the shop grew and grew, no matter how obscure or rare the records was - Henry's customers knew that it could be bought from Henry and John. Henry himself was no great lover of pop music: he was an opera and orchestra enthusiast with a wealth of background information in all those fields. It was John who knew all there wasto know about pop music but the shop also attracted record collectors who were looking for overseas imports from the West Indies, India and Ireland.
In 1977, when the shop celebrated its 21st birthday, Henry ironically told the Daily Echo "I certainly hope to be around in 2006 when Henrys Records celebrates its 50th anniversary." Sadly, this was not to be as in 1988 the closed sign went up permanently and the shop disappeared into history, a victim of the emergence of the chain record stores in the city centre. In June of that year, John set sail for Australia with the aim of setting up a record shop in Perth. Henry, then aged 70, moved to Dorset where he died after a fight against cancer in 1993.
I have also just been sent this great piece of memorabilia by Chris Golden the Southampton DJ featured on my other pages. He found this Henrys Record Shop bag in amongst his treasured vinyl collection and kindly e-mailed this nostalgic image that will jog a few memories for those that often bought our records in the very same shop. Mind you, there were always a few 'bags' hanging around the shop and clogging the listening booths! They also made a beeline for the 12" collection........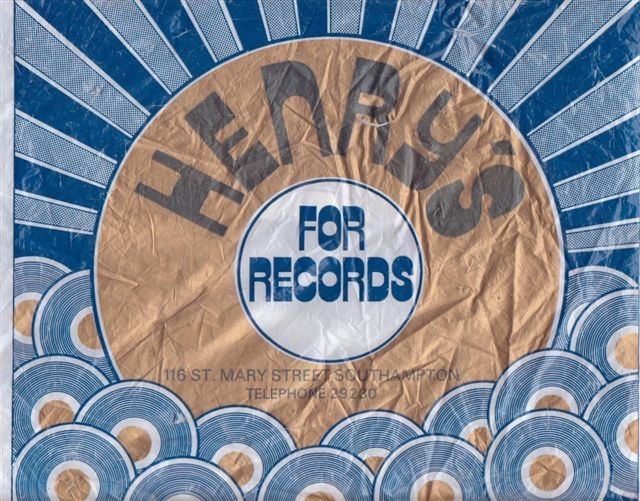 Henrys Record Shop bag - useful for hiding any 'embarrassing' discs from your pals!
Here is a recent photo of John Clare and his wife Lynne, who just happens to be one of Henry's nieces and also has fond memories of her uncle's shop which is shared by many Southampton music lovers throughout those years.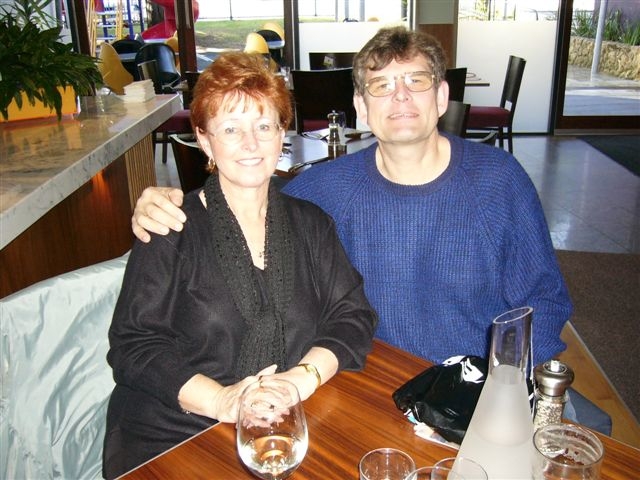 If you're into music - check out Terry Hounsome's amazing website at:
Henrys Record Shop joins a long line of fond memories of the local Southampton music scene that have long since disappeared. Many will remember Jim Beckett's music shop located in Gibbs Road - a tiny alley alongside the old ABC Cinema and close to the Civic Centre. This small shop was the main outlet for group gear and the windows were full of guitars that young aspiring rock and pop stars would drool over as they dreamed of emulating their heroes who played at local venues. I took a stroll down the alley and sadly noted that the old place is now a tattoo parlour/body piercing shop! How times have changed..... Across the main road (Above Bar Street) stood another music shop called Minns- a very large store that stocked many pianos and keyboards plus sheet music but it never had the character of the small specialist shops such as Henrys and Jim Beckett.
Fortunately, there are still a number of music shops in Southampton that cater for budding young musicians as well as the well established older characters that are still playing away after so many years. Or just to have a browse and a chat with the other musos, engaged in nostalgic ramblings about the 'good old days' and I am glad to be able to share some of these memories within my webpages dedicated to an important part of my own background.
November 2012 by e-mail:
Hi David,

I stumbled upon your page ( http://www.davidstjohn.co.uk/venues.html ) while tracing info on the Adam & Eve club. What interested me was the mail you had received from Paul Brixey with reference to Henry's. My good friend Pete Bentley worked there from the late 70s until leaving to manage Domino Records in Eastleigh about 1986. I wonder if anybody might recall this wonderful guy?

My sad duty is to convey the news that Pete passed away, age 55, at the end of October and was cremated on Thursday 15th Nov 2012. His
wake was a fitting affair with soul music, singing and even dancing. Thanks for your web site, it's a great view into the recent past!
Kind Regards
Andy Lombardi
Andy also sent this 'fun' image and 'borrowed' the classic Henrys Record bag which would have made Pete Bentley laugh and those who knew him. It sits perfectly well on this page and his family/friends and former customers can be reminded of him behind the counter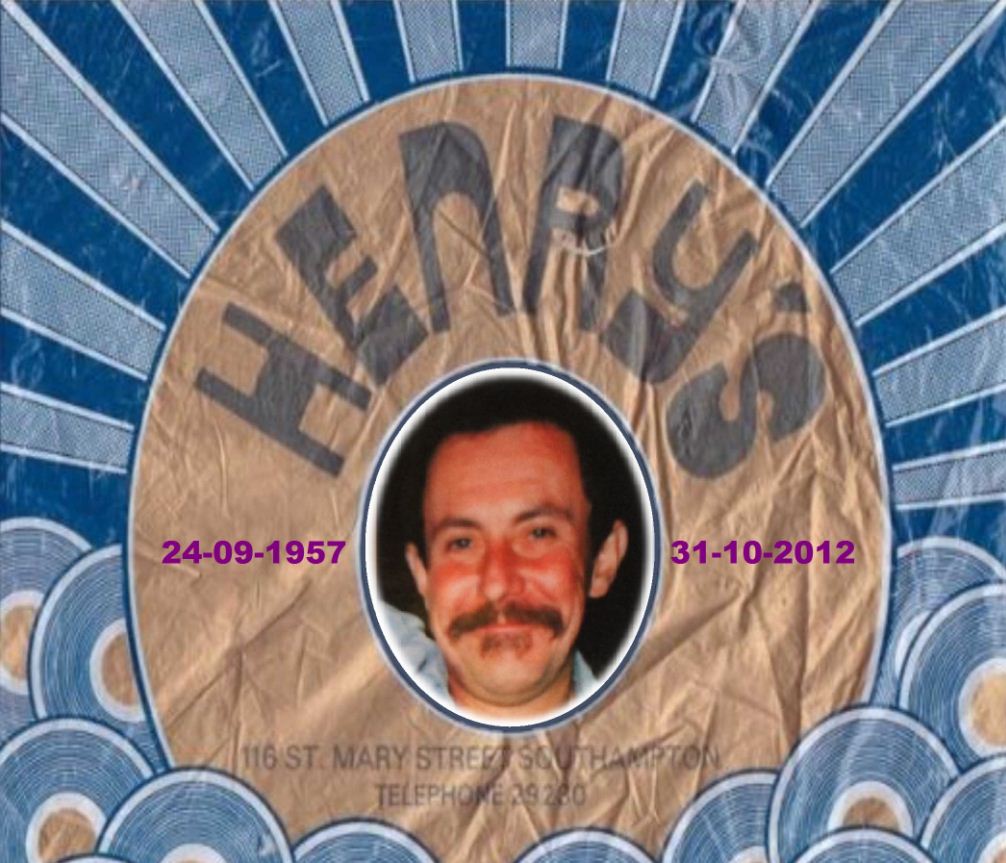 From John Clare (Australia)
Pete worked for me at Henry's for 3 years. I loved him dearly and he was the best right hand man that I EVER had! I AM IN TOTAL SHOCK!!! My thoughts are with his wife, Marie and his children. Attached is a photo of me with Pete on my visit to England in 2003 for the web page. Regards JC
John Clare-Pete Bentley 2003
Click on SITE MAP to navigate the pages Back to Home Page Contact David
İDavid St John 2012