BACK TO HOME PAGE BACK TO SITE MAP CONTACT DAVID
TEN FEET FIVE
Another popular Hampshire group from the early Sixties and based around the rural Andover area, some twenty miles north of Southampton close to the Wiltshire border. Once again, one of the original members of this very group stumbled across my website which brought a nostalgic tear to his eyes as the memories came flooding back and he then e-mailed me from his home in Virginia USA with some more info on this group. Drummer John Walker (not to be confused with one of the American Walker Brothers who hit the UK shores in the mid Sixties!) and he is still going strong and playing at gigs all over the place including Washington D.C. etc! The group were formerly known as the Redwoods and featured a very well respected bass player Dave Glover who later went onto a great R&B band Hookfoot who were members of Gosport band the Classics mixed with Andover's group Loot. Hookfoot also featured the likes of Southampton drummer Roger Pope who later played with such luminaries as Elton John, Kiki Dee, Hall & Oates and many more. Hookfoot also featured top guitarist Caleb Quaye who has a very respectable track record in the music game
The band's great name of Ten Feet Five came from having five lads in the lineup so 'ten feet' between them! I shall avoid the obvious gags about Heather Mills McCartney or maybe Douglas Bader back in those times..... They played all over the South Coast and often appeared at the main Southampton venues such as the Royal Pier booked through Len Canham of Avenue Artistes and did very well, despite being 'outsiders' as far as the discerning fans were concerned plus friendly rivalry from the Southampton based groups. I believe that some of the locals used to stand in front of the stage with straw in their mouths and making the usual sheep noises plus yokelspeak such as "Oooh Arrr..."as these country boys strutted their stuff! Ten Feet Five conquered this banter and played some mean music so they were always welcome in Southampton
Everybody knew that TF5 were in town as their old banger of a van wound its way through the streets and plastered with big feet painted on the side plus fan messages written in lipstick which can be seen in this rare 1964 photo taken outside the Royal Pier Pavilion. If you don't know already, then take a good look at Pete and Chris who found fame with an offshoot of Ten Feet Five a couple of years later. Clues- think crop circles, UFOs, hilarious bootleg tape of a swearing recording studio session but millions of records sold by one of the most popular bands of the Sixties who are still appearing all over the world some forty years later!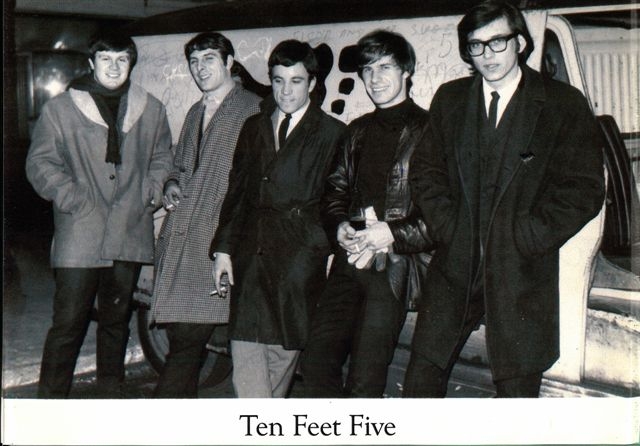 L-R John Walker Pete Staples Chris Penfound Chris Britton Dave Smith
Drums Bass Gtr/voc Lead gtr Lead vocal
September 2008
Another old photo of the infamous TF5 van has surfaced! John Walker was sent this rare picture of the band on Chilbolton Common not far from Andover and close to upper reaches of the River Test which runs down through Hampshire into Southampton Water. John recalled that this was one of many photos taken by a young lady he worked with at Taskers (Trailer makers) by the name of Marlene Sandom. This photo was forwarded on by Jacqueline Ryan of the Troggs fan club and let's hope that some more nostalgic pictures come to light.
*23 April 2013*
Just had an e-mail from the very lady Marlene who took this and other photos! John worked in the drawing office whilst she was in the photographic department so naturally the perfect choice to take these great pictures! I passed the mail onto John in Virginia USA and yet another great spin-off as it puts people back in touch - even nearly 50 years down the line!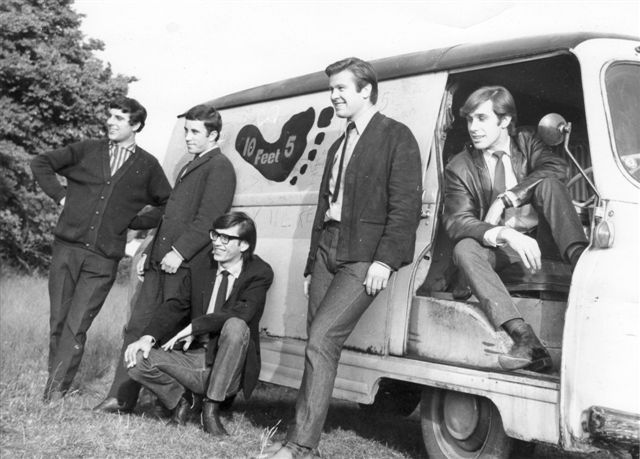 Pete Chris P Dave John Chris B
Many 'mature' musicians will immediately recognise the old J4 banger - the usual mode of transporting many 60s groups, their gear as well as doubling up as a temporary smelly overnight 'hotel' on long distance gigs. Also put to good use as a mobile 'passion wagon' that attracted many young fans of the band who hung around after any show and maybe hoping for another 'performance' - known as 'groupies' Bless them all - wherever they are.........
As you can probably see - the TF5 van was in standard two tone colours - white and rust. Many of these old heaps seemed to get everybody to gigs and back, despite regular breakdowns, bald tyres, faulty windscreen wipers (often worked from inside with a piece of string) M.O.T. certificates were often obtained by use of a backhander to any back street garage that was authorised to 'examine' vehicles for signs of roadworthiness - a description that rarely defined most of the wrecks that we used back then. Many were diesel engines and needed a boost by spraying some stuff into the engine intake, located in the front cab - many of us front seat passengers were 'high' without the use of any drugs that were starting to surface at that time! It was also amazing that nobody died from inhaling carbon monoxide pumped out below the van through noisy leaky exhaust pipes. No speed cameras in those days, few motorways or bypasses, fuel at a few shillings a gallon, difficult to even reach the speed limits - ah the Golden Days of Motoring!
Other popular vans were Commer, Bedford Dormobiles and other assorted heaps before the advent of the best ever group van, made in Eastleigh Southampton - the Ford Transit! You knew you had 'made it' if lucky enough to run around the country in one of those.
STOP PRESS MAY 2009
Isn't the internet amazing? Just had this e-mail from a Matt Traxton who runs a website dedicated to these very same vintage Morris vans and he has kindly 'corrected' my mistake as to the actual model shown in these old TF5 images! This is his correspondence and I'm sure that you will enjoy looking at his own website - I also noticed a Hampshire registration plate on one of the website photos so am currently making enquiries. You never know - we may come across a former jalopy that ferried some of our musicians (and groupies) around! Our very own Eastleigh built Ford Transit certainly cornered the market and consigned the beloved Morris vans to the scrapyard - although many of them had been ready driven to the brink for years before!
David - just came across your web site about Ten Feet Five., Very interesting, got to say I had not heard of them, but had a good read. Did want to point out though that the van they used was not a J4, but was a Morris J2. The J2 was a favourite with bands of the Sixties and early Seventies - it was said that if a band ran a J4 they were going places! (Slowly !) The Beatles, were the most famous to use one, which I believe came to a sticky end in Scotland.
The J2 was built at the Morris Commercial plant at Adderley Park in Birmingham and there was an Austin Version, which differed only in that the front panel was different, they too were built at Adderley Park. The Ford Transit was a huge step forward and was to have quite an effect on the light commercial world. the poor old J2 did not stand a chance, They were woefully dated by the time the Transit hit the roads, and the JU250 which replaced the J2 and was supposed to try and beat the Transit was a very lacking !
I run the BMC J2/152 Register, which is run for the J2, I keep records of surviving vehicles, and act as a contact for owners in the quest for parts and info, I also have an archive of J2 material, having researched the history of the vans for some years, I have a web-site,
www.brmmbrmm.com/bmcj2152
sadly its a little out of date, not having had much time lately to keep it up to date !.
Hope that is of interest, Kind regards Matt Traxton, BMC J2/152 Register
TF5 also played the Banister Ballroom and Southampton Guildhall at the well known 'Mod Balls' featuring several bands. John recalls the band supporting Dave Dee, Dozy, Beaky, Mick and Titch on one of these great shows in 1965 just after Ten Feet Five's only single release on the (Phillips) Fontana label. The disc was 'Baby's back in town/Send me no more loving but it didn't exactly storm up the charts as hoped although it was a proud moment for the lads and their many fans. They were also photographed by top photographer Dezo Hoffman in London for their publicity shots to promote the new record - the very same lensman whose fantastic images of the Beatles and many more top Sixties stars can be seen in many a book about those times. Here is one photo taken in a clothes shop - maybe Carnaby Street in Swinging London?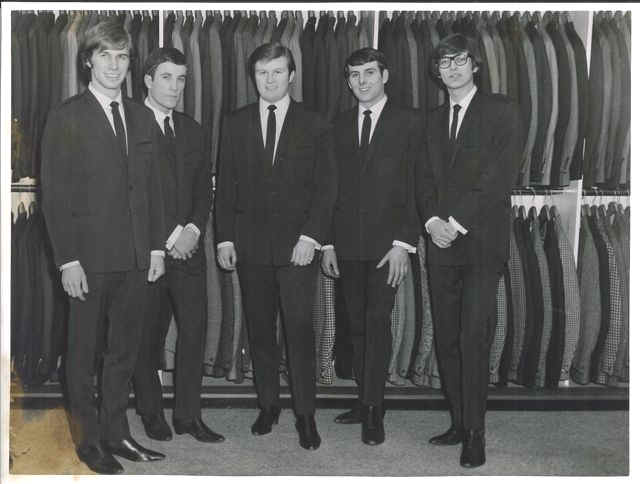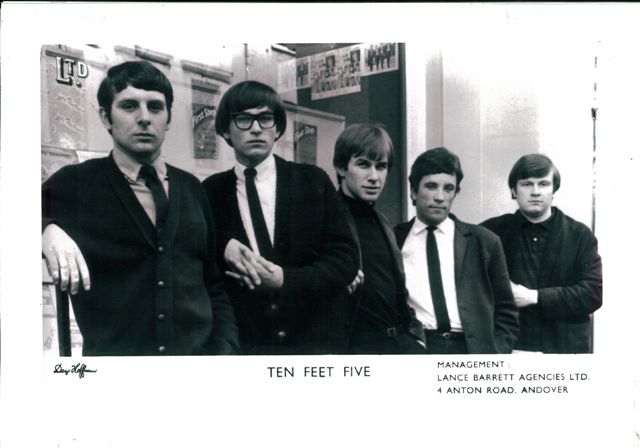 Taken outside a music shop - maybe Denmark Street - 'Tin Pan Alley'? Dezo's signature at bottom left

TF5 supported many chart bands including Brian Poole & The Tremeloes at the Bure Club, Mudeford in the New Forest back in 1963. One of their proudest moments was playing the Lido Ballroom in Winchester in 1964 and not knowing who was on the same show. They had to literally fight their way into the back doors and had no idea why some 1500 screaming teenagers were crammed into the ballroom (a record number at that time). The lads thought 'Wow - didn't know how popular we are" until they finally managed to get past the bouncers who were trying to keep the kids out of the dressing room (well....kitchen area really) and came face to face with..............The Hollies! Ten Feet Five had the daunting challenge of opening the show with impatient fans waiting for the main attraction but pulled out all the stops and played a great set with a seething mass of faces just a few feet away from them. The Hollies had just released 'Just One Look' which hit the no. 2 spot in the charts and were one of the finest bands from the early Sixties and I was lucky enough to have seen them on a couple of occasions in Southampton - amazing harmonies and stage presence plus a massive back catalogue of hits that still sound fresh to this day.


Unfortunately Ten Feet Five broke up in the early Autumn of 1965 around the time that Chris Britton was replaced by new guitarist Charlie Porter plus Pete Staples being replaced by Simon Pay on bass guitar. Chris Britton and Pete Staples teamed up with with a couple of other Andover lads - singer/songwriter Reg Ball and Ronnie Bullis who both changed their names to Reg Presley (!) and Ronnie Bond respectively and you now know who we are talking about!
THE TROGGS 1966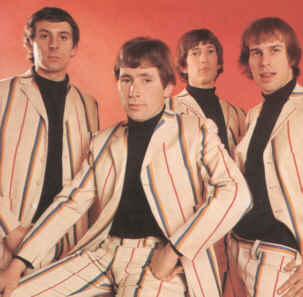 L-R Pete Staples Reg Presley Ronnie Bond Chris Britton
Click on this image above which will take you to their official website to learn more. Sadly, Reg passed away early 2013 and much missed
Plus Pete Staples' own webpage at: http://www.petestaples.co.uk/tenfeetfive.html
Pete left the Troggs after the hits dried up and Ronnie sadly passed away in 1992 but they are still very popular in the 21st century and appearing all over the world. The band also includes my old mate Dave Maggs who was drumming with one of my groups the Amesbury based Cellars of Sound around 1966 and joined the Troggs a few years ago. Reg Presley's songwriting was a major reason for the band's early success although 'Wild Thing' was penned by American Chip Taylor and who cannot be moved by Jimi Hendrix's amazing cover of this basic three chord hit that still gets people of all ages singing along!
Around 2000 the respected rock/pop author Alan Clayson, in collaboration with Jacqueline Ryan, produced a book on The Troggs, which encapsulated the 1960's rock scene in Andover. It's called "The Trogg Files - Rock's Wild Things" and well worth a read Jacqueline is a real fount of knowledge and she runs the official Troggs website as linked above. Check it out if you want to learn more about this terrific group
Some of my own bands often played at the Moore Hall in Andover and had some great nights on and offstage (Oh those lovely country girls..........) I seem to recall that when my Eastliegh based band The Unforgiven played there around '65 we had to scrape round for a stand-in bass player due to our guy not turning up. I'm fairly sure that it was Pete Staples who was in the audience to suss out the bands that were playing there. Another occasion, I was singing and playing harmonica when a young lady staggered onto the stage, smelling of booze and proceeded to take off my stage jacket and put it on her shoulders as she swayed and sang along with our songs. Needless to say, I talked my fellow musicians (Beau Dinnage and Ronnie Allen) if we could give the girl a lift home and they kindly kept their eyes on the road ahead whilst I tried (unsuccessfully) to give her my 'autograph' in the back of the small van crammed with amplifiers, drums etc. I had been boozing too so couldn't really do much anyway! We then crawled out of the van and I escorted her to her front door via a nearby playground where we ended up on the bottom of the slide in the moonlight. The combination of a very cold night and too much beer put a dampener on my efforts so it just ended up in abject failure. I nearly got stranded in Andover as my mates were really angry at having to wait for some while for me to stagger back to the van and were just about to leave. We laughed all the way back to Southampton...........
......................................................
Ten Feet Five reformed in 1994 to support Brian Poole & The Electrix plus the Steve Gibbons Band at Winchester Guildhall. The band played on for a short while and John Walker left for the USA (not Uther Side of Andover!) Sadly their great vocalist Dave Smith collapsed and died in July 2005 but everybody else is still going strong. John is still drumming up a storm on the American scene and is a very popular 'Limey' in the area as well as doing some work as a receptionist with one of America's top law firms! Clients just love to hear the dulcet tones of a well spoken English chap answering the phone or dealing with people at the front desk. If only they knew about his fascinating history and links to the Sixties scene? Maybe the drum kit behind the desk might give a clue..........
Ten Feet Five's only single release was included on the Troggs' Anthology CD so you may be able to hear it for yourself someday. I am indebted to John Walker who has supplied me with these great memories and I look forward to him being able to locate any more photos or info on another great Hampshire groups and their connection to a world famous band formed by a few country lads! This is the current Troggs lineup below and I thoroughly recommend that you go and see them play live as it is an experience like no other - Reg Presley's skills in full force plus classic pop and rock n roll songs, delivered with that cheeky suggestive style that has been teasing audiences over the last few decades! The rest of the band provides a driving sound with a few laughs along the way amongst them all, not forgetting those lovely accents! Just check out the Troggs website for tour info and much more - you could even join their excellent fan club run by Jacqueline Ryan and receive regular news, fanzine etc
The Troggs 2007
Dave Maggs Chris Britton Pete Lucas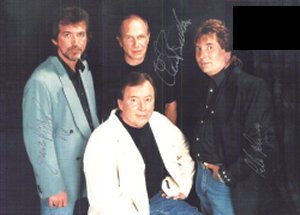 Reg Presley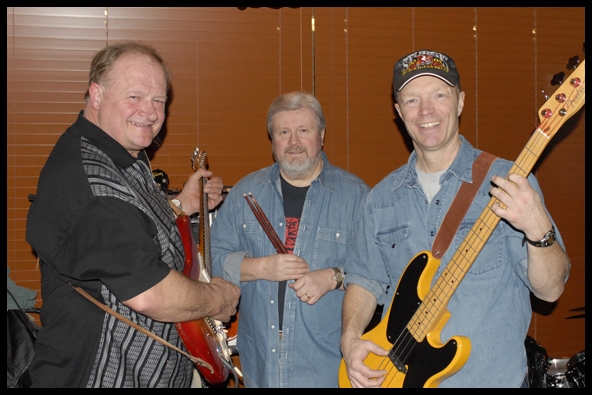 DC3- one of (drummer) John Walker's previous US based bands
(He had apparently sunk a few beers on this night!)
STOP PRESS!
Here are some more photos of DC3, who are quite chuffed about being included on an English website!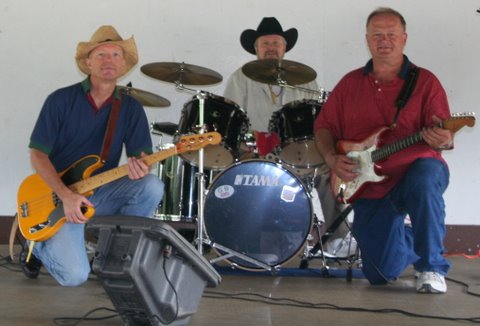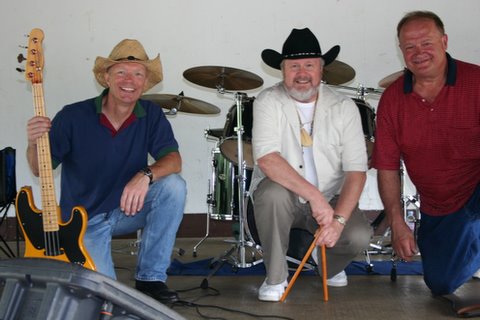 L-R Dan Chute John Walker Vernon Santmyer.
John paid a UK visit in 2007 and sent me this photo of him and another drummer pal walking across a well known crossing in North London: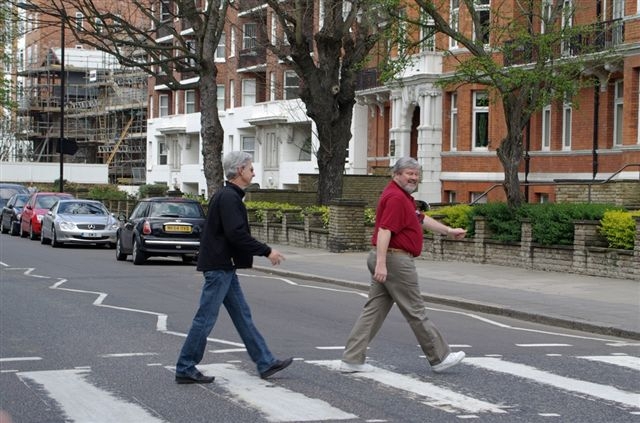 Yes - JOHN WALKER - LIVE AT ABBEY ROAD!!
September 2007:
I'm in regular contact with J.W. and he has just sent me this great photo which shows him drumming with one of his various bands(ex pro country players) at a recent private party. This was an outdoors gig on the banks of the beautiful Occoquan River at Woodbridge, Virginia. JW mentions that the picture hardly does the setting justice - it's spectacular. They sing lots of songs about moonshine and guys that yell at their victims, "Squeal like a hog, boy!!" Other guys have played with the likes of Porter Waggoner, Dolly Parton and many top US country stars including Nashville of course. One of their fathers was a guitarist for Jimmy Dean way back in the days when he had that classic hit 'Big Bad John' a song about the mining disaster which still sounds great to this day.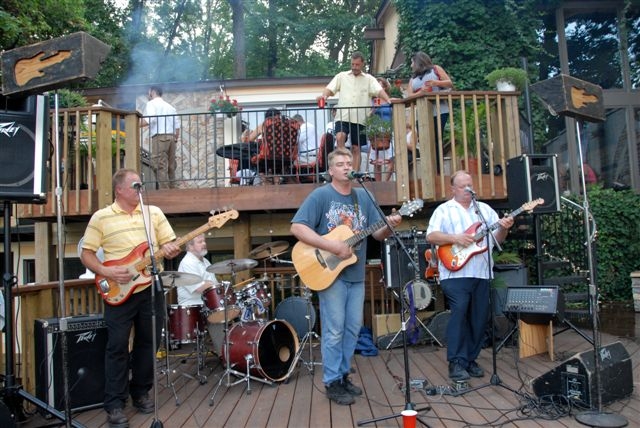 J.W. and the HillBilly Moonshine Jug Band
(sorry - my name for them..........)

I trust you have enjoyed another piece on this group and I look forward to hearing from you if you have any connection with the musicians or places mentioned on this or other pages that give a flavour of those amazing times. If you have anything to add in the way of anecdotes or even photographs then please get in touch
I have copied this e-mail from John Walker of Ten Feet Five who has just had the first sneak preview of this whole page and I think this is a nice tribute and a dedication to those friends who are now still playing music in another place.......... This is his mail:
Hey DSJ,

I know this is a little late, but, having given it some more thought, would it be possible to dedicate the TFF page to Dave Smith and one of the guys who wrote songs for us that we recorded (1 was released)? He was one of my best friends and died from cancer 5 years ago. His name is John Claydon. I would be most grateful if you could make that small amendment.
Thanks so much,
John
"I'm one of those, turn-on-the-damn-thing-and-here-we-go-folks"
Buck Owens, 1929-2006
David St John July 2007
Fast forward to Feb 8th 2008- Ten Feet Five were reformed and appeared on a special 'Back to the Sixties' reunion night along with several Sixties bands who got together after many years at the Concorde Club Southampton. Read all about this on:
http://www.davidstjohn.co.uk/concordereunion.html
TF5 played a fantastic set with the Penfound brothers plus Simon, Charlie and drummer John Walker making a 3,500 mile trip over from the USA! Simon Pay plus David and John Penfound are still making great music with a very popular Andover band called The Torn Off Strips and they can be found at:
This group play some terrific covers with an edge and well worth catching if you are in the area and their gig list plus info can be found on their site. Also, TF5 guitarist Charlie Porter has been playing with several bands over the years and he sends me this latest link to the Big Dog and the Bite website:
August 2008
Just had a mail from John Walker - he drums and sings on alternate Wednesdays at J.V.s Restaurant at Falls Church Virginia. Great houseband called the Martha Capone Band who kick off the open mike/jam sessions. Not sure if Martha is related to Al so be careful how you speak to her if passing!
Go to this YouTube link to see them in action!

http://www.youtube.com/watch?v=g-MilLU2Juw

Or go to J.V.S own website: http://www.jvsrestaurant.com/index.php
John also sent a mail to a fellow muso and I'm copying it here as it provides more interesting background on Lance Barrett who was TF5s early manager:
Lance Barrett is a former Mayor of Andover. To the best of my knowledge he is still alive and living in Andover. Ten Feet Five re-formed in November 1994 for what should have been a one-off concert at Winchester Guildhall with Brian Poole & The Electrix and The Steve Gibbons Band. It went so well that we played together until I left for the U.S.A. in September 2003! In July 1995, we made our return to performing in Andover in front of an outdoors crowd of almost 1,000. Lance was among the audience and (tongue in cheek, I think) offered to manage us again.

Sadly, our vocalist, Dave Smith died very suddenly and unexpectedly 3 years ago. Ten Feet Five played, once again, at Dave's great 1960's reunion concert at the Concorde Club last February and I took over lead singer duties. Our original rhythm guitarist, Chris Penfound was with us and his two boys, David and John, played drums and lead guitar respectively.
The recording studio you mention in Abbots Ann was run by two of my best friends, John Claydon and Terry "Phins" King. It was a converted barn as Terry had a small holding there. John and Terry wrote songs for Ten Feet Five, one of which was the A-side of our one and only single. It was released in 1965, bombed and eventually, we split up the band.

Incidently, Terry's nickname, "Phins" derived from the fact that he was a total Fats Domino nut. In the fifties, he, John Claydon and others, had a skiffle group called Phins King & The Peasants and they were most definitely one of the best in the area. Sadly, John died of Cancer 6 years ago and Terry and I were re-united for the first time in almost 40 years at our friend's funeral. Terry and his family had moved away to South Wales and I heard he had something to do with the early career of Dave Edmunds.

I worked for a while with John and Terry, recording weddings and other bands. One band we handled were a group of army musicians we named Universal Export (James Bond was hot in those days). They had a mixture of guitars, horns and keyboards. We took them to Southampton Guildhall and I remember the audience reaction when they started with James Brown's 'Papa's Got A Brand New Bag'. They had been used to the same old '60's guitar-based rock and R&B. When Universal Export played their first notes, the whole ballroom stopped, open mouthed. They were brilliant. We made an attempt to get them bought out of the army but their C.O. would hear nothing of it. John Walker August 2008
November 2008
E-mail from John Walker:
Latest pics of The DC Three taken on Saturday 8th November 2008 at a C & W dance held in Lovettsville - about 20 miles west of home, on the border of West Virginia. It was for the Lovettsville Game Preservation Association. All firearms were checked at the door! B.T.W. for all guitar enthusiasts, the red Strat. is 1961 vintage.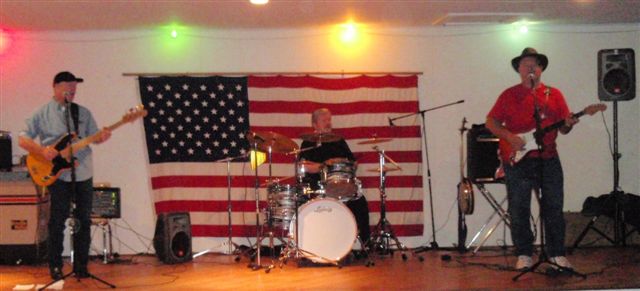 DC3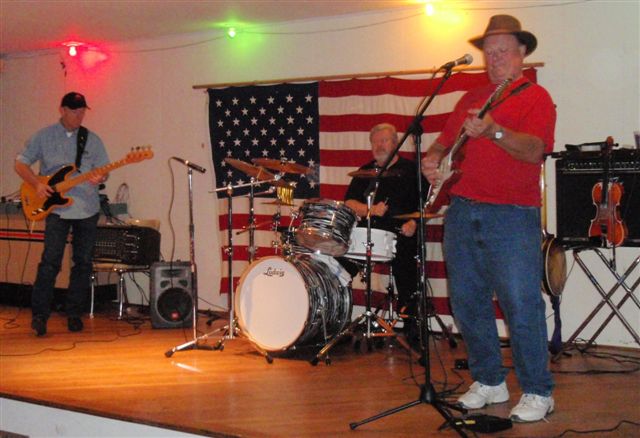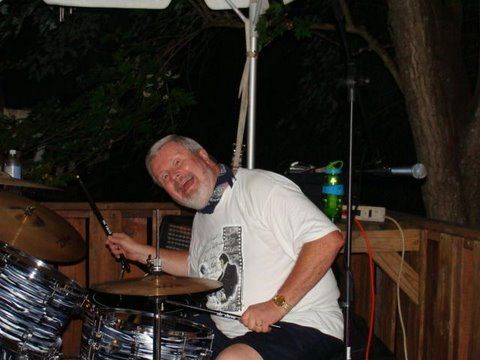 JW at 'Harry's Party' Booze or adrenaline here?
January 2009
Following on from Ten Feet Five's terrific slot on the first Concorde 'Back To The Sixties' Reunion Night, John Walker and his new band made the big trip across the Big Pond from the USA for a short UK tour. They kindly appeared as special guest artistes at the 3rd Concorde show and you can read all about them on the relevant webpage as below.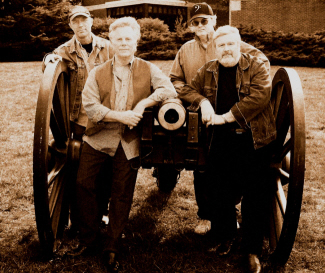 JOHNNY AND THE REBELS
www.davidstjohn.co.uk/concorde2010.html

BACK TO HOME PAGE BACK TO SITE MAP CONTACT DAVID
© David St John 2011