BACK TO HOME PAGE BACK TO SITE MAP CONTACT DAVID
Page updated September 2018
See end for news of the official book!
*PLEASE REFRESH YOUR BROWSER(press F5) WHEN RE-VISITING ANY WEBPAGE AS CONTENT IS OFTEN UPDATED*
Brian 'Kiwi'Adamson
The Silhouette Club Southampton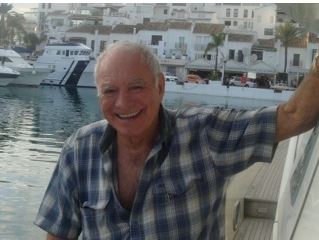 Marbella 2011
You may well have read about many of the top dance halls and venues throughout the late Fifties and Sixties, including the Royal Pier Pavilion and many more. Just check the Site Map and the Venues page which offers a good insight into the great days where local people danced the night away as well as probably meeting future partners.
www.davidstjohn.co.uk/venues.html
There were quite a few 'characters' around at the time but none more than the well known Brian 'Kiwi'Adamson, whose Silhouette Club was one of the best known in the South. I never knew him personally but his nightclub was THE place to go and not everybody knew Brian's amazing story in which he rose from very humble beginnings in New Zealand into multi-millionaire status and international playboy! With a combination of hard graft, fast talking skills and quite a few gambles (on and off the tables) Brian managed to build a very basic club into a very successful well known nightspot. There was very little trouble at the door, as Brian hired the right kind of doormen but often sorted any idiots or troublemakers out himself, thanks to his early years as a champion boxer back in New Zealand - they never knew what hit them!
Brian got in touch with me back in 2011 as he had just discovered my webpages on the Southampton scene and enjoyed the stories that took him back to his years in the city. He had some great friends and superb staff who helped run his club that saw many big stars and celebrities pass through the doors of the Silhouette Club in St Michaels Square, next to the historic church. Many of the local pop groups and DJs appeared at the club so part of the music scene that is the main focus of my Southampton based webpages.
The club was just a stone's throw from the Docks so perfectly placed for passengers and crew of passing liners during the busy days of the Fifties and Sixties. Also across the square from the wonderful Tudor House Museum that dates back to the Middle Ages. Across the main Castle Way at the rear of the church, one can still dine at the long established George's Restaurant founded by a Greek many years ago.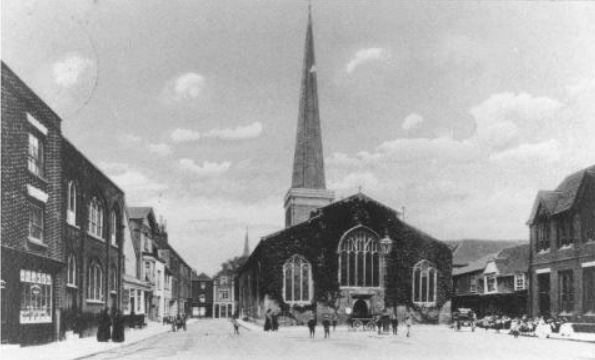 St Michaels Church and Square-old print (around 1900)
Silhouette Club was to the right of the church by the alleyway to Castle Way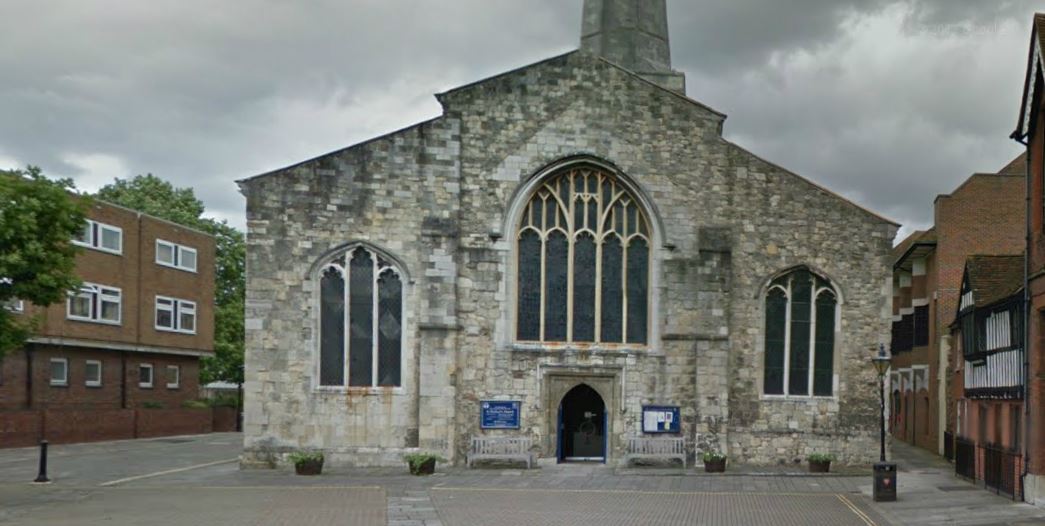 Modern day view with new building on the old area of the Silhouette Club to the right.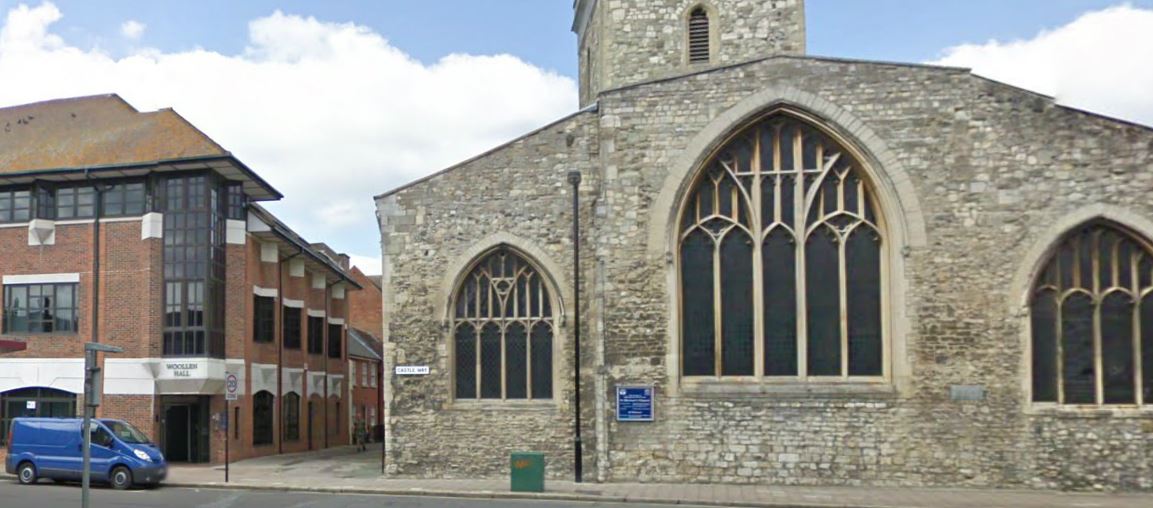 Rear of church from Castle Way- Woollen Hall (bank office?) on site of the Silhouette Club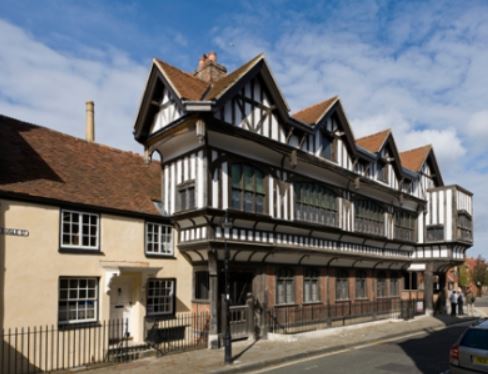 Tudor House across the Square
Brian has spent the last few years living between his luxury villa in Marbella and his penthouse in Phuket Thailand with amazing views, but still has strong feelings for Southampton where he made his fortune. Now just turned 80, he felt that maybe it was time to share his incredible story with the world and in fact asked if I would be prepared to write his biography as a 'ghost writer'. However, I find it difficult as I am kept busy with my main entertainment work plus other writing interests- including my updates on this website due to the overwhelming input from musicians and 'baby boomer' fans who love to read about the 60s pop groups and other related pages. In addition, Brian has a stack of photos out in Thailand so I'm hoping that he can organise some scanning and e-mailing some of them in the near future - so come on back here again!
I suggested that I write up a new webpage and he kindly sent me a draft copy of his autobiography, so I felt that it would be best to reproduce it as is- in his own words, thus offering a real personal insight into his fascinating life journey. Like many successful people, Brian made many friends and 'enemies' but often down to jealousy as well as having a reputation as a hard taskmaster at the helm of the Silhouette Club- but it worked!
The Southampton Echo featured a story on Brian back in July 2011 and this is a copy of the three page spread that covers some of his story.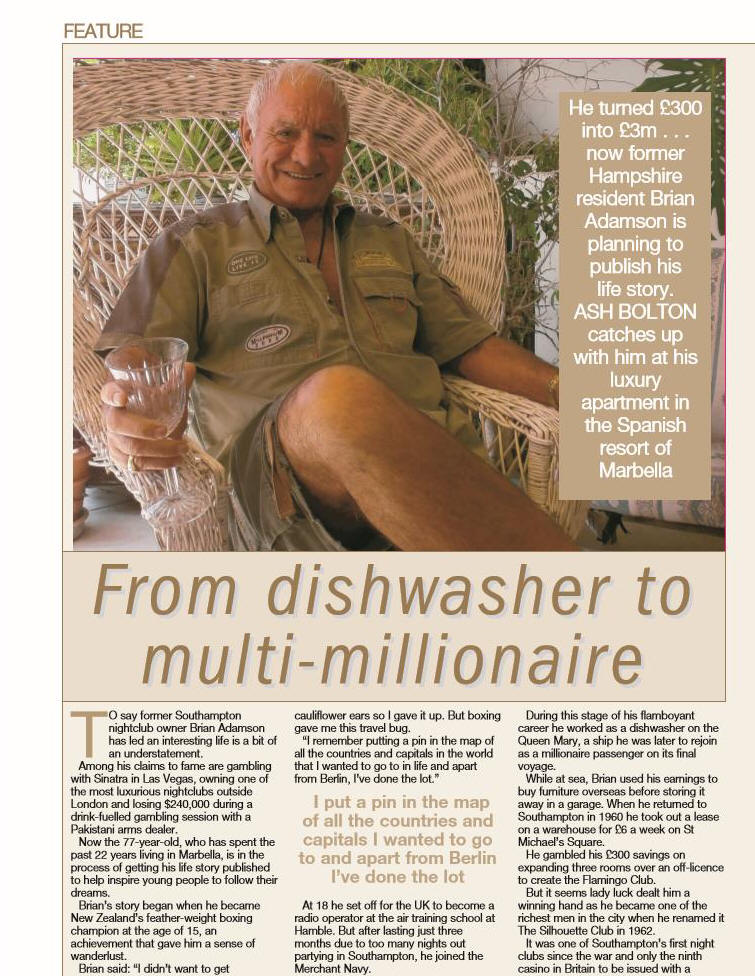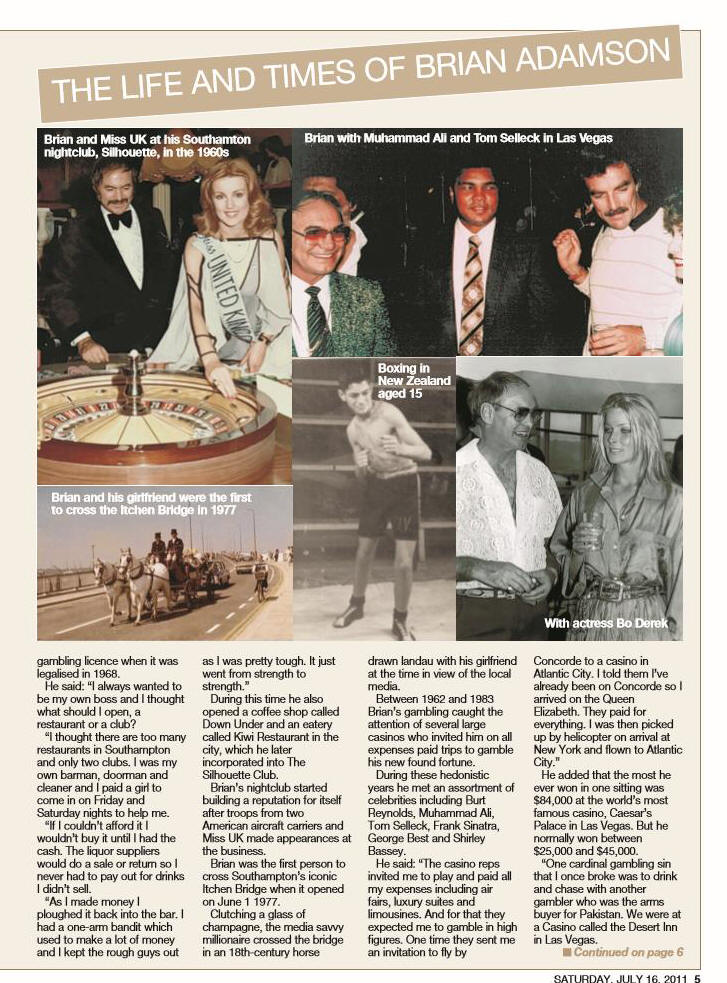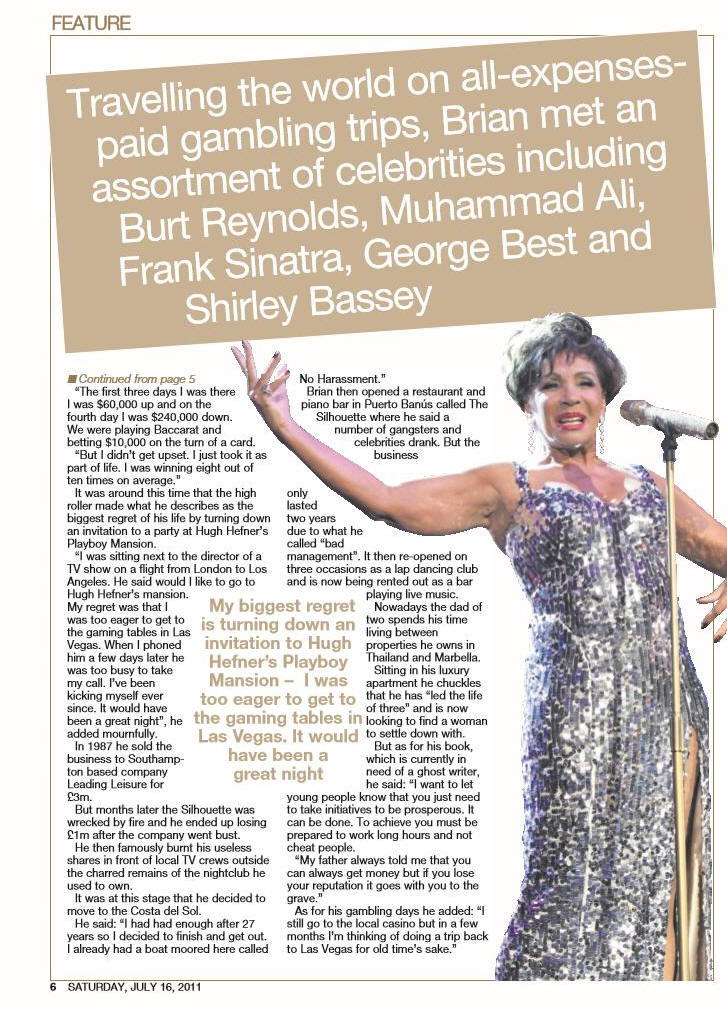 Courtesy © Southampton Echo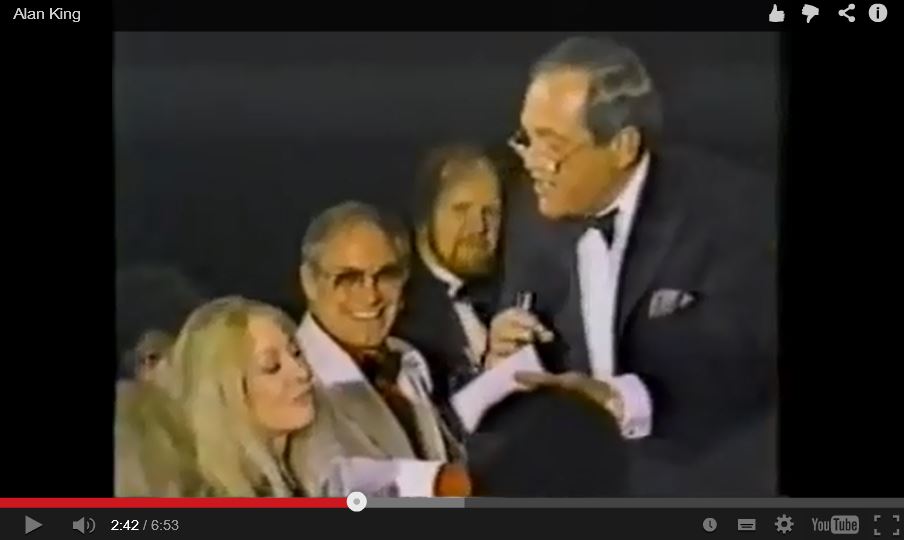 Alan King Show - Las Vegas 1987- Brian next to a gorgeous blonde as usual!
Click on this You Tube link:

http://biggeekdad.com/2011/05/survived-by-wife/#.UHguu3Hw

From this to this!
First (home-made) plastic gaming tables on the left with later ones!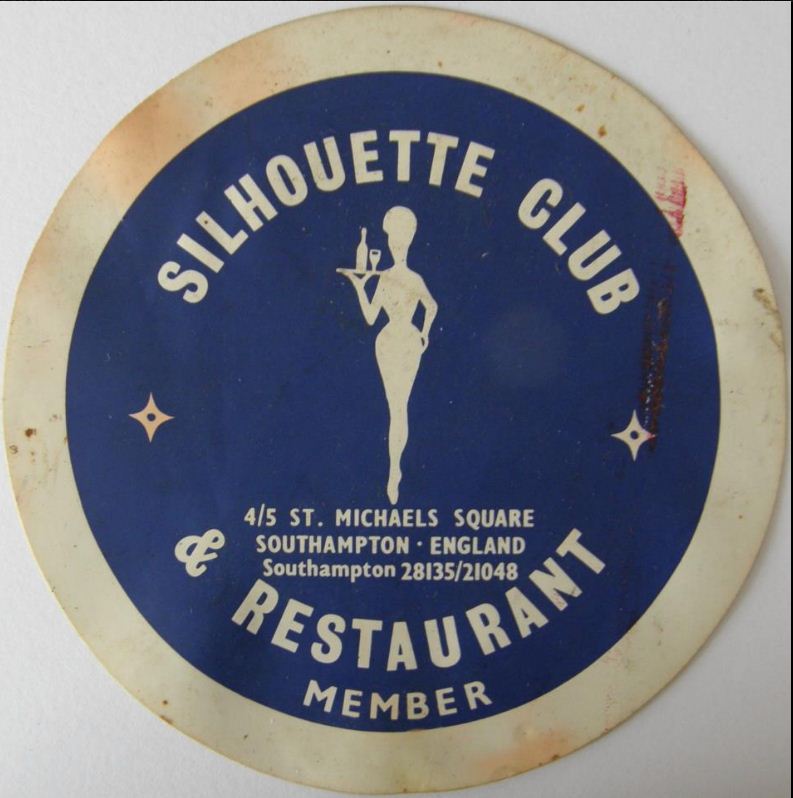 Silhouette beermat
Brian has kept a basic diary over many years, kindly sending me a draft copy which I found fascinating. I did reproduce it on this very page, which spurred Kiwi to ask if I could write his official biography back in 2016. Unfortunately, I was not able to undertake this task, due to various commitments, so he then appointed two other authors to share his amazing life story with the world. This did not result in a satisfactory outcome, and these two other writers had obviously used much of the content as a template for their own work. The drafts were short on detail, especially with the all important years that covered Brian's rise to millionaire status when landing on his feet in my own home city of Southampton, so he asked me again. I have finally written his story, which is due for publication in Autumn 2018 so please return to this webpage to find out the details. It will be an e-book, published via Kindle/Amazon, with a view to the option of a hard copy which is published as a print to order version. These will feature a massive collection of personal photos of the rich and famous celebrities that Kiwi rubbed shoulders with across the decades. You can read about his incredible journey, from humble beginnings that took him around the world, staying at five star hotels, casinos plus bedding some 2,000 women on the way!
If YOU knew Brian or have any personal memories of the Silhouette days then please contact me, as it's always good to share personal memories and this is what my website is all about. Southampton has a rich history over the last two thousand years, from the Roman settlements to the present day as one of the world's most famous ports. The Sixties were an amazing ten years and I am more than happy to celebrate those days by sharing the stories and images as 'modern history'. I am indebted to Brian and many more contributors over the last few years who wish to share their own memories-I'm sure there is a lot more to come!
E-mail from John Bendall (Johnny Baker)
HI David
Read this story on Brian Adamson with great interest . There are several pictures on your other webpages of a couple of different bands that were resident at the Silhouette . The main stays of the bands were Gerry Gurr , Neil Hibberd and myself with various others. Not sure how long we were there for but must have been 12 months or so. We used to do 12 nights on due to cabaret for 7 nights and 2 nights off . It was a great place to work. Remember one night the bass player Steve Holegate was a dep and the bouncer wouldn't let him in because he was too scruffy - had to get Kiwi to persuade him to come back in after he threatened he was going home . I had an aunt who was Italian who worked as the cloakroom receptionist , taking hats and coats upstairs , she would hang over the balcony upstairs that looked down onto the stage and dancefloor and wave at us every chance she got. Musos I remember at the club with us included Dave Fulford (ex White Plains plus George on keyboards , Tina on vocals. Brian wasn't very forthcoming when it came to speaking on the mike but he made an exception on our last night before we left to work in Thailand to thank us and wish us good luck. Happy happy memories, cheers mate John Bendall (Johnny Baker)
HOME PAGE SITE MAP CONTACT DAVID ST JOHN
copyright ©davidstjohn2018