BACK TO HOME PAGE BACK TO SITE MAP CONTACT DAVID
Page created March 2014
*PLEASE REFRESH YOUR BROWSER(press F5) WHEN RE-VISITING ANY WEBPAGE AS CONTENT IS OFTEN UPDATED*
Brian 'Kiwi'Adamson
The Silhouette Club Southampton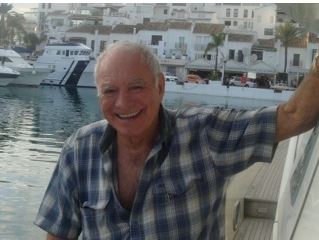 Marbella 2011
You may well have read about many of the top dance halls and venues throughout the late Fifties and Sixties, including the Royal Pier Pavilion and many more. Just check the Site Map and the Venues page which offers a good insight into the great days where local people danced the night away as well as probably meeting future partners.
www.davidstjohn.co.uk/venues.html
There were quite a few 'characters' around at the time but none more than the well known Brian 'Kiwi'Adamson, whose Silhouette Club was one of the best known in the South. I never knew him personally but his nightclub was THE place to go and not everybody knew Brian's amazing story in which he rose from very humble beginnings in New Zealand into multi-millionaire status and international playboy! With a combination of hard graft, fast talking skills and quite a few gambles (on and off the tables) Brian managed to build a very basic club into a very successful well known nightspot. There was very little trouble at the door, as Brian hired the right kind of doormen but often sorted any idiots or troublemakers out himself, thanks to his early years as a champion boxer back in New Zealand - they never knew what hit them!
Brian got in touch with me back in 2011 as he had just discovered my webpages on the Southampton scene and enjoyed the stories that took him back to his years in the city. He had some great friends and superb staff who helped run his club that saw many big stars and celebrities pass through the doors of the Silhouette Club in St Michaels Square, next to the historic church. Many of the local pop groups and DJs appeared at the club so part of the music scene that is the main focus of my Southampton based webpages.
The club was just a stone's throw from the Docks so perfectly placed for passengers and crew of passing liners during the busy days of the Fifties and Sixties. Also across the square from the wonderful Tudor House Museum that dates back to the Middle Ages. Across the main Castle Way at the rear of the church, one can still dine at the long established George's Restaurant founded by a Greek many years ago.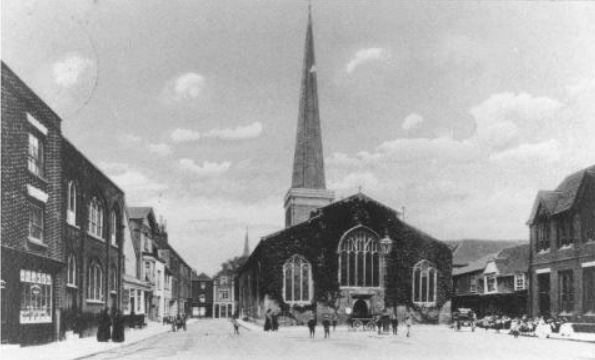 St Michaels Church and Square-old print (around 1900)
Silhouette Club was to the right of the church by the alleyway to Castle Way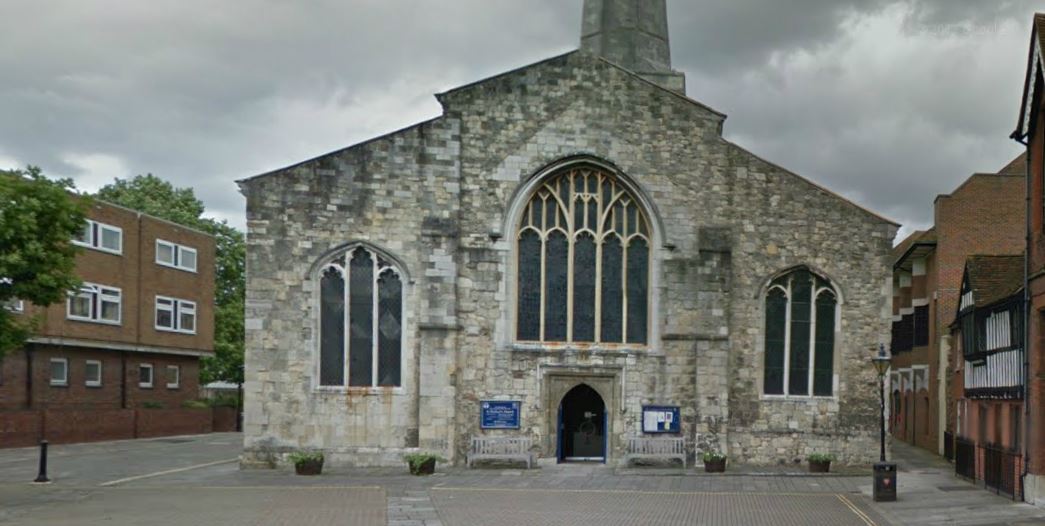 Modern day view with new building on the old area of the Silhouette Club to the right.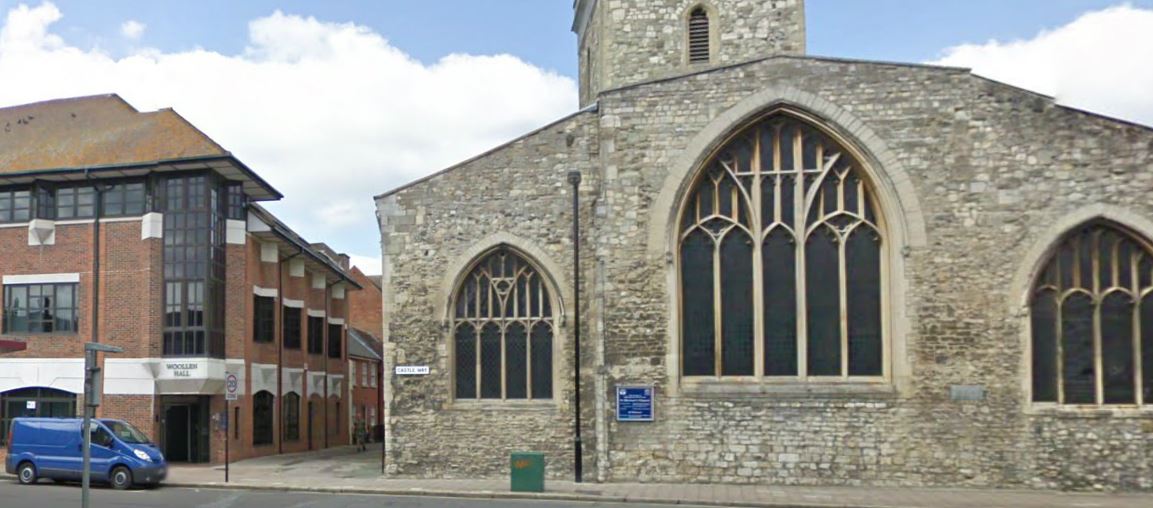 Rear of church from Castle Way- Woollen Hall (bank office?) on site of the Silhouette Club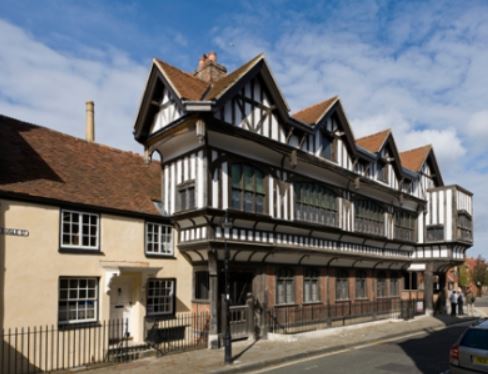 Tudor House across the Square
Brian has spent the last few years living between his luxury villa in Marbella and his penthouse in Phuket Thailand with amazing views, but still has strong feelings for Southampton where he made his fortune. Now just turned 80, he felt that maybe it was time to share his incredible story with the world and in fact asked if I would be prepared to write his biography as a 'ghost writer'. However, I find it difficult as I am kept busy with my main entertainment work plus other writing interests- including my updates on this website due to the overwhelming input from musicians and 'baby boomer' fans who love to read about the 60s pop groups and other related pages. In addition, Brian has a stack of photos out in Thailand so I'm hoping that he can organise some scanning and e-mailing some of them in the near future - so come on back here again!
I suggested that I write up a new webpage and he kindly sent me a draft copy of his autobiography, so I felt that it would be best to reproduce it as is- in his own words, thus offering a real personal insight into his fascinating life journey. Like many successful people, Brian made many friends and 'enemies' but often down to jealousy as well as having a reputation as a hard taskmaster at the helm of the Silhouette Club- but it worked!
The Southampton Echo featured a story on Brian back in July 2011 and this is a copy of the three page spread that covers some of his story.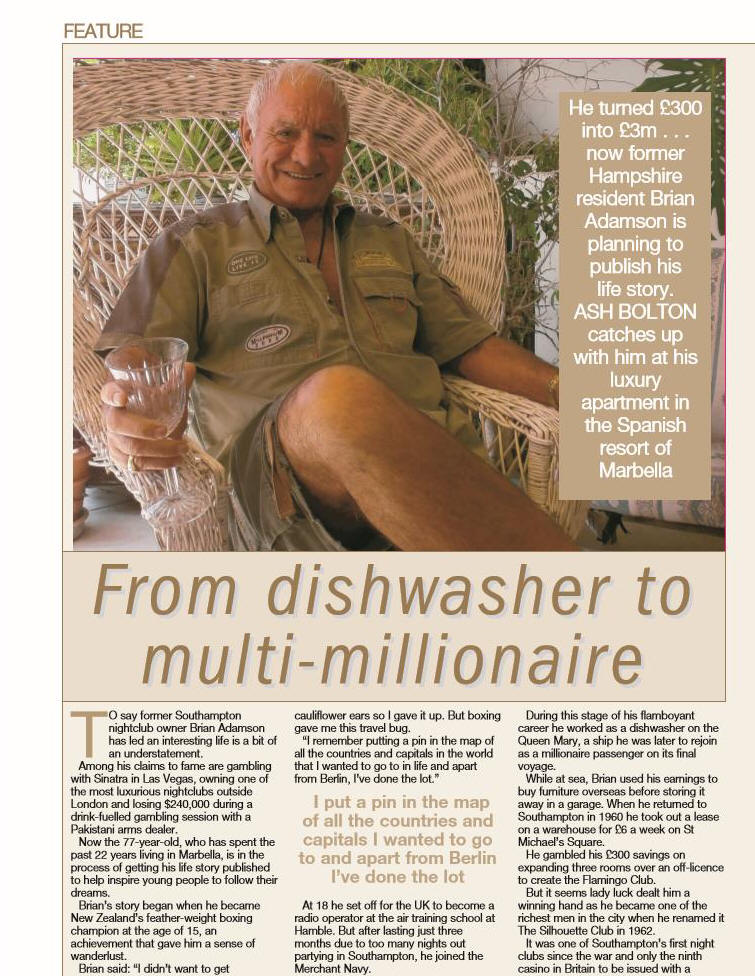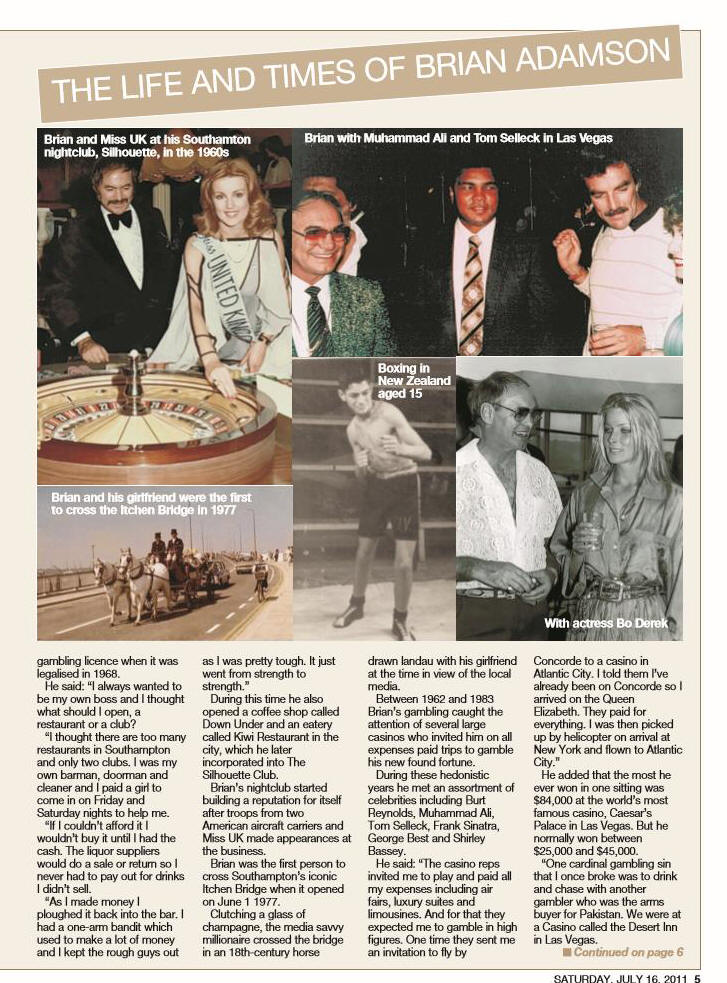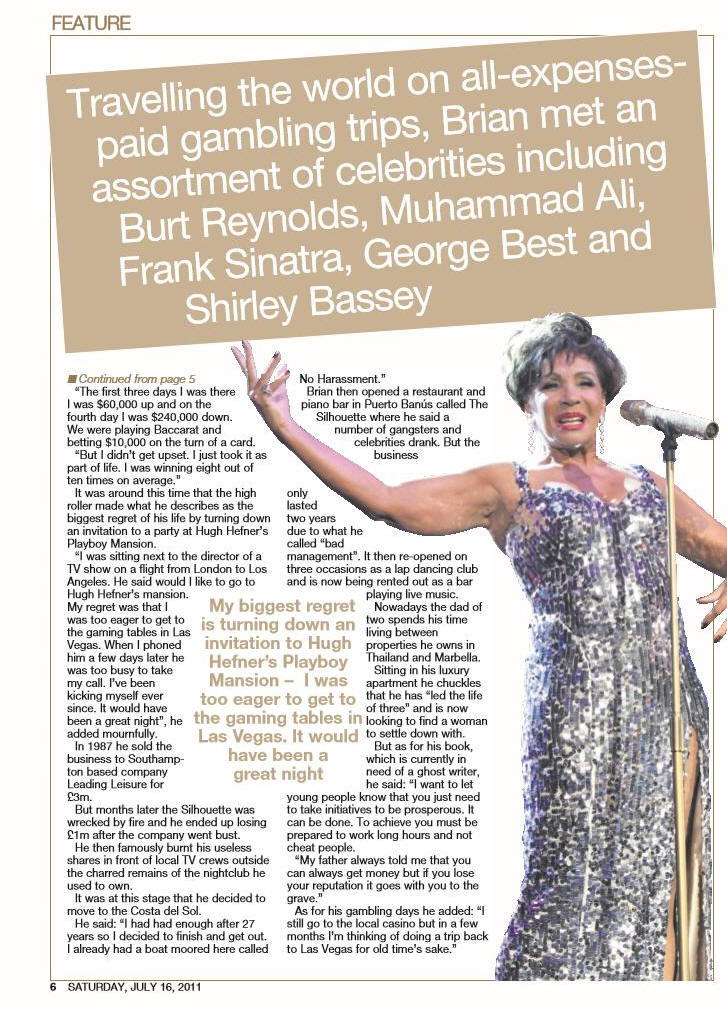 Courtesy © Southampton Echo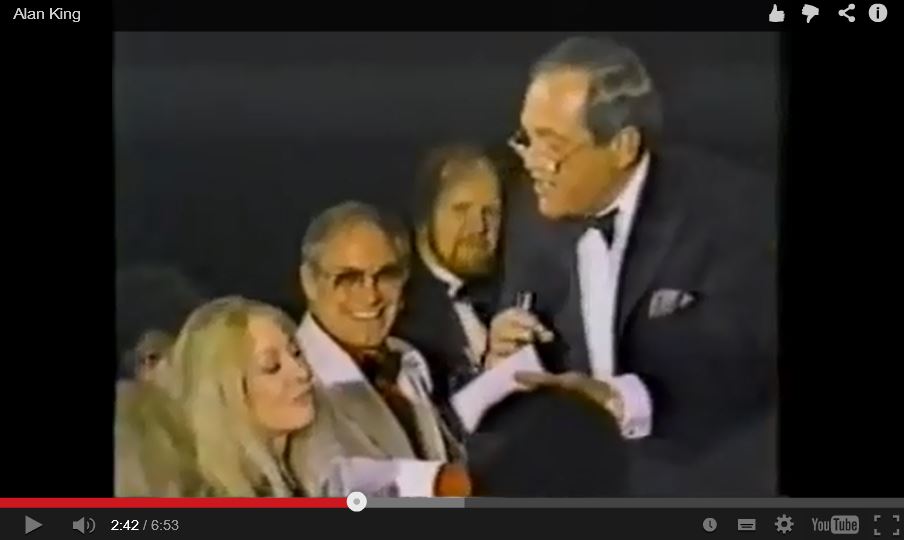 Alan King Show - Las Vegas 1987- Brian next to a gorgeous blonde as usual!
Click on this You Tube link:

http://biggeekdad.com/2011/05/survived-by-wife/#.UHguu3Hw

From this to this!
First (home-made) plastic gaming tables on the left with later ones!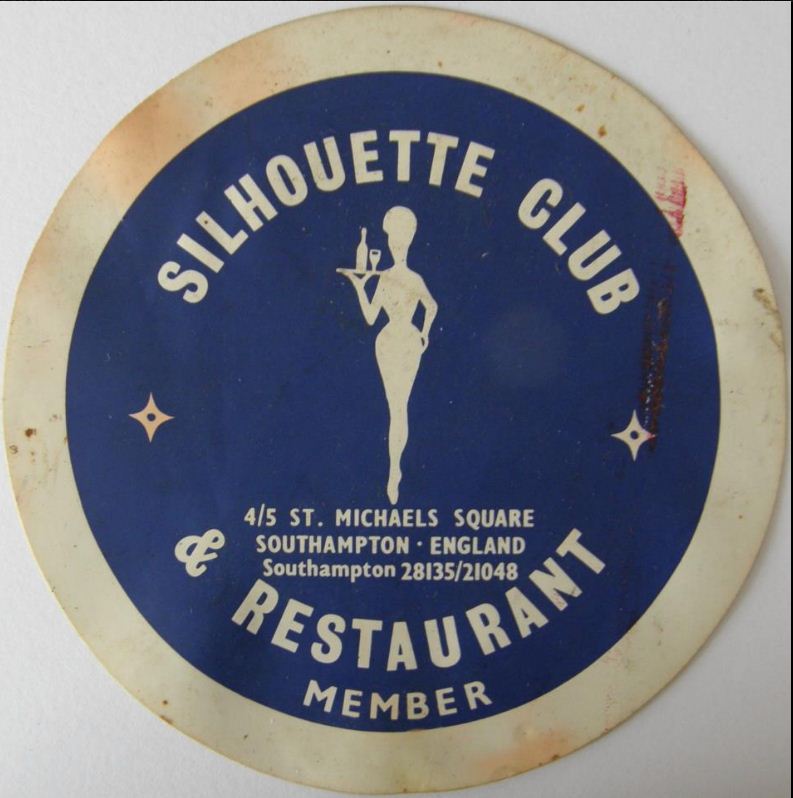 Silhouette beermat
..........................................................................................................................................................
Brian has kept a basic diary over many years and kindly sent me a draft copy which I found fascinating. I asked if I could reproduce it on my website. He agreed and I have now published it below- in his own words, although I have only tidied it up and edited a few odd sections. Brian is due to visit Southampton for a few days at the end of March/early April before travelling onto Marbella, so hoping to meet up with anyone from those heady days of the Silhouette Club- the best place In Town! If you knew or worked with Kiwi, then please contact me and I can pass messages onto him.
..........................................................................................................................................................
Rags to Riches:
The Life of Brian Adamson- Gambler and International PlayBoy
On the other side of the world
My life started in Upper Hutt, a small New Zealand town near Wellington my mother and father were both born in N. Z. and my great grandfather was one of the first settlers to land in New Zealand from Arbroath in Scotland.Growing up I was more fond of playing truant and playing football from school rather than attending classes. Much later in life I discovered there was a good reason for my poor academic performance-I was dyslexic but didn't know it back then, like so many at that time.
My first fight
At the age of 12 I got involved in a street brawl with another boy in the centre of town. It stopped the traffic, and after a while a local shopkeeper stopped the fight, made us shake hands and gave us an ice cream each.A few days later my father was approached by the trainer of the a boxing club who said bring your son to join our boxing club as he will get all the fighting he wants there which I did for 3 years. I won the New Zealand featherweight title but that's the end of my boxing career as I didn't want to end up ugly, with a broken nose and cauliflower ears!
Boxing Title
Boxing with the Upper Hutt club took me to competitions around New Zealand. It gave this small town boy the travel bug. I put a map on my wall in my bedroom and stuck pins in all the countries and different cities in the world that I wanted to go to. To date there's only one of those cities that I haven't visited. It is Berlin though I have been to other cities in Germany
I'm a Survivor
One day instead of going to High Tech I stayed on the train and carried into Wellington, and after being in town for a couple hours I got bored and decided to go home but on the return journey it was involved in a horrific train crash. I was sitting by the side of the only window on the side of the train that wasn't smashed and I escaped with a cut finger. Luckily the train was fairly empty as all the workers who used the train had already arrived at work, and the train was on its return trip at about 10-30 in the morning with few passengers. Thankfully my mother was more concerned about whether I was all right than the fact I was supposed to be at Tech
In the navy
Going to sea seemed the best way to satisfy my travel bug. Aged 16 I became a cook on a fishing boat but was fired when I almost blow it up-I had left the gas on after cooking the breakfast
Undeterred I got a job on an inter-island passenger boat but ended up stranded on New Zealand's South Island during a strike. For days four other friends and myself were stranded in the South Island we were living in one of the guys houses, and ran out of money so we survived on vegetables stolen from peoples gardens late at night and stale bread from the bake house to make toast until the strike was resolved. After that I found a job on an old tramp steamer and left New Zealand for England calling in at Belfast and Liverpool. This was my first voyage overseas.
Radio operator
I returned to New Zealand and worked on the docks for a while. But before long I felt the urge to get back to the UK and I got a job as a fireman and worked my passage to England. I decided to take a radio operator's course at the famed AST school in Hamble near Southampton, but between staying out all night and chasing girls, I didn't have much success at learning the skills and only lasted three months on the course. I soon got a job in a warehouse later and I told the boss that I could not survive on the wages I was getting, after paying for my accommodation and food, but as I was a good worker he offered me more money but not to tell the other workers. I was a blabbermouth and told the other workers and caused a strike.
I then got a job as a deck boy on a yacht, and some15 years later , when my fortunes changed-I bought a penthouse in Broadwick St Soho London from the son of the owner of that very same yacht! My terrace overlooked Carnaby Street –the heart of Swinging London during the Sixties.
On one trip in the troop ship Nevassa we were in a place called Kure to pick up a load of troops to take back to the U.K. and I met a Japanese half Korean girl - she looked after me and took me to Hiroshima visiting a museum and it was not a nice place to have seen the photos of the devastation from the 1945 atomic bomb, but it is now a thriving city
Hong Kong
Before long I ended up back on the Nevassa, sailing to Hong Kong on regular trips. I always enjoyed playing cards with my crew mates and I ran a 'Crown and Anchor' gambling board on ships that I worked on. In Hong Kong I bought chairs and small tables that I stored in a friend's warehouse in Southampton until I found a property to rent as I wanted to be my own boss and was just waiting for the opportunity to find premises
A £300 Start
I had a savings account with £300 in it from my days as a paper boy and I used to work in a shop after school scrubbing potatoes to earn some saving money. This was my start up cash towards my dream to be my own boss. Everyone said it was too little. But I was undeterred and I found some premises at £6.10s a week and I hired a handyman, knocked down walls myself, used second hand materials and opened the Flamingo club in 1960. Situated in St Michaels Square in the beautiful old part of Southampton close to the church and nearby Docks so very handy for those on the ships. Luckily a local bank manager came to my rescue with a loan when my £300 didn't prove sufficient funds to keep the cash flow going.
I did not have to lay money out for liquor as a supplier did a sale or return -only paid on a monthly stocktaking and the furniture I already had from Hong Kong
The Kiwi
After a couple years I rented the premises next to the Flamingo and opened Kiwi's restaurant. The club was thriving and the restaurant did well. The bank then gave me the funds to buy the premises and I ended up owning all the premises around me.
The SilhouetteClub
With the addition of a third premises in the same block, I combined the Flamingo and Kiwi's to form the Silhouette club. Upstairs I had a roulette table and a blackjack table –they were home- made - while downstairs people enjoyed the club and restaurant. Operating a casino wasn't quite legal, but there were ways around the law until the 1968 Gaming Act. It was a popular and very lucrative business though I started the gambling in 1964 then I sold in 1987
I was very particular who I let into my club and there was many a battle with idiots wanting to come in. I used to say to the doorman "no fighting any fighting I will do it!" My former boxing skills came in handy on several occasions
The police knew I ran a clean club and I never had any problems, unlike many others in the area!
Music and cabaret
A pleasant drinking environment and good food draw in clients, but nothing attracts them like live music. I'd started a weekly jazz club in the old Flamingo club and in the Silhouette I introduced a weekly cabaret on Tuesday nights – the dead night of the week, which took off.
I started with a waitress ( later became my manageress ) and a chef , finally ending up employing over 60 people. Had fantastic staff and my manageress Ann was an amazing person who worked many long hours and stayed with me for many years when I sold my club and was living in Spain. Several years later I heard the she had collapsed in a restaurant from a heart problem and needed an operation. I heard about this and arranged for her to have a private operation to give her a few more years it was to show my appreciation for the hard work that she had done for me over the 15 years that she worked for me as my first waitress and then my manageress. Unfortunately she has now passed away – Ann R.I.P. I miss you…..
Diana Dors, The Tremeloes, Edison Lighthouse, Danny Williams and The Swinging Blue jeans were among the many 1960s acts that appeared at the club – see the list below my story.
Big Bucks and Baccarat
The club was doing well, so well I bought several houses, apartments and a small hotel in Southampton. In 1967 I sailed on the Queen Mary's last voyage as a First Class passenger, eating caviar off the same plates I'd once washed as a dishwasher when I worked on board the same ship in my younger days. There was a big write up in the Sunday people by reporter Arthur Halliwell who called me the 'most colorful person on board' and you can see this on the webpage that David St John has kindly set up to share my story.
I had started the casino in 1964 with 2 homemade tables -one was a plastic that I brought in Smiths bookstore plus a home- made BlackJack table. In 1968 The Gaming Act came into force and the Silhouette was among the first clubs in the country to get a license – I was the ninth person out of a total of 125 clubs and myself and one other person were the only individual owners whilst other licenses were company owned
The Silhouette kept growing and in the mid 1970s I refurbished the club completely. The casino business was booming. I opened up a coffee bar at the other end of town which was a hit for the kids they used to queue up waiting to go in and I had the biggest sale of Coca Cola in the south of England.
One time as a promotion I commissioned a girl who was crowned Miss U.K. to promote my club and coffee bar. At that time there were two large American aircraft carriers visiting Southampton and I arranged special passes for the officers only so they were able to come into my club. The officers then invited myself and Miss U.K. down on board the aircraft called The U.S.S. Forrestall , which caught fire in the Pacific a few years later. We were piped on board with a band playing and lined up were sailors -felt like royalty!
I had always been a trader -even from my school days when I used to play marbles at school and changed cigarette cards that used to be in cigarette packets. When I worked on the boats in the Merchant Navy I used to run 'Crown and Anchor' gambling boards when off duty in what they call the Pig and Whistle -the crews recreation room on the ship. When I joined the Merchant Navy my first ship was called the Stirling Castle, and I started from the bottom as a dishwasher then onto various other ships. I was in Southampton when I had my 21st birthday and I celebrated with a bottle of Brown Ale, that's all I could afford at that time in the Fifties but I made up for it in champagne within a few years.
Those were my early days and I was making good money from 1961 when the gambling was semi legal and I ploughed my money back into my business. I never had any Hire Purchase , and if I could not afford it I waited until I could pay. I owned 4 houses and split them into two flats per house. I tried to buy the other 4 remaining houses as the street was the only private street in the city. At that time the population of Southampton was about 250,000 I would say at least 100,000 knew of me and my club as I did a lot of advertising and was featured in many write ups
INVITATIONS U. S. A.
As a 'high roller, I was invited to gamble at Caesar's Palace in Las Vegas and returned there many times at their special invitation, all costs paid, first class return airfares from my London penthouse. Everything included with luxury hotel accommodation, 24 hour room service and really lived the high life, meeting a host of stars and celebrities. I played cards with Frank Sinatra sitting next to him and talking with him on the Baccarat Table at Caesars Palace. Diana Ross was the Star Cabaret and she walked off the stage, singing then stopped and shook my hand!
I was sitting on the end of the row and my (then)wife said "Of all the people in this showroom she had to pick YOU to shake hands with" Two things a person should not do when gambling -do NOT drink or chase your bets.
I was always a winner at the Baccarat Table -the best game to play and the high rollers usually play this game. Approximately 8 times out of 10 times I was a winner, but one time I broke that rule and was on a junket (with other gamblers) at the Desert Inn Las Vegas . 3 days I am $60,000 up 4 but days later I was $ 240,000 dollars down. I broke my rule when drinking and chasing bets, but I was alongside an arms dealer guy from Pakistan and we were betting between 2 tables at $10,000 dollars a bet! You often learn by your mistakes.
I was invited by the USA casinos many times whenever there were big events going on, including one time to Caesars Palace - Overseas Director -Dolores Owen's birthday party. I was one of her special invited guests at Caesars Palace Casino in Atlantic City on the East Coast and I was sent an invitation to fly by Concorde, but I said I would prefer to come with my (current) girlfriend on the Queen Elizabeth 2. When the ship docked in New York we were met by a limousine and taken to a heliport where a Sikorsky helicopter was waiting for us to fly onto to Atlantic City. When passing the Statue of liberty I took a photo of it, and that wonderful Manhattan skyline. We had a fantastic time hosted by Dolores and I even made money on the Baccarat table as well as meeting top boxing manager Don King who later promoted Mike Tyson and other top names.
One time me and five other people were invited to see a MikeTyson fight and we met him coming off the plane in Las Vegas. We were talking with him and the guys said "take a photo Brian" which I did and then I had my picture taken with him. Later when we checked in at Caesars Palace I told the guys that 'sorry I had no film in the camera!'
On another occasion I was invited to the anniversary of Resorts International Casino in the Bahamas -a 5 day bash. When these casinos entertain they really do know how to entertain, and I was a winner on the Baccarat table -the only game I prefer to play in any casino
I was also invited to a Baccarat competition in Lake Tahoe by Caesars Palace and out of 75 people I came 2nd winning a cheque for $9,500. I had the use of the Caesars Palace yacht on Lake Mead and have photo of me lying out on deck with 4 girls holding a bunch of grapes above my mouth- what a life!
A few years later, they transferred the company yacht to Lake Tahoe and my (then) wife and I were given the use of it when I was invited there for the Baccarat Competition, and we even passed the villa which was one of the locations for where the 1972 movie Godfather was filmed. I was often invited to the big boxing fights and any big promotional event by Caesars Palace and the Mirage Casinos so more great memories and wins at the tables. We also flew over the Grand Canyon, and many more exciting places all over the USA
Thwarted Developments
I was having fun playing some big games in Las Vegas and in 1985 the Silhouette had its 25th birthday celebration, but I was ready to sell it. I was fed up and wanted to enjoy the money I'd made over those good years and not getting any younger.
Money to Burn
In 1987, Leading Leisure was the South's fastest growing leisure company and I happily sold the club to them for £3 million, but one of the conditions of the sale was that I took £1 million of shares in Leading Leisure. It seemed like a good year for me, as my daughter was also born at the same time. On the other hand, my marriage turned out to be one of the biggest mistakes of my life. By 1990, my shares were virtually worthless and I publicly burned my share certificates outside the Silhouette club, which coincidentally had also been burned out due to a faulty gas pipe. This was covered by the local and national media plus TV reports.
Viva Espana
I took off for Spain to start a new restaurant venture in Puerto Banus and I sailed my boat "No Harrassment" from Southampton down to Spain but found it only caused me trouble. After I'd sold it, it turned upon the front page of a local paper – the new owners were using it to smuggle hashish! The Marbella scene was everything people imagined it was and several notable gangsters, as well as entertainers, came to my restaurant and piano bar. However, business wasn't booming enough then to sustain the venture and I turned it into a lap dancing club. Staffing gave me a few headaches and I end up suing a British newspaper for a libellous story about the club, for which I was awarded £20,000 pounds.
Lessons Learned
My life to date has shown me that anyone can make a fortune if they have the vision and determination, mixed with luck. There's no substitute for hard work, and even when I play Baccarat I have rules that I'd advise any player to follow, and a few stories that illustrates what happens when you don't follow the rules. I've had, and still have a beautiful penthouse in Phuket Thailand , and I sold my apartment in Marbella, plus I have two beachfront plots in Brazil .
I have taken photos of the many gorgeous girls across the years and mainly from 2001 with copies on my computer as a reminder who they were. I have the pleasure of keeping these photos as security should they ever steal something or cause any problems ………..
I have often had 3 cars at one time including a rare 450 SL Mercedes ,plus a 500 SL Mercedes and an Italian ISIO Grifo. I still own the Mercedes 500 SL which I bought in 1989. Later on, I purchased a cherished number plate B A 1 for £4,800 in 1994, then sold it in 2012 for £130,000.
I've spent time on many yachts all over the world and rubbed shoulders with the rich, famous and infamous. It's been a good life for me that started from the bottom, despite the only bad experience which was my marriage and she certainly trapped me good (more later) On one of my travels I was in Goa for a few days and did not like it there so went onto Mumbai and stayed at the Oberoi Trident Hotel that was later blown up – glad I wasn't around then.
One time I was in the Barracuda Casino in London and I was playing cards with a guy called Max Thomas a Cypriot bookmaker. On one hand in 7 card stud poker I was showing a pair of Kings and he had a small pair. I bet £25,000 that there was over £50,000 in the pot and he called me. He had 2 pair and I just had the pair of Kings and he just looked at me - called my bluff, and I lost! When I was invited on various occasions to any large event in the casinos -I was a 'hit and run' player. When I was in front I left and had various wins with £84,000 being my best win
There are thousands of people who have surpassed me and I am just a small drop in the ocean but I have led life to the full. I have a birthday on the 24th April and I will have the enjoyment of 2 ladies to make me happy - one is from Brazil who is bi-sexual and she meets different ladies and often calls me and says "Hi Brian -I have met a lovely lady and I have told her about you" and she brings them over to see me!
I am generous but careful with my money, but I do not have to go out looking for anything or having to pay for dinner or any relationship. I have known this lady for 5 years and she has brought many girls to party with- I like to be in between! A real 'Kiwi Fruit Sandwich'….
The first time I had sex was about 12 years old I was with this girl behind a row of shops and we were standing up with her panties and my trousers down, and just copying what my older brother did, but I don't think it was complete. Then a man came out and yelled at us - me being the gentleman I was, I pulled my trousers up and ran leaving the girl there!
On three occasions I met the legendary Mohammed Ali and have photo of him with Tom Selleck, plus my (then) wife and me at a cocktail reception at Caesars Palace in Las Vegas. I have many photos of the celebrities taken together with them, so hope to sort these out and send over to David St John in England to use on his website.
When I was first invited to Las Vegas I was with some other guests and we played cards on the plane. One guy in particular was a David Sullivan who started a dating magazine for male and females to meet each other and later made a fortune in publishing and pornography. He also owned Birmingham City Football club and now controls West Ham with a multi-million pound fortune. 'Where there's muck-there's money!'
One time I was in Macau (nr Hong Kong) with Dolores Owen (Caesars Palace) and was introduced to Stanly Hoe.When visiting Las Vegas I have stopped over in Los Angeles and stayed at the famous Beverly Hills Hotel. I've been up the Empire State building in New York as well as the Eiffel Tower in Paris and many more famous landmarks.Once I chartered a private plane once to go along the coast from Santa Monica in California, looking for a possible place to buy. Also visited the famous Alcatraz Prison Island on the sight-seeing trip in San Francisco Bay
One time when flying to Las Vegas I was sitting next to a guy called Allen McCowan, a T.V. executive with an office in Los Angeles. He asked if I would like to go to Hugh Hefner's Playboy Mansion and I said that I would like to go on my return journey but when I called he was too busy – damn it!
On a return flight from Las Vegas I was connected with a flight from Chicago in the First Class with only a few passengers in the dark lit lounge. I started talking to an attractive lady passenger and moved over to be next to her- the lights went down for people to sleep and as we had been talking about sex, one thing led to another so at last I joined the 'Mile High Club'!
I went on a trip to Surfers Paradise in Australia and ended buying a beautiful villa on a corner river position, I was there for few months and rented it out to a guy called Peter Foster a notorious con man and his family. They paid the first year then no more I had to fly down and have them chucked out. On that site now is a large condominium and Foster was covered in the international press a few years later.
I was invited to a party held at a chateau outside Paris by a friend of mine and I took a girl with me, meeting up with my friends in Paris who took us to this amazing castle. We were introduced to the owner - a high person in the French government but I will refrain from identifying anybody.
We were at a table which was full of food and liquor, and my friend nudged me and pointed to a lady who came out from another room stark naked. I was told to look in at various rooms which we did and in different areas couples were having sex- a full scale orgy. It didn't really turn me on so we just looked and drank wine until my friend said lets go.
HOLLYWOOD
Went around M G M studios and met up with actor Robert Stack (The Untouchables etc) Another time in Las Vegas I went to a disco called the Barracuda but it was too early so I went out, hailed a taxi and said to the driver " Take me where there are girls!" and he said a name which was a male strip joint. I said I didn't want to go and look at men but he laughed and replied "That's where the women are Buddy!" and he was right there were many women watching the male strippers!
When I went to catch a taxi, I had to wait in line and when my cab came- two ladies asked if they could share? I said yes and they asked where I was going and I told them that I was going back to the Barracuda Disco and asked if they could come in with me. We parted at the club but met up later and I had a dance with one and she was pressing her body into me. I invited them back to Caesars Palace where I had a large suite that Sammy Davis used to have when he was in town, with a plaque outside the room.
The two Ladies were in Las Vegas as they had won a golf competition- the prize was a week end in Vegas. We had a few drinks and I was going to the bedroom with one lady and invited the other one to join us but she declined. However, my luck changed yet again as later she came into the bedroom and joined in. Talk about a 'hole in one'…………
On another occasion some friends and I were in another lounge bar with music and a girl came and asked me for a dance, so we did then ended back at my room. On another trip aid by the Casino we were shown around the New York Stock Exchange before flying to Las Vegas and more gambling, booze and women!
Have had many ladies -over two thousand and kept a log from 2001 when I brought my penthouse in Thailand. I used to take photos of them and their identity cards for security and mementos as you can never be too careful when you are known to have money!
As a young blood, even before I opened my club I was a Ladies Man, as the owner of a nightclub and casino I had many more ladies - why have one when you can have a dozen? Why buy a book when you can join a library?
I have 5 separate folders of girls from the U.K. ,Spain, Thailand, Philippines and various other countries -plenty of naked photos of girls with great memories of passionate days and nights. I used to have a business card with 'WORLD WIDE PHOTOS' on and used to see an attractive girl and say that I would like to photograph her. When photographing them I would say bring your top down a bit then another bit and then another bit and then all, they were naked. I used to shake my head and think that this is not happening, but did not have sex with all of the girls but quite a lot -all girls want to be models?
KIWI CHAT-UP TIP:
I used to go to discos and the best place to stand is by the Ladies toilet as most girls go there sometime in the night. Another way to chat up a girl was this way and it worked- I used to have a small purse with a 10 shilling (50p) note in it and when I seen a girl that I liked I would come behind them and say "Excuse me -did you drop this purse?" She would say no and I started talking with her and said lets open it, there was only the 10 shilling note in it. So I said to the girl "Lets go and have a coffee" and then invited her out, worked quite a few times leading to some great nights! One time though I said this to a girl and she said thank you and took the purse.
One occasion when I had my casino Raz, my casino manager was looking for the waitress serving coffees and drinks but could not find her. When he did he said "Where the hell have you been- we are so busy" and gave her a telling off .She replied "What can I say when your boss has been screwing me out the back!!" I did have sex with a few of the girls that worked for me and all part of the fun of the fair –pleasurable on both sides.
PHILIPPINES
The most memorable events of my life that men would have given there right arm to have been in my position. A German friend and I were in Angeles City in the Philippines, meeting up with a guy called Gerard who owned a lot of property, hotels etc. Gerrard was kidnapped and held for a $1million ransom . They caught the guys -killed one and the others were bumped off in prison, thanks to contacts, bribes etc.
Gerard invited my friend and myself to come to his mansion just outside Manila for a weekend party He arranged 15 girls in a minibus with Gerard, his friend and my pal were in another 4 wheeler with 3 armed body guards with submachine guns. Needless to say we had a memorable week end……….I had a 'weak end'…….
Angeles City was where the Americans had an airbase there in the war and has many bars with shows where you can pay a bar 'fine' and take a girl out for the night. One club had over 500 girls on stage age between 18 and 25. Filipinos are great friendly people and I have a brother who is married to one he got by mail order! They are both very happy and married now for 25 years with a 24 year old daughter.
In my club in Southampton I had many named acts pop by, one was Gerry Marsden (Pacemakers) managed by Brian Epstein who managed the Beatles plus many other acts One time Ken Dodd came into my club with friends and I heard him say "By Jove missus -this place has atmosphere!"
Another was Diana Dors and many other stars who appeared at my club. I met Tom Jones in Peter Stringfellows club in London , and he was having sex with the same lady that I was ( appearing in Cabaret for me at my club) I later laughed at one of his hits 'Just Help Yourself!'
On one visit that I planned was a time that I went to Zurich and when I got to Heathrow airport I realised that I had left my passport behind. I said to my travel agent that I had forgotten my passport and I said let me ask the airline if they would take me. They replied that if there was a seat on the return journey I could try, when I arrived in Zurich I told the customs officer that I had forgotten my passport and I told him that I had an appointment with my bank and flying back the following day. I showed him my hotel and bank details , and he let me through - people could not believe that this happened , today that would be impossible.
In my early days I had met a girl in London and we ended up living together for a year and on one occasion I wanted to finish our association but I then get caught by the oldest trick in the book -she told me she was pregnant. I was just in the process of selling my club after the baby was born and it was a Leap Year and she asked me about getting married. I then thought I have had a good life why not settle down and be a good boy, but this was not to be after being married for one year so we divorced.
It was a bitter occasion and she stole 23 valuable paintings and many other items from my apartment in Spain as well as would not letting me see my baby from the age of 2years until she was five years old. Despite many court appearances, I had to buy her an 2 bedroomed apartment in St Johns Wood, opposite Lords cricket ground in London as a divorce settlement. After that experience I had the snip so I would not fall into that trap again!
Another time, I had a 1934 drop head Jaguar but did not have a driving licence. A friend of mine got me one from Belfast in Ireland so I just went in with my photo and received a licence-this was when I was working on the boats.
I decided to move to Spain and bought a local property in a shopping mall, opening up a Restaurant and Piano bar and had many famous people visiting it had famous and infamous dodgy clients Freddie Foreman ,Dave Courtney etc. After 2 years I closed it, rented it out then took it back when the short lease ran out and then decided to reopen it as a lap dancing club which was not that profitable closed and now currently waiting for a buyer
On one other occasion I was in contact with a James Taylor and we were to have a meeting in Paris to talk about opening a casino. Me and 2 girls went to Paris and we stayed at the top class luxury George V1 Hotel. James did not show but 3 ministers came and we discussed the opportunity of opening casinos in***********. They replied that there was a Swiss company there already but I could have the Forestry License plus mining rights. I told them I was not interested as I smelt a rat, and a few weeks later I had read that these guys had been shot!
I have owned 2 yachts, they are like a woman -trouble and expensive and best yachts are somebody else's! I sailed one yacht from Southampton to Cherbourg in France then across the Bay of Biscay to Corruna, and finally down to Lisbon. I had hired a professional skipper to do the navigation and I helped with the steering, when in Coruna the skipper was having sex with the girl who I had brought along to make our meals. He missed the weather report and I said let's go but he said it was not a good idea and I told him that he should have been paying more attention and not screwing the girl! I said lets go, and we then left after a few hours the weather was getting rough with high waves coming over the yacht and dislodged the radar. He did not ask me again about going on and he turned the boat around and headed back to port - this time I agreed with him and next stop was Lisbon when the weather was right.
From Lisbon we headed for Gibraltar where I stocked up with a load of bottles of liquor with next stop at Marbella. Berthed it there for a while and then sailed it to Ibiza for a couple years then back to Marbella where I sold it. A few weeks after selling it a friend told me to look at the Spanish Sur newspaper and there was a picture of my old yacht on the front page which had been caught with 225 kilos of hash on board!
In the upmarket yachting port of Puerto Banus, I bought some premises in a shopping outlet called the Cristamar Centre and opened up a beautiful Restaurant and music bar called the Silhouette after my beloved club in Southampton.
Unfortunately at that time it was in a bad position and I rented it out a couple times but no good so then I opened it as a Lap dancing club called LAS CHICAS. Had problems with some girl dancers so closed it, then later I re opened and same problems so I closed again! Then I rented out and had more headaches again so now I have it closed until I sell it. I now live in my penthouse in Phuket in Thailand where I have had the enjoyment of many Thai ladies and now I have a live -in lady who looks after me, and I am now slowing down after many years of wine, women and song.
I do not wear any expensive jewellery anymore, as on two occasions I was attacked. I had a gold chain ripped from my neck in Brazil and had a Rolex watch ripped from my hand in San Pedro in Spain. This guy came from behind me and ripped my Rolex watch from my hand he then jumped on the back of a motor bike as they were going past me. I threw myself at the bike which nearly came over and I just rolled over in the road. Friends said it was a good job they did not come off as they might have pulled a knife on me….
I read once that a Taiwanese Business man who was on a business trip to Macau (Hong Kong) had a diamond Rolex watch on and some Triad gangsters chopped his hand off just to slide the watch off! One has to be street wise in some dangerous parts of the world and it's not good to flaunt one's wealth in certain areas.
I have brought 2 plots of beachfront land in Brazil in Cumbuco near Fortaleza in Brazil as an investment which I hope to sell soon. On one of my many trips I did a trip to Cuba with a very nice lady who was one of the best women that I have ever been with. She left me, not me her. As the saying goes, you cannot win them all….
TSUNAMI
I was in Thailand when the massive 2004 Tsunami hit. I was just getting out of bed with a girl and there was an earthquake and the whole building shook. I said to the girl "Its an earthquake- let's get out of here" and we ran down stairs she disappeared and I went to a community centre meeting hall nearby. Half way through the meeting, a guy came running in shouting in the local language and the Thai director ran out. I did not know what was happening, so I went up to my penthouse and then I saw the waves coming in.
The water came up over the tennis courts and went down into the lower floors of the hotel block. Me and a friend went down Patong Beach road the next morning and it was devastation-cars were piled on top of each other and the buildings on beach road were washed away. One supermarket that was below ground was flooded and the people there were drowned as they could not get out I took over 340 pictures and I was a bit slow as I could have sold them
I have never smoked or taken drugs. My father said "Money you can always get, but if you lose your reputation -that goes with you into the grave!"
I hope you have enjoyed just part of my story and I send my best wishes to everybody who has ever known me- especially in the beautiful city of Southampton where I made my fortune. It just shows how many a young boy or girl can realize their dreams although it's a very different world we now live in. Many of the things I have done cannot be repeated in modern times as we live in a much changed world. I hope to sort out a few photos to send over and be added to this webpage as a picture really tells a thousand words.
Adios- Hasta La Vista!
Brian 'Kiwi' Adamson
March 2014
..........................................................................................................................................................
SILHOUETTE CLUB- A FEW OF THE FAMOUS NAMES THAT CALLED BY:
MOODY BLUES
(Celebrated their first hit no. 1 record 'Go Now' 1964)
JUDI DENCH
KEN DODD
CHUCK BERRY
GERRY MARSDEN
ACKER BILK
DANNY WILLIAMS
COUNTRIES THAT I HAVE VISITED:
AUSTRALIA
CURASO ( DUTCH EAST INDIES)
IRELAND
FRANCE
GERMANY
HOLLAND
SWITZLAND
ITALY
CYPRUS
SWEDEN
DENMARK
PORTUGAL
SPAIN
BRAZIL
MOROCCO
SRI LANKA
SOUTH AFRICA
JORDAN
ISRAEL
MADEIRA
INDIA
GOA
THAILAND
VIETNAM
SINGAPORE
PANAMA
BAHAMAS
CANADA
AMERICA
CANADA
GIBRALTAR
PHILIPINNES
HONG KONG
CHINA
CUBA
PUERTO RICO
BAHAMAS
BERMUDA
HAWAII
FAMOUS PEOPLE that I have meet
JOE LOUIS former world boxing champion
BURT REYNOLDS
JOAN COLLINS
BO DERRICK
FREDDIE STARR
SHIRLEY BASSEY
ANN MARGRET
DIANA DORS
DON KING
MIKE TYSON
MOHAMMED ALI
TOM SELLECK
DIANA ROSS
ESTHER RANTZEN
DAVID HASSELOFF
BRUCE WILLIS
TELLY SAVALAS
SYLVESTER STALLONE
ROBERT STACK
ADNAM KASHOGGI
GEORGE SEWELL
KEVIN KEEGAN
GEORGE BEST
MICHAEL HUTCHENCE
PAULA YATES
BARRY SHEENE
JACK NICHOLSON
TOM JONES
PETER STRINGFELLOW
FRANK BRUNO
ROD STEWART
ZSA ZSA GABOR
ROSS KEMP
BARBARA WINDSOR
JACKIE STEWART
VICTOR LOWNES (Playboy Club owner London)
I attended a private party for invited guests, put on by Victor Lownes - at his country mansion and met Hollywood actor George Hamilton there -he really loves himself! I was also introduced to Michael Hutchence and Paula Yates on a large yacht owned by a Russian guy called Bob Petrovitch. Paula Yates was heavily pregnant with Peaches her daughter, by Bob Geldof. The story later broke that Paula's father was really Hughie Green- not Jess Yates.
One thing that I have always done is for genuine people who I know, is to have given money for them to open a bank account for the new baby and put money in the same account on every birthday and that money to be handed to them on their 16th birthday. I gave Paula her 50 euros to open a bank account for her baby when born. I do not know what happened after her untimely death.
©brianadamson2014
...........................................................
Phew- what a story! As mentioned, Brian will hopefully send me a few more photos from his massive collection over these incredible years so please come back and visit this page in the near future. If YOU knew Brian or have any personal memories of the Silhouette days then please contact me, as it's always good to share personal memories and this is what my website is all about. Southampton has a rich history over the last two thousand years, from the Roman settlements to the present day as one of the world's most famous ports. The Sixties were an amazing ten years and I am more than happy to celebrate those days by sharing the stories and images as 'modern history'. I am indebted to Brian and many more contributors over the last few years who wish to share their own memories-I'm sure there is a lot more to come!
...........................................................
E-mail from John Bendall (Johnny Baker)
HI David
Read this story on Brian Adamson with great interest . There are several pictures on your other webpages of a couple of different bands that were resident at the Silhouette . The main stays of the bands were Gerry Gurr , Neil Hibberd and myself with various others. Not sure how long we were there for but must have been 12 months or so. We used to do 12 nights on due to cabaret for 7 nights and 2 nights off . It was a great place to work. Remember one night the bass player Steve Holegate was a dep and the bouncer wouldn't let him in because he was too scruffy - had to get Kiwi to persuade him to come back in after he threatened he was going home . I had an aunt who was Italian who worked as the cloakroom receptionist , taking hats and coats upstairs , she would hang over the balcony upstairs that looked down onto the stage and dancefloor and wave at us every chance she got. Musos I remember at the club with us included Dave Fulford (ex White Plains plus George on keyboards , Tina on vocals. Brian wasn't very forthcoming when it came to speaking on the mike but he made an exception on our last night before we left to work in Thailand to thank us and wish us good luck. Happy happy memories, cheers mate John Bendall
HOME PAGE SITE MAP CONTACT DAVID ST JOHN
copyright ©davidstjohn2014