Click on SITE MAP to navigate the pages Back to Home Page Contact David
DAVID MEETS THE MOVE!
Click on this photo below - it links to the Move website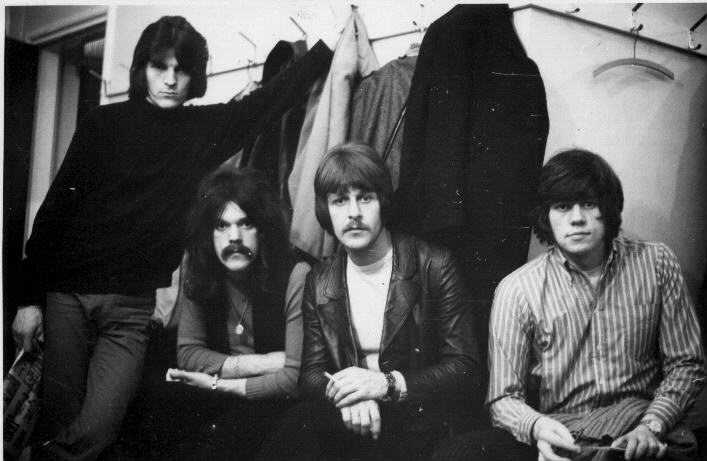 Rick Price Roy Wood Carl Wayne Bev Bevan
Backstage at the Southampton Guildhall circa 1969 ©David St John
This amazing group hit the UK charts in 1967 - the 'Summer of Love' and soon became one of the most respected bands in the UK and the world. They were another in a long line of 'Brumbeat' groups from Birmingham that were mounting a challenge to the sounds of 'Merseybeat' that had dominated the charts since the Beatles changed the music scene forever just a few years before. The Midlands provided such top bands as the Moody Blues, Fortunes, Rocking Berries and many more back in those heady days of the 'Swinging Sixties' but the Move were something special and had 'attitude' plus great marketing skills that kept them on the front pages!
Their stage act often featured such antics as smashing TV sets to pieces, demolishing an old Cadillac plus being threatened with legal action by Prime Minister Harold Wilson, following a dodgy advertising promotion for 'Flowers In The Rain'. Pop fans will know that this was the first ever record to be played on the first Radio One show in 1967 (Tony Blackburn Show) and still sounds great after all these years!
There are many websites that cover this and other groups so just go searching for more in-depth information. The amazing talent of singer/songwriter and all round musicianship of Roy Wood is well documented and you might wish to visit his own website - just click on his photograph below. Likewise - click on Carl Wayne's photograph below which has been maintained (?) by his family and friends since his untimely death in 2004. Rick Price sadly passed away in May 2022. I had been in touch with him in recent years- he was living in Weston Super Mare and still into music with his own recording studio/songwriting etc. He married Dianne Lee of Peters & Lee who had massive success via Opportunity Knocks many years before.
During 1967, I was lead singer with a Wiltshire based group called the 'Cellars of Sound' (bad pun eh?) and we covered a wide range of pop songs of the day, performing all over the South Coast. The Move's first hit caught our imagination and songlist - 'Night of Fear' with its borrowed '1812' guitar riff setting the scene, followed by the amazing 'I Can Hear The Grass Grow' which captured the whole scene of psychedelia at that time. We thought 'how can they follow that?' before being blasted away by 'Flowers in the Rain' then 'Blackberry Way' in '68. Incidentally, our drummer Dave Maggs now plays for the Troggs who were also from the same neck of the woods in nearby Andover. In 1969, the Move played at the Southampton Guildhall where I had also been lucky enough to have witnessed Jimi Hendrix a year before as well as managing to sneak backstage and shake his hand as he walked from the dressing room to the stage area! I also saw Jimi at the Isle of Wight Festival in 1970 just a few weeks before his tragic death, although being a few hundred yards back in a field full of hippies!
I had been interested in photography for some years and often blagged my way into music venues with a camera round my neck and fake 'press cards' etc. The Guildhall also provided me with a chance to photograph the Who and Jethro Tull (see other pages) As it happened, there had been a panic at the Guildhall for the Move concert, as a local support band had let the venue down so I quickly volunteered to scrape up a fill-in band to cover a short spot before the Move headlined. A couple of musician pals were already there and a couple of hasty phone calls ensured that my one-off group helped to save the day! I am still trying to recall who the hell they were, so if YOU were there - get in touch!
It was all ad-libbed, unrehearsed and I just shouted out the songs that I knew plus the key and we just busked away! I was also playing my blues harmonica and was proud to note that Roy Wood was watching from the wings! When we came offstage, he congratulated us and complimented me on my harp-playing which made me feel very proud - I cheekily asked him if his band needed an extra singer and harmonica player but he just laughed and said that he'd keep me in mind! I can't recall this temporary line-up, so if anybody out there knows - please let me know.
Unlike these days - security was very lax back in those early times and I asked the Move if I could take a couple of photographs for my personal collection and they were very obliging by posing for these pictures. Roy Wood asked if I could send him any of these and gave me his home address -I think he was living at Streetly Road Aldridge just outside of Birmingham at that time. He also insisted on paying for them, despite my protestations to the contrary as I was so chuffed to have had the privilege! I should have photocopied his cheque before banking it - an unusual piece of memorabilia I guess?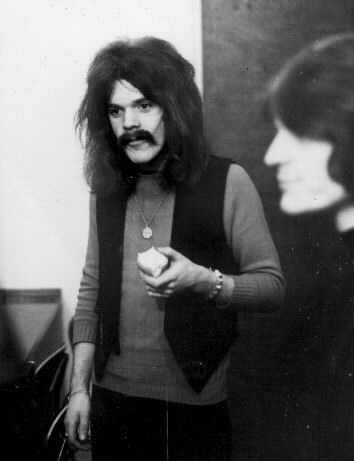 'Health-conscious' Roy Wood - loves his apples! Rick Price on right
Just click on the photo above which will take you to Roy Wood's own website
Carl Wayne 1943-2004
Again - click on this image which will lead to his tribute website
Carl Wayne was the perfect lead vocalist of the Move for many years during their peak, and one of the most respected figures in early BritPop as well as one of the nicest guys you could wish to meet, despite the band's wild 'reputation'! He later went onto some successful solo work before joining the new Hollies line-up in 2000 as replacement for the legendary Alan Clarke - I doubt if anybody else could have followed such an act! Carl's health suddenly took a turn for the worse but he kept on working right up until his untimely sad passing in August 2004 and this brave man was an inspiration to all those that knew him well. He will live in on our memories, leaving us with a legacy of great songs and performances through five decades of music although never seeming to age like many of his contemporaries in the music business. His official memorial website will offer a glimpse of the man himself and I count myself lucky to have seen the Move in action as well as being privileged to have met them personally all those years ago.
Many people will not be aware that he married actress Sue Hanson - yes 'Miss Diane' of 'Crossroads' fame and little did I know that I would eventually 'co-star' with her at the ATV/Central studios in Birmingham during the 80s! (Alright - I only did some walk-on/extra work if you must know!) More about that on another of my webpages as I outline the fact that I am also a thespian..............
Those of you living in the Midlands will know that ex - Move drummer hosts a very interesting radio show on Saga FM - it's called 'Bev Bevan's Jukebox' which airs on early Saturday evening and he plays some amazing tracks from the early years. Bev is also still playing drums with his own band around the area and well worth catching as they play hits of the Move plus other classics. Likewise Roy Wood is still very active on the music scene in various guises and still sports his wild hair, crazy sunglasses, psychedelic outfits etc. Again, one of the nicest guys in the business and he helps so many young musicians with their ambitions in the world of popular music. Check his website for more info.
Over the last few years, I have had some really good feedback resulting from this page and there is quite a big Move-related fanbase out there. You may wish to check out this superb website run by Martin Kinch as it contains an amazing wealth of info plus more links. Go to:
http://www.cherryblossomclinic.freeserve.co.uk
That's it. Another great memory and I hope you have found it interesting as I share this bit of nostalgia with the world. I hope to upload more pages as and when I find the time, so come on back from time to time and check it out.
David St John
July 2006
Click on SITE MAP to navigate the pages Back to Home Page Contact David
©David St John 2006