HOME PAGE SITE MAP CONTACT DAVID ST JOHN
Page updated December 2022
YOURS QUIZZICALLY
CONFESSIONS OF A TV QUIZ ADDICT!
*If returning to this page- please 'refresh' or press F5 for latest browsing session*
COPYRIGHT
Please note that many images contained within this website may be subject to copyright, although many have been kindly sent to me and intended to be shared on this non commercial outlet. If anybody wishes to use any of the same, then please get in touch as well as possibly giving credit where due as well as setting up reciprocal links if relevant to the actual content on any webpage. Please note that I am able to monitor any image-copying and if published on other websites. I would appreciate any contact to report broken/outdated links and any corrections to the text that accompanies any images herein. Thank you and enjoy!
MY FIRST BOOK!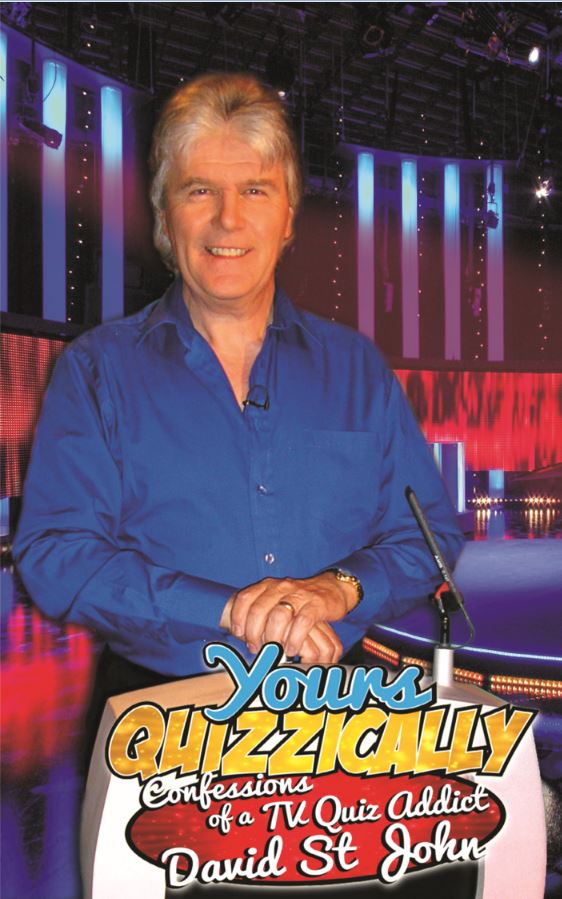 Yours Quizzically- Confessions of a TV Quiz Show Addict-First published December 2014
Paperback/Kindle versions
http://www.amazon.co.uk/gp/product/B00QS5AP4W?*Version*=1&*entries*=0
Plus: www.davidstjohn.co.uk/author.html
KINDLE SYNOPSIS:
David St John is a professional comedy entertainer, with a lifetime of appearing on stages across the UK and overseas, who decided to try his luck on a TV quiz show in 1982. Having won 'The Sale of the Century', he then followed up with some 34 appearances over the next thirty years, on many top-rated shows. In July 2014, David was validated by the Guinness Book of World Records, with the most TV quiz show appearances. This book offers an insight to how to apply, audition and take part in a show, along with detailed chapters on each of his individual programmes. There are B&W photos in this publication, with some of them in colour if purchasing the digital copy (e-book download) Read about the celebrity presenters and fellow contestants, with the experience of being in a television studio, being watched by millions of viewers as David battles against the many odds. Enjoy the amusing stories, along with many jokes that relate to each show title, with contributions from some well-known names, including Gyles Brandreth, Daphne 'Egghead' Fowler and other 'Quizlings', including this well-known TV and radio quiz host:
"Quiz shows and panel games are very popular in Britain and a book about their development and style, and those who present them, is what the public will enjoy reading." Very best wishes. NICHOLAS PARSONS December 2014
SALE OF THE CENTURY 1982 - YouTube Check out other shows on my YouTube channel!
This is now available as an e-book (for digital download) on Kindle/Amazon - cheap as chips! This version can be read on phone, Kindle reader, tablet, PC etc. There are photographs, in colour and B&W via the e-book, but the paperback only features B&W images in line with the prohibitive costs of colour printing. The print-to-order book is priced just over £10.00 but this offers free postage via Amazon so works out better in comparison to a lower price plus postage etc. If you have any difficulty, then please e-mail me to order a copy plus I can sign it for you!
I was inspired to write it, following the press/media interest in 2013/2014 as my TV quiz show background captured the imagination, as well as noting that most quiz-related books are merely collections of trivia questions etc. 'Yours Quizzically' highlights my own experiences in taking part in TV quiz shows, as well as meeting several big names along the way, plus the highs and lows of winning- or just losing a show! Have a laugh at the gags in between the descriptions of each show, as well as enjoying contributions from a few well-known names who kindly contributed.
Click on the links below for more news and TV clips.
Any dog lovers will like to know that our little Yorky 'Misha' was on my lap for most of the time when writing this book over the course of a couple of months. She had lost her teeth (hence the tongue!) and became blind towards the end of a wonderful life, so she enjoyed more TLC as you can imagine - it was also very relaxing for me......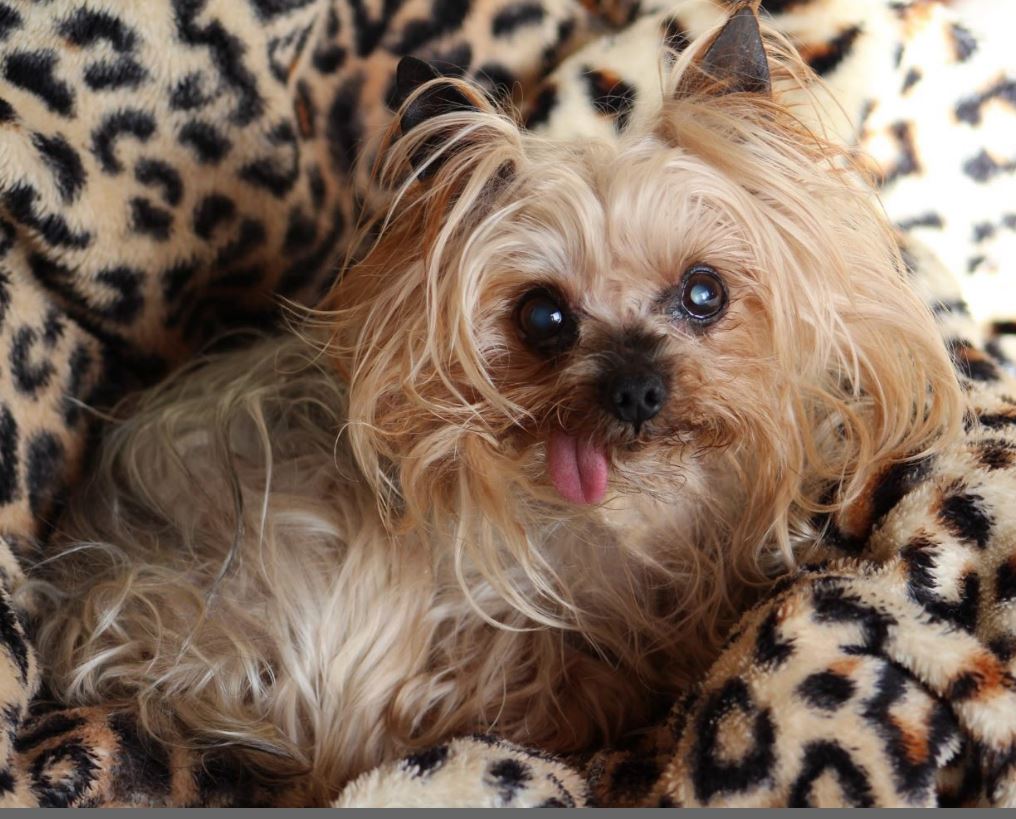 Misha 2001-2016
www.davidstjohn.co.uk/blog2015.html
Plus:
www.davidstjohn.co.uk/blog2014.html
www.davidstjohn.co.uk/blog2013.html
Following on from my 2013/2014 national press coverage, I was contacted by the Guinness Book Of World Records, who accepted my claim and requested proof in the form of DVD footage of my transmitted quiz show appearances plus any relevant correspondence from the programme makers. I have appeared on 30 main shows but they count extra shows, by virtue of subsequent shows as a 'returning' champion etc. In fact, my claim was for 36 appearances but I have no footage of two shows at the moment so these may turn up soon.
David St John is 'Britain's Most Prolific TV Quiz Show Contestant' and now validated by the Guinness Book Of World Records
The current record for "Most TV quiz appearances - contestant" is:
"The most TV quiz appearances as a contestant is 34 and was achieved by David St John (UK) who appeared in TV shows between 1982 and 2013, as verified in London UK on 15 July 2014."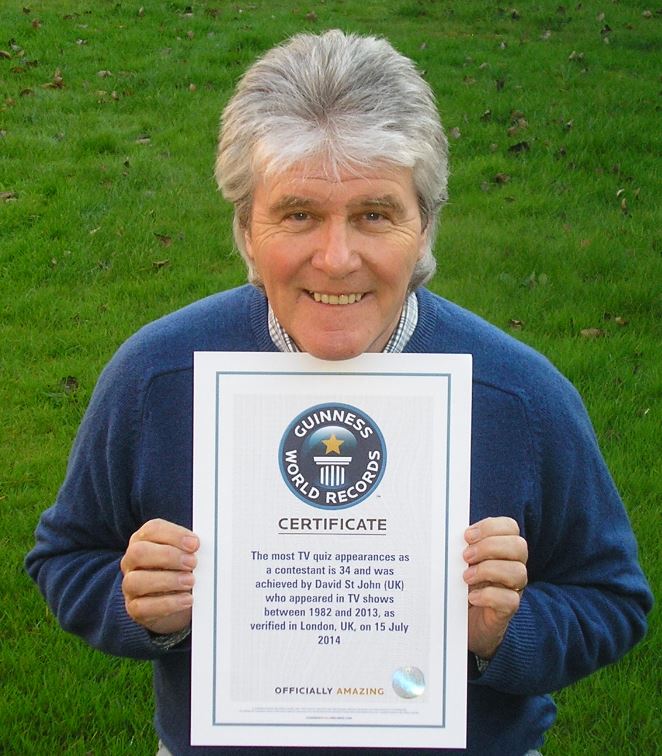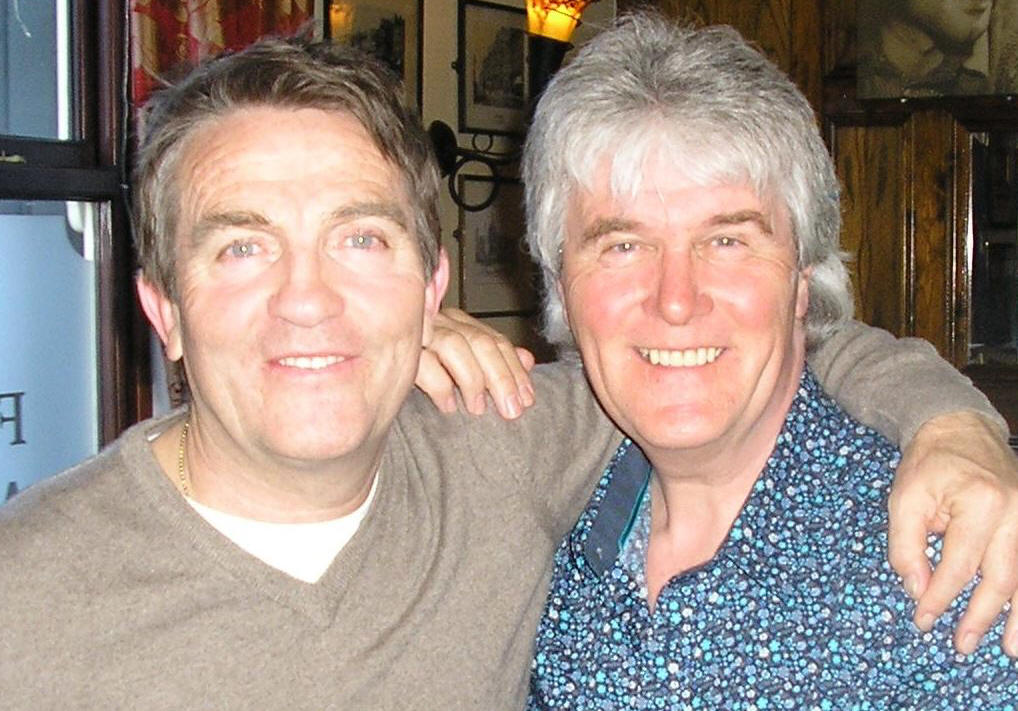 Bradley Walsh - David St John
The New Chuckle Brothers!
On location for 'Come On Down - The Game Show Story' ITV 2014
http://www.davidstjohn.co.uk/dsjitv2014.mp4
.....................................................................................................................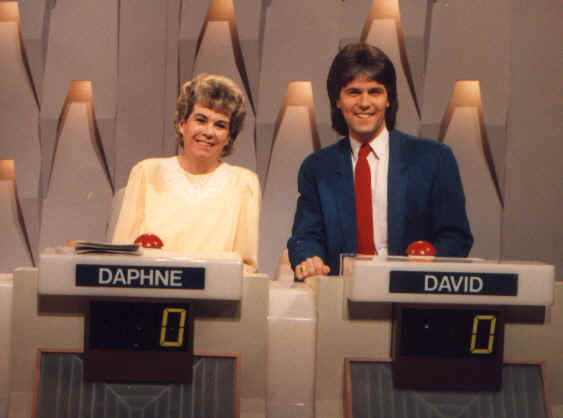 1986 'Sale of the Century-The Ashes' Australia
Alongside Daphne 'Egghead' Fowler as part of the G.B. team
.....................................................................................................................
Read more about my quizzing appearances at:
www.davidstjohn.co.uk/tvquizshows.html
http://www.davidstjohn.co.uk/tvquizzer.html
I can also be booked for speaking engagements, based on my thirty odd years of TV quizzing, with a short opening stand-up comedy routine, followed by tales of my experiences and even fielding trivia 'challenges' from the room! (Bring your own quiz sheets) A very unusual interactive speaker who combines professional comedy mixed with an inside look at the whole spectrum of TV quiz shows - read the book first to get a rough idea! In addition- I can host your own quiz evening, with a talk on my own story, so please get in touch for more information.
Recent feedback:
David recently entertained our Speakers Corner with his experiences as a quiz show contestant. The number of shows he had entered was astonishing and he enlivened his account of them with jokes which made the talk both informative and amusing. He then allowed himself to be at the mercy of the audience to test his knowledge. A good time was had by all.
Penkridge Phoenix Club-Speakers Corner
In addition to my TV Quiz talk profile - I have a completely different offering that covers my showbusiness life story and you can read up on this at:
www.davidstjohn.co.uk/speaker.html
Go back to Home Page to read about my main entertainment profile and much more!
DECEMBER 2022- My last TV quiz appearance was back in January 2013 - nearly ten years ago. Despite applying for a few I have had no luck as yet. Maybe a 'victim' of my own success? Watch this space.......in the words of Boris Johnson: "I'll be back"
HOME PAGE SITE MAP CONTACT DAVID ST JOHN
copyright ©davidstjohn2022