HOME PAGE SITE MAP CONTACT DAVID ST JOHN
David St John: The Inter-Active Speaker!
Choose from 3 different unusual talks
*If returning to this page- please 'refresh' or press F5 for latest browsing session*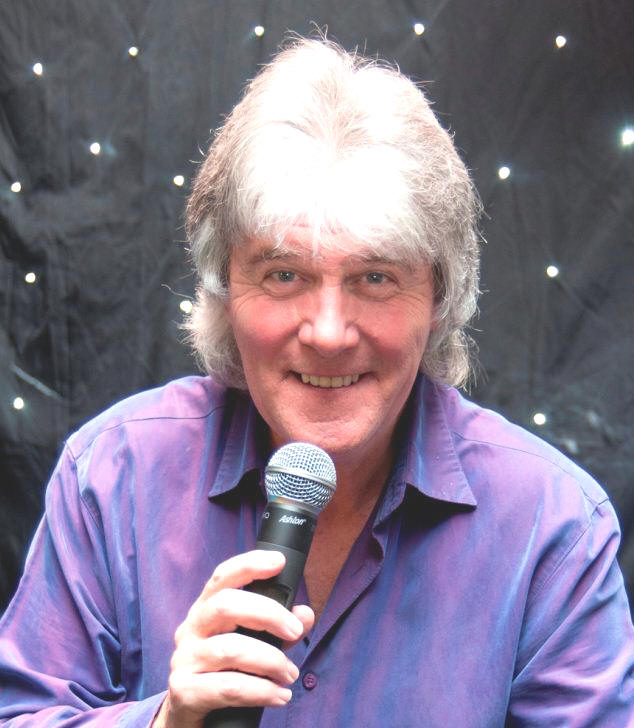 David St John - More than a comedian!
Welcome to this dedicated webpage that offers another side of a professional comedy entertainer - take a look at the above link if you wish to find out more. David has spent many years in entertaining audiences all over the UK and overseas plus cruise ship work. These talks are mostly daytime/evening speaking profile with a choice of three different entertaining and unusual talks plus a comedy/vocal act. Mostly geared to his local West Midlands area His 3rd book (out of 5 so far) was published in 2020, covering the early years of a long career in show-business - this forms the first part of his "65 Years in Show-business" a nostalgic look back at the 50s onwards. In amongst the fascinating stories, David also plays unplugged acoustic guitar with singing many of the hits that have carried him through the years plus a guaranteed sing-along/requests etc! Both publications of 'Southern Roots' and 'Yours Quizzically' mirror the main two areas of the main speaking profile as you will notice below with the outlines of each one. Signed copies on offer at all engagements with a part donation back to the venue funds. All books can be seen at:
www.davidstjohn.co.uk/author.html
..............................................................................................................................................................
SIXTY FIVE YEARS ON THE BOARDS!
Available on Amazon
See: www.davidstjohn.co.uk/author.html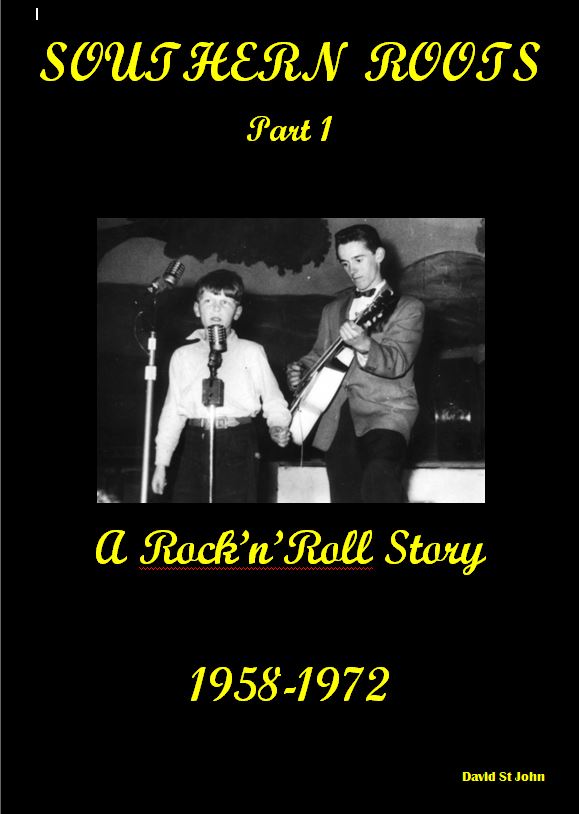 1958 Royal Pier Pavilion Ballroom Southampton- where it all started.
2023 sees the 65th anniversary from when David St John first appeared on a big stage, aged just ten years old, although he had been entertaining family and friends a little before 1958, with jokes and songs etc. The Fifties saw Rock n Roll sweeping the country, with dance halls gradually featuring younger pop groups and singers, as the big bands fell out of favour. He appeared at several Southampton 'Teen Dance Nights' but when the school authorities found out that he was under 12, David was forced into 'early retirement'! He carried on singing at pubs and clubs for a few years as the Swinging Sixties came along, with a new breed of young pop groups that were emerging. He was lucky enough to have seen two Beatles' concerts in 1963, which inspired him to get into this exciting scene.
1964 onward saw David as lead singer with several 'beat groups' as they were known, but including comedy and all manner of crazy stunts. He then went solo in 1972 - bought a 12 string guitar, then brushed up his old skills of music and comedy, which took him to London and then onto the UK club circuits, holiday centres plus overseas hotels and cruise ships. David shares his memories across the decades plus incorporating comedy and insights into how the whole entertainment scene changed. His talk also sees him pick up his guitar and sing a few snatches of classic pop songs which covered his Sixties/Seventies period before gradually moving into the main comedy act. If audio/video equipment is available, then David provides playbacks of images and video clips so can discuss the technical details as required. He can also be booked for his main comedy/vocal show - completely different to these speaking engagements (see the web-links at the top of this page)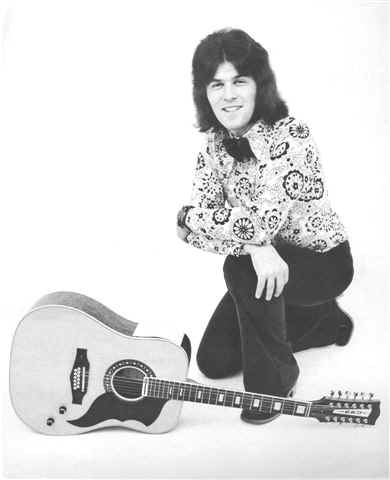 1972 on - The Solo Years. A later book will be published on this next stage of a fascinating life journey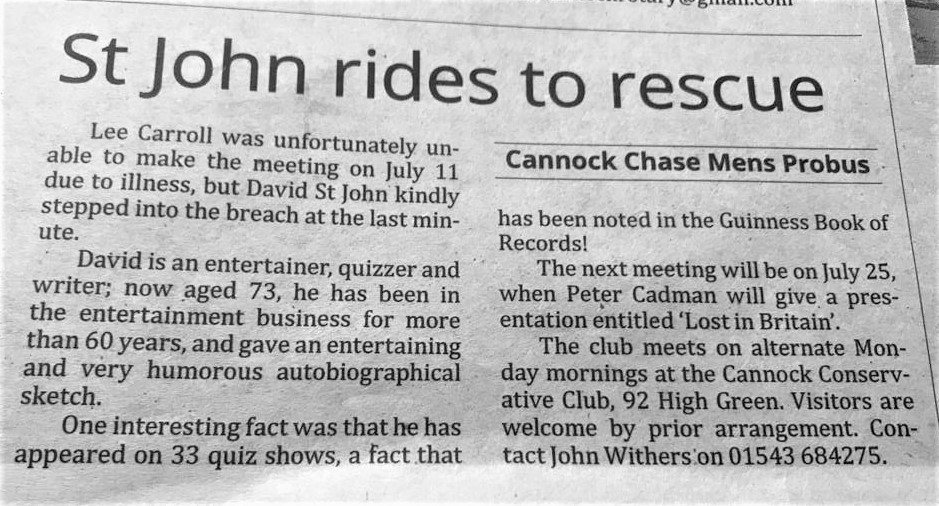 2022 local press article
Hi David,
We can thoroughly recommend you as an entertainer as Bishop's Wood W I, thoroughly enjoyed the evening, and look forward to repeating the experience in the future, as you matched your jokes and songs to your audience. Many thanks for an excellent evenings entertainment.
Mary Cooper
David
I have only received good reports of the whole evening, with a few specifically saying words like 'good entertainment' From my perspective you had the balance of content just right for the audience, and delivered with your usual professionalism. It was a fun evening
Kind Regards
Keith Anthony (Bowen MasonicLodge Beaconsfield)
David recently came to our group, Marston Green 50+ (clue in the title) and although we had Googled his web site we didn't really know what to expect. What an amazing night we had, funny stories, clean jokes and songs of the 60's, our era! His knowledge of music and artists was incredible whatever he was asked. The stories relating to his quizzing career were fascinating. The evening was a real tonic we all went home on a high. Looking forward to welcoming David back again.
Anne Eden
David entertained us in a W.I. meeting where we were looking back at the late 50's and the 1960's as we are celebrating our own centenary during this year of meetings. He quickly established a good rapport with our members and amused us with jokes, reminiscences of his own journey in the music scene and a reminder of events in the decade. We particularly liked the chance to request and join in, the great songs which many of us know so well and it was amazing how David could accompany brilliantly whichever songs we asked for, on his 12 string acoustic guitar. He finished up giving answers to the questions we had thought up and demonstrating his encyclopaedic knowledge of the music and musicians of that era. Altogether a lively and memorable afternoon! Many thanks for agreeing to come such a distance too.'
Diana Bridle- Copythorne WI nr Southampton
Hi David
I think you got the message that we all enjoyed it! The two friends that I had bought for the first time said they thoroughly enjoyed their afternoon. The mixture of music, humour and your obvious knowledge and experience of the showbiz industry over many years offered something different to the usual monthly talks. That we have booked you for two dates next year is testament to how much we enjoyed your afternoon and would certainly recommend other organisations book you.

Best wishes

Chris Wheatcroft. Secretary Cannock Chase U3A
Good all-round entertainer - David involves his audience with jokes/stories of every day life and time gone by. David gets people up dancing and singing along to his music from 50's to the present day. After his shows you walk away feeling upbeat and a happy feeling.
Gail. St Marys Social Club Over 50s Friendship group (Cannock)
..............................................................................................................................................................
YOURS QUIZZICALLY - CONFESSIONS OF A TV QUIZ ADDICT!
David decided to try his luck on TV quiz shows, with his first appearance as a contestant on 'Sale of the Century' in 1982, which saw him win the show and launch a thirty odd year journey in many more appearances. In 2013, his story was picked up by the national press/media, which resulted in taking part in ITVs 'Come On Down - The Game Show Story' alongside Bradley Walsh in 2014. This was coupled with David being validated by the Guinness World Records in the same year, plus an entry in the 2016 hardback edition for 'Most TV Quiz show appearances – 34 shows'. He also represented the UK in 'The Sale of the Century-Ashes' contest, against the Australian winners, alongside future 'Egghead' Daphne Fowler back in 1986 recorded in Melbourne.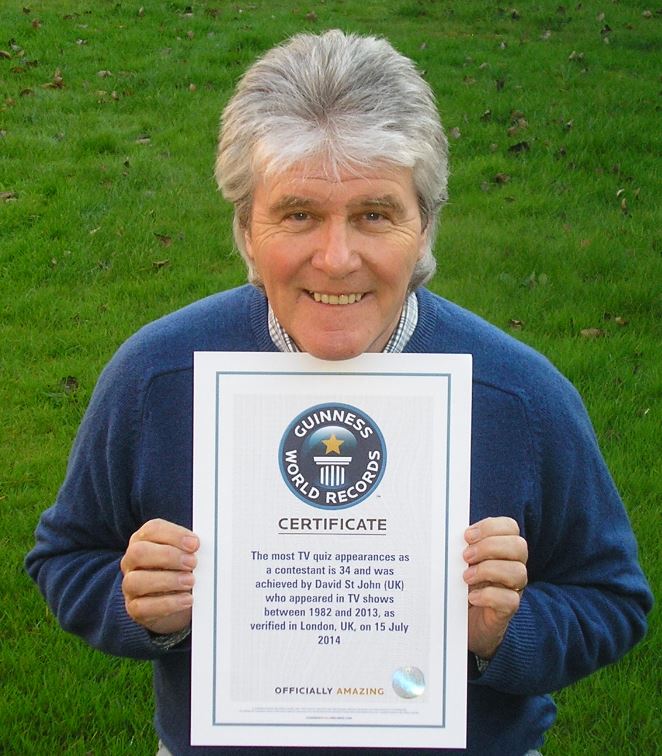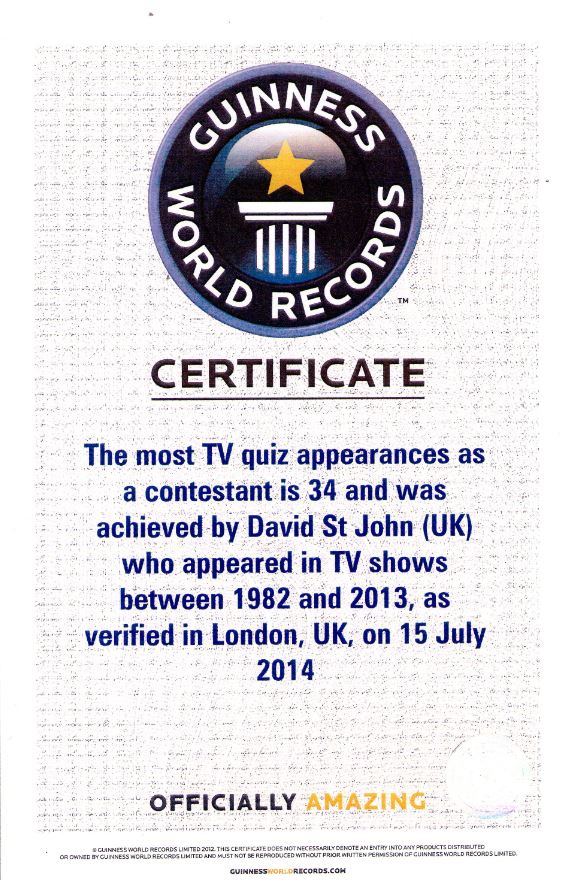 This unusual speaking engagement sees David talking about the whole area of TV quizzes – how to apply, audition and take part in an actual recording. Hear about the celebrity hosts, mixed with the highs and lows of taking part in the high pressure studio, as well as tales of rival contestants etc. Learn about the 'silly answers' that are often blurted out, and enjoy short video clips of David's thirty odd shows, mixed with the gags and laughs throughout his fascinating glimpse into TV quiz shows. His talk can be one or two sessions, and at the end of each part- David can offer a Q&A segment in which members of the audience can ask anything they like. In addition, for added interactive fun, David can accept trivia 'challenges' whereby a quiz book or sheet can be used by the venue to fire questions at him (basic general knowledge – not Mastermind stuff!) He may get them right – if not, then probably come up with an amusing answer or joke on the same subject! If your venue has A/V equipment, then David has TV footage to complement the talk.
You can also read all about David St John's memories in his first book – available on Kindle/Amazon. Filled with information and loads of linked gags throughout - copies available on the day.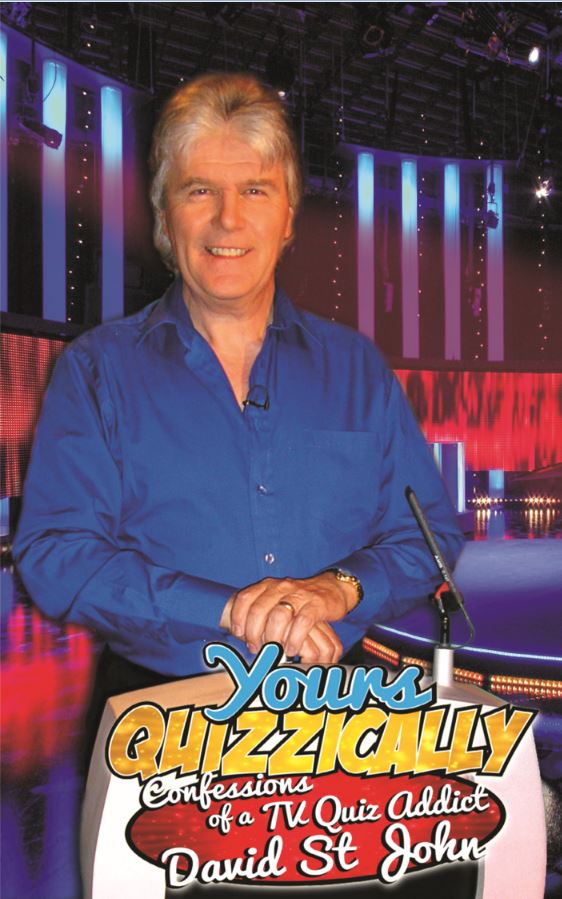 YOURS QUIZZICALLY – CONFESSIONS OF A TV QUIZ ADDICT
www.davidstjohn.co.uk/yoursquizzically.html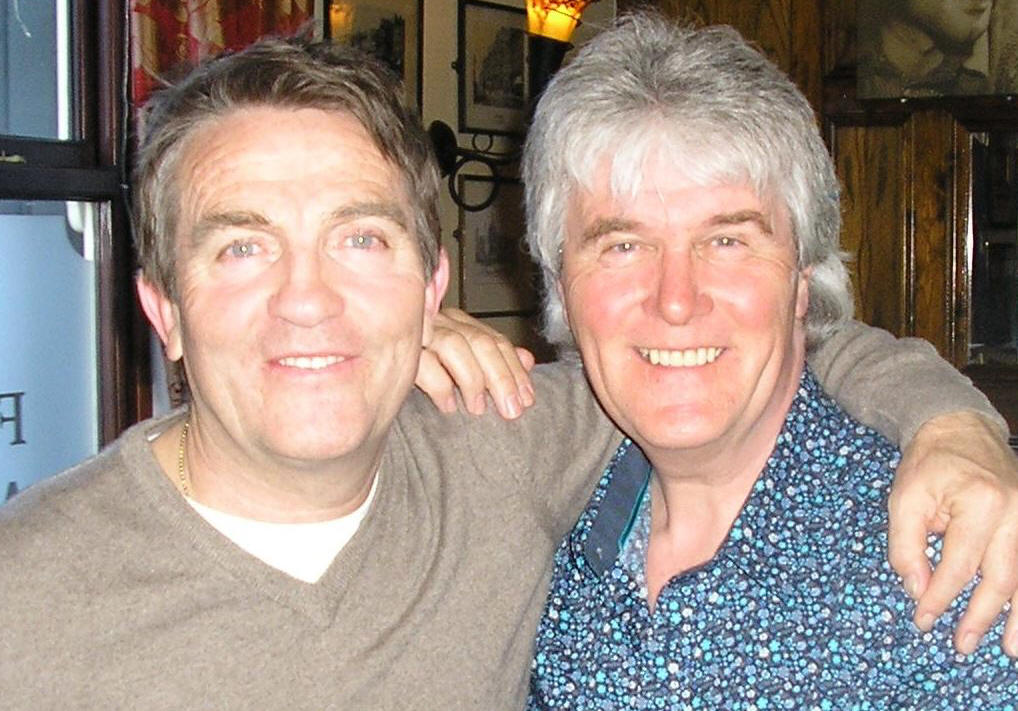 Bradley Walsh ITV documentary- click on link below:
www.davidstjohn.co.uk/dsjitv2014.mp4
BBC Midlands Today - 26 October 2015- just click below to view the video-clip:
www.davidstjohn.co.uk/dsjbbc2015.mp4
............................................................................................................................................................................................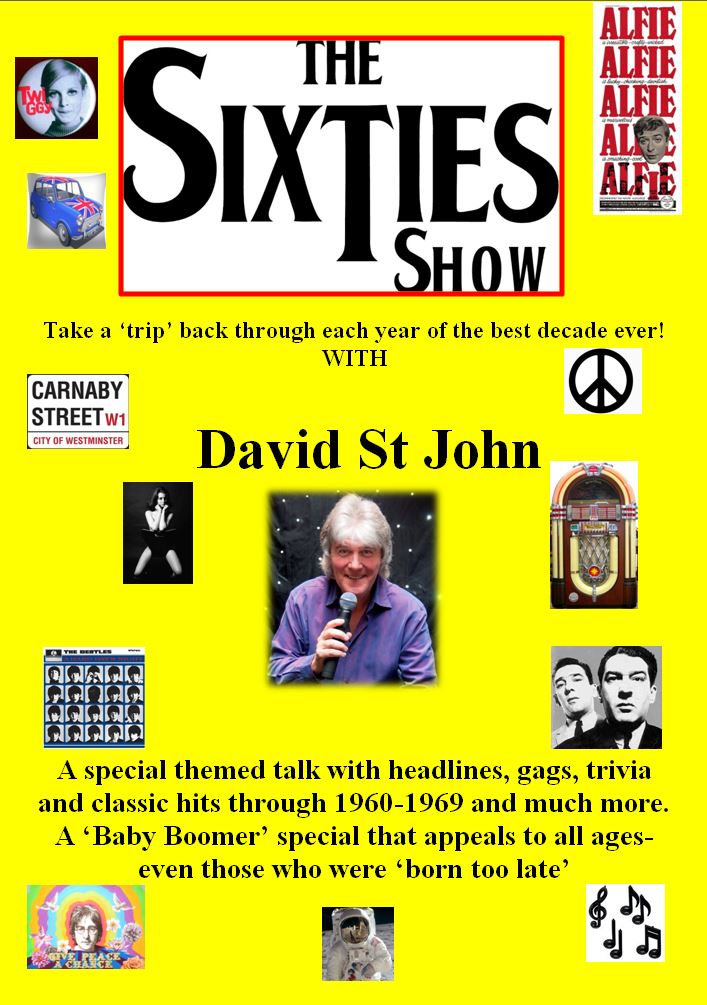 A nostalgic journey as David highlights each year of the Sixties in words and songs, accompanied by guitar. Great mix of the news stories with linked humour throughout and top chart hits from those great times. At the end of the talk David invites any questions on the decade- even trivia 'challenges' that offer more fun. Then a finale where song requests are thrown out as he sings a few more of the songs that form the soundtrack of many lives - even back to the late 50s if needed!
The younger generation also enjoy this taste of 'modern history' as they get a glimpse of what their parents and grandparents enjoyed back in their own formative years!
............................................................................................................................................................................................
In addition to the above talks, David can also be booked for any special functions for day or evening shows with his normal comedy/vocal show. Fees vary according to the type of venue, occasion, numbers etc on a commercial basis. These bookings entail the use of supplied sound equipment and use of backing tracks plus warm-up music and break fills where needed. Even dance music can be included.
"David recently entertained our Speakers Corner with his experiences as a quiz show contestant. The number of shows he had entered was astonishing and he enlivened his account of them with jokes which made the talk both informative and amusing. He then allowed himself to be at the mercy of the audience to test his knowledge. A good time was had by all. "
Anne Smith Penkridge Phoenix Club
HOME PAGE SITE MAP CONTACT DAVID ST JOHN
copyright ©davidstjohn2023