HOME PAGE SITE MAP CONTACT DAVID ST JOHN
Page updated 14 December 2011
David St John BLOG 2011
*If returning to this page- please 'refresh' or press F5 for latest browsing session*
COPYRIGHT
Please note that many images contained within this website may be subject to copyright, although many have been kindly sent to me and intended to be shared on this non commercial outlet. If anybody wishes to use any of the same, then please get in touch as well as possibly giving credit where due as well as setting up reciprocal links if relevant to the actual content on any webpage. Please note that I am able to monitor any image-copying and if published on other websites. I would appreciate any contact to report broken/outdated links and any corrections to the text that accompanies any images herein. Thank you and enjoy!
This latest webpage follows on from Blog 2010 and features miscellaneous news of my comedy shows plus related updates on my Southampton based Sixties Music side and you can read all about this via the Site Map page. Latest news first and then descending order. Please come back soon as this new blogpage is updated with new input.
December 2011- just found out that one of my TV quiz show appearances is now on You Tube! If you take a look at my 'Sale Of The Century Australia' webpage via Site Map, then you can click on the link after getting a good idea of the show. If you cant wait- then it at: http://www.youtube.com/watch?v=L8Jpc6LqtIE
I have never been a 'professional' quizzer and do not 'revise' as such- however I'm blessed with a good memory over years of simply reading books (non fiction) papers, watching TV and films. Some of it sticks and comes in handy on the odd occasion- anyTV quiz show is a mixture of luck and attitude but great fun! I have recordings of most of my past shows and aim to edit some for YouTube in the near future.
...............................................................................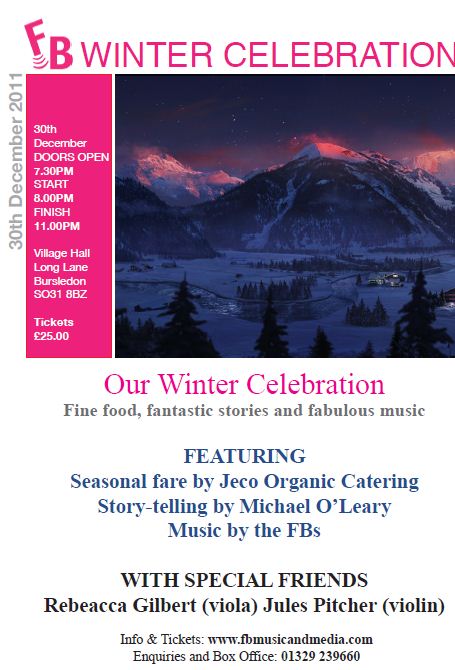 FB MUSIC AND MEDIA- Special Winter Celebration and quite a Variety Night! The FBs are one of the top bands on the corporate circuit and much more. They also run the FB Music and Media company that promotes live music and encourages new performers of any age so take a look at their website. Better still- give them a call and find out more info on this superb evening but limited tickets of course (village hall) Click on this link below or telephone as above
...............................................................................
Monday 7th November
I have just heard the sad news of the passing of Rick Brown (Ricky & The Hi-Lites) over this weekend. If you are not aware of this great talent, then just take a look through my website-via Site Map plus Concorde 2011 page. Rick appeared on our 'Back To The Sixties' show and was superb as always. Despite several years of ill health, he recently came out of 'retirement' and singing as well as ever over the last couple of years plus producing a superb CD of classic hits.
Over the last couple of years, mainly due to public demand, Rick had been singing with various line-ups and sounding so good- his soul voice really maturing like a fine wine plus the showmanship honed over decades. Always dressed smart and paying great detail to his setlist- he was the consummate professional, and would never be seen in jeans, teeshirts and scruffy trainers as sported by many bands and singers! Just after the September Concorde '60s' show, he mentioned how excited he was with news of his first ever cruise job on the 'Balmoral' as part of Bob William's QTones Band
Rick was booked to perform a solo set but ended up singing all night on consecutive evenings-again due to the audience response! He took ill whilst sailing across the North Sea and was airlifted from the ship by a helicopter winch. He was then taken straight to Ipswich Hospital then transferred to Southampton General Hospital for a few days before being released. I called him and he sounded fine, after treatment and medication for his heart problems plus saying that he was looking forward to singing again soon! However, he knew that he had to 'take it easy' but was very upbeat about the whole drama- he also indicated that he would love to take part in any future 60s shows that I organise, including the 2012 '60s' show at the Concorde.
He sadly passed away in his sleep over this weekend (5/6 November) Once again - 'Rock and Roll Heaven' has another great talent joining those that have left us and Rick is reunited with his twin brother Chris 'Burnsy' Brown who passed away many years ago. Rick missed him so much and every performance was a part tribute to Chris-he always looked up in the air on many a show and you just knew how much he was thinking of him.
The Southampton Daily Echo will be paying tribute to Rick and they asked me for a quote:
"Like many a young teenage lad growing up in the early Sixties, I was a big fan of Ricky and the Hi Lites who had recently returned from massive success in Germany and other European countries. Lead singer Rick and his twin brother guitarist Chris (Burnsy) were amazing front men who led a great sounding band, influenced by the major American stars they worked with. Not forgetting later UK recording success with Brownhills Stamp Duty, with studio sessions at Abbey Road.
I later sang with several Southampton pop groups and we all looked up to Rick Brown – a real soul singer who could knock today's X Factor types into oblivion (where most end up anyway) They were an inspiration to us all and I was privileged to have worked with him over the last couple of years.
In recent times, despite many health problems, Rick returned to the stage and he was the main guest artiste at our annual 'Back To The Sixties' Reunion Show at the Concorde in September. His many long standing fans from across the decade were treated to a fantastic set of classic hits and sounding as good as ever. We also appeared at Kutis Thai Restaurant (Royal Pier) and the Guildhall over the last year, as well as planning future shows. Rick Brown was a local 'legend' and will be much missed by many local musicians and dance hall fans of yesteryear.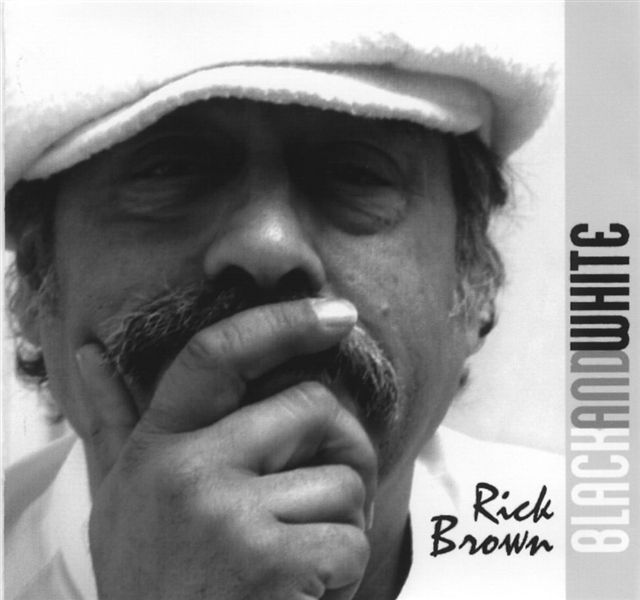 RICK BROWN R.I.P.
The funeral was held at Southampton Crematorium at 11.00 on Wednesday 23rd November and some 150 people attended, causing gridlock in the carparks and surrounding area! No surprise, as Rick was very well known and it was comforting for the family to see such support from a wide range of friends, musicians and many of his fans from across many years. His memory will live on this and other websites- especially with audio and video clips that remind people of his great talent. Southampton is proud of one of its sons who certainly made a mark and will be remembered for a very long time.
...............................................................................
My pre-recorded interview with BBC Radio Solent- Alex Dyke Show was aired on the 8th November- it was recorded on the 9th September, the same day as our 'Back To The Sixties' show at the Concorde (see Concorde 2011 page) Alex Dyke kindly paid tribute to Rick Brown at the end of the transmission, and explaining that Rick had passed away and wrapped the show up with Brownhills Stamp Duty's cover single of the Beatles 'Maxwell's Silver Hammer'
The Concorde show was the last time I worked alongside Rick Brown and he was mentioned in my 'Big Hour' interview. He performed a classic set of favourite hits and there is some video footage of this final appearance amongst other memories of this brilliant artiste across the years. Some of these clips will be put on You Tube in the near future so keep checking.
...............................................................................
S.O.S (Support our Services)
An Evening in aid of Help For Heroes
19th Jan 2012 Doors open 7pm
Last Post 12 Midnight
Concorde club
Stoneham Lane
Eastleigh
SO50 9HQ
Featuring
Tramp
Paul da Souza Band
David St John
Guest Singers and DJ's
Special Appearance by
The CALEDONIAN PIPE BAND
Entry By Ticket only. £10.00
Door Prizes, Raffle
For Tickets Contact
The Concorde club 02380 613989
Or Angie Turtle 02380 602195
...............................................................................
29 September
Whilst my website is focussed on the Southampton area, there are many other music based outlets across the UK - one of the best is Pompeypop which has a plethora of great images and info on the busy Portsmouth 50s/60s/70s scene etc. Run by Dave Allen and Mick Cooper, it has also now produced their first book and I can thoroughly recommend this to any lover of 60s music- even outside of the Portsmouth area. It gives a glimpse into a long gone era of exciting times and really gives a flavour of what it was all about, thanks to the evocative images contained in the many pages. I'm also proud to see one of my own photos reproduced with a picture (P. 163) taken around 1970 of 'Smiling Hard'- one of Pompey's top 'progressive' groups. At that time, I was a partner in a photographic company and we were commissioned to take a set of publicity shots for this new outfit. The instruments were set up in a Southampton carpark and individual members photographed in the studio. I then developed the B&W film and used basic darkroom tricks to superimpose each shot into this 'montage' on the same sheet of 10 x 8 photographic paper. No such thing as digital imagery back then and it was great to see any successful images take shape in the developing tray- usually after many unsuccessful tries and wasted paper! We only used basic 35mm Pentax SIa and Spotmatic cameras and covered portraits, weddings and a few odd showbiz pics of entertainers etc. Sadly, took very few of my last band The Script/The End 68-72.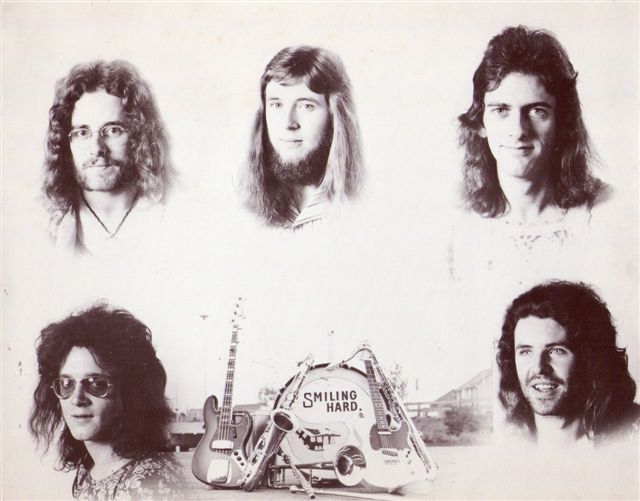 SMILING HARD
Dave & Mick's POMPEY POP PIX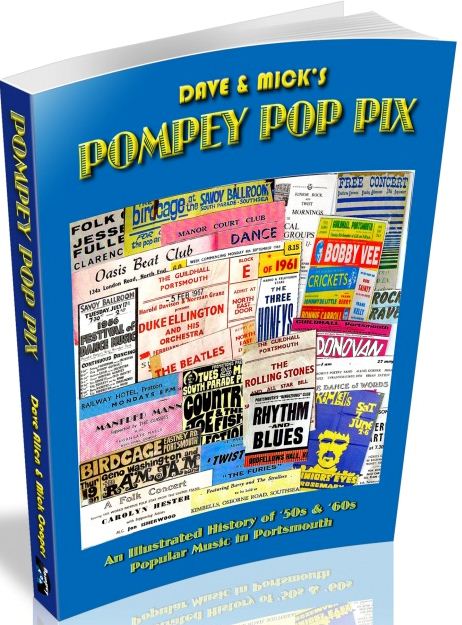 The publisher says there are exactly 444 colour & B&W pix and I reckon very few local musicians of note from the 50s and 60s are missing. There are stars too including a Nigel Grundy section from the Pier etc and a few more unseen Rod Stewart in Pompey pix. About 70 pix are posters/tickets, there are folk, jazz, skiffle & dance band sections and well over 200 of pop/beat/rock acts. It's organised in sections, chronologically with a central colour section and each section has a single page of introductory text but it's mostly just pictures.
Now available from:
Aspex Gallery in Gunwharf Quays (east side of the water, Vulcan Building)
Cathedral Bookshop High Street, Old Portsmouth
ALSO - This weekend from Southsea Gallery at the Dockyard's Victorian Christmas Fair
Plus existing outlets: Blackwells University Bookshop, Southsea Gallery, Albert Road, City Museum Shop, Manna Tearooms, High Street and on-line via Amazon or the Pompey Pop Website:
http://pompeypop.wordpress.com/
...............................................................................
September 19th- If you are reading this now- then check out this great videoclip of Southampton's very own X Factor contestant in the shape of 67 year old grandfather Alan House! He is the drummer and very lively vocalist with the long established Trojans- formerly Nick Troy & The Trojans, dating back to the early Sixties. Alan went up to the recent Cardiff auditions with his singing grand-daughter and when the researchers found out- they immediately roped him in for his own spot and this show went out on ITV 2 X Factor Extra over the weekend of the 17/18 September and is repeated the following weekend plus it can be viewed for a short while on their playback website- this is the link:
http://xfactor.itv.com/2011/auditions/video/watch_alan-xtra-audition_item_200174.htm
You will probably know of the Trojans from my webpages as well as their taking part in recent shows at the Concorde Club- see the 2010 report and other webpages. Like most TV productions- his slot was edited and missed out his grand finale of 'Jezebel' which is part of the Trojans show-stopping live songs. The clip looks as if the judges 'stopped' Alan mid-flow but this was not the case on the actual recording. You will note how he laughs it all off and just had a ball on this massive show- he never takes it seriously and this is a joy to watch - especially for those of us who know him!
Here are two screenshots of his fantastic performance -the energy blows away many of the young wannabes who try and 'live the dream' on the X Factor stage!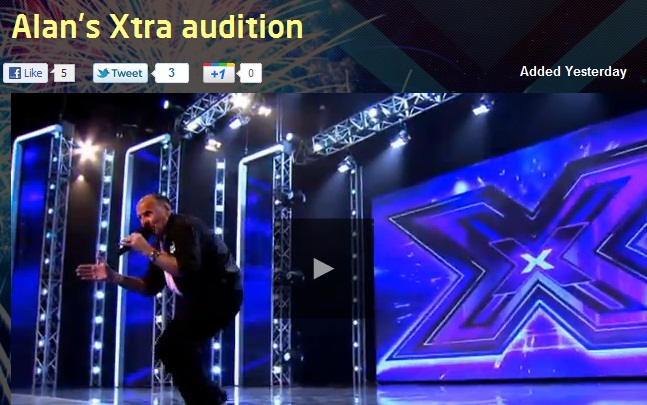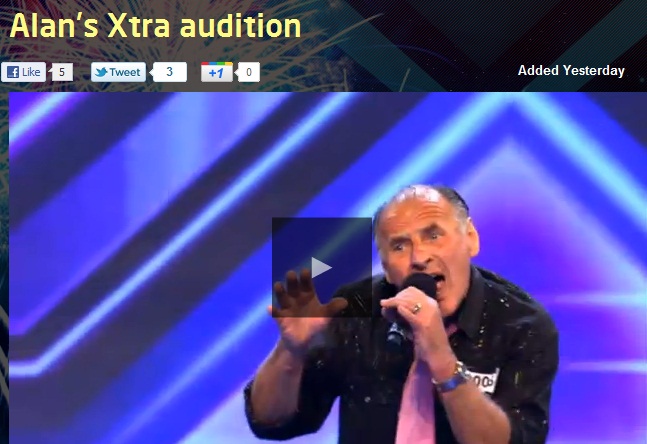 ...............................................................................
More great breaking news-bringing back memories of one of Southampton's top 60s nightclubs with original DJs! You can read about the Adam & Eve Club on my Venues page and maybe you got to this Concorde Club show on Monday 24th October? The evening was a great success and a follow-up is planned for the New Year so please check back here.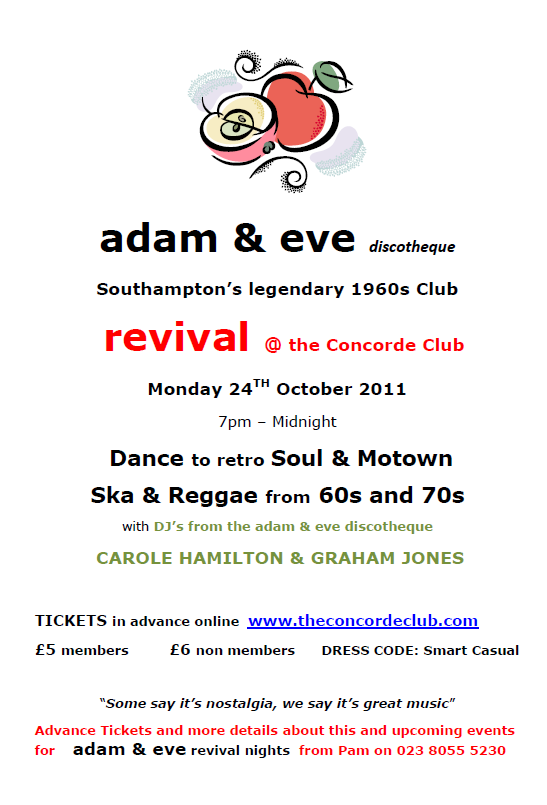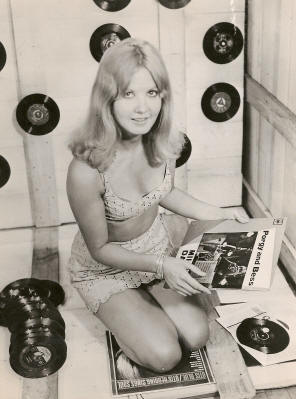 Carole Hamilton-DJ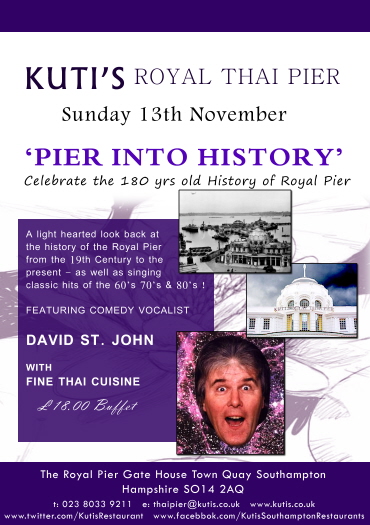 Latest news
'PIER INTO HISTORY'
Sunday 13th November 2011 - an interactive evening that celebrated the history of Southampton's Royal Pier and a few centuries of local history. This followed from previous successes in which I have been able to organise the return of live music to the Pier some thirty odd years since the closedown and fires that resulted in the dereliction of this once great landmark. Talks are currently being held and it is hoped that Southampton might see the long overdue renovation and development of the jetty.
Kutis Thai Pier offers amazing views of the waterfront and you can dine whilst looking at the many cruise ships that now use the port facilities and make a booking to tie in with the actual movements of these beautiful liners. Many locals will have fond memories of the busy 50s/60s docks traffic and watching the Queens Mary, Elizabeth, QE2 plus many more great ships that put Southampton on the world map. Why not take a look at my other Pier pages by going to Site Map
...............................................................................
STOP PRESS 13 July - Check out Southampton's very own Dave 'Beau' Dinnage on You Tube!
http://www.youtube.com/watch?v=aNW1gB9ZvZQ
...............................................................................
ROD STEWART - HIS WILD SOUTHAMPTON DAYS!
See his official website with this entry- more to come so check back again
http://www.rodstewartfanclub.com/about_rod/article/EFEEElAVkAqhRUJiYf.php
...............................................................................
July 2011
Latest news as John Drevar's Expression have been meeting up recently and this great clip can be enjoyed and write-up as below plus my info pages:
http://www.youtube.com/watch?v=JGBp8lRahN0
Exceptional Southampton Soul Band comprising John Drevar (Vocals), Richard (Richie) Hayes (Organ), Derek Edmond (Drums), Colin (Angel) Willsher (Bass), Melvin McRae (Guitar), Barry Palmer (Sax), Keith Bennett (Sax). Worked predominantly UK but also spent time in France (Paris Olympia with Jimi Hendrix) and Germany -- photo shows K 52 Club in Frankfurt. Played at the world premiere of Thoroughly Modern Millie and short seasons at the Playboy Club in Park Lane and were regulars at The Revolution Club a haunt of the stars (Today's Tramps). The Closer She Gets surprisingly failed to chart despite being Tony Blackburn's record of the week for two weeks. It later took off within the Northern Soul scene and is now a firm dance floor favourite. Original copies are becoming scarce and much sought after -- MGM 1367.
http://www.davidstjohn.co.uk/groups2.html
http://www.davidstjohn.co.uk/groups13.html.

The Southampton Echo are looking to publish an article and, like many of us, were hoping that they might reform for some gigs after some 45 years! I'm in regular touch with organist Richie Hayes and drummer Derek Edmond but I understand that logistics and a missing sax player make it difficult.
However - spinoff group- Inflatable Toy have their first studio rehearsal in August! You can also check out their own single 'Concerto' linked to the above You Tube clip and classical music fans will note another 'borrowing' of a Tchaikovsky piece. Many will recall that Bach provided Procul Harum with one of the finest singles of the Sixties....... Rehearsed Concerto with Colin Willsher today and didn't realise how many times we changed key!
Mick McRae sitting in for his late brother Melvin. Please come back to this blog page for updates as and when
...............................................................................
"BACK TO THE SIXTIES IV" Friday 9th September 2011
SEE: www.davidstjohn.co.uk/concorde2011.html for new page- show report
...............................................................................
REG CALVERT - THE MUSICAL PLAY
Announcing a unique Midlands performance by Reg Calvert's daughter Susan (Moore) Calvert. Fascinating insight into the life and times of a top 60s pop manager, with rare unseen photographs and memories from the family archives - a world first! A three day 'special' itinerary- see below.
Check out my dedicated webpage on this amazing character at: www.davidstjohn.co.uk/regcalvert.html
Friday 4th November 2011
Preview night - Thursday 3rd November (£7.50)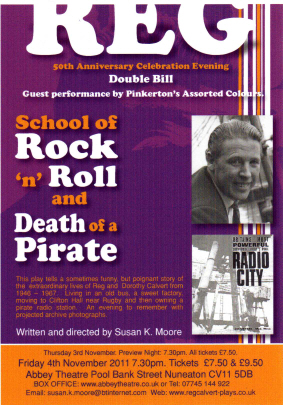 ABBEY THEATRE
(off Queens Road) NUNEATON CV11 5DB (M6 J3)
Tickets Friday £7.50 + £9.50 contact box office or:
susan.k.moore@btinternet.com Tel 07745 144 922
PLUS
You can also purchase this fascinating book via the above website, as a personal 'inside' family story of an amazing man, whose story is gradually being told after so many years. The tragic incident of Reg Calvert's demise and the following court case in 1966 will shock those that never knew the real story, hidden for some forty odd years thanks to a 'D' notice on the hearing eg classified information now open for public scrutiny at the National Archives, Kew (see their website for more information) This was a clear case of a 'cover up' by the government/Establishment of that time and you can learn more from looking at Susan Calvert's webpages on her new website.
REG
School of Rock n Roll/Death of a Pirate
Only £3.50 plus p&p
THURSDAY 3rd November- Preview Show
FRIDAY 4th November Main Show with a PRE-SHOW get together & meal at the CHASE HOTEL Higham Lane Nuneaton. CV11 6AG. (Limited accommodation available, so early booking is advisable if required-reasonable rates) Tel: 024 7634 1013 Part of the Barras chain and a reserved area of the restaurant is arranged -please contact Susan for more details. Another recommendation is the MACDONALD ANSTY HALL HOTEL about 6 miles out of Nuneaton Tel: 0844 8799031
SATURDAY 5th November - at Susan Calvert's house (Fillongley) for lunch for those that knew or worked for Reg and Dorothy Calvert. More details by checking with Susan at time of purchasing tickets on the above contact information.
Fast moving story - and the staging simple - a little like a Radio Play - with archive photographs being projected during the play and song extracts from the many bands Reg Calvert managed - plus a guest performance by Pinkerton's Assorted Colours!
50th Anniversary Celebration
Combining two exciting new plays into one reading with music and rare photographs - a personal insight into the world of impresario Reg Calvert who managed Screaming Lord Sutch, The Fortunes and many more great Sixties' bands. Not forgetting his forays into the heady days of Pirate Radio that formed part of the 'revolution' against the BBC's monopoly of 60s pop music.
Celebrating the 50th anniversary of the move to Clifton Hall in 1961 - what became known as the School of Rock & Roll and 50th anniversary of the start of pirate Radio Sutch / Radio City in 1963. Guest appearance of Pinkerton's Assorted Colours (hit recording of 'Mirror Mirror' 1966) also managed by Reg Calvert whose growing stature was cruelly cut short in that same summer.
THE SCHOOL OF ROCK N ROLL
(PLAY ONE)
Life with Reg Calvert was never going to be easy. Falling in love with an entrepreneur and a man of dreams was like living on a roller coaster. This is a funny and poignant story about the extraordinary and zany lives of Reg and Dorothy Calvert, from living in an old bus and selling sweets to managing pop groups and owning the first School of Rock & Roll. From 1946 to 1965.
DEATH OF A PIRATE
(PLAY TWO)
To 1967. Life becomes turbulent between Reg and Dorothy as Reg pursues what seems an impossible dream. To own his own pirate radio station. This play follows the rise and fall of pirate radio in the 1960's and is a heartbreaking story of love, anguish, murder and conspiracy.
...............................................................................
May 2011
If you take a look over my webpages, you will note references and links to a great 60s Andover band by the name of Ten Feet Five, who then morphed into the Troggs. This much respected group reformed and starred in the first successful 'Back To The Sixties' reunion night at the Concorde Club back in 2008, followed by an international 2010 visit from the USA in the shape of 'Johnny & The Rebels' featuring expat Brit (TF5) drummer John Walker and American buddies. They blew the club away with a terrific set as part of their short UK tour and are well established around the Virginia and surrounding areas of the US East Coast and you can read all about them at: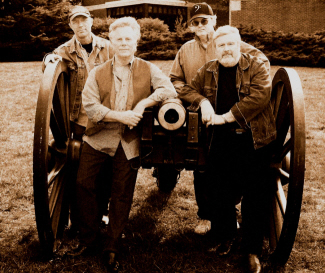 Just read through the 2008 and 2010 Concorde pages to get a flavour of this 'supergroup' as The Rebels all have amazing credentials - they were joined by Noel Tresidor (keyboards) who came from Australia to join the UK tour and his own amazing career spans decades of music including the Beatles Tour 64 Down Under!
One of the Rebels is Tim Smyser who first made a big name for himself as part of the late Sixties West Coast line-up of 'Jamme' and their recordings are becoming popular some 40 years down the line! The album has sold out four times on Amazon and this is a recent review from a top US magazine and tells the story:
Jammë

Now Sounds Imagine it's late '68 and you're a green 19, dropping acid with Mia Farrow and Michele Phillips and there's sexual tension, or Terry Melcher and Lou Adler saying your band will rule the world while perfectionist John Phillips, he behind the multi-platinum Mamas and Papas, takes you under his Beverly Hills wing, signs the group to his Warlok records and produces your album in his home studio while Sharon Tate, George Harrison, Keith Richards and others stop by. And then ... nada.
For every bad band that has hit big there's a hundred who should've and if you list the latter from all rock 'n' roll, Jammë would be perched at or near the top. No joke.
This shamefully lost 10-song album has genuine feel: It's all late-'60s Los Angeles canyon splendor, airy and suspended on Phillips-arranged harmonies, youth beat, and loud, happy-wristed guitars — there are no bad songs (absolute pop perfection in "Poor Widow," "Strawberry Jam Man," "She Sits There").
The quartet, who looked beautifully Dickensian in a sort of tousled, free-love glam way, had shockingly split by the record's belated 1970 release.
The mighty-mite Now Sounds label did this obscure gem justice — 24-page (!) booklet, original master tapes, new interviews with members, eight extra songs. ...
Fans of Badfinger, Emitt Rhodes or pre-disco Bee Gees, or pop songwriting in general, buy this now. —Brian Smith
http://metrotimes.com/music/spun-1.1051160
..................................................................
May 26th 2011
Just been informed that Beau Dinnage, (vocal,guitar,bass) who was part of my first 'proper' group the Abdo-Men (1964/65) has a single out shortly on 'i-tunes'. It's a cover of the classic 'Hey There Lonely Girl' originally recorded by Eddie Holman and Beau's falsetto voice suits it perfectly! A joint effort with Trevor Cummins and I'm hoping to report how it does in the near future. Watch this space!
..................................................................
YEAH YEAH YEAH!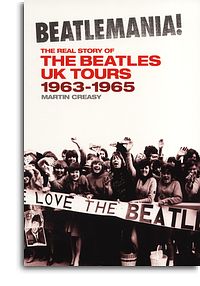 I have regular contact from various researchers, writer, film companies who often request information or 'borrow' images from my many webpages. Author Martin Creasy wrote his first successful major 60s pop book 'Legends On Tour' offering a great insight into the pop 'package tours' of the late Fifties and Sixties. He has now followed on with 'Beatlemania' a fascinating glimpse into personal recollections of those who witnessed the birth of this incredible movement that changed the face of music forever. 'Peppered' (sorry.........) with great stories of the fans, fellow musicians and venue staff who often struggled to maintain order when faced with thousands of screaming fans both in and out of the theatres. Just watch the 1964 movie 'A Hard Days Night' then read this book- it will bring it all alive and you can enjoy the mostly untold stories from those lucky enough to see them live or even meet the Fab Four.
'Beatlemania' can be purchased through several outlets (Amazon etc) and is published by Omnibus Press (London) whose amazing catalogue of music related output offers great reads for anyone interested in this genre. This is the Omnibus May 2011 press release and their own website details below:
One of the greatest music stories in history; BEATLEMANIA!, explores the time before The Beatles became Fab, a time of innocence and fun, when the greatest pop group the world has ever seen first exploded musically in their homeland.
The book contains untold first hand accounts from people at the very first Beatles tours - fans, police, stewards, reporters, photographers, hoteliers are interviewed in the book, also The Honeys, who were on the very first Beatles tour in February 1963.
Between 1963 and 1965 The Beatles undertook six amazing UK tours and along the way met many fans whose memories of these encounters tell the real story of what actually happened when the Fab Four first hit the road. It was loud, chaotic and as exciting as anything Britain had ever seen. It was BEATLEMANIA!
The passing of years has turned The Beatles into a rock deity but back in the early Sixties they were, at least at the beginning, just another pop group hoping to make it. Access to them was not policed by lines of security men, nor did they closet themselves away from the public behind high walls and locked gates.
Author Martin Creasy has traced the trajectory of The Beatles' UK tours and interviewed scores of people who in some way connected with John, Paul, George and Ringo en route. They include other performers on the bills, theatre and hotel employees, journalists and photographers, and - most of all -the fans, some of whom were lucky enough to meet and talk with the group. Their testimonies uncover a fascinating and previously undocumented side of the Fab Four.
About the author:
Martin Creasy is a professional journalist based in Surrey and is available for interview and to write pieces.
http://www.amazon.co.uk/Beatlemania-Real-Story-Beatles-Tours/dp/1849386595
Some interesting reviews on the Amazon page above
Martin Creasey was very grateful to all contributors, including a few of us Southampton Sixties people who saw the Beatles at the Gaumont Theatre (now Mayflower) and you can read about my 1963 memories at: www.davidstjohn.co.uk/groups11.html plus pages 101 and 241 of this new book!
June 2011- Martin Creasey kindly forwarded the text entry covering that memorable show and I now reproduce it with his permission:
The touring party started off the new week the next day by heading for the south coast and their two houses at the Gaumont cinema in Southampton.
Roy Orbison, quiet, unassuming, good natured, was held in reverence by his fellow musicians and his devoted fans. However, the American made quite another impression on the Echo's reporter covering the shows. He dubbed The Big O "a sinister looking bespectacled American". And while conceding that Orby had a good vocal range, he concluded that the star "wailed his glutinous material in an unattractively tear-stained manner".
What had really got his goat was the screaming - led by Beatles fans - that had spoiled his enjoyment of the show. Screams reached such a pitch when the group were on stage that the reporter - J.E.M. - wrote that he really couldn't make out if they were any good or not.
Over amplification and "feminine hysteria" had "left my critical faculties in a weakened state", he complained. Gerry & the Pacemakers cut through enough to make a more favourable impression and they were praised for their personality and drive. David Macbeth and Ian Crawford sang pleasantly but poor old Erkey Grant apparently didn't live up to his programme billing as "a really sensational act" - at least not in that reporter's ears.
Terry Young was the one off sick, leaving it as the now almost permanent Terry Young Five. However, the Five were alive to the task of backing the various singers and worked hard yet again to provide some quality backing. They also fared well in their own spot. Musicians like this were the unsung heroes of these tours - on stage for large parts of the evening and playing their hearts out to make the singing stars sound good.
The potential of Louise Cordet could be heard, although I'm not sure what she would have thought of being described as "an attractive little Miss who will probably be a good singer one day".
The Melody Maker carried only a brief report from Southampton, with its reporter pretty much coming to the same conclusion as J.E.M.
Roy's emotional performance didn't wash with the reporter, and he pronounced the Southampton girls the loudest in the south, putting a dampener on The Beatles' performance in his eyes.
If these shows could sometimes test the patience of reporters, who were not necessarily taken by the charms of pop stars, it was quite a different matter for the fans - male and female.
Grammar school pupil David St John was a fan of the Beatles and Roy Orbison and he hadn't considered it a hardship to queue all night on the pavement outside the Gaumont for his ticket.
"In fact, it was an enjoyable experience," he recalls. "There was a great atmosphere between people, with fans singing songs. There was- a lot of excitement. My mum came along and brought me a hot drink and some sandwiches and even took my place in the queue for a while to give me a break - quite a few parents did."
David, at 14, had already long since taken his own first steps into the music world, but he was to make a bigger name for himself as a comedian, and appeared on Bills with Gerry & the Pacemakers in the 1980s. His memory of this night in 1963, though, are of The Beatles and The Big O.
"My seat was downstairs in the stalls fairly near the front of the left, so just about facing Paul. There was just such a great atmosphere - such a buzz. They had those 30 watt amps and were doubtless singing through the cinema's house PA but you could still hear a reasonable sound, despite the screaming.
"Roy Orbison was just incredible. He didn't have the same problem with the screaming - he wasn't that kind of performer - but he was amazing. People were quiet while he was singing but they showed their appreciation when he finished each song. There was cheering and applause but they stayed in their seats - you could tell that people were there for The Beatles. I can't remember too much about Gerry that night, but he was great - a real cheeky chappie, and he'd have given a good show."
Dave Ward recalls the impact The Beatles had on their Southampton fans.
"They opened with 'Some Other Guy'. Their presence was electric. I was in the second row from the front nearest to where John Lennon stood on stage. The girls were going frantic. Then George approached the microphone and raised his hands to quieten the audience. Then he made an announcement - 'We are very flattered by the screams. Thank you for that, but we would appreciate it if you could save them for in between the songs because we want you to hear our music'. This was followed by thunderous applause. And the fans did as George had requested and it was great. You could actually hear the songs.
"As I recall they didn't do an encore. They seldom did - if ever."
Dave was impressed by Gerry & the Pacemakers, and The Big O had a style all of his own.
"He was not very visual. He just stood in one place and never moved throughout his act, but boy could he sing. He was fantastic."
Local musician Sid Carter was also in the audience.
He said: "Like anything that was 'of-the-day' we took The Beatles very much for granted. They were the same age as us. They came from working class backgrounds like us. They belonged to us and we belonged to them. I bought 'Love Me Do' in 1962 and there was no way I was going to miss their Southampton show.
"The biggest female response of the night was for the slightly chubby-faced bass player . . . with Gerry & the Pacemakers! It was so early in the careers of both groups that neither one was considered the top group. I felt that – instrumentally – Gerry and the boys were pretty superior to The Beatles. But the songs… I totally believe that they were, and still are, the best pop songs ever. But the evening wasn't about either band – it was about Roy Orbison. He was magnificent, spellbinding and, his limited guitar playing aside, utterly brilliant. I remember him getting about five curtain calls at the show I was at."
©martincreasey2011
..................................................................
'Truly Gold!"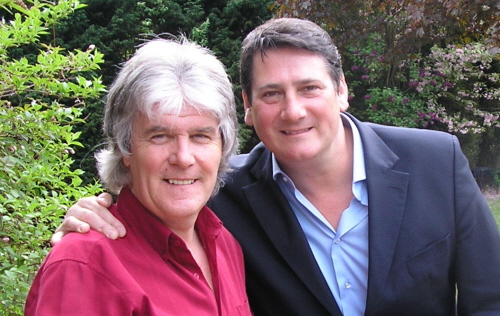 Whilst popping into a Staffordshire pub on a hot sunny April afternoon, I came across none other than Tony Hadley- lead vocalist with the top 80s band Spandau Ballet!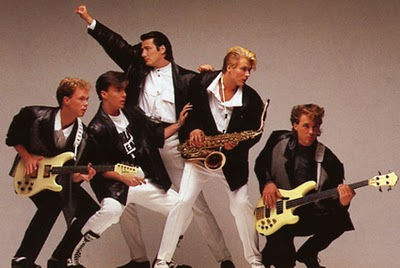 SPANDAU BALLET
I was sat down enjoying a cold lager in the beer garden and noticed him sitting with his family and friends so didn't really wish to bother him - he has had this attention for over thirty years! However, I just said a quick hello and (naturally) mentioned my own music heritage which broke the ice, leading to a nice chat about the business. He was very friendly and approachable as well as posing for a photo. Due to the popular Eighties scene- the original Spandau Ballet appear all over the world and Tony is also very busy with his own band as well plus solo recording and much more. Check his own website at:
http://www.tony-hadley.com/start.html
plus official fansite:
http://www.tonyhadleyfansite.co.uk/
..................................................................
I receive loads of great e-mail from all over the world - a mix of 60s music fans or actual players who have found themselves on my other Group webpages. Plus I get researchers, writers, movie companies who often use some of my shared info/images for their own projects. Late April saw this latest contact as California-based Mike Kelly was searching the net on any information for Don Shinn- another great Southampton musician whose early 60s talent on keyboards was well ahead of its time. I only had some basic outlines on Don as part of the early British R&B scene when he played with the Soul Agents- Rod Stewart's first real backing group as well as with Kiki Dee, Robert Palmer,Elkie Brookes, Dusty Springfield, James Taylor and many more. He was also part of the late 60s 'progressive' group Dada and Mike Kelly has been working hard to highlight Don's amazing background- the results can be found below as I reprint some of his e-mails. I also had an interesting phone chat as we shared some fascinating memories of the whole 60s music scene so please take a look at these insights as well as noting how Keith Emerson was inspired by Don's eccentric character. stage antics but mixed with extreme talent as a top exponent of the classic Hammond organ- way before others copied his original style. Take a look at www.davidstjohn.co.uk/groups2.html and check out the Soul Agents info and you might find other references on the net. I haven't had any direct contact with Don but gather he is still partly based in Southampton as well as performing in Norway and other countries- maybe this new web profile will result in more news of one of Southampton's finest musicians who have never been fully recognised over the many decades. This is a recent album cover and with tracks of Gershwin songs/American Songbook style of music.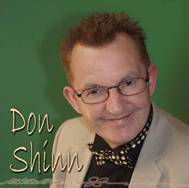 Mails from Mike Kelly- owner of a Pasadena Art Gallery and specialising in modern US art. Worth a look too!

Hello David,
Found your wonderful site while doing a Google search on Don Shinn. Thanks for all your time and efforts in preserving musical history that might otherwise be overlooked or forgotten. Do you have any proper biographical info for Don Shinn? Birthdate, place? A listing of known bands/artists he worked with? I know he played with The MeddyEvils, The Soul Agents, The Echoes, Dusty Springfield, and Dada, but after about 1970 he seems to fall off the map. Do you know where he is currently based and what he is doing? He is a brilliant talent who is lamentably underrated and virtually unknown outside of a few record collectors and music buffs. I'd love to at least put together a decent Wikipedia entry for him.With best wishes and thanks in advance for any help you can offer. Regards, Mike Kelley
Kelley Gallery
1000 E Walnut, Suite #125
Pasadena, California 91105
626-577-5657
David, Thanks for the instant reply, much appreciated.
I'm a retired drummer, and have been in the art business for about 20 years. Lifelong music fan, and am particularly keen on the organ. Was a big progressive rock lover in the late 60s-early 70s, and first heard about Don in interviews with Keith Emerson (The Nice, ELP) where he cited Don as a chief influence and told some wonderfully colourful stories about having seen Don perform in the mid 60s. This always fascinated me, and periodically over the years I have sought out info about Don but was never able to find anything until now, thanks to the advent of the internet. Just a couple of days ago, for the first time ever, after decades of curiosity, I finally got to hear what Don sounds like, courtesy of the Soul Agents' instrumental 'A-Minor Explosion', which has been posted on YouTube. With the discovery of this one three minute song, the history of 'progressive rock' organ has been rewritten for those of us who didn't know that in 1966 Don essentially forged the template from which the likes of Keith Emerson and Vincent Crane (Atomic Rooster) would be cast several years later. This is an important revelation that should be more widely known.
I also see via the internet that Don, apparently in the not too distant past, had some association with a Persian singer named Parvaneh Farid. Do you know anything about this?
Excerpt from "Playing From The Heart: Great Musicians Talk About Their Craft" , edited by Bob Doerschuk Interviewing Keith Emerson (Nice/ELP)
Don Shinn was a weird looking guy, really strange. He had a schoolboy's cap on, round spectacles, really stupid. I just happened to be in the Marquee when he was playing... The audience... were all in hysterics, giggling and laughing at him. No one was taking him seriously. And I said, 'Who is this guy?' He'd been drinking whisky out of a teaspoon and all kinds of ridiculous things. He'd play an arrangement of the Grieg Concerto, the Brandenburg and all. So my ears perked up. Somebody else was doing these things. Playing it really well, and he got a fantastic sound from the L-100. But halfway through it he sort of shook the L-100, and the back of it dropped off. Then he got out a screw driver and started making adjustments while he was playing. Everyone was roaring their heads off laughing. So I looked and said 'Hang on a minute! That guy has got something'. I guess seeing Don Shinn made me realize I'd like to compile an act from what he did. He and Hendrix were controlling influences over the way I developed the stage act side of things". -Keith Emerson
A net forum post:
Don Shinn
If my memory serves me correctly, Don was the organist with the Soul Agents, a Southampton-based band, whose sometime singer, Rod Stewart, enjoyed a measure of success. He was one of the most talented keyboard men of his time, certainly equal to Keith Emerson or Graham Bond. His carreer was unfortunately interrupted by TB at a time when Rod and the Soul Agents were becoming established. I believe that the first title on 'Temples' was originally called 'In the Pit of the Bleating Shaggoths', Don having been a great afficionado of HP Lovecraft, but the record company didn't like the name.I wonder what became of him.
Hank Murray
Interview with Uriah Heep bassist Paul Newton....and so we see Shinn's influence yet elsewhere
http://webcache.googleusercontent.com/search?q=cache:ouupJX7xoDIJ:members.home.nl/uriahheep/newton.htm+organist+Don+Shinn&cd=26&hl=en&ct=clnk&gl=us&source=www.google.com
You surprise me a little, Paul, because when I listen to a lot of your playing, especially on something like Salisbury, there seems to be a lot of jazz influences in there. If that didn't come from what you were listening to, where did it come from?
That really came from a time in the 60s when I was playing with a guy from The Nice, Brian Davison, and another guy, a keyboard player, who was a real genius. It was a trio, and most of it was really jazzy. This keyboard player was a guy called Don Shinn, who went on to play with Dada, which was the forerunner of Vinegar Joe. I don't know what happened to him after that – he's probably up a tree somewhere, because he was a bit of a strange guy – a total genius but a wee bit strange. He used to teach me bass lines on his organ pedals, and they were really technical jazz stuff. That's where that came from.
............................................................................................................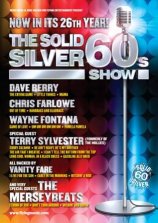 The Solid Silver Sixties Show 2011
http://www.flyingmusic.com/our-shows/the-solid-silver-60s-show/
I caught this latest tour in Birmingham on the 10th March- another sell-out show from the Flying Music stable of original 60s hitmakers. A full evening of massive hits and the names above tell it all-worth checking the website for regular news of forthcoming tours around the UK. Naturally attracting a mostly 'mature' audience but the Alexandra Theatre was packed with a wide range of ages and good to see the youngsters singing along as they knew many of the lyrics!
Plus the amazing Joe Brown 2011 touring show-try and catch it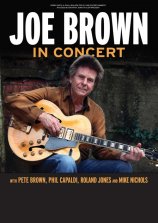 http://www.flyingmusic.com/our-shows/joe-brown/
..................................................................
January 25th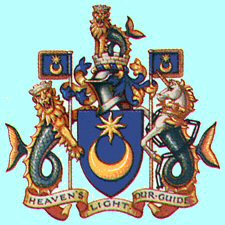 PORTSMOUTH
The 60s music and associated webpages are mostly centred on my Southampton roots and I'm really pleased with the amazing response over the last few years as the website has expanded and formed a part of local modern history. Just a few miles along the M27 or old A27 east lies the city of Portsmouth with its own well established history- especially as a port plus Royal Navy connections over many centuries. There has always been a rather sad 'rivalry' between the two areas but mostly based on the ignorant 'footy' related aspect i.e. the 'Derby' effect as in any major city or area.
However- back in the Sixties, many of us Southampton 'beat groups' played Portsmouth on a regular basis and vice versa with no signs of animosity. The sheer joy of making or enjoying music crossed the barriers as a universal common bond and just illustrates how the two communities shared the many bands that criss-crossed Hampshire. The venues that stick in the mind were the likes of Southsea's Clarence Pier Ballroom (next to Billy Manning's Funfair), Savoy Ballroom nearby, Tricorn Centre (late 60s concrete carbuncle complex) and many of the local Navy bases in Portsmouth, Gosport and surrounding countryside.
In recent months I have been in regular contact with Mick Cooper and Dave Allen- a college lecturer who has been heavily involved in cataloguing the Portsmouth music scene. Both were in late 60s bands themselves and have now launched a fascinating new website that is a must for any 60s music fan wherever they come from. I am amazed at how vibrant the Pompey scene was back then, even though we were based some 20 miles away and it's a pleasure to read through the info plus those all important old photos of the bands, singers and others who were part of it all.
Take a look at: http://michaelcooper.org.uk/C/pmsindex
PLUS
http://www.pompeypop.co.uk/Pompey_Pop/Welcome.html
..................................................................
HOME PAGE SITE MAP CONTACT DAVID ST JOHN
copyright ©davidstjohn2011