BACK TO HOME PAGE BACK TO SITE MAP CONTACT DAVID
Page updated 5 November 2010
David St John presents:
CALL UP THE GROUPS 11
The Beatles hit Southampton!
*Loads of pics - let it load*
If you are returning to this or any other webpage - you might need to Refresh it (Press F5) in case your browser keeps original viewing
COPYRIGHT
Please note that many images contained within this website may be subject to copyright, although many have been kindly sent to me and intended to be shared on this non commercial outlet. If anybody wishes to use any of the same, then please get in touch as well as possibly giving credit where due as well as setting up reciprocal links if relevant to the actual content on any webpage. Please note that I am able to monitor any image-copying and if published on other websites. I would appreciate any contact to report broken/outdated links and any corrections to the text that accompanies any images herein. Thank you and enjoy!
April 2010
Yet another new page full of nostalgia as we look back to those years when many a young lad or girl would be singing at dancehalls, youth clubs and maybe even hit the big time followed by theatre tours and much more. Once again, this is all thanks to the many people who find this website and get in touch with their own stories plus those all important photos that really bring it all back as I share the images on this site. Please keep checking back on this and other webpages as they often get updated with add-ons, corrections and even more information (dont forget to 'refresh' any page that you come back to read)
If you have read my 'Biography' page then you will note that I started out singing rock n roll back in 1958 at the tender age of ten! Sadly, I was under age to be singing at large public dance venues so the school authorities quickly jumped on the promoter thus putting a temporary hold on my career! However, I kept on dabbling away and making music with a few pals as the 'skiffle' era saw youngsters playing cheap guitars plus the usual washboard, basic drumkits and the old tea chest 'bass' that saw a broom handle with connecting string placed on the crate to copy the likes of Lonnie Donegan and co! Cliff Richard with the Shadows along with many other UK artistes plus visiting US names kept the pop music business going for a few years, until an unknown bunch of scruffy young Scousers were discovered playing in a packed smelly underground cellar up in Liverpool and the rest is history
I have written about this before on other pages but my 'Epiphany' came in 1963, a few months after hearing that great new record released in October 1962 and the sound just caught me and many more with its catchy style. The disc was 'Love Me Do' by the Beatles who had been playing in Hamburg in the same year, alongside several British pop groups and some of them from Southampton so the stories had trickled back. It only got to no. 17 in the UK charts but their follow -up release of the single 'Please Please Me' shot up to no. 2 in January 1963 and kickstarted a new revolution amongst teenagers who had become rather tired of hearing and watching clean cut American style crooners since the wild rock n roll days had died off. Some still refer to Buddy Holly's tragic death as 'the day the music died' and this phrase is still quite relative along with Don McLean's take on it via 'American Pie' so it was time for a 'new sound' and this is what the world had been waiting for!
The winter of 1963 was one of the coldest ever on record and it actually snowed from Christmas through to Easter but it didn't stop me queuing overnight at the Southampton Gaumont Cinema (now the Mayflower) for a ticket to the forthcoming show to be staged on the 20th May. It was billed as the Roy Orbison Show but the early tour dates saw the rise of 'Beatlemania' as the teenage fans were discovering how good these new faces were, so Roy had to step down and close the first half of the show as it was quite clear that nobody could follow the Beatles- even at that early stage. This was also due to the Beatles third hit of 'From Me To You' providing them with their first no.1 and Brian Epstein had the power to shift his boys into the headlining spot. This had also happened on a previous short tour with Helen Shapiro who also had to step down the bill with deference to these new 'upstarts' as their popularity exploded all over the UK.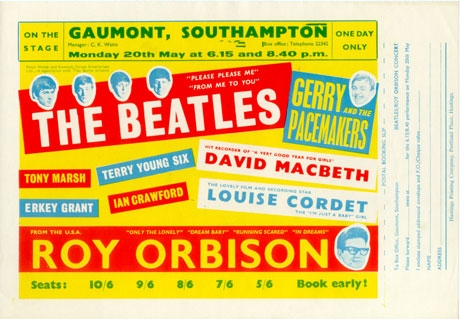 The Show- I paid 10/6 (55p in today's money!)
I can never forget that amazing night as I had a good seat in the front stalls just a few rows back from the stage and facing Paul McCartney on the left of the stage. The rest of the show was terrific with fellow Scousers Gerry and the Pacemakers knocking out their own first no. 1 hit of 'How Do You Do It' which had first been offered to the Beatles! They also featured the follow-up of 'I Like It' which later hit the top spot as did their third release of 'You'll Never Walk Alone' which put them in the record books as the first ever recording act to secure three no. 1s with their first three releases!
Roy Orbison was amazing as usual. Just standing still with his incredible voice soaring all over the auditorium and singing a selection of his many hit records- I was wondering if the Beatles could really top that! Their first LP had just been released and was the most fantastic collection of songs- hard hitting rock n roll mixed with their own early compositions and I knew that this new group were going to change the world of music. The compere had been teasing the audience throughout the show and every mention of 'John, Paul, George, Ringo' etc brought screams and squeals of delight from the girls all over the theatre! When the curtains opened- all hell broke loose with a nonstop scream that lasted throughout their whole performance
I did buy a programme for this historic show but it went missing some years later. However, a short while ago I put out a call to my Southampton musician colleagues including Dave Ward (ex Earth Angels etc) and he replied with this nice surprise. His e-mail came through on the 12th October- my birthday so quite a treat! Read his own account of that night when the Beatles hit Southampton on their first big tour.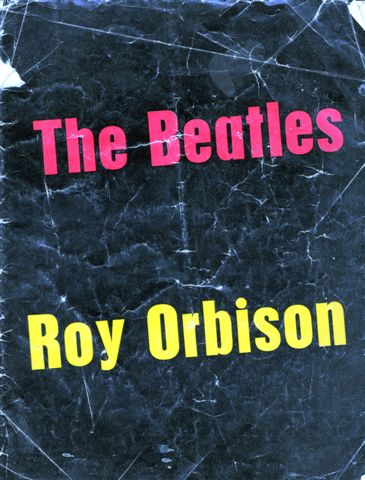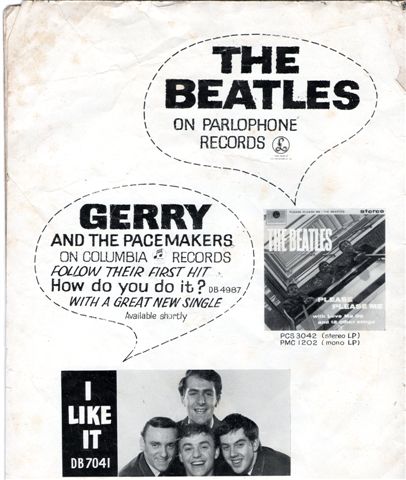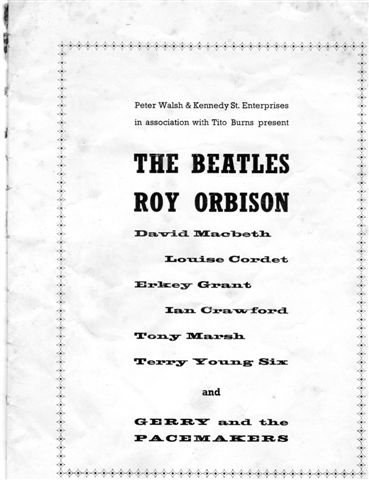 From Dave Ward:
Hi Dave,
I am about to make your day........ in those unforgettable words of Clint Eastwood. You asked us all if we have any memories of The Beatles concert at The Southampton Gaumont..... I WAS THERE!!!! WOOP WOOP!!!!! Not only was I there, but I also still have the programme. because I knew that in 46 years after the event, someone would ask me about it.
As I recall, Gerry and The Pacemakers were good live, I don't really remember an awful lot about the rest of the support acts to be honest...well it was a long time ago! Roy Orbison, in my opinion was not very visual... he just stood in one place and never moved throughout his act....But Boy could he sing?...He was fantastic!
I don't know if you knew this Dave, but Roy Orbison started the tour as the top of the bill.... It was only when The Beatles had topped the charts with "From Me To You" that Brian Epstein insisted on The Beatles topping the bill.
The Beatles opened up with "Some Other Guy"... a hit for The Big Three...their presence was electric! I was sat in the second row from the front nearest to where John Lennon stood on stage.... The girls were going frantic... I was experiencing Beatlemania LIVE!
...... Then something amazing happened.... something I have never seen before or since... George Harrison approached the microphone and raised his hands to quieten the audience. Then made an announcement... "We are very flattered by the screams... Thank you for that, but we would appreciate it if you could save them for in between the songs because we want you to hear our music"... This was followed by a thunderous applause. And the fans did as George had requested and it was great, you could actually hear the songs.
As I recall they did not do an encore... in fact they seldom did...if ever... remember the concert at Hollywood Bowl and The Shea Stadium?... when they finished their act... they finished!
I hope this has become useful to you and please find attached copies of the original (worn) programme- no it's not for sale!!
Sincerely
Dave Ward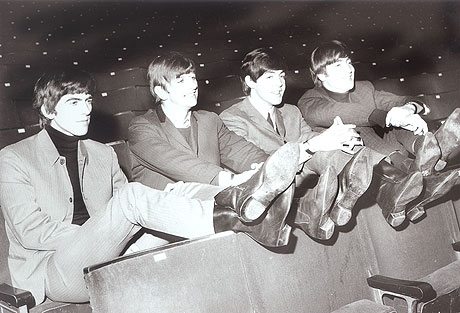 The Beatles at the Gaumont- between shows
They returned for the Winter Tour of 1963 but I was not able to join the massive overnight queue for tickets but managed a seat up in the balcony as well as wearing my new black corduroy Beatle suit to go with my long hair etc- typical 15 year old 'Jack the Lad' at that time! Luckily, I still have the programme from this second amazing tour and here are a few of the pages - if only it had been autographed by the 'Moptops'............. I have still never discovered who dared to place coffee cups on this 'holy icon' Note that our local Brook Brothers were appearing on this very same show and they must have been so proud to return to their own turf on the same bill as the best ever band in the world that influenced so many would be pop stars like me! Within a few months I had settled in nicely with my first 'real' group- the Abdo-Men who played loads of Beatles and Rolling Stones hits mixed with rock n roll, R&B,pop hits and much more- you can read all this on the Biography page. This new found avenue of life had also affected my school studies at Itchen Grammar School so we parted company in 1964 as I 'dropped out' and got a day job in between my nightly shows all over the South for the next eight years. Cue that song "Oh what a night - late December back in '63......." It was certainly one of my favourites!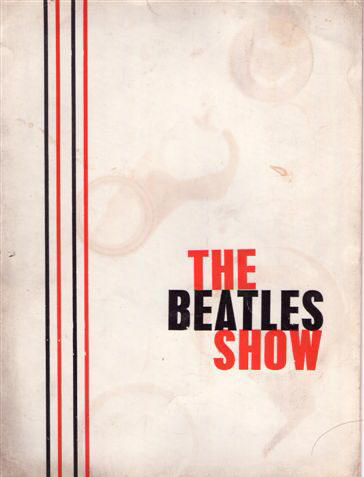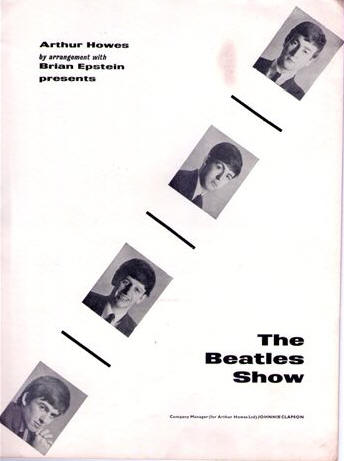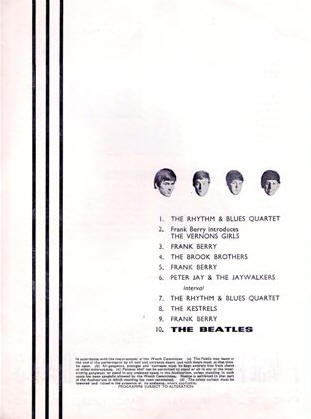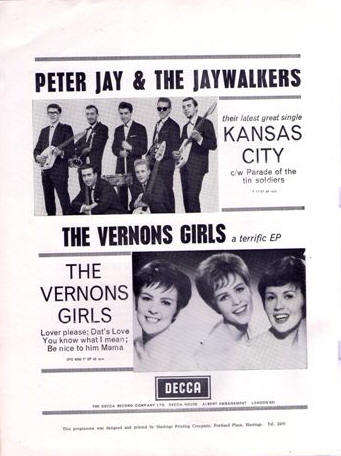 Another local musician Sid Carter also writes:
In response to your Beatles mail I was at the Gaumont in 1963. (In fact my first live-music show there was Bill Haley and The Comets)! In 1963 I was 20 years old and in my second band. I had the privilege of a Grammar School education having been one of the first influx of students, at the age of 11, to study at the then Totton Grammar School (now a sixth form college). As stated on your website, my first band was the Bert Turner Quintet which started in 1957. We played conventional dance music but swapped instruments around a bit to perform songs like Presley's 'Let's Have a Party' and Ricky 'Nelson's It's Late'. Presley's Heartbreak Hotel hit No. 1 in the charts on January 27, 1956 – 2 days before my 13th birthday! I, and everyone else, had never heard anything like it! I was hooked! But it wasn't just Rock 'n Roll that got to me – I was into Humphrey Littleton and Chris Barber and by the time the trad boom came around me and my sixth-form mates were hiring buses to go to Trad Nights at Matcham's Park. I moved on to The Malcolm John Five around 1961. I worked 6 months in Southampton Civic Centre. Then followed 6 months working at The Power Propeller company in Totton before heading off to Winchester School of Art and, after a year, moving to Bromley in Kent to study graphic design at Ravensbourne College of Art and Design. (Where I had the pleasure of seeing The Nashville Teens, meeting Peter Frampton and after leaving college seeing Fleetwood Mac, King Crimson, Osibisa and If with Terry Smith on guitar and Dick Morrisey on tenor. I spent some time with Terry Smith and Andy Bown during an 'interesting period' that saw me join The Duke Ellington styled Swing Company . . . but those are other stories!

So the Gaumont concert must have been one of the last things I did before going to college and getting married! I'd already seen Gene Vincent, Eddie Cochran and Tony Sheridan at the Southampton Guildhall a while earlier.

Like anything that was 'of-the-day' we took the Beatles very much for granted. They were the same age as us. They came from working class backgrounds like us. They belonged to us and we belonged to them. What a time it was with Mary Quant, David Hockney, Twiggy, David Bailey the list goes on and on! I bought 'Love Me Do ' in 1962 and there was no way I was going to miss their Southampton show. All these years later I remember that Roy Orbison topped the bill and Gerry and the Pacemakers and the Fab Four shared the 'under-card'! The biggest female response of the night was for the slightly chubby-faced bass player . . . with Gerry and the Pacemakers! It was so early in the careers of both bands that neither one was considered the top group. I am horribly critical of musicians (ask my band) and I felt that – instrumentally – Gerry and the boys were pretty superior to the Beatles. But the songs . . . I totally believe that they were, and still are, the best pop songs ever! But . . . the evening wasn't about either band – it was about Roy Orbison! He was magnificent, spellbinding and (his 'limited' guitar playing aside) utterly brilliant. After one of the shows I read in the Echo that Mr. Orbison took 11 curtain calls!

Twenty years or so ago I visited my daughter in Liverpool. We met at her boyfriends bedsit and on the wall was a reproduction of the 1963 Beatles concert poster. The boyfriend was rendered speechless when I casually remarked "I was at that show"!

September 2010 E-mail and photos from Dave Tibury:
Hi
Barry Lockyer sent me the URL for your site this morning - some faces & names I remember, some faces but not names and some names but don't recognise the face. Nevertheless, lovely to be reminded. Also, to see Eastleigh's Market Street bustling reminds one that it was not always the moribund dump it is today.
I regularly carried a camera back then (and still do) so have a few unguarded shots of long-haired youffs, on and off stage. If you would like I can dig some out, scan and forward. It may cover a couple of bands you have missed....................
My 'talent' as a musician never really emerged - or to paraphrase Dave Fulford's assessment "Y're playin the right notes man, but it just sounds shit...'
From '64 to 71 I was in C/Ford, moved to Romsey until '79, then Bishopstoke, where I am now.
I'll have a dig when I have a minute and can probably fill a gap on 'loud' Vern Chuter; Pete Forrester; Graham Medley
PF was our best man in '71. He now lives part way up the A1 - have sent URL to the current Mrs Forrester so she can show the computer illiterate fellow his decadent past.
This image comes from the 'you'd better beware, you'd better take care, you'd better watch out if you've got long black hair, Ah-ooooooooo' era. If memory serves me correctly, Dave (c'mon man, lets get one up) Mitchell was in this version of the band. The 'roadie' shown here, can't recall his name at the moment, was a decent bloke, quiet and from memory a tad more erudite than many....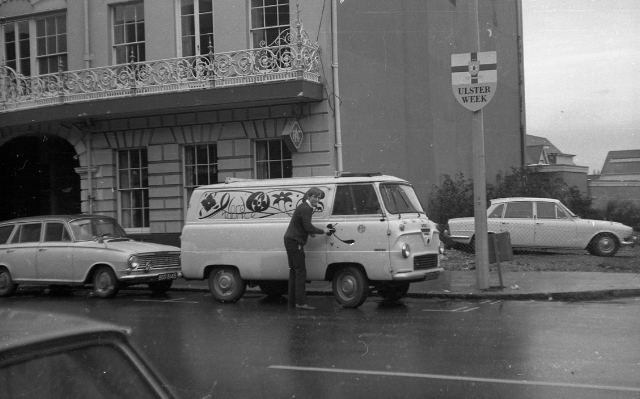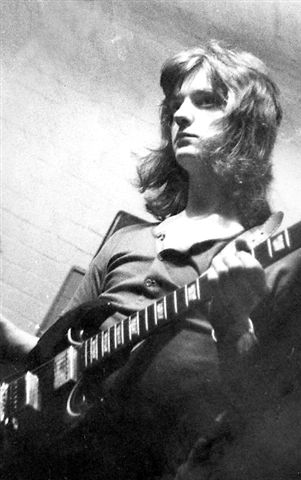 Dick Carpenter - bass - Lord Maurice Group - Below Bar C1967. Dave Fulford c 1970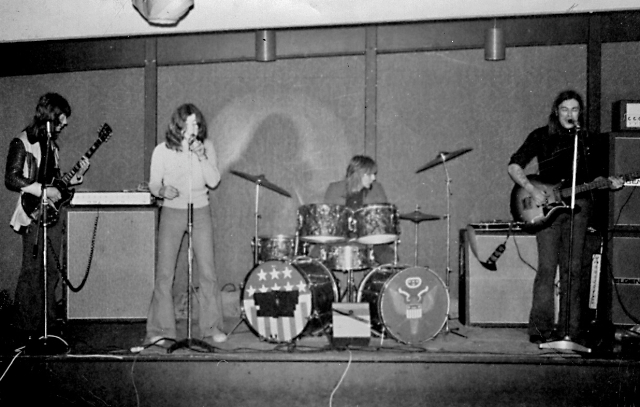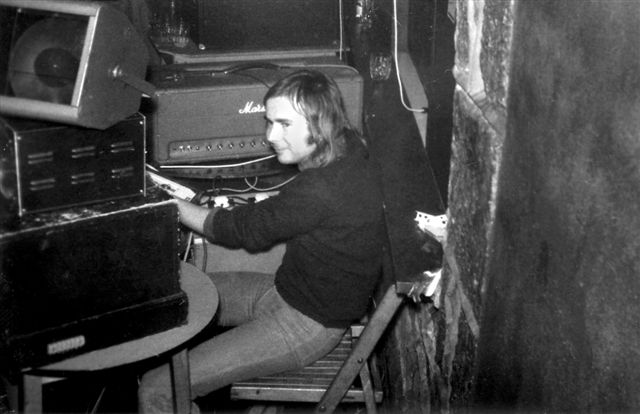 Fulford, Forrester, Clifford (I think) & Medley, C1970. Bless the roadies! Can anybody name him?
....................................................................................................
July 2010
I was surfing the net and came across a superb guitar website- http://www.theguitarcollection.org.uk
So I contacted Guy Mackenzie, only to find his strong links with the Southampton music scene and he has sent me some info on his much missed pal Bill Geddes who sadly passed away just a few years ago. Bill had quite a long career in the music business and another 'disciple' of the amazing Hank B. Marvin who, along with the Shadows and their singer (can't recall his name right now.....) inspired so many young musicians from around 1960 on. This is a copy of Guy's mail and it tells the story in his own words:
Hi David,
Thank you so much for your interesting email and the link--I spent over an hour yesterday looking through it all ( really enjoyed reading it --with a hint of nostalgia too!) , despite the fact that I should have been working! And I've added a link to your site on my Links page.
It was interesting to hear about your connection with the Footprints--we'd only done a few gigs and we ( I) really looked up to the other bands that night at the Southampton Guildhall in 1965. They were much better than us--especially them as they opened the show , we were on second! But we did only get paid £5 between us for the booking!! Top of that great bill were the Fleur De Lys and the Nite People
The others in the Blue Stars were Bill Geddes( lead guitar) -- who was quite well known in the Soton area until his untimely death a few years ago. You will find more about him in my archive page. And Bob Smith ( rhythm guitar--we didn't have a bass!) who married Bill's sister. He left music in, I think, the 70's and has his own business now and lives near the New Forest--he 's well known in the steam engine world and has, I think, a share in one. I last contacted him about 3 years ago.
Bill was a natural musician and really taught me to play drums--and was a much better drummer than ever I was! This was my first venture in playing live and for pay and we only did a few bookings--you'll see some of the venues included in my list. We did one gig at the White Buck at Burley and I recall and a number in Eastleigh. I only lived in Soton for 15 months and then moved to London. The time in Cranbury Avenue (red light area) was a real learning curve for me and there were about 4 of us trainee building supervisors/surveyors living there --we each paid £3.10/-per week for full board and lodging inc.washing!!) We became quite friendly with 1 or 2 of the "girls" but never indulged ( with them anyway!) although we did have the occasional offer!
Re; the band , I was the only one who had a car which made bookings difficult for Bill and Bob before I met them via an advert in the Echo and we practised in Bill's front room-- I remember his parents being very supportive and they really encouraged us. The only pics which i have were taken behind his back garden --just one "shoot"! and I have a very faded copy of the Guildhall gig ad which appeared in the Echo.
I don't know whether anything I've told you would be of any use--but it would be great if it was. Apart from anything else it will be a tribute to Bill who was a first class musician and songwriter and could sing too--and it would give him a recognition which he deserved but sadly , to a great extent, he never had. Incidentally - the number he wrote which is featured in my archive section on him has about 250-300 "listens" every month.
Sorry to ramble on , but I could do a better write up if its of any use--although you will certainly do it much better than me as you seem a natural journalist. It would be nice to hear if Bob Pearce remembers that Guildhall gig and , for that matter, the Blue Stars--but probably not! I'll send some photos on, also the very faint ad for the Guildhall gig.
All the best--you've certainly had ( and are still having!) a great career in showbusiness--many congratulations! It was fascinating reading the people you've worked with , met and the places you've been to! Fantastic!
Guy. July 2010
This is a copy of Bill Geddes' own CV which he wrote himself in 2002, whilst learning to use a computer and I have uploaded a few of the photos sent by Guy which link to the early group days. At this time, Bill was very keen to get back into playing but sadly not in the best of health. He was booked to play at the Dorset Steam Rally Fair in that same year but was only able to perform a solo spot for around 30 minutes- the last time he actually played in front of an audience. It was a very poignant time for everybody and his health deteriorated until passing in 2004 at the age of only 57.
CURRICULUM VITAE
BILL GEDDES
WORKING GUITARIST: since 1964-2002
PERSONAL FILE.
Like most musicians of that era. I was heavily influenced by the bands of the early Sixties such as THE SHADOWS. THE BEATLES and THE ROLLING STONES etc.
There was such a variety of music around at that time which included Rock n Roll, Soul and The Blues: Saying that, I was playing music from previous years on my
harmonica and recorder which I was taught at junior school. 1 am an avid fan of HANK MARVIN. SIR Cliff Richard calls him "MR. GUITAR". As well as HANK, I appreciate the likes of ERIC CLAPTON, MARK KNOPFLER and BRIAN MAY of QUEEN.
I am a very versatile and talented guitarist with the ability to teach others this instrument. I have good communication skills, cheerful and cherish a good sense of
humour.
I am currently producing my own C.D.s and perform live on stage in Cabaret and at various private functions.
From "1979--2002"
For the last twenty two years 1 have played in a local band entertaining at Dinner Dances. Social clubs. Weddings and Private Parties. Steam Rallys. Carnivals as well as Holiday Camp Sites along the coast and in the new Forest. During this time I have also deputised in other outfits as and when required:
From "1973-1979"
I worked with other various bands in and around Southampton and the neighbouring counties as far north as Leicester.
From "1972-1973"
Professional musician at a Holiday Camp band in Kent for the purpose of providing backing music for camp entertainers and dancing.
From "1966—1969 1 worked in the following Variety Shows:
THE SOUTHERN BLACK and WHITE MINSTRELS SHOW: 1966-1969 This was a show based on the highly successful B.B.C. Television show that contained blacked up male singers and girls dancing about while they sang. Myself and another guitarist would break the two parts of the show performing guitar instrumental and some vocals of the time.
SOUTHAMPTON AMATEUR ENTERTAINERS: 1966 — onwards: A show that was formed solelv to entertain old folk in their rest homes.
SIXTIES BANDS"
THE BLUE STARS: Played clubs,pubs and private functions. 1965-1966. THE HIGHLANDERS: First band formed in October 1964.
EARLY 1964 I learnt to play guitar by the Bert Weedon method !!
Bill Geddes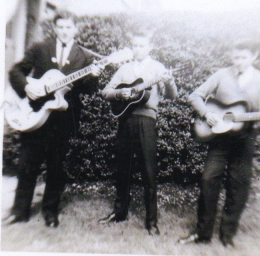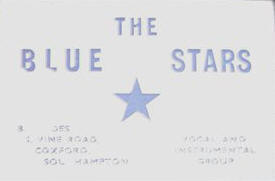 The Highlanders 1964 (Bill -right) The Blue Stars card 1965 Watkins Rapier 33 + Vox AC30!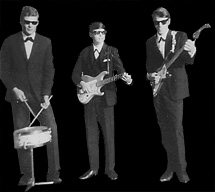 The Blue Stars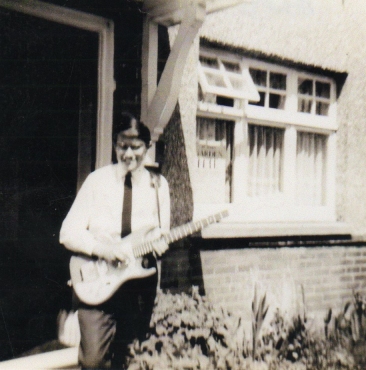 Bill Geddes-early photo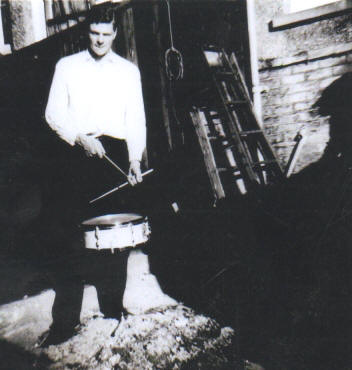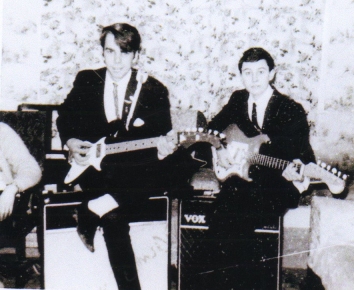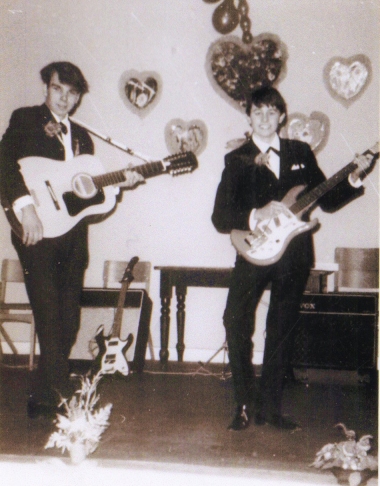 Guy MacKenzie (Blue Stars) Bob Smith Bill 1965 Bob+Bill (Valentines Dance?)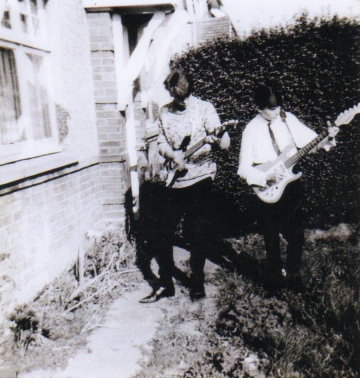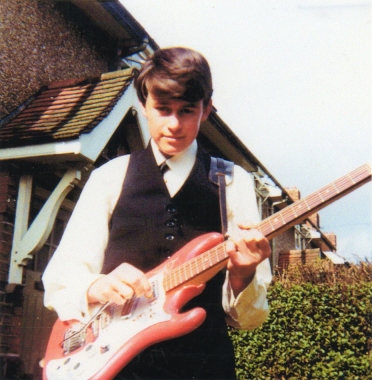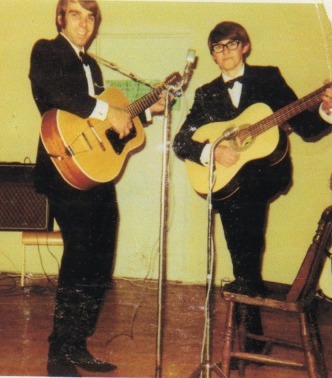 Bob + Bill 1966 Bill and beloved guitar in colour! B&B - 'Hank' specs?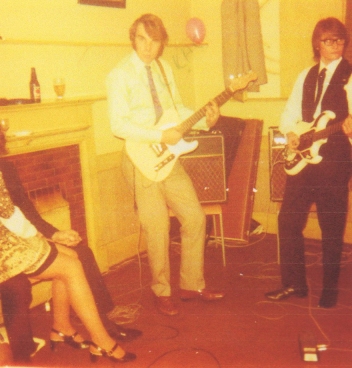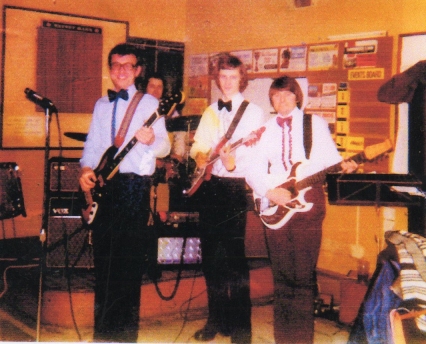 B&B House party? 1970 Southampton pub- mid 70s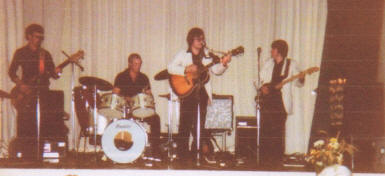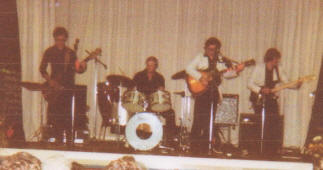 Isle of Sheppey Kent -Holiday Park 1980 Bill on right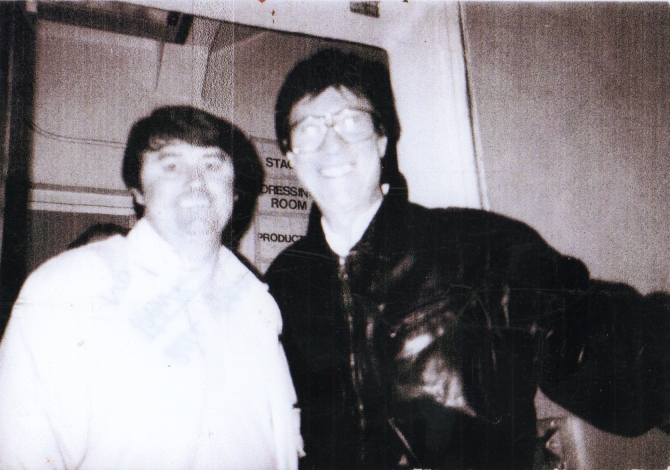 Bill finally meets his idol Hank B Marvin
Backstage at Southampton Gaumont (Mayflower) 1980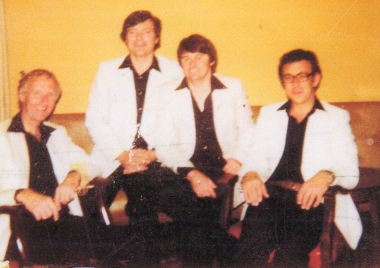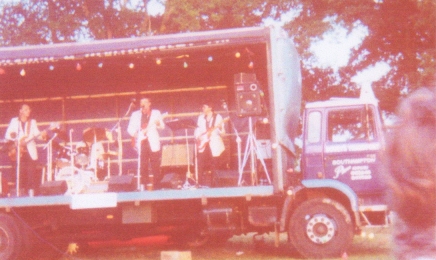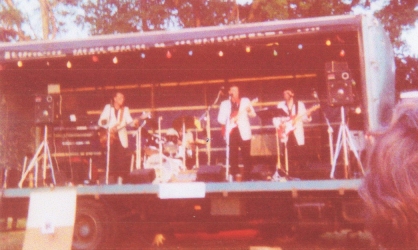 Not sure of line-up - around 1990s? Steam Rally-New Forest late 1990s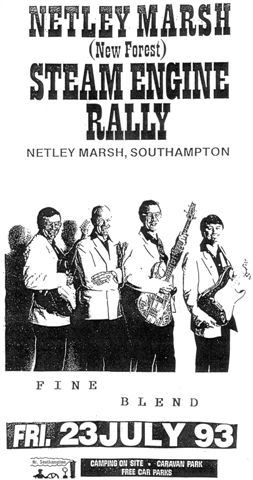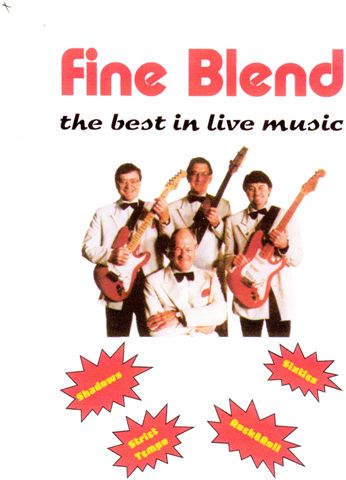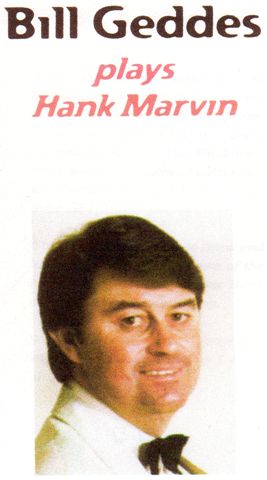 Fine Blend poster FB publicity Bill solo
"Fine Blend" were Alan Simpson ( guitar and vocals), Ron Vint ( bass and keyboards) and Ed Chamberlain ( drums).
..........................................................................................
BACK TO HOME PAGE BACK TO SITE MAP CONTACT DAVID
© copyright David St John 2010