Home page Contact David Click on SITE MAP to navigate rest of website
David St. John presents.......
THE MEDDYEVILS!
**PLEASE BE PATIENT FOR PAGE TO LOAD- STACKS OF IMAGES**
This page follows on from
The forerunners of the Meddys, so you may wish to go there first? Then come back!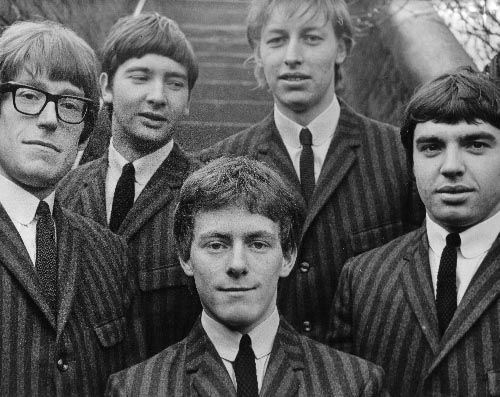 The meddyEVILS (correct 'arty' spelling!)
L-R: Tony Roy Martin (front) Roger John
Here are some great images of the new meddyEVILS in action: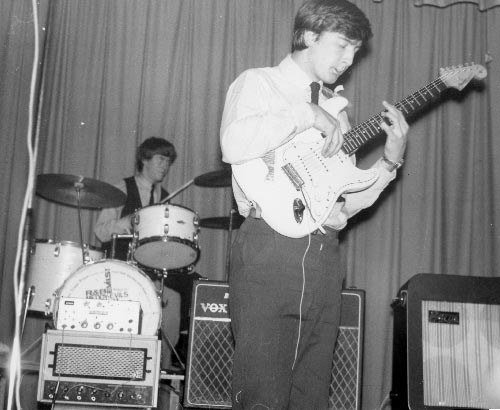 Martin Roy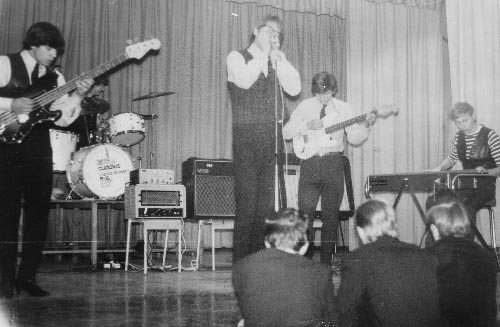 Tony also played a mean harmonica that filled the great R&B sound of the day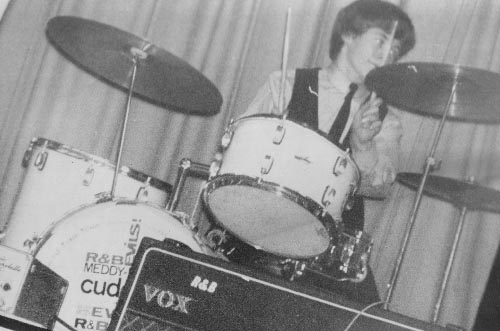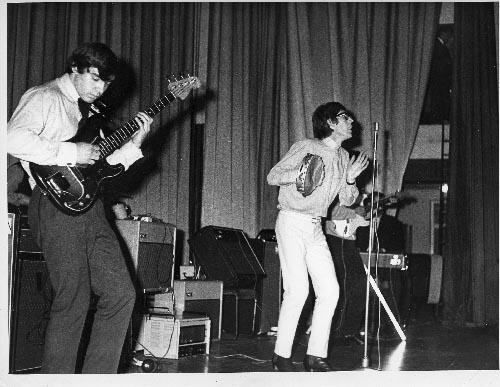 Southampton Guildhall (maybe the popular Mod Ball?) Cuddles drumming up a storm and Tony - Mr Tambourine Man!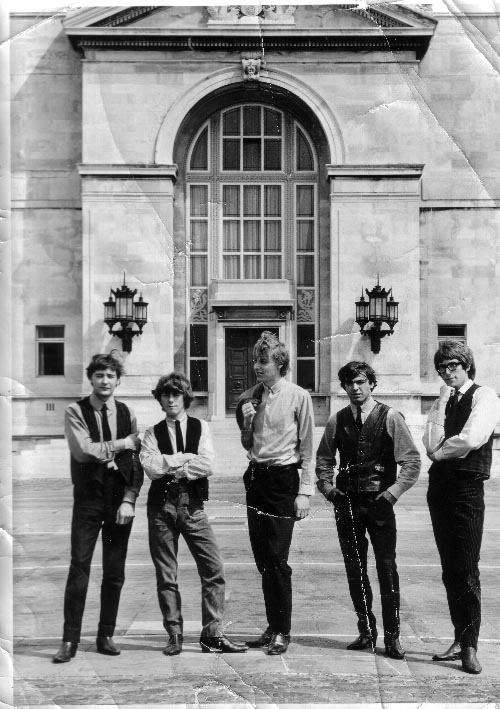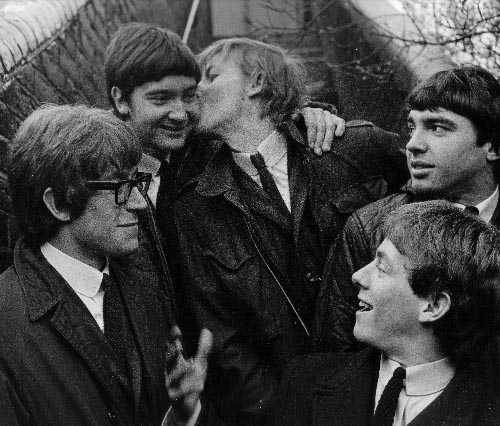 The meddyEVILs - live at Southampton Magistrates Court! Cuddles looking shocked at new revelations in the group! (kidding)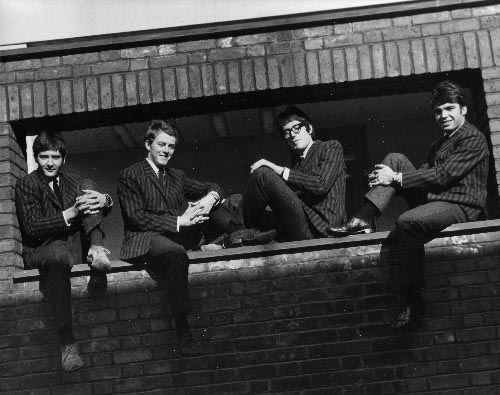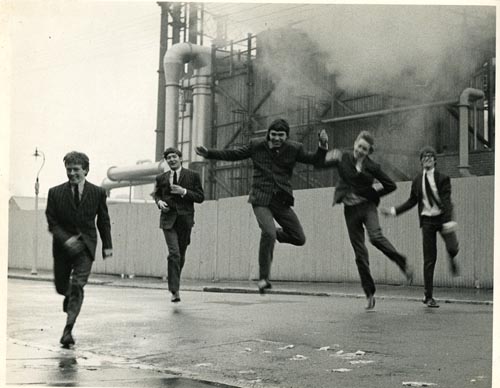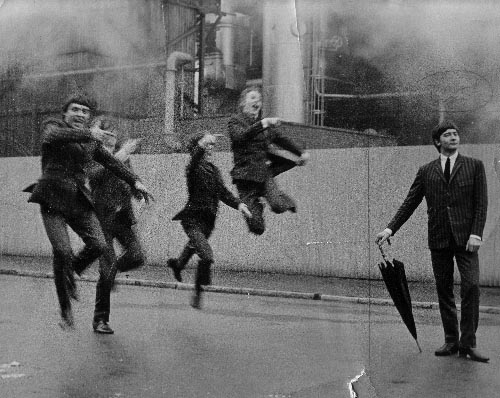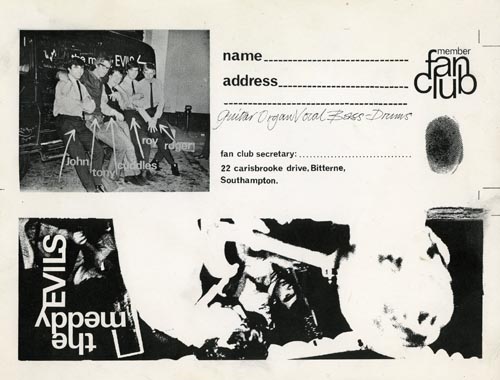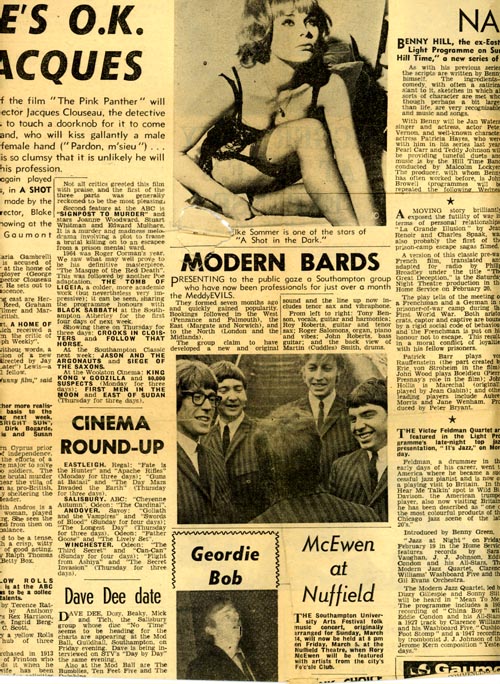 Were YOU a Meddy Fan club member? Local Echo press coverage - hope you can read the other small print!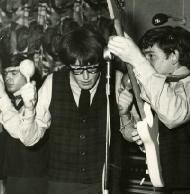 Tony had a lovely pair of maraccas!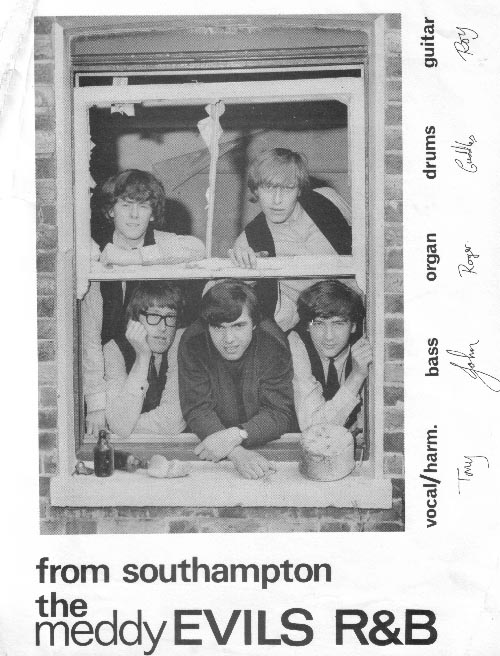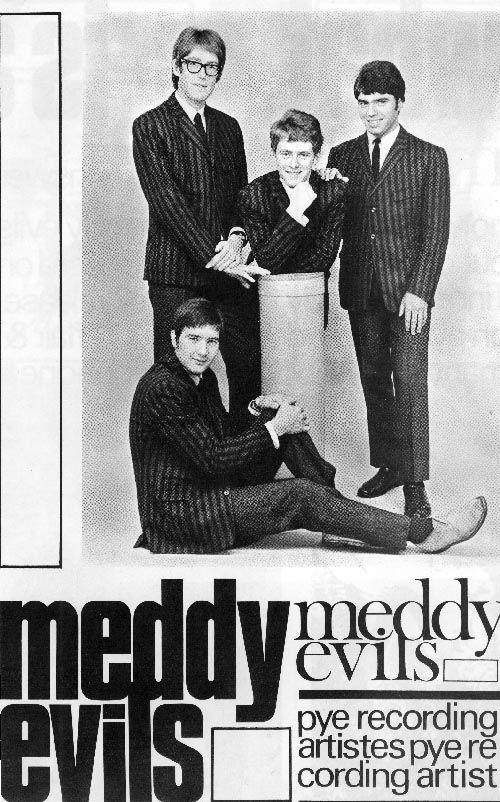 Early publicity cards Recording artistes Pye handouts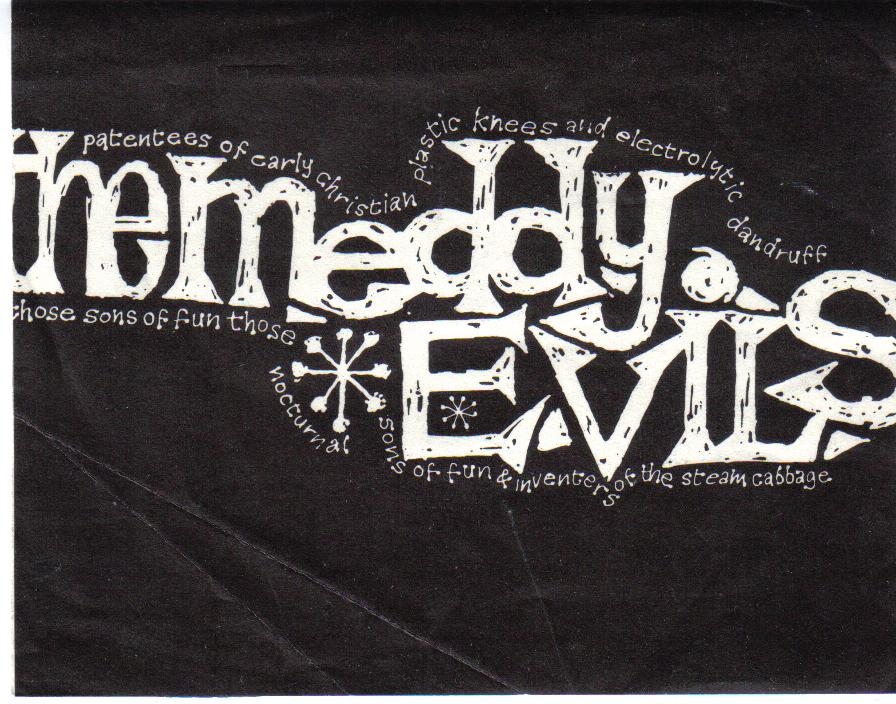 The band turned fully pro in January 1965, represented by Avenue Artistes and in June they travelled up to Pye Studios at Marble Arch London for an audition with Tony Hatch who signed them on the spot. The crazy organist dropped out due to 'personal' problems so the lads weren't too bothered as well as more money to share out! To fill this gap, Roy brushed up on his sax playing as he had been influenced by his family elders some years before and drove the band crazy on every van journey by blowing away in the back with a duster stuffed down the end. His playing can be heard on the flipside (B side- remember them?) of the meddyEVILs first single in 1965 "Find somebody to love/A place called love" The second single was "It's all for you/Ma's place".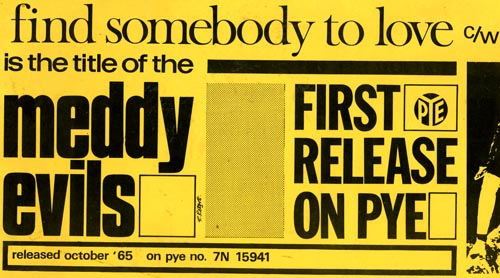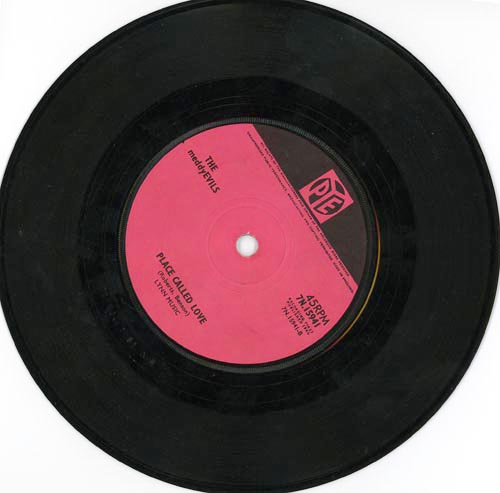 Sadly, the band were not lucky enough to make any major inroads and soon after saw the demise of one of Southampton's finest groups. They were possibly on the brink of stardom but were eclipsed by the other local bands such as the Troggs and Dave Dee & co who were naturally promoted in favour of any other bands. The Meddys were just about to start a European tour but regrettably folded due to a major setback with the lead singer. Tony had vocal problems and was ordered to stop singing by his GP and specialist, so left to get married and settle down after all the madness and Martin joined the new Mojos - see my other pages for more information. Roy 'retired' leaving brother John to carry on by recruiting drummer Pete Hunt plus Alex Chamberlayne on organ as well as trials with two vocalists in the shape of Bob Pearce and Ian Duck. Bruce Roberts (no relation) then got involved and took over the new lineup as well as changing the name to the 'Quik' They soon folded and John plus Roy reverted to the old meddyEVILS name whilst other musicians went onto various other local bands and many of them are featured on my site or will be in the near future. Roy went into teaching but then decided to branch out into business and now runs several companies in the Southampton area but still jams with a few pals on a weekly basis - take a look at the Meddys own site and check out his amazing collection of guitars.
The new Meddys performed as a trio for about a year afterwards and here are some photos taken at Sinah Warren Holiday Camp during late Sixties - note Roy & John's new tashes! The lads were also developing their own businesses at the same time which kept everybody happy. The new drummer was Dave Bunney, who played with my very own Unforgiven group back in 1965 and this can be found on my Call up the Groups webpage.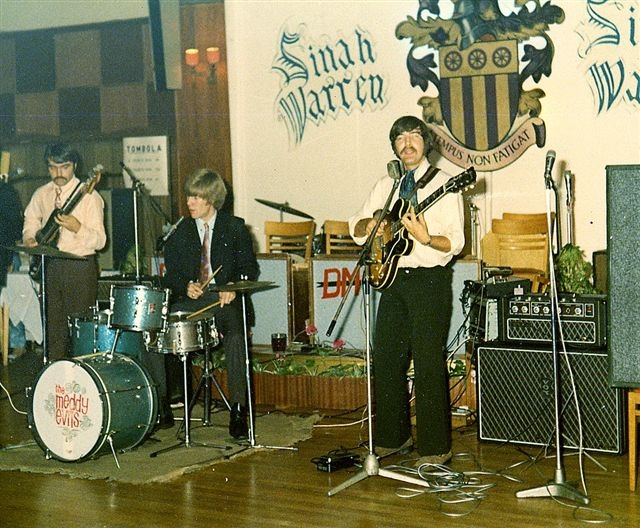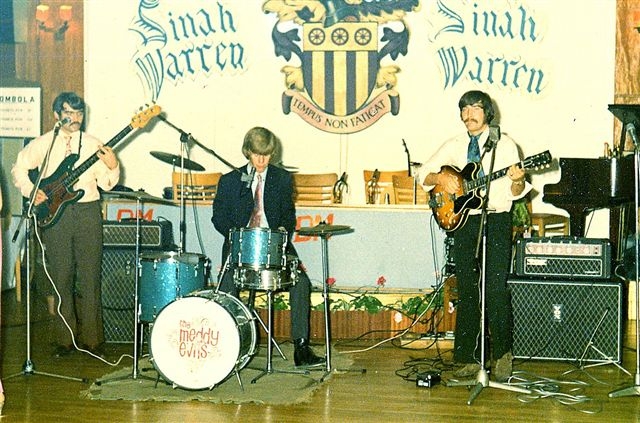 If you have read my Venues page then you will have learnt about the Waterfront Club at the old Cliff Hotel Woolston which was a favourite place to play or watch other bands and hang out with each other. Here are some more nostalgic photos of that long narrow club with a small stage and low roof that often got damaged either accidentally or deliberately by certain well known guitarists! See the Venues page for more on that story!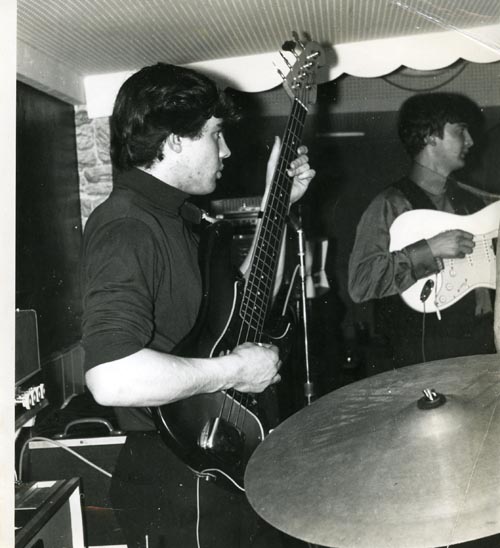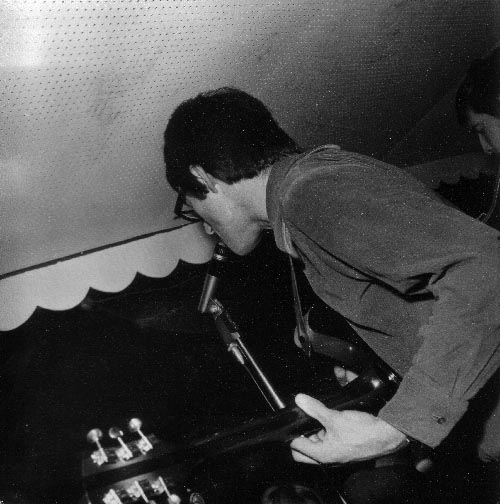 John's bass - see those ceiling tiles???? Tony's head also close to disappearing........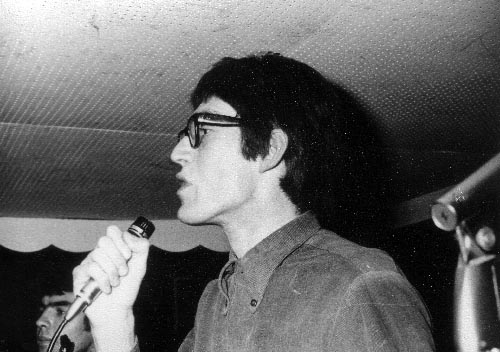 Shure Unidyne microphone of course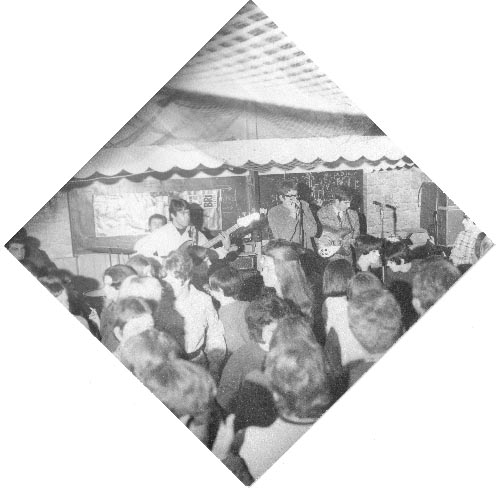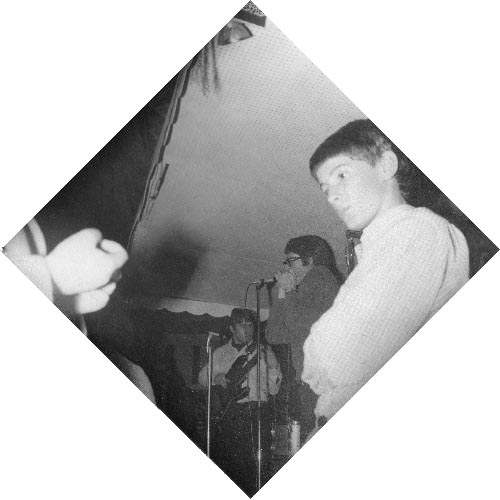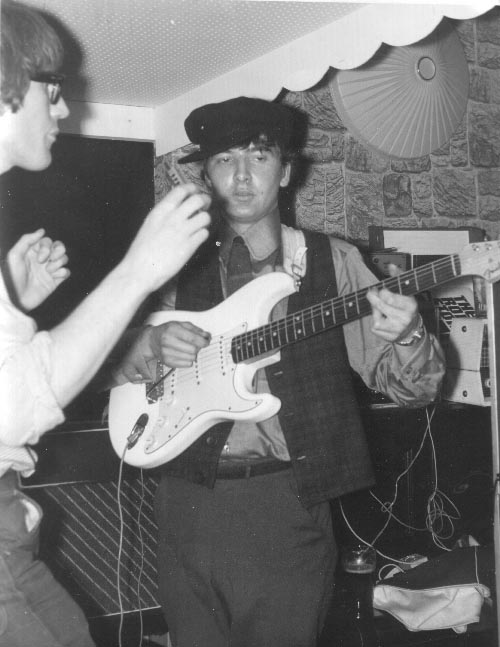 Tony and Roy - check out the old Dansette record player and Stones LP on the right - that was the club disco setup!!
Back to THAT group van! Beat up banger of an old Morris J4 that had the group name painted on the side and often drew cheers and whistles whenever chugging its smoky way through the city streets - no 'carbon footprints' in those days! I recall the Daisies having a brightly painted Dormobile (?) which was covered in hippy style flowers etc. The Meddys 'tour bus' was affectionately known as 'Bloodnok' influenced by a 'Goon Show' character (weren't we all?) and could have told a thousand stories of what went on inside that mobile den of iniquity as were many of our own group vans at that time.
Most of them stank of sweaty socks and much more unsavoury smells, often as a result of eating curries and drinking beer on gig nights! We spent hours on some roads, passing the time away with filthy jokes and farting contests as well as stupid pranks and all manner of crazy antics. I'm sure we would do it all over again if we had the chance as we were so lucky to have been there. The vans were often toxic waste areas and should have had warning signs on the outside and one can only wonder how these old jalopies managed to get through the old M.O.T test in those lax days. Here is a superb photograph of 'Bloodnok' and band outside the front of the Cliff Hotel/Waterfront club - I think Tony was trying to pinch the famous Watneys Red Barrel advertising light fitting off the roof! Nobody told him that it was wired up to the mains!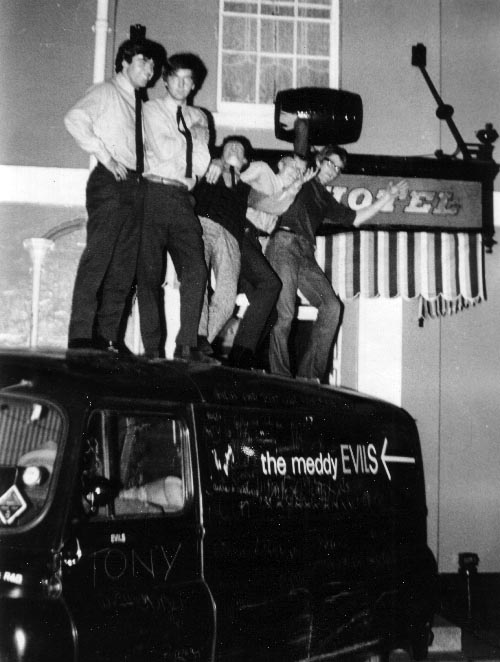 Van always covered in lipstick and carved messages - see door!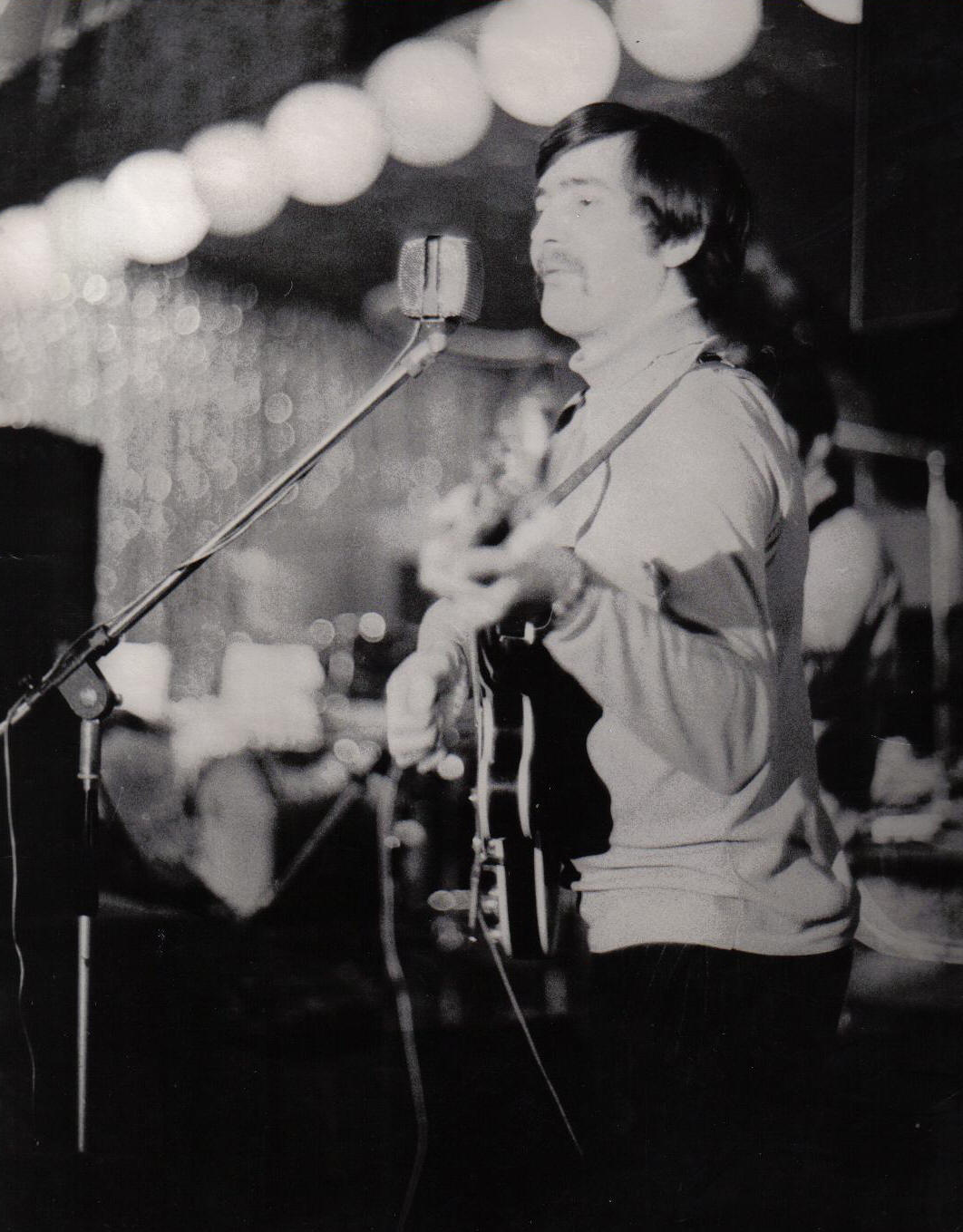 One of the perks about being in a pop group was the obvious advantage of female attention, apart from having to fight our way out of some clubs because the jealous boyfriends were angry about their 'birds' being chatted up and lured away into many a group van! You will notice that I have drawn a diplomatic veil over much of the 'groupie' side of the business which will come as a relief to many a singer or musician with misty memories of teenage fumblings and much more. This van had a revolutionary fuel injection component which had not yet been fully developed at that time and was known as a 'Overtaking Boost Control'. This comprised of a piece of string tied to the carburettor jet and running back through the engine lid compartment which served as a warm middle seat for whichever band member had managed to grab on a cold night. When the driver shouted "Boost!" the Meddy co-pilot would yank the string and send the others tipping backwards as 'Bloodnok' was hurtled forward in a rather dodgy and highly illegal manoeuvre! When this van finally gave up the ghost it was consigned to a scrapyard by the side of Northam Bridge, and could be seen from the road, sitting sadly on top of of a junkpile of old bangers destined for breakage and crushing. Many a Meddy and fan would shed a little nostalgic tear as they passed by this road for some while after its retirement from a very 'active' service!
This van was then replaced with a Commer 12 seater purchased from the roadie to Rod (the Mod) Stewart and local Soul Agents who was a regular visitor to Southampton venues before doing rather well for himself. When Rod and his various bands travelled in the van, he would lie on his back and draw explicit graffiti all over the roof and signed every piece of his 'art work' Can you imagine what that old van would be worth these days?? The Meddys were quite proud of this memorabilia and often used the line of "Come and look at our etchings" to many a young lady fan as they waited for the lads to load up the gear after each show!
As mentioned, there has been much interest in the early Sixties R&B movement and some MeddyEvil tracks can be found on these terrific CDs in case you feel like doing some surfing via Amazon or other outlets. They showcase many top bands of the era and really give a good flavour of the scene back then. These are Roy's own CD cover shots (purchased from HMV Bond St) and Tony has rare early vinyl compilations which he guards really well! Roy's son is I.T. boss at HMV and has promised him a 'gold disc' in recognition of the Meddys' 'services to the British Music Industry' and I am now waiting for an image of this to be added to this site!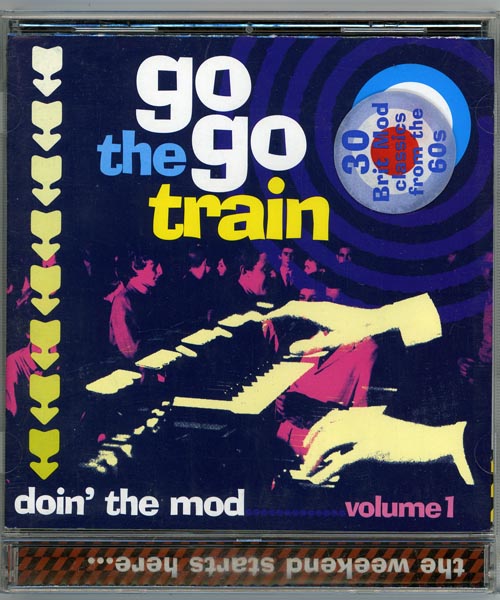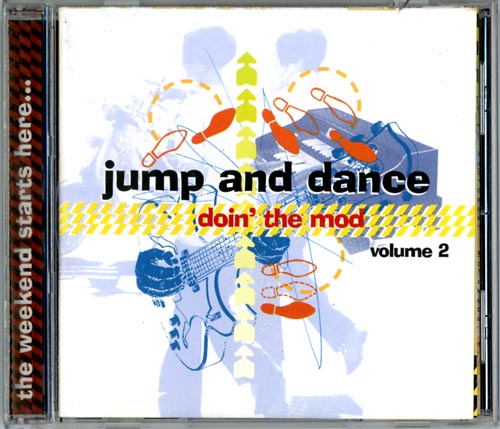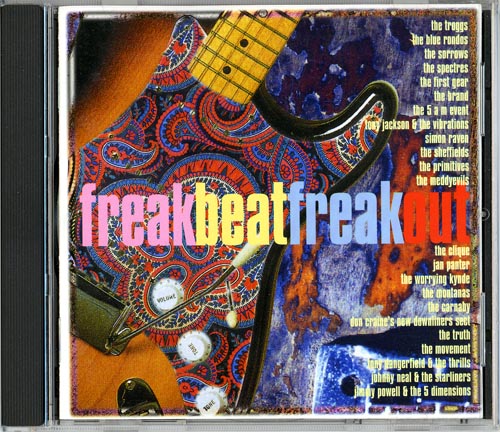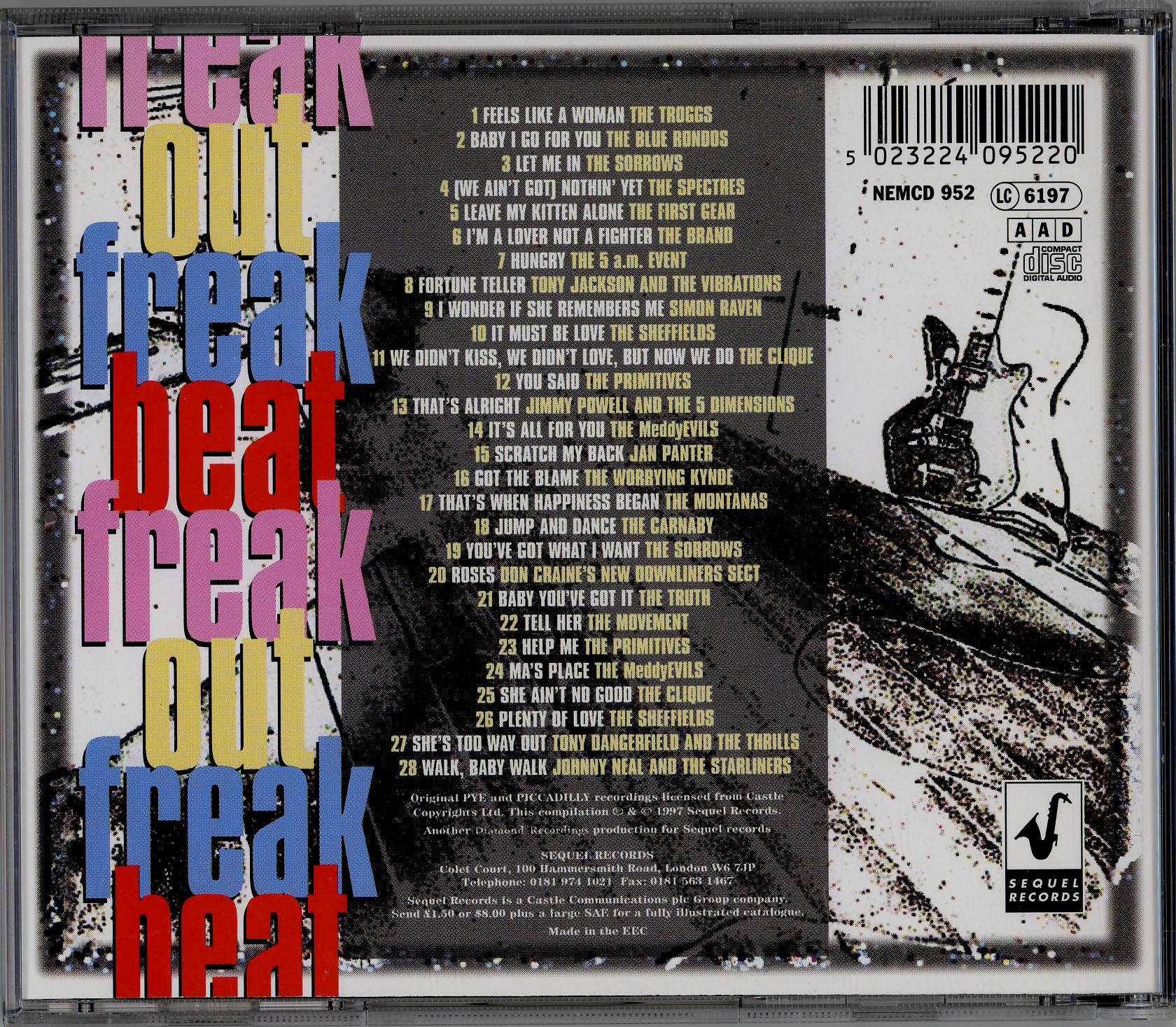 2007
Where are they now? Roy is a very successful businessman within the marine industry based near Southampton but is still very active on the music side - check out his amazing guitar collection on the MeddyEvils own website. Here are some of Roy's own photos and features the Havant Jammers in action!
Roy writes:
Just dug out these three pics for your (great) site..Ian Duck (Classics/Hookfoot etc) in the glasses playing with our 'Havant Jammers' crew...myself (left) and 'Beaky' in Marbella....Beaky lives near my place in Bel Air (Spain) and plays all around the area...his posters read 'Still getting away with it' and sings all the DDDBMT songs to a backing track.

The last pic is me and one of our drummers John Cahillane who was the singer with 'The Carnaby'...title and track 'Jump and Dance' on the same CD as the meddyEVILS release...we are holding our 'latest' release!!!

I had an airport taxi ride back to my place not long ago and the driver (his very last ever taxi run at 76 years old!) turns out to be none other than Alan Ross (as in Band/orchestra Top Rank etc.)....he came in my house and spent some time reminiscing! A lung problem has stopped his saxophone playing and he has taken up painting (as in art!).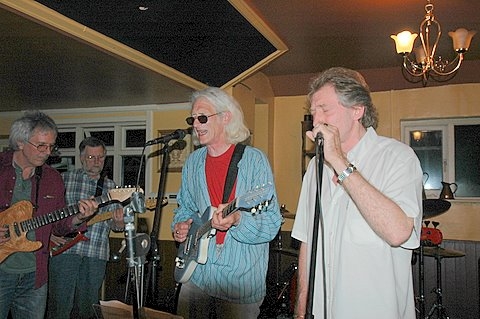 The Havant Jammers
L-R Clive Bates Stuart Ward Ian Duck plus Mick the taxi driver!
(ex Rhino Men/Hookfoot) Produces Session amps (Classics/Hookfoot)
At time of writing (October 2007) Roy and the Havant Jammers have a weekly Wednesday residency at the Wheelwrights Arms in Havant, so why not pop by and see them in action. You might twist their arms into having a drink...... You can probably jump up and join the band for a song or two!!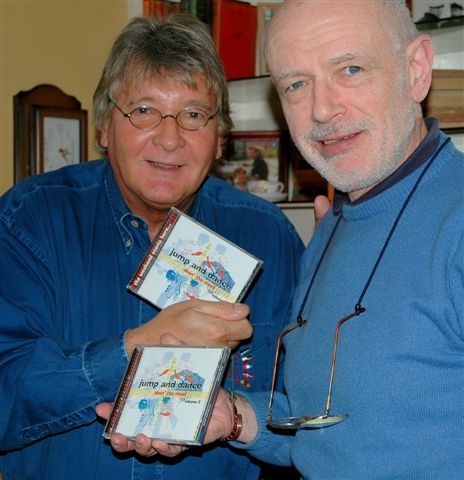 Roy with John Cahillane (ex Carnaby) - still buying up their CDs to get them into the charts!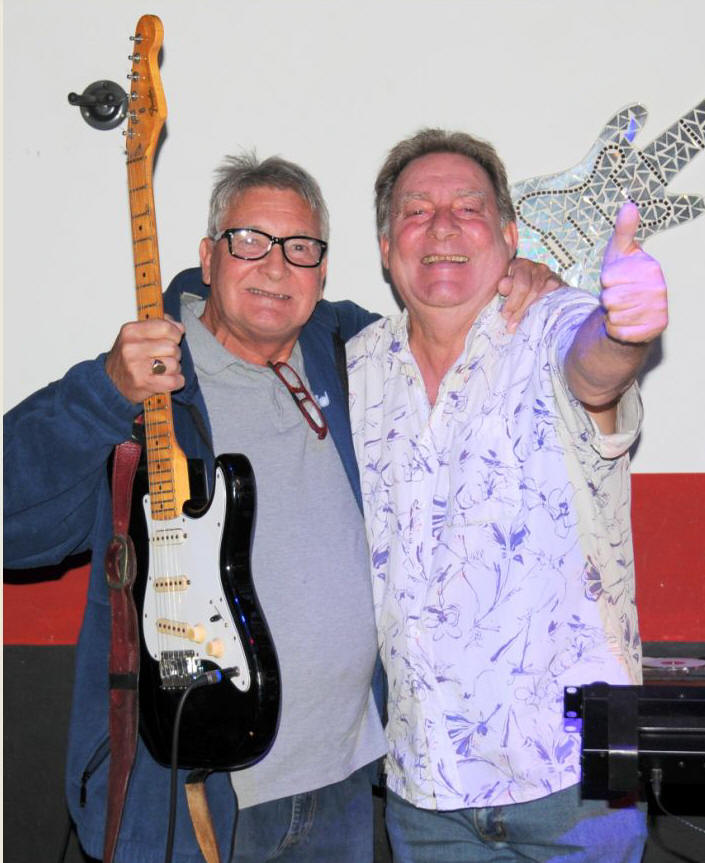 Roy with Johnny Dymond aka Beaky of Dave Dee, Dozy, Beaky, Mick and Titch!
I have also been contacted by original front man of the Skylanes - Tony Benson, who went back into art and teaching although his voice luckily recovered from the hammering it got from the crazy days when many of us had to sing for hours in hot sweaty smoky clubs! He is now based in North Yorkshire and still plays with a local band as well as having some talent rubbing off onto his sons - this is his e-mail received in October 2007 and tells the story
Hi David

This is my first contact with you since I started receiving all the fascinating '60's/Southampton stuff and I am so grateful for all the news etc. I've lived in North Yorkshire for the past 28 years and I must admit to losing contact with the past other than visiting my folks in Soton over the years. In the early '80's I bumped into Martin 'Cuddles' and ended up jamming with him and Bob Pearce at the Bevois pub??? This made me think about getting a band together again in Thirsk (N.Yorks) and since then I've been gigging constantly with bands, in fact my current outfit (Werewolves of Stockton) finally hang up our picks, or weighty Fender Twins on 22 Dec this year, in Hartlepool (the North East has a very lively scene, especially for old fogies!) Having the original Chris Rea rhythm section (Norman 'Nosebait' on drums and Mick Hutchinson) on bass has been a real privilege.......check out the Green Whistle Test DVD to see these guys in action with CR...... So all good things come to an end, but we are moving to France next year ,so no more gigs other than jams!!

15 or so years ago I had totally forgotten about the Meddies etc until a good friend Bill Aitken, from Sunderland insisted on forcing my interest again, hunting down singles and eventually the Freak Beat / Mod CD's until I realised that maybe here was something to be chuffed about. My 3 boys all moved to the States and got into bands..(Danny played in the LA 'The Warlocks' for 3 years doing great dates over here) c2003 and I was lucky enough to jam with my son Matthew with his Texas Rock-a-Billy band Matt Hole and the Hot Rod Band on many occasions.

Last year, my brother phoned me from Soton to tell me about the Echo Meddies feature (followed up by the Echo Book)...........well this got me in contact with Roy again, and I eventually plucked up courage to phoning him. So the ice was broken, and we are all in touch again, which is so good. Your web site is really great and I love reading about Barrie James and Tex and The Brook Bros 'cos these were the guys along with Danny Storm and Dave Dee & The Bostons etc who really inspired me when I was a kid down at the Pier.......oh what great memories of the Pier, it was a real privilege to play there along with the Park Ballroom? Concorde, and of course the fabulous Mod Ball, we eventually were elevated to the 'top' spot, in the middle, only to have my mike stand taken away by the huge Guildhall curtains as they opened, and then a stink bomb went off at the front and 1200 punters rushed to the back, yep, during our set......happy days!!!!!

Roy sent me the link to your new Meddies page and I think it's fabulous, made me feel quite humble, it's really witty, full of disgusting half truths!! ha ha (it was Cuddles who would fart in your face in the middle of the night, what a character, so great to know him, lived to the full, what a shock to learn of his passing, got it from some German magazine or something. A fabulous, down to earth guy, un pretentious and a top drummer!!! too late to attend the funeral. I could go on and on but I don't want to bore you, anyway I'm very impressed with your Concorde plans and although nervous, I would love to be able to turn up and meet some old friends from '62-'66. so if it's ok with you
Once again, I am grateful to Roy who has kindly allowed me to use information and terrific images from his own collection of memories. Just before uploading this new page, I suggested that it would be a fitting way to pay tribute to another pal who is no longer with us, so here is a final photograph of Cuddles who was one of the most popular musicians on the Southampton scene and fondly remembered by those lucky enough to have shared many a laugh with!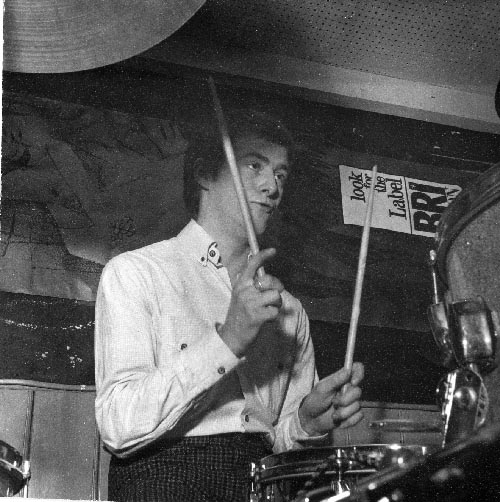 Martin 'Cuddles' Smith
Click on SITE MAP to navigate the pages Back to Home Page Contact David
© David St John 2007