Home page Contact David Click on SITE MAP to navigate rest of website
David St. John presents.......
TONY BENSON AND THE SKYLANES
**PLEASE BE PATIENT FOR PAGE TO LOAD- STACKS OF IMAGES**
The forerunners of the MEDDY EVILS - click for new page
One of Southampton's most popular groups of the early Sixties, who travelled all over the UK with great success as well as working alongside some of the biggest names around. They eventually changed their name and signed a recording contract with the Pye label under the auspices of top producer Tony Hatch and released a few singles which unfortunately did not topple the Beatles off the no.1 spot! However, some forty odd years on and some of these rare discs are very collectable and fetch high prices amongst serious record collectors, so more about this later on. I am indebted to Roy Roberts who helped form the original group and has provided me with a wealth of information and photos as now seen on this and other pages. This page covers the early days of the band that eventually became the MeddyEvils who had some great success but didn't quite make the big time due to a combination of bad timing and luck. Roy's own MeddyEvils website makes for another personal glimpse of what is was like in those pioneering days of the Beat Boom and I suggest you have a look at their own fascinating pages.
The story begins.......
Once again, like so many young wannabe musicians, the Skiffle and Rock n Roll era of the mid Fifties inspired many of us lucky enough to have been born at the right time! Thornhill Boys Club was the setting that saw 18 year old Roy proudly playing a Burns Artiste Vibrasonic guitar (very rare and would fetch a small fortune nowadays!) through an home made amplifier and an early Watkins Copycat Echo unit - these becoming a standard piece of equipment over many years, mostly to enhance the vocals! His brother John plucked a home made 'Fender Precision' style bass guitar from the 'Roberts Bros Guitar Manufacturers Ltd' company along with pal Graeme on a popular Hofner Verithin and Roy's Club 60 guitar. Drummer 'Nobby' Randall completed the line-up of this new group who mostly copied the Shadows, Ventures and similar instrumental groups of that time. Their first name was the Skylanes and within a short time they realised that they needed a lead vocalist to enhance and widen the repertoire so Roy's art college student pal joined this fledgling band to become Tony Benson and the Skylanes as opposed to Tony Hole (real name) that would have provided some inevitable mickey taking from all around! Here are some old photos that Roy has kept for the best part of fifty years and also featured on his own website which he is hoping to improve when time permits. Before Tony joined the band, he would (illegally) lend his Norton 500 with clip-on handlebars to Roy in exchange for borrowing a Burns guitar over the weekend!
Roy's first limo when finding Pop stardom and new found riches
The girlfriend had to keep a low profile in case any fans discovered her.......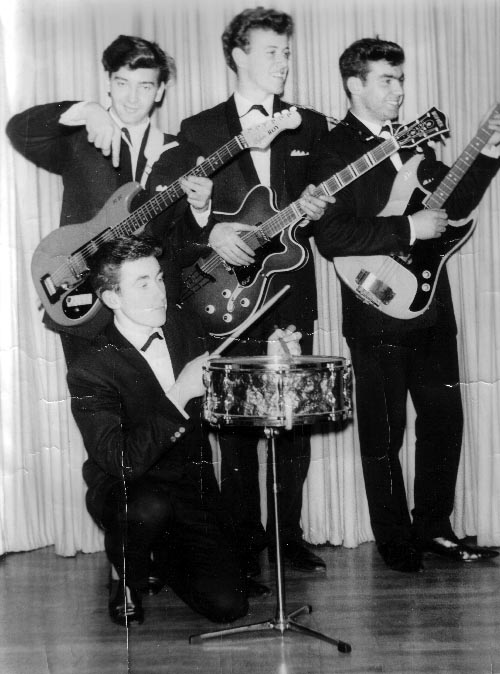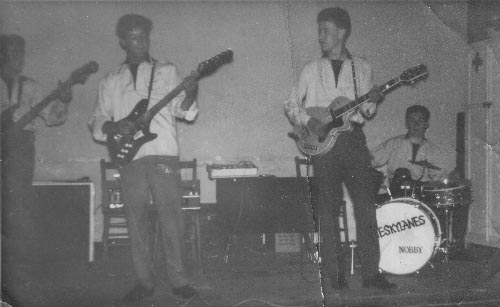 The Skylanes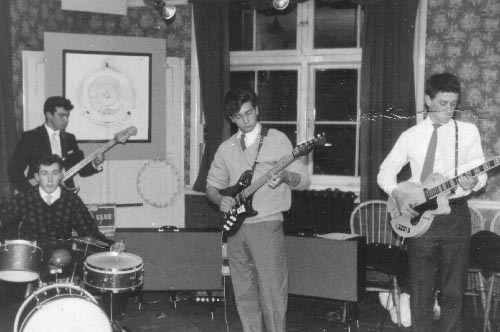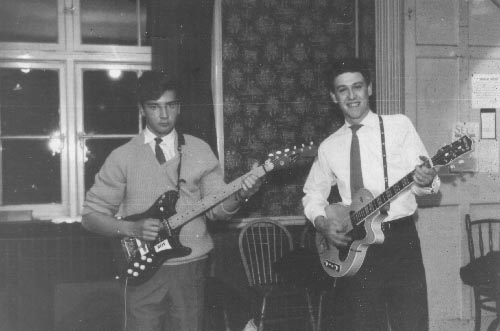 The Skylanes playing at the old Echo Social Club Above Bar Southampton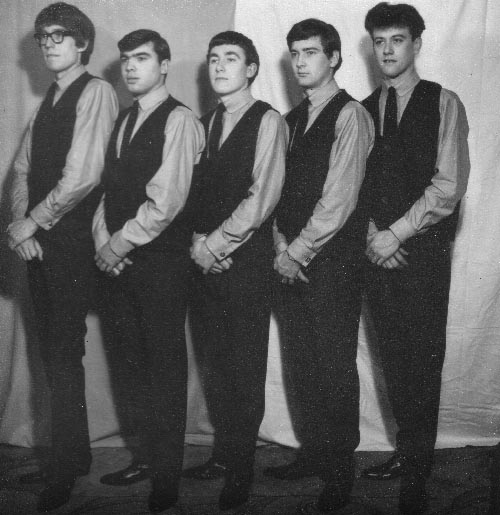 Tony Benson and the Skylanes
As the band became established, they decided to get serious and with a new (home-made) p.a. system along with Roy going broke by purchasing a Fender Stratocaster (serial no. 76351) costing £90 a small fortune in those days! Only one suitable amplifier to match so Roy paired it up with the classic Vox AC30 costing £126 - there was/is no finer combination!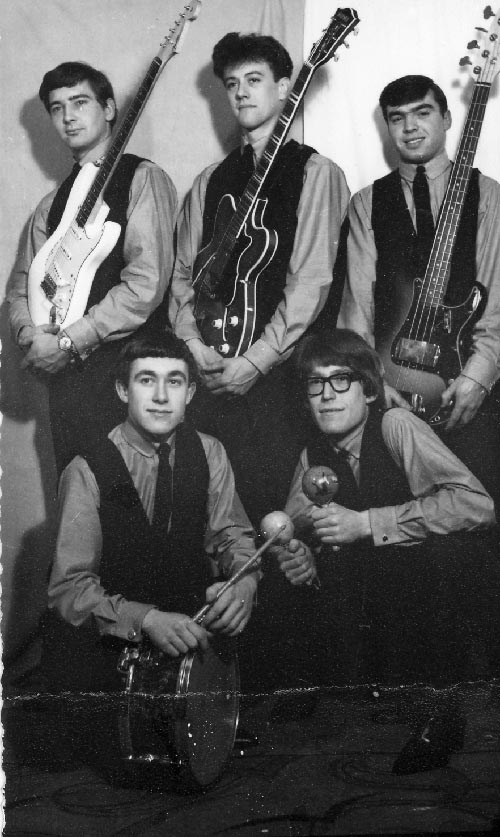 T.B. & Skylanes
Brother John had to match Roy and scraped up £118 for the much coveted Fender Precision bass guitar so the new sound was complete. On one gig, the band were approached by a very young diminutive but confident drummer of local notoriety who then replaced Nobby. The rhythm guitarist was also replaced by a crazy keyboard player called Roger Solomon from another local band. This new drummer was none other than Martin Smith but affectionately known as 'Cuddles' who played with many other top bands throughout the Sixties until his untimely death at the age of 49(?) He was much respected as a superb musician and a great character who is much missed by all those that knew him or saw him in action on the drum kit, so I'm quite pleased to see his memory live on within my webpages dedicated to the Southampton music scene of yesteryear.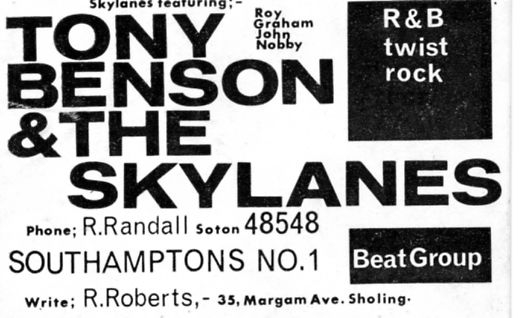 Early business card - don't try ringing this number - you're some 43 years too late to book them!
A new name was needed and some way out handles were kicked around including the Moby Plums - a silly name at the time although there was a great late 60s progressive USA band called Moby Grape as I recall..... The new band used to practise/ play and run the Yellow Dog Club in Bevois Valley and the owner unknowingly provided the inspiration for the new name as he was always looking down his nose at this scruffy bunch of longhaired musicians who shook the walls of his beloved boozer! On one rehearsal, the guy was up to his usual name-calling and came out with the line "You look like a bunch of mediaeval serfs!" but sneering and emphasising the final syllables as in Meddy EVIL.
The lads shouted 'Eureka!' .....that's it! From their art college background, they decided to keep the landlord happy and write it out as the 'meddyEVILS' with their first date being the Banister Ballroom on Saturday June 6th (20th anniversary of D-Day!) 1964 and Roy's diary states "Went down a bomb!" This was a positive comment back them unlike the American version these days if anything 'bombs'.
Here are some more early Skyline pics: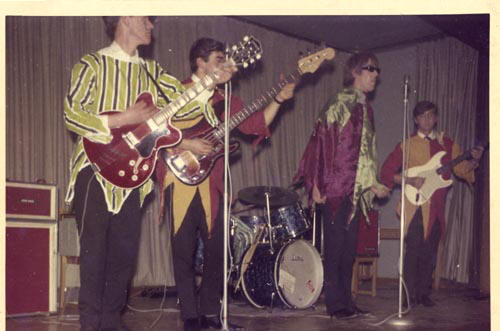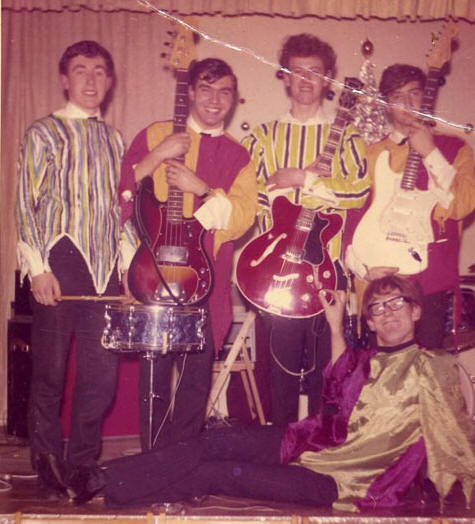 Colourful or what!! Arts Ball at the Mecca "Tony- stop twiddling my knob!"
These costumes were also worn at the unsuspecting Thornhill Boys Club - one can imaging the heckling!!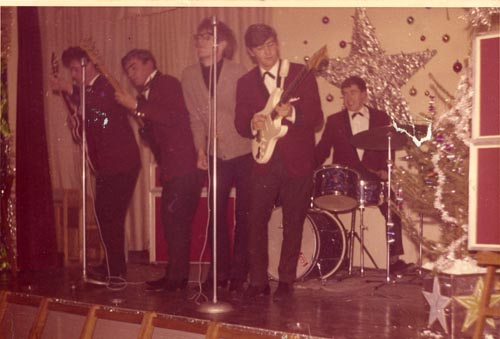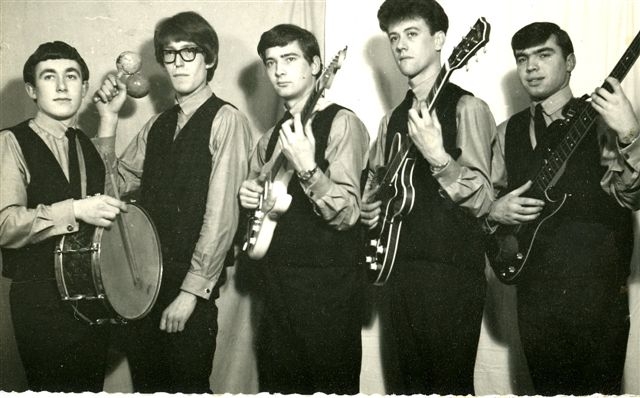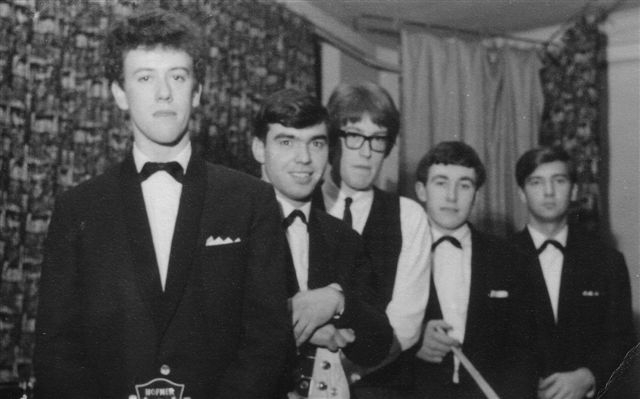 Once again, I am grateful to Roy Roberts who has kindly allowed me to use information and terrific images from his own collection of memories to be found on the MeddyEvils own website. Just before uploading this new page, I suggested that it would be a fitting way to pay tribute to another pal who is no longer with us, so here is a final photograph of Cuddles who was one of the most popular musicians on the Southampton scene and fondly remembered by those lucky enough to have shared many a laugh with!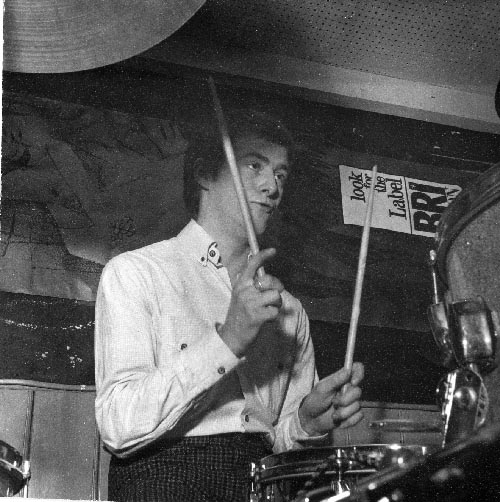 Martin 'Cuddles' Smith
I will add any more info on TB & the Skylanes as it trickles through so please come on back now and then. Please go to the next page to read all about the new group that really took off. Just click on:
OR CLICK ON THEIR OWN WEBSITE FOR MORE GREAT STUFF!
Click on SITE MAP to navigate the pages Back to Home Page Contact David
© David St John 2007