Click on SITE MAP to navigate the pages Back to Home Page Contact David
DAVID ST JOHN
Real variety! Guinness World Record Holder (see below)
If you have had a look through the various pages on this website you will see that David St John can offer much more than the average artiste, as he is able to entertain audiences of all ages and tastes by drawing on many years' experience. If not - return to the home page and go to the Biography link to gain an insight into a lifetime of entertaining people all over the UK and abroad. Then come on back!
This page will hopefully give you an idea as to what is on offer, should you be looking for a real variety artiste and these are just some of the main options that can be featured on your next show.
COMEDY
David St John's main act is a fast-moving mainstream comedy show which usually covers a 50-60 minute routine spot (plus encores!) He supplies his own sound system (PAT-tested+PLI) unless other equipment is being used i.e. in-house or other artistes etc. David can work either self-contained using quality backing tracks on minidisc or providing professional musical arrangements (written and arranged by himself) where live musicians are available.
He normally opens with a comedy-themed song which involves the audience before settling down to a mixture of gags plus observations about the venue, location and surrounding area on which he has already done some homework! David delivers topical jokes based on current news events and can also incorporate material based on a company product or service if appearing at a corporate function or based on the venue's profile. In addition, David has some fun by slotting in names of any 'characters' as supplied in advance which makes for an interactive show and always done tastefully and diplomatically, so that no offence is taken! His comedy material is adapted to suit the type of audience- from clean through 'saucy' or crank it up if needed!
He also offers a variety of different impressions and normally finishes with a song or two if needed. If no vocals are needed then David just delivers a good straight stand-up routine adapted for the type of audience. If live musical backing is provided, then David also uses electric 12 string guitar on a song or two plus additional vocal impressions as well as opening the show with an amazing blues harmonica solo - very rare these days. If any children are present, David can also cater for them as with additional suitable jokes, interactive routines and even a little bit of 'cod' magic thus providing real family entertainment.
With his knowledge of many countries and languages David can often surprise any non UK members of an audience by referring to this aspect plus chatting away with a few foreign phrases on top of his existing French and Greek. In addition, David can usually make a joke about anything suggested from the audience and offers even more interactive entertainment. David's amazing background as a TV quiz contestant is also used to good effect, in which his trivia capablities are brought into play with ad-libs etc.
Apart from his solo act, David St John is also the perfect Comedian/Compere for all types of shows and functions and can run the whole event in a smooth professional manner in addition to his own act slotted into the main schedule. If you are just looking for a competent host then David is the ideal choice to keep everything flowing with any links or fill-ins as needed.
THIS IS YOUR LIFE!
David is often booked as a 'surprise' entertainer - usually for birthday or anniversary functions and he also offers additional fun with a customised section played out as an hilarious "This is Your Life!" routine. The client is put in touch with David on a confidential basis and supplies information on the intended 'target' prior to the actual event. David then writes and adapts a humorous script based on the person and details of life history as supplied on the quiet. His initial appearance as the guest entertainer is then followed up by producing that well known red book, with the theme music from that same show playing in the background.
David then gets the subject to sit on a chair and then regale him/her and the audience with comedy-based slants as well as introducing other surprise guests if needed eg old friends, relatives who may have been hiding away somewhere. He then completes the show with his normal comedy act and has no objection to anybody recording the first part of "This is Your Life" as many people like to keep a record of this special surprise. Naturally - these special customised shows will incur a slight extra charge relating to writing up prepared notes prior to the performance.
COMEDY/VOCAL
Another act on offer is a good comedy/vocal show that can be split into two or even three sets, which is more of a casual style and ideal for small intimate venues. David has a large repertoire of pop songs from the Fifties to the present although the main theme is Sixties/Seventies and covering hits from most of the solo stars and groups from this era. He mixes this with gags, good chat plus interesting introductions mixed with pop trivia to add more interest to the evening. Requests are no problem as he can quickly go straight into whatever is asked for and he also gets the crowd singing along as well as a dance spot if required so a real party atmosphere is guaranteed. Again, David adapts the music and comedy to suit the audience age spread as well as providing suitable background music to cover any breaks. He can even offer a basic 'mini-disco' on top of his own live act and this can be slotted in at anytime to provide a one man show for the whole night. Musically- covering the mid Fifties through to Sixties/Seventies and later styles of music, according to the audience mix.
This is usually based on using quality minidisc backing tracks although David can also provide an 'unplugged' show using 12 string guitar and covering different styles - easy listening/folk/pop/contemporary and much more. He spent several years as lead vocalist with many pop groups during the 60s and 70s so can draw on this experience plus interesting chat and trivia based on the songs and artistes.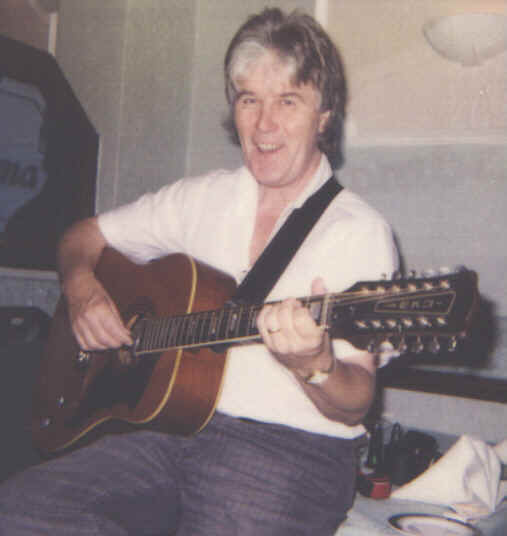 David 'Unplugged'
.................................................................................................................................................................................................
BACK TO THE SIXTIES! A SPECIAL THEME SHOW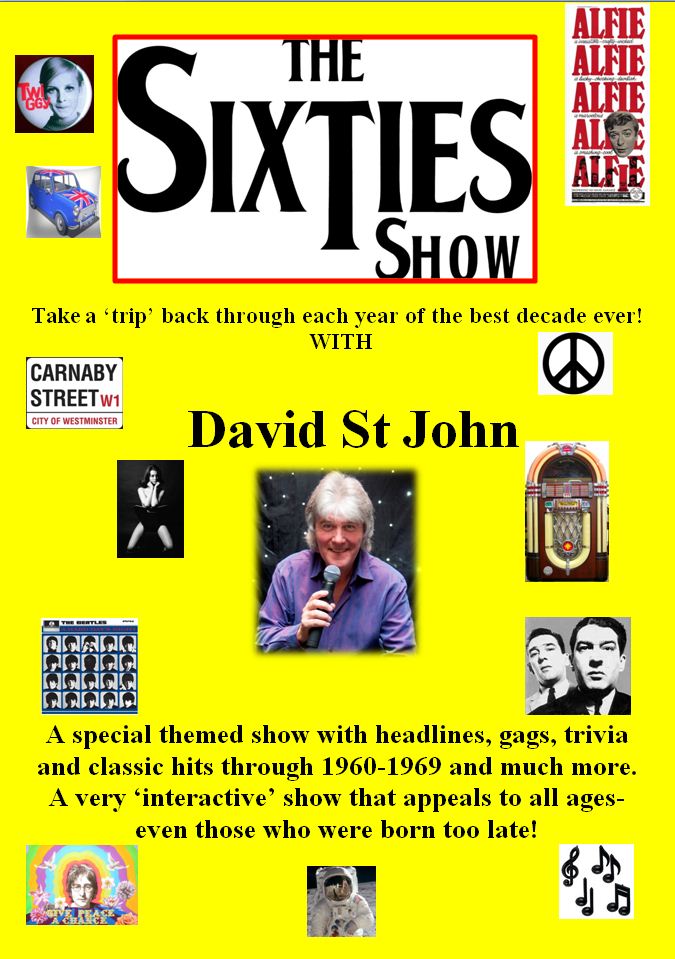 http://www.davidstjohn.co.uk/sixtiesthemenight.html
.................................................................................................................................................................................................
David organises a very successful annual 'Sixties' Reunion show at Southampton's Concorde Club- see Site Map for more info
This clip taken from the 2011 show: http://youtu.be/mXuNoAWaYBg
.................................................................................................................................................................................................
TV QUIZ SHOWS - SPEAKER
Another unusual slant of David's speaking engagements is based on his amazing background in TV quiz shows since 1982. He has been a very successful contestant on some 34 shows across this period and has been outright champion on several top rated programmes. This can be checked out by visiting the TV Quiz Show link from the home page and can partly explain his vast knowledge of many subjects plus a memory used to instantly recall jokes, songs and many more aspects used in any of his all round skills in the entertainment field.
David also holds a Guinness World Record as 'Britain's Most Prolific TV Quiz Show Contestant' validated in July 2014, with an entry in the 2016 edition- published October 2015.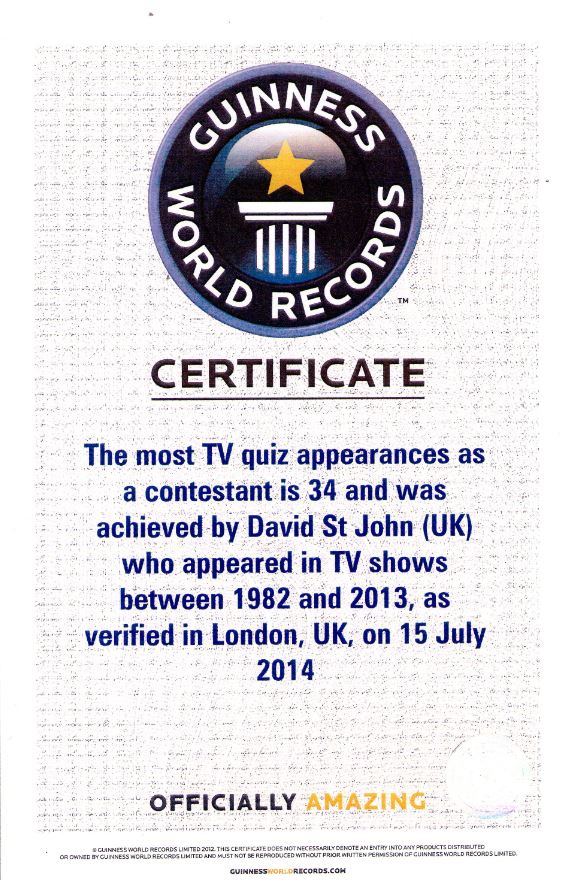 Take a look at www.davidstjohn.co.uk/blog2014.html and read about his taking part in a primetime ITV documentary on TV quiz/game shows alongside Bradley Walsh (yes - David did appear on The Chase in 2012!) You can view the clip from the show that was transmitted in August 2014.
Also- check www.davidstjohn.co.uk/blog2015.html in which you can view a clip from BBC Midlands Today, which highlights his successes over many years of TV quizzes.
On these speaking engagements- David delivers a short comedy routine before discussing the background of appearing on TV quiz shows as well as fielding question and answer segments from the audience, giving an inside perspective on these popular shows. On top of this, he also accepts trivia 'challenges' and has more fun with answers or ad-libbing his way out of sticky questions plus more gags. Quite often, the venue will bring their own quiz night sheets to use for this purpose and, if required, David can also host his own quiz geared towards the type of venue. Some of the questions can also be adapted to suit a company product, service, sport theme etc. Check this You Tube clip for one of his shows: http://youtu.be/owC_aSvCBXU.
Also see: http://youtu.be/PuyAGmMyX8U a clip from the Tom O'Connor Show (1980s) Other clips can be seen on David's own YouTube channel. Many comedy/vocal shows can also include a 'mini-quiz' section if required for something different!
CRUISING
You will now have a good idea of the versatility of David St John and he has used many of these skills on the cruising side of the business. He was booked for a short Caribbean cruise as Comedian/Quizmaster featuring his normal comedy act plus utilising his skills in the TV quiz show field as outlined above. David was also guest comedy/visiting cabaret for Airtours Mediterranean cruise work on short term contracts and appeared in the main showrooms plus additional comedy/vocal sessions in the smaller intimate lounges, as requested by passengers! Once again, his vast knowledge of different countries helped in adapting his comedy to suit the ports of call on top of his usual interactive act geared towards UK passengers and whichever part of the country they come from!
If you are looking for versatility - then look no further!
Click on SITE MAP to navigate the pages Back to Home Page Contact David
ęDavid St John 2017