Page updated January 2017
Back to Home Page Back to Site Map
*TWO UNIQUE GREAT SHOWS*
BACK TO THE SIXTIES!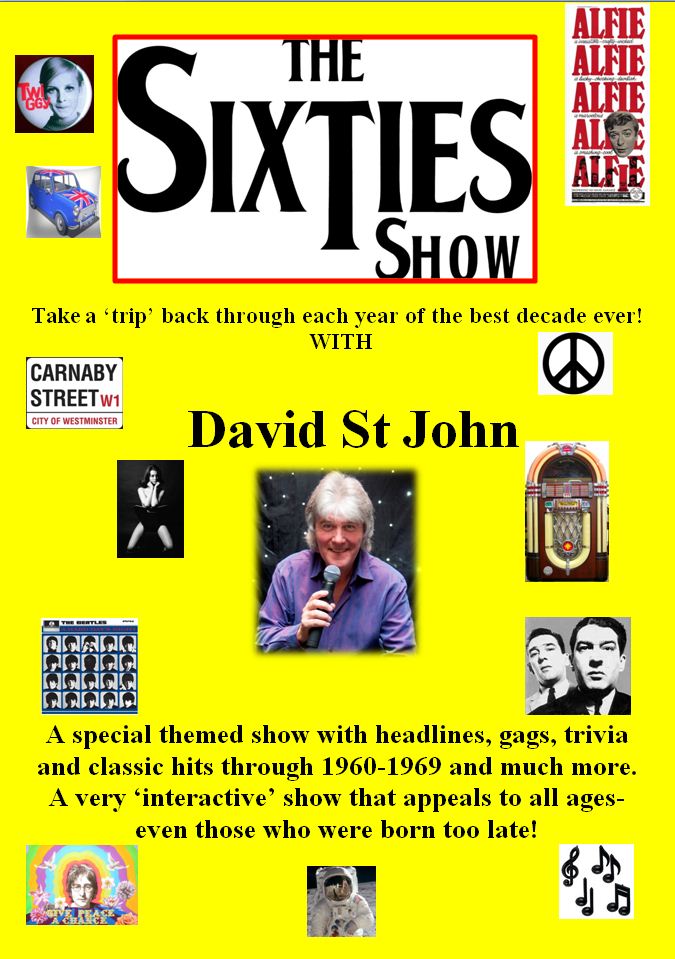 A FULL EVENING OF PURE NOSTALGIA-CELEBRATING THE BEST DECADE EVER!
A fascinating journey through each year of the Sixties as David St John combines his many talents of comedy, impressions and vocals plus TV quiz show background (34 appearances since 1982) as a contestant -see Home and TV quiz shows webpage via Site Map. Former lead vocalist with several 60s pop groups in the Southampton area and solo comedy entertainer since 1972 with a massive repertoire that brings the memories flooding back.
A great mix of news, television, movies, gags with classic hits of each amazing year as well as more fun for the audience as David throws out questions plus getting some thrown back for more interactive fun! A few surprises from start to finish and a really interactive fast moving show that grabs the attention all the way through.
The songs get everybody joining in as David celebrates the whole decade in a really entertaining package. Mostly geared towards the mature 'Baby Boomers' but a wide age range also enjoys a glimpse back at the Swinging Sixties that will never be repeated as Great Britain ruled the world yet again. In addition, David can also slot in some extra comedy/vocals and even a 'mini-disco' finale to make a real party night-even better when people turn up dressed for the occasion in the classic clothes of that era. It will a 'fab gear' night and the 'grooviest' way to spend an evening- dig out the hipsters, kaftans, beads, bells and any more stuff in the loft!
This unique self-contained themed show is roughly based on 2 x 50 minute sections with suitable warm-up background 60s music plus breaks. Then followed by a mixed Sixties 'mini-disco' session to finish off this great Party Night or with 'modern' music if required. This is a completely different show than the 'normal' act and David is often rebooked on the spot for the 'other' show. David St John holds a Guinness World Record for the 'Most TV quiz show appearances as a contestant - 34 shows' as well as appearing alongside Bradley Walsh in the ITV documentary 'Come On Down- The Quiz Show Story' transmitted in 2014. Check the Site Map page for links and video-clips, plus info on his e-book via Kindle/Amazon.
www.davidstjohn.co.uk/yoursquizzically.html
CONTACT: david@davidstjohn.co.uk
August 2012 by e-mail:

"Hi David

Just about everyone that came to your ' Back to the sixties night ' had a thoroughly enjoyable time. We were well and truly entertained with music, songs, trivia questions and much more. Your knowledge of music from the period and indeed your general knowledge was outstanding. I am certain we shall want more."

David Neild

Ye Olde Knowle Bowling Club Solihull Birmingham
Or:
BACK TO THE FIFTIES!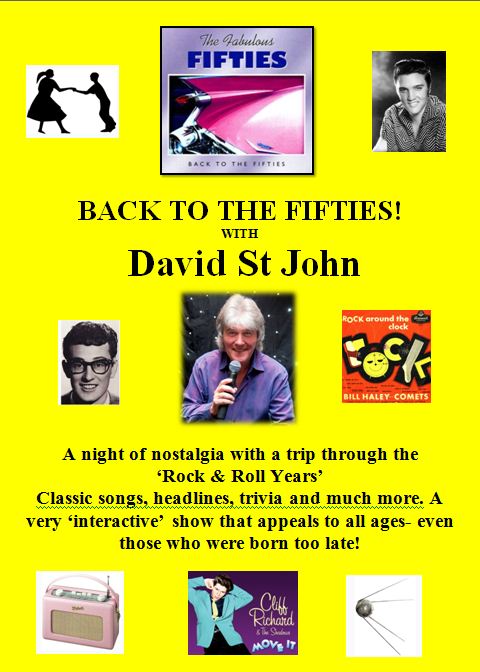 A similar format as 'Back To The Sixties' but celebrating the decade that shaped the next few exciting years. Again, mostly appealing to the 'mature' age group that were lucky enough to born at the right time (1940s etc) so enjoying their teenage years as post war Britain came alive and started to enjoy themselves again. Younger generations are also entertained by light hearted 'history lesson' with the comedy slant and probably recognising some of the classic hits from the Fifties- especially the Rock n Roll invasion that swept the country. Bill Haley, Elvis Presley, Buddy Holly and many more great artistes are covered in amongst the news stories, trivia and fun questions that David throws out to the audience! A full themed evening as per the Sixties Show with themed background and mini-disco finale if required. Even better when audience members come along and dressed in the Fifties style- 'Teddy Boys and Girls' more than welcome!
CONTACT: david@davidstjohn.co.uk
David can also be booked via most UK agencies or direct
Back to Home Page Back to Site Map
ęDavid St John 2017