HOME PAGE SITE MAP CALL UP THE GROUPS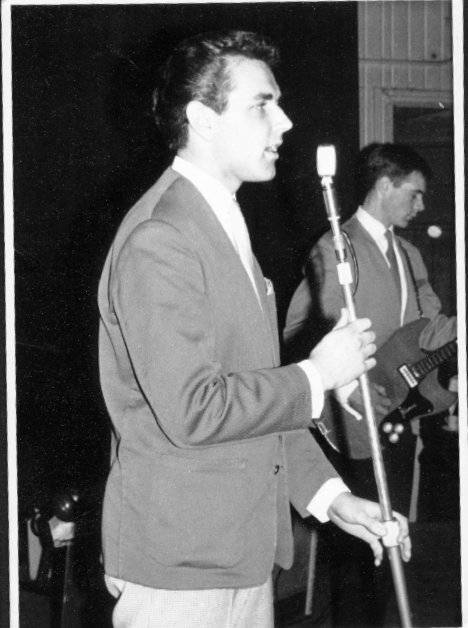 Royal Pier Southampton
I was really pleased to hear from yet another 'survivor' from the early days on the Southampton music scene, as Pete joined a long queue of 'silver surfers' who discovered my website. We have been in constant touch and I am copying one of his early e-mails that tell of his own great memories - read on! Click on the 'Call Up The Groups' above to enjoy more.
.................................................................................................
Hi Dave,
I have seen the latest additions to the website. It gets better all the time. It has prompted me to make the effort and send you some of my own personal memories.
Firstly I was trying to recall some of the other groups from my time but it has surprised me how few I can remember. One that stands out is the 'Rockerfellers' unforgettable because of their outfits. They all wore suits in extreme colours.. scarlet, bright yellow, bright purple, bright blue, much along the lines of Showaddywaddy but many years before them. It took a brave man to appear in those colours at that time but as they all looked very capable of sorting out any criticism they got away with it. The lead singer, Brian Macey bore a resemblance to the film star Jack Palance, and two of the other guitarists were twin brothers.
They were good fun but totally unique among the other groups at the Pier and to my mind they always seemed a little out of place.
A Group from Salisbury called The Rocking Roller Coasters gave the most fantastic imitation of Buddy Holly and the Crickets. I would have paid to go and see them.
One of the Portsmouth groups that appeared regularly was The Tony Porter Group. Tony had the dark good looks of Elvis and they had quite a following among the local girls. I well remember Dave Dee and the Bostons and Paul Raven (later the infamous Gary Glitter) and the visits of supporting band members who later achieved fame in their own right such as Georgie Fame,Alan Price and Long John Baldrey.
Our group, the Blackjacks first played at the Pier after coming runners-up in the Atherley Cinema Skiffle competition. That bizarre contest is worthy of a book on it's own. We were well beaten by the Five Strangers who immediately began to appear at the Royal Pier Teenage nights. I went to see if we would be able to follow in their footsteps and Len Canham invited us to play there on the following Wednesday night. The line up at that time included a singer, Pete Osborne, who had difficulty in singing in the same key that we were playing in, or maybe the fault lay with us.The rest of the group comprised Roger Matzen on guitar, now a retired company chairman who seems to be on permanent holidays around the World, and drummer Howard 'Bugsey' Richardson who repesented britain as an ice dance skater. On the Wednesday night we set up on the stage, our three guitars into the single home made amplifier, and played the four numbers that we had learned for the Skiffle competition. It must have been grim but Len told us to go away, learn some more numbers and come back and see him again. We followed his advice, and in the meantime Pete Osborne decided to leave and I took over as lead singer. Returning to the Pier we played again and Len signed us onto his books and we were on our way, playing at various venues around the South. It was unexpectedly easy.
After a while we left Len and went to play on the Reg Calvert circuit. I can't remember why we took this step but it opened up another range of venues.
Reg was based in a club in St Mary Street in Southampton called the Ace of Clubs. It was a four story building with a record shop on the ground floor and the club on the first floor. I think Reg had a room in the attic. The basement was a maze of rooms and you never knew who you were going to bump into down there. Reg had a plan to build up a group of lookalike acts. There was Buddy Brittain (Buddy Holly), Baby Bubbly (Cuddley Dudley) Danny Storm (Cliff Richard) Heinz (EddieCochran) and several others. It was unnerving coming face to face with 'Buddy Holly' in the dark, damp basement of the Ace of Clubs.
The time that most people remember at the Club was when Rory Blackwell played drums non-stop for about 5 days and broke the World record. We would return to Southampton after a gig out of town and look into the Club where poor old Rory was half slumped over his drums, tapping away. He did break the record though. Reg was full of ideas like that. We eventually went back to Len and the Pier when he offered to double our money. £5 between us instead of £2.50 !
The line up of the Blackjacks changed as time went on but the photo shows (left to right)

Drummer Johnny Baker who went on to play with other groups and big bands. The last time I met him, about 4 years ago he was still drumming but also working as a traffic warden in Winchester. We used to call him 'little Johnny', but he is now over 6ft tall.
Next was Brian Coe. A very good guitarist and quite a character. After the group split up he used to play with the resident band at the old 'Celebrity Club' in Bevois Valley. He then joined the Country and Western scene until his early death in the 1980's. A good friend and a sad loss.
Mike Humphries was our bass player. He also went on to play with other groups but in the late 60's emigrated to America where he still lives in Texas. Now retired after a very successful career I still email him regularly and we try to meet about once a year. Mike was replaced by Pete Hill but I lost touch with him when he left the group.
We also added an accomplished pianist called Geoff Shaw which extended the range of music that we could offer. Some of the time we operated as a 'Road Show' with myself, The Nevitt Brothers and a young singer called Billy Cunliffe who later became a policeman. I wonder if his colleagues know of his past?
Then there was me. Len changed my stage name to Pete Boyd as he thought it was more 'snappy'. I enjoyed the excitement of the local music scene and the experience of playing at venues on the circuit from Bristol to South London and down to Brighton. The big thrill was the times that I sang at the Gaumont, later to become the Mayflower, in the Saturday Morning Teenager Shows. Dressing room No.1 and fans at the stage door afterwards, the sort of thing that dreams are made of.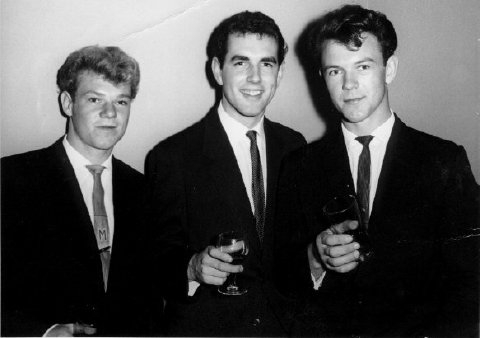 Pete and the Nevitt Brothers
I put the guitar away when I got married in 1963. I still live in Southampton, still married, two children, five grandchildren and still working, running my own Suit Hire business in Portswood. I love to talk about the 'golden days' of the Pier when I get together with other silver rockers, and I think that the website is a brilliant idea. Not only was the Royal Pier the place that many of us had the opportunity to experience a taste of Showbiz but it was also the main meeting place for the teenagers at that time. How many marriages resulted from an invitation to dance at the Ballroom at the end of the Pier?
Pete Broyd
..........................................................................................................................................
July 2006:
I was appearing at a Summer Ball show in Eastleigh and finally met up with none other than Pete Broyd! He now runs a very classy wedding hire shop called Grooms in Addis Square in the main Portswood Road Southampton and he came along with some friends to see my show. Although he hadn't sung in public for many years, I managed to 'persuade' him to join me onstage as I finished off the night with some classic Rock and Roll. I guessed that a few drinks had done the trick and he jumped up to sing a couple of great songs (Blue Suede Shoes and Be Bop A Lula) and he was superb! The years just rolled back and it just proves that you never lose the gift. Here are the photos that I quickly took when jumping down into the crowd that were dancing away to him - You could have closed your eyes and imagined that we were all back at the old Royal Pier ballroom! His table of friends were gobsmacked as the years just rolled off Pete - they had never seen him in action and it made for a very special night as he came 'out of retirement' The audience gave him a terrific applause as I explained that it had been so many years since Pete had got up on a stage and it was one of those magic moments that make it all worthwhile. I have asked Pete to join me onstage, whenever my travels take me down to Southampton as he loved every moment of his return to the spotlight! If you have a wedding coming up, then why not call in to meet him and maybe share some of his many memories with you! He recently had a familiar looking customer stroll into the shop - a tall American singer who was appearing in the area and was recommended to Pete's shop. Although in his Sixties and with receding hair, (quite a contrast to his glory days in the mid 60s) this guy bought a couple of flashy dress coats to use as stage wear. None other than John (Maus) Walker of the Walker Brothers! He was appearing at a Midlands theatre recently and I called in to see him backstage and had a good chat with him. John now performs a solo act with a great mix of music plus all the big hits and he was backed by the Dakotas - remnants of Billie J Kramer's backing group in the early Sixties.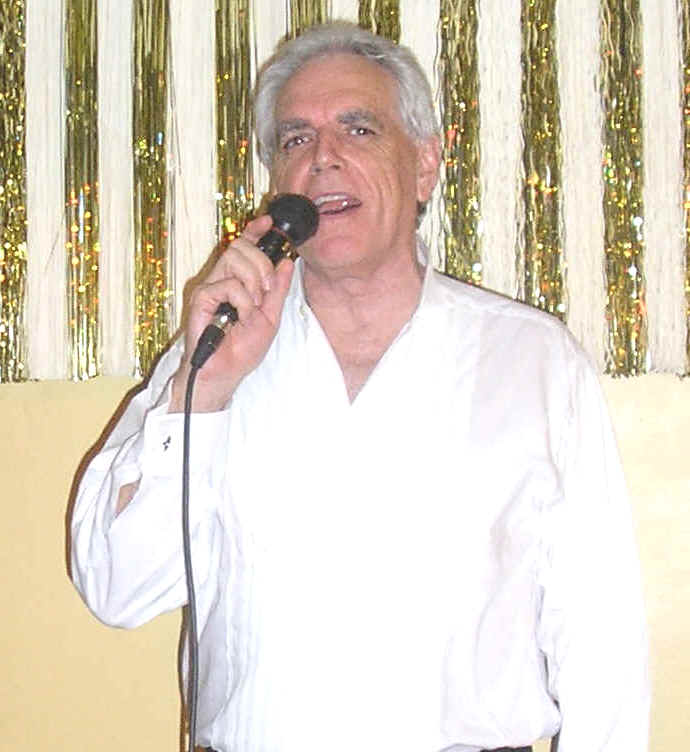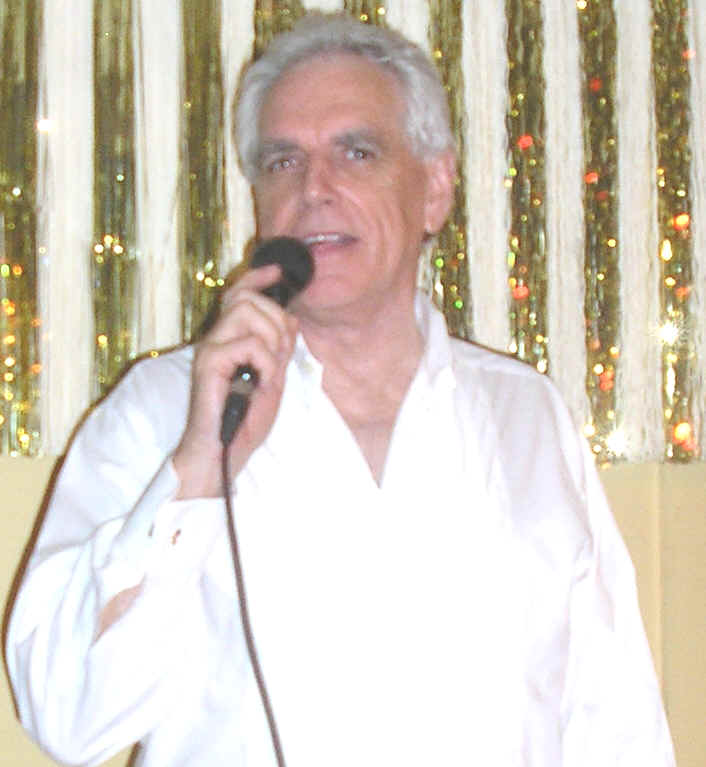 Pete Broyd - The Comeback Kid!
February 2008:
You may have already read my webpage on the Concorde Club as well as the very successful 'Back To The Sixties' reunion night where I organised a full evening at this well known Southampton venue which had just celebrated its 50th anniversary under the guidance of Cole Mathieson. Pete came along with some family and friends who had no prior knowledge of his pre-arranged guest spot as part of the nostalgic night that looked back over this half century. He managed to sneak away from his table and had a very quick chat with a couple of musicians to sort out a couple of classic rock n roll numbers - no rehearsal was available! Read all about Pete's part of that night on the webpage report and he just got up onstage and knocked out some great memories of songs that he had thought were consigned to his own thoughts having 'retired' many years ago. He was rather nervous at facing such a packed room full of musicians and fans alike but they gave him a great reception as well as rather proud faces on his own table!
If you ever need any classy wedding hire then why not pop in to see Pete at:
'GROOMS'
29 Addis Square
Portswood Road
Southampton
SO17 2NE
Tel: 023 80 671164
Website: www.groomshire.co.uk
E-mail Pete: Addisgrooms@aol.com
If you have any link with the Southampton music scene then he would be more than happy to share any memories.
HOME PAGE SITE MAP CALL UP THE GROUPS
copyright©davidstjohn2008