Click on SITE MAP to navigate the pages Back to Home Page Contact David

RICKY AND THE HILITES continued

October 2006:

I first kicked off my website a couple of years ago in line with promoting my main comedy work and have added bits and pieces from my early days in the entertainment business when growing up in my hometown of Southampton England. If you have already enjoyed my memories of the pop group era throughout the Sixties, then you will know that many musicians and fans have discovered my webpages - especially those that were there!

I have been contacted by several musicians and have managed to share more nostalgia by e-mail and phone calls across the UK and overseas as well as being sent more in-depth information and rare photographs etc. These have been uploaded into my webpages and I have just received a great e-mail from Ray 'Buff' Woodason who played bass guitar with Ricky and the Hilites during the early years when making a name for themselves.

Ray was at the recent Brownhills Stamp Duty Reunion gig at the Mountbatten pub in Southampton and it was great to see him team up with old pals and join the jam sessions throughout this nostalgic evening. He also met up with Ray Mandeville who led his own bands back in the Sixties and Ray joined his lineup after his stint with the Hi-Lites so it was a great opportunity to catch up on the news after so many years.

Just click on this link to read all about it: BROWNHILLS STAMP DUTY REUNION 2006

RAY 'BUFF' WOODASON first got the music bug whilst at Itchen Grammar School (now Itchen College) This was also my own school from 1960-64 although Ray preceded me by some 5 years and he was in the Sixth Form where he formed his first band. A pal of Ray's - Roger Pearce was (and still is) a brilliant carpenter and made the first bass guitar (including pickups!) for this budding pop star and also played rhythm guitar in this fledgling group. Another Issonian (student name for this school) was Alan Hibbert on lead guitar who had a popular make of a Futurama through a Watkins Dominator amp (blue with a V front)

Like many young musicians of that era, they were influenced by the usual Elvis, Cliff, Buddy Holly, Everly Brothers and many rock n roll stars that we all tried to copy way back in those exciting days. Their first gig was at the school end of year dance maybe 1960 and they played in the interval whilst the more traditional dance band took a break. Ray thinks that the drummer was either brother Terry or maybe Pete Hunt and at the end of the evening Ray took one of the Itchen girls home, and this young fan of the group later became Mrs Woodason!

The band did a few more shows, possibly with Pete Hunt on drums plus a guy called Rod on piano and recalls a few shows at Bishops Waltham Youth Club amongst dance halls. These clubs were very popular during the Fifties and Sixties where teenagers could enjoy a safe night out listening to the new groups that gained much experience, and there was no booze allowed although some was smuggled in, wrapped up in guitar and drum cases etc! There were the occasional punchups between rival villagers and outsiders as well as jealous boyfriends who were not too happy about seeing their girls crowding round the stage and being chatted up by us singers and musicians!

Ray remembers other bands from that period such as Brian Fisher and the Raiders plus Keith Henderson and the Cadillacs amongst others and in 1961 he was 'advised' to leave Itchen Grammar school as it was fairly obvious that his studies had been eclipsed by the music scene. The same 'advice' was also given to me in 1964 for the very same reason apart from the long hair and attitude along with being half asleep during most morning lessons after late nights singing with my new bands! In fact, the school produced quite a few musicians who carved a successful career in the business including bass player Duncan Cambell and sax player Barry Palmer and Ray was asked to help form an evening fifth form club from where these lads started out.

Just as 'Buff' dropped out of school he then spotted an advert in the local paper the Echo for a 'bass player needed for a working band' None other than Ricky and the Hi-Lites who were rapidly gaining a name in the area and this was a turning point in Ray's life.

I have just copied Ray's e-mail text below and have then inserted the photos that he kindly sent along with a few of my own comments at the end of this page, and I'm sure you will enjoy some more great memories of Southampton's finest bands as well as remembering some of the venues that many of us groups appeared at. Most of these were collected by Ray's late father who, along with family and friends, was very proud of his lad's forays into the Sixties music explosion and I bet he never realised that these would be shared all over the world thanks to 21st century technology!

xxxxxxxxxxxxxxxxxxxxxxxxxxxxxxxxxxxxxxxxxxxxxxxxxxxxxxxxxxxxxxxxxxxxxxxxxxxxxxxxxxxxxxxxxxxxxxxxxxxxxxxxx

20-10-06

Hi David

It was great meeting up with so many old friends at Del's do recently at the Mountbatten.

As promised, here are a few old mementoes of those early days.

The guy in the suit in the Banister Ballroom picture was Pete Rose, who was our first roadie.

He had a black '49 Cadillac ( with a trailer! ) to take us to our gigs. We must have looked like Al Capone's mob.

The Park Ballroom ( above Jacksons the Tailors at the top of Pound Tree Road ) was a regular gig for us in the early days.

We used to play in the interval while the headline act had a break. The Lightbodys ran the place and we got £5 between us for the privilege!

But we met some big names there, Gene Vincent, Emile Ford, Shane Fenton (Alvin Stardust), Sounds Incorporated and loads of others.

I don't think I could cope with 3 flights of stairs and a bass amp nowadays!

The extra guys in the Mannheim picture are Walter (Willie) Kohn, far left, a great sax player who joined us in Germany, and the boss of the club in the middle.

When I left the band late 64, we were an 8 piece, the 5 that you know, Willie and Les Hart on saxes and Mel Simpson on Hammond, What a sound, but very difficult to find regular work for.

I still own that old Precision Bass, by the way , before me it was owned by Fred Funnel of the original Strangers and I bought it, in a bit of a sorry state, from John Beirne's music shop in Shirley, another regular Hi-Lite hang-out.

I'll contact you again as more memories come to mind.

Regards

Ray (Buff) Woodason

xxxxxxxxxxxxxxxxxxxxxxxxxxxxxxxxxxxxxxxxxxxxxxxxxxxxxxxxxxxxxxxxxxxxxxxxxxxxxxxxxxxxxxxxxxxxxxxxxx

These are the photographs/adverts sent with this e-mail with Ray's info: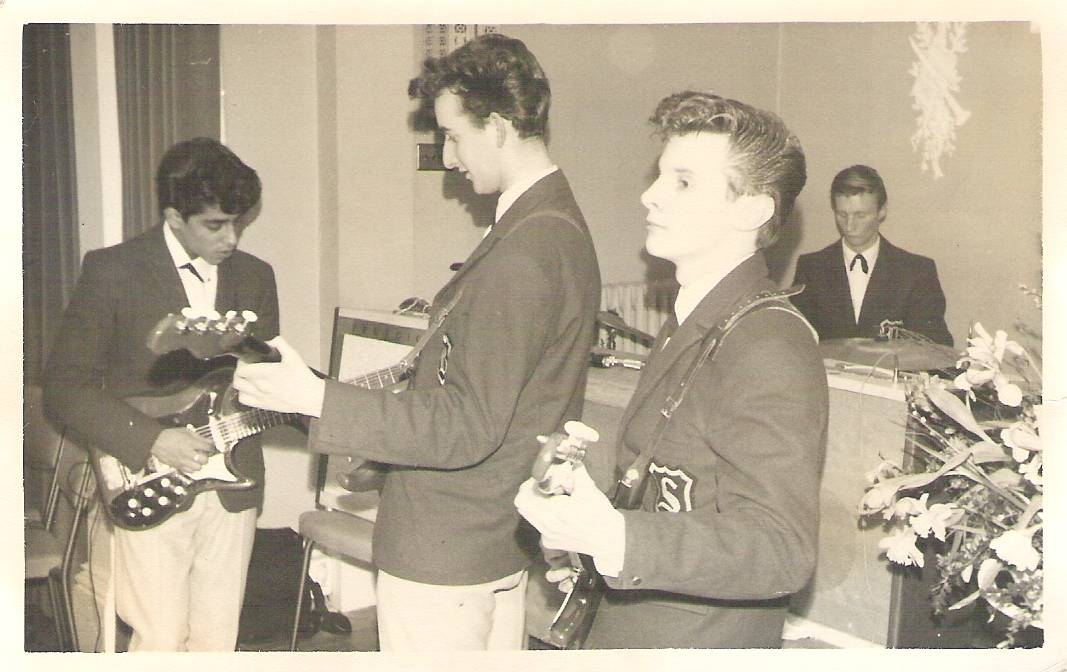 Royal Hotel Southampton 1962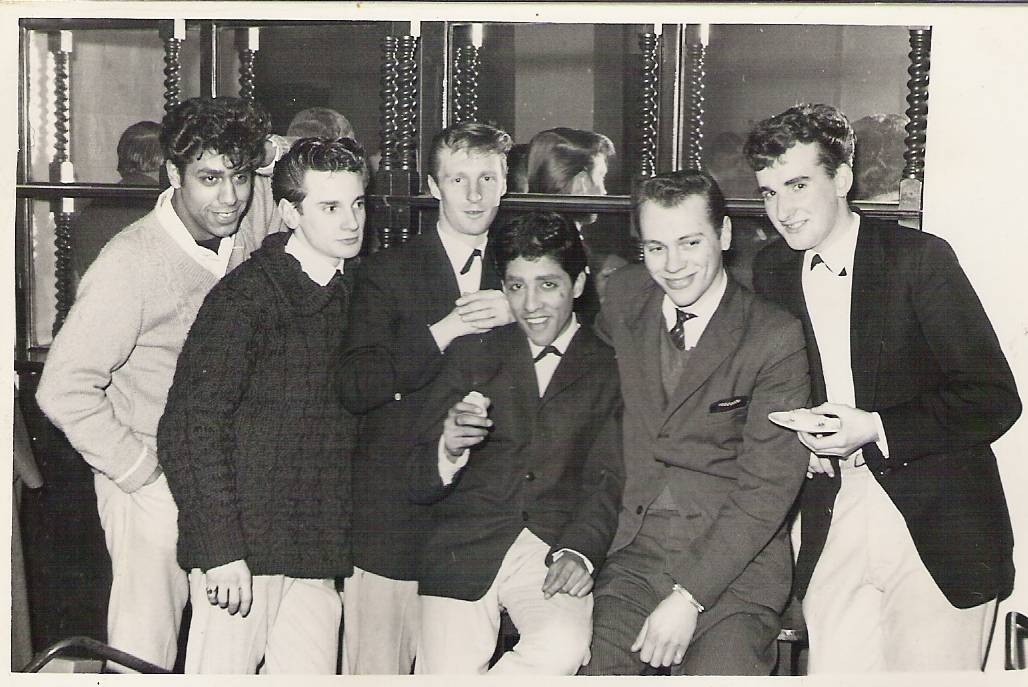 Banister Ballroom 1962 (Does Rick remind you of a young John Travolta??)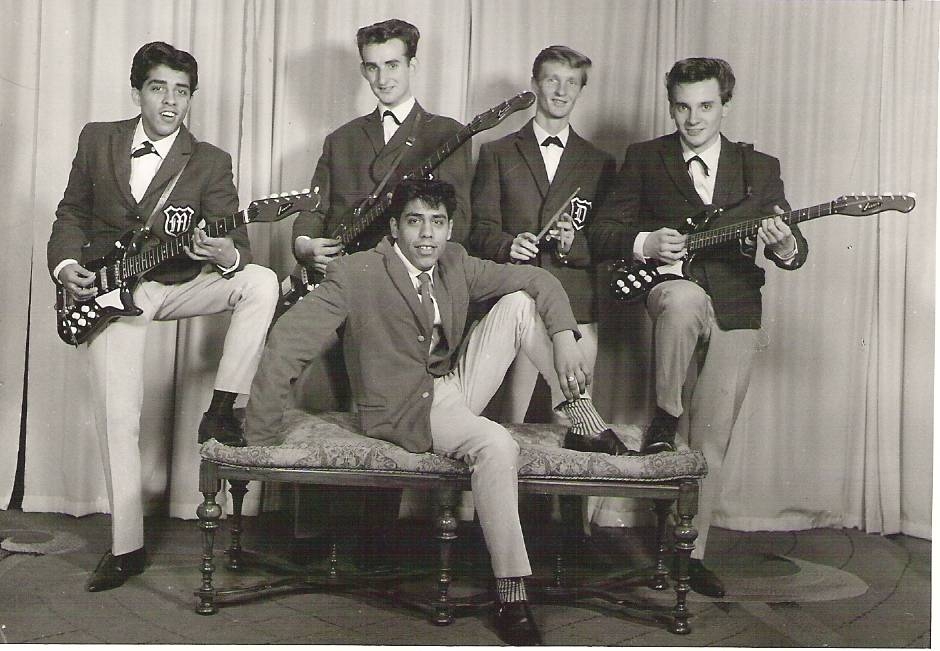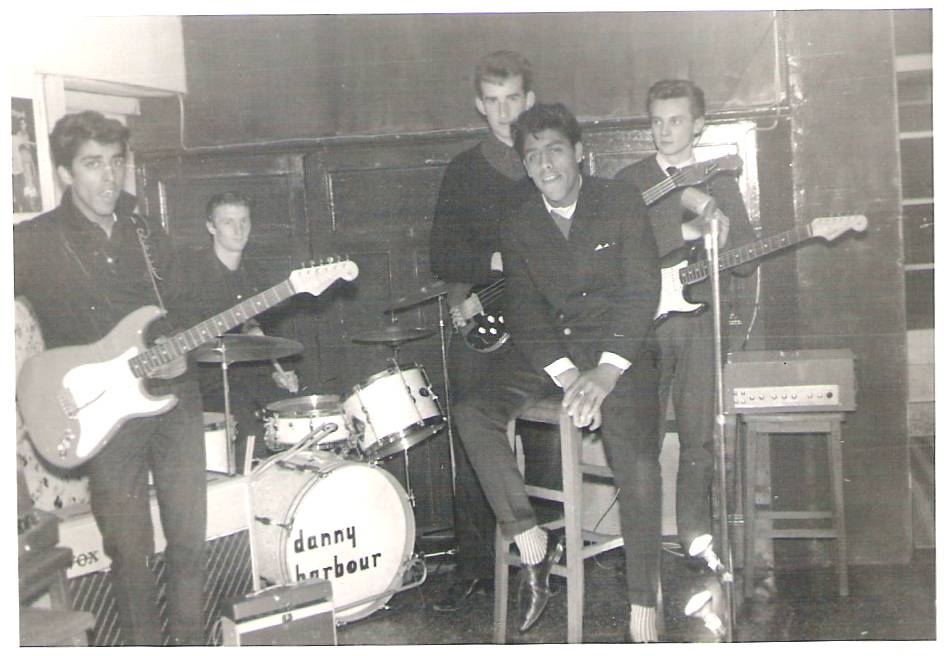 Two pics at the El Cabana Club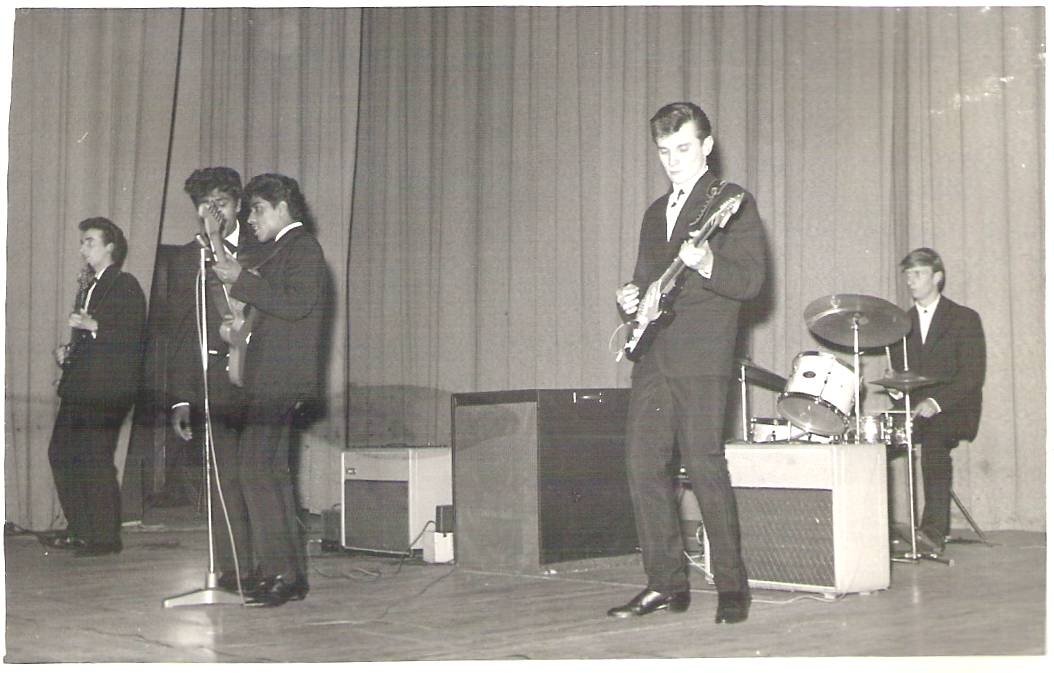 Millbrook School Southampton
Millbrook School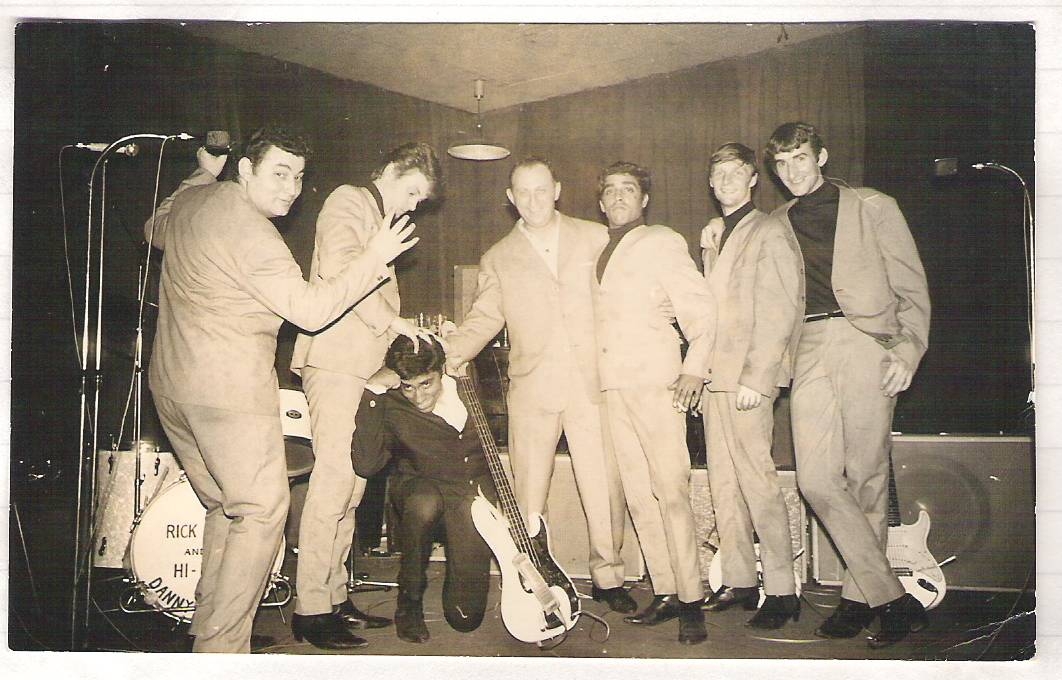 Mannheim Germany 1962
Various press clippings from the Daily Echo etc: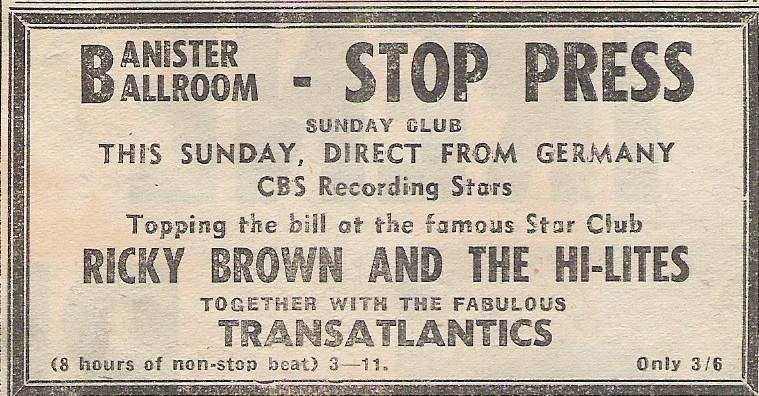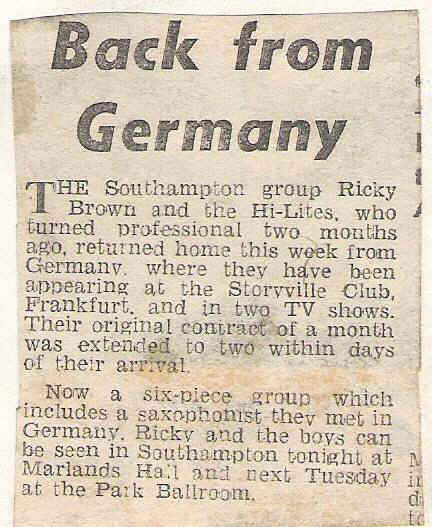 The Banister Ballroom was one of the best venues around with its highly polished wooden floor, which was ideal for doing the Twist - one of the new dance crazes that swept the country! It was just up the road from the old Top Rank Suite which featured live bands - a purpose built venue on the site of the old Southampton Stadium that featured greyhound racing plus speedway and hot rod racing. Just across the road was the Top Rank Bowling alley where I first worked after being kicked out of school and some of my early bands played in the upstairs bar. Next door stood the Top Rank Ice Rink which was another great place to play although freezing cold! It was OK for us singers who kept jumping around and hard working drummers but the poor guitarists' fingers were often too stiff to play properly! I remember some of them playing with thin gloves on.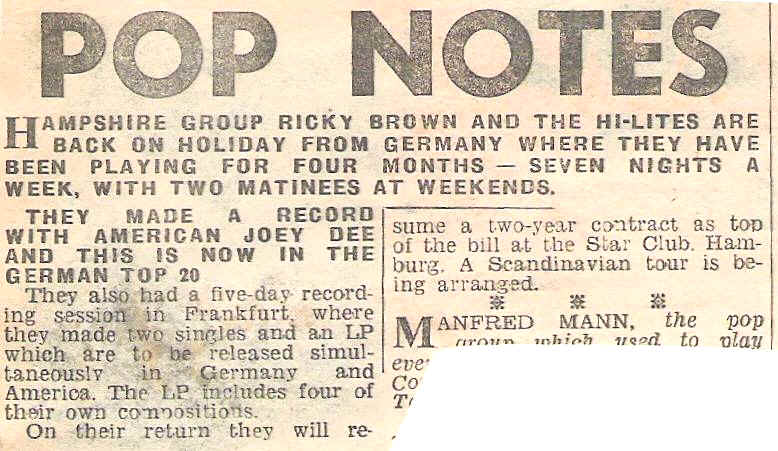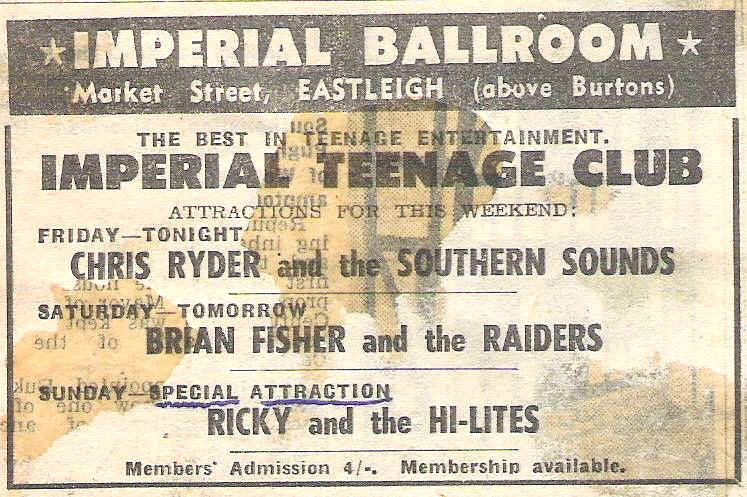 The Empire Hall was an old dance hall on the edge of the New Forest and very handy for taking the girls out for a late night 'drive' after the show! "No Particular Place to Go" springs to mind.......
The Imperial Ballroom Eastleigh was another first floor dancehall above Burtons tailors and another great place to play at and I have mentioned it on my other group related pages.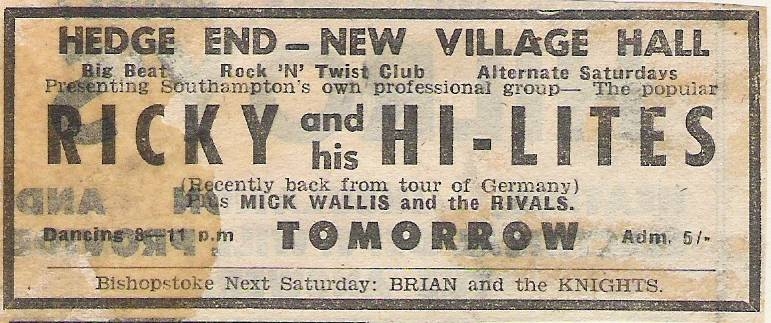 Hedge End Village on the outskirts of the city - loads of punchups with local yokels!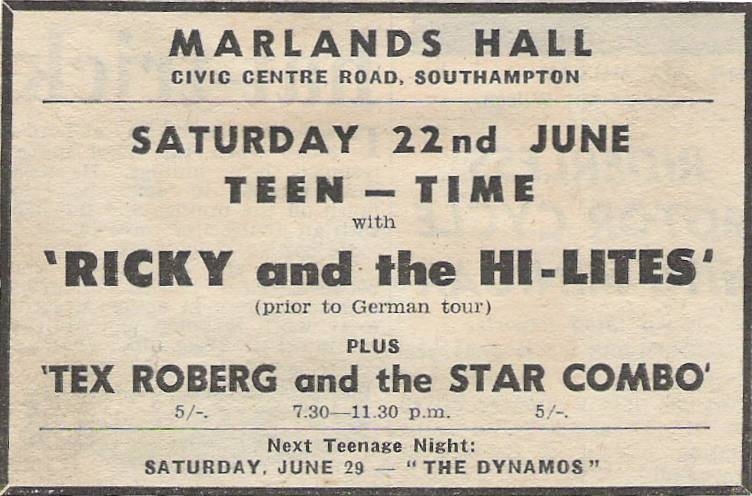 The Marlands Hall stood opposite the main Civic Centre close to the main railway station and was another popular venue to play at along with many other places around the area as more and more new groups were springing up.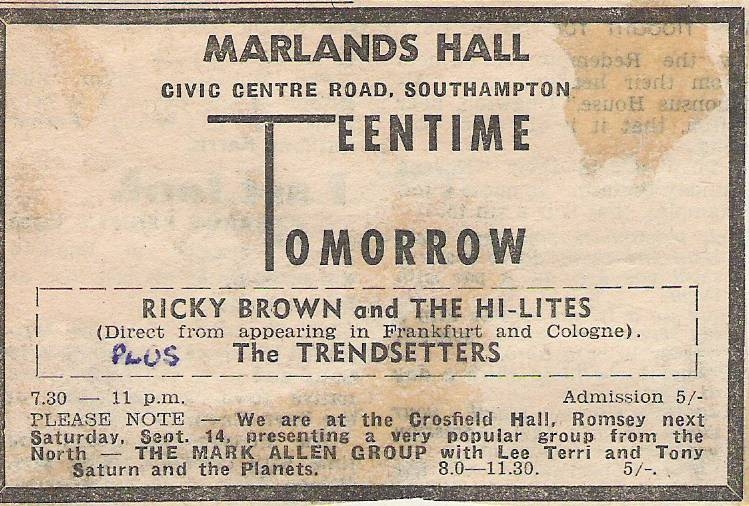 German press with the Hilites advertised as 'Twist sensation from Liverpool featuring Indian star Ricky Brown' !!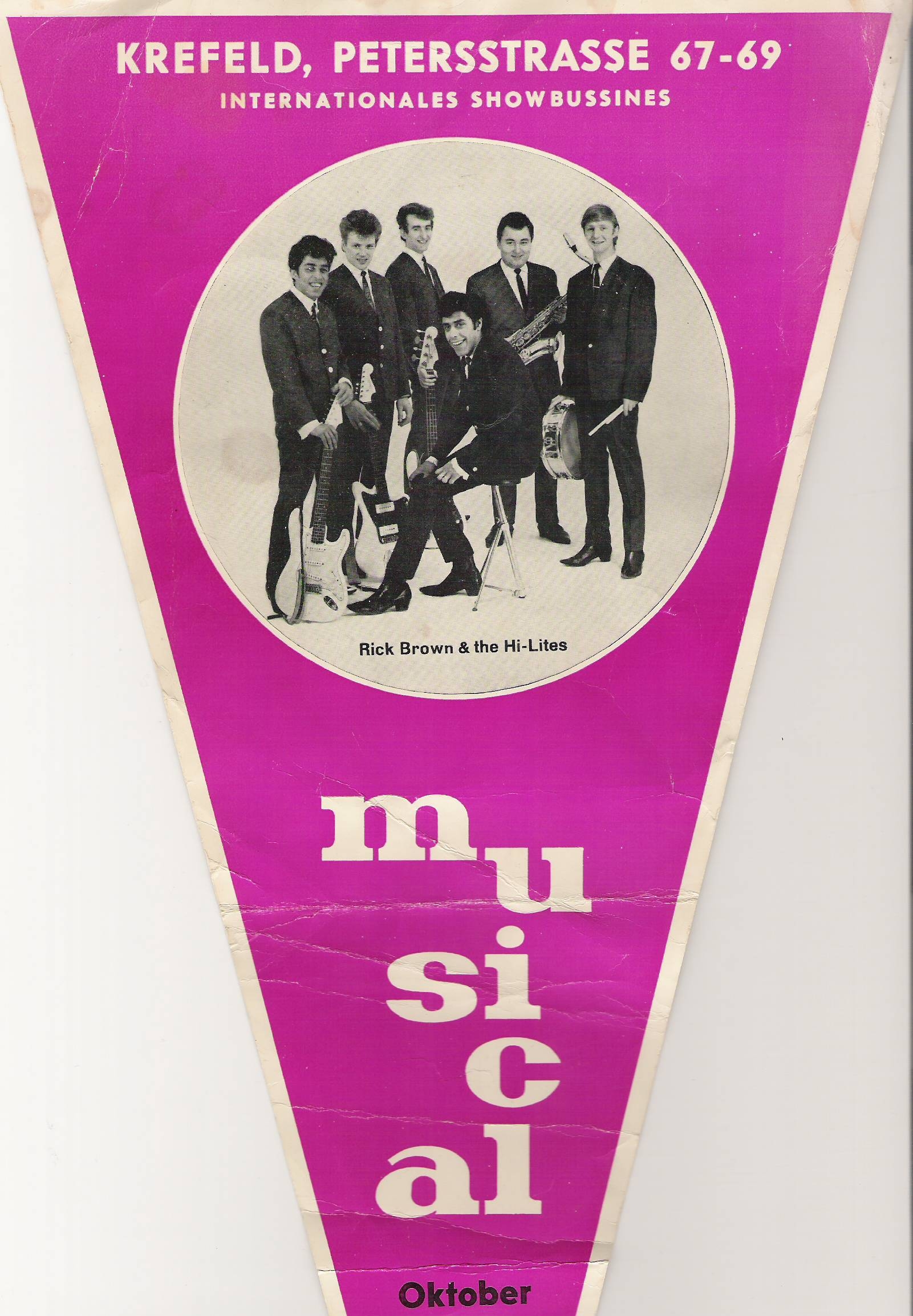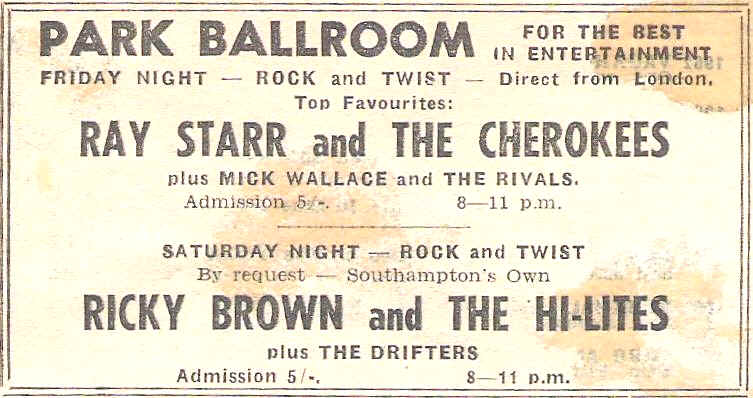 The Park Ballroom was one of the best places to play apart from lugging the gear up the steps then across the large dancefloor! It stood on the corner of Pound Street and Above Bar in the city centre and was always packed on teen dance nights which made for a great atmosphere back in the Swinging Sixties.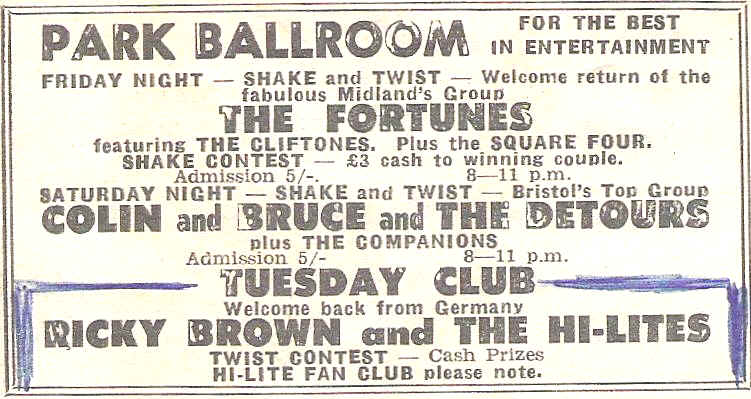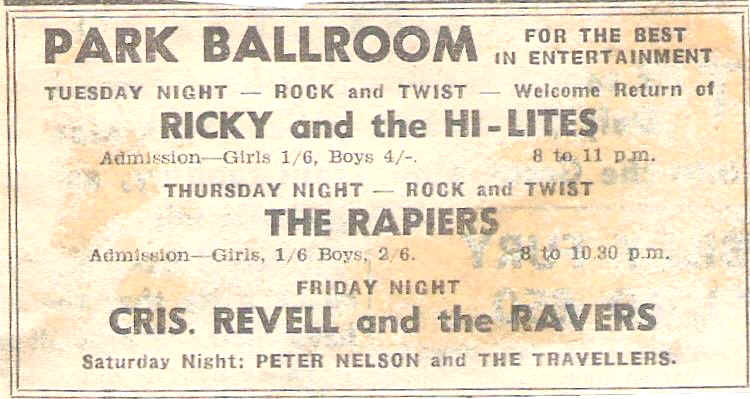 xxxxxxxxxxxxxxxxxxxxxxxxxxxxxxxxxxxxxxxxxxxxxxxxxxxxxxxxxxxxxxxxxxxxxxxxxxxxxxxxx
Well - that's it! I hope you have enjoyed even more nostalgia if you have memories of the above and I will add more stuff as and when more web surfers stumble across my site. There must be thousands of old photos and clippings locked away in old boxes in lofts and I hope that they will be rediscovered and shared with those that were part of it all.
David St John October 2006 Back to the top
Click on SITE MAP to navigate the pages Back to Home Page Contact David
İDavid St John 2006