BACK TO HILITES PAGE HOME PAGE SITE MAP
BROWNHILLS STAMP DUTY 2006
24th August 2006 saw a very special reunion of one of Southampton's finest bands - Brownhills Stamp Duty who followed on from Ricky and the Hilites, as featured on their own webpage. It coincided with a visit by one of their former guitarists - Dell Gibbs, who had emigrated to Australia some years ago and was enjoying a terrific holiday back in Southampton. The evening was arranged by Dell's sister Kay Brown (also Rick Brown's sister-in-law) along with Mick and Beth Hall - Mick had also featured in a previous Hi-Lites lineup and Kay is also the proud mom to Andy and Steve Brown who have carried on with the family tradition of making fine music!
I was lucky enough to have been able to get down South myself on the same day and join in the fun as well as meeting up with some old musician pals after many years. The location for this nostalgic reunion show was the Mountbatten pub in Lordshill Southampton and the place was packed out when I arrived. This popular boozer is run by Dawn who used to sing with bands herself but was far too busy serving the thirsty crowd at the bar so not able to get onstage herself!
The superb Paul DeSouza's band was already playing and I was thrilled to meet up with Rick Brown along with Beau and other members of Brownhills Stamp Duty. It was also great to see old pal Ronnie Allen who has played drums with many of the local top groups across the years - he's hardly changed over the decades! Likewise, I met up with Roger Chantler - another terrific drummer who played with such memorable 60s/70s bands as Brother Bung then Fresh. He now plays with an excellent rock trio fronted by Wally Phillips on vocals/bass guitar along with Jinxy on lead guitar - the amusing name of this outfit is JAB (Just Another Band!)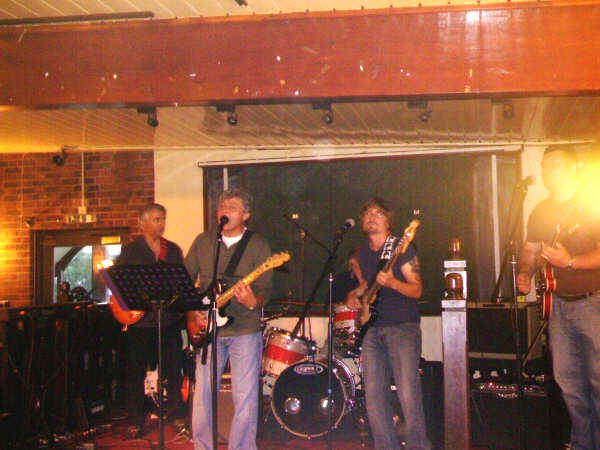 Paul DeSouza band
It was also good to see the legendary Tex Roberg at the bar too, who is still going strong after some 50 odd years in the game! Unfortunately, he didn't get a chance to sing a few numbers later on as the show kicked in with a few jam sessions - I jumped up and did a couple of numbers plus blues harp as usual. Here are some pics: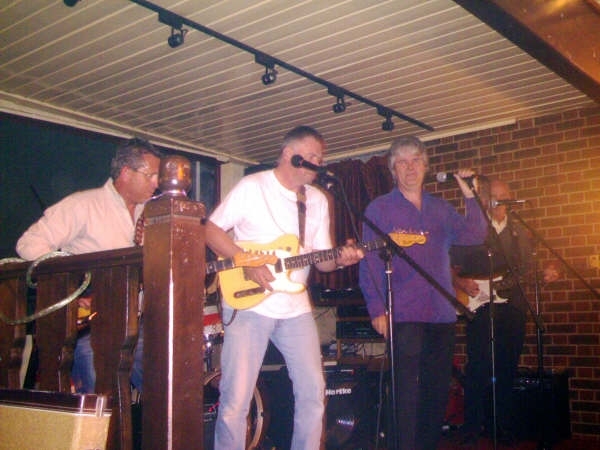 Dave Mitchell - Eddy - DSJ - Ray Buff' Woodason
Eddy runs Fret Music Shop and, like Dave Mitchell is a great guitar player. 'Buff' goes way back to the early Hilites lineup and this was an enjoyable jam session. One of the stars of this night was playing drums in the shape of Curtis Allen - yep Ronnie Allen's son! Terrific player and only 12 years old - you can see where he gets his talent from and the old man was beaming with pride as he pounded away. I have just been sent a couple of pictures from Ronnie's brother Pete (can't you tell by the picture!) and here are a couple of shots of this latest talent to come out of Southampton. Luckily the flash has 'frozen' his hands which are sometimes too quick for the human eye as he plays some fast stuff in between rock steady drumming and fancy fills! Curtis has also received a grant to help nurture his musical career and I'm sure that his name will be quite well known in a few short years
Curtis Allen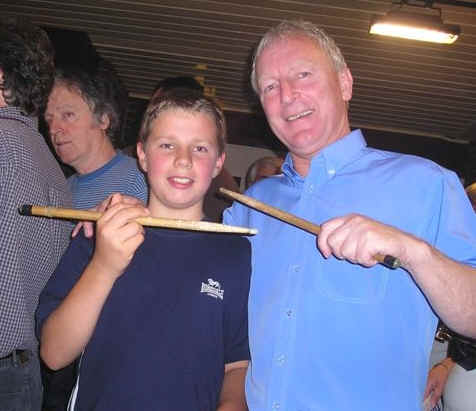 With proud Uncle Pete!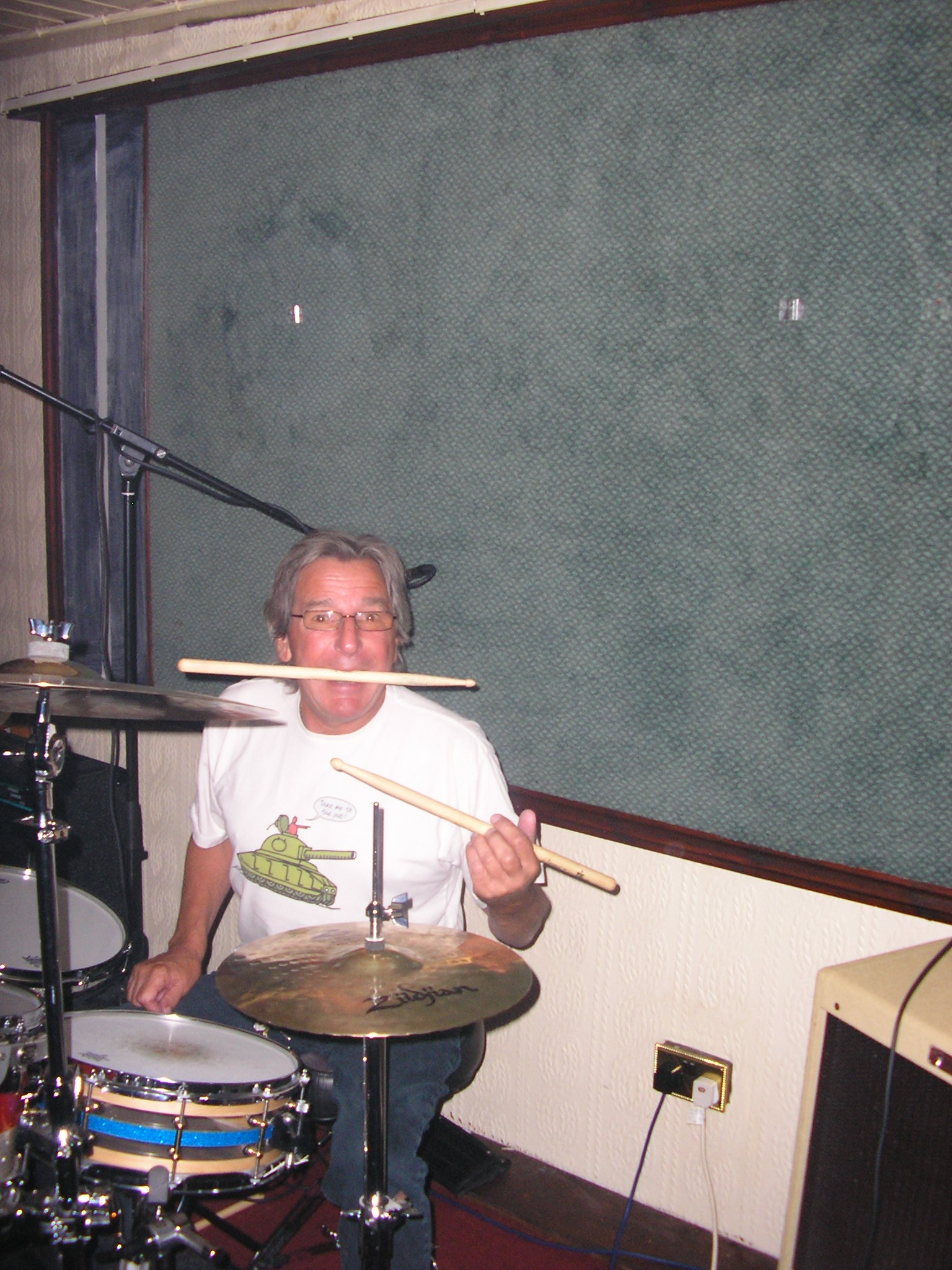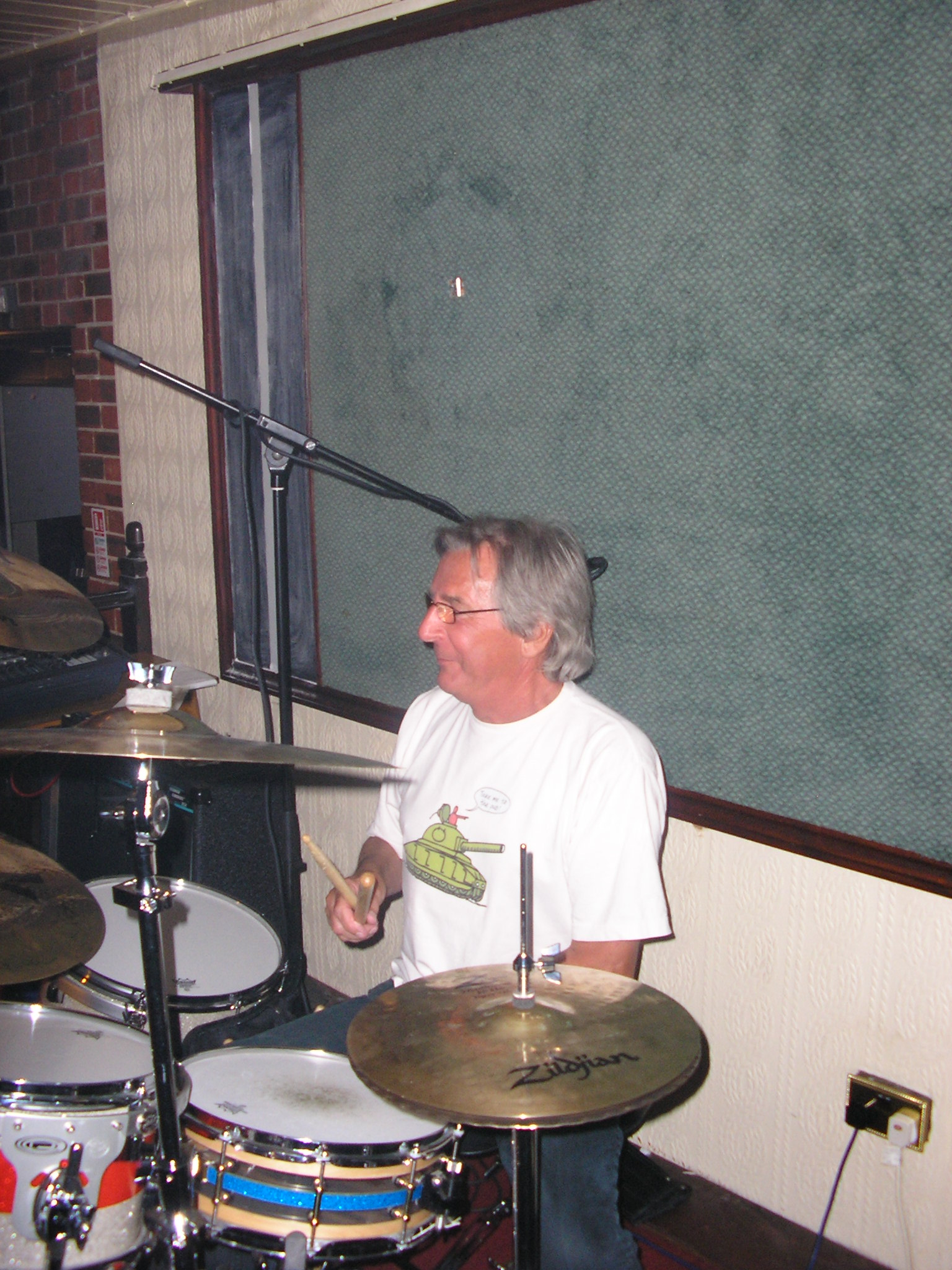 Plus a proud dad and pop veteran Ronnie Allen - the craziest drummer in the business!
Looking pretty good for his age - what's the secret???
Another couple of ad-lib jam sessions followed featuring Andy and Steve Brown plus other worthy musicians of varying ages and styles. Burnsy would have been proud to see his nephews in action as they definitely carry on the family tradition and I think most of felt that he was with us all again on that night. I could imagine him looking down and shouting at the lads "Oi - bum chord there!" or "Check your tuning man!" A few more memories: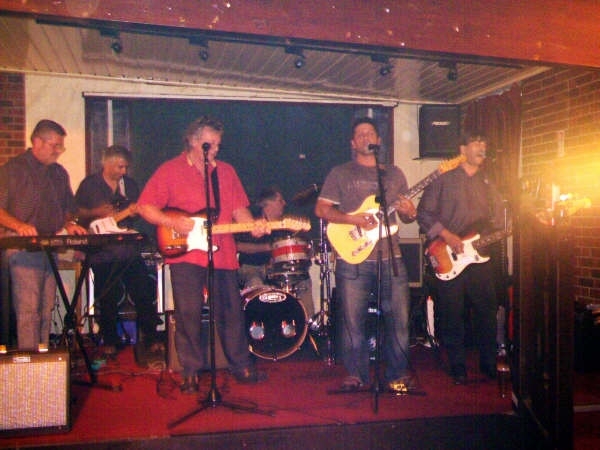 Frank Bright, Mark Kendall, Dell Gibbs, Mick Hall, Steve & Andy Brown
Next up was J.A.B. fronted by the lovable eccentric Wally Phillips on vocals and bass, aided by Jinxy on blistering lead guitar plus the machine gun drumming of Roger Chandler on drums. They delivered a hard hitting rock set and here are a few more photos :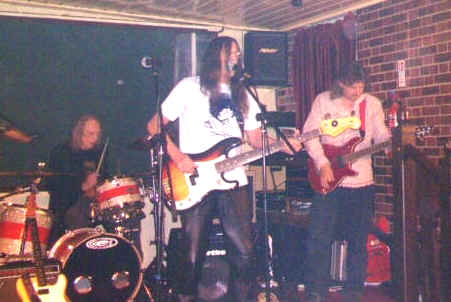 J.A.B. (JUST ANOTHER BAND)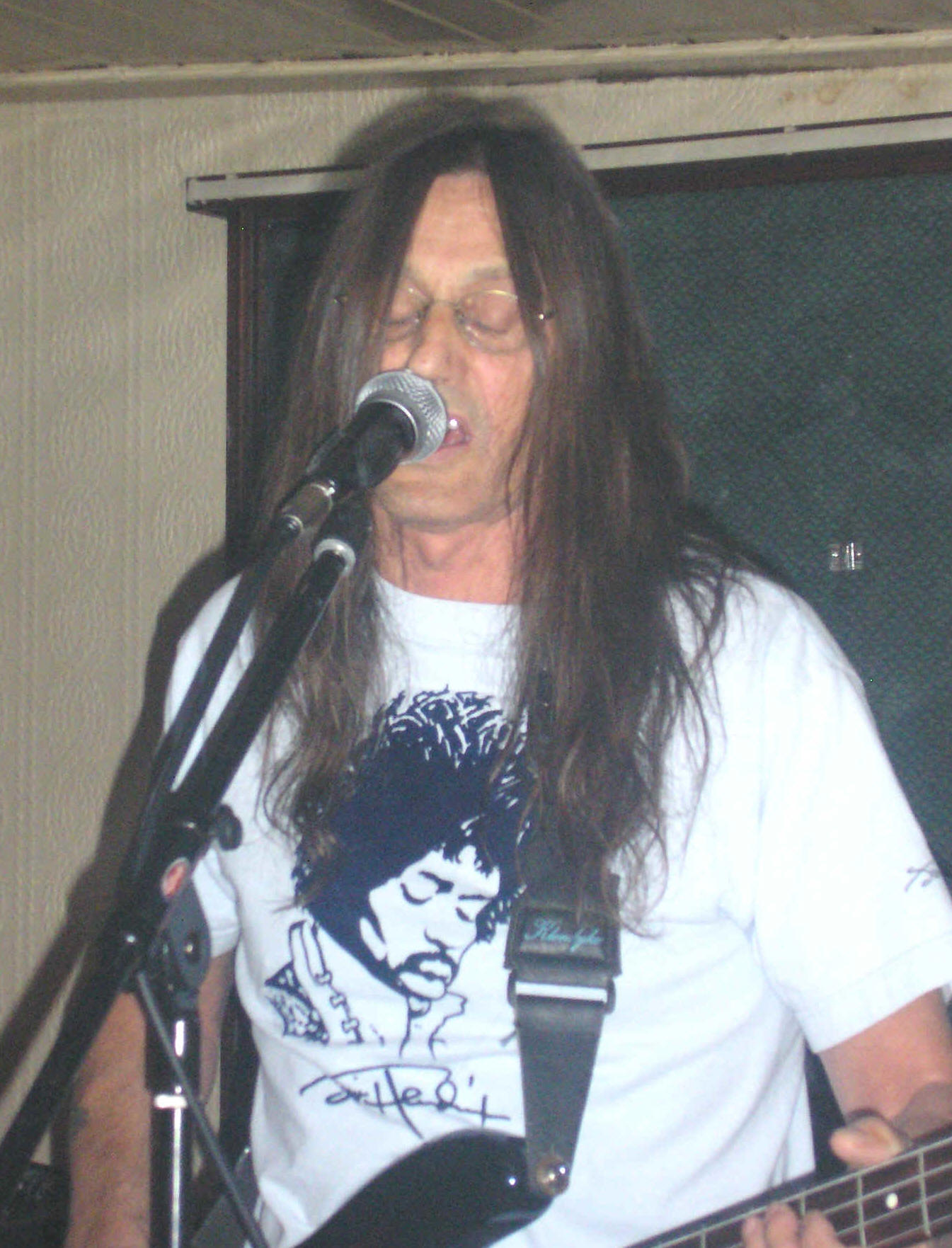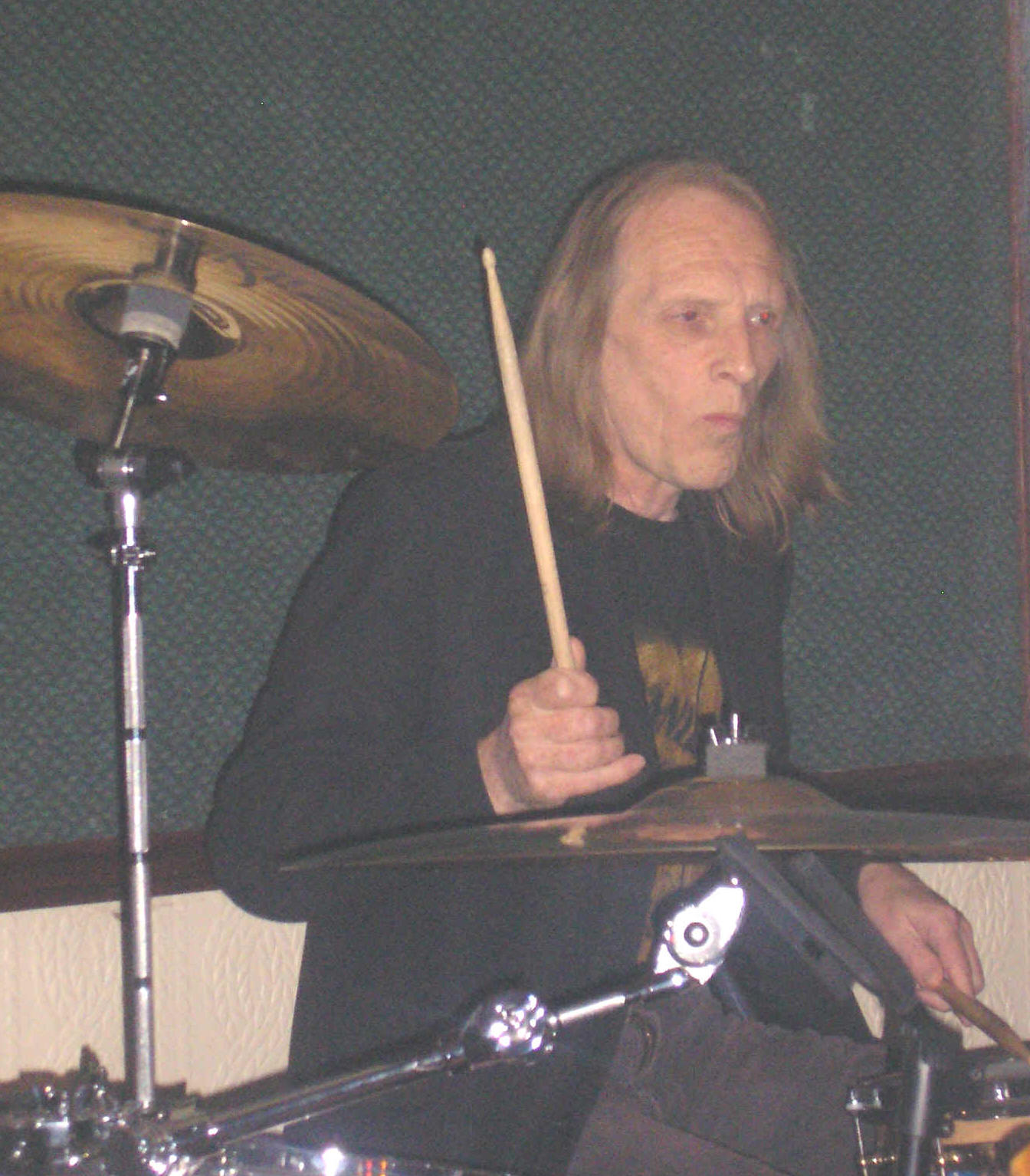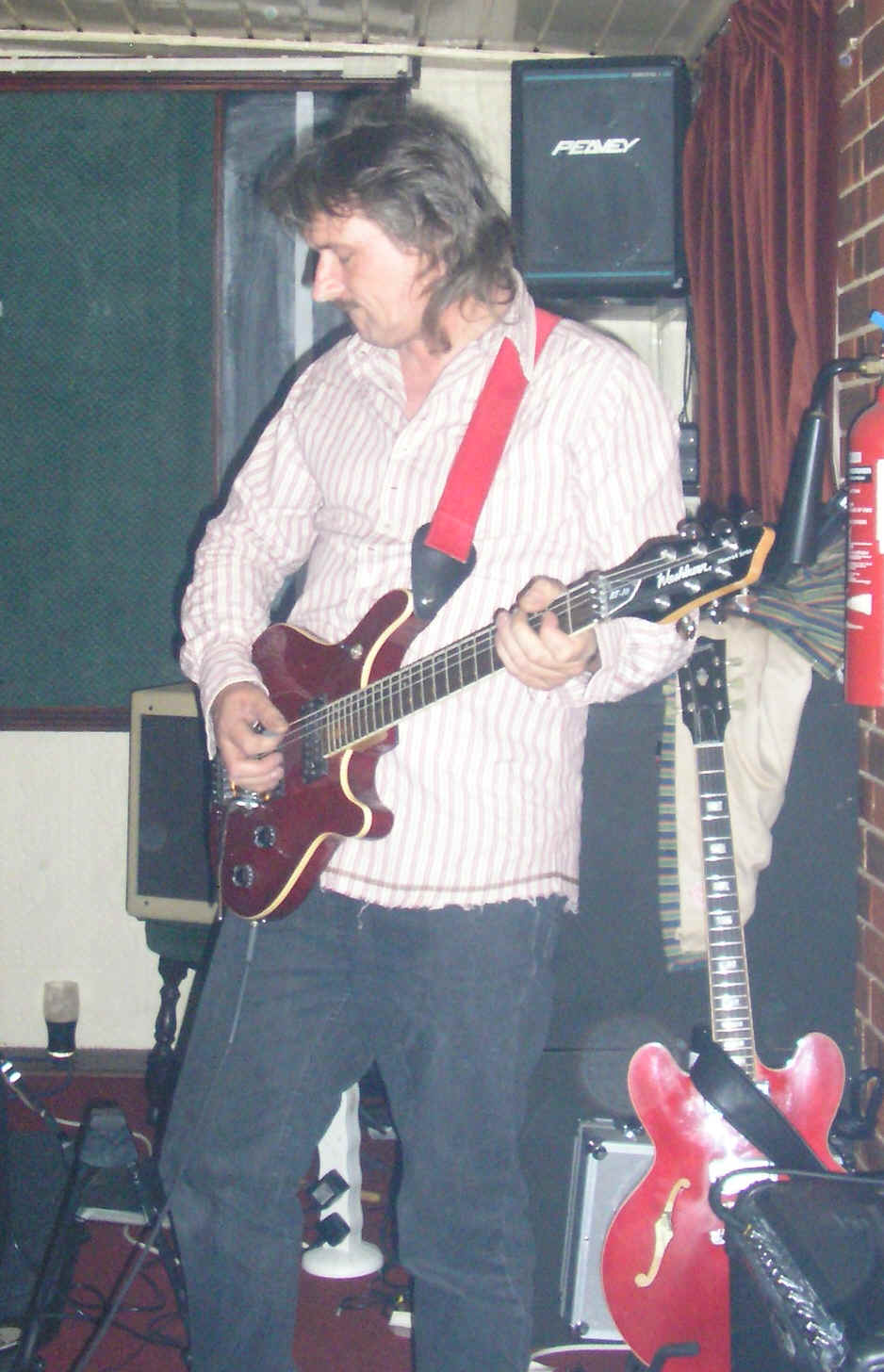 Wally Roger Jinxy
Wally is the owner of The Music Shop in Southampton and well worth a visit
Then came the moment we had all been waiting for:
BROWNHILLS STAMP DUTY - THE REUNION!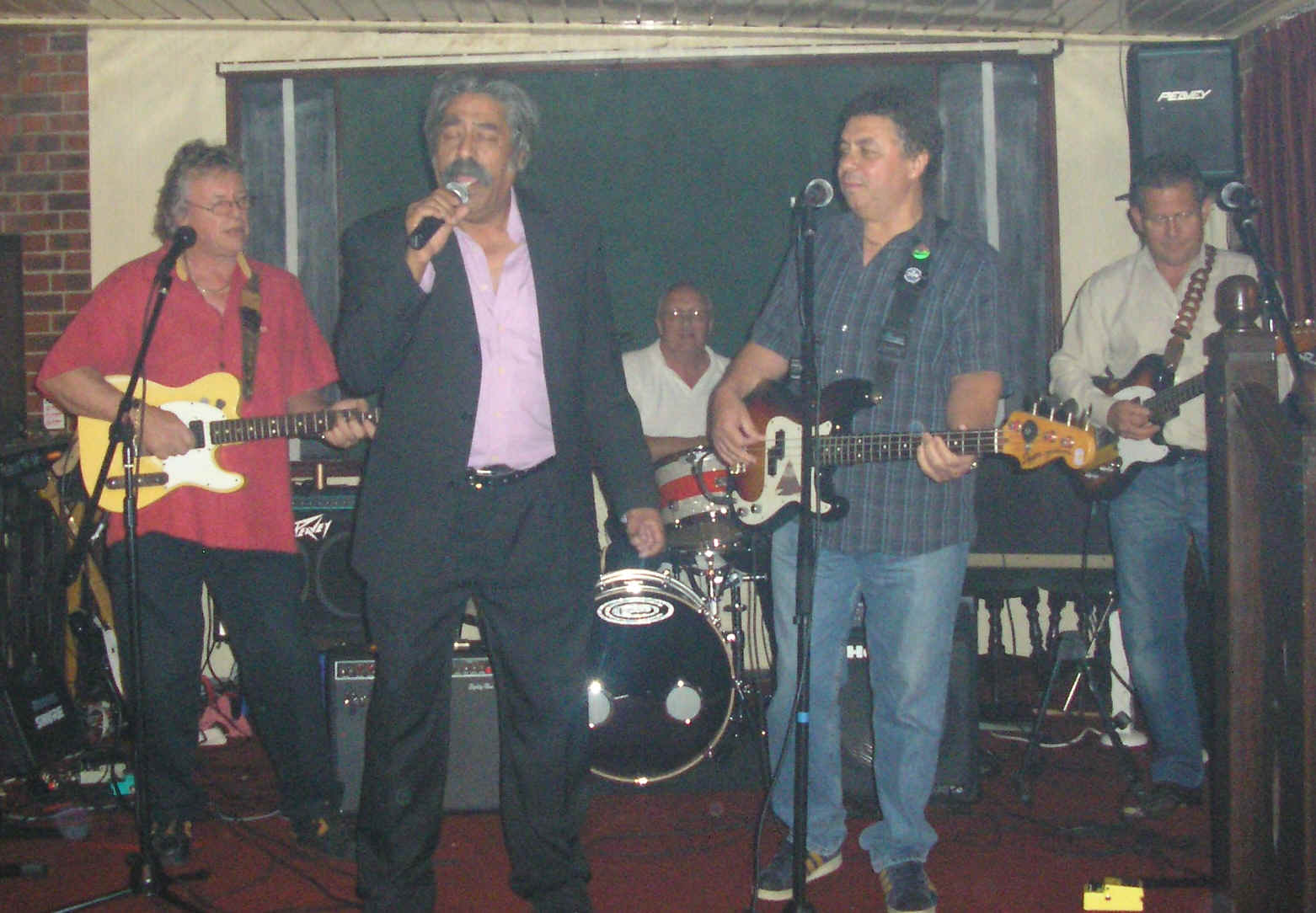 Dell Gibbs Rick Brown Graham 'Spike' Waters Beau Dave Mitchell
Back together after so many years and no rehearsal needed! The guys just sauntered up onstage and proceeded to knock out some of the classic songs that had pleased BSD fans over a couple of decades since the late Sixties. You'd think that they had never been away as Rick and the lads showed everybody what true professionals are all about. Rick Brown proving that 'Sixty somethings' can still show the young 'uns a thing or two when it comes to singing soul and pop classics aided by the superb harmonies of Beau and co. Rick's voice and stage presence was always amazing and a new kind of maturity shone through on this special night which blew the audience away. Dell Gibbs loving every minute of the whole night after making the trip back to his roots all the way from Australia - we were half expecting him to get his didgeridoo out!!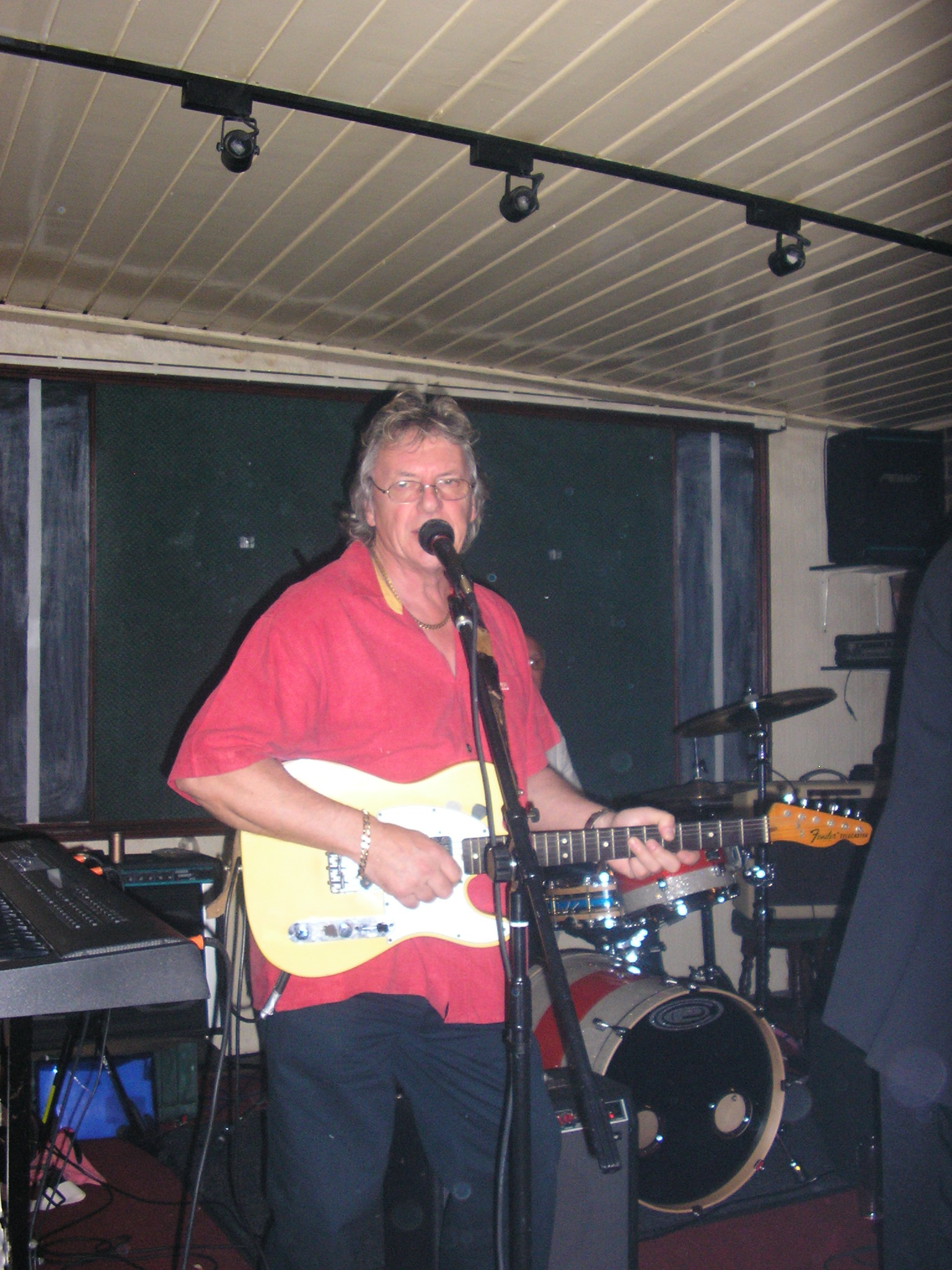 Dell Gibbs - "24,000 mile round trip for one gig!!"
I'm also sure that many of us in the room had the same thoughts going through our heads as we could imagine seeing Burnsy on stage and weaving his own magic alongside his brother and old mates. This set was a tribute to his memory as well as giving us all a chance to wallow in some more nostalgia and (hopefully) inspire even more young musicians to get into the business! That's how most of us musos started out all those years ago and these kind of nights bring it all back. Rick's family sent me a few photos which I have included with my own shots taken on the night and this one below features the original caption which was just right for the occasion!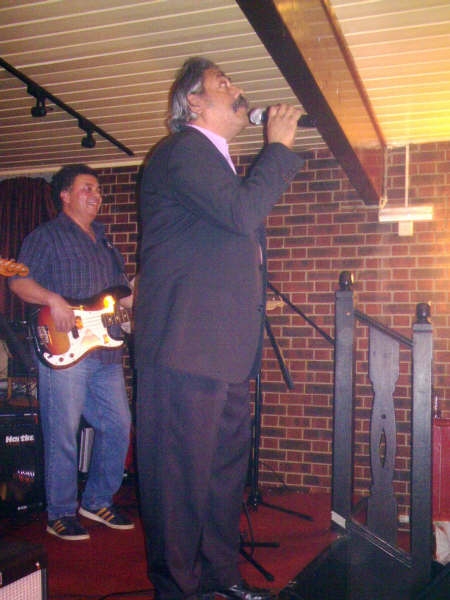 "Honest Burnsy.........I'm not getting paid for this!!"
A few more pics: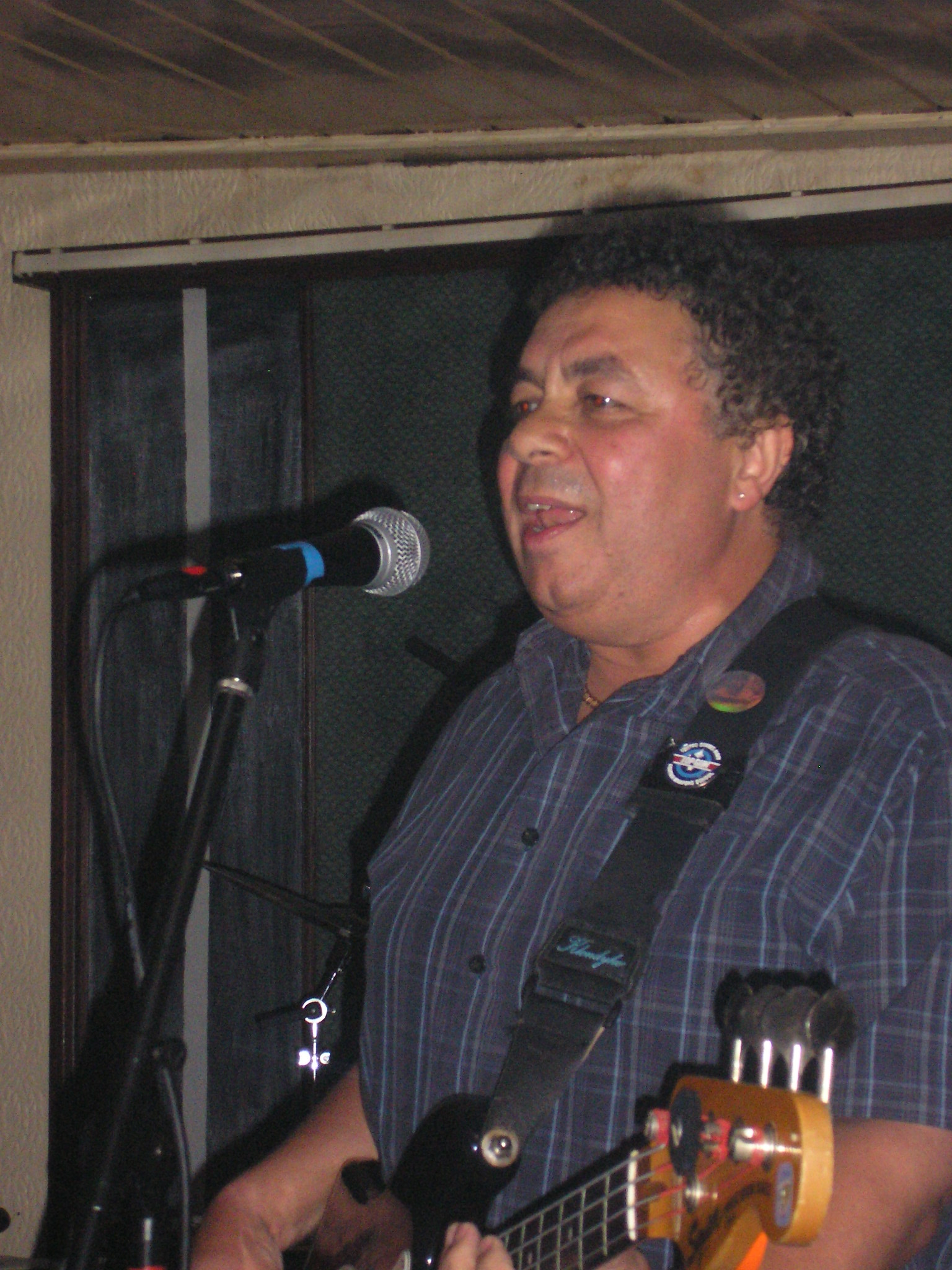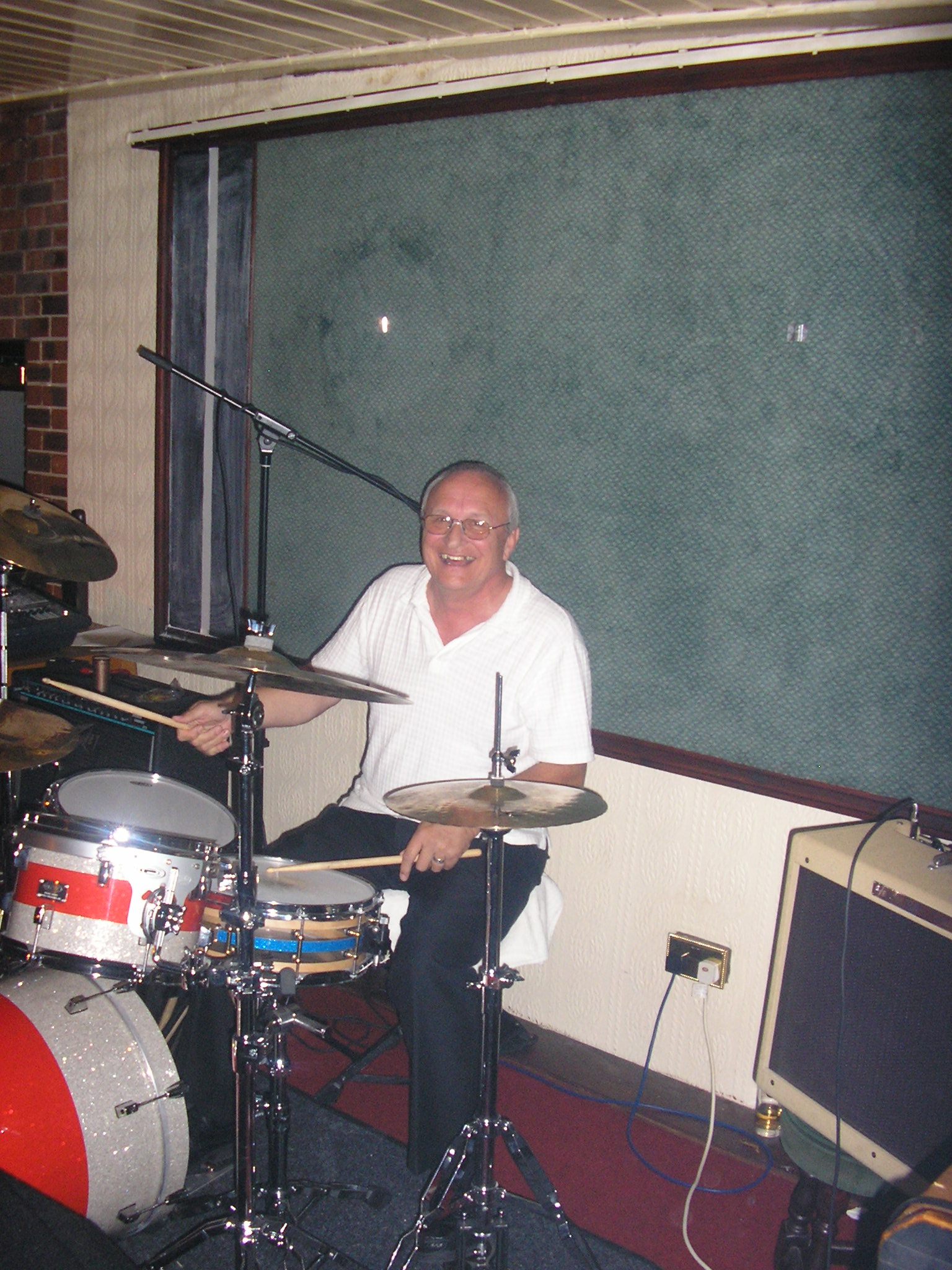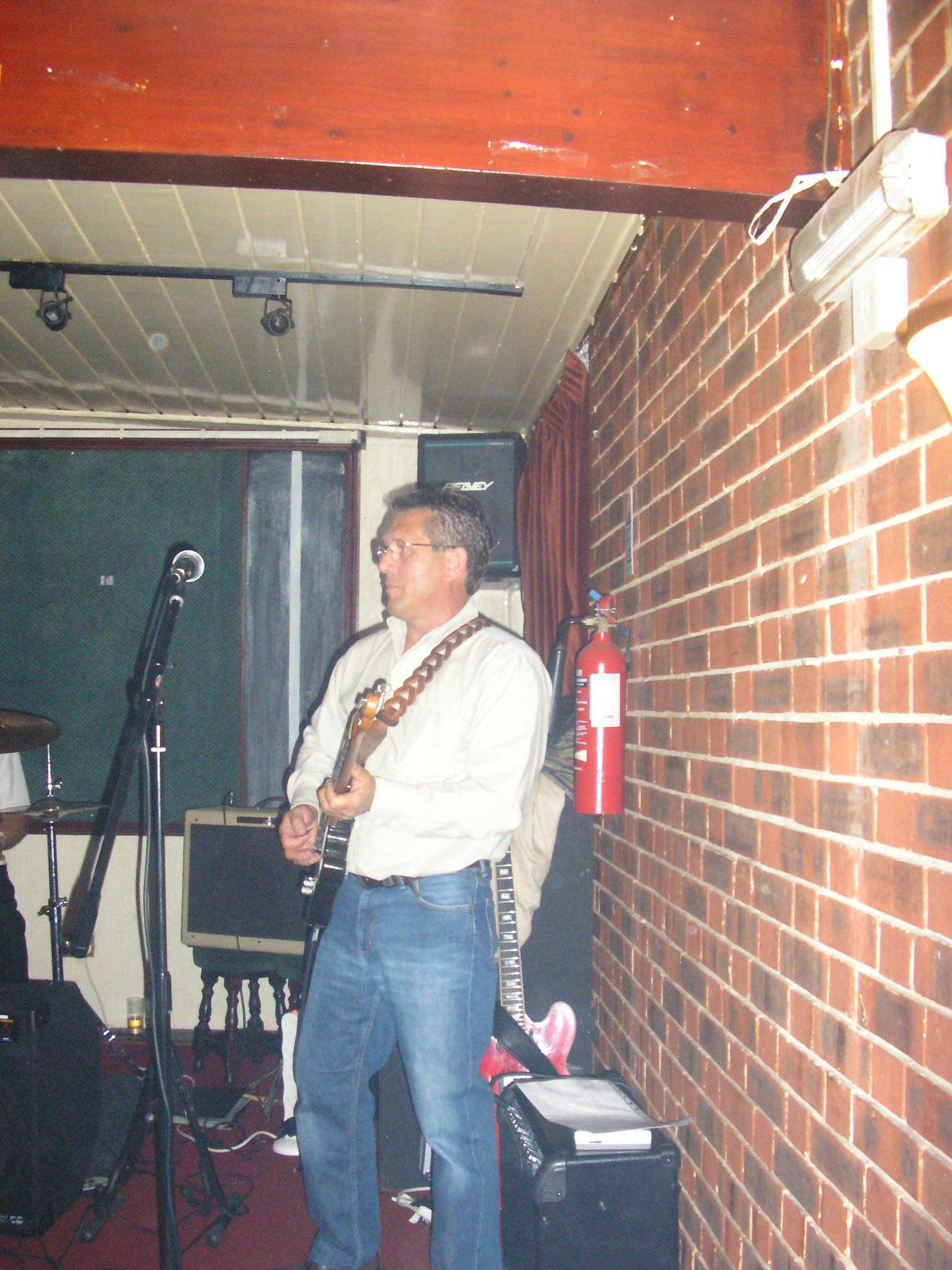 Brilliant Beau Scintillating 'Spike' Marvellous Mitch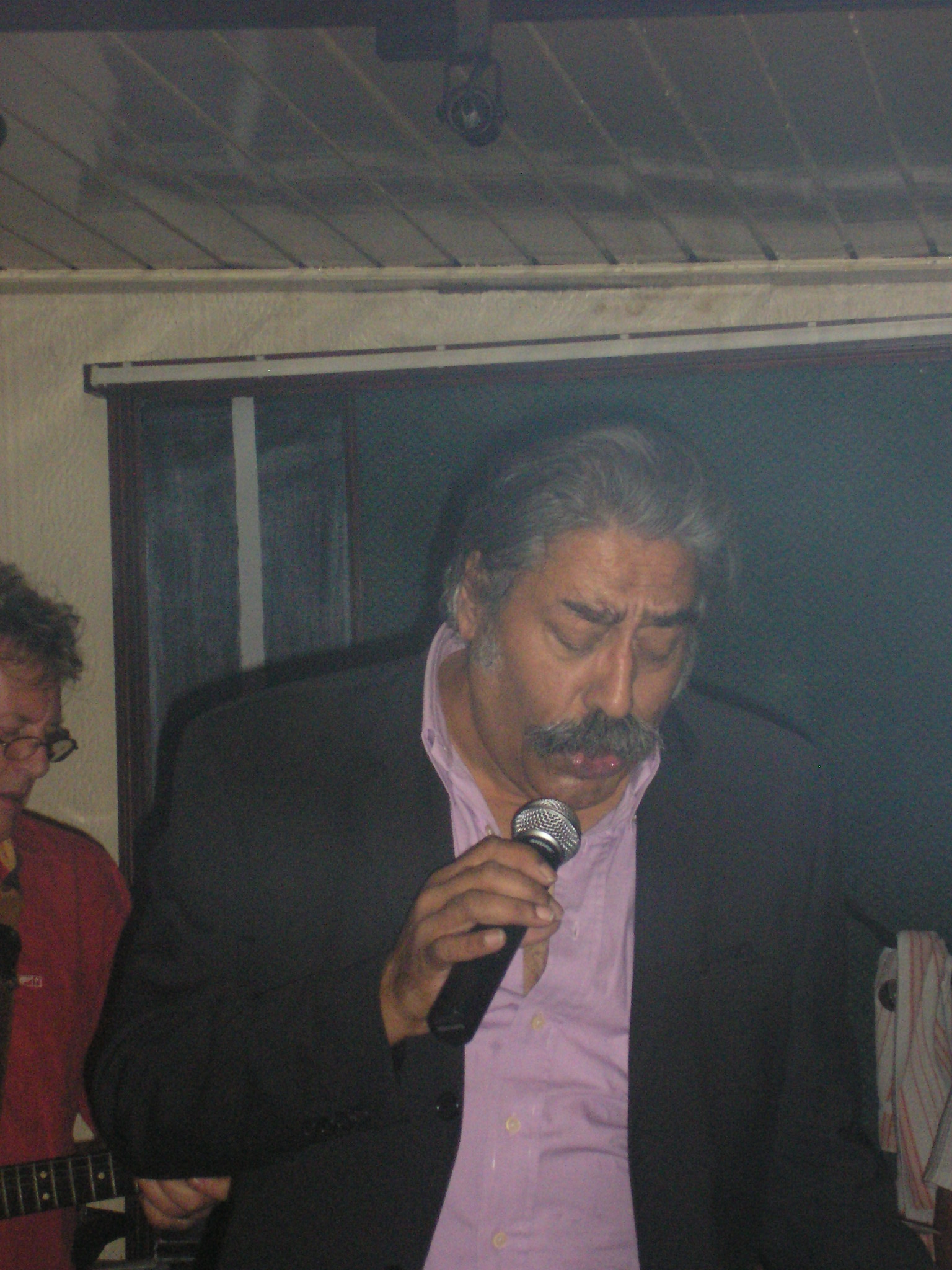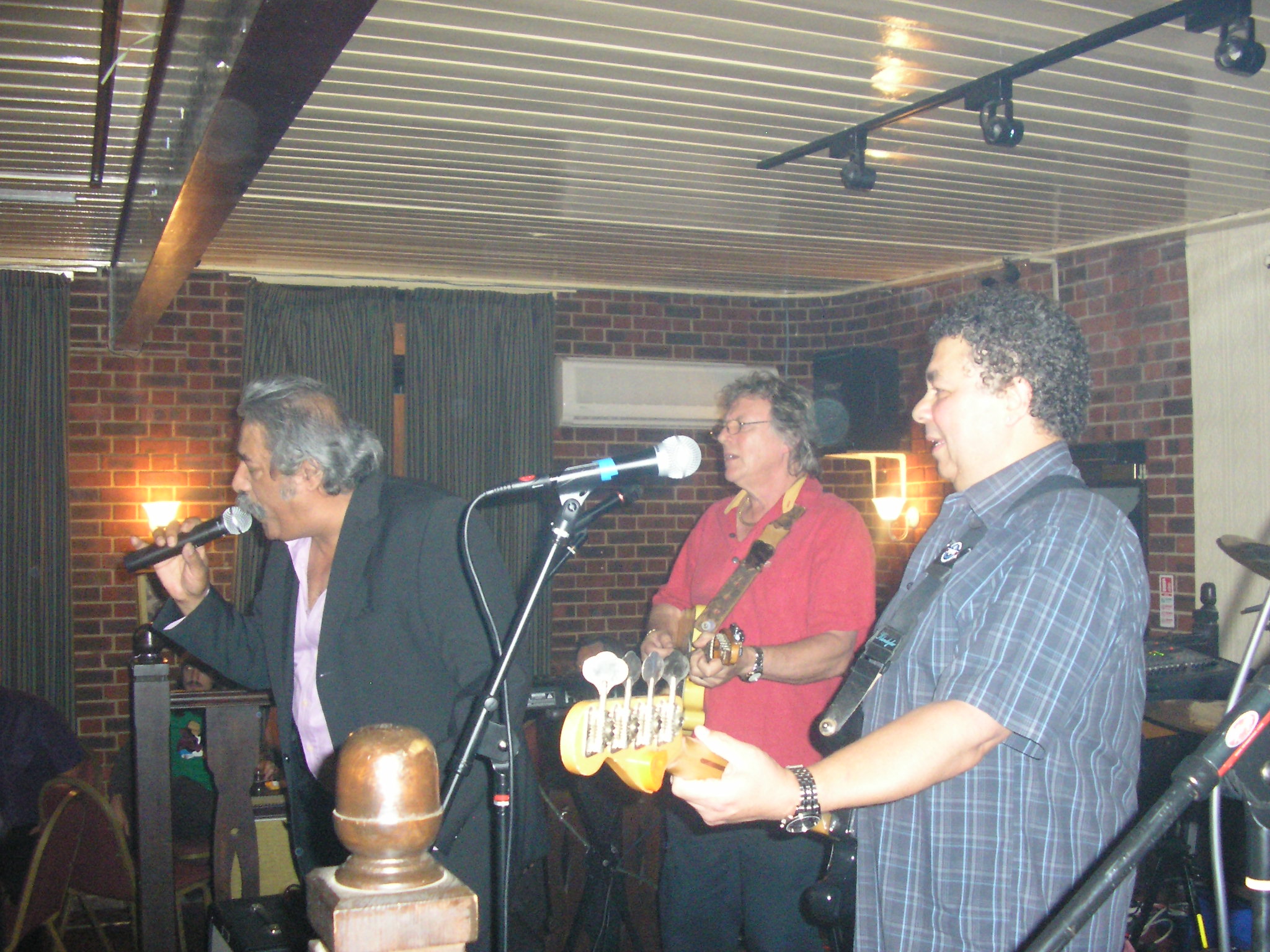 Rick Brown Rick Dell Beau
Well - that's it for now! Who knows - it could even happen again sometime as and when we can all get together once more despite some of us living on the other side of the world. I trust you have enjoyed this page and it was fun for me as I wrote it all up - another great memory to add to a lifetime in the business. Please contact me if you have any comments to make and also look forward to hearing any other memories you might have of those great days of yesteryear? I have had several people stumble across my website pages as they search the net and its been great to put people in touch again after so many years - like a kind of 'Musical Friends United'!!
David St John August 2006
BACK TO HILITES PAGE HOME PAGE SITE MAP CONTACT DAVID
LINKS: Fret Music Shop Shirley Southampton (Eddy) The Music Shop Bitterne Southampton (Wally)
Thanks to the Brown family for some of these images.
© David St John 2006