HOME PAGE SITE MAP CONTACT DAVID ST JOHN
Page updated 30 November 2012
David St John BLOG 2012
*If returning to this page- please 'refresh' or press F5 for latest browsing session*
COPYRIGHT
Please note that many images contained within this website may be subject to copyright, although many have been kindly sent to me and intended to be shared on this non commercial outlet. If anybody wishes to use any of the same, then please get in touch as well as possibly giving credit where due as well as setting up reciprocal links if relevant to the actual content on any webpage. Please note that I am able to monitor any image-copying and if published on other websites. I would appreciate any contact to report broken/outdated links and any corrections to the text that accompanies any images herein. Thank you and enjoy!
Welcome to this new webpage following on from previous years and featuring miscellaneous news of my comedy shows plus related updates on my Southampton based Sixties Music side and you can read all about this via the Site Map page. Latest news first and then descending order. Please come back soon as this new blogpage is updated with new input throughout the year. As usual, many thanks to those who have been in touch with more info and those all important rare old photos that help bring the memories alive. I have a backlog of these so please let me know if I have left anything out over this early 2012 webpage that will be updated from time to time.
...............................................................................
NEW FOR 2013- BOOK EARLY!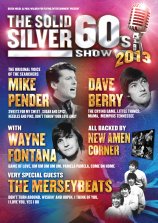 Celebrating 28 years of the UK's original and premier 60s show. They say that if you remember the 60s you weren't there! Fill that gap in your memory with The Solid Silver 60s Show and relive the 60s with original artists singing their greatest hits! Now in its 28th year the show features the unforgettable talents of Mike Pender the original voice of The Searchers, Dave Berry and Wayne Fontana, all backed by New Amen Corner, and with special guests The Merseybeats.

HEAR THE CLASSIC HITS PERFORMED BY THE ORIGINAL HITMAKERS! CHECK TOUR DATES AT:
PLUS- THE AMAZING JOE BROWN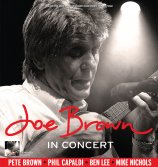 Premier rock 'n' roll legend Joe Brown goes from strength to strength as his contemporary achievements continue to gather momentum.His 'Very Best Of' album achieved a Gold Record for a massive 120,000 sales and was on the UK charts for eight weeks staying four weeks in the Top 20. In September the same year his 50th anniversary was celebrated with a wonderful sell-out show at the Royal Albert Hall.

He has continued to break box office records and recently received MOJO magazine's coveted Outstanding Contribution To Music Award as well as a much deserved MBE. You may have seen Joe performing on Later With Jools Holland or at the cinema playing his part closing the show at the Concert For George Harrison. You may have witnessed his critically acclaimed set at Glastonbury Festival or caught him on tour. If you have you'll already know just what a terrific live talent he is. Joe, with his five piece band including his son and record producer Pete Brown, will be on stage all evening and the musical styles incorporated into his new show break more boundaries and are as unique as the man himself.

His new CD The Ukulele Album has been riotously well received and several of the tunes from it appear on this tour which is also packed with timeless classics, rockabilly, gospel, country, folk, and rock 'n' roll, all interwoven with Joe's effervescent delivery and humorous reminiscences this sensational show is a musical journey not to be missed.
...............................................................................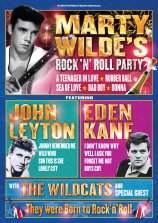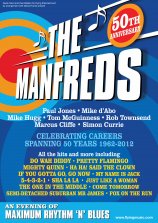 If you love your Sixties music- you might have caught these great 2012 Autumn tours. Marty Wilde and the Wildcats plus Mike Berry / Eden Kane or the Manfreds featuring Paul Jones and Mike D'Abo. These fantastic shows with original 60s hitmakers will be at a theatre in your area and you can check them out plus other prestige Flying Music tours at: http://www.flyingmusic.com/
REPORT:
8th November- I caught the Marty Wilde Show at the Alexandra Theatre Birmingham and another amazing night of classic rock n roll with plenty of nostalgia for the full house! The Wildcats backed the whole show and just perfect as Marty delivered many hits plus other great memories along with the ever youthful Eden Kane plus Mike Berry (looks 40!) who was replacing John Leyton (get well soon!) Marty's youngest daughter Roxanne- fresh from appearing with Kylie Minogue- also guested and looking so beautiful with the Wilde family talent genes to the fore. She sang brilliant 60s classics plus that haunting backup vocal with the ghostly chorus of 'Johnny Remember Me' as performed by her dad as a tribute to John Leyton. The Wildcats also knocked out a brilliant tribute of 'Diamonds' in memory of Jet Harris who had been on the last tour in 2011- terrific lead guitar and 'wilde' drumming that tore the place apart. Once again- Marty Wilde (now 73) showing no signs of slowing down and plain to see that he loves being on the stage after some 55 years in the spotlight. I doubt if we'll see any X Factor 'stars' (lol) topping the bill in 50 years time or any other number of so-called chart-toppers in recent years. Yes- we had the best of times and this and other 60s tours prove that that rock n roll will never die! Its what modern (recycled) musiC was built on but we had real stars- great songs and mixed with personality and showmanship as proved on this fantastic show.
Check Mike Berry's website- a very talented guy and you'd never guess his age if you didnt know him! http://www.mikeberry.net/
Eden Kane too: http://www.edenkane.com/
Marty Wilde: http://www.martywilde.com/
...............................................................................
THE UNION JACK CLUB LONDON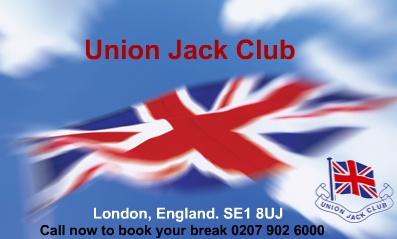 This is one of my favourite venues of all time, following my first booking on Boxing Day 2006 as part of the Xmas entertainment programme. The Union Jack Club, next to Waterloo Station is exclusively for ex services (Army, Navy, Air Force etc) with a room full of real heroes - many of them having served with honours over many decades. The hotel is fully booked for the annual commemoration where they come from all over the world to remember fallen comrades and meet up with old pals. I was immediately booked for the Remembrance Weekend in November 2007 and rebooked every year since! Covering two full evenings with a varying programme due to many people in for both nights in the main lounge- this is my view from the stage area-many more people spread around the bar and sides!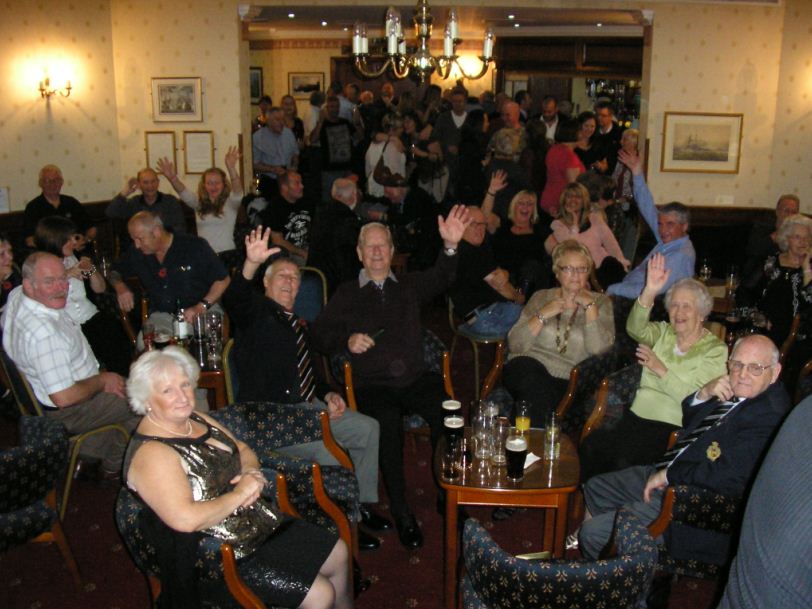 Naturally, my act is full of military gags, themes plus rousing marches and other memories as well as my well established 'Last Night Of The Proms' segment. This has the Union Jack (Union Flag) in full flow with everybody joining in for a taste of the Royal Albert Hall that lifts the roof on every occasion- fantastic atmosphere and the night keeps going with classic songs of the 50s/60s plus a 'mini-disco' that keeps the dancers happy til 1am and later! Amazing energy for a 'mature' audience- they put some of the youngsters to shame! This year, a professional photographer was on hand-London Ion Paciu who was taking pictures around the club for their corporate profile etc and he grabbed a couple of quick shots whilst I was cracking gags to the responsive audience. Check his website below to see his top class photographic profile and superb gallery of stunning images. I have been interested in photography since the late 60s and even had my own business for a couple of years. I am therefore keen on talking to photographers and recommending the better ones like Ion.
REMEMBRANCE WEEKEND 2012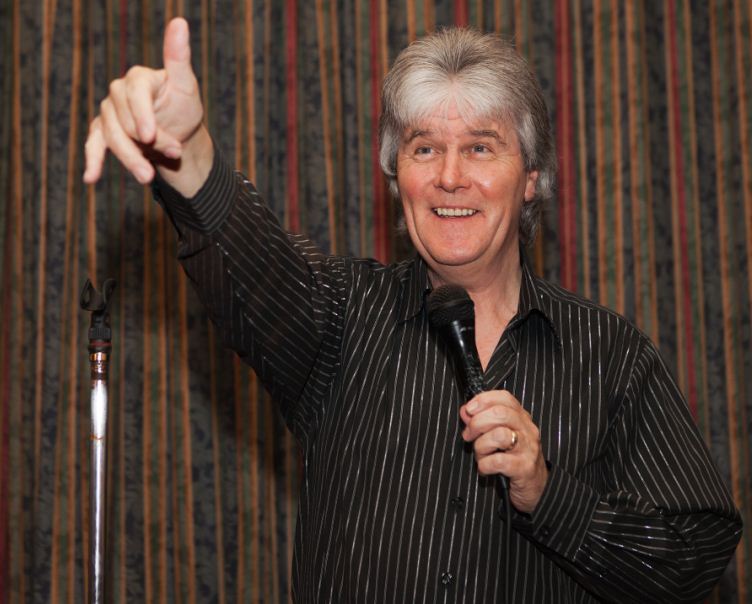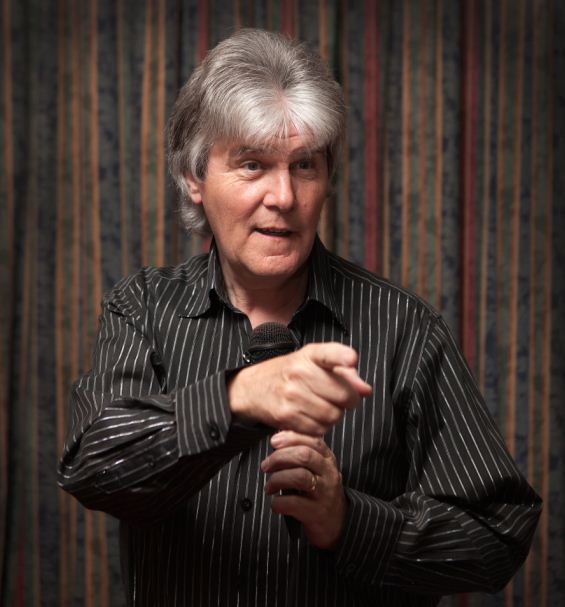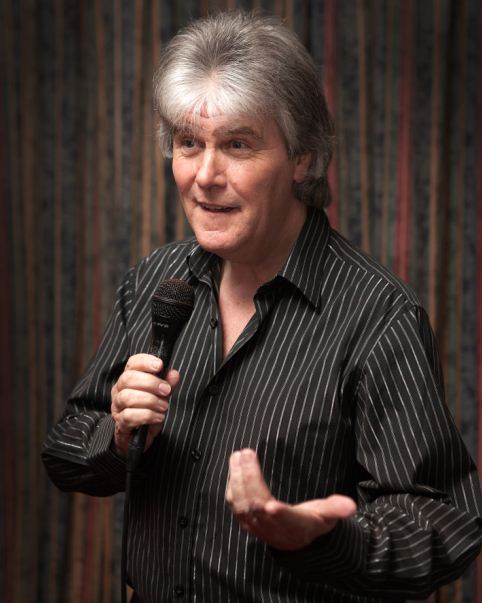 The Rebels UK Tour 2012 - go to www.davidstjohn.co.uk/concorde2012.html for info of this amazing visiting US group who headlined the fifth annual 'Back To The Sixties' show on Friday 14th September.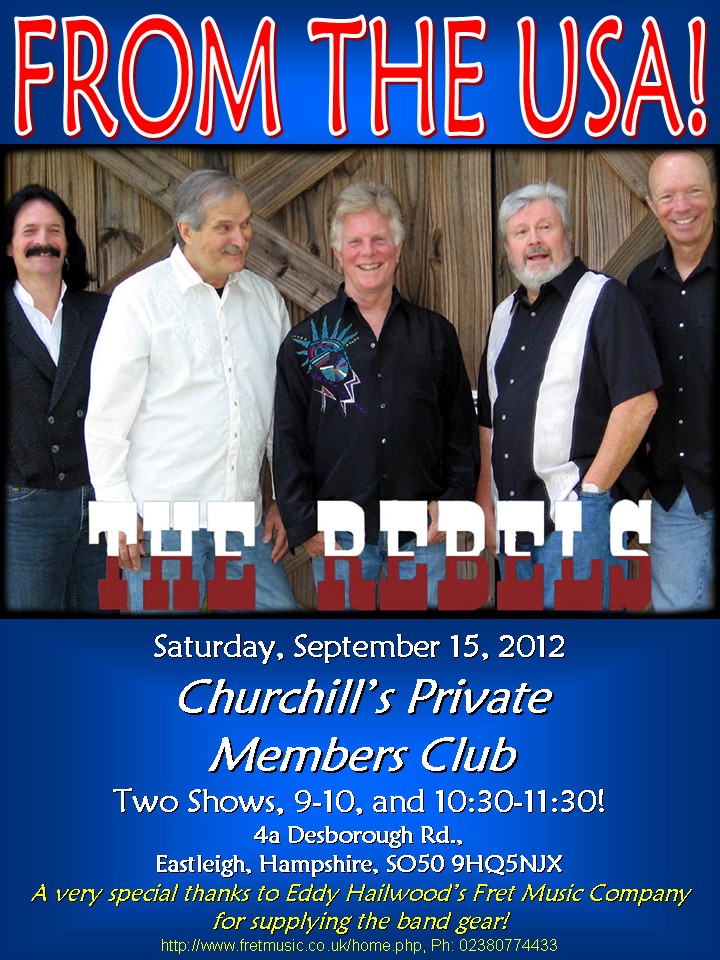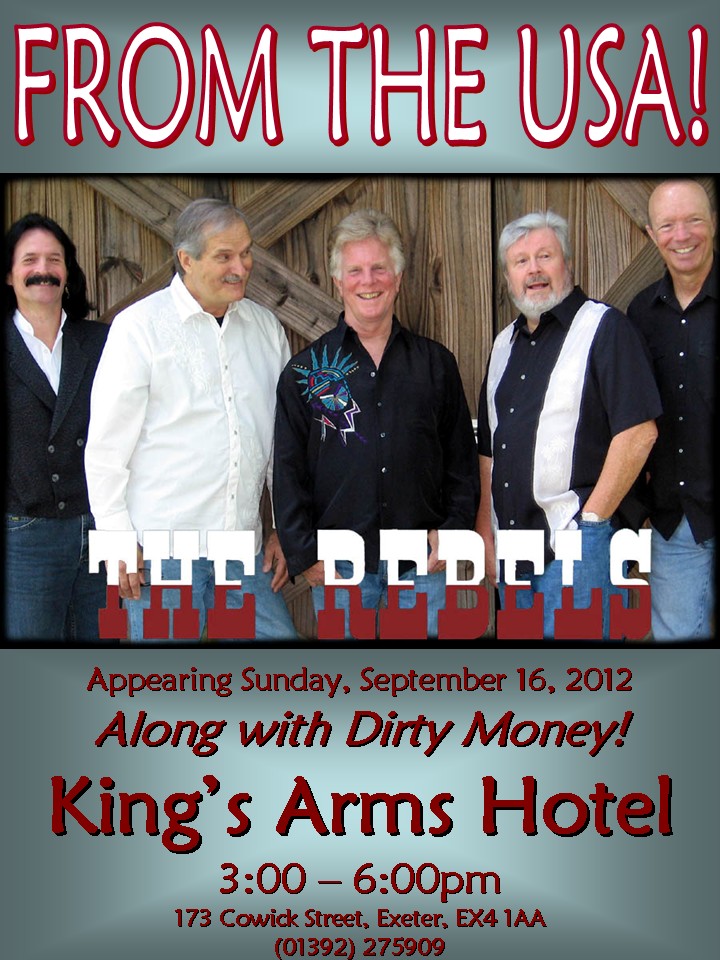 The Rebels would like to thank Eddie Hailwood of Fret Music Shop Shirley Southampton for his courtesy of supplying equipment for the Churchills Club show. Eddie has also helped with our previous annual 'Back To The Sixties' Reunion Nights at the Concorde Club and very much appreciated- he even plays!!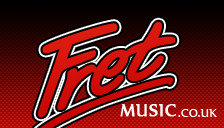 http://www.fretmusic.co.uk/home.php
...............................................................................
If you love your Sixties shows with ORIGINAL names, then dont miss this year's packages!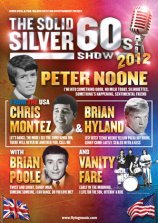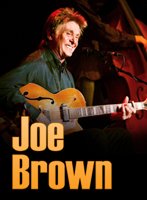 2012 - Just two of the Flying Music 60s tours
14th March- I went to this latest great Flying Music 'Solid Silver Sixties' tour in Birmingham and yet another terrific night featuring more big names from the Sixties. Once again the show was opened by the 'fab' Vanity Fayre who played many of their own hits- sounding as good as ever. They then backed all the other acts, so one of the most hard working groups in the business.
Brian Poole was next on- now nearly 70 years of age, but like everybody else on this package show- looking much younger! Great showman and celebrating some 50 years since he and the Tremeloes shot to the top of the charts back in the Glory Days, so loads of memorable hits came shooting out from the stage. He also had the aisles full of dancers (mostly women!) who just couldn't resist being whisked back to the old dance hall days.
The first half of the show was closed by the ever-youthful USA based Chris Montez and voice sounding just the same as the great hits were delivered to the ever appreciative Brit fans. Good guitar playing and warm personality- he was genuinely moved by the audience who sang along to the hits, as they have been doing for decades.
Second half opened by Vanity Fayre with the massive 'Hitching A Ride' before introducing the second American hitmaker Brian Hyland- looking as 'cool' as ever with more nostalgic hits such 'Sealed With A Kiss, Ginny Come Lately' etc. Also playing a mean guitar and really showing everybody how it's all done.
Closing the show was the youthful Peter Noone (Herman of Hermits) with another string of hits, cheeky patter and another great showman who has never stopped working from the early Sixties. At one time, during the 'British Invasion' the Hermits even outsold the Beatles over in the USA and Peter has been based there for many years, with tours, TV shows and much more. Everybody came back on for a rousing finale of 'Land of a 1000 Dances' and closed a fantastic night on this superb touring show- why not check out the Flying Music website for more information on this current spring tour plus other shows?
Also- take a look at the artistes' own websites, then go and see them live!!!!!!!! Whilst enjoying this show, it made me smile to think that maybe in some 50 years time, you wont have touring shows featuring the likes of Jedward, rappers or any one of the overnight karaoke X Factor 'stars' that get spewed out on the current 'popular' (conveyor belt) music scene that has been manipulated by Simon Cowell etc. If you do 'remember the Sixties' or the groundbreaking Fifties (and were there) then be grateful of experiencing the best times. Take a look back at any Top Twenty chart of those days and just see how many classic songs are still around.
The young generation often know them when featured on movie soundtracks, commercials or when modern artistes revive them in an original style or just paying homage to the 'pioneers of Pop' who laid the foundations in a different time. There were quite a few younger people in this audience and can you imagine going to a package show back in the Sixties to see a collection of grandfathers rocking and rolling away! Yeah.....yeah....yeah.... :o)
Check UK tour dates via: http://www.flyingmusic.com/
http://www.chrismontez.com/pages/home_frames.html
...............................................................................
5th Annual 'Back To The Sixties' reunion night at Southampton's Concorde Club- Friday 14th September 2012 Check:
www.davidstjohn.co.uk/concorde2012.html
...............................................................................
Troggs news- this just in from Reg Presley of the Troggs via Jackie who runs their fanclub:
25 January 2012
As you all know I was taken ill whilst doing a gig in Germany in December. During my stay in hospital tests showed that in fact I have lung cancer. I am receiving chemotherapy treatment and at the moment not feeling too bad.
However I've had to call time on The Troggs and retire. I would like to take this opportunity to thank you all for the cards and calls and for your love, loyalty and support over the years. A big thank you to Jackie for running the fan club and keeping you all up to speed, and a huge and special thank you to Chris, Pete and Dave.
I shall miss you all. Lots of Love
Reg.
I'm sure that many Hampshire musicians and fans alike will send best wishes to Reg as we have enjoyed their amazing successes ever since 'Wild Thing' hit the charts back in 1966, followed by many more great follow-ups. I last met up with them on a 60s package tour- see report at:
http://www.davidstjohn.co.uk/blog2010.html
They tore the Birmingham Symphony Hall apart and we had a drink/chat after the show- Reg in fine form so very sad to hear about his recent health problems.
...............................................................................
Thursday 19th January saw another great fund-raising event for S.O.S. (Support Our Services) in aid of 'Help For Heroes' at the Concorde Club Southampton, featuring three top local bands who kindly took part in a very successful show. PDS- Paul Da Souza Band, Tramp and Peter Pod's Peas- all of whom have taken part in previous 60s music reunion shows since 2008 with local DJs Geoff Knight (part organiser) and Nick Horne keeping the show together with great music in between, plus Angie Knight who also helped to stage this big night with help from family and friends.
I helped out with the (massive) raffle draw plus a short set of 60s dance classics to please the nonstop dancers on this occasion. There were several servicemen and women in the audience who helped out with selling raffle tickets plus a 'Guess The Weight of The Cake' draw and all proceeds from the door entry managed to raise around £1700 towards this worthy cause. We also auctioned off a beautiful limited edition print of the Canadian Light Infantry on patrol in Afghanistan, which raised £75 thanks to a generous member of the audience- thanks! After the superb warm-up music, Geoff introduced a great opening appearance by the Caledonian Pipe Band which really set the scene for the great night that followed till around 12-00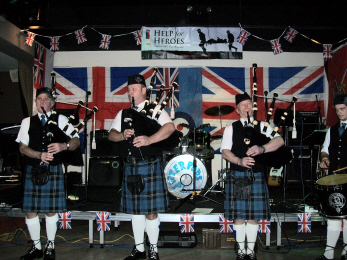 CALEDONIAN PIPE BAND (part)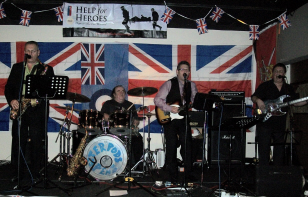 P.D.S. BAND TRAMP
..........................................................................................................................................................
PETER POD'S PEAS- can be booked via: http://www.peterpodandthepeas.org.uk/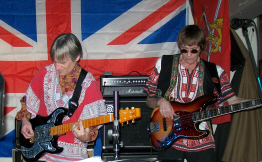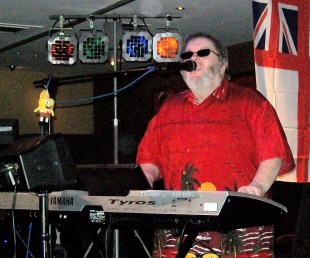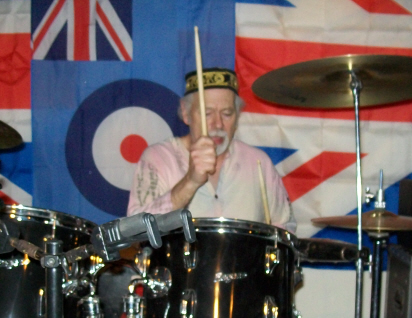 Paddy Neil Gary (72 yr old drummer!)
..........................................................................................................................................................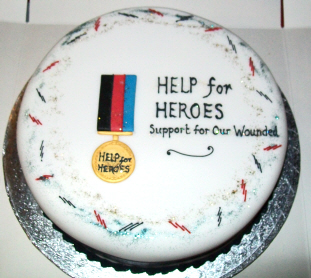 'Guess the weight' Thanks to Classic Cakes of Eastleigh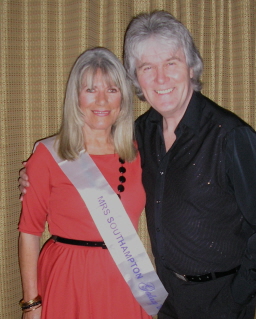 We also had the reigning 'Mrs Southampton Galaxy'- Chrystine Remnant who kindly helped out with the raffle draw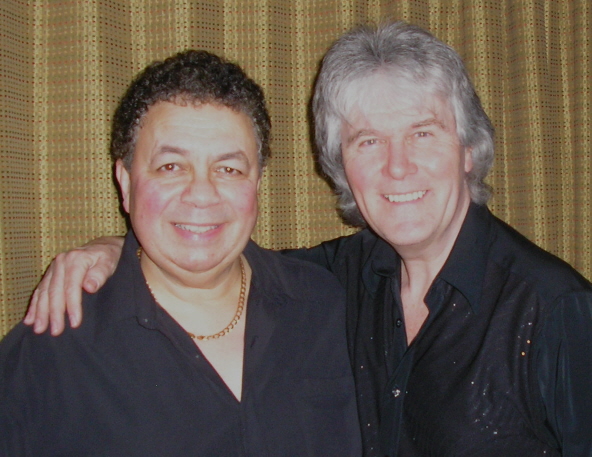 Beau+ Dave - the original Blues Brothers!
Once again, a chance to hook up with Dave 'Beau' Dinnage of 'Tramp' who played their usual great set. We first met as teenagers in our first 'proper' group of 'The Abdo-Men' and followed by 'The Unforgiven through 1964/65 as well as being pals ever since. Take a look at my 'Biography' page and other pages whch tell some of the stories plus many reunions when we managed to recreate those early 'Sounds of the Sixties'. Beau crossed over from rhythm guitar onto bass and one of the most amazing falsetto voices in the business- still sounding as good as ever on hits such as Beach Boys, Four Seasons and many more- check out my 2011 blog for a link to his recent You Tube clip plus i tunes playlist ('Hey There Lonely Girl')
In fact, Beau helped me to kick start this whole website off some years ago as he photocopied a short brochure of 'Southern Roots'- an incredible history of local bands from the Fifties to late Seventies, which was painstakingly handwritten by John Clare of Henrys Records and pal Terry Hounsome (see other webpages) The main large files were then posted over from Australia where John has lived for many years and much of my information and many images have been copied into several webpages. In addition, Beau dug out a rare photo of the Unforgiven which was one of the first images to appear on my groups pages (see biography) so I am indebted to him as well as the many other people who have shared their own memories ever since!
I will add any more info or pictures on this HFH night and a big thanks to all who organised it, appeared in it plus the audience who came along to enjoy a brilliant night as well as helping to raise funds.
..........................................................................................................................................................
Take a look at this great webpage:
http://alkirtley.co.uk/blow-by-blow-biography/the-bournemouth-years-lead-guitar/
Some great memories from the 1950s onward with Hampshire music plus Reg Calvert info and pics (see my own Reg Calvert page etc) at: http://alkirtley.co.uk/gallery/
..................................................................
Recent mail from the Rod Stewart Fan Club site- check out Rod's early days when playing the Southampton area and backed by our very own Soul Agents (see early Group webpages)
David,
Hope you are well I just came across your great website about the Southampton music scene in the 60's, I work on SMILER rodstewartfanclub.com we have just posted two great stories about Rod in Portsmouth in the early 60's mainly about the Hoochie Coochie Men the next step in this story is The Soul Agents, How do you fancy putting a couple of lines together containing any information [Love the getting Rod from the chippy story] you have from the Southampton days with that amazing shot of the band you have to continue the story for us, you could include any links to your site so we can direct our readers to it?
What do you think?
Here are the last two items we put up

http://www.rodstewartfanclub.com/about_rod/article/EFplEykpyueHGhoyTP.php

http://www.rodstewartfanclub.com/about_rod/article/EFplZZFVkyzvoyAJXX.php

Regards Mike Walton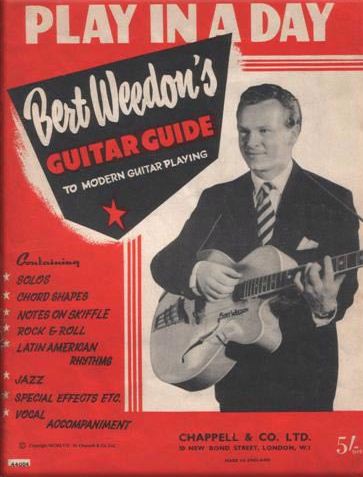 BERT WEEDON 1920-2012
April 20th saw the passing of Bert Weedon- the guitarist who inspired so many youngsters back in the 1950s, including the likes of Marvin, Page, Clapton, Beck, Lennon. McCartney, May, Townshend and so many more teenagers who wanted to emulate their new heroes of the dawning rock n roll age. His ground breaking 'Play In A Day' did what it said on the cover and kickstarted a long line of future guitarists who formed bands- some of them achieving chart success whilst others simply played for fun and a few beers. Several wannabe pop stars in Southampton probably bought their first guitars from the main music shops such as Jim Beckett, John Beirne or later Minns and usually purchased this instruction book at the same time. I know that I do have a tattered copy in the loft but the image above brings it all back.
I had the pleasure of supporting Bert Weedon at Burton On Trent Social Club back in the Eighties on a variety show- I was the comedian/compere so it was so good to 'talk shop' with the master who delivered a great show. Had an interesting chat with him and he graciously laughed when I said I was 'still only on page 3' as he must have heard that so many times. Just Google him and read about one of the most important names in British popular music plus his charity fundraising side of life plus involvement with the Grand Order of Water Rats etc. I also had an e-mail from former Southampton pop singer Pete Broyd who was fronting his own groups around the late Fifties/early Sixties- you can read about him on other pages. Pete summed Bert Weedon up in these words which I reproduce here and I'm sure there are many more tributes to the man himself all over the world.
From Pete Broyd:
Hi David.
I just had to comment on the passing of Bert Weedon this week, the last of the Big Four who changed our lives. What would things have been like without them? First Bill Haley brought a new sound to us. Not jazz, not swing not the Glen Miller 'pop', but something with a beat and an exciting sound that got the neck hairs interested. It even had it's own dance style, so energetic that it had to be for the young and fit and so simple that we all could do it. This is the key to what happened - we could do it without hours of lessons - and it was 'ours'.
Then Elvis came along and made it 'sexy'. Just what we adolescent boys were looking for, the key to a young girls heart - and maybe the chastity belt! The next two vital ingredients were supplied by Lonnie Donegan and Bert Weedon. Lonnie showed us that it was possible to make a band without expensive instruments. A couple of guitars, a tea chest bass and a washboard and you had the makings of a group.
Bert Weedon gave us the 'Play in a Day' book which stripped all of the complicated terms and lessons from learning to play a guitar and in the simplest terms possible said ' if you put your fingers there and strummed the strings, you will get a chord' Three of these chords were all we needed to start and we were away. Most young people lose interest in learning unless there is a fairly rapid sign of progress. Bert did just that - 'Play in a Day'. He probably didn't realise at the time but he was directly and indirectly responsible for virtually every young guitarist that followed on in the UK (and probably around the World) from that time.
You would think that these raw, inexperienced and frankly dreadfully sounding groups would be short lived, but they improved. At the same time, the established bands around the dance halls watched on with amusement and carried on playing the sanitised version of 'rock and roll' in short sessions during the strict tempo Dance Nights.
What they didn't realise was that the groups weakness was their strength. As they couldn't read music they had to listen to the records and copy them, hence what they were supplying was nearer to the original than anything supplied by a sheet of music. Within 3 years the Bands had almost disappeared and the groups reigned and have continued ever since.
So Bill and Elvis provided the attraction, and Lonnie and Bert the means to acheive it. Sadly they have all now passed on but we should never forget their contribution to everyone's lives.
Pete Broyd
..................................................................
HOME PAGE SITE MAP CONTACT DAVID ST JOHN
copyright ©davidstjohn2012