Back to TV QUIZ SHOWS Click on SITE MAP to navigate the pages
January 2020
I was reminded that this (old) webpage needed an update! This 1986 Oz outing was my 2nd TV quiz show, following on from 1982, leading to a few more decades of appearances and a Guinness World Record! See the bottom of the page ;o)
Sale of the Century
'Ashes'
G.B. vs Australia 1986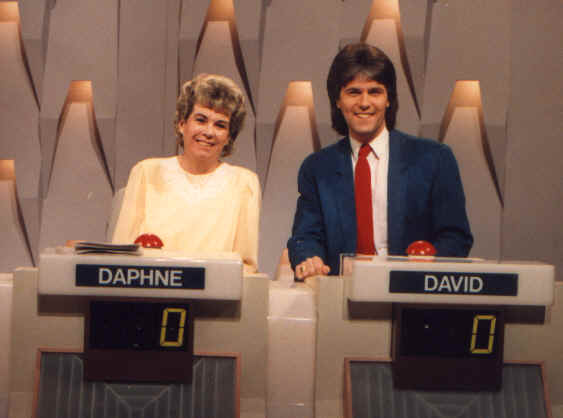 Daphne Fowler and David St John
Melbourne
Following my first ever TV quiz show appearance on 'The Sale of the Century' back in 1982, which resulted in me being the outright winner, I then found that I was 'hooked' on these shows and proceeded to apply for more. In 1985, I received a phone call, thinking this was a wind-up, as some person asked me if I was 'interested in going to Australia' – I know that some of my 19th century relatives were also 'persuaded' to go Down Under, albeit in chains! Luckily, I didn't give them a mouthful, and discovered that they were auditioning some 25 Sale of the Century champions, to take part in an 'Ashes' type contest, competing against the Australian all winners. I went to London, and was auditioned, interviewed, photographed, then waited for the call, which came a week later – Yes!! I was going to represent my country in a Intercontinental contest, playing against the cream of the Antipodean aficionados, which was quite mind-boggling, as I had never been heavily involved in any kind of quizzing before.
There is a whole bunch of dedicated TV quiz players out there, who spend a good deal of their waking time by cramming as much trivia as possible, in readiness for any possible show that they may be lucky enough to qualify for. It was during this time that I realised how lucky I was, to have had a literate father who instilled a love of books in me, and I surprised my teachers on my first day at infant school by being able to read and write fairly well at the age of 5! My dad was not well educated, but was intelligent and self-taught in many things, thus providing a role model for his son who would later be rewarded for his hours spent poring over encyclopaedias etc. I never read much fiction, but preferred to read and learn about all manner of things and enjoying trips to the local library, although I was far from being a geek (this word didn't exist then!) I still read and absorb facts and figures, which seems to stick in the old brain cells, although confined to newspapers and the odd TV/radio show etc, so am just blessed with the ability to drag all kinds of trivial snippets out of the old grey matter. I guess this ties in with a lifelong career of remembering jokes, song lyrics and so on, which can be recalled at anytime - preferably whilst being tested on a TV quiz show!
What a contrast to the low budget TV quiz shows, as seen in the UK at that time – the Australian 'Sale of the Century' was a big money production, thanks to heavy advertising and highly commercial television in that beautiful country and produced by Grundy TV - yes those same 'Neighbours' people! In March 1986, nine of us spent some 24 hours flying Business Class, on a Cathay Pacific 747, with the added bonus of half a day stopover in Hong Kong, which I spent wandering all over this vibrant city –an amazing experience. One of the contestants seemed to keep to herself, on the flight over, and spent much of her spare time, by reading reference books, plus listening to cassette tapes through an earpiece, which was obviously part of her 'homework' on quiz shows – serious or what? We were met at Melbourne airport and given VIP treatment, including a trip to our hotel by Rolls Royce and stretch limo, followed by a few days rehearsals, recording as well as free time to explore the city and surroundings. A truly beautiful city, with amazing architecture, parks and interesting places of interest including Melbourne Jail with its Ned Kelly connections amongst them (yep, they hanged the bandit there!) They should have hanged Mick Jagger, following his onscreen portrayal of this 19th century folk hero.
After a few days of chilling out, in Melbourne, we watched the first recordings of the Australian champions, and they were impressive – one of them being a top scientist in the country, so I'm thinking "Oh oh…" Time for our own initial 3 player GB knockout heats, and I was up against a bright travel agent Roger Hebblethwaite, who was also in the middle of his own round the world trip, which he had just won elsewhere! The other challenge for me was in the shape of the aforementioned lady- none other than one Daphne Fowler, whose reputation is well documented within the arena of TV quiz shows. She had even spent a lot of time sitting by the hotel swimming pool, swotting up on her various books, as opposed to exploring this vibrant city. Needless to say, she was far too quick on the buzzer, although I was milliseconds behind her on so many questions, and was therefore consigned to the audience seats, after a hectic few rounds, against this former brilliant and dedicated 'Brain of Britain' and much more- bless her! She has since gone on to win several top rated quiz shows, and one of the highest scorers on '15 to One' amongst others, as well as being featured as a resident team member on 'Eggheads' in 2004 - I had no idea what I was up against on that initial flight across the world! As for the actual contest, us Brits suffered the same fate as our own cricket team at the hands of the Aussies, as we were beaten yet again by a very strong lineup of their top players.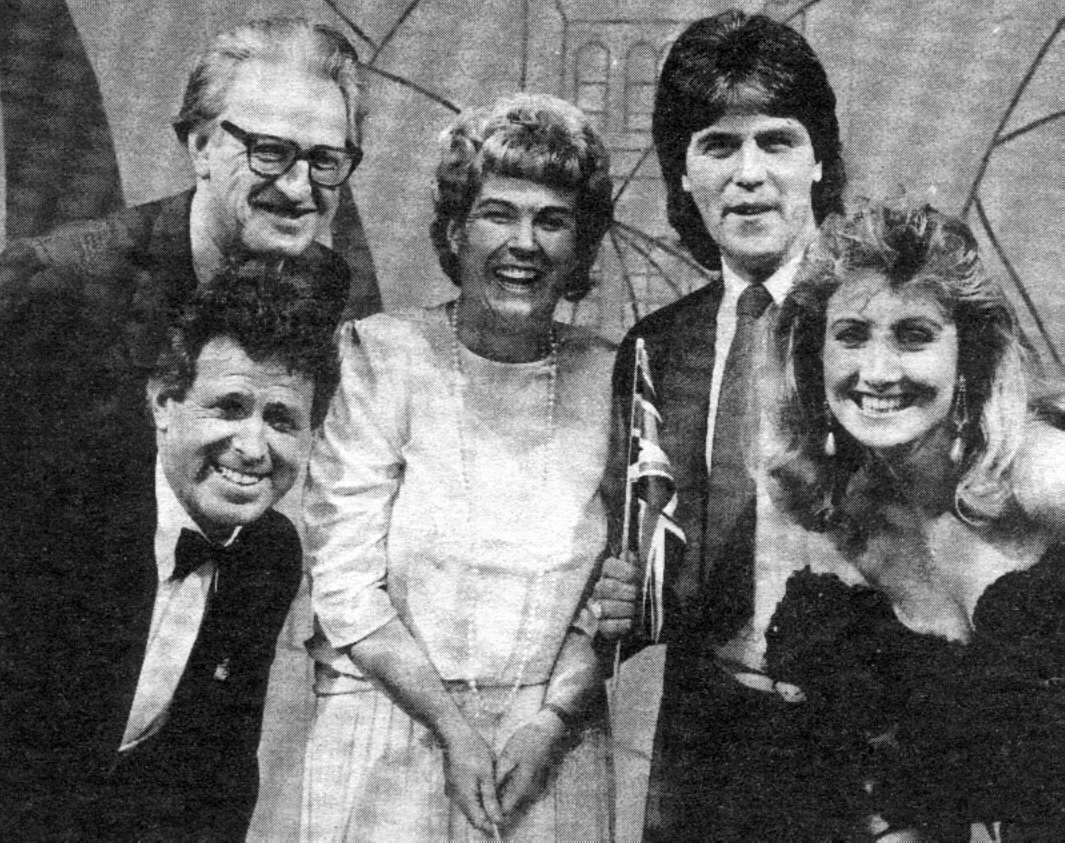 Local press cutting (Melbourne)
1st team of three
Roger Daphne David
Hosts Tony Barber and Alyce Platt
The GB players didn't mix that much, possibly down to a cultural divide as far as personality and characters were concerned, but I hooked up with a great down to earth Mancunian by the name of Alan Dargan, a builder by trade, who preferred to go bar-crawling instead of doing any preparation or homework for the show! We had some laughs throughout the fortnight and they had to cut a few of his own segments on the actual recordings, as they were deemed rather controversial for a show of this profile. One section showed a selection of famous faces on a grid, and the players could choose one in order to reveal a question. Boy George was one of these on display, and Alan (who had been drinking before the show) shouted out "I'll have the poofter!!" which creased up the studio and crew alike, before stopping then restarting the recording when everybody stopped laughing and settled down. He is the big chap, next to me in the group photo below. I was asked to knock out a quick impression, so duly responded with a Michael Crawford /Frank Spencer takeoff -he was still very popular in Australia, and they managed to drag up a beret from the props department!
We all had a fantastic time in Oz, and this show was superbly hosted by one of their top presenters, a great guy called Tony Barber who is very well known as a Pom made good Down Under. Very slick and a great personality, which helped The Sale of the Century become one of the best rated TV quiz shows in that part of the world, aided by the lovely Alyce Platt. I decided to wear a colourful patriotic mix of red white and blue, and even got the chance to knock out some comedy in amongst the serious game at hand. The Grundy production staff were terrific, and treated us all with so much respect and courtesy, so this was really a trip of a lifetime for me with great memories of an amazing city and its people. We spent the last night at a swish Chinese restaurant in Toorak, one of Melbourne's most affluent areas, before flying back to reality in the UK and onto my next TV quiz show appearance. Unlike Daphne and other 'serious' quizzers, I was still not tempted to 'study' for any shows, and just lucky enough to have a retentive memory plus instant recall which has helped me along the way as I appear on show after show. This episode in my life showed how anything can happen as a result of appearing on a TV quiz show and it was one of the most memorable times of my life - I think I'll try and win another trip back to Oz......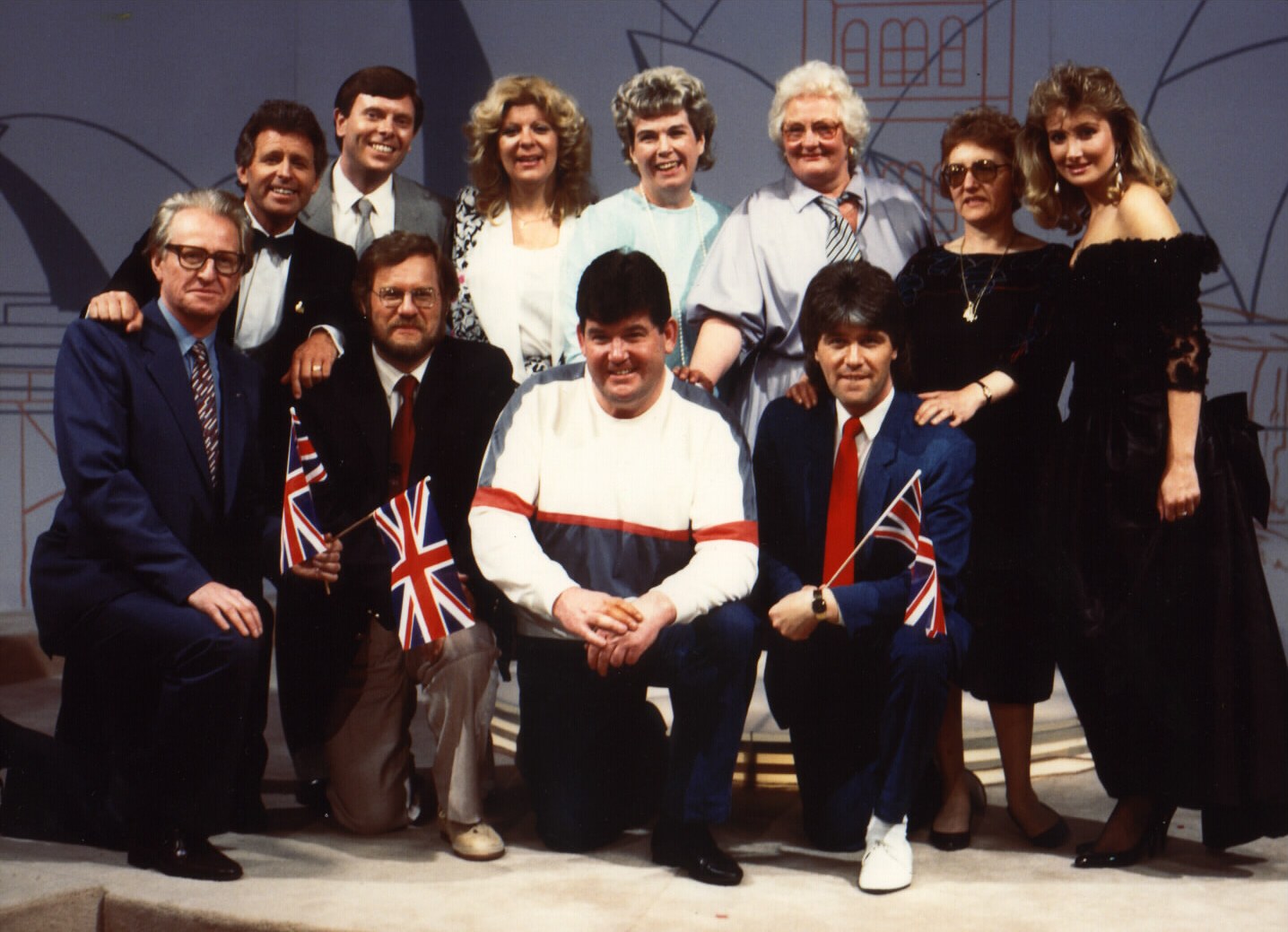 GB Team 'Sale of the Century- Ashes' 1986
Photograph courtesy Grundy TV Australia
Read more on the amazing Daphne at: http://www.ukgameshows.com/ukgs/Weaver%27s_Week_2014-05-25
December 2011-Just discovered that this show is now on You Tube!
http://www.youtube.com/watch?v=L8Jpc6LqtIE
Really weird to see it all again, although I have a poor quality recording. Cant believe this was all those years ago but fun to see it, despite banging that answer button just after Daphne! She was/is amazing and shows her dedication and preparation for these quiz shows that were just becoming more popular at that time. I may not have won anything, but had a fantastic fortnight Down Under. This was my second TV quiz show and as soon as I got back to England, the ball started rolling again, as you can see by the story so far.
P.S. www.davidstjohn.co.uk/yoursquizzically.html
Back to TV QUIZ SHOWS Click on SITE MAP to navigate the pages