Click on SITE MAP to navigate the pages Back to Home Page Contact David
January 2020-update. This (old) page was the start of an amazing journey across the decades!
www.davidstjohn.co.uk/yoursquizzically.html
Sale of the Century
1982
"LIVE FROM NORWICH.....IT'S THE QUIZ OF THE WEEK!!"
The prologue......
Like many people who watch TV quiz shows and manage to 'beat' the onscreen contestants, one often finds that (envious?) friends and family start to take the mickey. Or you get the odd sneer of "Mmmph - what's the use of all this knowledge and silly trivial facts in your head - what good does it do you?" These were the catalysts that set me on a new path in my life, although not that far removed from my chosen occupation, in which I had so far not been able to crack the television arena, despite odd attempts at talent show auditions such as Opportunity Knocks, New Faces and the like. Most of my life has been spent in the entertainment business, with several years of singing with bands, before going solo with an all round mix of comedy, vocals, impressions and all manner of other talents. My educational background was fairly good, including a stint at grammar school, although I dropped out at 16, due to a mixture of apathy, rebellion and the need to do something more exciting with my life.
I discovered that I had a good memory plus fast recall for song lyrics, gags and all manner of trivia absorbed from reading, watching and listening to a wide variety of sources, without 'studying' and this was a legacy from my father, himself a bit of a 'comper' albeit restricted to odd newspaper quizzes etc. Time to use it!
THE SALE OF THE CENTURY 1982
Q: Can you name the solo organist on this show? Answer at the foot of this page
Like most TV quiz shows, it starts with watching one, then applying for an audition as advertised at the end of the programme, or in local and national newspapers etc. I can't remember much about the early years of applying for these shows, but they generally take place at a town or city in various locations around the UK, so I filled in the form as sent from the production office, then undertook my first audition for 'The Sale of the Century' one of the most popular shows of all time and very big at that time. TV quiz shows always like to cast outgoing confident players, so my natural exuberance and general knowledge must have impressed them as did the next 30 shows (at time of writing May 2014). For most auditions, it is the case of "Don't phone us - we'll phone you" and I was ecstatic to get that all important call, to appear on the show, although dreading the few hundred mile round trip journey to Norwich, just for travel expenses and the possibility of making a fool of myself, alongside experienced quiz people!
My wife and I enjoyed the hospitality shown by Anglia TV, with a hotel stopover, meals and such, before going onto the studio the next day and my first ever experience of appearing on peak time television. Although not possessing an academic background, I felt confident in my general knowledge and instant recall, as well as having an advantage in front of the cameras and studio audience, after years in front of the spotlight so to speak. I also enjoy having some fun with all and sundry, so a few laughs on and offscreen have helped me along the way, as well as providing 'good TV' for the production staff. Mind you, I have also upset a few miserable sods along the way, but they can get stuffed! As they say in Latin: NIL ILLEGITIMI CARBORUNDUM (apologies to any Latin scholars..)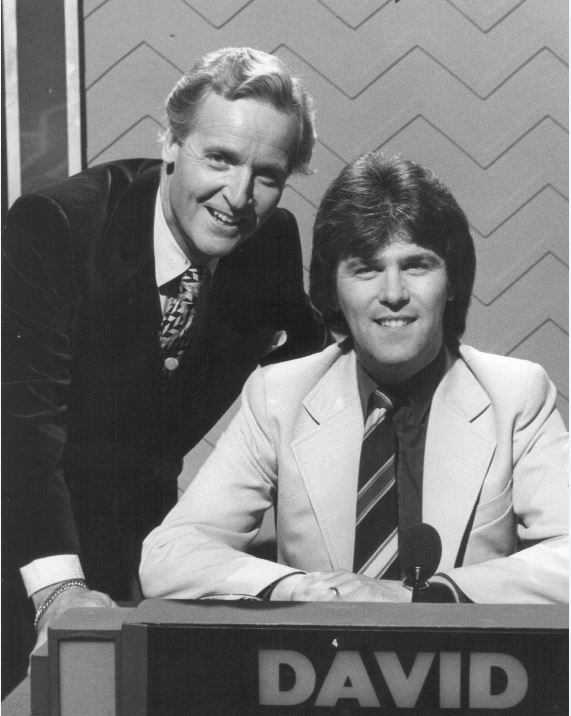 I am not going to elaborate on the actual format of this or other TV quiz shows, but a good description of these programmes can be found on various websites including: www.ukgameshows.com - just navigate to the relevant section. Hosted by one of the best presenters in the business, none other than Nicholas Parsons, whose long career is testimony to his many talents and versatility, going way back to 50s TV/radio/film and comedy shows, straight acting plus all manner of outlets up to the present day. I met up with the other two players, one being a very pleasant middle-aged housewife called Dorothy and the other was a complete contrast to my good self- a parish priest named Terry, resplendent in his dogcollar! We all got on well together and looked forward to the actual recording, although I detected some nerves on the opposition seats. Nicholas and the two glamorous hostesses made themselves known to us, with confidence boosting chat and pre-show warm-ups, and off we went. I soon found that I was banging in the answers with a fast-buzzer action, and avoided the temptation to 'buy' any goods on offer throughout the show, which would have reduced my accumulated winnings so far. The other players did 'purchase' a couple of things, possibly due to my score soaring ahead as I was on a roll, so maybe decided to grab what they could, or face going home empty handed, apart from a few quid racked up on their scoreboard. Terry the priest raised more laughs, when he buzzed in for a collection of fine wines, so he must have had quite a good weekend following the show - I would have loved to have heard his next sermon!
A couple of big laughs throughout the studio came, when I managed to beat the vicar on the buzzer, for a couple of Bible-based questions, as Nicholas mildly 'chided' the man of the cloth, for not getting them before me - the vicar even blushed slightly but took it all in good fun a really nice guy. Nicholas Parsons must rate as the perfect quiz show host as he rattled through as many questions as possible, but in a clear articulate voice, unlike many other less talented hosts in years to come - he later explained that this is due to him wanting players to win as much as possible without too much waffle from the host - what a pro! Many could learn from him........
Towards the end of this fast-moving show, the questions came thick and fast, and Dorothy started to catch up but not before the big bell went to signal the end of the show and the amazing feeling of actually winning my first ever TV quiz show! My head was spinning as my success sunk in, before being asked to join Nicholas for the final 'Sale' and pick of the main prizes, although I was only a few quid short of going for the jackpot prize of a car. A last laugh,. when he mentioned that there was 'something behind the curtain that you can't buy" to which I cheekily replied "The girls?" before they opened to reveal the goods on offer. I chose a couple of Honda 50 mopeds (see below) which were shipped to my home and duly sold a few days later, but I still retain the memories of a fantastic time in Norwich. I was now determined to try and try again, being well and truly hooked on these shows, although it took another couple of years before I heard back from a researcher, connected with the 'Sale of the Century', and this would take me on a journey of a lifetime some few thousand miles Down Under and representing my country, in an Intercontinental TV quiz show challenge! Just go back to the main TV quiz page, to surf by this second show which was a most unexpected spin-off from this firstexperience - it just goes to show that anything can happen!
I was also the first entertainer to have appeared on this show, and Nicholas gave me a few good 'plugs' at the end of it all, as the girls joined us for the closing shots as seen in the photograph. My wife and I met up with him a few years later, when he was appearing in one of our local pantomimes and he invited us backstage for a nostalgic chat about one of the finest TV quiz show of all time - I will add some photos of this, when sorting through my massive collection in the loft, along with other pictures as I develop these new pages dedicated to quizzing.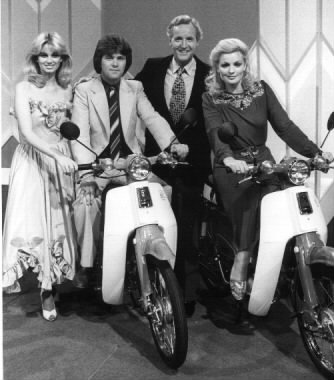 Photograph courtesy Anglia Television
Answer: PETER FENN
Take a look at Nicholas Parson's own website at: http://www.nicholasparsons.co.uk- still as busy as ever!
P.S. www.davidstjohn.co.uk/yoursquizzically.html
Click on SITE MAP to navigate the pages Back to Home Page Contact David
ęDavid St John 2014