Back to Home Page Contact David Site map
*Page updated 21 March 2012*
DAVID ST JOHN - THE SOLO YEARS PART 3 1974
I had enjoyed my first year overseas in Tunisia and was now ready to move onto fresh pastures with Thomson Holidays as their first ever resident professional entertainer. During the spring of 1974, I was asked if I would like to go to Greece for the summer season and you can imagine how quick my response was! I didn't know that much about the country and little did I realise how my life would change, thanks to this change of scenery.
I flew back to England from Tunisia and then straight out to the magical island of Corfu which has always been a popular destination for British holidaymakers and other European tourists. My new base was to be Roda Beach Hotel some twenty miles north of the main Corfu town, which took a good hour as the road zig-zagged across the mountain of Pantocrator (God - the mighty creator) before turning into a dusty track that led through tiny villages and olive groves before reaching the coast which runs along the top of the island. I was amazed how green and lush the island was, but this is due to the very heavy rainfall that hits Corfu over the winter months - something that few tourists ever see out of season.
I soon got to know the Thomson Holidays resort manager David Tait - a great guy along with other reps who were really friendly and welcoming. As the hotel was not yet ready for the first incoming guests, I was initially placed at the Royal Hotel Kanoni which overlooks the very noisy airport but compensated by one of the most beautiful views in the world as you look over the inlet of the Ionian Sea with 'Pontikonissi' (Mouse Island) in the bay and a beautiful little monastery in the foreground as seen below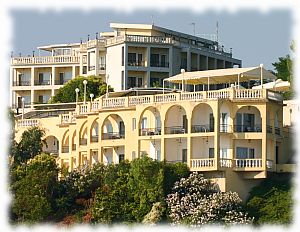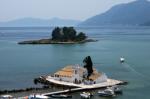 Hotel Royal Kanoni View from the hotel
I stayed at the Royal for a few weeks and did some shows in the adjoining club although mainly vocal due to the lack of English speaking tourists. I also fell in love with the nearby Corfu town with its beautiful mix of Venetian buildings along with the British influences as a legacy of our rule during the 19th century. Greece celebrated its independence from the Turkish Ottoman Empire that had ruled over much of the Balkans since the fall of Constantinople (modern Istanbul) back in 1453. The English forces played a major role in their struggle for freedom and the Corfiotes have never forgotten our help which explains the mutual love between this most Northernmost corner of Greece and millions of our own visitors ever since.
I then faced another challenge in the shape of the Greek language, which is nothing like any other tongue! Having always been keen on learning about my surroundings, I took the plunge and quickly mastered the alphabet followed by popular phrases and grammar etc. As usual, I soon learnt the main swearwords from the locals although most of them speak English anyway so knew most of ours! Greek is a very logical language and every word is pronounced as you read it, unlike the vagaries of our own confusing tongue and variations - in addition I then realised why some schools teach ancient Greek. This doesn't bear much relation to modern colloquial Greek but one can soon dissect some of our own medical and scientific words that stem from one of the oldest languages in the world along with the Latin based terms.
Corfu does have a magic about it and I hired a motorbike on a few occasions and set off on a journey of discovery around the island which is only some 40 miles long and around 20 miles across its widest area to the north. I stopped off at many remote places and was overwhelmed by the hospitality and welcome from local people with whom I practised my new found language skills. This was in 1974 and many of these Greeks were not really used to seeing that many tourists although this industry was building up quickly at that time.
It was time to go and check out my new base, so David Tait drove me up to Roda, avoiding the potholes in his Volkswagen Beetle and we reached the tiny fishing village that has been developed over the last few years although the main coast road hasn't changed that much. We then hit a few more bumps before driving into Roda Beach Hotel - a lovely mix of the main building facing the clear blue sea with small apartments nestling in the olive groves to the rear as well as other rooms close to the swimming pools and beach areas. They had been cultivating the grounds and the whole place had a sub tropical feel about it - the present setting is so lush and beautifully landscaped and well worth a visit.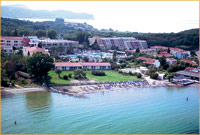 Roda Beach Hotel Corfu
I was introduced to the manager Aris (Aristotle!) Voutsinas - known as 'Mr Harry' - one of the greatest characters I have ever met and immediately bonded with this larger than life Greek who became a firm friend. I guess he was in his Fifties and was very popular with his staff, local people and hotel guests with his funny ways and great humour although running a tight ship at the same time. He roared with laughter as I answered his own Greek swearwords with my own newly learned phrases as well as having loads of fun with staff and taxi drivers who were on constant duty at the hotel. I need to dig out some photos from the loft and add them to this site when I get round to sorting through thousands of prints from over the years!
On this visit, David Tait and I walked around the hotel which was being frantically prepared for the first guests due in a week or so - it did resemble a building site in some areas. I wandered into a temporary office and set eyes on a beautiful slim suntanned Greek girl with jet black hair and sparkling eyes who was working in the accounts office. We exchanged pleasantries in my broken Greek and her newly learnt English which she had studied at the Greek National Tourist Academy on the mainland across from Corfu island. Little did I realise what would become of this initial meeting as the long hot summer kicked in - more of this later.........
My new duties were as entertainment manager and to provide my own solo comedy/vocal shows as well as organising a daily programme to keep guests occupied in between their sunbathing and other activities. Practically the same kind of format as in Tunisia but with the main advantage of mostly British holidaymakers. The hotel handled about 700 guests at that time and were mostly UK clients and very much a family hotel, so I set about this task aiming to provide something for everybody. Thomson also provided childrens' reps and I met two lovely girls - Kathy and Christine who worked alongside me in various activities throughout the day. I also did a few teatime shows for the kids apart from my other sets in the bars, restaurant and beach bar close to the water's edge during the hotter summer nights. Another great pal was Alex Lane, an Anglo Greek guy who was one of the Thomson reps and also had a musical background, having been in a recording band called Fox and was also involved with then likes of Dave Courtney of linked Leo Sayer fame etc. Alex played superb keyboard and often accompanied me on a few of my sets - I tracked him down to California where he has been living for many years and still involved in the music business.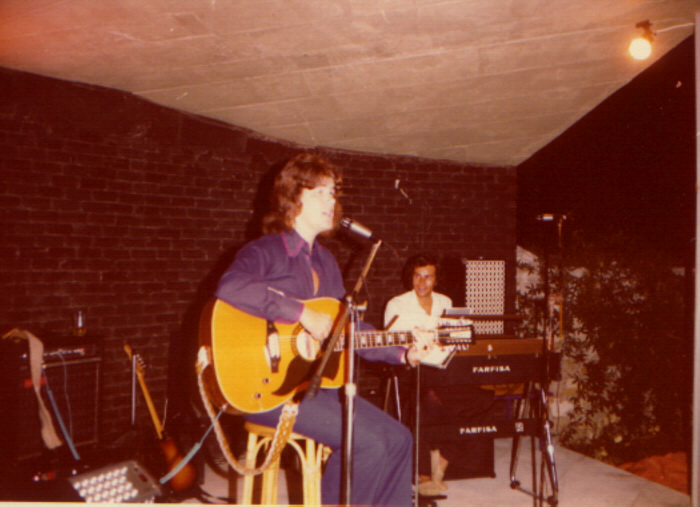 Playing at the Beach Bar with Alex on keyboards
One major drawback was with the new resident band, who were more of a local older traditional music group and were unfortunately not up to scratch to entertain the holidaymakers. I tried and tried to knock them into shape and the hotel management then replaced them with a fresh young group of lads from Corfu Town and they did have a decent repertoire more suited to the new audiences on their way in. They soon picked up my own songs and we were then able to provide a full show along with their own Greek traditional music that got people up dancing and partying away! I can recall that we had Achilles (!) on keyboard, Tassos on bass, Petros the drummer and I think it was a guy called Aristides on guitar plus a great bouzouki player (can't recall his name) Nice lads and they loved this new approach to music and improved throughout the summer.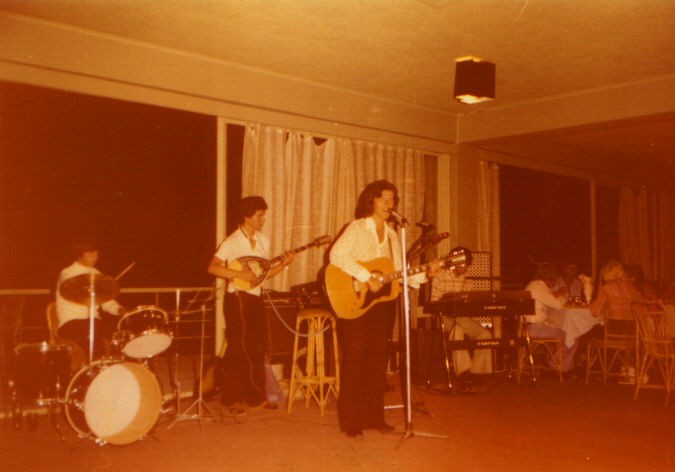 David singing a Greek song with the band. Just love that bouzouki sound!
Some executives came out from the Thomson head office in London and we had more discussions on visiting guest entertainers as arranged in Tunisia with much success. In between these meetings, we had some great boozing nights out in Corfu Town and loads of laughs in between - my favourite guys were Brian Bament and Phil Morrell. We got on so well throughout my couple of years with Thomson Holidays - a terrific organisation to work for at that time and these heads of department were fun to work with, and made good use of their expense accounts! Fast forward to 2012 and I have just noted that Phil Morrell is 'lending' his magnificent boat "The Spirit Of Chartwell" to the Queen for use in the Diamond Jubilee Flotilla along the Thames! I wonder if she wants me along as onboard entertainer? See this:
http://www.telegraph.co.uk/news/uknews/the_queens_diamond_jubilee/9108745/Barnardos-boy-who-will-float-the-Queens-Jubilee-boat.html#disqus_thread
Amazing story of Phil's background and very moving life story
For me - Corfu was (and still is) paradise and I enjoyed this summer season, making many new friends amongst the management, staff, local villagers as well meeting so many lovely guests who really enjoyed their stay, apart from the usual teething problems that affect any new development. The phones were a nightmare along with odd sewage blockages (no mains drains in that remote corner of the island) plus the occasional power cuts! We made the best of these problems and I often performed the odd 'unplugged' show by candlelight in the main bar with my guitar and vocals for the late night drinkers - a real 'Dunkirk' spirit!
At that time in 1974, Greece was still under military rule of the Right Wing army junta that had taken the country over along with deposing King Constantine who was then exiled to London where he and his family have lived ever since. The Greek royal family has close family ties with our own head of state, and not forgetting that Prince Philip was born on a kitchen table at Mon Repos villa just a few hundred yards from where I stayed at Kanoni on my first visit to Greece! The military authorities were very strict and repressed many leading left wing reactionaries including the likes of Mikis Theodorakis ('Zorba the Greek' and much more) These activists also chose the safety of exile throughout the late Sixties and much of their music and writings were banned in Greece, so the people had to be careful. Gambling was also forbidden and we managed to smuggle in a bingo machine, which had been dismantled, spread out in differing suitcases by Thomson staff and bosses. If customs sniffed around, they were just told that it was an 'amusement machine' for the kids to play on! It soon got reassembled and used for the odd bingo sessions, although I never experienced an armed raid by Greek police in this (then) quiet part of the island. I believe that a few backhanders helped to turn a few eyes as we carried on this illicit game and most local police were relatives of management and staff anyway!
History buffs will know that this regime were finally kicked out of power, following various coups that were linked to the invasion of Northern Cyprus in July of that same year in 1974. Quite a worrying time to be in a country that was teetering on the edge of a war with the old enemy of NATO backed Turkey. Things were quite tense and it was heartbreaking to see local youths being rounded up as emergency conscripts and gathered up in army trucks that rumbled out of surrounding villages filled with worried families. Luckily, things settled down and the rest of the summer passed by with glorious weather and more great memories for me. Sadly - the beautiful island of Cyprus is still divided to this day to the shame of the various politicians and diplomats of the world and should have been resolved after so many years
I used to enjoy meeting and greeting the new wave of visiting guest artistes flown out from the UK and many of them only had to do one or two shows - sometimes at other Thomson hotels but our main night was a full cabaret dinner/dance in the large upstairs restaurant. I used to help out with rehearsing and translating the musical needs of these artistes with our resident Greek band, as their sheet music notation is slightly different. Its mainly on chords and they are familiar with the Italian form such as 'Doh Reh Mi' etc where we use the C D E and so on. Like in Tunisia - I performed my own comedy vocal show then sat in with the band and conducted them through the sheet music plus shouting out instructions in Greek where needed! This was to help the visiting artistes get through their own act where musical backing was needed and it was great fun for me too, as I enjoy any new challenges.
We had a DJ called Jeremy Dick (yes -really!) for a short while but he then left and I had to fill in for a few weeks until a replacement could be found - this made for very long days/nights but I just got on with it (plus extra wages of course) We were then lucky to have a crazy blond long haired Cockney DJ called Barry descend on us and he was a terrific personality to work with. A real Ladies man, and the previous DJs surname would have been perfect casting as he took full advantage of his status! We had some great times and the guests loved him too - again, I often wonder where he is today, like so many 'ships passing in the night' in the world of showbusiness. You'd be amazed how often I happen to turn up to a modern day gig and bump into old faces from many years ago, as well as many audience members who have seen me in whatever venue I was appearing at.
All good things come to an end and the season was approaching its October closedown. Following my summer season in Corfu '74, I was then asked to return to Tunisia by Thomson Holidays and flew back to Sousse where I was firstly based at the Tour Khalef Hotel in Sousse as resident entertainer. I performed my solo comedy, guitar and vocal act in this and other hotels in the area as well as being involved in variety shows featuring imported entertainers from the UK and made many more pals along the way. Next door was the Marhaba Hotel with a superb cabaret room and once again, I worked alongside a Tunisian band who backed me and other entertainers - luckily my French helped to sort everything out as far as musical cues, arrangements were concerned and they enjoyed this new challenge of working with the Brits! I also learnt some Arabic during my stay in this lovely country which went down well with the local Tunisians who appreciate people making an effort to find out more about their destination. Tunisia has luckily never suffered from the negativity and downside of some Islamic countries and this is due to the legacy of its former colonial status when governed by the French, like other North African neighbours.
Hotel Tour Khalef, Sousse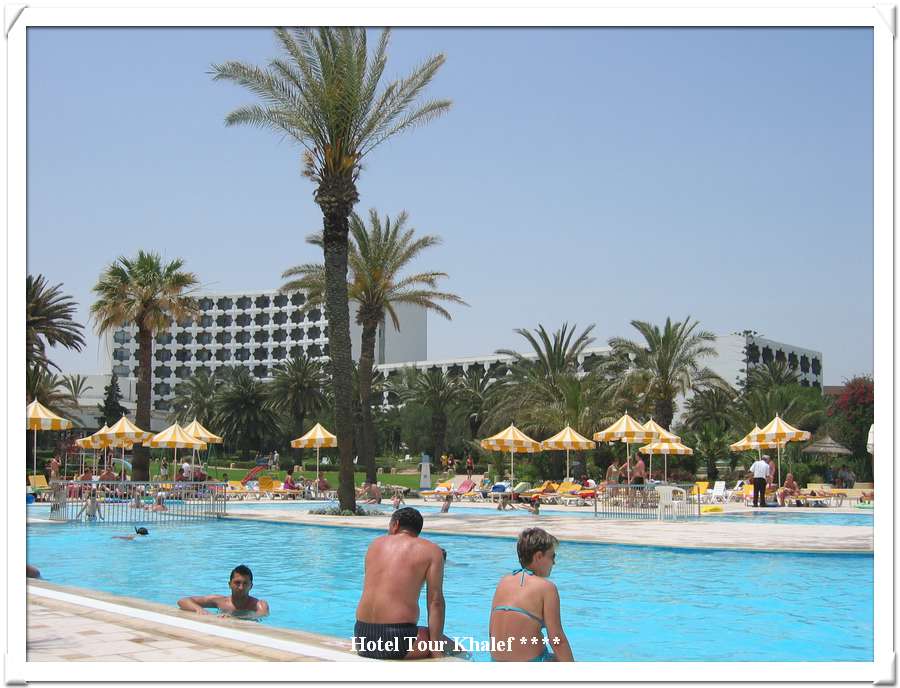 I had a great time during the (warm!) winter of 74/75 and then looking forward to my new position at the brand new Sahara Beach Hotel at Monastir - a beautiful new complex of three tower blocks right by the side of the Mediterranean catering for over 1,000 guests! Again, I was resident entertainer and based in the hotel nightclub which featured DJs and another resident band of Italian musicians with whom I got on very well, using a mix of English, French and basic Italian which I had picked up amongst other snatches of foreign languages. This came in useful as there were sections of guests from Germany, Holland, Italy etc so I was able to say a few welcomes in amongst the general entertainment although us Brits did suffer from the fact that many of them could not understand the comedy side of us all!
I decided to return to the UK in the autumn of 1975, after a couple of years abroad and make inroads into the club circuit which was quite busy at that time, so bade farewell to one of my favourite countries, which has always been a very popular destination for millions of people over the last three decades. Throughout my overseas work, I kept a scrapbook with a few autographed photos of some of the visiting entertainers and I have now added a new webpage with some of these great people. It gives you a rough idea of the Seventies entertainment scene which was a really good business to be in so take a look at:
www.davidstjohn.co.uk/turns.html
One of the biggest names I met was Marty Wilde and I have written a separate page at:
www.davidstjohn.co.uk/martywilde.html
Back to Home Page Site map Contact David
ęDavid St John 2006