BACK TO HOME PAGE BACK TO SITE MAP CONTACT DAVID
MARTY WILDE
...................................................................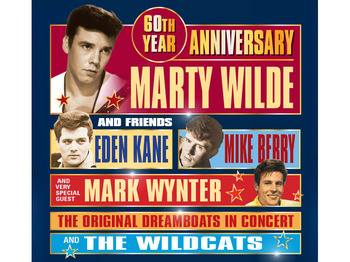 Autumn Tour 2017- at a theatre near you! Check the Flying Music website for dates:
REPORT:

8th November 2008 - I caught the Marty Wilde Show at the Alexandra Theatre Birmingham and another amazing night of classic rock n roll with plenty of nostalgia for the full house! The Wildcats backed the whole show and just perfect as Marty delivered many hits plus other great memories along with the ever youthful Eden Kane plus Mike Berry (looks 40!) who was replacing John Leyton (get well soon!) Marty's youngest daughter Roxanne- fresh from appearing with Kylie Minogue- also guested and looking so beautiful with the Wilde family talent genes to the fore. She sang brilliant 60s classics plus that haunting backup vocal with the ghostly chorus of 'Johnny Remember Me' as performed by her dad as a tribute to John Leyton. The Wildcats also knocked out a brilliant tribute of 'Diamonds' in memory of Jet Harris who had been on the last tour in 2011- terrific lead guitar and 'wilde' drumming that tore the place apart. Once again- Marty Wilde (now 73) showing no signs of slowing down and plain to see that he loves being on the stage after some 55 years in the spotlight. I doubt if we'll see any X Factor 'stars' (lol) topping the bill in 50 years time or any other number of so-called chart-toppers in recent years. Yes- we had the best of times and this and other 60s tours prove that that rock n roll will never die! Its what modern (recycled) musiC was built on but we had real stars- great songs and mixed with personality and showmanship as proved on this fantastic show.



Check Mike Berry's website- a very talented guy and you'd never guess his age if you didnt know him! http://www.mikeberry.net/



Eden Kane too: http://www.edenkane.com/




Marty Wilde: http://www.martywilde.com/
...................................................................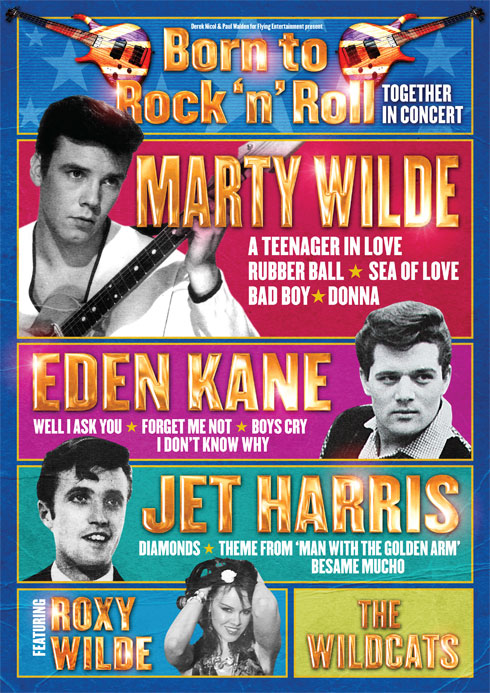 This terrific show toured the UK from 7 October to 20 November 2010- I caught the show in Birmingham and another amazing night plus one of the last appearances of Jet Harris who sadly passed away a short while after this tour
Check: http://www.martywilde.com/index1.html for venues/dates
This was another Flying Music Tour and check their website for more info on the best 50s/60s rock n roll shows in the world!
...................................................................................................................
If you have read my biography page you will know that I was lucky enough to have been born at the right time to experience the Fifties explosion of Rock and Roll which heralded a new dawn of teenage culture after the dull austere years in post war Britain. The old style dance bands had to make way for the exciting new sounds from across the Atlantic and pioneered by Bill Haley, then Messrs Presley, Cochran, Holly, Vincent, Lee Lewis and so many more innovative talents. As a youngster I was already singing along with these records on the radio or at the local dance halls when being taken by my family to soak up the atmosphere and see the 'grown ups' enjoy themselves. My first 'semi-professional' singing career was at the age of ten at the Royal Pier Pavilion (see other pages) at the Teen Party Nights and I used to knock out loads of classic hits backed by one of the resident bands.
In 1958, the American monopoly was broken by Cliff Richard with the classic 'Move It' - still sounds great nearly 50 years later! Cliff was then followed by more home grown stars such as Billy Fury, Adam Faith, Tommy Steele and many of these top acts were managed by Larry Parnes who ran a 'stable' of talent and given new names such as Eager, Pride etc. Only a few homes had television sets so people often popped into neighbours or friends' houses to watch the newest pop music programmes such as '6-5 Special' then Jack Good's groundbreaking 'Oh Boy' a fast moving music show featuring top stars of the day.
Cliff Richard has never denied being influenced by Elvis and still laughs at himself when watching the old shows with his curling lip and simmering looks at the camera! Another new boy in town came along at that time - a tall good looking rock and roll singer who was born Reg Smith in London back in 1939. Reg was one of many new singers appearing at the legendary '2 i s' coffee bar in Old Compton Street Soho London where Cliff and the Drifters (Shadows) were discovered along with many other blossoming stars. Larry Parnes saw the potential in this confident teenager and signed him up with a name change to Marty Wilde, in line with his other acts.
Marty was a natural performer and entertainer on top of his rock and roll talent and he became another of my favourite stars although it would be some seventeen years before I would meet and work with him some 2,000 miles away in North Africa! He was also a gifted songwriter and is behind many top chart hit singles as well as producing skills - not forgetting his first two children Ricky and then Kim Wilde who had massive chart success through the Eighties. I was living and working in Tunisia as the first ever resident professional entertainer for Thomson Holidays and appearing with my own comedy vocal act as well as being involved in the import of other artistes flown in from the UK to entertain the hotel guests of all nationalities. Many comedy acts were naturally only suited to English speaking audiences but the musical or magic based entertainers pleased a wide spectrum of foreign guests.
I was very excited to learn that none other than Marty Wilde was coming out for a couple of shows in 1975 and he arrived with his wife Joyce - an ex Vernons Girl from the late Fifties TV shows and whose marriage to Marty was greeted with horror by his many fans. Many stars tried to keep any romances away from adoring fans as getting married was considered the kiss of death to any pop star who 'betrayed' his worshippers! Marty was also accompanied by his good pal Bruce Baxter - a fine guitarist and session musician also involved in record production and much more. One major problem when working abroad was having non British resident bands who mainly played their own music sets and this was a new venture when being asked to accompany the UK artistes who carried written arrangements for their act. They all enjoyed this new challenge although I had to spend some time in rewriting some of the sheet music into the continental style of chord symbols - where we normally use the 'A B C' style of chord, they often use the tonic 'do re mi' scales. I was based at the Sahara Beach Hotel in Monastir near Sousse and was lucky to have an amazing group of Italian musicians on hand and we got on very well with each other, mainly speaking in French which they also understood plus some of my new found Italian phrases!
On these special nights in the main hotel showroom, I ran the whole evening along with resident DJ, the band and myself as compere plus my own cabaret spot. The room was packed for Marty's show and I introduced him before stepping back to act as M.D. (musical director) standing by the keyboard player. The band had no idea of who Marty was and knew very little of any songs that he or other visiting artistes featured but they followed me as I cued each song and did count-ins plus reading along the keyboard musical arrangement to make sure they all followed the right keys, tempo changes etc. Bruce also played lead guitar and made sure that we kept the whole show flowing and it worked a treat - mind you it is easier with the more basic rock and roll songs as opposed to the more complicated arrangements that we had to deal with (the female vocalists were often a challenge!)
This was one of the best nights I have ever had and it was a pleasure and privilege to have met Marty on this special occasion. These are a couple of autographed photos that he signed for me and my new Greek wife Maria who was still enjoying a long honeymoon in Tunisia as we had only been married a few months before.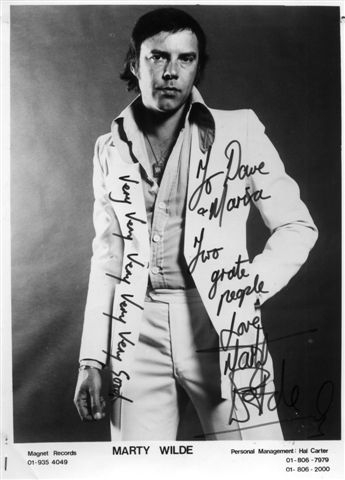 'Two grate' people! Having a laugh....
Marty was tickled by my wife's reaction to his show - 'very very very very very good' etc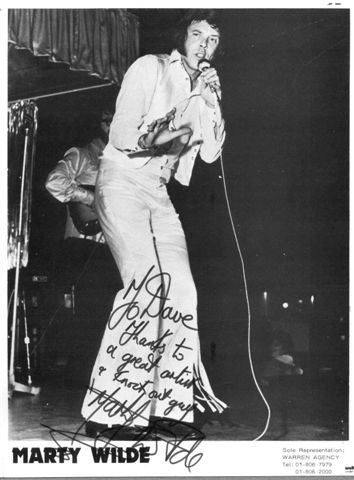 This reads 'To Dave - thanks to a great artist & knock out guy' Wow!
We decided to return to England in the autumn of 1975 and lived in North London for a while as well as keeping in touch with many entertainers that I had met on my foreign travels over the last couple of years including Marty. The Wildes kindly invited us to stay over Christmas of that year at the beautiful family home in the Hertfordshire countryside - a large thatched cottage down a small lane and we spent two fabulous days there although I had to dash off to Cambridge for an evening show! We also met son Ricky who was a blossoming singer himself and had been recording Glam Rock singles for a couple of years but didn't manage to emulate his dad's success.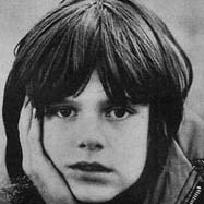 A young Ricky Wilde
Along with Ricky, we also met 15 year old sister Kim who, just a few short years later would explode on the music scene to become the U.K.s most successful female artiste. She had only been drafted in to sing some back-up vocals on another Wilde family composition - a fantastic track called 'Kids in America' but then tried a few lead vocal recordings and the rest is history! Click on this photo below to read a Wikipedia entry on the lady herself: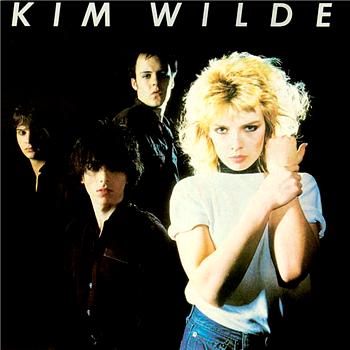 Early 80s promo with Ricky at the back
Kim has sold millions of singles and albums as well as finding a new fame with her gardening interests as well as performing all over the world with an amazing fan base - just like her dad! Click on KIM WILDE to take you to her own website and if you search the net you will find many unofficial fan sites all over the world.
My wife and I enjoyed our Christmas break with the Wilde family and one couldn't wish for a nicer down to earth family - we had some laughs, played some music and kept in touch for a while. It also changed our lives as we also had the pleasure of meeting the Wilde dogs - two gorgeous Yorkshire Terriers called Butch and Louise. We fell in love with them and a year later we took the plunge and bought our very own little Yorkie - the first of many females of the same breed and still with these great little dogs after some 31 years! All our dogs have had Greek names and this is the first one of many pictured below - I will be adding another webpage on these tough but affectionate little dogs in the near future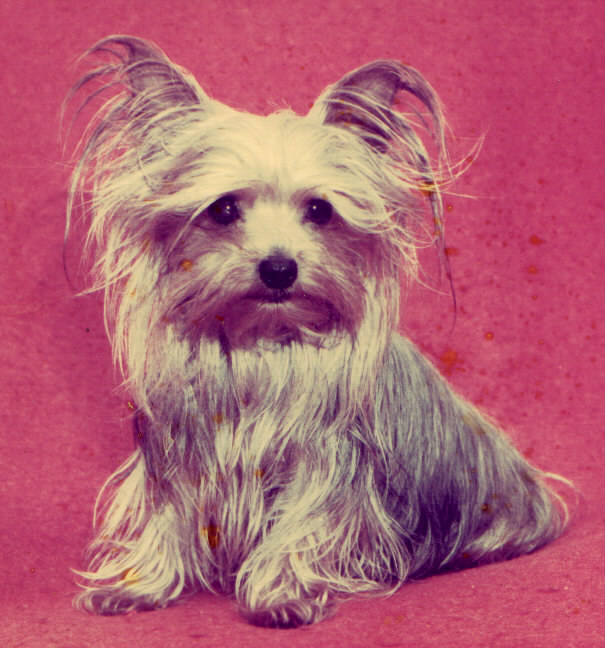 Aliki
I have met up with Marty on a couple of shows over the years and this year, he is embarking on a 50th anniversary tour as he celebrates half a century of performing and songwriting plus many more avenues in the business. Now 67 years of age but still loving the buzz of live shows and attracting audiences of all ages who are knocked out by his amazing back catalogue of hits plus more rock and pop classics made famous by his old pals, some of whom are no longer with us. He also toured with fellow legend Joe Brown in recent times to standing ovations wherever they went as well as appearing on various package shows with other well known stars of that era. Marty is a great showman and gives real value for money as well as spending time with his fans and doing a lot of charity work that many rarely know about. If anyone deserves a gong, then it's Marty Wilde - mind you, he would probably play it!
Take a look at his official website where you can check out his news and tour dates as well as joining an e-mailing list to keep you informed of what he is involved in. Go and see him 'live' and you will have one of the best nights out, irregardless of your age! Rock and Roll has never been away, thanks to one of the Golden Boys of the Fifties who can still show the young 'uns what it's all about! Six decades of sheer talent and diversity - amazing.............
Click on this picture for Marty's own website: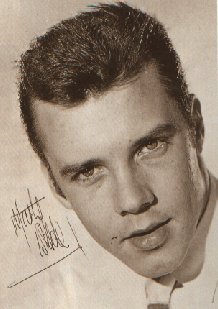 Marty - A 'Teenager in Love'!! (Just met Joyce - wife to be)
BACK TO HOME PAGE BACK TO SITE MAP CONTACT DAVID
ęDavid St John 2017