Click on SITE MAP to navigate the pages Back to Home Page Contact David
DAVID ST. JOHN - THE SOLO YEARS: Part One
Page updated 19 February 2011
I left Southampton in 1972 having to decided to follow a solo career in entertainment, having enjoyed my previous years on the group scene and much more. If you wish to trace my roots back, then go to my BIOGRAPHY page to learn more about my memories. I decided to move to London as a stepping stone to wherever life might take me and a singer friend of mine was also frustrated at getting nowhere in Southampton - a guy called Tony Ravel.
Having just left groups, I decided to learn to play the guitar properly, having only dabbled with a few chords over previous years. I bought an EKO 12 string electric guitar and set about teaching myself how to play as well as building up a song and gaglist to mix the vocals and comedy. Being the early Seventies, I was influenced by contemporary current singer/songwriters such as Neil Diamond, Neil Young, Bob Dylan, Cat Stevens, James Taylor amongst others so added many of their songs to my extensive repertoire of popular music from my formative group years. I knew that I had to build up an extensive song list to appeal to all ages as well as developing the comedy side to cover a wide range of audiences.
In 1972, Tony and I loaded my old 1963 Ford Zephyr and set off for the big city and by a stroke of luck he knew a Canadian singer by the name of Bobby Hanna who was working around the West End nightclubs as well as recording with the Philips and Decca labels. Bobby was a terrific good looking vocalist and nice guy too - his closest brush with fame came when he sang the film theme song to 'Hannie Caulder' - not a major blockbuster movie but it looked good on his CV. Bobby shared an apartment near to Marble Arch along with a Greek Cypriot businessman Stan Mouzouris who had various interest including dress factories etc. Bobby and Stan kindly allowed us to crash there for a few days which turned into a few weeks and we had some great laughs throughout that long hot summer. At that time, I realised that I was very lucky to be living in a very exclusive area which came into the public view in 2005 when a certain Mr A. Blair purchased a house in the same street. Yes - none other than: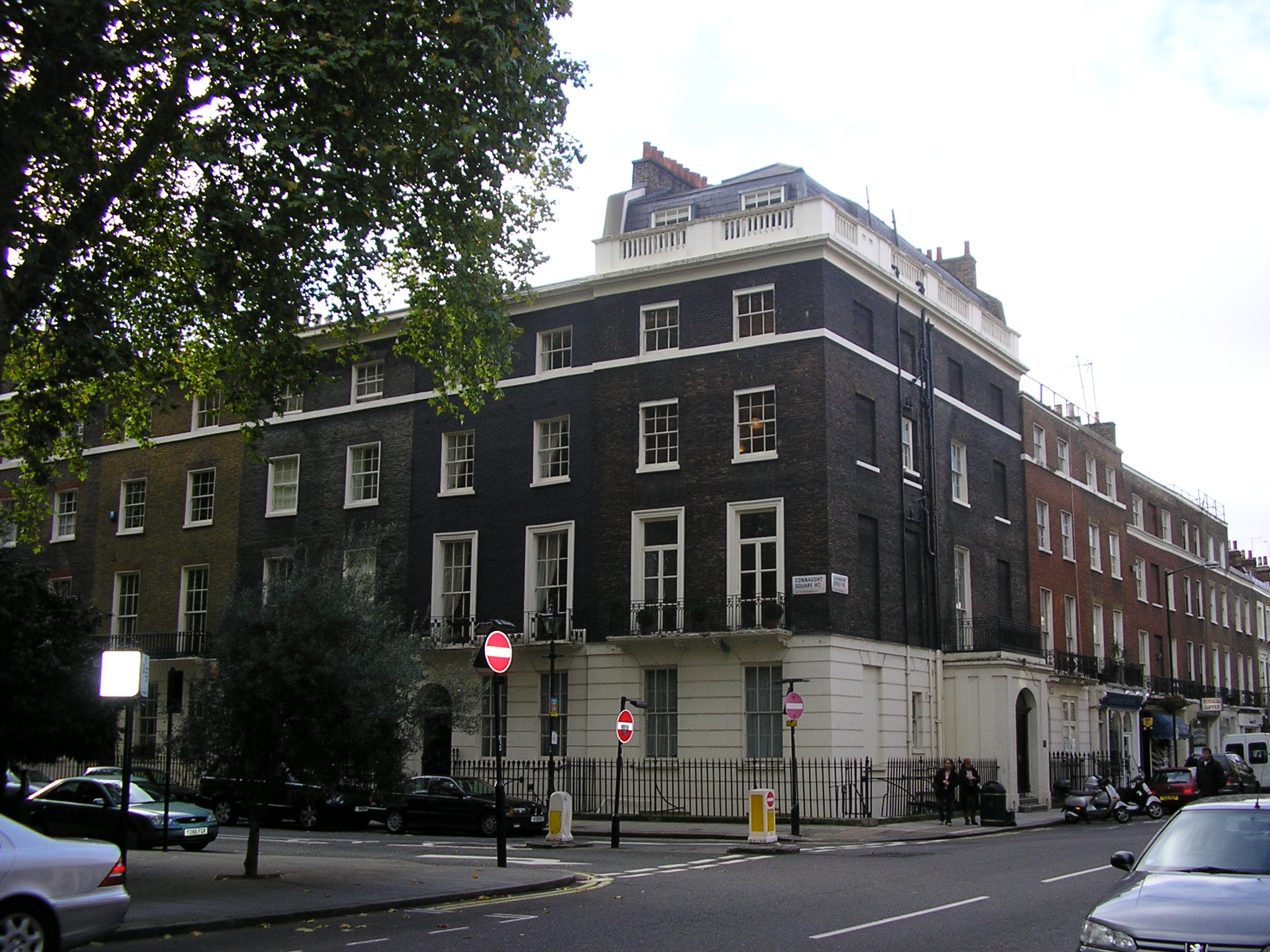 CONNAUGHT SQUARE LONDON W2
Bobby and Stan rented the second floor flat at no.23 Connaught Square on the north corner as above photo - a quiet part of London just off the Edgware Road and a few hundred yards from Hyde Park across the Bayswater Road. They paid the princely sum of £30 per week, which seemed a lot of money to us at that time as a pair of unemployed entertainers! In 2005 the Blairs bought no. 29 a few doors to the left for some £3,500,000 as well as buying another house in the next street that backs on to this first mansion so around £5m worth of real estate. The local neighbours now have to put up with gun-toting police on the doorstep as the Blairs have chosen to live in the property when in Town, although spending much of their time at their palatial country residence.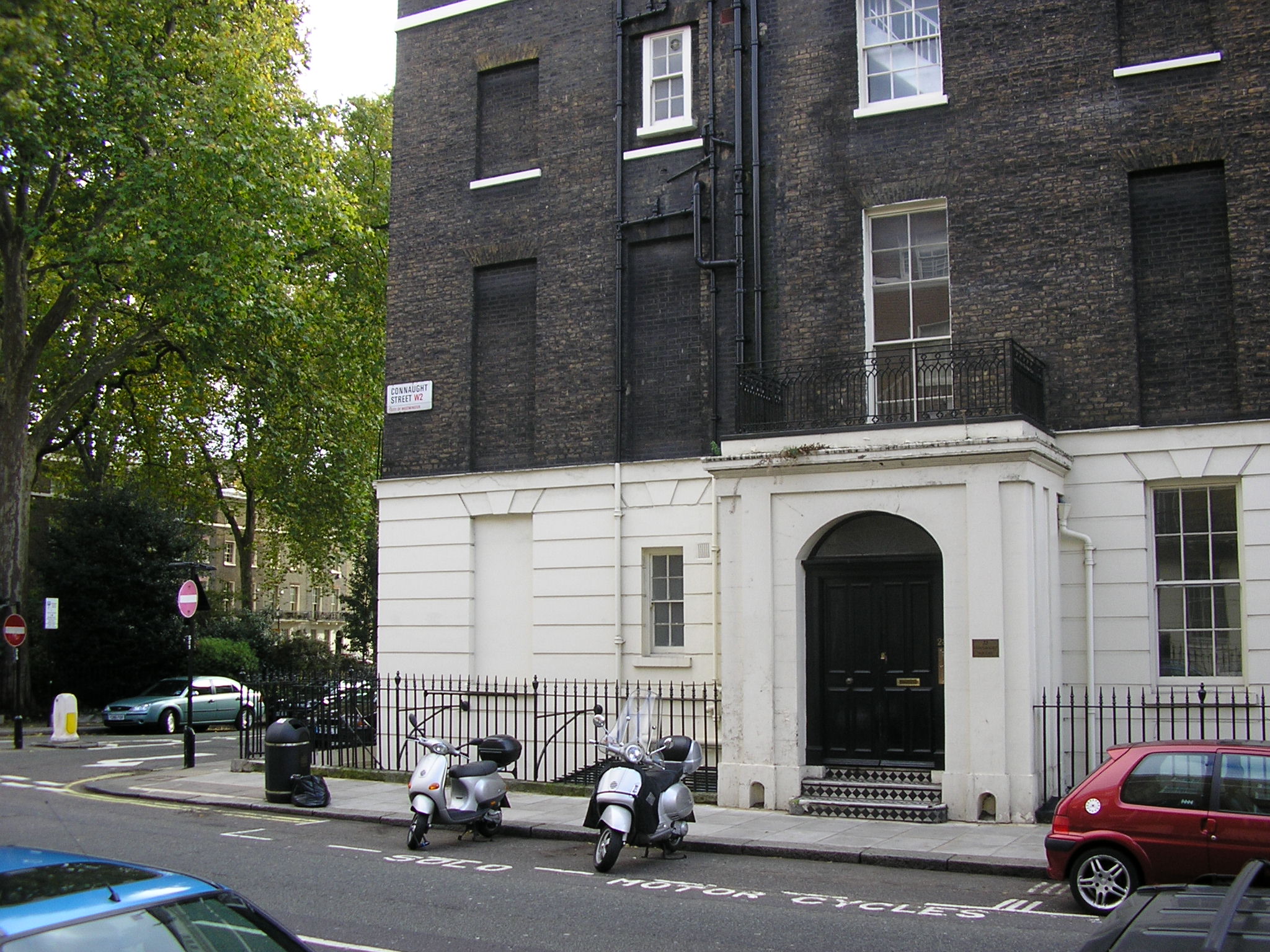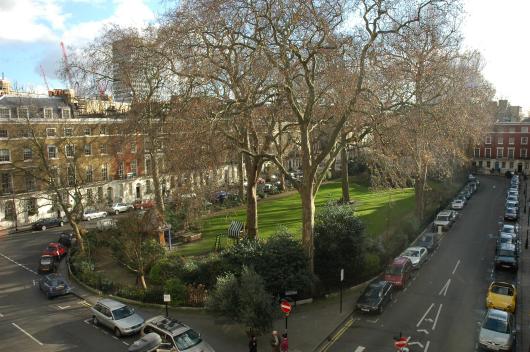 Entrance to 23 (taken 2005) View from the NW corner showing gardens
Connaught Square has had many well known residents including Richard Branson whose first business venture was conducted in a run down basement flat! Other names include Paul Oakenfield the DJ, Michael Heseltine, Jonathan Aitken and the town house at no. 1 was the notorious base of Victor Lownes (Playboy Club owner) so quite a racy part of town during that time but much more sedate these days! I also popped down to the local recording studio at Hyde Park Corner with Bobby as he was working with top arranger Johnny Franz of the Philips label as well as Patrick Campbell Lyons - he had his own hit with a hippy type band called Nirvana (way before Kurt Cobain & co) Great hit called 'Rainbow Chaser' and Patrick also auditioned me by laying my own voice on this same backing track but nothing came out of it. Little did I know that I would be learning to speak Greek within the next couple of years!
I really loved my short time at this prestige address and Stan used to drive a rather smart blue American Chevrolet Camaro and we all piled into his car to travel to various gigs where Bobby was performing. Loads of laughs and harmony singing on the way and it also gave me a good insight into the club scene which lay ahead of me. Bobby appeared at many top Soho clubs and we used to go along to upmarket places such as Churchills, The Latin Quarter amongst others for a taste of the high life that we definitely couldn't afford at that time! We also used to pop round the corner of the square to the apartment of Joan Turner - a well known variety artiste in the Sixties. She was billed as 'The voice of an angel - the wit of the devil!" and definitely suited her! Joan was partial to a tipple and was a great character to have met in those days, as we called in to see her and have a laugh and a few drinks. Claudia Winkleman the gorgeous TV presenter now lives in the square, but I very much doubt if I'll ever be able to move back to my old haunt-unless the lottery numbers come up!
I also visited the home of Cat Stevens as Bobby was pals with his brother David Gordon, and they lived above the family Greek Cypriot restaurant (The Moulin Rouge) in Shaftesbury Avenue just a short distance from Piccadilly Circus in the heart of the West End theatre district. Unfortunately, I never met Cat himself although Terry Sylvester of the Escorts (then later the Hollies) was there on one occasion and I enjoyed talking shop with him too! Terry can be seen on this great touring 60s show as below at a theatre near you, so take a look at the Flying Music website for info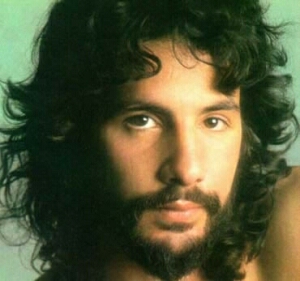 Cat Stevens Terry Sylvester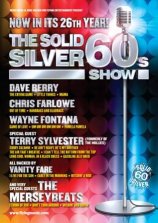 Solid Silver 60s Show- Feb to May 2011
Check: http://www.flyingmusic.com/our-shows/the-solid-silver-60s-show/
Plus Terry Sylvester website:
http://www.terrysylvester.com/
All good things come to an end, and Bobby ended up meeting and marrying the daughter of an Australian diplomat just round the corner so time to move on out of the square. Money was running out fast and I had to sell my old banger anyway as it was proving difficult to park nearby so I then made quite a contrast in lifestyles!
.......................................................................................................
STOP PRESS!!! Fast forward to December 2006. I had an e-mail from Australia from none other than Bobby Hanna himself! He joins a long list of old pals who have stumbled across references to themselves as our paths crossed like the proverbial 'ships in the night' . I'm looking forward to catching up with a few decades of our respective memories and I hope to update this page as and when more info comes my way. Heck - it was only some 34 years ago! I phoned him just after Christmas and we had a great chat about those amazing days in London Town and Bobby was really chuffed to see this section of my webpages which brought back some good memories.
Bobby stayed in Australia and is still in the business, appearing all over the country and has also had some TV hosting work amongst other successes, apart from a recent change of direction as a fully trained paramedic with P&O Shipping near Perth Western Australia. He also filled me in with a few details of his own previous pop group days back in Victoria British Columbia in Canada as Bobby Faulds and the Strangers from 64-66. This group then changed into The Canadian Strangers and featured a young musician by the name of David Foster - now one of the most successful music producers/songwriters in the world and working alongside many top stars including Celine Dion, Andrea Bocelli and many more. Click on these links above to find out more and I hope to upload some more images when Bobby gets his PC sorted out and sends them across the globe in a few seconds!
.......................................................................................................
September 2009
Bobby mailed me from Down Under as one of his old Decca recordings has popped up on YouTube! Great song and an early photo of the lad himself at:
http://www.youtube.com/watch?v=s7sumky53ZQ
MAY 14TH 2010
I nearly fell off my chair when another e-mail popped up on my screen and after some 38 years Tony Ravel has found this webpage thanks to his good pal- another great singer Scott Fitzgerald who came runner in a Eurovision Song Contest but was pipped by 1 point- some singer called Celine Dion who was representing Switzerland- I wonder what happened to her.......... Scott is one of the finest vocalists and hit the no. 3 spot in the UK charts back in 1978 with the superb 'If I Had Words' which also featured the talented Yvonne Keeley. Check it out- it still sounds so good.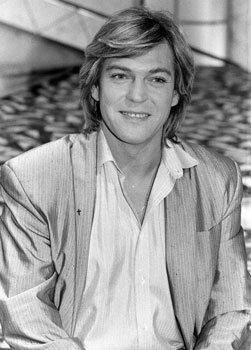 Scott Fitzgerald - Just click on the image for You Tube clips of Scott
Tony is now based in Essex and I called him straight away for a long catch-up chat and he has had an amazing life over the last few decades as our paths went in different directions. However, we naturally found that we both knew and worked with many of the same people since we took that trip up to London, so I am looking forward to updating this page when he send more info/pics for uploading. Please come back soon for the updates! Tony went through a couple of name changes and he has just sent me this amazing video that can be seen on You Tube. This is the accompanying message and well worth viewing this thought provoking clip, filmed on the proverbial shoestring with Tony looking and sounding great.
18 May 2010
"Hi
YouTube Video
Myself and a friend, Nick Skeens who is a writer, felt it was time to voice our dissatisfaction on the BP Oil Spill and so we have Written and Recorded a Song with a Video, using the Cole Porter melody "Anything Goes" hope you enjoy it its on:
http://www.youtube.com/watch?v=t1sIE1yb5Lc
I would ask that you send the above Link to as many of your contacts as possible.
Thank you
Tony Pancaldi
Please take a look and pass it onto as many people you can, as it really sums up the mess that the planet is in but with the new strength of the internet, we see a rise in 'free speech'. Maybe we CAN change the world and messages such as these can be shared around the globe as well maybe making a difference, however small. I recall one of my favourite sayings: "From a chestnut grows a mighty oak tree"
January 2011 The final piece of this jigsaw fell into place as Stan Mouzouris e-mailed me after his son found this very page so we now have a reunion of the 'Connaught Crew' some 38 years since we all went off in different directions! We are all back in touch with each other and sharing more laughs as we recall the fun we had back in 1972. Looking forward to getting together in London but Bobby has quite a commute to make it. I have now uploaded a new page on 'the Kid' as he is still known and so please take a look at:
www.davidstjohn.co.uk/hanna.html
.......................................................................................
As luck would have it, my uncle Sam was renting a shared room in the old East End at no. 14 East India Dock Road in Poplar. He made enquiries and I ended up sharing a shabby bedsit with Tom Doolan - a hard drinking Irish labourer but good fun as we visited the local pubs. From the lights of the West End to the grim reality of the East End!
I was gaining experience by appearing at showcases, auditions, talent contests as well as starting to get paid bookings around the East End. One of these was the Londoner pub, which stood on the junction of Commercial and Burdett Road but my favourite was a real old fashioned Cockney pub - the Rose and Crown in Pennyfields Limehouse. This pub was run by Slim and Queenie Watts, herself a well known actress and a great jazz singer too, so provided me with a platform to develop my own act on the open mike sessions/free and easy nights etc. Many of Queenie's showbusiness pals, including big stars used to call in for a good old knees up and a singalong, plus quite a few shady characters from London's gangland although the local Kray gang had only been 'retired' a few years before. Many a time I came offstage, after having some fun and taking the mickey out of a few of the audience members and was then quietly informed what they were into! These were the dying years of the real East End as many of the locals were moving out to Essex, as rather less social groups were moving in and has resulted in a sad decline of the area.
My first publicity photos! (Well it was the early 70s.....)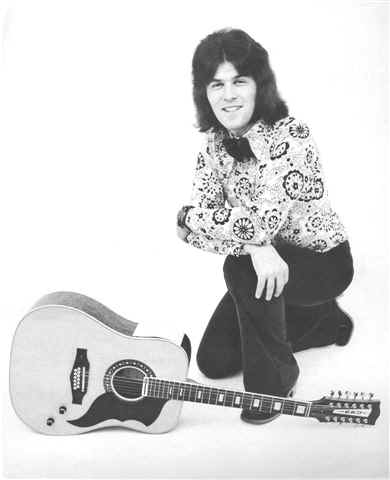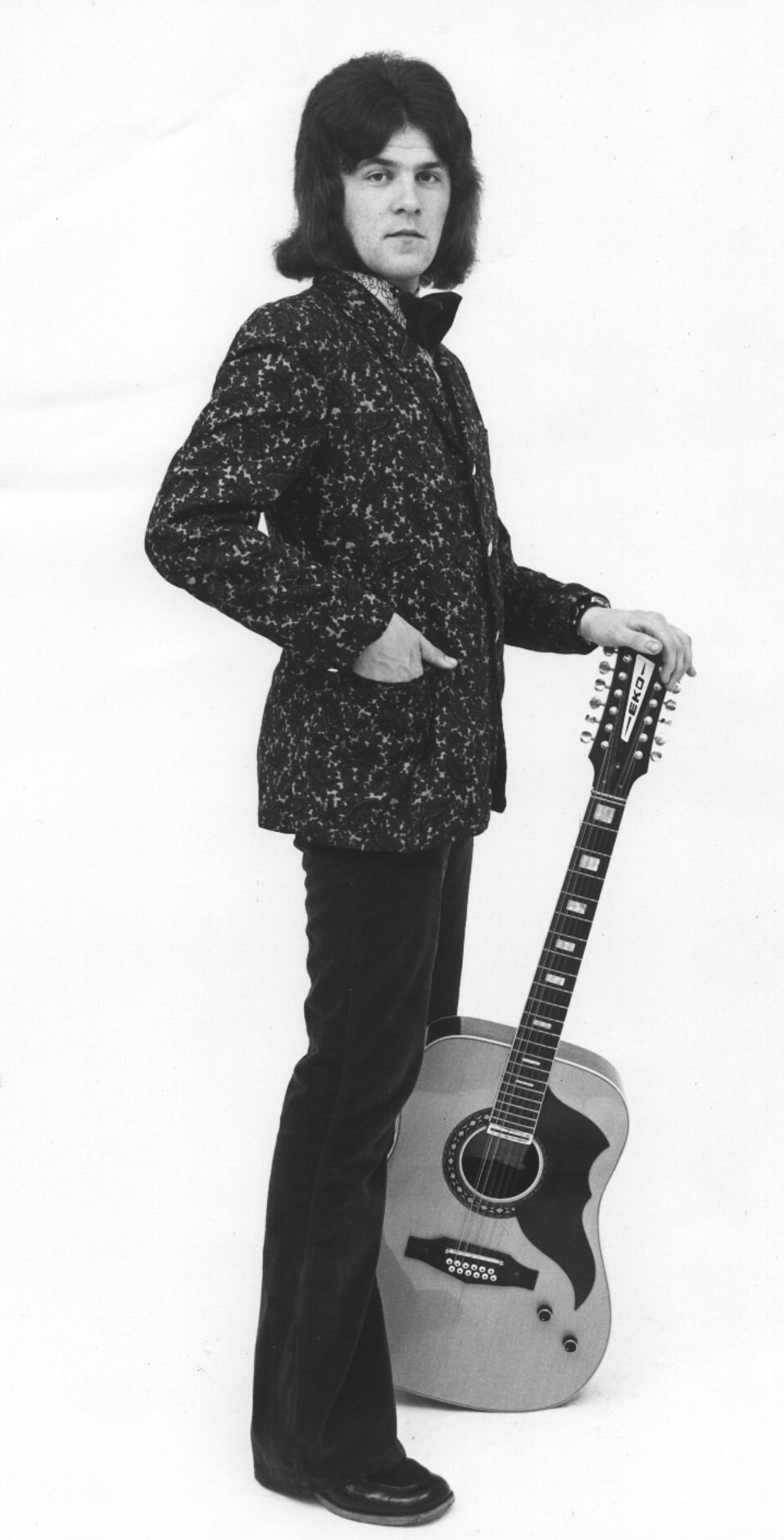 Photographed by Bob Collins Photography Croydon
As money was tight, I decided to look for a temporary day job to tide me over and was very lucky to find a vacancy at Godfrey Davis Car Hire whose office was within a petrol station and garage along the Commercial Road. The site was run by a lovely Geordie couple Jack and 'Biddy' Smith and there were quite a few shady little deals going on all around the loading bays and garages etc - well, this was the East End..... I used to clean the hire cars, then deliver them to various areas around London so got to know the city fairly well, as well as being able to 'borrow' the odd car now and then for my club shows, thanks to a really nice boss called Phil.
My first taste of professional work came about via my new manager - the much respected Garry Brown of Cheam who later developed business dealings as exclusive booker for the Cunard line of cruise ships and much more. He was assisted by Eric Galloway and they secured an audition for a short Christmas season at Butlins Saltdean Hotel down at Brighton. I passed with flying colours and enjoyed a few days as featured entertainer in my own bar as vocal comedy entertainer, which led to my eventual crossover to full time showbusiness.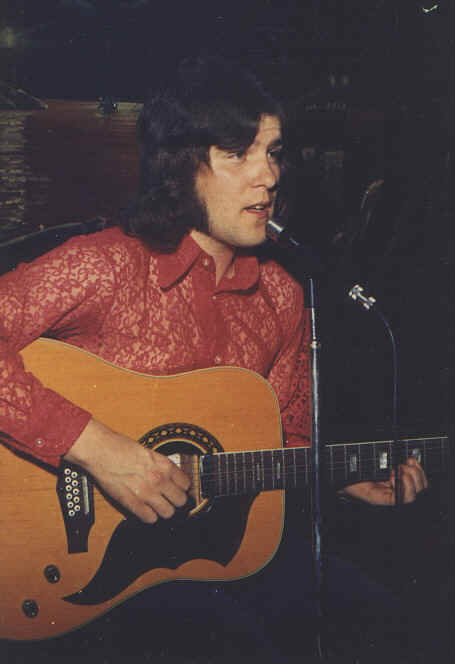 Christmas 1972 at Butlins Brighton
A few months later, I turned fully professional as I was invited to do my first full summer season at Butlins Pwlhelli in North Wales, so it was goodbye to the East End and many new friends that I had met there. I bought another temporary old banger - a 1962 Vauxhall Cresta and drove up to this new exciting phase of my new career as I performed in the Coronation Bar and did whatever I wanted as the solo act. It was a nice intimate room and gave me the chance to interact with the audiences, many of whom wanted a break from the noisy hectic bars around the site and it was a good learning curve. The entertainments manager was the much respected 'Rocky' Mason in charge of the Redcoats (I was never one!) and the main featured compere was Dave Thomas - both of these names are well known in Butlins history and also appeared at many other parks in the UK.
As well as my evening stints in my own bar, I also appeared on guest cabaret spots around the centre as well as jamming with a great comedy showband from Nottingham known as Scallywag. I also did a few spots on the large theatre shows plus the main Spanish Bar that featured top name visiting stars including the likes of Bob Monkhouse, Ken Dodd, The Barron Knights, Roy Castle and many more. This room held a few hundred people and I enjoyed working to such large audiences and adapting my act accordingly as well as watching and learning from the major headliners of the day. Roy Castle was one of the nicest people I have met and he used to pop into my showbar for a quiet drink and a chat in between my sets. Very complimentary and he enjoyed my style which varied from night to night and audience to audience - it's still the same way now! One downside to my first summer season was my small chalet next to the noisy boiler room and really too hot for romance on some nights although just right for the 'steamier' nights. All perks of the job so far, although my wandering days would soon come to an end within a couple of years as I settled down at last!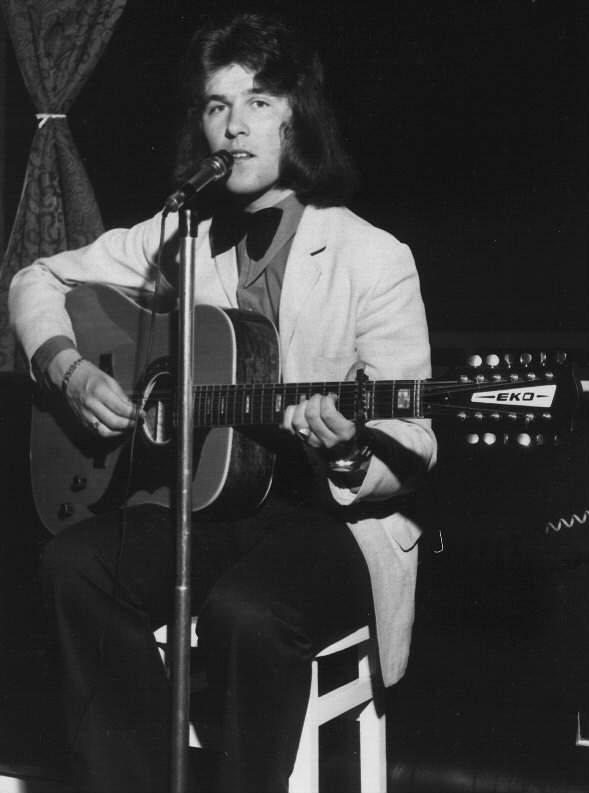 Butlins Pwllheli 1973 summer season
November 2009
After some 36 years (!) I got a great -email from Alan McMeekin who was one of the many cashiers working at Butlins North Wales back in 1973 plus an old photo of me and the lads! Many of them piled into my Coronation Lounge to drink more beer than many of them served over other bars! I was also one of the few acts to brave the staff bar, unlike many other stuck-up artistes around the camp! There were a few rough diamonds amongst the seasonal workers but they were a great bunch and at least I could knock out the naughty gags, as opposed to the more sedate material for the punters! Alan now lives back in Belfast and was a pub licensee in West Sussex for a while - this must have surprised many people who knew him from before and never dreamed that he would be allowed anywhere near the beerpumps after Butlins!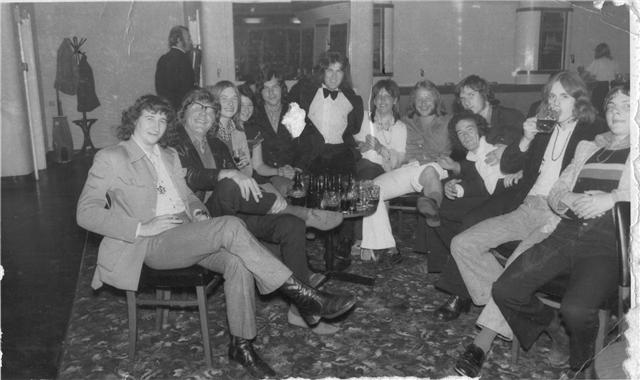 I must have just come offstage- wearing black velvet suit and dicky bow!
This rare photo has travelled from New Zealand thanks to John Bedson, pictured with usual pint 2nd from right. Alan is third from the left, whilst a guy called Andy has pulled his white flares up to show a leg! Andy used to get up in my break and sing Cat Steven's 'Moonshadow' Note the long hair of the time - how many are still sporting the locks? Also, some of the lads used to join me as the 'girly' chorus in high voices as I sang 'A Groovy Kind Of Love' which gave the audiences some more laughs mixed with funny looks. This 'invasion' of staff often led to complaints from the paying public who often could not get a seat or even a standing place in my bar! Temporary bans took place but they soon crept back within a week or two as new holidaymakers turned up.
As my first summer season drew to a close, I was then informed that foreign lands beckoned me for the approaching winter and was ready for Spain - or so I thought..... See you on the next page of 1973 and beyond....
Click on SITE MAP to navigate the pages Back to Home Page Contact David
©David St John 2010