BACK TO HOME PAGE BACK TO SITE MAP CONTACT DAVID
Page updated 19 January 2015
8th October 2014- I am terribly sad to report Bobby's passing, in Perth, Australia today. This followed recent health problems, and he will be much-missed by family and friends around the world. He was one of a kind, and a great talent that produced much success over many years, some of which I have written about on this very page. I will add more in the near future, but please take a look my little tribute to 'The Kid' as he was known. R.I.P. buddy....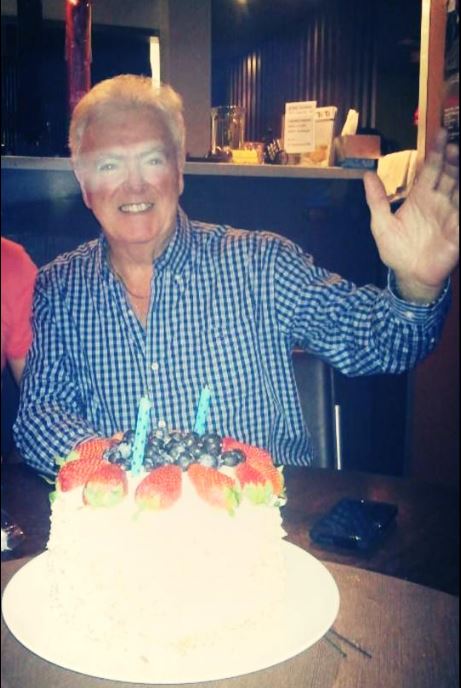 I will leave this webpage as it was first written, as a great memory of a good pal-I will then add any more information as and when. Please see the bottom of this webpage for any updates, including personal tributes etc.
David St John presents:
BOBBY HANNA
*Loads of pics - let it load*
If you are returning to this or any other webpage - you might need to Refresh it (Press F5) in case your browser keeps original viewing
COPYRIGHT
Please note that many images contained within this website may be subject to copyright, although many have been kindly sent to me and intended to be shared on this non commercial outlet. If anybody wishes to use any of the same, then please get in touch as well as possibly giving credit where due as well as setting up reciprocal links if relevant to the actual content on any webpage. Please note that I am able to monitor any image-copying and if published on other websites. I would appreciate any contact to report broken/outdated links and any corrections to the text that accompanies any images herein. Thank you and enjoy!
If you have read my other webpages, you will note that I left my hometown of Southampton in 1972 to pursue a solo comedy/vocal career after several years as lead singer/frontman with many local South Coast pop groups. Virtually penniless but with plenty of ambition and self-confidence so quite excited to try my luck in London as I was getting nowhere by staying in the provinces. You can read about this on my 'Solo Years' webpage and you will note that a very special friend by the name of Bobby Hanna was one of the most important entertainers that I ever met. I had left Southampton with another pal, known as Tony Ravel (Pancaldi) a great vocalist who was also wishing to try new avenues in showbusiness and he knew Bobby from before. We drove up to London in my old 1963 white Ford Zephyr and made our way to a beautiful quiet leafy Connaught Square - this streetname is now very familiar due to a certain family splashing out a few million pounds to buy one of the townhouses just a few doors down from where we stayed as well as an adjoining mews house at the rear of the main property.
Bobby Hanna was born in Scotland, then raised in Canada , before moving to the London scene and was appearing at many of the West End's top nightspots including the Astor Club, Churchills, The Latin Quarter as well as a residency at the world famous Talk Of The Town (later Peter Stringfellow's Hippodrome etc) Many of the top international stars appeared at the 'Talk' and you can do a net search on this famous landmark. See some great images below.
Bobby and his flatmate Stan Mouzouris kindly allowed Tony and I to 'crash' at their Hyde Park apartment near Marble Arch- one of the most affluent areas of Central London for part of the summer of 1972. Bobby then met Pauline- a gorgeous Australian girl who he soon married so we had to move on out for pastures new. Tony and I went our separate ways and I stayed in London followed by seasons at Butlins for Xmas 1972 then going fully professional in the summer of 1973 at Butlins Pwllheli in North Wales. The next couple of years were spent working for Thomson Holidays as their first professional resident entertainer in Tunisia and Greece before settling back in the UK in 1975. I am forever indebted to Bob and Stan for their great friendship and hospitality as well as being inspired by Bobby as we travelled round on a few shows in which he tore the audiences apart with his classy stage act. We all spent many an hour talking about the business plus sharing gags, singing together in that flat as well as hitting a few nightclubs around the West End where so many people fussed over Bob as he was very well known and much respected as one of the best vocalists around. On his various one-night stands as part of a variety show, this gave me valuable insights into seeing how different artistes worked as a 'package' show and how Bob worked the audience- as a communicator on top of having one of the best voices in the business. The audiences took to Bobby as soon as he hit the spotlights and he had a superb mix of songs that got them going as well as an infectious personality- often lacking in many vocal acts so I watched and learned some more.
This page highlights a little of his amazing career and I will add more to it as he sends more info but sadly lost quite a bit on a recent laptop problem. His story starts in Victoria British Columbia in Canada with one of the most celebrated groups of: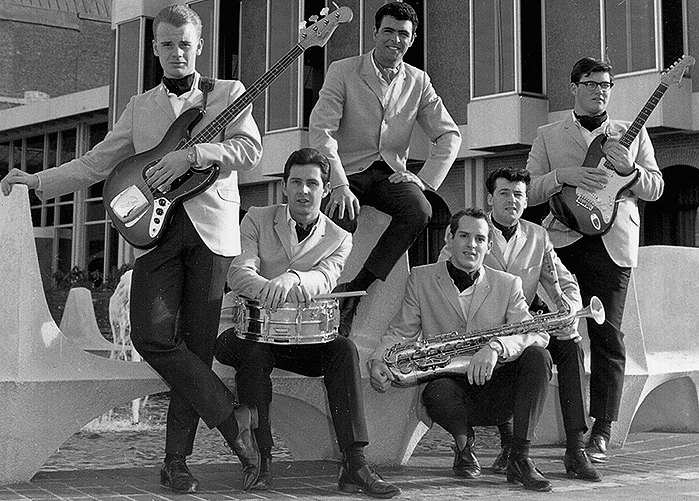 BOBBY FAULDS AND THE STRANGERS 1964-66
Click on the photo for more info on NW Pacific Bands etc.
Bobby Faulds- Lead Vocal
Barry Casson -Drums
Wes Chambers-Sax.Vocals
Doug Edwards-Gtr/Vocals
Brian Newcombe-Bass
Bill Stewart-Trumpet/Trombone
Inducted into the New "Victoria Rock & Roll Music Hall of Fame" as: "Most Influential Group 1960-1965"
Another local young musician joined them- David Foster and more of him later.........
After these successful years with the Strangers, Bobby went solo and changed his name to Hanna and these are early publicity photographs- the first one sent to his proud parents as you can make out on the signature! You can see how Bob's style changed over the late Sixties and now based in London.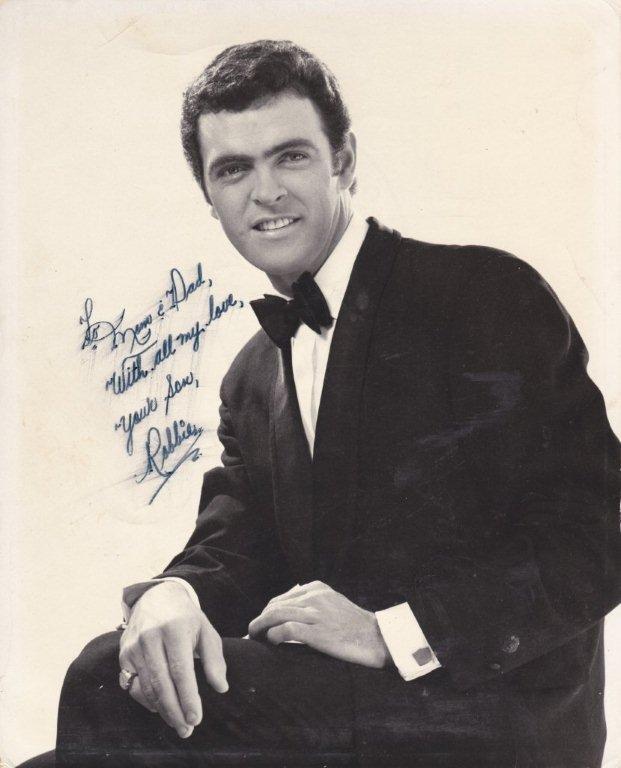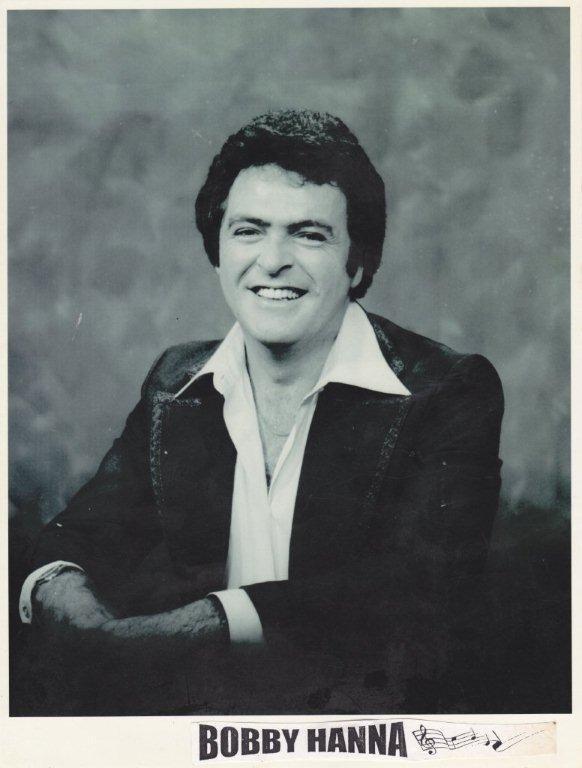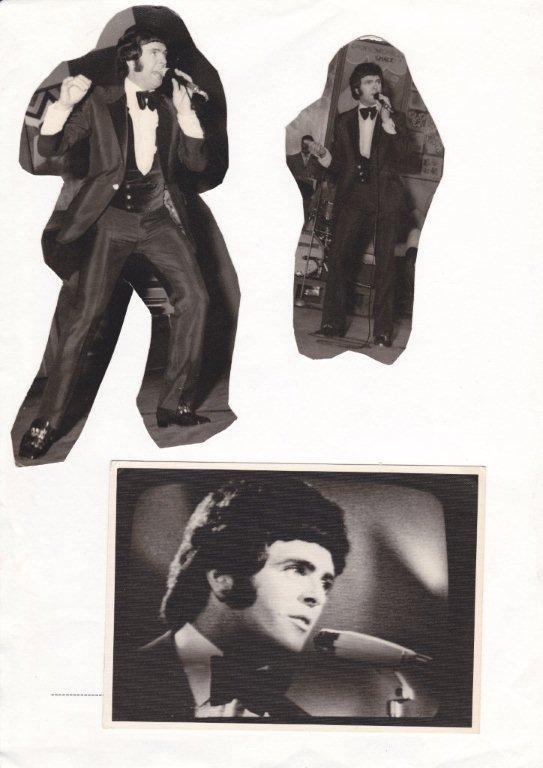 In action - on stage and TV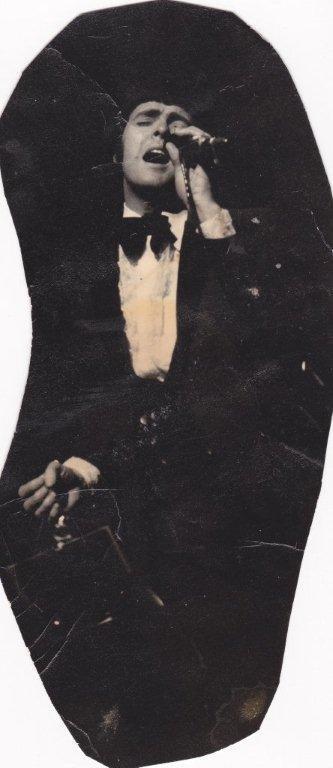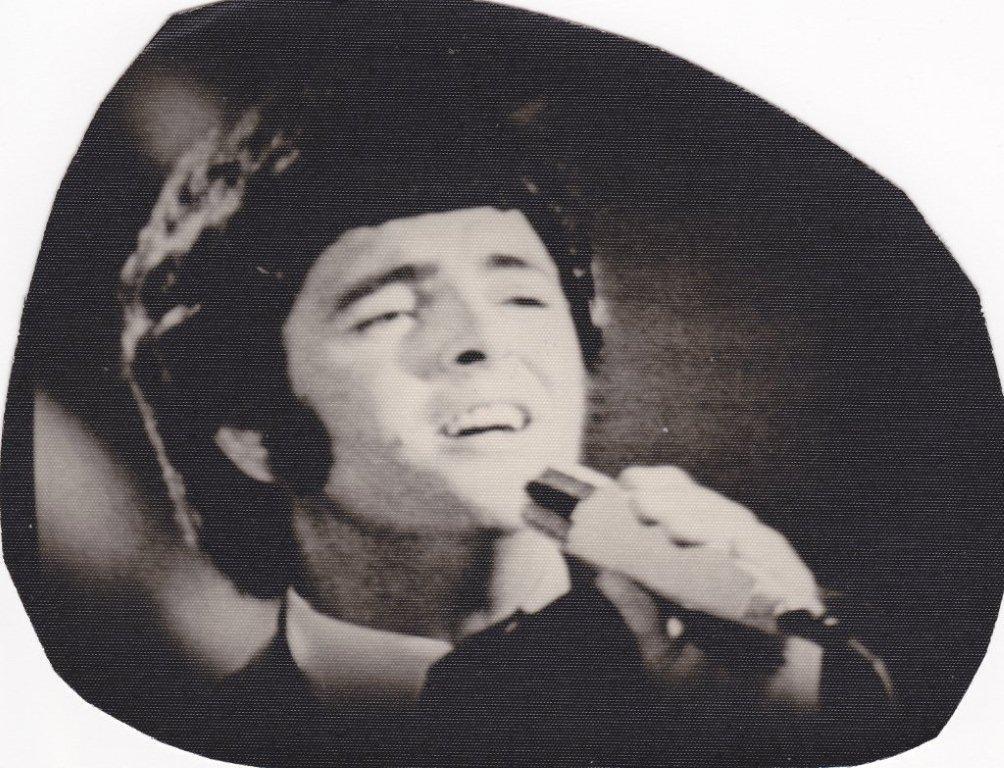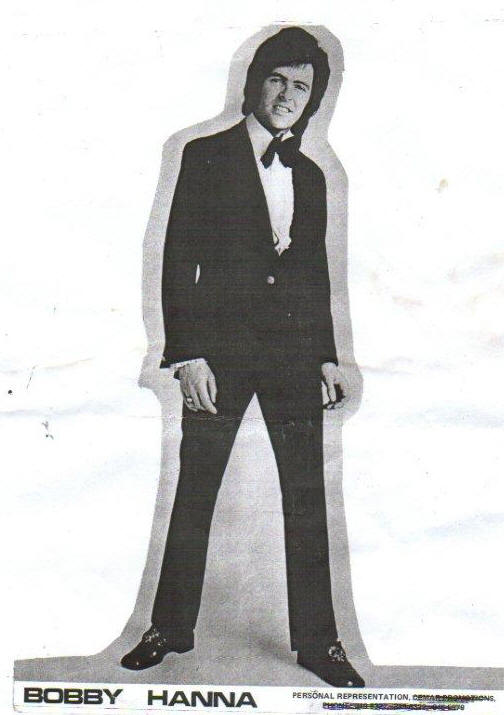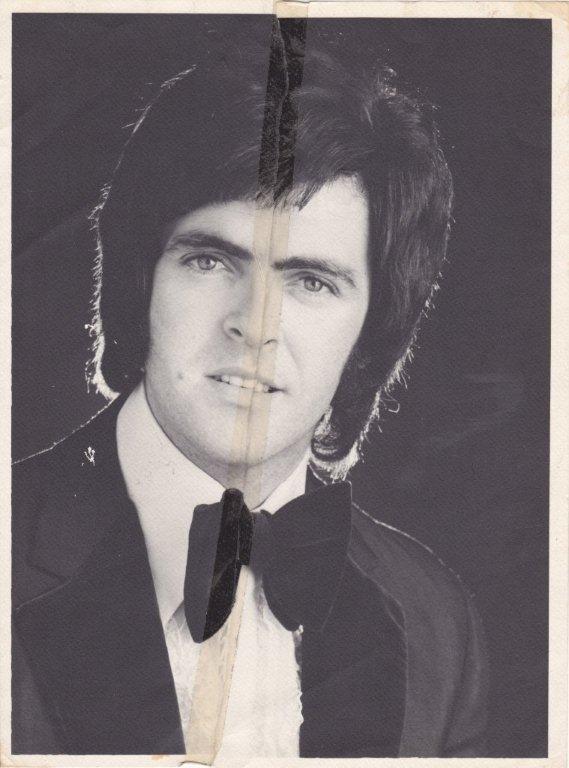 Bobby became quickly established on the London nightclub scene appearing at many top class venues including resident vocalist at the Talk Of The Town appearing with many international star names. These are two programme covers showing just a few names as well as photos of the production numbers that were featured as part of the floorshow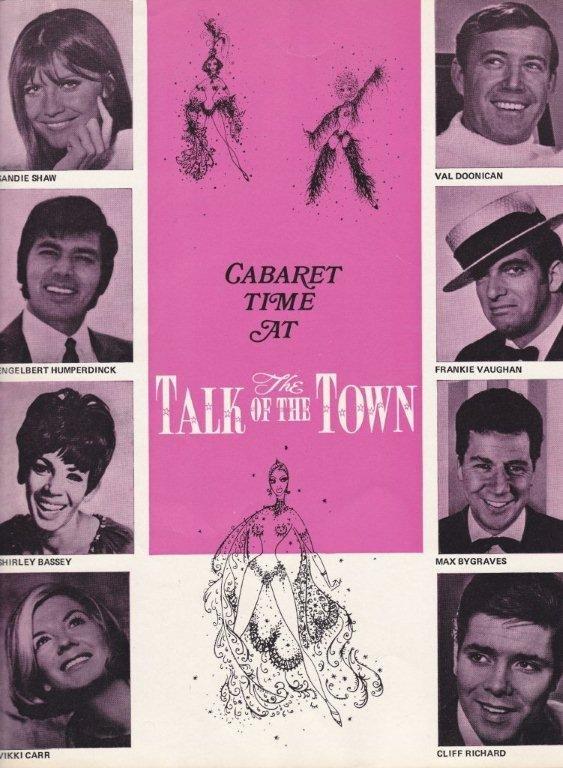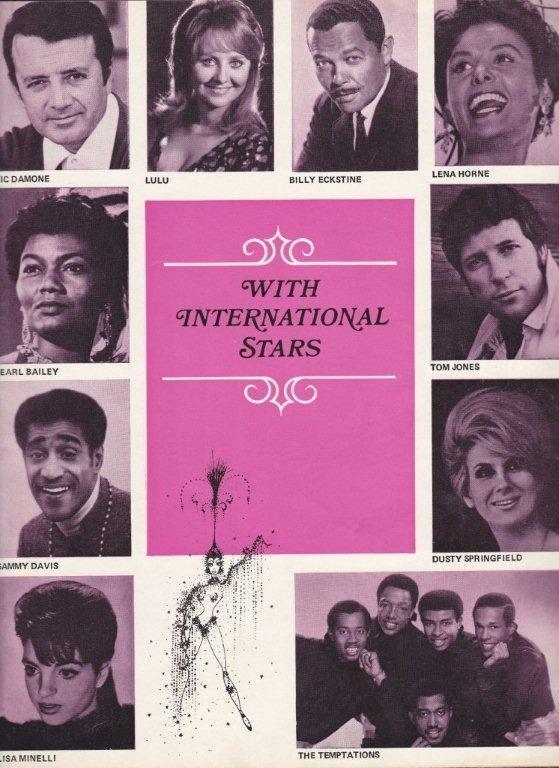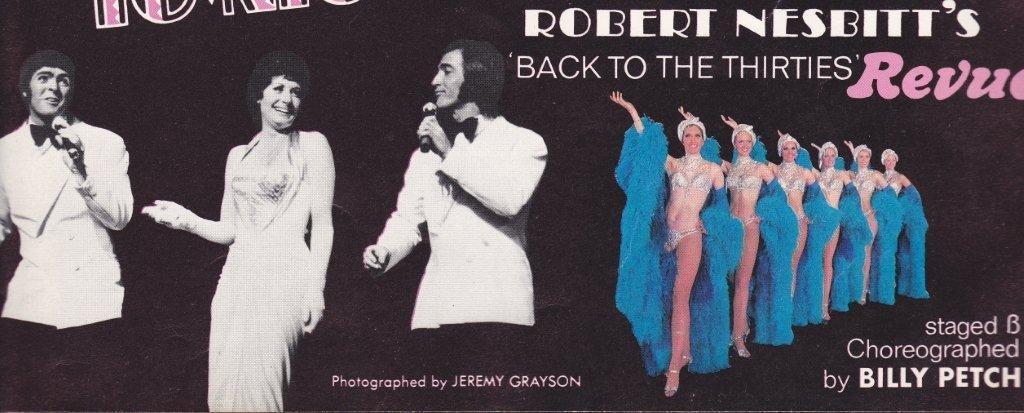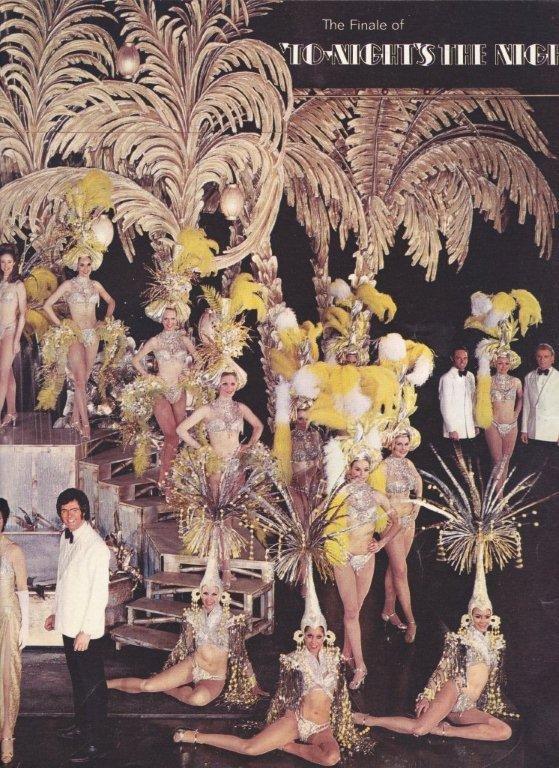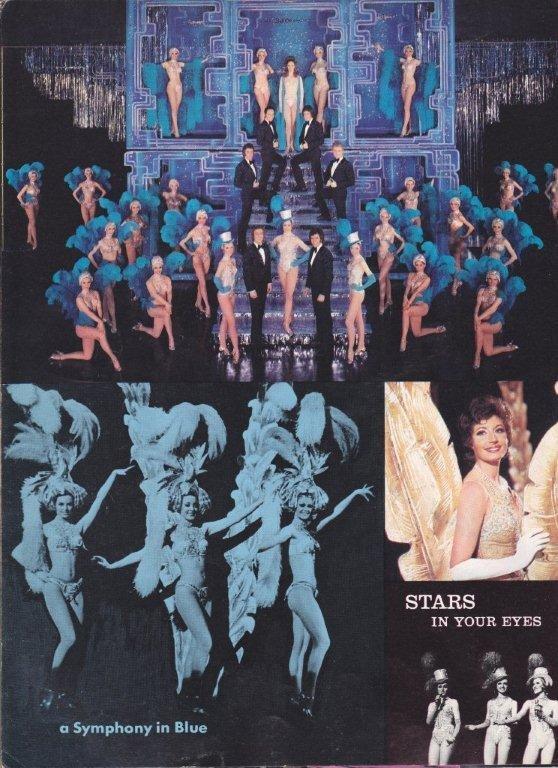 Bobby surrounded by so many beautiful dancers- tough job but someone had to do it..........
Another resident vocalist and good pal at the Talk was Billy McPhail, one of the UKs finest singers who later became Scott Fitzgerald appearing at several top song festivals plus a massive no. 3 hit 'If I had Words' in 1978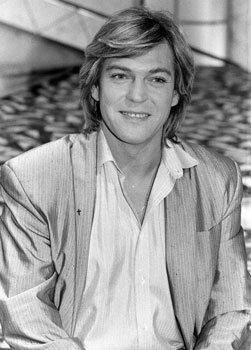 Scott Fitzgerald
Bobby's own records received critical acclaim but not quite making the charts, although he sang the main theme to the Raquel Welch movie of 'Hannie Caulder' which can be traced on any internet search plus You Tube clips of other minor hits. In fact, he made some 14 singles as well as being selected to record his very own LP on the Decca label as part of a series "The World Of..." Here is a studio shot as well as the actual front/rear copies of this album. Many other star names were included on these successful albums and can probably be traced on the net as well. Bob also recorded for the Phillips label under the guidance of top producer Johnny Franz. He also won the Spanish Song Festival with 'Written In The Wind', which reached no. 2 in the European charts, as well as appearing with his pal Tony Christie at the Knokke Festival in Belgium plus many more events of this kind.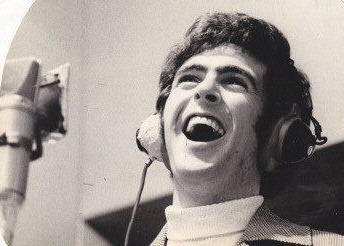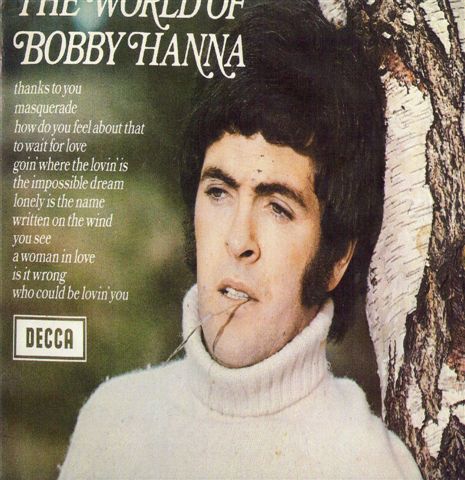 Naturally, Bobby enjoyed the exciting world of live appearances, TV shows and recording studios as well as the female company that 'goes with the job' One day, whilst walking along a West End street, he noticed a very pretty Australian girl so just introduced himself! Bobby suggested a date and invited her to 'come along to the Talk Of The Town where he was appearing alongside the Temptations' She thought this was a wind-up and thought he was just showing off but went along out of curiosity. Within a very short time they married and decided to live Down Under after visiting the family back in Canada.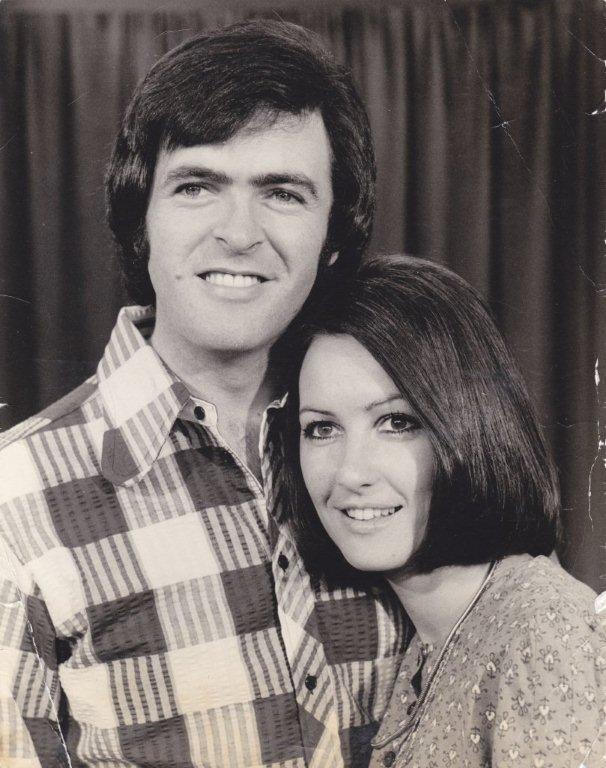 Bobby & Pauline
Within a couple of years, Bobby became established in Australia and in 1974 was chosen as the new host of 'Blind Date'. This article was published in the August edition of TV Weekly and the photo taken on the show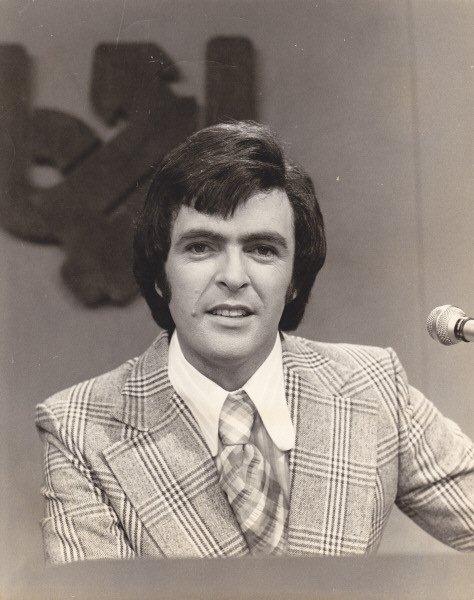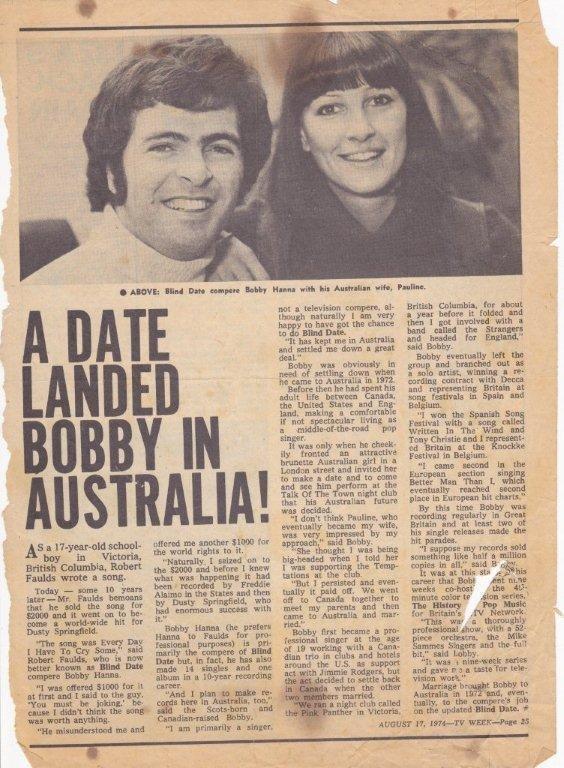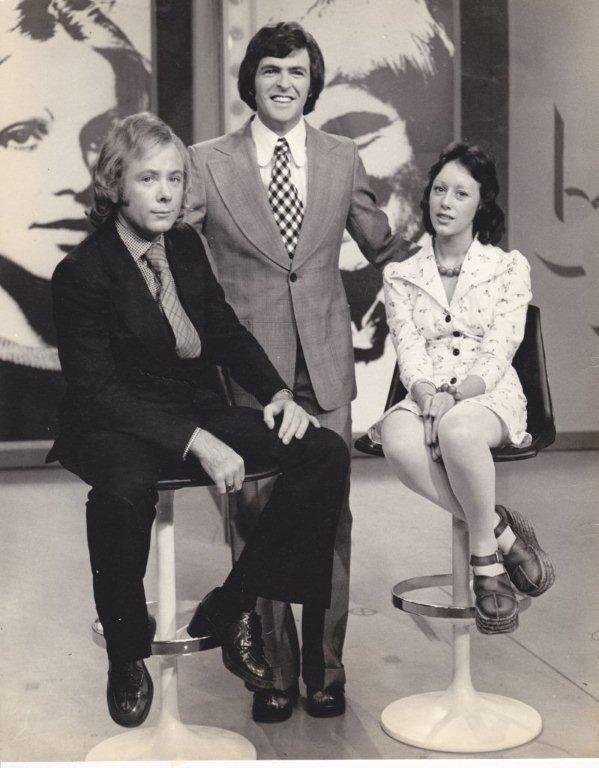 He made many more live stage show appearances over the years before settling down to a 'normal' way of life but with his cherished memories in the spotlight.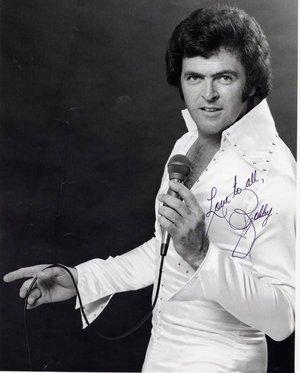 1980 'Elvis' Hanna!
Bobby worked with many of the top stars and is still in touch with many fellow entertainers, musicians, producers from his home in Australia. One of these being David Foster who played keyboards with the young Strangers back in Victoria Canada during the Sixties. David went onto amazing success as a Grammy winning songwriter and producer who has worked with the likes of Chicago, Peter Cetera, Celine Dion, Andrea Bocelli in live concerts plus recordings.
David sent these handouts to Bobby and you can read all about him on his own website by clicking on the link below- you will be amazed by how many international stars he has worked with.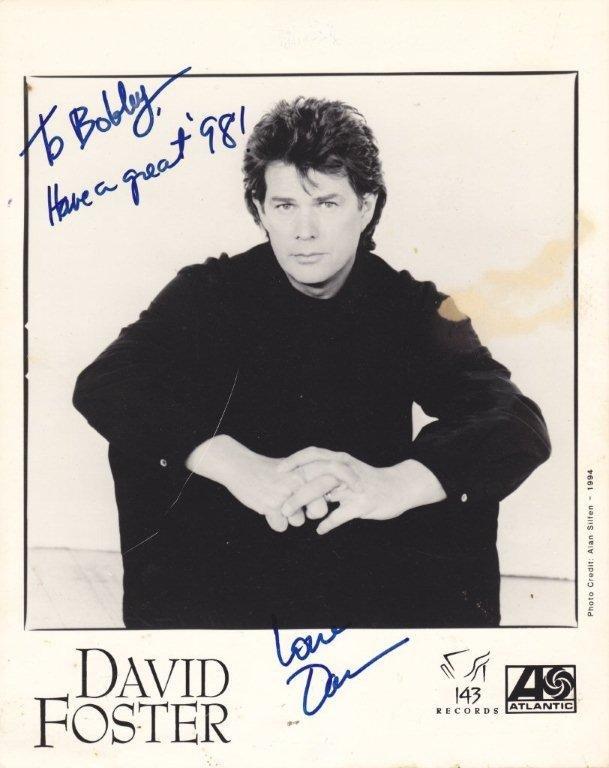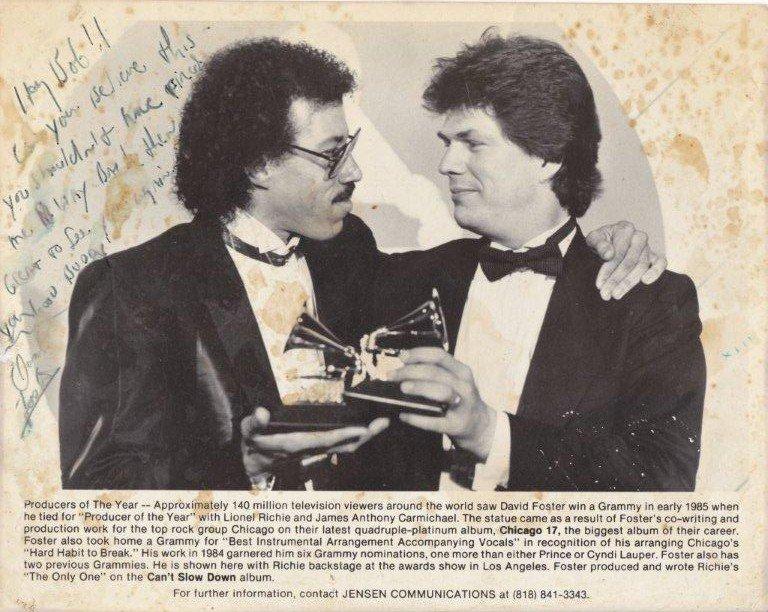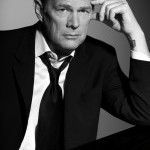 David Foster was named an Officer of the Order of Canada in 2006, inducted into the Canadian Music Industry Hall of Fame in 2007 and the Songwriters Hall of Fame in 2010. You will find many websites that feature him across the internet and well worth a read!
Bob writes:
David Foster was a 'Stranger' at 17 years old, & when he was about 15/16 years old, he used to ask me to help him on Sunday mornings to sing in the church, David would play organ, when his father was ill or unable to attend, I used to sing "The Lord's Prayer" & "Bless this House".. David was very shy & wanted me there for a little support..
We had " Bobby Faulds &The Strangers" then when we all decided on giving Britain a go to make a name for ourselves, 2 members of the band-(Doug Edwards-guitar & Brian Newcombe- bass)decided to try it out in Vancouver. Doug would later on join the "Skylarks" & co-write with David, the amazing song-"After The Love has Gone" Doug would eventually join the band "Earth, Wind & Fire" & Brian would eventually be bass man for Ray Charles.
We replaced Brian with another bass player- Mike Stymest & Doug would be replaced by David Foster. The group "The Canadian Strangers" would travel to Britain in 1966.......
I don't know if I ever mentioned to before about me working for Joe Wilkins etc, at the Eden Roc club. One night when I was doing shows, ( I was there for about 2 years) this guy came to the club & asked to speak to me. He said, he & his family had just arrived from Northern Ireland & he needed work, I told Joe about him ( that night) & Joe said to "give him 5 pounds"He went on stage at the club & blew everyone away, he was one of the best comedians I've ever heard. Joe loved him too & offered him 5 pounds a night for 2 weeks work, the guy was over the moon. He was brilliant, I was good friends at that time with Bobby Willis ( Cilla Black's husband) I told Bobby about him, but he said he was too scared to come in the club, I told him I'd take him upstairs to the Spotlight room, Bobby came & he listened to him, & he too, was bitten by this guys talent, & it was Bobby who got him on one of Cilla's TV specials...The guys name was "Frank Carson" who shot to fame on TV's The Comedians.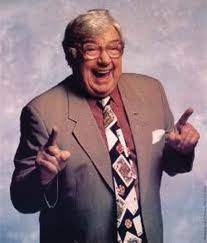 Frank Carson "It's the way I tell 'em!"
Bobby met so many famous names around Swinging London during the 60s and early 70s, including a worrying encounter with a couple of nightclub guests who turned up to see one of his shows. The two 'gentlemen' caused a stir when entering the club with everybody fussing around them and one of them seemed to 'take a shine' to the good looking young singer who was invited to sit at their table. Bobby soon made his excuses and left in a hurry saying that he 'had a late night spot' at another West End club. The 'gentleman' was none other than Ronnie Kray along with brother Reg who were trying to muscle in on the Soho club scene but without success - they were soon arrested for murder, extortion and many more rackets as London's most notorious gang leaders. Ronnie Kray's sexual preferences were very well known at the time and explains Bobby's speedy exit- stage left and straight home where he couldn't sleep for fear of a knock on the door...........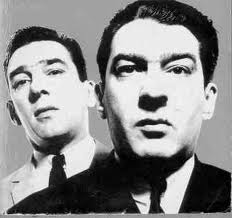 Kray Twins
It was known by 2 names- "The Eden Roc Club" & "The 800 Club" next door to the big theatre where they have all the Film premiere's, in some big Square, I can't remember the name! That was where I was introduced to The Krays...We had the Manny Ferris Band & we used to get the guitarist from "Hair-Musical" -Alex Harvey- a big name in rock from Glasgow.I still have email's regularly from Manny Rose & his wife Della, I get mail every week from them, Manny was head waiter for Joe Wilkins. When I left "The Eden Roc, Manny Rose opened his own club & I went to work for him doing shows every night....
Bobby Hanna's old recordings are still collectible and can be found on many websites - this link takes you to Gemm Records and check them out:
http://www.gemm.com/c/search.pl?field=ARTIST+OR+TITLE&wild=bobby+hanna&Go!.x=30&Go!.y=12&Go!=Search
........................................................................................
2014-The Canadian Strangers meet up!
March 2014
Bobby and his son Ben were back in Canada and headed for Franchelli's Coffee House at the Royal Oak Shopping centre on Vancouver Island. This is where the old musicians and singers meet up at 12 noon every Tuesday, for great chat about the great days of the Fifties and Sixties. They had arranged a reunion of the Canadian Strangers, one of the top Sixties bands in the country. Bob and Ben met up with Barry Casson (drums), Rich England (sax), Wes Chambers (sax). Missing members were Bill Stewart (trumpet/trombone/guitar),Mike Stymest (bass) but other musicians came along. These were Art Horseman, Bill Pick and several more including Chris Earthy who now manages the most famous ex Canadian Stranger- David Foster who is one of the most successful musicians/producers/arrangers in the world. Just Google him and be amazed at his incredible output, working with many of the global superstars across the years.
A couple of days later, Bobby had a call from David's manager with an invite to his penthouse apartment overlooking the harbour, which was being sold for $5.5m! David is married to the beautiful Yolanda of 'The Real Housewives of Beverley Hills' and they were busy with packing everything up in readiness to move out. Bobby and Ben joined Chris, Barry at the building, then took the lift to the 9th floor (David avoids lifts!)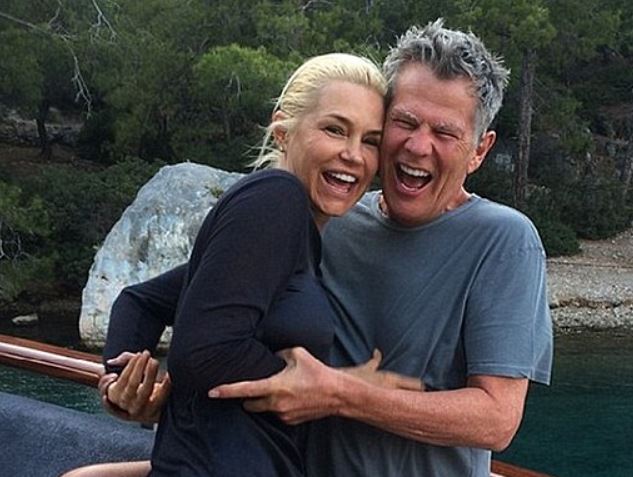 Yolanda and David Foster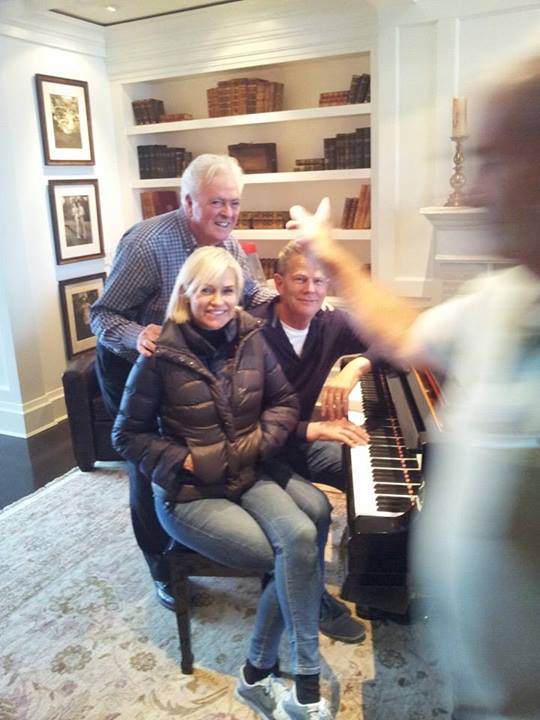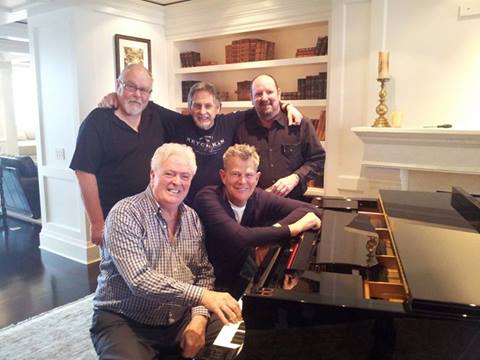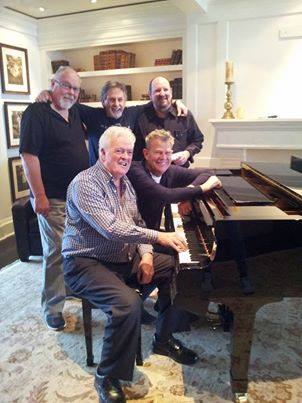 Bobby Yolanda David The Canadian Strangers 2014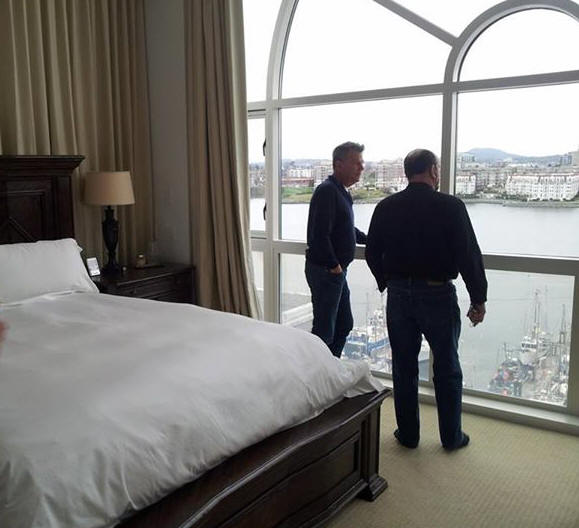 David and Wes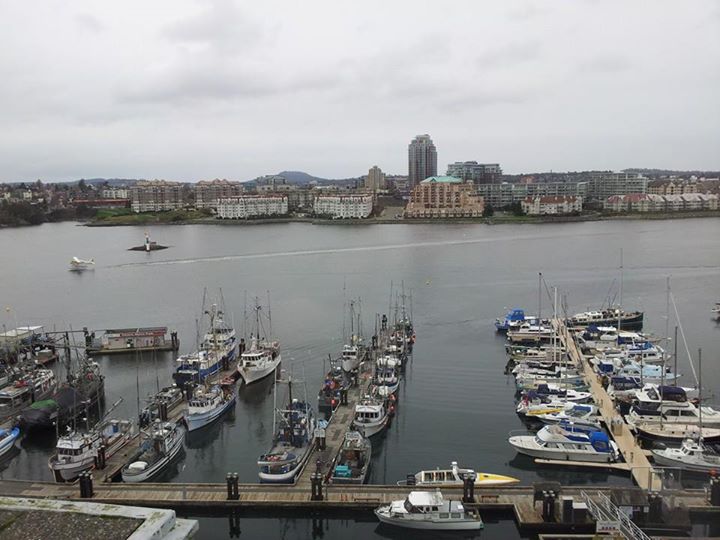 Some view!!
They spent some three great hours together, chatting about everything and taking a few photos, so include a couple below. David then surprised them with an offer to join him at the former Memorial Arena (now Save On Foods building) as Chicago were in concert. David had co-written and produced many of their biggest hits, so quite a thrill as they joined 10,000 people to enjoy the amazing show. They were all invited backstage to meet the group during the half time break and everybody got on so well. The sound was amazing and the atmosphere was electric so a memorable night all round for the Canadian Strangers who remain good pals over so many years. Bobby and mates will never forget these occasions when meeting up with David, and they had never dreamed how things would turn out all those years ago. Bobby had his own successful solo career, whilst David Foster went into his own life path that has elevated him to the top of the music industry.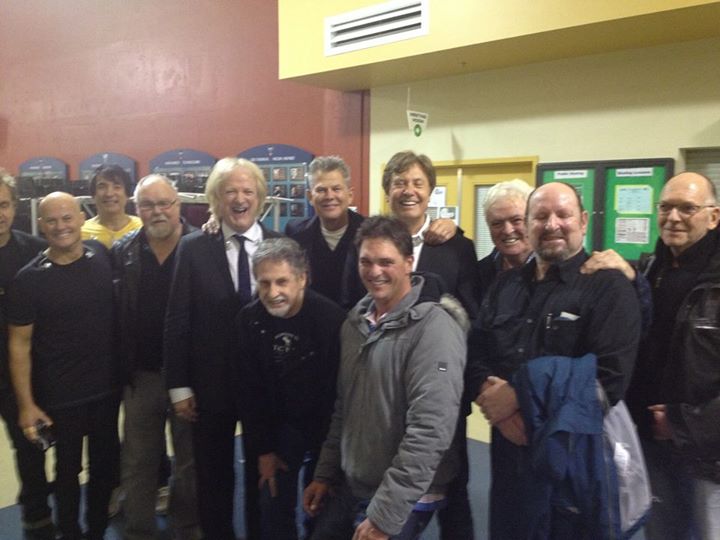 Chicago concert- backstage.
Please come back as Bobby will send me more info and it's great to be in touch after so many years after the Connaught Crew went their separate ways in life but reunited a few decades later thanks to the all embracing internet that has offered global communication on an unprecedented scale.
........................................................................................
August 2014
Bobby writes:
Doug Edwards (guitarist and Brian Newcombe (Bass) started out with me when I formed "The Wayward Trio" in Victoria Canada. Doug and Brian were also with me as "Bobby Faulds and the Strangers". They were on the first RCA Victor International 45 single that we recorded-a song I wrote called " Walking Away". Wes Chambers (Sax) player wrote the B side. Doug and Brian didn't want to go to Britain, so we formed another group- "The Canadian Strangers" with David Foster replacing Doug Edwards & Mike Stymest replacing Brian Newcombe.
There is an internet site from Victoria called RCMP "Royal City Music Project" and it shows the whole story of each of the musos in both bands: "Bobby Faulds & The Strangers" plus "The Canadian Strangers"
Click on the above and go to 'Bands' tab for these entries and more information.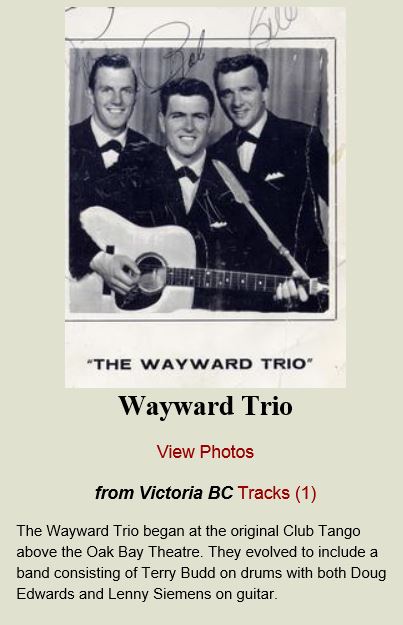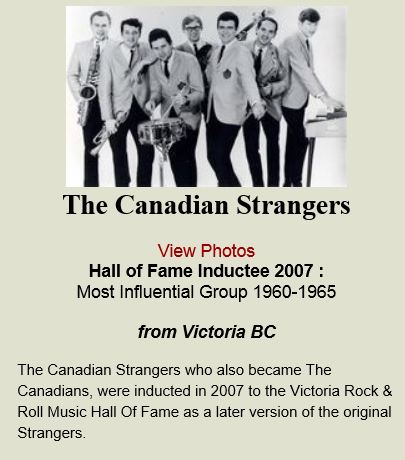 .........................................................................................................................................................................................
January 2015.
I had this e-mail from David Lloyd Glover- a much respected artist based in L.A. Check out his website- some fantastic work, including musical icons.
In appreciation of Bobby Faulds.
I was saddened to hear of Bobby's early passing. We first met in Victoria, British Columbia, my hometown, at the Purple Onion Club when Bobby was part of a singing duo called the Wayward Trio. I was just a young teenager and certainly not of legal age, but I was an active booker of bands and talent for high schools/ teen dances. So I was always on the hunt for new hot acts and bands and the club owners gave me the courtesy of free access to their joints even though I was just 14 years of age. I guess I was just one of those persuasive kids who get past any barrier. Well I was struck by the professionalism of this Bobby guy. Good looking, could handle a microphone and even though he was performing what I considered pretty square material, I was impressed that he looked like he belonged on national television, and not one of Victoria's seedy nightclubs. I introduced myself to Bobby and he was very gracious (and probably a bit bemused by me) to a young kid like me as I was complimenting on his act and offering to book him sometime for one of my gigs. He probably thought I was a bit full of it but he nonetheless gave me the time of day.
I caught up with "Fauldsy" as he was known in Victoria, at a Battle of the Bands contest with his new act. " Bobby Faulds and The Strangers" was his new band and he was the frontman. And a very darn good frontman at that. I might add. Still a bit square for my taste as the bands I was booking were knock-offs of the British Invasion that was white hot at the time. But I liked their slick performance, and once again approached Bobby who actually remembered me. I booked their band for the next huge teen dance I was promoting and they were the headliners of a big line-up of top bands at the time. Bobby and his band showed up in band uniforms, and looked like a slick night club act doing Tom Jones and Englebert covers. They may not have been the hottest act in town but they really were a tight group and I appreciated the job they did for me. I might point out that they had a new kid in the line-up, Dave Foster on keyboards who later turned out to be the David Foster. I often ran into Fauldsy at the local clubs and he would make a point of singling me out. He was very kind to a young kid and always made me feel like the most important guy in the room. The last time I saw Bobby was at a special reception at a Victoria nightclub called the Tillicum Athletic Club. Bobby was leaving for Australia and this was a farewell and appreciation for his contribution to our local music scene by fans and musicians.. That night Bobby, all decked out in a sharp tuxedo saw me and came up to give me his appreciation for being a friend and someone who booked his band before his England tour. I was a still just an 18 year old teenager but he made me feel very important even in a packed house. Bobby looked me straight in the eye grabbed my hand and just thanked me for being there for him. I never saw him again.
I didn't know he was also known as the "the Kid" He always seemed liked the adult in the room amongst all of us musicians. Actually, being that I knew Bobby turned out to be an added plus for me personally. In 1967 I was fresh out of High School and landed a plum job at an Engineering draftsman for the Government. I was the youngest member of the department by many years so I was the butt end of a lot of jokes and harassment. But then one day the local newspaper had run a story about the Victoria music scene and my photograph was included with my involvement as a concert promoter being featured. That drove the office guys crazy to see me in a prominent news story. One of my co-workers started to boast that he went to school with and remained chummy with the biggest name in Victoria's music scene - non other than Bobby Faulds! That gave me the opportunity to say that not only did I know Bobby, I did business with him and his band. My co-worker thought I was just making up a story so I told him to just call Bobby and ask him if he knew me. The next day my status around the office kicked up a few notches when it was announced that I was indeed part of the famous Bobby Faulds world. So thank you Fauldsy for making my life a whole lot easier.
It is quite remarkable that back in the 1960's the little Provincial city of Victoria produced quite an active and surprisingly hi quality music scene. The bands were very competitive but many were really top notch and would have stood up in a major market. A number of musicians actually moved on to notable careers in in the music business. I was the non-musician but I was one of the concert promoters and band managers that either put on the shows or got my bands their paying gigs. I would get on the telephone and start calling club owners who had these stodgy lounge acts and convince them to hire one of my young hip rock acts. If I couldn't get a band booked into a club gig I would just rent a big old dance hall hire about four bands and start selling tickets. You probably couldn't do that nowadays with all the regulations.
David Lloyd Glover. Los Angeles
...............................................................................................................................
BACK TO HOME PAGE BACK TO SITE MAP CONTACT DAVID
© copyright David St John 2014