HOME PAGE SITE MAP CONTACT DAVID
Page updated December 2021
David St John's Memories
ITCHEN GRAMMAR SCHOOL
The Class of 1960- 'En Avant' (Forward)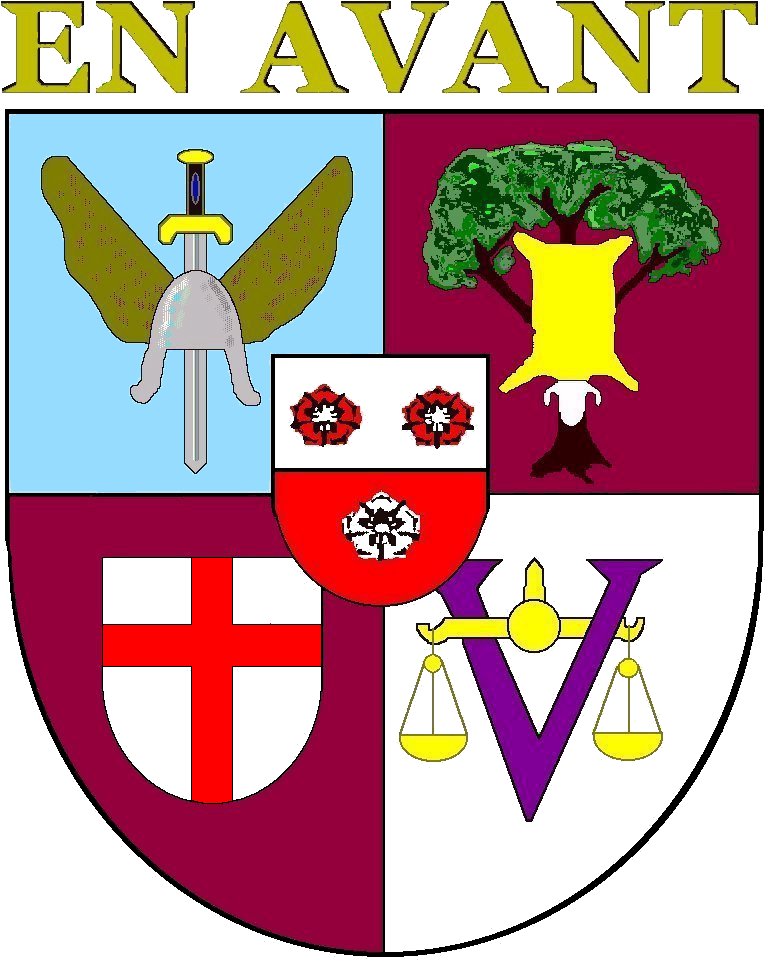 Facsimile school badge- kindly sent by fellow classmate- Ken 'Titch' Walkling
........................................................................................................................................................................................
(October 2019) I trust this webpage will bring many memories for past pupils, staff as well as a glimpse of the old school days for the present students etc? I am in touch with several classmates from Ludlow Primary and IGS, so thinking about organsing a 2020 reunion for the intake of 1960- the Diamons Jubilee! Sadly, we have lost a few over the years plus many of us are scattered across the globe but I was thinking about a September meet at the school (college) on a Saturday (usually open) Then off to a local hostelry for a few beers etc?
This webpage can serve as a means to seeing who might be able to make it? If we liaise with possible dates then it could work, so please come back to check now and again, plus you can e-mail me via the links. Ken W instigated an Old Issonians page many years ago but now we are looking at a Facebook page as a focal point. Watch this space!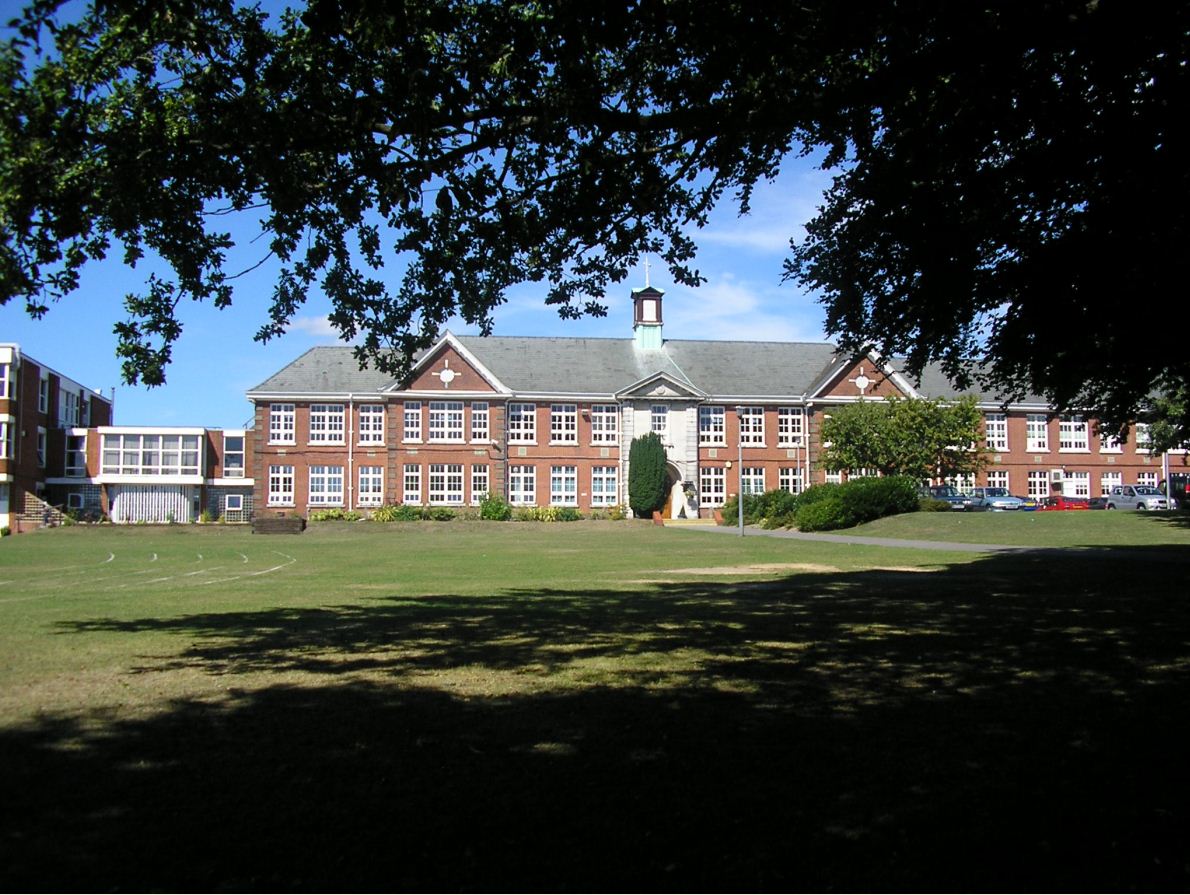 Itchen College 2006 - former Itchen Grammar School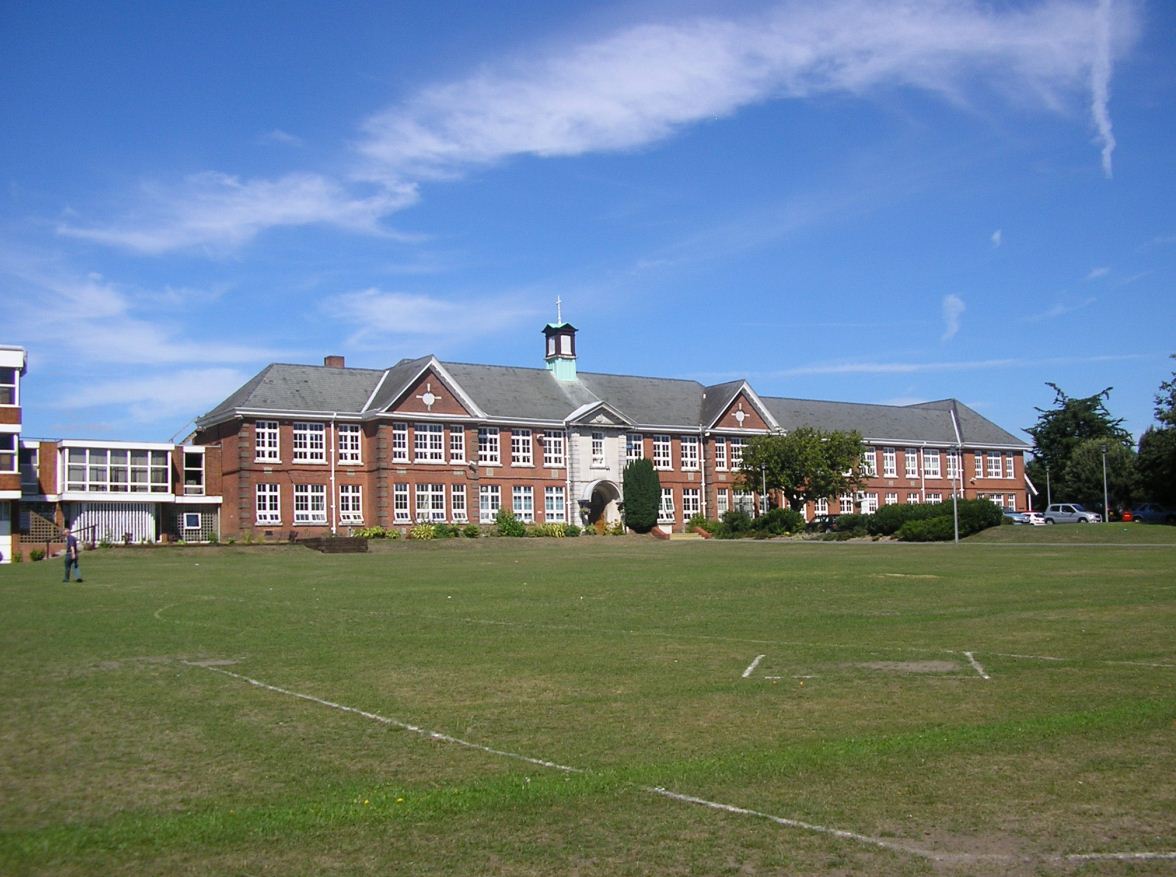 There were temporary hut/classrooms on the right in the early 60s- now car-parking space. New extensions on the left - added much later and these replaced the former wooden huts that housed the science labs etc plus the old sport hall close to the rear school entrance. We also had our daily milk rations that were a healthy addition but later 'snatched' by Thatcher in the Seventies! The old woodwork classrooms were on the far right close to Middle Road entrance and I recall the usual hustle/bustle as we traipsed from room to room on lesson changeovers- we had to keep fairly quiet in line with the strict discipline which wasn't a bad thing when one compares modern education and standards.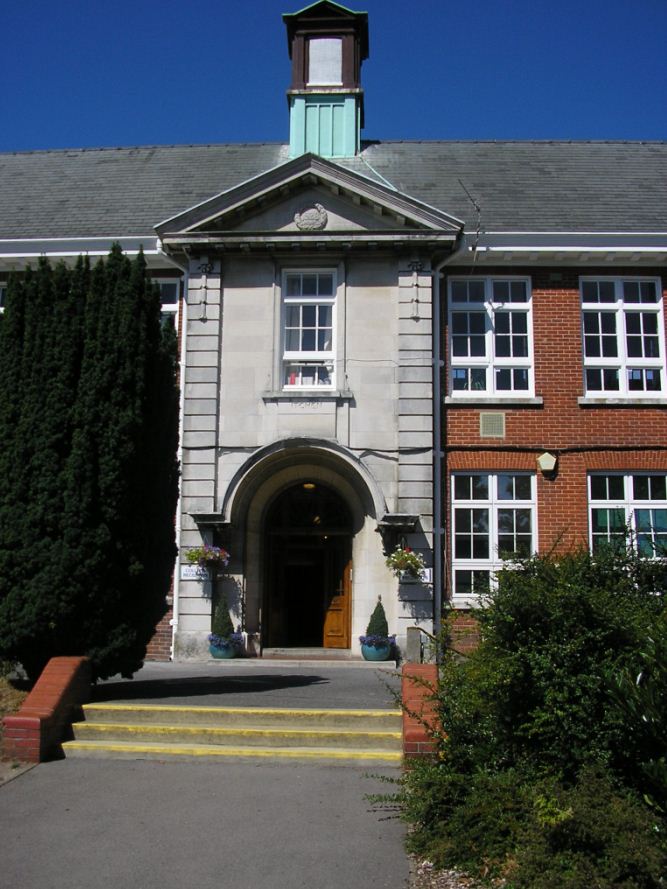 Main Entrance- Headmaster's study(+cane!) on the left
If you have been reading through this website, full of my personal memories of growing up in Southampton - especially the musical/comedy side then you may wonder about my school days. Many of us do have fond recollections of those formative years but often have blurred reminisces with the passage of time. Some kept diaries whilst others moved on through life and probably lost touch with old school-pals as we leave for whatever life has chosen for us. This new page (from June 2013) might hopefully jog some more memories of those who were lucky to have attended Itchen Grammar School following the 11 Plus exam, a controversial way of selecting children of mixed intellect to move onto secondary education. This 'test' was phased out as some thought it caused divisions, merely based on that particular day's attention span plus 'swotting up' before the dreaded challenge, but one could argue that the ensuing years of whatever exams were taken are not far removed? However, at that time it was hoped that the brightest students would stay on for 6th Form followed by University and then into whatever occupation or lifestyle they would choose or change track with life's crossroads - some of us stuck at it, whilst others 'dropped out' - like me at age of 15. Family background and financial restraints meant that many bright students would not have the chance to pursue higher education with a likely well paid career in front of them or even reach the top of any profession as many former Grammar School children did attain. Also, many of the girls might have looked forward to 'settling down' and raising a family as was expected of them before the times of equal opportunity etc - how things change. The current Itchen College is one of the most successful in the country with excellent results and you can take a look at:
I only have vague memories of my years at Itchen Grammar from the intake of 1960 till 1964 as 'pop' music had taken over my life thanks to the Beatles, Stones and many more great groups that were ensuring that the Swinging Sixties were paving the way for the best decade ever. Music, fashion, the arts mixed with a growing prosperity, pride in Great Britain and optimism all helped to define this amazing period. Many teenagers left school at 15 to start earning some money- maybe £10-15 per week at that time and full employment- you could leave one job in the morning and land another in the afternoon by popping down to the local Labour Exchange or Ministry Of Labour as it was then called. Those who chose to stay were naturally envious of the 'frivolous' types who did leave school and earn some money plus spending it on enjoying themselves at dance halls, record shops, clothes shops and whatever they fancied. I am happy to say that I have kept in touch with a few 'Old Issonians' as we are labelled, plus hooking up with a few more familiar names and faces in recent years - especially at a great 30th anniversary in 1990, and I share a few photos from that day. Reunited with school-pals and teachers plus the much respected headteacher Charles 'Sid' Thompson who instilled fear amongst us when knuckling down for studies but turned up in a brightly coloured 'Hawaiian' style shirt and casual trousers! The former sports teacher - Dennis Huxtable was also in attendance and became a later principal at the new College. He recalled me as we did have a few 'clashes' due to my being useless at sport plus my detentions as I refused to wear a girls' bathing cap in the dreaded outdoor swimming pool at the bottom of the field! This because of my long hair at the time (nothing changed ever since) and my mates were really envious that I escaped this ordeal. Maybe the first ever swimming pool at any Southampton school but it was akin to child abuse due to being unheated with loads of algae and green slime all around! Maybe OK on a (rare) hot summer day but absolute torture for anyone to plunge into the freezing water. The pool was next to overhanging trees, so one can only imagine to toxicity of the the water- even bacteria were afraid and kept out!
I much preferred the Tennis Courts at the other end of the field, out of sight of the main school buildings surrounded by greenery so providing a nice setting for the usual flirting etc. The transition from grammar school (founded 1906) to college status took place in 1967 as the 11 Plus was phased out amongst other reforms which are still hotly debated to this day.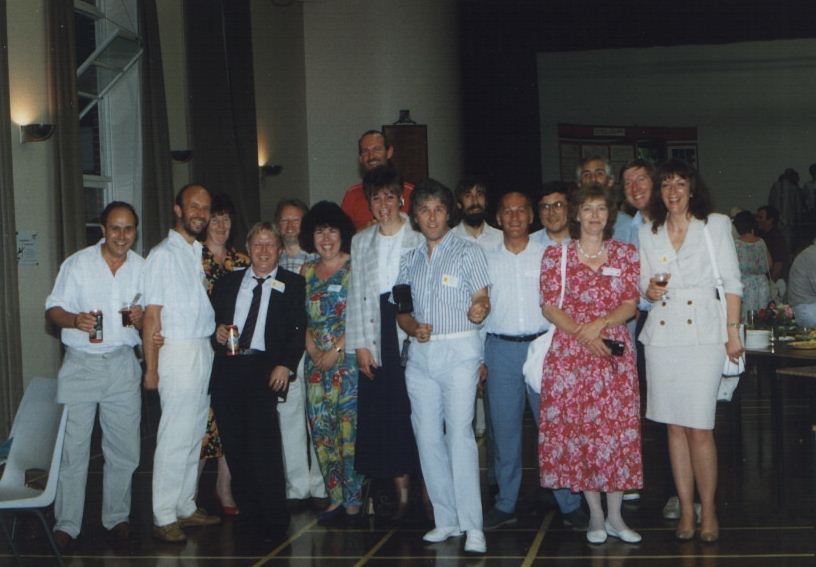 1990 Reunion- the class of 1960
Pete Huntley-Ken Derham- Betty Walters,-Ken Walkling- Brett Edmonds-Jenny Emmas- Paddy Farrell-Ann Shergold-David-Paul Bosbury- Alan Bennett-Jim Sawyer-Pat Woods-Barry Fox-John Willis-Jenny Gardiner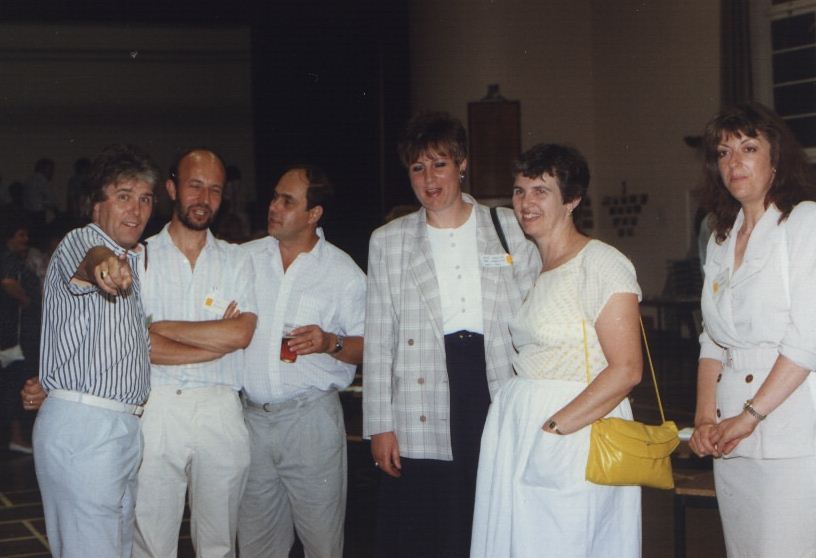 David-Ken Derham-Pete Huntley-Ann Shergold-?- Jenny Gardiner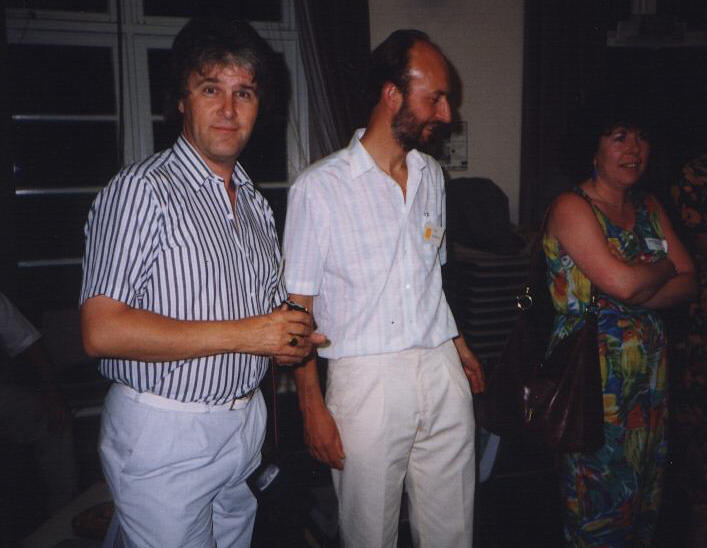 David- Ken Derham-Jennifer Emmas ('Emmy')
My thanks to Ken Walkling whose camera captured the above 'Old' Issonians!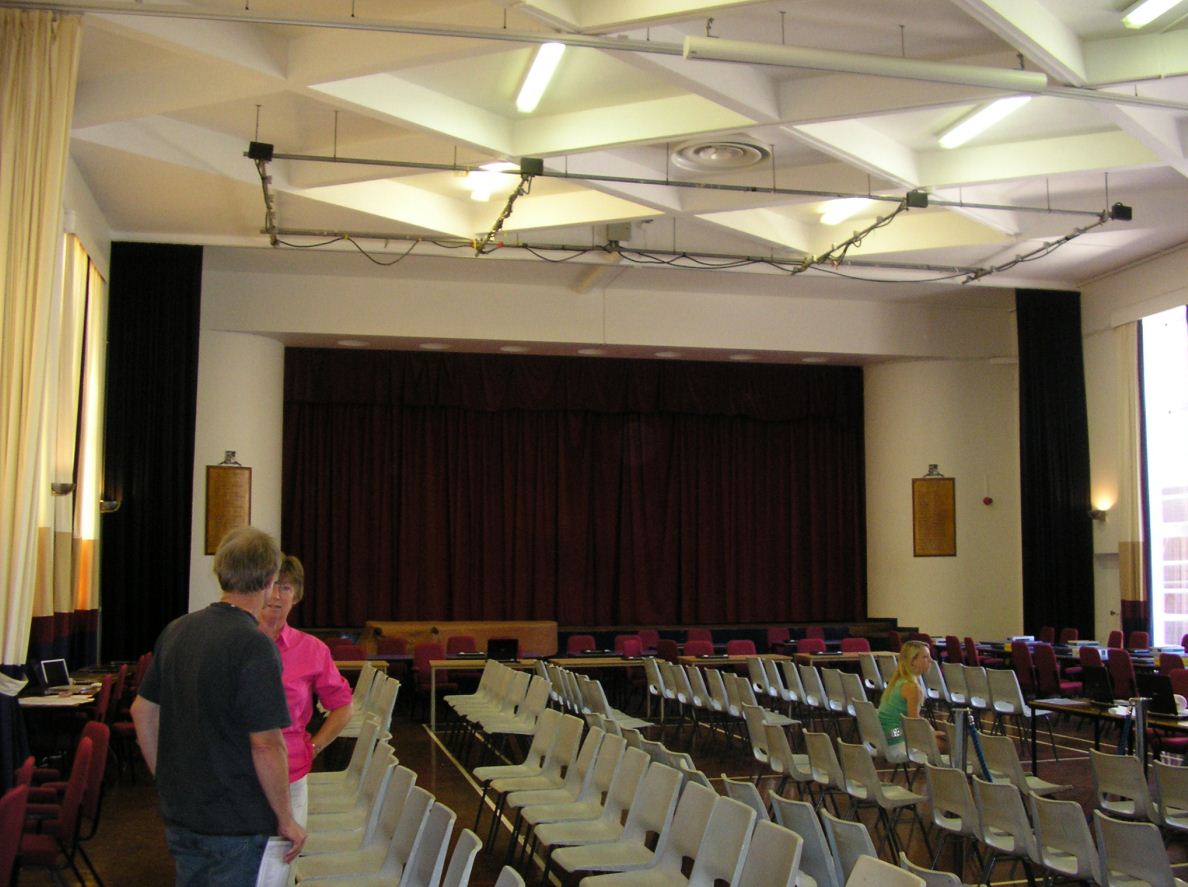 Itchen Grammar- School Hall
...........................................................................................................................................................................................................
Turning the clock back even more, I have a few old photos as well as some others kindly sent by fellow Issonians and hope that a few more will find this webpage and send their own memories or better still - any images. Raised in Woolston, my first school was just a few minutes walk from our home in Manor Road- my grandparents' large house next to the railway bridge over the local branch line from Southampton to Portsmouth and beyond. I gather I was maybe 5 or 6 when starting out at Ludlow Infants School in Ludlow Road and the area had many temporary 'prefab' homes that had been built after the Luftwaffe had relentlessly bombed the area with its proximity to the docks and nearby Spitfire factory on the banks of the River Itchen. These were on Radstock Road, Manor Road and Mortimer Road and were very comfortable warm homes that were later demolished in readiness for new housing stock, but there are a few of these 'prefabs' scattered around the UK with nostalgic websites dedicated to their memory! My memories of Infants School are naturally very misty but I really enjoyed learning and boosted by my father's influence as I could read and write basic stuff from my first day, plus trips to the nearby Woolston Library where I would spend many hours with my nose in books- mostly non-fiction in between the usual kids' favourites such as Billy Bunter, Just William, Worzel Gummidge and classics of Treasure Island etc. Sadly, I have no reports or other school memorabilia from all of my school years apart from the odd few images below. This photograph was taken in 1970 and shows my 1960 MK 2 Jaguar 3.4 in British Racing Green colour- cost me £125 but I soon got rid of it as the gearbox started to play up so a very expensive repair. If only I still had this vehicle- manual/overdrive with sunroof and a beauty- can you imagine its current worth........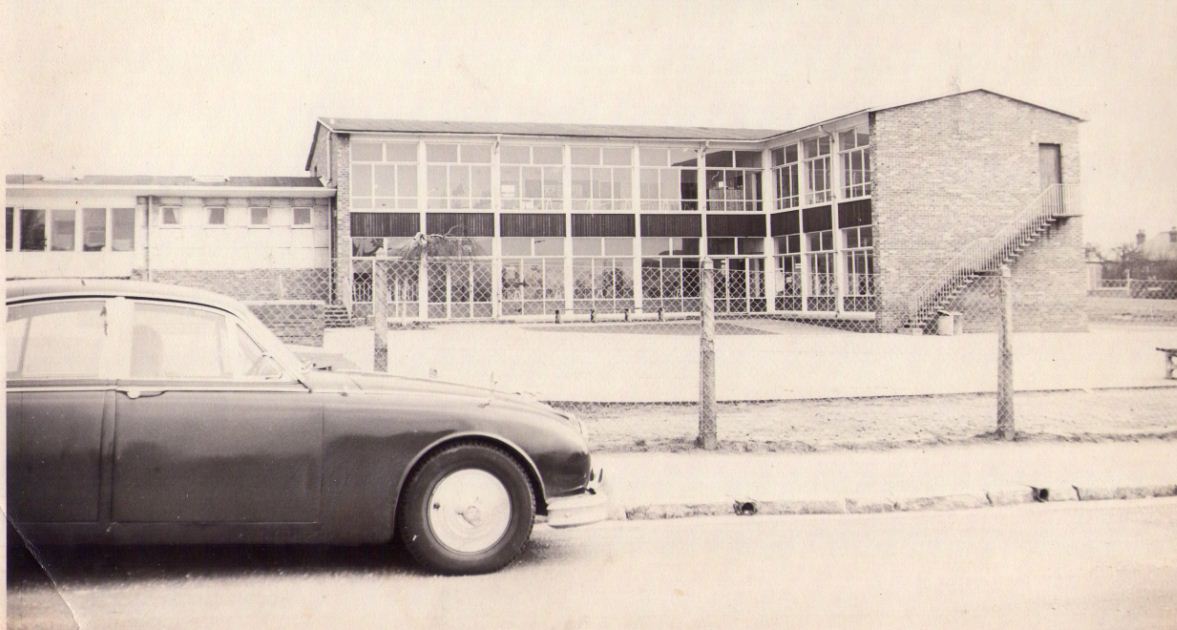 Ludlow Infants School 1970- Ludlow Road side. Other low level classrooms were behind on the Bishops Road side
I then progressed to the adjacent Ludlow Junior School, which was segregated in those years which suited us 'nippers' as we didn't want to mix with 'those horrible girls'............that changed in a few years! This rare school photograph was probably around the age of 7/8 - sat on a chair with the fence that separated the lower and upper Junior Schools- beautiful old red brick buildings - 'real schools' unlike many modern learning establishments.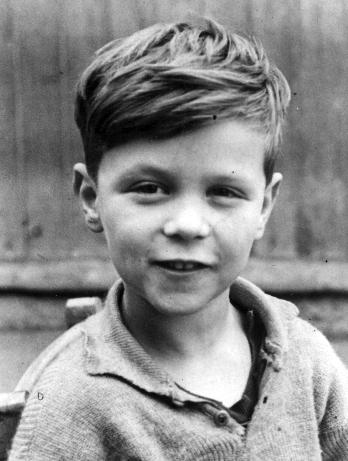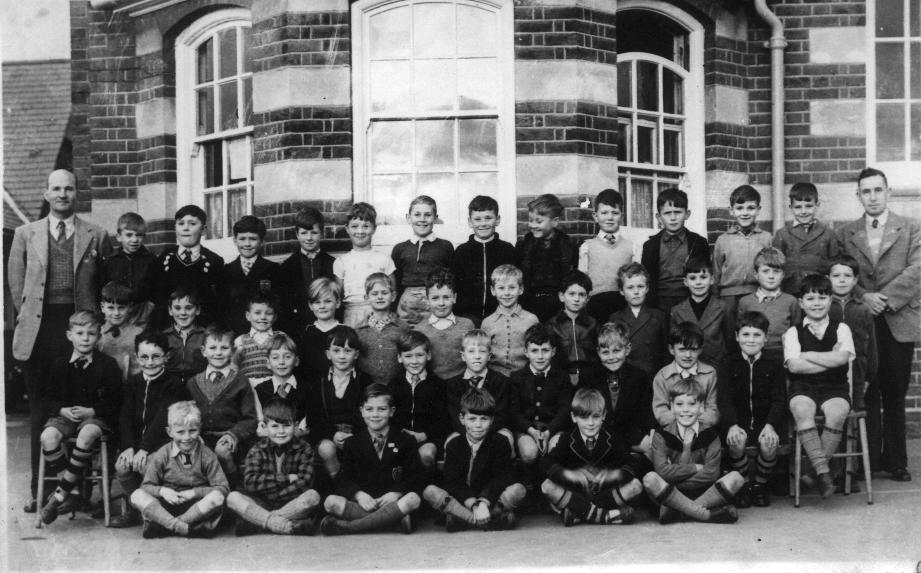 1958 (?) Class photo- you can probably spot me!
Flanked by the dreaded headmaster Mr Quinn on the left and class teacher Mr Learmouth on the right- both very handy when wielding the cane across trembling outstretched fingers! Usually for minor indiscretions such as talking in assembly etc. Strangely enough, I can still recall many of the names and even put them top faces in this photograph- probably due to the daily register and repetition- just like timetables which many of us can still manage! A few were good pals and these are what I can recall for now:
Bessant, O'Hara,Moody,Collier,Tritten,Cox,Ryan,Mainwaring,Morris,'Goofy' Hewlings,Brennan, White for now............
February 2015- a message from Ron Crates. He has jogged my memory over more of the teachers' names.
Hi David. I was at school the year before you but thanks for the class photo. It has my cousin Terry White in it. I had Learmouth, Donaldson, Jewell and Crouch but I remember Day, Hammond, Watts and of course Quinn. My dad attended the school too and was taught by Hammond and Crouchy (Story reader supreme). Thanks again. Ron Crates
Seen on Facebook: Mr Jolly was class 1. Learmouth class2. Day class 3. Donaldson class 4 (at Peartree. Hammond class 5. Jewel class 6. Watts class7. Crouch class 8. There were two streams, 1,3,5,7 and 2,4,6,8.

Present day Ludlow Junior School (courtesy school website)
This super wide angle photograph shows the two main school buildings with the former Girls on the left and Boys on the right- you can see where the old class photograph was taken in front of the Headmaster's office partly hidden by the bright tree. This middle area was formerly an old wooden wall/huts that kept us apart and the lower Junior School was on the left but out of this shot, with the Infants School next door- the whole school straddling Ludlow and Bishops Road with a hand sweet shop on the far corner of Peveril Road/Bishops Road. They were very happy days and I did fairly well at most subjects whilst reading a lot at home so guess this is why so much trivia seems to have to have stayed in a few brain cells across the decades but cannot remember major chunks of those years. I actually enjoyed exams- maybe a form of 'self-testing' and the need to impress my parents so I had no fears when the all important 11 Plus exam reared its head in 1960 and was lucky enough to pass with a high mark, which surprised many of the teachers as I was rather 'frivolous' at that time. In 1958, at the age of ten I was already starting out as a young rock n roll singer at local Southampton dance halls and you can read more on my Biography page. I left the Ludlow schools and enjoyed the summer of 1960 before getting kitted out with a new uniform and other needs in readiness for the big step up to Itchen Grammar School, whose school motto was 'En avant' - French for 'forward'. The unofficial motto was 'Come in Itchen - go out Scratchen!' My enjoyment of exams was to surface much later in 1982 when I embarked on a new path by applying for TV quiz shows as I realised that I still retained a wealth of trivia plus instant recall that forms the basis of most shows. This without any 'studying' or revision as many keen quizzers seem to spend many waking hours with noses stuck in books of lists etc and it seem that I remember snippets of many articles that I have read over the years or often remember bits from watching a few TV quiz shows. Many familiar trivia questions appear on a variety of shows but a lot of luck comes into play plus the 'pressure' of the TV studio (although it rarely phases me) This culminated in my gaining a Guinness World Record in 2014, as 'Britain's Most Prolific TV Quiz Show Contestant' with 34 appearances across thirty odd years. In addition, the national press coverage, along with taking part in an ITV documentary, inspired me to write my first book - see:
www.davidstjohn.co.uk/yoursquizzically.html
Again, I cannot recall much about my four years at Itchen Grammar but really enjoyed it plus the bonus of being a mixed school so surrounded by girls at last! I cannot remember any major 'bullying' as such apart from a few usual antics from the older pupils. The school had very strict rules and I did get summoned to the Head's study for a few telling offs plus the cane if deemed necessary. My attitudes were changing during my early teens and I was rather opinionated so often got into trouble for daring to raise my hand and 'suggest' that perhaps some parts of the lessons could be changed? Despite a love of most subjects and boosted by my own 'self teaching' through reading what I wanted to read, I felt 'forced' to learn what I thought irrelevant! Music lessons (Miss Pringle?) were quite boring, although I had already been singing at local dance halls and clubs for a couple of years and the new wave of Sixties pop music were really taking hold on many a teenage lifestyle. Geography was and still is a major interest but I didn't enjoy those lessons and recall the much feared Miss McAlpine ("Haggie/The Hag") who took some of these lessons. My friends recall that I often sneaked into a small rowing boat that, for some obscure reason, was placed in the classroom on the upper floor - I just lay down and snoozed until the teacher's back was turned so that I could jump back into my chair. Other lessons often saw chalk being thrown at me or other pupils who dared to talk amongst themselves or annoy someone in front by flicking paper around- sometimes followed by a well aimed wooden blackboard duster that bounced off many a head! Can you imagine these 'punishments' happening these days? Strict discipline never did us any harm and most look back at our school years with fond memories plus realising that it was a better system.
I did fairly well at most subjects and my favourites were English (Language) and French which I took to with a passion. I had always loved languages and found French to be a very attractive, beautiful sound as well as being interested in French history from previous years of reading library books. The 1066 Norman invasion was a major turning point for our country and not forgetting a few centuries of wars across the Channel plus the fascinating Revolution etc, also Southampton played an important part in the Middle Ages with superb fortifications against the many invaders who tried to over-run our lands but in vain. Perhaps a natural 'ear' for music helps in languages so maybe explains this factor of picking up other tongues- I managed much more in later years when on overseas travels in entertainment from 1973 on. Another major factor was having a brilliant teacher in the shape of Jo ('Connie') Condon who later married another Itchen teacher- Mr Dunford. Miss Condon took a shine to me as I was very keen as well as having a good accent for my French lessons so my 'rebellious' side never came into play. I later took my 'O' level French a year early and got good marks- I still have that paper plus it was great to meet up with 'Connie' at the 1990 reunion. She had hoped that my love of French might lead to higher education then maybe teaching but it was not for me, as my life was changing into the direction of the 'Beat Boom' My skills also came into play in the summer breaks when hordes of attractive French students came over to Southampton and I was able to drop in a few lines to impress the girls as part of the 'chat up' process. I also admit to carrying a packet of French Gitanes cigarettes (blue cartons) but only pretended to 'smoke' them without inhaling! Cool eh? However, these French fillies had too many of their teachers or lads in tow so it never amounted to anything but all part of the fun as the hormones kicked in. I tried a year of Spanish but didn't take to it, despite the French language skills being helpful as a Latin based language- even Italian is reasonably easy to understand (my next language to improve) I am still in touch with Jo Dunford and she loved these old photos that I recently posted to her. She still lives in the area, and I had the pleasure of visiting her on a recent visit, so shared more great memories.
1963 was a milestone in my life, as a new group had suddenly burst on the scene in the shape of the Beatles, whose first 1962 single of 'Love Me Do' was heard on the radio and often under the bedclothes with a new fangled Dansette transistor radio! Radio Luxembourg was THE pop music station but prone to poor reception as it beamed chart sounds across Europe, taking our minds off the awful winter of '63- one of the coldest on record. Some areas of the UK had snow from Christmas till Easter and I do remember struggling to school on my racing bike (Raleigh Blue Streak!) or catching the bus if needed. News came through that the Beatles were added to a forthcoming Roy Orbison Tour at the Gaumont (Mayflower) Theatre in May of 1963 so when the tickets were announced, Ken Derham and I braved the elements by joining the overnight queue bedded down by the side of the building! We took turns as well as our parents coming over with food and drink to sustain our shared places. It was great fun and the atmosphere was really good as we were all excited with 'Beatlemania' taking its hold over the country before hitting the world stage. We grabbed our tickets- priced 10/6 - 52 ½ pence in 'new' money and then waited patiently until the big day when the stars hit Southampton - you can read about this on my other webpages. Our seats were only a few rows back from the stage and, like many a young teenage lad around the nation, I was inspired to be in my own pop group which fell into place over 63/64 but 'distracting' me from my studies. I was in the 'A' stream for a short while, but my mind was elsewhere in the classroom with 'daydreams' or doodling away on my exercise books- song lyrics etc. I often came in late after a previous night's show or rehearsal or even dozed off during many a lesson. At the end of the 1964 term, my parents had a letter to the effect that they felt it wasn't worth me staying on for 6th Form and whatever Higher Education took my fancy so it was time for me to fly the nest with mixed feelings as I had enjoyed my time at this superb school.
I would miss my old schoolmates but have kept in touch with a few ever since as well as hooking up with others in recent years so I'll mention a few now. Ken Derham stayed on and eventually went to University with a career in book publishing for the Russian market. Firm based in London with Ken living in Brentford Essex for many years until recently retiring to East Anglia. We got on so well at school and were/are big Cliff Richard fans amongst other pop stars of the time plus we had so many laughs along the way- still in regular contact.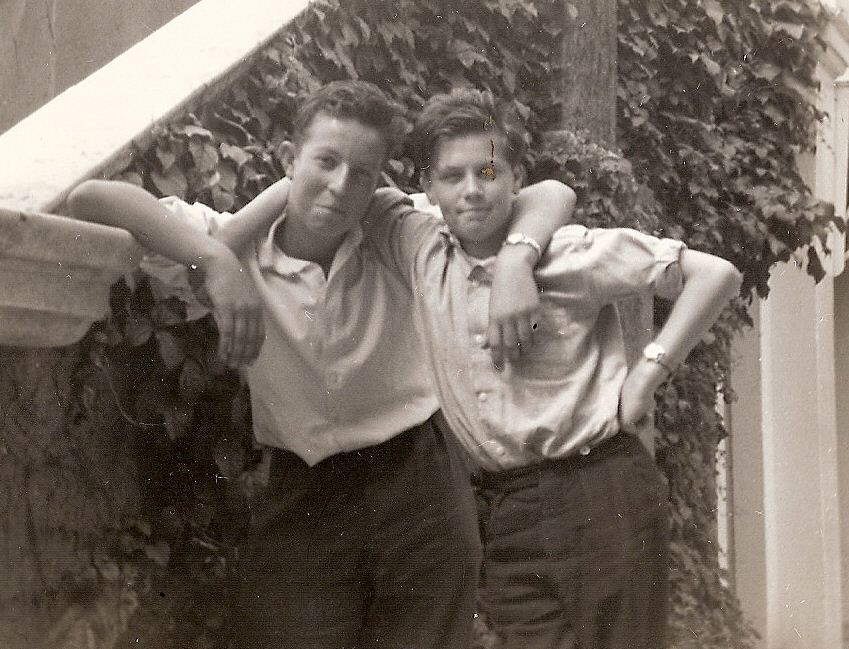 Ken and David- London Zoo school outing maybe 1962? Around 13/14 yrs old?
Alan Bence was another great mate- a very talented musician whose piano playing from an early age later developed into a career in the music business when he moved to London and Home Counties. He wrote musical arrangements and acted as M.D. for many well known star names, so we had that close link as well. Many a time after school or at weekends would see me at his house in Deacon Road by Itchen Grammar School as we played duets on his grand piano plus me on his small drum kit. We took part in an International Schools Concert at Southampton Guildhall in 1961 as I accompanied his piano piece on the drums and I still have the programme! Kids from all over Europe took part and it was quite memorable, but even better a few years later when some of my pop groups trod the same boards as well as later shows by the Stones, Who, Jimi Hendrix,The Nice, Move, Jethro Tull and many more- see my other webpages. I last saw Alan in 1972/73 when visiting him at his Surrey home along with his (then) wife Sally- another Itchen pupil, and he wrote me out some musical arrangements ('dots') as my new solos shows required them for the backing musicians that were in various clubs etc. I still have them but not used for many years, as I later taught myself to write/transpose from sheet music so that I could have the exact copies for my entertainment needs. Sadly, he passed away in the 1990s with a sudden rare blood condition and I regret not meeting up with him again- we often say this when losing good friends or drifting away.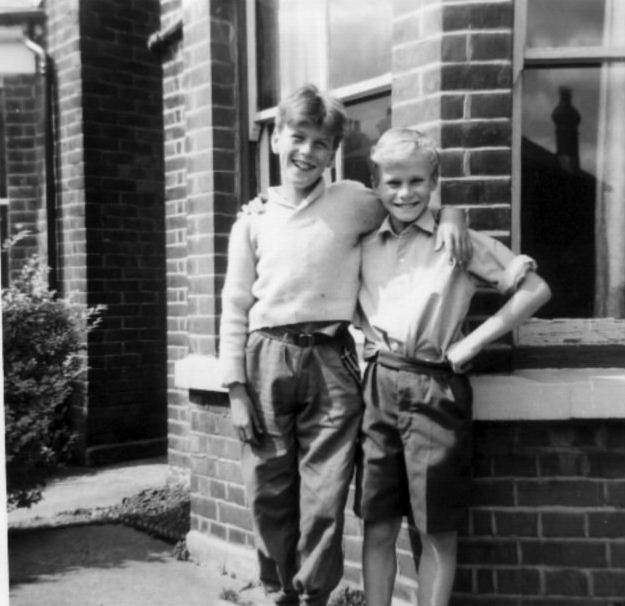 David and Alan Bence 1961?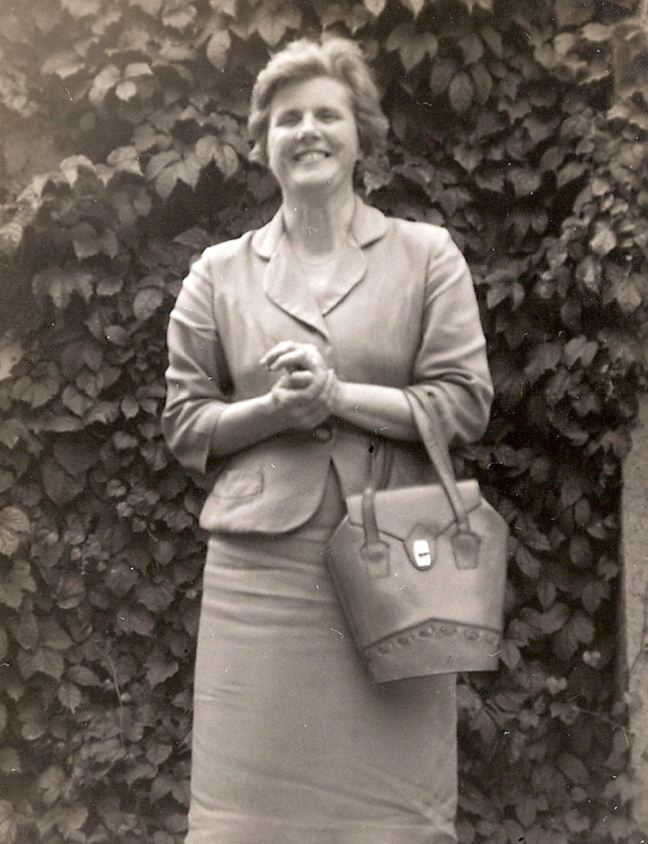 Teacher Mrs ('Winnie') Warner- 1961?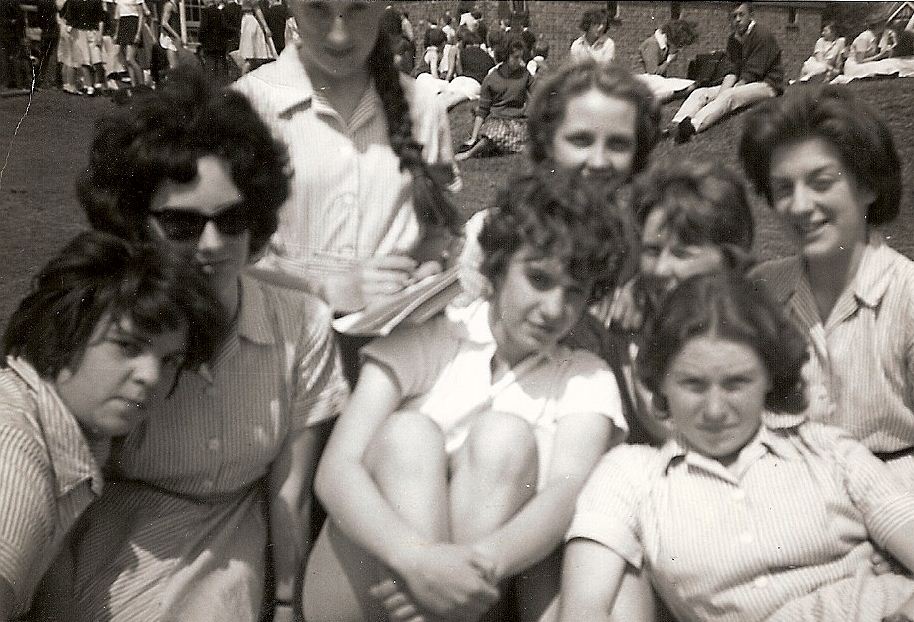 Itchen Girls - summer uniforms!
Back row- on right- last 2 are Betty Richmond Jenny Gardiner. Other names- Frances Townsend, Suzanne ? possibly Croft, Jenny Swann
May 2016: Ken Walkling has sent these names, so maybe getting close to identifying who is who!
Bottom left Frances Townshend (note the spelling)
Middle left still unknown
Top left Betty Walters
Middle Suzanne Brown(e?)
Above Suzanne still unknown
Over Suzannes left shoulder Janet Richmond
Top right Jenny Gardiner

Bottom right we think is Eileen Guppy. We? Been chatting to Maggie Noble on FB. She is not sure, but she has passed it on to Eileen herself, and she is pretty sure it is herself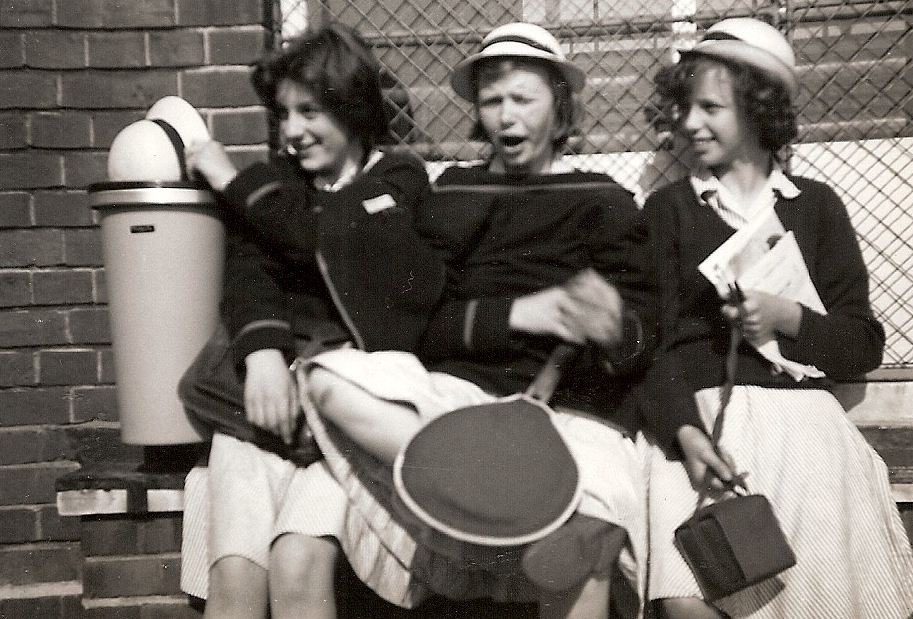 Jenny Gardiner- Pat Woods- Dianne Pope. St Trinians or what?
Thanks to Judy Lush via Facebook. Any more names?
Me - being hung by own petard (tie!) with great classmates on the grass behind the 'temporary' annexe building around 1962?
Jenny Gardiner in white blouse at the front with Hazel Diaper looking to the side. Pat Woods then Bronwen Page just below us two scallywags?
I am always in touch with Ken 'Titch' Walkling whose later career covered his love of chemistry and he taught/lectured at universities plus research etc. Ken was also a major force in setting up an 'Old Issonians' group back in the 1990s but it didn't really take off as it was based on names, addresses and phone numbers that often changed but a few meetings/ reunions did take place. Maybe, in these day of social networking and websites, perhaps someone may take up the cudgel and arrange it? I'm too busy, but maybe this new webpage might lead to something- who knows? Jenny Gardiner ended up in the fashion trade and based in West London for many years- we are in regular touch as well so often have nice chats about the fun days and trying to remember more names, faces etc. Bronwen Page is another contact from those days- she kindly sent some of these photos and has been in Buxton for a long while- she came along to one of my shows a couple of years ago and still recognisable like so many of us schoolkids! Pete Huntley is another contact and another of my best pals was Bob May- a brilliant highly educated lad who went into University and ended up with a distinguished teaching career in Southampton. He was headteacher of a great city primary school in a deprived mixed race community area but with excellent results. His elder brother (Philip?) was a former head boy at Itchen and I also believe that he went into teaching. Bob and I were very different characters but we got on so well- with a shared sense of humour that provided many laughs through those formative years. On lunchtimes, we would often pop up to his auntie's house at the back of the old Excel Bowling Alley in Bitterne where we would buy a portion of chips, some of which were then placed inside our packed school sandwiches and even jam ones provided a great taste- go on- try it!!!
When a few of us managed to get back in contact, we did reminisce about those pals who were no longer around and the most recent sad loss was Lois Dowle in 2012 and it really makes one think about life and where it would take us when leaving school and into the great wide world. I hope you have enjoyed this insight and I hope to add more information, stories, photos as and when 'new' people find this webpage, then maybe contact me? These are a few names that were listed on a 1990 Old Issonians list and may jog a few of YOUR memories, along with those named above:
Jerry Agnew,Daryl McDermott,Mike Bianchi,Chris Dyer,Brett Edmonds,Barry Fox,Alasdair & Ann (Diaper?),Vaughan McDermott,Jim Sawyer,Serena Cox,Eddie Richard,Ralph Easson,Bob Templeton,Brian Burtsell,Sue Foley,Christine Cutbush,Hazel Diaper,Alison Hounsome,Rosalyn Hounsome,Paul Bosbury,Katrina Morse,Yvonne Cork,Frances Townsend.
............................................................................................................................
I noted a Carol Day (formerly Brown) on the Friends Reunited webpages and I have 'borrowed' another great photo of a 1964 class of girls but cannot recall them. If you can help then please get in touch and some names were added to this great shot so I have copied them as well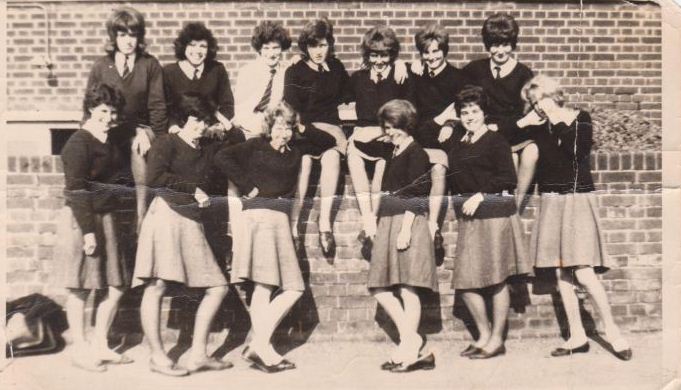 Back row: Roz Smith- Margaret Wilcox-Carol Brown- Kay Stratton -Barbara 'Snuff' Angell,-Chris Marsh,Barbara Harvey
Front row: Sally Kilford-Caroline Ship-Linda 'Meece' Macey-Sally Patey- ? -Sally McKay.
July 2015- Lo and behold - a great e-mail popped up, and another former Itchen girl stumbled across this page, as well as seeing the above photo. It was taken on her old Box Brownie, and this is the message:
Dear David,
I really enjoyed finding your website. Especially news of teachers like "Sid", who taught us Latin in 2a. Mrs Warner and Miss Pringle were great favourites. Jimmer and my mother got some sort of exchange work going, as she was French. I think we were in 3a when he taught us. We had Mr Lewis for French later, including in the sixth form.
I also liked "Kibby" Kay (Latin), who died in the classroom. Not our lesson, but as ghoulish 4th formers, our sadness was tinged with disappointment not to have been the class he was teaching at the time. Then Mr Pearson (physics) and Mr Dunford (chemistry). He would sing the comic father figure in the School's G&S production. The major general in "Pirates of Penzance" and the admiral in "HMS Pinafore".
I was in the year above you and the photo of several girls was taken on my camera at the field end of the PE hall/canteen, though by whom I'm not sure, as I'm in it. My Dad developed it.
To get a near complete names list - I am the one to Barbara (Snuff) Angel's right and my surname was Marsh. The girl standing that is not named is called Kay. Unfortunately I cannot recall her surname. I have a copy of this shot still. Linda Macey was known as Meece for her small size; from "I hate those meeces to pieces'. Sadly she died of cancer in May this year. Snuff Angel went to her funeral and my husband represented me as I am poorly right now. We three had always been in touch.
Another girl, Barbara Hindle, was also called Snuff. Long Story. Our crowd got up to a lot of mischief like packing the lavatories with snow and stealing a lab rabbit, to mention two of our misdemeanours. At least the bunny wasn't dissected!
We were a gang of girls that used to play 3a boys at rounders every lunch hour of 1962. Of course the sun always shone.
Best wishes
Kit Williams
formerly Chris Marsh.
I called Kit (Chris Marsh) and we had a nice chat, as she filled in a few gaps with these names etc. Once again, I am always pleased to hear from anyone who finds this Itchen Grammar webpage, as well as having more photos and memories from these amazing school years. Kit went onto teaching and has kept in touch with a few old pals, so maybe more surprises will no doubt surface. She mentioned that headmaster 'Sid' Thompson was previously in charge of Ilfracombe Grammar, and she also prompted me with a link, that tells a lot more! There is a book, written by Diana Vennis and tells of her husband's lifetime in teaching, with references to Itchen Grammar School. I'm not sure if this link works - I had a problem when checking it from this very webpage. Let me know?
http://www.troubador.co.uk/book_info.asp?bookid=1870
............................................................................................................................
August 2015 via e-mail from Australia:
Hi David,
I recently read your article on Itchen Grammar and was pleasantly surprised to read names and see photos of teachers that also taught me and it jogged my memories of people from that time. I lived in Sholing and was at Itchen until 1960 when my parents emigrated to Australia when I was 15 and I still have the school photo from 1957. I remember Mr Thompson striding around in black robes too, and always thought he was a very distinguished looking man. Also remember Mr Whitehead singing as he was walking around, practising for the latest school production he was in and what great shows they were too. Perhaps the worst memory was of our P.E. teacher Miss Few sending us out in shorts and t-shirt to play hockey on a frozen field! My father helped build that swimming pool at the bottom of the field and guess I helped in a small way too but never learned to swim in it as I was so terrified of water. I have not been in touch with school friends and often wonder what they are doing now. My best friends were Mary Jones, Joan Hatt and Dave Heslop ,Janice Johnston, Malcolm Turner.
I have very fond memories of my time at that school. I still live in Australia and I shall keep an eye on your page from now on. Regards, Cheryl Wilson. bossy1944@optusnet.com.au
April 2018
I have been reading with interest about your years at Itchen grammar school. I was there much earlier than you, from 1949 until 1952. I wonder if any other of your contacts go back this far? When you mentioned the dreaded Miss McAlpine (The Hag) memories came flooding back. She and I never did see eye to eye! Teachers I remember were: Mr Russell ( biology) nickame 'Bugs', Mr Thompson (headmaster) Mr Pearce (english) Miss Edwards (geography) and Miss Dobey (domestic science) I have also just remembered the physics teacher who we called ' Boris' after Boris Karloff! I hope this may be of some interest to you.
Regards Rita Ford ( nee Dimmock)
............................................................................................................................
THESE COMMENTS FROM FORMER PUPILS- THEIR WORDS!
One person on Facebook recalls 'Sid' Thompson as a 60s 'Darth Vader' walking round with his black flowing robes, instilling fear (and respect) with all pupils!
I also recall the letters after his name on many plaques- M.A. Cantab (Master of Arts/Cambridge University)
Mr Vennis
Who remembers Mr Vennis and the 6 inch rule?! He insisted that all "courting couples" kept a respectable distance of 6 inches between them at all times .... of course we all complied !!!

Dudley Booth
Does anyone remember who picked Dudley Booth's mini up and parked it behind the concrete bollards?


Dudley Booth
No i dont remember the incident with the mini - but what a star of a teacher he was!!!


Miss Pringle
Who remembers the formidable Miss Pringle who taught History and used to conduct the lesson sitting on the radiators by the windows overlooking the playing fields. Her and Haggie together certainly put the fear og God up any new pupil.


'Jimmer' Brown
Taught french, and threw chalk and blackboard rubbers at you (wouldn't get away with it now!). Was ex Navy and sometimes taught rugby - at a school that only played football!


Dudley Booth
I don't remember Dudley having a mini - he always had a Lambretta (it was old even then). I once took him sailing in a catamaran and nearly lost him as he slipped and went completely round the mast dangling on the trapeze. (Mark Clemens 64-72)


Mr Vennis
I remember when he first arrived as head and decided that there should be no school bells. Clocks were put in each classroom, we kept changing the time and soon every clock told a different time. Pupils moving around the corridors for about fifteen minutes between lessons - chaos! Bells reinstated.
Replied more than a year ago


Miss Pringle and Miss McAlpine
My memories of these two ladies are very clear. Some one asked why they were so memorable. May I suggest that they were damned good teachers? I know that my love of History and knowledge of other parts of the world stem from the lessons I learned from them between 1948-1954.If they are still around I offer my thanks.




Mr DK Toye
Fantastic maths teacher. We learned by fear rather than by desire. The fear was from being in the firing line of his chalk, or if he'd had a really bad day, the blackboard duster!
When he was in a good mood, he'd wander around the classroom playing with the loose change in his pockets-at least I think that was what he was doing.
July 2018 From a Ludlow/IGS pupil:
Hi David
We have already reminisced about Itchen but I was looking through your web site again recently and came across the page about your early school days! I went to Ludlow infants and Ludlow Junior! Mr Quinn was my Head teacher and Mr Learmouth was my first teacher at Ludlow!
I started school at Sarisbury Green Infants but we moved to Radstock Road and I joined Ludlow Infants in my 2nd or 3rd year. My teacher was called Miss Parslow and I loved being there. Like you I moved up to the Junior school and have fond memories of drinking sour milk in the summer and frozen milk in the winter. Not so fond was the tome when Mr Learmonth caned me for talking in the queue. I wasn't in fact talking and my parents complained but it didn't make much difference. I remember one of the teachers Mr Jewel died while I was at Ludlow and my teacher in my final year was Mr Crouch. He was a marvellous teacher and I am sure influenced my decision to go into teaching (although I didn't actually do it full time!)
I think you must have been a year ahead of me as I remember all of the teachers that you recall at Itchen., as a music student I had Miss Pringle and she lived in my village (Basett Green ) so I used to clean her car! She was quite 'hi-brow' a marvellous musician. I also had Haggie and Miss Condon (French) and Mr Dunford for physics. Mr Toye was our maths teach and a formidable Chaucer fanatic whoe name I can't remember. I took part in 4 or 5 of the Gilbert Sullivan performances - Ruddigore, Iolanthe, Pirates etc and they were great experiences of performing as part of a large ensemble.
I was also caught up with the appearance of Beatles, Stones etc and I taught myself to play the guitar on some of the early tunes. (Still play them now with my band Goldrush Harmony) In the 6th form we formed a folk group called the Young Folk and performed in many clubs around the area. Ken Derham was my Patrol Leader at Scouts and I did my orienteering badge with him and hiked all around hedge end and camped out for the night. I met Alan Bence quite regularly as he usually played piano during break and many years later my son Matthew was friends with Alan's son when he was at Itchen! I was in awe of Alan's music ability and really enjoyed hearing him play. Very sad to hear that he died later. I used to take part in the International Youth Rally and I too went to various countries on an exchange week and joined in the activities in the city.
I started my passion for Sailing with Dudley Booth. We used to go sailing every Wednesday afternoon. I think he lived over highfield way and he did drive a scooter. I had an LI 150 in my 6th form although I wasn't not one of the mods (James Noss, James Potter, Dave Shotton etc)
Really enjoyed reading your articles and reminiscing! Thank you.
David Vane
( Mob: 07545 982838 Skype:david0510
www.evolvingart.co.uk – supporting dementia research with Alzheimers Society
July 2018 - another great mail!
Dear David
I hope you do not mind me contacting you, but having 'Googled' Itchen Grammar, your name came up. I have a fair amount of magazines and information from Itchen Grammar that may be of interest to you or to someone who keeps archive material relating to the school during the war and its time in Andover.
My late mother was evacuated with the school on 1st September 1939 as a child of ten and left in 1946/7, having been Head Girl, to go on to university in London. She always talked very fondly of her time at Itchen, despite the challenges associated with half-day schooling and I know she returned more than once to attend reunions there. Her name was Doreen Henry.
If you or anyone you know would be interested, then please get in touch as I am sure she would be happy to think that all the magazines and other papers would be 'going home'.
Yours sincerely,
Maggie Jackson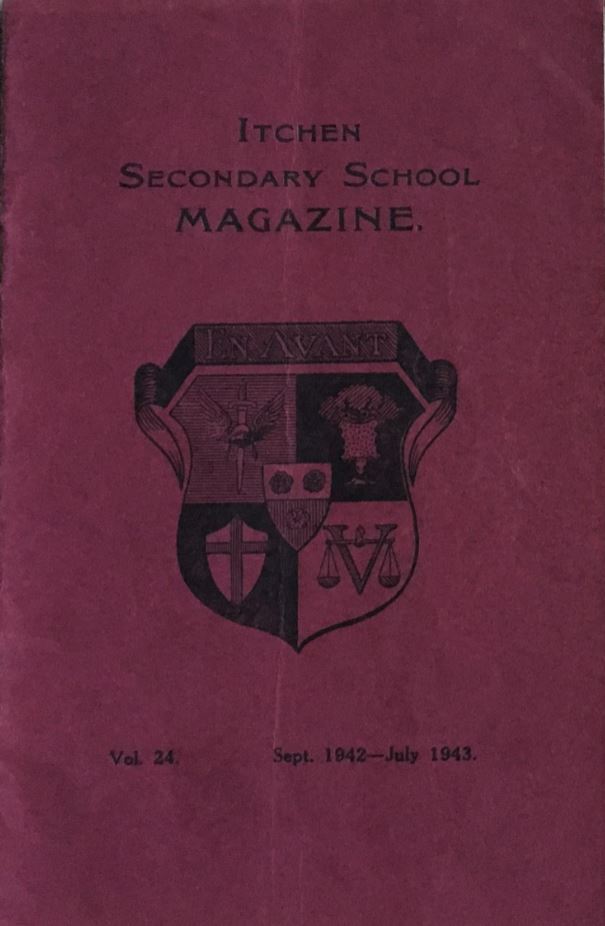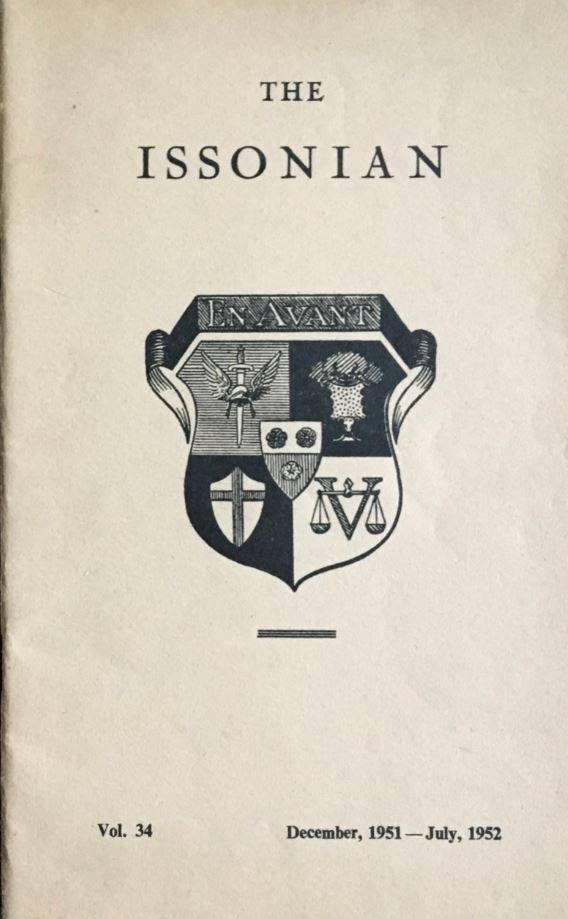 I am in touch with Maggie and hope to obtain more information on these rare magazines, with a view to sharing more images on this webpage, as well as seeing where the booklets might end up. Maggie also tells me that her mother wrote down her life story, so this may well provided more great personal memories of her early years. She also recognises the name of Anne Shergold, which trigged a memory of a Joyce Shergold who was a friend of her mother, so there may be a link? The story continues....
https://books.google.co.uk/books?id=s1fJBQAAQBAJ&pg=PT189&lpg=PT189&dq
September 2018
Several former pupils find this webpage, then send me more info/photos from their own collections, so yet another 'Old Issonian' contacted me from Almeria Spain. These memories are taken from his various emails:
Hi David
I stumbled across your website and read with nostalgia about life for Old Issonians back in the 60's (my era: 1961-69). I have often wondered what happened to my contemporaries (I have been hopeless throughout my life in keeping in touch with people and, the older I get, the more I regret it).
When I was at Itchen, my surname was Allcock (yes, I had all the jokes/nicknames!) and somehow managed to become Head Boy in my final year. A lot of the confidence I gained in my latter years at the school/college was down to Elizabeth Gardner who, for some reason, took me under her wing and convinced me of the things I could do which I never thought possible - e.g. standing up on stage and making (a very short!) speech. I would love to be able to get back in touch with her and thank her for all the belief she had in me (she was like a personal mentor, although I wouldn't have known what that meant then!). I don't suppose you or any of the others you have contact with would be in contact with Liz or know what happened to her? It's a long shot, but worth a try. Equally, I'd like to make contact with any of my exact contemporaries - no doubt, we're all spread far and wide now! Thanks for any help you might be able to give and for the memory trip - and great to catch up with at least one Old Issonian!
.......................................................................
I was reading all your material in detail last evening. It's amazing how much history we share: I also went to Ludlow Infants and Juniors (I lived in Bryanston Road) and enjoyed languages at Itchen. Like you, I did French O level a year early - also did Spanish, Latin and Greek. I envy your brave decision to opt out of education and do what you wanted to do. I got stuck on the treadmill and went off to Uni, but didn't enjoy it and dropped out in favour of a career and professional training (HR). Congratulations on your subsequent success - seems like you took your chances and made them work for you. Good for you!
.......................................................................
I recognise most of the names and remember most of the faces of those you mention. Bronwen Page might well remember me from the Twelfth Night tour to Germany and Denmark. We sat next to each other on the coach. Your mention of Bob May certainly brings back memories: I was always a bit in awe of him - he seemed such an intellectual and somewhat distant. But a lot of that is where Liz Gardner came in: I was "diffident, modest and shy" to quote from Ruddigore, until Liz decided there were things I could and should do to boost my confidence - what a difference she made. I could never have stood on stage, accepted a prize from the Mayor and made a thank-you speech without her encouragement. Isn't it funny how some of these things just stay with you for the rest of your life?
Jo Condon (later Dunford) I came into contact with again much later in life. I remember when I first arrived at the school she was one of many teachers who seemed a bit awesome. She never taught me (I did French with Jim Brown), but when I became involved with her again later, she was such a lovely, friendly lady - it just proved how different contexts (and age) can affect people's views. You never know, I might actually find Bob May quite a friendly chap after all! I well remember your grandparents' house next to the railway bridge - a prime location! And Garton Road - members of my mother's family lived in that road. Such a small world!
You can just make me out as the last Blade on the right in the Ruddigore photo and 4th from the left in the top row in the Southern TV photo. Liz Gardner is second from left bottom row.
Best wishes Alan Wessels-Coles Spain
Alan also sent these amazing old photos, clippings and programme details of some of the events that he fondly recalls. Top image shows a production of 'Ruddigore' (Gilbert & Sullivan) with the programme notes below, followed by Twelfth Night plus press clippings from the local Echo newspaper.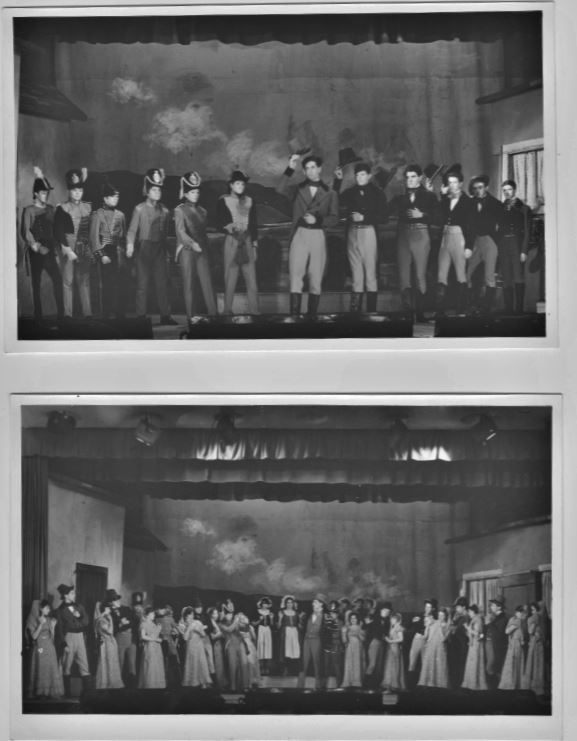 RUDDIGORE 1965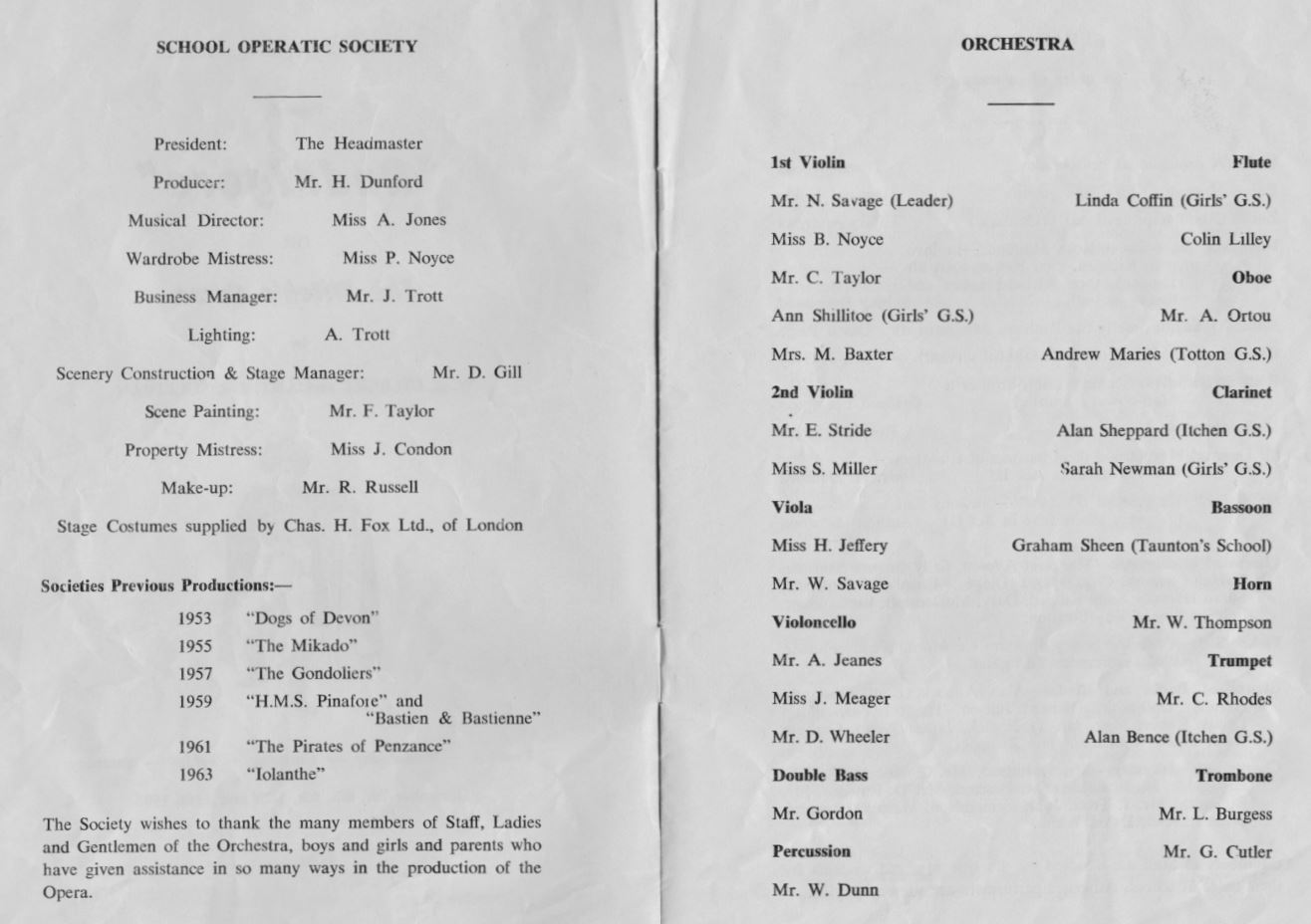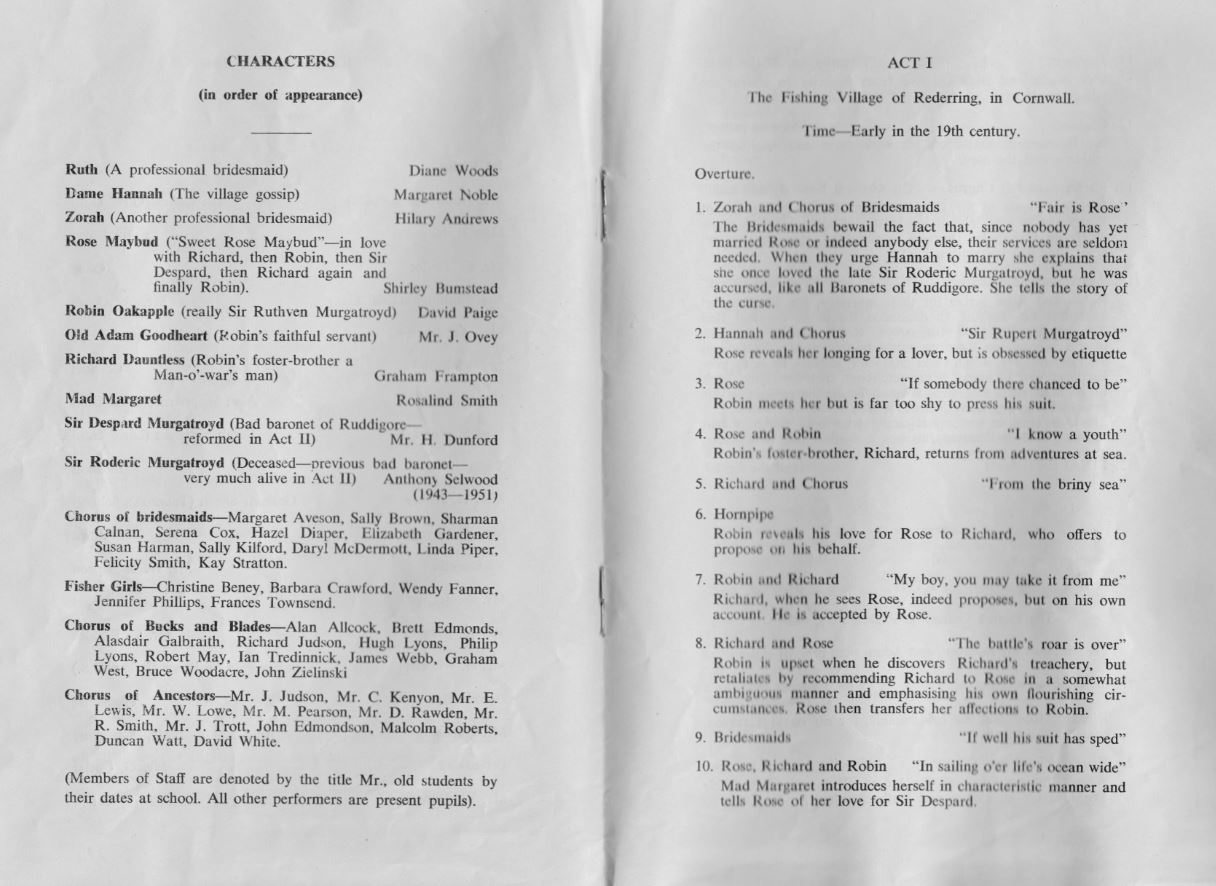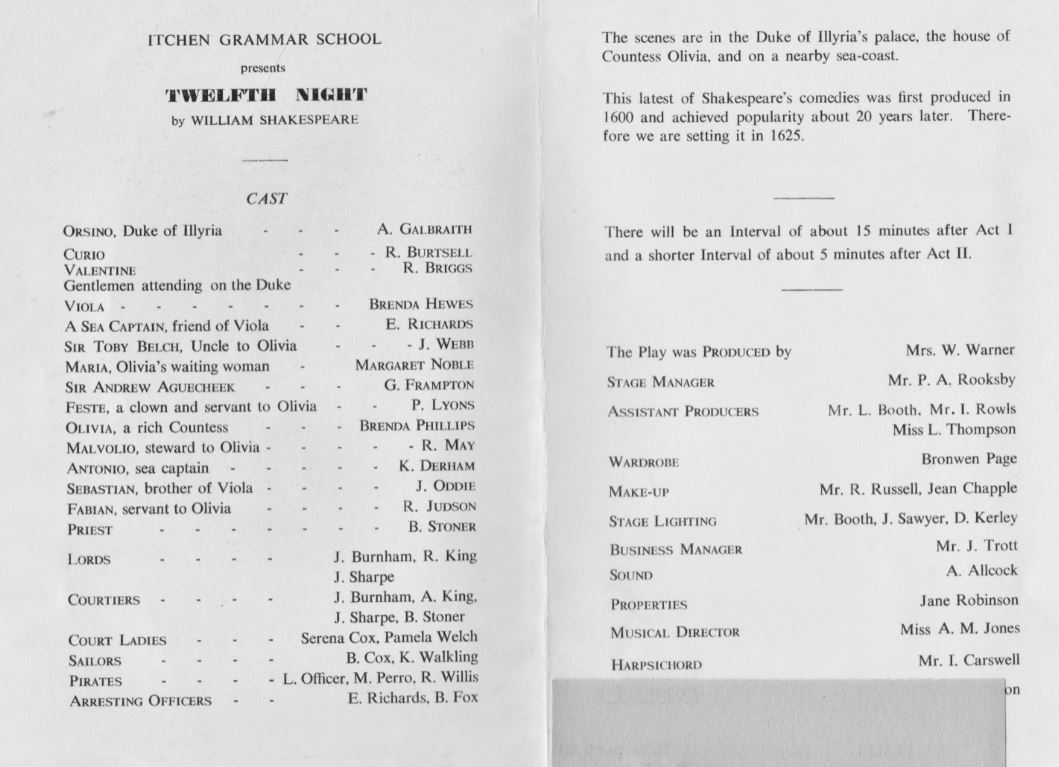 TWELFTH NIGHT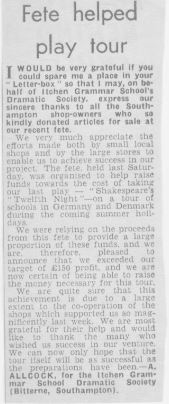 Alan's letter of thanks via the Echo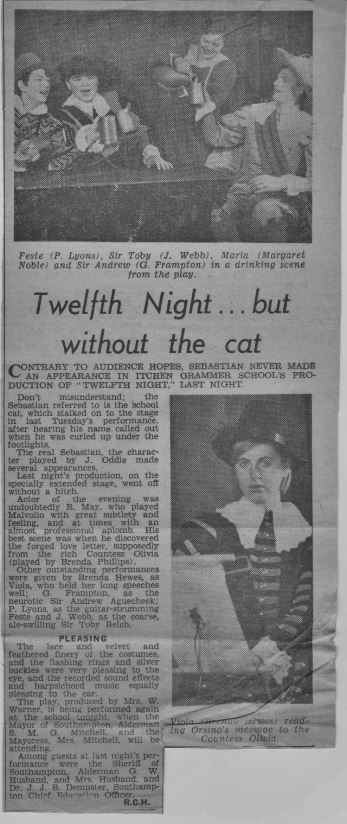 Echo report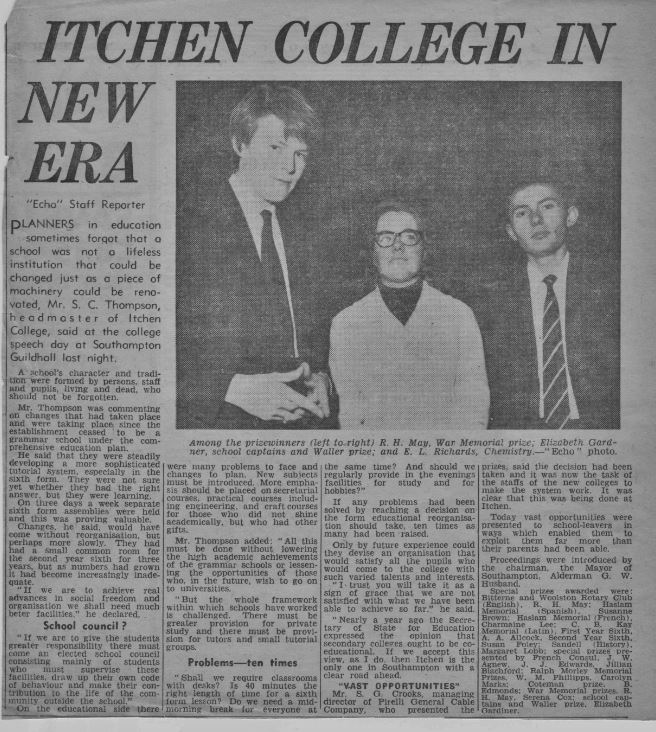 Echo report on the change from Itchen Grammar School to College status.
My old pal Bob on the left as well as Eddie Richards on the right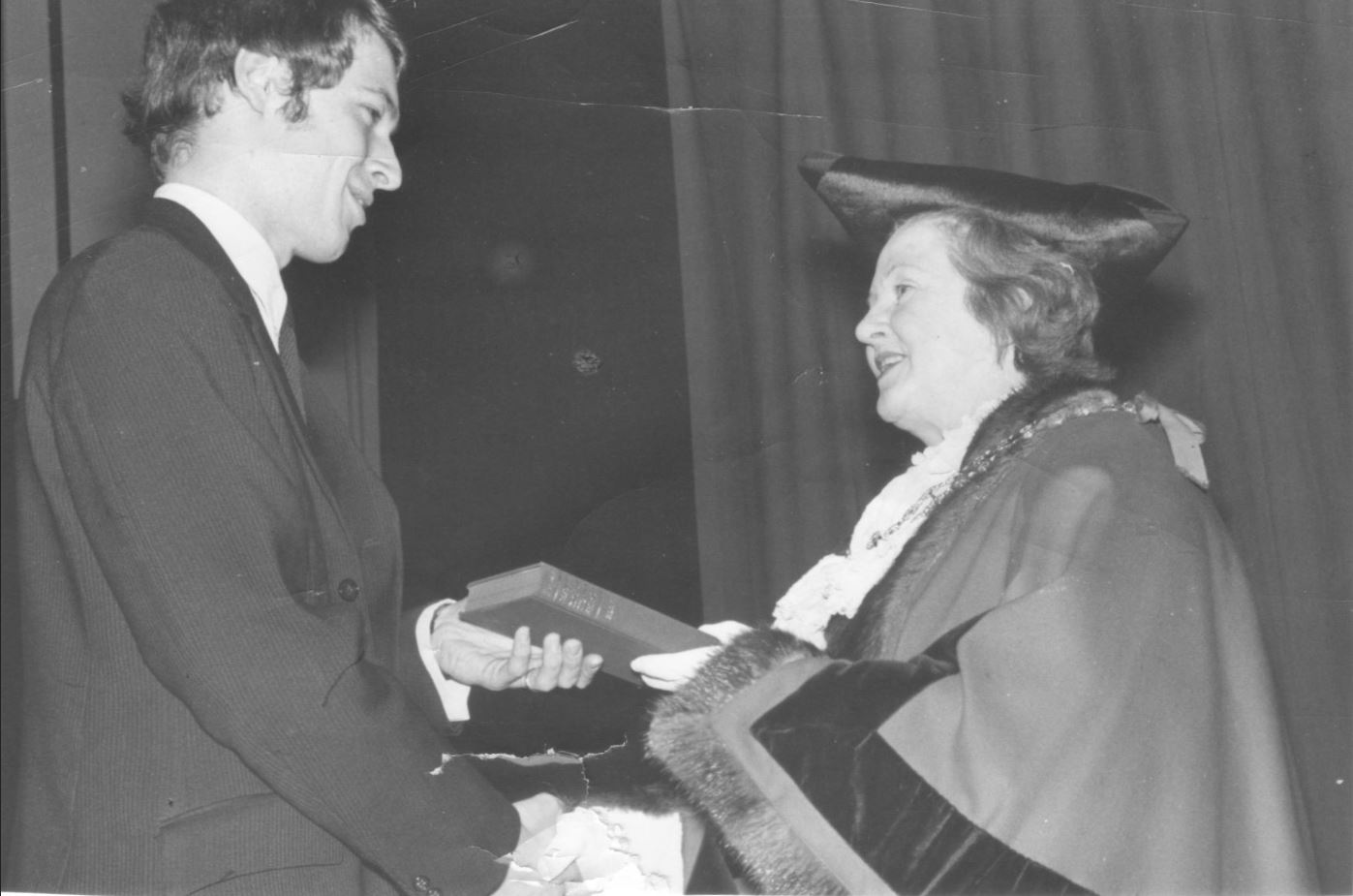 Alan's prize-giving
ITCHEN GRAMMAR SCHOOL CHOIR - SOUTHERN TV STUDIOS (Alan- top row left and four in) Also Alan Bence just below and fourth in)
.......................................................................................................................
October 2018. As more people stumble across this page, it often leads to more messages that I can share with the world! Thanks to Joy Wallace (nee Phillips) for her lovely mail and we had a nice phone chat as well.
What a wonderful site to have found! I attended Itchen Grammar from 1958 to 1964 and was one of the original "bad girls" during my time there, as any of my teachers would attest. Like so many of us Golden Oldies, I have such deep regrets at not having kept in touch with my peers, but at least I know that all the staff would have been delighted to have seen the back of me! I remember taking a morning off school as I had queued all night to get a ticket to see The Beatles – Mr Thompson was particularly unamused and my punishment was not to be able to spend any time during school hours with my best friend (who also queued all night with me) for a whole term. No mobile phones or internet at that time, so obviously no contact – oh, woe. I was a particularly poor student because all I was interested in was pop music, clothes, makeup and boys (not necessarily in that order), and I remember clearly Mr Thompson's remark on my school report many a time – Is Joy only good at subjects that interest her? Obviously, the answer is "yes". I thoroughly enjoyed English Language, Literature, French and History and, in fact, those are the only O-Levels I passed – so no university then. I spent a year after my O-Levels in the Commercial VI, studying Shorthand and Typing, simply because I hadn't got a clue what else to do. Is there anyone out there who remembers the Commercial VI and, what would be even more surprising, actually attended the course (especially during 1963)? I'd love anyone who remembers me to get in touch. If anyone has any old school photographs from 1958-64, I'd bite their hands off to get copies. Now that I have found your site, I'll keep tabs on it on a regular basis.
My maiden name was Phillips and my best friend was Denise Parsons - so, Denise, if you're out there, here I am! I'm sorry to say that I don't remember the Champion sisters, but I have to say that my memory of Old Issonians is embarrassingly poor. I hope someone else's memories are better than mine and remembers me. By the way, I notice that there are quite a few of us who lived in Woolston - my home was in Victoria Road. I now live in Plymouth, Devon. I'll keep in regular touch now with you and your site and look forward to further contact. Joy.
Late November 2018 with another superb set of memories from Paul Bartlett (intake of 1963) so this will jog even more forgotten memories! This is his very informative email, as he also found this page by searching the web.
Hello David,
Wow what a nostalgia trip !! So much I had forgotten. I was born in 40 Barnfield Road in 1952 and lived there until I was 16 when my parents moved to the big house on the corner of John's Road and Obelisk Road. I do remember clearly my interview with 'Sid' in his study with my parents in tow. He was a fearsome individual to an 11year old introverted kid. I had passed my 11plus at St Monica Road Junior school along with Barbara Russell, Graham Brading, David Cleverley and Susan Noyce. There was one other but I cannot recall his/her name but we all ended up( I think) in 1L (Miss Luker) autumn 1963.
Amazing how memory just feeds back in when you least expect it…I think Susan Noyce (who only stayed a term or so before transferring to Weston Park Girls School) joined me in Crusaders House..the white stripe. Barbara I think was a Viking..the blue stripe. David might have been an Argonaut..yellow stripe and Graham a Venturer..Green Stripe. A couple of great friends from that time were Colin (Boxy) Byers, Paul Jenkins, Richard Lavendar and so many I cant remember. I have a theory that like the sorting hat in Harry Potter, house allocations went on perceptions of students. Crusaders like me I felt were a little reticent and afraid of their shadows, Argonauts were a bit 'off the wall' and weird. Vikings were great achievers and academics and Venturers were the sporty attractive popular people. As a young adolescent I was in awe of Pete Collings, Dave Ebert and Johnny Buckinger. They never picked me for any team games as I don't think they noticed me. I remember being intimidated by the defiance of John McAllister who joined later and wasn't afraid to stand up to teacher or pupil alike. Some great people also were Ian King, Marilyn Veal (they married and I bumped into Ian after arriving at Heathrow from Edinburgh many years later..he had just got in from somewhere flying as a BA Captain), Madeleine Povey, Melanie Isherwood, Mary Painter. In my year everyone would remember Terry Barker!! I remember Miss Luker and also Miss Thompson, Mrs Warner such a lovely lady. Mr Lewis who taught me how to say phonetically 'armchair' in French 'Fortieya' He had such a soft welsh accent…until he shouted.. We had the same teacher for woodwork/metalwork as we had for biology…I think it was Mr ('Chips) Russell. Whoever it was had a sportscar. Colin (Boxy) Byers got a slap across his behind from him for dropping a chisel down through his sock and into his ankle narrowly missing his tendon immediately after a safety warning!! Mr Russell only realised the seriousness when he caught sight of a lot of blood! Needless to say Boxy was off school for a little while. I think I had Mrs Dunford for Chemistry and Freddie Goddard for Physics. Mr Taylor for Art and I think it was Miss Pringle for History. She would amaze me when she entered the room, sat down, and then lowered her ample bosom onto the table.!! Mr Judson was my maths teacher who taught us all how to sing equations…My family today are in awe of all the little quirky maths tips he taught me that I have passed on..My Groups were:
1L Miss Luker
2G Freddie Goddard
3W Mrs Warner
4T John Trewin
5G Freddie Goddard
I was in the side chorus for Iolanthe, Ruddigore, Messiah and others…great times. I also appeared at the Nuffield in 'A tragedy of Dido' it was all set up by Mrs Warner and was a traditional male – only production. It included pupils from Tauntons and King Edwards etc. The kid playing the lead female role came from Tauntons but all the costumes were made by the wonderful Itchen Grammar Girls..Mrs Warner took me aside one day and said' You are the same size and shape as matey playing the female lead and the girls need a model' That was it…I spent some quality time as a third year with fifth year ladies being dressed in costumes etc. Great memories.
I cant say my time at Itchen was wonderful. It was at a time when I had no confidence in myself and didn't really mix or become part of the social scene. I applied for a job as an apprentice with GPO telephones and in March 1968 got accepted to start in August that year. Note this was before I took my O levels..My mocks had been pretty good. I took 8 and got 4 grade 7s and 4 grade 9s. My parents were livid.. I was called into Mr Lewis's office one afternoon where he told me it would be pointless staying on, and perhaps I should leave now. I started my apprenticeship in Southampton in August 1968 and became one of the youngest Technical Officers in the GPO just 3 years later. I went back to college as a mature Student and did Micro Electronics, Digital Design and advanced Mathematics and passed into BT management in 1988. I retired from BT in 2007 after nearly forty years as a Senior Tactical Systems Manager reporting to Director of Service BT Business. Much as I didn't love my Itchen Grammar years, a lot of knowledge from some very talented teachers somehow got trapped in my brain for use later.
You know it's not until you start to put stuff down on paper, you realise how much you remember.
Kind Regard,
Paul Bartlett
May 2019 Once again, from across the Big Pond, another ex-pat has got in touch with a great post full of info that has filled so many gaps! Mike Cox now living in Canada but still retains fond memories of our early years. This is his most welcome e-mail, as well as his contact should any old classmates wish to get in touch. Enjoy!
Hey David,
Don't ask me why but, I found myself lying in bed recently thinking of old school mates and hence, old schools. So, I Googled Itchen Grammar and came across your website. What a pleasant surprise! Memories came gushing back and name after name popped into my head. Well, not so many, I guess, but, hopefully, some that will fill in a few gaps in yours and your other contributors' recollections. As a young lad I used to live in Lyndock Place, Woolston so was obliged to attend St Marks Infant School on Church Road. I was there from January '54 till July '56 but, sadly, that's about all I recall. Unfortunately, no names come to mind.
In the September of '56 I was off to Ludlow Junior School where I stayed until July '60. The class photo you include on your site is actually circa 1956/7. That's a photo of class 2 taught by Mr Learmouth - particularly nasty piece of work if memory serves. That's me, second row down, 3rd from the left. Many of the faces seem familiar as do the names mentioned. I, too, had Donaldson (over in the annex, through the hole in the brick wall which separated the boys and girls schools), Jewel (Jimmy) and Crouch (brilliant for mental arithmetic). These were classes 4, 6 and 8. The other teachers were Messrs Day, Watts, Jolly and Hammond who taught classes 1, 3, 5, and 7 respectively, I believe. Of course, the ringleader was the infamous Mr Quinn. Not sure why or how we were streamed at such an early age but, it turned out that most of us who passed the 11 plus came from the even numbered classes. Shouldn't complain though, somehow I managed to pass, with the 4th highest mark in the school. Who would have thought it? Anyway, Mum and Dad were very proud and "we" chose to go to Itchen as it was so much more convenient travel wise. So, off to grammar school. Started in September '60 and managed to see it through until July '65 when, with 'O' levels in hand, I took the summer to decide to commit to a 5 year apprenticeship as a shipbuilding draughtsman at John I. Thornycrofts in Woolston. Again, convenient. The rest, as they say, is history. Several names comes mind from my time spent at IGS, not least of whom was Pete Huntley. Pete and I became good friends from the moment he and his family arrived in Woolston from Worthing and took up residence in Lyndock Place, no more than 8 or 9 doors up the street from us. That friendship lasted all through our time at Ludlow and IGS then, as is often the case, we gradually took different paths. Nice to see his face in the reunion photos. I also remember Paddy Farrell, Paul Bosbury, Dave Rose, Vaughn McDermott, Alan Bence, Phil Denham, Dougie Wilcox, Ralph Easson and Stephen Snaith. Girls I remember include Anne Bunce, Hazel Diaper, Susan Thornton (Thorning?), Christine Knapp, Glenda Jacobs and Sandra Wing. I'm sure others will pop up now that I'm in that train of thought. I'll keep you posted.
As far as teachers are concerned, headmaster SC (Sid) Thompson is obviously at the top of the list. Never got myself into his bad books though I was under his direct tutelage for a year or more because my parents were not very pleased with the state of my handwriting so, I had to report to his study daily to deliver a freshly written passage from the previous evening. Worked out OK I guess as, till this day, I am often complimented on my penmanship.
His 2IC, Mr Lewis however, was one to avoid. The chief executioner as it were. Now there's one dude you didn't want to mess with. Mission accomplished I'm pleased to say. Others with whom I had the pleasure of spending my days included Misses Pringle (history), McAlpine (geography), Easter (subject?) and Mrs Warner (subject?). Also had Miss Condon (French), only we knew her as Fanny (Frances). She used to live right opposite us in Lyndock Place @ no. 4 - we were at no. 9.
One of my favourite teachers was Freddie Goddard (physics). Always a fun period. Went on to play football with his younger brother Don a few years later. Another good guy. Also, never had any complaints about the PE instructor, Denis Huxtable. I thank him for my lifelong love of sports, both participating and watching. Even spent 20 years or more coaching youth football over here. Most fulfilling. Nice to be able to give something back to my community.
As I said before, I'm sure other names will emerge from the pale mist that is my memory these days but, be assured that when they do, I'll be certain to pass them on to you and your readers. Having said that, should anyone reading this remember me, please don't hesitate to contact me, should you wish, at saintscanfan@icloud.com. I have been living in Canada for the past 40 years now and hearing from any of you would indeed be a joy.
All the best
Mike Cox
(Itchen Grammar alumni 1960-65)
There is now an 'Old Issonians' Facebook page with loads more people coming on board, so why not join in the fun? I'm still in touch with a few old classmates, including Bronwen Page and Jenny Gardiner- both of whom can be seen in this great photo, along with Pat Woods. I understand this was taken when in Sixth Form (I had gone by then) and shows them messing about on top of the lockers!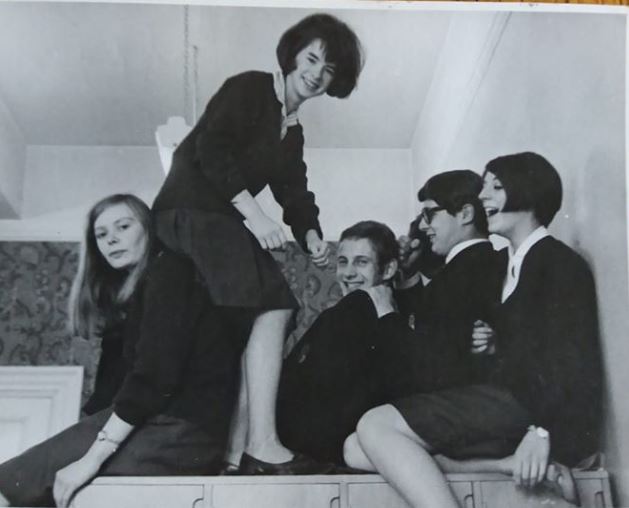 Pat Bronwen Dave Dow (?) ? Jenny
Please check back from time to time as new info/pics etc will surely result from this webpage!
P.S. Unusually - I used to enjoy exams (!) and absorbing trivia from a young age. Some of it stuck, and possibly explains why I achieved a Guinness World Record in 2014. If you don't know-then check back to my Home Page and Blogs 2014/2015. Better still - buy my book!
http://www.davidstjohn.co.uk/yoursquizzically.html
HOME PAGE SITE MAP CONTACT DAVID
©davidstjohn2019