Home page Contact David Click on SITE MAP to navigate rest of website
Page updated 25-11-2013
David St. John pays tribute to:
HEINZ
*Loads of pics - let it load*
If you are returning to this or any other webpage - you might need to Refresh it (Press F5) in case your browser keeps original viewing
COPYRIGHT
Please note that many images contained within this website may be subject to copyright, although many have been kindly sent to me and intended to be shared on this non commercial outlet. If anybody wishes to use any of the same, then please get in touch as well as possibly giving credit where due as well as setting up reciprocal links if relevant to the actual content on any webpage. Please note that I am able to monitor any image-copying and if published on other websites. I would appreciate any contact to report broken/outdated links and any corrections to the text that accompanies any images herein. Thank you and enjoy!
June 2009 saw the general release of a terrific film based on the life of the legendary producer Joe Meek and named after his most successful instrumental hit record "Telstar" This was the first ever single to top the UK and USA charts, recorded by the Tornados and it still sounds good to this day! The most striking member of this great group was local Eastleigh lad Heinz Burt on bass guitar with peroxide blonde hair which was quite rare back in those days! Heinz later went on to have a smash solo hit with a tribute to the great Eddie Cochran which got to no 5: "Just Like Eddie" but then faded out due to the new Merseybeat boom that eclipsed many solo artistes. Sadly, Heinz suffered from ill health and returned to his Southampton roots, ending up by working at the local Ford factory and passed away in 2000. His former Southampton bandmates including Graham Medley still remember the local lad who shot to overnight fame before returning to a 'normal' life back in Eastleigh, one of the very few artistes who made any impact over the years.
An amazing life of ups and downs with a very sad ending as you read my condensed version of his career and then be linked to more webpages on Heinz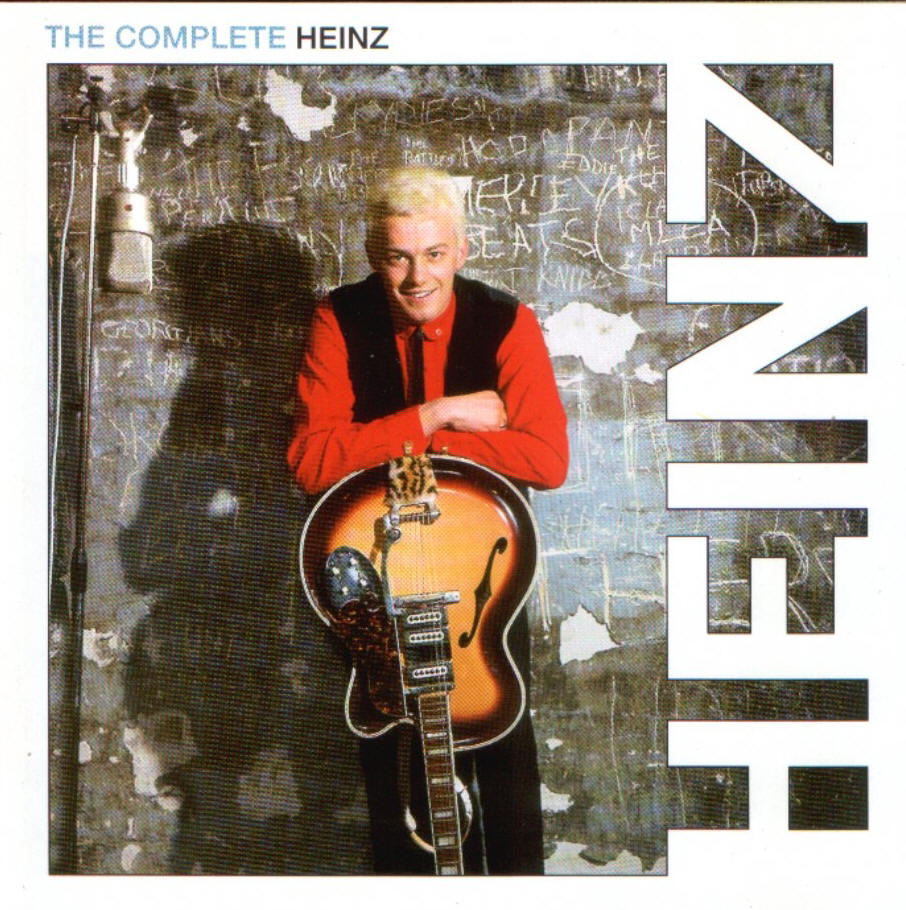 Heinz Burt of the Tornados - solo LP cover
Eastleigh's very own pop star who first came to prominence back in the early Sixties as bass player with one of the U.K.s most successful instrumental groups - The Tornados. Their biggest hit was 'Telstar' and was produced by legendary record producer Joe Meek at his home grown studio at 304 Holloway Road in North London above a shop! Joe was a very complex man with many demons that got him into a lot of trouble in those days and you can find loads of information on this eccentric genius all over the internet. His revolutionary use of acoustics and echo can be heard on many big hits of the time and the various groups were split up into different areas and even different rooms or on the staircase as Joe went about his way. This clipping below shows Joe and the Tornados hard at work, as well as offering an insight into this great band and its unusual sounds. Joe was a tortured genius and I can also recommend a terrific book which really brings much of the story to life and paved the way for the movie- "The Legendary Joe Meek-The Telstar Man" by John Repsch. 'Telstar' was the first no.1 in the USA charts for a British group in 1962 and a year before saw the massive chart-topping song of 'Johnny Remember Me' by John Leyton who is still performing this haunting song with other hits of the era.
Joe Meek produced an amazing number of records including The Honeycombs 'Have I The Right' which hit no.1 in 1964 - the group featured Honey Lantree, a female drummer! His list of recording artistes and session musicians can be found on the net plus Discography on several websites and books etc.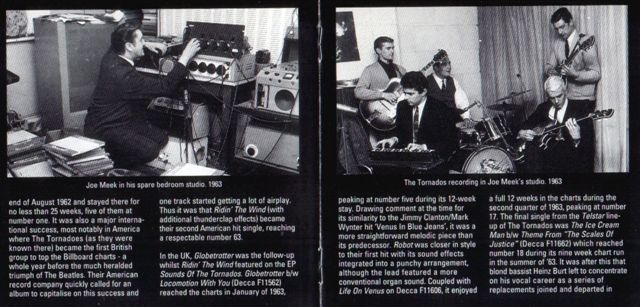 Heinz grew up in Eastleigh, after his family moved from Germany and he played with a few local groups such as 'The Stormers' and 'The Falcons' that auditioned for Joe Meek who persuaded him to try a peroxide blonde look that was quite OTT in those years but the image certainly helped. Graham Medley recalls teaching Heinz to play bass when practising at his family run Chamberlayne Arms in the early days - Heinz was slicing bacon for a living just before achieving the big time! The group auditioned for Joe Meek but Heinz was singled out and then placed with the Tornados- Joe's 'house band' and enjoyed a fantastic year which saw 'Telstar' reach the no 1 spot in the American charts - a first for any UK group and this paved the way for the next wave of British acts over the next few years. November 2013- I was given copies of these rare photos of The Falcons taken in the pub garden by Graham Barnes (known as 'Lil Gray') and excited to reproduce them below. Love the drummer perched on a pub table!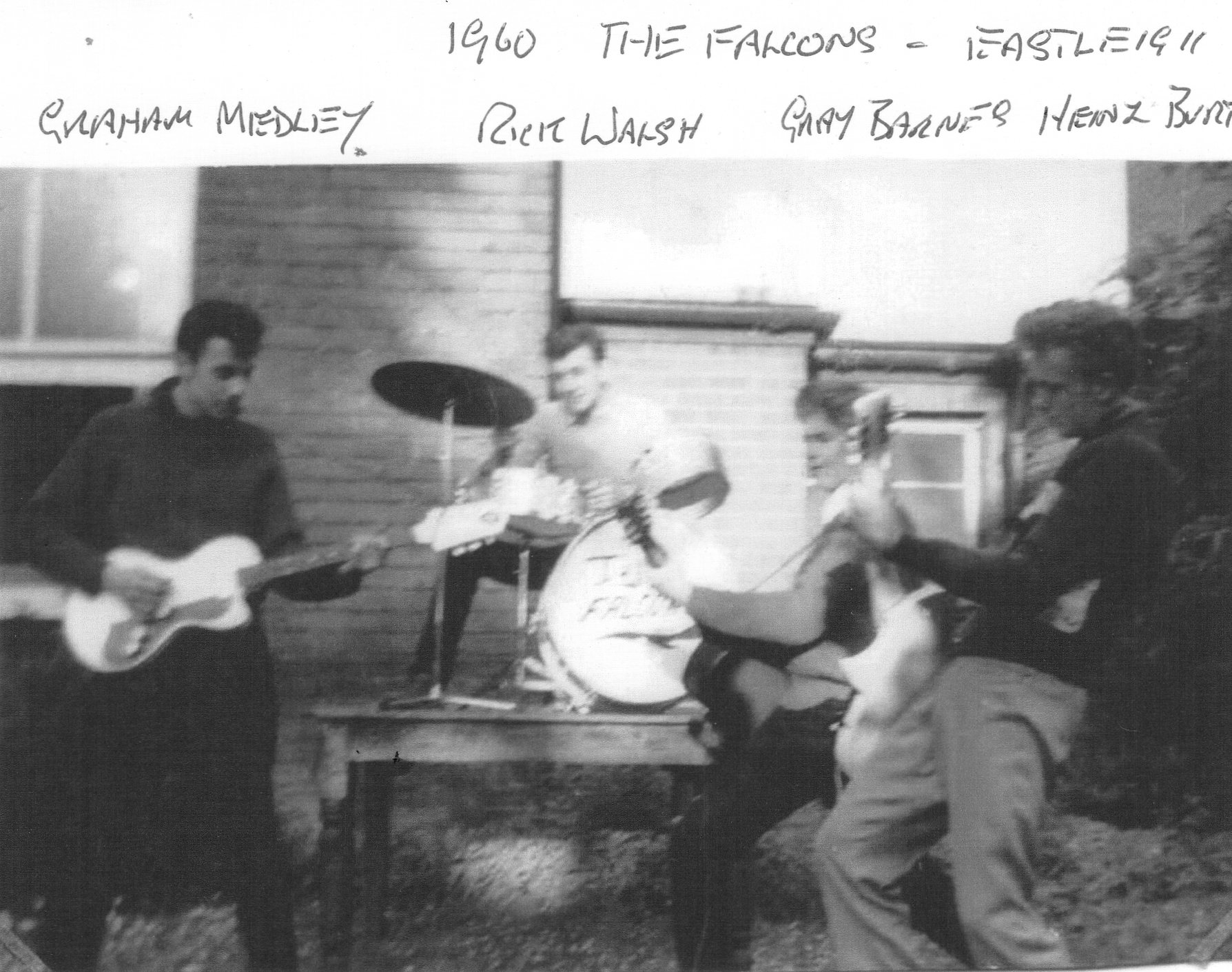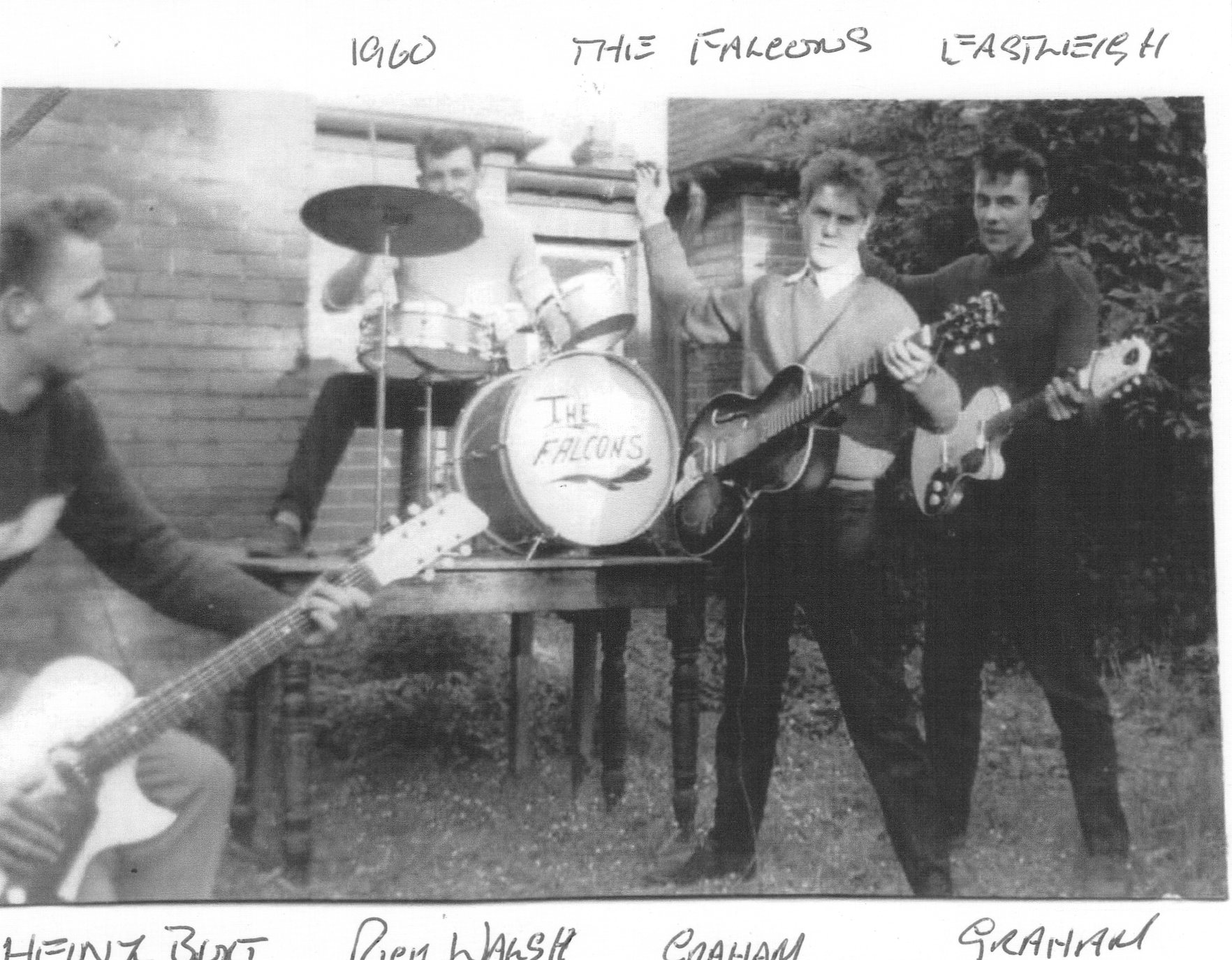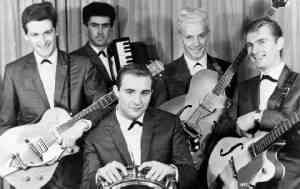 L-R Alan Caddy, Roger LaVern, Clem Cattini, Heinz Burt George Bellamy

The Tornados
Heinz then decided to pursue a solo career in 1963 with his own hit single of 'Just Like Eddie' ( guitarist - Ritchie Blackmore- later Deep Purple) a tribute to Eddie Cochran who had been killed in a car crash in Chippenham Wiltshire in 1960. This record got to no 5 in the charts but later discs flopped and Heinz just faded back into obscurity living back in Eastleigh, eventually working at the nearby Ford factory.
His solo live shows were sadly not a great success, especially on a tour with rock n roll legends Gene Vincent and Jerry Lee Lewis in which he had a tough time from the mostly male audiences, some of whom threw baked beans at poor old Heinz (obvious ammunition of course) In 1967, Joe Meek blasted his landlady to death (with a shotgun belonging to Heinz) before turning it on himself - the new movie is a must see for any fans of this era- also available on DVD. A brilliant performance by Con O'Neill who has captured the looks, accent and inner demons that plagued Joe Meek back in those repressive times. Once again- a testimony to the British Film Industry and I had some conversations with the film-makers who had battled for cinema releases but were up against the summer blockbusters and had to contend with a limited output.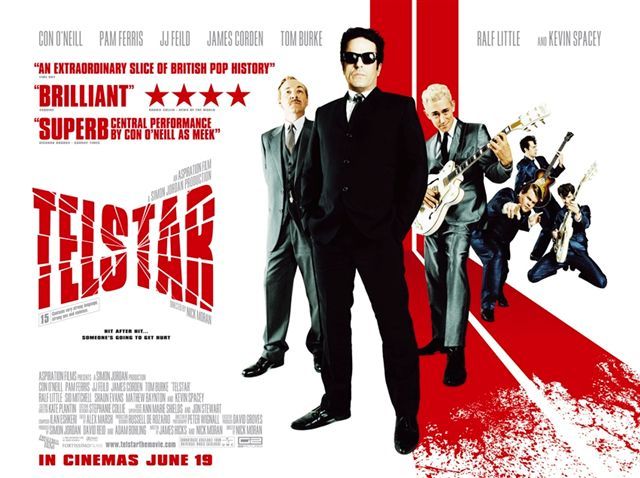 TELSTAR THE MOVIE- click on the poster for website
I have also featured this on my 'Movie' page
Heinz carried on with a few live shows and various bands, culminating in a very successful show on the 1972 Wembley Show of Rock and Roll Legends alongside Jerry Lee Lewis, Little Richard and co. His alcohol problems added to failing health and Heinz performed his final set at the Banister Ballroom (Hulse Road Social Club) in March 2000. Confined to a wheelchair, through motor neurone disease, he bravely managed a few great classic songs and it was a very moving night for all his family and friends who knew that the end was near. Aged 57, he died of a stroke just a few weeks after this show and around 150 people attended his funeral at Eastleigh Crematorium on 15th April. Heinz was dressed in his stage clothes for the final time, with Telstar was playing on the loudspeakers in the chapel as everybody said goodbye to one of Southampton's biggest stars. More information can be found on the web, including this article on Billy Fury
I understand that this rare photo was taken at Heinz's house in Eastleigh (Sparrow Road on the 'Aviary' estate?) where his showbiz pals came round for a cup of tea, when appearing on a big touring show in nearby Southampton. I'm not sure if any of the neighbours knew who were just a few doors away from their homes! The house would have been besieged!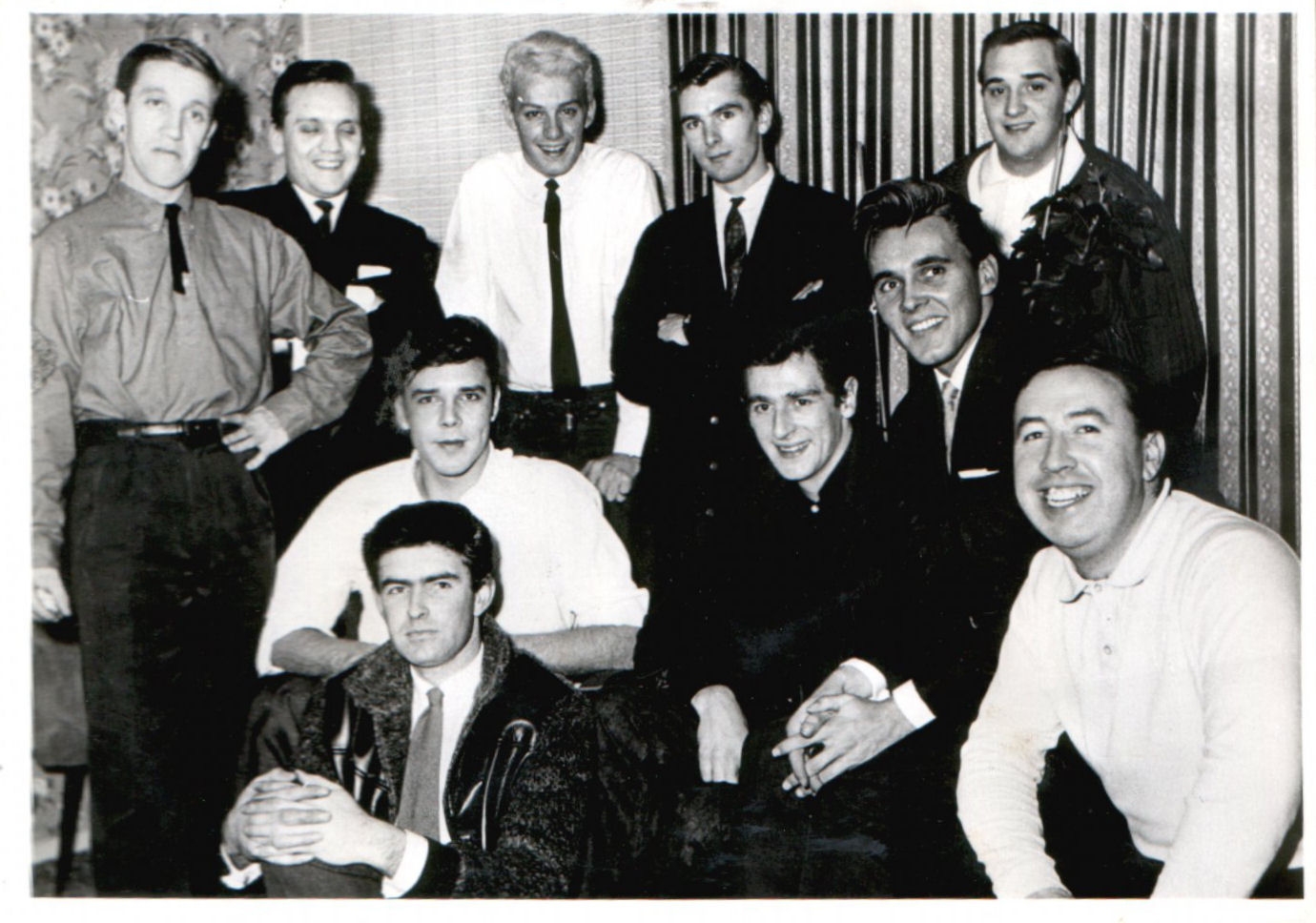 Back Row L-R Karl Denver (of KD Trio) Gerry Cottrell(bassKDT) Heinz George Bellamy ?(T) Clem Cattini (T)
Middle Row Marty Wilde Alan Caddy (Tornado) Billy Fury!
Front Roger LaVerne (organ T) Kevin Neill (gtr KDT)
July 19 2009:
I had an e-mail from Veronica 'Ronnie' Copson who went out with Karl Denver back in the late 60s/early 70s and she kindly filled in the names of the other guys from the KDT. Karl Denver had a terrific unusual falsetto voice and his biggest hit (1962) was the amazing 'Wimoweh' which resurfaced as 'The Lion Sleeps Tonight' by Tight Fit in 1982. Ronnie and friends had a good laugh at Karl's pose in the above picture, which does look rather 'suspect' but she and anyone who knew him can vouch for his success with the ladies! Karl sadly died in 1998 but still has quite a large following as a testament to his great talent
There is a fansite at: http://www.karldenver.cjb.net/ and well worth looking at as well as listening to his recordings which still sound so good. There are some clips on You Tube as well
March 2010-mail from Hinton Sheryn
Hi David - You probably have never heard of me, but I had been a friend of Heinz's since the late 1960's. I was with him in Plymouth when he gigged here with the Wild Boys, with him again at the Archway Tavern North London (top of the Holloway Road) to launch the Joe Meek Story double album, and visited him many times in the last couple of years of his life at his flat in Weston, Southampton. I too was at his funeral. He really was a lovely guy and a really good mate. I helped out at the little memorial do in Eastleigh to raise money for his mother Martha and for charity. I could easily write a book about our friendship. Also about my time with Joe Meek. Incidentally -I was secretary of the Joe Meek Appreciation Society for 28 years
H.S.
I hope you have enjoyed my little tribute to a much missed Southampton musician who is well remembered by quite a few of the very same people who feature in my other webpages. If you have any more input, then please get in touch and I gather that Heinz is still a 'collectable' artiste with a company called Rollercoaster Records who sell many rare and wonderful rock n roll records. They are based in Stroud Gloucestershire and I had this promotional card sent to me by Johnny Dymond which features an early photo of Heinz but I'm not sure if Rollercoaster Records go back that far? Maybe the new company has just used the old image on their current files etc. Just click on the photo - then come back!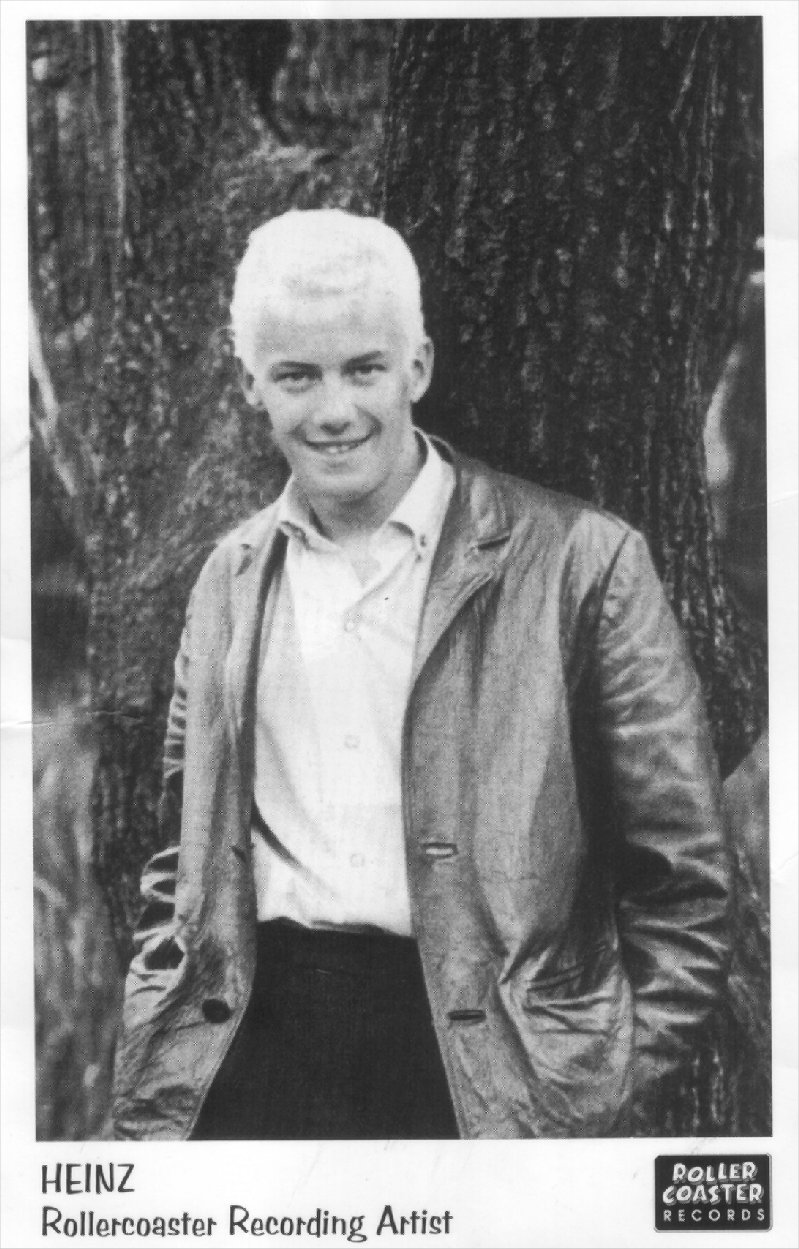 Also, a very informative website dedicated to his memory with a lot of info, images plus links to other sites. It is the Joe Meek Appreciation Society and can be found at:
http://rhis.co.uk/jmas/index.html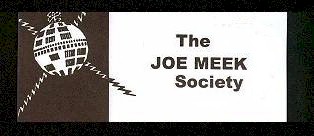 October 2010 also saw a Joe Meek Festival in Gloucester and information can be found on the above website. Another great talent survives in the shape of the ever youthful John Leyton who performs all over the UK and overseas - this is is official website: http://www.johnleytonofficial.com/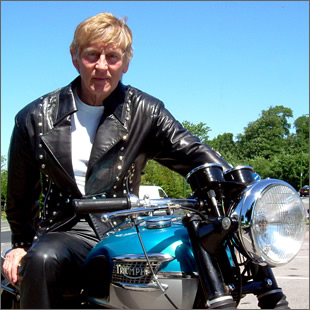 John Leyton on a REAL motorbike!!!
Plus a current Derbyshire based band that recreate the futuristic sounds of Joe Meek's recording artistes:
"CHESTNUT BANK PRODUCTS. Byron Elwell recreates the Joe Meek/Tornados instrumental style with many of his own compositions. There is a Juke Box Page with sample tracks on. Please visit www.chestnutbankproductions.co.uk and relive the Telstar era."
There is also an Eastleigh street that was named in his honour- Heinz Burt Close and not far from Benny Hill Close who was another local lad who hit the big time.

I have also been in touch with 'Della' who married Heinz back in 1964 as well as John Repsch the author of 'Joe Meek- The Telstar Man' who gave me an insight into his four years of writing and research on this fascinating character. If you are passing by 304 Holloway Road, then look out for the plaque that commemorates the genius that lived, worked and died there back in 1967
You may also wish to read about the amazing Reg Calvert whose early Southampton background can be seen at:
www.davidstjohn.co.uk/regcalvert.html
www.davidstjohn.co.uk/movie.html includes news on 'Telstar the Movie' and much more!
Reg was tragically murdered a few months earlier in 1966 during his new business venture in the murky dealings of Pirate Radio, following several years of managing and promoting pop groups and singers on the South Coast. Another 2009 movie release was 'The Boat That Rocked' based on the pirate radio scene although no reference to Reg Calvert - just a rather flimsy script by Richard Curtis (Four Weddings/Notting Hill etc) but the nonstop Sixties soundtrack saved the film!
*STOP PRESS* Within hours of this new page going 'live' I had this great mail from Pete Broyd who is well featured across my website memories and this is his mail which offers a personal insight. He pointed out a slight error on names and this has now been corrected (Clem Cattini)
This is what's so great about my website which grows day by day and I will make every effort to update and load new pages as even more info/pics come trickling in.
Pete Broyd e-mail:
The description of the last picture has one mistake - Clem Cattini is stood behind Billy Fury.
We got to know Clem, Allan and Brian Gregg very well in the late 50's as they appeared as the Pirates (with Johnny Kidd), Terry Dene's backing group, and in fact the backing for all of the Larry Parnes singers when they toured. At one time they featured a young Georgie Fame on piano. They came to the Gaumont as Tommy Steeles Steelemen.
(Georgie Fame was originally called 'Lance Fortune' by Larry and when he left for a solo career and changed his name to GF, Larry didn't want to waste the Lance Fortune name so he gave it to another singer who went on to have a hit with 'Be Mine')
The reason that we got to known them so well was the fact that they also came down as Rory Blackwell's Blackjacks, which confused the locals somewhat, especially when we were supporting them.
Unfortunately Allan Caddy died in 2000 aged 60 but I was very pleased to see that Clem and Brian are still around and involved in the music business.
Of all the musicians that we worked with we rated Brian and Clem as two of the nicest guys in the business - and with Al Caddy they were responsible for the two timeless riffs in 'Shakin' all over' and 'Please don't touch' with Johnny Kidd.
Heinz was younger than our group and tended to hang around trying to get a chance to join in - much as Rod Stewart did 10 years later. I remember that he was dominated by his girlfriend, a skinny girl with mousy hair and National Health glasses. I wonder what happened to her?
I last met Heinz in a club in Eastleigh about two years before he died. He had trouble with conversation but we swapped stories of the 'Pier Days' and had a few laughs.
His last words as I left were 'Keep Rockin' man' - something that he seemed to do right up to the end.
Thanks for the memory jerker David.
PeteB
I also pay my own tribute to Joe Meek on vocal shows ('Back To The Sixties' etc) by playing the introductory track of 'Telstar' before launching into 'Johnny Remember Me, Just Like Eddie and Have I The Right'. Four great numbers that sum up the short but long lasting memory of a real pioneer whose life was tragically cut short like so many other names in the music business. I will shortly be writing up a new page dedicated to Joe Meek- one of the most enigmatic characters in the pop world whose technical skills were far ahead of his time. Just take a listen to any of his better recordings (in between the not so good ones) and marvel at how he managed echo, separation, sound effects and much more by having singers and musicians scattered across a couple of floors, in the toilet and any other cramped space! Then just realise how primitive his equipment was in comparison to the major recording studios of the era as well as working with many big names of the age and later success. We are talking about nearly half a century and I'm glad to see that some recognition is slowly gaining ground as well as remembering that young lad from Eastleigh who put Southampton on the map for a short while- Heinz Burt R.I.P.
October 2010
I was appearing at Southampton's Royal Pier (Kutis Thai Restaurant) with Rick Brown (Ricky and the Hi-Lites) as a nostalgic return to our favourite venue although live music ceased in 1979 when the old Pavilion Ballroom closed its doors for the last time. A few years later saw the gradual decay and fires that sealed the fate of the city's finest dance venue, so it was great to be back where it all started for both of us. Many of the audience were former dance hall fans so enjoyed the memories and hits of the era.
I was pleased to notice Mike Nevitt in the audience, with his wife Jacquie and a great moment arose as I was talking about Heinz, leading me into singing 'Just Like Eddie'. Mike, along with his brother Tony were one of the most popular vocal acts in the South and appeared with many top names of that era on package shows - you can read about the Nevitt Brothers on my other webpages.
When finishing the song- Mike passed a photo to me and I was gobsmacked to see this rare image of a backstage meeting at the old Gaumont (Mayflower) Theatre from the early Sixties. This photo was passed around the room and provided a great moment for everybody. Here it is:
Mike Heinz Tony
This was then followed by another magical moment as I (cheekily) asked if Mike would get up and join me in a couple of Everly Brothers numbers as these hits always figured in the Nevitts' act of course. He hadn't sung in public for many years but I (and the cheering audience) managed to persuade him to join me at the microphone for two unreheased numbers- 'Walk Right Back' and 'All I Have To Do Is Dream' Mike took his old high harmony place and it sounded as good as ever as we delivered these classic hits - the audience lapping this unexpected moment up!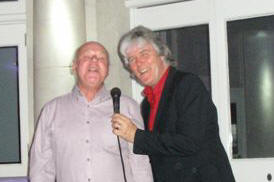 The New Nevitts 2010!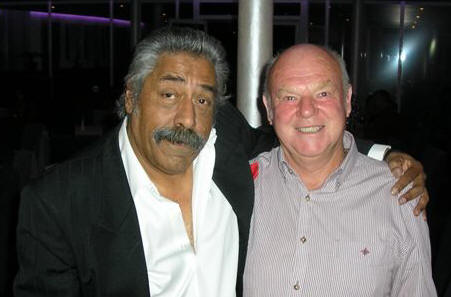 Rick Brown Mike Nevitt
Rick Brown sadly passed away and info on other pages
1st March 2012
Another surprise e-mail plus rare photographs from Malvin Van Gelderen- a 'Wild Boy' ! These were taken whilst on tour of the Northern dance halls (Palais etc) and they also played in France amongst many other locations. I spoke to Malvin, who is now a respected journalist and lectures on desk top publishing etc, and he has fond memories of the screaming girls who were trying to grab Heinz off the stage, as well as the band members! Heinz was a great showman and knew how to work the crowd as he 'teased' the front row with outstretched hands before jumping back, as well as throwing an old Framus guitar between each other to 'play' a little. I will add any more info on this when getting back in touch with Malvin and he informs me that Cliff gave up showbusiness and became a dentist! They had some great times back then as they played with several groups through that era, so plenty of ups/downs but loads of laughs.
I was with Heinz as (Rhythm Guitar) on left side of pic, with the rest of my band below and enclose a picture for your web site, we played France and up north England. We dropped Heinz off to the courthouse on the way to a gig, as he had to give evidence of why his shotgun was used to kill landlady and Joe Meek. Heinz said he used it when he stayed at Meeks to shoot pigeons and left it at Meeks after he left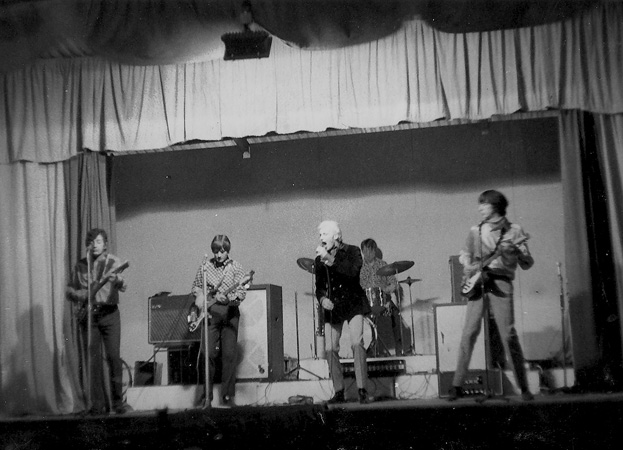 Heinz & The Wild Boys #4 (August 1966 - Late 1967)
· Heinz Burt (Lead Vocals)
· Barry Franks (Lead Guitar)
· Malvin Van Gelderen (Rhythm Guitar)
· Cliff Franks (Bass)
· Trevor Franks (Drums)
Kind regards
Malvin
Malvin remembers these photos, taken by a stage hand/roadie from the wings- not great quality but quite 'atmospheric' Blurred by the lack of flash but they do convey the feel of many shows and this particular venue with a revolving stage! Around 1966/67 and note the smart bouncers trying to control the surging fans from storming the stage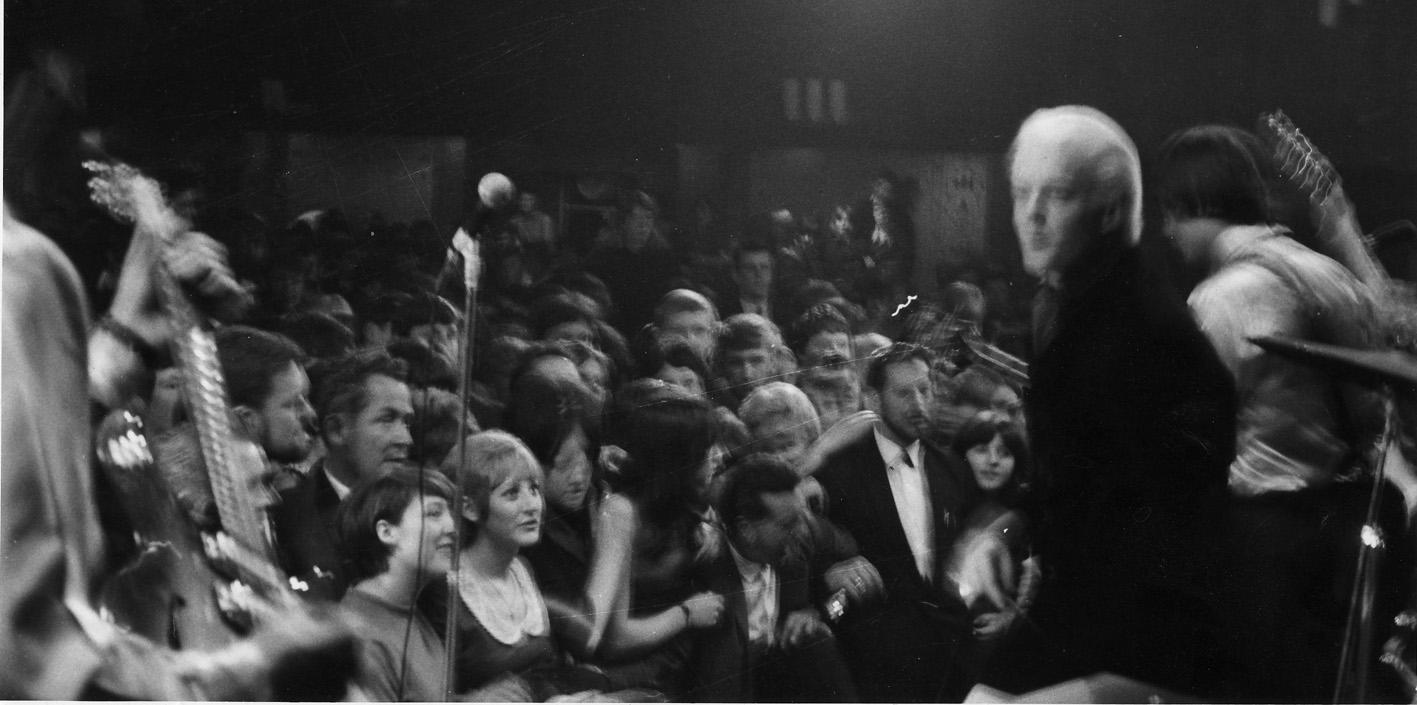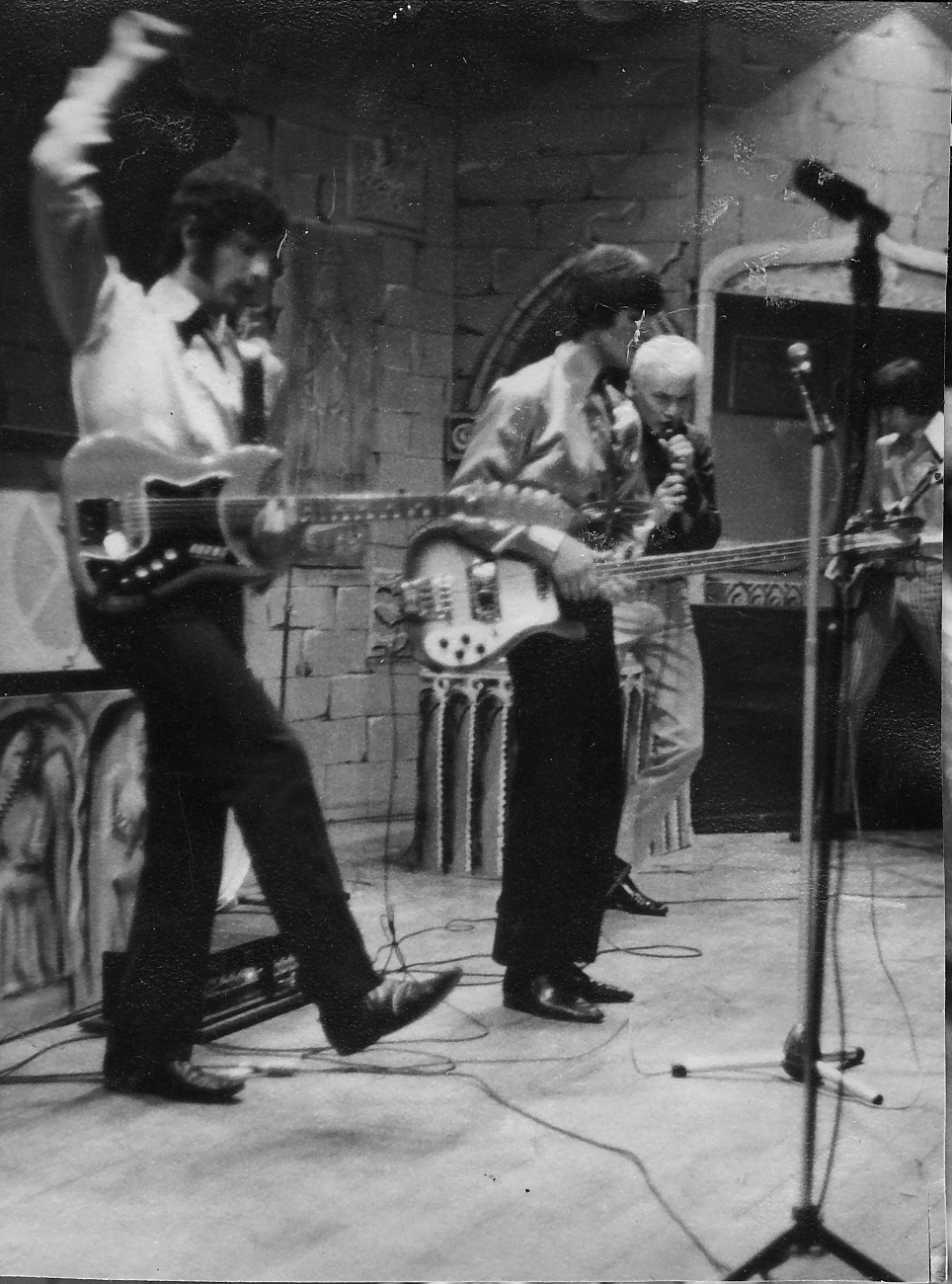 Malvin Cliff Heinz Barry
Note Malvin's sideburns and Burns guitar pose a la Who style!
Cliff with Rickenbacker bass
Click on SITE MAP to navigate the pages Back to Home Page Contact David
© David St John 2013