BACK TO HOME PAGE BACK TO SITE MAP CONTACT DAVID
New page-1st February 2013
Updated 12 February 2015
David St John presents:
CALL UP THE GROUPS 16
*Loads of pics - let it load*
If you are returning to this or any other webpage - you might need to Refresh it (Press F5) in case your browser keeps original viewing
COPYRIGHT
Please note that many images contained within this website may be subject to copyright, although many have been kindly sent to me and intended to be shared on this non commercial outlet. If anybody wishes to use any of the same, then please get in touch as well as possibly giving credit where due as well as setting up reciprocal links if relevant to the actual content on any webpage. Please note that I am able to monitor any image-copying and if published on other websites. I would appreciate any contact to report broken/outdated links and any corrections to the text that accompanies any images herein. Thank you and enjoy!
*As this is another new webpage, I shall be adding more information as it trickles in, so please come on back to check it again in the near future. I also add other stuff to previous webpages to slot in with existing profiles but often find it difficult to keep track due to the volume of material sent in from all over the world!*
......................................................................................................................................
Where it all really began?
Here is a copy of an invoice from Memphis Recording Service (Sun Studios) where a young truck driver turned up to make his first ever recording in 1953. A couple of days before his 19th birthday, with the intention of cutting a disc for his mother. This led to Sam Phillips signing him up and the rest is history as well as inspiring the next generation of teenage singers and groups- many featured in these very webpages and across many of the big names in the music business to this very day!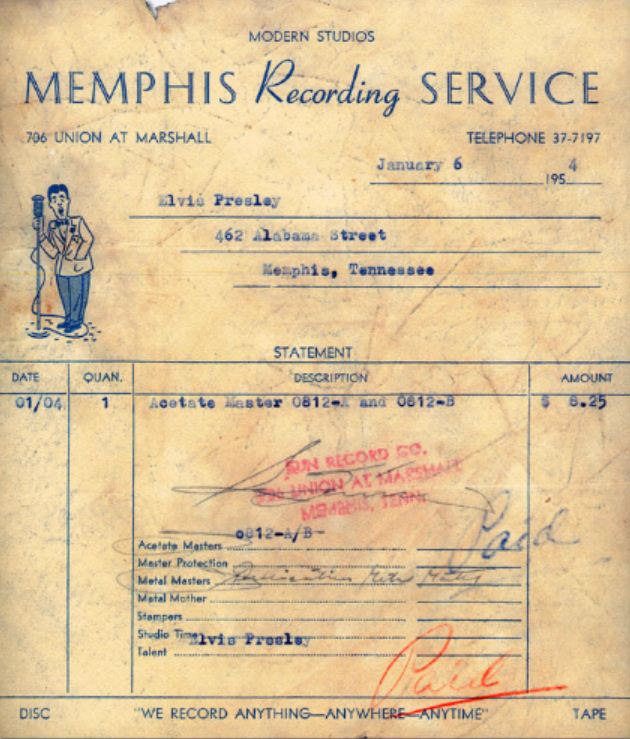 .....................................................................................................................................................
Some great adverts of the Sixties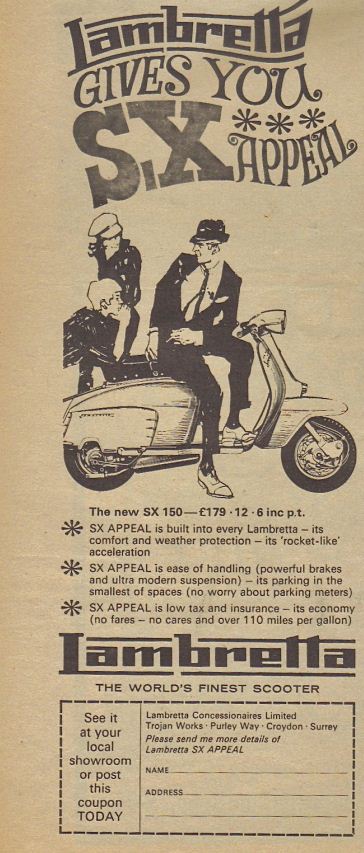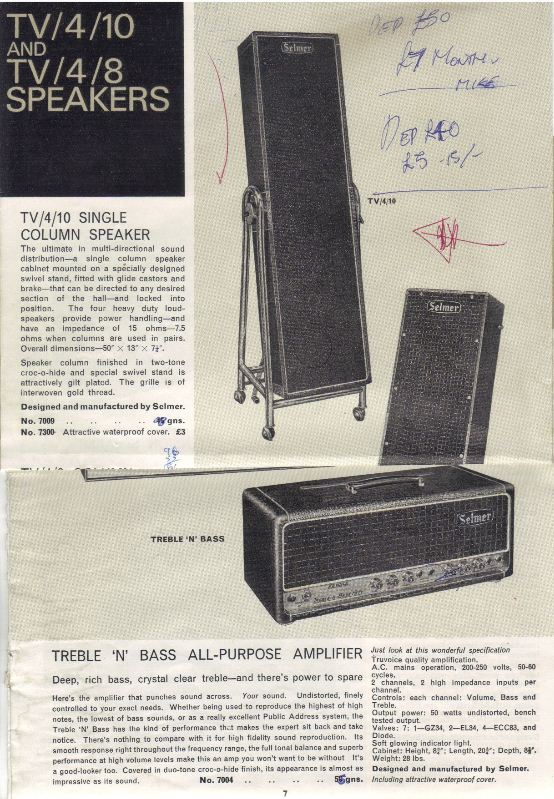 Were you a 'Mod' or a 'Rocker'? Some young lad scribbled down some figures- around £100 for this p.a.
I wore Mod clothes but had a motorbike- a 'Mocker' Selmer equipment was very popular. Average wages- £20 p.w. then.....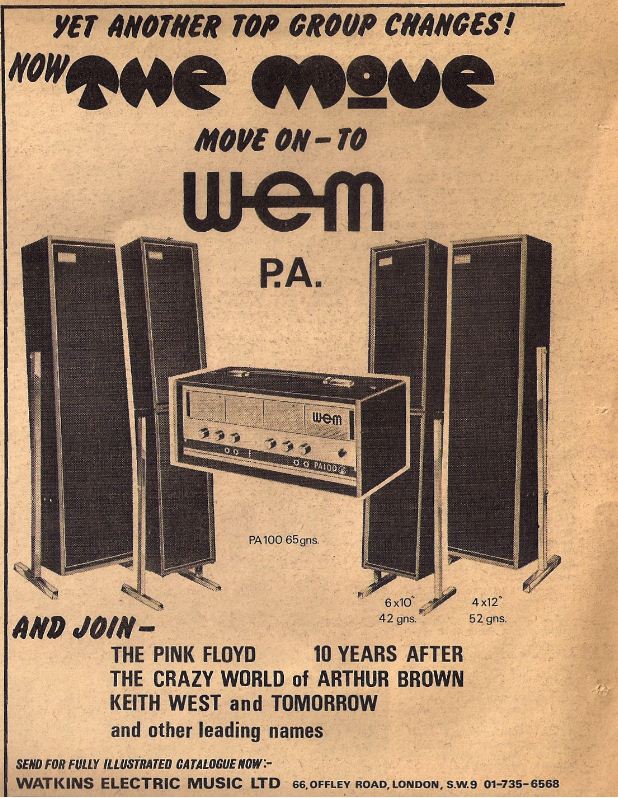 WEM advert- late 60s
Founded by the legendary Charlie Watkins and leading into the massive sound rigs needed for large outdoor festivals etc. Good old valve days...................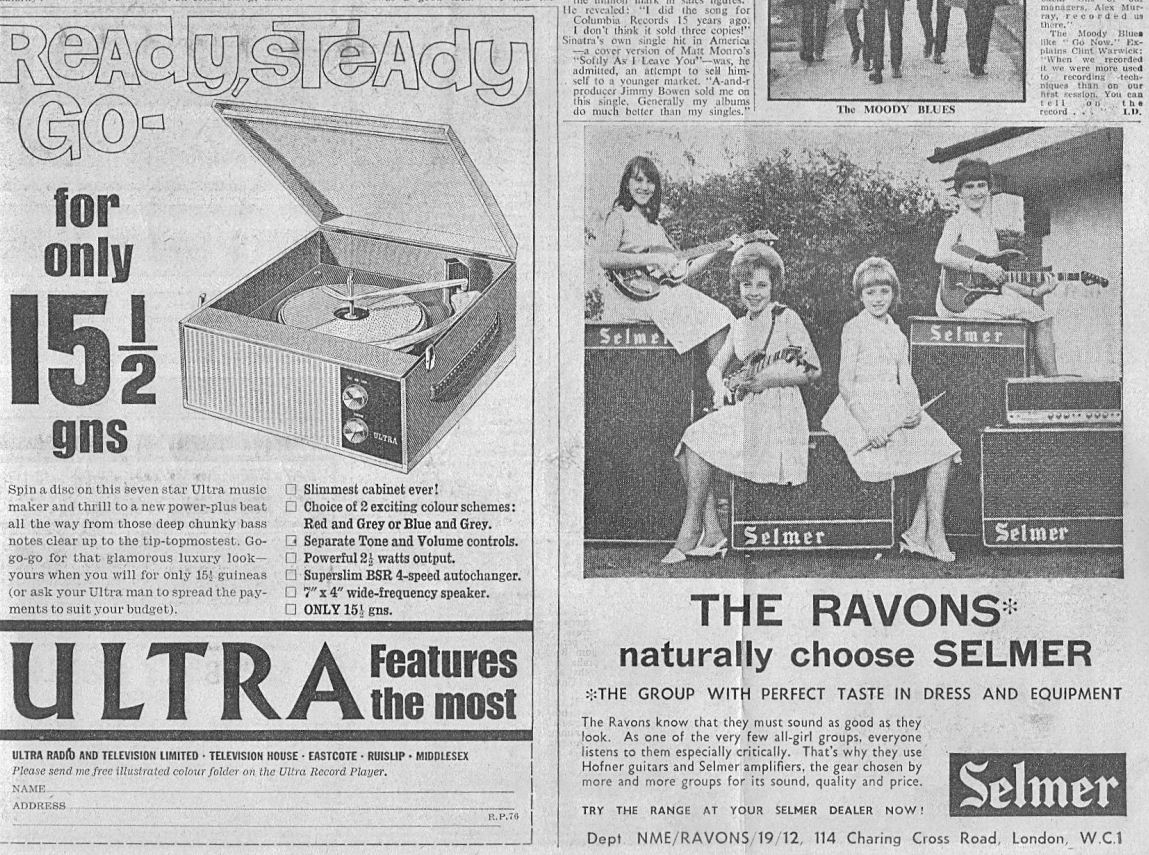 1964 advert Dansette record players were the main ones plus Ultra (cheapies) The Ravons- where are they now? Lucky to have had 'free' equipment!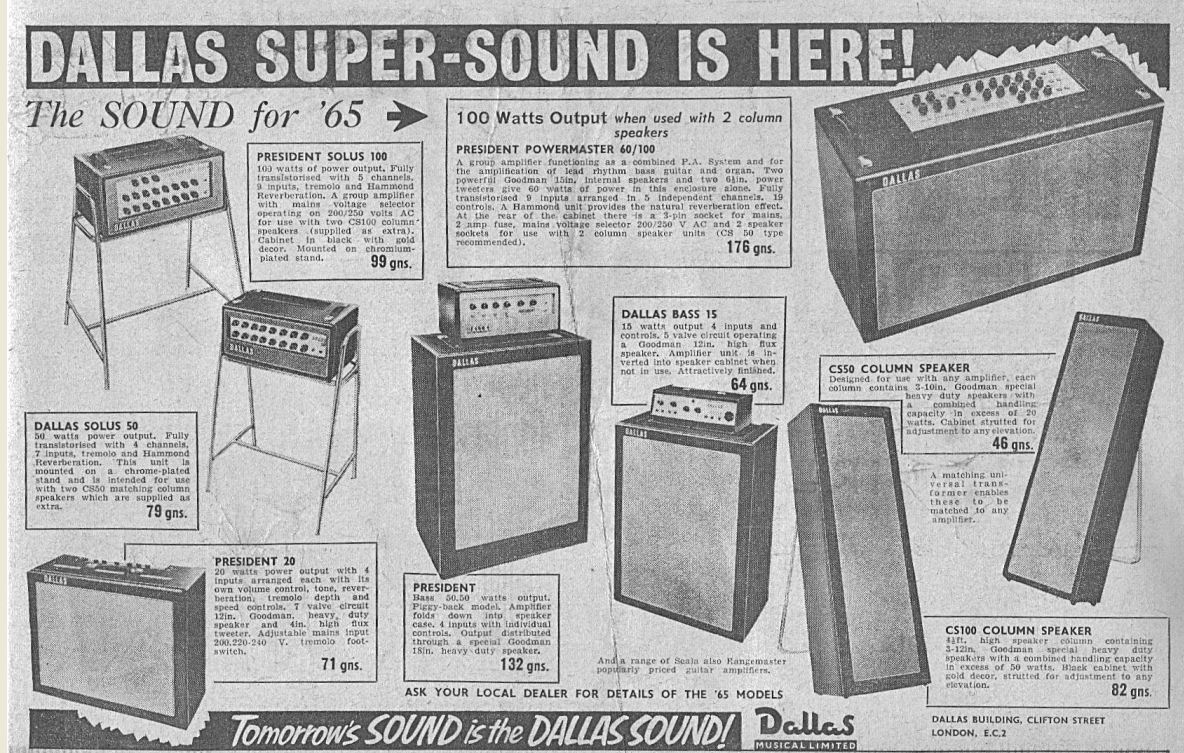 More amplification of the day- anybody remember 'guineas'? 21 shillings (£1.05 in today's money)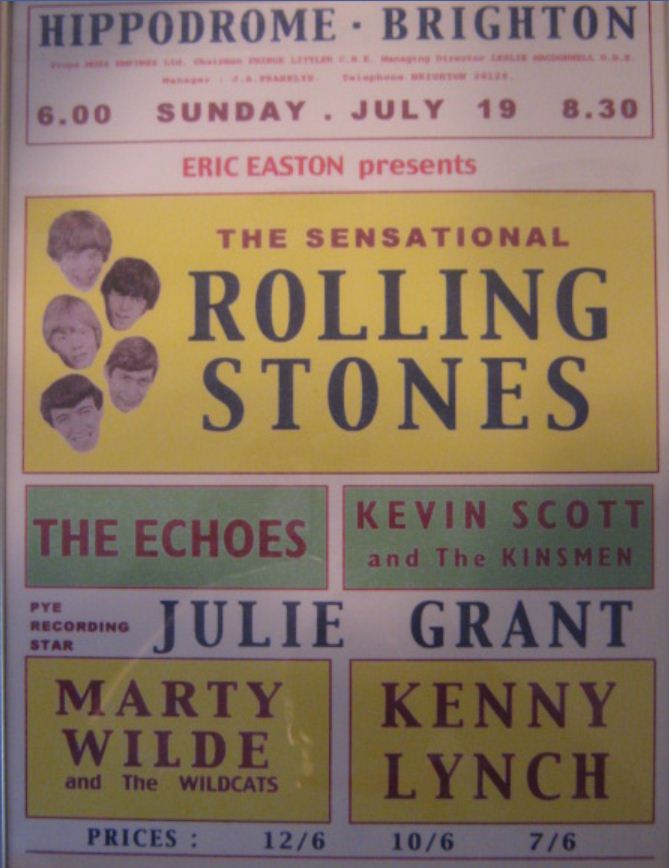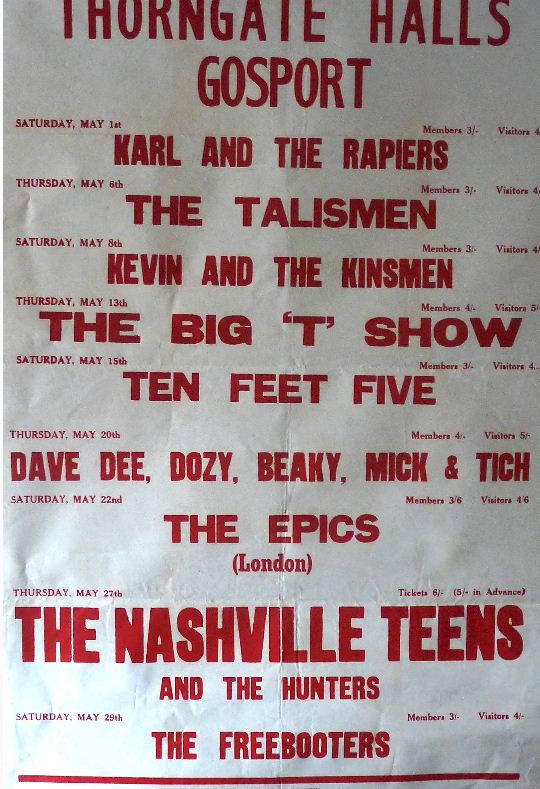 Beatlemania at Woolworths! Southampton's Kevin Scott&Kinsmen on Stones tour plus other 'local' groups in Gosport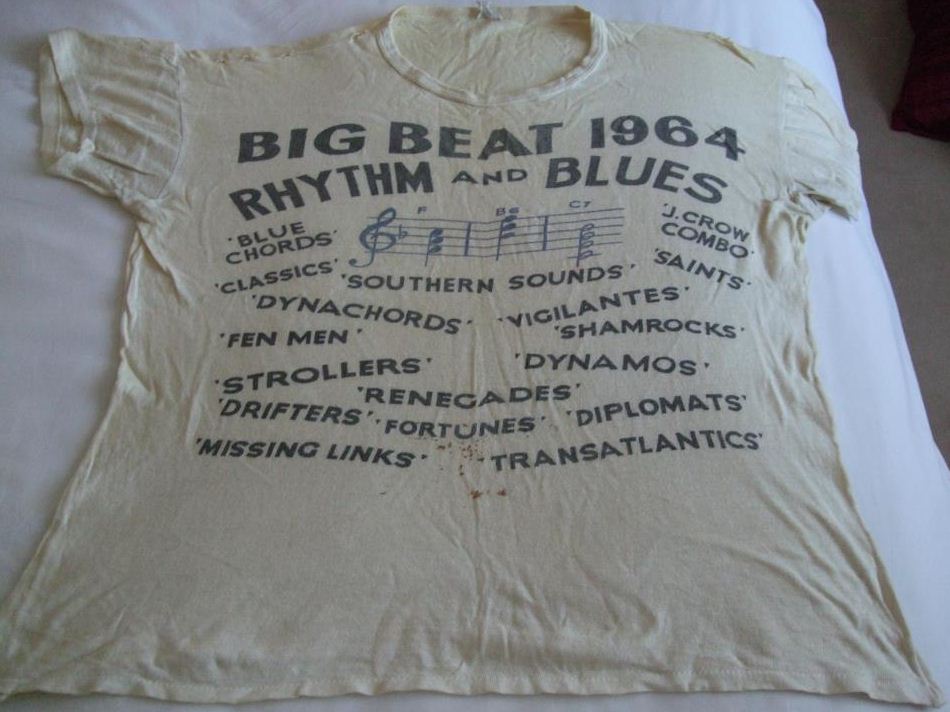 I doubt if the owner still wears this rare tee-shirt! Not sure of venue but what a line-up....
..........................................................................................................................................................
A recent Tee-shirt that says it all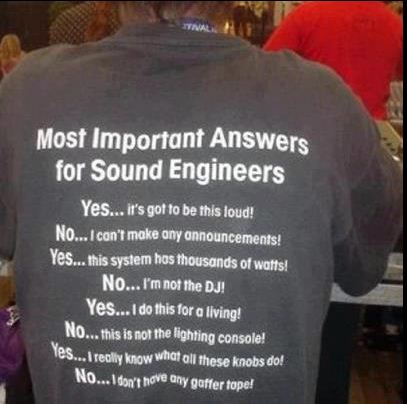 .......................................................................................................................................................
A couple of 1967 photos below and shows the contrast in music styles of that era!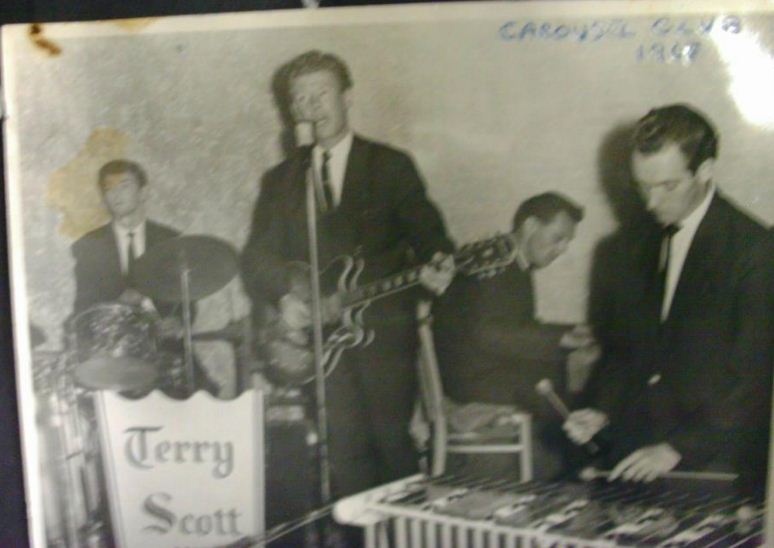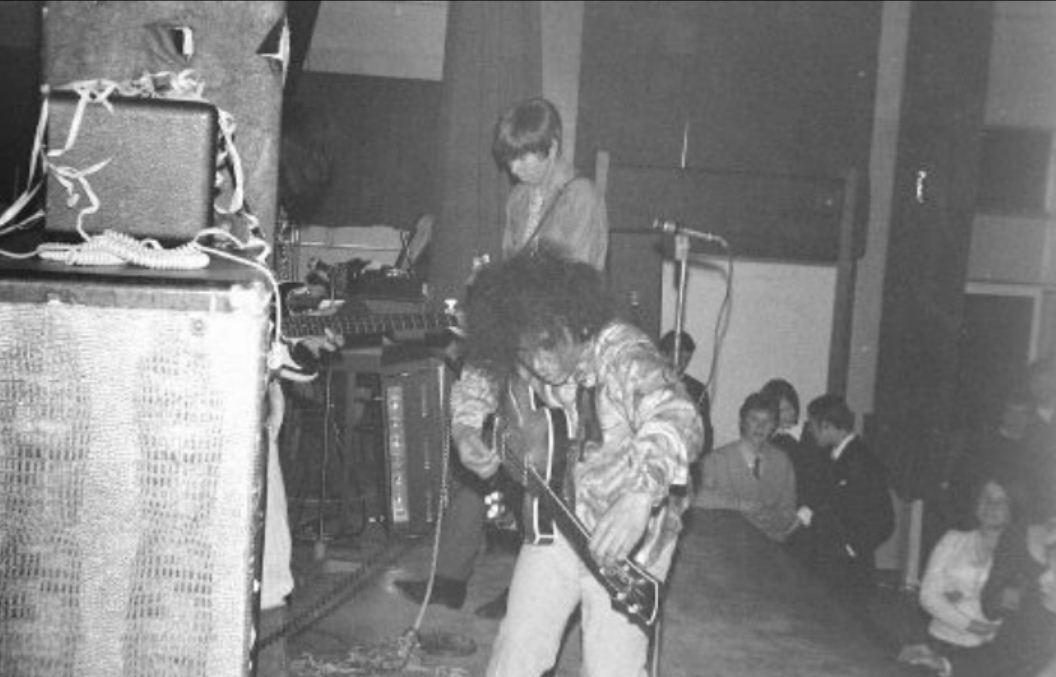 Terry Scott Snr at the Carousel Club Bob Gorman (rear) and Kevin Francis (bass) of Brother Bung
Terry Scott Jnr was part of Heaven (IOW Festivals 1969/70) still playing in France Bob ('Jimi') Gorman also playing in the Canaries
..................................................................................................................................................................................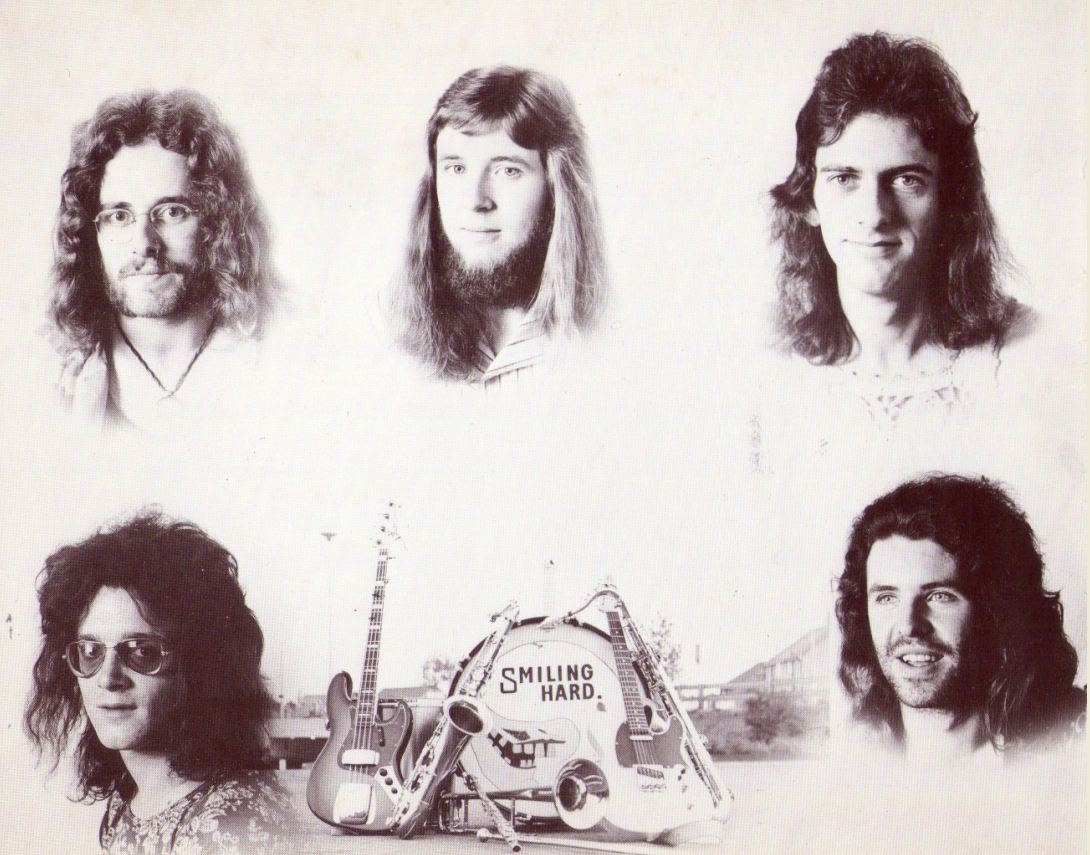 SMILING HARD
I'm rather proud of this publicity handout as I spent a couple of years as a semi-professional photographer in partnership with a pal Barry Kennett, and a shop/studio/ darkroom in Swaythling Southampton.- called Novagraphic. We only used basic 35mm Pentax cameras and did our own B&W processing- mostly portraits, weddings etc plus a few showbiz photos. Smiling Hard were a Portsmouth based outfit and in the 'progessive' style of the late 60s and influenced by Chicago, Blood Sweat & Tears plus their Pompey counterparts Heaven. See: www.davidstjohn.co.uk/groups12.html for more information
We set a few instruments up in a City Centre carpark then took some headshots in the studio before printing these out by overlaying the images one by one onto 10 x8 glossy prints. Took many attempts to 'burn' each image into this 'collage'but it worked! No such thing as digital photography in those days! Nor the luxury of digital manipulation by computer software such as Photoshop etc- this was science fiction at that time! 'Smiling Hard' were managed by a Gosport agency of M.M.F. and many of our Southampton groups were booked through their office either direct or often in conjunction with Avenue Artistes. My last group ( The Script/The End) also played at several venues including the usual Navy bases and Tricorn Club on top of the shopping centre/office block and had a good relationship with MMF. March 2013- have just seen this old press clipping on the amazing Pompeypop website that cover the Portsmouth music scene and can now share it on this page- thanks to Dave Allen & Mick Cooper who run this never ending archive/blog and much more. You will note that their most successful signing of the prog-rock 'Heaven' would later see the group's appearance at the two Isle Of Wight Festivals in 1969/1970 (Bob Dylan and Jimi Hendrix headliners) plus the much coveted album of 'Brass Rock' etc. Here is that press clipping and transcript from 1968 and gives a good insight into that era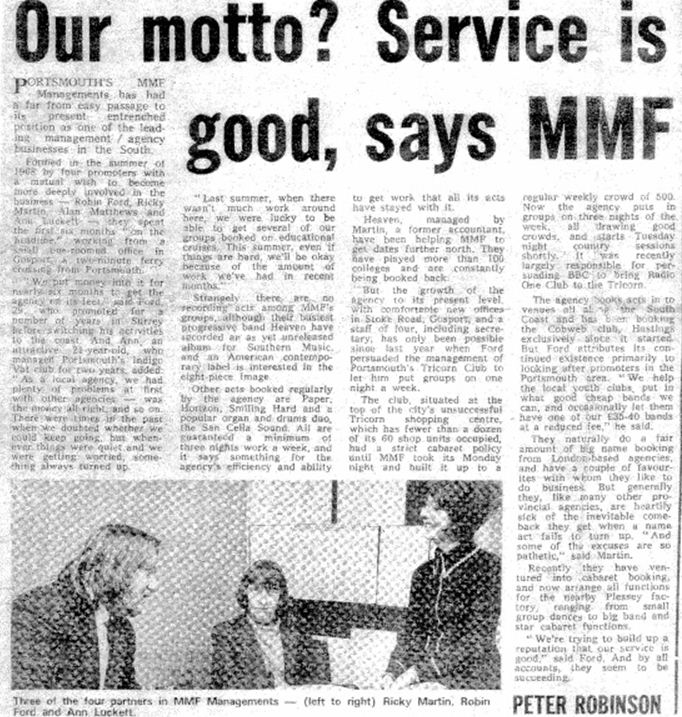 (from Music Business Weekly 21st March 1970 page 11 "Music for Britain")
Our Motto? Service is good, says MMF.
PORTSMOUTH'S MMF Managements has had a far from easy passage to its present entrenched position as one of the leading management agency businesses in the South. Formed in the summer 1968 by four promoters with a mutual wish to become more deeply involved in the business - Robin Ford, Ricky, Martin. Alan Matthews and Ann Luckett - they spent the first six month "on the headline," working from a small one roomed office in Gosport, a two minute ferry crossing from Portsmouth.
"We put money into it for nearly six months to get the agency on its feet," said Ford, 29, who promoted for a number of years in Surrey before switching his activities to the coast, And Ann, an attractive 21-year-old, who managed Portsmouth's Indigo Vat club for two years, added, "As a local agency, we had plenty of problems at first with other agencies; -- was the money all right and so on. There were times in the past when we doubted whether we could keep going, but whenever things were quiet and we were getting worried something always turned up.
"Last summer, when there wasn't much work around here, we were lucky to be able to get several of our groups booked on educational cruises. This summer, even if things-are hard, we'll be okay because of the amount of work we've, had in recent months,'
Strangely, there are no recording acts among MMF's groups, although their busiest progressive band Heaven have recorded an as yet unreleased album for Southern Music, and an American contemporary label is interested in the eight-piece Image.
Other acts booked regularly by the agency are. Paper, Horizon, Smiling Hard and a popular organ and-drums duo, the San Cella Sound. All are guaranteed a minimum of three nights work a week, and it says something for the agency's efficiency and ability to get work that all its acts have stayed with it.
Heaven, managed by Martin, a former accountant, have been helping MMF to get dates further north. They have played more than l00 colleges and are constantly being booked back. But the growth of the agency to it's present level with its comfortable new offices in Stoke Road, Gosport and a staff of four, including secretary, has only been possible since last year when Ford persuaded the management of Portsmouth's Tricorn Club to let him put groups on one night a week.
The club, situated at the top of The city's unsuccessful Tricorn shopping centre, which has fewer than a dozen of its 60 shop units occupied, had a strict cabaret policy until MMF took its Monday night and built it up to a regular weekly crowd of 500. Now the agency puts in groups on three nights of the week, all drawing good crowds, and starts Tuesday night country sessions shortly. It was recently largely responsible for persuading BBC to bring Radio One Club to the Tricorn.
The agency books acts to Venues all along the South Coast and has been booking the Cobweb club in Hastings since it started. But Ford contributes its continued existence primarily to looking after promoters in the Portsmouth area. "We help the local youth clubs, put in what good cheap bands we can and occasionally let them have one of £35-40 bonus at a reduced fee, he said, They naturally do a fair amount of big name booking from London-based agencies, and have a couple of favourites with whom they like to do business. But generally they, like many other provincial agencies, are heartily sick of the inevitable comeback they get when a name acts fails to turn up. "And some of the excuses are so pathetic," said Martin.
Recently they have ventured into cabaret booking and now arrange all functions for the nearby Plessey factory, ranging from small group dances to big band and star cabaret functions. "We're trying to build up a reputation that our service is good," said Ford. And by all accounts they seem to be succeeding.
.....................................................................................................................................................
Another New Year and a new page full of nostalgic memories of the Southampton Sixties music scene with personal memories plus amazing photos that bring the stories to life. Once again, thanks to so many people who have found this website and sent their own bits/pieces as well as being able to hook up with old pals from many years ago- usually fellow musicians, singers, bands, DJs or just fans who flocked to the many dance halls all over the area. I generally add new sections as they come in but often some are tagged onto existing webpages so just have a good read through the 'Groups'pages or just Google any names plus 'david st john' and you might find what you want. The first great memories on this new webpage come from another great musician with a long history of playing with several groups from around 1963- Graham Sherin who has been part of one of the finest current working bands in the South- Poky. This superb set of musicians kindly took part in the annual 'Back To The Sixties' Reunion shows at Southampton's prestigious Concorde Club, which has been running since 2008. Just go back to Site Map and check out the previous shows for more information on these amazing 'mini-festivals' Poky have a massive repertoire, including one of the best Shadows tribute sections that recreate one of the UKs finest instrumental groups, going back to 1958 as 'The Drifters' but having to change their name because of the USA hitmakers. Not forgetting that they were Cliff Richard's original backing group and much more- take a look at this You Tube clip to get a rough ideas of how they sound from the 2008 Concorde show- I had to get up and guest on this particular classic hit - still one of the best British rock n roll songs ever!
More great news as Poky have now confirmed a return on the 6th annual 'Back To The Sixties' show at the Concorde on Friday 1st November 2013! I recently had a few e-mails from Graham Sherin with more rare photos and stories from his own early years so enjoy this next bout of nostalgia and hope you can get down to the Concorde for their great set plus a whole range of other 60s bands, singers, DJs and much more. There will be a dedicated webpage on the 2013 show in the very near future so please check back soon.
Hi David.
This is Graham Sherin Lead Guitarist with "Poky" The band .We have played at two of your 60' reunion nights at The Concorde Club. They where great nights and I hope you continue with them and your web site as the Southampton music scene has a great history.
Last time we met you said you would be interested in the details of the first group I started in the Eastleigh area with my brother in 1963 " The Wheels of Fortune " (Kay Starr record)which was myself Graham Sherin on Lead guitar, my brother Michael Sherin on vocals and Rhythm Guitar , Chris Aldis on Bass guitar and Malcolm Cross on Drums. Prior to starting the band my brother and I had played in local youth clubs as a totally acoustic "Everlys" type duo for free just for the chance to play but when my brothers school friend Malcolm Cross acquired a drum kit we decided to start a band. In that same year 1964 we entered The Eastleigh Beat Group competition and came 3rd behind The "Deacons" and the "Planets" with half a point between us. We worked most weekends often for for the John Angel agency supporting a lot of London based groups at The Park Ballroom and Droxford ,Hedge End , West Meon and Soberton village halls. We also had a residency at " The Clock Inn" at Fair Oak every Friday night. During this time around late 1965 I took a month out when Manager of "The Unforgiven" Tony Cook asked me to stand in for Eddie Harnett and you and I did a few gigs together. I returned to the "Wheels of Fortune" but soon after that the band split as my brother went to live in Australia and Chris Aldis went to live in Canada. Malcolm Cross carried on with the band with a different name and line up . I joined "The Forbidden Fruit" with Dave Bunney on Drums, Ken Cook on Bass, Maurice Skip on Keyboards and Tim Joblin on Vocals. We worked regularly for "Avenue Artistes" travelling the country in a old Bedford van provided and cared for by "Alf the Landlord of well known "Junction Hotel" where we all used to play.
After a couple of years I left the band and got married but after 5 years or so around 1975 I started up a band with Roger Lewis on Bass and Tony Richmond on Drums and Vocals and myself on guitar called " Flare" which soon became "Snapshot". As we went into the 80's Tony left and was replaced on drums and vocals by Dave Bunney a friend from my "Forbidden Fruit" days. After a couple of years Dave left and was replaced by Malcolm Cross from my first band.
For the last 26 years I have played for "Poky" and also in the 90's formed "The Contract Blues Band" and then "The Phantoms" to fill in between "Poky" gigs.
All the best
Graham Sherin.
You will note that our paths crossed during the 1965 era when I was part of 'The Unforgiven' along with varying line-ups of Graham Medley (bass) Steve Newman (former bass)Dave Bunney (drums) Eddie Harnett (gtr/voc) Dave 'Beau' Dinnage (gtr/voc) and later Ronnie Allen (drums). Amazing that we have renewed contact after so many years and I'm still in touch with many names featured across my webpages plus getting the chance to make music on the very successful Concorde shows. Here are a few of Graham's many photos and I also include a few later images of his memories through the Seventies/Eighties although my webpages are mostly based on the late Fifties and main Sixties years of Southampton music makers and associated links.
.................................................................................................................................................
THE WHEELS OF FORTUNE Calmore Hall Totton 1964.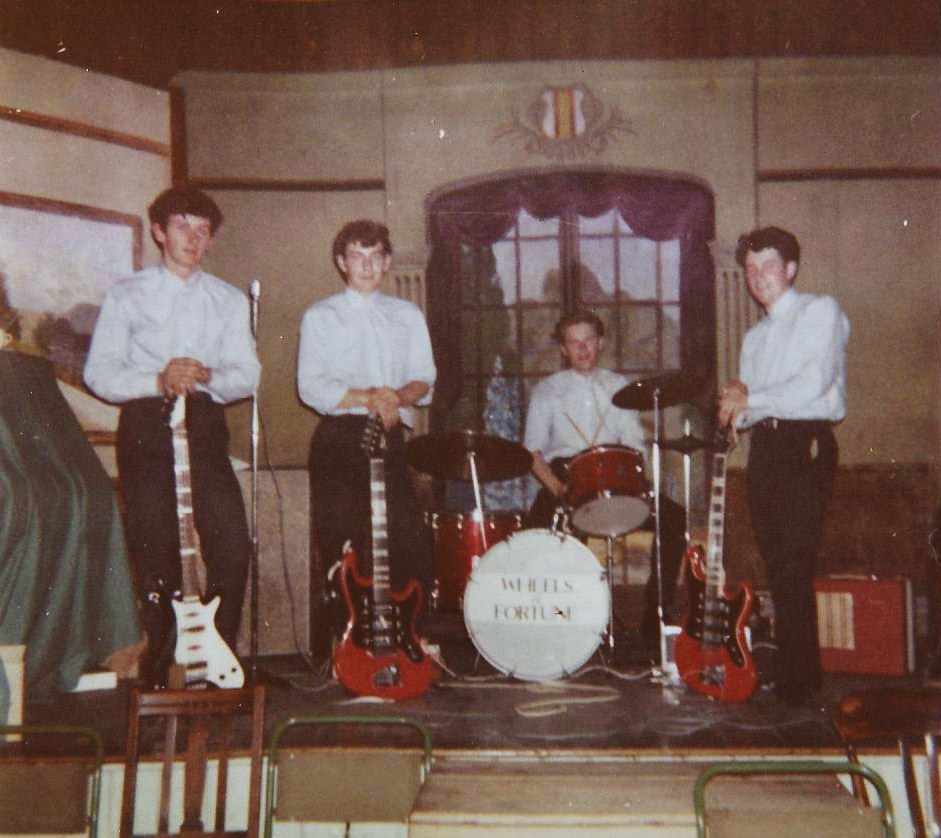 L-R Chris Aldis bass guitar, Graham Sherin lead guitar, Malcolm Cross Drums and Michael Sherin rhythm guitar/lead vocals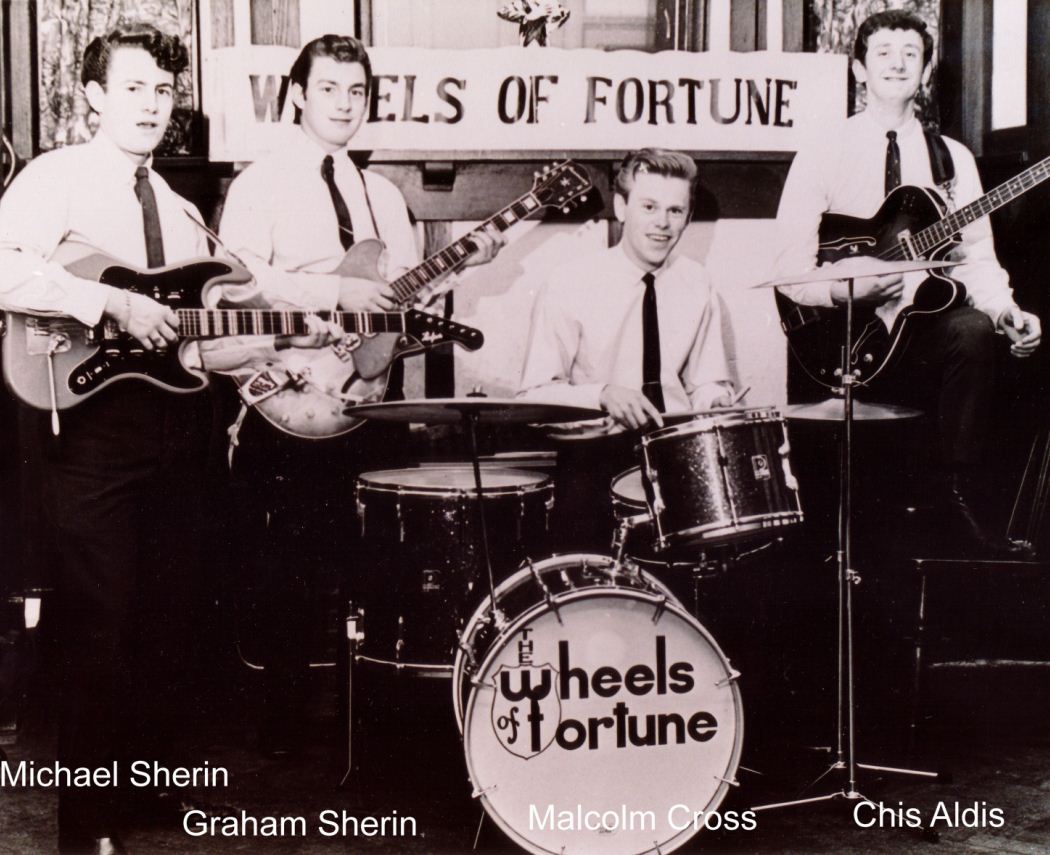 The Clock Inn Fair Oak . "Wheels of Fortune" played in the Public bar here on Friday nights in the later half of 1964 and well into 1965.
This picture (above) was taken in the (then) function room in front of the fire place-the current venue is one main large bar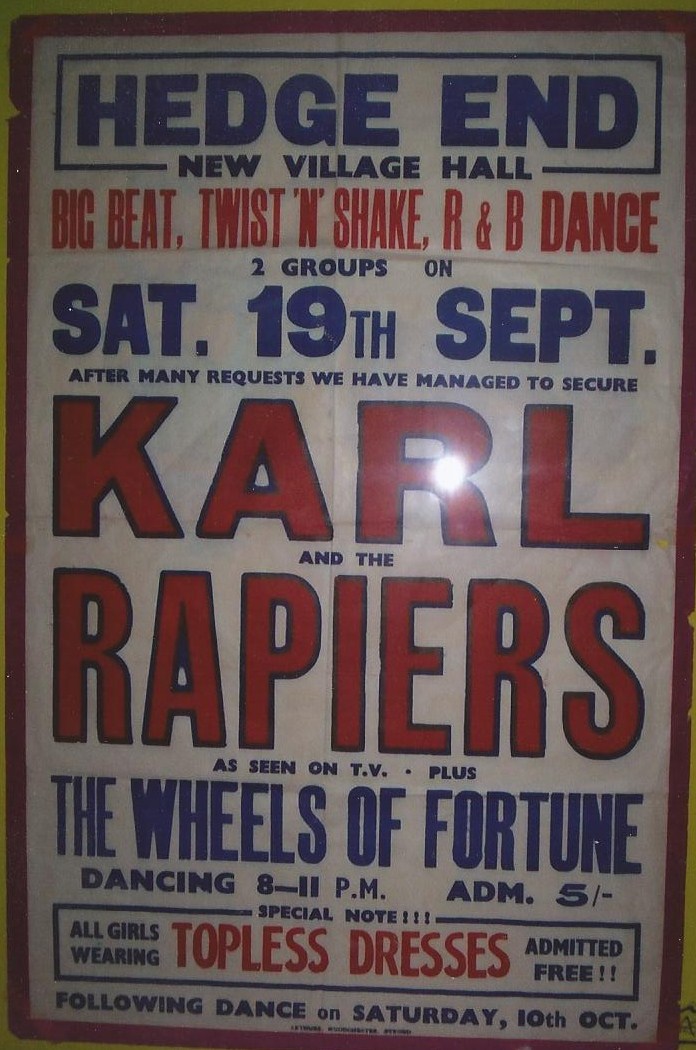 1965 Poster for a Dance night at the new Hedge End Village Hall. This was put on by Promoter and Agent John Angel. from Bishopstoke nr Eastleigh.
Note the "Girls in Topless Dresses admitted free." can't remember any takers. :o(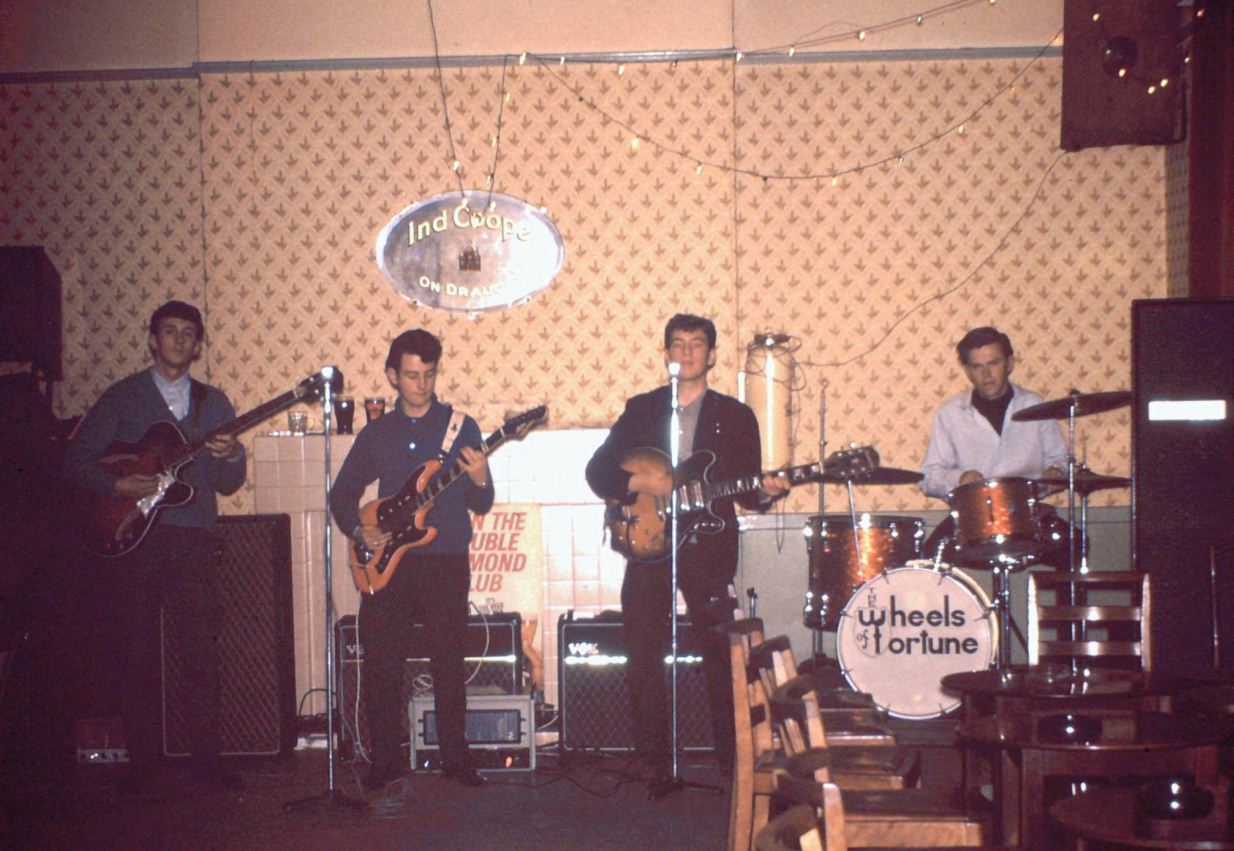 The Junction Hotel Eastleigh. mid-late 1965
L-R Chris Aldis,(bass, Michael Sherin (gtr Graham Sherin (lead gtr) Malcolm Cross (drums)
Wheels Of Fortune followed by Forbidden Fruit 1966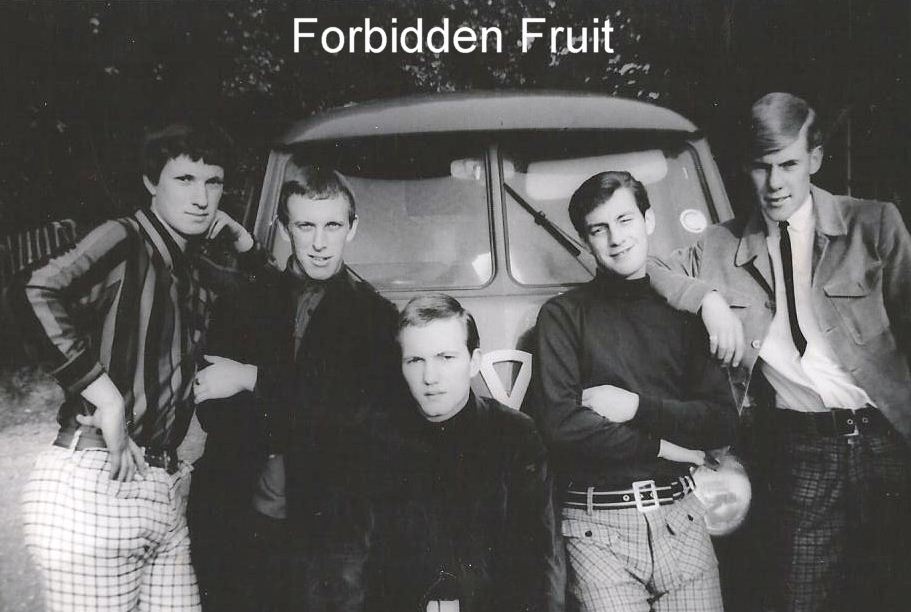 L-R Tim Joblin (voc) Maurice Skip (organ) Ken Cook (bass) Graham Sherin (gtr) Dave Bunney (drms)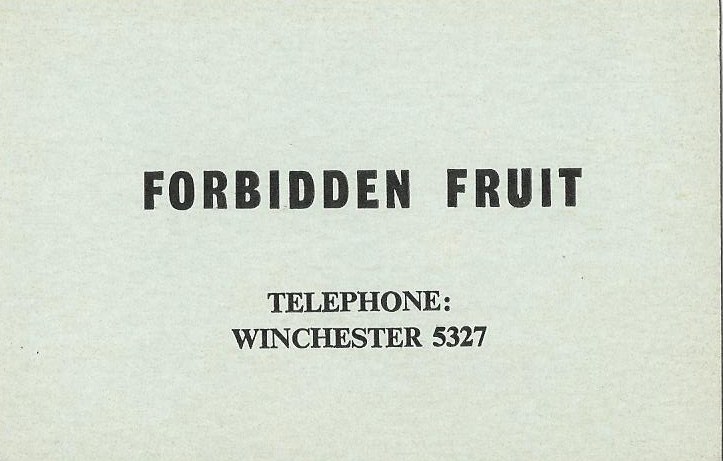 Business card- don't bother ringing....
Graham:
After " 'The Wheels of Fortune " and " Forbidden Fruit" and after a 5 year break I started up a band with Roger Lewis and Malcolm Cross from my first band called "Flare" this lasted with a few line up changes until 1980. It then became "Snapshot" when Dave Bunney ( friend from Forbidden Fruit ) came in to take over on drums. This lasted with a couple changes until 1987 when I left to go with Poky 26 years ago.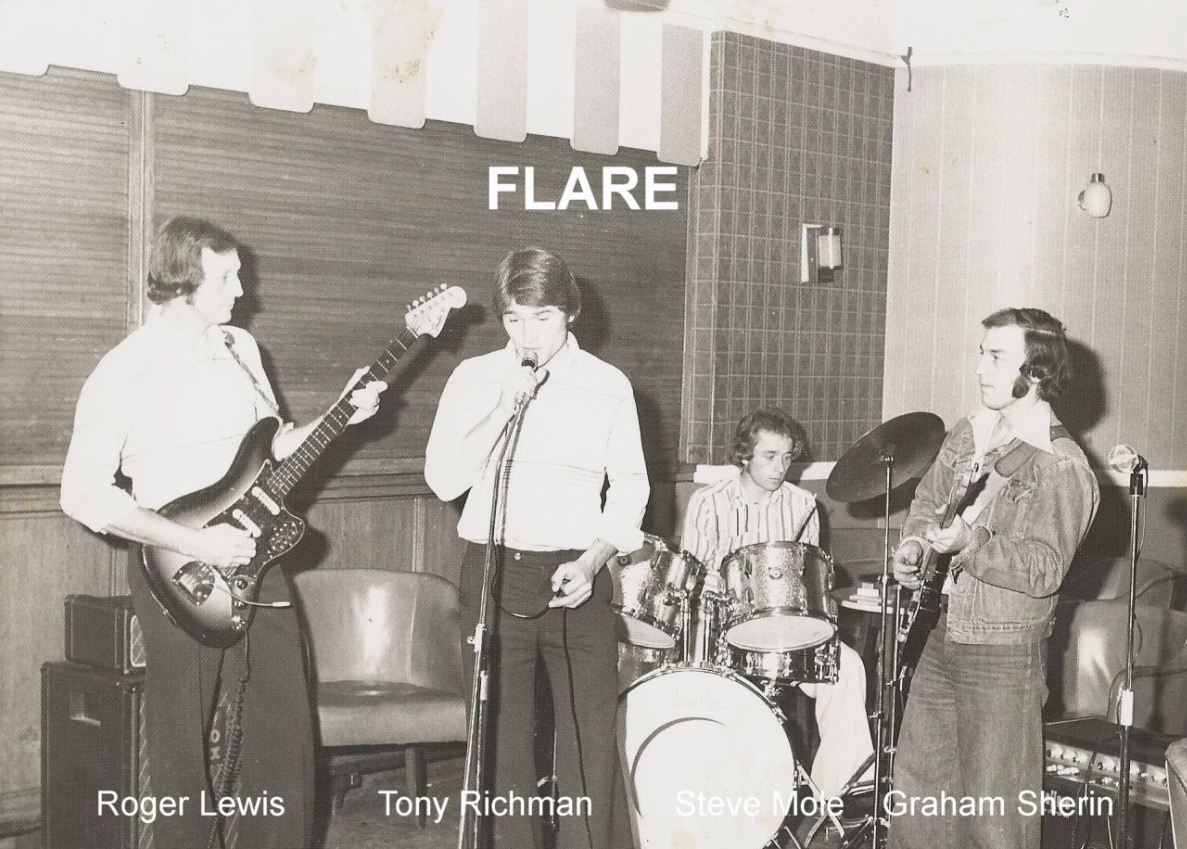 The Sportsman Pub 1976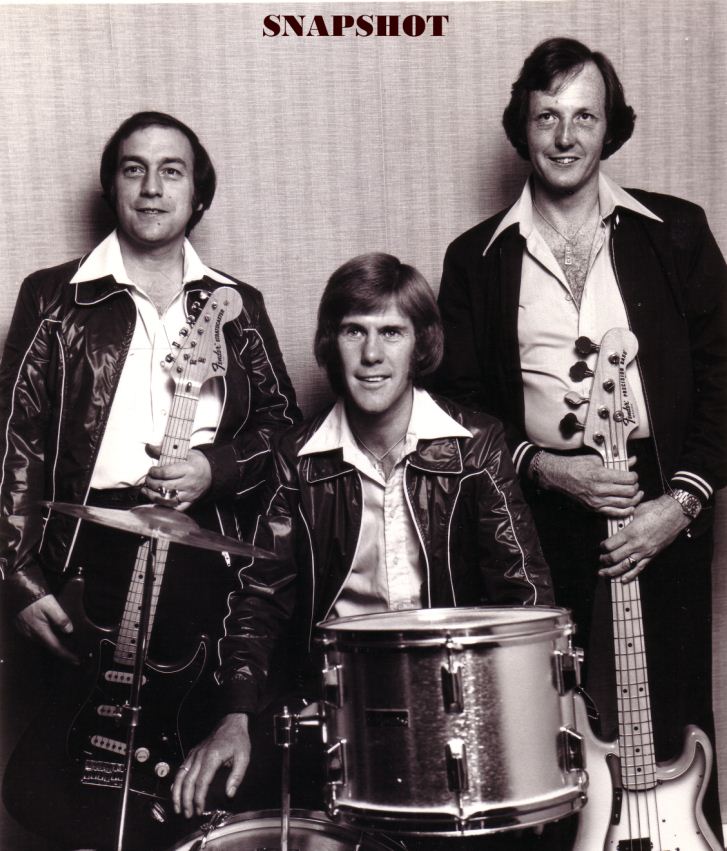 Snapshot 1980 l Graham Sherin Dave Bunney Roger Lewis.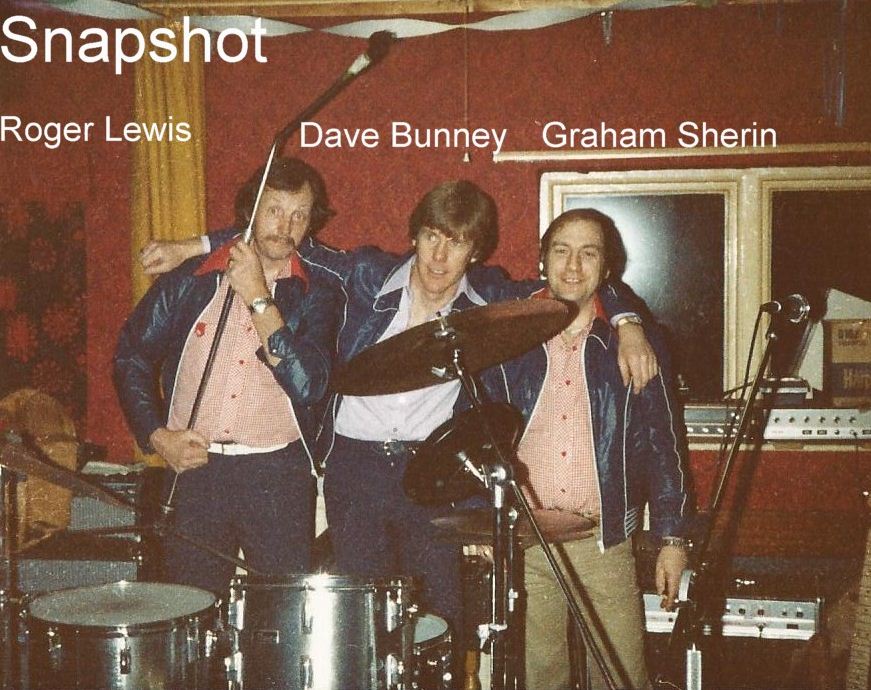 Snapshot - 1981 Winchester Sports and Social Club.
....................................................................................................................................................................
January- another surprise e-mail from an ex pat British musician in Queensland Australia! Although this webpage is mostly based on the Southampton area, it also covers the Hampshire area including Portsmouth and Bournemouth and many 60s bands played along the coast. There is a fantastic Portsmouth based website set up by college lecturer/former musician Dave Allen and we often 'trade' information with the links to sharing these memories thanks to the wonderful internet. Take a look at: http://www.pompeypop.co.uk/Pompey_Pop/Welcome.html As far I know, there is no Bournemouth based website and Dave Horne has just got in touch with a few great memories of his own early days so glad to include them here as many of us Southampton groups enjoyed a pleasant ride through the beautiful New Forest to perform at dance halls around the Bournemouth/Poole areas and beyond.
Dave Horne writes:
Hi - Any one doing Bournemouth Bands history? Some friends and I started ANGLE 4 in 1964 -Doug Morris (leadgtr) me Dave Horne (rhythm gtr) Terry Snell(bass) Kevin 'Spud' Murphy on drums. We added a singer Phil Coward a couple of months later and became ANGLE 4+1 (you can see where we were heading with this name!) Have loads of pics from various youth clubs and social clubs. 1966 change of name to THE MOVEMENT and recall the Sturminster Newton pub on a Saturday night with 200 bikers - EXCITING STUFF, and played on through the the fights like true professionals!
Gas Works Social, off Alder Rd- nice gig. Played TheWhite Buck in the New Forest a lot and appeared with Jet Harris and Tony Meehan after they split from THE SHADOWS plus THE BYSTANDERS( they covered of a hit song by Keith "98.6".) Our band was fully supported by a beautiful guy and his store, EDDIE MOORES MUSIC in BOSCOMBE. Met him by accident in 2004 at the shop when I was on a nostalgia trip, he had retired to The Canary Islands years ago but came back to look after things while the manager took a couple of weeks holiday. We had a good old chat, it was great, he was 85 and had a memory like an elephant, recalled all the band members names -Brilliant!
Another band worth a mention and close friends and neighbours were THE BOSSMEN - Cliff Beckett singer (maraca man) said he felt naked without them! Kenny Hughes (gtr) Chris Jenkins( drums) Brian (?) on bass, plus key board player (can't remember that name ) old age kicking in!!! I think Cliff is still active in Bournemouth, lives in Mount Rd.
We broke up in 1969 when Phil joined the the Constabulary, Doug Morris however played on as a one man band, (played all the instruments himself and over dubbed everything himself, even harmonies. JON FALCON was his pro name did the Cruise Liners for years, sadly passed away some years ago with lung cancer. He was my best friend at Oakmead School when we started the band.
Terry Snell is visiting us on 22nd Feb- Bass Player and best friend/neighbour for nearly 50 years. I think its important to tell the stories while we can still remember it all. Best time of my life-loved it and lived for it!, Living in Queensland where else would you be.Cheers.... Dave Horne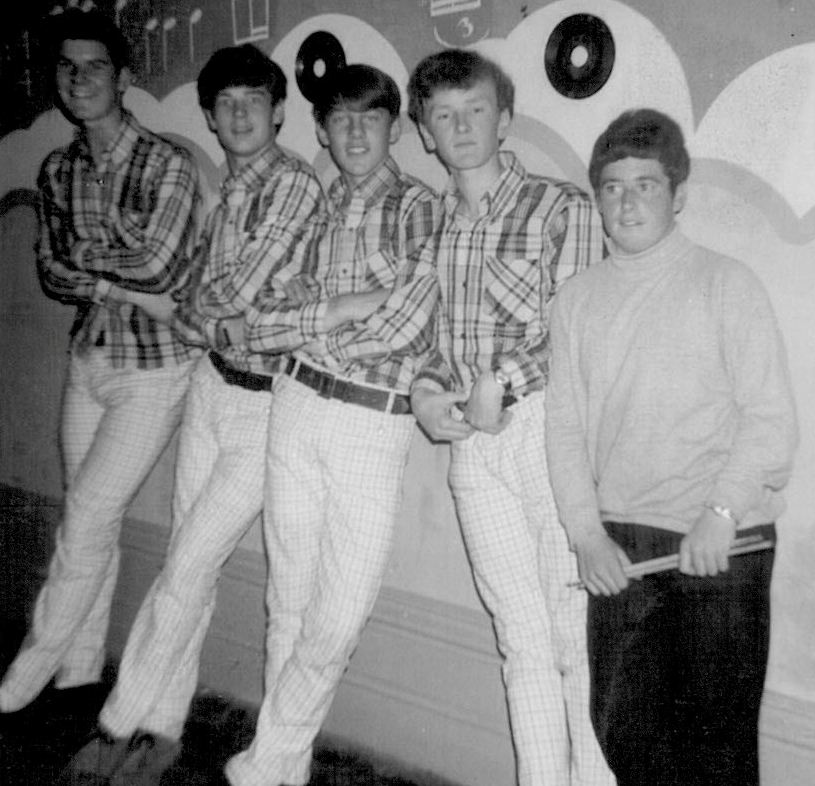 ANGLE 4
1965 at the '45 Club' The Triangle Bournemouth
L-R Phil Coward -Dave Horne -Terry Snell- Douglas Morris -Kevin Murphy.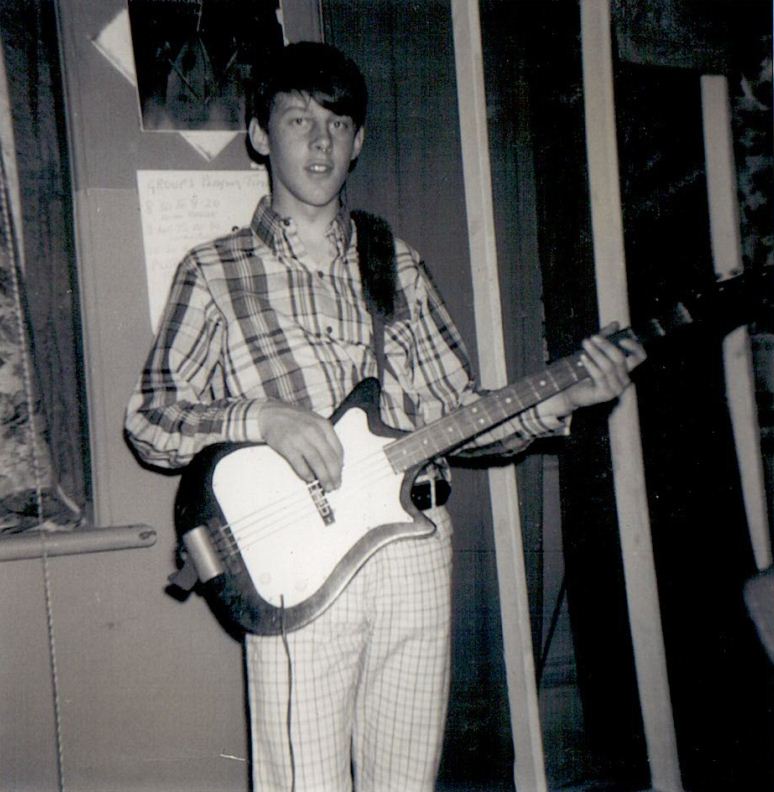 Terry Snell and home made bass (by Doug and Dave) Money was tight then....
Follow-up mail
Hi Bass guy was Alan Francis not Steve, just Googled The Dictators- Tony Howard and Howard Gordon both live just down the road from me at Hope Island, 2 hour drive away! In Australia that's "just" down the road. Remembered another anecdotal recall, went to school with Eddie Hodges Bass player with THE SANDSTORMS, we used to jump the fence in the corner of the playing fields at OAKMEAD then cross Ringwood Rd and jam in his bedroom in the Shoulder of Mutton Pub where Eddie lived, with another tall blonde skinny guy called MIKEY He had a brand new electric guitar, used to show me a few chords and riffs. Wonder where are these guys now. Ken Bailey from the Bournemouth Evening Echo used to do our write ups , perhaps they have them hidden in their archives? Put this on your site it may inspire others.. Cheers again, Dave.
July 2014
Hi David,
Just been reading Dave Horne's piece in Call Up the Groups 16. I'm the Chris Jenkins that he mentions. Joined The Bossmen in 1966, when drummer Ron Burrows left to join the military. The band went through many personnel changes and a change of name to Archimedes Principle. Some of the band members that I can remember......... Dave Mitchell (bass), Dave Trixie (tenor sax), Geoff Hopkins (lead guitar), Dick Hopkins(keyboards), John Hollingsworth (lead guitar) Bob Hood (bass guitar) . We spent a couple of weeks in Hamburg, in 1968, playing The Star Club. Also did a couple of UK tours, as backing band for The Shirelles and The Chiffons. The band folded in 1970.
Was dormant for 4 years and then Ken Hughes dragged me out of retirement to play drums for Cincinnatti Hog Farm, whilst their drummer was on holiday for a month. Ended up joining the band. Tony "Boot" Underhill (vocals and acoustic guitar) Clive Cunningham (Vocals and fiddle) Ken Hughes (lead guitar) and Graham Bowman (5 string bass guitar). When Hog Farm disbanded, I played drums for several Bournemouth bands. A 5 piece funk rock outfit called Urchin, a trio called Jasmine and finally a 5 piece harmony band - Reflections. I hung up the sticks in 1980 but I've still got the trusty Ludwigs in the cupboard!! and my interest in music is now centered on keyboards Bought a Yamaha Tyros 2 and taught myself to play. Also acquired a Yamaha electronic drum kit that I can MIDI link to the keyboard and make multitrack recordings. Strictly for home use!!!!!!!
Hope the above might be of interest
Cheers,
Chris Jenkins
If you have read through other webpages, you will be more than aware of the names of Johnny Dymond and Terry Rolph. Johnny was the most popular Southampton DJ throughout much of the Sixties and early Seventies, especially when based at the Royal Pier, Top Rank and many more great dance venues.
Terry Rolph joined the local agency of Avenue Artistes back in the 60s, which was founded by top manager/promoter Len Canham who built up the Pier ballroom from the late 50s rock n days. Len was also responsible for my own early appearances at the Pier in 1958 as a ten year old r&r singer and this can be all be found on my 'Biography' page etc. AA had a great stable of bands, singers, DJs and much more, as well as being one of the longest established theatrical agencies in the UK. They also went into booking extras, walk-ons, supporting artistes for many TV and movie productions in the area. Terry has quite a collection of old photos, bills and much more memorabilia and just sent this e-mail plus a couple more rare images.
This is Terry's message:
Hi David
Just found two old photos you might be interested in. One is Johnny Dymond and me on the set of the James Bond Movie Diamonds are Forever on The Canberra (1970?) We supplied 200 extras for this which is the final scene in the movie and done in Southampton Docks.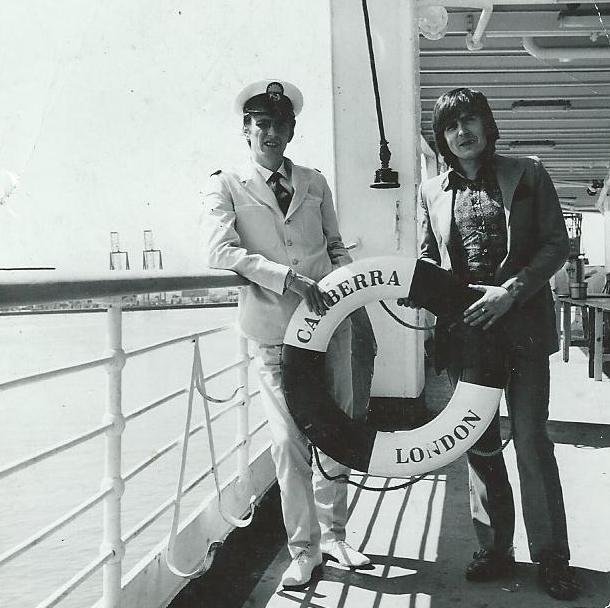 The other one is the football teams of Avenue Artistes and the Portsmouth Groups played in Portsmouth. In the picture are Bob James, Nick Antony, Danny Barbour, Eddie Harnett, Stu James, Duncan Campbell, me, members of Threes Company. I am not sure of the Portsmouth guys but I think one is Ian Duck and also Mick Cooper from Heaven perhaps someone may be able to identify the others. The AA team on the left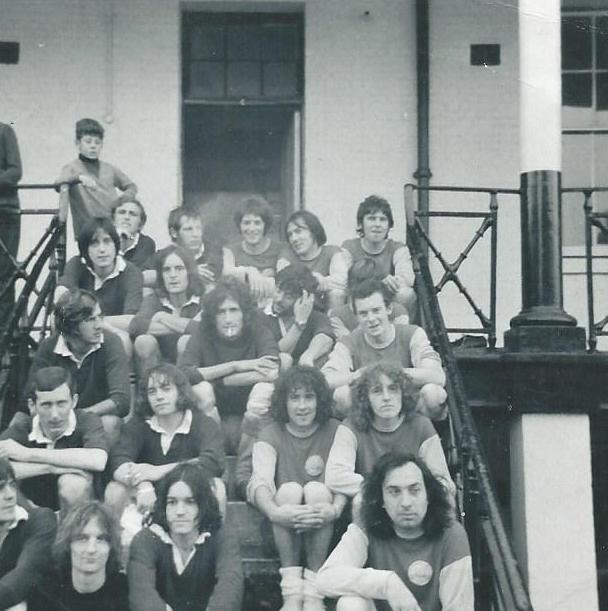 AVENUE ARTISTES-M.M.F.
(DSJ) I can name some of these 'star' footballers and sure that others will follow on as people take a look.
Top row-L is Terry Rolph
Next row down - Stu James+Duncan Campbell (Mojos). 'Smoking' Goalie - Ian Duck (Classics/Hookfoot)
Front row:DJ Nick Antony (Bob Gorman's brother+Mojos roadie) -Danny Barbour - Eddie Harnett. Mick Cooper on right- Ray Hallaway just behind.
2nd Row up- Bob James (behind Nick+Danny)
Len Canham was worried sick about Dave Dee getting injured (insurance problems for a 'star' name on the pitch!)
Happy Days when there was good relations between every one socially
Terry
Kind Regards,
Terence Rolph
Avenue Artistes
PO Box 1573
Southampton
SO16 3XS
Tel: 02380 760930
Email: info@avenueartistes.com
Website: www.avenueartistes.com
Terry also underlines the friendly 'rivalry' between the Southampton and Portsmouth group scene back in the 60s/70s as both sides enjoyed playing on each others' 'patch'. This in contrast with the pathetic 'footy' based nonsense that often causes animosity between the two great cities during recent times. The 'Derby' football matches were also great fun as well as a chance to talk music and compare notes on all aspects of the fun times that we enjoyed in those carefree days. I uploaded this section on the 20th March and next day received another surprise from Mick Cooper of 'Heaven'- the actual programme typed out for this very match! This is it plus the mail from Mick, who is also one of the main contributors to Southampton's 'sister' city of PompeyPop website/blogs etc. Check out his own weblinks in conjunction with Dave Allen who has a never ending output of 60s music nostalgia for Portsmouth but enjoyed by anyone anywhere.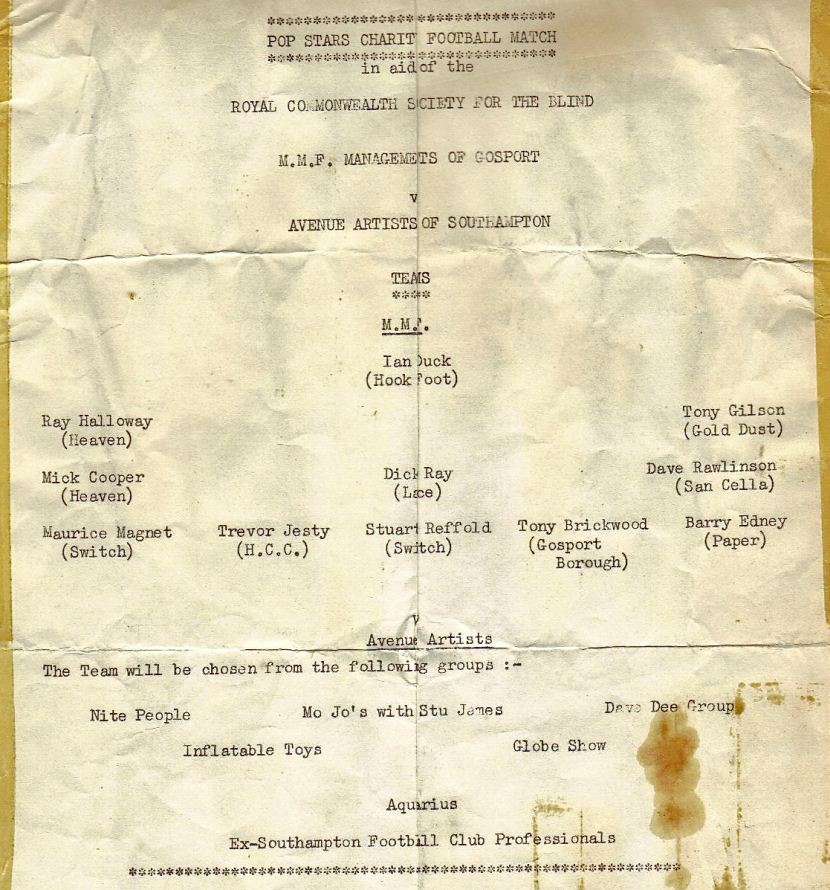 M.M.F were a Gosport based entertainments agency- my own (final) group did a few gigs for them around the Portsmouth area- usual Navy bases, dance halls and the Tricorn Club .
I recall the agency run by Robin Ford, Rick Martin and Anne Luckett- this charity match around 1969?
Hi Dave
I remember it well. Me bottom right, with Ray Hollaway sat behind me. Ian Duck goalkeeper and guitarist Classics and Hookfoot, with the ciggy in the middle. But who were the rest? I don't recognise any of them. See attached prog for the game! Cheers Mick
Check 'em out...
...........................................................................................................................................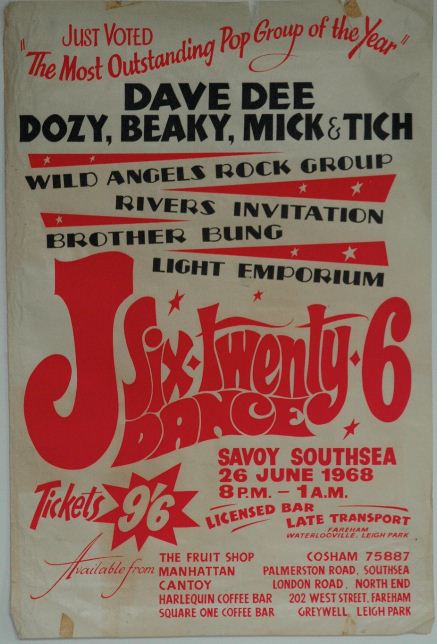 Formerly Dave Dee & The Bostons plus Brother Bung (Bob Gorman-Bob Pearce etc)
...........................................................................................................................................
BACK TO HOME PAGE BACK TO SITE MAP CONTACT DAVID
©davidstjohn2014