BACK TO HOME PAGE BACK TO SITE MAP CONTACT DAVID
Page updated 2 February 2011
David St John presents:
CALL UP THE GROUPS 12
*Loads of pics - let it load*
If you are returning to this or any other webpage - you might need to Refresh it (Press F5) in case your browser keeps original viewing
COPYRIGHT
Please note that many images contained within this website may be subject to copyright, although many have been kindly sent to me and intended to be shared on this non commercial outlet. If anybody wishes to use any of the same, then please get in touch as well as possibly giving credit where due as well as setting up reciprocal links if relevant to the actual content on any webpage. Please note that I am able to monitor any image-copying and if published on other websites. I would appreciate any contact to report broken/outdated links and any corrections to the text that accompanies any images herein. Thank you and enjoy!
Once again- bringing back more great memories of the Swinging Sixties around my hometown of Southampton and trust you have been reading through the other 11 'Group webpages full of my own memories and many more. This is all thanks to the ever growing number of visitors to this website in recent years - especially those who have blown the dust off old albums and scrapbooks and kindly e-mailed or posted them to me.
Some say 'you should never look back' Rubbish! These shared reminisces offer an insight into a former period of our lives (if lucky enough to have been born at the right time) and can be enjoyed by all ages- especially if involved in making music or just being a fan. What is even more remarkable is that many of the original 60s singers, bands and DJs within this site are still very active - just take a look at my Concorde pages plus the two blog pages 2009/2010 via the Site Map as well as loads more pages that recount the Golden Age of pop music. On a sadder note, we are often losing many of the people mentioned across this website but it does provide some comfort to their family, friends and those lucky enough to have 'trod the boards' with them at some stage in the business. The memories live on and I am privileged to be able to remind any readers of the camaraderie that exists within the entertainment game - many of these talented people have left a mark in life and even the most humble musician has helped to brighten up someone's life. There is no better feeling than to look out from a stage and see the dancers having a ball or just watching the group having their own fun plus the applause -and even screams back then! Very few of us actually 'made it' although a few had a fleeting taste of the big time and I'm sure that most of us would do it all over again and not change a thing if a Tardis popped up by the Dock Gates!
You may already be aware that much of my information has been gleaned from 'Southern Roots' which was the brainchild of John Clare and Terry Hounsome back around 1980 when they both set out to catalogue the many bands and singers around the Hampshire area. John was the 'discologist' based at Henrys Record Shop in St Marys Street Southampton and you can read all about this on the dedicated webpage via the Site Map. Inspired by Pete Frame's 'Rock Family Tree' which was a genealogy type breakdown of many top acts of the Sixties, it showed various ever changing line-ups of bands that made some impact or had a future rock star pass through the ranks. John and Terry spent ages in handwriting every page of a massive collection of A4 sheets that ended up in a large folder, which John took with him when emigrating to Australia. However, he kindly posted this precious catalogue to me and I use it to check any background information to go with my music webpages as well as being able to help any enquiries from a wide variety of fans, writers and even TV/film companies who have found my website in the course of their own research.
So welcome to Groups 12 and thanks to everybody who has got in touch with their own memories plus the all important images that often surprise the odd person as their own face pops up on any of these pages. My other Groups pages are groaning under the weight of information and photos so I now add any 'new' stuff in these later pages as each one is started. However, some of the new input is relevant to other content from the past so please take a good look throughout the site as well as Googling any names plus 'david st john' and you will hopefully pinpoint any specific inclusion.
.................................................................................
13th January 2011
A name that appears all across my many 60s music pages is Johnny Dymond- former top DJ around the Southampton music scene and who kindly sent some fascinating memories plus rare photos of his own days in the city. Disc Jockeys played an important part alongside the pop groups who filled the dance halls and it's great to share their own nostalgia plus many more stories. Johnny now lives in Spain but we keep in touch all the time and he has just dug this old publicity handout published by Avenue Artistes (AA) - the top agency who managed several local artistes from the early Sixties. AA was originally formed by the legendary promoter Len Canham, who rose to prominence when in charge of the Royal Pier Pavilion Ballroom on Southampton waterfront in between the old and new docks. You can read all about Len on other webpages via my Site Map - a fascinating character and fondly remembered by many a young band, singer or DJ who was represented by his office.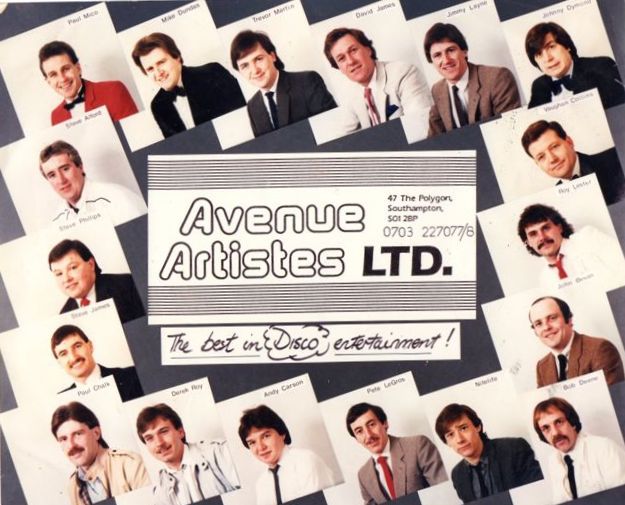 The A.A. DJs!
Names- running from top left and clockwise:
Paul Mico Mike Dundas Trevor Martin David James Jimmy Layne Johnny Dymond Vaughan Collins Roy Lester John Bevan Bob Deene
Nitelife Pete LeGros Andy Carson Derek Roy Paul Chalk Steve James Steve Phillips Steve Alford
.......................................................................................
I receive several e-mails literally from all over the world and the latest came from Martin Kerley, whose father Tony played drums for many top local Southampton groups from the early Sixties. Unfortunately, Tony is not in the best of health but sharing his own memories via Martin can now be included on this page. He lives in Fawley and would love to hear from any old bandmates who will recognise a few names in the photos below, so please contact me to pass any messages on. As with many old photos- there are a few missing names to some of the faces so I'm sure that these gaps will be filled in due course plus any more info on the venues etc. These are just a few of Tony's photos but offer another personal view on a good time of our lives!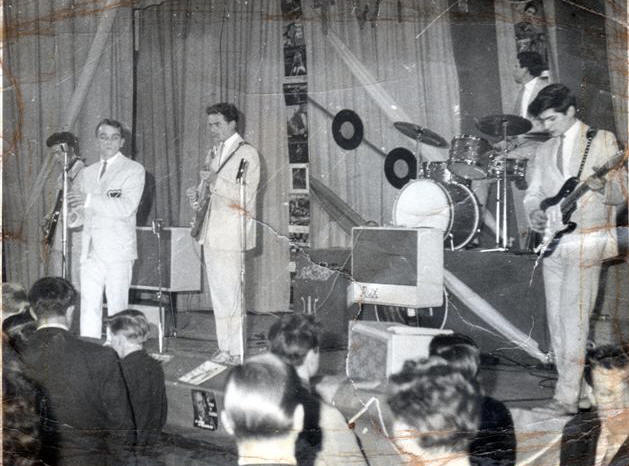 Johnny Rush & The Raiders 1963
Vocals – Johnny Rush (Cecil Houghton), Bass – Godfrey Lightening, Lead – Ernie Pusey, Rhythm – Mike Weatherdon, Drums – Tony Kerley.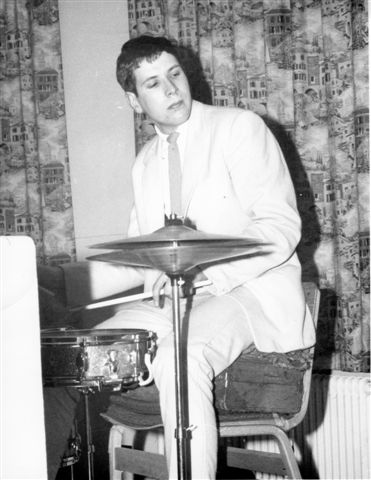 Tony Kerley (Raiders) 1964 Esso Club Fawley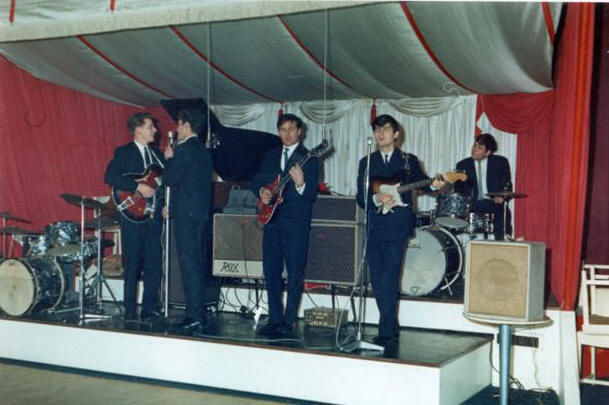 Brian Fisher and the Raiders 1966
Vocals - Brian Fisher, Bass – Geoff Chalk, Rhythm – Mike Weatherdon, Lead Ernie Pusey, Drums Tony Kerley.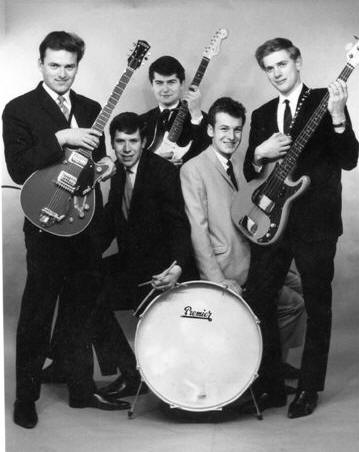 Brian Fisher & The Raiders 1966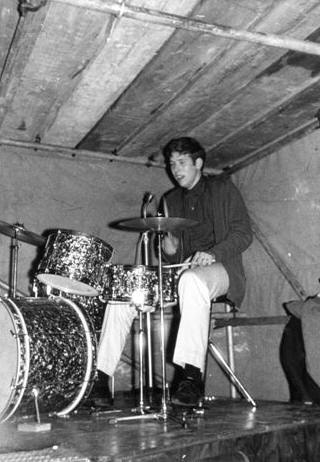 Tony Kerley Lepe Beach 1966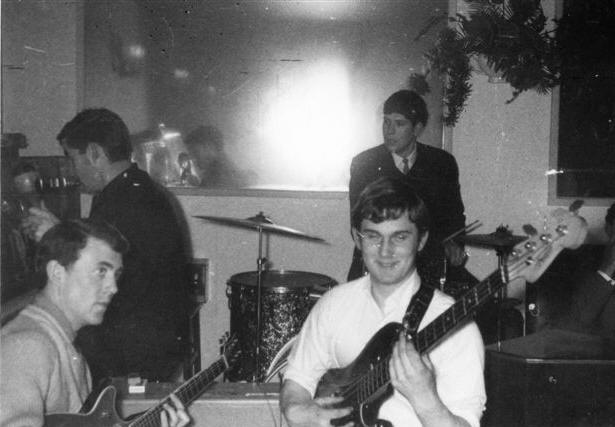 Tex Roberg & The Semitones 1967 The Key Club Southampton
Lead gtr - Colin 'Angel' Willsher,Vocals & Piano – Tex Roberg, Bass – Ron Calloway, Drums – Tony Kerley.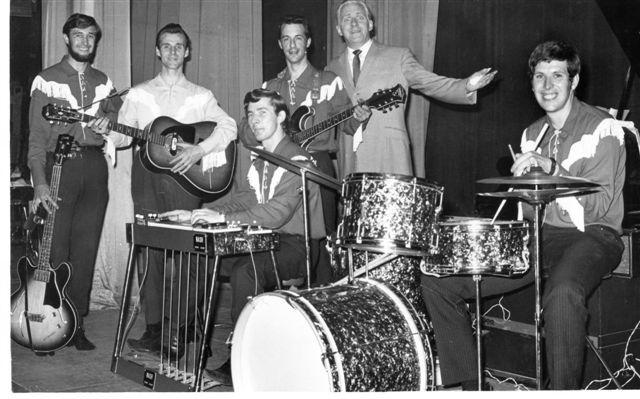 CODY NASH with Hughie Green 1968
Kings Theatre- Winners of competition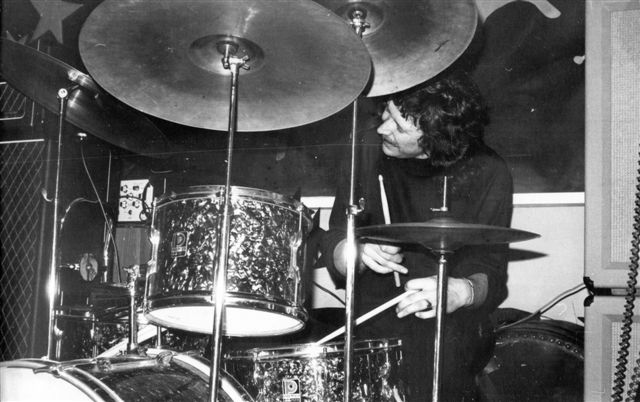 Tony Kerley 1974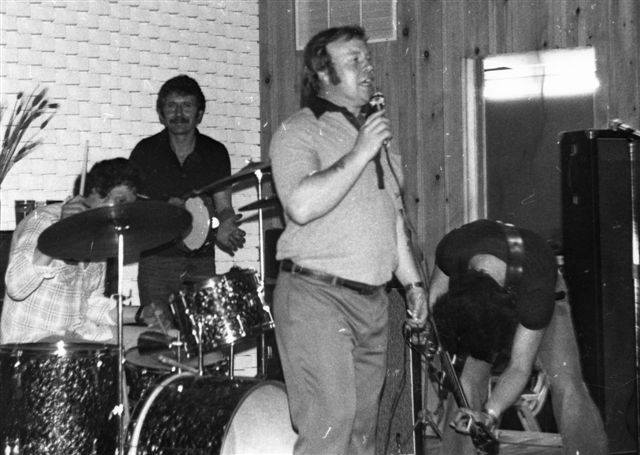 SOLENT SCENE 1975 Bognor Regis
Vocals – Bob Jones, Bass - Pete Ward, Lead – Pete Rogers, Drums – Tony Kerley.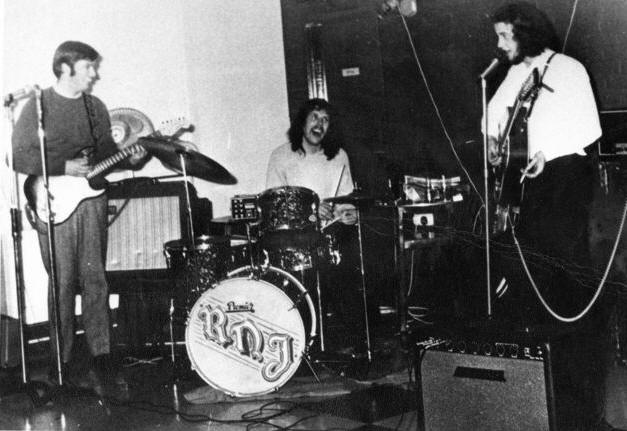 The R.N.J. Band 1976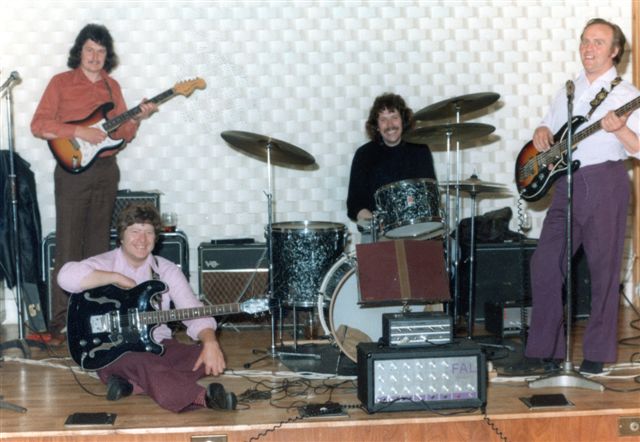 SLENDER HARMONY 1977 Amesbury Wilts
Vocals – Dave?, Lead – Dave?, rhythm - Unknown, Drums – Tony Kerley.Bass – Bill Ebb
....................................................................
Yet another ex-Pat Southampton musician mails from across the Big Pond! Mike Humphrey has sent me these memories to add to the Rogues Gallery of 60s groups! I phoned him and had another interesting chat about many aspects of the innovative years when many of us took up a new path that would change many of our lives forever.
Hello David,
Greetings from the Great and Glorious State of Texas- Mike Humphrey here! One time Southampton Musical Stalwart, friend and bass player for the inimitable Pete Broyd, who for the past several years has kept me up to date with your wonderful web site. I have been meaning to write forever, but never seem to get around to it, until now, about our great band The Whirlwinds, who seem to have been overlooked in the annuls of Southampton's musical history. Pete and I stay in contact on a weekly basis and I visit with him in Portswood from time to time. I hope you enjoy my story and that it fills in another page of our musical history!
Mike Humphrey born 17th November 1938 in Hanley Rd. Shirley, Southampton, grew up at 106 Foundry Lane, Millbrook, Southampton.
Started school at Western Infants School on Shirley Rd. transferred to Foundry Lane Infants School and then attended Foundry Lane Junior School.
Starting in 1950 I spent 5 years at Taunton's in Highfield.
I started playing the guitar with Brian Coe and Pete Hill at Wimpson Lane Youth Club in 1956. We subsequently formed a skiffle group with Pete Hill's Dad as the manager. Later, Brian and I along with Jimmy Lake broke off and formed our own group called The Four Discs. We performed "Frankie and Johnnie" at the famous Atherley Cinema 'Talent Show' where we were in competition with Pete Broyd and the original Blackjacks. Later when the original Blackjacks fell apart, Brian and I joined with Pete and Johnnie Baker to form the new Blackjacks. I spent a couple of years with the band playing many of the local gigs, The Pier, The Gaumont, The Lido Winchester, The Empire Hall in Totton, etc.
I decided to drop out of the band somewhere around 1959. I did not do anything for a year or so until I met my future wife Rita Payne and subsequently her older brother Roy. Roy was desperate to form a band and after a lot of pressure I agreed to play bass guitar for him. Roy was a good rhythm guitarist and singer. The band was called The Whirlwinds. We recruited "little" Roy Perry to play lead guitar and Peter Taylor on drums. We also had Norman "Scouse" Hale as a part time piano player. The band was very good and we played a lot of cover instrumentals in addition to the standard Rock and Roll fare. We had three excellent singers, the first was Barry Hallett who was a real crowd pleaser, a heartthrob kind of guy. The second was Barry Gendron who hailed from the Seychelles Islands who was a great ballad singer, i.e. Elvis Presley's "It's Now Or Never", etc., and the third was a young Kevin Scott, who was an extremely talented entertainer. I am not sure if this was his first professional job, as a singer, I believe it was. Anyway, he obviously went on to bigger and better things so I guess we can take claim in discovering him.
Pete Taylor the drummer was a technical kind of a guy and he built us, probably one of the first "echo chambers" to appear in the Southampton area. It sounded great on some of the instrumentals that we played.
We started out mainly playing the "Reg Calvert Circuit" which was very large by this time. We played dates from Salisbury to Winchester, to Portsmouth, to Crawley, to Camberley, etc. etc. Later we started playing quite a few Club dates. We were regulars at the Silhouette Club on St. Michael's Square and a club I can't remember the name of on Canute Road.
N.B. Mike mentions Kevin Scott- later of the Kinsmen, Wishful Thinking, Time then name change to Danny Finn of the New Seekers. Also- Roy Perry was the lead guitar/vocals in my last group The Script/The End 68-72 and you can see this on my 'Biography' page. Roy sadly passed away a few years from a sudden illness and far too young- like so many talented people. His father was businessman Bill Perry who owned several clubs in the Southampton area- I believe the Celebrity Club (Hamble?) was just one of them. DSJ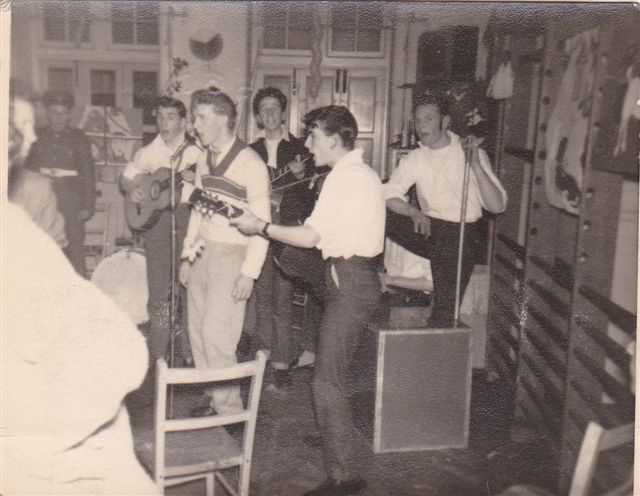 The original Skiffle band at Regent's Park Youth Club circa 1957
L to R Pete Hill -Syd -Mike Humphrey -Brian Coe - Jimmy Lake.
(N.B Love the old tea-chest 'bass'!)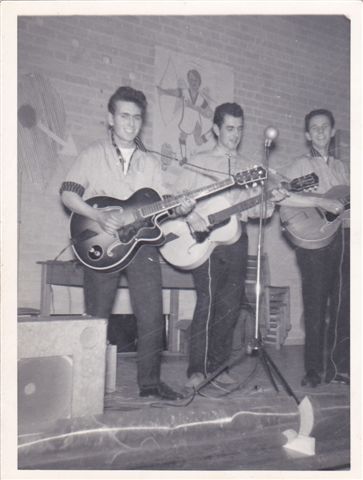 The Blackjacks at Tanner's Brook Youth Club

The Blackjacks
Johnnie Baker- Brian Coe- Mike Humphrey- Pete Broyd.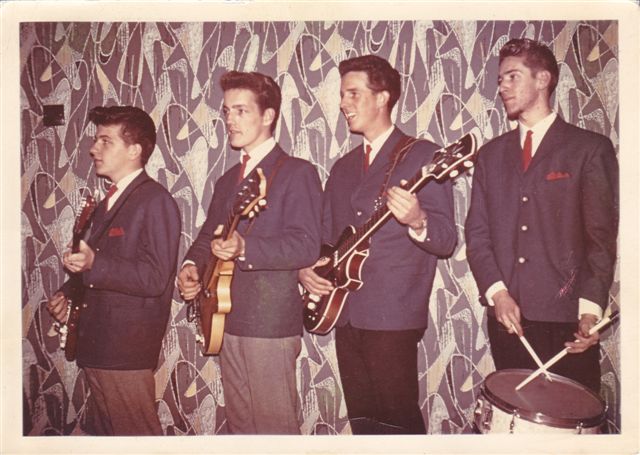 THE WHIRLWINDS
L-R "little" Roy Perry, Roy Payne, Mike Humphrey and Pete Taylor.
(Roy Payne- a dead ringer for organist Mike Smith of the Dave Clark 5!)
.............................................
Mike has kept in touch with Pete Broyd for many years and this is a photo of one of the meets when Mike was visiting his Southampton roots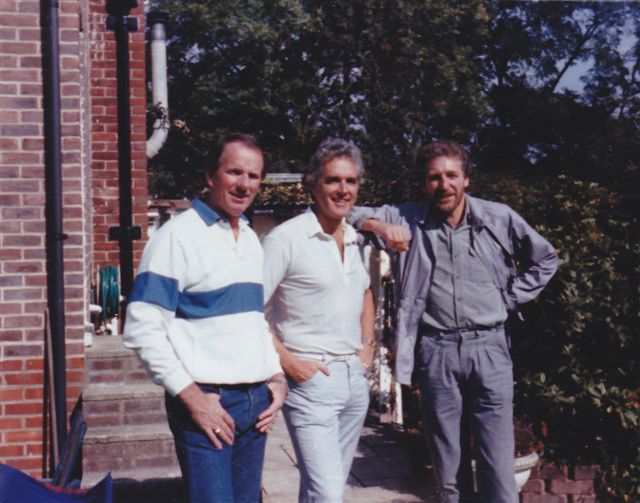 Aging Rock Stars! – Aug. 1986 Reunion.
L to R Mike, Pete and Jonnie Baker
....................................................................................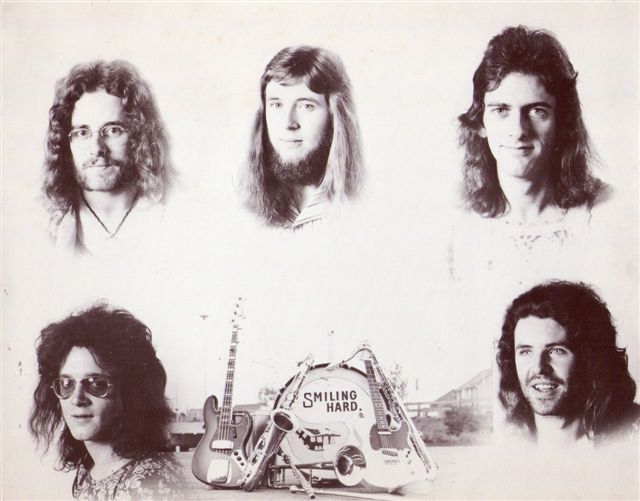 SMILING HARD

Kev Gilson (V/G/S),
Andy Hamilton (V/S),
Tony Gilson (BG) replaced by NickHug (BG) replaced by Jeremy Taner (BG),
These were a superb Portsmouth/Gosport based band and I took these photos as part of their publicity campaign around 1970. I was a semi-professional photographer for a couple of years. The instruments were shot in an empty car park near Southampton city centre and studio pics for the headshots, then I developed the prints to make this montage in the darkroom! Each image (edge diffused) burnt separately onto the 10 x 8 print in one session and straight into the develop/fix/rinse trays - I hope put the correct names to each face in the near future so come on back. No such thing as computer imaging software back then! Using 35mm Pentax camera for those who remember how it used to be..........
Only recently found this photo so got in touch with my fellow 60s music 'historians' on the PompeyPop set-up (Mick Cooper/Dave Allen) who have kindly supplied some info on Smiling Hard. Like many such bands, each member came from other various groups and some had later successes on a bigger stage. This shows some of the shifting personnel line-ups and later progress - quite impressive and indicating how good these musicians were!


BLACKOUT: Kev Gilson (V/G/S/K), Dave Gilson (G/T), TonyGilson (BG), Bill
Carlton (G), John McLeod (K), John Jenkins (D).
Mid 60s became Gold Dust/SmilingHard

GOLD DUST: Kev Gilson(V/G/S/K), Tony Gilson (BG), SpikeEdney (K), Dave
Houghton (D).
See Blackout

'Spike' Edney (G/K),
Dave Houghton (D), replaced by Phil Briggs replaced by Larry Tolfrey
(D).
Phil Jones (tenor sax) Late 60s,

Spike Edney played keyboards later with Duran Duran, Queen, George
Benson and the SAS Group
Kev Gilson later with Duran Duran
Andy Hamilton later with George Michael
..................................................
Please come back again soon as this new page will be extended as I receive more great input and maybe hear from YOU soon?
BACK TO HOME PAGE BACK TO SITE MAP CONTACT DAVID
© copyright David St John 2011