BACK TO HOME PAGE BACK TO SITE MAP CONTACT DAVID
Page updated 31 August 2014
David St John presents:
CALL UP THE GROUPS 14
*Loads of pics - let it load*
If you are returning to this or any other webpage - you might need to Refresh it (Press F5) in case your browser keeps original viewing
COPYRIGHT
Please note that many images contained within this website may be subject to copyright, although many have been kindly sent to me and intended to be shared on this non commercial outlet. If anybody wishes to use any of the same, then please get in touch as well as possibly giving credit where due as well as setting up reciprocal links if relevant to the actual content on any webpage. Please note that I am able to monitor any image-copying and if published on other websites. I would appreciate any contact to report broken/outdated links and any corrections to the text that accompanies any images herein. Thank you and enjoy!
Once again, another new page full of 60s music nostalgia and following on from the other pages crammed with personal memories of those musicians, singers, DJs or just fans who danced the night away around the Southampton area during the late Fifties and through the Scintillating Sixties! I am eternally indebted and grateful to those who have got in touch as well as sharing their stories plus the all important images that have mostly been 'forgotten' in many a loft or old albums until now. If I have overlooked anybody, then please get in touch as I receive a large amount of e-mails so occasionally overlook odd messages and it would be a shame to miss out on publishing these great insights.
.................................................................................................................................................................................................................................
Asa new year kicks in, I can now add these new/old names to Groups 14 and mainly concentrated on the 60s music around the Hampshire Coast and I had some very funny e-mails from Steve Hampshire, a well established DJ, presenter and Voice-Over artiste whose lugubrious tones have been heard on literally thousands of jingles, adverts in between a long career in broadcasting. Steve sent me loads of photos plus a basic CV so I am reproducing some of it here. he also has a major family connection as his father (now in his 90s and still very active!) is George Cooke, a former band musician who was part of the Bob Potter Band way back in the Fifties. Bob Potter later went into the pop business and promoted many dances around the North East Hampshire area, which many of us young 60s bands appeared at- you can find much more info on Bob on other pages. He later went onto running the Lakeside Club Camberley, which has hosted a succession of top class world artistes plus the major darts tournaments and you can take a look at the club's own website. I could have filled a few webpages on what Steve sent me - maybe he should set up his own website or write a book! His local connections include stints on Radio Victory Portsmouth and I have also included some background on his father George who moved from music into several years of underwater adventures and much more!
STEVE 'Hammy' HAMPSHIRE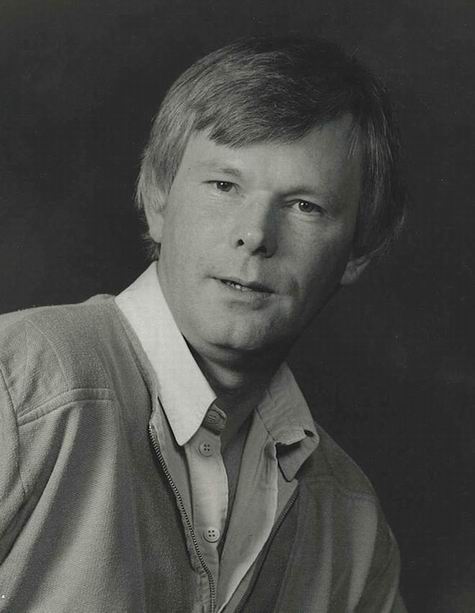 1994 publicity shot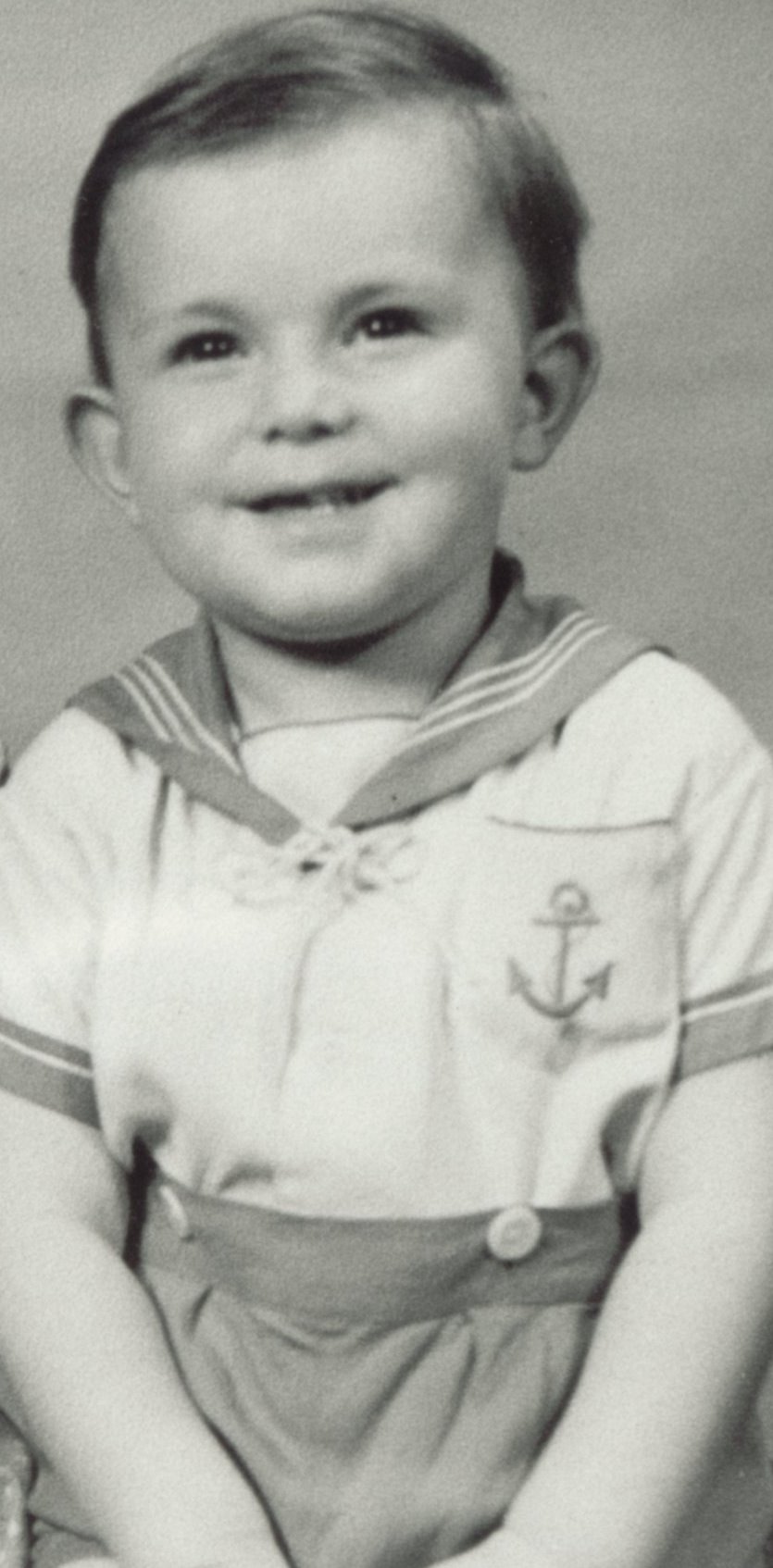 'Hamming it up aged two'
Steve was born in Catford South London then the family moved to Mytchett, Surrey where he stayed for the next nineteen years, within earshot of Bob Potter Entertainments. Bob came calling many times. Not to sign up the 'Mini Mega Mouth' for instant stardom, but to collect the printing of flyers and leaflets his father George did for him. Steve later moved to Reading for five years. and recalls seeing some great acts who appeared at Festivals, Forbury Gardens, Town Hall, Tech and Whiteknights Park etc
Always fascinated by radio, the music & the deejays, he knew what he wanted to do from the age of twelve, but had to wait until '75 when he joined Europe's First Soft Rock station. Radio Kaleidoscope, South London. He was nabbed once during an (illegal) London Music Radio broadcast from Barrow Hill; but talked his way through many hours of interrogation and confused them. He had no choice, Home Office heavies and the police were playing his 'Steve Hampshire' shows on cassette at Epsom nick.
About six months later, he received a letter from Waterloo House, saying no further action would be taken. He's still waiting for his Oscar Award nomination, though. Steve was a founder member of Metropolitan Hospitals Radio, Whitechapel in '76 after Kaleidoscope was voluntarily closed down. In '78 a move to Devon beckoned. Plymouth Sound offered regular voiceover sessions and he later, became Head of Commercial Production.
By '83, Steve boasted a client portfolio large enough to risk a return to the voice circuit full-time. That is, until, Essex Radio & Airforce Music made him and moved to Southend.
Steve created many, many memorable jingle lyrics and campaigns as a creative writer, producer, actor, voiceover & sound designer and presenter. Other London Orbital stations copped for a cheerful earful of him on days off. July '88, he moved to Ashford, Kent and immediately made a concerted effort to crack the lucrative and rewarding London Market. Sixty miles in opposite direction. Since those heady days, old 'Tinsel Tonsils' and his productions have been heard on virtually every U.K. Radio & TV channel. Vocal talents lent to many TV shows, have been networked throughout America, Russia & Poland. In fact, he might inadvertently have started the second Cold War.
One software production he featured on went to over 48,000 studios worldwide. In more recent times, you might have heard him as Steve Hampshire, 'Garrotting the Ether' at Wessex FM, EKR Rock Radio and on many productions for Radio Caroline.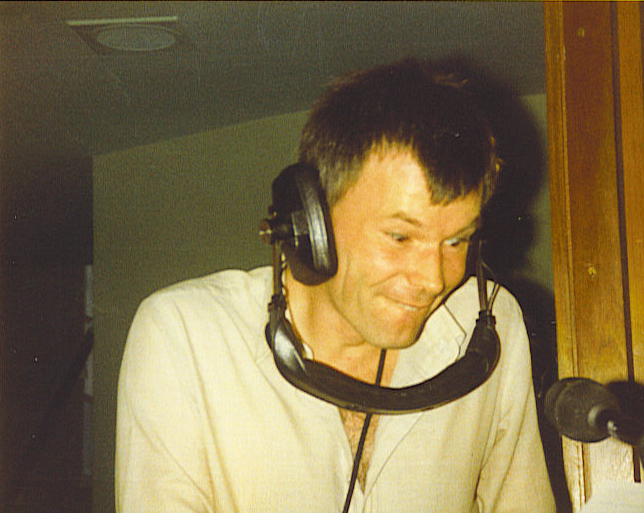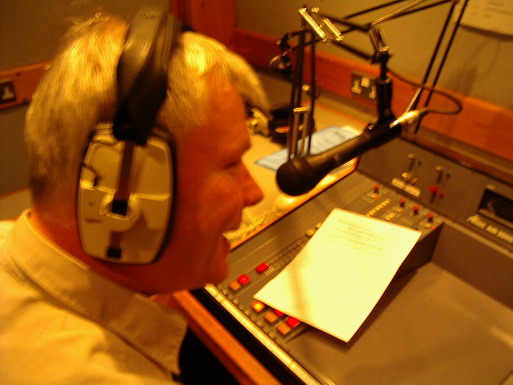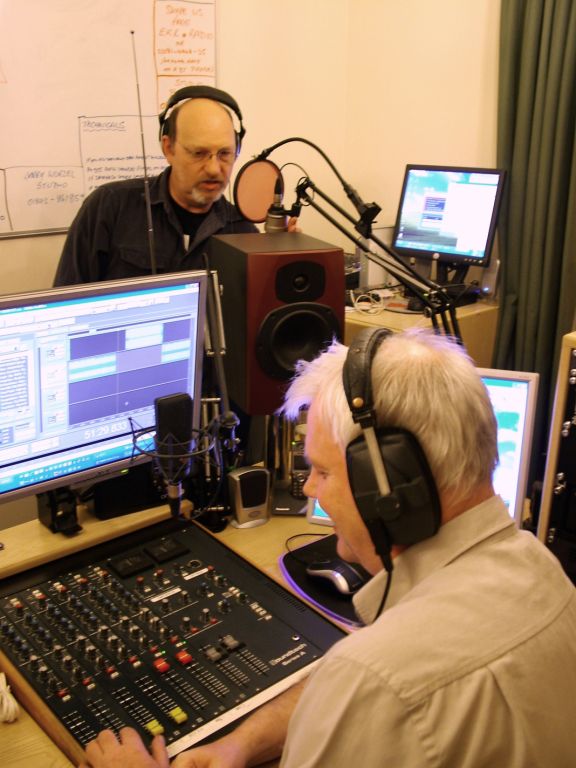 Radio Victory-early 80s Wessex 2009 EKR 2009
George Cooke- Action Man!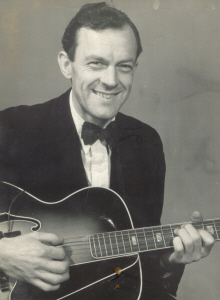 1950s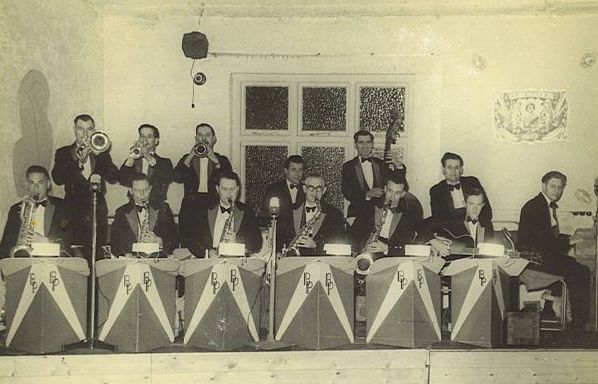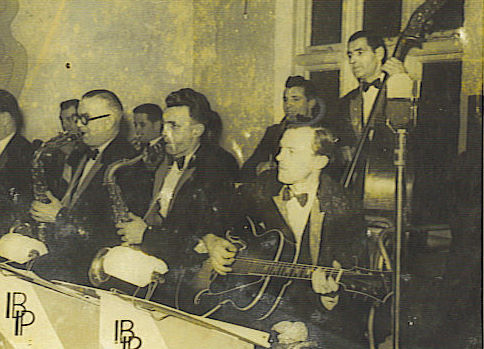 Bob Potter Dance Band (Bob on drums) Aldershot 1953 George in the key of 'C' ............
Having played guitar in Bob Potter's Big Bands in the Fifties, George became a bit of a celebrity in the Sixties; when his free-flooding submersible Explorer 1, was featured on many TV shows and related media including: Blue Peter twice When the fourth Bond film 'Thunderball' was released in '65. Explorer 1 was on display in the foyer of a Reading cinema for the week.
George would like it to be known that many ladies in the foyer often mistook him for Sean Connery. He'd like it to be known; but it just isn't true.
As Diving Officer of Reading Sub Aqua Branch, he evaluated many a novice in the free ascent tower at HMS Dolphin. Part of the training included: donning the very cumbersome and impractical Portsmouth Divers' Gear. He often dived on wrecks in the Solent during the sixties and was the first to locate the Mary Rose
In the late sixties, George led a team of divers on a Treasure Hunt at Basing House. Rumour had it, treasure was buried in the wells and underground tunnels.
Only modern coins were found and considerable lead flashing from the roof that dated from Oliver Cromwell's siege. A move to Fort Bovisand, Plymouth in '70, offered many more opportunities for his incredible inventions. Still very active at nearly ninety-one, playing in many jazz bands, performing solo gigs and giving talks about a remarkable life.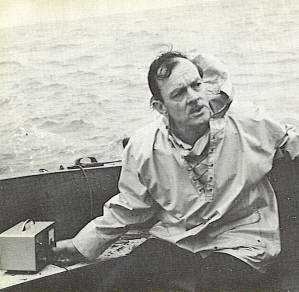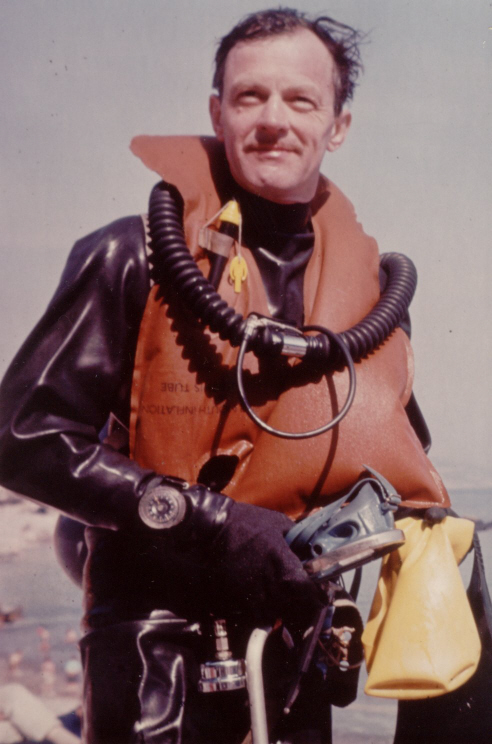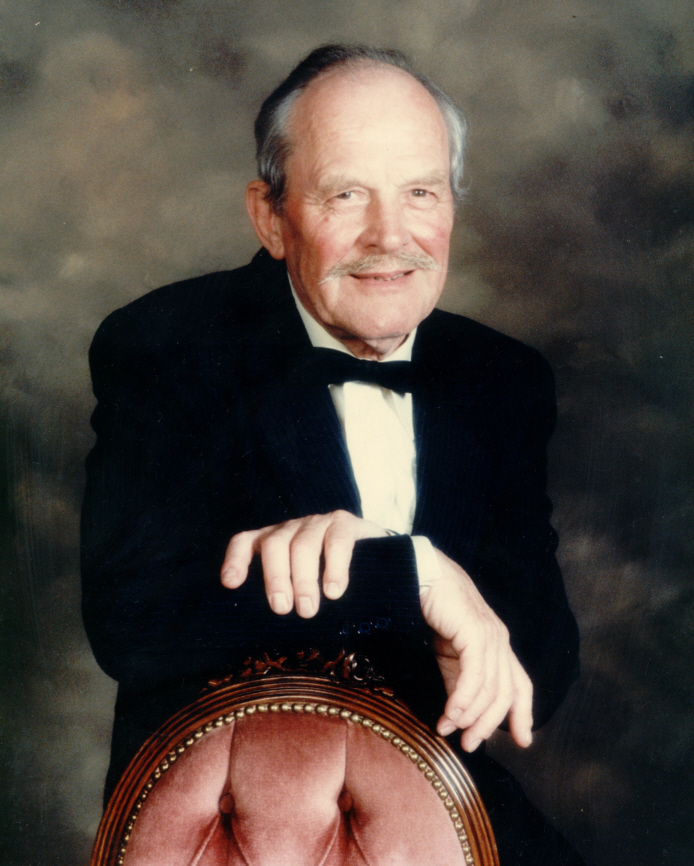 1966 Locating the Mary Rose(with magnetometer!) Late 1950s George Cooke 2011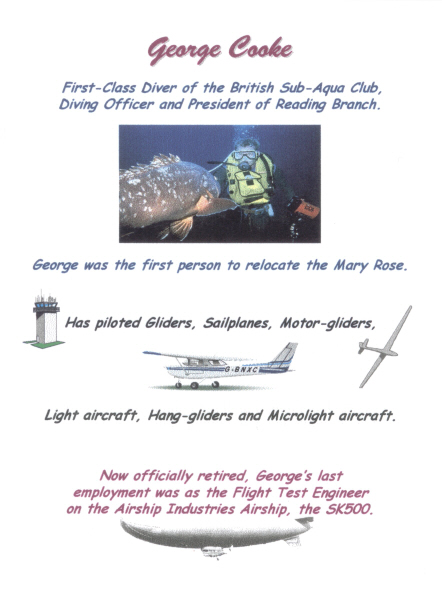 George's last official employment was at Skyship Industries based in Cardinham, home to the original R101. He designed the flight console for Skyship -the very same craft as used in James Bond film 'A View To A Kill' with scary Grace Jones and Christopher Walken, where it was destroyed on Golden Gate Bridge!


What a father and son story!! Please contact me if wishing to get in touch with George (Cornwall area)
Also- check out this link: http://www.rbsac.org.uk/about/history-of-the-club
.................................................................................................................................................................................................................................
Yet another 'vintage' muso popped up on my website in the shape of Kevin Lang, who knew and worked with many local Southampton bands and much more over a very long career- and still playing!! Here is one of his intro messages, and mentions former band singer Shirley Gaye who recently got in touch with me and Kevin has sent some great pics so enjoy these below.
David, keep up the good work, I always read your clips with great interest but not having been in the Southampton scene much wondered when and where I can add my 10 cents worth until I read Shirley Gaye's piece. So if I may I'll just rabbit on a while..............
It was interesting to hear that Shirley Gaye was once with Barrie James. During 1962 I was invited to join Barrie James and the Strangers on bass, Gary and Lee were dancers singers, the lovable Fergie (Brian Ferguson-drums) in the engine room, I believe our lady vocalist then was Pattie Knight....or was that really you Shirley? Tony was on guitar. Tony had little amp...I think it was a Selmer 'Truevoice vox??'......something like that...BUT it had a fantastic sound.
We once supported 'Johnny Kid and The Pirates' at Rochdale Town Hall, after the show I remember Mick Green (I think it was him) saying..."what the f**k you got in there Tone?" I think Tony just had one of those lucky amps....also he was a knockout guitarist.
I agree with Shirley that the The Barrie James Show was one of the best bands around at that time and Barrie was superb, I learned a lot about production, presentation, music and show biz from him.....thank's mate- I hope you get read this! I still have a couple of dozen 35mm slides of us....I think they were taken at Boston Gliderdrome....the venue where that bloke in the audience had a baton and knocked everyone flying conducting the band!!!
Reading your news-mails reminds me of the time I spent in Southampton. I left Manchester as a young bass player who wanted to make my mark in the music biz, have some fun and travel. When I first arrived in Southampton I was met by Len Canham....and as you did in those days you stayed at his flat at The Royal Pier and rehearsed at the 'Beach Ballroom' until we hit the road....often to Scotland. I can hear you saying it now...'Red Shoes and 'Mrs McBeans'....salty porridge and happy days......and if you don't know what I'm talking about....your 're too young!!!!
At the end of that year I left, returned to Manchester and joined 'Mike Cadillac and The Playboys'....latterly 'The Manchester Playboys'. They were already doing a few dress up show numbers when I joined them, so I encouraged them to consider a few of Barrie's party pieces like Johnny Ray's 'Crying'. We also pinched Dave Sutch's Jack the Ripper act with our very own coffin and UV's....a great band.
Then along comes 'Neil Landon and The Burnetts' to our gig at the 'Bodega Club' in Manchester and I was approached after the show. They were already booked to start a tour of Germany and The Storeyville Clubs at the end of the month, 'The Playboys' ex bass man wanted his old job back....so everyone was happy. Also this was too good to miss and that's where I spent the last years of my pro music career until 1966. You can find many references to us on Youtube and Google. Our original guitarist was Mick Allen who has done that 'Kent Bands' thing which you can find through Google. He left and a Mr Redding took over-yes THE Noel Redding who eventually joined Hendrix played with us until 1966. During the week when the club was quiet we used to swap instruments....he taught me a bit of guitar and I taught him to play bass....handy as a few months later when we were summoned via Jack Fallon, Cana Varieties to meet Chas Chandler....Noel was going for Valentines old job but the Animals ll didn't turn up...and the rest as they say is history. Our drummer during the German days was Peter Kircher who eventually became Status Quo's drummer.
I'm still busy playing 40 gigs a year with my current band of 22 years 'Shazam'.
BTW David, what are you doing with that piece I wrote to you about......possibly saving Denny Laines life in Koln at the concert below.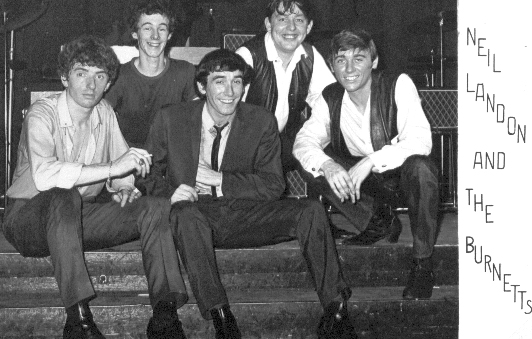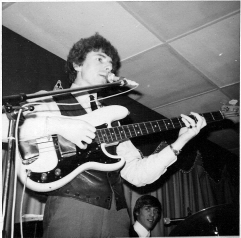 Neil Landon Burnettes- Cologne (Koln) Kevin Lang- beautiful Fender Precision bass!
Storyville Club, Koln all sat on the stage after a sweaty Saturday matinee. Spring 1965.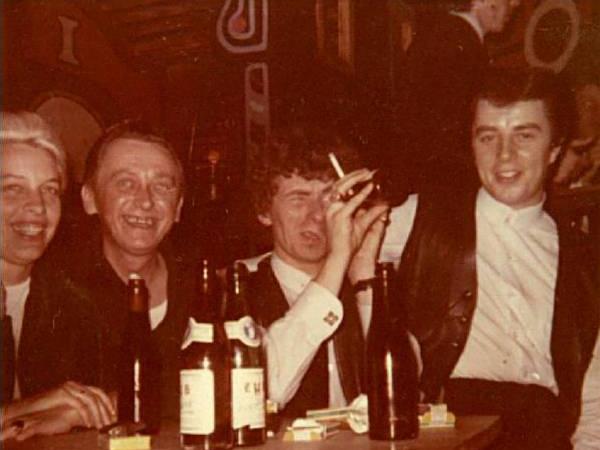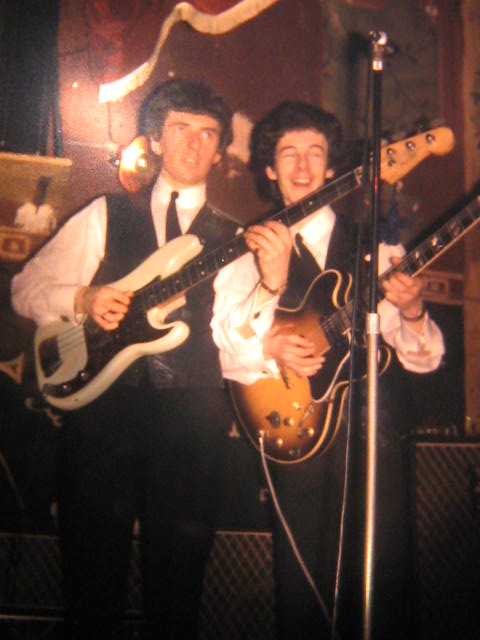 Kevin, Mick and pals- Storyville Club Cologne Kevin and Noel Redding - Storyville Frankfurt 1965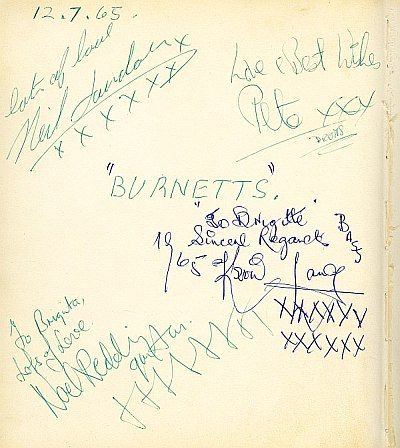 Autographs for 'Brigitte'........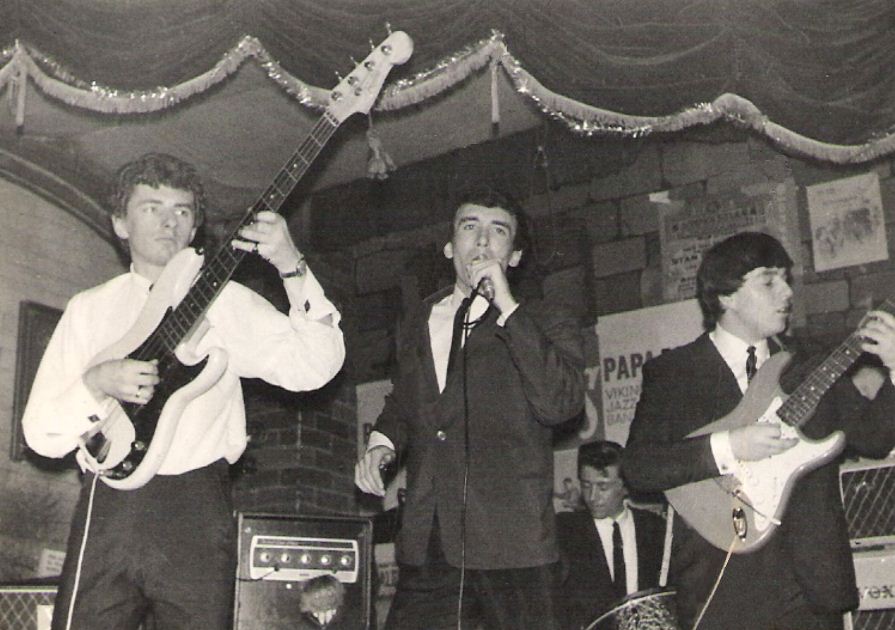 STORYVILLE CLUB COLOGNE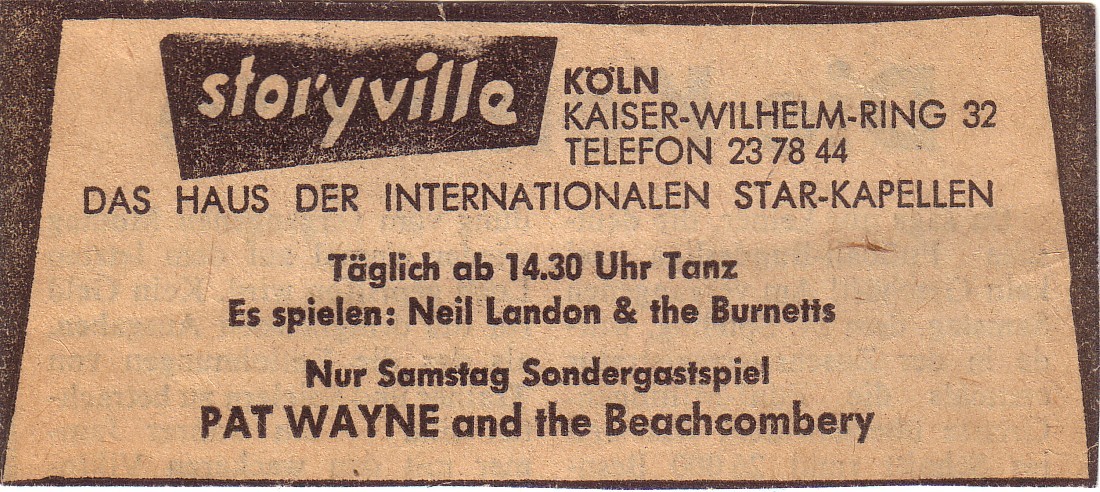 They also played at Club E, Marburg Lahn for a couple of months...and an 'interesting' month in the Haus der Musik, Wuppertal.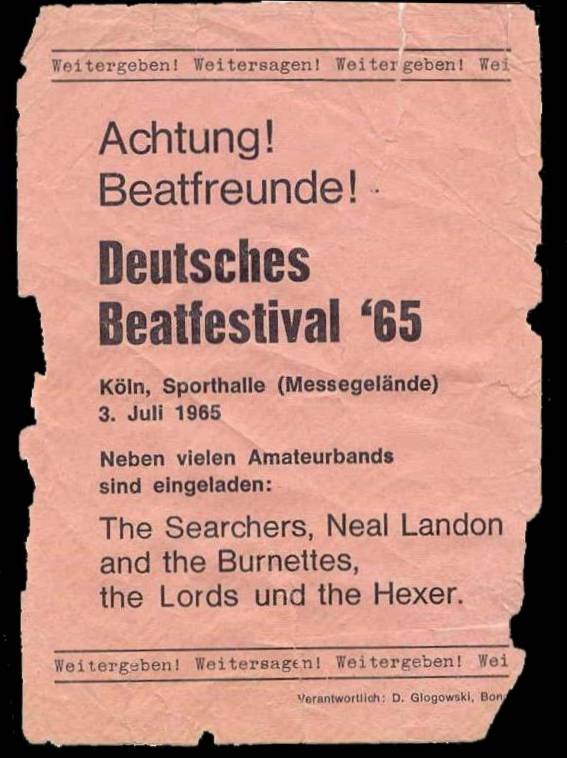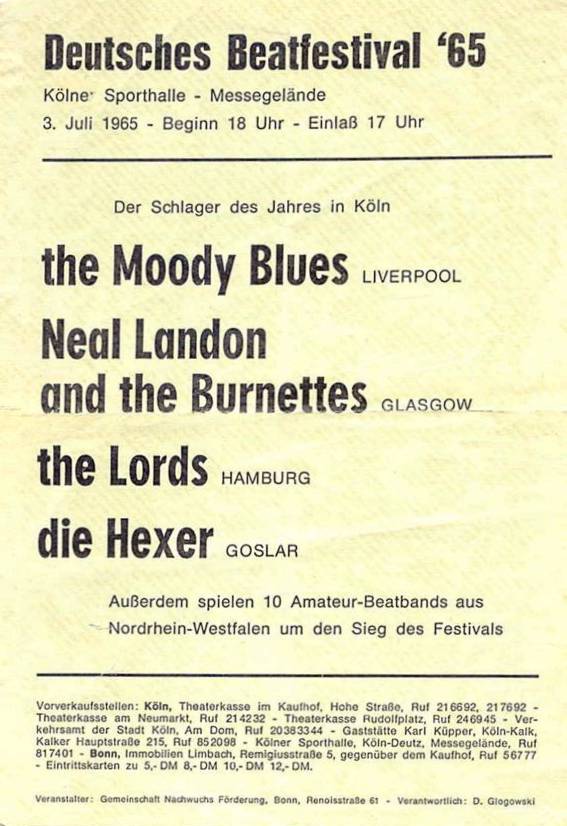 Kevin:
Hi David, here is something that I have not thought about for years until now. On 3rd July 1965 I may have saved Denny Laine's life. As you know he was the singer with The Moody Blues in those days. On that afternoon in the Sportshalle, Koln (see the poster above) a seedy evil looking guy was wandering around back stage and asked me where to find Denny, I pointed him the direction of the dressing room. When he walked past me I noticed the butt of a 38mm service revolver in his right clenched hand poking out of the top of his trouser pocket, my immediate thought was 'f**k me' maybe he's after Denny. So I grabbed the security guys who brought him down, disarmed him and sat on him 'til the police arrived. It transpired that he was going to shoot and kill Denny. No idea why, by the time the case came before the courts we were all back in the UK and thought no more about it until now!!!! I don't know if Denny ever knew what happened.....but we're all still here to tell the tale and that's the main thing..
So if there' any 'brownie points' kicking around up there when it's my turn, I there's a few in my inbox for possibly saving Denny Laines' life.
That's it for now....rock-n-roll.
Kevin also recalls drummer Brian 'Fergy' Ferguson- formerly of the 'Three Stars' combo who backed me on my first ever stage appearance back in 1958 at the Royal Pier Southampton- see 'biography' page and others.
Hi David, thanks for keeping us all in the loop with these interesting snips of the fantastic 'never to be repeated again' 1960's days. So far I've not really been able to contribute much, but seeing this e-mail about 'Fergy' has nudged me into action. Also if I may I would like to do a bit on me.
Yes I remember Fergy very well, tall lanky guy....always looked like his stage jacket belonged a bigger bloke, he was the drummer in a tremendous band I had the pleasure to join in the early 60's....'Barry James and The Strangers', aka 'The Barry James Show' a fantastic Southampton based show band. Barry was a really talented singer showman, Patti our glam-puss singer was lovely, Gary and Lee the dancer singers were magic...it was just such a good show, me, Tony, Fergy were in the orchestra pit....and Christ knows how we all got in that 15cwt van!!!! I think I must have travelled thousands of miles in that van getting my backside roasted on the engine cover. Can you imagine if someone said to today...."we're driving 600miles....oh and by the way you'll be sitting on a hot engine most of the way"!!!....but we were keen.
'The Strangers' auditioned me in my home town Manchester and the next thing I remember; first time I had ever been away from home, was being picked up by Len Canham at a Southampton railway station. I stayed at Len's place on the Royal Pier for a while which was handy for the Beach Ballroom we used for rehearsals, very soon afterwards we seemed to be on numerous tours up and down the country.....having great success on the East Coast of Scotland. All the bands in those days stayed the famous B&B in Elgin run by Mrs McBean...who looked after us a treat. I can hear her now saying "you'll no be bringing and wee lassies into my house in the night"....I think I hired a caravan down the end of someone's garden for our stay in Scotland...job done!!!
The band was....as they say.....as tight as a fishes what's-it, we went down great wherever we performed. Fergy was a nice quite guy, knockout drummer and good band buddy, I was sad to hear of his untimely death....and it's lovely that people remember him and mention him in dispatches. I don't have any wild parties stories to impart....apart from the caravan and they are unprintable, but I remember that this was one of the best band times I had been involved in to date. I learned a so much from Barry about stage presentation. I have loads of 35mm slides of the band, if anyone is interested in them I will work out some method of getting them to you.
When I left The Strangers I joined Mike Cadillac and The Playboys'....later to become 'The Manchester Playboys', they already were developing into a showy act and I was able to bring some of the ace material to them that I had picked up whist with Barry James.....and they just took off.....again forever touring up and down the country. Then the German scene was beginning to appeal to number of bands and as luck would have it a band named 'Neil Landon and The Burnetts' had a night off from their UK tour and came to see us at the Bodega in Manchester....and that was that, I was approached by their agent Jack Fallon of Cana Varieties, London and a short time afterwards I was freezing my conkers off in three foot of snow in Frankfurt, West Germany. Again another fantastic period, we played mainly the Storyville Clubs, Club E, Marburg, Haus de Musik, Wuppertal and some bases also backed a few 'A' listers inc 'The Moody Blues' 'The Searchers' and 'The Merseybeats'. There's a piece by Mick Allen our first guitarist wrote about Kent bands that fills in a few gags http://www.kentgigs.com/musicbiz/Mick%20Allen%2020%20years%20band%20history.htm
Have a listen to our Bye Bye Johnny http://www.youtube.com/watch?v=p0jk6sjXWo0. On vocals is Pete Kircher who eventually spent a few years with Status Quo. Theres' a few more demo's on Youtube as well. Also in our last year together Mick left and was replaced by Noel Redding on leadguitar.
There's lot's more to tell which gets into the Hendrix connection but I don't want hog the stage any longer.
I am still gigging with a terrific band in Bath.....were I now live.....called 'Shazam' and I'll leave you with a few 'then and now' pics of yours truly....hope you enjoy.
To Fergy's relatives...whom I cannot recall ever meeting, he was a great guy, a good friend, a talented drummer and a pity he is not with us today.
Dave thanks for all the effort you put in to your cyber news sheet...always great to see the old stages still out there strutting their stuff....and long may it last.
Last word for Brian...."Fergy me old mate....loved your friendship and your playing.....but I hope I don't see you too soon".....ha ha ha!!!!
Kevin still at it- see assorted photos below and I'll get some more info on these in the near future when he checks out this new page etc.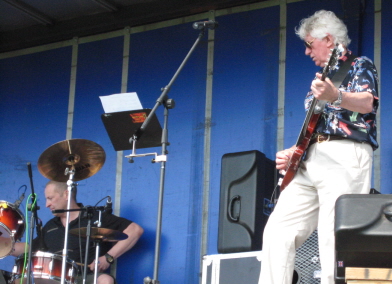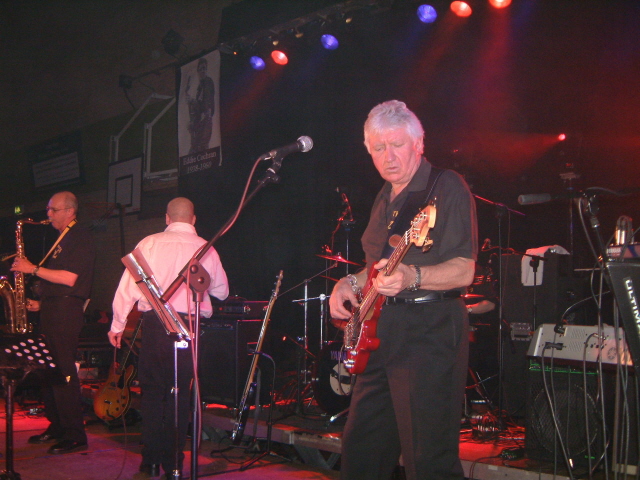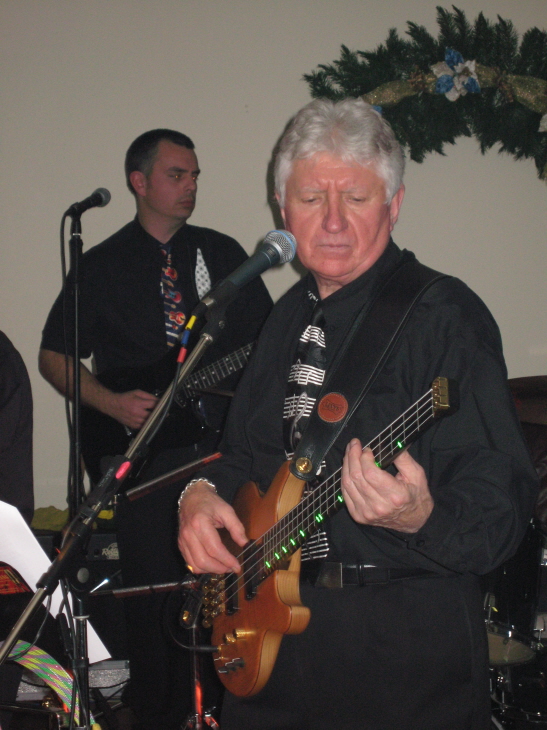 Middle Pic: Eddie Cochran Festival, Chippenham 2009, Jet Harris and The Rapiers were on the same bill.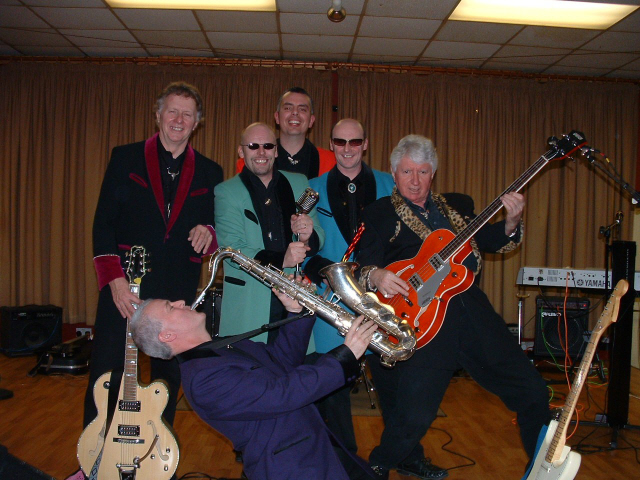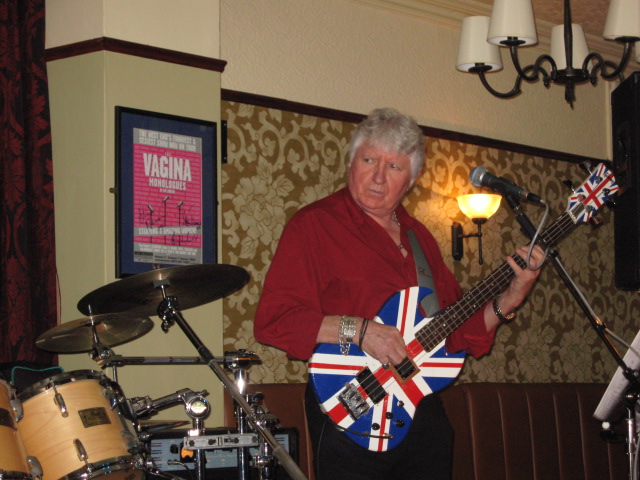 Rockabilly rules! Doubt if Kevin noted the poster advert for local theatre......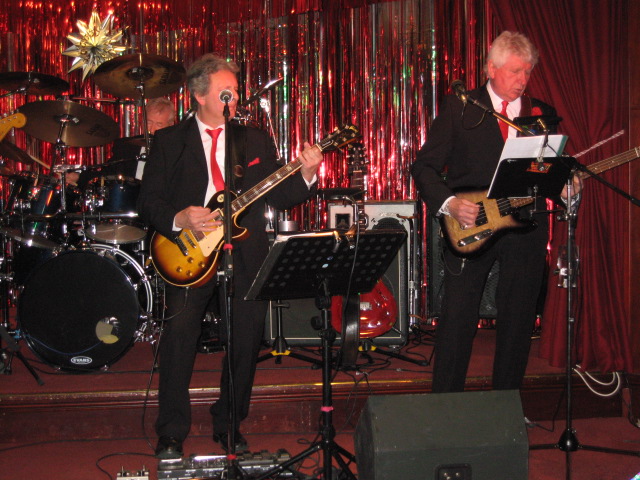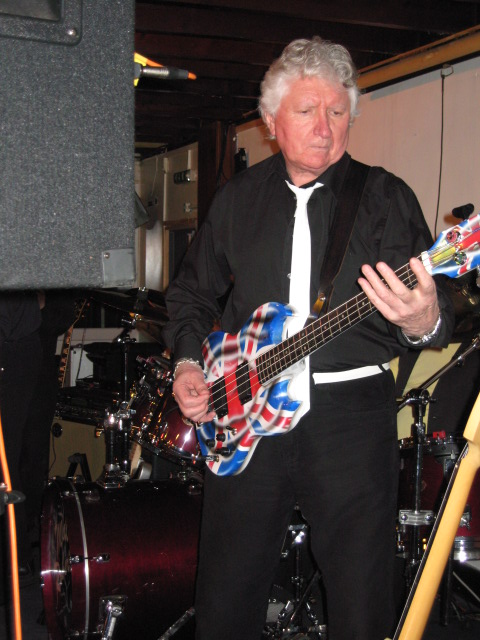 ................................................................................................................................................................................................................................
As you can appreciate, I often get updates on many of the featured bands, musicians and related stories spread across my many Group pages. Ideally, they should be slotted into any of the previous webpages but as it takes me so much time to trawl through the massive archives, I prefer to add them to each new Groups page. Its fairly easy to search on most of the names contained within this website so please Google away with a few keywords eg name + Southampton should help you find what you want- or just mail me for any help, or better still- send YOUR stuff in!
John Langford (4 Hits and a Miss etc) has sent this old photo of 'The Change' plus a name check: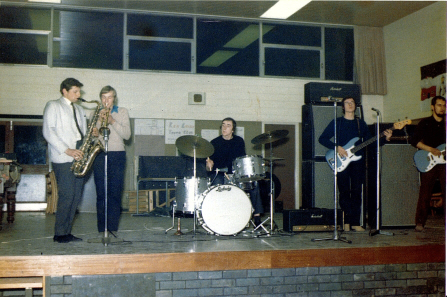 THE CHANGE 1968
I believe this was Tony House on the drums at one of our gigs back in the late sixties. We were then "The Change". Formally 4 Hits & a Miss.
From left to right, I believe that was Graham Mintram on sax, Tony Lowe on trumpet, Tony House on drums, Terry Collier on bass and myself on guitar on the right. I think we were missing another sax player that night. John Langford.
.................................................................................................................................................................................................................................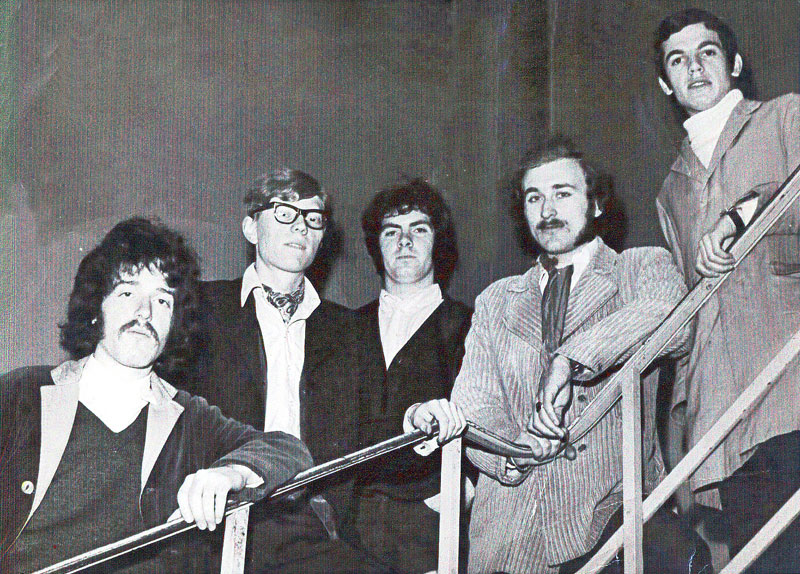 CIRCLE PLANTAGENET 1969
Another great Southampton band- Circle Plantagenet formed late 1967 to early 1970 and built a solid reputation and following by playing mainly original music, written by Ken Starks who also sang lead vocals and played rhythm guitar. Initially the band was active in and around Southampton and Hampshire, with occasional forays into Wiltshire and Somerset and also to London for a few recording demos (nearly but never quite getting a contract).

The membership of the band evolved and devolved between three and five members until calling it a day in early 1970 with four members remaining-those four are now involved in the creation of the music for this website below:

http://www.circleplantagenet.co.uk/sitemap/index.htm

In early 2009 two of the original members began to revisit the original material and soon creative juices were flowing again with new songs emerging and the two doubling to four of the original members. These being Ken Starks (songwriter/lead vocals/rhythm guitar) Geoff Baker (bass guitar/occasional lyricist) Chris Godden (lead guitar/occasional harmony vocals) Glenn Lee (percussion/harmony vocals).

The style of music has been described as folk/rock with some r&b influence detectable in some of the songs. However they would just like it to be listened to and hopefully enjoyed on its merits, irrespective of label or assumed genre. Collective and individual influences will be familiar to those either of a certain age or with any other reason for knowledge of 1960s music from the US and Britain although occasional echoes (and lyrics) reflecting a Spanish feel might be detected.
Geoff Baker (middle of photo) and Glenn Lee (top right) were part of my first 'real' band- The Abdo-Men (see my Biography page) back in 1964 and we are still in touch after so many years. Take a look at their website with fascinating history of CP and much more- I was sent a CD of their superb album 'From These Ashes' recorded 2010 and it sounds good! Ken Starks is a much respected vocalist and often mistaken for Steve Winwood (Spencer Davis Group, Traffic etc) and upon checking with my 'Southern Roots' files, I note that several record companies were keen to sign Ken on his own merit- including M.G.M and Island Records. There was also some controversy when the Equals had a smash no. hit with 'Baby Come Back' in 1969 as it sounded very close to one of Ken Stark's own compositions and maybe 'borrowed' in the time honoured tradition of plagiarism? Who knows..........many a songwriter has submitted his/her work to several A&R people, record producers or other musicians and then seen thinly disguised versions popping up all over the place. I have been sent a copy of their latest CD- 'The Sitdown Boys' and you may be able to search You Tube for a clip of the track 'Money' with help from Rob Lipscombe- or just Google any of this. Really good sound and Ken Starks sounding as good as ever.
August 2014: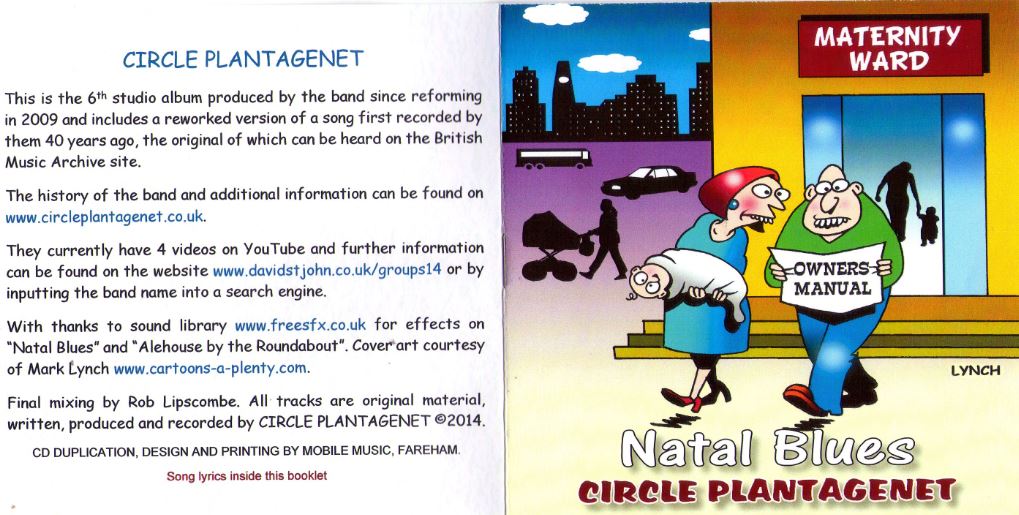 CIRCLE PLANTAGENET
Another great CD from Circle Plantagenet, a Southampton based outfit who reformed in 2009 after a long absence and features the brilliant Ken Stark on lead vocals. The band also has Geoff Baker on bass and he was part of my first group The Abdomen back in 1964, so we celebrate our 50th anniversary in this year of 2014. I was on lead vocals, harmonica with Dave 'Beau' Dinnage on vocals and rhythm guitar but moved on to bass a short while after. Glenn Lee was on drums with two guitarists- Dave Sothcott and Mick Young, so good memories of starting out a half century ago! This CD is all original music and lyrics, with a great retro feel and some clever words so well worth a listen.
www.davidstjohn.co.uk/groups14.html
http://www.circleplantagenet.co.uk/index.php
.................................................................................................................................................................................................................................
THE TROGGS
This sad message from Reg Presley was relayed to me in January and a blow to the many Troggs fans around the world:
25 January 2012
As you all know I was taken ill whilst doing a gig in Germany in December. During my stay in hospital tests showed that in fact I have lung cancer. I am receiving chemotherapy treatment and at the moment not feeling too bad.
However I've had to call time on The Troggs and retire. I would like to take this opportunity to thank you all for the cards and calls and for your love, loyalty and support over the years. A big thank you to Jackie for running the fan club and keeping you all up to speed, and a huge and special thank you to Chris, Pete and Dave.
I shall miss you all. Lots of Love
Reg.
You may have already read my other pages on the Troggs (see Ten Feet Five page) as they were one of the most successful Hampshire groups of all time. As a coincidence, I recently had some welcome e-mails from none other than Pete Staples- the original bass player, who is still very active on the music scene. Based in Basingstoke with his own recording studio plus live gigs and involvement with many other links in the business. We've had some interesting phone chats about the madness of those early years- so many laughs on the way and I suggested that Pete should write his own story.
Hello David

Having looked at your site recently, down Memory Lane, I thought you might like some information on 'The Senators' I played with them in Andover, before joining 'The Ten Feet Five'. Incidentally, John Walker played with them as well. When leaving the Ten Feet Five I went on to join The Troggs.

I've got my own web site (still under construction) www.petestaples.co.uk and they are mentioned on there, if you would like me to send you any information I'd be happy to.

Pete Staples
This rare (silent) cine film of Pete and Hilary's wedding from 1969 can be viewed at this You Tube link- it shows the rest of the Troggs
http://www.youtube.com/watch?v=IHFLL6cJHUY&feature=plcp&context=C3f5f887UDOEgsToPDskJtoUxy7m-AVBFuMjy5tDw4
Pete's memories:
I think most groups from Andover are mentioned on your site and I would like to add another 'The Senators', my first proper band.
I was in the Boys Brigade, playing acoustic guitar, with a couple of mates, when Bruce Turner asked me if I would like to play in his band, The Senators'. This meant getting an electric guitar, amp and a 12" speaker (not in a cabinet!!) all to be put on the 'never never'. The band consisted of Arthur Smart, bass, me on rhythm, John Walker, drums and Bruce lead and vocal. (See photo below)
I read John Cawley's article about 'Pete Mystery and The Strangers' and having seen them many times at 'The Anton Arms' Andover- dreaming of having that sort of gear. They did set the standard back then.
Our gear was very poor, with TV cable as guitar leads and match sticks holding the speaker cables in the back of the amps. Arthur played a Rosette bass; I had a Hofner Colorama and Bruce a Vox copy of a Fender Strat. The mikes were Reslo Ribbon and we could sometimes see the sparks jump from the mike to Bruce's lips when singing – hence we were all reluctant to do any vocal backing!"
We played mostly around the Andover area and one place we were regulars was the Tidworth Country Club. Sometimes Reg Ball (Presley) would turn up, and when we had a break, he would sit on the stage and ask if he could play my guitar.
We also did a charity show at St Ann's Hall and on the same bill was a classical guitarist called Chris Britton. Never, in my wildest dreams, did I think that Reg, Chris and Ronnie, who I had never spoken to, would have the lucky break we did a few years later.
Another gig we did was at The Fiesta Hall were we supported Jess Conrad. By this time, we were better kitted out, with midnight blue glitter jackets, silver crocodile boots and the speakers were fitted into home made cabinets. I always remember the wonderful sound of the Watkins Copy Cat, until the tape broke, then how flat it all sounded.
Although driving to the gigs, setting up the gear, playing, packing up, saying goodbye to the groupies and driving home at 2 a.m. cold, tired and hungry I wouldn't have missed it for anything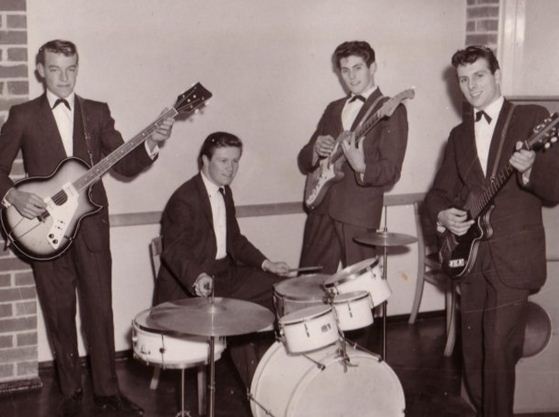 THE SENATORS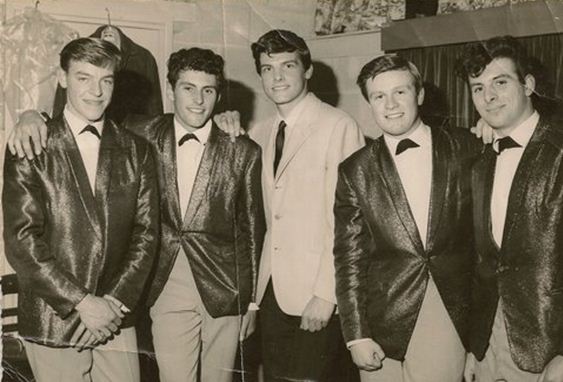 THE SENATORS WITH JESS CONRAD
After looking at your site I see that The Troggs are mentioned quite a lot, but nothing has been said about the earlier activities of the band.As Chris and I joined forces with Reg and Ronnie to make the more famous version, I can only comment about that period. When Chris and I from The Ten Feet Five joined Reg and Ronnie from The Troggs, we had about 6 songs that we could do with everybody singing at least 1 to 2 songs each.I did 'Mona', Ronnie 'Jaguar and the Thunderbird, Chris 'Little Queenie' and Reg 'Dimples, plus maybe a couple more. After Weeks of rehearsals in Stan Phillips shop fitting workshop we started to do some gigs.
I remember one gig especially, Van Moppes Christmas party. At the end of the gig we were told to help ourselves to any food and drink that was left. As Reg and Ronnie worked in construction and the winter times was usually a lean period, we filled Ronnie's drum cases up with salmon, chicken, cake etc and bottles of Champagne that we drank on the way home. As Tiny Tim said 'God bless us everyone'. I also remember rehearsing at Grateley Village Hall, where the caretaker looked after us very well. When 'Wild Thing' got into the charts we did a free gig for the village. This was the first time we experienced screaming for us! When 'Wild Thing' was high in the charts we were still doing our day jobs. Reg laying bricks, Ronnie carpentry, Chris lithographic printing and me an electrician.I remember working in a house with the radio on and heard a DJ say 'This is The Troggs at number 10 with 'Wild Thing'. That evening we rang Larry Page and asked if would could give up our day jobs and he agreed. I listened to The Trogg tapes when Ronnie and Reg were having a verbal swearing battle, this was not an uncommon event, in fact, it was quite common. But at the end they would carry on as if nothing had happened.I have been very lucky, but some of my best memories are in my semi pro days. We were all privileged to have played in that period and I don't think the like of it will ever return again.
You may have also read about the Fleurs De Lys- one of Southampton's top mid Sixties 'mod' bands and I received this e-mail from Lyn Mabey, whose late husband Roger played organ with several bands, including early spin-offs that gradually morphed into the FDLs.
Hi I have been trying to find some original info on the Les Fleur De Lys. Everything just says they had a lot of changes. I do have some photos of the original group when my husband was in there.
My late husband was the organ player with that group with Frank Smith and Colin? (forgot his name).We lived in Totton and I use to go and watch them at the Empire Ballroom in Totton, and of course I married Roger Mabey. Do you have any info, my grandson is now playing in a group and he wanted some info on his grandad. I now live the USA. My grandson is still in the UK
Lyn Mabey.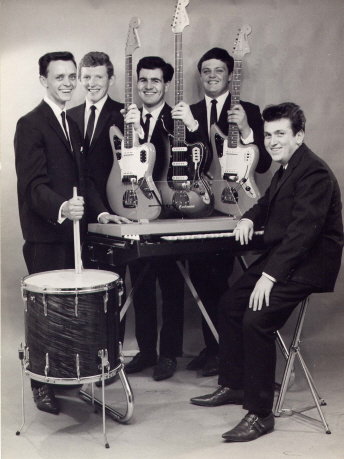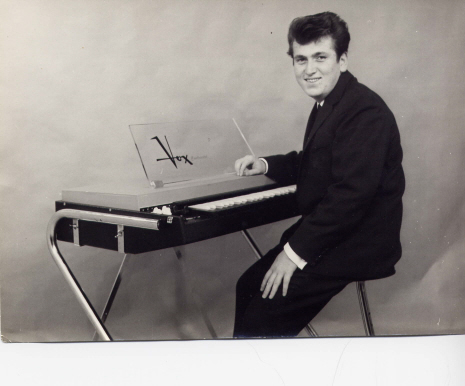 THE SAXONS- Frank Smith next to Roger Roger Mabey- note the classic Vox Continental organ (Red&Black)
November 2012
Just received this poignant e-mail from a Saxon nephew:
BACK TO HOME PAGE BACK TO SITE MAP CONTACT DAVID
© copyright David St John 2012