FROM THE RECORD PICTORIAL MAGAZINE MARCH 1963
In Record Pictorial's "Cast Your Own Show" competition there were two names which received outstanding support from all corners of the British Isles. The names were Geoff and Ricky Brook—the Brook Brothers. Probably the most travelled pair of British pop stars in their own country, Geoff and Ricky have played every major city in the British Isles, and a great many smaller towns from Penzance to Aberdeen.
THOSE TOURS
On February 3 they began their eighth tour of the country with Brian Hyland and Little Eva. "I sometimes forget just who we were with on each tour, there seem to have been so many," said Geoff, recalling their first package deal with Jimmy Jones. Since then, they have toured with Cliff Richard, twice, Bobby Rydell, Helen Shapiro, Chubby Checker, The Shadows and Frank Ifield. And they have made four tours of Scotland— a fact which few other pop artistes can claim.
Although they have never really had an outstanding hit record-wise— "War Paint" was their biggest—these two talented and hard-working brothers have gained for themselves a fantastic national popularity which is frequently reflected in polls and competitions.
But the Brooks still need a really strong hit record. All their records sell in reasonable quantities, but the "hit sound" that every singer and every A and R man looks for, has just evaded them. "I think one of our biggest mistakes was entering for the Eurovision Song Contest, especially at that time when we were doing quite well. Naturally, we thought we had a good chance with our song 'Tell-tale', but it didn't get anywhere in the judging, and of course few records of it were bought," said Geoff. "I'm glad to see the BBC have taken steps with this year's contest to ensure that the farcical approach of the record companies in the past is avoided," added Ricky.
In this year's contest the BBC have commissioned seven of Britain's top song writers to compose a number for the competition and choose an artiste to sing their arrangement. The seven compositions will then be performed and top music personalities will choose the song to represent Britain in Eurovision. Previously, few of the major companies put worthwhile songs into the competition for fear of damaging their reputation, and that of the artiste, if the song lost. But enough, back to the Brooks. The brothers, who actually are blood brothers, live with their parents at Winchester. Geoff, the elder (drives a new Zodiac), was the first one in show business at the age of 14. That was way back in the famous "skiffle era", when he was singer for a small group in the Southampton district. About two years later, Ricky (he drives a Sunbeam Rapier) joined his brother, and the two of them began working on the Everly Brothers principle.
It was not long before they were spotted by agent Peter Walsh, and their careers began to take shape. They signed with Pye records and have been working steadily ever since on radio, television and touring. So hard are the Brooks working these days that in the four months before Christmas they had only one day to themselves, and the only break they got was when they were snowbound near Abingdon and spent a comfortable night in the police cells. "Talking of cells," laughed Ricky, "that was not our first experience.
'went to jail' Remember the time we were in Ireland, Geoff and I had just finished a concert. We were leaving the hall and somehow got mixed up in a crowd where two girls were fighting over a man. Along came the police, heard the uproar, decided in typical Irish manner that it was we two brothers fighting over a girl, manhandled us to the police station and threw us in the cells."
"It took some time to talk our way out of that one," chuckled Geoff."
JOHN MORRELL
At time of writing, I have still not managed to track the Brook Brothers down but it appears they soon retired from showbusiness as the new wave of groups took over from the old rock n roll era. I understand that they both moved to the USA or Canada and have never resurfaced, despite their ongoing popularity. Take a look at You Tube and you can hear 'Warpaint' plus some other stuff such as http://www.youtube.com/watch?v=rnyhfqaqm2I&feature=related
..............................................................................................
Susan also mailed this brilliant photo taken onstage at the Portsmouth Guildhall on a Reg Calvert package tour in 1959 starring Johnny Kidd and the Pirates (see Reg Calvert webpage) Also an early image of a young Heinz Burt who would later join the Tornados ('Telstar') followed by a short solo career. The Pirates were more or less the Tornados line-up which was often juggled as part of Joe Meek's set-up, recording sessions and live tours.
It was originally though to be a 1962 photo but Graham Medley has been prompted to get in touch as he was there! He has racked his memory cells and come up with loads of names seen in this rare image and it seems to tie in with Johnny Kidd's first hit of that classic 'Please Don't Touch' in June of '59. Graham was just 16 years old and the Falcons had only just been formed with Heinz making every effort to learn bass guitar and sing in tune (not always successful) but he looked great! Mike and Tony Nevitt were on this show and not the Dowlands as first thought. Johnny Kidd had his biggest hit of 'Shaking All Over' in 1960 and his only no. 1 but one of the finest British classic rock n roll songs of all time.
He had follow-ups with 'A shot of rhythm and blues' + 'I'll never get over you' and 'Hungry for love' before being eclipsed by the new wave of pop groups etc.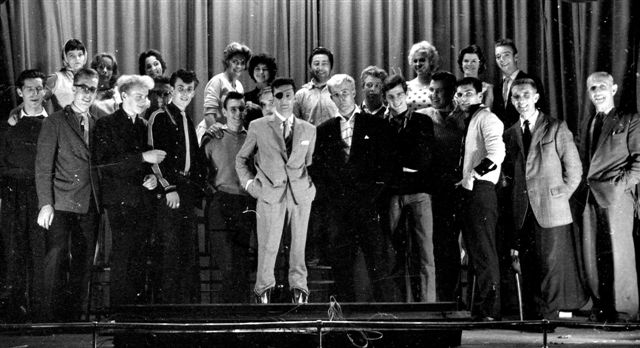 Photograph courtesy Susan Moore (Calvert family collection)
The Johnny Kidd Show 1959 Portsmouth Town Hall
Back Row L-R Girl 1? Janet Godwin Sheila Doak 2 girls? Johnny French (centre) Girls? ? Tony Nevitt on end
Front Row L-R ? Rob Lee -Heinz -Graham -Stan Hickman J.K. Brian Gregg -Art (or Alan?) Caddy- other 3?
Janet Godwin + Sheila Doak were Heinz and Graham's girlfriends (respectively) and Johnny French was Reg Calvert's 'minder' a big burly ex boxer and I understand is still living in Eastleigh and in his eighties! Other girls may be just friends or backing singers.
I am currently waiting for any feedback on other names, info on this tour and grateful to Graham for the new i.d. info
..............................................................................................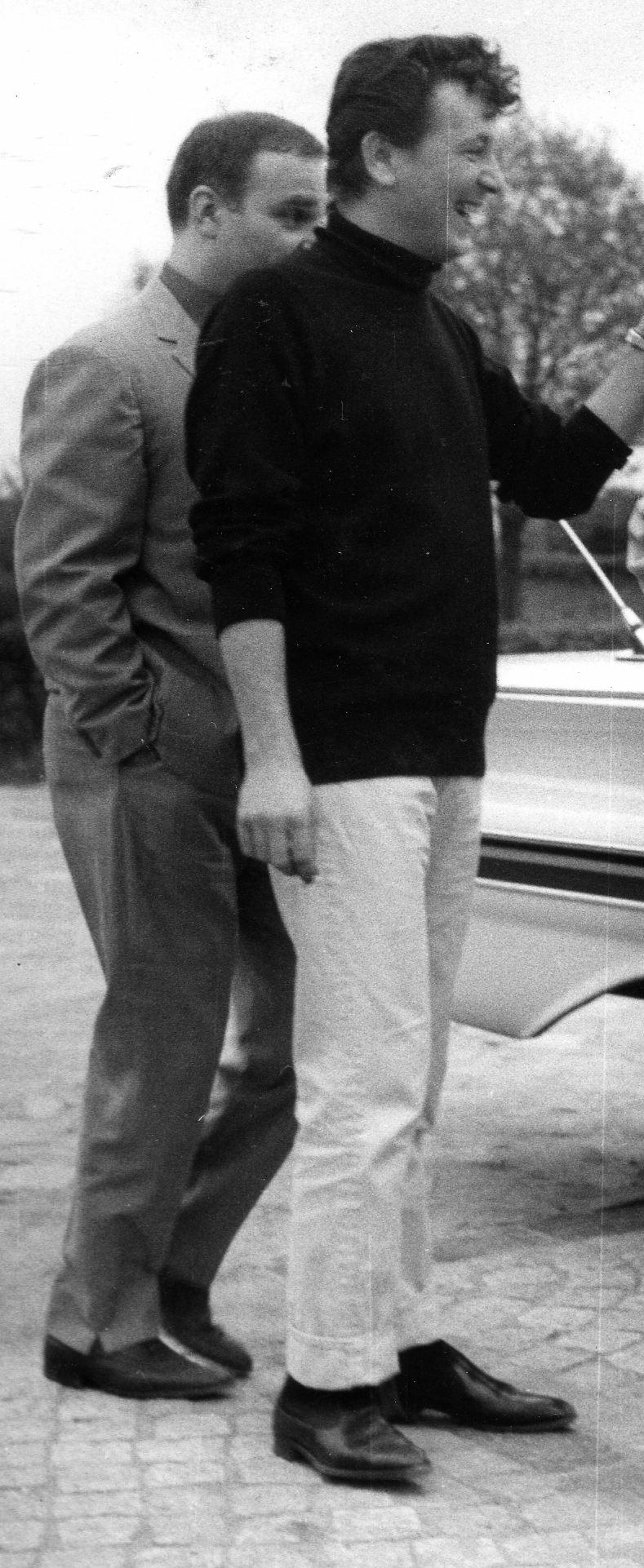 Gene Vincent - but where? Does anybody recognise these two? Around early 60s
Maybe with Clem Cattini
Susan wrote about Gene Vincent ('Be-Bop-A-Lula')
Gene worked for my parents at some of the dances. Mum said he was booked into dance at Oxford - and came so drunk that he was impossible - and his 'aides' wanted to call off the show. My mother insisted he went on and made him eat bread rolls and drink black coffee until he was sober enough to get on stage!
........................................................................................................
February 2010
Another great story mailed across from Duncan Campbell in Tenerife - read all about him on previous pages. This concerns a memorable night when the (New) Mojos nearly started another war over in Germany and this is Duncan's own account that will amuse any musician or those that just love inside stories like this.
Dave,
Obviously most band members have some funny stories to tell, ask anybody who used to be in the MeddyEvils about the organist they had...
Martin 'Cuddles' Smith was a member of that band, now sadly in the drummer's rest home in the sky.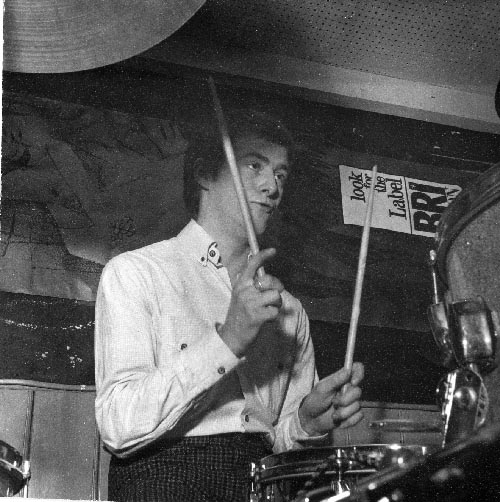 Martin was in The Mojos when the following occurred.
We were "on tour" in Germany in the late 1960's, and in the deep south of Bavaria. We had been booked into a place that was obviously not really wanting a long-haired, scruffy, loud, English rock/pop group for their Saturday night entertainment. This was clear from the moment that the long tables filled up with serious German beer drinkers. Most of them dressed in traditional Bavarian costume. Think oompah bands here. And many of them wearing lederhosen, even though it was the middle of winter with a foot of snow on the ground outside, and I imagine thermal underwear still hadn't been invented, as none of them were wearing any of it. Not noticeably, anyway. From the tops of their thick woolly socks, to the bottom of their grey, leather shorts, their legs were as naked - and as hairy - as the day they'd been born.
The guy who was promoting our "tour" introduced us to a beer drinking game,which involved the use of a large glass boot. This was filled up with beer and passed around the table. You took a large sip, tapped the boot with a finger, and then passed it on. If you forgot to tap the boot before passing it on, you were obliged to take another large sip of ale. Eddie Hamett kept forgetting to tap the boot, and after about half an hour he slowly started to slide off his chair and underneath the table, eventually disappearing altogether. It was almost like something you'd see in a film.
We were all not a little worse for wear when it was time to go and play our first set. Well, you can probably imagine, it was something of a disaster. As 1 tried to play my bass lines, my fingers strayed all over the place, and if I looked at the neck of my bass to see what was happening, 1 was greeted by a blur.
Eddie, slightly less drunk by now, though not a lot, got it into his head that, even though nobody had asked him to, he would do his Elvis Presley impersonation - from the waist downwards. Or perhaps it was Chuck Berry. We weren't really sure. This made playing his Gibson a bit tricky, and as for his vocal harmonies, well, he just didn't bother.
All the while, the faces of the customers in the packed bier hall were pictures. Serious pictures. Confused pictures. There wasn't a smile in the place. They were looking at us as if we'd just flown in from a distant planet, and continued to sup on their steins and to almost certainly tat, though this wasn't audible over the noise we were making.
1 don't really know how, but we completed the first set, had a couple more beers and then went to do the second. This was where Martin Smith surpassed himself - It was his drum solo. Always eagerly awaited by me, because it meant I could sidle off the stage and have a quick fag.
Martin's drum solos were good, if you like drum solos. Being basically a jazz drummer, he'd throw in all sorts of fancy stuff- Art Blakeley eat your heart out. This evening, though, was different. 1 recall that he was tapping away on his hi-hat, and then for some inexplicable reason tapped on down the hi-hat's stand and onto the floor of the stage. Bent double, he tapped to the front of the stage, down some wooden steps which led to the hall itself, and then tapped across the floor to the nearest long table. He paradiddled up one of the legs of this table and then onto the top of the table itself. He did a few rimshots on the rim of a 2 litre beer glass - fortunately not smashing it in the process - and then he focused his interest on the hand of the person who had been drinking from this glass. He kept time with the drum stick he had in his left hand, before he decided what his next course of action was to be. This turned out to be to drum on up this bemused guy's arm - with both sticks - across his shoulder, up the side of his head and then to paradiddle on the top of his head which, incidentally, had no hair on it.
I suppose that if this had been on Britain's Got Talent, the audience would have cheered and clapped and whooped as if their very lives depended upon it But nein, not in Bavaria. There wasn't a sound in the hall, apart from Martin's drum sticks tapping out intricate patterns - probably in 7/4 knowing Martin - on this guy's noddle.
The man didn't budge. He didn't bat an eyelid. He just sat there as if it was the most normal thing in the world to have a drummer doing part of his drum solo on your head.
Martin was cock-a-hoop or, perhaps, bearing in mind how much he'd had to drink, hoop-a-coek. I suppose he could have just shook the man's hand, thanked him for being such a good sport, and returned humbly to his drum kit But he didn't. He repeated the whole process from the hi-hat to the top of this follically challenged Bavarian male's head back to his drum kit, in reverse. And then he and the rest of the band, Eddie still doing Elvis Presley - or was it Chuck Berry? - impersonations, finished the song that included the drum solo.
Well, the silence that greeted us, on a decibel meter would have produced a negative number. Not a murmur nor a mumble from the assembled Bavarian throng. Though myself, Eddie, Martin and Stu James, fell about. We thought it was one of the funniest things we'd ever seen.
At the end of the gig, having done the best we could in our condition to do justice to Eddie Cochran's "Summertime Blues" as our last extended number, the owner of the venue refused to pay us. He said something along the lines of that he had never seen such an awful group in his whole life before, and that from then on he would only be booking Oompah bands. "Oompah bands never let you down" he said. "Oompah bands always deliver zee goods. Oompah bands are dependable. Oompah bands are zee knees of zee bee" . Or words to that effect.
We couldn't really have protested about him not paying us, we had been awful. So awful, in fact that if the truth be told we probably owed him money.
PS I think I should add here that although Martin and I were good friends, we often fell out temporarily over his "jazz drumming". We were, after all, a pop/rock band. To him, using the thick end of a drumstick to whack his snare drum was some kind of sacrilege.
Another one of Martin's faults - we all have them - is that he could never remember the names of the songs we played.
We always started our second set with a song by The Creation (one of Eddie's favourite bands) called Try And Catch Me (If You Can).
As we were about to start this second set, Martin would always ask me what song we were going to play. I told him. But he couldn't remember which one it was, which was tricky, as the ditty started with a kind of drum break. We ended up calling the song -for Martin's benefit - Woob-a-doob, Woob-a-doob.
Oh, happy days...
Duncan Campbell Tenerife
.......................................................................................
February 13th 2010 This article was printed in the Southern Echo Weekend Supplement and they got in touch with me for any input so was able to hook them up with Tony Collier- his band The Strangers happened to be the support act for an amazing visit to the Winchester Lido!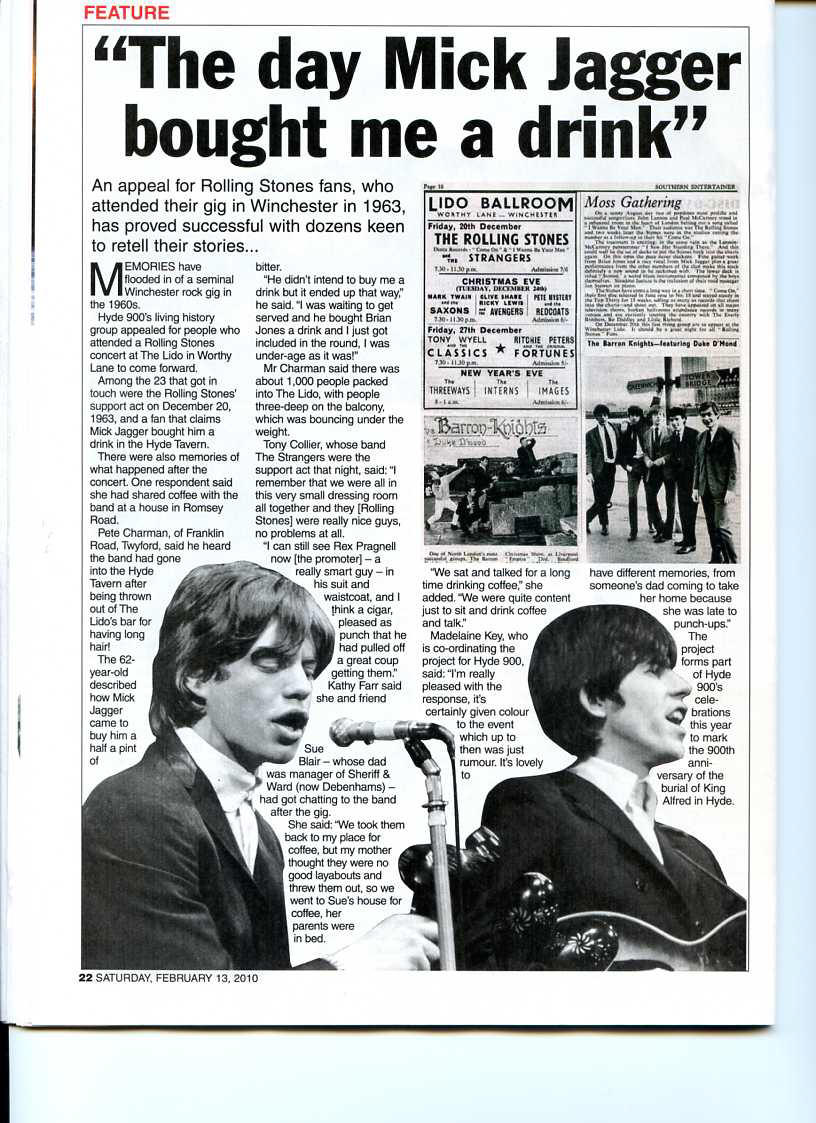 courtesy Southern Echo
Read my Winchester Lido pages via Site Map!
.......................................................................................
Feb 14th- Mail from Roy Roberts (MeddyEvils) and mouth-watering photos that will take you back to the days of chucking threepenny bits into these flashy chrome-studded monsters that belted out the hits of the day. Nostalgia at its best!
Hi David

Last year my ladyfriend Fiona decided that ISA's were not as much fun as investing in a juke box (1962 Rock-Ola, fully refurbished 'as new').....did-you-know David C. Rockola hyphenated his name when his Rockola Machinery Company started making jukeboxes (so it was more easily remembered)...so he put the 'Rock' into rock 'n roll!...he went on to make rifles for the US Army..the Rock-Ola M1 Carbine is the most collectable with gun enthusiasts!. Pics of the 'Princess Stereophonic 100' enclosed..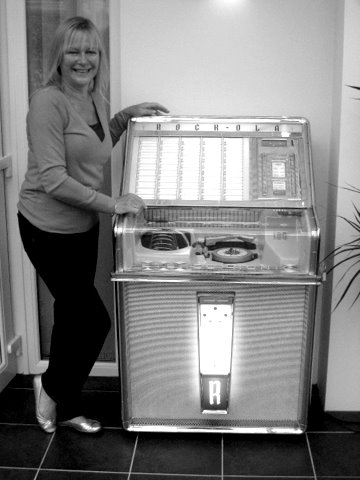 What a beauty! The Jukebox isn't bad either..

What prompted me to write was yesterdays trip up to Farnham to a great second-hand record shop to buy more 45's (we have about x3 juke-box-full's of '60's-only hits now)...I paid a whole £5 for
'Warpaint' by the Brook Brothers...there's a coincidence for you!.

Ref stories regarding Cuddles (Martin Smith) bro John, myself and Tony have some cracking ones from northern working men's clubs!. The Meddies first organist was Roger Solomans (spelling?)...his niece contacted me to say 'hi'....our records featured Don Shinn...I see one of our 45 singles was part of radio DJ Mike Read's 'collectables' at a recent auction and beat T Rex, Pink Floyd, Sex Pistols and many more 'greats' on price!. Of course the two Meddies singles are on the juke box...the only two not 'hits'!

All the best
Roy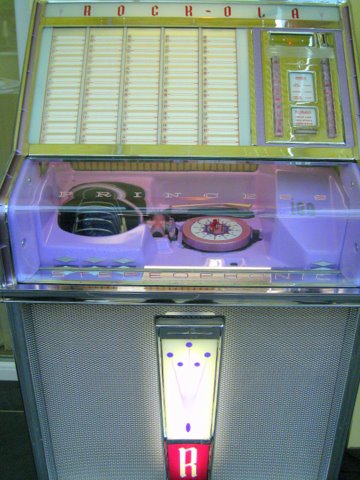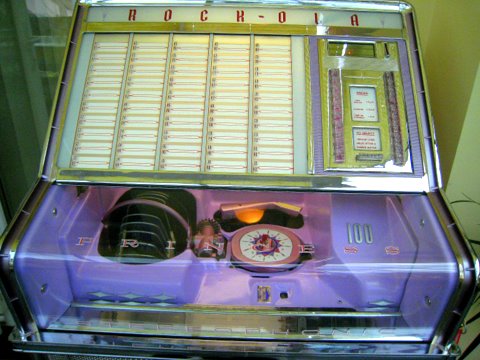 Also a nice reminder for me as I used to work on these as a service engineer around '65-67 along with pintables and fruit machines. I have a loft full of ex - jukebox 45's as one of the perks of restocking the machines with new hits of the day. The company was Revis Automatics on the corner of Hill Lane and Commercial Road with links to the main Liberty Coin Amusements in St Marys Street near the church. Owner was flamboyant American entrepreneur Herbie Katz who imported the machines from the USA in the late Fifties as part of the new wave of all things American!
.......................................................................................
I had the pleasure of meeting TV producer Alan Grindley at the recent Concorde 'Back to the Sixties' show in January, as he had found my website a few months before, whilst researching the Troggs and associated Andover based groups of the early Sixties. He is now based in central Birmingham and is the MD/founder of a brand new exciting local TV channel due for a 2010 launch- City TV see: http://www.citytvbirmingham.co.uk/ check out his great background!
Although the main focus of my webpages is based on my hometown of Southampton, I have lived in the Midlands for over thirty years and close to Birmingham - a fine city with a rich musical heritage of its own including the Moody Blues, Fortunes, Led Zeppelin (Plant/Bonham) The Move, ELO, Rocking Berries, Mike Sheridan, Steve Gibbons Band and many more around the Midlands area. The Seventies saw Slade plus the Coventry based Two Tone sound make big inroads followed by Dexys, Duran Duran and other legends. A great website is Brumbeat with a massive database of great Midlands bands plus links so well worth a look.
I met Alan in Birmingham a couple of weeks after the Concorde show and we had a great chat about the early Sixties when we had both discovered a new way of life that would shape our respective futures. He also gave me this copy of his own band 'Men Friday' based in Andover and another great photo by the side of an old Morris J2 van (reg no 236 CHO) covered in lipstick by adoring fans as the jalopy was parked outside any dance hall! These old vans served as a means of carting gear around as well as a temporary overnight 'motel' for the tired hungry musicians when working away from home- as well as being labelled 'mobile knocking shops' but I draw a diplomatic veil over this side of the business. Some of us formed bands for the music whilst others enjoyed the 'perks' as a means to attracting female attention. This sometimes caused trouble in getting away from a dance hall with jealous boyfriends searching for their partners who had mysteriously 'disappeared' outside- if they noticed the group van moving from side to side - then all hell would break loose! This group shot was outside the well known 'White Cottage' in the Hampshire countryside which was a meeting place and hangout area for many passing bands in the area - this could fill another webpage with the goings on there!
"White Cottage" was owned by another 'legend' Stan Phillips, the early manager of The Troggs before Larry Page and was one of the most important people as far as the local area's musicmakers were concerned. His home was a like a 'stagecoach' stop for many big names who were passing through when on any major tour. The likes of Gene Pitney, The Bee Gees, Paul McCartney (with Mary Hopkin), Status Quo, Dave Dee and the band (regulars from Salisbury) Rod Stewart and Brit Ekland, Sounds Incorporated, Keith Moon...in fact most of the artists from the big 60's rock tours that had played Southampton and were heading North.... the list goes on and on....
A regular at "White Cottage" was legendary pop TV producer Mike Mansfield (the 'Silver Fox') who was based in the early days at Southern TV in Southampton, and of course it was also the base for The Troggs, The Loot and the early band Men Friday seen below. There should be a blue plaque on the wall !
Stan Phillips is buried not to far away and the inscription on his headstone says..."He did it his way". Without Stan there probably wouldn't have been such an amazing music scene in Andover in the sixties.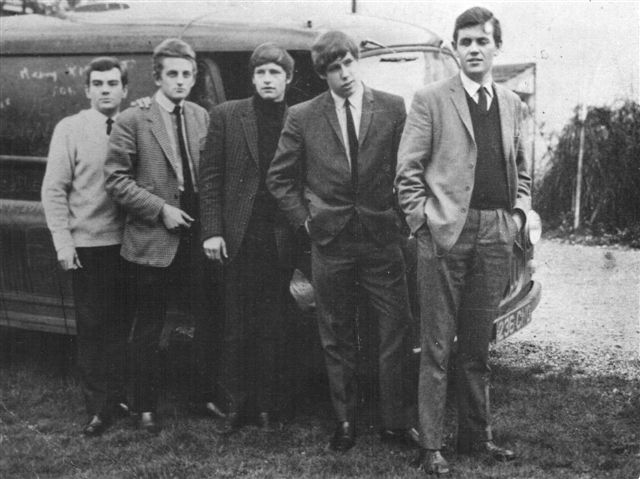 MEN FRIDAY
L-R Tom Turner Alan Grindley Dave Glover Jon Bates Richard Hannon
Organ Guitar Bass Vocals Drums
Dave Glover and Jon Bates later joined 'Loot' a brother band of the Troggs (Larry Page label) with Dave Wright, Bruce Turner and drummer Roger Pope. Dave G and Roger P later with Hookfoot/Soul Agents/Rod Stewart/Elton John/Hall& Oates etc. These later bands also featured legendary guitarist Caleb Quaye who played with many top names in the business including these above- I believe he is now a California based preacher!
Alan Grindley has a rare interview recording with the late Dave Wright and tells the story of how the Troggs were formed - I have heard it and it's great to hear about Dave working on the building site with Reg Presley just before they hit the big time. Alan is currently working on this interview mixed with a 1967 recording of the Loot's 'She's A Winner' released on Page One records which he co-wrote. Jon later went solo and recorded for CBS but then faded away
Alan also met up (at the Concorde Club) with drummer John Walker of the old Ten Feet Five group that morphed into the Troggs (see my other page) John helped to reform TF5 for the first 2008 show and came back this year with 'Johnny and the Rebels' (see Concorde 2010 page) and hadn't seen Alan for some forty odd years! Needless to say- we all got up to play a couple of Troggs numbers!
The 'Men Friday's drummer's name will be familiar to those in the horse racing fraternity as Richard Hannon who got fed up with the erratic music game and became on the country's top trainers, now based in Marlborough Wiltshire.
Alan Grindley writes:
The problem with Richard Hannon is that he gets annoyed because he is always referred to as "the Troggs drummer" in the racing press, when he wasn't....he was with my band MEN FRIDAY with The Troggs connections....it was a "stable" of artists (good pun ! )...he was a very heavy drummer (aka John Bonham) that's why we got him. I used to drive out to the race horse stables in the J2 van to Everleigh to pick him up. He was knackered because we would play a gig and he would have to be out at 6am on the gallops the next day ! His dad Harry Hannon ruled with a rod of iron.
After I moved back to the Andover area from abroad in the early nineties I formed a band called "STILL CRAZY" made up of me on guitar, Dave Wright on guitar and lead vocals, Tony Murray (long serving Trogg) on bass and Dave Bullis (Ronnie Bonds son) on drums. Eddie Vincent was lead guitarist. So The Troggs connection went on.
I have have just found a broadcast tape of STILL CRAZY playing at an open air concert at Hudsons Field in Salisbury.(around 1996) I had hired a Bell Jet Ranger helicopter and we buzzed the crowd, jumped out, ran up to the stage (Queen style)..big PA announcement....STILL CRAZY !!!!!!
Dave Wright screams out..1,2..... 1,2,3,4.....and nothing ! No big lead guitar chords ? Where the f**k was Eddie. ? Eddie couldn't make the Jet Ranger and was coming by car ,only trouble was he was an hour late !
We slunk off back stage. Maybe that was the beginning of the end of STILL CRAZY.. Very Spinal Tap !
Apart from Alan's hectic life with City TV, he still keeps up with the music industry and often jams with his good pals The Steve Gibbons Band- one of Birmingham's finest exports and many people are surprised that Steve has never had the impact that he richly deserved. Try and catch him 'live' and you will hear some of the best rocking rolling R&B you could wish for. Alan gave me a copy of his own CD which was recorded at the state of art Mooncalf Music studios near Marlborough in the beautiful countryside of Wiltshire. Superb mix of original self-penned songs and differing styles 'Remember Me' features a great intro by 10 C.C. s own Rick Fenn and 'Back In The Fast Lane' was written by Alan for his own TV production on ex Formula One drivers. 'Flying Into London' has been written with an eye on the 2010 London Olympic Games and Seb Coe is quite impressed with it and I have been promised updates on this news.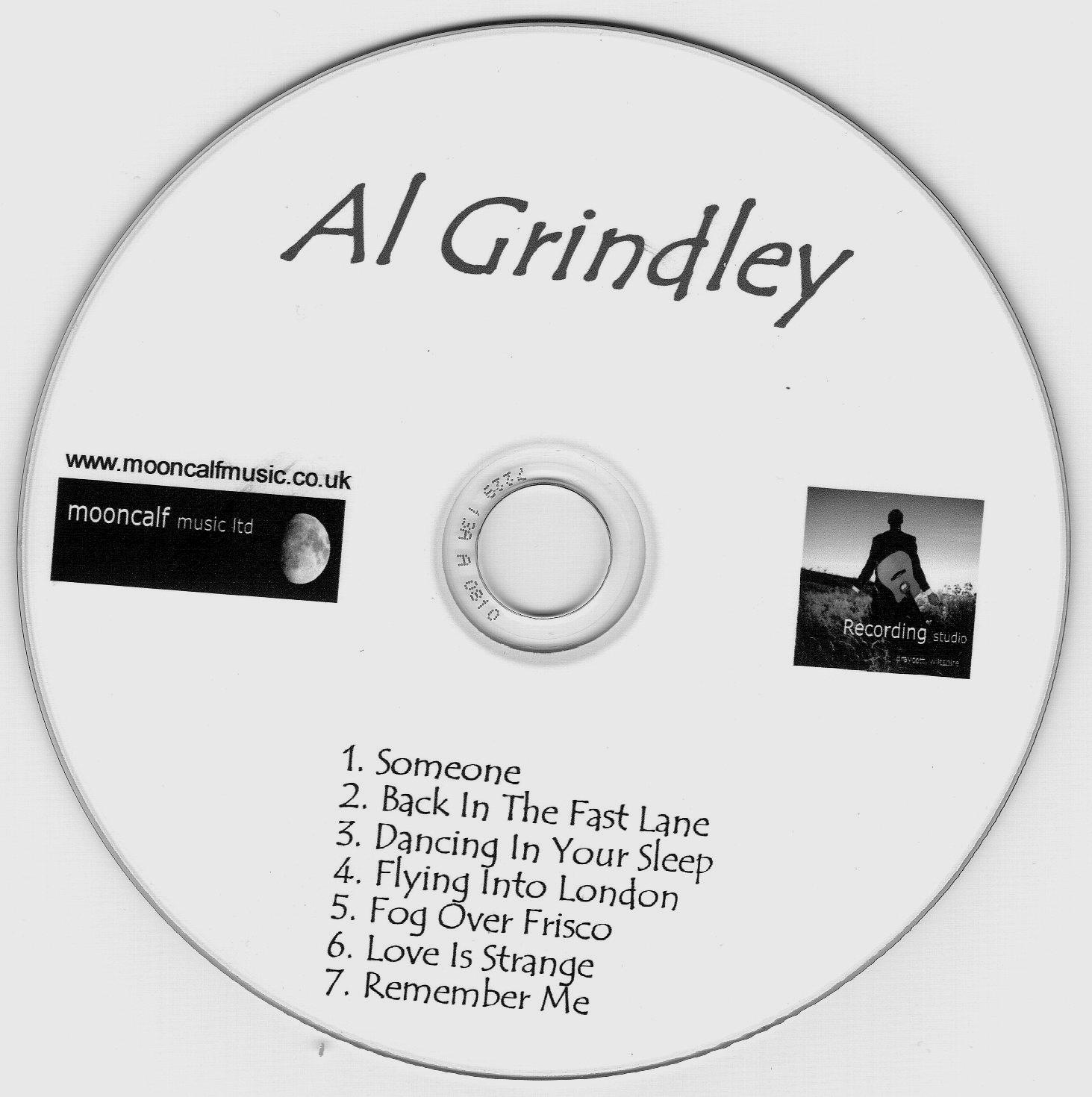 Check out their website at: www.mooncalfmusic.co.uk
During my chat with Alan, we were joined by Des Tong who is the Director of Light Entertainment at City TV and the bass playing member of top 80s band Sad Cafe ('Everyday Hurts-no 3 hit.) Check out his own fascinating story at:
http://www.sadcafe.co.uk/destong.htm
Des has had quite a career over the years and working with many top names in the music industry but now looking forward to the launch of City TV and you can also view his new profile on their website. He is well connected with the Manchester music scene and knows most of the big names over the years- groups, songwriters and many more. See below:
These photos taken at the Lord Mayor's Ball in May 2009 - a festival of music staged in Victoria Square Birmingham City Centre with the Steve Gibbons Band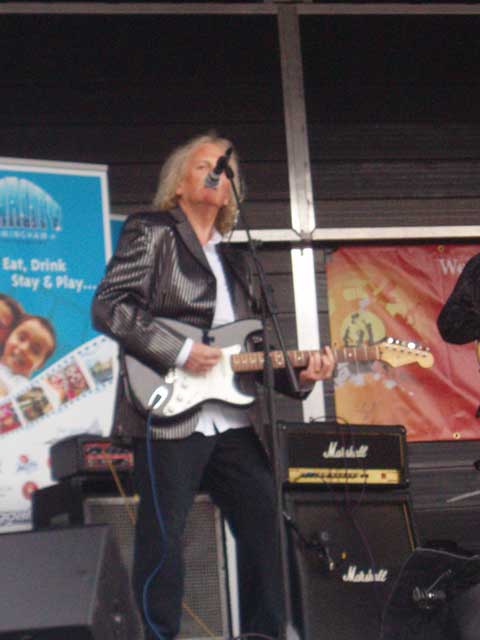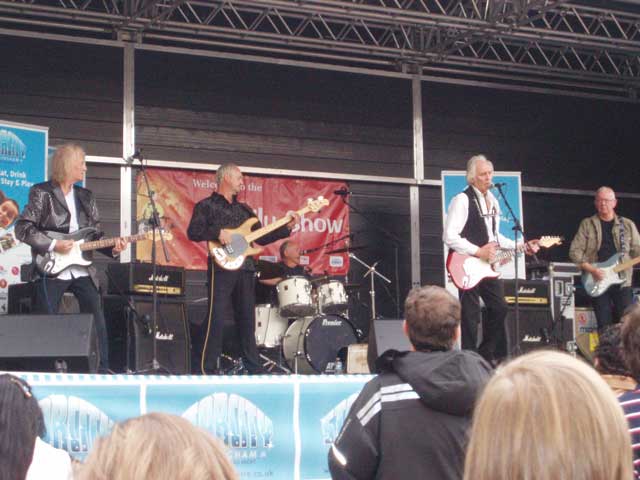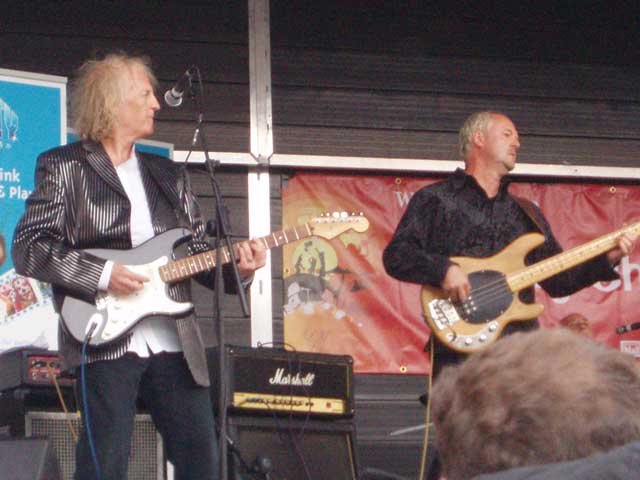 Al G Al G Des T Steve G Al G Des T
...........................................................................
Another early Andover 60s band were the Strangers (not to be confused with Southampton's own group) and I have been contacted by former guitarist John Cauley who now lives near the New Forest. Here is a rare photo with more info that links to the other Andoverians as featured above.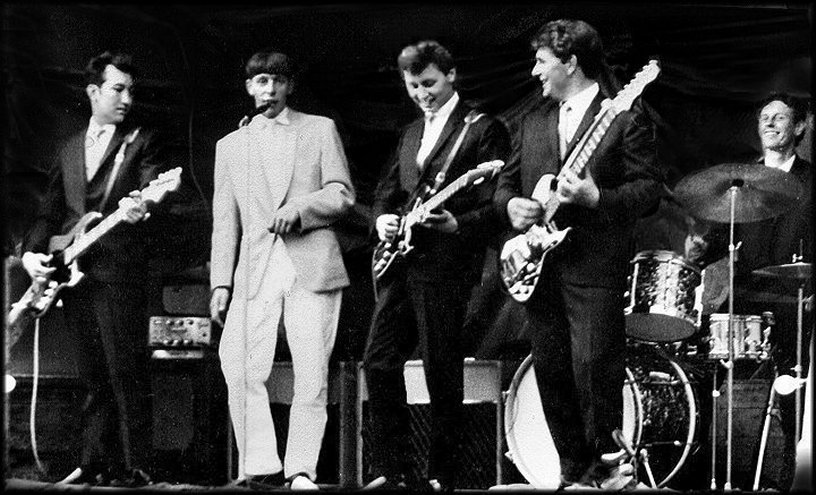 THE STRANGERS- Andover Mardi Gras
John Cauley writes February 2010
Hi David... just found your website, brought back a lot of great memories.

I was in a band also called The Strangers from 1959 - 1963. When playing at the Royal Pier we had to change our names to The Redcoats. After forming we were booked by the Army to play dates at selected camps,I guess that's were we cut our teeth. Around the same time we played regularly at the Anton Arms Andover on a Sunday evening. It gradually became packed inside and out and so we moved on to bigger and better venues though I admit the gigs I enjoyed most were the village hops.

The band became Dave Just (Dave Smith) and the Strangers and then Pete Mystery and the Strangers. The members were Pete Percey (drums or vocal) Richard Rolls (rhythm guitar) Pete Musgrove (bass guitar) Malcolm Major (drums) John Cauley (lead guitar). Sadly Richard Rolls died a few years ago. Later Richard Hannon (now a well known racehorse trainer) joined us on drums for a short spell . Finally John Walker became our drummer right through until we disbanded. The equipment we used were Burns Splitsonic guitars and Vox AC30 Amps, not too many semi pro groups had that type of equipment back then.

We played out of Andover though some of the lads came from surrounding villages. We gigged throughout the South,
The band had a long and and successful run often playing 4-5 nights a week.Our stuff was Rock n Roll, Chuck Berry etc though we always opened with a string of Shadows hits. We played at many venues in Hampshire and beyond to Louth, Swindon, Margate, Axminster etc. Locally it was Park Ballroom, Royal Pier, Winchester Lido, New Milton and the like
We supported Shane Fenton (later Alvin Stardust) & the Fentones at the Royal Pier, the Hollies at Winchester Lido, The Hunters, Gene Vincent at Fareham( his group was the Outlaws led by Richie Blackmore!) Once at Salisbury Palais OUR support was some band called Dave Dee & the Bostons !!! We had a TV appearance in the talent show 'Home Grown' ..beaten by some classical singer as I recall.
This photo (above) was taken at Andover Mardis Gras where we played outside and at night for the dance in the square . Somewhere there is a photo of us in the TV show. Hope there is something of interest in this for you. regards John.
As you just may recall The Strangers, first with Dave Just and then Pete Mystery, were the foremost band playing out of Andover prior to the emergence of Ten Feet Five -later Troggs. I've been trying to get a couple more photos to go with and contacted Lyn the wife of Richard our rhythm guitarist -he sadly passed away some years ago. Lyn sent me this photo of us taking a break in the local pub (wherever?) This was in the 'Dave Just' period and on the far left is Dave Just or as we know as the late Dave Smith who went on to be the vocalist in Ten Feet Five. Get that brilliant D.A. hair style! He was the real thing, looks and voice.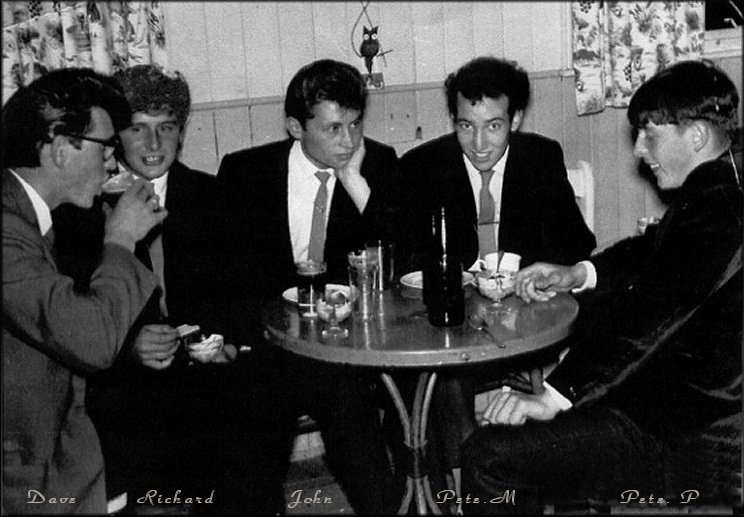 L-R: Dave Smith, Richard Rolls,John Cauley,Pete Musgrove and Pete Percey (later took on the vocals as Pete Mystery)
Lyn also sent me a copy of two signed photo cards she acquired when we opened for the Hollies and later the Hunters (remember the Hunters?, great group) The Hollies autographs include Graham Nash and well worth hanging on to.
On top of this Lyn has kept Richard's 1962 Burns Splitsonic and Vox AC 30....worth a fair a bit now I'm sure
... Just realised that your good friend John Walker is indeed the fella that joined our band way back in the early 60s. When Malcolm Major decided to quit John took over but I think our popularity was on the wane by then. Next time you contact John ask him if he remembers the time he was set on making a move on a girl at a Verwood dance we were engaged at. Had spent some time plucking up the courage to chat her up...all I'm saying was it didn't go according to plan.

Looking back on the photos of TF5 etc it gives me great pleasure to know that we were the first to get some sort of recognition back in those early days. Those that followed may have reached headier heights..but we were the first.
I'm trying to find a photo of Dave Wright as I wonder if its the Dave Wright I remember. Cheers - John.
See my TEN FEET FIVE webpage via the Site Map as it all clicks in with the 'Andover Sound' and so good to see many of these early pioneers getting in touch with me and each other as a result of this website!
August 2010 E-mail from John Cauley 5th August
Just like to register through your website that Malcolm Major our drummer in the early 1960s died last night just a few months after being diagnosed with cancer. After Pete Mystery & the Strangers in the 60s Malc played in various other bands and groups including Rolls Rockers. He had a great sense of humour,his musical tastes were diverse and he really didnt mind what type of band he played in just as long as he could get behind his beloved set of drums. I had only just got back in touch with Malc, after many years, to tell him of our slot on your web pages, fortunately we had time together to talk & laugh over the heady days of the early 60s.
All I can say was he took drumming very seriously, no flash stuff just rock solid and great timing. I'm just so glad I could share some great memories with him before the end
John.
The funeral for anyone who knew Malcolm or any of his bands : Wednesday 18th August 2.15. Salisbury Crematorium Barringtion Rd SP1 3JB followed by a meetup
Please return to this page as I'm sure we can pay tribute to another musician 'playing elsewhere' now
BACK TO HOME PAGE BACK TO SITE MAP CONTACT DAVID
© copyright David St John 2010