BACK TO HOME PAGE BACK TO SITE MAP CONTACT DAVID
DAVID ST JOHN AND FELLOW COMEDIANS TAKE ON
THE EGGHEADS!
You will have probably read through my TV Quiz Show webpage as I have been entering these shows since 1982 and have so far appeared on some 23 productions as of early 2008!
'Eggheads' has now been running since 2003 and is the BBC's most popular daytime quiz show and usually occupying the 6pm slot which draws in some 2 million viewers. It features a resident team of five quiz 'experts' who have appeared on a number of high profile shows over the years who take on a daily challenge from various teams across the UK, who try and beat the Eggheads in an interesting format which mostly ends up with the outsiders getting beat!
The Eggheads team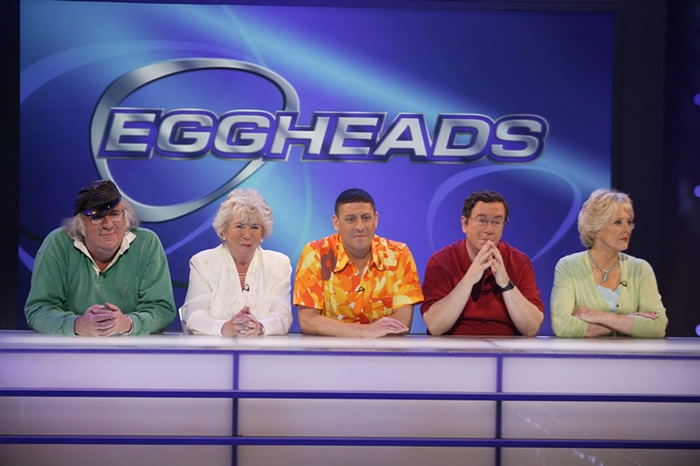 Chris Daphne CJ Kevin Judith
Photograph courtesy BBC
Their credentials:
Chris Hughes (winner of Mastermind, International Mastermind and Brain of Britain)
Daphne Fowler (winner of Fifteen to One, Brain of Britain and Going for Gold),
CJ De Mooi (winner of BrainTeaser, 100%, The Weakest Link and Mensa chess champion),
Kevin Ashman (winner of British Quiz Championship, European Quiz Championship, World Quizzing Championships, Fifteen to One, Mastermind, Brain of Britain and Mind Sports Olympiad),
Judith Keppel (first British winner of one million pounds on Who Wants to Be a Millionaire
I have been a fan of this great show and thought it would be a good idea to rake up a team of fellow comedy acts to face this amazing team of the UK's finest quizzers, despite it being quite a daunting task! There have been some teams lucky enough to have landed the right questions or fortunate to have the Eggheads stumble on some awkward questions - such is the nature of this show. The basic format entails a team of five challengers who then decide on four players to go head to head with an Egghead of their choice on whatever subject crops up. These solo challenges result in either a challenger or an Egghead to be knocked out of a final round, then facing any remaining champions in the play-off for a rollover cash jackpot. You will find a full description of the show by doing any searches on various websites, including the BBC and TV quiz show sites for in-depth analysis.
I often work with and/or meet up with fellow entertainers around the Midlands area as well as hooking up for the odd pub quiz at a convenient location apart from our own individual quizzes near to our homes. Eggheads do like featuring themed teams and so I managed to organise the following comedy acts into a brand new team called:
THE MIDLAND MIRTHMAKERS!
The show is produced for the BBC by 12 Yard Productions, one of the most successful production companies in the TV quizzing field and I applied for a contestant form which was then filled out by all the team and sent back to London for their scrutiny. Our unusual comedy profile and quizzing links caught the imagination of the researchers who got in touch with me as team leader to offer an audition in Birmingham as they were travelling all over the UK to see teams in person. This was the second stage and it gives any TV researchers a good chance to see how any potential quizzer can handle the initial 'pressure' as they whittle down the several thousands of applicants they get for this and many other shows.
The Midland Mirthmakers are all comedy based entertainers, based around the Birmingham and surrounding areas and comprise of the following individuals and you can click on their links to look at their own websites where applicable:
Andy White
Bruce Thompson
Mike Stenhouse (standby)
The main challenging teams on Eggheads comprise of a five man line-up plus a reserve player who might need to fill in for whatever reason on the day. My profile is well documented on this website so let me tell you more about my team-mates:
ROD BEECH
A very funny stand-up comic who was born in Walsall and is kept very busy all over the country as we all are! He specialises in after-dinner speaking and sportsmens' evenings so was a natural choice if the sport category cropped up on the recording day. Rod and have appeared on several shows together and have contrasting styles so rarely clash on any gags or routines, unlike many acts! Very confident and quick-witted so more than able to take on the Eggheads team that we hoped to crack.
BRUCE THOMPSON
One of the most unusual comedy-based acts in the business in the shape of a One Man Band! Bruce has appeared on several TV shows since coming 2nd on 'Opportunity Knocks in 1973 and also got to the grand final of 'New Faces' in 1976. Once again, Bruce was pipped to the post by a local Dudley lad by the name of Lenny Henry - the rest is history.
Bruce was a permanent studio fixture on ATV's 'Tiswas' hosted by Chris Tarrant & co during the late 70s and early 80s plus other shows such as 'Playschool, Generation Game,The Big Breakfast,The Priory,Zig & Zag' and many more. He appeared on 'The Weakest Link' in 2004 and managed to get through to the final four players, so proving a very good general knowledge. Bruce is also a member of MENSA so another perfect team player for us all.
Again, I have worked alongside Bruce on many shows and just love to see him in action with his hilarious one man band act, including great gags etc which naturally ends up with some poor 'volunteer' getting dragged up to form a 'double act'
J.P. JAMES
Based in Stratford Upon Avon and a very successful comedy/vocal entertainer with a very classy style that keeps him busy on the circuit. Very good general knowledge which he puts to good use for some part-time daytime work in his home town which is the well known birthplace of William Shakespeare - JP is a Stratford tour guide and specialises in the works of the Bard so were hoping that some literary questions might come our way.
ANDY WHITE
Whilst most of us are what is loosely described as 'mainstream' acts, Andy has a completely different style which goes down a bomb (British - not USA term) on the 'alternative' circuits and enjoys being the 'baby' of our mature team! Born and raised in Birmingham but with a very 'posh' accent that belies his roots although he can lapse into a real Brummy accent where needed. Very well read and has several educational degrees under his belt with a very wide general knowledge that was also proven when he was the outright winner on 'The Weakest Link- Comedians Special' a couple of years ago!
MIKE STENHOUSE
Mike was our 6th member on standby and I have appeared on a few shows with him, where we had some great laughs on and off the stage. Like Andy, more on the 'alternative' comedy circuits with a nice clever droll style of laid back humour and contrasting well with me on the same bill. Mike is also a well established DJ and hosts his own quizzes as well as absorbing loads of trivia along the way so a natural contender for our team in case of any drop-outs.
April 30th 2008 - The audition.
Unfortunately, only four of the team were able to attend the audition in central Birmingham as Bruce and Mike were working away so not able to attend. They sent in their own individual information forms and videoclips to 'sell' themselves and us four met up to be 'grilled' by the researchers who were great fun as they enjoyed our light hearted approach but knocking out several correct answers on a quiz sheet. We then 'played' the game against another team of auditionees which was fun as well as being recorded as a 'piece to camera' session, and we felt that we had made an impression on everybody. As in any audition, they don't say too much about the whole scenario
This photograph shows the four of us who were able to attend the Birmingham selection process - Bruce and Mike were not able to make it but submitted their own application by a form, photo and short videoclip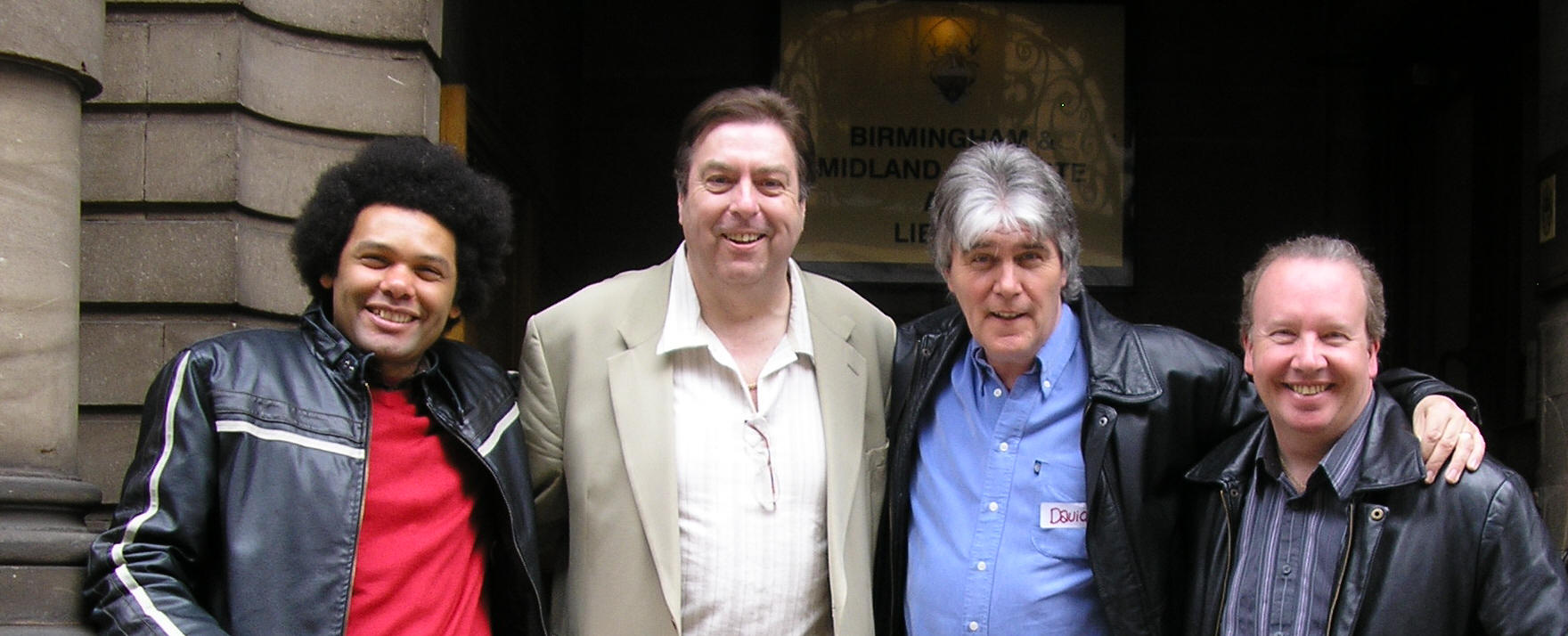 Andy Rod David JPJ
We met up in Birmingham city centre then entered the Institute in which they were holding the auditions. There were other teams in attendance and the researchers told us about the game, took some photos and video as well as asking us to fill out a quiz sheet to gauge our individual general knowledge. We then 'played' the game in a basic runthrough and facing the other teams so had a few laughs as well and felt that we had (hopefully) impressed the research team. They never tell anyone how well they did or what the chances are of qualifying as they travel all over the UK in search of new players so the odds are stacked against any individual or team. They simply said that they would 'be in touch' in a few weeks and off we all went. Within two weeks, I got that all important call to say that we had got through and recording was scheduled for June 5th!
The big day - we all travelled down to London and made our way to the rather swish hotel that was provided for our overnight stop, then making our way to the main BBC studios at White City in West London and here are a few photos taken as we played 'tourists' outside and then in the main reception area.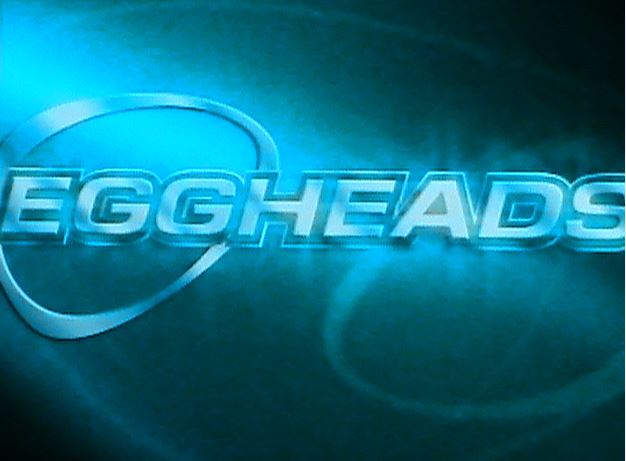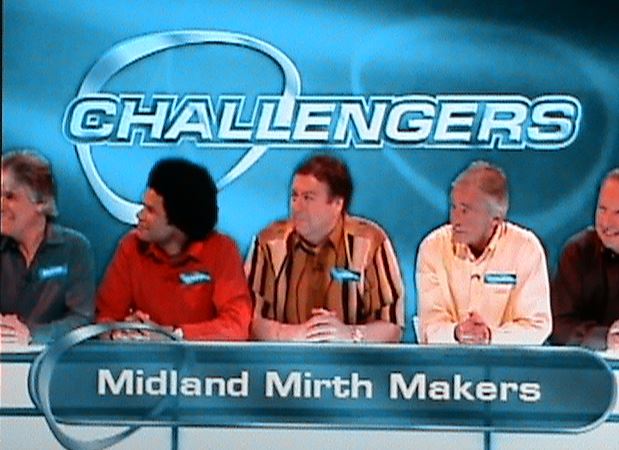 Rod Andy JP Bruce David Mike Stenhouse
Eggheads Challengers Reserve Egghead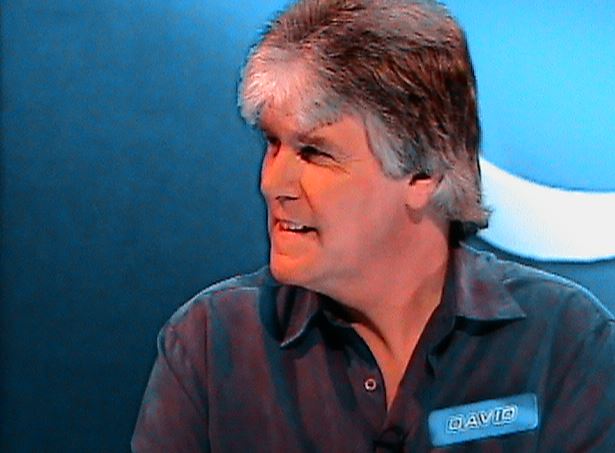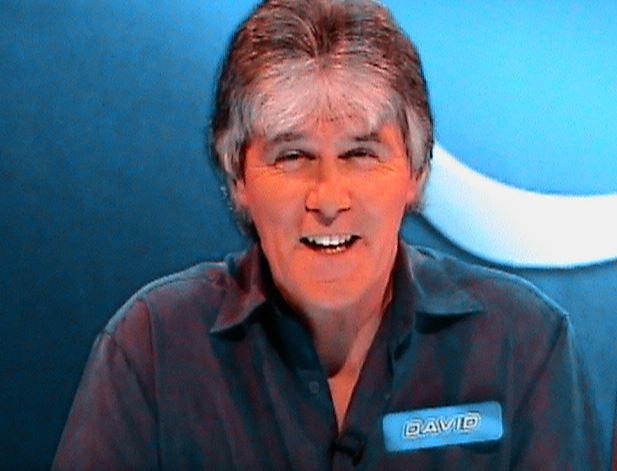 Picture time in the BBC Reception area - would WE exterminate those Eggheads?
We were checked in at the desk and then taken along the BBC corridors to the Green Room - the waiting area in which we relaxed and had a talkthrough about the whole show. Really great friendly researchers and we had a few laughs all day as we got prepared for the big challenge that lay ahead but no real nerves were showing as befits what we all do for a living. Then onto make-up and one of the girls was Bruce Forsyth's own assistant so you can imagine us all breaking into the impression routine etc.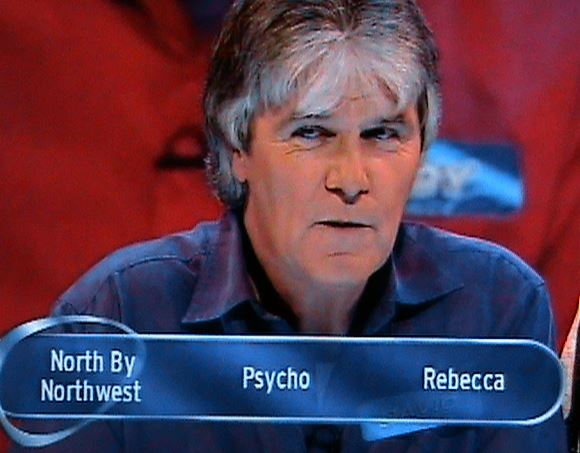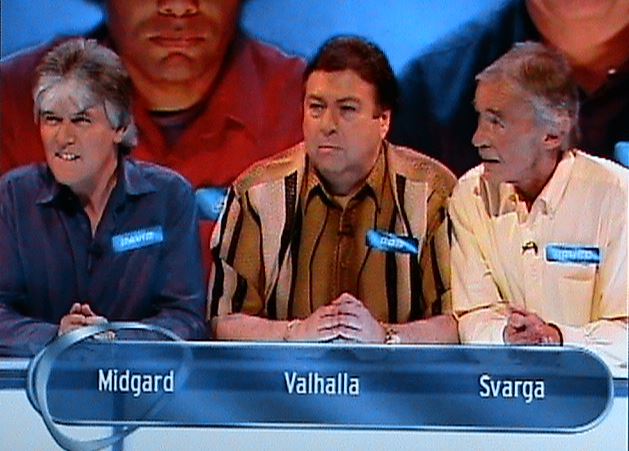 Rod and David getting 'touched up' in the BBC Make-Up dept!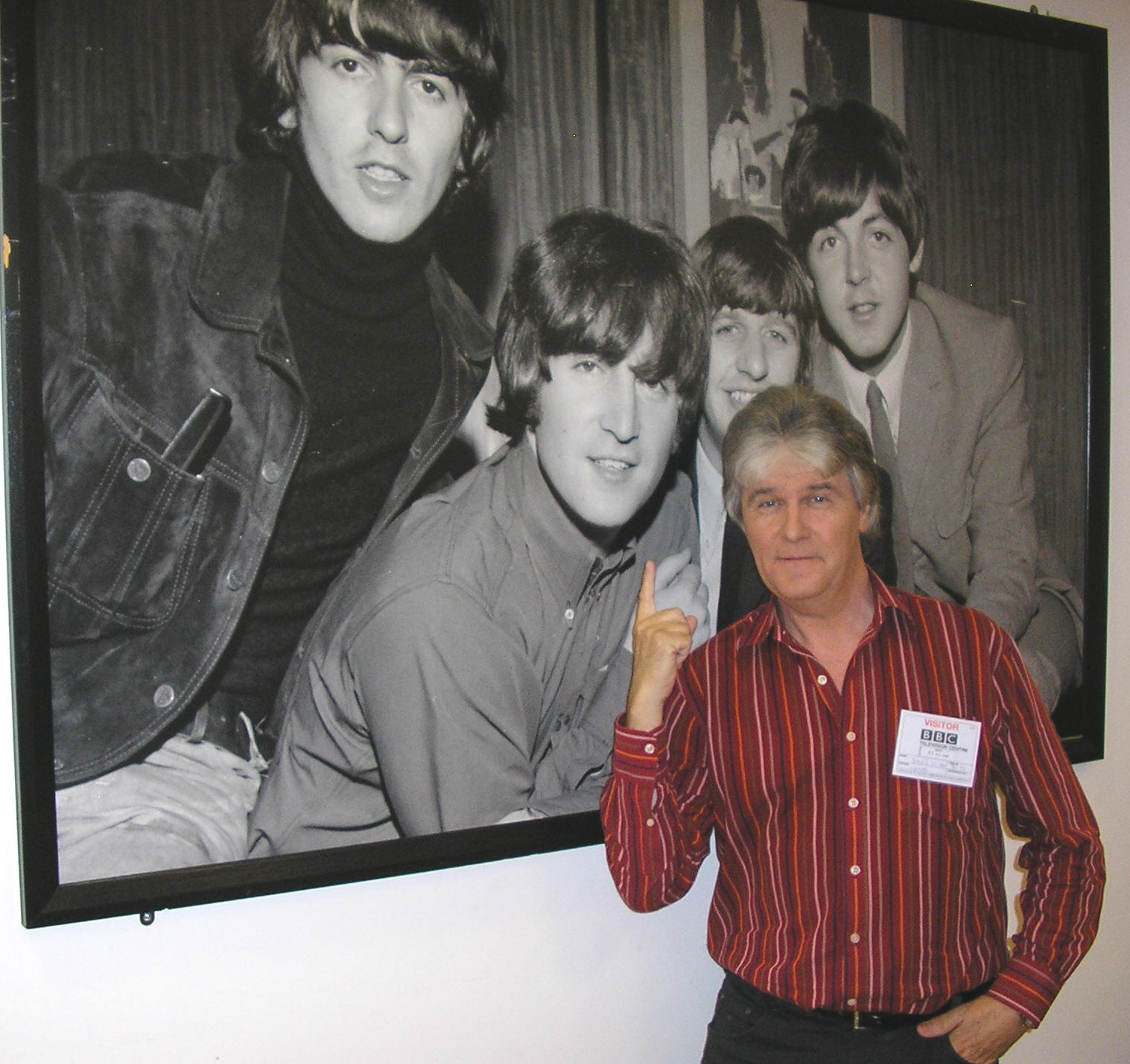 Just look who had been in this Green Room a few years before...
We were then ushered into the studio and onto the well known set which looks quite different than what you see on the screen. The soundman miked us all up and we then sat down in the challengers' seats before being introduced to the Eggheads who all came over to say hello, wish us luck and pose for a few photos before settling down for the big challenge that lay ahead! It was great to see Daphne again and the new host Jeremy Vine did mention our previous encounter way back in 1986 when Daphne and I represented the UK against the Australian Champions on 'Sale of the Century' recorded in Melbourne as an 'Ashes' special. I had no idea of who Daphne was or what her quizzing ability was all about at that time but the whole world knows about her after an amazing run of winning major TV quiz shows. She has her own website at: www.daphnefowler.com but is currently so busy with her Eggheads recordings and is trying to update the site when possible. Daphne has become one of the most popular people on television and one of the least affected celebrities in the business - she is the same on and offscreen and one of the nicest quizzers you could wish for. She really loves taking part in any quiz - from a local pub night to the very successful Eggheads and it always comes across during every single recording.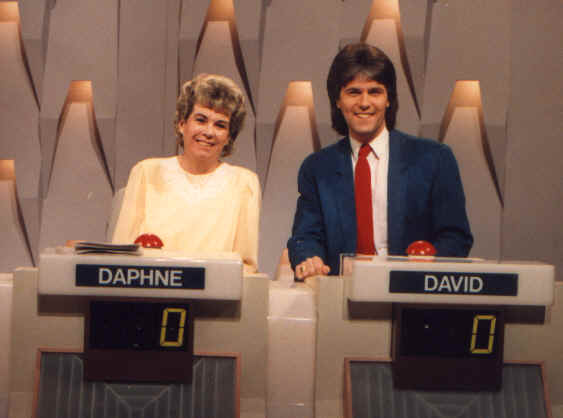 'Sale of the Century-Ashes' Melbourne 1986 Click to read all about it!
She hasn't changed much over the years and still spends many hours in revising all facets of trivia but this has provided her with a brain full of facts - it's like playing Trivial Pursuit with a computer! Chris, Kevin, Judith and C.J. are more or less as you see them and they had no airs or graces about them whatsoever. Everybody settled down and we were now ready to take on the most formidable challenge of our quizzing side - all relaxed and still cracking funnies right up to the signal and countdown from the floor manager. Let battle commence!
Back Row/standing Daphne Kevin Judith Jeremy Vine Chris Hughes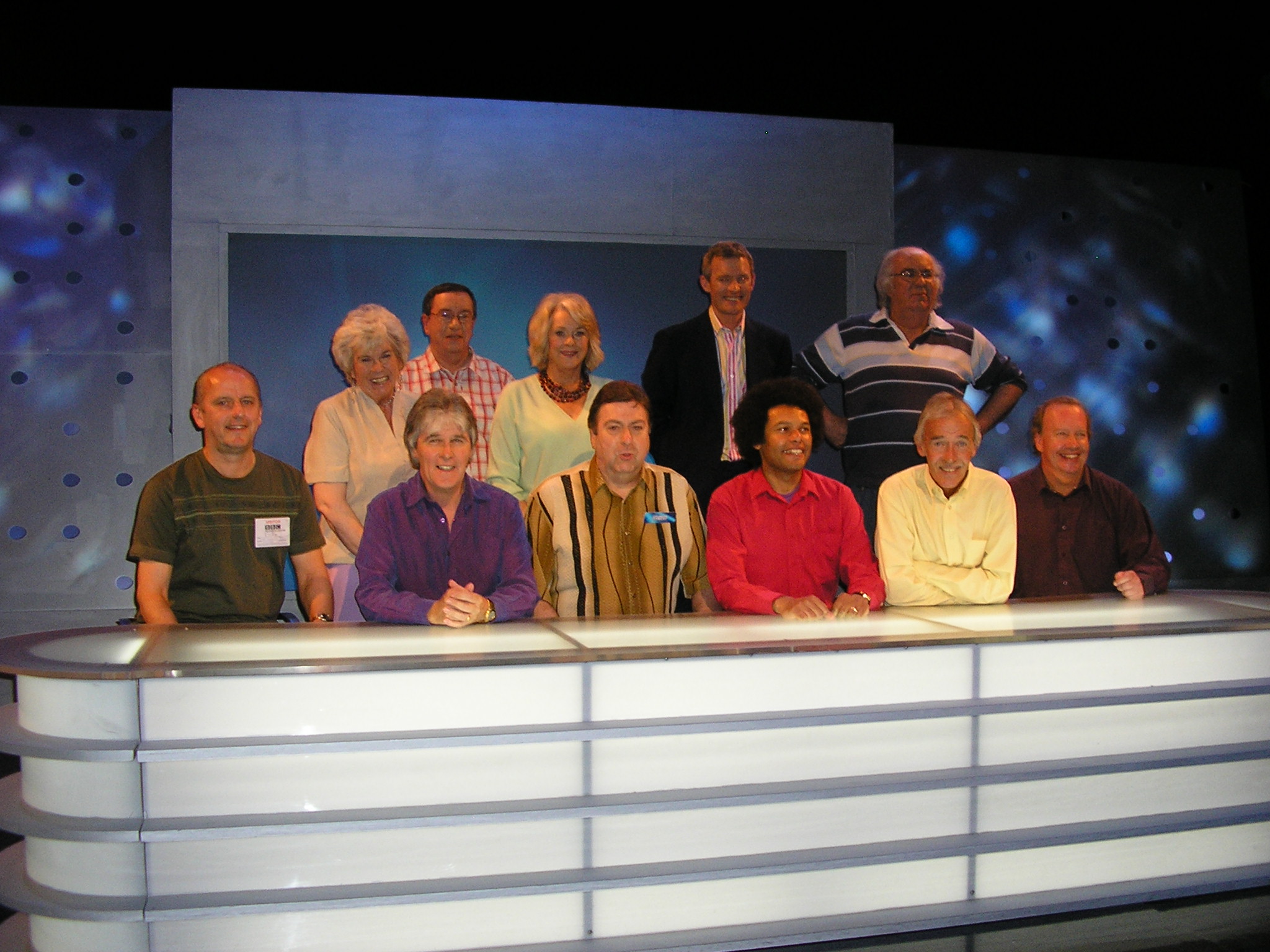 Seated Mike David Rod Andy Bruce JP
November 25th 2008
The transmission date was for Monday 24th November but was rescheduled due to the John Sergeant walk-out story on 'Strictly Come Dancing' which dominated the media and it was shown on the next day 25th November
Before the show, we all naturally discussed our tactics as regards our various areas of knowledge and it was decided that I would (hopefully) be left in the final line-up of challengers who would face the almighty strength of the Eggheads. However, if the subject of music had cropped up then I would have jumped in and picked Daphne on the basis of a 'return match' after some 22 years! It would not necessarily mean that my kind of interests would be covered as the subject encompasses all genres so always a tricky one if facing the most formidable quizzer in the UK and probably in the world!
Although our combined knowledge is pretty good, we were hoping for a degree of luck that often forms part of any TV quiz show and this nearly came off towards the end of the show. We did have the advantage of having few nerves due to spending most of our working lives in the spotlight as well as just having a few laughs throughout the whole recording so all felt fairly relaxed. The final editing did mean that some snippets could not be included and were left on the cutting room floor of the editing suite as they say. There were a couple of questions taken out of the 'sudden death' finale as we held them to a draw in a nailbiting finish and this is a general rule when having to fit any show into the tight format that hits the screen.
We entered the studio, got 'miked up' and then had the pleasure of meeting the formidable Eggheads who came over, shook our hands and we had a quick friendly chat before settling down to the game. Jeremy Vine handles this show superbly, honed by years of TV and radio plus having good chat skills as opposed to some rather dull hosts I have encountered on past shows (sorry - cannot be uncharitable and name them!)
The first subject to crop up was 'Film & TV' so Andy volunteered to go first and we picked the amazing Kevin whose quizzing track record frightens most people away! Andy is a very clever lad with a superb general knowledge but was not able to cracc this Egghead and only just lost out on his round.
Second subject was 'Science' and JP valiantly piped up and we decided on Judith to face him on this round. It was close and JP kept Judith on the run into a 'sudden death' finale after drawing on the first 3 questions with multiple choice questions. Sadly, the resident champion managed to beat our lad so we were now two players down, who would be excluded from the final round as each losing player sits on the bench, whilst the remaining contestants on both teams get to take part in the last round.
Third subject popped up as 'Geography' and Bruce was our chosen challenger deciding on C.J. in this round. Our luck changed as Bruce beat the flamboyant Egghead so restoring our team confidence and hoping that the next subject would fall right. I was hoping for Music and ready to take on Daphne as a kind of fun 'grudge match' after the 22 year gap since first meeting up with the lady! Unfortunately - my least favourite subject came up as the final choice and this was 'Sport'
We had the perfect player in the shape of Rod Beech whose comedy work takes him to many sporting dinners and he has a very good knowledge of this area apart from his wide general knowledge. He chose Chris and proceeded to have a fun round, cracking a few gags along the way but these were edited out due to the tight schedule of post show production as the transmitted show needed to fit the alloted air time. Rod played a magnificent round and finally beat Chris, much to our combined relief so joined me and Bruce for the final round up against the remaining champions Daphne, Kevin and Judith.
I knew the first answer on a question on Norse Mythology - even without the multiple choice (Valhalla- the sacred Hall of the Gods) so we banged this in. Unfortunately, the Eggheads then had a rather 'easy' question on 'What would you do in a refectory?' Naturally got this right
Our second question was on Hitchcock movies and what was his only Oscar for best film. I know the basics of his movies and was racking my brain between the 3 choices of 'North By North West ,Psycho and Rebecca' running through the main actors and scenes etc. I knew that it wasn't Psycho as this was too shocking and controversial as well as knowing that the first X rated film to win an Oscar was Midnight Cowboy some ten years later. Hitchcock was also shunned by Hollywood in his later years but North By North West was one of his best and it rang a bell, although I knew about Rebecca, quoting the main actor and writer (Daphne Du Maurier) etc. This chat was cut out as I went through the options in an effort to decide between the two choices and settled on North By North West - the wrong one! I later kicked myself mentally as I felt sure it came out in 1959 and this was the year that Ben Hur swept the Oscars with a record number!
The Eggheads then had a difficult African capital question but this was right up their street as they tend to study 'lists' that often crop up and help with any question so they took the lead. Our next question fell right as it was centred on a man called Reilly who was labelled 'Ace of Spies' and the multiple choice threw up three answers that contained his name. I instantly recalled a TV production of the same link although never watched it, so we managed to get that one right. It all fell to one final question that would have secured the game for the Eggheads but they fell at this hurdle on a very obscure literature choice and got it wrong! This took the contest to a final 'sudden death' with no multiple choices and we were very excited at this prospect.
We kept the Eggheads at bay on a couple of questions that were edited out and we then stumbled on a question that should have really got. It was on the lines of 'which word, meaning very angry, comes from a discolouring of the skin due to blood vessels' etc and we all racked our brains as we mentally went through the alphabet but thinking of a difficult word. Rod is a crossword buff and usually quite good at coming up with answers of this nature then Bruce butted in with 'fuming' and this seemed feasible - the Latin base of fumare for smoking tended to work. We couldn't come up with anything else and time was tight so plumped for this answer but were stunned to discover that the answer was an obvious.............LIVID! This now gave the Eggheads another chance and our hearts sank when Jeremy read out their next question that would seal our fate:
"In which building were Prince Charles and Diana married?"
That was it - the end of our valiant challenge in which we nearly cracked those Eggheads and missed out on sharing the £4,000 jackpot a six way split to include our standby Mike Stenhouse, who had been watching the show from the studio sidelines and knowing many of our questions as well! Jeremy wrapped up the show and we then all relaxed with a few more laughs, taking a few photos with the Eggheads and heading back out into the real world! It was a great experience and a lot of fun so we didn't feel too down as we had held our heads high and gave them all a good profile as a team, which the researchers and crew mentioned made a nice change from many 'ordinary' teams that take part in this show. We also had a luxury hotel stopover nearby and Rod and I managed to pop into the West End for a meal, a drink and a good chat about our day out in London before travelling back to the Midlands by train the next day.
We now look forward to repeating this experience in the future, whenever any TV production company is looking for a bunch of fast-talking funnymen who can crack gags in between (hopefully) coming up with the right answers! It sounds a cliche, but taking part in any TV quiz show is a fantastic outing and most people really enjoy it all so I thoroughly recommend it to anybody. There is always a risk of making a fool of yourself but that's all part of the fun and makes for an entertaining show anyway. Even if less successful players get some ribbing from friends or passers-by in the street, at least they can say that they have 'been on the telly' which is more than the detractors have done in their life - most of them being secretly jealous anyway.
An interesting link? Jeremy's brother is comedian Tim Vine - very funny guy who manages to cross over between mainstream and alternative venues. Tim is well known for breaking 'World Records' on marathon gag-telling efforts!
David and new host Jeremy Vine at the 'wrap' party
I know I shouldn't have had that drink after the show....
It was a terrific experience and the BBC crew and 12 Yard production people really looked after us, so perhaps this might even prompt YOU to get a team together and face the amazing Eggheads! I'm now looking for me NEXT TV quiz show and have a couple of possibilities in the pipeline as we approach 2009.
BACK TO HOME PAGE BACK TO SITE MAP CONTACT DAVID
copyright ©DavidStJohn2008