Home page Contact David Click on SITE MAP to navigate rest of website
STACKS OF PHOTOS- LET IT LOAD!
David St. John pays tribute to
TEX ROBERG 1937-2022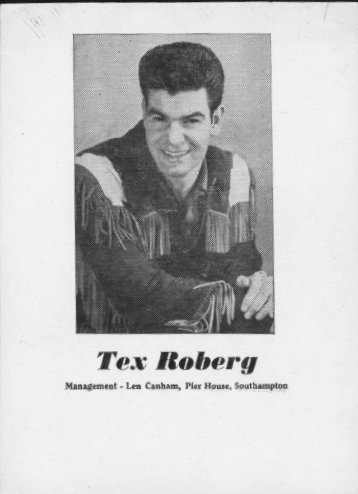 24th January 2022
I am updating this old 2008 page (see below) following the sad news that Arnie 'Tex' Roberg has just passed away at the age of 84. He will be remembered as one of the first R&R singers in Southampton back in the late Fifties when moving to England. His early stage appearances caused the girls to swoon as this good-looking tanned muscular guy came on stage wearing a white see-through string vest and shorts! He soon made a name for himself appearing at dance halls over the South before striking lucky with being booked for a season in Germany as you will read in this piece below. I am in touch with his family and many friends who knew or played alongside him as he belted out the R&R and C&W hits with a great stage presence - a real entertainer. His Hamburg backing group were the Southampton-based Graduates featuring three brothers on guitars- Paul, David and John Roux plus Pete O'Brien on drums. John and Pete are still with us and I'm grateful to Paul's wife Pat who has kindly sent me some more rare photos that I can now add to the relevant text as first written in 2008. Pat mentioned that the Roux brothers purchased the first Fender Stratocaster and Fender bass guitars in the city at Jim Beckett's Music Shop for around £125 - a small fortune back then.
I will probably add more info on this page in the near future so come on back sometime. Take a look at this great YouTube clip, featuring several well-known names on the local scene across the Golden Years of the Southampton music scene: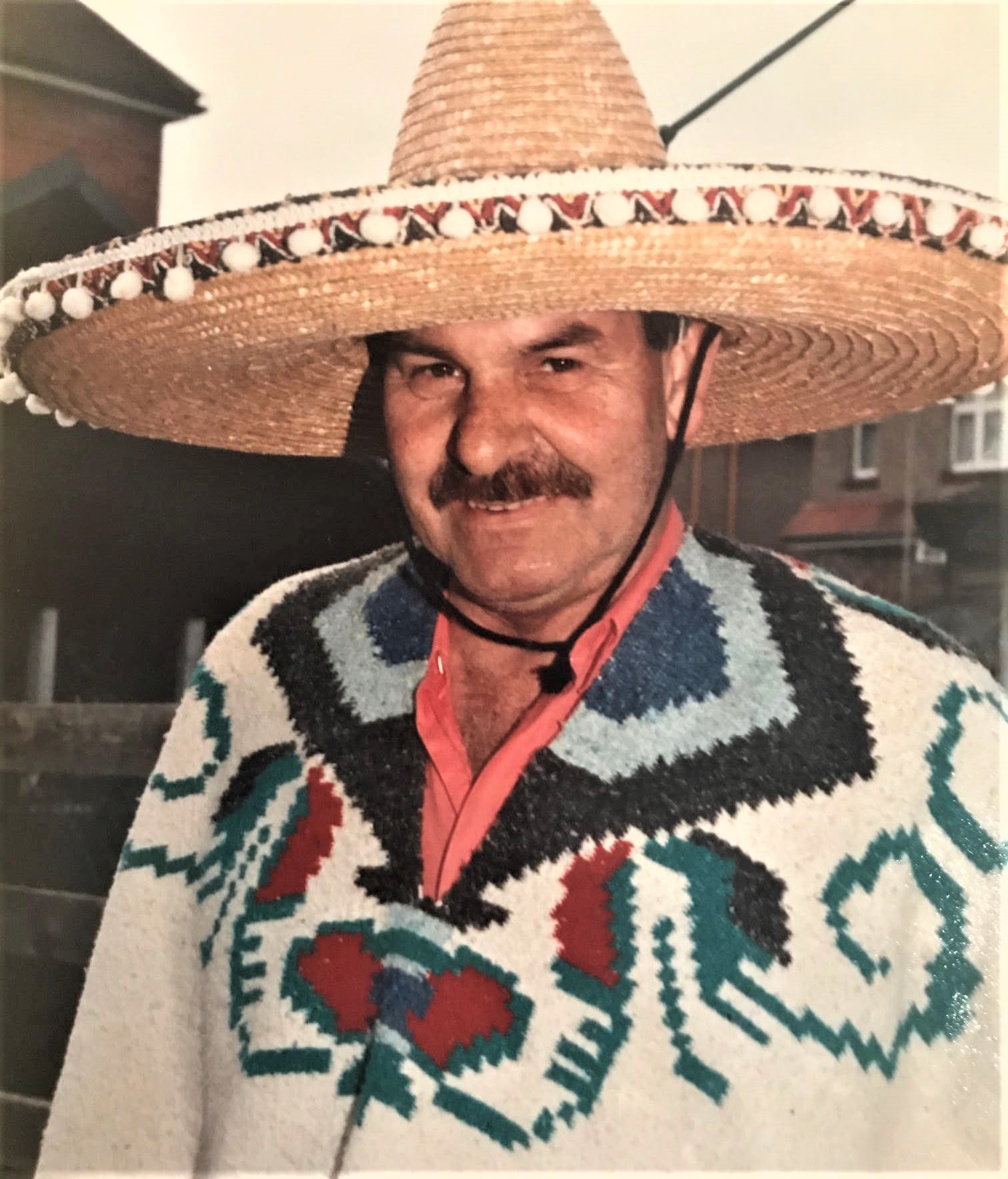 Original webpage:
Friday 24th October 2008
I regret not being back in Southampton as Eddie Hailwood of Fret Music Shop Shirley had arranged a surprise bash at the Mountbatten Pub in Lordshill for Tex Roberg who is a 'founding father' of the Southampton music scene from the late Fifties. You may have read about this great character on my other pages and Tex was one of the first ever rock n roll artistes to play at the legendary Star Club Hamburg and used to knock around the Beatles who were enjoying their first taste of the high life!
This background on Tex is taken from Southern Roots (1980 catalogue of Hampshire musicians) which offers just a tiny glimpse of Tex's amazing history and he could write his own book with so many memories of working with the top rock n roll stars such as the Beatles, Jerry Lee Lewis, Little Richard, Gene Vincent and many more. I hope to pop by and see him someday and jot some down a few of his amazing stories of the racy life of working in saucy Hamburg at that time!
Arnie 'Tex' Roberg was born in South Africa and arrived in Southampton in the late Fifties where he was one of the legendary Len Canham stable of acts - please read other pages to learn of this fascinating start to the local teen dance scene. He was also known as 'South Africa's Elvis' and often impersonated the King at the Royal Pier Pavilion plus the Saturday morning kids' shows at the old Gaumont Theatre (now the Mayflower) and many other local venues all over the south. His backing groups included the Hi-Fi in the early days - an early line is named as Tony Bailey (gtr) Brian Odges (bass) and Tony Hart or John Picken on drums.
After a short stint at a Butlins Holiday Camp he was 'spotted' by a female agent who was just starting to send UK acts over to Germany to entertain the locals and the Armed Forces who were stationed over there. Unfortunately, there were difficulties with his then backing group, so Tex teamed up with a Shadows style band called the Graduates and became the first act to appear at the Star Club in Hamburg and was the first act to tread those famous boards on the Grand Opening Night. The lads were backstage along with another young band of hopefuls and a coin was tossed to see who had the privilege of being first- Tex won so off they went to play a storming set. They were then followed by the Liverpool lads by the name of John, Paul, George and Pete Best...........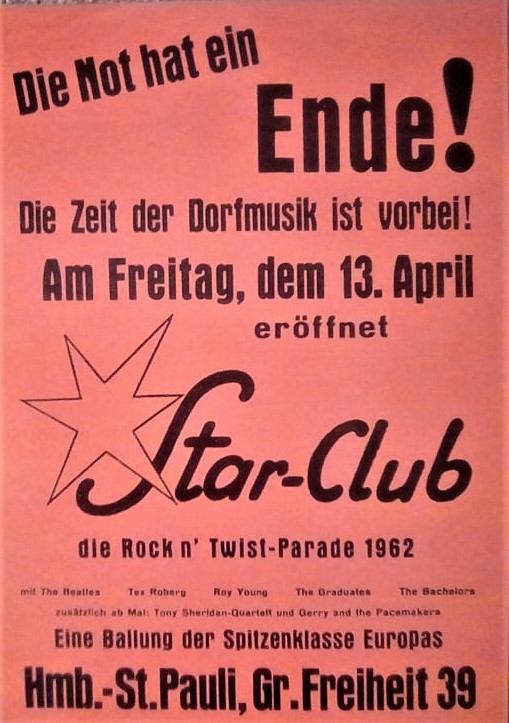 Star Club Hamburg - the opening night
"The need has ended! The time of village music is over! On Friday April 13th the Star Club opens the Rock'n'Twist Parade 1962. A concentration of the top class in Europe. Hamburg- St Pauli Grosse Freiheit 39"
Another young hopeful playing with bands out there was Johnny Watson a former guitarist turned drummer and one of the finest musicians to come out of the early Southampton music scene -see my Biography page. Johnny had struck lucky and ended up with legendary Rock n Roller Gene Vincent' backing band (The Bluecaps) so felt that he had really made it. He was often 'approached' by other British groups who were playing in Germany but turned them down of course. However, he does recall that Pete Best was on his way out and that the other Beatles were keen on Johnny taking his place but he dismissed this offer and stayed with Gene Vincent for the prestige and better wages. Why should he join a bunch of relatively unknown scruffy Scousers who later returned to the UK and then recruited Ringo Starr - I think we all know the rest!
Tex hung out with John and Paul and could probably tell many stories as these youngsters enjoyed living it up in the St Pauli red light area including the Reeperbahn area which was well known across the world! Most clubs were packed with visiting merchant seamen and all manner of dodgy night life people - so many a dance night ended up in a drunken brawl in and out of the dingy dives, with the police sirens blasting away through the small hours. The bands had to play for hours and hours which wore them out but toughened them up in readiness for a triumphant return to England where their experiences and professionalism shone through.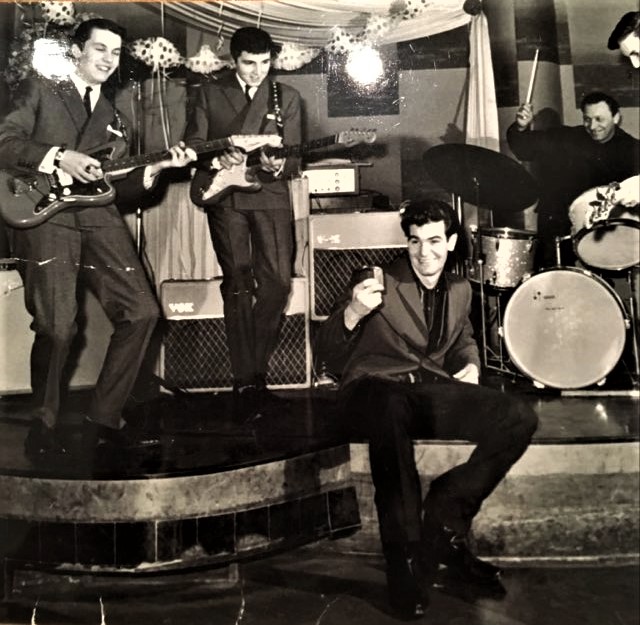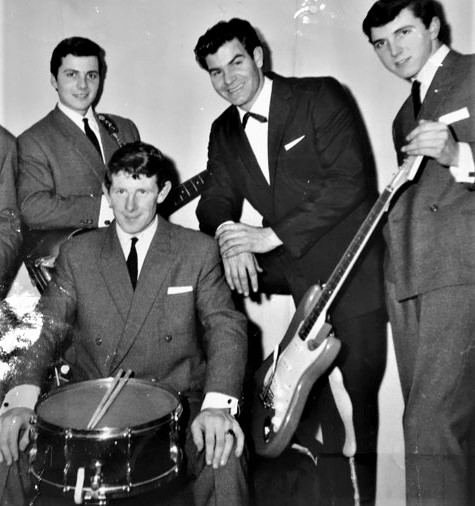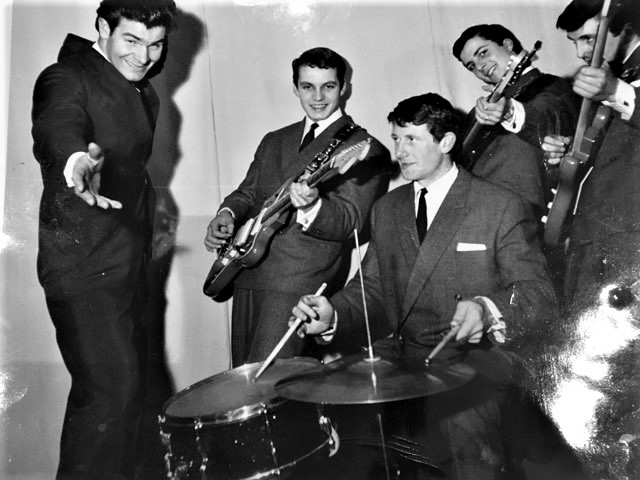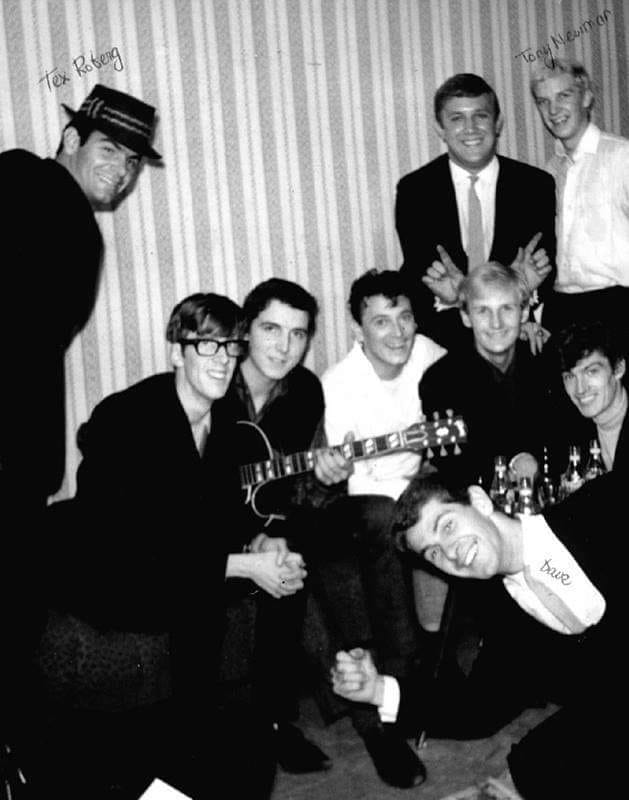 Gene Vincent - white shirt in the centre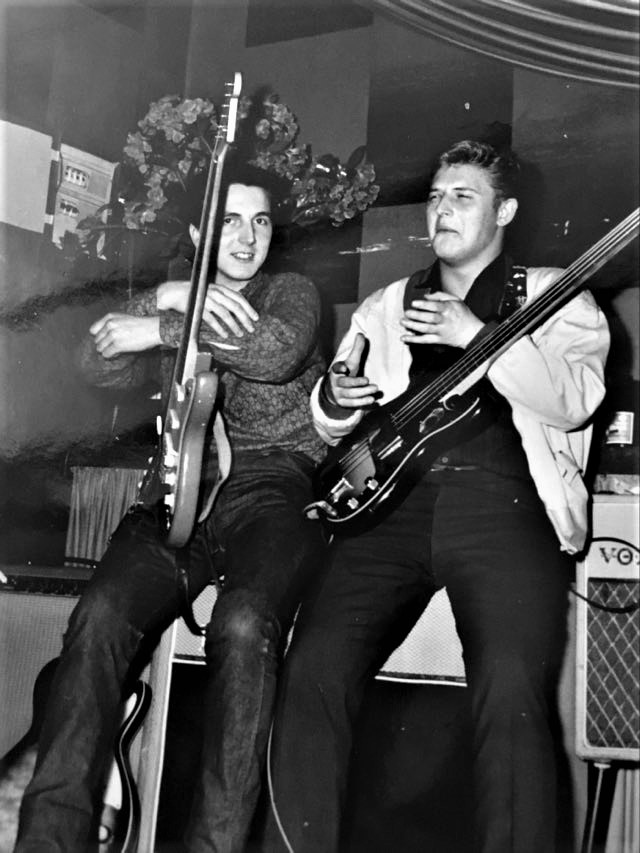 Paul Roux (Graduates) with top Liverpool star Kingsize Taylor (and the Dominoes)
This report:
APRIL 13
The Star Club in Hamburg, West Germany, opened in 1962, with the up-and-coming Beatles topping the bill. Nearly 2,000 fans lined up outside the club on Grosse Freiheit (Great Freedom) to see other acts such as Tex Roberg, Roy Young, the Graduates and the Bachelors. The former movie house stayed open during its self-dubbed "rock-and-twist parade" until 4 a.m.
Tex appeared at the Star Club alongside many of the biggest acts in the world such as Tony Sheridan and his new 'backing group' known as The Beatles (!)plus the likes of Fats Domino, Gene Vincent, Jerry Lee Lewis and so many more. He returned to the UK, Tex formed the Semitones group including Colin Crawley (bass) from his Hamburg years and other familiar names such as Tony Burnette (drms) Colin 'Angel' Wilsher (gtr) Geoff Chalke (bass) John Monckton (gtr) spread across a couple of line-ups. Several changes over the years saw Tex working with most of the well known musicians as well as developing his C&W side along with the rock n roll repertoire so adding another great dimension to his style. In 1968, I took over the lead vocal spot from Tex at the old Railway Hotel which was later named the Woolston followed by the New Bridge Inn and now Bridge Inn across from the Itchen Bridge which opened in 1977.
This was my final Southampton group before I went solo and left the area for London and then overseas. We were called Script and The End with a fantastic line up of Tony Burnette (drms) followed by Ronnie Allen plus Graham Medley (bass) and Roy Perry (gtr) who sadly passed away in the 90s after a short illness. You can read about our crazy days on my Biography Page via the Site Map. I was so thrilled to have been able to get Tex to appear on the Concorde ReUnion night back in February 2008 and he took to the stage with some classic numbers that wowed many of his old fans and fellow musicians who enjoyed a night of great nostalgia and hook-ups with fellow acts. Again, I have another webpage on this special night and can be accessed through the Site Map which contains several pages on the Southampton music scene with many names spread across the pages plus old and new photos mixed with their own memories of the great days we enjoyed.
TEX ROBERG- SURPRISE-SURPRISE!
Tommy Bannister (amazing steel guitar player) mailed me with the following report and I'm looking forward to hearing from others plus more photos
"A fantastic night and Tex knew nothing about it - he was really knocked out by the surprise and the old pals that turned up. I saw Tex a few days before and had to bit my tongue and not let it slip. Loads of old musos and pals arrived with Eddie Smith singing and the likes of Steve Faithful on drums, Dave Mitchell on lead guitar, plus Rick Brown's lead guitarist (Andy Brown?) Geoff/Neil Hibbard and Colin (Angel) Wilsher on bass along with drummers Tony Burnette, Chris D'Ambrosio (ex Thunderclap Newman)
Organiser Eddie Fret also played some superb stuff and Tex loved every minute on and offstage mixing and mingling with so many mates. Talking shop, music and many of the memories that I have been lucky enough to share on my website. Johnny Monckton came over from France plus many others and I'm sure that these names will be shared with you
Pete Broyd also mailed me plus a couple of great 'hook-up' photos and he mentioned that the old rockers outnumbered everybody else in the room! Tex bashed out some great classics and the made up backing band played some mean stuff with everybody joining in as they knew all the words of all the songs - no 'senior moments' with old pros! Pete suggested that this 'choir' could record an album in the style of Max Bygraves - maybe 'SING A LONG A TEX" which could sell a million! Pete and co were also laughing at the high volume as opposed to the old days when many of us fed two guitars, bass and a microphone through a Selmer Truvoice amplifier! Pete also managed to get a message through to his old colleague Brian Macey of the Rockerfellers who was so happy to have made it and here's a photo of three old 'rockers' including Mike Nevitt who also trod the old Pier boards along with Tex and so many more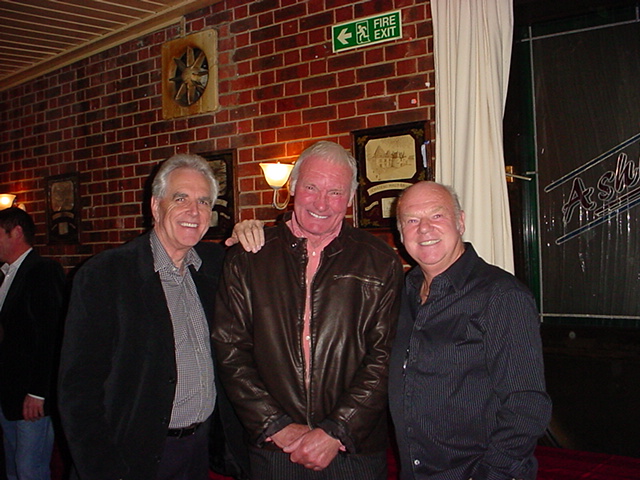 Pete Broyd Brian Macey Mike Nevitt
(Aug 2009-sad news of Brian Macey's passing- see below)
Pete also mentioned how happy he was to have met up with another of his contemporaries in the shape of Brian Fisher - ex singer with the Strangers and another great name from the classic years - this is just one of the many photos taken on this memorable night.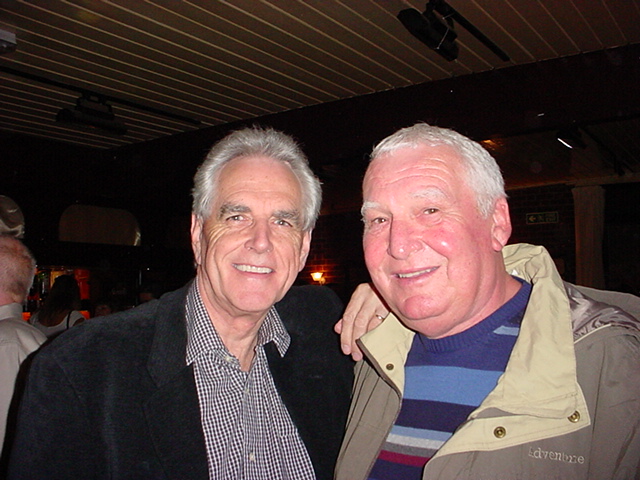 Broyd and Fisher - sounds like a double act!
Please come back to this new page as it will soon be amended and edit to include more info and photos from Tex's party night as my many pals send me their own reminisces. In the meantime, here are loads of photos taken by professional photographer Jackie Hargreaves-Spragg who had her camera as always so managed to grab a few shots by pushing her way through the crowd that were singing and dancing the night away. Jackie is a superb photographer based in Southampton and can be contacted in case you need any more 'sedate' images taken of a wedding, portrait and much more. I have been supplied with some names, but please get in touch with me if anything doesn't tally plus any of YOUR memories if you were lucky enough to have been there. Once again - it just shows that us old rockers can still hack it and show the young 'uns what it's all about as well as inspiring them to enjoy any talent as well as making others happy! Many of the people below have been mentioned on my other pages that cover the early Southampton music scene and it's great to see them together after so many years, with loads to talk about and still making music.
I need to confirm some of the names below and fill any gaps -please let me know and I can edit asap. All photos are copyright: © jackie hargreaves-spragg. Please contact me if any of the featured artistes require me to e-mail the original files as these have been resized for this webpage and to check with Jackie for whom we can thank for these great shots under difficult circumstances.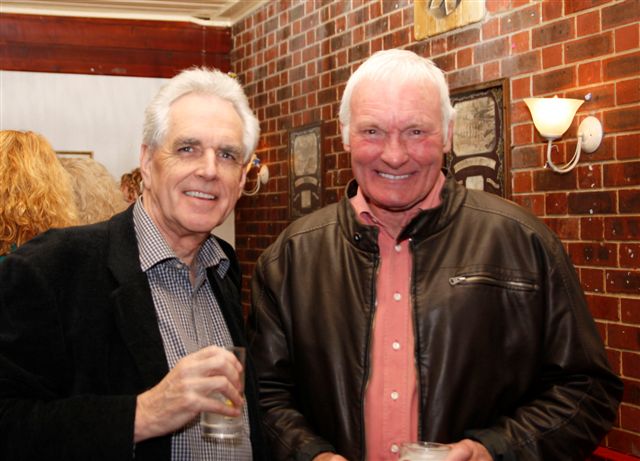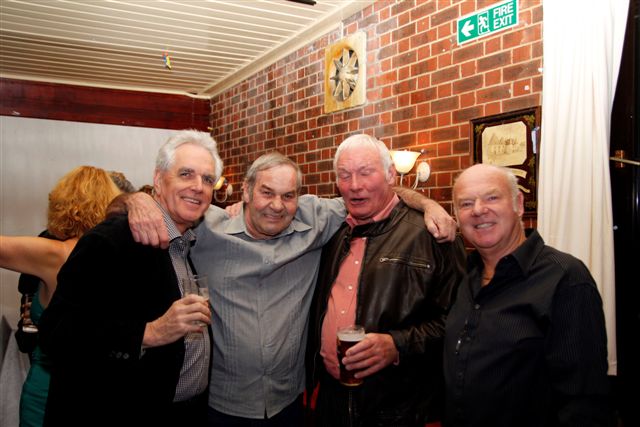 Pete Broyd Brian Macey Broyd, Roberg , Macey and Nevitt - well known 'solicitors' in their day!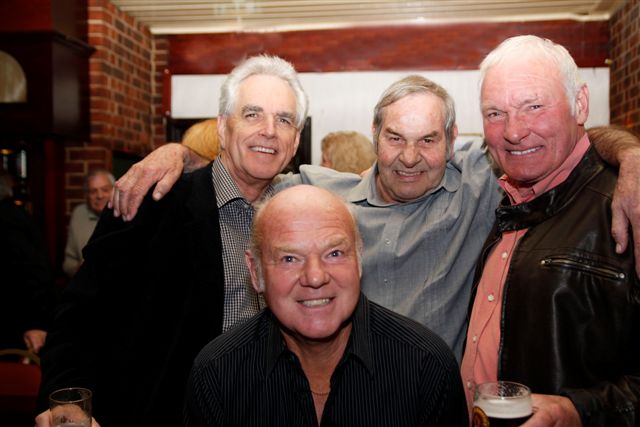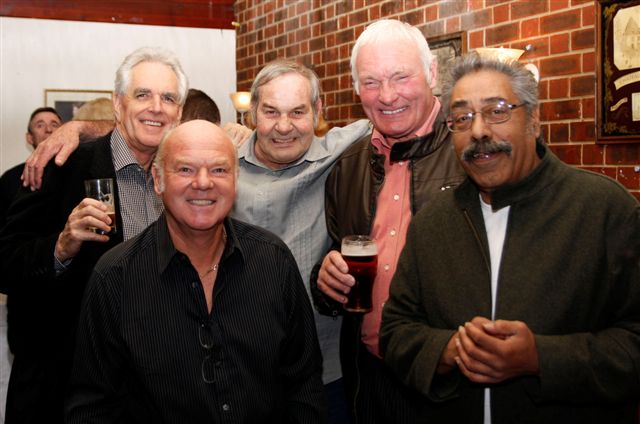 Same line-up the F.B.I.s Most Wanted? Joined by Rick Brown on the right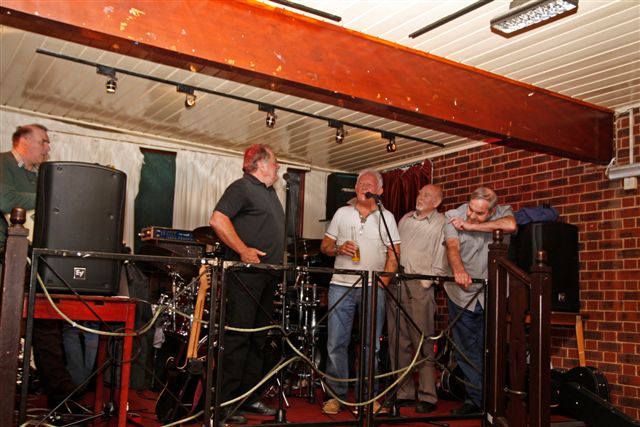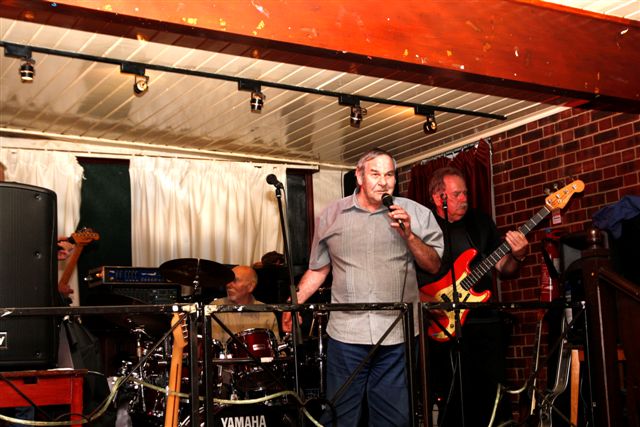 Verne Chuter ? Colin Wilsher Tony B Tex Tony B Tex Geoff Chalke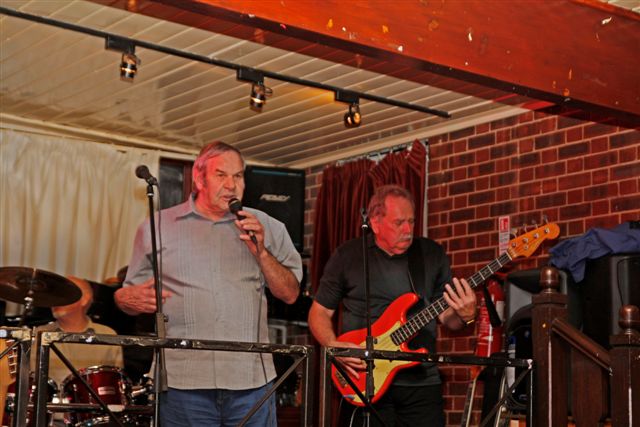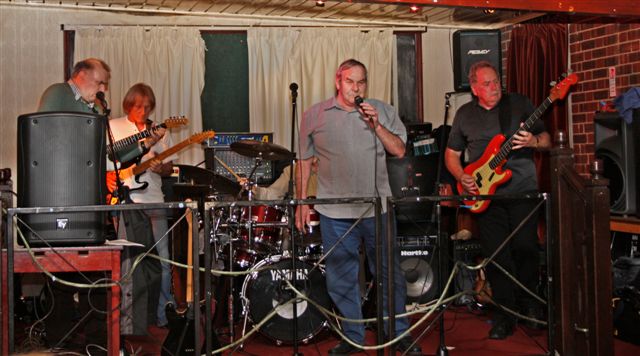 Tex Geoff Chalke Verne Chuter Johnny Monckton Tony Burnette Tex Geoff Chalke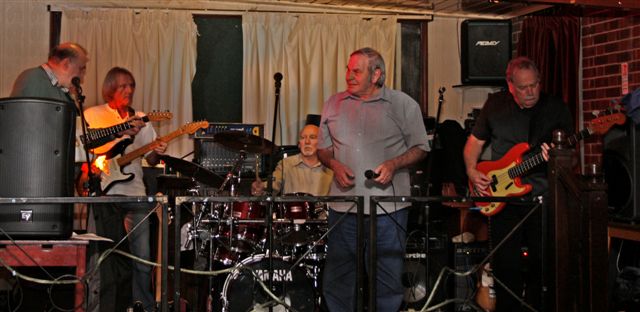 Verne Chuter Johnny Monckton Tony Burnette Tex Geoff Chalke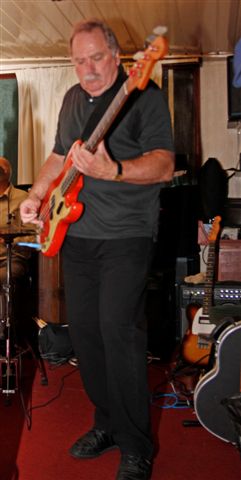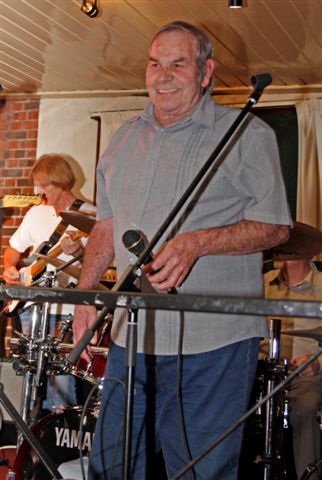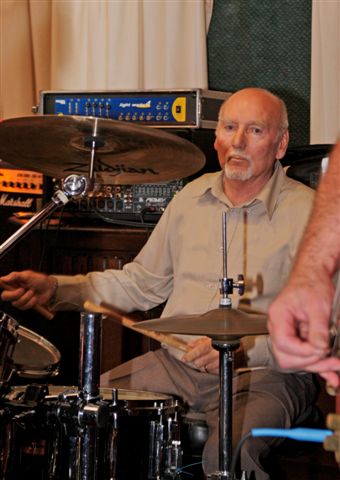 Geoff B Tex Tony B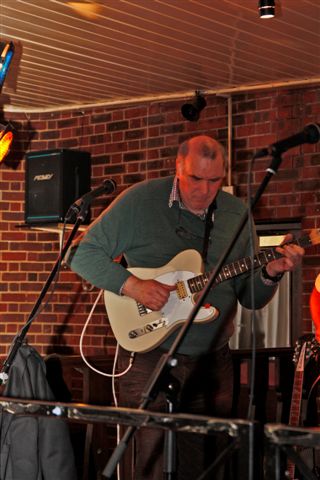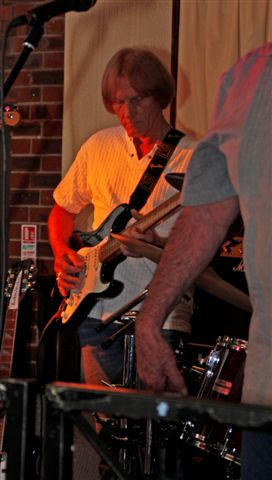 Verne Chuter Johnny Monckton Eddie 'Fret' ?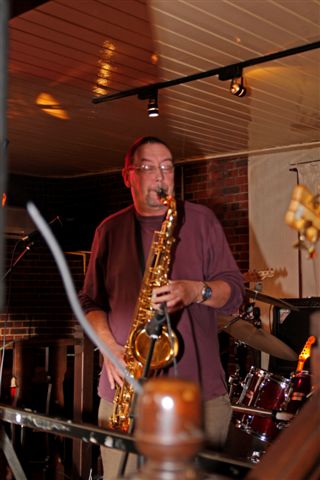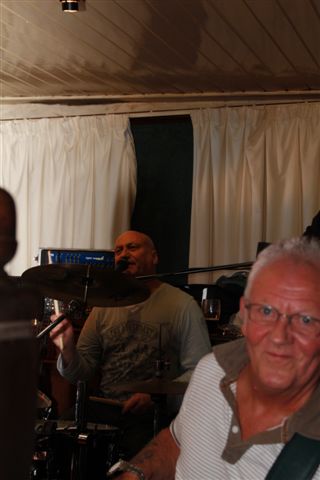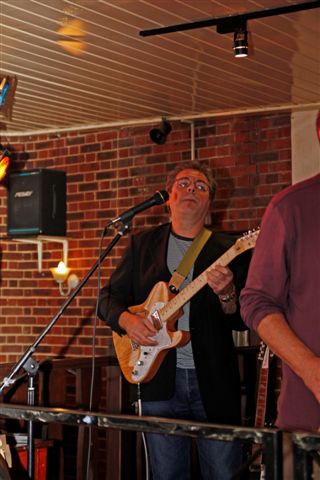 Sid Carter Chris Newman? Colin Wilsher Mick Steel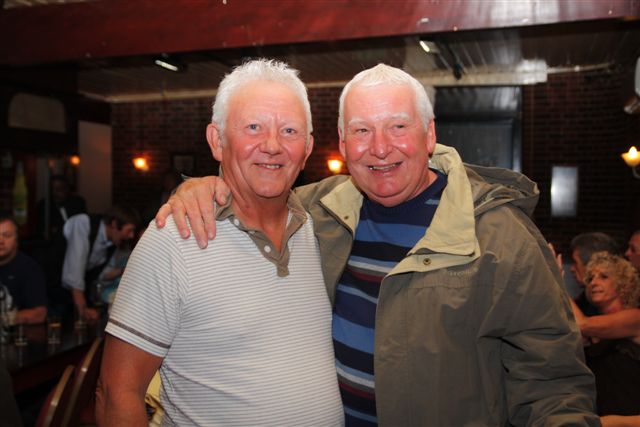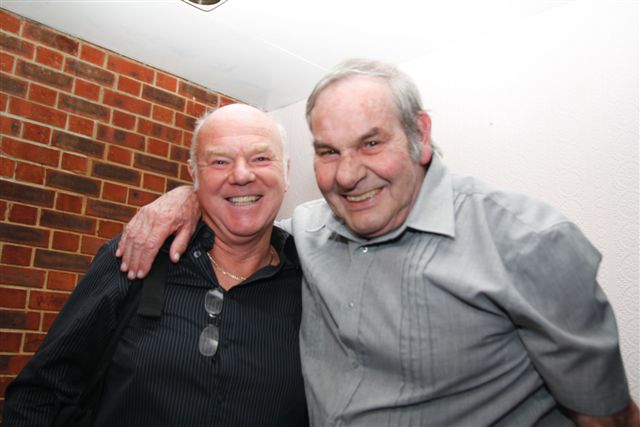 Colin 'Angel' Wilsher Brian Fisher Mike N Tex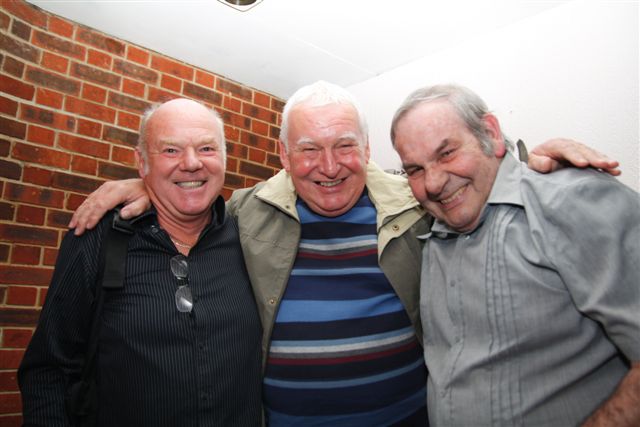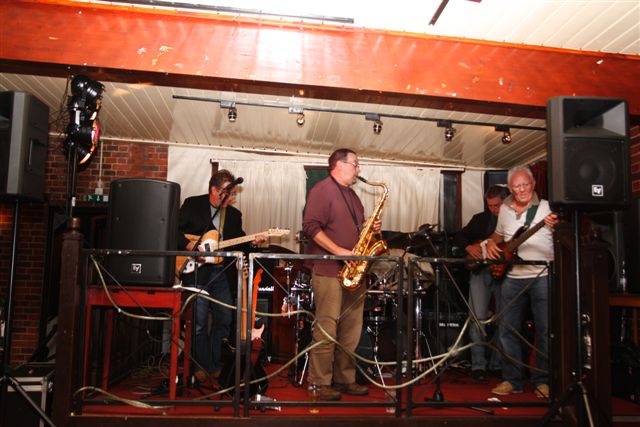 Mike Nevitt Brian Fisher Tex Mick Steel Chris Newman (drms) Sid Carter Eddie 'Fret' Colin 'Angel' Wilsher
That's it for now - just a few days after this terrific hook-up arranged by Eddie 'Fret' which took Tex completely by surprise and one of the most memorable nights he has had in a very long career. Now 71 years of age, Tex can still get up on any stage and roll out many of the classic songs that he was singing some 50 years ago!
August 2009
I had this e-mail from Pete Broyd:
I just had a visit from Brian Macey's wife who told me the sad news that Brian died in June from lung cancer. Brian was the lead singer with the Rockerfellers, one of the early Royal Pier bands. The band members each wore a brightly coloured suit, much in the style of Showaddywaddy who came many years after. Brian wore a gold lame suit which he eventually sold to Tex Roberg. He was larger than life, a Jack Palance look alike with a passion for motor cycles and we were all so pleased when he came along to Tex's Birthday Party. R.I.P.
Another good guy gone. I'm sure that everyone who knew Brian will send their condolences to Brian's family. DSJ
Click on SITE MAP to navigate the pages Back to Home Page Contact David
Copyright © David St John 2008